SpeedVentures at Buttonwillow Config #14 CCW, March 21, 2003,
The Flamemobile is Alive, Live
"Preparing for the 2003 Open Track Challenge Via Big Ass Wings"

Note to self - take wide angle lens off of camera, it will make pictures clearer
(Note: Posted to the web April 1st, 10:30 p.m. We are thrashing to prep for the OTC, so this story might sound a little disjointed. Back to thrashing, enjoy the story. I'll send updates from the OTC, hopefully every day/nite)

July 27th was the day. Almost seven months ago. That is the last time the NSX actually made it to the track. Back then (Chapter 87), I qualified 3rd out of about 33 cars at the Touring Car Racing Association event at California Speedway. And then it blew up. So the NSX basically ran 8 track days the last 16 months or so, and seven of those were at the Open Track Challenge last April. So other than the OTC, it ran once in almost a year and half. Shoot me in the head.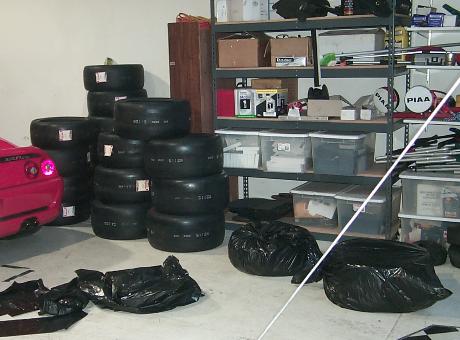 Ammo for the OTC
Back in October or so, the motor was sent up to Comptech to be checked out, fixed, enhanced, etc., along with installing an accusump and oil cooler. I took delivery of the car in January. I figured I had 3 months to get the car ready for the OTC. I didn't want to do any testing until I had some aero mods put on the car. Otherwise, I would have to test again after the mods were put on, which seemed stupid. So I waited for Erik, who was jammed up doing a bunch of work on those damn 10-cylinder truck motor cars.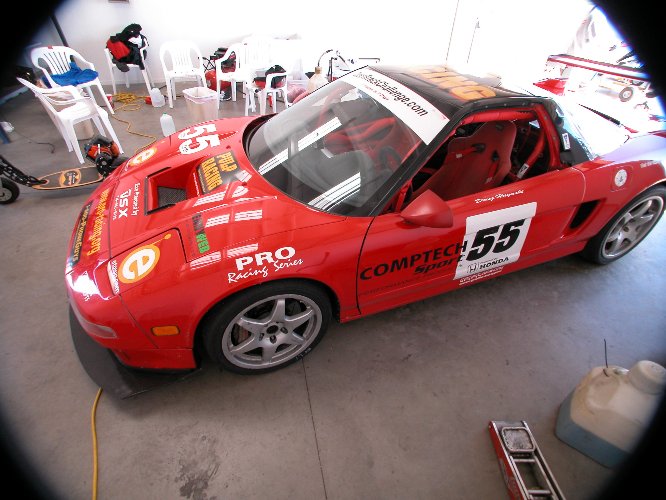 Sitting in the garage at Buttonwillow
The wing guy finally ended up sending the wing to Erik in early March. I got a new theory that I am going to test at the OTC. I will probably modify it and make it into some type of Pyramid of Doom.
Step 1 - Buy cool fast car
Step 2 - Cool fast car isn't fast enough. Build up engine with Supercharger
Step 3 - Cool fast car with boost doesn't stop good now. Add Big Ass Brakes
Step 4 - Cool fast car is fast and stops good. Add Hoosier tires.
Step 5 - Cool fast car, boost, brakes, now goes real fast. Now need rollcage so I don't kill myself.
Step 6 - Cool fast car, boost, brakes, cage, doesn't handle as good as it should. Add double adjustable shocks.
Step 7 - Cool fast car, boost, brakes, cage, shocks, still not fast enough. Throw out shocks, add triple adjustable shocks.
Step 8 - Cool fast car, boost, brakes, cage, 3x shocks still not fast enough. Add slicks.
Step 9 - Cool fast car, boost, brakes, cage, 3x shocks, slicks, still not fast enough. Add shit load of aerodynamic stuff. Big ass wing, big ass front splitter, etc.
So now it seems like I am stuck on Step 9 at the moment.
Except it was the wrong wing. ARRGH! So the guy had to build the correct one. Then after it was built, the wing guy didn't like the skin, so he said he would have to redo it. ARRGH! So now it is rapidly approaching late March, and only 15 days away from the OTC. Screw it, I figure I should just put the NSX on the track to make sure it runs okay without overheating, barfing, or blowing up. Before taking it to the track, I drive it to my house, and the car sputters and dies at idle. But at full throttle it runs okay. But I figure if it is sputtering real bad at idle, something must be wrong.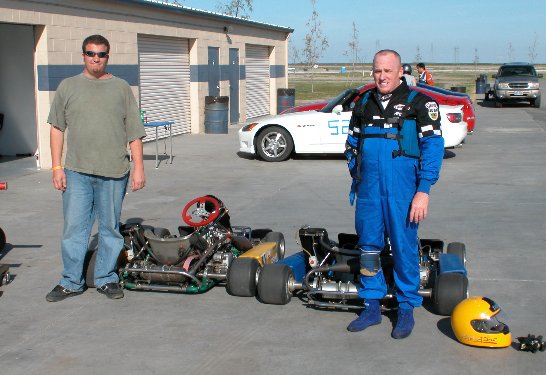 Wayne's car isn't ready yet. So he and Brent did karts at Buttonwillow
Monday, March 17th or so.
I take the car to Shane at Autowave. He he said he would take a look at it, and says give him a little time and he will check it out on the dyno. The next day, he said it appears that it could use some new O2 sensors, plugs, and it looks like a loose wire going to the ECU might be shorting out. After fixing all that stuff, now once the car is warm, it idles fine and sound great.


Autowave is currently maintaining the Flamemobile!
Wednesday, March 19th
Wayne's car still isn't ready, so he decides to take the karts to Buttonwillow with me. We spend most of the day packing the trailer, getting karts ready, etc. Wednesday night, I pick up the car from Autowave, so I can get it to Erik's in the morning. After this, we have our softball game, and lose again. Damn. I was on base 15 times in a row until this game, and then I went 1 for 5 tonight. I thought I was going to have another one of those once in a lifetime streaks that I talked about in the Pulp Commentary section that I haven't updated in years.
Thursday, March 20th, 7:30 a.m.
I drop the car off at EMI Racing for a quick alignment. The quick alignment takes 7 hours, as Erik is doing stuff like fixing lug nuts, fixing brake air deflectors, checking suspension parts, etc. Things look good.
Thursday, 4:00 p.m.
Back over to Autowave for them to resolder the wire that they found the other day.
Thursday, 6:00 p.m.
Back to the shop at a high rate of speed. Car feels good.
Thursday, 7:30 p.m.
Car in trailer. Off to Buttonwillow.
====EDITORIAL OBSERVATION======
This war thing has people really divided the country, as there seems to be a lot of people who are Pro War, and an almost equal number who are anti-war. The two never see eye-to-eye. There is a a reason for this. Many, many years ago I took the full Meyers-Brigg test that has do deal with people's personalities and how to deal with them. I greatly oversimplified this theory while sitting in a boring, all day Saturday class last weekend. The instructor probably thought I was taking detail notes about what she was saying, when in fact I was working on my new theory, The Artists Vs. The Analyticals. I think this explains a lot about the different feelings about the war. And, it also sort explains why there are some people that you want to just punch in face because it seems to you that they are being total morons. I present to you, the chart:
The Artists Vs. The Analyticals

Emotionally driven

Artistically inclined

Big hams for attention

Speaks well, charismatic on stage

Cannot put rationale thoughts on paper

Thinks one step ahead

Visualizes World Peace

Worries about what the public thinks of them

Gun Control Advocate

Values human life over everything

Against the death penalty

Feels like they are very important

Picked last for dodge ball as a kid

Will lose in cards and board games

Can never meet a deadline

Watches the Oscars

Dreams of getting an electric car

email is pseudonym@aol.com

Job profiles:
Actors
Musicians
Graphics Designers
Painters(canvas)
Sales people, sales managers, VP of Sales
Human Resource Department

Human Profile:
French
Effeminate males
Idealistic college students
Human Shields from America

Analytically Driven

Mathematically Inclined

Doesn't seek to be on stage

Has problems with public speaking

Writes well in a logical format

Thinks 10 steps ahead

Realizes there will never be world peace

Doesn't give a shit what people think of them

Been known to shoot small animals

Values freedom and justice over everything

Willing to throw switch on electric chair

Realizes they are another cog in the wheel

Nailed everyone in dodge ball as a kid

Plays poker and is an expert at games

Generally hits deadlines

Watches Iraq being bombed on CNN

Dreams of getting fast sports car

email is myname@myname.com

Job Profiles:
IT Professionals
CEOs, CIOs, CFOs
Financial sector
Stagehands
Military
Engineers

Human Profile:
American
Alpha Male
Realistic College Students
Iraqi ex-patriots
So next time you meet a person that drives you insane, or you punch them in face, is it because one of you is an "Artist" and the other an "Analytical"? From now on, I will put all people in one of two categories. Which are you?
==========END OF EDITORIAL OBSERVATION==============
Friday, March 21st
The hotel we stayed at sucked. It sounded like the runway at LAX. Also sounded like people were walking on the ceilings, except we were on the top floor. What's with that?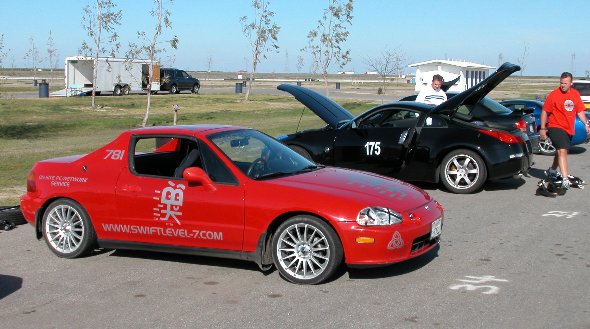 About 105+ drivers ditched work on Friday to go to the Speedventures event
The plan in the morning is to not run the car hard, and to scrub in three set of rims and tires for the OTC. I just need to make sure the car runs okay. Erik said that with new tires, you should run them at 70% to scrub them in, and so you do not "shock" the tires. Otherwise, the tire life will be dramatically reduced. First session out, car runs great! It doesn't overheat or blow up. The car is sticking REAL GOOD. I run the car at 75%. I can't resist the temptation to go-fast!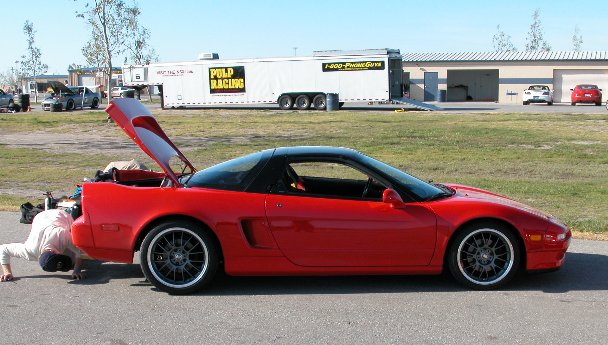 Mark's NSX. Mine looked like this before I got on the Go-Fast Crack Pipe
Second session out, I run the car at maybe 78% while scrubbing in tires. I can't help it. I can't drive it at 70%.
Third session out, I run the car at 82% while scrubbing in the 3rd set of tires, and I have Conway Ho in my car as a passenger. We turn the fastest lap of the day for all cars in the event by 1/10th of a second!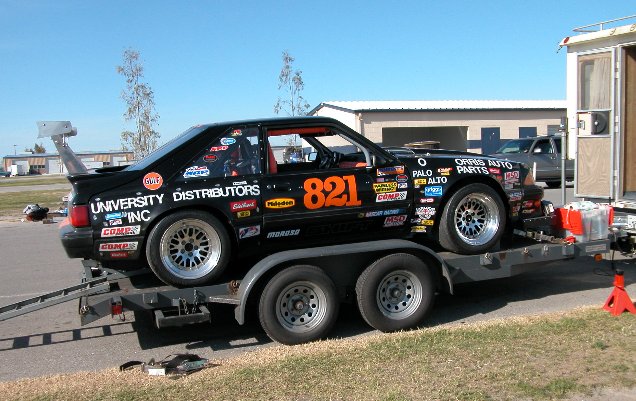 This Mustang looks like he is fully armed to duke it out
Four session out, I put on the first set of tires that are on slightly bent rims. I take Taku of Gran Turismo fame out for a ride, and now I am at like 84%. We turn the fastest time of the day by 1.7 seconds. And, we beat last year's fastest overall OTC laptime for this same configuration by a full second. heh heh he.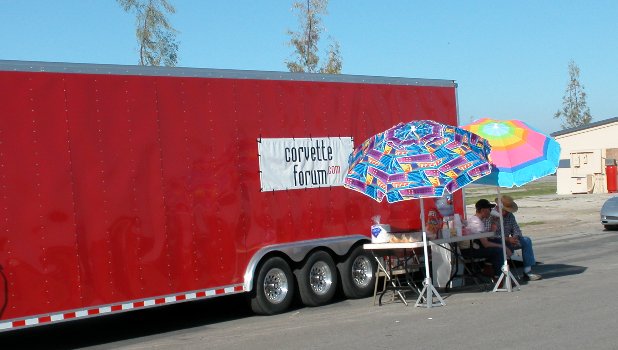 You would think the Vette guys would have more "macho" umbrellas
Fifth session out, I keep the first set of tires on, run it a little harder, and end up running 2.7 seconds faster than last year's fastest OTC time, and also have top time of the day by 3.5 seconds over the infamous Mr. Dearing. I was hitting 140 mph on the back straight, and with the speed corrected for taller tires, means probably 145 mph! It seems that SpeedVentures, The OTC, and The TCRA are the only folks that seem to put AMB laptimes on the Internet for everyone to see. Lap times for Friday's event are here.
I searched on Google and Alta Vista for other lap times at Buttonwillow Configuration #14 CCW so I could compare my lap times against other drivers. The only other lap times I could find on the Internet is this BMW Club race. And I beat Gil and Sofronas. (grin!) Why don't other clubs post their AMB times on the net? So you know what that means......in my own warped sense of reality, I now proclaim that the Flamemobile and I hold "The World Record At Buttonwillow Configuration #14 Counter-Clockwise for all AMB Times that are Published on the Internet". Until someone else points me a link that shows me otherwise.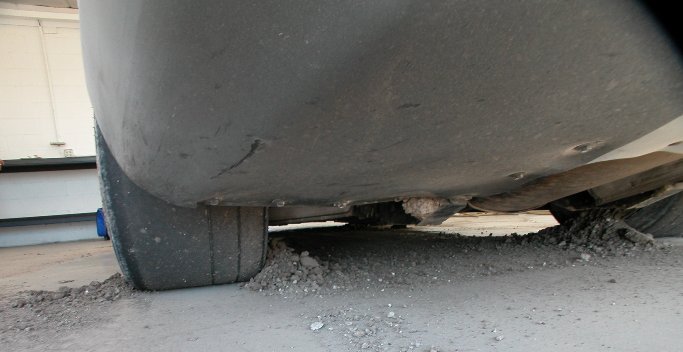 This is what happens to Vipers when you try to follow the Flamemobile through sweeper turns
So car looks like it is alive again. Brakes are acting wacky, like there is something wrong with the ABS or the proportioning valve, but that should be easy to fix. Aero mods should be ready by OTC time, so now we just have to execute on our plan to win our class. I figure I should be able to drop another 2-3 seconds a lap. Wayne's car should be ready to test by March 27, which is cutting it close.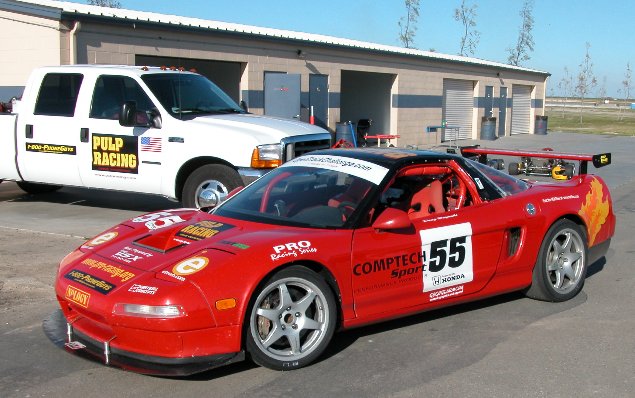 Ready to duke it out at the OTC!
I also bought one of those Sprint PCS Connection cards for my laptop. Jason over at www.corner-carvers.com had some wacky idea that he would buy one of these cards, put a webcam on his car, drive from Southern California to Seattle area, have his laptop take a picture every 60 seconds and post the picture on his website so we can see his trip almost real-time. I am guessing that the connection speed is somewhere between 28k-70k. But you can use it virtually anywhere. You just slam the PCMCIA card into your laptop, and you are on the Internet. So if you go to the car wash, airport, eat lunch by yourself in a restaurant, or you are sitting in a garage at Buttonwillow, you slam the card into your laptop, get connected in about 20 seconds, and then you can surf the web. Pretty damn cool. Unlimited usage for 100 bucks a month. So you could leave it on 24/7 if you wanted to. Sprint, being a voice-only oriented company, doesn't correctly market this card. You'll spend 10 minutes on their site trying to buy the damn thing, and even more time trying to talk to a Sprint rep about it. Morons. Here's the link.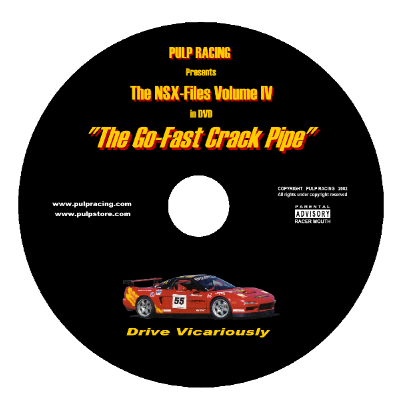 Support the Pulp Racing/NSX-Files Website! Buy this DVD!
Order it at the Pulp Store
So now I can give almost real-time updates from OTC after each run group from the comfort of the RV that we rented. No more waiting to get to a hotel room, and then trying to figure out if you dial 1,8, or 1,9, or 0,8, or 0,9, or 8,0, or 9,0, etc, to be able to ffing dial out and get a connection to your ISP. I just slam the card in. You will get UNBIASED commentary live from the OTC. Heh heh heh..


Who will be King of the Open Track Challenge in 2003?
For those of you who have insomnia and need some reading material, checkout this thread. You have to read it all the way through...it is good for some laughs. It will probably take you an hour to read through it, but you might learn something. The wife was cracking up while reading this article.
Short Blog-like updates:
Friday, March 21th. The Wing Maker says he shipped my wing from the east coast. He tries to get call Erik, but Erik is helping the Viper Days dudes this weekend at Thunderhill. Helping them too much. Rumor is that Mumford runs somewhere around a 1:50.x. Ouch! Since the Wing Maker can't get Erik on the phone, he ships it via ground UPS. DOH!

Wednesday, March 26th
Thrashing hard to get everything ready for our test day on Friday. Erik has to "machine parts". Uh....oh....you know what that means. And he still needs to work on my car. I call the rental RV place to see if they got my insurance papers. They say, "Uh.....we have no record of your reservation. Excuse me, I have a piece of paper saying I put down a deposit of three weeks ago saying I have your top of the line RV reserved". After figuring out they made a huge error, they run around trying to find me an equivalent RV. Wing hasn't arrived.
Thursday, March 27th
Wayne and Erik are thrashing on getting his front suspension back together. My wing hasn't come in yet. Test day for tomorrow is looking bad. No tracks are available this weekend for testing, as other clubs (SCCA, karts, motorcycles) have Buttonwillow, Willow, and Streets of Willow booked. Wing hasn't arrived.
Friday, March 28th
The thrashing continues all day long. I recruit Wayne's nephew to run some errands, like getting $100 worth of Snapple, and 15 cases of water (500 bottles) for the OTC, filling up the truck with diesel, etc. Erik calls the Wing Maker, and with UPS, they figure out the wing is uh....somewhere in Florida. Seems like it is caught in a loop on the east coast. Those bastards!
I try to get people to bet me that I will win my class, putting me at a 1-1 favorite for winning the class.
Saturday, March 29
At the shop from 7:00 a.m. until 1:00 a.m. That's 18 hours of thrashing on Wayne's car, getting the trailer ready, moving tires point A to point B. Jason drives from San Diego to Norcal and back to pick up the AABAUW that he let Dave borrow at Buttonwillow last week. So he drove about 900 miles today.
Sunday, March 30
Erik starts to work on the S2000, throwing shocks and springs on. He says he will be ready to roll to Buttonwillow at 5:00 a.m. in the morning. Wayne installs the "Blow Up" knob in his car. Meaning the adjustable boost gauge.......
Monday, March 31st
I wake up at 2:45 a.m. Start hooking up the trailer at 4:00 a.m. At Erik's at 5:00 a.m. He is still finishing up with the alignment on the S2000. 6:00 a.m. he is done, but now has to shower and change as he has been up 36 hours or so. 6:30 a.m. we leave Huntington Beach in the heart of rush hour traffic. Two hours later, we make it through Los Angeles (45 miles away). Four hours later, arrive at Buttonwillow, about 3 hours late. I pull the S2000 out of the trailer with Jason's Active Aero Big Ass Ugly Wing (AABAUW), and Coffey starts ragging on it immediately. Say it looks like something Jethro Clamplet would put on his car. I told him wait until you seem the laptimes I am gonna throw down with the AABAUW. I show him how we can change the rake of the wing in the cockpit. 20 minutes later, right before we take the car on the track, the 30 amp fuse blows on the AABAUW. We have no more 30 amp fuses. DAMN. Can't test the wing today, throw it off, and put on the regular trunk lid.
At 11:30 or so we start testing on 1/4 of the BW track. A couple of Formula Atlantic teams have the rest of the track reserved for testing. Testing consists of Erik hoping in my car for a lap, making adjustments to shocks, taking car for a lap, adjusting shocks. After doing this about four times, he comes in, and takes out Coffey's car for a few laps. Then he takes Wayne's car out for a few laps. Wayne's car is overheating again. Sucks. His car is fine on the track, water temp is no more than 180-200, but when he comes into the pit area and parks the car, in about 90 seconds, his car pukes a quart of radiator fluid out of the overflow bottle. The decision is made that Rick and Wayne will go to the Bakersfield junk yard and try to find some similar plastic overflow bottles. Erik's theory is that the overflow bottle is too small, as the one that used to work cracked, so another stronger, smaller bottle was installed. With 20 minutes left in the day for testing, Wayne and Rick get back in time to throw on another Volvo overflow bottle. The problem is that the 944 radiator doesn't have a cap, and it depends on the cap on the overflow bottle. Wayne takes the car out, hammers it.....and success! I get back home around 11 p.m. So it was another 20 hour work day to get ready for the OTC. Wing hasn't arrived yet. Bastards.
Tuesday, April 1st.
Wing still not back yet. Wayne doing some last minute minor stuff to the 944 Turbo. But at least we are 90% ready for the OTC. I need a wing and some minor aero work on the NSX. Minor stuff needed for S2000. Minor stuff for 944 Turbo. We are close, and should be ready to duke it out at the OTC for bragging rights. I announced the last minute "Cheating Bastard" entry of the Pulp Racing S2000 in the Touring 3 category for the OTC. If I can't beat the damn Radicals or the Comp Coupe, I can at least try to get a trophy for another category!
So it has been 12-18 hour days for the past 10 days or so, as we prepare to for the OTC '03. Gotta run, we got four more days of thrashing ahead of us!