Touring Car Racing Association and VARA
California Speedway, ALMS Road Course, July 27/28, 2002
"The Rising: Flamemobile Unleashed"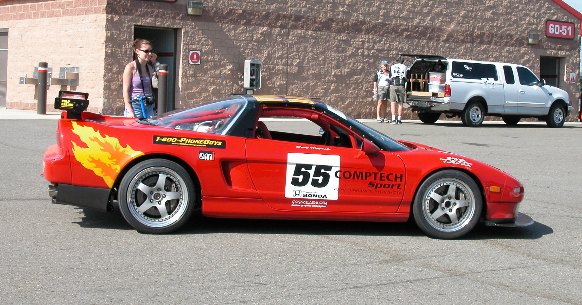 Resurrected from the Dead Zone
After the OTC, the NSX was parked for about a month while we all recovered. I had a second engine that was being built, so we expedited the process on that. A local engine shop in Fountain Valley was working on the bottom end. We didn't get our act together in time to make it to the Hill Climb this year. The next big event looked to be the Touring Car Racing Association at California Speedway, using the 21 turn ALMS road course. Now that would be cool.....but we gotta get my car running again.
June 19, 2002
So Larry had too much work and didn't finish my car in time for the Thunderhill Speedventures event. So I decided to speed up the process, and dropped my car off at Comptech to have them finish tuning the engine, putting new gauges in the car, cleaning up some wiring, and throwing more weight out of the car.
July 7, 2002
Bleed brakes on S2000 and change pads. Bleed brakes, change pads and rotors on the F355. Just me and Donald as the mechanics! Both cars stop really, really good. Damn, we are professionals.
July 10, 2002
Erik is getting new lightweight flywheel and clutch ready for the NSX. Unfortunately, he has to machine and balance the flywheel. The good news is that the clutch and flywheel are down to about 16 lbs. Bad news is the word "machining parts" means its gonna take some time.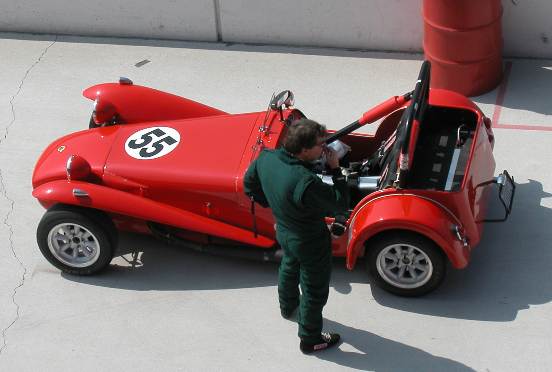 Cool looking Lotus getting ready for a practice session. Looks like he stole my number.
Friday, July 19
I went to pick up the car using the big trailer. Shad goes on vacation on Saturday, and he said he was just about finished with the car. It takes about 8 or 9 hours to pull the big trailer over to Comptech's place in Eldorado Hills, California. Dagmar goes up with me, as she feels safer if someone is with me in the truck when I am towing the big trailer. Otherwise, she visualizes me driving 14.5 tons of truck and trailer while pouring a Snapple, eating a sandwich, and changing the CD at the same time. I call the Larkspur Hotel in Folsom that is close to Comptech, and I reserve a room for the night. They have high speed Internet access and they said they have room for RV parking. We get to the hotel which in the same parking area as a big mall, and we suddenly realize that we can't park the trailer anywhere close to the hotel. It is like parking a 48 foot trailer at a Costco at Christmas time, as there is no parking anywhere, and there is no room to turn the trailer around. Great. I guess the definition of an RV in Folsom is a Toyota Pickup with a cover over the truck bed. Luckily, we carry two way radios so Dagmar can guide me out of the dead end by the hotel. We decide to park the trailer at Comptech overnight.
Shad didn't get the the new clutch pieces in time, and we decided that it would be a bad idea to slap everything together at the last minute. So I will continue to use the Exedy clutch from ACR Motorsports that we used at the OTC. It seems to be holding up well.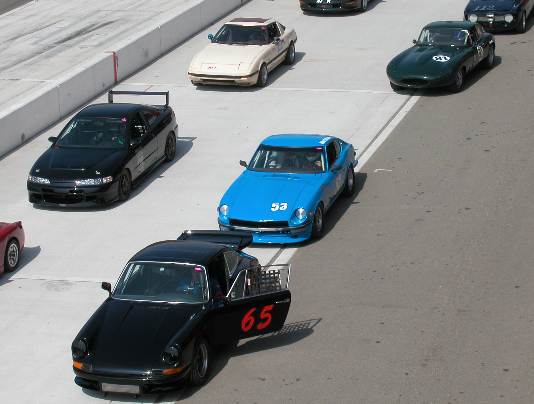 Mike Eckhaus in the blue 240 Z preparing for battle in 2.2 Liter and below class
Saturday, July 20
We pick up the car from Shad. It looks good, he says it is making decent power (360 RWPH), and he removed a lot of stuff out of the car that isn't really needed for a "race car".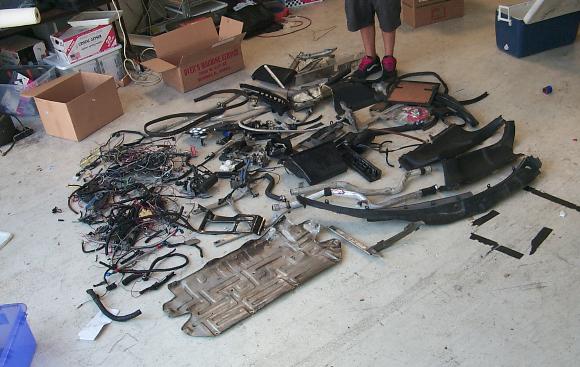 Some of the parts that Comptech eliminated from the NSX
I now have five gauges on the middle console for fuel pressure, oil pressure, oil temp, water temp, and boost, which will help with diagnosing any problems. My new goal for the car is to be able to run 6-7 weekends before any major rebuilds or problems. Instead of going for big power (400+ RWHP), I decide to go for reliability and use the monoballed suspension, triple adjustable Penskes, and my "excellent driving skills" to make it to the podium. <grin>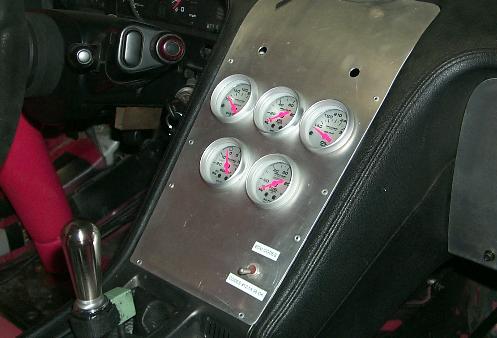 Water temp, oil pressure, oil temp, boost, and fuel pressure gauges
==== COMMERICIAL ====
Mark is selling his immaculate BMW M3. If you are in the market for a nice M3, click here.
==== END COMMERICAL ====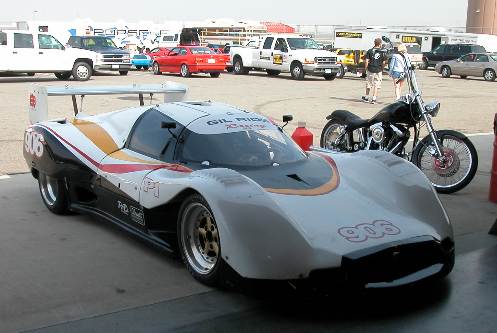 Nice vintage Porsche 906
Tuesday, July 23
Erik gets back from Virginia International Raceway, where he was helping someone out with a Viper. I need Erik to do an alignment on the car, and to put on one of the new Lexan rear windows that I had made. We have a total of three, and the plan was to sell the other two windows.
I call the Touring Car Racing Association, and they said they have 230+ cars signed up for the event this weekend, using six run groups. They are only having wheel-to-wheel race groups, no time trials this time. There are 40+ cars registered for our group, which is the 2.2 Liter and above class. They said to get the track early Friday afternoon if I want to reserve a couple of garages for me and Wayne.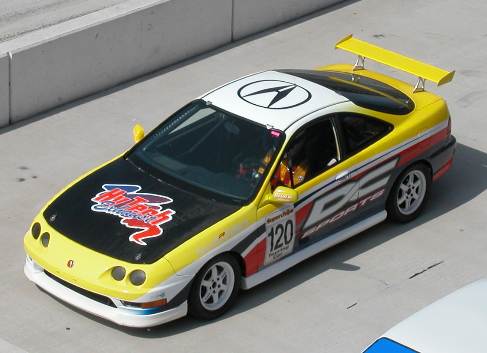 Glenn Kawano's World Challenge Integra that he bought
Erik says it will just take a couple of hours to align the car, and probably less than that to "machine" the brackets for the window. Uh oh....he mentioned that word that people who are always in a rush dread to hear, which is "machine". Machinists are uh....a different type of breed. They remind me of mad scientists with white coats, and hair sticking straight out from their head and lots of big gizmos that have electrons sparking from place to place as they work on their "formula" for breathing life into their creations. Kinda like an Einstein on Quaaludes.
Wayne is just about finished with his new head gasket. He bent a rim at the OTC so he had to get that fixed. He had a Porsche mechanic finish up the timing belt install. He didn't have enough time to get it aligned, or do any testing on the motor. I didn't test my motor, but at least I know that Comptech was able to get it tuned on the dyno, and it seems to be running okay. Wayne now has bigger injectors, and a bigger turbo, but has not tuned either of them. Wayne plans on just showing up at the track without any testing or dyno runs. Which to me seems crazy. I am trying to be more methodical about my approach to racing the NSX.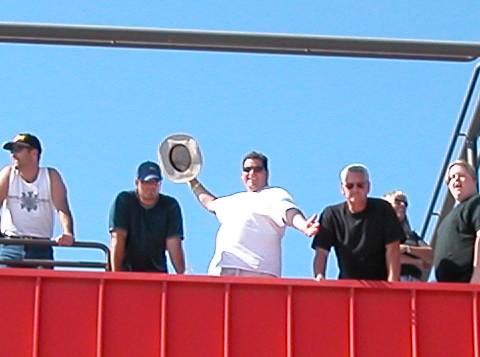 Wasserman posing for the camera. He would like to pose your girlfriend on film!
Wednesday, July 24th
Erik said that the Lexan window is a little tougher that he thought it would be to mount. Uh oh. I starting thinking about the backup plan. "Hummm....I didn't do a test day with the NSX. Erik still isn't finished with the Lexan window. Maybe I will take the S2000 as the backup race car, and if the NSX isn't ready, or blows up after the first run group, I will swap out the car and use the S2000 in the 2.2 Liter and below race group.
Thursday, July 25th
Almost done with the mounting brackets. I tell Erik I am leaving at noon on Friday to secure the garages. A brilliant idea comes into my mind. I will just plan on racing the NSX and the S2000 in the different race groups. Yeah....that would be cool. Double the track time. But then I realize that to race the S2000 in the race group, it would cost me $900 in tires, $420 in track/tech/AMB fees, $50 in gas, $150 in pads. And let's just say that like everyone else these days, due to Corporate Corruption killing the stock market, I am trying to cut down on racing expenses. So I decide to just go with the NSX.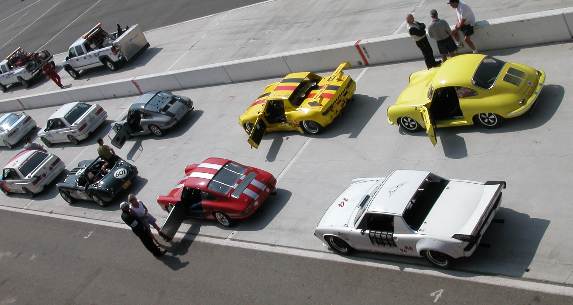 The 2.2 liter and below race group had 50+ cars in it!
Friday, July 26th
Erik has to change the design, as he thinks he can secure it better. And make a couple of different brackets. I can see where this is going. I wanted to be asleep by 9 p.m. tonight, but things are looking bad. At 2:00 p.m., Donald and I pack Wayne's car and the S2000 in the big trailer, and head off to the track. It's gonna be hot this weekend, and if we don't have a garage, it is going to suck. We get to California Speedway around 4:00 p.m., and there are probably 200+ cars with their support trailers, RVs, vans, and trucks already setup in the paddock area. Looks like everyone ditched work to get a good spot at the track. We drop Wayne's car off, leave the big trailer there, along with the S2000 to reserve a garage for the NSX. There are a lot of fast club racers at the event. I see at least 15-17 Porsches, 4 Vipers, and other assorted cars that will be in our run group.
I stop by Erik's at 7:00 p.m., and he says he is almost done. I decide to use our old, rusty, single car open trailer to take the NSX to the track in the morning. The mounting of the window looks great. It slides in the top, and is securely held by three twisty cam-type of locking clips. Erik looks at it again, and says instead of three clips, he wants to put two more on. Shouldn't take too long. Uh ooh....
So the procedure is something like this:
Put Lexan window on
Measure where bracket should go
Take window off
Cut aluminum, make bracket
Smooth out all edges, make bracket round
Measure where it goes on car
Drill hole on bracket
Round out hole with metal pick
File hole
Put clip on belt sander again
Check to see if hole is correct
Screw in hole to car
Put Lexan window on
Measure angle for first bend in bracket
Take Lexan window off
Bend bracket
Check angle again for first bend in bracket
Bend bracket so it is perfect
Put Lexan Window on
Check angle again for first bend in bracket
Success. First bend is okay
Take Lexan Window off
Measure angle for second bend in bracket
Bend bracket
Remount bracket on car
Put Lexan Window on
Check angle of second bend
Take Lexan Window off
Dismount bracket, Re-bend bracket again so second bend is perfect
Remount bracket
Put Lexan on
Check to make sure second bend is perfect
Success. Second bend is okay.
Take Window off
Take bracket off
Drill hole for cam lock to go into
Smooth out hole
Sand hole so it is smooth
Mount Bracket
Mount Lexan window
Check alignment
See how camlock thumbscrew sits on window. Adjust so it is aerodynamic.
Mark holes for camlock thumbscrew
Dismount Lexan Window
Dismount bracket
Drill two small holes in bracket to hold camlock in place
Rivet cam lock female side into bracket
Cut rivets, sand and smooth so it is flush
Mount bracket
Mount Window
Drill hole in Lexan for Camlock thumbscrew to go into
Success. Bracket is finished!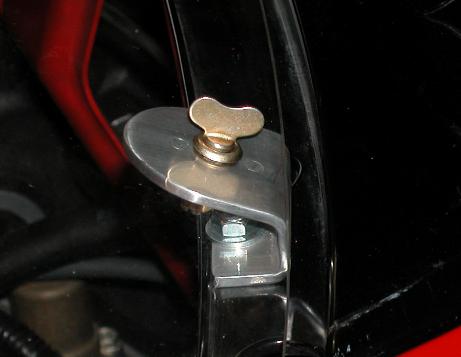 One of the five brackets that Erik made
Now you are done! With one of the two brackets. They are excellent, jewel-like in terms of precision and craftsmanship. It only took 2 hours to make the first bracket. Repeat procedure for 2nd bracket. I leave Erik's around 11:30 p.m. Luckily I only have to drive 55 miles to get to Fontana in the morning.....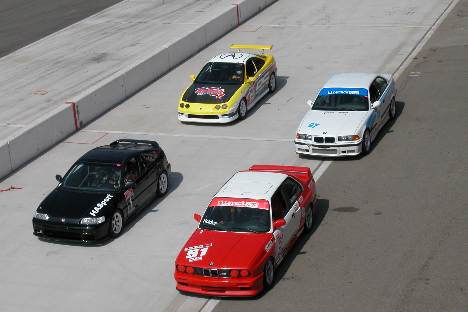 Andy Hope and Glenn against the BMWs in the 2.2 Liter and below race
Saturday morning, July 27th.
I drive the rickety single car open trailer up to California Speedway. Bobby and Dana are there to help us out today. Larry had a bunch of cars at his shop, so he said he would help out tomorrow. We unpack what we have to, and get situated and ready for the day. I tie wrap a couple of Hot Lap transmitters to the spectator grandstand fence by the chicane so I can keep track of my laptimes.
At the driver's meeting, they said each of the six run groups will get one practice session, then another practice session that will use our fastest lap as our qualifying time, and then a 20-30 minute race at the end of the day.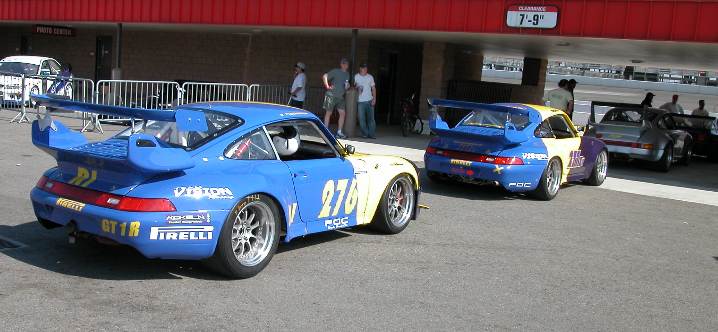 A pack of Vision Porsches getting ready for practice
Last time here in the F355, I was running 2:06 as my fastest lap time of the weekend. In the first run practice group using the NSX, I am running 2:01. Coming down the front straight, the start/finish guy is waving the debris flag. I slow down a bit, look around the course for oil or fluid on the track, but I don't see anything. I notice that my car is a little squirrelly on a couple of the lower speed turns, and it seems like it isn't pulling as fast down the front straight. Next lap, the start/finish guy is still waving the debris flag, and I still don't see any oil, but on the left hand side of the straightaway I see what looks like a Lexan windshield. Ha ha ha. What moron lost their windshield? I look in my rearview mirror, and I realize I don't see my rear Lexan window on my car. DAMN. That's MY Lexan window on the side of the track! Shit. Oh well. I drive a couple more laps before the session is over. I knew I should have brought the rear glass window with me as a backup, but the Lexan window seemed rock steady on the car.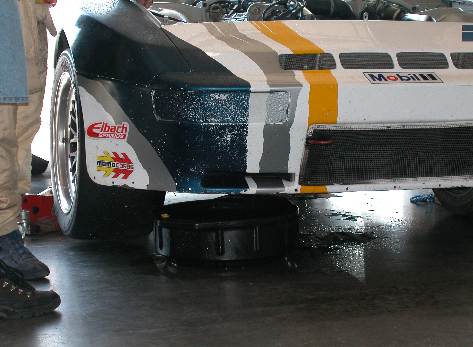 Wayne car dumps a gallon of coolant after each session
I call Erik, and tell him that uh.....the window blew off. The clips and brackets held up fine, and the Lexan snapped around the clips. It seems that under heat, the Lexan window flexed, and air may have caught the top lip which blew it about 30 feet into the air. I ask Erik if he can bring one of the extra Lexan molds we have, and throw that on. He says he will try to make it over before the next session, which happens in about 2 hours.
Wayne's 944 Turbo is running good, except that coolant overflows after he comes into the garage after each session. His water temperature is fine on the track, but once he stop moving, he boils over. It's a minor annoyance, for him. Major annoyance for the rest of us that have to step around a big ass puddle of water after each session.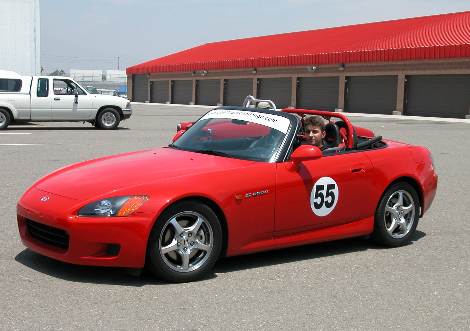 Dana cruising for track chicks in my S2000
During lunch, TCRA and VARA allow people to drive around the track at 55 mph in their street cars on a "parade lap", with no passing allowed. About 200+ cars take them up on the offer, so there is a whole bunch of people on the track cruising around in all different kinds of vehicles.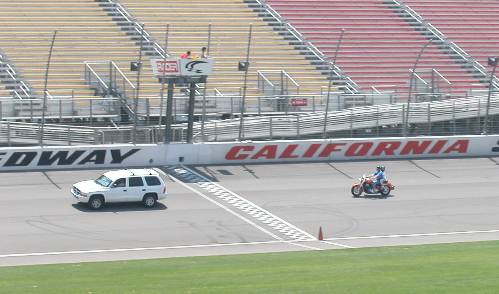 SUV and two people on a motorcycle heading down the straightaway
Erik gets to the track, and proceeds to quickly redrill holes on the Lexan window, as well as put the extra aluminum brackets to help strengthen the window that were on the window that blew off. They call my run group for qualifying, and it looks like Erik needs at least 10-15 more minutes on the window in order to finish it. We debate as to whether I should wait for the window, or just qualify without it. I need some type of qualifying lap time, or else I will be at the back of the grid for the qual race later today. I would be much faster with the window on, but then I would take a chance at not getting any decent laps on the track if I wait any longer. I decide to just to out on the track without the window. Erik says just be careful as the car will be squirrelly without the rear window on, as the aerodynamics will be all screwed up.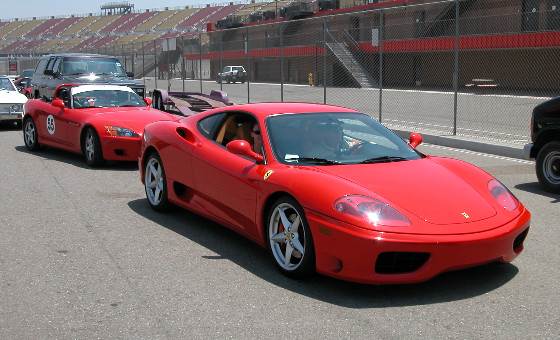 Wayne and Amy, and Dana and Bobby in my car, getting ready for the parade lap
I take the car out, and pound the crap out of it on the track. The car is a little loose, but manageable. After all, I am a professional. <grin>. I end up running a 1:58, so I am 3 seconds quicker than the previous session.
About 20 minutes later, we get the results of the AMB Transponder scoring, and I qualify 3rd out of 30! Results of qualifying are here. Shit......if I had my rear window in, I would been 2nd. I don't think I could have gotten pole, as it was a 1:54. Vision Motorsports brings about seven awesome looking Porsches owned by their customers, and I out qualified them all! Heh Heh Heh. Dennis, a Vision customer with a 996 Turbo Porsche with 730 HP (although they turned down the boost to a measly 600 for this event, as a rebuild is due) is crushed by the Flamemobile. (although...uh...it's because Dennis forgot to turn on his AMB Transponder for the qualifying session, thus he gets gridded last, but hey, all I recognize is the "official" timing sheet).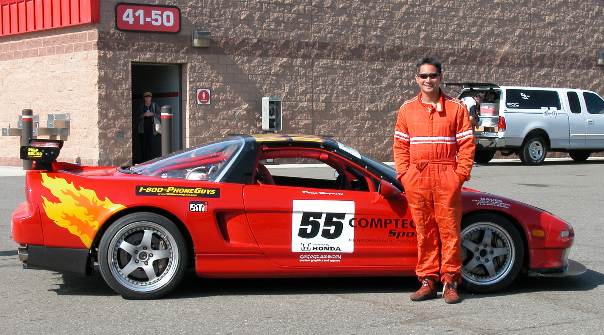 The Rising: Flamemobile qualifies 3rd out of 30!
Blake is gridded next to us in the garage, and he takes pole with his naturally aspirated 911. Jay appears to be his suspension guy, and is meticulous with the alignment plates and scales all weekend long, making sure the car is just perfect. A 2002 GT3 Porsche is gridded second, and behind me in 4th is this older GTO type car. Mr. Mello pilots his 944 Turbo to 5th on the grid. And behind us are all the rest of the Porsches, Vipers, Big American Iron car, etc.
Okay, so let's go to the grid and see who's where.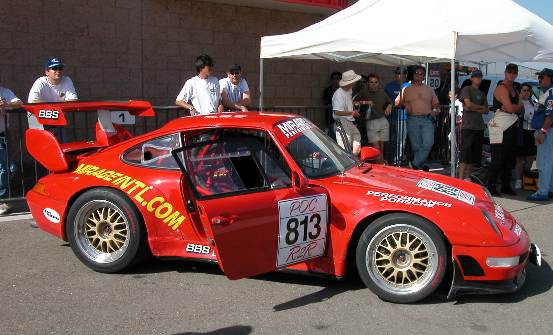 Pole Position: naturally aspirated 996 Porsche Cup car, Yoko Slicks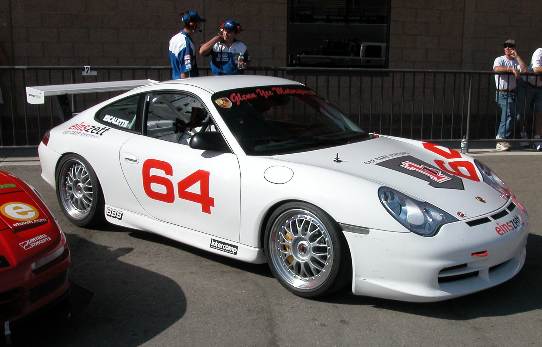 2nd on grid is a 2002 GT3 Porsche Cup car, Hoosiers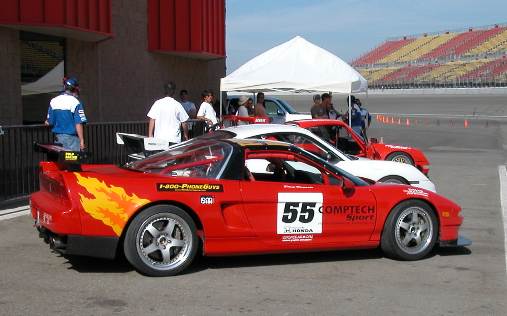 3rd on the grid is the Flamemobile, Hoosiers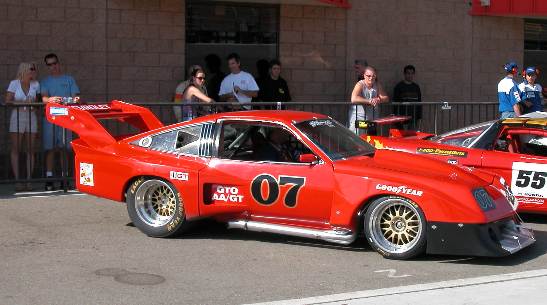 4th on the Grid, older Dekon Monza with Goodyear Slicks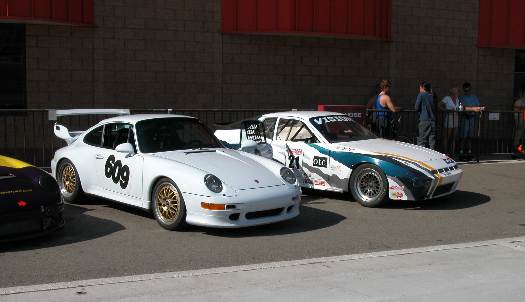 5th and 6th are Wayne and Don's 911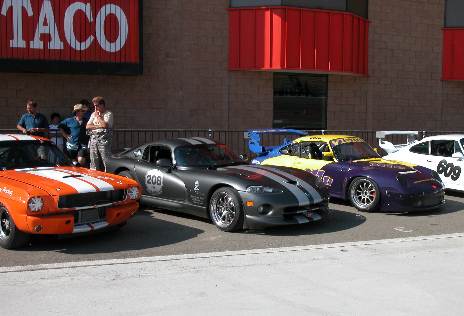 Then we have Noric's Porsche 996 Turbo, Dearing's Viper, and a Mustang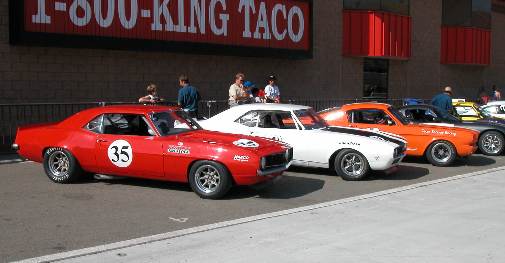 More American big Block stuff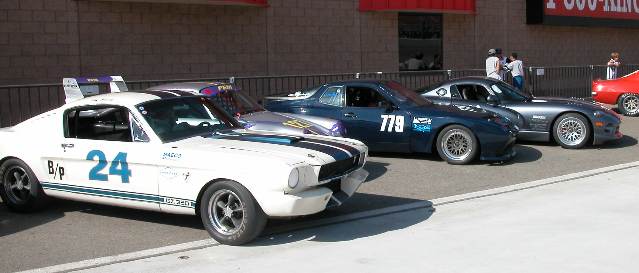 Viper, 944 Turbo, 911, GT350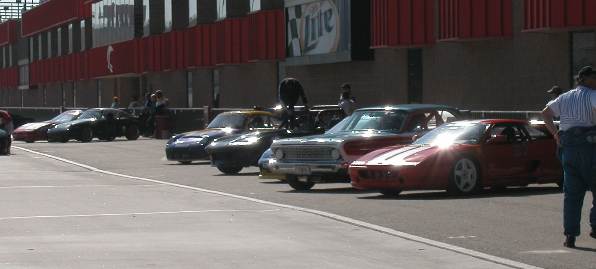 F355 Challenge car, and a bunch of other cars finish up the grid
Okay, so now we get ready for our race. The organizers decided to have a single file start, and no passing until AFTER the chicane on the start, as they don't want to have multiple people trying to pass in the chicane at the end of the front straight. I get right on the butt of the white GT3 coming out of the last turn of the straightaway, and away we go as the green flag is waved. I am staying with him for the first couple of laps, but then as he goes through the chicane, he knocks over a couple of cones that outline the exit of the chicane. Moron me, I suddenly think I am a cone-dodger, and I slow down to avoid the plastic cones. I lose a good 4 seconds. Nice "Cheating Bastard" move, I gotta remember that one. I should have gone right over the cones so I could try to stay in his draft. Oh well. Anyways, I keep the white GT3 car within striking distance, not sure if I can pass him, as he isn't making any mistakes.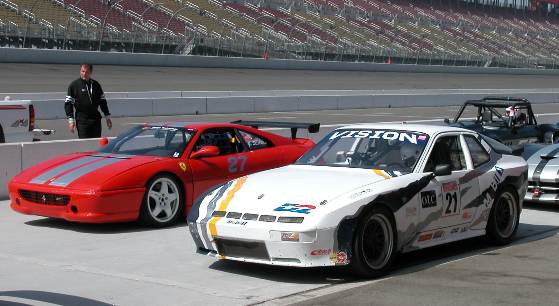 Wayne lined up against Gary's F355 Challenge Car
About 25 car lengths behind me, I see Wayne's 944 Turbo coming up. Curious how we can be in a field of 30 cars, or a field of 25 125cc Tony Shifter Karts, and we are always playing cat and mouse. So I see Wayne behind me, and I know he can't catch me, as my car is feeling good. I figure it is just a matter of time before his car breaks while trying to chase me. On about lap 6, while still in pursuit of the white 993, my car sputters at 7000 RPMS. Hummm......redline is 8000, why isn't the car pulling. Oil temp is at 270 degrees, water temp around 220. Humm...is the oil temp too high? The oil temp gauge maxes out at 300 degrees. The motor won't rev about 7000 RPMs, and the temps start creeping up, so I slow down, point Wayne by me, and looks like I gotta pull over as a DNF. DAMN! Car is making a clacking sound at idle. Damn. Wayne takes 3rd in the qualifying race, the results are here.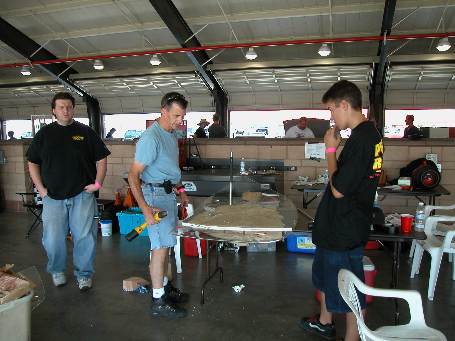 Erik in the middle, and Matt and Dayna helping with the new window
I tow the car to Larry's that night. It sorts sounds like the supercharger is clacking. Larry takes that apart, but it looks clean and it spins nice and quiet. Supercharger is put back on the car....and it appears the clacking is from the bottom half of the engine. Looks like maybe a bearing went bad.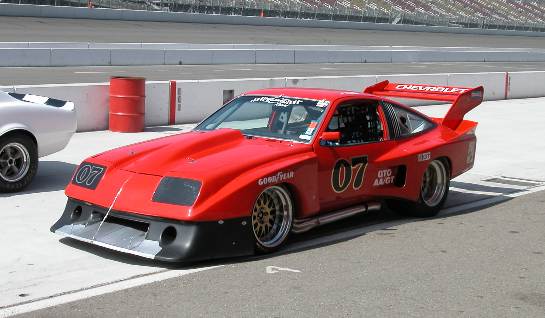 Another big HP competitor in the Red Group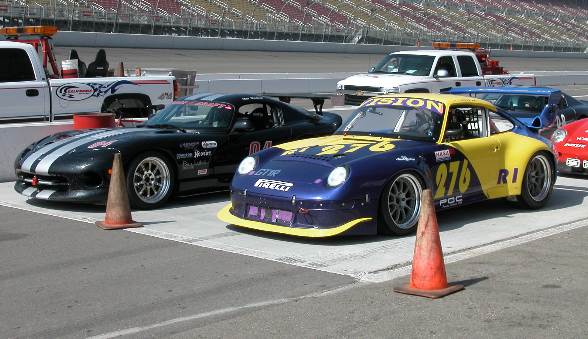 Viper vs. Dennis's 993 Turbo
Sunday, July 28th.
I drive out to the track to be the pit crew for Wayne. I take a hit on the go-fast crack pipe. Well.....I still have the S2000 here. The NSX is dead, but I guess I could try to enter the S2000 in the 2.2 liter and below group. But I don't have any seat time at this track in the S2000, and you drive it a lot differently than the NSX. Hummmmm.....I might be able to sneak it by TCRA and VARA tech inspectors. I check with the TCRA guys, and they say I really should have a proper racing seat, kill switch, and put more bolts into the rollbar base to make it safer. I also then realize that Erik setup the S2000 for Willow Springs, as I was there two weeks ago, and I was planning on going there this coming Friday for another Speedventures event. Willow is sweeping clockwise, and California Speedway is sweeping counter clockwise, which means the car could be a little squirrelly. Plus then I would need to re-prep the car for Friday's event. Damn....better not take a chance at blowing up two cars at the track this weekend. I decide to just be the Wayne's crew chief.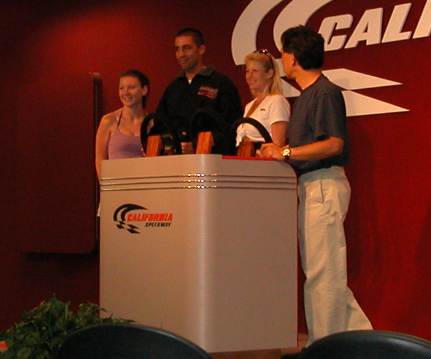 After the race on Saturday, Amy and Dagmar are recruited to be the "trophy girls"
Wayne finished 3rd in yesterday's qual race, which is were he will be gridded for the final race today. He now feels like a little boy among men, because he now has the big Porsches in front of him, and right behind him are two more big Porsches, including the "toned down 600 HP" turbo 911, and Dearings' Viper. We hear it is going to be a 30 minute race, so I tell Wayne to make sure he tops off his gas tank, as he will be using a lot of gas in the race. Wayne throws on new tires after his first session, so he is set and ready to go. His car still has that annoying boil over problem when he parks it in the garage, but it is fine on the track.
We go to the final race of the day for the Red group. They announce that the race is changing from 30 minutes to 20 minutes. Wayne curses, as he fill his gas tank to the brim. Wayne is gridded 3rd, and I tell him to just draft and stay behind the GT3 car, and let the cars behind him make mistakes in trying to catch up to the leaders. During the warmup lap, one of the Vision Motorsports pit crew guys runs over to me and asks if I have radio communication with Wayne. I say no. We were too lazy to setup it up. He said that Wayne is dumping fuel all over the track, and Dennis in the monster Vision 911 Turbo is right behind him with big ass slicks. Uh oh. I wonder if they are going to black flag Wayne in his moment of glory before the race even starts. I guess Wayne put TOO MUCH fuel into his car. I am glad I ain't his crew chief.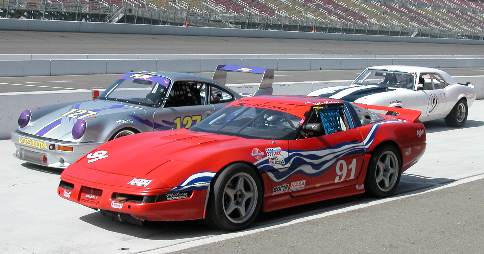 Brian's Vette (ex-Eckhaus Vette) showed up Sunday, but DNS due to electrical problem
This is John Dearing's first wheel-to-wheel race in the Viper, and he was driving real good all weekend, and is sitting in 6th on the grid. I tell him on the grid, "Take your time out there, Young Luke, and kick some butt".
They don't black flag Wayne, and the race is on! Wayne drafts the white GT3, and it looks like it is gonna be a killer race with four real fast cars right behind him. Coming around on the next lap, the red Porsche zips by, and then the white Porsche zips by.....but no Wayne. What the hell? Apparently Wayne spun in the tight 2nd gear turn in the middle of the course, and a bunch of cars got by him. Now he has to play catch up. After a couple more laps, Wayne starts slowing down and letting a bunch of people by. Bummer.......DNF for him also. Wayne said that he had water from the radiator coming into the passenger compartment of the car, and it started getting on all of the electronics. That sucks. So the overheating problem finally caught up with him, after five sessions of just leaking on the garage floor. Oh well....
Blake in the red Porsche holds off the Dennis in the Vision prepped car until the last two laps, and then the Turbo makes use of all that HP to get by him.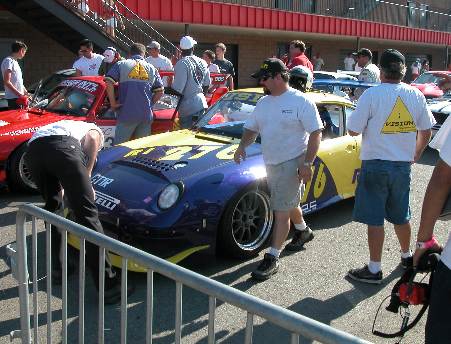 Dennis takes first in the Vision prepped 993 Turbo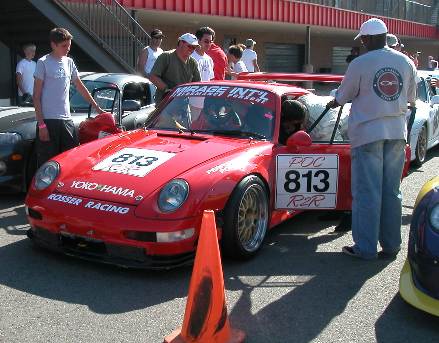 Blake takes 2nd in his 996 Cup car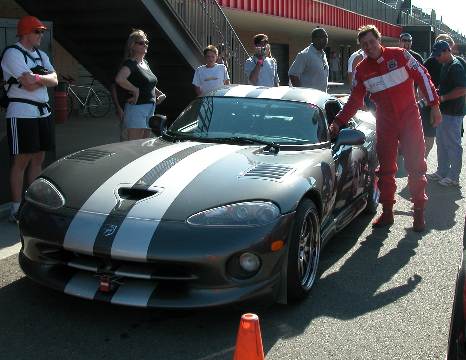 John takes 3rd in his first wheel-to-wheel race!
A couple of guys spin behind Blake, and John drives a clean, fast race, and makes it to the podium in his first wheel-to-wheel race with his street Viper! Wayne and I look at John, and we shake our heads and smile......as now John will be hooked on the wheel-to-wheel go-fast crack pipe, and is life will never be the same.....he's gonna be in the same rat hole as we are in!
July 31
Springsteen debuts "The Rising" on the Today show, and also does an interview with Ted Koppel on Nightline. He makes the cover of Time Magazine. Unusual for him, as he rarely gives interviews. Last tour, Springsteen did about 100+ concerts and did no PR and no interviews, and chose to let the concerts speak for themselves. This time, it seems he wants to get his "message of hope" out to the public in these troubled times. Some older reviews of Springsteen (interesting to see what the "critics" thought 27-28 years ago) from John Landau and from Lester Bangs (the critic mentioned in "Almost Famous"), and Jay Cocks from Time Magazine
Today, I looked at the in-car videotape, which fortunately also recorded the five gauges that Comptech installed. The first five laps or so of the race, oil pressure is at 60-70 psi on the high banked curves at the redline. Right before the car started sputtering, on the 2nd high banked curve after the chicane, where there is the most G-force, oil pressure at redline dropped to below 20 psi. So oil wasn't getting to the all parts of the motor and the VTEC. So it appears to be an oiling problem. Oh well. Back to the drawing board. Instead of pouring gasoline on the NSX and torching it, we got a plan to make it faster, stronger, and more reliable. At least this time we have some data as to what is going wrong. Hopefully we can have it running strong later this year.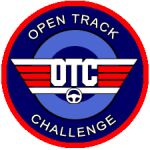 Open Track Challenge! Can you be King in 2003?
The Zen Five are starting to work on the 2003 OTC. Same concept, 7 tracks in 7 days. We expect the competition to be tougher, the cars faster, the fields bigger. Start preparing your plans now!