Speed Ventures at Thunderhill, February 8/9, 2003

"The Thrilla at Thunderhilla"
Backwards and Forwards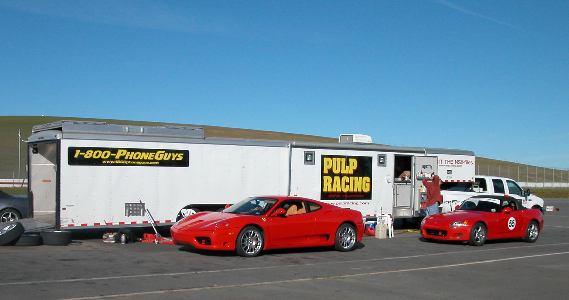 February at Thunderhill. 65 degrees, sunny, blue skies. Go West Young Man!
The next event was 9 days later at Thunderhill, which is 520 miles away from Huntington Beach. It is a solid 9 hours of towing, figuring on two quick stops. Speed Ventures is setting up this weekend to be a day of practice for the Open Track Challenge, as they are running it backwards and forwards on consecutive days, just like the OTC. Speed Ventures is marketing it as "Cheating Bastard Practice", especially since very few people have driven Thunderhill in the reverse direction. Out of the people that are showing up on Saturday, supposedly only one person has run this configuration.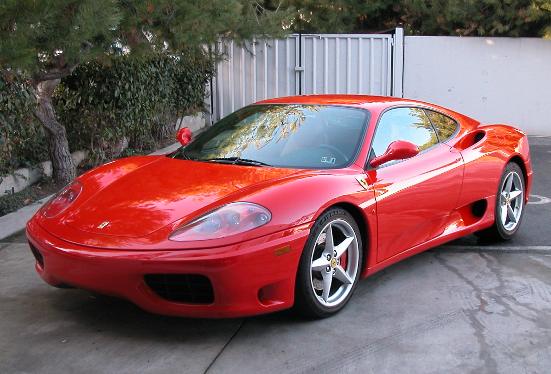 Wayne's 944 Turbo ain't ready. So his backup track is gonna have to be the 360....
(Click here for bigger)
Wayne decided that he also needed some practice on the reverse configuration. Except that his 944 Turbo still has the entire front suspension completely disassembled. He is getting new bushings, steering rack, ball joints, front shocks, etc, installed. Wayne hasn't been to a track event in ages, and he has the itch. This means he is gonna have to pull out his 360 Modena garage queen and put it on the race track. It is not really a garage queen, as he drives it every day. His neighbors hate him, since he fires up his car every morning around 7:00 a.m. to go to the gym. Plus he idles it for a couple of minutes to warm it up. And it is LOUD!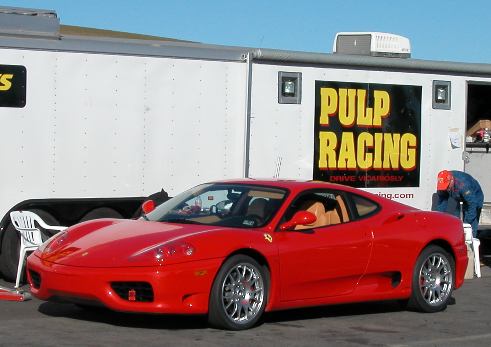 With the borrowed Challenge rims on it
Once in a while, Wayne will pull out his 125cc shifter kart and rip up and down his street. The shifter kart is REALLY loud, as the sound bounces off all the houses in the area. Here in southern California, all the houses are within 10 feet of each other, so it has a nice echo effect. Kids line the streets when Wayne pulls out the kart, cheering him on as he rips around the neighborhood. It makes Wayne feel like Schumacher. Adults line the street shaking their fist at Wayne, as they can't stand the noise the kart makes. Some adult tried to tell him that it is too dangerous to do that with kids around, and Wayne explains to him that the kids knocked on his door asking him to rip around the streets so they can watch him and "drive vicariously".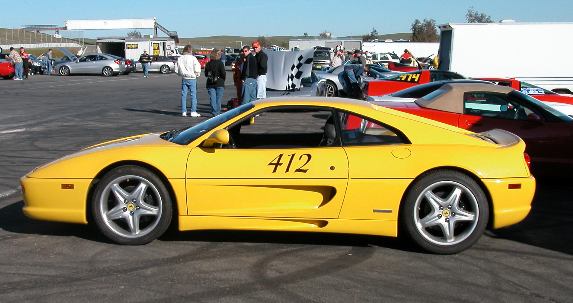 Lots of cool cars at Thunderhill this weekend
Wayne ain't much for following rules. He is trying to landscape his front yard, and is putting a barbeque and cement patio in his back yard. Building permits from the city? Building permits from the association? He don't need them. Everyone else in his neighborhood spent a huge amount on landscaping, but he found a guy that would do it for half the price. After everything was dug up at his house, and they were ready to pour the cement, the housing association showed up with a Cease and Desist Order, as he didn't get his plans approved from the Housing Nazis. The association board of directors is probably the same people who curse him for his loud car and the shifter kart, so they figure they are getting back at him. Right now, Wayne has a front yard and back yard full of dirt, waiting for some morons to "approve" his landscaping plans. They also tried to get him to remove his 1x10 inch boards from his driveway that he uses to drive the 360 into his garage without scraping the front. He just leaves them in the gutter when he isn't there. If the housing association had a brain, they would draft regulations to slope those driveways so you can drive exotic cars into the garage.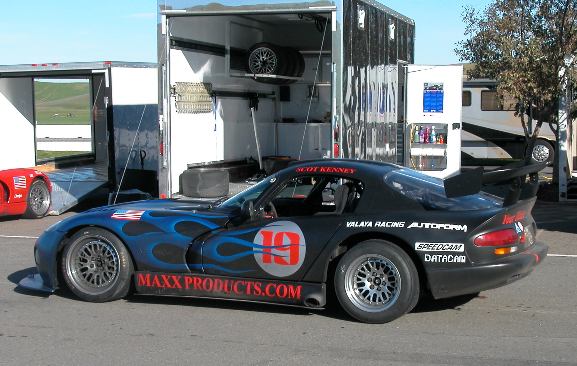 Lots of big boy cars at the track....
So after Wayne decides he is gonna take the Ferrari to the track, then we got to figure out tires for him. You don't want to trash those street tires that cost $400+ each. Plus he wants to drive the Ferrari around the streets so we can hit the casinos and night life in Willows and Chico. Hummm. Since I run Hoosiers for my F355 on the street, and I have an old set of rims and tires, we figure we can use those.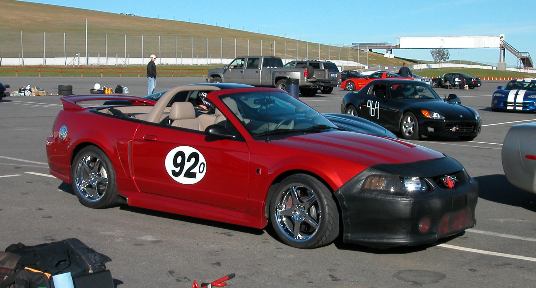 Steve's show quality Mustang
After my fiasco with the NSX rims on the S2000, I tell Wayne to put my extra F355 rims on his car now to test instead of waiting to get to the track. I have to twist his arm for him to do it. He jacks up the car, and then mounts one wheel. He says it works. I tell him that he needs to jack the car down, test it, roll the car, etc. He says I am a moron. We argue more. I tell him to just lower the ffing jack so we can test it. He lowers it. Front rim and tire seems to fit good....except that the 360 caliper is hitting the rim. Oooops. That ain't gonna work. After scratching our heads more, he decides to ask Martin at International Motorsports to rent him some 360 rims. Martin says yes, so it looks like he will be at the track with 360 Challenge rims, my used NSX rear Hoosiers and a set of old 18 inch front Hoosiers from the 355 rims.,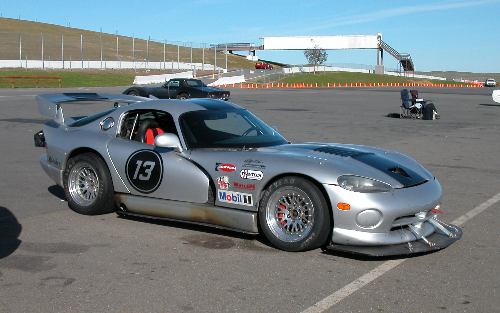 The Red group was ah....very fast
As most of you know, I had a contest as to who can come up with the most creative use of a Pulp Racing decal, and to send me a picture of where they put the decal. I figure it will be a good promotional campaign to build more awareness of Pulp Racing. The deadline was January 31, 2003.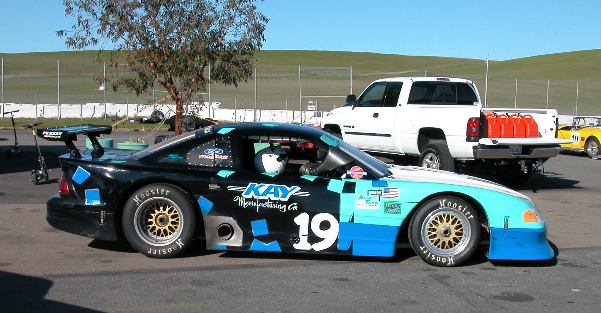 The Red group drivers were pretty aggressive
Prizes will be awarded as follows:
1. First place - $250 cash
2. Second place - $100 cash
3. Third place - $50 cash
You will be amazed and surprised at the results! Click here.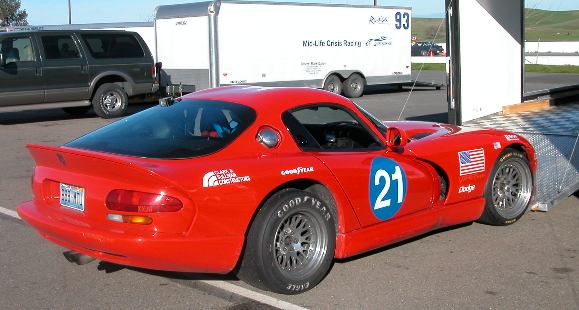 Slicks were spotted everywhere on the big boy cars....
I bug Erik for about 4 days to check my alignment, as something isn't quite right on the S2000. It is understeering a lot, and the car has never felt like that. I wasn't able to fling the car into turns. Maybe when it got towed before going to Laguna, something was tied down wrong by the tow truck driver, and something bent. Erik took a look at the car the morning before I go to Thunderhill, and decides to take off the front control arms and shocks, and inspect to see if something was wrong. Control arms were fine, shocks were not leaking. His alignment marks were still on the money, but the alignment was off slightly for some reason when he put everything back on. Weird. As he was tightening the bolt for the right upper control arm, he hears a big "creak". Humm....that ain't right. After taking everything off again, it appears that the control arm links are starting to separate from the frame of the car. They are spot welded there, instead of seam welded, and the weld is breaking. Damn. He says he can try to get his welder to show up at 6:00 p.m. to fix it. Looks like the trailer isn't getting packed tonight. I need to leave at 5:00 a.m. for Thunderhill to beat the morning traffic through Los Angeles.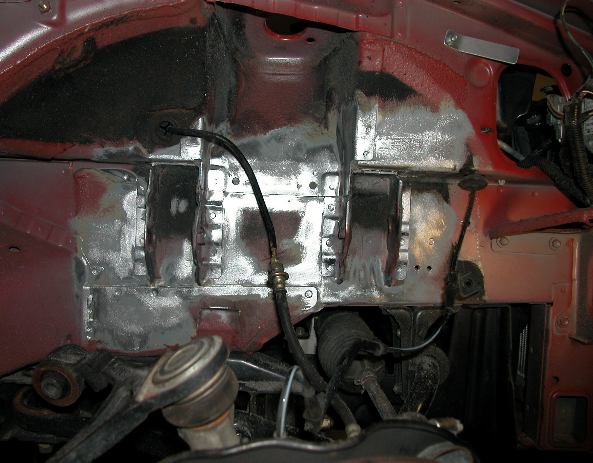 The right front end link thingys
So now I start thinking....hummm...car was understeering at Laguna. I would have REALLY kicked everyone's ass with Dave's slicks if the control arm links were solid. Maybe even without the slicks. Then the light goes on in my head. SHIT! No wonder I went under a fence at the Streets of Willow. It all makes sense to me now. I was using that little dirt ditch area before the skidpad to drop a tire into ditch to get the car to rotate, but the hole was big and the right front tire went KABAAM when it hit the hole. I guess after pounding the car through there 4-5 times, it probably helped cause the right front end links to start failing. This probably contributed to the fact that I could not get the car to turn before the mini-NASCAR bowl, got too far on the off camber part of the road, spun, and shot under the fence. I KNEW it couldn't have been driver error, it was mechanical failure all along. Yeah...yeah....that's my excuse......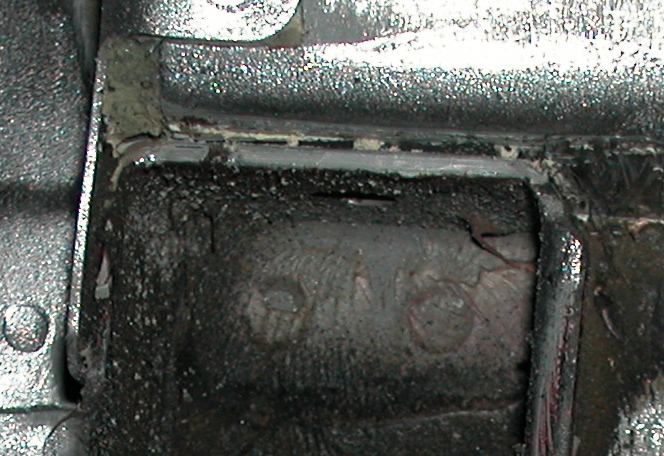 Close up of one of the many areas where the end link was separating and flexing
So Erik grinds off all the paint and undercoating in the area, disconnects the battery, gets a pick and tries to get out all the epoxy like glue that Honda puts around and behind the spot welds, so he can get the car prepped for the welder guy to come by. By 10:00 p.m., the welder guy isn't there, so I tell Erik when he is done with the car, just park it outside his shop, and I will pick it up at 4:30 a.m. Apparently the welder guy was building some headers for someone's Formula One car, and when he delivered them, the customer thought he was going to put them on also. He figures Welder guy is gonna take two hours to weld my car, and then Erik has to paint the weld area, reassemble control arms and shocks, re-align, so I figure he is gonna be there until 2:00 a.m.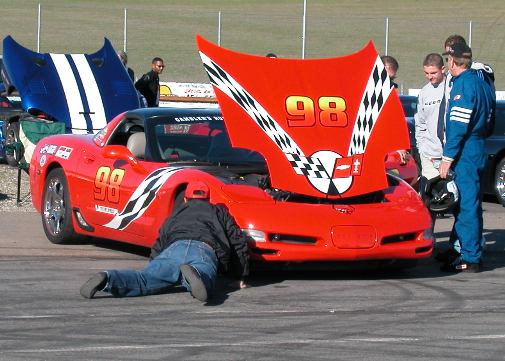 There was a shootout between two Vette groups
Friday morning, February 7th, 2003
When I show up at 4:30 a.m., Erik is just leaving the shop. Wayne and I blast up to Thunderhill, and 8.5 hours later, make it to the Colusa Casino about 30 miles from Willows. We cruise in there, play some blackjack, and lose about a $100 each. Damn Indians. We pull into the hotel, check in, and unload the 360 Modena out of the trailer. Time to go cruise downtown Chico and checkout the night life. We get there too early, and not too much is going on. Wayne doesn't feel safe parking the car there, so we blast back to the hotel, too tired to hit another casino. But there is always tomorrow.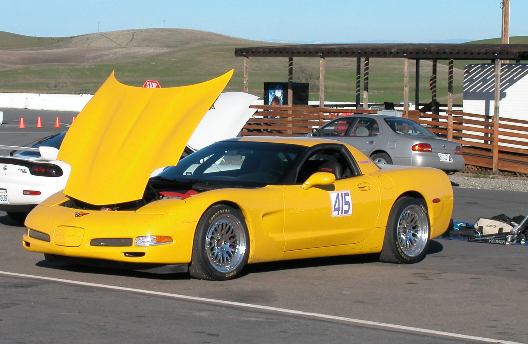 So they brought their slicks too
Saturday, February 8th, 2003
I get to the track at 6:50 a.m. I am the first dude there. No matter how early we get to the track, we are never completely ready for that first red group at 9:00 a.m. We unload the trailer, get the tools out, swap Wayne's rims, setup the timers, the video cameras, check oil, check oil filter, clean window, find the suits/gloves/neck collar/shoes/helmets, bleed the right front brake caliper where Erik was welding, register for the event, eat a little breakfast, and before you know it, red group is on the track, and we are still in the pits scrambling to get to the hot pit. We need to get to the track at 6:00 a.m.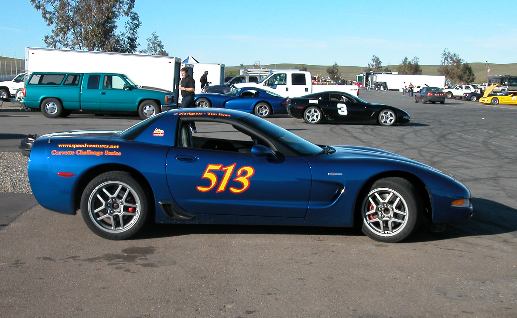 Tons of Vettes!
Wayne says he is gonna take it easy with the 360, because if you go off the track in that car, it is gonna cost you a lot. That carbon fiber undertray stuff will be expensive to replace. Going in the reverse direction today puts the advantage to the guys with autocross experience who can learn new tracks quickly. Disadvantage to us guys that are used to getting Cheating Bastard Practice before events.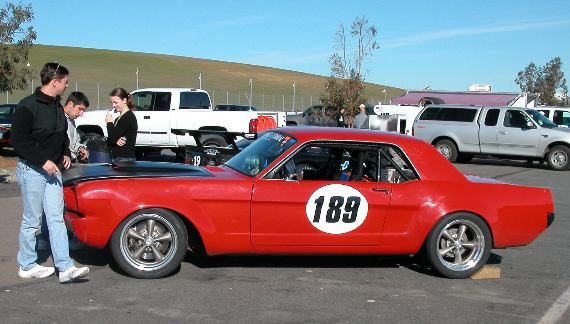 Vintage Mustang
Going in the reverse direction is very fun, except for Turn 1. Turn 1 is fairly high speed, and if you were to lose control of your car here, you take at chance at heading a wall head on at between 90-110 mph. I don't mind taking a chance at scraping up the car or rolling the car, but I do mind hitting something fairly solid head on. The handling on the S2000 feels great again, I can fling it into turns, it sticks, it rotates, all four tires screech around turns, etc. I only run a 2:12, mainly because I wussed out and didn't carry as much speed as other S2000 drivers into turn 1. They are younger, and heal quicker than I would...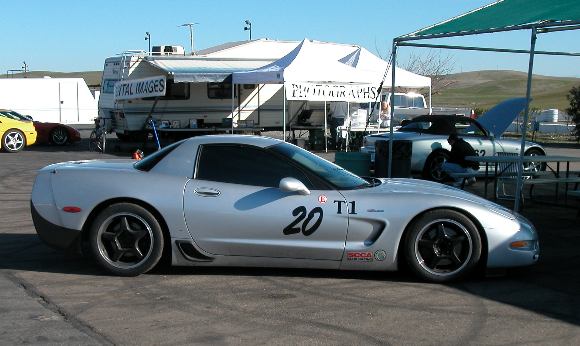 Wurth ran pretty good on Saturday, until the car died.
The day progresses pretty smoothly, with no real incidents. Except that Wurth's T1 Corvette is dead in the water. Possible cam belt broken or something like that. Speed Ventures runs 3 groups, each about 30 minutes, and each group gets 5 sessions, or about 150 minutes of track time per day. Rhoades blasts a 2:08 with the wing, and then packs his bags after a couple of sessions to head down to Willow Springs to see if he can lay down a fast lap at tomorrow's NASA event. Willow is a good "reference" track, as just about everyone knows their laptime there.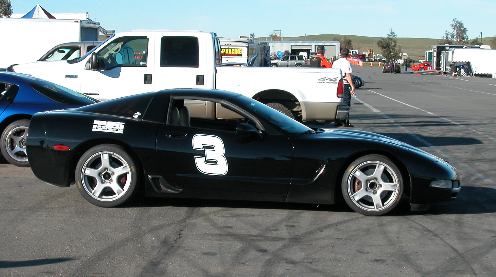 Who will be the Vette King?
Wayne is just waving everyone by in the 360 on the track, as he just wants to learn what the track feels like in the reverse direction. Jason, Aaron, Rylan, and Josh all kick my ass in the Production S2000 class.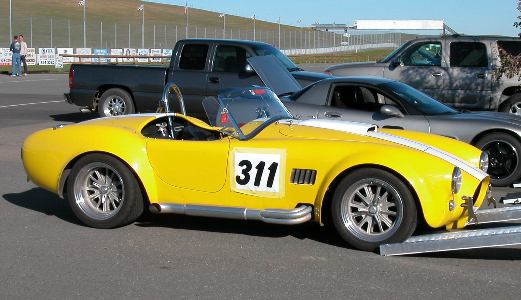 Nice looking Cobra
After the track day is over, we stop at the Mexican restaurant next door to the hotel for dinner and some friendly smack talking. Wayne, Rylan, and I hit the Gold Hills Casino, and remarkably, all three of us come home winners. We get our money back from the Indians from the night before, plus a profit.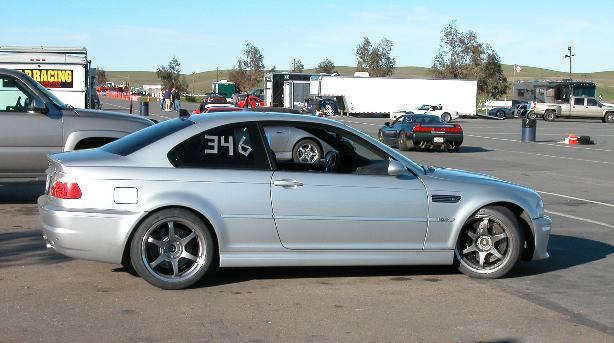 BMW ready to duke it out with the rest of us
Sunday, February 9, 2003
Back to running the track the regular way. The red group is really fast, with most of the people doing under 2:10. Some of the Vipers and the Radicals are under 2:00. I am running 2:08, about the same as when I was out here with TrackNutz a couple of months ago. Wayne gets a ride in the Radical as a passenger (yes, there are two seats in it), and comes back raving. "We gotta buy two of these! It's awesome. It's the best ride I ever had." I tell him, "Ahhh.....we are trying to REDUCE our racing costs, and you want us to go out and purchase two more $60,000 cars? Have you lost your mind?" Especially since I have a race car on order already. He insists that I go out for a ride with Mark in the Radical. I decide to take 3 or 4 laps as a passenger, then hop out of that car and then back into my S2000 to see if I can break into the 2:07 range. I ran about 6 laps in the 2:08 range, but can't quite seem to make it to the 2:07. I do one last try, and still come up short. Oh well...that puts me 3rd behind Aaron and Rylan for the day.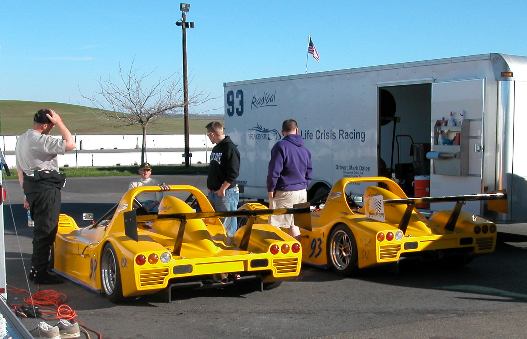 These are the Radicals that are running in U1 of the Open Track Challenge
The ride in the Radical is cool. Car brakes awesome, and sticks great. Seems like a lot of fun. Unfortunately, I would have to sell a couple of cars to afford one of these rockets, and I don't think I want to do that yet. They are going to be tough to beat in Unlimited 1 at the OTC. They snuck in under the "Lotus Elise Rule", meaning that the Lotus Elise is street legal in Britain, so they are OTC eligible. Apparently somewhere in England/Britain you can get a Radical licensed to drive on the street.
The are also two experimental classes this year in the OTC. OTCX1 is for all open cockpit, closed wheel sports racers. For example, Sports 2000's, Renault Sports, Diasios, etc. The Radical snuck in prior to this ruling, so they are still running in U1, which will make it real interesting for the rest of us in Unlimited 1.
OTCX2 is the new home for all non-production chassis cars that are closed cockpit. Examples would be American Stock Car series competitors, retired Winston Cup cars, custom tube frame projects, etc. More info at www.opentrackchallenge.com.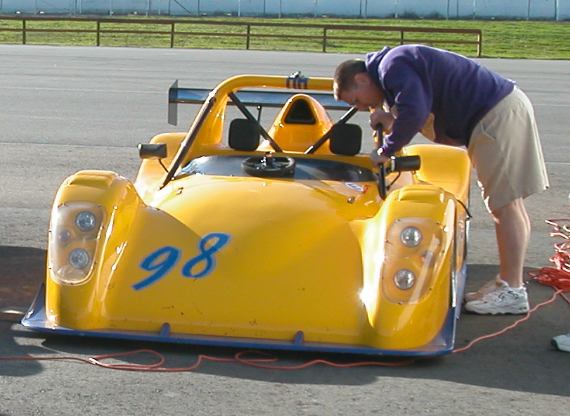 Front of Radical. Nice Cheating Bastard move to enter this into Unlimited 1!
Congrats to Mike Horzewski, who ran sub 2:00 both forwards (1:56) and backwards(1:58) in his Viper over the weekend! The only cars faster than him were the Radicals. Mike took 2nd in the ill-fated Virginia City Hill Climb with a 3:15 last year. That's ah....11 seconds faster than my fastest time, and 8 seconds faster than Wayne's fastest time. Looks like we got some work to do for the Hill Climb.....
We decide to blow off the last session of the day, pack up the trailer, and start the ride home. We left Willow around 4:00 p.m., and go to Los Angeles around 11:45. The first eight hours of the drive was easy, the last hour was really tough, I was so damn tired. I didn't see swirling black tornadoes this time, but I did see dinosaurs. For some reason, the outline of the trees along side the freeway looked like dinosaurs. I saw all kinds of T-Rex and Brontosaurus dinosaurs along the highway. Freaky. My eyes were not closing, they were wide awake looking at the lines on the road, but out of the corners of my eye, it was ffing Jurassic Park.
Later on, I hear that Jason Rhoades ran a 1:37 at Willow with the AABAUW, which is three seconds faster than the last time he was there. Unfortunately, he corded his rear Hoosiers, so he didn't have a chance to try to beat my 1:35 or Mumford's 1:34. He did say that he hit 130 mph down the straightaway, which is 5 mph faster than I ever went, so it looks like the wing is helping him in turn 9.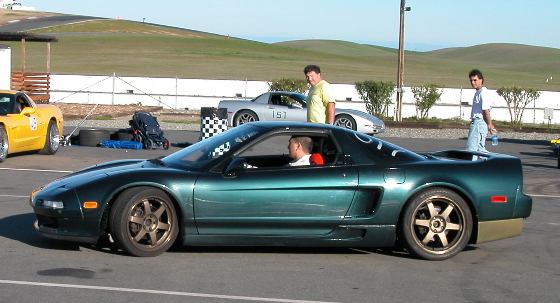 Kenji's NSX
We probably won't be doing any track events until the OTC in April. We figure we concentrate on getting the cars ready for the OTC. If we try to do any other events, that will just take away from our OTC effort. I mean, for us to do a weekend at Thunderhill means at least two days racing, a full day to drive up and back, and three days at the shop getting the cars and trailer ready. So it's basically and entire week of labor for us to be at the track for the weekend.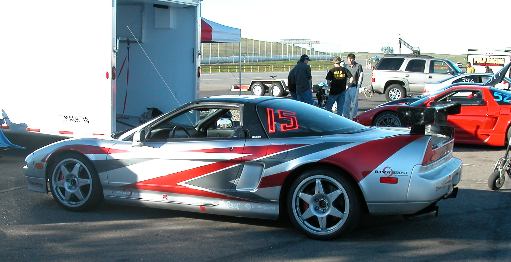 Greg's NSX
Wayne and I have devised a strategy where we think we will both win our class. No, we ain't telling what that strategy is, so don't ask. You'll have to wait for when we reveal the rest of the Cheating Bastard OTC secrets. Only four people in the world know the secret, and they ain't talking to anyone.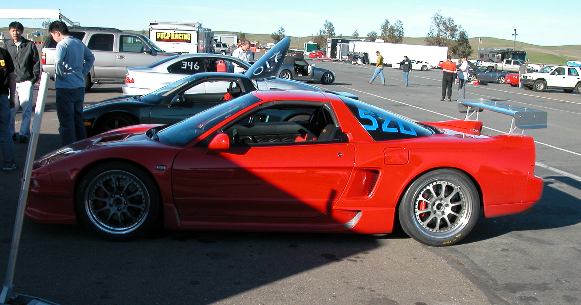 Mark's NSX
So, given that I might not have an update until April, I will leave you with my favorite email story that I received over the past couple of years. It is another example of how crazy life can get on the Go-Fast Crack Pipe. I present to you an email that was sent to me by Mike York:
I've enjoyed your racing stories. I'm a car salesman in Detroit, and I've been a Go-Kart racer for 30 years. The last twenty have been in 125 shifters mostly on long tracks. I just recently purchased a 2003 Cobra. I've been running it at all the Shelby Club events locally. It's kind of cool reading how you and your pal got into shifters. I really enjoyed showing my friends your helmet cam video. I thought since you've entertained me I ought to pay you back. They used to have a great Go-Kart race called the Elkhart Grand Prix. Elkhart Indiana, not the great track in Wisconsin. They used to race through the streets. The course was about a mile with a 1\2 mile back straight. We used to get over a 105 mph on the back straight.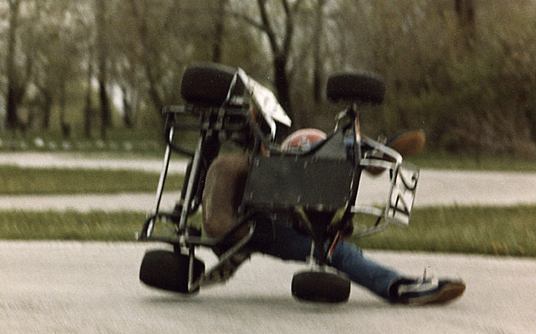 One of many of Mike's flips
Alex Barron and JM used to be there along with all the hot shoes at that time. They had three groups of 40 karts qualify. I was able to qualify in the top group at 11th position. I was feeling pretty good because it was raining most of the morning. I'm 30 pounds over the class weight, but I'm fast in the wet. I'm thinking that this is going to be my big chance to shine. I tell my wife," I'll either be in the ambulance or the winners circle after this is over" I'm sure you can guess what happened.
Right before we grid the sun comes out and they decides to go with slicks. They had a rule that everyone had to use rains or dry tires and the race directors called for slicks. All I had mounted was the qualifying tires. I had to put them on. I'm thinking I only have one shot to get this done in three laps, after that these tires are going to be toast. We get the flag and I get a good start. I've picked of 4 guys on the first lap and I can actually see Alex Barron on the second lap. I pass 2 more karts on that lap, and wind up about 70 feet behind Alex.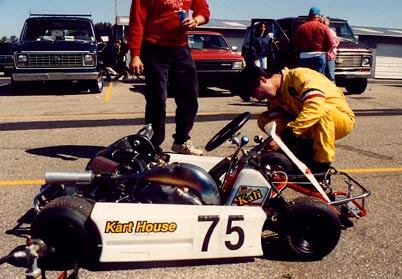 The Kart
I start the third lap and I'm hitting my braking points and apex's and I'm drifting to far dammit. The track features a right hand turn that went downhill right after the apex. Of course there was no run off, only hay bales backed up to the curbs with a six foot nylon catch fence. You had to toss your Kart into that corner and hope that it stuck to get through there fast. I tossed it and the tires had lost all their grip. I hit a water soaked hay bale at 80mph. I hit the steering column so had that I bent it upward 3", my front discs and tie rods exploded. My nuts hit the steering upright so hard I thought I'd never have sex again. It got worse after that, As I was rebounding from hitting the wheel I came out of the seat and landed hip first on the Spark Plug. I hit that plug with so much force it impaled itself in my back till it hit the pelvis and bent like a staple, attaching me to my Cart-Wheeling wreckage. Thank God that the second or third impact tore the flesh out of my back and released me from my kart.
My body slid to a stop, and than I got to see what it's like to be laying on a blind downhill while 20 of your fellow karters show off their cat like reflexes. I got up after they passed me and went for my wreck to try to get back in it. When I saw how destroyed it was, I picked it up with one hand an tossed it over the hay bales. I walked up the hill to the top where my wife and friends where hanging out. They didn't see my crash from where they were at, and where shocked to see me with out my Kart. My wife hugged me and when she pulled back her hand where covered with blood. My friend Ted was behind me and said "Dude you have a deep whole in your back". It was at that point we realized I was hurt pretty bad.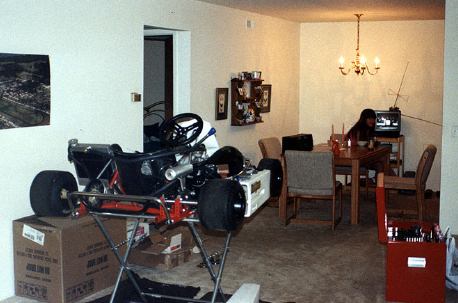 The Living Room/Race Shop
I was strapped to a back board and taken to Elkhart general. I met about 20 of my friends that were injured in different classes of racing that day. The emergency doctor was overwhelmed with cases, but being the worst got me in first. This asshole Doctor said that he did everything he could for me. I was still bleeding through my bandages really bad. My wife cursed out the shitty Doctor and Stuffed me into her 93 Probe GT. She took me to a Hospital by our house 200 miles away. She got there in less that two hours. I was very impressed that she could drive like that. The other hospital just rebandages me and send me home with painkillers. I spent the next two months recovering.
I rebuilt my Kart for Mid-Ohio and was doing great when the guy in front of me spins and leaves me no where to go. I leave the track at over 100 and I'm on wet grass. I hit the tire barrier. My wife was so freaked out when I didn't come around the next lap and the ambulance went out that she put my balls in a Mason Jar for the next three years. Two months go by after the Mid Ohio wreck and my back still feels terrible. I finally go to my local Doctor and tell him that I think I have a bone chip floating in my back or something. He asked me if I was comfortable having him open up my back at his office. I'm his last patient that day and his nurse's have left. He puts me on the table and numbs my back. My wife is in the room helping the doctor, getting me O2 and trying to keep me calm. My Doctor tells me I have some thing metal in my back and asks me what I think it could be. I start seeing that exploded view of my Kart engine and realize that the only thing I didn't find after the Wreck was the piece that goes in the boot for the spark plug. I had this metal piece in my back for 5 months. It had fused to my back and had to be chipped of the bone. No wonder I was feeling like crap.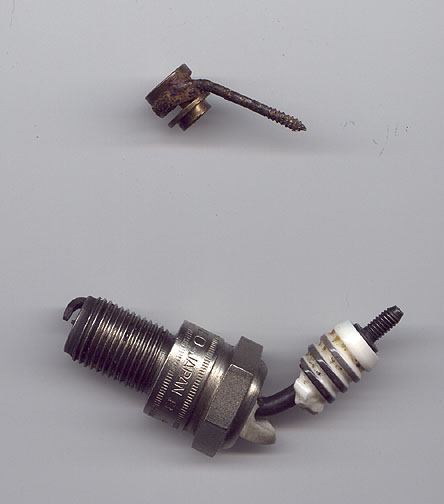 Top of picture is the part that was embedded in his back for five months
The good news is that I'm back on track and having a great time. I've attached a couple of photos. Please keep updating you site, all the Detroit Gear Heads love your site. P.S. I've attached a picture of me in High School in my 69 Hemi Roadrunner. We got that car over 700 hp in my Auto shop class. We used to Drag race on Woodward Ave in good old days.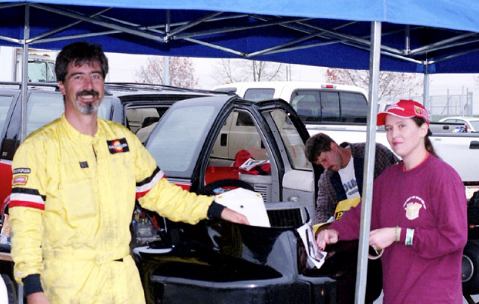 Mike "York" Yoksich. Back on the track, still smoking the Go-Fast Crack Pipe
Mike sells Fords at Jack Demmer Ford in the Detroit, 37300 Michigan Avenue Wayne, MI 48184 (734)641-6123, and they are also an SVT dealership and a Lincoln Mercury Dealership. They also sell Roush and Steeda Vehicles and Parts. You can email him about potential car deals, parts, or trade racing stories by sending him email here. He's a fellow gearhead like the rest of us, leaving work only when he goes to the track.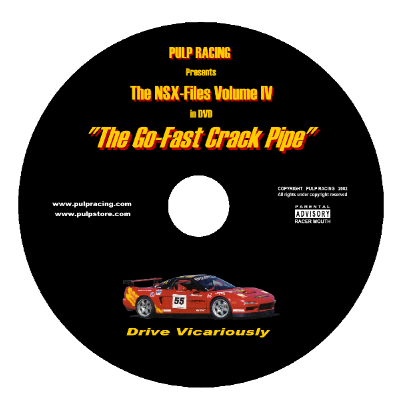 Support the Pulp Racing/NSX-Files Website! Buy this DVD!
Order it at the Pulp Store
Hey, don't forget to consider buying the NSX-Files Volume IV on DVD. It will help prepare us to win our classes at the OTC! Click here for more info. See ya at the Open Track Challenge, hopefully you can enter your car and duke it out with us at the track.
The Speed Ventures guys are doing the Sebring Track in Florida on March 29/30th, a mere two weeks after the 12 hours of Sebring. They are renting a transporter to ship a max of 10 cars from California to Florida, and the price is CHEAP, something like $850 roundtrip. Using their transponder system, you can see what your lap times are compared to the big boys. Contact Aaron if you would like to reserve a spot on their transporter. For you east coast drivers, use their website to register for the event at www.speedventures.net. Get your friends to register, kick their ass on the track, then talk smack to them!
Don't forget to checkout the lap times at the Honda Hall of Fame. Shawn Bota also cranked out a 1:31.886 at Big Willow in his Integra the same weekend we were at Thunderhill. If any of your Honda owners want me to add your time, just send me your what type of Honda, lap time, AMB or Hotlap, engine config, suspension config, how much your car+driver weighs, sponsor info, excuses, etc.
Back in 45 days or so, when we start smack talking about the OTC and revealing some Cheating Bastard secrets. Unless we give in to the addiction and attend another track event between now and the OTC.....


Who will be King of the Open Track Challenge in 2003?
The fields are building up for the OTC. The best drivers from around North America will duke it out from April 6 - 12, 2003 beginning and ending in the Las Vegas area. The great thing about OTC is that you are in the hunt for at least one trophy no matter if you are Michael Schumacher or the average weekend enthusiast. OTC has become the go-fast equivalent of the US Open. Even if you aren't in it for the accolades, OTC is a great way to see some great tracks at one time. Entries are looking strong in the first two weeks and the level of hardware in the upper rungs is simply amazing. For more information visit www.opentrackchallenge.com or contact Brian Provost at brian@opentrackchallenge.com. Entry fee goes up after January 1st, so get those checks sent in!