Speed Ventures at Laguna Seca, January 30/31, 2003

"Cheaters, Start Your Engines"
Another Year of Racing Begins!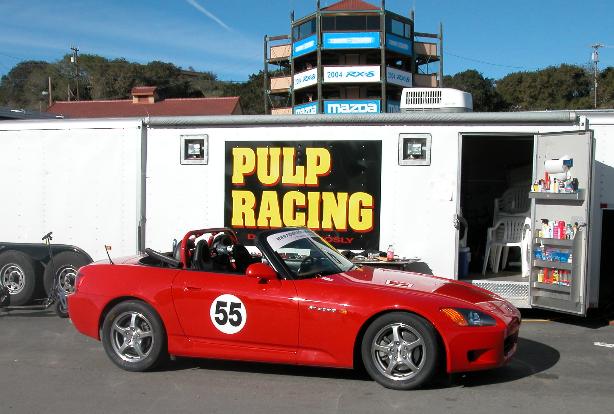 January at Laguna. Dry, blue sky, 75 degrees....you will all move to California sooner or later...
We didn't do much racing or track events over the holidays. There just isn't a lot of events between mid December to late January. For those of you that live in California, there is a website for local track events at http://members.cox.net/trackdays/.
We had relatives stay with us for a few weeks over the Christmas vacation, which was a lot of fun. My brother-in-law Tony and I tried to sneak out to the Speed Ventures event at Sears Point on January 2/3rd, but we couldn't quite get that one past the wives due to the fact that we would be gone for the New Year celebration. The tow to Sears would require a day up, a day back, two days at the track itself.....a little too much over the holiday season. Tony is a good chef, so we all gained about 7 lbs over the holidays due to his cooking skills.
Joe Strummer died over the holidays. Bummer. The Clash was one of the top 3 most explosive bands to see live in concert. I saw them back at I think it was the Hollywood Palladium and the Long Beach Arena back in their heyday. Damn they were good.
Wayne hides from everyone over Christmas vacation, and runs off to Hawaii with Amy for 10 days to relax. It's been a tradition for him for at least the past 4 years or so. That way he doesn't have to buy anyone Christmas gifts, which is a time-consuming pain in the ass.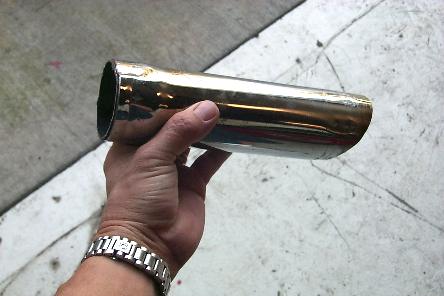 For the weekday Laguna Seca events, the noise limit is 90 db.
The S2000 came back from the body shop, and the bill was only $800, which was really lucky. I thought it was going to be more like $2000. Rear bumper cover, some bondo and paint on the right rear quarter, and a good buff job on the hood and trunk make it look almost like it never went under a fence.
The NSX gets shipped back from Comptech, with yet another rebuilt engine and it is almost ready to go. Comptech also installed an accusump, so hopefully that will help make the car more reliable. I figure I will get a couple of minor mods done to it, take it out for a half day test day, and then I will park the car until the OTC. If I blow it up again, it might have to sit for another 6-8 months before it goes out on the track again. I simply cannot afford another blown up engine.
The F355 had to have a CV boot replaced. The Ferrari guys wanted $700 to fix that, but I passed and went to Martin's shop (International Motorsports) which put a used boot on the car for much cheaper than that.
I got my blown up kart motor fixed back in early December, so it for the first time in ages I have all four go-fast vehicles running at the same time. Not sure how long that will last.....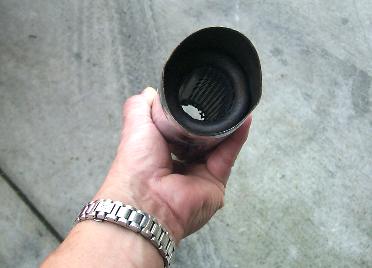 The add-in pipe I bought has a little muffler in it. 90 db is the sound of a carwash.
In early January, we did some karting practice at Amago and Grange to get our racing fix. When the brain goes that long without the dopamine stimulation, your body gets the shakes, you start feeling bored and depressed. So you need to do some type of go-fast activity. All you East Coasters racers who are living in the snow pack or icy roads, you must be suicidal by now. California does have a lot of wackos and freaks, but ahh....as you read this, they are probably sitting around a swimming pool in short pants with a drink, checking out the babes in bikinis. They can't be all that wacked out now, can they.......
Erik met us out at Grange, and that was his first time there. After his first session, he said that he ran a 56.56 as his fastest lap. I was claiming bullshit, as Wayne and I didn't even get into the 57's that session, and we had been at the track twice before getting Cheating Bastard practice. I went to look at his Micron timer, and it didn't display anything, as the battery was dead. How convenient. I told Wayne that I think Erik is throwing a fast one on us, as no way could he run a 56 in his first session ever on the track. Next session, we go out, and I purposely go slow around the track, waiting for Erik to come by, so I can follow him and see how fast he is. As he zips by, I get behind him, and I notice that he gains quite a bit of time going down the straight, as he gets a good launch after the hairpin. Hummm. After we get in, he throws a new battery into his Micron, and he reviews the time from his first session.....and I'll be damned, it was still stored, and it shows 56.56. Wayne and I suck. Later that day, after we left, we hear that Erik ended up running a 54.99. How depressing.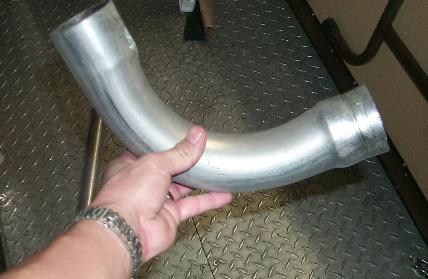 After the add-on pipe/muffler, I add a 90 degree bend to point away from sound meter
We go out to the track again a week later. My kart sucks at low RPMs, something is wrong with the jetting. I tried different main jets, different tubes, different gear sets, but it keeps hesitating under acceleration in low speed corners. At the end of the day, Wayne and I go out for one last session with a $5 bet for fastest lap, and I am about two feet off of Wayne's bumper in the turns. A couple of people are watching us from the pit area, and we are looking pretty cool with our close formation. Then Wayne spins out in front of me, and I swing around thinking I am going to miss him by a foot, but I crash into him with my right rear tire. The peanut gallery probably then points to us saying, "Morons". I bent my rear axle so badly, that the kart rides like a pogo stick as I limp into the pit area. Wayne cracks a bearing on his axle. I win $5 bucks, but my axle will probably cost $200 to replace. Shit. That was a stupid bet to make. We at least get down to the low 56's. So it takes me about one week to break the first go-fast vehicle.
I also tried out mountain biking for the first time. There is a bike shop in Laguna Beach that rents out high end mountain bikes, so we grabbed a couple of those double suspension bikes for a cruise in the local hills and mountains. Apparently there are great trails within minutes of where I live. We rent three bikes, and Tony, Dana (Wayne's nephew), and I hit the trails. I have never pushed a bike up a hill in my life, I can always make it up hills in my 10 speed bike. The first day on the mountain bike, Dana and I push the bikes up the hill about fifteen times. Tony runs triathlons, and is kicking our ass. He goes up the hill, comes back down the hill to watch us push our bikes up, and then rides back up again.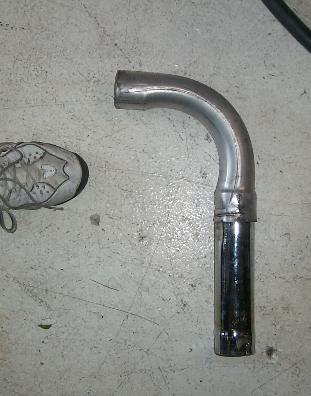 Connect straight pipe/muffler add on to 90 degree bend
Erik goes riding with Tony and I one day, and Tony kicks his ass also. Worse, Erik goes flying down a straight path of dirt with a little grass to catch up with Tony, slams on his brakes to do a power slide, but we ah....forgot to tell him that the front brakes on these high tech mountain bikes are better than big ass F50 size Brembos. He slams on the rear brake and the front brake, but a little too much front brake, and he goes flying over the handle bars. Just a lot of scraps all over his knee, but lots of blood. He'll live. This mountain bike thing is pretty cool, I figure when I go broke due to auto racing, I will take up mountain biking and surfing to get my adrenaline/dopamine rush. Amortized over 5 years, those two sports would probably only cost about a set of Hoosiers per year. And it would be a lot healthier. But until then, we will stick with racing stories.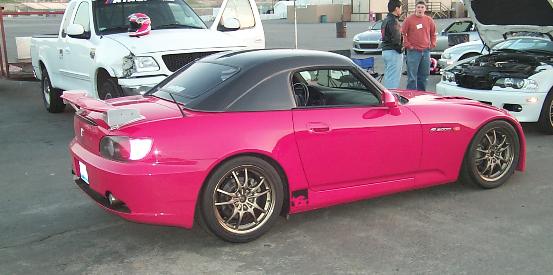 Flashback: The King/Mugen/Nick/Saini car. 1:44.45 last year at Laguna
So it looks like the first event of the year for me will be the Speedventures event at Laguna Seca on January 30/31. The S2000 Army planned for two months to be ready for this event. Last year at Laguna Seca, Jason Saini, an East Coast dude, set fastest lap in an informal setting with a 1.44.45. Now that is damn fast. All us West Coast dudes went home crying that someone came into "our house" and kicked our ass. True, the King/Mugen/Nick/Saini / Over6Racing car had about $26,000 worth of mods on it, but it is a normally aspirated S2000. We we determined that wasn't gonna happen again. Unfortunately for us, Saini and crew couldn't make it down to the Laguna for this year's event, but at least we all had their lap time to shoot for. For the past 12 months, we have had to look at that that lap time and have it torture us that they kicked our ass. But this time, we will be ready......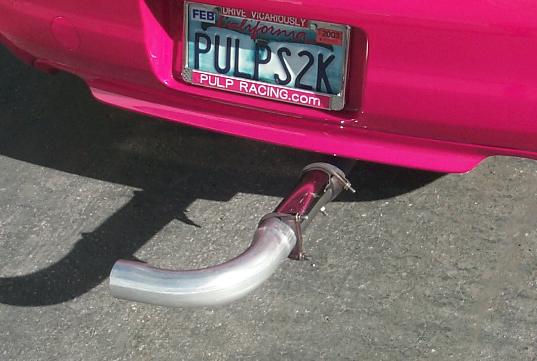 People build expensive new homes 1/2 mile from Laguna, and they don't like race motors
Click here for more info
The Speedventures classing for the S2000's for the 2003 season was changed after Aaron got input from all the S2000 racer dudes. Essentially you are allowed so many "points" of modifications for each class, with each individual person trying to figure out what set of mods/points will work best for them. Most of us plan on running in the PRODUCTION class, meaning a total of 200 points is allowed. The line in red italics below was probably put in there for insurance against any Cheating Bastards attempts at crushing the competition in their class.
S2000 Challenge Series Classification

No changes are allowed to a car unless they are listed below. If a component or other modification is listed below, any type (or size) of that component is allowed, unless otherwise noted (ie. "sway bar" means adjustable or non-adjustable allowed).

If you have a question about any modification, please contact Aaron (mailto:aaron@speedventures.net).

This classification system is subject to change because people always find sneaky little loop holes.

STOCK
Tires: up to 275 width rear tire, 120+ treadwear
Stock wheels only
Alignment – any setting
Any brake pad
Any modification to stock rotors (cross-drilling, cryotreating, etc.)
Any brake fluid
Brake ducting allowed
Brakelines
Any air filter
Any cat-back exhaust
X-brace
Modified stock throttle body
Strut-tower brace
Rear brace
Thermostat
Radiator cap
Heat Shield
Rollbars, seats, or any other safety equipment allowed
Removal of any part not listed above is allowed, as long as it is not replaced with an aftermarket or modified stock version.


MODIFIED (same as Stock + up to 100 points from Points Listing provided below)

PRODUCTION (up to 200 points allowed)

UNLIMITED (Anything goes, including any tire, no points limitations)


NOTE: please bear in mind that the points below do not strictly reflect the performance value of each modification on the track, they also reflect the cost of the modification.

Modifications & Points
Turbocharger 100
Supercharger 100
Internal Mods to stock motor 100
Non-spec Competition Tires* 100
Transmission Mods/replacement 75
Shocks & Springs 75
Spec Competition Tires* 50
Shocks (w/stock springs only) 25
ECU/Ignition Control 25
Remove Catalytic Converter 25
Final Drive gear change 25
Differential 25
Any wheels 20
Hardtop 20
Rear Wing/Spoiler (other than OEM) 20
Springs (w/stock shocks only) 15
Any Intake 15
Calipers & Rotors 15
V-TEC/Air Fuel Control (piggybacking) 15
Front swaybar 15
Front wing/aerodynamics (non-OEM) 10
Hood (carbon fiber, etc.) 10
Rear swaybar 10
Flywheel 10
Header 10
Clutch 5


* Spec Competition tires are any of the four make/models listed here, no others. Allowed make/models are: Kumho Victoracer/V700; Toyo RA-1; Yokohama A032r, Michelin Pilot Sport Cup. Max width rear for all tires = 275.

ANY MODIFICATION NOT LISTED ABOVE MUST BE REPORTED BEFORE AN EVENT OR YOU MAY BE DISQUALIFIED. THOSE MODIFICATIONS BELIEVED TO PROVIDE PERFORMANCE ADVANTAGES WILL BE ASCRIBED POINTS BEFORE CARS GO ON TRACK.

Now this makes it interesting. Which mods really help you go-fast, and what mods will just be bling-bling stuff that only looks cool to "ricers"? Since everyone has a different driving style and different driving skills, it makes it harder to figure out what really worked and what did not work. But it does create lots of speculation by everyone with an S2000 as to what the optimal configuration will be, given the point limitations. It's a bit of a puzzle........but since the end results can be reliably measured with the AMB timing system to 1/1000th of a second, the speculation runs rampant. This makes it a lot of fun to duke it out with the other drivers. Most of us are in the Production class, which allows us up to 200 points of modifications.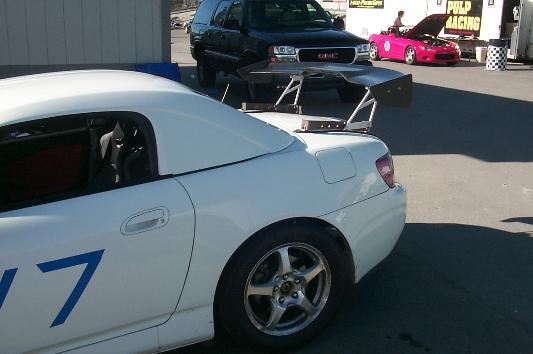 Will's removable wing on his supercharged S2000
So I look at the point systems above, and since I am trying to be much more budget conscious now than in the go-go days of 1998 to early 2000. My rationale becomes the following:
I whupped on everyone at Streets of Willow except for Jason Rhoades and Jason Keeney, who used the now famous Big Ass Ugly Wing (BAUW) created in Rhoades' garage from recycled soda cans. But I doubt that the BAUW will work at Laguna, it is probably only good for low speed road courses (uh...that would be "high speed autocross courses" to you cone-dodgers out there)

I smoked Bitterman by about 3 seconds, and Rylan by almost 4 seconds at the Streets of Willow.

I beat Kennedy's supercharged S2000 and Will's supercharged S2000 at the Streets of Willow.

Josh is getting faster. I am not saying that he is driving like he dresses. (Columbine trench coat, dark glasses, suicidal crazed look in his eyes behind the wheel of his S2000). But he is right up there with the rest of us, duking it out for podium honors.
So I figure, why change anything? I basically have a Comptech air intake, straight pipe, R4 pads, brake ducts, rollbar, which are a total of 15 measly points. I run the Hoosier RS03, a non-spec tire, which adds 100 points, which is 50 more points than their "spec tire" definition of Kumho Victoracer/V700 or Toyo RA-1 or Yokohama A032r or Michelin Pilot Sport Cup. Okay, so I am at 115 points. I am still 85 points under the maximum, yet I still beat them all pretty bad except for the Jasons at Streets of Willow. I can beat these guys at Laguna.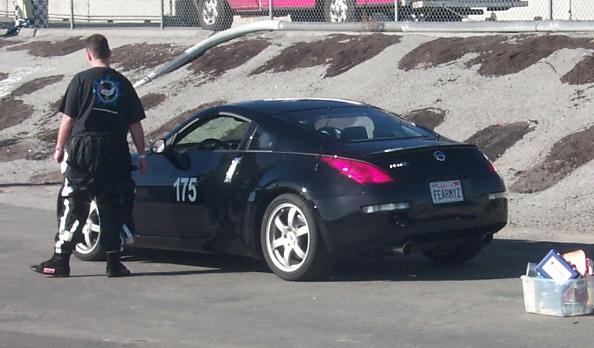 A couple of 350Z cars showed up for the weekend
Then the rumors come out. It looks like over the holidays, the S2000 Army is gearing up their equipment and strategies. In early December, some of the S2000 guys organized a Derek Daly class in Vegas, and took the school there, completely with telemetry readouts to help them become faster drivers. They will do anything in an attempt to beat me at the track! Rylan and Aaron decide to team up in Rylan's S2000 for the 2003 Speed Ventures events. And, they are adding Ohlin shocks/springs to their car. Humm...not sure how much that will help their cause. Rhoades is rumored to be a mad scientist, working on a new wing design based on what Jim Hall would do if he owned an S2000.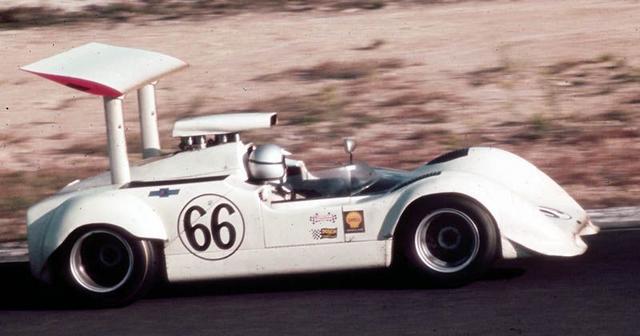 Rhoades has been studying diagrams and calculating down force equations like these guys
What could I do on a low budget and without a lot of work? I re-read the classification rules. Ah....me see loophole. "Non-Spec competition tire" is a nebulous sounding phrase. It is supposed to refer to Hoosiers. But I interpret it to mean anything you want to bring. And we all know what tires are the fastest tires around, don't we? RACING SLICKS. Yeah baby, that is gonna be my strategy for the first couple of events. I'll bolt on some slicks, and go and kick some ass. And I will still have 85 points of modifications that I can still choose from.
The problem with racing slicks is that they are a pain in the ass to find, and they are expensive. I have two sets of stock 16 inch rims, so obviously it would be best to find some 16 inch slicks. Easier said than done, no one really sells any good slicks that would fit these rims. Crap. I don't want to buy any new rims for the car, as I am on a budget. Hummm......Honda = Acura. I wonder if my NSX rims have the same bolt pattern. But then it has always been a problem to find someone that makes 17x8 and 18x10 slicks for the NSX. Some people have put big ass rims on an S2000, I wonder if the NSX rims will fit. There always seem to be some "issue" with rim offsets, heights, bolt patterns, or caliper clearance. Can you turn the front tires full lock left and right without it rubbing on the inside of the car? Can you hit a bump and not bend the fenders? You would THINK it would be like buying a set of shoes, you could say, "give me a size 18", but it more like getting fitted for a tuxedo over the phone, trying to measure yourself the same way a tuxedo shop does measurements.

Tuxedo salesman on the phone: What size is your inseam?
I dunno, what's an inseam?
Measure from your crotch to your foot.
You mean from where my balls hang, or where the head hangs? From the top of my foot, or the bottom of my foot?
I also need your outer seam?
What's that?

From where your hip goes to your foot?
You mean my hip bone, or my waist line? Or where the belt goes? Bottom of foot, top of foot?
It's like shooting in the dark. If you screw up a custom rim order, it is not like a tuxedo where you live with it for a day. It means that your caliper rubs, or your fender cracks, or your car is too low, etc. I figure everyone who orders a custom rim probably screws it up the first time. I could ask around and see what rims/measurements other people are using, but then they would know I am up to something, and I want to keep any Cheating Bastard moves secret. It would be nice if I could use all those used 17 and 18 inch Hoosiers from the NSX on the S2000. Humm....that would be cool.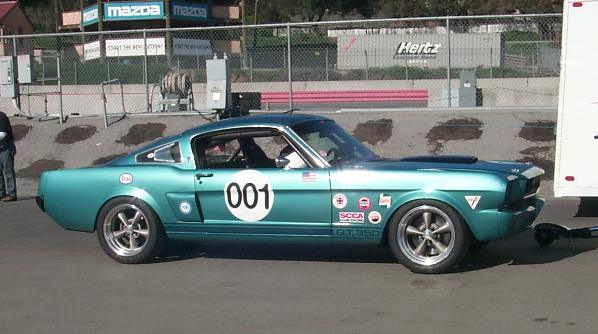 Luc's Mustang. How it passed sound is beyond me
So I put on the front 17x8 NSX rim on the S2000. It almost fits, but it hangs out about 1/32 of an inch past the fender liner. Hummm.....that could scrape up the fender. But if it makes me faster, I could live with it. Rim clears the caliper okay. Hey....this might work. Rumor has it that you might be able to import some slicks from Japan that would fit the NSX. I put the rear 18 inch NSX rim on the S2000, and we got a problem here. The tires stick out about 2 inches past the fender wells. I guess that ain't gonna work.
I let one person know that I was trying to see if my NSX rims would fit on the S2000, and mention something about slicks. I didn't realize that the person would squeal to the Aaron, the S2000 Challenge Rule Maker, about my idea on the slicks. Immediately a huge controversy starts about slicks. I maintain that I am following the rules by using a non-spec competition tire, and I will eat the 100 points to go with my other 15 points. That still puts me below 200 points by a huge margin. People are screaming that either I am being a Cheating Bastard, or I will kill myself with slicks and stock suspension, or it will raise the price of racing for everyone, or they are curious about the experiment. With only five days left before the Laguna event, I give up on scrambling around trying to get some type of slick/rim combo to work. Instead, I plan to have the Datacam installed in the S2000, so I can get good footage of Laguna Seca. Aaron says that he will make any ruling on slicks after they figure out how much faster they are on a stock car. Sounds fair enough.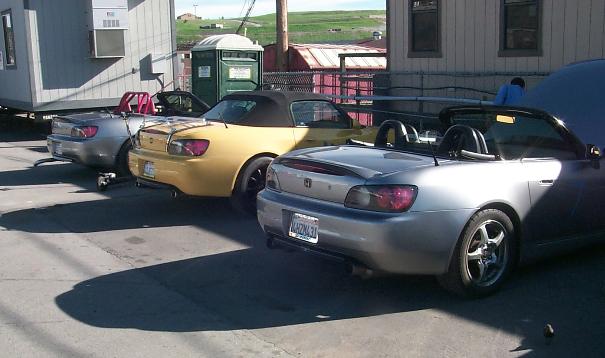 The S2000 Army preparing for battle
I drop the car off so a mechanic friend can install the Datacam. The wiring harness requires that it be spliced into the vehicle speed sensor, throttle sensor, RPMs indicator, brake lights, etc. He says he will do it on Saturday morning, so drop the car off Friday night.
Saturday morning at 7:30 a.m., I get a phone call. Who in the heck can be calling me that early? The mechanic is panicked, and he says that someone stole my car from in front of his apartment. WHAT? The alarm didn't go off, and he didn't hear the straight pipe? He says that he heard nothing, and it is just gone. I tell him don't worry about it, it is insured, and to call the cops. In the meantime, I gotta have some Cocoa Krispies so my brain can function, as I am useless in the morning until I have breakfast. I guess I am not going to Laguna. Bummer.
I eat my cereal, and then the light in the brain goes on. The S2000 went under a fence last month. There are rock dings on the car from the track. It has 23000 hard miles on it. The car is insured. YEAH BABY! I start doing a happy dance around the room, as I figure insurance will cut me a check, I can go out and buy a new 2003 S2000, and my payments will probably be the same. But I will have a new car! My wife sees me dancing around, and I explain to her my logic.
Five minutes later, the mechanic calls, and says, "Good news! The cops know where the car is. It was towed from the apartment complex because it wasn't parked in the right spot." $208 dollars later, the car rolls out of the city impound yard. Bastard tow truck drivers. They only towed it 10 miles. Oh well, at least I get to go to Laguna Seca on Wednesday....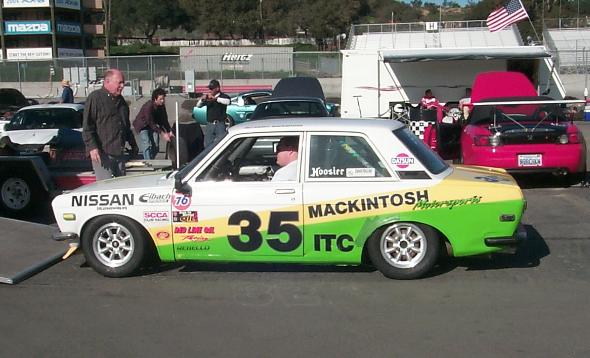 Someone bought a race car for their girl friend. How cool is that!
Later that day, I get the S2000 back. Everything is working except for the speed sensor, which indicates I am going 234 mph in the parking lot. We figure that it might be because these digital readout dashboards have a different speed sensor, so I have to work with the Datacam guys to get a fix for that.
Last thing to prep for is that during the weekdays, Laguna apparently has a 90 db sound limit. 90 db? C'mon, before it was 92 or 94 db for Saturday events, now it is 90 db? My truck probably idles at 90. I have the straight pipe on my car right after the catalytic converter, and it is real loud. So I figure I need to quiet it down. I buy a couple of pipes, one is a 90 degree bend, and the other is a short pipe with a little muffler thingy in it. I figure that will quiet it down enough to pass the 90 db sound limit.
The wife decides to come to the Laguna event, as she wants to hang out in Carmel. We decide to stay at the Cypress Inn, which is a hotel that supposedly Doris Day owns, and they allow people to bring their dogs. You can hang out in the hotel lobby and people parade their dogs up and down the hallways, have a beer with their dog in the bar, eat breakfast on the patio with their dog, etc.
I try to get the S2000 in the trailer two nights before we go to Laguna. It is always better not to have to pack up the night before. Unfortunately for me, Erik didn't get a chance to check the alignment and put in the fender well liner(lost in the fence incident) until the night before. But I at least got about 3 hours of sleep before trailering out to Laguna Seca.......
Thursday, January 30, 2003
Speedventures reserves Thursday and Friday for their event. Laguna is real tough to get on a weekend. We start examining people's cars. Rhoades' S2000 has a wing that looks like the size of a kitchen table, suspended by thin (but strong) metal rods. And he's got a motor on the inside of the trunk lid, with a wire going to his dashboard. What the hell? It is an ACTIVE wing. Meaning that you hit the button going into turn 11, and it changes the angle for more downforce. As you hit the straightway, you hit the button again, and it levels it out so you can gain maximum straightline speed. Nice Cheating Bastard move.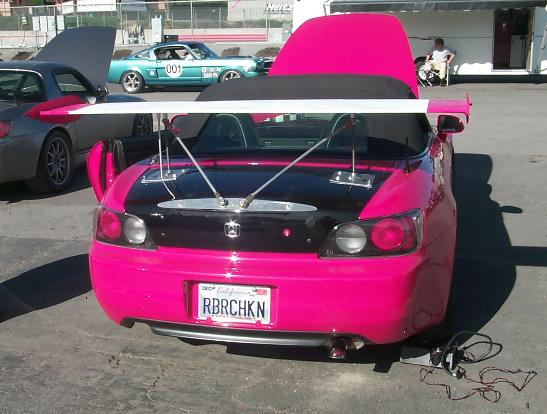 Rhoades shows up with an even bigger ugly ass wing!
Rylan shows up with his new coilovers, and has removed his windows out of the doors, and takes out the coverings for the inside of the doors. Josh shows up with an Intrepid rental car, as his S2000 is still broken at the moment. He proceeds to throw out the back seat, tries to disconnect the muffler, tries to see if S2000 rims fit on the rental car (they don't).
My first session out, I run a 1:50.xx. The bad thing is that it is consistent 1:50.xx. Something is wrong. The car is understeering a lot, and I can't go screeching in and out of the turns like I am used to doing. Bummer, I can't get on the power early enough, as I run out of room on the exit of the turn, as the car won't rotate. Crap. Slows me down, but it isn't disasterous. Rhoades blasts a 1:46.x with his wing. I know I can't suck this bad. Rylan gets popped for sound. Three strikes you are kicked out of the event for the day. Next session out, I am running 1:50.xx again.
I get behinds Rhoades and that ridiculous wing, and he pulls me at least 15 car lengths down the front straight. What the hell. Now I know his car isn't that much faster in a straight line than me, unless he has unleashed a bunch of Cheater mods into his engine. I think about it....hummmm....that stupid ass little muffler thingy must be doing it. I unscrew the muffler clamp, but the crimp is too tight, so it won't come off. I pull the electric saw out of the trailer, and cut it off, and I put the 90 degree bend back on. 3rd session I go out, and I run consistent 1:48.x. Wow, the stupid little muffler thing was worth two full seconds. Ryland/Aaron get popped for sound a second time. Kennedy is burning up the track in his supercharged S2000. He runs a blazing 1:42.87, and thus becomes the fastest S2000 in the Honda Hall of Fame for Laguna Seca, and the first guy to beat Saini's laptime.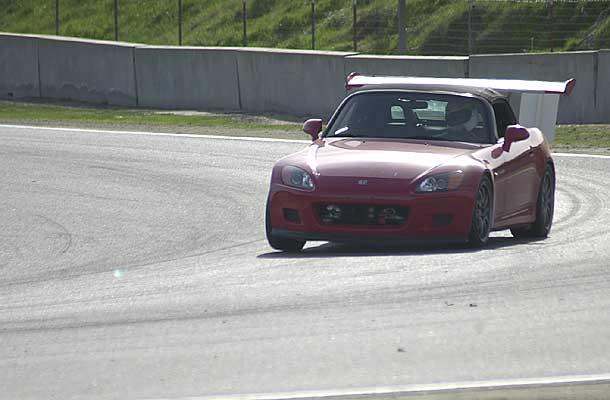 Active Aero banned in Formula One racing, but legal for Speedventures!
3rd run group session, I am flying over the crest going to the corkscrew, and the corner worker is waving a flag, and a car is smoking badly. It is Dave's supercharged S2000, and it looks like something is burning under his hood! Fire! I don't want to see his supercharged engine go up in smoke. I pull off into the gravel next to him, grab my fire extinguisher, and we try to put out the fire/smoke. Dave opens up the hood, I shoot the halon in. Another guy in a blue Mustang comes over to help also, and shoot his extinguisher under the hood. These small extinguishers shoot for about two seconds and then they are empty. The corner worker is across the road, and we thought he was going to help us, but he has to man the station and keep the flag waving there. I run over and get his big ass dry chemical extinguisher, and we spray that under the hood, which finally puts the fire out, except for the smoldering sound insulation on the bottom of the hood. Dave rips that out of the car. We push the car out of the gravel, and Dave glides into the pit area.
Everyone gathers around his car. Battery and fuse box are melted pretty badly. So as people are diagnosing Dave's car, me being the opportunistic Cheating Bastard that I am, I start eyeing Dave's nice Dunlap racing slicks mounted on his lightweight 17 inch rims. Hummmm...... I yell into the crowd, "I got dibs on the slicks!" Dave says if I want to try them out later, fine with him. Hummm......I might take him up on that.
Some mechanic types are checking as to what started the fire. People are looking at the adjustable shock reservoirs, and then accuse the aftermarket shock vendor for having a leaky shock, and the shock fluid caught fire. A mob mentally takes over around Dave's car. Off with vendor's head! Ooops. No, it looks like a fire caused by brake fluid, for having leaky calipers that started the brake fluid fire. The mob mentally changes, and now it is off with the aftermarket brake vendor's head! Ooops....no, it looks like a fire caused by a loose oil filter, and the oil caught fire by dripping onto the header/exhaust. This is better yet. Off with the dealer's head for crappy oil filter installation! Oooops, turns out Dave changed the oil himself. Everyone then runs to check how tight their oil filters are on their cars.
Someone else comes by and wants to borrow a rotor from Dave's car, as theirs cracked. Another person comes by for the other rotor. Dave's car now becomes the spare parts car for the rest of us S2000 vultures.
Last session out, I run a 1:47.x Rylan's car gets popped for sound for a 3rd time, but it is their last session, so they don't care if their car is kicked off the track for the day. Rylan beats me by a couple of tenths, and Aaron runs a 1:46. But since their car was popped for sound 3 times, shouldn't their lap times be disqualified? Kinda like in Formula One if you are disqualified for a mod, they throw out your entire qualifying laps. If I was the sanctioning body, I would be 2nd after Rhoades, instead of 4th after Rylan in our class. Josh's rental car has a bad clunking sound, could be a CV joint. Bummer.
Friday, January 30, 2003
Josh shows up with another rental car. He takes out back seat, tries to remove muffler, etc.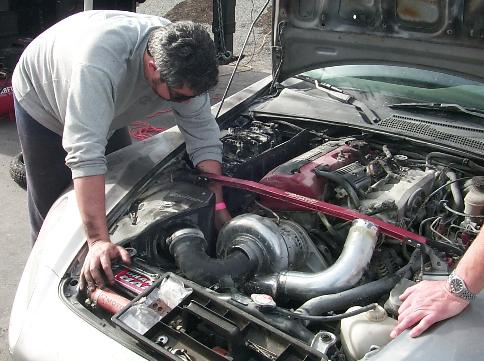 In the meantime, Will runs his supercharged S2000 to a 1:43.326, becoming the second S2000 to beat Saini's lap time. Since the first of the year, Will has become dramatically faster. Like 3-4 seconds faster than we would normally expect. Damn.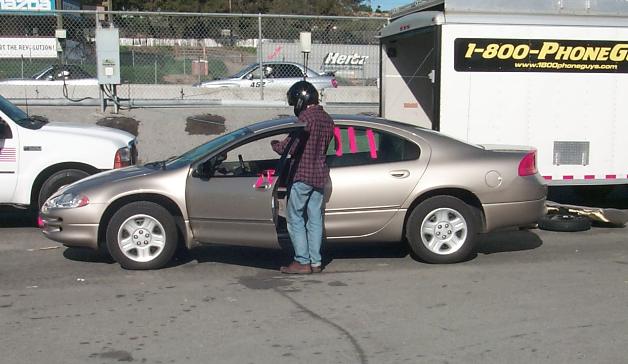 Rental cars allowed at Speed Ventures events
After lunch, Dave asks me if I want to try his slicks on my car. Yeah baby, this is gonna be fun. I try to mount the slicks without Rylan, Aaron, or Jason seeing me. Heh heh.
I go out on the track, and I am following Aaron who is chasing Rhoades, and I am on both their butts, instead of them pulling from me. Slicks are awesome. They feel so stable, they inspire confidence. And when the back end starts slipping, give it more gas and turn the wheel, and it re-sticks to the ground. I run 1:45.x, so slicks are worth a good two seconds, even without doing a Cheater Alignment for the slicks. I am still a second off of Saini's laptime, but I don't want to burn up Dave's slicks for another session. With the slicks, I am crushing Aaron and Rylan. Heh heh. I am only 2/10ths behind the AABAUW (Active Aero Big Ass Ugly Wing), but I figured if I had another session or two to get used to the slicks, I would beat Rhoades to theoretically win my class, and using only 115 points out of 200 allowed. I coulda/maybe/woulda been the S2000 Production Class King in my stockish car with slicks!
Rhoades comes in, and he, Rylan, Aaron, Dave, and I have the same idea. Right now, Dave and Will in their supercharged S2000s have dropped below Saini's laptimes. But we need a normally aspirated S2000 to beat Saini's 1:44.45, otherwise Saini will claim it doesn't count if your car is supercharged and beats him. And then us West Coasters will have to listen to Saini rag on us for another year. Rhoades with his stock suspension and AABAUW could take back the normally aspirated S2000 lap time title from Saini if we mount the slicks on his car. We do a NASCAR style tire change, get him back out on the track for the last session, and he immediately drops another two seconds to a 1:43.634. The Laguna Seca normally aspirated lap time record is back with a local California guy. I am sure Saini and crew are thinking of a way to take back the title, but they are gonna have to trailer 2500 miles to give it a try.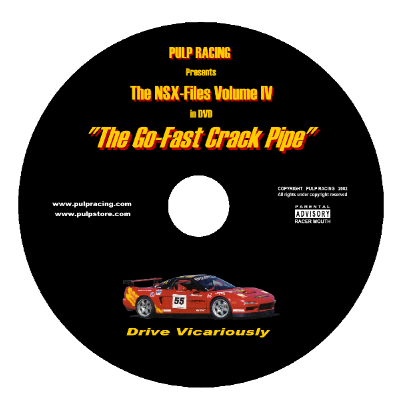 Support the Pulp Racing/NSX-Files Website! Buy this DVD!
Order it at the Pulp Store
Saturday, February 1, 2003
We wake up in the morning. The shuttle didn't make it home. Damn. Bob summed it up most eloquently below: (taken from this this bbs)
============
I had the privilege of working in the space program in the 1960's. It is hard to relay the immense amount of thought, effort, care and pride that goes into space vehicles. Everyone involved is intensely aware these complicated and fragile machines will be operating in an extremely hostile, unforgiving environment with some very brave human beings on board.

And yet, being the creations of fellow humans, space craft cannot be perfect. Occasional failure is impossible to eliminate, no matter how many tests, pre-flight checks, redundant systems and other precautions are taken. No one is more aware of this than the astronauts, but still, they go.

That the failures are so few, if horribly spectacular, is a testament to those who design, build and fly them. That is small consolation at times like these. We must learn from our failures, honor those lost and go on, however hard that may be.

What a sad, sad day.

Godspeed, brave souls.

Condolences to the families and friends of those we have lost.
============
Well said. Very well said.
Monday, February 3, 2003
Two days after the event, Aaron decides to ban slicks from the Production class that I run in, and instead moves slicks to the Unlimited class, which is the same class that the supercharged S2000s run in. So now, if I want to run slicks, I must go up against cars with 100 more HP, and they are also running slicks. Worse, Aaron decides to retroactively ban slicks from the Production class, thus disqualifying my 1:45 lap time, and bumping me from 2nd to 4th for Friday's event, as I have to use my 1:47 time with Hoosiers. And conveniently moving him and Rylan from 3rd and 4th to 2nd and 3rd. Ultimate Cheating Bastards! <grin> All I did was read the rules and prepared accordingly. This is like the NFL saying three days after the Super Bowl that the Raiders are now declared the winners of the Super Bowl, because Tampa Bay wore the wrong color uniform on game day. But my name will be in front of theirs for the Honda Hall of Fame!
I am not too pissed off about the classification change, as I will miss a lot of Speed Ventures event this year due to the OTC preparation, and I won't be able to make their east coast events this year. So I won't be a big overall points contender as I will miss a lot of events. And besides, they weren't my slicks, I just kinda snagged them from Dave to test out. Laguna was a really fun event, and everyone at the event seemed to have a real good time.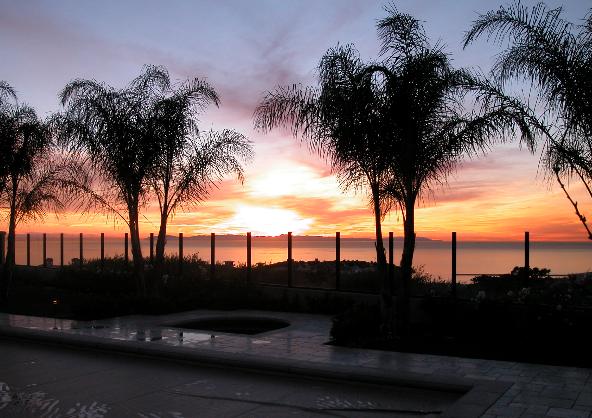 SoCal January night. 70 degrees. You will all move here sooner or later....
Don't forget to checkout the Honda Hall of Fame. The lap times for Laguna Seca are seriously fast. If any of your Honda owners want me to add your time, just send me your lap time, engine config, suspension config, how much your car+driver weighs, sponsor info, excuses, etc. Also don't forget to checkout the lap times at www.speedventures.net.
Hey, the Speed Ventures guys are doing the Sebring Track in Florida on March 29/30th, a mere two weeks after the 12 hours of Sebring. They are renting a transporter to ship a max of 10 cars from California to Florida, and the price is CHEAP, something like $850 round trip. Using their transponder system, you can see what your lap times are compared to the big boys. Contact Aaron if you would like to reserve a spot on their transporter. For you east coast drivers, use their website to register for the event at www.speedventures.net. Get your friends to register, kick their ass on the track, then talk smack to them!


Who will be King of the Open Track Challenge in 2003?
The fields are building up for the OTC. The best drivers from around North America will duke it out from April 6 - 12, 2003 beginning and ending in the Las Vegas area. The great thing about OTC is that you are in the hunt for at least one trophy no matter if you are Michael Schumacher or the average weekend enthusiast. OTC has become the go-fast equivalent of the US Open. Even if you aren't in it for the accolades, OTC is a great way to see some great tracks at one time. Entries are looking strong in the first two weeks and the level of hardware in the upper rungs is simply amazing. For more information visit www.opentrackchallenge.com or contact Brian Provost at brian@opentrackchallenge.com. Entry fee goes up after January 1st, so get those checks sent in!