Touring Car Racing Association
Willow Springs December 1 & 2, 2001
"Bull Fighting, Mountain Climbing, and Auto Racing"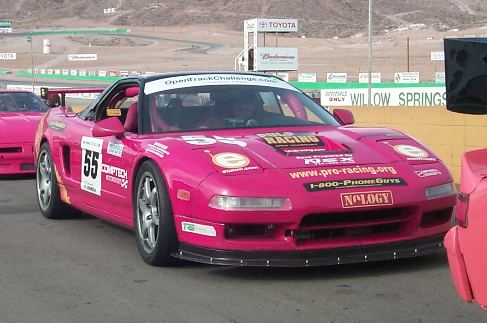 Lined up for the final race of the season!
It was Ernest Hemingway who said, "There are only three real sports in the world: bull fighting, mountain climbing, and auto racing. All others are just games". I know, all you non-racing "athletes" will say that Papa Hemingway is full of shit, and that Shaq, Tiger, Ichiro, etc. are heroes in their "sport". But what Hemingway is trying to say is that if any of those well known sports personalities makes a mistake, the ultimate penalty that could happen is that you miss a basket, end up in the bunker, get caught looking at a strike, or lose the "game". In auto racing, if you make a mistake, the ultimate penalty is destruction of your car, other cars, your life, and possibly other people's lives.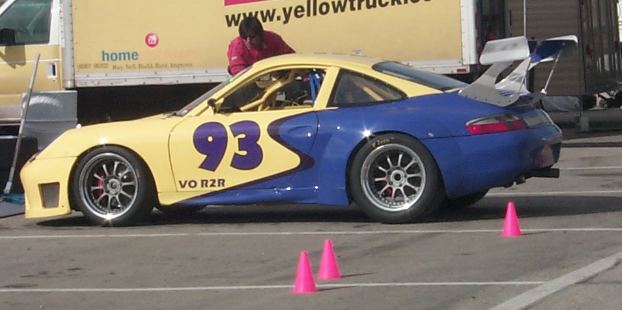 Vision prepared Porsche that qualified right in front of Wayne.
It is this element of risk that separates "sports" from "games". When things go bad, you will wonder why you even put your damn car on the track in the first place. But when things are good, and you are piloting your car into a turn at 140 mph, slamming on the brakes to out-brake the driver next to you, g forces throwing you wildly to the side of the car seat, hanging onto the steering wheel for dear life, the smell of racing fuel, and 110 db of exhaust noise bellowing out of cars one foot away from your door, trying to take your position on the pavement, and you beat the other cars coming out of this turn......that is the time you understand what Papa Hemingway meant. All those "other activities" (like baseball, football, basketball) are just parlor games.......and go in the same category as darts or bowling.....they ain't "real sports."
(note: Wow! That was a pretty good prologue. But I ripped off most of it from Robert Metcalf's book, "The Successful Race Car Driver". He does a much better job of describing "Why Do We Race?" in his prologue.)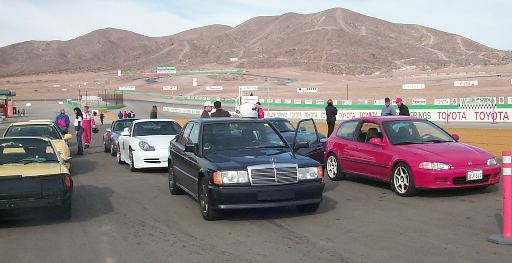 The yellow group. Newbies at their first track event. Their life is over with!
We were going to put the NSX and the 944 Turbo away for a couple of months, but decided to do one more event to finish out the year. The Touring Car Racing Association was having their final event of their racing season at Willow Springs during the first weekend in December. I called Emil over at the TCRA, and asked him about how many cars were signed up for the race group. He said it was looking big, very big. Big race groups are a lot of fun, there is lots of passing, traffic, and competition. Larry wanted Sinbad to tryout his newly installed turbo in the time trial group, and Wayne wanted to run his 944 Turbo.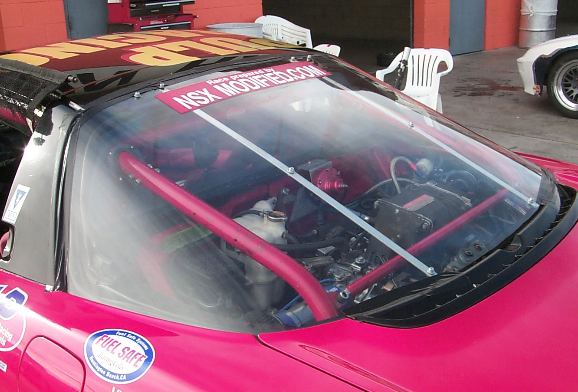 New Lexan window from NSX Modified
Mods for the weekend were the following:

1. New Lexan rear window made by NSX Modified. Cost: $1200. Not for show cars, it is more of a "race car" part.
2. New splitter, part of it made out of Lexan
3. New custom seat brackets/shims so the racing seat fits more securely
4. Wiring harness redone by Larry so I don't have wires all in the passenger seat for the Datacam/etc.
5. Engine error codes eliminated. Larry traced it down to a bad wire in the wiring harness in the engine compartment.
We didn't get a chance to dyno, as we are no longer on good terms with our dyno guy. The short story is that Gary (mechanic who helps Larry) bought a car lift from his previous employer, who was going out of business. Gary stored the lift at his house. The dyno guy needed another lift at his shop, but didn't have the cash for the lift. Larry says that he will front the cash for Gary, providing that the dyno guy gives him a break on dyno runs, as we will need a bunch of dyno runs for my car, Larry's turbo cars, etc.
So they sorta do a three way trade, Gary gives the lift to the dyno guy, dyno guy gives Larry credit for about 20 dyno runs, and Larry gives Gary money for the lift. Larry is just trying to help out the situation. Well, the dyno guy doesn't get a permit for the lift for the city for wiring/installation. And the dyno guy doesn't tell his insurance guy that he is installing another lift, I guess because he doesn't have a permit, so it seems technically that it is an illegal lift. And he gets some fly-by-night installers to install the lift, and the installers make the dyno guy sign a piece of paper saying that they are not responsible for any problems with the lift.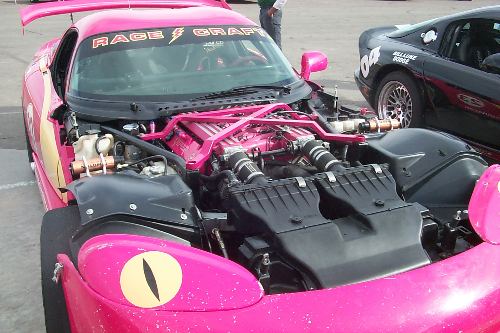 This car has 308 cubic inches more than the Flame Mobile. Overkill?
Well, disaster strikes. After using the lift for about 25 days, a car is on the lift, and apparently one of the lift arms break, and the car falls off the lift. It seems like the safety latch was either broke, or improperly installed. Bummer. But now the dyno guy wants to sue Larry for selling him a lift that broke. Even though it isn't Larry's lift, and Larry essentially just loaned money to the dyno guy in return for discounted dyno runs. The dyno guy can't collect on his insurance, because the lift wasn't installed legally, and he claims he cannot collect from the installers, as they made him sign a letter say they were not responsible. So the dyno guys somehow figures that Larry should pay for the damages. I mean, I guess the dyno guys figures if he buys a used car from Gary, and he drives it for 25 days, and the motor blows, by his logic he figures he can sue Larry for that? Just another day in the go-fast parts world, if ya know what I mean......

So the short story is that we haven't had a chance to dyno the car recently. But it at least feels strong. But we won't know until we find a new dyno guy, and dyno a stock NSX and my NSX, get some baselines, and make some comparisons.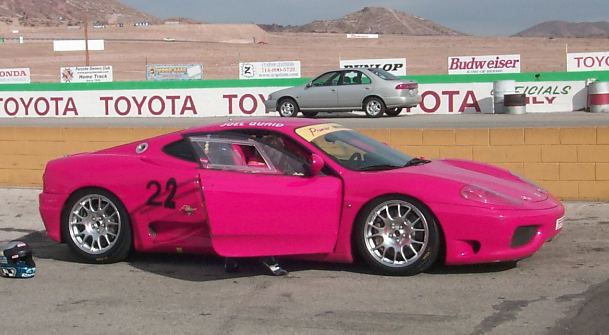 Joel sold his F355 convertible, and got a 360 Challenge car for the race group!
My suspension is a disaster, and we are about ready to get rid of it. We are now ready to seek professional help. Gary M. sent me a 12 step program for Open Tracking earlier this year. It goes like this:
The 12 Step Program for Open Tracking
1) admit your bone stock car sucks
2) spend a bunch of money making it lighter. spend a lot of time cutting off all those bits and removing and selling all the interior pieces that you don't need anymore, because you'll NEVER want the car street-legal ever again.
3) admit your car still sucks, but is easier to load onto the trailer.
4) spend a bunch of money to make more horsepower
5) admit that your car not only sucks, but is now unreliable
6) spend a bunch more money so the power you bought *is* reliable
7) admit that the car is fast, but undriveable.
8) spend a bunch of money getting your suspension redone
9) spend lots of time trying all those settings, and getting no change in lap times
10) admit your car is fast, undriveable, and you've now spent more money in mods than you paid for the car originally.
11) admit that you have no idea what all those spring rates, sway bar settings, knobs and screws on the shocks are for. Find someone who knows what they're doing, suspension wise, and give them more money.
12) admit that your car is now light, fast, and handles great, but that you suck
Well, we at least made it to step 11. Most of you reading this article are probably somewhere between 4 and 8. I guess the key thing is that you will probably have to go to step 11 to get every last bit of performance to reduce your lap time. Just pray that you don't make it to step 12...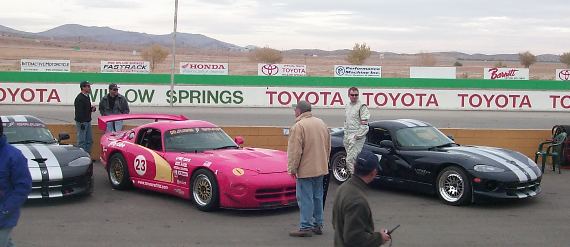 Mumford, on pole, trying to find some competition......
So we decided to get professional help. Mumford is killing everyone with his Viper, which has suspension setup by Erik Messley. Mumford trailered his car back east to Hallet for a Viper Club event, and destroyed those boys from back east on their home track. Hummm....maybe his suspension guy can figure out my suspension. The Mumford/Provost team will be using this dark blue Viper in the Open Track Challenge. Oh, and by the way, those two clowns are planning on winning the overall Top Team award for the OTC, even though they are running in the Touring Class with street tires. They must be stopped! Their other Viper buddies must be stopped also. And I intend on being a major thorn in their side........but I need more of my NSX brethren to get their supercharged/turbo charge/nitrous spewing machines entered in the OTC to help me out! I have a couple of supercharged NSXs that are sitting on the fence......hopefully they will their cars entered in the event. Cash money call outs will be happening soon.....
Suspension tuning is a black art as far as I am concerned. Even if you buy the right suspension bits, it doesn't help you if you can't dial it in for your car on a particular track, especially when you don't know what the hell you are doing. Yeah yeah, I got all those school books on suspension, how to correct oversteer/understeer, blah blah blah....but I think you need a human being who knows how to drive fast to help diagnose what you need.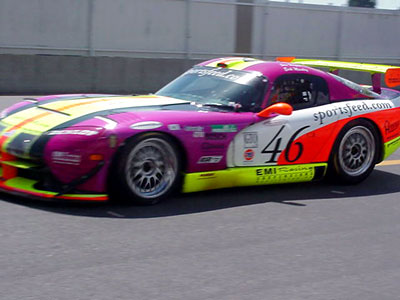 For sale: $169,000. 800 HP, and the hardware necessary to crush people in this "Sport".
Erik does lots of suspension work on his own car, has run at Daytona, ALMS, etc, and rumor has it that his race prepared Viper does 1:17 at Willow......so I think he has more credibility than most people who can just sell you bits. He also destroyed the qualifying field (including the 911 twin turbo racecars) by 2.5 seconds at the 1999 Los Angeles Street Race. 800+ HP, 720 ft lbs of torque.....it is a formidable weapon. His Viper + spare parts is for sale if you want to kick some butt at the track. But you'll need $169,000 big ones to be the The Big Dog at the track.......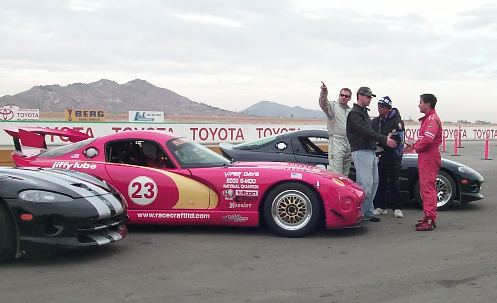 Mumford, on pole with his Viper ACR, pointing everyone to the back
So my goal for the weekend isn't to win the race. I want to run the engine really hard, make sure there are no motor problems or overheating problems, and give one last shot at seeing if we can get my car to handle well again. I mean, perhaps it isn't the car, it isn't the suspension, maybe it is just me. Nahh....couldn't be that......
Wayne and I decide that since it might be cold, with a chance of rain, we would rent a garage over at Willow Springs. Since we wanted to park the big trailer next to the garage, we decided to drive up on Friday, and reserve a good spot for the trailer. After parking the trailer, we hit the local gym, do a quick workout, and then we head off to the John Jay Inn. It is a little more expensive there, but the rooms are much nicer than the local track rooms.
Friday night we head off with Mark W. to a new casino over by the track. It is off Avenue A, and tonight happens to be the night where they start dealing "22", which is like blackjack, with a couple of different rules. Unfortunately, they had a couple of moron locals there, hitting cards when they should be staying, and staying when they should be hitting. I lose $140, and Wayne loses about $80. Mark, newbie at blackjack, wins $40 or so and buys us losers dinner. The guy running the casino says they are still remodeling, and will have about 40-60 tables for blackjack and poker by the end of the year. It is run by I think the same guys that run the Commerce Casino over in the City of Commerce. Mark my words.....next time I go there, I am taking those bastards down, and my track weekend will be free.......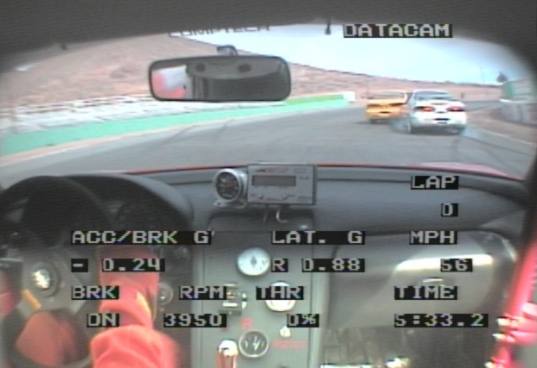 In race group practice, a couple of Integras get really close to each other.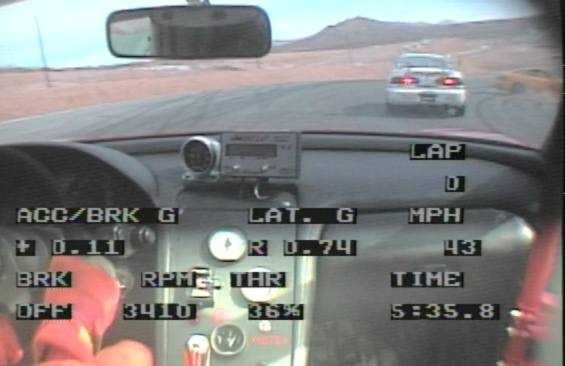 Oooops. Integra gets punted off of Turn 4. It's a sport, not a game!
Saturday morning:
I am glad I brought my long underwear. It is 27 degrees outside. We also brought some electric heaters to heat up the garage, but unfortunately, they don't put out enough BTUs to heat up the entire garage. We bitch about the weather, but then remember those suckers back east are buried under snow right now....and they can only DREAM about doing some road racing this time of year.....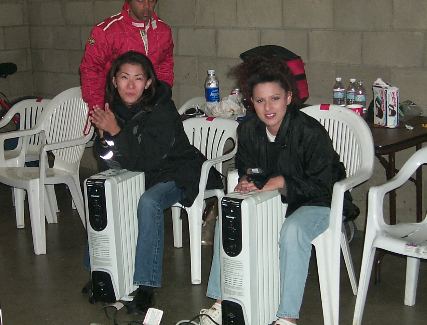 27 degrees at Willow, and the Pulp Racing track babes needed something warm between their legs
The race group practice is HUGE. I forget to setup the video camera equipment for the first session, and that was a big mistake. There are about 55 cars in the race group, which combines the 2.2 liter and above, and 2.2 liter and below cars. Joel replaced his blue convertible F355 with a 360 Challenge Car with brand new slicks, and now he is a super stud on the track. I was trying to keep up with him, weaving in and out of traffic with him and a couple of the Vipers, passing a whole slew of slower cars. The Vipers were spitting flames out of their exhaust, the 360 exhaust was screaming at high RPMS. It would have been great video tape.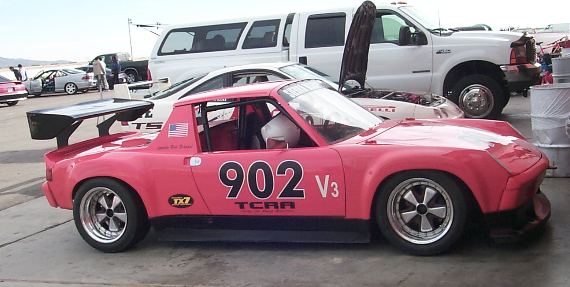 Nice looking 914 with big ass wing
TCRA rents out transponders for everyone in the race group, and they are looking at your times during the day to figure out how you will grid for the qual race at the end of the day. We have about three practice sessions for them to get data. There is some traffic in the group due to the 54 other cars that are trying to turn a fast lap, but I turn a 1:31.9 which is respectable. I also paid to run in the time trial practice also, figuring we would need the additional time to dial in the suspension. So I go out in the time trial group, and I turn a 1:30.9, as there are only about 15 cars in this group, and they get out of the way when they see the Flamemobile barreling up on them. I try to sneak the 1:30.9 in as my lap time, but Wayne sees what I am doing and immediately goes to TCRA timing and accuses me of being a cheating bastard, and to make sure they do not allow my 1:30.9. TCRA agrees, and says that the qualifying lap time must come from the race group practice, not the time trial practice. Rats.....I thought I found a loop hole...
====== File this under "Ignorant People" =====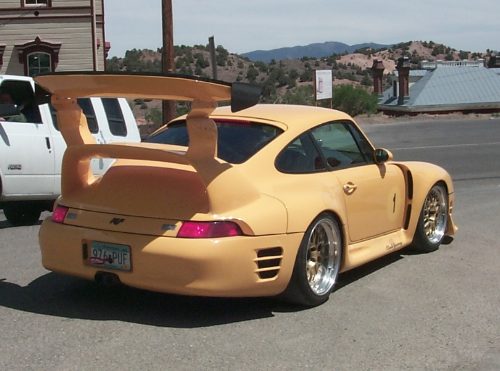 Car and Driver Magazine had this in their December 2001 Issue
Car and Driver Magazine put out their "10 Best" issue this month. They had people submit pictures of tongue-in-cheek "aerodynamic add-ons" on page 68. It kinda implies add-ons that don't really work. Those boneheads had the nerve to put my picture from Chapter 70 of Steve Beddor's Ruf CTR2 Twin Turbo machine with a bunch of butt-ugly, non-functional, non-aerodynamic ugly cars. I guess nine people on the web submitted my picture to C&D. For those of you who do not know, the RUF has crushed all competitors at the Virginia City Hill Climb. I challenge the C&D writers to scam a test car, and bring it to the Hill Climb next June, and see if they can take down the Ruf. That is, if they have the balls to test their skill at the Hill Climb. Many newbies have tried to be the King of the Hill Climb, yet ended up like this if you recall from Chapter 3, which is one of the stories that motivated me to put this website together in the first place way back in 1995.
I would imagine that the result would be like what happened at the Motor Press Guild's yearly track event at Willow Springs a couple of weeks ago. Each November, they line up about 40-70 brand new cars from manufacturers, and they let these "auto journalists/photographers" drive these cars around the big track. Apparently one of these "writers" went off at Turn 3 in a big way, and did a little damage to a brand new S2000.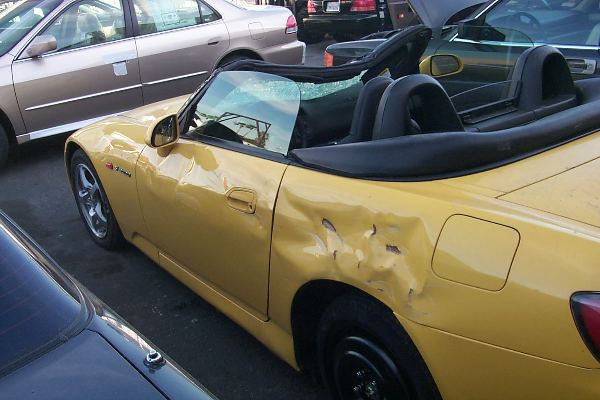 What happens when you go off in Turn 3 at Willow in a brand new S2000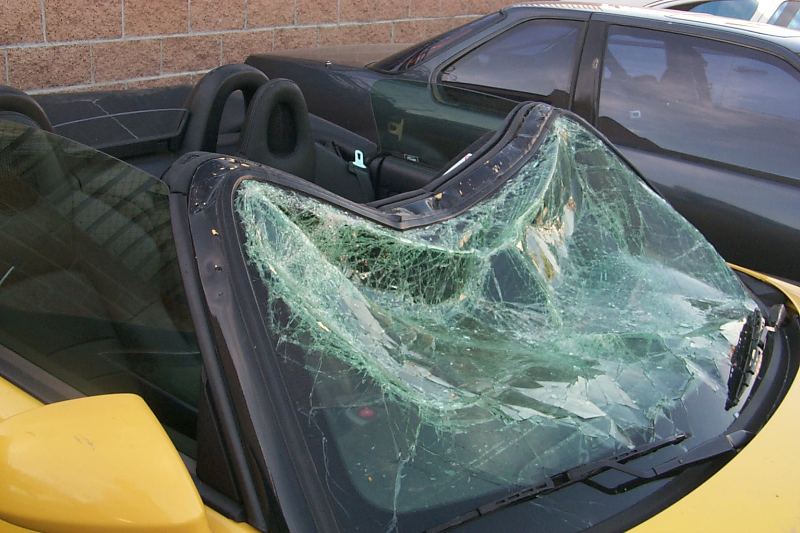 Auto Racing: Remember, it's a Sport, not a Game!
Kinda funny that you have all these "automotive journalists and photographers" at this event, but they don't publish any reports about their "media brothers" crashing like amateurs in their respective publications. It it almost like they are suppressing the story so they don't look stupid. So call me the "Matt Drudge" of the auto racing world. You heard it here first......hey, send me more gossip or pictures about journalists wiping out at this event, I am curious as to what other damage they did on that day. Perhaps I can can even create Chapter 75: "Journalists Gone Wild" and have pictures of all the cars they smashed up. (It's not often you can take potshots at the media!)
Moral of the story: It's better to be a racer who occasionally writes, than a writer who occasionally races. If you know what I mean.........remember, it's not a game.
I guess I shouldn't rag on C&D too much. They are probably the best of the monthly car mags. Their columns are more amusing. Their "letters to the editor" section is funnier that other mags. I like the cars they review, and how they review them. Their only real problem is that they back the wrong horse when it comes to multiple track events in multiple days. My favorite magazine is probably Autoweek, as I like my news hot off the press, along with their Formula One coverage.
====================================
Okay, so we get the final printout for the 35 car grid for qual race for the 2.2 liter and above cars, and the qual times look like this for the first half of the grid, and like this for the 2nd half of the grid. I have been fiddling with the suspension settings on the shocks, trying to get the car to stick and lay some power on the ground. It didn't work for the past two sessions. So for the last session, I decide to loosen up the rear shocks, and tighten the rear sway bar. I can't see the damn markings on the shocks, but the front shocks turn towards the front to tighten, and the one of the rears turns towards the front to tighten, so that should mean that the other rear turns to the front to tighten, right?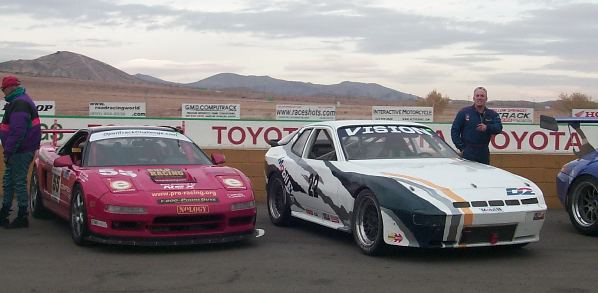 Wayne and I are gridded next to each other for the qual race. Amazing how often that happens.
As usual, Wayne and I are gridded next to each other, I think we were gridded 5th and 6th for the race, with both of us pointing fingers at each other and shouting insults. "Don't cut in front of me in Turn One on the start, cause I will take you out!". "Look out for the red blur that will be out braking your sorry ass in Turn 1." In front of us are two Vipers on the front row, followed by at 944 Turbo and the Vision Porsche 930. We go from a rolling start, with Mumford moving at about 40 mph. Green flag drops, and we are off!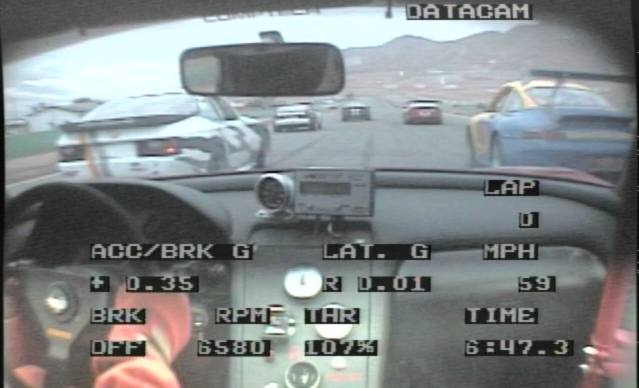 At the start, two Vipers, three Porsches, and me lead a pack of 33 cars
I dive to the inside, and I blow by the #93 Vision car, who seemed to be snoozing on the start. Either that or I used my cheating bastard starting technique that was perfected in kart racing. Wayne cuts to the outside in front of the #93, and he and I go door-to-door into Turn 1, with me grabbing the inside line. We drag race to turn 2, but he has a better launch out of turn 1 and the inside line going into turn 2, so I end up following him into turn 2. Wayne's newly mounted slicks are a tad too large in the front, and are rubbing so much that smoke is coming from his car like he blew up his motor.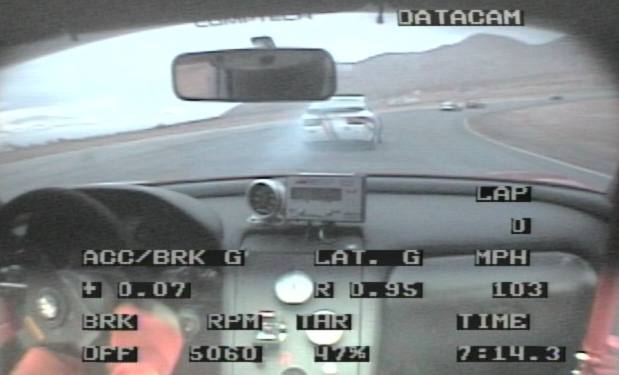 Wayne has a ton of smoke coming from his front slick rubbing under load
On the next lap, two Vipers that were gridded mid-pack go flying into Turn 1. Unfortunately, one of them seems to go into the turn a little too hot, gets two wheels off into the dirt, and goes shooting across the track. The other Viper hits him going about 100 mph, and they both going flying off the track. Larry is watching the race by Turn 1, and parts of the Vipers go flying up into the air. At first Larry thought he saw a human body going up into the air, but it turned out just to be some car parts. Like I said before, it's a Sport, not a Game. Luckily, both Viper drivers walk away from the crash. Rumor has it that both of them came up in the same two car trailer. Bummer....that would be like Wayne and I crashing into each other and totaling both cars.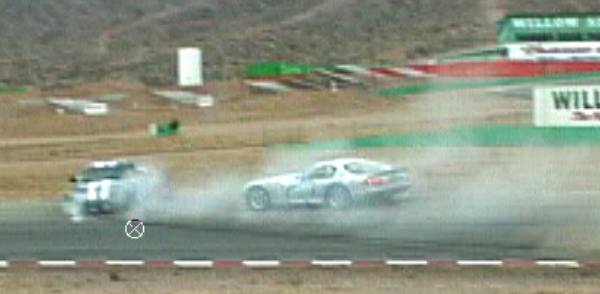 Viper comes into Turn 1 a little too hot, locks up brakes - (photos by Sinbad)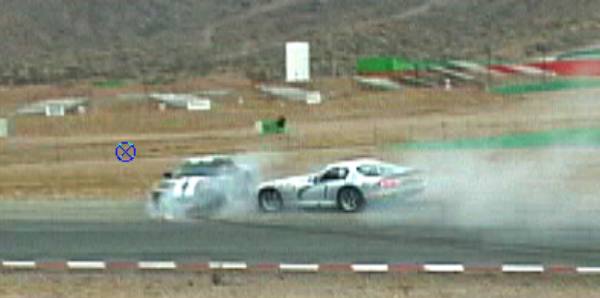 Spins right in front of Viper #2 going probably 100 mph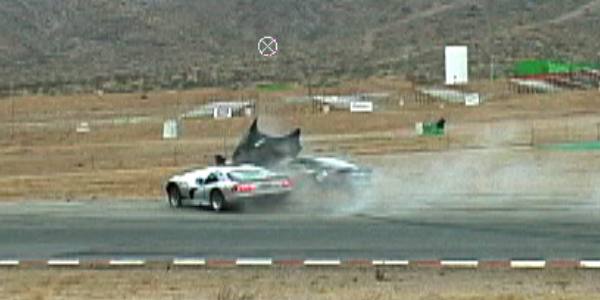 We have contact. Hood crumples upwards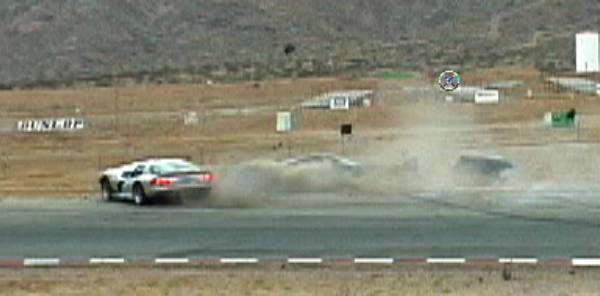 Hood is separated from car. Both drivers are unhurt. Except for pocketbook.
Full set of pictures are here. They immediately red flag the race, and all the cars stop on the track, while they clear the wreckage. When I hear that two Vipers crashed, I thought that Wayne and I moved up to 3rd and 4th place, but it wasn't Paul that crashed, it was two Vipers that were gridded 12th and 13th. Not that I would ever wish any bad luck upon someone ahead of us......
So there are about 33 cars lined up single file down the front straight, waiting for the wreckage to clear. The starter comes up to us, and ask the guys in front if we should do a single file start or a side by side start. Since we are in the front, we all say "Single file, for safety reasons", as we feel that it would be too hard to get everyone side by side again. That, and we like the look of 28 cars lined up single file behind us....
They restart the race, and both Wayne and I take the inside line, with two other Porsches next to our door taking the outside line. Bad move for me, as I lose a position coming out of the turn. I also just adjusted my suspension prior to the start of the race, and I succeeded in making it worse. Larry said I was coming out of Turn 1 like a Jack-in-the-Box, with the rear hopping all over the place. I am sawing at the wheel like a madman to keep the back end from breaking lose. The Vision 930 blows by me in turn 8, then the other Porsche Cup car, then the World Challenge Vette, then the 360 Modena. Oh well, back to the drawing board. Wayne battles for third place against the other 944 Turbo, and comes up half a car length short. I end up about 9th or so. Bummer. But no over heating, and no engine problems.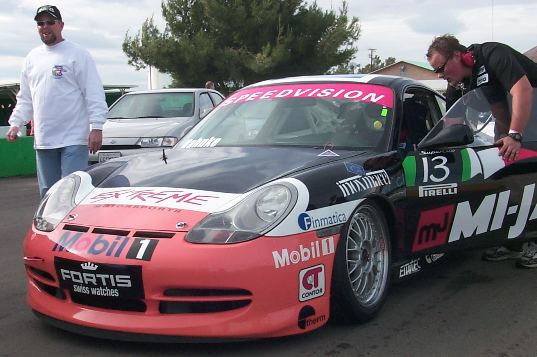 Tim's Porsche Cup Car
Sunday.
Wayne had some stuff to do at the house, so he couldn't make it back to the track. My first session out on the track is terrible, as the car really feels way too lose. I jack the car up, and get one of those little adjustable mirrors, and check the suspension settings on the shocks. Sure enough, looks like moving the adjustment forward on all the shocks was not correct, as on one of the rears, the adjustment goes the other way for stiffness. So I raced yesterday with one rear shock stiff, the other soft. No wonder the car was hopping so much. Erik and John from EMI Racing come down to the track, Erik drives my car around the track for about 30 laps, making adjustments every six laps or so to the suspension/ride height, taking measurements, etc. I arranged in advance with the TCRA to have Erik buzz my car around in the blue time trial session, and since I paid for the extra time trial session, they said no problem. He gives me a big list of his impressions of the suspension, none of which are encouraging. But he agrees that the car is "porpoising" and there is no rear bite coming out of turns, and the bump steer is horrendous on the car. He sets it up so that it seems as best as we can for the final race, given that we don't have much time.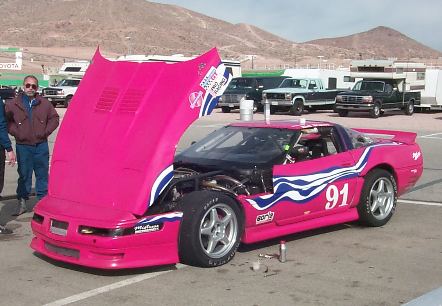 Mike sold his old car, and new owner is ready to do some racing with us.
Final Race.
I am gridded about 5th or so. Green flag drops, and a white 911 RSR gets me into Turn 1. I follow him, and it appears that his car is hooked up pretty good suspension wise. I have more power than him, but if I passed him, he would be right on my butt in all the turns. And I would hate to have the pressure of him on my bumper for 15 laps, especially when my handling ain't working good. I might be pressured and do something stupid, like spin off the track. There is no one else really close to us, so for 13 laps I stay right on his butt, waiting for a good moment to pass. With two laps, left, I get a good launch out of turn 9, and I pass him in the braking zone of Turn 1. He is right on my butt, but I am sure I can block him for 1.5 laps without a problem. Coming into Turn 9, I am on the extreme outside, but there appears to be a car with a flat tire limping on the outside line. I look in my mirror, and I can't see the white 911. Damn. He is probably right on the inside of the rear fender. If I drop down to avoid the broken down car, I might touch the 911. I opt to let the 911 by. They throw the white flag, so one lap left. I get right on his bumper again going into Turn 8 and 9, and there is another slower car on the outside line of 9. We both take the inside, and I get a slightly better launch of out of 9, but I come a car length too short at the checkered flag. Damn. But it was a pretty fun race between the two of us. Mumford crushed everyone and won the race.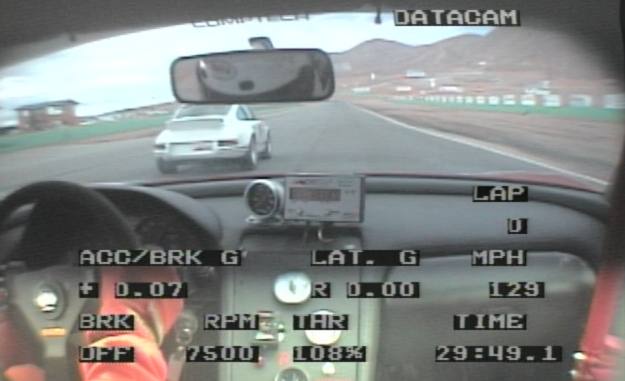 Jim Bouzaglou beats me to the finish line for 6th place in the final race..
Sinbad is just about the last car on the track during the final time trial portion of the event. Earlier, Wayne took Sinbad's Turbo NSX on the track, and he said it felt pretty strong. I didn't get a chance to drag race down the straight with him, due to the usual confusion in our pit area. But, during the time trial, Sinbad spins in turn 5, and ends up in the ugly ditch there on the side of the track. Fortunately, there is no damage done to the body of the car, but he hits the oil pan real hard, and his motor/tranny is making a nasty sound. So now the problem is that it is getting cold, and we don't have an easy way to get Sinbad's car back home. The only practical solution is to put his car in my trailer, and someone drives my car home, but it is getting late and no one in Lancaster can put street tires on my rims. I didn't bring my second set of rims, as it needs new inserts put on them. Sinbad's rims won't clear the big Brembo brakes on my car. We also have to remove the straight pipes from my car, and put the catalytic converter and regular muffler on my car, as my car probably blows 115 db from the straight pipe. Worse yet, the nuts/bolts on the car we want to take the stock muffler and cats are practically welded on from the heat, so Larry and Gary struggle for about 90 minutes to swap exhausts. So now it is 6 p.m. Sinbad says he will buy what is left of the tread on the Hoosiers, and he will drive my car home, and use the tires on his car the next time out. Sinbad drives the Flamemobile home, and we pray we don't hit any rain.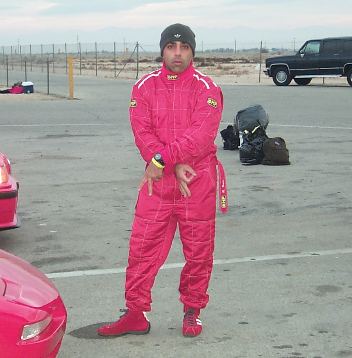 Sinbad showing how the Russians give gang signals in his homeland
We make it home in one piece. The NSX goes off line for a couple of months, as Erik does measurements and orders some go-fast, triple adjustable shocks, along with custom mono-balling other suspension pieces. In the meantime, I think I will bring the S2000 out to a couple of track events in January, namely the S2000 Club of America event at Laguna on the 14th, and the S2000 Challenge event at Buttonwillow on the 26/27th. The S2000 will be run pretty much fully stock. Except for using either A032R tires or Kuhmo tires. Oh, and make some brake ducts. Oh, and some custom test brake pads from Porterfield. Oh, and a bigger rollbar incase I wipe out......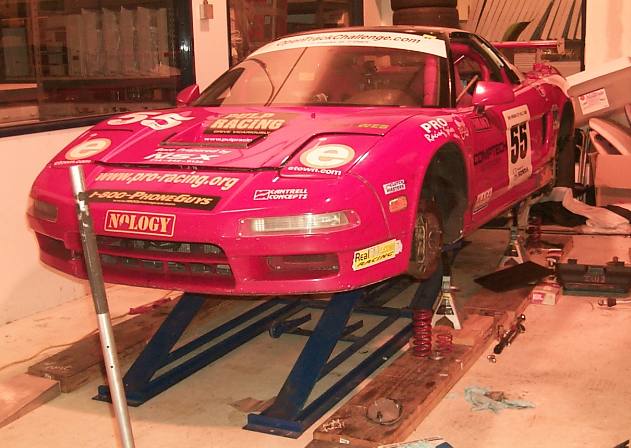 The NSX awaits some parts for the New Year.
We have one last karting race on December 9th, more on that in the next chapter. And don't forget to sign up for the Open Track Challenge. It doesn't matter if you want to battle it out to be the King of OTC, or if you are just a hobbyist that wants to sample seven tracks in seven days. Come out and hang out with us.....it should be a good time! Check out www.opentrackchallenge.com, the driver profiles section is good reading!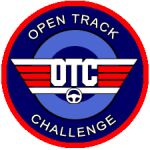 Calling all go-fast crack pipe addicts! Sign up for the Open Track Challenge!
p.s. My MSN email account is still a mess. Some people get a bounced back message when they send me an email and it doesn't get to me, others don't get any indication that I have not received it. So if I don't reply, resend. Curse MSN.