1995 Virginia City Hill Climb


The Virginia City Hill Climb is run twice a year, in June and in September. The Hill Climb course is 5.2 miles in length, and is a paved road built originally for the ore trucks going to and from Virginia City, Nevada. It is approximately 40 minutes from from Reno, and 25 minutes from Carson City. The Ferrari Owner's Club of America and the Quattro Club sponsor the June event, and are pretty cool about having "brand X" cars like the NSXs show up. The September event is run by the Ferrari Club of America and the Shelby Club, and they ONLY allow Ferraris and Shelbys at this event. Bummer for September.
This event is one of the most entertaining things that you can do with your car. Picture this: 80 car nuts shut down 5.2 miles of Highway 342 going up to Virginia City on Saturday and Sunday, and you run time trials up the paved road consisting of about 21 turns. Since the road is closed down, you can use both sides of the road to rip through these turns(marked 25 or 35 mph) at about 75-90 mph. There ain't a lot of guard rails, so if you screw up, you either crash into the mountain or become airborne and tumble down the side of the mountain. Last year at the June event, David Beddor won the event with a very impressive time of 3:21 in a RUF 911 4WD Turbo. I think this calculates that he AVERAGED 90+ mph through the entire course. Here is a copy of the email describing last year's event:
---
Many of you wanted on this listserver asked for a trip report from the June 1995 Virginia City Hillclimb. Here's the scoop. There may be errors in the report below, but this is how I recall the event from my memory and talking with people who also may have second hand information. So don't consider it completely accurate,but I think you may find it entertaining.......
When: June 24-25, 1995
Prize Money: None. You just get bragging rights, and if you are first in your class, you get an 11 cent blue ribbon, and maybe a gag gift. Classes are very liberal (Viper Modified, Viper stock, with the difference being that the Viper Modified class had chrome wheels. Quattro Two Door sedan 20 Valve Women's class, etc. so you get the picture)
Entries: 80 cars entered, everything from 20 year old Ferraris, to Kit Cars, 911 RUFs, a bunch of other Porsches, a Countach, Vipers, NSXes, Shelbys, a whole slew of Audi Quattros. Fastest times up the Hill(again, from my memory, I don't have official results in my hand) were the following:
1. Porsche 911 RUF - 3:24 (average speed around 90 mph!)
Sustained minor body damage from some "interaction" with the hill.
2. Ultima - 3:30
Cool looking kit car, with a souped up 302 V8. Kinda looks like a Porsche 962? race car with a huge wing in the back, like some of those cars entered in 24 hour race at Le Mans. This car will also be on the cover of one of those Kit car magazines, as it won a Kit car performance shootout.You can only see this particular car on this magazine cover, as the driver(a Bondurant instructor) launched it off the hill at turn 7 and went down about 400 feet down the rocky hillside. The driver somehow survived the crash with only an injured knee after flipping over many times down the hill. Someone said that the driver heard the wind whistling by for quite sometime while he was airborne. Somehow after flipping >down the mountain, the driver was able to get out of the car (which had a full rollcage) before it went up in flames. There were pieces of the car strewn all the way down the hillside, radiator fan, quarter panels, fuel tank, tires, shocks, and other Kit car bolts and screws. He was probably going 80-100 mph as he went off the side of the hill. All that is left of the car is a burned out rollcage. But the guy is alive! The owner of this beautiful vehicle is out about $85,000. (yes, the owner is not the guy who drove it off the hill) And the owner was a good sport and showed up at the awards banquet, where he endured the roasting from the MC with stuff like "it is amazing that the guy is still alive.....because if he would have totaled my car, I would have killed him by now" and "the top 15 things going through the driver's mind as he sailed over the hill" included stuff like:
"I don't think my rear wing is big enough"
"I wonder how this will look on my Bondurant driving resume?"
"Should that of been a right turn?"
Below is the Ultima before going over the hill: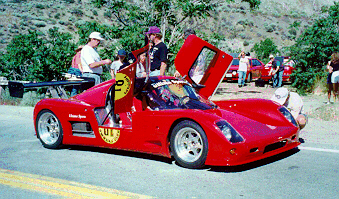 ... and this is what was left after failing to grow wings after launching off of turn

…and this is the tow truck driver posing next to the wreckage.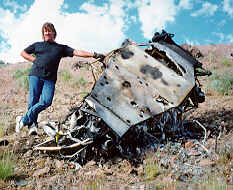 3. Porsche 911 Turbo - 3:32
(Damn those Porsche guys are fast.....)
4. Ferrari 512 TR - 3:34
Owner mentioned it is true that he had his racing slicks and rims UPSed up to Virginia City, but at least he DROVE his car up to Virginia City, unlike many of the fastest guys on the hill who trailered their car up to Virginia City
I think I will probably end up around 15th or so out of 80, with an elasped time of 3:53 which averages out to 80 mph or so. I wanted to finish in the top 10 and get below 3:48, cause my friend blasted up the hill last year and did a 3:48 in an RX7, but after seeing that car go over the hill and the driver taken away in an ambulance, I no longer felt like getting below 3:48 was that urgent anymore. But I sustained no body damage both human and NSX (looking for excuses) and had no >racing slicks(again, looking for excuses), and did the 3:53 with a passenger in the car(another excuse), and the A008RSs were feeling a little worn out(another excuse.....). It would have been nice to be faster than all the non turbo charged, non racing slicked 911 Porsches that were there, but I am sure there are at least two that were faster than me. All in all, it was a pretty intense weekend, and a great adventure.
Virginia City Hill Climb Final Results
Men's Division, June 25-26, 1995

| | | | |
| --- | --- | --- | --- |
| | Driver | Make | Time |
| 1 | David Beddor | 1990 RUF Carrera 4 | 3:24.578 |
| 2 | Jeffrey Gunning | 1995 Ultima Sports Coupe | 3:30.762 |
| 3 | Robert Dalrymple | 1984 Porsche 930 | 3:32.973 |
| 4 | Amir Rosenbaum | 1993 Ferrari 512 TR | 3:34.539 |
| 5 | David LeSage | 1989 Porsche 911 | 3:43.078 |
| 6 | Randy Harris | 1991 Chevrolet Corvette ZR1 | 3:47.340 |
| 7 | Barry Ward | 1985 Chevrolet Corvette | 3:48.430 |
| 8 | Tom Mildren | 1970 Porsche 911S | 3:49.551 |
| 9 | John Wittrig | Lamborgini Countach | 3:49.711 |
| 10 | Kit Krieger | Shelby GT350 | 3:50.129 |
| 11 | Timothy Landis | 1993 Dodge Viper | 3:51.000 |
| 12 | Bryant Hibbs | 1988 BMW M-6 | 3:51.770 |
| 13 | Mike Jolliffe | 1972 Porsche 911T Coupe | 3:52.886 |
| 14 | Doug Hayashi | 1992 Acura NSX | 3:53.152 |
| 15 | Carl Young | 1974 Porsche 914 | 3:53.609 |
| 16 | Craig Kuckhoff | 1992 Mitsubishi 3000 VR4 | 3:55.680 |
| 17 | Frank Beddor | 1990 RUF Ultimate | 3:57.492 |
| 18 | Don Freeman | 1994 Dodge Viper | 3:58.180 |
| 19 | Ken Walters | 1994 Chevrolet Camaro | 4:00.172 |
| 20 | Joe SanPaolo | 1976 Ferrari 308 GTB | 4:00.938 |
| 21 | Bob Keppel | 1984 Audi Sport Quattro | 4:00.941 |
| 22 | Keith Anderson | 1983 Audi Turbo Coupe | 4:02.359 |
| 23 | Carlos Poza | 1991 Acura NSX | 4:03.391 |
| 24 | Gary Bergman | 1983 Audi Quattro Coupe | 4:04.520 |
| 25 | Craig Hillis | 1989 Porsche 911T | 4:05.332 |
| 26 | Richard Clewett | 1971 Porsche 914 | 4:07.328 |
| 27 | Don Wild | 1991 Acura NSX | 4:07.433 |
| 28 | Wayne Mello | 1989 Porsche 944 Turbo | 4:08.051 |
| 29 | Jim Flaming | 1995 Pontiac Formula | 4:08.340 |
| 30 | Andrew Ritter | 1969 Ferrari 365 GT 2+2 | 4:09.371 |
| 31 | Paul Shaver | 1988 BMW M-6 | 4:10.457 |
| 32 | Barry Hathaway | 1985 Mazda RX7 | 4:11.609 |
| 33 | Nicholas Linsmayer | 1993 Audi 100 CS Quattro | 4:14.109 |
| 34 | Michael Davis | 1967 Ford Mustang | 4:14.663 |
| 35 | Leif Johnson | 1989 Porsche 911T | 4:15.988 |
| 36 | Darren Hale | 1983 Audi Quattro Coupe | 4:17.191 |
| 37 | John Adkins | 1972 Ferrari 365 GTC4 | 4:18.859 |
| 38 | Dean Micalizio | 1990 Ferrari 348 TS | 4:19.410 |
| 39 | Ron Clyborne | 1994 Chevrolet Camaro | 4:19.713 |
| 40 | Bob Polich | 1990 Audi 90 20 Valve | 4:19.918 |
| 41 | Joe Maddocks | 1984 Ferrari 512 Bbi | 4:20.488 |
| 42 | John Mackay | 1985 Mazda RX7 | 4:20.730 |
| 43 | DeWitt Harrison | 1988 Audi 5000 CS Turbo | 4:21.500 |
| | Chris Sommer | 1984 Audi Turbo Coupe | 4:21.902 |
| | Gary Bayless | 1969 Porsche 912 | 4:22.480 |
| 46 | Randy Evans | 1986 Audi 5000 CS Turbo | 4:22.547 |
| 47 | Aidan McLeer | 1983 Audi 5000 Turbo | 4:22.867 |
| 48 | John Fitzgerald | 1987 Porsche 924-S | 4:22.980 |
| 49 | Alan Dror | 1988 Ferrari Testarossa | 4:23.004 |
| 50 | Chris Pederson | 1983 Porsche 911 SC | 4:23.059 |
| 51 | Tom Thiss | 1984 Audi Sport Quattro | 4:26.629 |
| 52 | Terry Mahon | 1965 Ferrari 275 GTB | 4:27.270 |
| 53 | Koichi Kojima | 1977 Datsun 280Z | 4:29.539 |
| 54 | Joseph Sr. SanPaolo | 1977 Ferrari 308 GTB | 4:29.562 |
| 55 | Joe Chadwick | 1983 Audi Turbo Coupe | 4:29.688 |
| 56 | Chris DeLadi | 1983 Audi Turbo Coupe | 4:29.844 |
| 57 | Harry Feser Jr. | 1986 Audi 5000 | 4:30.848 |
| 58 | Peter Palermo | 1984 Audi Turbo Coupe | 4:31.000 |
| 59 | Randy Bare | 1995 Ultima Sports Coupe | 4:33.021 |
| 60 | Patrick Stanton | 1983 Ferrari 308 GTSI-QV | 4:37.172 |
| 61 | Tim Strann | 1990 Monster Miata | 4:38.051 |
| 62 | David Weir | 1972 Ferrari 246 GT-Dino | 4:39.531 |
| 63 | Vincent Paoli | 1983 Ferrari 308 GTSI-QV | 4:39.629 |
| 64 | Scott Doherty | 1988 Audi 5000 CS Turbo | 4:42.971 |
| 65 | Bruno Miramont | 1986 VW Golf | 4:46.289 |
| 66 | Homare Sakata | 1987 Audi 4000 Quattro | 4:50.457 |
| 67 | Kevin Linkus | 1989 Ferrari 328 GTS | 4:59.652 |

Virginia City Hill Climb Final Results
Women's Division, June 25-26, 1995

| | | | |
| --- | --- | --- | --- |
| POS | Driver | Make | Best Time |
| 1 | Marilyn Beddor | 1990 RUF Ultimate | 4:00.648 |
| 2 | Denise Stillman | 1984 Ferrari 328 | 4:08.051 |
| 3 | Deborah Thiel Polich | 1990 Audi 90 20 Valve | 4:30.109 |
| 4 | Susan Crehan | 1991 Audi 90 20 Valve | 4:31.781 |
| 5 | Karen Chadwick | 1983 Audi Turbo Coupe | 4:42.688 |
| 6 | Pat Papenfuss | 1983 Audi Turbo Coupe | 6:11.427 |