The SKUSA SuperNationals November 9-12, 2006
The Stock Honda Championship
"Following You, I Climb the Mountain, I Get Excitement at Your Feet" - P. Townshend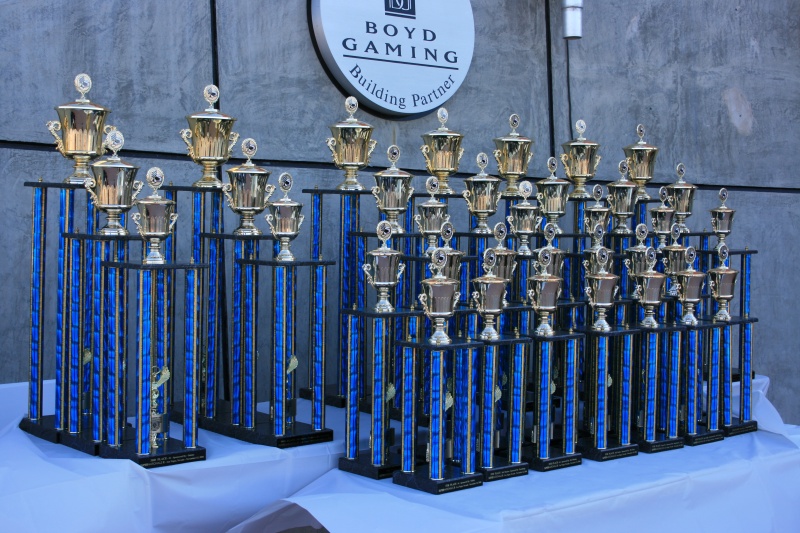 Trophies, prizes, and fame await those who can climb to the top of the mountain
Viva Las Vegas! Wayne, Jeff and I decided to race at the SuperKarts USA (SKUSA) SuperNationals held in the parking lot of Sam Boyd Stadium. It is a big event that some have called the Mecca of Karting in the USA.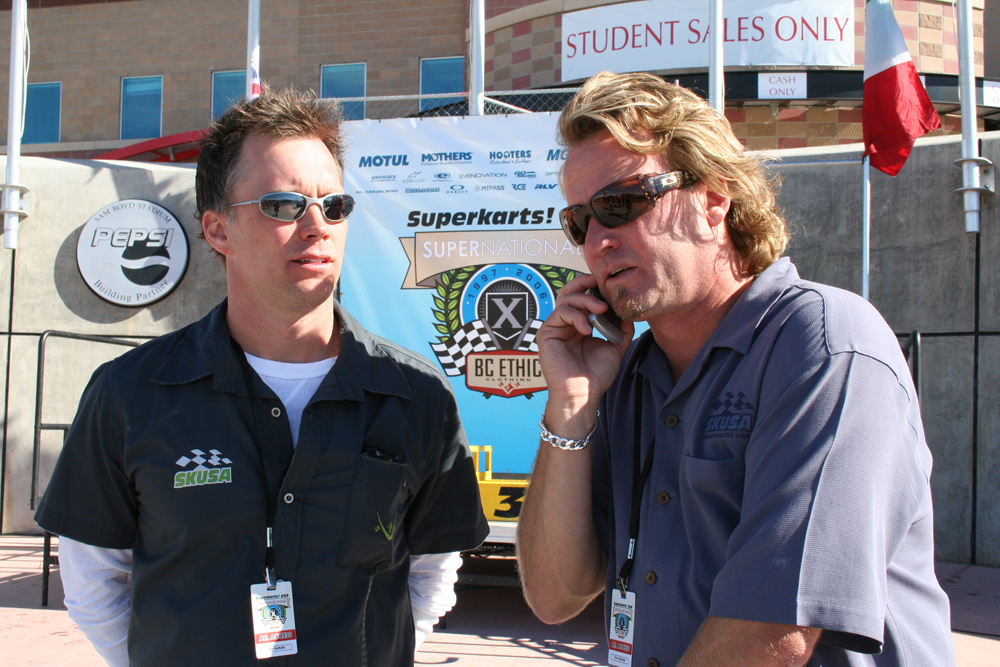 "Trust me! Jim, Greg, and I can make this thing happen!"
Here are some comments from other people about the SuperNationals:
Excerpt from Jeff Franz, KartSport Magazine:
"The SKUSA SuperNationals is quite simply the biggest and most prestigious event in North American karting. Since its inception in 1997, this race has always drawn the absolute finest talent from across the continent. It has become an end-of-season Las Vegas tradition, as 300 drivers make the pilgrimage to Sin City to close out a year of racing. Whether it be at the Las Vegas Karting Center, the parking lots of the Rio, or it current home at Sam Boyd Stadium the SuperNationals is the Indianapolis 500 of karting. There is no other North American event that even comes close."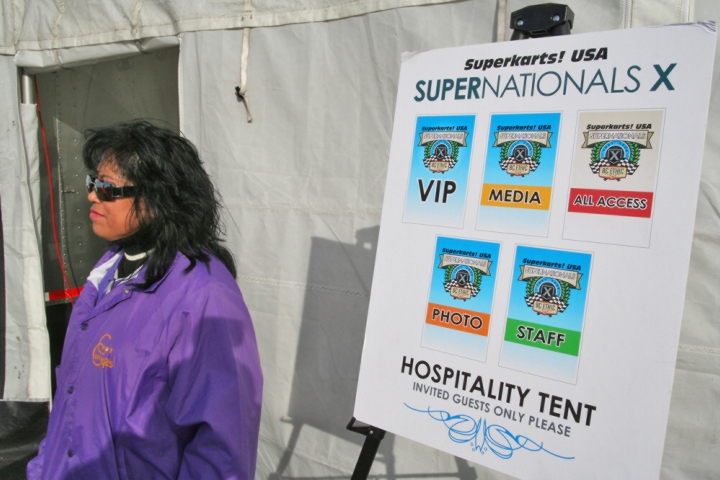 Not your average karting event
Comments from Memo Gidley in the KartSport Magazine SuperNationals Program Guide:
"Two years later, I was so disappointed with my result in 1998 that I was determined to come back the next year and win it. Three months prior to it, I started testing, and that meant shutting off the phone, sleeping on the floor of at the factory, and working non-stop for those three months. So the win in '99 was much more satisfying, as there were more teams and more drivers on top of their game, and the talent level was so much higher. The 1999 SuperNationals victory remains the pinnacle of my racing career, including every other form of motorsport I've been involved in. It's simply the biggest win I've ever experienced".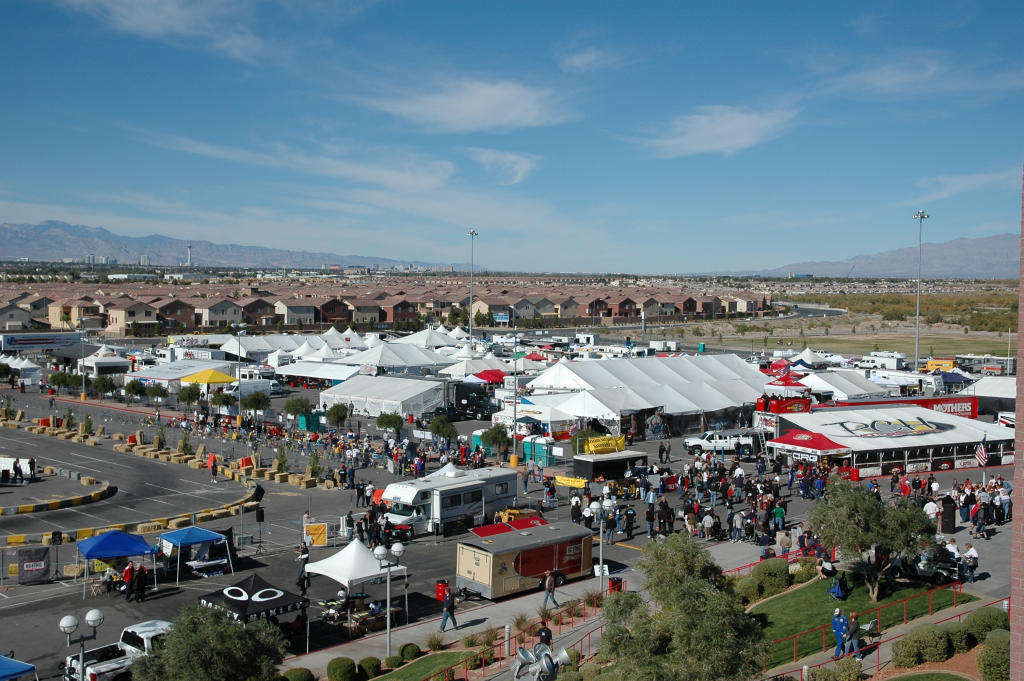 All the big tents added to the festive atmosphere
Comments from Darren Elliot in the KartSport Magazine SuperNationals Program Guide:
"For me, everyone thought I had a big engine advantage the year that I won. But you know, I think I've heard that after every SuperNationals, people like to say that the winner had too much engine, or too much tire, or too much Italian influence under the tent. The losers always have an excuse; hell, even I have an excuse for every year I didn't win! But when it is all said and done, all that's left are the winners of this great race, and you can't take that away from any of them. Win the Supernats, and you can say you're The Man!"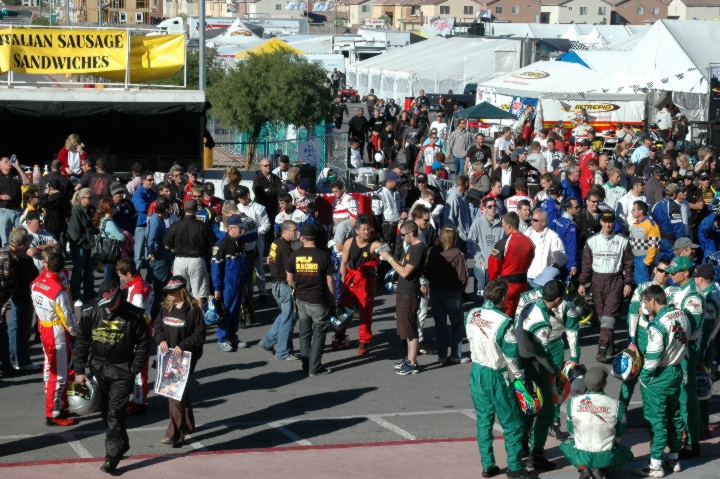 300+ drivers, lots of spectators, huge tents, rock music blaring over the loud speakers
Those above comments are about the SuperPro class. We will be running in the Stock Honda class, which is more of a "hobbyist" type class as opposed to a racing with the pros. But hey, it will be the biggest single kart race that we run in at our level. So if the SuperPro guys refer to it one of their biggest events ever, surely we can claim the same for us hobbyist types.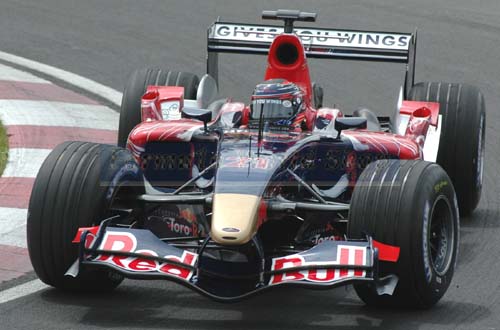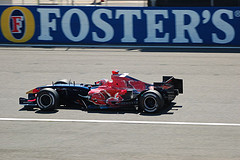 Formula One pilots Scott Speed and Vitantonia Liuzzi signed up to race in the SuperPro class
It was a bummer that the FIA/CIK Euro-dorks wouldn't let Formula One drivers Scott Speed and Vitantonio Liuzzi race in the SuperPro class. Speed and Liuzzi were all pumped up to race against America's best SuperPro drivers, and all the SuperPro drivers were eager to take down the F1 drivers.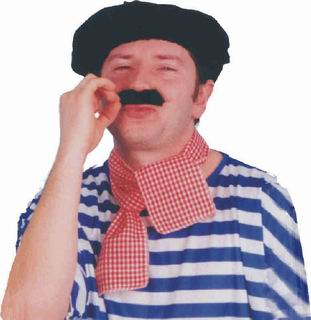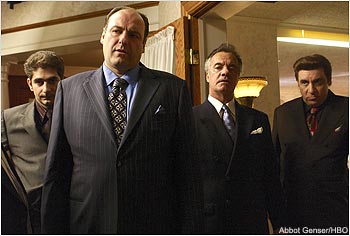 FIA & CIK Euro-Dorks threatened to pull Speed and Liuzzi's F1 Racing License if they raced with us
The FIA/CIK excuse was that the SuperNationals wasn't on the "official FIA/CIK calendar of events", so Speed and Luizzi were threatened with losing their F1 racing license if they were to drive in this event. And the FIA wonders why Formula One isn't more popular in America? Euro-snob-iness at its best.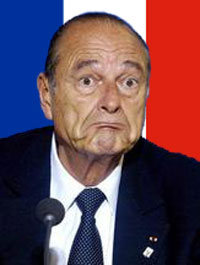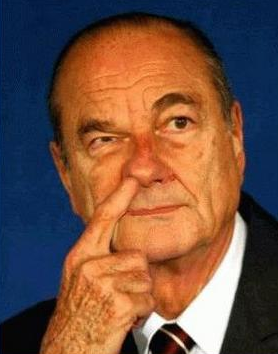 No F1 Drivers For You! You must be on French FIA/CIK Calendar months in advance!
We worked really hard to practice and prepare for the SuperkartsUSA Supernationals, as you can tell from the last chapter. (Well...not as hard as Memo Gidley, but still pretty damn hard). We went to Vegas in anticipation that the three of us (Wayne, Jeff, myself) had a legitimate shot at making it to the podium against 40 of our peers from across the country.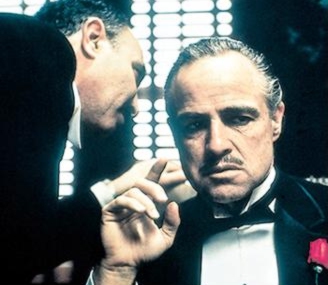 "Kutscher is trying to upstage us Italians. You must not allow Speed or Luizzi to race with SKUSA"
Even better if we could put all three of us on the five person podium, with one of us taking first place. 2WildKarting trailered our karts up along with Bobby Legate's Spec Honda Light entry, Troy McCall's TaG kart, and two tons of spare parts, four tool chests, spare chassis, etc. Their game plan was to setup a big tent for nine of their customers, and see if they could help their drivers have some fun at the races and get on the podium.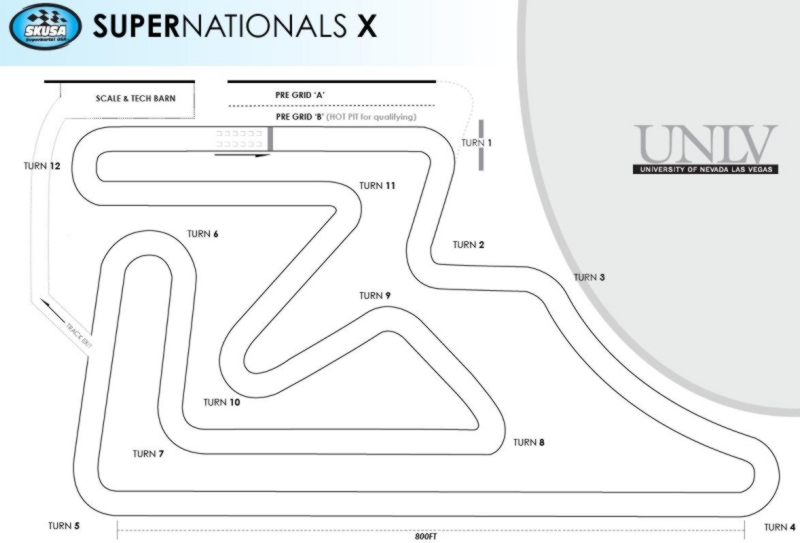 Great selection of low speed, medium speed, and high speed turns
November 6th, Monday afternoon.
I'm feeling pretty good about our Cheating Bastard plans from the last chapter. I think I can win another bet from some fellow members at corner-carvers.com. I proposed a bet that Wayne or I will make the podium at the Supernats, with podium defined as 1st, 2nd, or 3rd, despite the fact that in 9 PKC races in 2006, we have made the podium only once. I think it is a better than 50% chance that we can do it. After I get 30 people to bet me 10 bucks each, I reveal our Cheating Bastard plans in Chapter 131, about how we got new karts, did four practice days in a one week period after we took delivery of the karts (two of those days were coaching from Nick Halen and his dad) and then did 3 more test days after that.

Interior section of Turns 6, 7, 8, 9, 10
I also revealed, after taking the bets, how we didn't want to try to take down the young guns like Connor DePhillippi in the Stock Honda Light. He is blindingly fast and less than 1/3rd our age. Instead, we will run in the Stock Honda Heavy class with the older guys. I did some searching on the Internet, and saw that a few months earlier Nick Halen ran at Miller Motorsports Park in both the light and heavy Stock Honda classes. He had the same game plan against the Norcal/Pacwest guys that weekend (Saturday and Sunday) that he uses on us ProKart Challenge guys.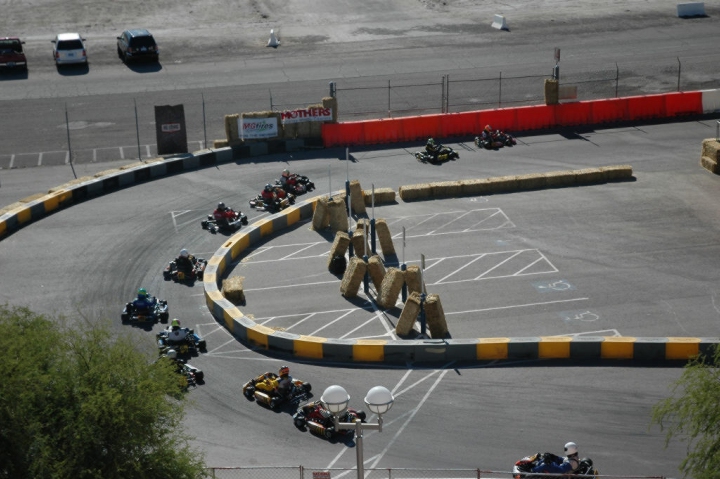 Coming onto Turn 4, start of the back straightaway
Halen sits out Heat 1, starts from the back of the pack in Heat 2, walks through everyone, and then wins the Main. Halen is racing in the Superpro class at the Supernationals, and SKUSA isn't allowing any Superpro guys to run with us mere mortals in Stock Honda or any other non-SuperPro class. So in Stock Honda Heavy, we don't have to worry about Connor or Halen. Randy McKee, 2nd in overall points in the ProKart Challenge series, decides to run in the light class also. Humm...with these three guys out of the picture, I forsee a chance that Jeff, Wayne and myself have an excellent shot at the podium. We didn't hear any rumors of anyone super-fast entered in the heavy class, so we threw another 30 lbs of lead on our kart and decided to race in the over 35 age group. Fernando Diaz calls me up, and sees the same opportunity.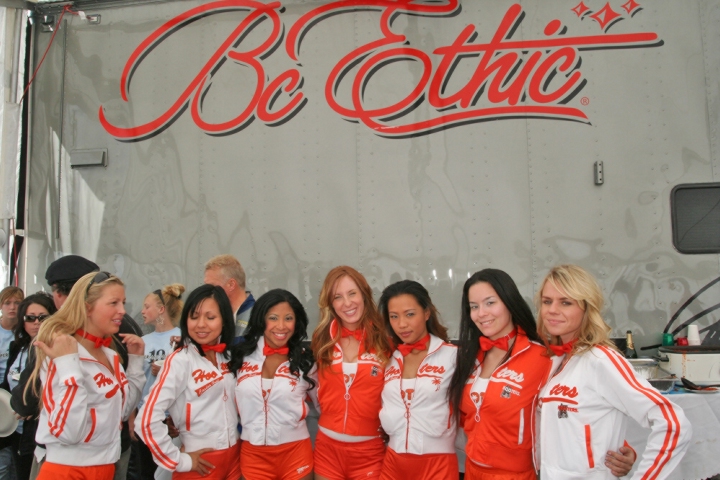 BC Ethic is the tile sponsor for the Supernationals.
BC Ethic, whose clothes are found anywhere from Fred Segal in Los Angeles to Nordstrom nationwide, was the SuperNational X title sponsor. The brand's philosophy is one of fast and loud cars and their subtle yet effective marketing presence really added to the event....from the professional BC Ethic hospitality hauler to the massive BCE signage and their unbelievable clothes, it was nice to finally see a non-endemic sponsor involved in karting- as this company seems genuinely dedicated to growing the sport of kart racing across the country. This is what karting needs, more sponsors and exposure!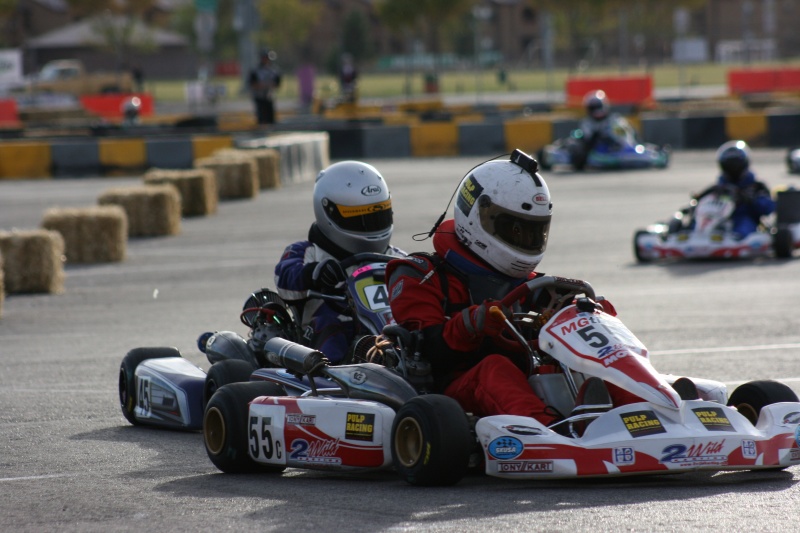 Trying to hold off Craig Sender
BC Ethic CEO Mark Zacher had this to say about the title sponsorship announcement, "BC Ethic has been involved in various motorsport endeavors over the years, and as the company continues to define its focus and growth with our core customers - many who are influenced by racing - we simply thought that SuperNationals X would be a good fit for us. It's no secret that some of the best drivers from around the world will be in Las Vegas this November- so it makes sense that we are too."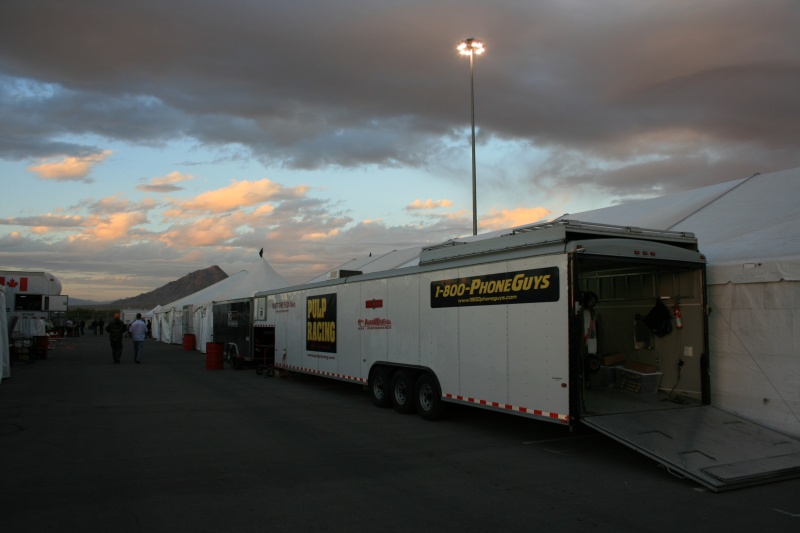 The Transporter. It was small compared to the factory team rigs.
Wednesday, November 8, 2006
Jason Steaman and I fly into Vegas around 12:30 p.m., and head over to Sam Boyd Stadium. Wayne Kimball from 2Wild drove the Pulp trailer up on Monday and was working with the tent people to get our pit area setup. He also has Loren helping him for the week. Loren is a 2Wild customer who wanted to see what the Supernationals is all about, and he offered to help in the tent for the week. Loren said he got his laptimes in his Stock Honda down to 1:07 at Moran, which is pretty good. Especially since Loren is 65 years old. Nice....that means I got at least 18 more years of karting left in me!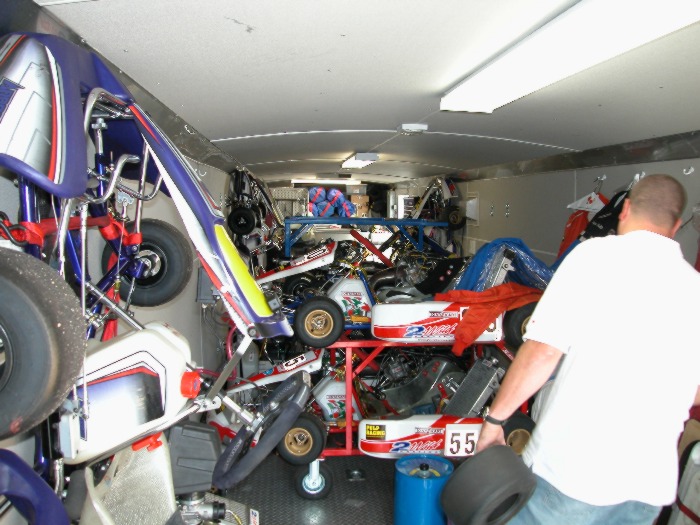 Two double stands and four upright stands get all of our racing machines to the track
Jason and I only have to spend about 15 minutes arranging our stuff in the tent, as 2Wild already pulled out the karts, karts stands, tables, etc. Jeff and his wife Sunni pull into town around 4 p.m. Wayne's plan is to fly into Vegas tomorrow morning at 9:00 a.m., as his wife is 8+ months pregnant. He's got their nanny staying at the house 24 hours a day until he gets back on Sunday.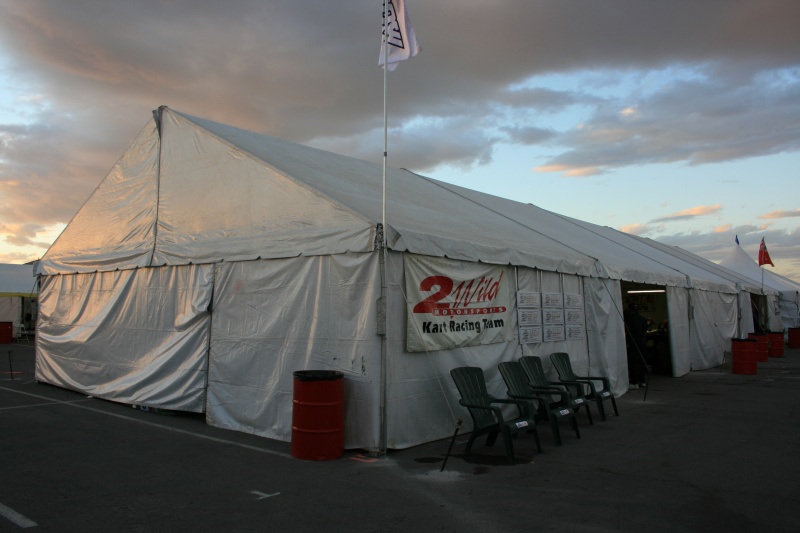 Our home for the next four days
We are staying at the Hooter's Hotel, which used to be the old San Remo hotel. It ain't the greatest hotel in the world, but for our needs, it ain't bad. The rooms were clean. My non-smoking room smelled like smoke and the water didn't really drain from the sink, but they changed it out the next day. SKUSA got the block of rooms real cheap, $39 for the weekdays, $69 for the weekends. Food in the steakhouse restaurant wasn't bad at all. Half of the dealers were dressed in Hooters attire, and they were all friendly and nice.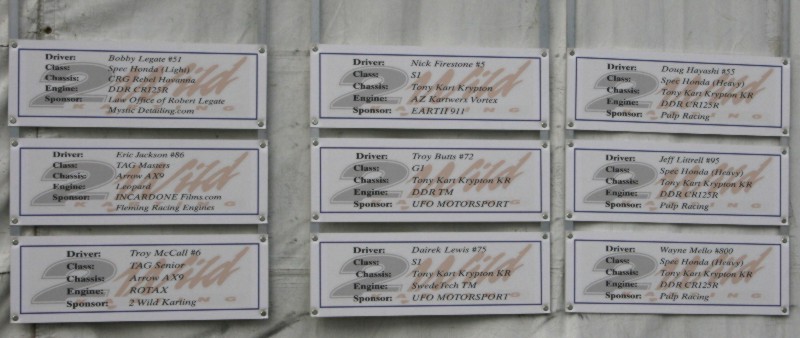 2Wild got us placards for outside the tent
The blackjack tables at Hooters were all $10 minimum, with half of them single deck. Only problem with the single decks is that they only paid 6-5 on blackjack instead of 3-2, but people were saying that virtually all single deck games in Vegas have evolved to this with the possible exception of the Horseshoe casino. The casino area wasn't smoky and they had live music on the weekends. In fact, I never gambled anywhere else on this trip. I applied in advance for a line of credit, so I could walk up the table and act like a big shot and say, "Give me a marker for $700". Unlike other casinos on the strip, this caused a lot of confusion, as apparently they don't get a lot of marker players. It takes about 10 minutes for them to figure out their own procedure for giving someone a marker. After playing for about two hours, I'm up $175 for the evening, betting between $10 and $100 a hand, depending on how ten-rich the deck is. That stupid 6-5 payout on a blackjack is killing me, I feel like I am losing money when I get a blackjack. I would definitely stay here again.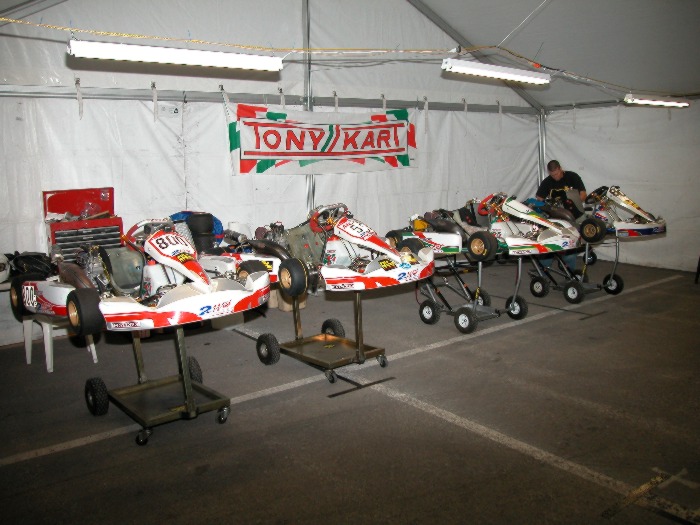 Our four karts (Wayne brought his old kart as a spare)
Ekartingnews.com had the following blurb about our class on their website:

S4 - Stock Honda Heavy - RLV Products
With the popularity of the Stock Honda package growing, a second Stock Honda class was added to support the over-35 drivers, along with allowing drivers over 200 lbs. into the category. 36 drivers are slated to battle for the win with many of the drivers from the popular West Coast programs, the ProKart Challenge and the Cascade Regional Series. Some of the top PKC drivers include, Doug Hayashi, Fernando Diaz, Jeff Littrell, Marc Segal, and Mike McClaran. the Pacific Northwest's Craig Sender, Kelly Baker, Raman Sarin, Randy Small, Scott Officer and Wyatt King will be representing the Cascade region. When the karts hit the track on Thursday, the top contenders will emerge during the opening practice sessions.
I thought it was pretty funny that they left Wayne's name out, especially since he had more points than me in the PKC series. Wayne was furious. He gets no respect!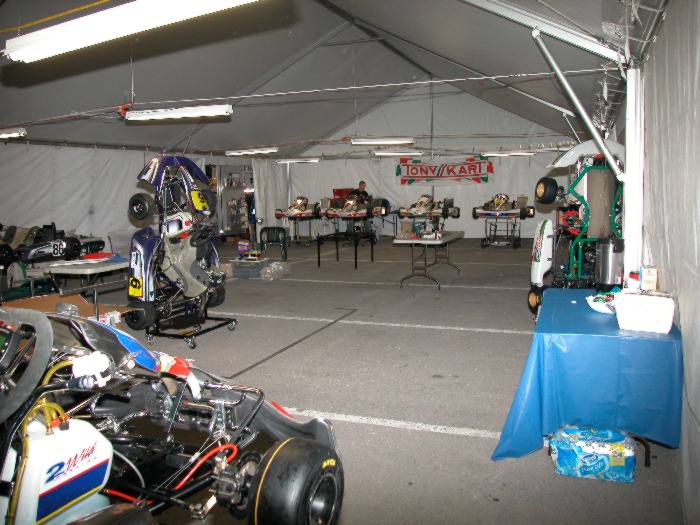 The tent had lights, and kept the wind out of our pit area. Very nice setup.
Thursday Morning
Each class gets four 10 minute practice sessions to sort out their kart and get used to the track. These sessions are critical for those of us who are uh...slow at learning new tracks. Wayne is skipping the first practice session, as he is flying in today an arriving at 9:00 a.m. He should be ready for the 2nd practice session at 11 a.m.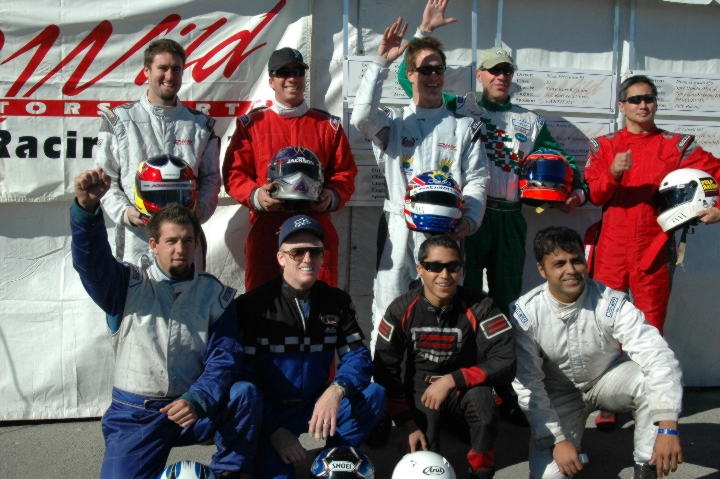 The drivers running out of the 2Wild Tent
Last year, there were about 22 Stock Honda drivers. This year, there were a total of 62 Stock Honda drivers, and SKUSA had to create two classes. There were 26 drivers in the Stock Honda Light class (385 lbs minimum weight driver and kart), and 36 drivers in the Stock Honda Heavy class (over 35 years old OR driver weighs more than 200 lbs, and driver and kart weigh minimum 415 lbs.)
The Stock Honda shifter class is exploding in popularity. Some of the reasons for this are: (in my opinion)
1. Easy to tune the motor. It doesn't take a rocket scientist to properly figure out the jetting for the Keihen carburetor on a Honda CR125. We were always battling to try to get our old Vortex ICC motors to run strong without bogging or blowing up. With the Honda, you can be off a couple of jet sizes and the kart will still run decently.
2. Great reliability. Hey, it's a Honda. Kinda like racing a stock Honda Civic. If you don't screw around with the motor, it won't blow up on you.
3. Easy maintenance schedule. Hey, it's a Honda, so the maintenance schedule for swapping out a new piston or bottom end is 3x-5x better than an ICC motor.
4. Relatively cheap. You can't spend money on building/porting/polishing/tweaking the motor.
5. On the West Coast, there are big race grids for the Stock Honda classes. Hopefully that will spread nationwide.
6. 0-60 in 4.5 seconds, pull 2.5 g's in a turn, and they'll do a 100+ mph with the right gears and a real long straightaway.
7. It truly is the best bang-for-the-buck wheel-to-wheel racing you can experience. Rent a shifter at a local track for an hour or two, and you'll understand what I mean. It will make your Viper/Ferrari/Porsche/Z06 feel like a pig on the track.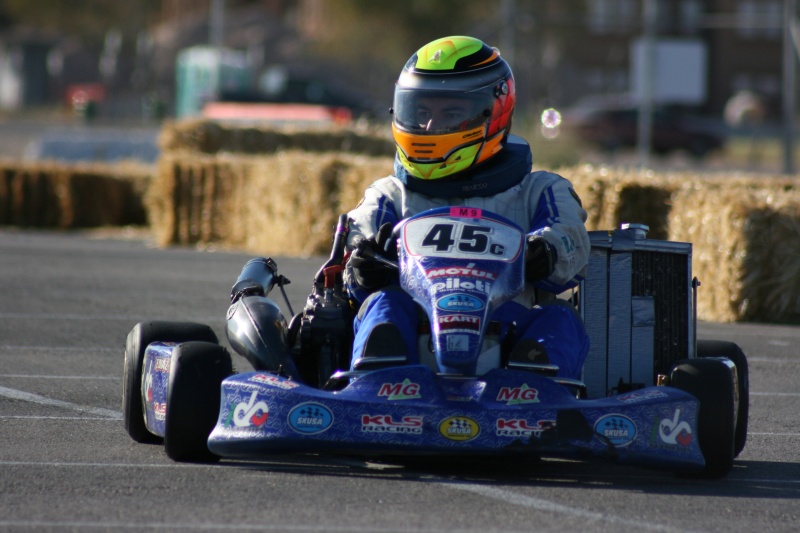 Fernando goes on the Emerging Fat Bastard Diet to qualify for the Stock Honda Heavy Class
Fernando Diaz was even more of a Cheating Bastard than we were. He's 34 years old, and weighs about 193 lbs. He's a little too heavy for the Stock Honda Light class (he would be at a weight disadvantage, probably weighing in at 405 lbs instead of 385 lbs), and too young for Stock Honda Heavy (34 years old), and too light for Stock Honda Heavy (193 lbs). So he had to go on the Emerging Fat Bastard diet. He stopped working out AND told his wife to feed him excessively so he could gain 7 lbs to get to 200 lbs. That way, he could meet the driver weight minimum for Stock Honda Heavy and race with Jeff, Wayne, and me for bragging rights.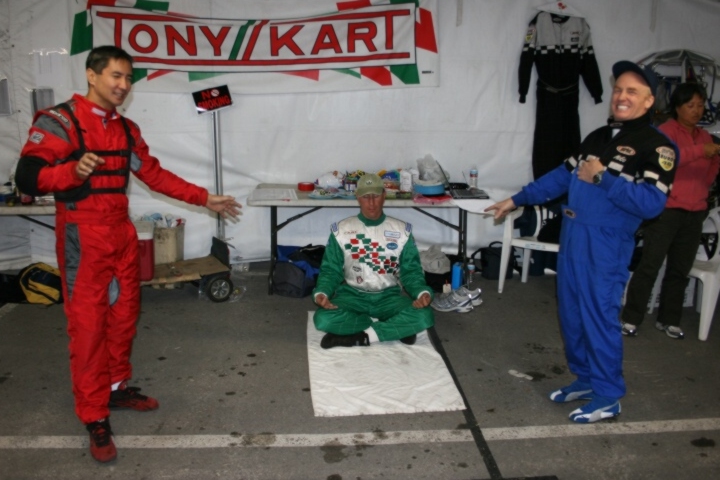 Jeff was doing yoga mediation and stretching before the practice sessions and heat races
Today, we have four 10 minute practice sessions to sort out the kart and get used to the track. We are the last run group, so our first session is 9 a.m., which means we can sleep in for a little bit in the morning. Every two hours we have another practice session. Jeff's doing yoga meditation and stretching before he goes onto the track. He looks like an idiot in the tent. We rag on him and poke fun at thim.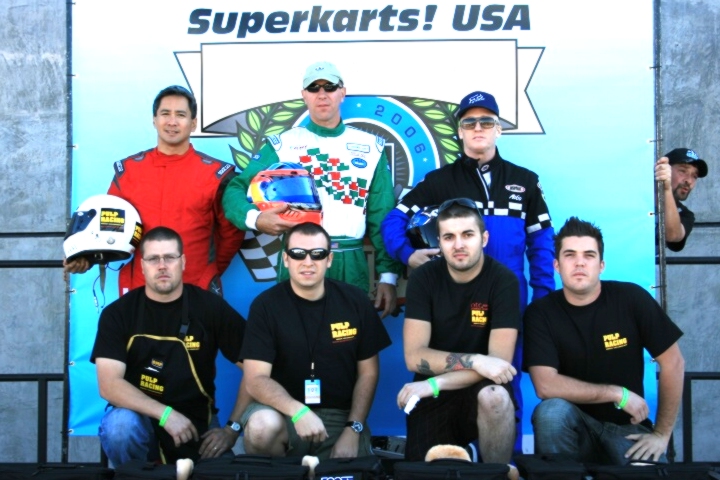 Team Pulp Racing, with Jason, Jason, Dana, and Johnny as crew members
Practice Session 1
Jeff's kart bogs out, so he doesn't get to practice. Bummer for him. I go out there and buzz around for 8 laps, kart feels pretty good. My Mychron beacon was pointed the wrong way, so no laptimes. Damn. Turns out that Jeff's kart had the needle clip break on his carburetor, causing the motor to die on him. 2WildKarting has brought all their spare parts, and that is quickly fixed.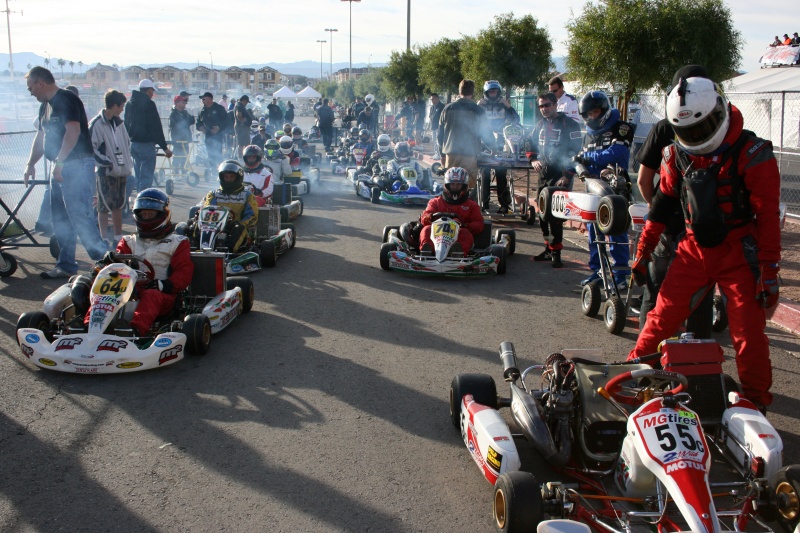 I love the smell of two-stroke motors burning race gas in the morning
Practice Session 2
Wayne has prepped both his new kart and his old kart to race this week. Which I think it is kinda crazy, as he missed the first practice session, so now he only has 3 sessions left today to drive both karts, get used to the track, and choose which kart to drive. He starts with the new kart. We go out, and it is getting out of control out there in practice. People dive bombing, late braking each other, not braking enough and going into the walls, bouncing off of each other. I decide that I need to make a gear change, as the gear I have doesn't feel optimal.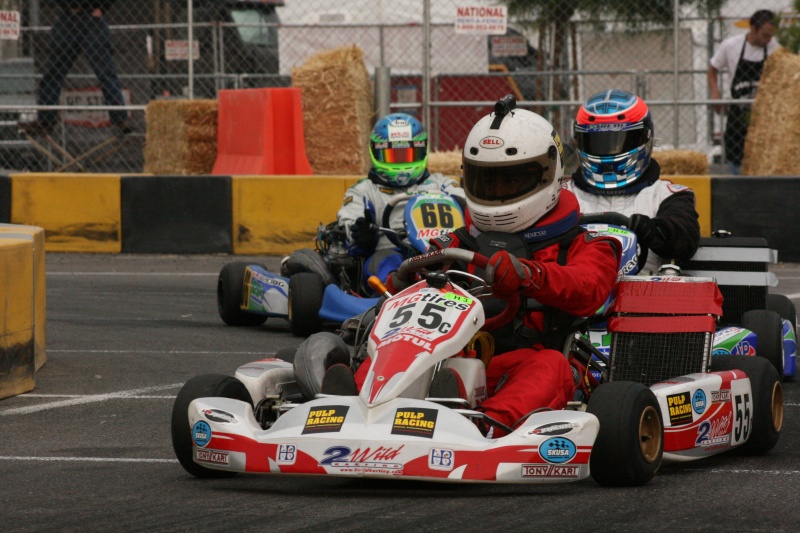 Helmet camera worked for all the races!
Practice Session 3
We decide not to grid up with everyone in the practice session in the cold pit, opting to wait about 45 seconds after everyone else is on the track, and then we join the practice session. That way it doesn't resemble the 405 freeway in rush hour, filled with hopped up crack addicts weaving back and forth. This way, we get a little more space, and then we can drive like wide-eyed, hyperventilating, meth smokers and not crash into anyone.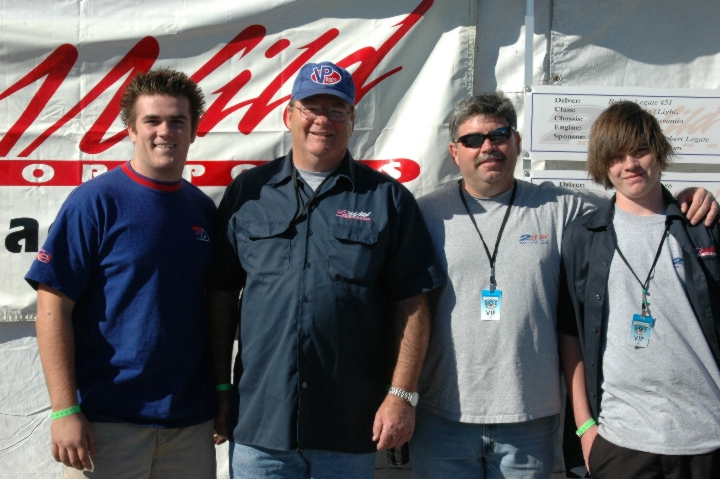 Matt and Wayne Kimball. Rhod and Ryan Beachner.
I need another session to get used to the new gears I put on the kart. This is the first session that SKUSA posts the AMB transponder lap times. I check the time sheet, and Hey Now, I'm third quickest! Jeff is first, and Fernando is 4rd. Wayne is off the pace, as missing that first practice session hurt him. I'm thinking I'm gonna clean up on my bet with the cc.com guys.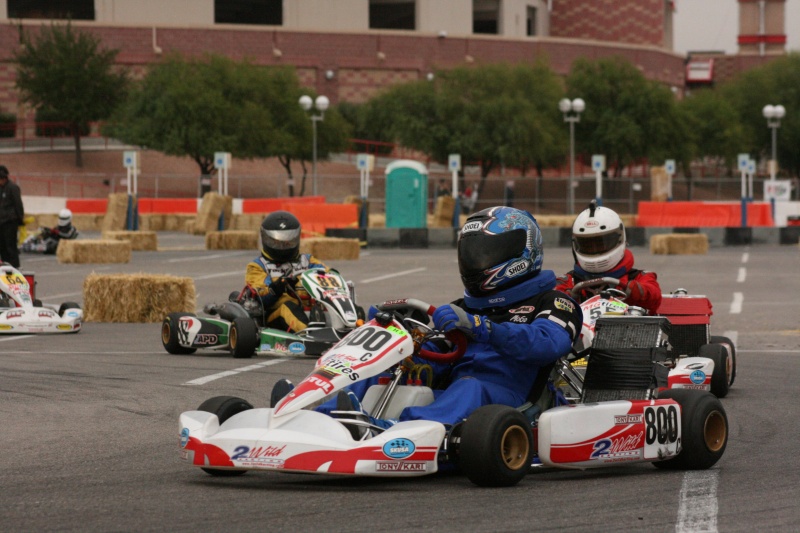 Wayne in a rare appearance in front of me! Ha!
Practice Session 4
Last practice of the day. We convince Wayne to just stick with his new kart, as we think that moving back and forth between karts is going to screw him up. My kart is feeling real good now. Coming back and checking the time sheets, I hold down 3rd quickest. Jeff and Fernando are 1st and 2nd, and Wayne moves up to 6th quickest. Hey Now, looks like we are ready to race! And I think Wayne and I have a shot at 3rd place! Looks like our plan is starting to fall into place quite nicely. Check out the Big Brain on Doug. I'm thinking of sending in my resume to Scuderia Ferrari to replace Ross Brawn as their Chief Racing Strategist for the 2007 season.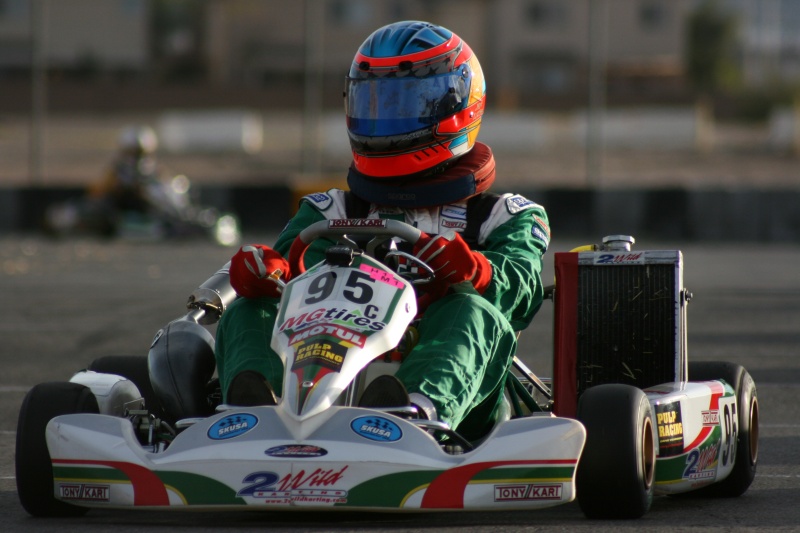 Jeff harnessing his Chi on the track
Jeff is feeling pretty confident about how he is running so far. He even considers skipping practice tomorrow morning and sleeping in. 2Wild convinces him to show up for the practice, put on some new tires, and scrub them in to prepare for qualifying. That way they can check to see if he is getting any hop from too much grip on the new tires. Jeff is watching the SuperPro guys on the track, and noticing that the fast guys get within an inch of the hay bales and barriers. I tell Jeff to give it 6-12 inches, as if you hit those barriers or hay bales it will really screw up your kart and your position on the grid in the main.
Thursday night we just eat in the coffee shop. Teddy from softball is down for some stone cleaning convention, and those guys are drunk and raising hell with the Hooters chicks in the bar area. I win another $150 or so playing blackjack, up to $325 for the week.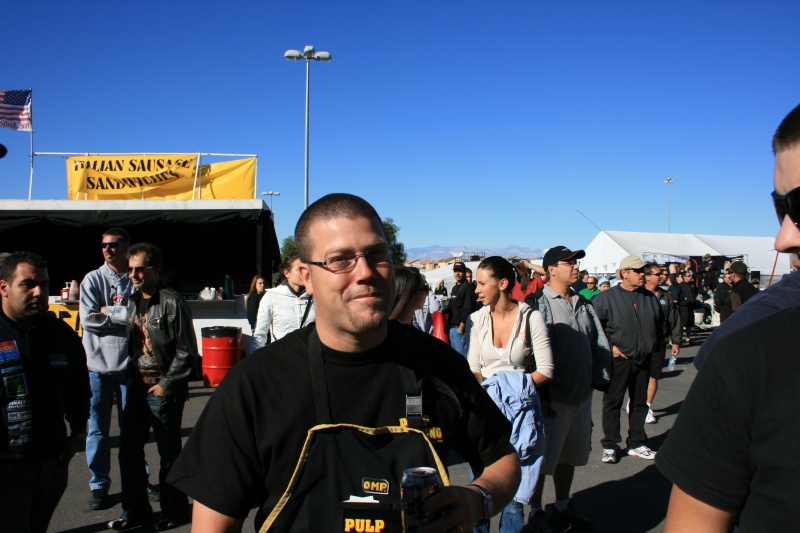 Pulp Racing Crew Chief Jason Steaman is happy about our Thursday practice results
Friday Morning, Practice Session 5
Today we have a practice session at 9:00 a.m., Qualifying at 1:12 p.m., and Heat Race #1 at 3:38 p.m. In the morning practice session, I'm 2nd quick behind Kelly Baker, who is also running in the G1 semi-pro class. Jeff's 3rd, but is driving easy on his new set of tires, Fernando's 5th, and Brian Paulter moves up to 4th. Wayne drops back to 12th, trying to get used to a different gear set. Time sheet here.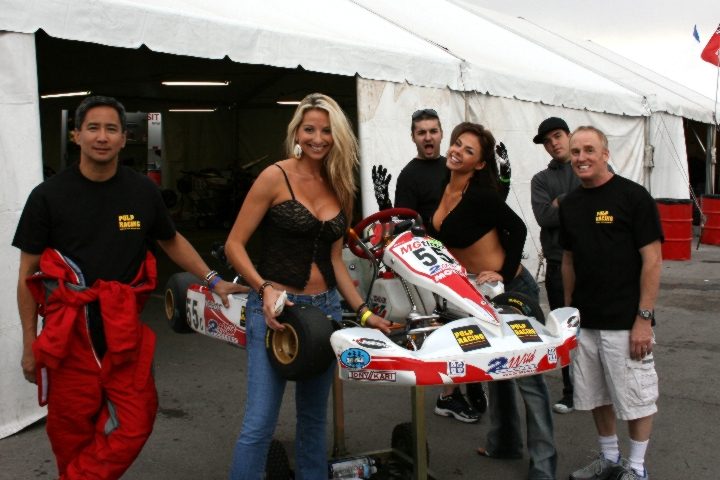 The Ribtect Girls were adding a lot of uh "glamour" to the pit areas
Qualifying
Everyone gets two sets of MG FZ tires to use for qualifying, the three heat races, and the main event. We get 20 minutes to qualify, kinda how like F1 was a couple of years ago. Everyone is on the grid at the same time. You can come into the hot pit to do adjustments with your pit crew. My plan is to do about 6 laps, come in, have the pit crew check the laptop displays in the pit area showing qual times, and let me know if I am in the ballpark. I do six laps, come in, things seem to be going good, do a quick air pressure adjustment, and then I go back out. .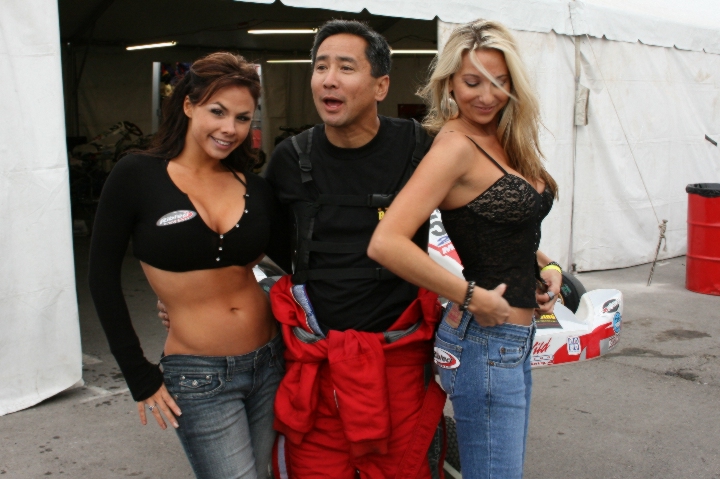 I need this pose for the helmet cam video. Heh.
But, I never got faster than my first lap. Curious, because it seemed like with the MG FZ tires, they don't come in quickly like the MZ tires. I was hoping to get faster as the session went on. I come in, and end up sixth fastest. Not great, as I was hoping to be in the first two rows, but I can live with row 3. Especially when there are 15 more rows of karts gridded behind me.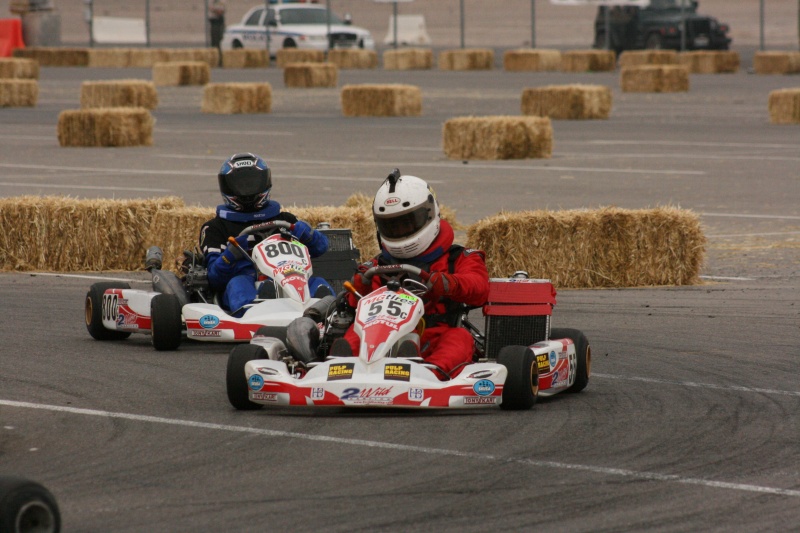 Me where I should be, in front of Wayne
Fernando Diaz has huge problem in qualifying. It appears that the stator has died on his kart. He can't qualify! This is terrible, as where you qualify determines where you start ALL three heat races. Points are totaled after all three heat races, and that determines how you are gridded for the main. Now Fernando is going to have to march through the field in each heat race to get a decent finish. It will be very difficult, as there are plenty of good drivers on the grid, and getting around the relatively fast midpack guys without crashing/banging will be tough.
| | | | |
| --- | --- | --- | --- |
| Best Lap Tm | 58.114 | In Lap | 2 |
| Best Speed | 49.558 | by | Jeff Littrell |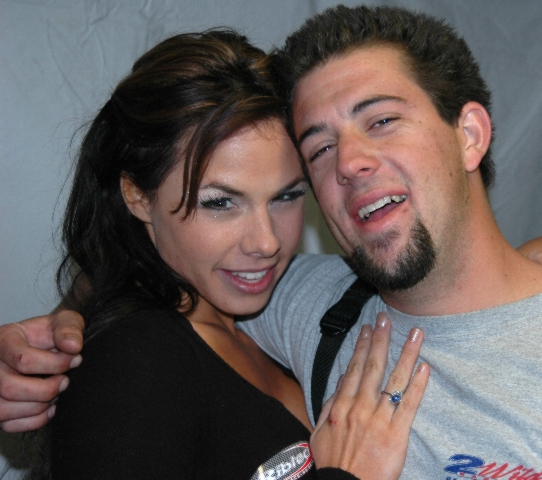 Bobby Legate wins Heat Race #1 in Stock Honda Light class. Ribtect Girls like winners!
3:38 p.m. Friday afternoon
We go to Heat Race 1. My strategy is that I'm on Row 3, and if I can maintain my position in all three heat races, I'll be able to grid in the 3rd row for the main. If I try to get to 4th or 3rd, and I crash or get tangled up, then I would end up a DNF for the heat race, and I would probably start around the 11th row for the main. So my strategy is to race clean, don't crash into anyone, don't clip a hay bale or Techpro barrier, and finish around 6th.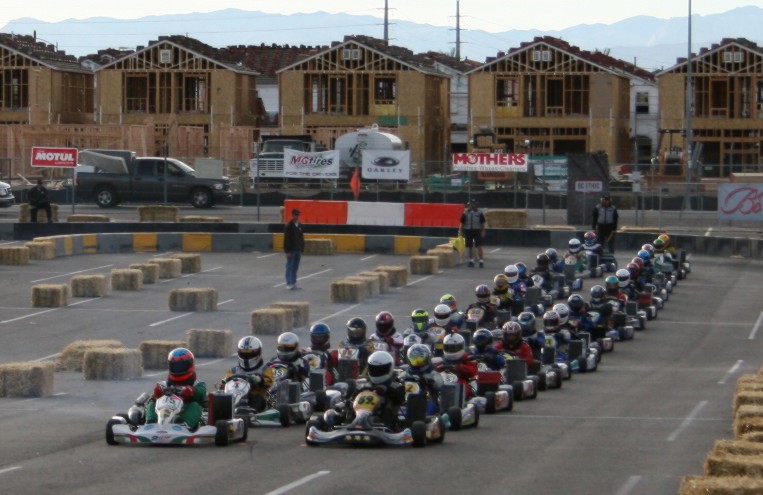 Now that's a nice big grid. Especially with me in row 3
We grid on the short front straightaway. 36 drivers all revving their motors to 12,500 RPMS for the start. Green light comes on, and I get a good start. I get by Craig Sender who is next to me on row 3. The four guys in front of me, Jeff/Baker/Russell/Espinor are all running good. I don't have a chance to pass them this heat race. I start driving more conservatively, as I notice I got some space between me and the 6th place guy. Might as well cruise it home and save the tires. All I need to do is finish in this spot.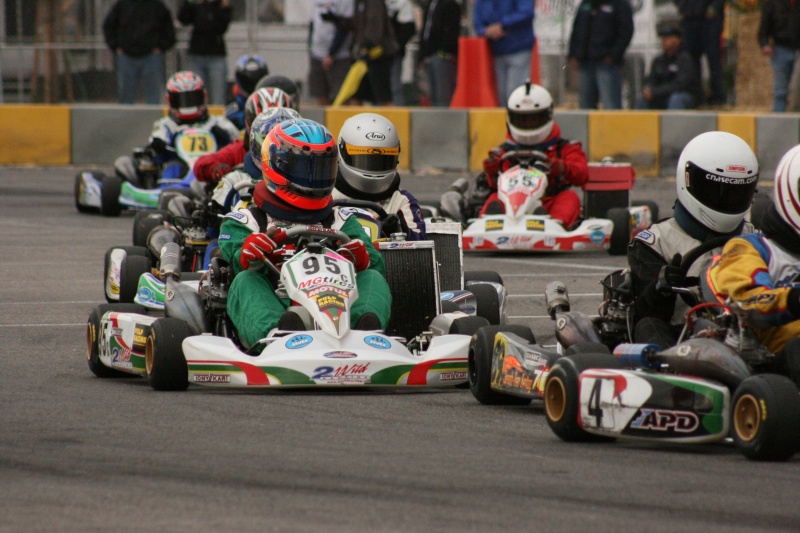 Jeff trying to chase down Baker and Russell
Coming down the start finish, the flagger has two hands up, waving the white flag. I interpret this as, "Hey dumbasses, you got one lap left in this race." Unfortunately for me, what it really means is, "Hey dumbass, you have TWO laps left, not one lap". I throttle it down even more to cruise home in 5th. Come by start finish again, I expect to see the checker, and instead I see the flagger guy waving the white flag, signaling one more lap. "Oh shit". Now I got three guys on my butt. I get moving again, and luckily hold my 5th place spot. Jeff wins the race!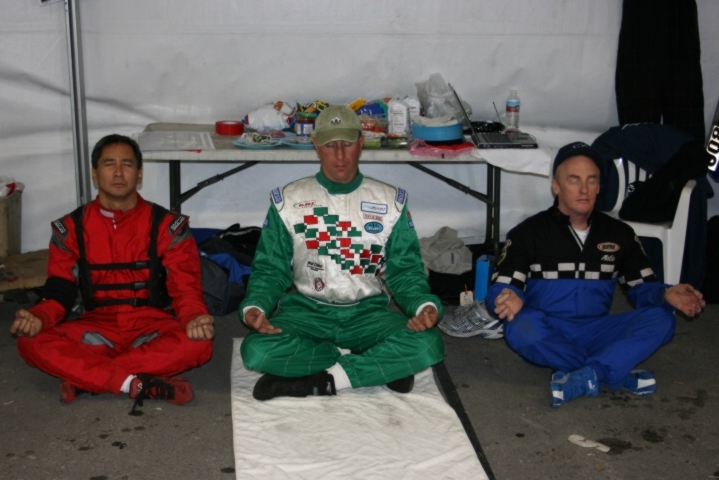 Jeff takes pole and wins Heat Race #1. Shit. We need to do yoga.
Over in the Spec Honda Light class, Bobby Legate, who is also running out of the 2WildKarting tent, takes 1st! 2Wild is looking like geniuses at the moment. Fernando and Mike McClaren have incidents on the track, and are DNFs. They are gonna be screwed for the grid in the main heat.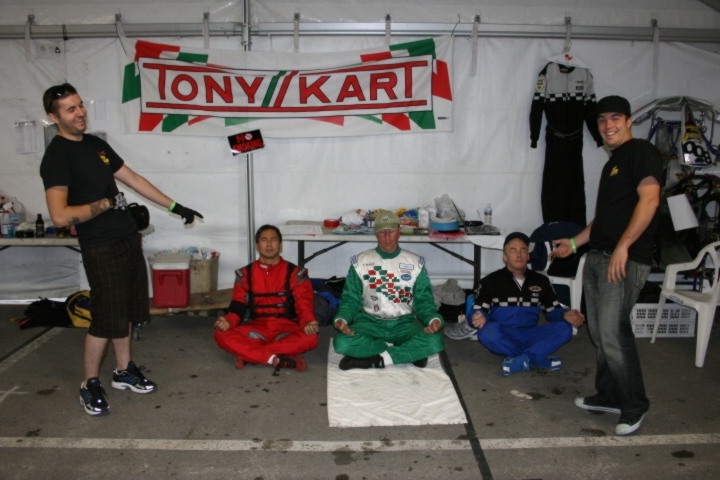 Now we look like idiots trying to meditate before the next heat race
| | | | |
| --- | --- | --- | --- |
| Best Lap Tm | 58.089 | In Lap | 10 |
| Best Speed | 49.579 | by | Jeff Littrell |
Friday Night
Jeff, Sunni, Wayne, Jason S. and I go to see The Who at Mandalay bay. We scored some pretty good tickets in the loge area two sections away from the stage. The Who really wasn't my first choice. Prince was playing at the 3121 Club at the Rio, and I thought that would be the hot ticket for the weekend. Prince had a great comeback from obscurity two years ago, and I thought it would be cool to see him in a small club. Unfortunately, scalpers wanted $300 a pop for the tickets. So we opted to go for the Who, and bought the tickets from the Mandalay Box Office.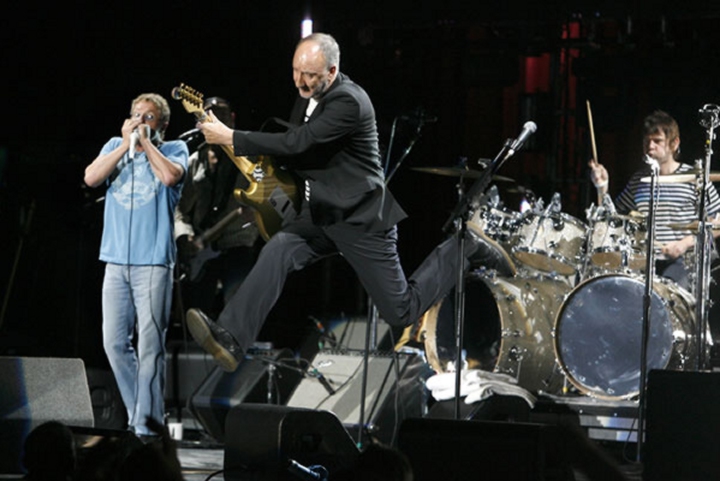 The Who blow out the windows at Mandalay Bay. Pete jumps around like a teenager
I've seen the Who about seven or eight times before, but last time I saw them was probably 15 years ago. Back then, I was sorta disappointed as I was expecting them to be even better, but I guess they needed Keith Moon on drums to live up to their reputation as a great live band. I mean, back then, they were still good, but I was kinda hoping they would be the best I ever seen. The Pretenders were opening for them, so that seems like a great opening band. Unfortunately, the ticket said 8 p.m. on it, and the Pretenders actually came out at 8 p.m. and there was only about 20% of the people were in the arena by then. Still The Pretenders were pretty good, despite the lack of crowd energy.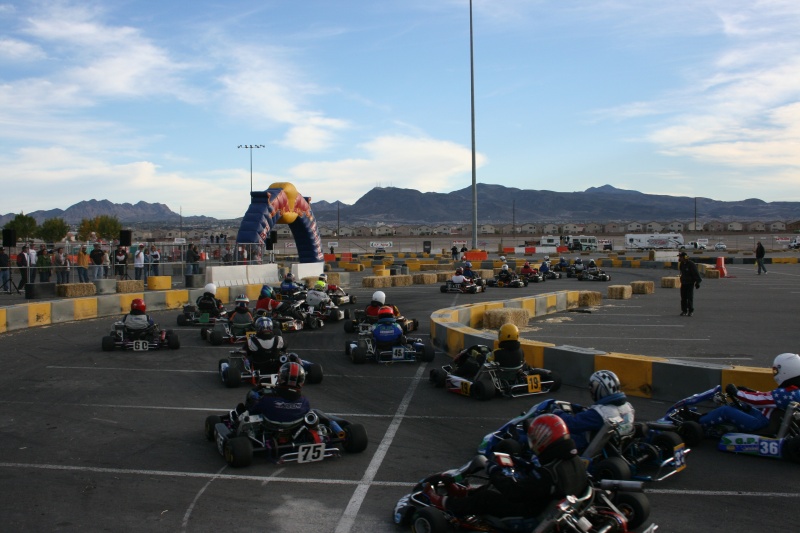 Turn 1 can get a little packed on the start
The Who came on stage, and they were playing like they realized that they may be old farts, but they have a reputation to uphold. Kinda like me, Wayne, and Jeff. They came out and played like their life depended on this set, and were very entertaining and animated. Roger Daltrey is 62 years old, and Pete Townshend is 61. Holy shit, they would kick ass in the Old and Heavy Class of Rock and Roll Performers, and take down 95% of the bands in the Young and Light class. After the concert, I win another $100 bucks at the blackjack table, up $425 for the weekend. Hey, maybe I can make enough to pay for my entry fee!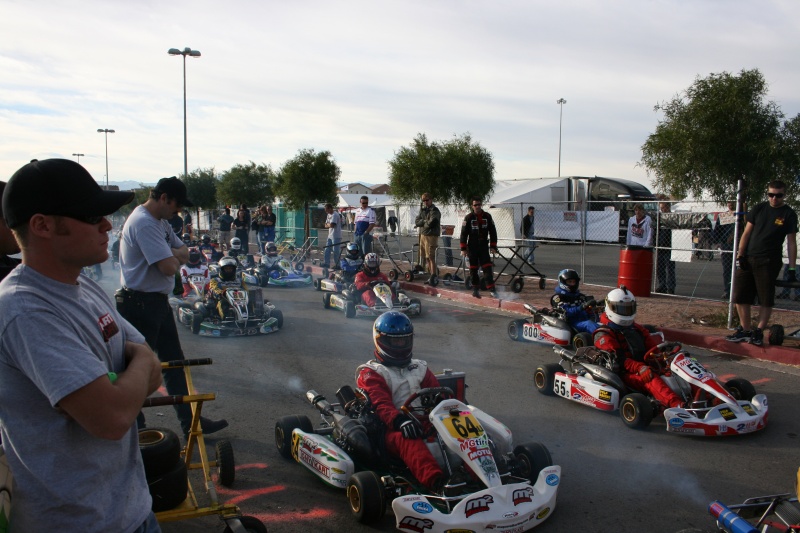 In the cold pit, revving motors
Saturday, November 11, 2006
Today we have a morning practice, and two heat races. I blaze into the 57's with a 57.8. Except I recharged my transponder last night and forgot to put it on, so it didn't appear on the timesheet. So much for trying to intimidate the competition. It would have been 2nd fastest time in the session, with Jeff the quickest by a few tenths. Jason Trumpio flys in, and is the official Pulp Racing News Photographer. He will click off about 2000 pictures over the course of the weekend with his new digital gizmo, with most of the ones on this page from him, and a few from Bob Legate and Chris Ortenburger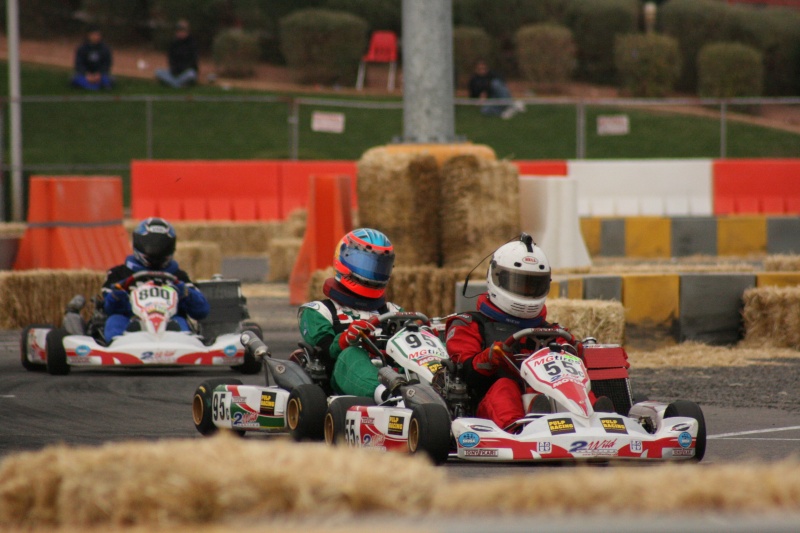 The Pulp Train moving down the track
Heat Race #2
I tell Wayne that if we maintain our positions, we will be looking good for the main. I explicitly tell him to not do anything crazy, as the goal is to finish around where we are at, and we got a shot at the podium in the main. Waiting for the green light to come on (it will come on between one and five seconds), I anticipate wrong and jump the start and the kart moves about six inches, so I stop the kart, and re-engage the clutch. Unfortunately, the green light comes on as I'm re-engaging, and McClaran and Pauter blow by me from row 4. Arrgh! Wayne said it appeared to him like they jumped the start.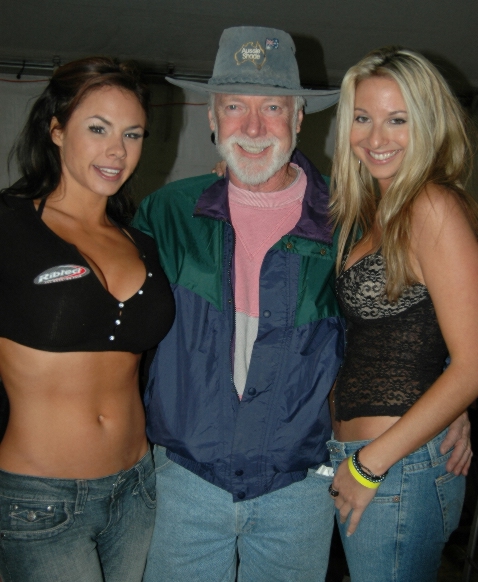 Loren is 65 years old. Runs 1:07's at Moran. Ribtect girls think that is so cool!
A few laps later, Jeff is building up a big lead, but clips the Techpro barrier at the apex and spins coming onto the back straight. I told him to leave a few inches. That's gonna hurt him. Ha ha. Eleven people pass him. About seven laps later, Jeff dives in on me on a second gear turn. Damn! Jeff is bummed that he spun, but he fought his way back to 5th spot after the spin. It was real important for him to do that, because he wants to stay on the front row for the main race. With a couple of laps left, some idiot bumps me on the side coming onto the back straight.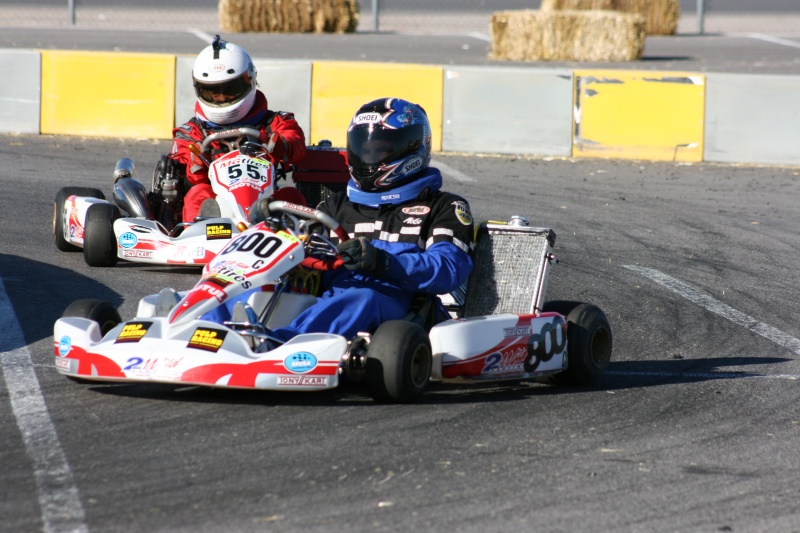 I hate it when Wayne is in front of me
It's Wayne! I'm gonna kill him. If he would've taken us both out, we would've been screwed for the main. I stay on his butt, staying just far enough away so that in case he spins or hits a barrier I don't crash into him. Wayne takes 8th place, and I take 9th in this heat race.
I have Jeff's wife Sunni do a quick recalc on how we are looking at grid positions so far. Our Excel spreadsheet looks like this:
| | | | | | |
| --- | --- | --- | --- | --- | --- |
| Position | Driver | Heat 1 | Heat 2 | Total | Kart No. |
| 1 | Baker | 2 | 2 | 4 | 4 |
| 2 | Russell | 4 | 0 | 4 | 89x |
| 3 | Littrell | 0 | 5 | 5 | 95c |
| 4 | Espinor | 3 | 3 | 6 | 42 |
| 5 | Sender | 6 | 6 | 12 | 45z |
| 6 | Hayashi | 5 | 9 | 14 | 55c |
| 7 | Mello | 8 | 8 | 16 | 800c |
| 8 | Officer | 9 | 11 | 20 | 88z |
| 9 | Clark | 12 | 10 | 22 | 64u |
| 10 | King | 10 | 12 | 22 | 88 |
| 11 | Mitchell | 13 | 13 | 26 | 46 |
| 12 | Bender | 14 | 16 | 30 | 64c |
| 13 | Barkley | 24 | 9 | 33 | 9 |
| 14 | Mihld | 16 | 18 | 34 | 5c |
| 15 | McClaran | 32 | 4 | 36 | 68c |
| 16 | Tatman | 17 | 19 | 36 | 35 |
| 17 | Allen | 23 | 14 | 37 | 31y |
| 18 | Hoppa | 33 | 7 | 40 | 75 |
| 19 | Sole | 25 | 15 | 40 | 5z |
| 20 | Drake | 19 | 22 | 41 | 50 |
| 21 | Pauter | 7 | 36 | 43 | 70x |
| 22 | Kurpiewski | 18 | 26 | 44 | 19z |
| 23 | Leggit | 11 | 33 | 44 | 73 |
| 24 | Benso | 21 | 25 | 46 | 12c |
| 25 | Henderson | 26 | 20 | 46 | 31x |
| 26 | Diaz | 30 | 17 | 47 | 45c |
| 27 | Pollum | 20 | 28 | 48 | 31 |
| 28 | Cox | 22 | 27 | 49 | 36c |
| 29 | Ichikawa | 29 | 21 | 50 | 27c |
| 30 | Soares | 15 | 35 | 50 | 66 |
| 31 | Segal | 31 | 23 | 54 | 71c |
| 32 | Sarin | 27 | 30 | 57 | 58z |
| 33 | Small | 36 | 24 | 60 | 60z |
| 34 | Perdue | 28 | 34 | 62 | 75z |
| 35 | McClanahan | 35 | 29 | 64 | 10c |
| 36 | Davidson | 34 | 32 | 66 | 50z |
Jeff lost his P1 spot, and now is 3rd in points. I'm holding down 6th, and Mr. Mello is right behind me in 7th.
Heat Race #3
A more dangerous race. Everyone can now sorta calculate their point totals from the first two races. The guys who have two good finishes in Heat 1 & 2 know that they are in good shape, and they just have to finish decently in Heat 3 and they will have a good position on the grid for the main race. The guys who have one or two DNFs know that in order to get a good spot on the grid, they are going to have to have to finish way up front to counteract their previous bad heat races. So for them, it's a do-or-die situation. I tell Wayne we are looking good, and just need to maintain our positions. I point out to him that it doesn't matter if he beats me, as it won't change his grid position. In order for him to move up a spot for the grid for the main race, he would have to get by me AND the guys that are 5th and 4th place in order to move up one position. So I tell him don't risk a pass on me, let's just run as a train and keep our spots for the main. Jeff needs to finish first in this heat race in order to have a shot at getting his pole position back for the main race, and wants to avenge his loss in the last heat race.

Jeff holding off Russell and Baker
Green flag drops, and all hell breaks loose in the mid pack. They have to red-flag the race, and do a restart. Apparently some people got banged up going into turn 1, and then everyone else crashed into them, so no one in the midpack could get through turn 1. There are 20 guys revving their motors at a standstill, VROOM VROOM VROOM, with no way of getting through the crashers in turn 1. Wayne said the guy in front of him spun, then Wayne bumped into him, and couldn't move, so then everyone else behind Wayne played bumper cars, with Wayne feeling each impact as if Sugar Ray Robinson was flaying away at his body. BAM-BAM-BAM-BAM-BAM-BAM.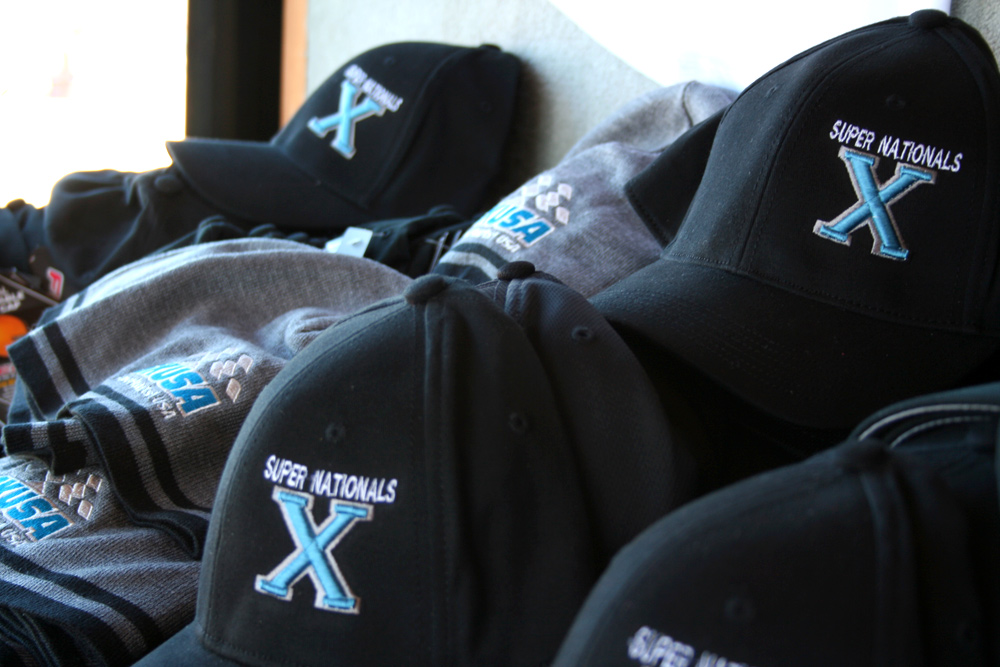 Nice hats
Wayne's sidepod is falling off, as one of the rails came out from the repeated body blows. He doesn't want to DNF, which would be disastrous, so after they red flag the race and have everyone drive back to the grid for a restart, he tries to hold onto the sidepod while he is driving so he can fix it on the grid. Unfortunately Tony Kart sidepods are real low to the ground, so as Wayne holds the side pod, his fingers get caught between the ground and the sidepod. OUCH! Back on the grid, Wayne tries to get the sidepod back on. He gets helps from the Pulp pit crew, but it is a violation of the rules to work on your kart on the grid, so he has to start from the back of the pack on the restart. Duct tape is thrown on his side pod to keep it from falling off, and we are ready for the restart.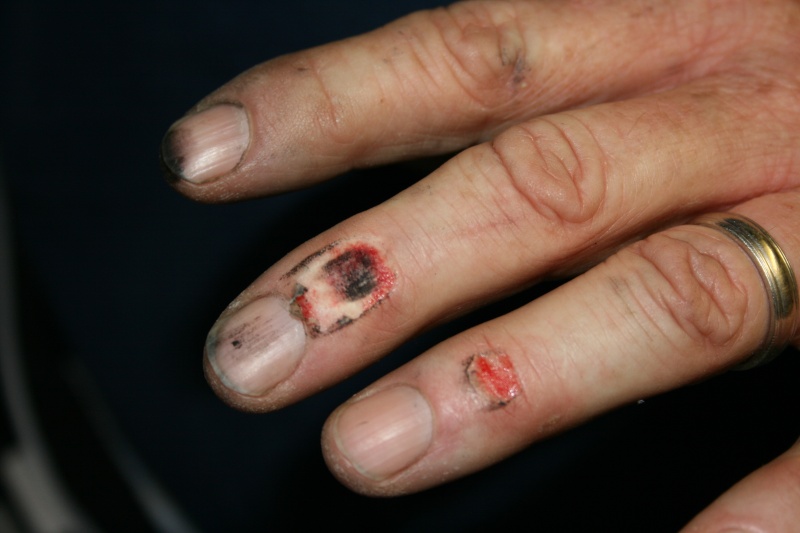 Don't try to hold your side pod up with your hand during the warmup lap

I get yet another bad start. McClaran and Pauter blow by me again. They are both wheel-to-wheel in turn 2, and going into turn 3. Neither is giving up an inch. It sorta looks like McClaran was inching Pauter to the wall with nowhere to go. Pauter keeps his foot on the throttle, and McClaran is losing the battle for the apex of turn 3 at full speed. Uh oh....I think you can only go one wide into that turn. McClaran goes into the wall. Bummer, that's two DNFs for him. Baker gets a good start and leads the race for two laps, but then Jeff throws down a clean pass on him and Jeff leads the rest of the race.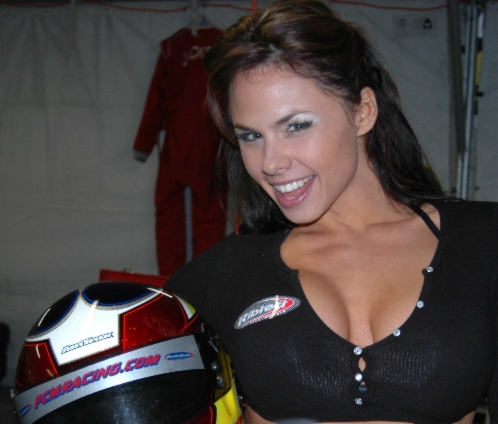 "Those guys in the 2WildKarting tent are pretty cool"
Pauter and I catch up to Sender. Hummmm............by my calculations, even if I finish in front of Sender and Pauter, it doesn't change where I will be gridded for the main race. Either way, I'm in row 3, 6th on the grid. There is probably a 3% chance if I try to pass them, I could crash and DNF, which would put me back on about row 12. I'll just hang behind them and hope that they crash into each other, and then I'll be gridded 5th for the main. They both race cleanly and smartly, finishing in front of me. I take 7th. Wayne does a good drive from the back of the pack, passing 20 people to get to 16th! But I think he'll still be screwed for the main, as he lost a lot of points. Jeff wins Heat Race 3!
| | | | |
| --- | --- | --- | --- |
| Best Lap Tm | 57.389 | In Lap | 10 |
| Best Speed | 50.184 | by | Jeff Littrell |
I have Sunni total up the points after Heat Race 3, so we can figure out where we are.
| | | | | | | |
| --- | --- | --- | --- | --- | --- | --- |
| Position | Driver | Heat 1 | Heat 2 | Heat 3 | Total | Kart No. |
| 1 | Littrell | 0 | 5 | 0 | 5 | 95c |
| 2 | Russell | 4 | 0 | 2 | 6 | 89x |
| 3 | Baker | 2 | 2 | 3 | 7 | 4 |
| 4 | Epspinor | 3 | 3 | 4 | 10 | 42 |
| 5 | Sender | 6 | 6 | 6 | 18 | 45z |
| 6 | Hayashi | 5 | 9 | 7 | 21 | 55c |
| 7 | Clark | 12 | 10 | 8 | 30 | 64u |
| 8 | Mello | 8 | 8 | 16 | 32 | 800c |
| 9 | Officer | 9 | 11 | 27 | 47 | 88z |
| 10 | Allen | 23 | 14 | 11 | 48 | 31y |
| 11 | Pauter | 7 | 36 | 5 | 48 | 70x |
| 12 | Tatman | 17 | 19 | 14 | 50 | 35 |
| 13 | Mihld | 16 | 18 | 18 | 52 | 5c |
| 14 | Leggit | 11 | 33 | 9 | 53 | 73 |
| 15 | Barkley | 24 | 9 | 23 | 56 | 9 |
| 16 | King | 10 | 12 | 35 | 57 | 88 |
| 17 | Mitchell | 13 | 13 | 31 | 57 | 46 |
| 18 | Diaz | 30 | 17 | 15 | 62 | 45c |
| 19 | Bender | 14 | 16 | 33 | 63 | 64c |
| 20 | Drake | 19 | 22 | 22 | 63 | 50 |
| 21 | Ichikawa | 29 | 21 | 13 | 63 | 27c |
| 22 | Kurpiewski | 18 | 26 | 19 | 63 | 19z |
| 23 | Cox | 22 | 27 | 17 | 66 | 36c |
| 24 | Hoppa | 33 | 7 | 26 | 66 | 75 |
| 25 | McClaran | 32 | 4 | 36 | 72 | 68c |
| 26 | Perdue | 28 | 34 | 10 | 72 | 75z |
| 27 | Small | 36 | 24 | 12 | 72 | 60z |
| 28 | Segal | 31 | 23 | 20 | 74 | 71c |
| 29 | Sole | 25 | 15 | 34 | 74 | 5z |
| 30 | Henderson | 26 | 20 | 29 | 75 | 31x |
| 31 | Benso | 21 | 25 | 30 | 76 | 12c |
| 32 | Soares | 15 | 35 | 28 | 78 | 66 |
| 33 | Pollum | 20 | 28 | 32 | 80 | 31 |
| 34 | Sarin | 27 | 30 | 24 | 81 | 58z |
| 35 | McClanahan | 35 | 29 | 21 | 85 | 10c |
| 36 | Davidson | 34 | 32 | 25 | 91 | 50z |
Jeff ends up on pole, and Russell is 2nd for the main. I hold down my 6th spot on the grid. Amazingly, Mr. Mello doesn't take too big a hit for his 16th place finish in Heat 3, he'll be starting in 8th spot on the grid, right behind me!
Saturday Night:
The Pulp team heads out for a big dinner at Hamada Sushi and Teppan Restaurant. We gorge ourselves, happy that we are in a good spot on the grid for the main race. I'm so tired after dinner and drinks, I don't even make it to the blackjack table. That's unheard of!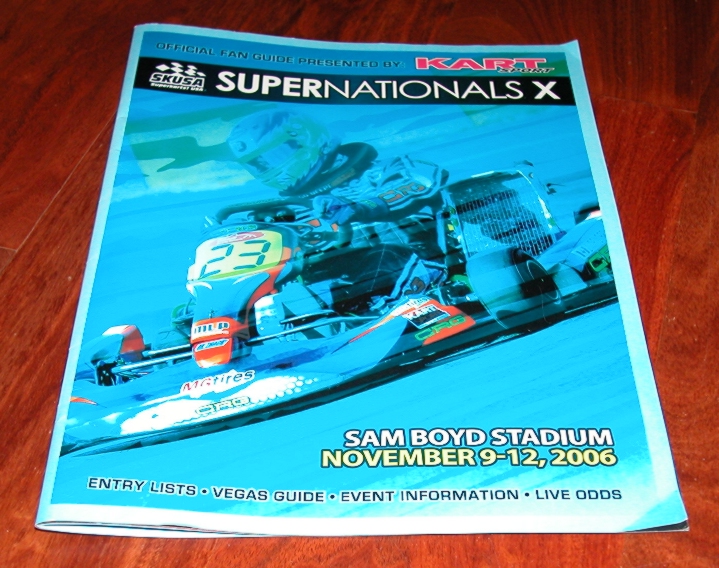 Kart Sport Magazine had a great program guide for the event. Except for their oddsmaker!
Sunday Morning, November 12th, 2006
It's Race Day! I pick up the Supernationals SKUSA/KartSport Official Program. On page 12, they have odds in the various classes on who is going to win! Cool. I scan down to Spec Honda Heavy, and the have:

7-2 Kelly Baker - Pulling double duty (Spec and G1) but is mentally strong and should bag this win unless...

4-1 Scott Officer - His rival beats him to him. Baker and Office are two of the Northwest's best and fiercest racers.

6-1 Fernando Diaz - Will be ready to pounce if either Baker or Officer falter, or might just take it away from them.

7-1 Randy Mitchell - If he brings his best game from home state Utah, Mitchell should be a strong threat to podium.

13-1 Bill Cox - Faces a tall order to beat this group, but heat race format should reward his style.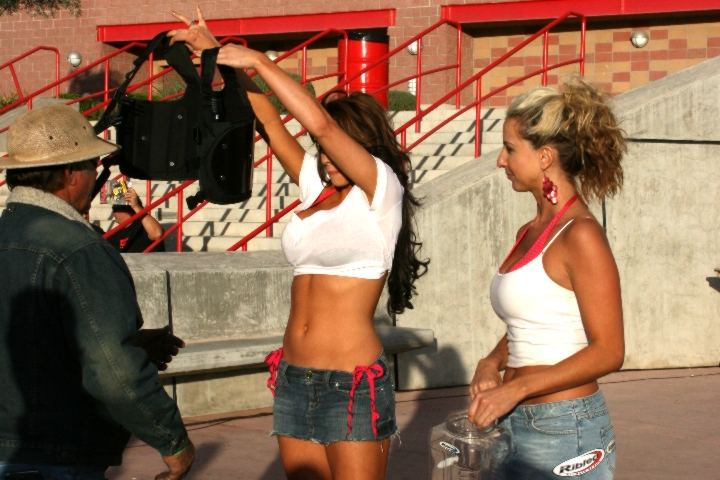 "Check out my.......Ribtect Vest"
And there is no mention of the Pulp guys? What? Does the author of that article:

a. Hit on a 13 when the blackjack dealer is showing a 6?

b. Always plays the Field Bet on the crap table?

c. Get bluffed and fold out of Hold'em pot when he is holding three jacks and a guy raises him holding a pair of twos?

d. Bet on the Red Sox to win the World Series every year for 30 years, but then doesn't bet on them in 2004 because he is disgusted with them?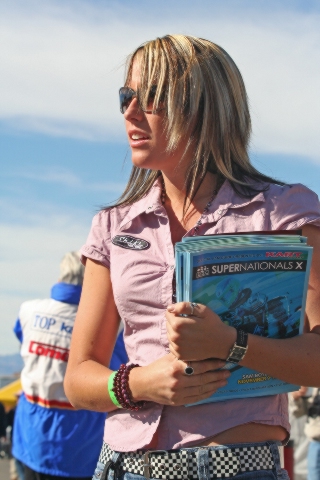 Cool checkered flag belt!

Anyway, here are the Pulp Racing Oddsmaker's opinions for who will win the Spec Honda Heavy Main Race that will happen in 4 hours:

2-10 Jeff Littrell - is WALKING from the field. Heat race 3 he won by five seconds, running 6/10ths a lap faster than anyone in our class. Took pole, won two heats, but hit a barrier in heat 2 and spun, went from 11th to 5th after that.

4-1 Kelly Baker - Racing for $5000 in the G1 class also. Has double the track time on this track. Hasn't shown he can take Littrell down, even when Jeff is behind him in the race.

6-1 Paul Russell - Has good spot on grid. Can't catch Jeff in PKC races. Has great qualifying speed, usually has some Raceaflais problems in the main/heat races, but looking good so far. Won heat race 2 when Littrell spun, and that was his first win ever in a shifter kart race.

7-1 John Espinor - Steady driver. Rolled a 3-3-4 in the heat races. Hasn't shown speed to catch Littrell, but will be in row 2.

8-1 Doug Hayashi - Kinda of a clown. Has had spectacular races that have gone to shit due to Raceflais problems. Last won a kart race in 1999, and that was in a class for beginners. But I think has second fast lap time of anyone in this class this weekend in the Sunday morning practice. Caution: Has been known to have bad starts. Chances to get to the podium could be about 50%

9-1 Craig Sender - Steady guy from PacWest. Rolled a 6-6-6 in the heat races. If he has the devil on his side, he could use powers of darkness to swoop by all the guys above.

15-1 Wayne Mello - Rolled an 8-8-17 due to big crash (not his fault) in heat race 3. The darkhorse. Has been know to uh...have contact on the track. Worse, starting in P8, right behind Hayashi, and they have a 12 year history of crashing into each other and DNFing in an effort to have bragging right over who finishes higher in a race.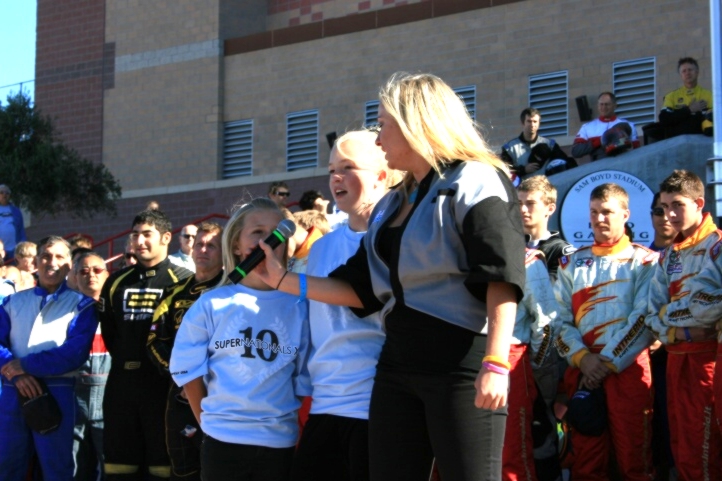 The singing of the national anthem by Tom Kutscher's daughters
Sunday Morning Practice
We practice at 9:00 a.m. Right after that is the opening ceremony, and then we proceed to the main heat races for everyone.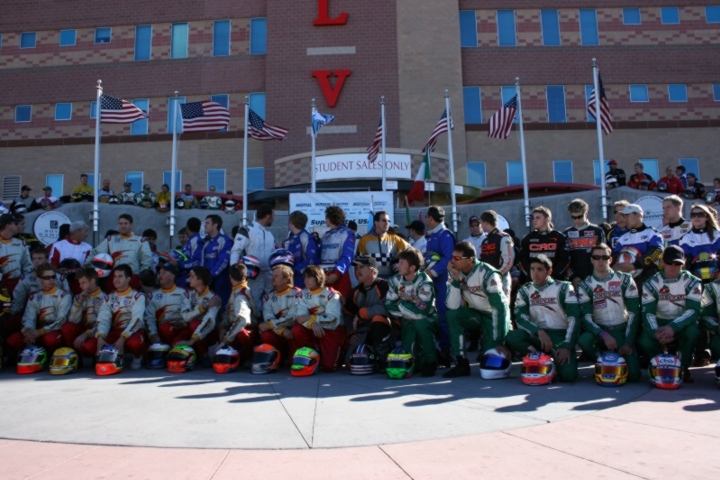 Opening Ceremonies
Since we are the last group to run, we sit around until 3:30 p.m. for our race. My new plan is to turn it up for the morning practice, and try to put my name on the top of the timing sheet. That way, the guys in spots 2, 3, 4, & 5 on the grid would know that there could be some incoming unknown schmoe from row 3 trying to made a bid for the podium.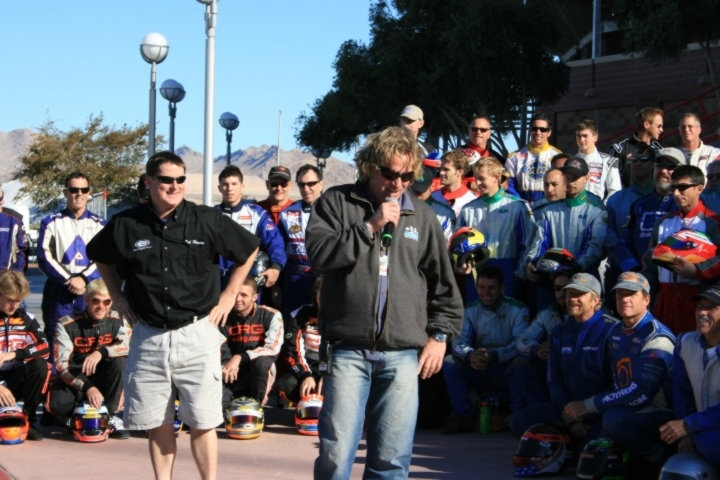 Tom addressing the troops before we go into battle against each other
I go out in the morning practice, and I run a 57.6x. Heh. That should put me at the top of the morning practice session. I think that might be the 2nd fast lap of the entire weekend for our class. I look at the sheet afterwards, and while Jeff was scrubbing in his new tires, he runs a 57.3x. Damn!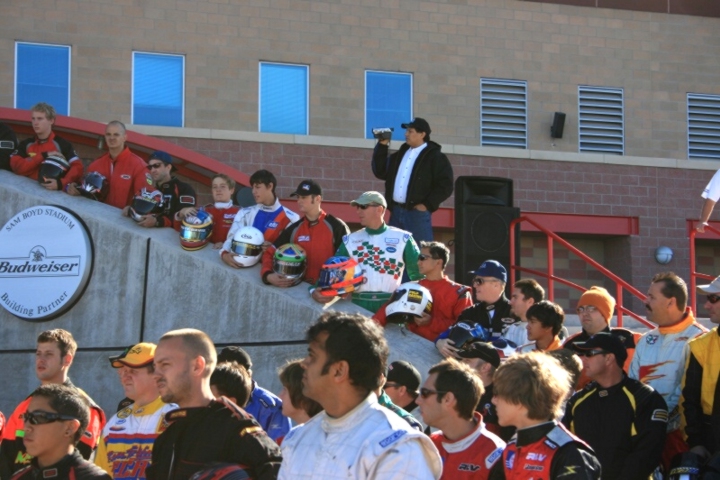 Pulp drivers on the stairs
But I was only my old practice tires with 6 heat cycles on them, so once I put on the new rubber I should be good for a podium bid. Here's the timesheet. I got the speed, I'm on the third row, kart running strong. I'm a contender!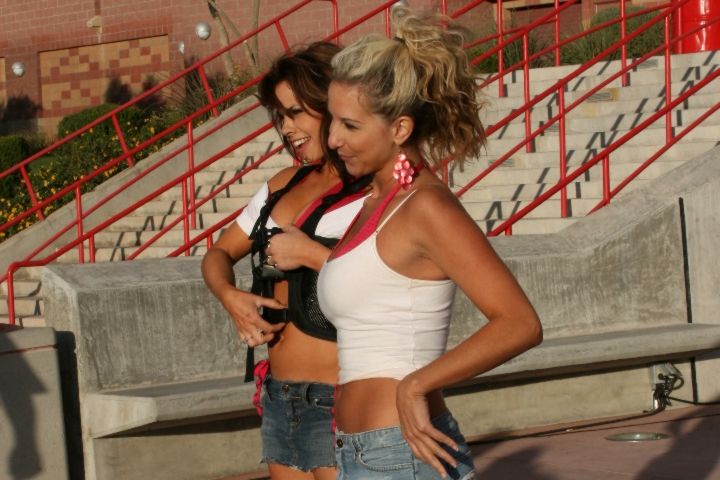 "The Ribtect Vest is really comfortable and squeezes them tight"
The Main Event
Okay folks, we are here for all the marbles. About 5 minutes before they send us out for the warmup lap, I check the helmet camera. DAMN! It's not working, picture is flickering horribly. Seems like a loose wire.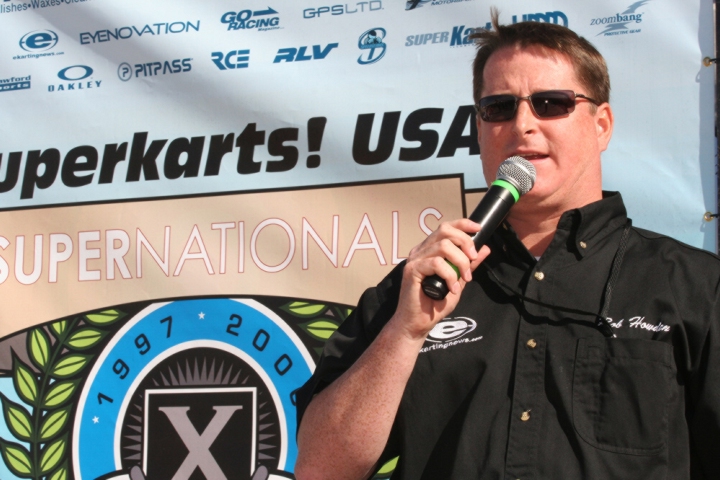 Rob Howden, the announcer for the races on Super Sunday
I grab Wayne, and ask him to figure out what is wrong. He thinks it is a bad wire on the battery connector. I send Dana to run over to the trailer and get me another battery connector thingy. I keep looking at it, and then I realize that one of the Duracell AA batteries is leaking liquid. WTF? I put new batteries on this thing last night.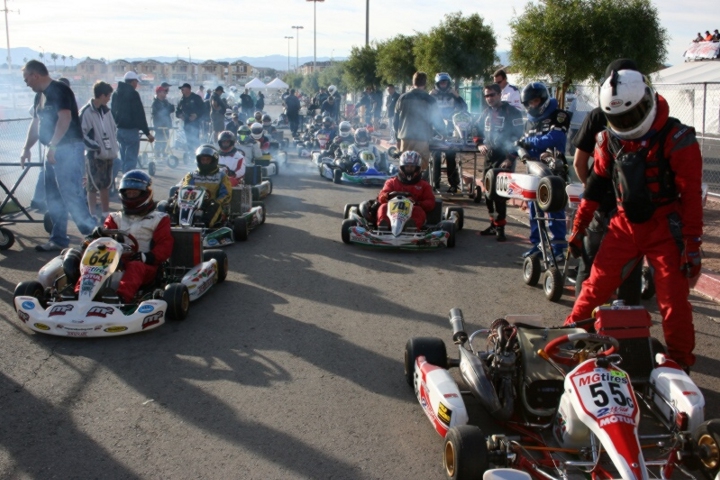 Getting ready to rumble for the big race
Now I send Johnny to run over to the trailer and get me eight new AA batteries. He gets back about 60 seconds before they send us on the grid. I throw the batteries in, check camera, everything looks good, and then I put the camera in my chest pack, strap it around my waist with a bungee cord, put my neck brace around the helmet camera wire. Whew! Just made it in time. Otherwise, I would not have video footage of the biggest race of the year.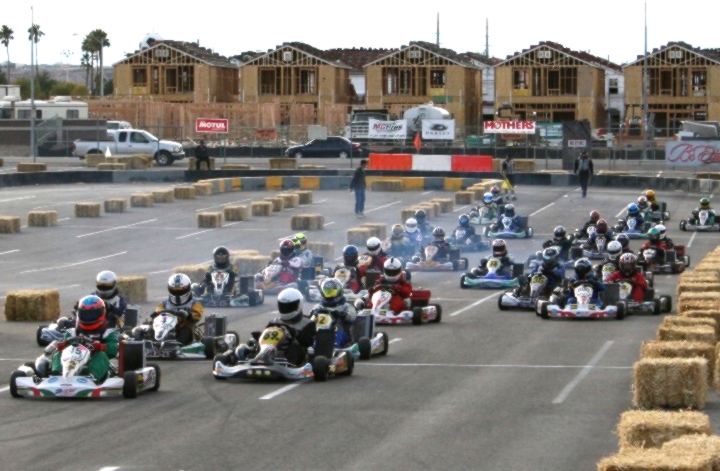 One second after the green flashes
Green light comes on, and we are off. I got The Who's Pinball Wizard playing in the back of my mind as we barrel into turn 1. I hold down my 6th place spot coming into and out of turn 1. Yeah.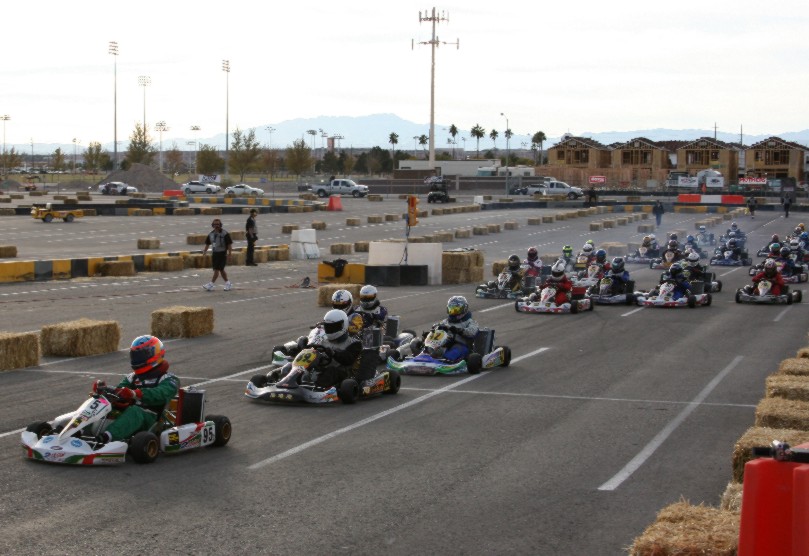 Me in 6th place leading the 2nd pack of drivers into Turn 1. Jeff holdling on to 1st.
I need to keep Wayne behind me, as I think I've got enough speed to make it to 3rd place. In two laps I quickly pass Sender for 5th place. If I can pass two more guys, I can take 3rd place, and more importantly, win my $300 bet with the guys at cc.com. 18 laps to do it in, so I figure I'll just keep upping my speed and braking points and see if I can reel those guys in. Everything is looking good so far! You can follow the real-time discussion about the week at http://corner-carvers.com/forums/showthread.php?t=31905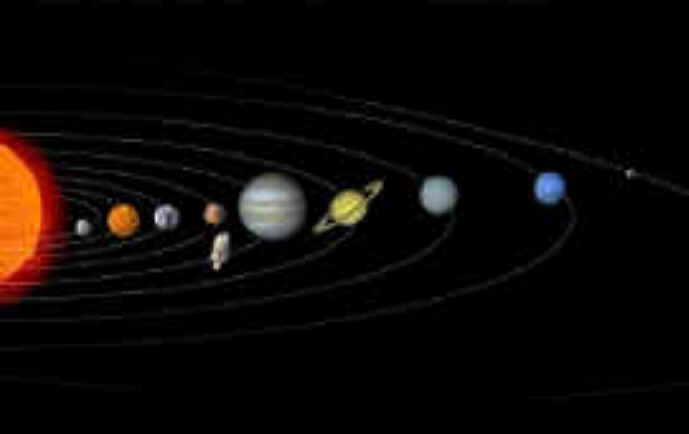 2nd fastest in Sunday practice. Starting from row 3. The planets are lining up for a podium finish
On lap 4, coming out of the front straight by the grid, I haul ass into turn 1, and then all of a sudden the motor starts to bog, then dies. ARRGH! 31 karts blast by me. Something is definitely wrong with the kart, no use trying to restart in this dangerous area. If the kart suddenly died here, chances are it won't start and run properly.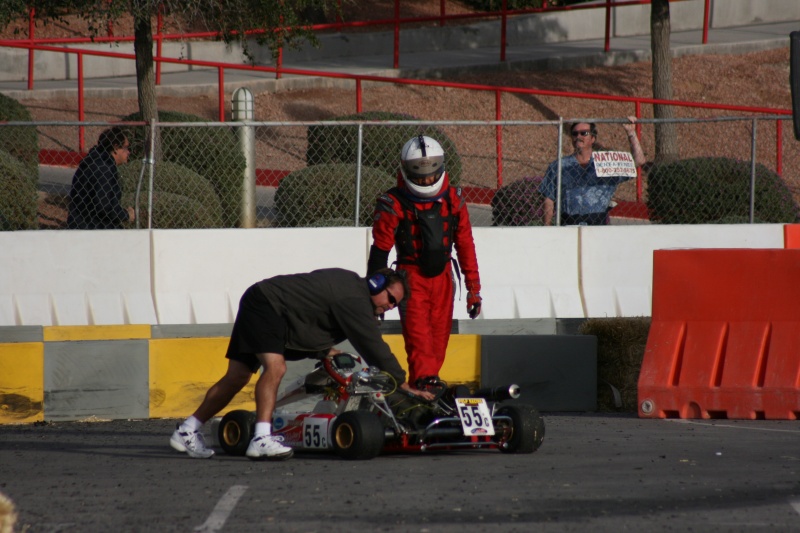 Unbelieveable. Needle clip breaks in the main heat race
A corner worker helps me lift my kart off the track, and now I become a spectator for the final heat race. I take the camcorder out of my chest pack, and start shooting some footage.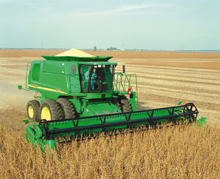 John Deere combine machine collecting hay bales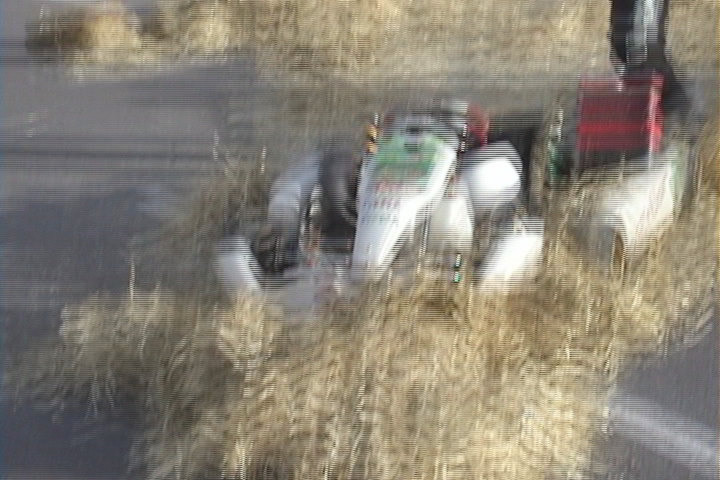 125cc Stock Honda collecting hay bales
A few laps later, McClaran comes barrelling around a turn, and completely wipes out a hay bale, along with his kart. There is hay all over the track. Oh man. Hopefully the front runners in the race won't hit that hay on the track and slide off into a hay bale.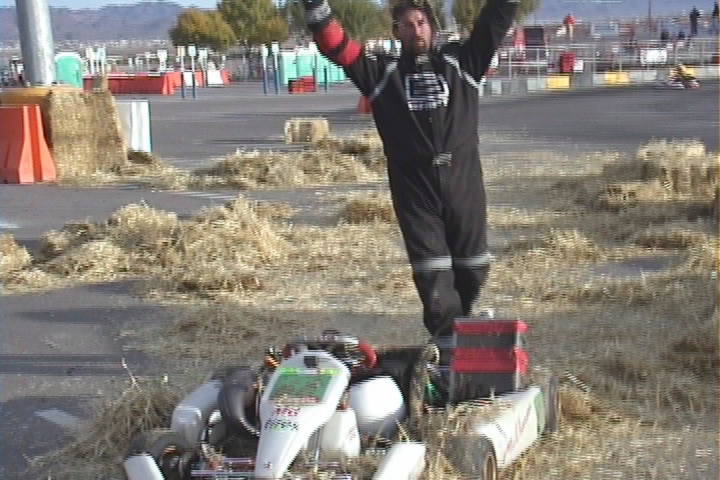 Mike "I can collect hay bales faster than you" McClaran
Jeff, who is leading the race, comes hauling ass through there and rails through the narrow part of the track where this is no hay. Everyone else adapts to it. Wayne is moving up, and is now in 6th spot. Suddenly, I don't see Paul Russell anymore on the track, as it appears his J-shifter arm broke, so he's a DNF. Damn! That woulda put me in 4th! I only had to pass one guy to get to 3rd! Wayne is trying to catch Sender, but he isn't gaining on him. Jeff cruises to victory, and is now the Stock Honda King (uuh..S4 Heavy Class).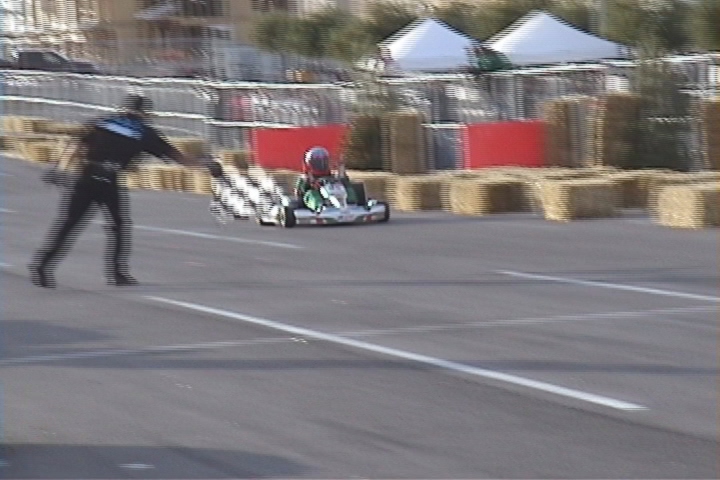 Jeff takes the checkered flag!
Hummm...since this is the Supernationals, I guess he is the "National Stock Honda King", since there are drivers from all over the country in this race? Humm...wait....since there aren't a lot of stock Honda shifter karts on Planet Earth, I guess you could conceivably call him the "Best Stock Honda Shifter Driver in the World?" (uhh..for S4 Heavy Class).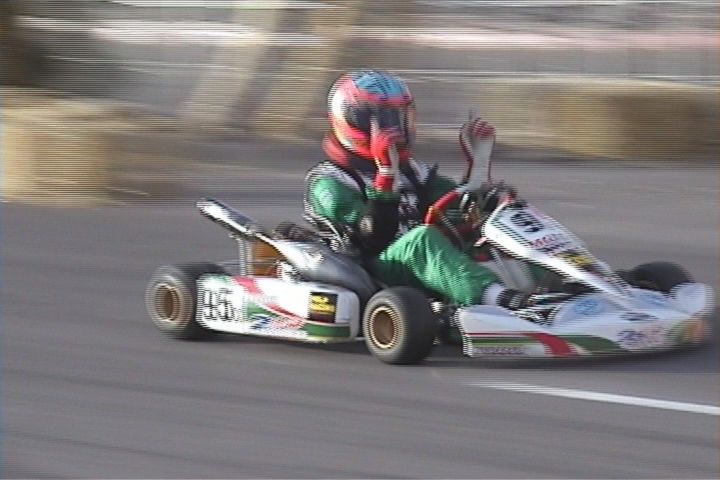 Jeff celebrating as he crosses the Start/Finish line
Wayne finishes the race 5th. He is stunned when he hears that, he didn't think he finished that well. He's on the podium!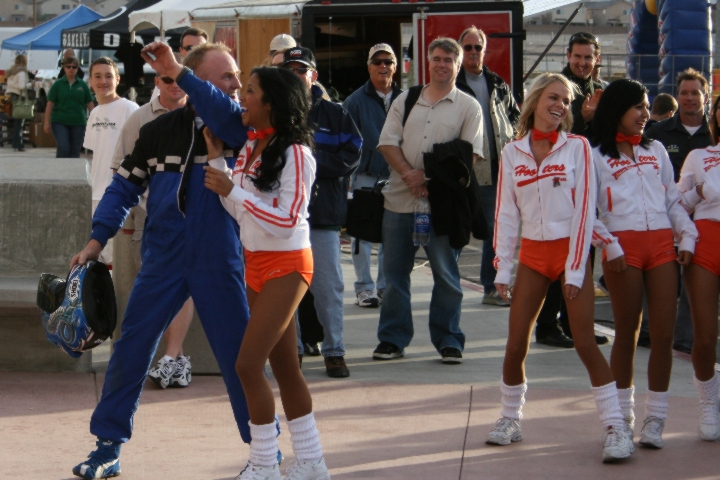 Wayne is escorted to the podium for 5th place by a Hooters girl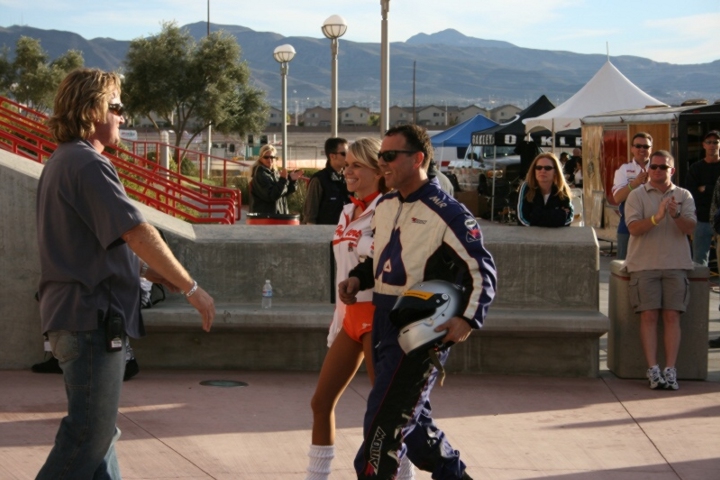 Craig Sender takes 4th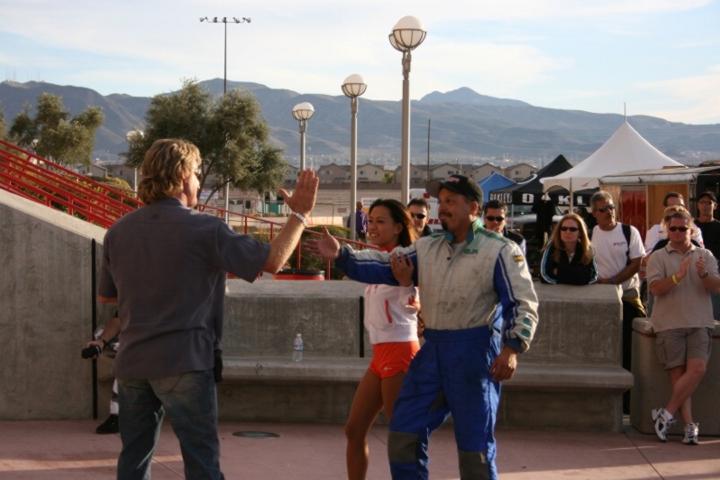 John Espinor takes 3rd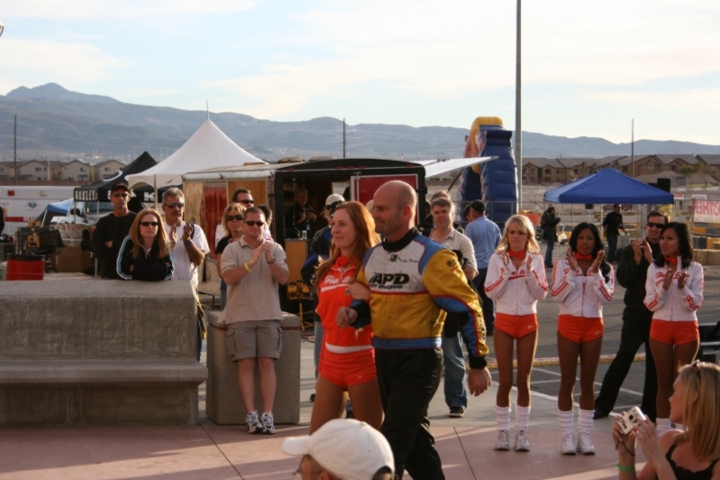 Kelly Baker takes 2nd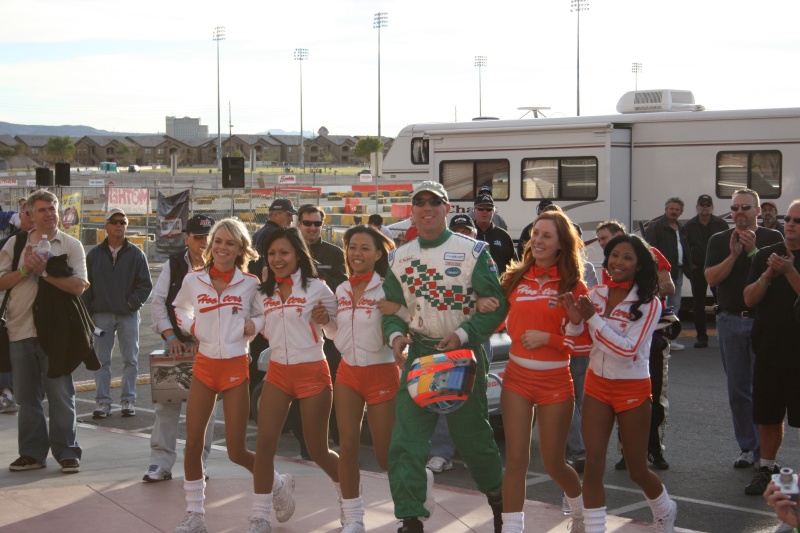 Jeff takes 1st place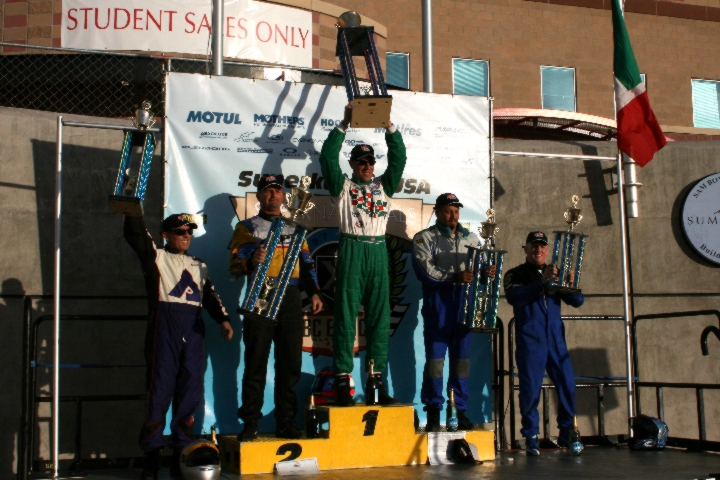 The Stock Honda Heavy Podium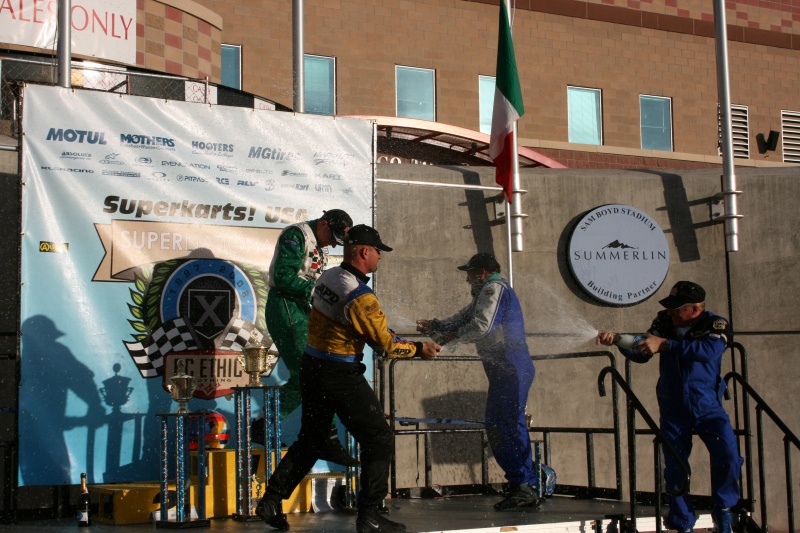 Wayne's first champagne celebration in a long time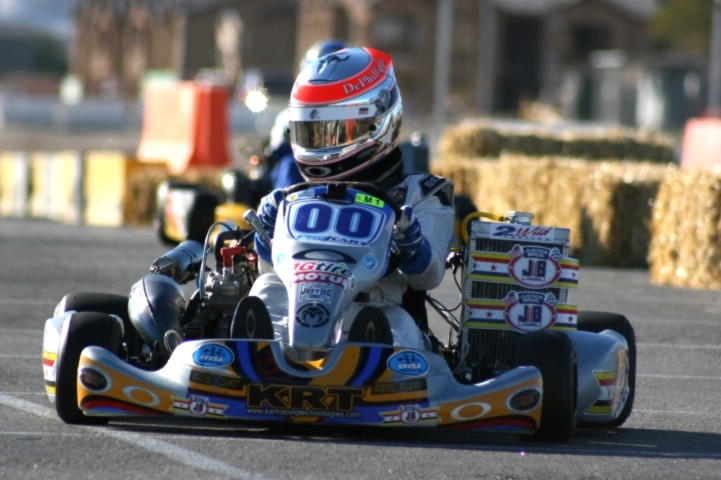 14 year old Connor DePhillippi takes 1st place in Stock Honda Light
| | | | |
| --- | --- | --- | --- |
| Best Lap Tm | 57.495 | In Lap | 9 |
| Best Speed | 50.091 | by | Jeff Littrell |
After helping packup the tent and trailer, Wayne Kimball, Loren, Jeff, Sunni, Jason Steaman, and I head off to a victory dinner paid for by Jeff. After dinner, Jason and I head back to the hotel to call the wives.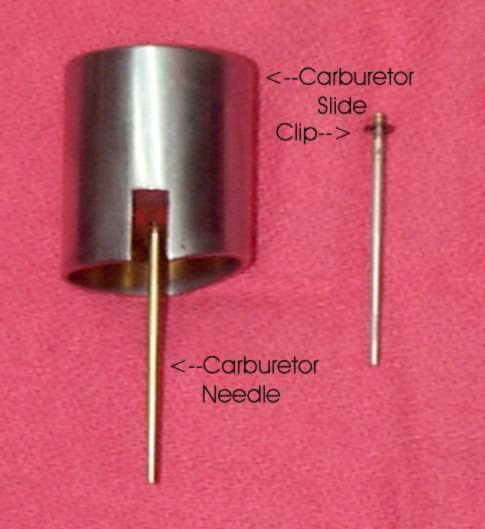 Turns out my needle clip broke in the main. So the carburetor no workee.
I call Jason a little later, but he's exhausted from wrenching for us for the past four days, and he's crashing hard in his room. I make it out to the blackjack tables, play for two hours, and lose $300. DOH! Break a needle clip and lose 300 bucks today. Damn.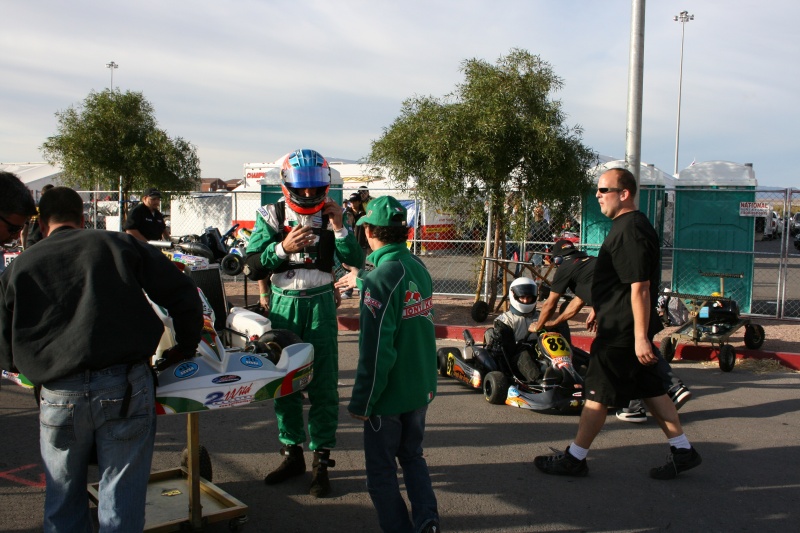 Jeff gets a good luck shake from a Tony Kart factory guy
Jeff takes note of the Tony Kart factory guys that were down for the event. It seems like if you are not running an ICC motor on your Tony Kart in the SuperPro class, you don't exist. I guess the Honda motor on the Tony Kart chassis is kinda sacrilegious, kinda like uh...powercoating your frame red or blue instead of Tony Kart green.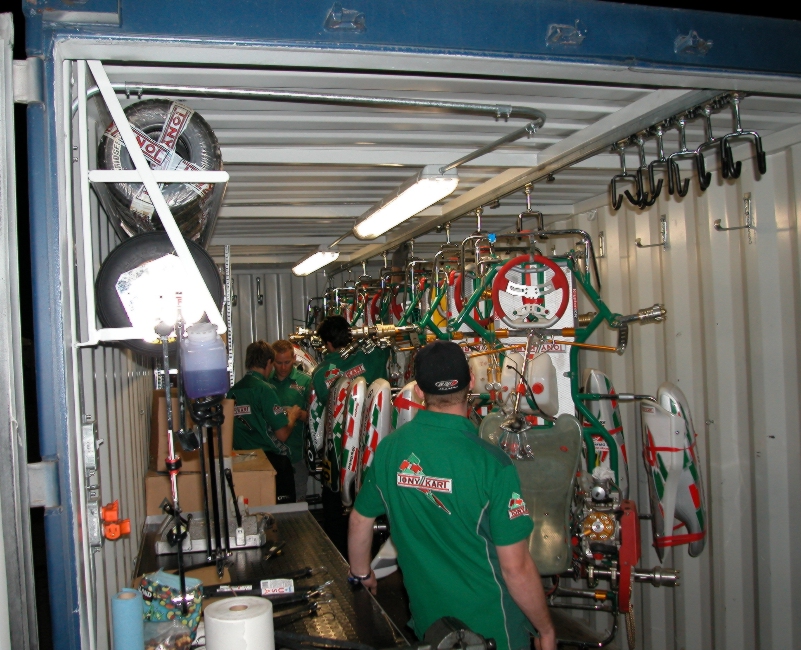 Now that's a cool way to transport 15 karts with a minimal amount of space
We were the last race of the day, and a Tony Kart guy was on the pre grid and wished Jeff good luck. Luckily for the Italians, Jeff ensured that the Tony Kart chassis won at least one class at the Supernationals. The scorecard for Tony Kart looked like:
Top Tony in SuperPro was 7th
Top Tony in S1 was 22nd
Top Tony in G1 was 6th
Top Tony in S3 was 3rd
Top Tony in TaG Senior was 4th
No Tonys in TaG Masters
Top Tony in S4 was Jeff who won the class, followed by Baker in 2nd with a Tony, and Wayne in 5th with his powdercoated blue Tony.
After Jeff won the last race of the day, he said one of the Tony guys came by and congratulated him.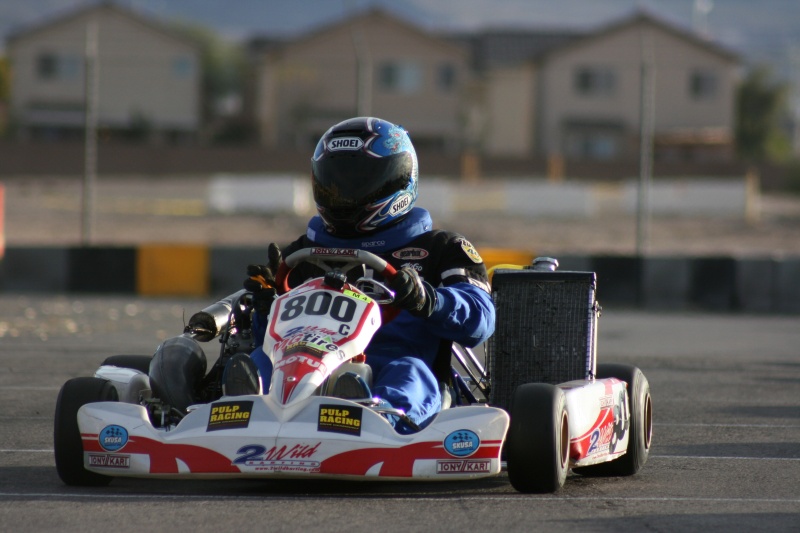 No Tony Kart Green for Wayne! Red, white and blue!
Kinda makes you go hummm.....the unknown Pulp Racing guys put two Tony Kart drivers in top 5 in S4, and damn near put 3 Tony Karts in the top 5. If we got a little help from the Tony Kart factory guys, imagine where we could end up on the podium, and imagine the marketing possibilities. "If these no-name guys from Pulp Racing can put drivers on the podium in a Tony Kart, so can you!" Complete with helmet camera footage of the victory in the Stock Honda class. I mean, are they going to make money giving free frames/discounts to the SuperPros, or are they gonna make money on all these hobbyist-types buying new karts to run in Stock Honda? You want me to extrapolate even further.....okay, how about this:
1. Jeff was 4/10ths faster than Baker in the S4 Stock Honda Heavy main
2. Baker took 6th in G1 class, where there was a $5000 payout for first place
3. Darren Elliot won G1 class, and was only 5/10ths faster than Baker.
4. Does that mean Jeff had a shot at winning G1? We'll never know....but we can speculate
Yeah, I know we can bench race all day long...but that be the facts as I see it.
Helmet Camera Video of the S4 Stock Heavy class
It's big, about 90 meg, 9 minutes long, in Windows Media format. A kart/rock opera in three parts, using TrackVision software to superimpose the AIM Mychron data on top of the video feed. I use a camera from www.helmetcamera.com that plugs into a Sony DV camcorder that is strapped onto my chest. Editing is done on a Windows XP machine with a bunch of Cheetah SCSI drives, running the Canopus DVRex hardware and software. Best to do a "right click, save target as" on the below link.
www.nsxfiles.com/supernatsx_r9b.wmv
Out takes of Pulp Racing drivers doing their Who imitation. 23 meg, Windows Media format. (Caution, could hurt your eyes and ears)
http://www.nsxfiles.com/dougwaynejeff_r3.wmv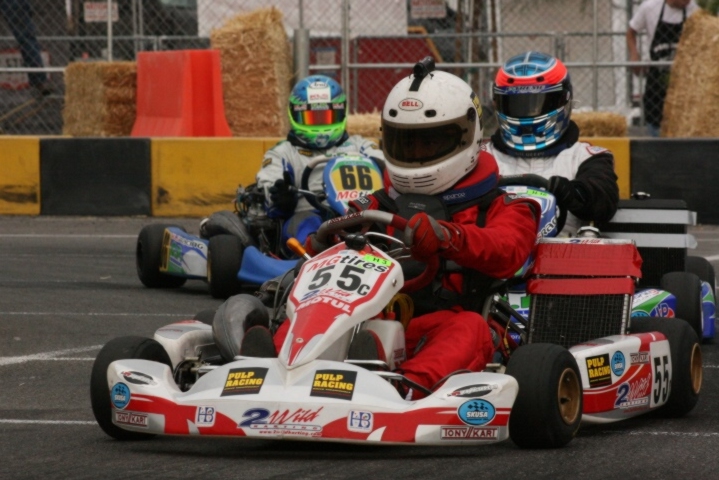 No Tony Kart green for me either! Doesn't the red and white look "sportier"?
ekartingnews.com Coverage of the Supernationals:
ekartingnews.com was publishing updates to the web after the heat races at:
http://www.ekartingnews.com/news_info.php?n=7094 Check it out for more info on the rest of the classes.
Sunday Morning:
I get a good run at the blackjack table. Heh! I'm up $600 bucks for the morning. Almost time to leave for the airport, and I get a 10-rich deck. I bet $125 bucks. I get an 11 and the dealer gets a 6 on top. HA HA! It's a 10-rich deck! I double down. I get an 8, for 19. Dealer a five underneath, so she has the 11, and then pulls a 10 for 21. DAMN! I thought I was going to cash out $1000 bucks this morning. I end up leaving Hooters up $425 for the week. At the airport, America West is late again by 90 minutes. I coulda been winning money at Hooters! America West needs me to do their scheduling and logistics.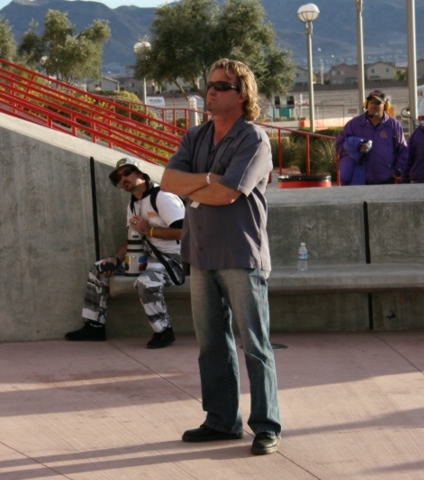 "I knew we could do it!"
I drop $100 in the stupid ass slot machines at the airport. Oh well...going home up $325 for the week isn't bad. Pisses me off that they only pay 6-5 instead of 3-2 on blackjack, what would be another $200 bucks in my pocket from all the blackjacks I had this week. Someone should organize a boycott of all single deck games in Las Vegas that only pay 6-5 on blackjack. But that would be like trying to organize a boycott on buying hard drugs because they are too expensive. Sounds good, but as soon as you see a black table with a hot female dealer beckoning you to play a couple of hands and no one else at the table, the boycott collapses.
Monday afternoon, November 13, 2006
I'm back at home. I got the shakes. I'm listless. I've driven the shifter kart four days in a row, and today is the first day with no racing. I'm suffering from adrenaline rush withdrawal, since I'm used to starting every morning with a practice session. Must get to track soon....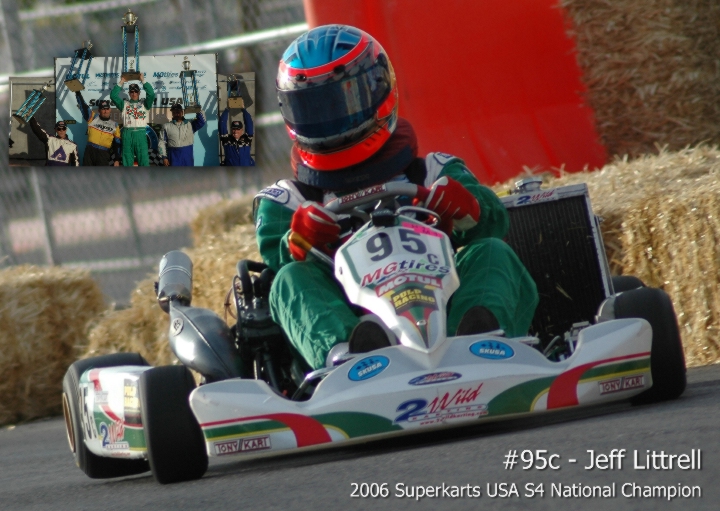 Jeff puts this poster on the Phoneguys wall. He's gonna brag about this for the next year....damn!
PKC Helmet Camera Videos from 2006 Season
Here's a summary of the previous helmet camera videos from the 2006 PKC Racing Season for Spec 1 Stock Honda class. All the files below are pretty big, from 20 meg to 100 meg. You'll need a fast internet connection to download them. My Verizon FIOS connection downloads 90 meg in about 90 seconds.
Best to do a "right click, save target as" to download these clips:

Race #1 - Moran
Race #2 - Cal Speedway
Race #3 - Willow Springs Kart Track
Race #4 - Moran backwards
Race #5 - Grange
Race #6 - Cal Speedway
Race #7 - Santa Maria
Race #8 - Willow Springs Kart Track at Night - uhhh....I didn't race that one due to broken hand
Race #9 - Streets of Willow - uhhhh..technical difficulties with the camera. Damn!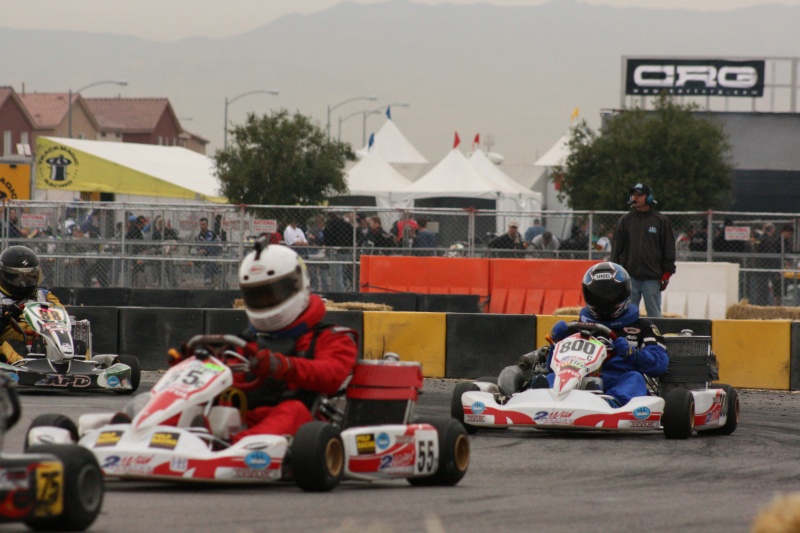 Our two-car color scheme working our way through the pack
Epilogue
And so ends the 2006 kart racing season for us. It was a good season. We feel that we got a lot of track time and we learned a lot about preparing our karts to do battle against our fellow drivers. We feel that we got faster, and became better drivers. We had a good showing at the SuperNationals, showing people that we aren't just a bunch of internet goons. Getting to the podium for next year's SuperNationals is going to be even tougher in Stock Honda, as we have shown all our cards. Which means that everyone else in the Stock Honda class is going to spend another year refining their driving skills and their kart setup skills to see if they can knock off Jeff in Stock Heavy or Connor in Stock Light in 2007. Wayne took 5th in the PKC series, and 5th at the Supernats. He views 5th place as the worst loser on the podium, so he's determined to work his way up. With a couple of lucky breaks, I coulda been high up on the two podiums, so I'm determined to work my way up also.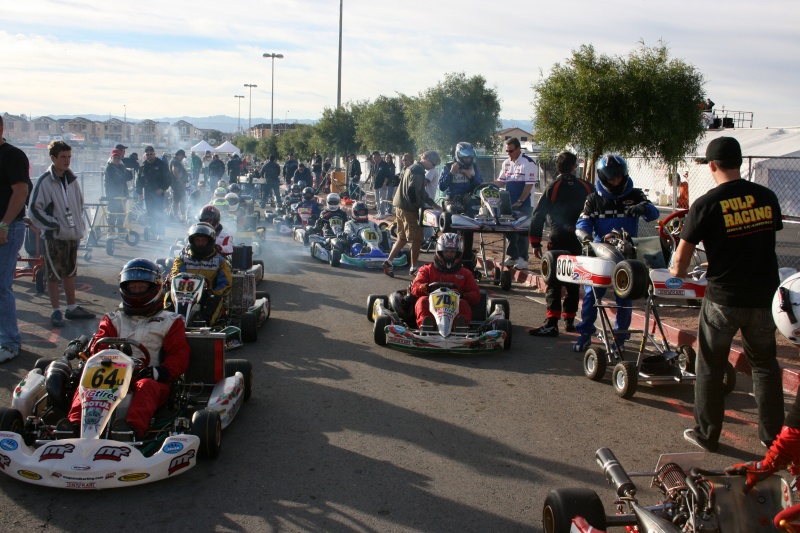 Hopefully the PKC Stock Honda grids will be this big!
The ProKart Challenge series starts up again on January 6th at Moran. They are switching their class designations in Stock Honda from Spec 1(advanced) and Spec 2 (beginner) to the SuperNationals style classing of S3 (Stock Honda Light) and S4 (Stock Honda Heavy). We plan on running in the light class, trying to improve our game by chasing down the the fast guys. It sounds like Halen isn't sure if he is going to run PKC, as he is already going to run Stars and the IKF series. Bummer, as we can really measure up how we are doing when we race against him. He kinda shows us what the possibilities are in terms of how fast you can be in a kart. And he makes it so our heads don't get too big when we do well.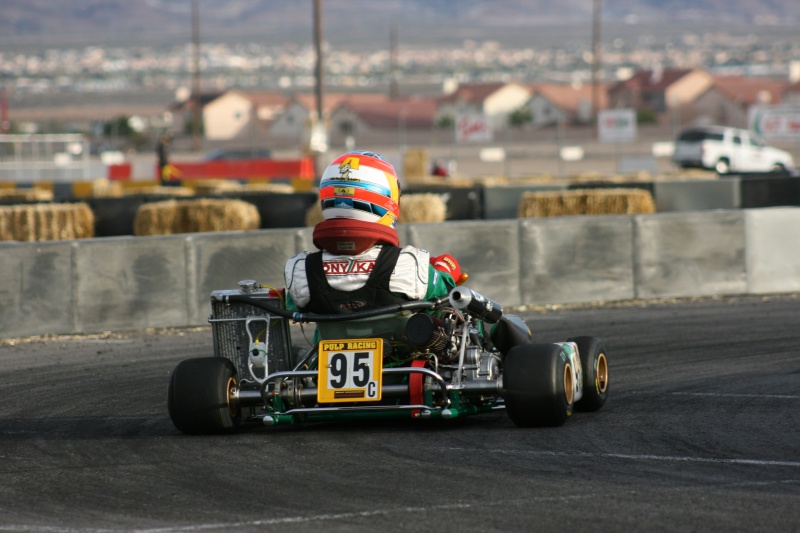 Everyone saw this in Stock Heavy. Wayne and I don't plan on having this happen in 2007!
Spec 1 will still be tough even without Halen, as Connor will run full the season, and we got some fast guys like Bobby Legate, Adam Ledford, and Clinton Schoombee coming up from Spec 2 class. I'm sure there are probably some ICC/built Honda drivers thinking about switching to Stock Honda, so we'll have to deal with those guys also. McKee, Fernando, and Paul Russell will be prepping for the January race.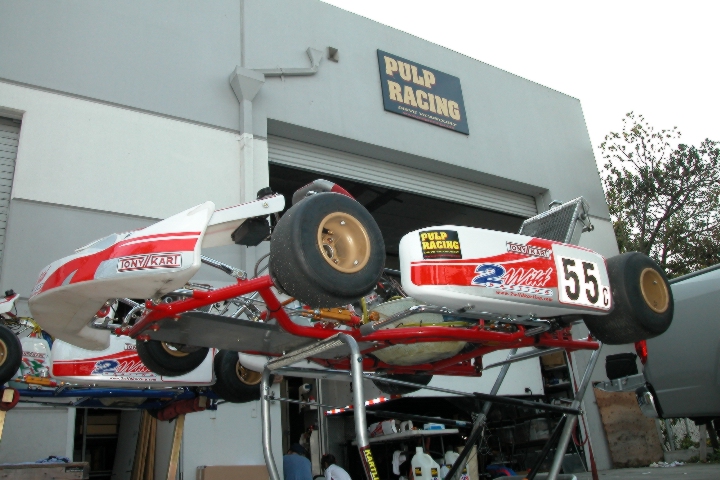 Back to the shop to figure out our Cheating Bastard plans for 2007
We'll spend the month of December trying to figure out our Cheating Bastard plans for the 2007 season. We are throwing around some wild ideas, trying to strategize out how we can get faster and get to the top of the PKC podium. With Halen out of the picture, we just need to get 3/10ths faster to possibly win a PKC S3 Stock Honda Light race, providing Connor doesn't turn up his game significantly.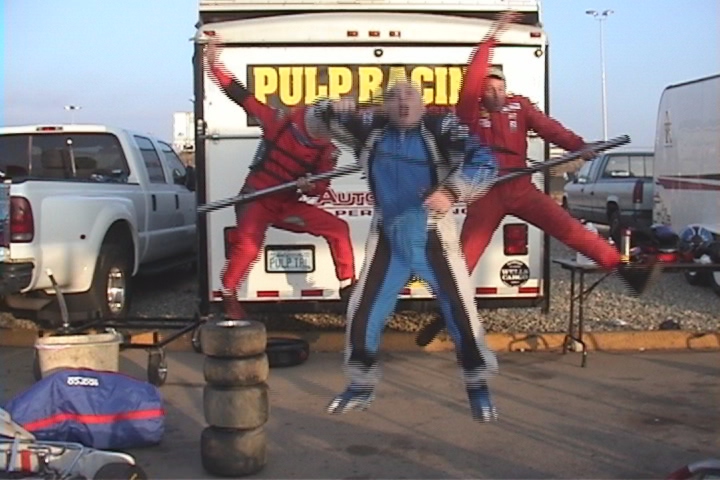 I'll end this story like The Who ends their concerts
I'll have a short, end of year story up around January 1, 2007, talking about how our prep plans are coming along for the first PKC race. Until then, you newbies have time to go out and buy a Stock Honda shifter, get some practice and coaching, and join us on the grid January 6th, with the music of The Who playing in the background of your mind as your race around the track in an adrenaline bliss, just like in that helmet cam video from the Supernats.....