October 2006
Cheating Bastard Plans for the SKUSA Supernationals
We Got The Supernats Fever - And Go Into the Rat Hole One More Time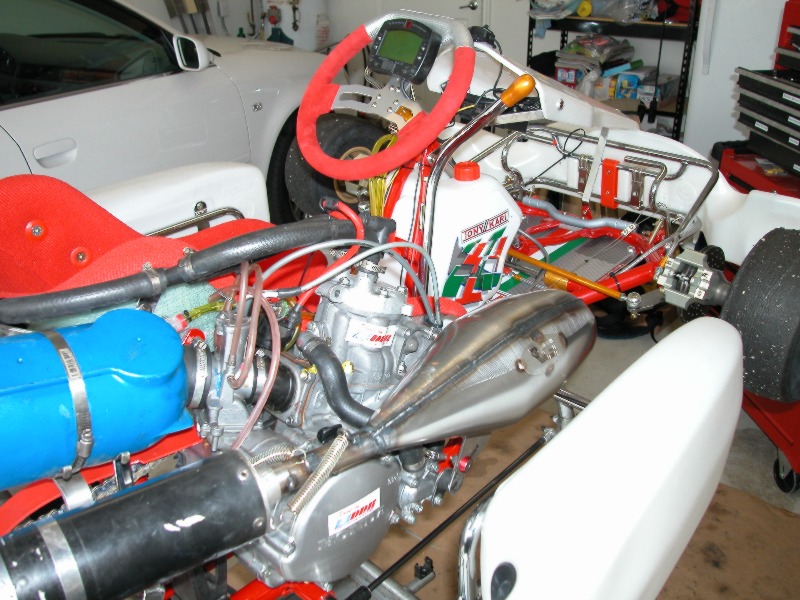 Damn this kart looks really fast
The ProKart Challenge guys have got us all pumped up about karting, and even more pumped up about participating at the 10th Annual Supernationals in Vegas. It promises to be one of the biggest karting events in North America in terms of excitement and the quality of pro drivers running in the SuperPro class. For us, the Supernats is becoming our big annual event, much like the infamous June Virginia City Hill Climb and the LA Street Race use to be before they went belly up. For those of you that have read the last chapter, the next paragraph will be a repeat, but essential for setting up the story:
=====Start of repeat from last chapter===
August 15, 2006
SuperkartsUSA (SKUSA) has entry forms available for the November 9-12 Supernational X. This will be the 10th annual running of the karting Supernationals. Tom Kutscher, the charismatic leader of the Prokart Challenge, bought out SKUSA about 9 months ago, and the acquisition was finalized in June. Critics have been taking their shots at him, especially when he announced he was eliminating the kids classes at the Supernationals.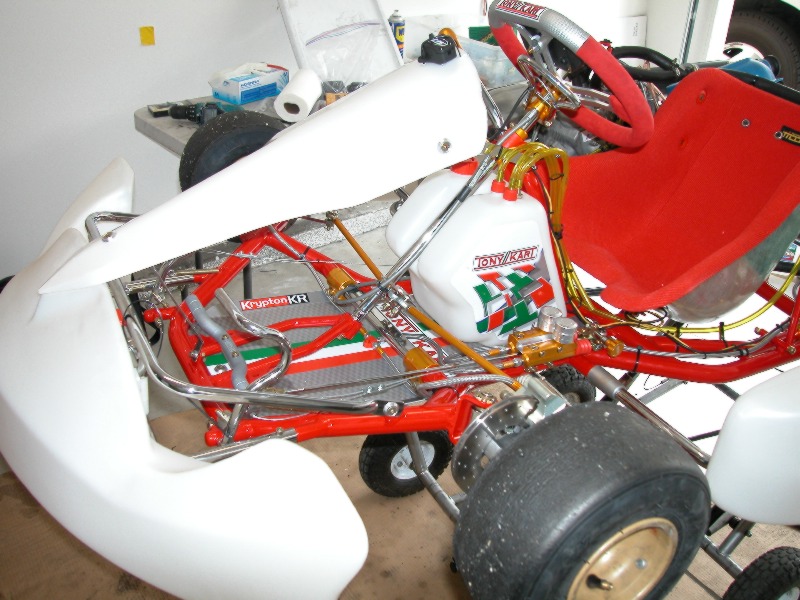 New shifter kart chassis, powdered coated red because I hate Celtic Green on my racing machine
Tom took some flack for that, but basically did the smart thing and didn't reply back on any public bulletin boards, choosing to keep a low profile. He did state in the press release dated June 13, 2006 "This year's SuperNats will be the biggest and best ever." He and SuperkartsUSA decide to do a classic "slow reveal" about their plans for the Supernats to generate excitement.


Tom Kutscher and ProKart Challenge acquire SKUSA, and restore the glory of the Supernationals
It goes like this:
June 30, 2006. Announce that $20,000 in prize money for the SuperPro class, with $10,000 going to the winner. That will bring out all the pro-level karters from out of the woodwork, along with getting the factory teams excited about winning the event for bragging rights to try to sell their new 2006/2007 chassis/motors.

August 2, 2006. Announce that the Hooters Hotel will be the host hotel/casino for the Supernationals. Room prices for those that sign up will be $39 weekdays, and $59 weekends. Nice! I forsee Hooters umbrella girls. Probably not a good environment for small kids. Especially if you had to take your kid out of school for 3-4 days during the week so they could race in Vegas. I mean, c'mon, there is no reason ever to take a kid under the age of 18 to Vegas for 5-6 days unless you want to explain rampant deviant behavior to them all day long.

August 30, 2006. Announce that Scott Speed, the only American driver running in Formula One this year, will be racing in the SuperPro class. Scott won the Supernationals in 2000 and 2001. His brother Alex won the national shifter title in 2003, 2004, 2005, and they will compete against each other for the first time.

September 12, 2006. Due to overwhelming demand, Stock Honda class is broken up into two classes, a light class at 385 lbs, and a heavy class at 415 lbs. Last year, about 23 drivers entered in the Stock Honda class. This year, it seems like there are 70+ drivers looking to become the Stock Honda King, so that is a 200% increase in popularity for the Stock Honda shifter class.

September 22, 2006. SKUSA announces that the TaG Senior class, previously capped at 40 drivers, has now been increased to 80 drivers.

October 2, 2006 Vitantonio Liuzzi, Scott Speed's teammate on the Scuderia Toro Rosso team, will be driving in the SuperPro class. Liuzzi is a former Italian karting champ. Nice, you'll have two Formula One drivers duking it out against the factory kart drivers and the hot shoes from across the nation in the SuperPro class. Of course, everyone in that class wants to take down the F1 drivers and get their 15 minutes of fame. Damn, I wish I was good enough to run in the SuperPro class! As it is now, I would probably finish dead last. But then again, if Liuzzi or Speed gets punted and DNFs, then I could say I beat a Formula One driver in a national kart race...

November 2, 2006. The FIA/CIK dorks won't let Speed and Luizzi race. What a fiasco for the fans. Especially Formula One fans that wanted to see the F1 drivers go against the best karters in the nation. Good way to alienate potential fans of F1 racing. Oh well....there will be good racing on the grid anyways without the Formula One guys. But can you imagine the goodwill that could have been created for American racing fans?
====End of repeat from last chapter===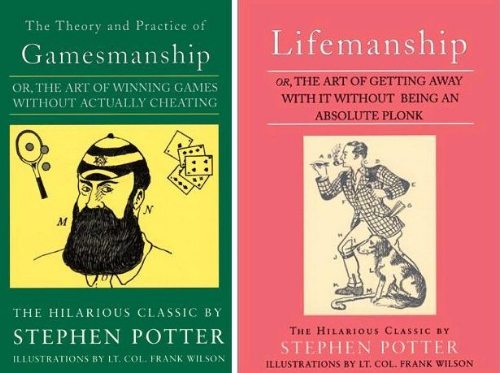 I had to rip off these pictures from Chapter 68, since they seemed appropriate
Anytime you mix racing with gambling, you'll find us there. So we begin to prepare our plans for the Supernats. We go into every racing event with the intent of getting on the podium, no matter how remote the possibility. A Cheating Bastard is someone that will carefully analyze an race/sport/competition/game, and figure out how to get a tiny edge on everyone that could possibly help you to win the event, or at least make it to the podium. Let's face it, racing is a game that is decided on inches or hundredths of a second, so if you can add up those extra inches or hundredths of a second by doing different things, it could be the difference between 4th place and 1st place.
We decided that first of all, our Tony Karts are pretty tired and worn out. The pro guys race a chassis only a few times, and then replace it with a brand new one (usually from their kart chassis sponsor). Let's see, we've had our chassis a year, probably have tracked it on the average of once a week....so we have about 52 days of hard, hard driving. So we justify in our minds that it is time for a new chassis. We can keep the existing Darcy Decoste stock Honda motors, but we'll replace the frames.
Jeff isn't sure that he wants to go to Vegas for the Supernats, as he doesn't gamble, and he doesn't like being away from home and the family for 4+ days racing. But we think we can convince him. Anyways, he agrees with us that it is time for a new chassis, so we tell 2Wild to have three chassis ready to go for us right after the last PKC race at the Streets of Willow Springs. So the first step is to get the new karts, with fresh new bearings that spin better, crisp new frame, new style brake calipers, etc. That's gonna help us a lot.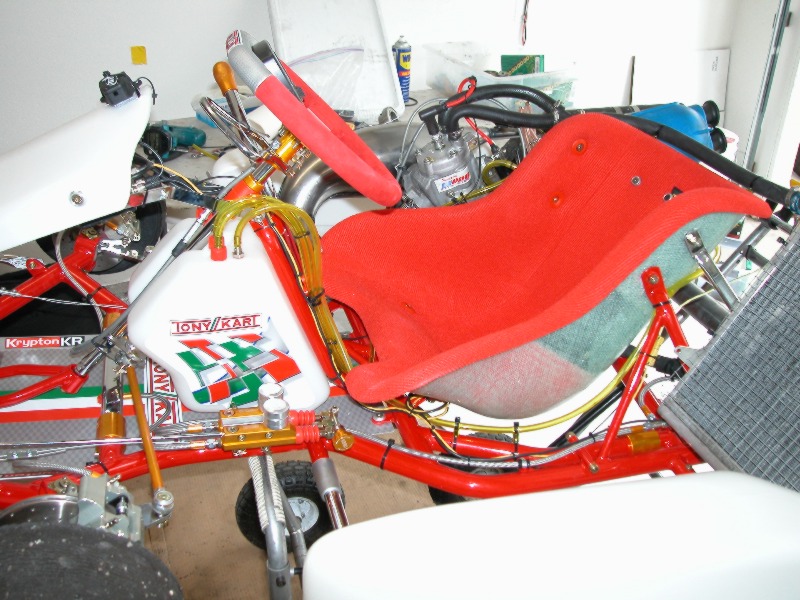 Look at that cool red racing seat. I bet it is good for a 1:03.99 at Moran
We figure we enter in the same class that we are racing with PKC, which is the stock Honda class. PKC mentions that if there are enough entries, they will break up the Stock Honda class into Light (regular) and Heavy classes. Light classes are 385 lbs total weight, no age requirement. The heavy class is for guys that are over 35 years old OR weigh more than 200 lbs, with total weight minimum of 415 lbs. The heavy classes give the bigger guys a better chance to race without a weight disadvantage. After thinking about it, I tell Wayne we should add lead weights to our kart and race in the heavy class. My reasoning is:
1. In the light class, we figure Randy McKee and Connor DePhillippi will be racing. They have both been kicking our ass in the PKC series, so if they have 40 people in this class, that means we have to fight 37 other people for one position left on the podium. Or if just one of those 37 drivers is faster than McKee and Connor, that locks us out of the podium. Nick Halen is running the SuperPro class, as SKUSA is not allowing any SuperPro guys to run in other classes this year, opting to keep the Pro guys out of the Stock classes. Otherwise, Nick would whup everyone's ass in the Stock Honda class. Nick will have his hands full duking it out in the SuperPro class, but we think he has a good shot at the podium, despite him having minimal factory support/sponsorship.
2. In the Stock Honda Heavy class (aka Old Fat Bastard Class), we don't know of anyone that we fear. Which means there are potentially 40 people fighting for the three podium positions. We don't have an entry list, but we know there are really fast guys in the Stock Honda Light class. We also know that most fast Fat Old Bastards usually run in the G1 class (405 lbs, over 35 years old, ICC and built Moto class). So the Stock Honda Heavy class is a relatively new class that hopefully doesn't have a lot of hot shoes in it yet.
Fernando is dying to get us at equal weight, since he says he's weighing in at 25-30 lbs over our weight in the PKC series, and he claims that is why we are beating him. He's totally convinced that Wayne, Jeff, and I should run with him in the Heavy class.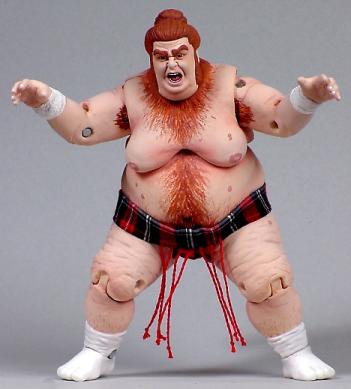 We decide to enter the Stock Honda Heavy Class
3. Hopefully the Stock Honda Heavy class with have Fat Bastards that are out of shape. We practice once a week, go to the gym, and race in a very competitive series. The good thing about having guys like Halen/Connor/McKee in our class at PKC is that it makes us work really damn hard to try to get to the podium.
4. Last year, Wayne was gridded 3rd for the main in Stock Honda (regular/light class) at last year's Supernationals, but then had a bad start and crashed into a barrier. We feel we are a lot faster this year, as evidenced by we can now beat Fernando in some heat races, despite the fact he was whupping on us earlier in the year and at the last Supernationals. So if Wayne can make it to P3 last year, and we are faster this year, and we enter the heavy class, maybe we have a shot at a national title, or at least make it to the podium. We know one thing for sure; Stock Honda shifter class is growing fast, and next year we anticipate even more fast guys to move into the Stock Honda class based on cheaper maintenance costs. So if we are gonna make it to the podium in a national event, now's the time to do it when the field is "relatively weak", compared to other classes.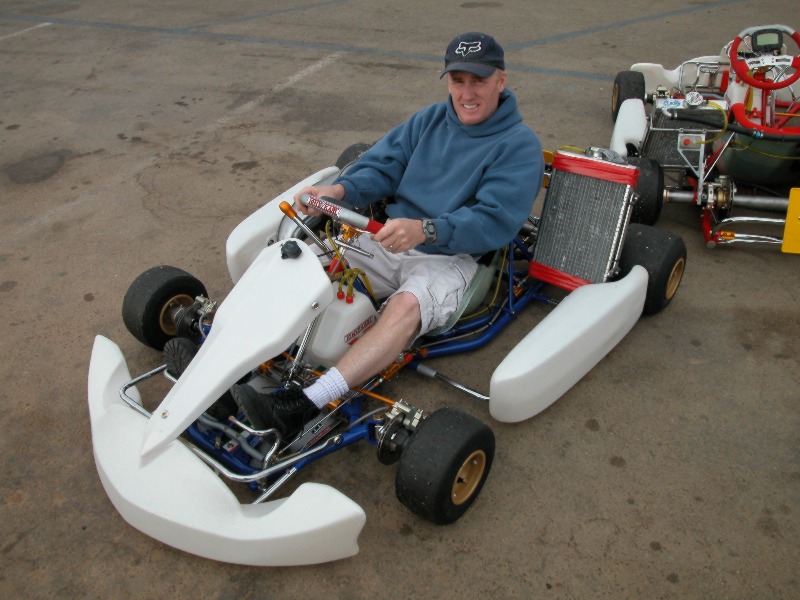 Wayne's new Tony Krypton, powdercoated blue
But we are still missing that little edge. We are convinced that our karts can't possibly go any faster. We compare data among ourselves, and that helps somewhat. But we still need that little extra. We decide we need a driver coach. But it needs to be someone who is not just a coach, but some that can drive our karts, at our weight, and is familiar with the stock Honda series. Matt Kimball, the "2Wild Factory Driver" would be good. He almost won the PKC Stock Honda class last year, and he did win the PKC TaG Masters class this year. But he outweighs us by 45-50 lbs, so it would be hard for him to setup the kart for our weight, which is 165 lbs of finely tuned muscle. A couple of years ago, we were trying to get Alex Barron as a driver coach, but then he took 4th place at Indy and won $412,115, so we figured we couldn't afford him anymore.
Late August, 2006
Wayne says screw it. He's pissed off about having Jeff in front of us in the PKC points race, despite the fact that Jeff doesn't practice as much as us. I tell him that Jeff did well in the rain races (50% bonus points), so that is where Jeff built up most of his lead over us, and we had a couple of stupid DNFs/crashes. Wayne wants to podium at the Supernationals almost as bad as I want to. He says we gotta get driver coaching, so he says he's gonna email Nick Halen and pay him to come down for a day and help us out. I tell him that he should probably wait until AFTER the PKC series is over with, as Nick probably isn't going to help us cut the gap between us and him until the season is done. But then Wayne says, "You think he fears us? He starts from the back of the field on purpose and walks through us. He ain't gonna worry about us catching him, no matter how much he helps us". Good point. He emails Nick, and Nick says sure he'll come down and do some driving coaching for us. We tell Nick that since this is Cheating Bastard Practice, not to tell anyone else about the training. I ask Wayne if we should invite Jeff to the training, that way we can split the cost 3 ways. Wayne says, "Screw Jeff, he's beating us points. Besides, Jeff will probably say, 'Huh? I beat Halen last race, why would I want coaching from him', despite the fact that Halen was DQ'ed."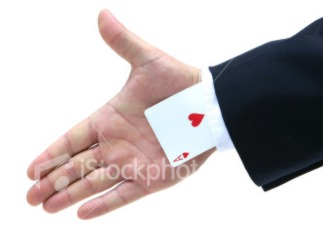 Will coaching from Nick and Steve Halen be our ace up our sleeve?
Late September, 2006
We come up with a plan to utlize Halen. We'll have him come down a few weeks after the last PKC race at the Streets of Willow. That will give us time to take delivery of the new karts, swap the motors from the old kart to the new kart, get some practice time to get the major bugs out of the new kart, and them have him come down and fine tune the karts. Nick said his dad Steve will come down for no extra charge to help out, as long as we buy him a plane ticket. Nick said that his dad is a pretty good mechanic/motor tuner/lap analysis guy. And, they want to come down for two days, not one, as they think it will be be much more helpful that way. He also asks that we do not mount the weight on the kart yet until they checkout the karts. I also get the 2-way car radios helmet setup so we can have Nick/Steve telling us what we could do better in various turns while we are driving the track.
I tell 2Wild to get my new kart ready, and I pay them to move my motor/radiator/etc from the old kart to the new kart, and to install a new red Tillet seat. I won't have anytime to do it while chasing the kids around. Wayne tells them he'll do it himself to save money, and takes delivery of his kart partially assembled.
A couple of days later, Wayne drills holes in his new Tillet seat that match up the holes on his old Tillet seat. He then proceeds to put the new seat on the new kart.....but ooops, the holes don't line up. The new kart seat mounting points have moved. Ooops. Seat placement is very important, and a pain in the ass to do. Wayne decides to punt, and returns kart to 2Wild to have them do it. The guys at 2Wild get a good laugh out of that one. Jeff says we are morons, and now he wants to swap all his parts off his kart himself, just to prove we are morons. 2Wild shakes their head when they hear that.
Saturday, September 30, 2006
We take delivery of Wayne's kart.
Sunday, October 1, 2006
Our first practice day in the karts. Jeff's kart isn't ready yet. The kart sticks pretty good. Mine is a oversteering a bit on a couple of turns. The plan today is to make sure they go in a straight line, nothing falls off the kart, no overheating problems, motors are running good, Mychrons sensors for speed/temp/rpm/gearing are working properly and we can download data, seat fits okay, etc.

Wednesday, October 4, 2006
Second practice day. Jeff's kart still isn't ready, but he comes out to get some seat time in the old kart. Wayne isn't quite comfortable with this kart yet. He's still trying to figure out the chassis. I run one fluke fast lap of 1:05.4 on somewhat worn tires. Hummm.....I think this will easily be a mid to low 1:04 kart on a race day here. Jason Steaman comes out with us and is running fast in his first time at Moran. Wayne's still not happy with his kart. When we get back to the shop, Jason notices that the awning on the side of the trailer is bent, and part of the decals are scratched up. Huh? Did I hit something on the freeway? There was lots of construction, and the onramps were very narrow. Later on, Wayne says as I was pulling out of Moran, he heard a loud BANG as we were leaving. There was a big steel sign with a concrete bottom that I apparently hit coming out of Moran, and destroyed it.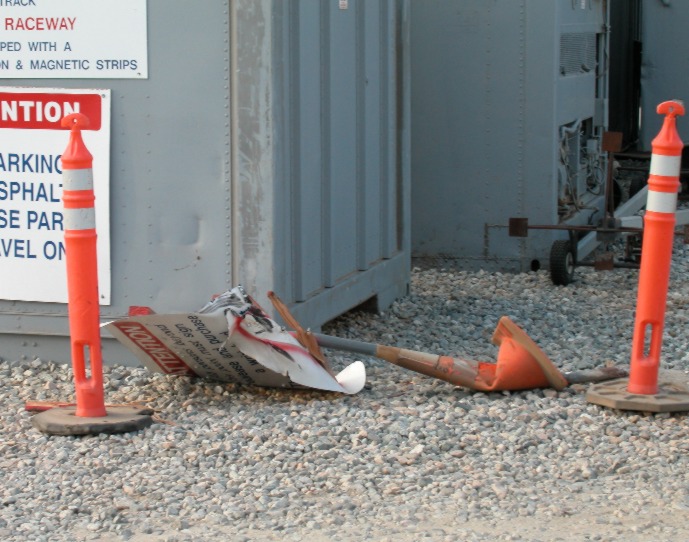 Ooops. First time I really hit anything with the big trailer in 7 years.
Friday, October 6, 2006
The Halens fly into town. We pick them up at the airport and grab a bite to eat.

Saturday morning October 7, 2006
Moran doesn't open the gates until 12:15 today, as they have arrive and drive programs going on in the morning. We meet at the shop around 8 a.m. so Nick and Steve can help us mount the weight on the kart. We have to add about 45 lbs of weight to make the 415 minimum. They visually inspect the karts, and they are somewhat shocked that we changed out the stock seat for Tillet seats. I have a padded Tillet seat, which is more comfortable to sit in and fits me tighter than the stock seat. They kinda roll their eyes, saying that in their opinion, the seat is part of the kart suspension, in that it flexes, and since the Tillet seat is stiffer, we have altered the handling characteristics of the kart. DOH! They also don't like that the Tillet seat has a rounded bottom, and the stock seat has a flat bottom. The flat bottom is uncomfortable, but they like the fact that this makes the Center of Gravity lower on the kart. Since they have to hack at the seat to add 45 lbs of weight, they decide that we need to lower the Tillet seats a little more. They futz around with Wayne's seat, add the weight, and then we throw it on the scales with Wayne dressed in his racing gear. Amazingly, the Front-Front and Rear-Rear balance both come out to within one pound of each other. Mine doesn't come out as good, apparently because the seat struts had to be bent a little to get the aftermarket seat to fit. The Halens bend the seat struts back to what seems to be the factory position. After about 4 hours of working on the kart, we head off to Moran for a half day practice.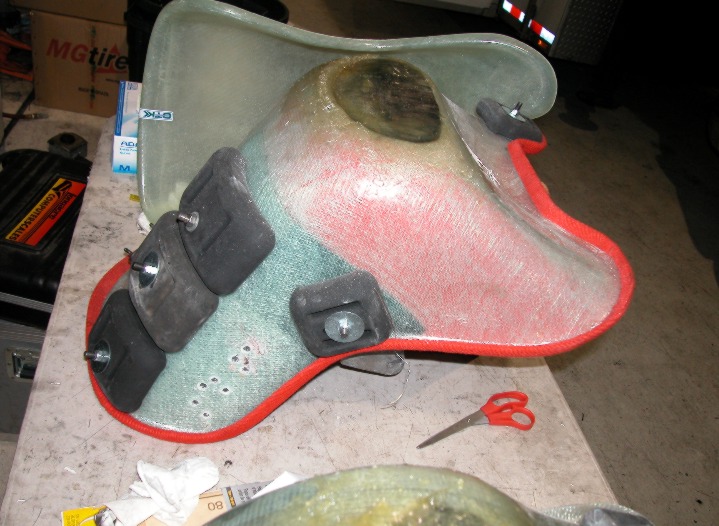 Need to add a tiny bit of weight to our kart seat
Hummm.....seems like with all the lead weight on the seat, the seat is bending down (or the kart frame is bending down from all the weight) and we are scraping the bottom of the seat. Or we somehow lowered the seat too much. Damn. Anyways, we get our practice in. The karts with all this lead weight on it are damn heavy. We have just turned our Kart Lift one man stands into two man stands, as we can't lift the karts up by ourselves. Now the karts weigh about 250 lbs each. I'm gonna get a damn hernia before the Supernats.
Nick is saying that there is too much front grip on the kart, so tries to "loosen up" the kart. Humm....our philosophy has always been to try to get the kart to handle like it is on rails and power through the turn. Nick is saying that we should concentrate on getting the kart to be looser in turns and being careful with the throttle, instead of hammering through the turn. He tells us our way will feel faster, but his way will turn better lap times, and won't trash the tires. Which probably explains why we do decent in qualifying, but by the time the main race comes, our tires are trashed and we get slower, where other guys seem to get faster in the main race. We experiment with jetting, different settings, etc. At the end of the day, Nick is still trying to figure out why the kart is so stiff in front and has so much front grip. He's taking the front bar out, the side bar, changing castor, ride height, etc. and he thinks it is still too stiff in front. I then realize that we forgot to tell him that uh....we thought we were geniuses and since the steering wheel fork bends in crashes, we thought we would re-inforce the steering forks by welding on some "wings" onto the frame and then we would have the frames powdercoated red and blue so it would like like it was done by the factory. I uh...guess that could help stiffen the front, thus giving it more bite. The Halens kinda roll their eyes around in their sockets when we tell them that. Doh! We're morons at times.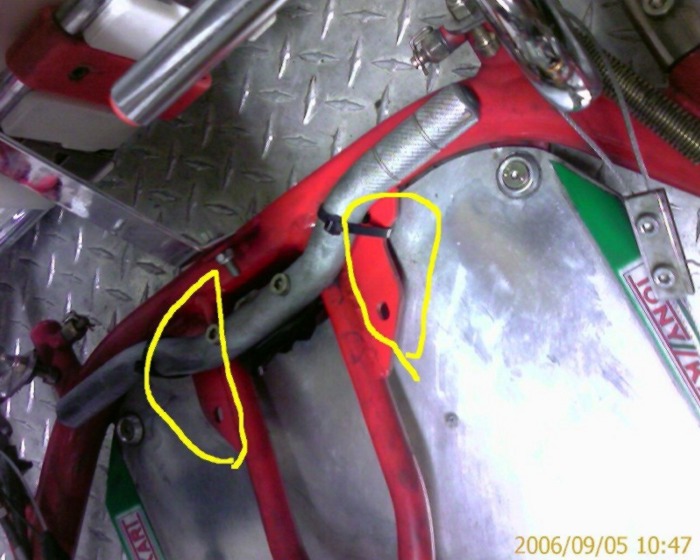 We thought our Cheating Bastard frame mods would prevent steering fork from bending in a crash.
We get back to the shop at 7 p.m. We work until midnight, sawzalling the wings off the kart, trying to modify the Tillet seat so that instead of a rounded bottom, it has a flat bottom like the factory seat so we can get the CG down without scraping. I call 2Wild, and ask Rhod if he can open the shop and get me a couple of soft axles, a #2 Tony Kart seat, some different width front bars, etc. He meets me at his shop at 10:30 p.m. so I can pick up the parts.

Sunday, October 8, 2006
We are back at the track for the 9 a.m. opening. We practice all day long. Halfway through the day, Nick wants to completely replace my Tillet seat with the Tony Seat. After putting that in, he thinks the kart is feeling better. Wayne and I are trying to understand the concept of freeing up the kart so there is not excessive grip to slow you down. This is our 4th day at the track this week. The wives are getting pissed at us. At least for me, I have the in-laws in town for a month, and they are taking the kids to the park, shopping, the pier, etc, all day long. Amy, on the other hand, is 7 months pregnant and has problems trying to chase 1.5 year old baby Carter around the house. But hey, it is Supernats Fever, and we think we got a shot at the podium, and Supernats only comes once a year....so we are going full bore. We'll make it up to the wives later. After the Supernats.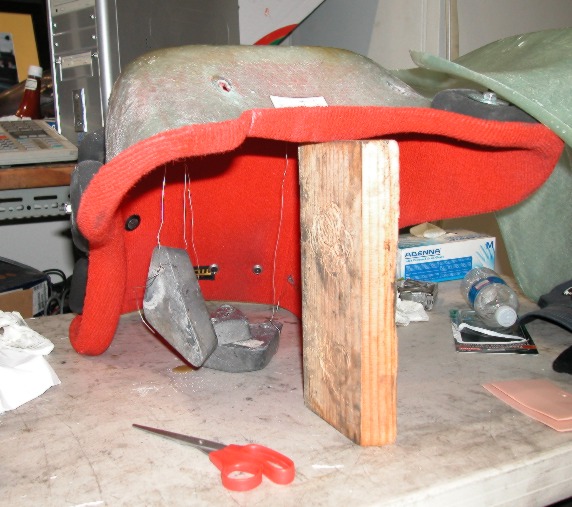 We cut seat bottom, used weights & wire to make the bottom flat like the factory seat
We are glad we had the Halens come down to help us with tips and kart setup. Wayne still isn't feeling confident about his kart, so he goes into a deep rathole....he decides to prepare his old chassis and buy another motor, so he can take TWO karts to the Supernats, so if the new kart isn't working out to his liking, he'll switch back. I tell him that is crazy, as we don't have enough time to dial in one kart for the Supernats, and he wants to dial in TWO karts? Worse, he wants to take all the parts off his old kart, get it re-powder coated, then put everything back on it. I did that once, and it took about 40 hours to do it. And, he's gonna need a bunch more stuff, like a motor mount, throttle cable, carb, radiator, radiator bracket, hoses, Mychron, blah blah blah. He needs to buy another 40 lbs of lead weight and corner balance another kart. He's outta control.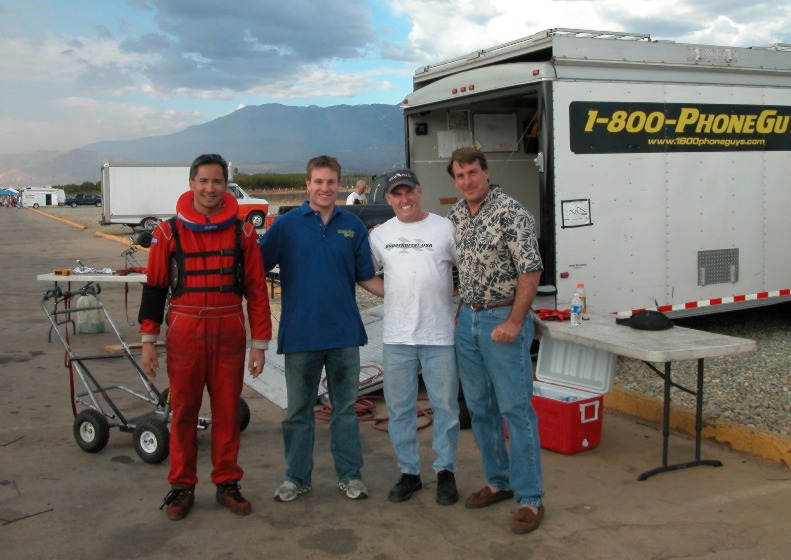 Did the Halens give us enough Cheating Bastard tips to get us to the podium at the Supernats?
October 11, 2006
Jeff realizes he ain't gonna have time to do the swap of parts to the new kart himself. Now he punts, and asks 2Wild to do it. 2Wild gets another good laugh with that one. I race with homos. Now we have to take the Jeff's kart back to 2Wild, and them re-schedule in time to finish Jeff's kart.
We decide to do an arrive and drive with 2Wild for the Supernationals. They'll trailer all our stuff up to Vegas, and then Wayne, Jeff, Jason S.(our crew chief), and myself will fly up. Dana is going to hobble over for the weekend, and Jason Trumpio is going to try to sneak out of his new job (he's in AZ now) and hang out at the track. We were going to drive up to Vegas at triple digit speeds, but the wife said that one of the Italian cars would break or overheat in traffic. She has a good point. No use tempting Raceflais to mess with us on this trip.
October 18, 2006
We go to Moran for another practice day. Jeff has his first practice day in the kart. He likes it, but the new Tony Seat is not comfortable at all to him, it is putting bruises on his hips. A couple of days ago, Wayne decided to install a pump around carb system on his Darcy motor. He figures if it works for McKee, it will work for us. I recoil in horror, as does 2Wild. McKee has a stock Honda motor from a different motor builder than us. I told Wayne, don't you think if a pump around system provided 1/8 of a HP more, don't you think Darcy would know that from his dyno, and don't you think he would implement it?
Anyways, Wayne's kart seems slower on the straights than mine and Jeff's. Hummm. Not good for his pump around setup. Later in the day, Wayne's motor starts dying a slow death. Looks like he has no compression. Further inspection shows he blew a hole in the piston. 2Wild hears about this, and is laughing hysterically at our "tuning abilities", saying that we were warned about dicking around with the pump around system. Not sure if the motor was bad, or if the pump around system was installed wrong, or if Wayne just beat the crap out of that motor the past couple of months. Who knows. Anyways, Wayne ain't looking too smart the moment.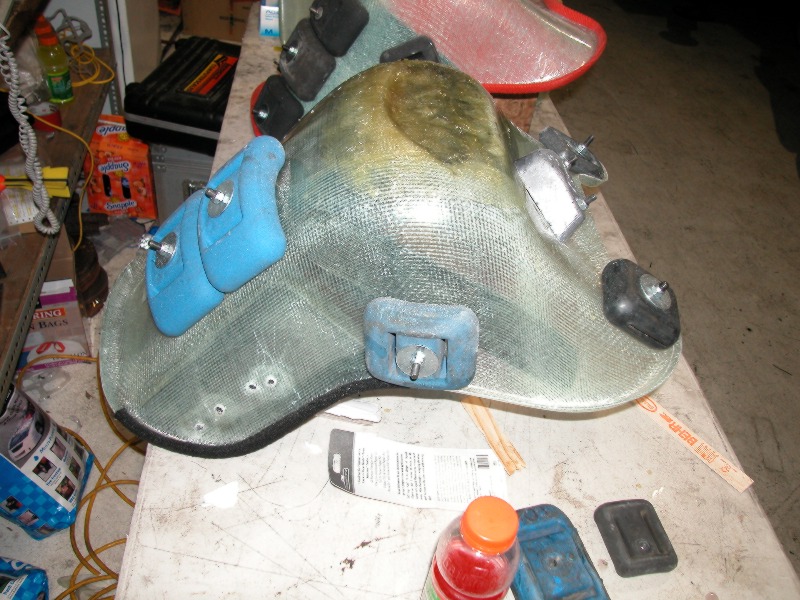 Wayne needs more weight than me, as he doesn't drive with helmet cam equipment
Saturday, October 21, 2006
Wayne and I go to Cal Speedway. Wayne has swapped out the bad motor with the spare motor that he just bought. It is an open practice day, and there is an IKF race tomorrow. So there are about 80+ people at the track. They decide to run four run groups using their tighter config with the hairpin turn instead of the sweeper turn where I flipped a few races ago. In our run group there are quite a few PKC drivers there, getting their karts dialed in for the Supernats. Today, Wayne and I both become At One With our karts. It now feels like an extension of our body. We are happy with how they work, how they handle, etc. In one of the sessions, McKee, Wayne, myself, and Brian are running a kart length from each other. Wayne spins out in the hair pin, I slam into him, and Brian hits me. Damn! When I hit Wayne, I bent my tie rod, steering column, spindle, etc. Brand new straight kart without a scratch on it, and Wayne has to SPIN IN FRONT OF ME so I crash into him. Wayne asks me why I'm following so closely, and I tell him it is because he's ffing slow. My tie rod is bent in the shape of a pretzel from the crash. Spindle needs to be straightened. Later on, Wayne realizes his steering column is bent also. On my last run of the day, I beat Wayne's 50.47 by 3/100ths of a second, and I'm following McKee, thinking I'm gonna run a 50.2x on this lap, and then I nick the tire wall with my right front tire. And bend another steering column. Crap! I call 2Wild and pre-order 10 steering columns, since we bent three of them today, and the Supernats is going to be a four day event....you do the math. McKee's fast time of the day is 49.9x, but he's carrying a lot less weight than us. We figure if we get within a half second of him with the extra weight, we are on pace to have a shot at the podium with the Fat Bastards. So for right now, we are on pace with where we think we should be speed-wise.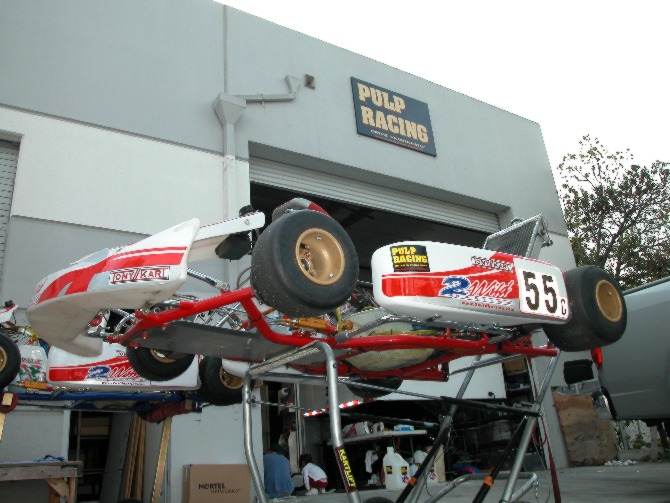 New kart ready to fight for the title
Wednesday, November 1st, 2006
Big work day today. Starts with 7:00 a.m. physical trainer session at the gym. Then immediately drive to Moran for a last shakedown for the karts. Wayne gets his old kart re-dialed in, after taking it apart, re-powder coating it, putting it back together, and putting spare motor on it. Jeff's kart runs fine for a couple of sessions, but then it appears that the stator is dying on it, as the motor starts and revs, but then steadily dies and stalls. I have fast time of the day at 415 lbs with a 1:06.2 on old tires and a dusty/slow track. Only about six people are practicing today. The new kart drives pretty good on old tires, much better than the old kart. Hopefully, that means we got the kart balanced well. Wayne runs a half second faster than me using his old kart with no weight. He'll have to probably add 45-50 lbs of weight on that kart, so again we think we are within striking distance of a good finish at the Supernats. (if we accept the premise that the weight is going to slow us down a half second).
6:30 p.m. Wednesday night
Zip back from Moran, and we have our last softball game of the season. We lose again, ending the season 2-8-2. Tough season. We'll have our female pitcher back from pregnancy leave next season, so we'll be contenders again. I lose the onbase batting percentage title on our team to Joel, .778 to .745. This is the first time in years that I haven't won the title. But hey, I had to swing the bat with one hand most of the season.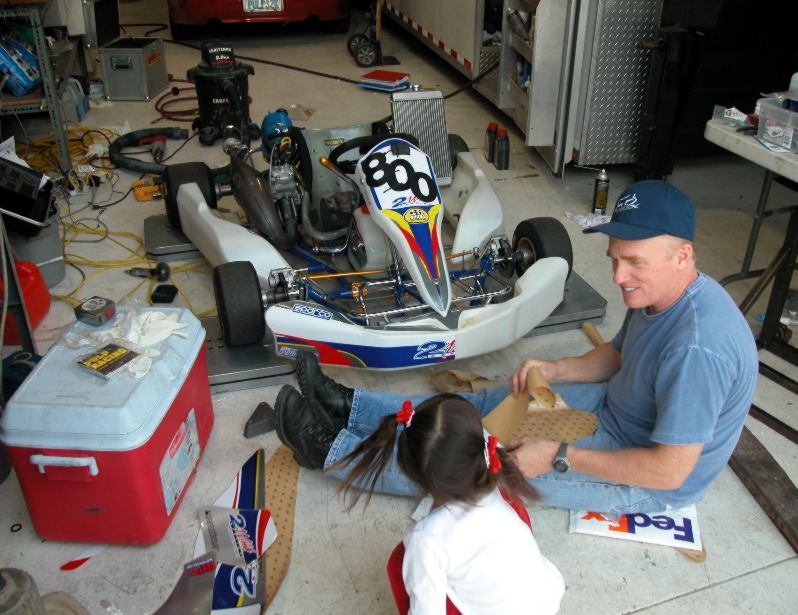 Wayne putting new decals on his old kart with help from Kayla
Friday, November 3, 2006
We sticker up the karts with the new custom red decals. We look like a two car Formula One team! And, we have a spare "T-car" using Wayne's old kart. Fernando does a test day, and he says he's running 1:05.5x at Moran at about the 415 lbs weight. Damn. That's fast. Hopefully that is because he's running the normal PKC MZ tires on this test, not the Supernat FZ tires, which we think are a little slower. Good new is that there was a very fast V1(built motor, 405) guy there running 1:06.5 at 405 lbs, which kinda confirms if we can run mid-low 1:06's at 415 with a stock motor, we are in the ball park.
Saturday, November 4, 2006
2Wild has replaced stator on Jeff's kart, did a top end replacement, did a couple of heat cycles, and everything looks good. Wayne, Jason, Oscar the Mexican, and myself packup the trailer with all our stuff in it.
Sunday, November 5, 2006
We drop trailer off at 2Wild, and they pack their stuff in it along with Bobby Legate's Spec Honda, Troy's TaG kart, and a new Tony Chassis. The trailer is packed to the gills with tires/karts/drinks/tools. 2Wild has nine drivers running out of their tent at the Supernationals.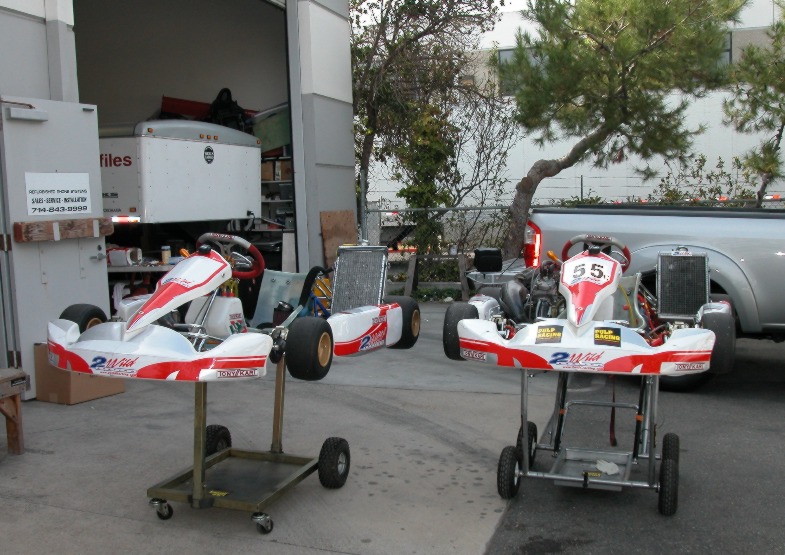 Our two kart mini F1 team. Schumacher and Massa? Or Sato and Ide?
Monday, November 6, 2006
2Wild arrives in Vegas safely with all the karts and equipment. SKUSA wanted all the big trailers to arrive on Monday so they can get the pit spaces arranged, and start building the big tents for the bigger teams/vendors. The rest of the trailers will come in on Tuesday and Wednesday. Practice starts Thursday morning. Qualifying and heat race 1 on Friday. Saturday heat race 2 and 3. And on Sunday is the main event. Schedule here.
Wednesday, November 8, 2006
We head off to Vegas, with dreams of a National Championship in our head.