November 14-18, 2007, Sam Boyd Stadium, Las Vegas
"All Pulp, No Fiction"
We Duke It Out With The Best Stock Honda Drivers at SuperNationals XI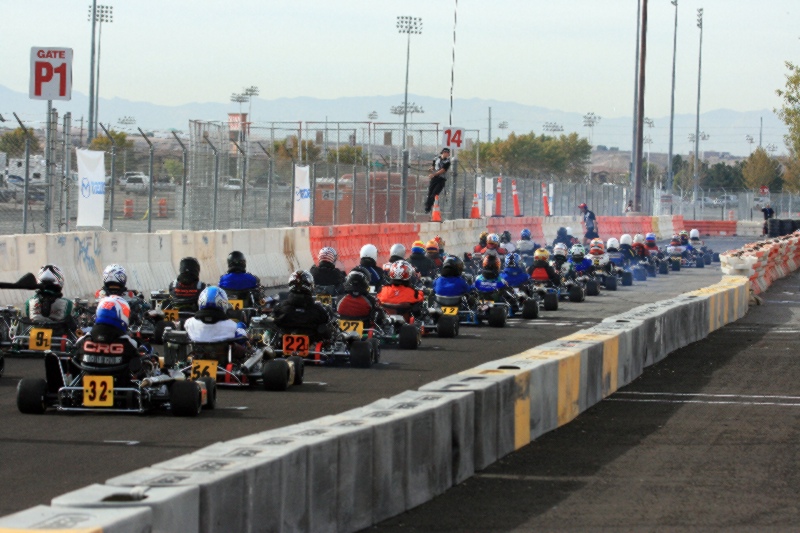 We did our homework. Let's see how we stack up against the best Stock Honda drivers in the nation
I know it has been more than a month since the Supernationals XI was completed. It took about 80 hours to edit the video tape from the Supernats, and then I got sidetrack into putting some stuff onto DVDs. More on that later. I know all the timesheets in the story maybe annoying, but that way I'll be able to reference on one single page other competitors when we see them at the WinterNats, ProKart Challenge, or SuperNats XII. Always good to know who you are competing against. For those of you that haven't seen the SuperNats preparation chapter, here is the link to the prep chapter. I didn't post the chapter for the general public to see prior to the Supernats, but those of you on cc.com got to see it first hand, along with our predictions, the day before we left for the Supernats. The prep story is Chapter 139, and it might be good to read that before you read the chapter below, as it adds some context.
Anyways, here's the story:
Sunday, November 11, 2007
2Wild leaves The OC driving the Pulp Trailer, with about 8 karts and a ton of extra parts, tools, etc. Wayne Kimball cruises into Sam Boyd Stadium that night, with everything intact. Last year they took two trailers to Vegas. This year they were able to stuff everything into my trailer.

Trailer is jam packed with Go-Fast kart stuff
Monday, November 12, 2007
2Wild is trying to get the tent people to hurry up and put our tent up, so they can start unpacking everything, putting up about 20 fluorescent lights fixtures, pulling the karts and tools out of the trailer, etc.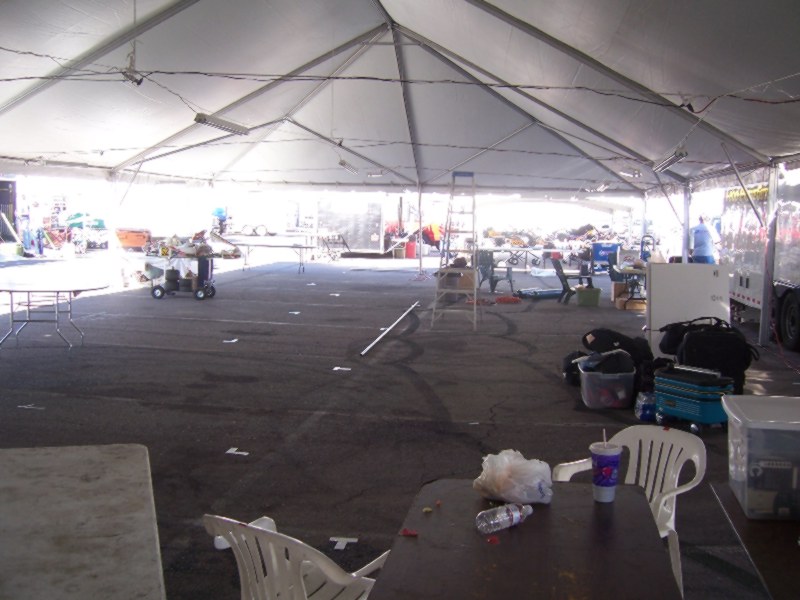 Under the Big Top
Tuesday, November 13, 2007
Jason Steaman and I fly into Vegas. Dealt with the 45 minute long wait for a cab. Man that sucks. I think next time I'll try going to the other side of the building and see if I can grab a limo for about the same price as a cab. Or even if it is $20 more, it is better than waiting 45 minutes in a dumb ass cab line, lugging your baggage around. We catch a cab with one of the Swedetech guys to Sam Boyd Stadium. Being the Cheating Bastard that I am, I immediately start quizzing him on Mike Drennan and Tom Dyer, both of who did well at the Kart Sport Grand Prix. Dyer won the Kart Sport Stock Moto class, and Drennan took 4th behind Connor De Phillippi and Bonnier Moulton. I figure that Dyer is gonna be up front in S3, and Drennan seems like he could be a threat in S4.
The tent guys are still assembling our tent, but at least we have shelter from the sun. Tent is looking cool, it is twice as big as last year's tent. We got about 10 karts running out of the 2Wild tent this weekend.
Wayne flies in a few hours later. He has Amy and the two kids coming down later with Amanda the nanny. Jeff and Sunni drive into town about the same time. We do a final check on the karts, apply the mandatory stickers, fill out the tech sheets, setup out pit area, and get ready for the chaos that will ensue over the next five days.
Later that night, we munch down on some pretty good steak sandwiches at the Hooter's Hotel steak restaurant. I have bad luck at the blackjack tables.......oh well, we'll try again tomorrow.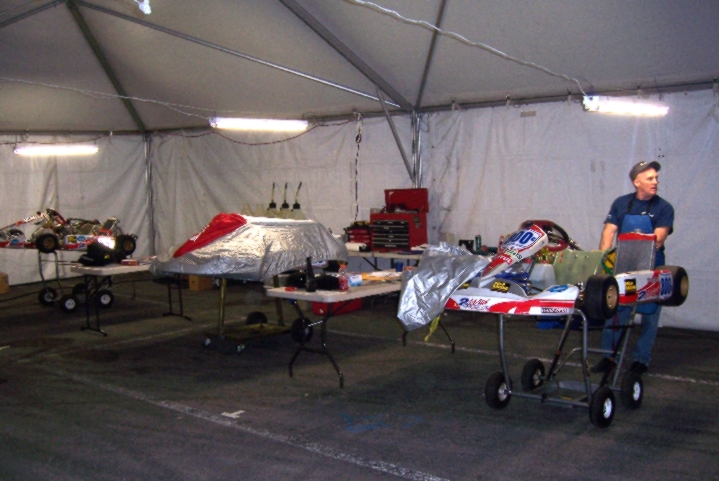 Home base for the Pulp Guys
Wednesday, November 14, 2007
Definitely the busiest day of the entire week, as we don't have our whole entourage of people helping us today, as most people are flying in later tonight. We have Jason Hettervik of 2WildKarting tuning for us, along with Jason Steaman. They are supporting our five karts (two for Jeff, two for me, one for Wayne). The practice schedule is busy, but not impossibly busy. A lot of people thought that Jeff and I would get burned out running two classes. It wasn't that bad, as we are in good physical condition for karting. Our schedule for the days is kinda like:
1. 7 minute practice for S4. When this is done, we have 20 minutes to go back to tent, grab a drink, and get back on the pre-grid
2. 7 minute practice for S3. When this is done, we have 70 minutes to get both karts ready for the next session
3. Repeat above procedure five times throughout the day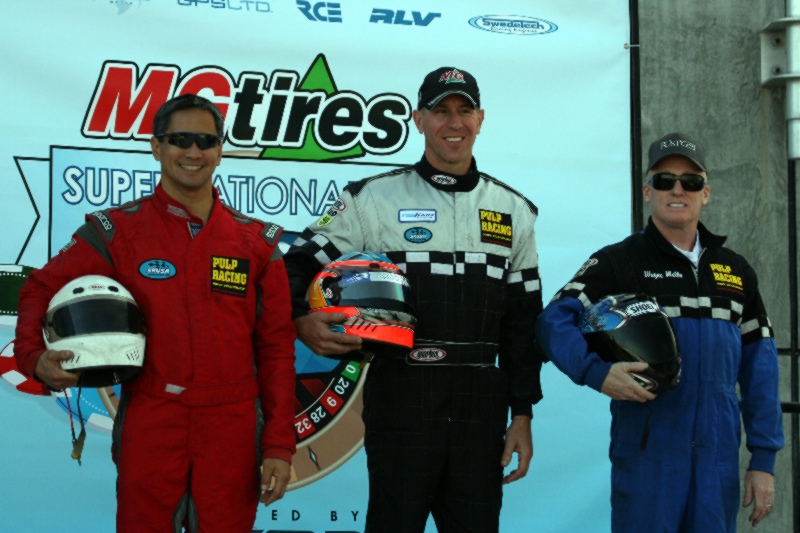 The Pulp guys go in search of victory and glory at Supernationals XI
To keep us organized, Jason Steaman starts taking notes about the setups of all our karts, so we don't rely on our bad memory as to what was changed from session to session. He also has a checklist to help us battle Raceaflais (The Greek God of Racing Chaos), and does a full nut and bolt check on both my karts before they hit the grid. If we can get through all the practice sessions and heat races without breaking or crashing, it will be a HUGE advantage. Practice sessions are short, so you must be ready to go and take full advantage of those 6-7 laps of practice you will get to help learn the track and determine your setup.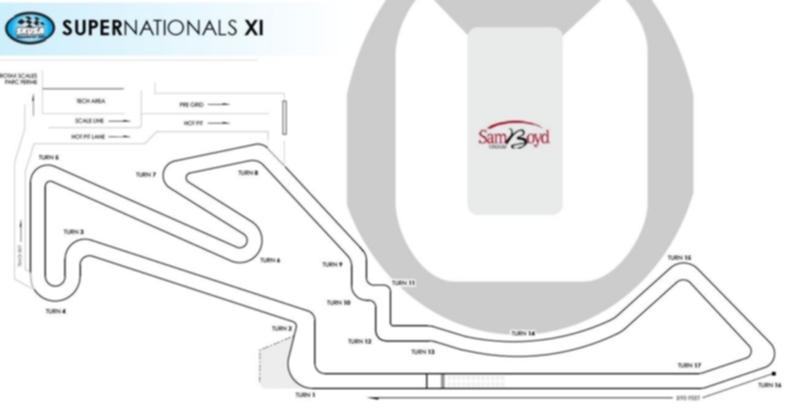 The track layout is awesome. We'll hit about 88 mph in a Stock Honda down the straightaway.
Jeff's wife is cooking for us, so all week long we are getting fresh pasta, sandwiches, chicken, rice, etc. It's like we have a gourmet chef in our tent!
Luckily, we avoided major collisions and crashes on this full day of practice. Jeff is on top of the practice time charts for sessions 3 and 4 in the S4 Stock Honda class (older than 35 years old or body weight greater than 200 lbs, must be 415 lbs total weight of kart and driver). Jeff sits out of session 5, feeling that he is dialed in. Heh. I take fastest time in practice session 5, beating Jeff's fastest time so far today by 7/100th, so I'm on top of the S4 time charts for practice day 1! In S3 (Stock Honda, no age limits, weight of kart and driver = 385 lbs), I surprise myself by running the 4th fastest time of the day against the young guns. Hummm.....is it superior skill, or was it because I had double the track time of most of the competitors? You know what I think it is......and I know what YOU think it must be.....
Dana and Johnny drive into town late tonight, so we'll have some additional help in our quest for SuperNats glory.
S4 Practice Session 5 - Wednesday
| | | | |
| --- | --- | --- | --- |
| Best Lap Tm | 57.075 | In Lap | 6 |
| Best Speed | 47.306 | by | Doug Hayashi |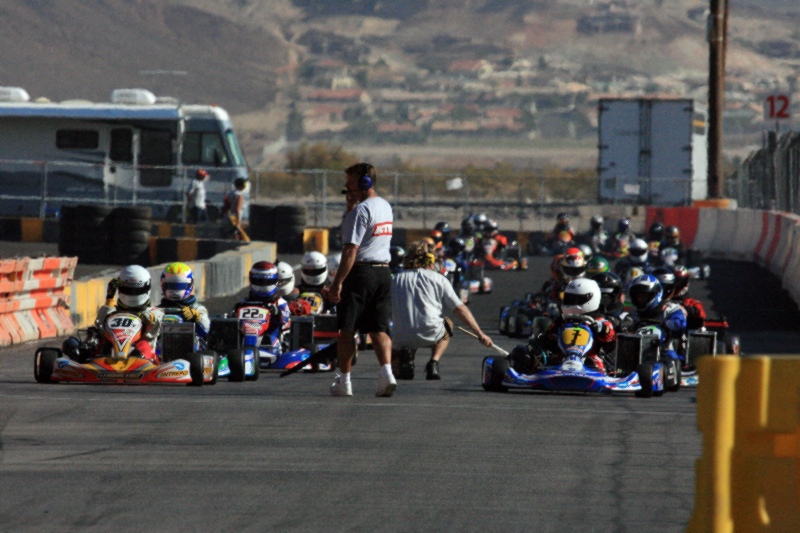 Bryan Eady and Jason Lee heading up the S3 heat races

S3 Practice 5 Wednesday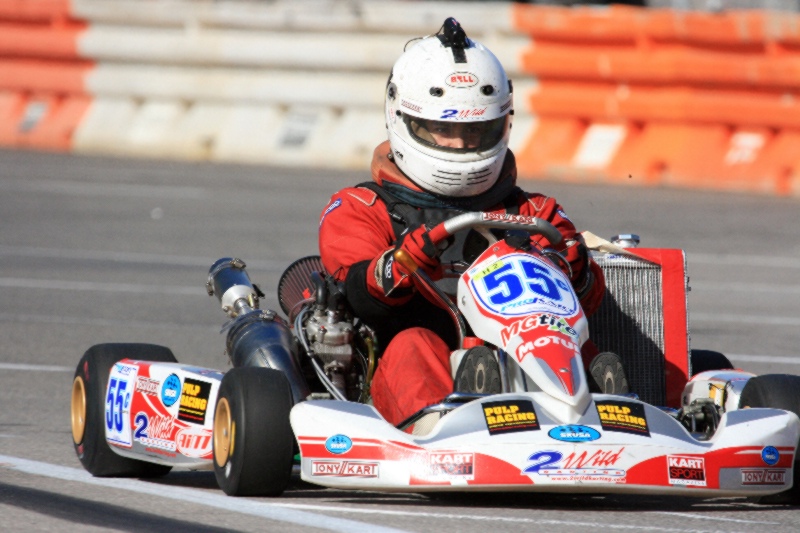 I think the red stickers look better than the glittery green stuff
Thursday, November 15
Final Practice session in the morning, and then we go to qualifying. I throw down some good laptimes in both sessions, ending up 3rd fastest in S4, and 3rd fastest in S3. Hey now, I think I might be able to podium in BOTH classes, if I can avoid the wrath of Raceaflais. Tonight, Jason Trumpio flies into town with some new camera gizmos. (most of the pictures on this page are from him).
S4 Final Practice - Thursday Morning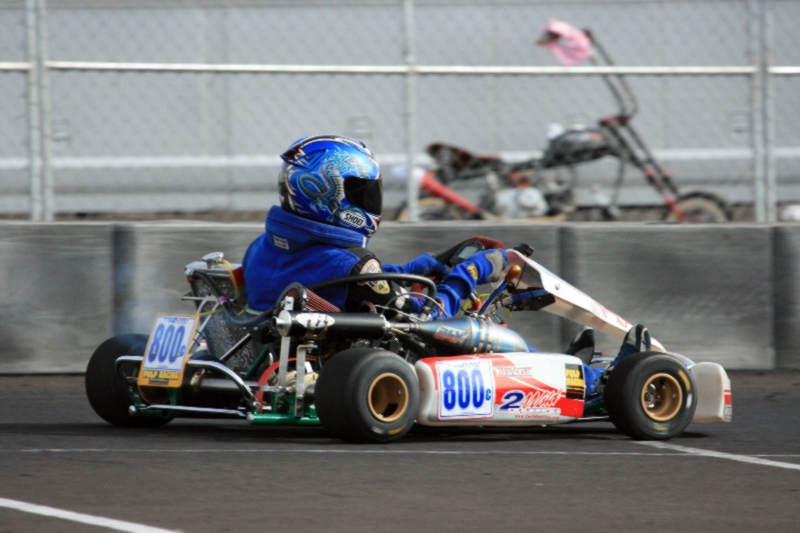 Wayne using same red decal set as me
S3 Final Practice - Thursday Morning
| | | | |
| --- | --- | --- | --- |
| Best Lap Tm | 55.921 | In Lap | 4 |
| Best Speed | 48.282 | by | Bryan Eady |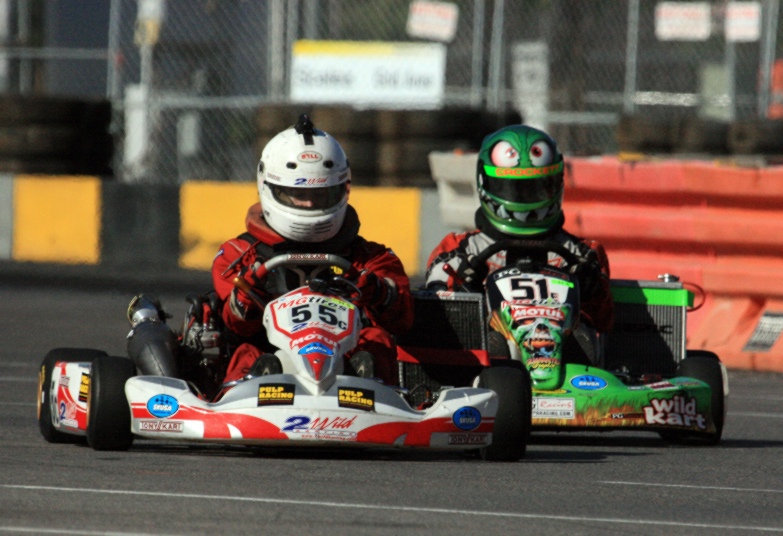 Ugliest helmet vs. Derek Crockett's coolest looking helmet
Thursday, November 15
Qualifying
I had this Cheating Bastard strategy of how to get a good laptime. I was figuring that since we mount new tires for qualifying, and usually the 2nd or 3rd lap on new tires is when you can throw down the best laptime, I wanted to use both of our allocated two sets of new race tires in qualifying. I figured I would go out on new set #1, throw down a good lap, then come back into the hot pit area, have the pit crew do a Formula One style tire change, put on the second set of race tires, and take another wack at getting a good time within a couple of laps. I couldn't get any knowledgeable person to agree with me. I insisted to Alex Barron a month ago that this would be the best way, but he disagreed. I tried to convince Jason Hettervik to let me do this, but he also insisted that ain't the best way, that I should save my 2nd set of tires for the main event, when everyone will be running on new tires. Jason also said it would be best to just do a set of hot laps, then come into the pit area, check tire pressure, see what the other competitors are running for laptime via this goofy I-Card/Gameboy wireless gizmo, and then go out again. In the end, I agree with Jason, as so far every piece of advice he gave us seem to be working.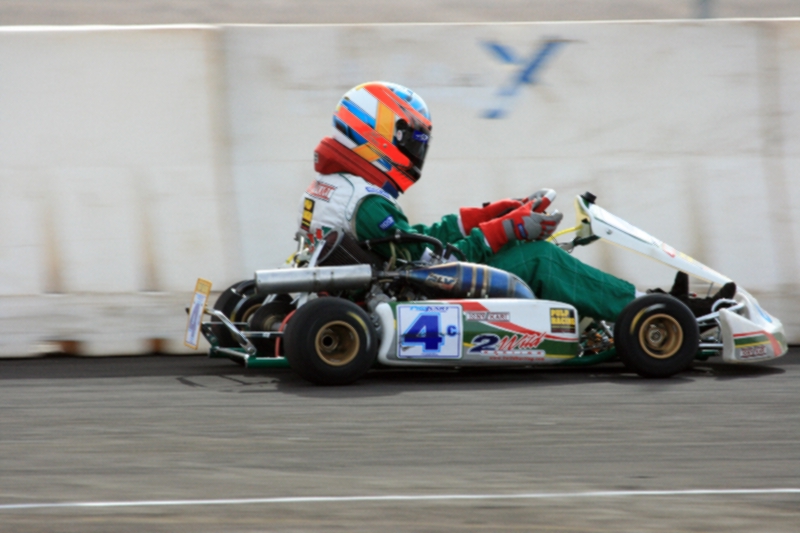 Jeff looking fast in S4
Qualifying S4
So we grab our spots in the hot pit area for qualifying. We got Johnny checking the Gameboy gizmo for updates on how we are doing. I go out on the track, run a couple of what I think are fast laps, and then into the hot pit to see how I did and to check tire pressures. Johnny says that I'm 15th on the grid so far. What? How can that be? I've been top 3 in practice the past two days. Am I running with a lot of Cheating Bastards that were sandbagging? I go out again and run some fast laps, and comeback, and they said I'm way behind again. Damn. I go out for one more session, do some laps, and then park it. I end up qualifying 3rd. It appears that the I-Card Gameboy gizmo wasn't really doing realtime updates, so I was getting all panicked for no reason, and probably put on 6 more hot laps on those tires than I should have. So much for using Cheating Bastard Technology. Jeff takes pole, Fernando takes 2nd, and I am gridded P3. I'm pretty happy with that P3 spot, as I don't think I'll get involved in any first turn melees.

Qualifying - S4
| | | | |
| --- | --- | --- | --- |
| Best Speed | 48.464 | by | Jeff Littrell |
Qualifying S3
So I go out, blast some laps, come back in, check tires pressure, go back out, blast some laps. I'm thinking maybe I should come into the hot pit one more time, check tire pressure, and take a 3rd shot at improving my time. I decide to do one more hot lap before coming in, and on that lap, I bonehead and hit the plastic barrier with my left front tire. Which is like hitting a brick wall at speed. It spins me around, throws the rear axle into the wall, and shoots me across the track. MORON! Rear axle is bent at a 45 degree angle, my qualifying session is done for the day. Damn. I was just getting warmed up. I was hoping to go through the entire event without replacing an axle, so much for that. So my qualifying time is cut short. I knew I shoulda done that Formula One style tire change! Jeff also has a problem, and crashes into the wall. We both end up getting 8 laps of qualifying, but if we had another 4 laps, we might have been able to improve our grid positions. I end up taking 9th, which isn't too bad. Jeff takes 15th, which is bad, as he is in the danger zone where there are a lot of crashes. Wayne has a bad qualifying session, and is 23rd, so he's really going to have to deal with a lot of traffic and crashing. Instead of leaving the track early today, we gotta spend time fixing axles, steering columns, tie rods, etc. Sucks. We are at the track until 7:30 p.m, which is about 3 hours later than we planned on leaving. Wayne rags on us for crashing, as he hasn't hit anything. Yet.
Qualifying Results S3
| | | | |
| --- | --- | --- | --- |
| Best Speed | 49.435 | by | Bryan Eady |
Friday Morning, November 16, 2007
S4 Heat Race 1
So now we begin the first of 3 heat races. You start each heat race according to how you qualified on Thursday. After all three heats races are over, then your finishing places (points) for the heat races are added together, and that determines how you grid for the 25 lap main race. It is key to make sure you have three good finishes in the heat races, as one mistake can put you back in row 6 for the main if you DNF. All I want to do is finish in the top 4, so I have a good shot at being on row 2 or better for the main event. Lights go on out on the starter tree, and we go flying into turn 1. Jeff, Fernando, and Mike Drennan are racing pretty close, I hang back a few kart lengths observing the action. Jeff wins the race, with Drennan, Fernando, and me 3+seconds behind him. Behind us, Matt Alcorn heads up the next group, 10 seconds behind Jeff.
S4 Heat Race #1 Results
| | | | |
| --- | --- | --- | --- |
| Best Lap Tm | 55.726 | In Lap | 6 |
| Best Speed | 48.451 | by | Jeff Littrell |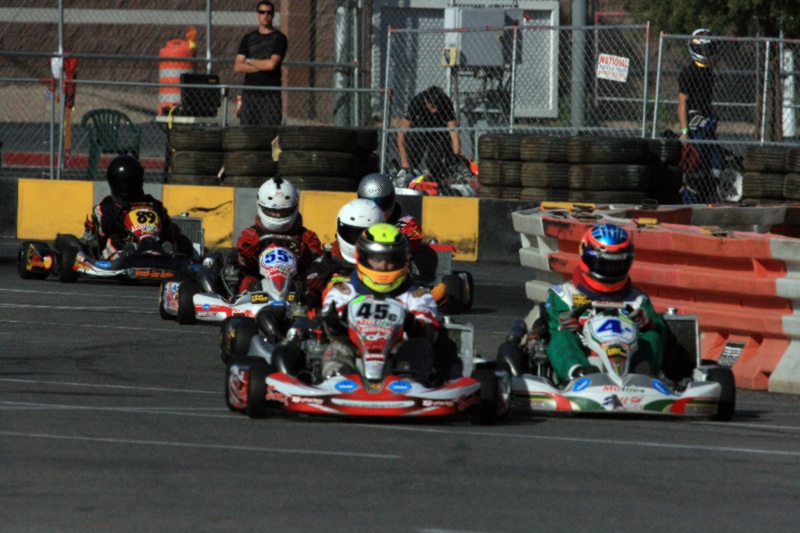 Fernando and Jeff duking it out
S3 Heat Race #1
If S4 was a snoozer, this S3 race was like a crazy shoot out at the OK Corral with meth addicts twitching left and right with Uzi machine guns. The average age for this group of drivers is 25, and about half the drivers are 20 years old or younger. Wayne and I are the oldest guys in the class at 48 year old, and Jeff is 44. These other S3 drivers didn't seem to be too concerned about how they are going to be gridded for the main, as they drove like it was do-or-die to be on the podium for this heat race. There was a lot of contact and crashes right from the start. From my P9 position, I stayed clean, watched other people break or crash into each other, and holy shit, due to attrition, I end up 4th in Heat Race 1. Hey now! Maybe I can start the S3 main from row 2, that would be cool. Jason Lee wins the Heat Race 1, which is very impressive, as he is in a RENTAL KART from Aluminos. Lee is from New Zealand, and came down with a team of 6 NZ drivers that wanted to duke it out with America's best Stock Honda drivers. Lee and Bryan Eady are kicking my ass by a good 1.2 seconds a lap. I got nothing for those two guys. Littrell gets rear ended and crashed out on lap 6. That's gonna hurt his grid position for the main Wayne moves up to 14th for this race, barely avoiding contact with everyone else that was crashing and burning.
S3 Heat Race 1 Results
| | | | |
| --- | --- | --- | --- |
| Best Lap Tm | 54.051 | In Lap | 10 |
| Best Speed | 49.953 | by | Jason Lee |
Saturday morning, November 17, 2007
S4 Heat Race 2
Jeff spanks everyone again. The big news is that Mark Drennan has a mechanical failure during the race, which sucks for him, as that will throw him back on the grid for the main race. Which is good for me, as it appears that Drennan seems to have found more speed than me, opening up a possible podium spot for yours truly.

S4 Heat Race 2 Results
| | | | |
| --- | --- | --- | --- |
| Best Lap Tm | 55.573 | In Lap | 4 |
| Best Speed | 48.585 | by | Jeff Littrell |


S3 Heat Race 2:
Ex-Superpro driver Tom Dyer steps up and takes down Lee and Eady this race, securing the win. Dyer had some type of incident last race that screwed him up, but he makes a comeback in this race. There is more crashing and banging in this race. Jeff said it is almost impossible for him to make it up to the front part of the grid from his 15th spot in qualifying, as there is all kinds of chaos back there. I end up 8th, staying clean again. Jeff struggles to 17th due to all the mayhem. Wayne takes 21st, and he ain't happy about it.

S3 Heat Race 2 Results
| | | | |
| --- | --- | --- | --- |
| Best Lap Tm | 53.909 | In Lap | 5 |
| Best Speed | 50.084 | by | Jason Lee |

S4 Heat Race 3:
Drennan and Jeff are duking it out for first place. I'm in 4th, behind Fernando, when Fernando breaks and DNFs. Bummer for Fernando, that's gonna really hurt his grid positioning for the main. On the other hand, his DNF moves me up on the grid. I'm laughing and screaming in my helmet, "I'M IN P2 FOR THE MAIN. I'M ON THE FRONT ROW FOR THE MAIN! HA HA HA HA!". Paul Russell gets by me. I slow down a bit, as all I have to do is finish this race in 4th place and not crash into a barrier, and I'LL BE ON THE FRONT ROW FOR THE MAIN. It will be the first time all year that I've started a main race on row 1, and I'm doing it at our biggest race of the year. So we got Pulp Racing Team holding down row 1 for the main. Can anyone stop us for a 1-2 finish?
S4 Heat Race 3 Results
| | | | |
| --- | --- | --- | --- |
| Best Speed | 53.985 | by | Mark Drennan |
S3 Heat Race 3:
I had Jeff's wife Sunni do the calculations for the gridding of the S3 main event through the first two races, prior to the start of Heat Race 3. I'm in P4, sitting in row 2 for the main so far! All I have to do is finish around 8th or 9th, and make sure that Derek Crockett doesn't beat me by more than 2 spots, and that Bobby Legate and Clinton Schoombee don't beat me by more than 4 spots, and I think I can secure my position in row 2. Muuhhhhaaaaa! I can't make it to row 2 on the grid at the ProKart Challenge S3 main races, but I might be able to do it at the SuperNationals. In looking at the results from the first two S3 races, I'm not sure I can hold the P4 position in the main race, as there are some really fast drivers behind me that got some good speed, but those guys are going to have to find away around me without crashing, and they'll have to hold on for 25 laps. I figure I'm in good enough shape that I'm not worried about getting tired. Between the two classes, so far I have 14 practice sessions and 5 heat races without anything breaking or crashing, which is a world record for me. Usually something falls off my kart, breaks, or blows up every other session. All I need is one more good heat race......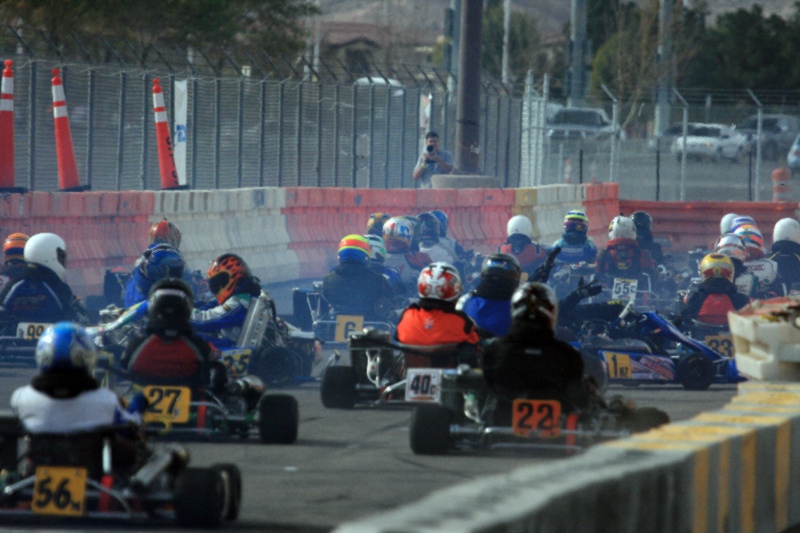 S3 Heat Race #3 - Someone stalls a couple of karts in front of Wayne on the start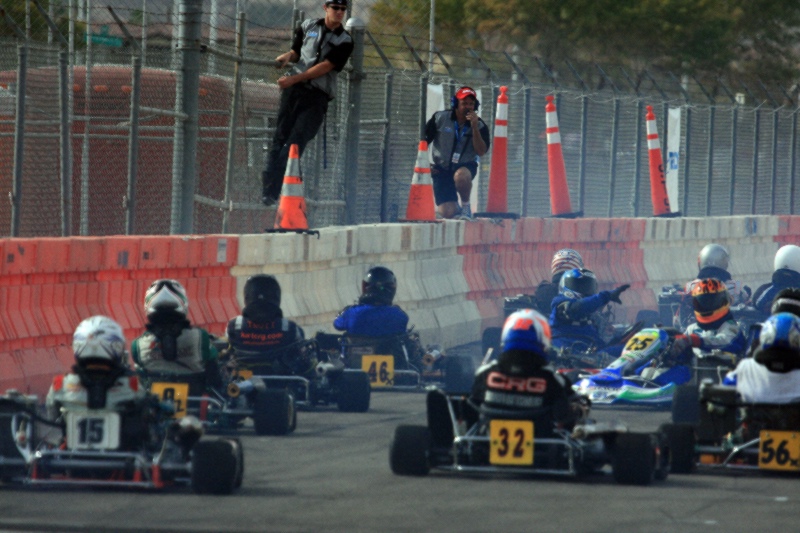 Wayne throws out hand, "Don't hit meeeeeeeeeeeee"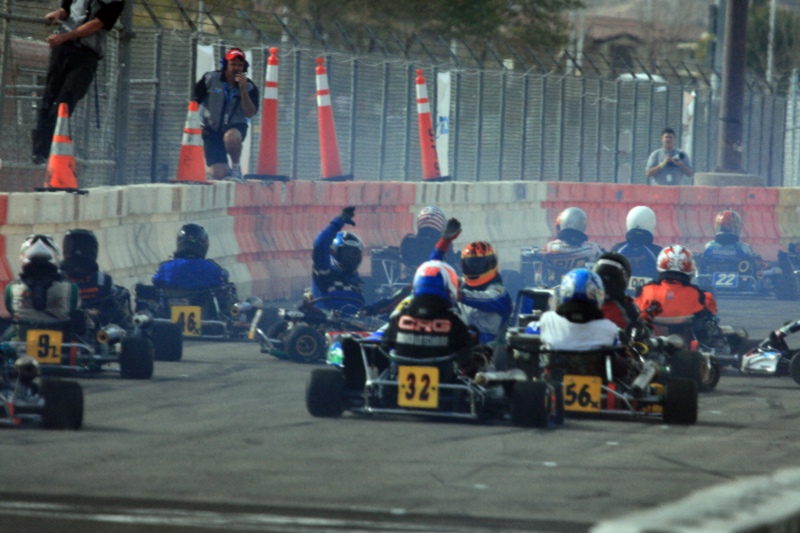 After being hit, another driver waves hand, "Don't hit meeeeeeee"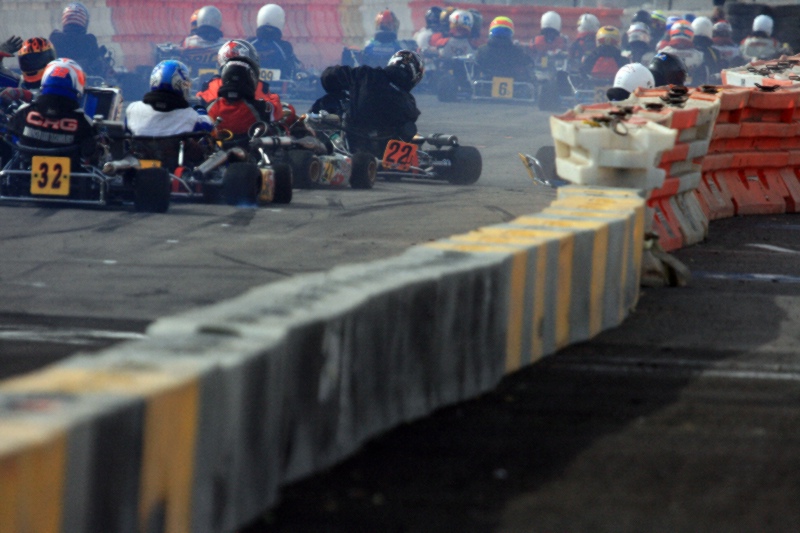 Barrier is crashed into, people spun around, track is blocked for some drivers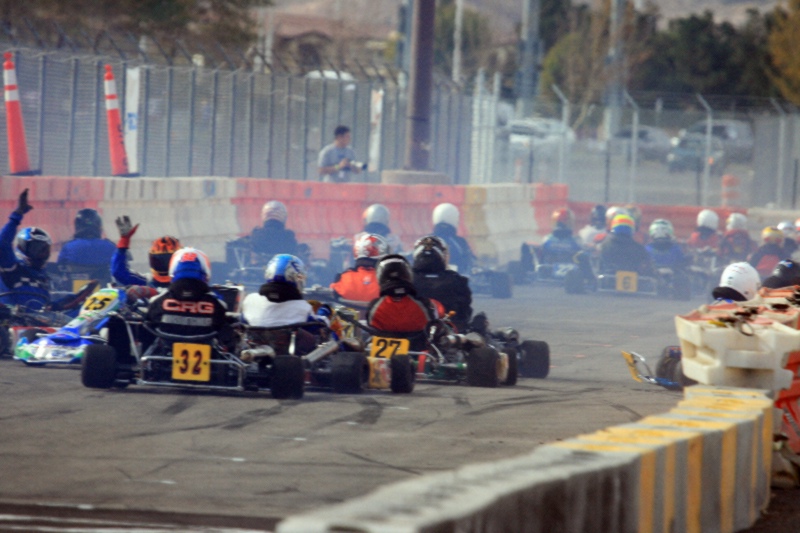 Wayne still has hands up, "Track is blocked, don't hit meeeeeee"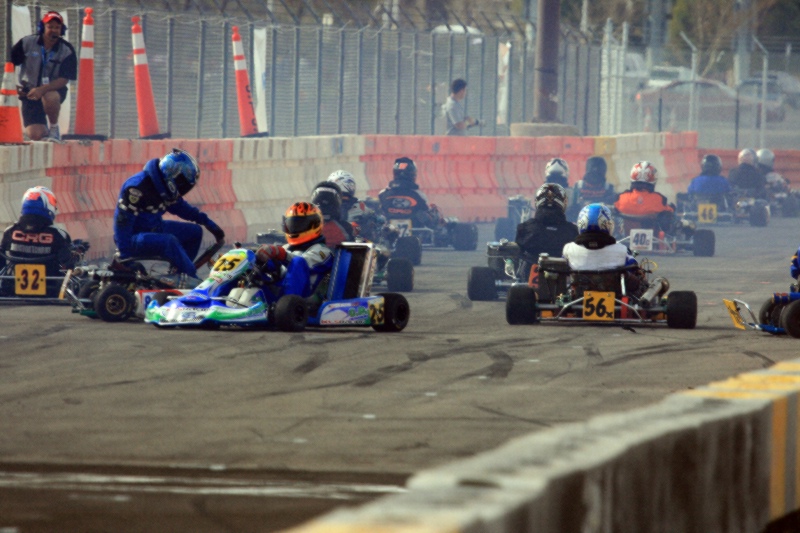 After being hit multiple times in the front/back/side, Wayne gets out of kart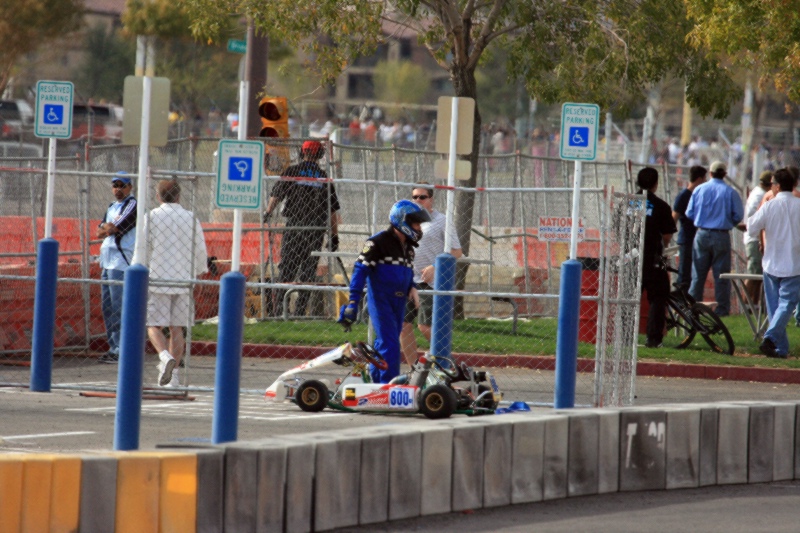 Wayne walks disgusted away from thrashed kart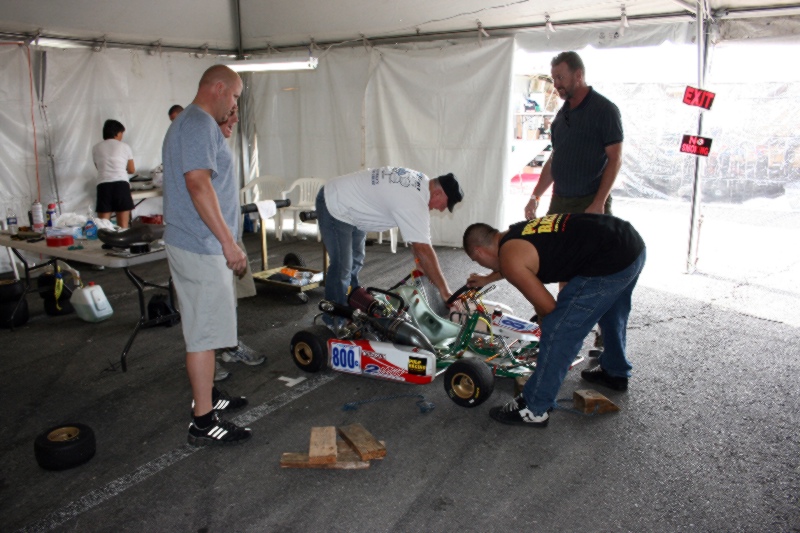 Hummmmm...frame is bent, right side lower than left side. Not good.
Lights go out, and we are off. Somewhere around lap 4, coming down the main straight, I'm sort of at the front of the second pack of drivers, and I get punted from behind. Arrrgh! I spin around and head in reverse towards the barrier, kart stalls before I hit the barrier. Bastards! By the time I get the kart restarted, I'm in last place. Shit. There goes my row 2 position in the main. Jason Lee, who was kicking ass in Heat 1 and 2, is at the back of the pack with me. He had a flat tire, DNF for him. Oh that sucks......He was gonna in row 1 for the main. With Jason having a bad finish, I coulda moved up to P3 for the main, since he was going to be P1. Instead, we both drop back about four or five rows for the main, and other people rub there hands in glee, as they are gonna move up a row due to our bad luck.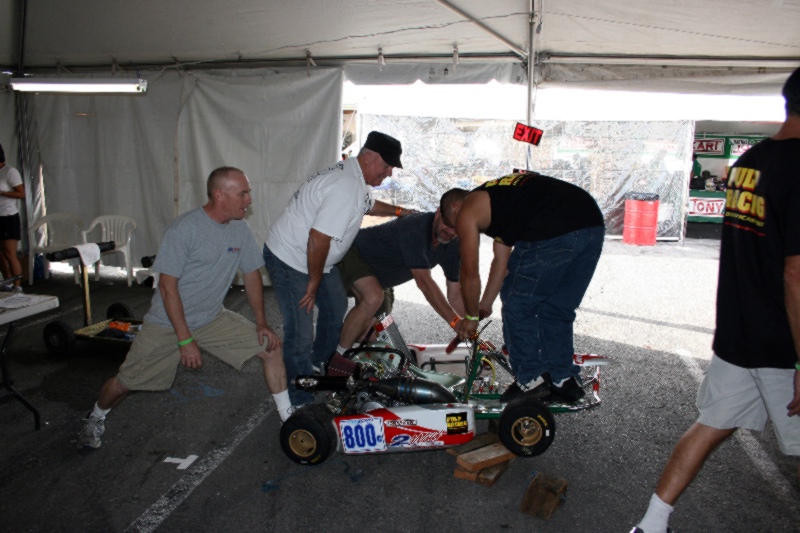 Jason Hettervik preparing for a perfect 10 point launch
Wayne had even worse luck. He's in the middle of the grid. A guy a couple karts in front of him stalls on the start, causing an accordian-style crash from people who can't avoid the stalled kart. Wayne's in the middle of the kart, he gets hit from behind and spun and hit again multiple times. Looks like his brand new kart frame is bent. He's totally bummed. Jason Hettervik looks at the frame, and with the help of Tony Morrison and Jim Miller (between them totaling a quarter ton of "muscle"), they prop it up on our trusty block of wood that we use to re-bend kart frames, and Jason puts his 200+ pounds of muscle onto the kart frame to jump the frame back to normal. Jason has done this to our other karts with remarkable success. This time is no diffferent, he's at least got it so the laser alignment gauges show that it appears to be aligned. So at least Wayne can participate in the main race tomorrow. (Factoid: Jim Miller is probably the only ProKart racer that is eligible to collect Social Security. That means I got at least 14 more years of karting left in me, if I don't go broke before that.....)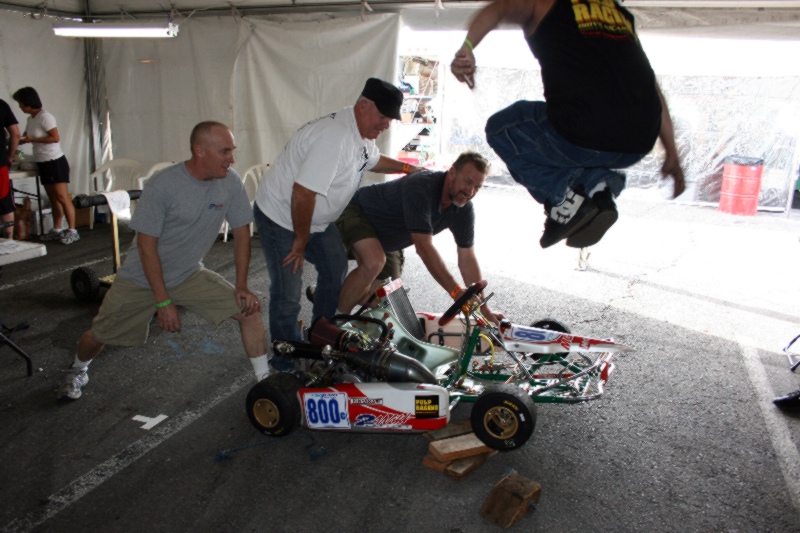 Hiiiiiiiiiyaaaaahhhhhhhhh!
I get back to the pit area, and I plug in the memory card from the Loser Cam into my laptop to see who punted me (I'm sure it was just a normal racing incident, nothing malicious)......and the camera didn't work that session. Arrrgh! I check the forward facing view camera, thinking maybe as I spun around, I'll see who was close to me. Damn....the forward facing view helmet camera didn't work either! I'll never know who punted me. Rat bastards!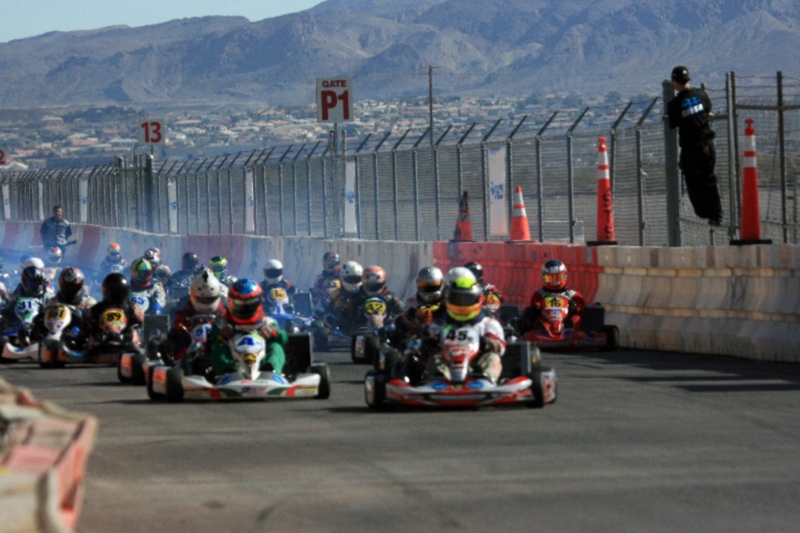 Fernando getting the jump on Jeff
Since I had one bad finish, and Legate had one bad finish, Clinton Schoombee becomes the highest ranking PKC S3 driver on the grid for the main. With his steady finishes of 8th, 9th, and 5th, Clinton's looking pretty good sitting in P3 for the main. Can he hold on for 25 laps to make it to the podium in his first Supernats event?
Dyer wins the Heat 3 race. Zanella, Legate, and Eady go three wide towards the checkered flag, separated by 1/100th of a second for one of the more exciting finishes of the week.
S3 Heat Race 3 Results
| | | | |
| --- | --- | --- | --- |
| Best Speed | 55.338 | by | Jose Zanella |

Jeff in front of Fernando and Drennan
Sunday morning, Super Sunday, November 18, 2007
S4 Main Final Race
There is excitement in the air. Rob Howden is announcing over the loudspeakers, making the races even more exciting for the fans. In the S4 main, we have an All Pulp front row. Fernando is gridded 10th, Drennan is 6th. I figure those guys will have a chance to make a run at me for second. Right now, it seems like none of us are going to catch Jeff unless he breaks or clips a barrier.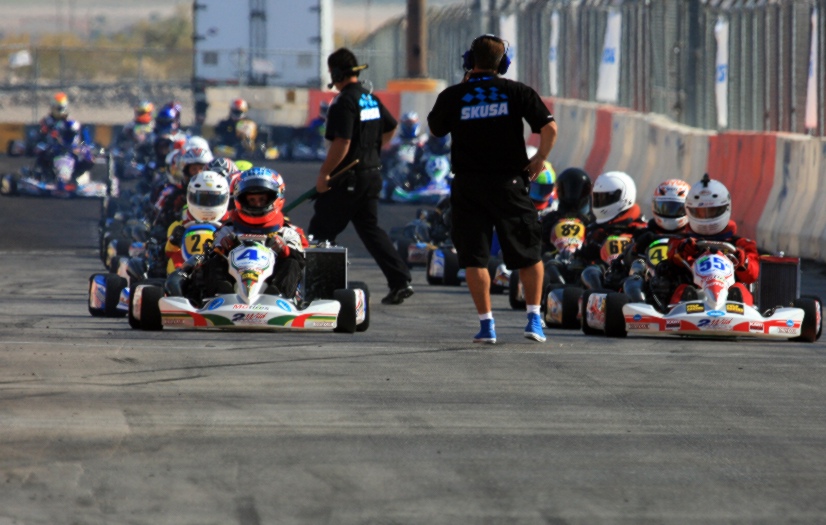 The plan is working! An all Pulp Racing front row for the S4 Main at Supernats XI!
Lights go out, and it's me following Jeff into turn 1. Looking good. After a few laps, Drennan blows by me. Damn! Looks like I need to stay as close as possible to him. And then a few laps later.....Drennan breaks again. Bummer! Hey now, I'm in second place. Looking good.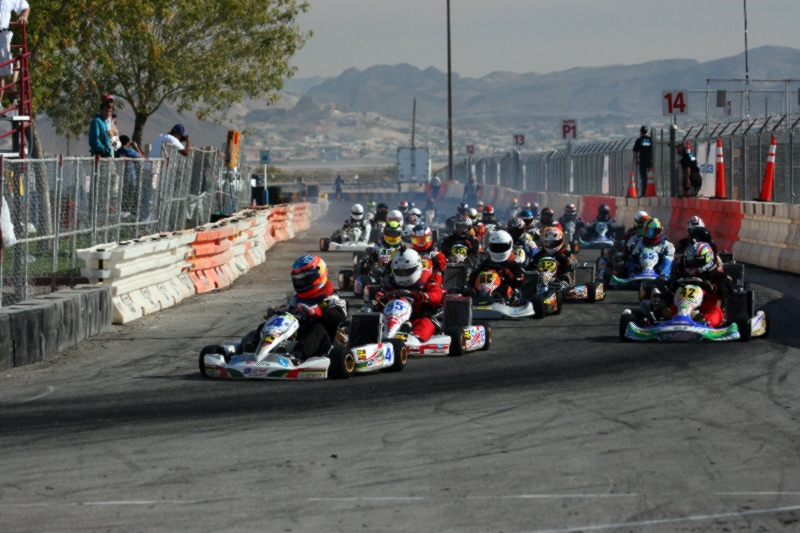 Jeff and I lead the pack into Turn 1
The laps march on.....10 laps...15 laps....20 laps. Around lap 22, Jason Hettervik is on the sidelines, up on the fence, motioning me to get my ass in gear. That must mean....Fernando is making his move from P10. I try to pick up the pace. Coming into turn 1 to begin the last lap of the race, Fernando makes a good move and gets me on the inside. Damn! I held him off for 24 laps, but I needed one more. I try to chase him down, but can't do it.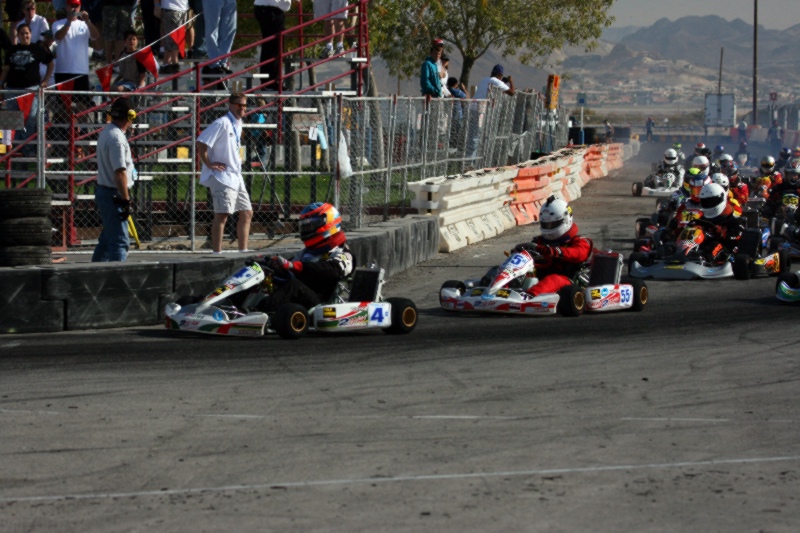 Can they hold on for 25 laps to attain Supernats glory?
Fernando takes 2nd, I take 3rd, Paul Russell 4th, and Matt Alcorn 5th. Jeff spanks the field by 14 seconds. The forward facing helmet camera didn't work, looks like a problem with the battery holder. I replaced the damn power wires, but I didn't replace the actual battery holder.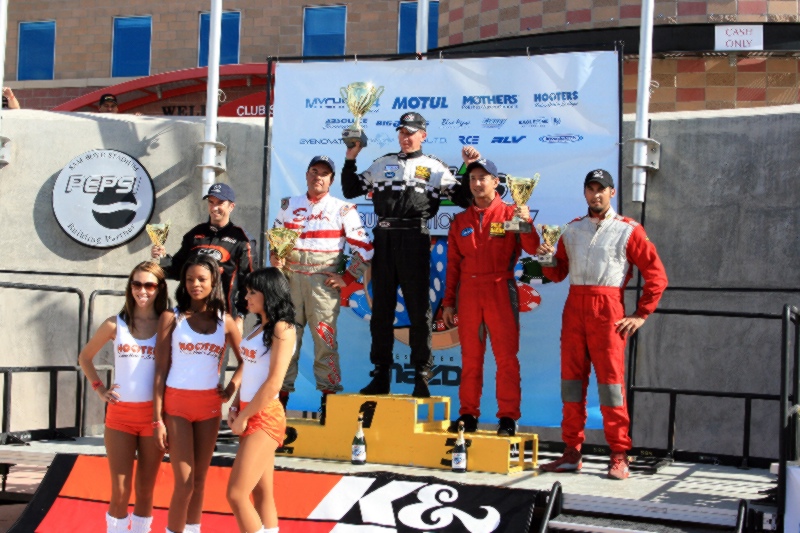 Littrell-Hayashi-Diaz-Paul Russell-Matt Alcorn take the S4 Podium
The Loser Cam only worked for part of the race, as it ran out of memory. I have to start the Loser Cam in record mode long before I get into the kart, as it is somewhat difficult to start the recording process. (Turn Camera on. Put camera in Record Mode. Turn off LCD screen on camera. Lock all buttons on camera. Stuff camera, battery holder, and wires into plastic holder bolted to seat. Then tie wrap all the stuff so it doesn't fall out. Total time takes about 2 minutes, so I need to have everything recording way before they put us on the grid, and we were on the grid for a long time due to the podium presentations in the previous race. So I didn't get Fernando's pass for second place on video....bummer for him.)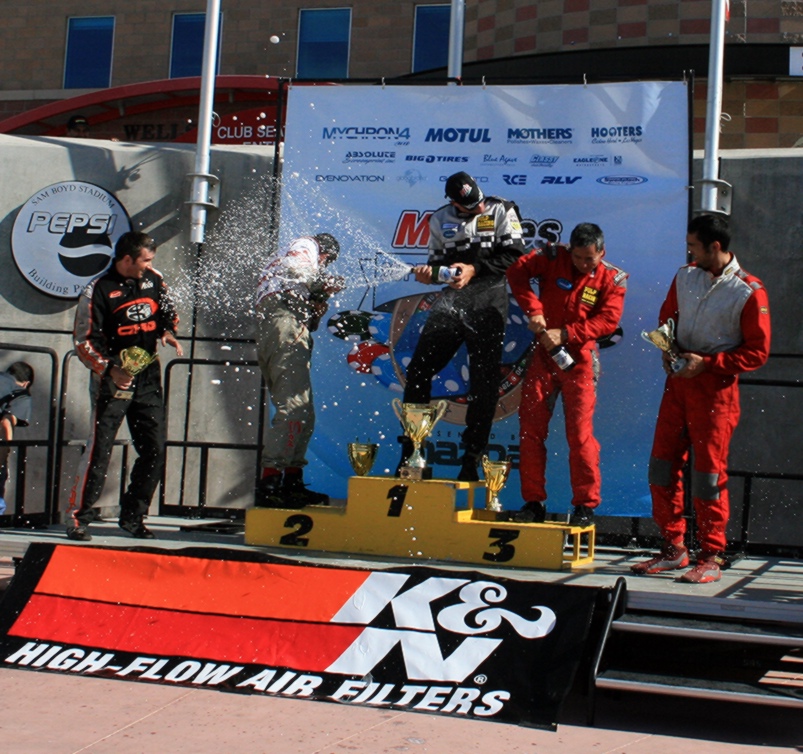 The Cheating Bastard plan work! We attain glory on the S4 Podium
S4 Main Race Final Results
John Motley, the tech inspector for the Supernats, does a full inspection of the motors. Since these are stock Honda motors, you aren't supposed to modify anything, which means that they have to tear down the ENTIRE motor. All five of the podium guys pass inspection, and we get a box of loose parts back. Looks like 50+ pieces, as the case is split, all the transmissions gears are checked, water pump, head, cylinder, reed cages, etc. That'll cost about $300 for Darcy to piece the motor back together.
After getting all the champagne out of my face and hair, I start getting ready for the S3 Main race. I switch racing suits, drink 50 ounces of Snapple and water, reset all the cameras, and am ready for one more race. Right before this race starts, Tom Kutscher announces to the drivers that the winner of this race will get a free ride to be one of four members of the Team SKUSA/MG Tires race team in the Granja 500 Kart race in Brazil. They'll race against guys like Rubens Barrichello, Felippe Massa, and other big name stars in a 12 hour endurance kart race.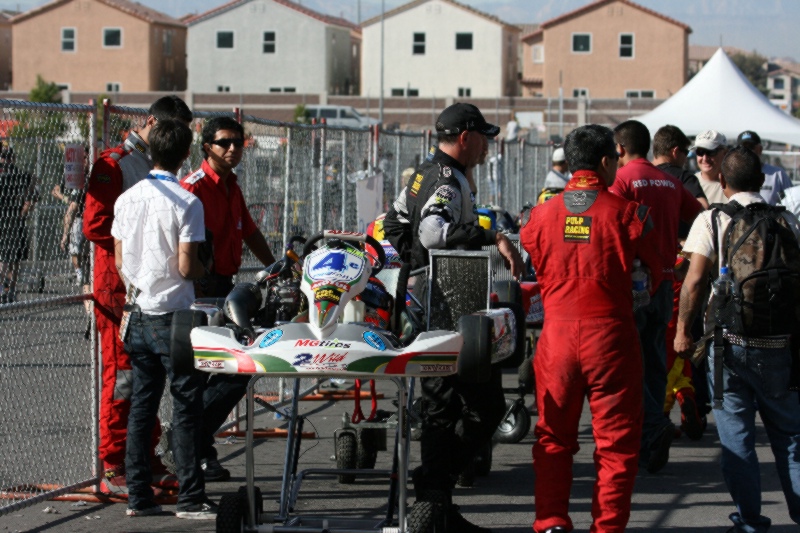 Jeff's kart sitting on pole
Jason Lee is gridded in front of me, and before the race starts, he comes up to me and says that his starts haven't been that great, due to his unfamiliarity with the kart. I tell him that my starts use to really suck, but I've finally got the "feel for it", and have been having pretty good starts so far, so I give him a couple of tips that might help him. Hell, I might was well help him, as even if I blow by him on the start, with the speed he's got he'll get by me within a lap, no use holding him up in his chance to become the S3 Supernats champion. And perhaps maybe I can tuck in behind him and move up a few spots.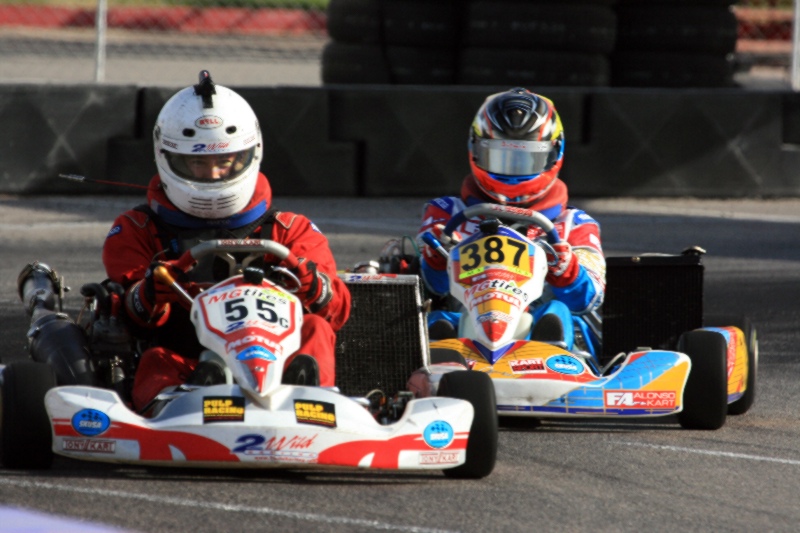 Jose Zanella ready to dive in on me
The lights go out, I get a real good start, and I get by about 3 people going into Turn 1. Looking good, I'm now about 7th or so in the main! Nice. I slot in behind Bobby Legate, and then just try to see what happens. I hold the position for about seven laps until Jose Zanella (16 year old Rotax Champ) storms by me. The next lap, Jason Lee blows by me. I catch up to Clinton, and we duke it out for a while, until 14 year old Cam Egger gets by us. Near the end of the race, I have Steve Reasoner on my bumper, and we are both able to get by Curtis Cooksey. Littrell is blasting from the back of the pack, and finishes behind Reasoner. Jeff was hoping to get on the Loser Cam and blow by me before the end of the race, but he falls a couple of laps short. I was 0-10 in the main races against Jeff in the ProKart Challenge series, 0-11 after the S4 main, but it looks like I've broken the streak. I'm 1-11 now in the main races this year, and I'll go into the New Year with a winning streak of 1 race. Ha ha. I end up taking 7th, Jeff takes 9th. Wayne crashes and ends up 23rd.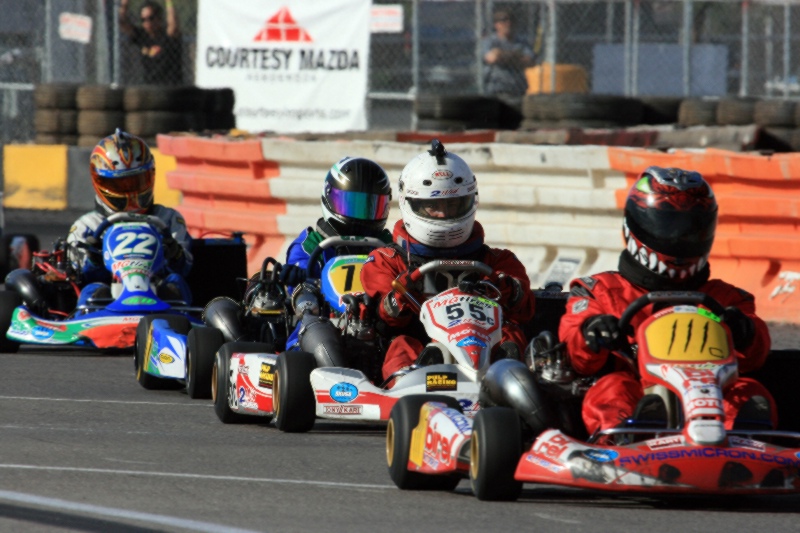 Clinton, me, Jason Lee, Matt Kisler in a train
Dyer and Eady battle it out for first place, with Dyer taking the win. Legate takes 3rd. Looks like my boasting of the PKC S3 Light class being the fastest around doesn't come true at the Supernats, since Dyer and Eady (NorCal guys) got the best of all us PKC guys. (But then again, Conner De Phillipi and Bonner Moulton didn't run in this class at the Supernats, which would have made for a really exciting race among the front runners). Jason Lee was moving his way from 12th to see if he could catch Dyer and Eady, made it up to third by lap 19, and then he GOT ANOTHER FLAT TIRE. Now that is some bad Raceflais racing luck there. He gets fast lap of the race before DNFing.
S3 Main Race Final Results
| | | | |
| --- | --- | --- | --- |
| Best Lap Tm | 53.353 | In Lap | 15 |
| Best Speed | 56.004 | by | Jason Lee |
In the other shifter classes, Marco Ardigo, the reigning world champ and Tony Kart Factory Driver, wins the SuperPro class. Gary Carlton, the number 1 shifter driver in the USA, takes second place. Nick Halen, who was spanking our ass last year and the early part of this year in PKC Stock Honda, takes 6th in SuperPro, just barely missing the podium against the best drivers in the world. Connor De Phillippi moves up to S1(ICC/Built moto class), and wins his 4th Supernats title at the age of 15. I'd say Connor is ready to take a shot a SuperPro next year, which will be exciting to watch. Bonnier Moulton, another PKC S3 regular, was running in 2nd place in the G1 Main (ICC/Built Moto/over 35 years old) class, before crashing out. Bummer, we were rooting for him. Darren Elliot wins G1 again for the second year in a row. Brendan Phinny wins the S5 (Junior) Stock Honda class. As for the TaG classes, uhhh....I can't figure out the differences or explain the engine combos/weight thingy, so I'll let someone else report on those classes.....We here at Pulp Racing recognize only Stock Honda as the main event, everything else to us is a "supporting class". <grin>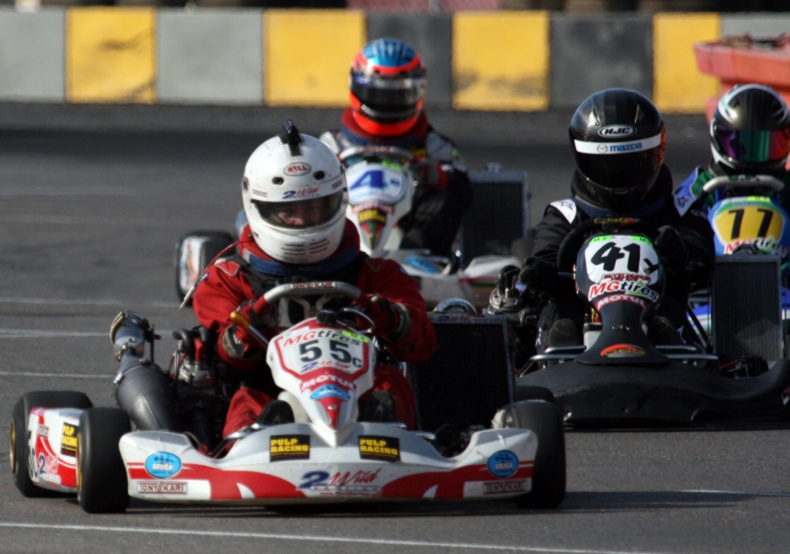 Me in front, Jeff trying to move up in the S3 Main race.
November 19, 2007
Jason Steaman and I fly home. After five consecutive days of karting, I'm getting withdrawal shakes as we get on the airplane, as I haven't been on the karting track in the past 24 hours for the first time in almost a week. I ended up being a loser at blackjack, down $500 for the week. I didn't think that was possible...oh well....next year I'll get my money back.
November 27, 2007
Jeff says he isn't going to run S4 next year at the Supernats, since he has won twice in a row. The top spot is open for 2008! Fernando says he probably isn't going to run S4 next year either. If they aren't running S4, I guess that means I ain't running S4 either, so the top three spots will be open for the taking at Supernats XII. Start practicing now!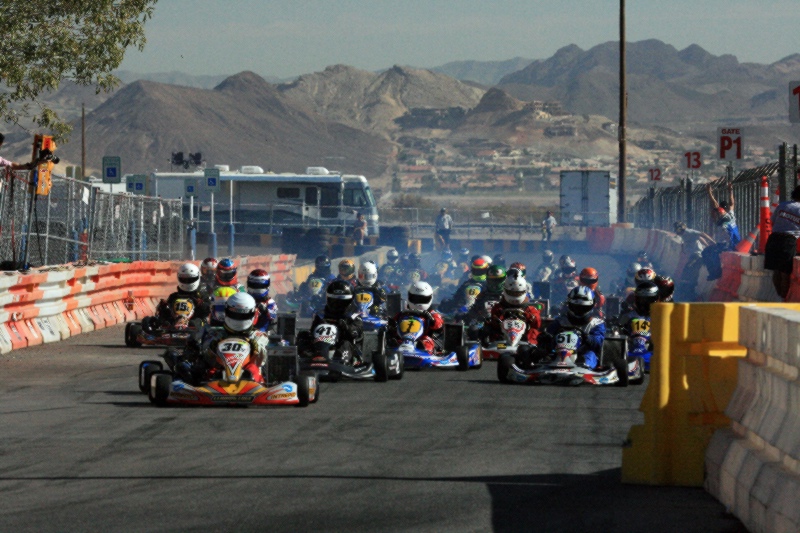 Storming into Turn 1
November 30, 2007
Team SKUSA/MG Tires races at the Granja 500 in Brazil. The team consists of SuperPros Alex Speed and Fritz Leesman, S1 Supernats winner Connor De Phillippi, and S3 Supernats second place driver Brian Eady. There are 71 teams entered, including some big names like Barichello, Massa, Fittipaldi, etc. After a few hours, Team SKUSA/MG is running in 2nd place, throwing down some fast laptimes against their competitors. Unfortunately, Raceaflais intervenes, Leesman gets pushed to the curb, and gets T-boned, damaging the kart. Bummer.....but at least they made their presence known in a big way that team SKUSA will be coming back next year with a chance win this race. More on ekartingnews.com.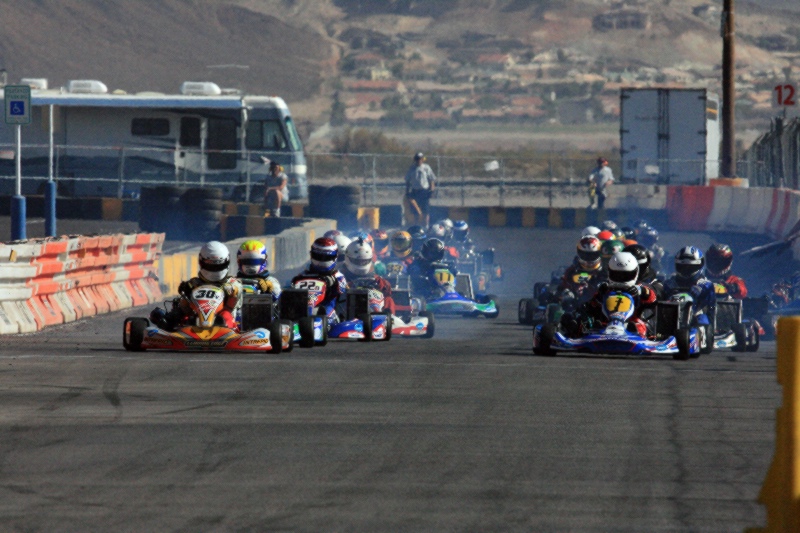 The thundering herd makes their way into Turn 1
December 14, 2007
Formal press releases for the SuperkartsUSA Winternationals are put on ekartingnews.com. Interesting stuff, as Stock Moto no longer becomes the poor stepchild class. Usually the SuperPro or S1 class gets top billing and prizes, with G1(35 and older ICC/built Moto) second billing, and the various TaG classes 3rd billing, and Stock Honda no billing. Instead, for the Winternats:

"On track, the savings continue, as a stock moto emphasis for the series will take the top spot in the class structure for the first time in SKUSA history. It's a bold introduction for SKUSA's newly launched, affordable racing concept for the future, as well as a continuation of the "off-season" conditioning program for skill levels of all types - in the fastest growing stock series in the country.

With that philosophy, SKUSA's S3 and S4 classes take a turn as the premier formulas to run in the series. When asked for the motivation behind this approach, SKUSA answered that it is due of the affordable nature the package brings the participants. Many of the top shifterkart pilots in the country now drive stock moto packages, making it a durable alternative for honing driver skill and for flat-out fun. Aside from S3 and S4, the S1 class will be for the ICC hotshoes that are expected, looking for off-season seat time in a competitive environment. SKUSA will also run a G1 class for the over-35 drivers."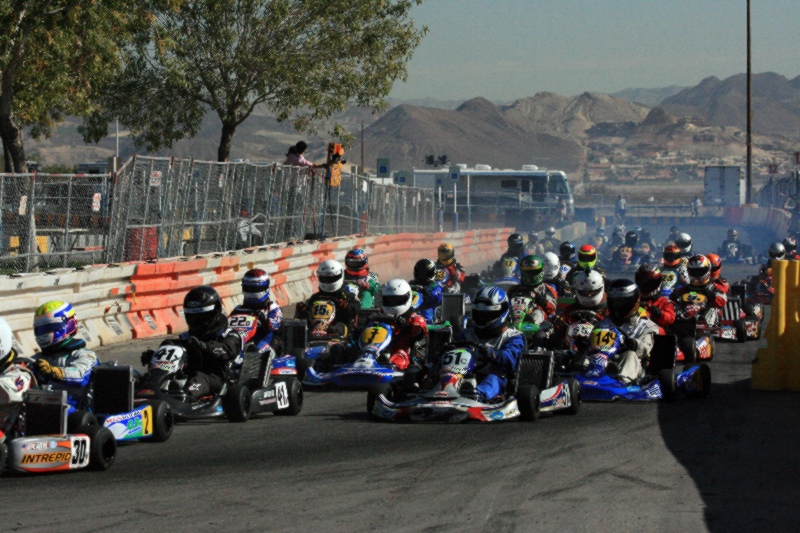 Funneling down into Turn 1
SKUSA announces that the Stock Honda drivers will race for cash in a three weekend, six race winter series. First place in overall points for the series takes home $3,000, second place $2000, third place $1000. As a comparison, the winner of the SuperPro class at the Supernats took home $10,000, The winner of G1 class took home $5000, and S3 and S4 Stock Honda winners got uh.....no cash. (But the S3 winner did get a free ride to the Granja 500).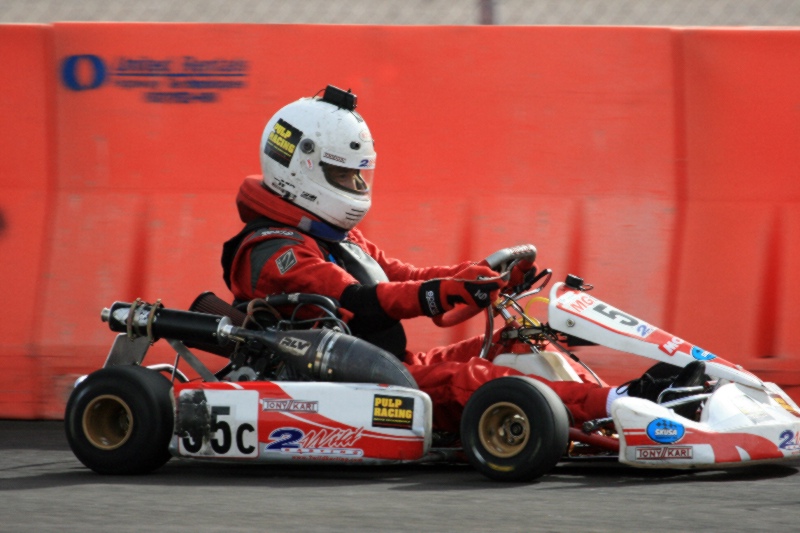 I'll be a the Winternats with cameras ready to roll
December 15, 2007
Our first practice day in a MONTH. This is the longest we have gone without practicing in quite some time. The SuperkartsUSA Winternationals start in three weeks at California Speedway, so we need to get some practice and seat time. Jeff flips his winning S4 kart early in the day. He's okay, a little bruised up and ego hurt. Kart suffers from bent axle, spindle, steering column, tie rods. Later in the day, I switch gears, and I thought Jason tightened the gear, and he thought I tightened the gear, so the gear came lose on the track, ruining the gear and the rear axle. I'm an idiot, I should have checked, I was so used to Jason checking my kart at the Supernats, but he was running a kart on this practice day, and he wasn't really supposed to be checking my kart. Erik Messley finally started building his kart that he bought last December from me. He of course didn't finish intime for our practice day (I knew he wasn't going to make the deadline when it took him 2 hours to put the new floor pan on, and another 8 hours to put the fuel hoses/Mychron sensors, radiator hoses). Yeah, Messley drilled those seven new holes in the floor pan perfectly at a rate of 1 every 15 minutes or so. We take his kart to the track and at 6.5 hours later at 3 p.m., he's ready to go out on the track. In his second session, his rear hub falls off (hummm.....I may have put that hub on...uh oh...), but no damage. So a rough start, but we got a couple more weeks to clean up our act and battle Raceaflais and the rest of you fast S3 drivers at the 2008 WinterNationals.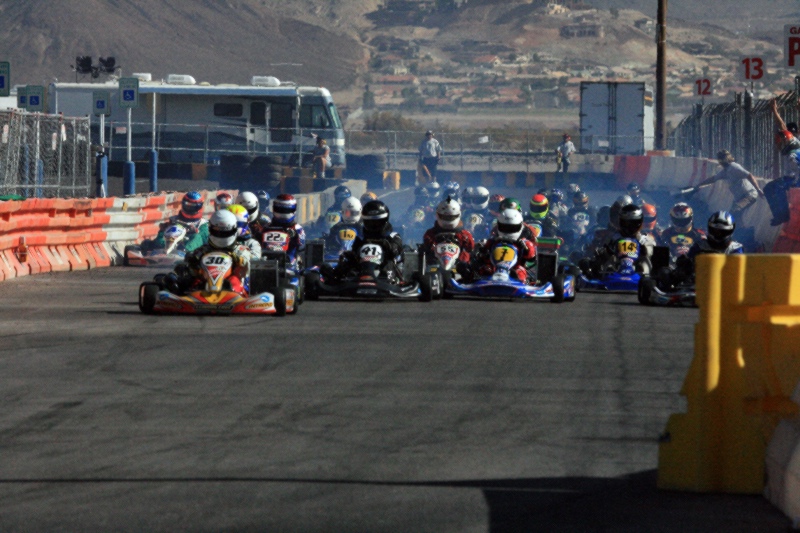 Five consecutive days of karting is pretty damn fun!
For those of you insomniacs that want more reading material about the SuperNationals XI, check out the following:
1. SKUSA Website: http://www.superkartsusa.com/eleven/
2. Excellent reporting by eKartingNews: http://www.ekartingnews.com/news_info.php?n=9103
3. Pulp Racing PR News Releases: November 17 and November 23
4. Got my money back from the guys at www.corner-carvers.com from last year's Supernats bet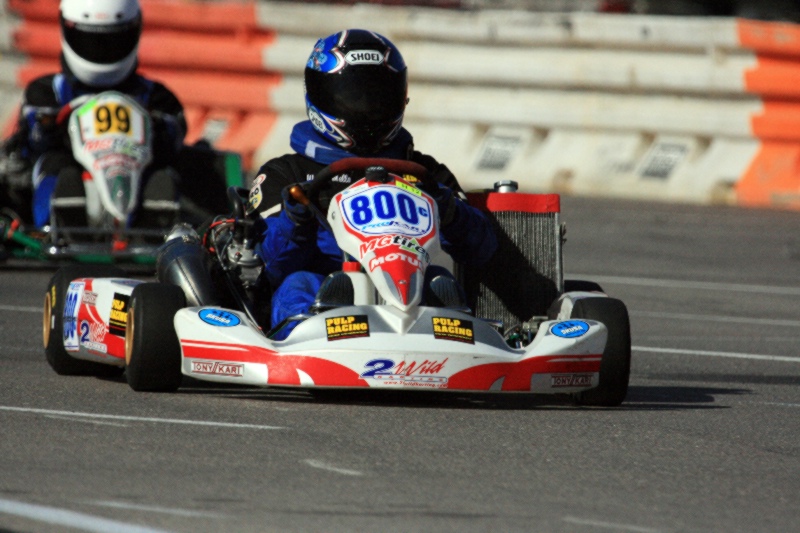 Wayne Mello looking like he means business
Downloadable Helmet Cam and LoserCam videos from this year:
(note: all the video files are very large, Windows Media video clips, but high quality resolution)

1. Miscellanous SuperNats XI "Mistakes" clips (58 meg, do a right-click save target as) About five minutes long.
2. Entire Supernats XI S3 Main Race (could be potentially boring, real long, only for real kart fanatics)
Part 1 (190 meg, yes it's big, but I know you download porn files this big, do a right-click save target as, takes about 2.2 minutes on my 15 meg FIOS connection) Also has the TrackVision telemetry/dashboard on it, as well as Loser Cam picture-in-picture for the entire race. About 14 minutes long
Part 2 (167 meg, do a right-click save target as) About 13 minutes long
3. Miscellaneous S4 Clips (58 meg, do a right-click save target as) About five minutes long.
If anyone should want the Supernats XI clips on DVD so they can play it on their big screen TV, I'll burn you a copy for 10 bucks (which will help cover postage, handling, cost of DVD burner, blank DVD, DVD case, Epson RX280 Printer with CD/DVD printing support, ink jet cartridges for printer, etc.) Hey, c'mon, support The NSX-Files/Pulp Racing website so I can make more videos! <grin> There are two DVDs to choose from:
NSX-Files Volume 5
Consists of clips that already exists on the website, but have been re-mastered so they look pretty good on a big screen TV, and you can easily play them one after the other, should you be sadistic enough to torture your non-karting friends. Quality is better than the above downloadable clips, since they are encoded to DVD files. It is not Hi-Def quality, but it looks good on a big screen for a kart video.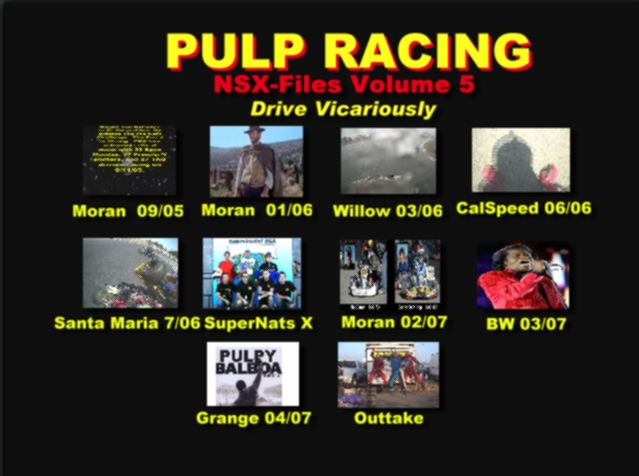 DVD Menu - popular clips from the website from the past couple of years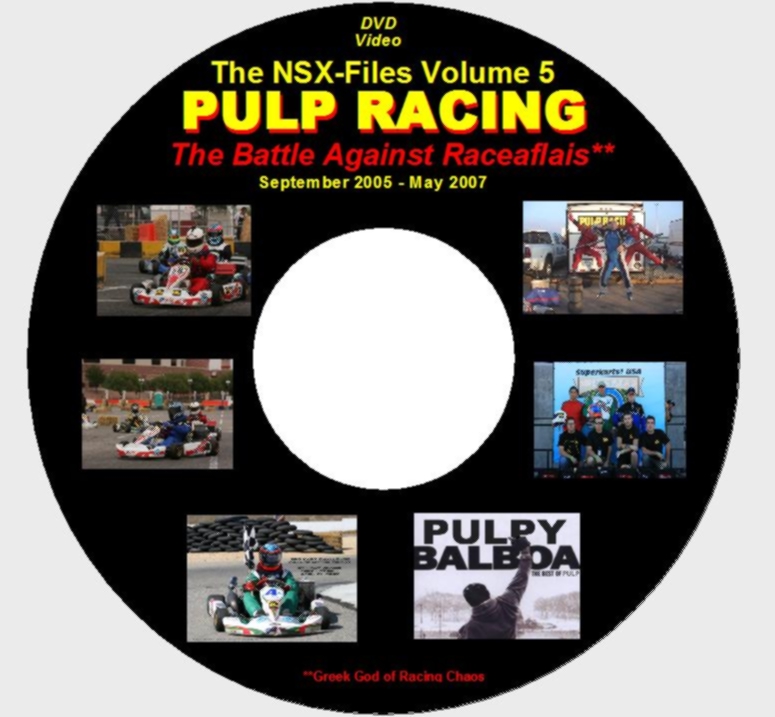 Volume 5 DVD Label
NSX-Files Volume 6
Consists of clips from this year that already exists on the website, including the Supernats XI clips that you can download, but they are re-mastered to look good on the big screen, and you have them all in one spot instead of digging around on the website.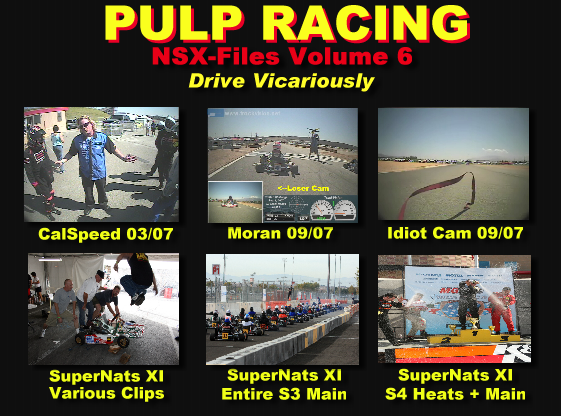 DVD Menu V6 - Clips from this year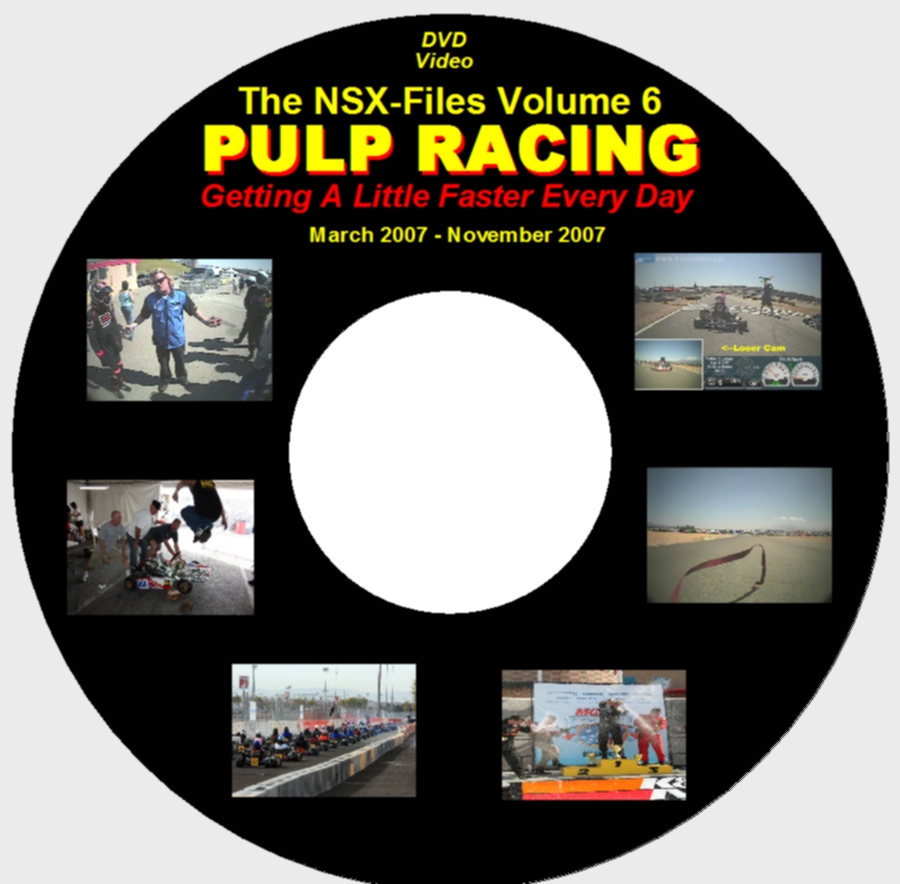 DVD Label for Volume 6
If you would like a copy of either or both DVDs, paypal me at d*o*u*g*h*a*@*m*s*n*.*c*o*m (take out the asterisks, that is there to keep the 'bots from grabbing my email address and sending me spam) 10 bucks per DVD, with your mailing address. Or if you don't do paypal, send me a check to the shop, Pulp Racing, 17875 Metzler Lane, Huntington Beach, CA 92647. Or catch me at the kart track, and I'll have some in the trailer if you want to pay in person.
So that's how the year ended. Hopefully we will take what we learned this year at the ProKart Challenge Races and the Supernats XI, and apply that knowledge to the 2008 karting season. Everyone have a good holiday season, and see ya back here in a month with a report from the WinterNationals!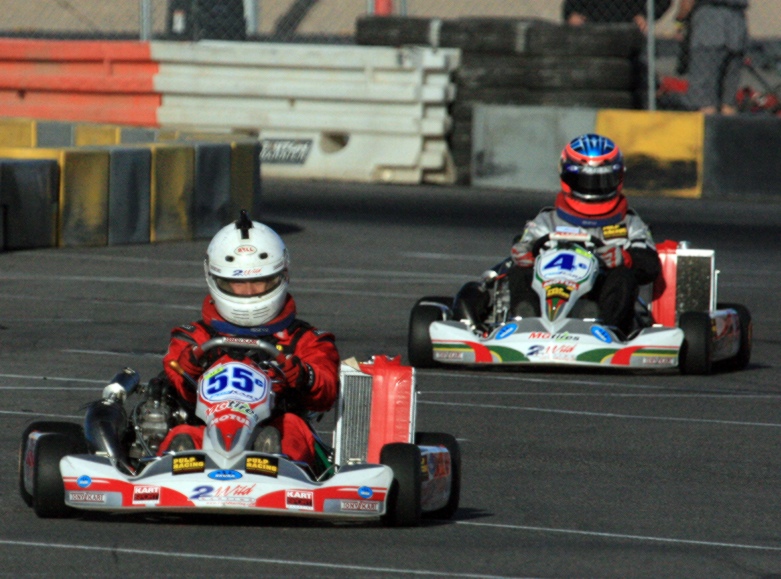 Since I beat Jeff in the S3 main, I'll end the story with a picture of me in front of him. Ha ha!
Back to main NSX-Files/Pulp Racing Stories page