October Through November, 2007
"Cheating Bastard Plans for World Domination"
Can the Pulp Guys Grab Another Supernats Title?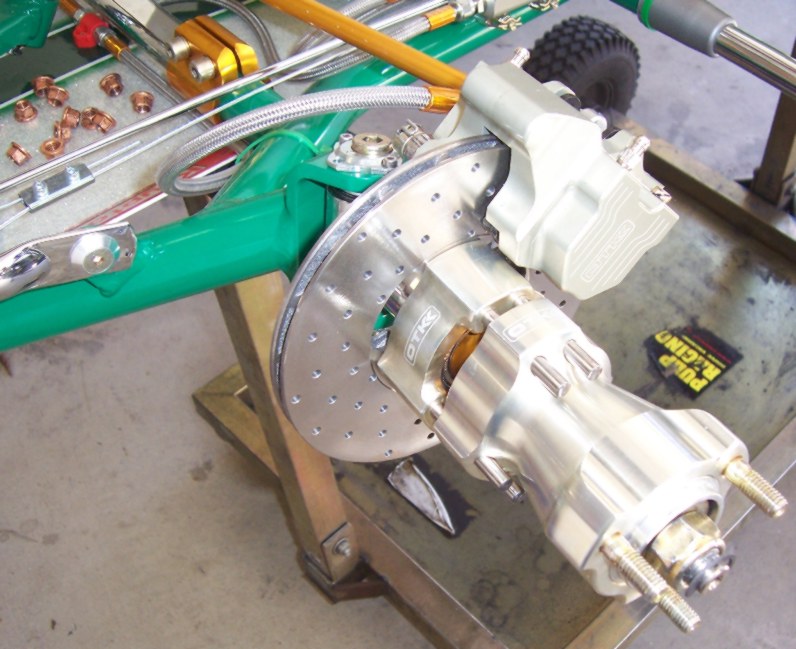 Interesting new hub/spindle design on the new 2008 Tony Karts
Note: this chapter was posted to the web for cc.com members and friends and family back on November 13, 2007, the day before the SuperNats started. It was buried in one of the Supernats press releases that we did. I kinda kept it quiet, as I didn't want to sound like I was "woofing" before the event. Okay to do it after the event though. <grin>
Okay, I never got around to doing a quick synopsis of race #6, #7, #8, and #9 at Willow Springs, Cal Speed, Santa Maria, and Qualcomm. So here it is in a nutshell:
After the Grange race, Connor switched over to a CRG, since his other kart had that "incident" with me on the track in warmup. Connor stepped up his game, and won the next four main races rather easily, and also taking pole three times, and winning virtually all of the heat races. I mean he just checked out and put a whupping on all of us old farts. He had such a big lead in overall points that he was able to switch classes for the last PKC race at Moran, and stepped up to the big boy S1 (ICC/Built moto) class.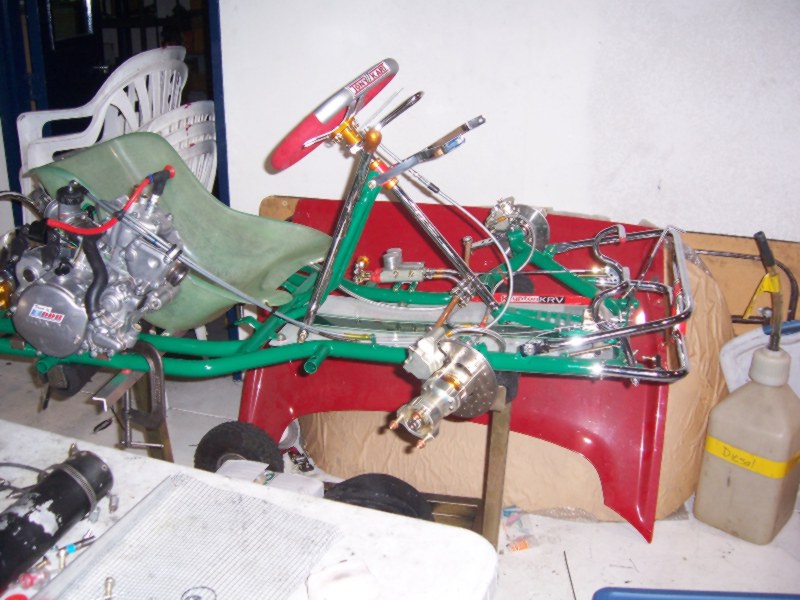 Damn I hate green. Especially since the Celtics have a shot at the NBA title this year
Jeff took two second places, and two third places in those middle races. Wayne took a 6th place and three 7th places, and I took two 6ths, a 5th, and actually made it to the podium at Santa Maria with a third place. At Cal Speedway in June, Wayne had speed (he qualified 2nd) but made a couple of mistakes, so I got by him in the main. He was dogging me for the last couple of laps of the main, but I refused to let him by. On the last lap, he tried to make an impossible pass on me three turns before the end of the race. It was right in front of the grandstands where everyone was watching the race. People who know us could see what was going to happen, and that I was going to block Wayne the entire last lap despite not having the speed, and that Wayne was going to inch his kart in somewhere to get bragging rights on me. Sure enough, there was a little daylight right in front of the grandstand, and Wayne dove in, but I uh.....knew he was coming and shut the door on him before he pulled up along side me. He hit my tire, spun me around, and his kart went flying into the barrier at 45 degree angle at a high rate of speed. Rumor has it when the crowd saw our karts collide and Wayne sailed into the barrier, there was a big, "Ohhhhh!" I recovered from the spin, but Wayne ended up with a bent axle, tie rods, steering column, etc, and was a DNF. After the Supernats, I'll try to edit that video.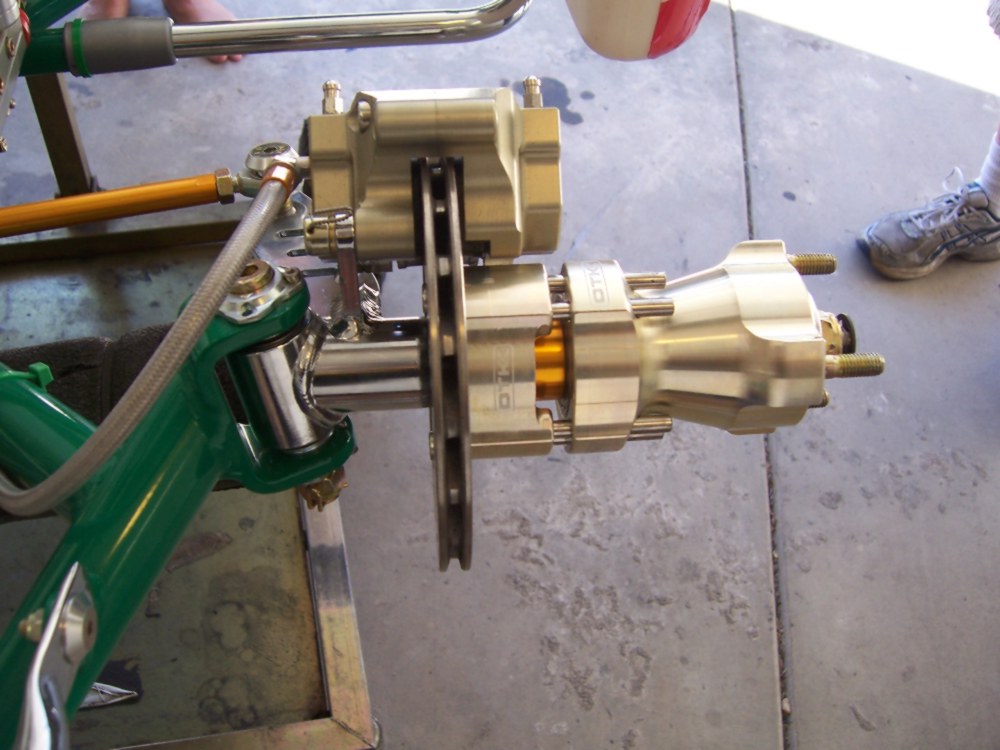 That'll be expensive to fix after a big crash
Wayne and I both had a rough day at Qualcomm. During qualifying, Wayne went out later in the 10 minute session, and got behind Conner, who was flying his way to yet another pole position. Wayne figures he'll follow Connor, and try to get on row 1 or row 2 again, since he was able to do that at Cal Speedway. Unfortunately, Wayne ran out of talent and crashed into a plastic barrier before registering a lap, so he had to start from the back of the pack. I qualified 5th, but I was trying some different reeds (trying to be a Cheating Bastard), and apparently I put the wrong ones in, and it chipped severely in heat race 1, so I was a DNF, and had to start from the back for heat race 2. Doh!
I also did a race at Qualcomm with the San Diego Karting Association, and had a great time there. They lined up all the shifters in one group, so we had about 44+ karts in the group. I ended up taking 6th in class, and 7th overall out of all the karts in the shifter group. That was supposed to be my Cheating Bastard practice to prepare for the PKC race at Qualcomm, but it was wasted due to my stupidity with the reeds.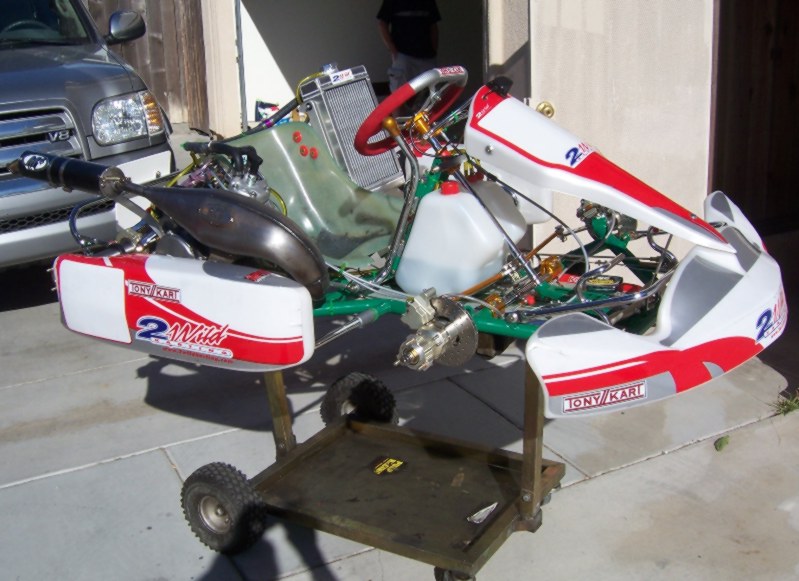 Stuck with green frame, but Wayne and I will put red stickers on it
Okay, so back to the prep for the Supernats. Jeff, Wayne, and I decided to make another big push to see if we can make it to the podium at the SuperkartsUSA Supernationals XI. Tom Kutscher and his crew promised to make this one the best ever. We scored hotel rooms at the official SKUSA hotel, Hooters Hotel, for $400. That's $400 total, for six nights! Checkout what is in store this year:
1. CIK Certification - SKUSA spent the time and money to design a track and get the Euro-dorks to sign off on it. Which means the hot shoe European pilots can come over here and duke it out with America's best SuperPro drivers. So it looks like all the USA factory drivers (for Tony Kart, CRG, GP, Birell, Ital Kart, Sodi, Maranello, etc) will also get to drive against the factory drivers from Europe. It will be one of the best SuperPro classes ever seen in the USA. Current/former world karting champs like David Fore (4 world championships), Marco Adigo, Alessandro Manetti, will be duking it out with America's top drivers (Carlton, Leesman, Alex Speed, Nick Halen, Jurca, Vorrath, Mandarino, etc).

2. Huge Stock Honda classes. 38 drivers for S3 Light (385 lbs minimum) and 35 for S4 Heavy (35+ years old, 415 lbs minimum)

3. Huge Rotax/TaG classes, 167+ drivers for those-drivers-that-can't-shift-classes

4. About 400 drivers will be in Vegas November 13-18. We practice Wednesday, qualify Thursday, and race on Friday-Saturday-Sunday.


Looks like potential podium finisher to me
So we started thinking about our Cheating Bastard plans for the Supernats. For those of you who are first time readers of this website, a "Cheating Bastard" is someone who thinks of something that isn't necessarily cheating, but is a good strategy makes you think, "Doh! I coulda done that". For instance, pure cheating would be illegally modifying a stock motor, which we do totally disapprove of. However, a Cheating Bastard would instead get an expert to help make sure you are getting the most out of your existing motor, and not leaving ANYTHING on the table within the rules.
So, our strategy for this year is similar to last year:
1. Get new karts. Rebuild bottom ends and top ends of our existing motors.

2. Get them dialed in.

3. Get some driver coaching help to get the karts dialed in.

4. For the Supernats, Jeff (The defending S4 Champ) and I decide to run both S3 Light and S4 Heavy, so we are running two karts in two different stock Honda classes, trying to maximize track time. Halen ran two classes two years ago (Superpro and S3), and took 1st in S3. Kelly Baker ran G1 and S4 last year, and took 2nd behind Jeff in S4. Maybe the extra track time will help us, or maybe it will burn us out trying to do two classes. We figure we are in good karting shape, and don't have a problem running 100 laps at our practice days, so we shouldn't get tired. In looking at the driver lineup for the Supernats, it looks like there are about 15 drivers that plan on running two classes, not including Jeff and I. So make it 17 Cheating Bastards in terms of track time. Jeff and I are the only ones running both Honda classes, most of the duplicate classes for those non-shifting-drivers. If I were to handicap this class right now, I'd say that Jeff, Fernando, Paul Russell, a couple of guys from Norcal who normally run S3 but are in S4 this week, and myself should be in a dogfight for the podium positions.

Wayne decides NOT to run two karts, and in what I deem and even crazier decision, he says he's gonna run S3 Light instead of S4 Heavy. I told Wayne he took 5th last year in S4, why do you want to shoot all your marbles into the S3 class, which is gonna be real tough to get to the podium. He said he didn't want to deal with adding 45 lbs of lead to his kart, and that the didn't like the way it handled last year at the Supernats with all that weight on the kart. He'd rather the kart feel light and quick, and duke it out with the S3 guys. The S3 class seems like it will be a tough one to handicap right now, as there doesn't seem to be any dominating front runners since Connor moved up to S1. We were worried about Bonnier Moulton in this class, but it looks like he's switched to G1 so he can take a shot at a $5000 payday for the winner of that class. I think any one of 10 drivers could possibly take pole in the S3 class.

5. Have a couple of extra secrets up the sleeve to be unveiled in Vegas in terms of strategy and preparation.


My nephew Cory, down from Australia, getting instruction from Nathan at Moran
So Jeff, Wayne and I broke down and bought new karts, figuring we had about 50-60 days of hard racing and practice on our old frames. Since we are buying in quantity, 2Wildkarting helped us get setup with the latest and greatest 32mm Krypton Chassis from Tony Kart. The front end spindle/hub assembly is new, along with the steering fork. We are apparently the first customers in America to get these new 2008 chassis. Unfortunately for us, since we are getting the new chassis, we don't have time to disassemble them and get that ugly green frame powder coated. Damn! We are stuck with ugly Celtic green karts. Supernats are coming up quick, and we need to get these karts built, tested, and dialed in to duke it out with America's best Stock Honda drivers. There is never enough time to prepare for a big race, but we are trying to beat the clock and walk into Vegas with our homework done.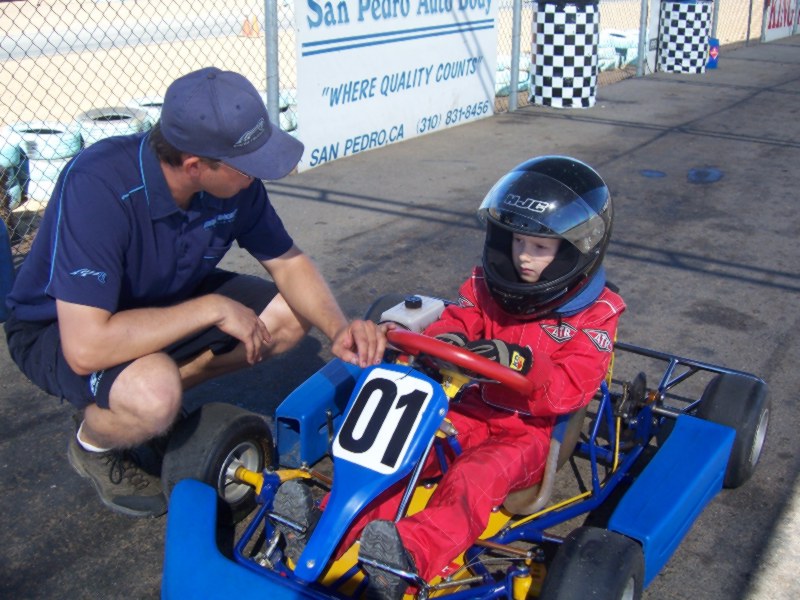 6 years old, and ready to take the first hit on the Go-Fast Crack Pipe
Last year, we had Nick Halen and his dad come down for a weekend to help us out. This year, Nick is in school, so he can only help out on the weekends. Jeff has kid duty on the weekends, and it is tough for Wayne to get away on the weekends. Plus we couldn't give Nick a time where we knew for sure we would have everything assembled and ready to go. And, Moran had a bunch of Saturdays in October blocked off for "private rental day", so we couldn't do two days in a row on a weekend at Moran. I suspect some Cheating Bastard team rented the entire track on those Saturdays so they could get their karts dialed in for the Supernats, but then again I could just be paranoid. I had 2Wild build my new kart, but it took them forever as they got a bunch of stuff going on at their shop. Wayne and Jeff decided to build their karts. The chassis comes partially assembled, but once you put the seat in, install our old motors (we got them refreshed), install radiator, decals, hoses, Mychron, blah blah blah you are in it for what seems like 40 hours of labor. And then you have to test.
We hired Alex Barron to help us out at the Perris kart track for a day. Unfortunately for us, our new karts were not ready, so we instead did the driver coaching with our old karts. We figured we would do a practice day by ourselves to get used to the track, and then have Barron help us out the week after that. At our first day there, we got our laptimes down to a 39.6 on old race tires, which we were quite proud of. On the phone, Alex Barron started saying stuff like, "Was it windy? Was the track dusty?", kinda implying that we sucked. He said we should be in the mid 38's. Hummm....that track is really short, I don't think there is any way we can drop a second off our time. So the next week we have Barron come out, and he gives us lots of general tips about things that we didn't know, and then does the track walk. He shows us some seemingly bizzare lines for a couple of sections of the track. He gets into one of our karts, and blazes a 38.3 or so, looking real smooth like James Bond on the race track. We are elbows and assholes compared to how he drives. By the end of the day, we get down to 38.6's or so, and he feels our karts and motors are pretty dialed in on our old karts.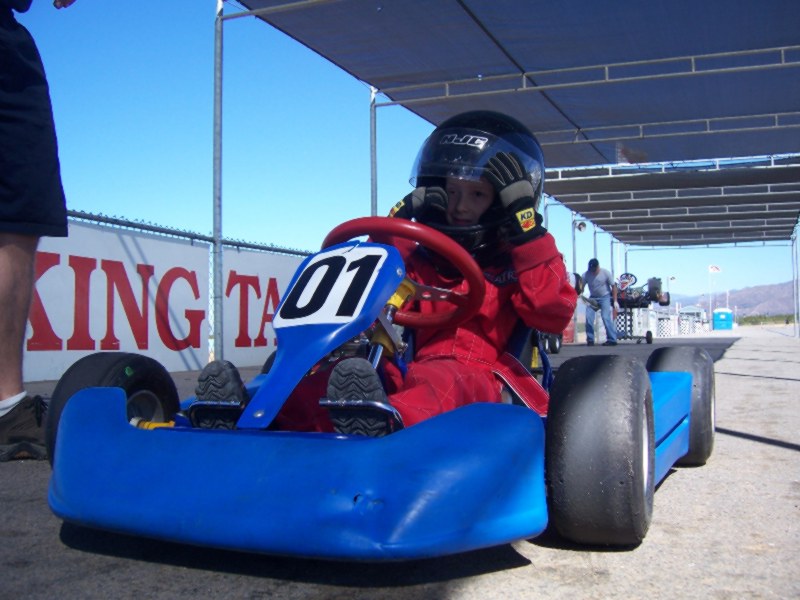 I'll show those Pulp Guys how to drive!
My first day with my new kart I thought it sucked. 2nd day I started to get used to it. 3rd day got better. On the day of the 4th practice session, we had Alex Barron come out again and help us for the day with some setup and driver coaching. He said that my kart was very handling well, but my motor sucked compared to Wayne's and Jeff's. Damn! He hops into Wayne's kart, and within a few laps, throws down a 1:02.9x. Ouch! No one racing with PKC with a Stock Honda has a 1:02.x on a race day in a Stock Honda except for.....Alex Barron, who did it in the reverse direction in race #2 earlier this year. On this day, he's a second faster than all of us. True, he weighs about 15 lbs less than us, and Wayne didn't have the extra 10 lbs or so on the kart, but a 1:02.9 even in those conditions is pretty damn fast.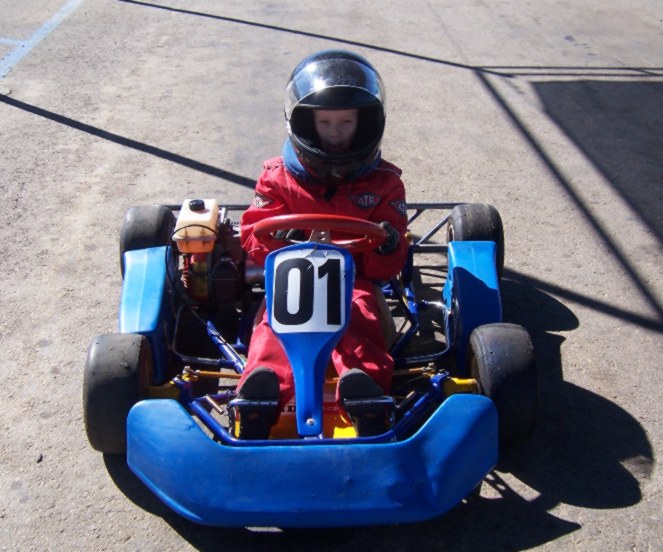 Gimme the green light!
The next week, we got my motor problem traced down to a bad silencer, and on day 5, I ran a 1:04.5 at Moran at the 415 lbs weight minimum for S4 Heavy class. Only one PKC S4 heavy driver went faster at Moran this year, and that was Fernando at 1:04.46 on a race day where the track is gripped up. Looking good! I hop into my S3 Light class kart, and I blaze a 1:03.75, which is what I qualified at in the last Moran race. I park my karts. I'm ready for the Supernats, no use taking a chance at crashing or breaking something on my kart when it is ready to go duke it out for the podium in Vegas. Meanwhile, Wayne is flailing around, trying to get his kart dialed in on this day. His kart took another two weeks to get assembled, since he did it on his own. I put my karts in the trailer, as I know he can't beat my 1:03.75. But at 4:40 p.m., right before the track closes, Rob Whitley and I are watching Wayne get faster and faster, and he throws down a 1:03.4x to become the king for the day in this practice session. Damn! I think about pulling my S3 Light kart out of the trailer to see if I can beat that time, but it's too late. Wayne thinks he is dialed in, as that is the fastest time he has ever run at Moran in his life.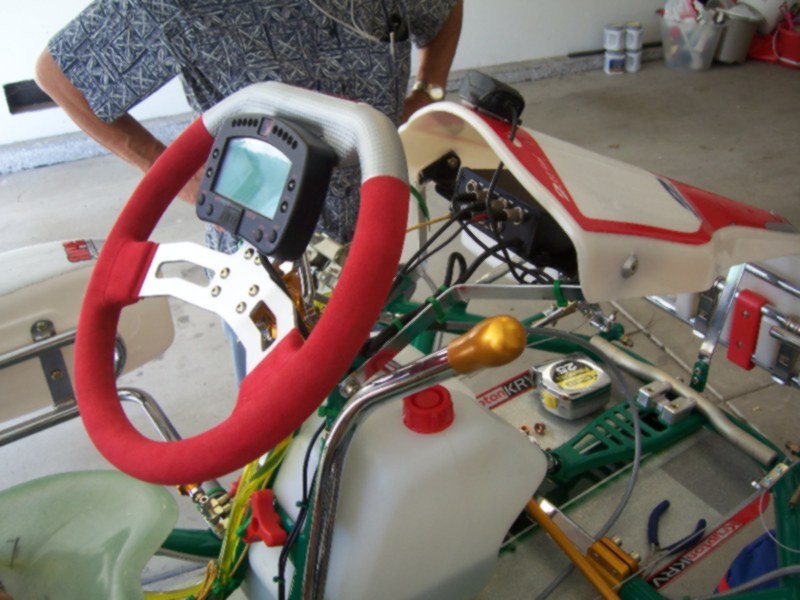 The cleanest the kart will ever be
Jeff scheduled a last minute rebuild on his S4 Heavy kart, and it took a while to get the motor back. The day before we packed up the trailer, he had to go to the track with the wife to make sure the kart was running okay. He didn't get to practice with the weight. However, in talking with Fernando Diaz, he said he switched to a Sodi Kart, and at the S4 weight, he cranked out a 1:03.5x at 410 lbs, which is smoking fast. He's had bad luck at the Supernats the past few years, so he's doing his homework to make sure he is fast and his kart is bullet proof. We definitely anticipate a pretty good shootout between Jeff, Fernando, and myself in S4 Heavy, along with 32 other drivers in our class.
Jeff even convinced me to finally get those Pulp Racing patches put on the driving suits. He said that the quality of the Loser Cam videos is so good that he's acknowledging that he is a full fledged member of Pulp Racing. I have both the S3 and the S4 kart setup for the Loser Cam, as well as backup recording devices incase I destroy one of them. I hope to get some great footage in Vegas.

It looks really, really fast
Other stuff that went on the past month:
1. Saw Springsteen and the E Street Band at the Los Angeles Sports Arena on November 29th and 30th. Even at 58 years old, he's cranking out some pretty incredible concerts. Got General Admission floor seats for both nights at a reasonable cost. On the 30th, Messley and I got in line for the GA drawing at 5:15 p.m. If you get to the concert before 5 p.m., you get a wristband with a sequential number on it from 1 to 1000. At 5:15 p.m, they have a random drawing, and they picked number 238, and they take the next 500 people with wristbands from 238-738, and those people get to go into the closed off "pit area" of the floor section, so you are standing right in front of the stage. Even if you are at the back of the pit area, you are worse case 30 feet from the stage. We we number 632, so we got into the pit. It was great show. Reviews here, and here. Both those reviews were from the first show, and the second show was even more intense. He's closing the set before the encore with "Last to Die", "Long Walk Home", and then blowing it out with "Bad Lands". And for one of the encores, they threw in a hellaciously rousing version of "Kitty's Back", which I don't think they've played in SoCal in the past 20 years. And a review from a concert a few days after that. which tries to explain the obsession. You know why you don't read reviews like this about other concerts? It's not because you are not looking, it is because they all pale in comparison to seeing Springsteen with the E-Street Band.
2. Saw the Hives, who headlined at the Avalon, which has standing room for only about 1000 people or so. They also killed. The next night, they opened for Moron 5, and rumor has it that the Hives killed again. Here's another review from Phoenix.
3. Our Wednesday night softball team is unstoppable this season. We are 8-0, and have clinched the Huntington Beach Coed C-2 division with two games left to go in the season. It was one of those seasons where you can be down 8 runs going in to the last inning, and we'll score 9 runs to win by one. We are crushing the ball, turning double plays, making the diving catches. They'll move us up in January to the C-1 Division, which is uh...kinda like the SuperPro division. Last time we moved up we went 0-10. The girls in C-1 are angry chicks that can throw a softball 200 feet and hit a coke can off the top of your head.
4. At the ProKart Challenge awards banquet, a ton of prizes were raffled off. Jeff won a new GP Kart, but since we are strongly in the Tony camp, he gave it to our crew chief Jason Steaman, who is now building it up to race next season.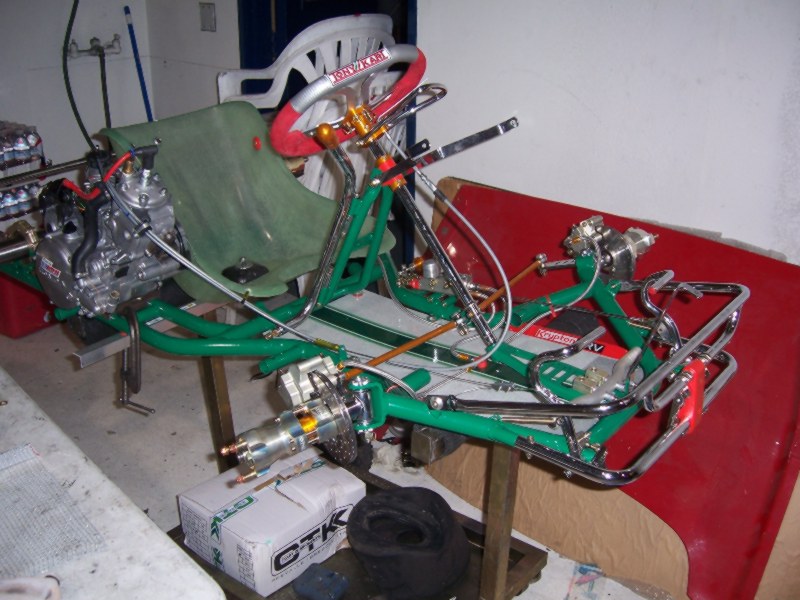 Wayne's kart getting ready to be assembled
Sunday, November 11th.
I hand the keys to the truck and trailer over to 2Wild, who is driving the truck and trailer to Vegas. The trailer is packed with 8 karts, probably 30 sets of wheels and tires, a couple of tons of equipment, tools, spares. Pulp Racing and 2WildKarting try to make some magic happen again at the Supernationals XI, to see if someone out of our tent can come home as the Stock Honda King of S4 and/or S3. Since Connor is running S1, the top slot is open in the S3 Stock Honda class. Bobby Legate and Jeff seem to be strong front runners for that class, and Wayne and I are going to try to chase them down. Hopefully we will avoid any Raceaflais problems.
Tuesday, November 13th.
Jason Steaman calls me at home at 8:30 a.m., saying he's at the airport gate. I say, "WTF? Our flight isn't until 11:00 a.m., you are showing up 2.5 hours early? Are you a dork?". He says, "Uhhh....the flight is at 10:00 a.m., not 11:00 a.m." I look at my printed out itinerary, and it says America West 11:05 a.m. I look closer.......it says November 8, 2006. Ack! I printed out the Expedia itinerary from last year's Supernats. Oh shit. No time to call a taxi. The wife says she'll bail me out, we quickly throw the kids in the car and head to the airport. I make it in time for the flight. We get into Vegas, and have to endure the 45 minute wait for a taxi. Next time, I'm gonna see if the line for limos is faster on the other side of the building, and maybe they will charge the same?
1:00 p.m.
We help 2Wild get the tent organized. We are in a 40" x 80" tent, and 2Wild strung up lights, etc. Our tent is jamming. Jeff's wife says she'll help cook food this weekend. We walk the track, and that 890 foot long straightaway looks really long. We change gears, put mandatory stickers on, make some minor changes, register for the event, and suddenly it is 7:00 p.m. We head back to the hotel, eat, and play an hour of blackjack. I'm down $25 bucks after having run it up to $250. Damn. I'll kick their ass tomorrow.
Big schedule tomorrow. http://superkartsusa.com/eleven/event-schedule/
We get five short practice sessions, but since I'm running two karts, I'll get ten short practice sessions. Should be cool, hopefully we won't bend anything tomorrow.