Modifications to My NSX


Current configuration of my NSX as of October 2000:
1992 Red Acura NSX
144,000 miles
Comptech Supercharger
Comptech Brembo Brakes, with slotted rotors, running Porterfield R4 pads
Comptech Toe Links and Bushings
Comptech Headers
Comptech Cat Replacements
Comptech Technomagnesio 17/18 inch wheels
Comptech Airbox
Comptech six speed tranny
Comptech Ring and Pinion for six speed
Comptech Internal Engine Modification
Comptech Exhaust
Comptech Clutch
Comptech Light Flywheel
Comptech Pro Suspension
Comptech Camera Mount
Kiwi Autotech Roll Cage/ignition kill switch
RM/Dali Sway Bars
Dali Stone Shield
Dali shifter light
Alpine stereo+EQ+Amp+CD changer
Hoosier Tires for the track, 275/35/18 rear, 225/45/17 or 245/40/17 fronts
Bridgestone Potenza SO2 for street, 285/30/18 rear, 225/35/17 fronts
OMP Seats
Simpson Cam Lock five point harness
Mike Duncan Carbon Fiber Doors
Removed all alarms
Removed all heater stuff
Removed all air conditioning stuff
Using Redline Oil and Tranny Fluid
Using Ford High Performance Brake Fluid
Datacam Data acquisition System
Sony TRV 900 DV Camcorder as capture device
Fire Extinguisher mount
Fuel Cell (from Comptech)
Big ass rear wing (From Dali Racing)
Race Cam(wide angle camera that works with Data Cam)
Boost Gauge for supercharger
Fuel Pressure Gauge
=====summary of stuff below that I have tried=====
Comptech Headers + Supertrapp Exhaust (Bought back around 1994 or so)
| | |
| --- | --- |
| | Pro - Awesomely Loud. Sound is adjustable by inserting from 1-15 disc diffusers into the muffler. The more discs, the louder it gets. The discs have space inbetween them, so the more discs, the louder the noise coming from the car. I have 8 discs in it now, and you can hear my car about 2 blocks away when I am at the redline. Really makes your adrenaline rise when you get on it. The muffler is about half the size of the old muffler, and 20 lbs less weight. |
Con - Expensive. Purchased from Comptech, cost was around $1500 for headers + $1095 + Tax/shipping = $2900. Tough to install. It took an Acura NSX mechanic 5 hours to install. Tips of the exhausts ain't fancy, but it has that "made for racing" look to it. It ain't as easy as I thought it would be to change the discs. Busted once for sound. Ain't sure how much more power it *really* gives you. But sounds awesome. I will get it dyno tested soon and post the results. I am considering buying a chip, but have been hesitant as I don't want to do anything that may damage the motor.
RM Racing Exhaust
I am currently(October 1998) using Randy's exhaust, modified to work with the Supercharger so it doesn't blow out. Runs real good, has 7+ hours of abusive track time on it without blowing up. Sounds great. Unfortunately, I got busted by the cops for the 2nd time for noise, so I think I might have to go back to stock exhaust for right now....
Comptech Exhaust - (as of November 1998)
I am currently running this exhaust at the track, and sometimes on the street. It is pretty loud.
RSR Exhaust - (as of October 2000 for the street)

Larry's customer straight pipes exhaust (as of October 2000)
Short straight pipes now make car louder than a NASCAR machine
K&N Air Filter (Early 1994)
Makes the car even louder, with a throatier sound.

Comptech Airbox (June 1998)
I am currently running this. Match to work with Supercharger, Comptech headers + Exhaust
Rims/Tires
Still have stock 1992 rims. I use Yokohama A008RS 225x50x15 and 255x50x16 for the street. They stick like glue to the hot, dry, Southern California pavement. These tires sizes do not affect the traction control. For track events(Willow Springs, Laguna Seca, ButtonWillow) I use BFGoodrich R1s, same size as above. The Yokos rear tires last about 4000 miles or so for normal street driving, or a weekend on the track plus 2500 miles of street driving. The R1s stick better, but ride much harsher, and I usually only get two days on the track, and then only about 1000 miles of street driving before they are down to the threads. On the track, the A008RS tires squeal more when you get to the limit, so you have more audio warning before you reach the limit. The R1s just plain stick better, but you have to drive by the seat of your pants instead of listening for audio cues. In my opinion, the R1s are good for a second or two on a track like Willow Springs. I have not bought any aftermart rims, as I cannot get the A008RS or R1s in the 17/18 sizes. Bummer.
Update June 1998: Currently running Comptech Technomagnesio wheels, 17x8 and 18x10. Tires for street are now Bridgestone S02, 225x45x17 fronts, 285x30x18 rear. For track, using Hoosiers, 275x35x18 rear, 245x40x17. The fronts fit real tight. I have also used the 225/45/17 Hoosiers on the fronts. The Hoosiers stick better than the R1s, and the bigger tires help tremendously for ripping around corners. Downside is the Hoosiers wear faster than the R1 tires.
Koni Adjustible Shocks
| | |
| --- | --- |
| | The Konis allow you to vary the stiffness of the ride by turning a knob on the top of the shock. On comfort, feels like the stock NSX. If you turn the knobs one full turn, ride is a lot stiffer. I generally have it turned one full turn. If you turn it three full turns, the ride will be so harsh you will actually get carsick and want to barf while you are driving down smooth freeways. Below is the right front of the car, and you can see the little knob that you turn to adjust the suspension. Update June 1998. Went with Ground Control Koni setup. Seems to work very good. Update June 1999. Now running the Comptech Pro Suspension. Seems to work very good, I like them. |
Eibach Springs
Lowers the car about an inch. Makes the car look a lot nicer. CON: front spoiler scraps easily on most driveways. Update June 1998. Changed springs to be stiffer, and had to raise height a little to get Hoosiers to fit under the front. Update June 1999. Using springs from Comptech.
Simpson Cam Lock Five Point Harness
By far the most user friendly harness that I have seen.
| | |
| --- | --- |
| | I wear this all the time. After you use the five point harness(I don't use the sub strap), you don't feel safe using the regular seatbelts in everyday traffic. Below is the rear view of the eyebolts from the engine compartment. Andy Warren has said that I should increase the size of the metal backing, as it doesn't fit SCCA standards for safety. Update June 1998 - five point harness now wraps around the new rollcage. |
Video Camera Mount

| | |
| --- | --- |
| | Custom made by Rhys Millen of Rod Millen Motorsports. The mount goes between the eyebolts for the harness. The camera isn't on the mount, it's in the shop for repair from all the dust from those spinouts at the track. Camera used is a Sony TRV40 Video 8 camera. I screwed up and should have gotten the HI-8 camera, since it will make make cleaner copies of tapes. Update June 1998 - got one of them generic camera mounts to go on the rollcage, as I had to remove this for the rollcage. (update June 1998 - using those camera mounts that you get from your local raceshop) |
Stereo

| | |
| --- | --- |
| | The stock stereo kinda sucked in my opinion. It didn't have great bass or great highs, and the tape unit definitely sucked big time. It lasted about a week in my car, and then I had an installer rip out the stock stereo and throw in Alphine Head Unit, EQ, Amp, CD Player, two mid ranges, two tweeters, and a 10 in subwoofer. The Alpine amp went in the trunk where the tool kit used to go. (who needs tools, it's a Honda, and will never break, right?) Update July 1999 - I put in carbon fiber doors, so now there ain't no room for speakers. I had some speakers throw in behind the air conditioning vents on the far sides of the dash, so I can still have music when I race. |
I also had the K40(old model) put in that is a combination radar detector and CHP radio transmission detector. The K40 replaced the ashtray. Note that you can still put down the ashtray lid to hide the detector in case you do get pulled over. Update July 1999 - K40 accidentally removed by California Mobile systems. I had them throw out the three alarm systems (stock, the Alpine, and the Teletrac), to save weight and get rid of of the extra 100 wires behind the dash.
California Mobile Systems in Brea, CA., did the installation. They are the ONLY people I let touch the stereo system and alarm. They have some high-end installers that you can trust your car with, instead of a bunch of 16 year olds with hacksaws and soldering irons. It pays to know someone who knows what the hell they are doing.
Alarm
I had the Alpine 8080, Clifford SmartWindows, and Teletrac system installed. The Alpine 8080 combined with the Clifford Smart Windows does the automatic window rollups when you arm the car, and also will let you rolldown the windows and open the trunk from the remote control. The window rolldown is kinda handy, especially when you park next to a high curb and the passenger has to squeeze into the car without hitting the door against the curb. The Clifford Smart Windows also allow you from inside the car to flick the windows up switch once, and it rolls up, instead of holding down the damn button until the window rolls all the way up. Update July 1999 - all the alarms are ripped out of the car, to save weight.
Brakes
If any of you are on the NSX listserver, this has lots of room for debate. From my experience, I have observed the following:
Stock Pads, Stock Rotors (for first four years) - Car stops great, had some minor brake fade at Laguna Seca. Pads lasted about a 12-18 months, with about 8 track events included. (but no events at Button Willow)
Drilled Rotors, Metallic Racing Pads(December 1995) - Pads sucked. Wasted them in one day at Button Willow, and braking wasn't good at all.
Drilled Rotors, Stock Pads (March 1996) - Car stops fantastic. Pads gone after one track event at Willow Springs + one at Button Willow. ROTOR also cracked from heat/stress. As a result, I can't run a final posted time for the Time Trial Event on Sunday due to the cracked rotor. This is the first Alfa Romeo Time Trial event that I was not able to complete due to mechanical failure in about 15 events.
Drilled Rotors, Porterfield R4-S Pads (April 1996) - I am now running new Stillen/Brembo Rotors(for some reason, these rotors look like they are higher quality than the Stillen/Brembo Rotor that cracked) and Porterfield R4-S Carbon Kevlar pads designed for high performance street and limited competition applications. Car seems to stop pretty good, and am taking the car to Willow Springs in May. Willow Springs isn't hard on brakes, but if I make it out to Button Willow(which is really hard on brakes), I can get a comparison to the other pads. Many people have warned me that drilled rotors = cracked rotors. Harry Somerfield recommended that one way to prevent cracked rotors would be to get better airflow to the rotors. I had Rhys Millen put some plastic rails on the bottom of the car to deflect more air to the rotors. It seems to be a consensus that the NSX rotors/calipers don't get enough air, so hopefully this will do the trick. If you look below, you can see the white plastic rail bolted to the suspension. You are looking at the left front of the NSX. The picture next to it is the right front.

Drilled Rotors, Stock NSX Pads (May 1996) - This is getting ridiculous. The last set of Porterfield pads lasted two track days at Willow Springs, and 30+ days of street driving. I am going broke buying brake pads. Drill rotors plus the stock pads stop great.
Stock Rotors, Stock Pads (Updated 6-11-96) I give up. I just can't fricking take it any more. I just ordered stock NSX rotors and stock NSX pads, and am replacing the cool-looking, thought-they- would-stop-me-superfast-but-all-they-do-is-act-like-cheese-graters-on-my-expensive-brake-pads-rotors. I can't keep going to the damn mechanic to replace pads and check rotors every damn month, even if it stops a little better than the stock rotors and stock pads.
Stock rotors, Porterfield R4S Pads (Updated 4-27-97). Okay, I am favoring the Porterfield R4S pads. They seem to stop pretty good, and at the track, probably better than the stock pads. This is my current setup. These pads do "dust" a lot, so you will get dust all over your rims, and may squeak a bit. But ya stop fast at the track.
Stock rotors, RM Racing Pads(Update-5-98). Tried these out, they work pretty good also.
Comptech Brembo setup(Update 7-98) - I said screw it, time to start racing wheel-to-wheel, which means I might need an extra couple of inches of braking power so I don't slam into someone else's car. I went with the big brake package on all four wheels.
PRO - Stupendous braking power. I mean stupendous braking power. Zero fade. Ya definitely gotta have this for wheel-to-wheel racing.
CON - cost almost as much as a new pickup truck.
Experimenting with Performance Friction Pads and Porterfield R4 pads. Both seem to work good, Comptech modifies the PF pads so they don't squeak. The R4 pads squeak and screech a lot. Rear pads wear faster than front pads, not sure why.
Comptech slotted Brembo Rotors. I have these on all four wheels. (Update 8-1999)
Short Gear, Ring & Pinion
Go to the Short Gear Saga page.
Update: June 1999 - installed Comptech six speed tranny with their ring and pinion. Nice.......very nice setup......car pulls strong in all gears, including 5th and 6th for those long straightaways.
Racing Seats
Installed OMP racing seats. Lightweight, pretty comfortable. I was expecting to put the stock seats back in after each track event, but the OMP seats are comfortable enough to use all the time. However, it is hard for the wife to get in and out of the car.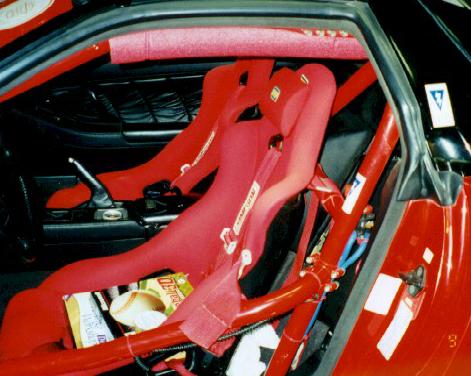 Comptech Supercharger(May 1998)
| | |
| --- | --- |
| | I couldn't take it anymore. The NSX doesn't have enough horsepower to keep up with modified Porsche 944 Turbos, Vipers, Corvette ZR1's, etc. at the race track and at the Virginia City Hill Climb. Ever since I got killed at the 1997 Virginia City Hill Climb, I knew I had to do something. The Comptech Supercharger is based on a Whipple supercharger, with design and mods done by Comptech to fit under the existing engine cover in a stock NSX. |
Update: May 1998 - we run the car at Mid Ohio, probably 400+ miles on the track, sharing the car with Wayne and Harry. Car seems to run good. Some people on the track felt that it should have been faster.
Update: June 1998 - At Buttonwillow Wayne can no longer pull away from me in his 944 Turbo since I got the Supercharger. Unfortunately, I blow brake line, can't compete in time trial event. No valid lap times....
Update: June 1998 - Supercharger + Hoosiers + suspension mods allows me to drop 15+ seconds on my Virginia City Hill Climb times. Works great! I come in 8th out of 50 cars. Ya gotta have power for hill climbs. First time that I have broken into the top 10 at the Hill Climb. Extra power is a good thing to have.....
Update: August 1998 - Wayne and I run car in 3 hour PRO Racing enduro, along with me running in Touring Car Club sprint race. Car runs good. We take 4th out of 20 in the enduro, I take 3rd out of 18 in the sprint race.
Update: August 1998 - Wayne and I run car in LA Street Race. We take 8th out of 40+ in Saturday one hour race. Sunday race is aborted due to crash. Monday we take 8th out of 36 cars in a shortened race.
Update: August 1998 - I run the car at Willow Springs for MIT event. I run 1:35.41, which is fastest that I have ever gone at Willow, and I did this on street tires(S02's), as I didn't get my Hoosiers to the track. Also did not have short gear tranny in the car, had regular tranny. Top speed going into turn eight(133+) is about six miles faster than I have ever gone into that turn.
Update(August 1998) - Car is dynoing rear wheel at 284 HP with modified RM Racing exhaust. Car is going to Comptech in Mid October to see if something is wrong, I was expecting to get 305 HP rear wheel on the dyno.
Overall opinion - Supercharger is reliable. I got 11,000 hard, hard miles on it, and I spin it to the redline every chance I get. Definitely helped me in Hill Climb and at Willow Springs, and the other racing events. Many people are surprised at low output on dyno. I don't think I can live without it, but then again, sure would be nice to get 305+ rear wheel HP out of the car. But then again, we all want our cake and eat, meaning we all want more HP, yet also make it ultra reliable.....
Update(November 1998) I got the car back from Comptech. They put in new fuel regulator and engine ship. Car is rocking now, dynoing at 325 rear wheel(I had race gas in it).
Comptech Non-Compliance Toe Links and Bushings(June 1998)
I am having problems taking turn 8 at Willow Springs full bore(meaning not lifting off the gas at all, instead pedal to the metal through the entire turn). The rear end is moving around a lot, and it feels like I am going to spin off the track at 125 mph, which would not be a good thing, as I don't want video tape of me rolling the car for NSX Files Volume III. The non-compliance bushings replace the rubber bushings with, ah, metal, so ride is stiffer, and handling more stable. This, combined with the sway bars, will hopefully allow me to screw through turn 8 and chase down those Porsches and ZR-1s.
Update: I take car to Willow Springs in late August. Car now SCREAMS around turn 8 using street tires. I am hitting about 133+, and I have bigger wheels, so the speedometer reading is probably understated. Anyways, suspension problems seems like it is fixed now.
Dali Racing sway bars(June 1998)
| | |
| --- | --- |
| | Thicker sway bars to help with handling. |
Roll Cage
Had custom, removable, full rollcage installed by Kiwi Autotech in Huntington Beach.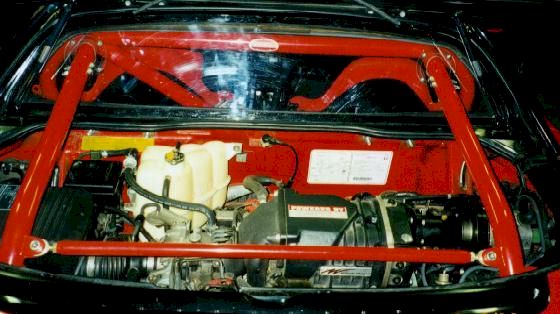 RM Racing Clutch
Installed in early August 1998. Works good, we beat on it at the 3 hour Buttonwillow Enduro, and 3 days of racing at the LA Grand Prix, Willow Springs, etc.
RM Light Flywheel
Installed in early October 1998. Feels real good.

Comptech clutch and flywheel
Installed in June 1999. Feels real good.