Short Gears + Ring & Pinion
"The Waiting is the Hardest Part" - quote from a Tom Petty song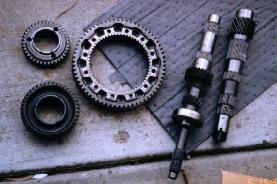 Parts, parts, and more car parts.....
So you wanna modify your NSX to go faster, and want to start making major internal mods like short gears and R&P to the car? The best advice I can give you is to plan WAY AHEAD as to when you actually need the car. So if you have a particular track event that you are targeting to debut you car with the new gear set, my advice is three months from that debut, you should start ordering and getting parts Fedexed TODAY. Here is a good example:
Early January, 1997- I finally decide on the modifications that I will need to beat my fellow Time Trial competitors this year. I had the fastest posted time for the Alfa Romeo Time Trials last year at Willow Springs at 1:35.9, but everyone else seems to be getting faster and faster (either driving better or throwing big bucks into their cars). I decide to order the Japanese short gear set along with the Comptech Ring and Pinion, and Comptech street performance clutch. This combination will theoretically make me faster by shortening up the gear shifts, and also make the car more fun to drive. As it is now with the stock 1991-1996 NSXes, the consensus is that the car is not geared for the race track. Meaning that 2nd gear, for example, is good for about 85 mph at the redline, and 3rd is good for around 115. The problem occurs when you shift from 1st to 2nd, 2nd to 3rd, or 3rd to 4th, the ratio is so large that the car bogs down a bit because the gearing makes it so that the engine drops much lower in the VTEC RPM range than what would be optimal for the track. The NSX engine doesn't come alive until the VTEC kicks in above 5500 RPMS, so it is really critical to keep the revs high. So in theory, shorter gears = higher RPMS = more shifting = faster laps. I did not want to try the Turbo/NOS/Supercharger approach, as I don't want to take a chance at blowing up an engine that cost about the price of a loaded Integra VTEC. My car has 95,000 miles on it, and I am constantly bumping up against the 8000 RPM redline. I want to go-fast, but I still want to have that Honda reliability.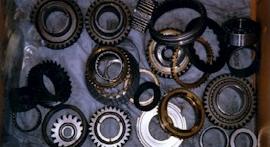 Bunch of old gear/synchro parts
I am aiming to make the Last Vegas Motor Speedway race date on January 25th with my new gearset. Or, maybe the March 1 date at Button Willow Raceway. Or totally worst case, if I can make it to the Willow Springs event on March 8th, then I can really get a feel for how much of an improvement I can get from the gearset, as I have about 1000 laps of experience at Willow, and I can easily gauge if they make a difference.
Also, to make matters for myself even worse, my pet peeve in life is being on time. I am ALWAYS on time, to the minute, and never late. True, I am a candidate for being the sloppiest person in the world, but dammit, I am always on time, and you never have to wait for me. My world is surrounded by people who are never on time (my wife, Wayne, sales reps at work, etc.), so it is up to me to make sure that timelines are met, and productivity moves forward. Life is too damn short to be waiting for other people to make their deadlines. That's why my license plate frame says "Maximize Your Time on Earth". If I have to spend 20 minutes a day waiting for other people, that means I am spending 140 minutes a week unproductively, multiplied by a year = 7280 minutes or 121 hours, multiplied by the 70 more years I expect to live = 8470 hours = 352 days = 1 WHOLE YEAR spent WAITING FOR OTHER PEOPLE TO GET THEIR ACT TOGETHER. So you get the picture on my view of punctuality. Now check out why I have been pulling my hair out trying to get the short gears + R&P installed in my car. Here is my story:
January 25th - Neither the gearset, nor the Ring and Pinion have arrived yet. Looks like no gears this weekend for Las Vegas. I end up coming in a pathetic 5th or so in my class at the Alfa Romeo Time Trial Event, primarily due to severe braking problems(I wore the pads down to the metal, and was stupid enough not to have any extra pads with me on this trip). But with good brakes and the gearset, I feel like I could have been the fastest car in the time trials(well, except for the fully raced out 911). All my friends beat me, Jeff in his RX-7, Wayne in his 944 Turbo, and Doug in his BMW M3.
Early February - the gearset comes in. The Comptech Street Performance Clutch also arrives. I figure as long as the mechanic is taking apart the entire tranny, might as well throw in a new clutch, as labor will be minimal. I am still waiting for the Ring and Pinion. Comptech says that their source for the Ring and Pinion is running behind, but it is due in soon.
Middle February - R &P still not here.
Late February - R&P still not here. I start calling Comptech every day and driving them crazy. Hey, I myself am starting to go crazy. There are two track events in March, and I want to start kicking some butt on the track.
March 1, Saturday - I am at Button Willow, without my gears. I get the 3rd fastest time of the day in the time trial event out of about 45 cars, losing by .2 seconds to an SCCA racer dude in a BMW M3 and 2.2 seconds to a fully raced out Vette that had slicks, roll cage, etc. My brakes still weren't optimal, and I didn't have the damn gearset. I figure with the brakes working correctly, and the new gears, I would have killed the M3. And who knows, maybe even have a shot at taking down the Vette. However, James, the driver of the M3, has assured me that he is coming back to the next event with a bunch of suspension mods.
Monday, March 3rd - Comptech FINALLY gets the R&P in. They inspect the parts, and then ship it Fedex to me. I feel like celebrating. Things are looking good for Willow Springs this weekend.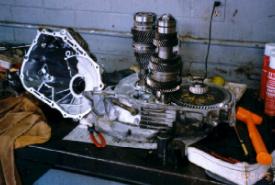 Tranny on the Bench at Acura Dealer
Tuesday, March 4th - I drop my car off. I tell the dealer to start taking the car apart, as I want them to be ready to throw the parts in for this weekend Alfa Romeo Time Trial event at Willow Springs, and that the R&P will be in on Wednesday morning. I tell the dealer and the mechanic that I want them to take their time and do this meticulously and correctly, because it is not a life and death situation if I miss this race, other than I forfeit my $165 entry fee. I am now thinking I will be dusting some people at Willow this weekend.
Wednesday, March 5th - Mechanic starts working on taking car apart, including fixing the rear brake caliper that has been giving me problems.
Thursday, March 6th - mechanic is working on it.
Friday, March 7th - I drive by the dealer. The mechanic did not show up for work that day, it was his vacation day. The Time Trial event is tomorrow. My car is on the lift, with no tranny in it, and the tranny is completely taken apart. When I said take your time, I didn't mean to make a three day vacation out of it!
Saturday, March 8th - I drive by the dealer. Mechanic not there today. My friends are at Willow Springs. My car is on the lift at the dealer with no tranny installed. I hear that John Page in a Supra Turbo is now turning 1:34.9 in practice, which is a full second below my fastest time ever. Last year I took great pleasure in beating out Wayne's 944 Turbo, ZR-1s, Vipers, Supras, etc. Looks like John Page in his Supra might be the new king of the hill. Except, now I got gears!!! Well, I got gears, but they ain't installed. Doug Ota is turning 1:36's in his M3 with his new mods he just put in(adjustable front camber plates), so Mr. Ota is saying that I better hurry up and put those gears in, or I will be seeing an M3 with a baby seat in the back kicking my ass on the track. The only consolation is that Wayne's 944 Turbo is still in the shop, getting his ball joint fixed from when he broke at ButtonWillow the week before. So Wayne and I both bitch about not going to the track and beating Mr. Page, Mr. Ota, and the rest of the regulars in the Time Trials.
Monday, March 10th - I drive by the dealer. Good news is that the mechanic last week found something wrong with the snap ring, and as a result, Acura is helping me out by getting a new tranny case. Bad news is that I have to wait for them to get one shipped to the dealer. Mechanic ordered it last week, and it ain't here yet.
Tuesday, March 11th - No tranny case yet.
Wednesday, March 12th - Tranny Case comes in. The mechanic now starts putting the pieces back together again.
Thursday, March 13th - Harry Somerfield from Northern California calls. He is doing the same mods to his car,(gears+R&P) and was also waiting forever for the R&P to come in. Harry informs me that his oil pump gear was 30/1000ths of an inch too thick, and that his mechanic felt that the casing was not fitting properly. Given that my mechanic is only working part day Friday, and is off on Saturday, Sunday, and Monday, I opt for just sending my oil pump gear back, as I don't want the mechanic to start buttoning up the transmission next week and find out that the part doesn't fit right. That would delay this process another three days. I tell Comptech to Fedex the part back to me, as an extra $10 bucks is now meaningless, I just need the damn parts and my car back. I am suffering from serious NSX withdrawal symptoms. I am now driving my 86 MR2, (hey, everyone needs two red, mid engine, two seater sports cars, IMHO) and making all my shifts close to the redline, making "vroom vroom" sounds while I am driving, trying to simulate the adrenaline rush of driving the NSX.
Friday, March 14th - Mechanic says that he is leaving at 2:30. He ships R&P via Federal Express to Comptech. Harry was sent the only other existing R&P from Comptech, and Harry is nice enough to Fedex his "defective" R&P back to Comptech Fedex, so hopefully between the two of us, one of the old R&Ps will get there on Monday so Comptech can start working on it. I call Comptech, tell them the gear is coming back, and to Fedex it back to the dealer.
Monday, March 17th - Comptech reworks the oil pump gear. Sends it back to dealer.
Tuesday, March 18th - Dealer was suppose to get the gear, and start working on it.
Wednesday, March 19th - I call dealer at noon, asking how it is coming. Dealer says they still don't have the part. Now I am freaking out. Remember what I said earlier about being on time? I call Comptech, and ask them if they shipped it to the wrong place. They call back, and say that they checked their records, and called the dealer and the dealer found the part. They sent it TWO DAY air instead of next day air, to save some bucks. So I am without my car another day due to $10 or so in postage. Comptech also claims that Acura specified tolerance is 35/1000ths of an inch, so that the part should have fit fine without sending it back, but Comptech re-machined the gear to be even closer to the exact measurement as a goodwill gesture. I like Comptech, they are one of the few guys that make go-fast parts for the NSX.
Thursday, March 20th - I call the mechanic, and he is working on it. Temperature is now about 87 degrees outside, lots of hot, dry, sticky asphalt to be driving on. Except I am in my MR2 making "vroom vroom" sounds.
Friday, March 21st, I call the dealer. Mechanic says that another mechanic quit, so he is on double duty. It won't be ready today either. Mechanic says that he will try to work on it Saturday and Sunday.
Monday, March 24th - I call the dealer. The mechanic is still working on it, along with a bunch of other cars.
Tuesday, March 25th - I call the dealer. The mechanic has the day off. I start searching for a pistol to shoot myself in the head, to put me out of my misery. It has been THREE WEEKS since I dropped off my car, and about 85 days since I started ordering these go-fast parts.
Wednesday, March 26th - I talk to the mechanic in the morning. He said that the car is now put together, and he is getting ready to start it up and test drive it. I tell him I will meet him at 4:00 p.m. I go to the dealer, and the mechanic is doing the wheel alignment (necessary after pulling the tranny). He says that the car feels much more peppier. I have to leave to get ready for a softball game, as we are playing for first place and I want to make sure I am not late to the game. The mechanic tells me to come by tomorrow late morning, and the car should be ready to go.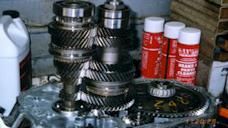 Tranny Still on the Bench at Acura Dealer
Thursday, March 27th - I pick up the car. Feels really nice. Shifts are much quicker, and car does feel faster. Let's see what it does at the track tomorrow.
Friday March 28th - I wake up at 4 in the morning, and drive with Mark Schulton down to Willow Springs. They have an "open testing day" which basically means that you can run on the track as much as you want. There are only about 7 cars at the track. Two are Mustangs from the Priestly/Cobb racing team. They have their huge semi truck there, and a full pit crew. My goal is to beat my fastest lap time of 1:35.90. After zipping around for about 20 laps, I am running consistent 1:37 and high 1:36 times. Now the wind kicks up to about 30-40 mph, and it seems like I can get enough speed down the main straightaway due to the wind. I am ripping down into turn 5 faster than I ever had before, and the car is really fast going through turn 8 at 127+ mph. I end up turning 4 of my five fastest lap times ever, but did not beat my time of 1:35.90. However, with no wind, I feel that the gears have contributed a lot. I also have to get used to the gears, as I have to change my shifting and braking patterns to compensate for the new gears.
Sunday, July 5th - I have abused the tranny for the past 3 months. Seems solid as a rock! Would I recommend doing it? If you need to wring out all the possible performance, then I guess the answer is yes. The car is more fun to drive, in that you hit the red line quicker. 2nd gear redlines around 65 mph instead of 85, 3rd gear at 90 mph instead of 118 mph, 4th around 120. The only thing I miss is that when I am on the freeway going 65 mph, I can no longer drop it into 2nd gear and take it to the redline at 85 mph when I need to pass someone. I have yet to take the car to Willow Springs again to test the times I am getting, but once I get the hang of the new shifting/braking points on the various race tracks, I should be faster.
November, 1997 - My Comptech R&P failed in my car. The teeth came off the big ring gear. The tranny case was also damaged, but luckily my mechanic had my old NSX tranny case lying around that was thought to be in the "snap ring" failure batch, but it wasn't, so he graciously let me have this case he had been storing. No damage to the short gears.
The failure occured when shifting from 3rd to 4th on the freeway onramp, so it wasn't like it was under tire screeching abuse when it failed. Comptech didn't have any more R&Ps, as they were moving to another manufacturer. They were also hesistant about refunding me my money or sending a new R&P, and kinda keep putting off the topic "until the new R&Ps came in". Having had experience when people say, "we will be getting some new parts soon, but we can't tell you when", I opted to have the stock R&P put back in with the short gears, so I could drive the car, and then think about what I was going to do with the Comptech R&P "warranty" that I felt I was entitled to. True, it is an aftermarket racing part, but I many people told me that R&Ps rarely fail.
Every couple of weeks, I called Comptech, and their response was, "The Ring and Pinion has not come in, and we are not sure what we can do to replace your R&P".
Now, let's move forward three months......
Monday, February 9th - I call Comptech, and they got the R&P in! They said they will send me a new R&P for free! My faith is restored in Comptech!!!! I also prep my mechanic to be ready, that the R&P is coming. The shop I go to (South Coast Acura) has lost two of three of their NSX mechanics. They guy that is left, Larry, is the guy that has been servicing my car for the past year or so. I also order the Comptech fiber plate for the clutch(the two plates), as my mechanic said that it was down to about 30% in his opinion when he put my old R&P in back in November. As long as he is pulling the tranny, might as well throw in the new clutch plates, as the labor will be cheap compared to redoing the clutch only 6-12 months from now. I am going to Sears Point in 10 days. Typically, I wouldn't try to put all these parts in, as from previous experience I should be like a software consultant, and TRIPLE the amount of time I think it would take to complete the job. Normally, I would not want to do ANY mods to my car 10 days before an event because of prior experience, but, my clutch is getting a little on the slippy side, so I said to myself, what the heck, let's do it.
Tuesday, Feb 10th - I call Comptech, they are getting ready to ship. I tell them to ship FEDEX to the dealer.
Wednesday, Feb 11th - I call Comptech. They still haven't shipped part. I drop my car off at the Dealer, and tell Larry to completely clear his schedule so he can work on my car, because I want it back by this weekend so I can abuse the car and test it out before I drive up to Sears Point (500+ miles) for the Alfa Club Time Trials. Since South Coast is short on mechanics, they usually don't meet their schedule of when they say the car will be ready, so I tell the service rep and Larry, "screw everyone else, just make sure my car is first in line on Thursday morning to be worked on, as I got a prior reservation."
Thursday, Feb 12th - South Coast Acura still doesn't have the part. Tim at Comptech says he will personally make sure it gets shipped so Acura gets it Friday.
Friday, Feb13 - I stop by the dealer at 3:00 p.m., to check progress on my car. (hey, if you are in their face, maybe I can make sure my car is the top priority of the day). They still don't have the fucking part! I am going ballastic, as now the car might not be ready for next weekend.....and we are all getting psyched to go to Sears point. I drive home, ready to kill the Comptech guys. I get home, and the parts + clutch plates are just sitting on my porch. $3500 worth of parts just sitting on the porch for any thieving NSX owner to steal, but I guess is it better that UPS just left them there, so I at least can take physical possession of the parts. I take the parts to the dealer at 5:00 p.m. Friday. Dealer says that they will start the job on Saturday, and Larry will work some overtime on it.
Saturday, Feb 14t - Larry is working on the car.
Sunday, Feb 15 - My mechanic calls Comptech. He gets a hold of someone, to ask them why the R&P seems like it is made out of "soft metal". Meaning that if he puts the Pinion? in a vise, clamp it down, and take it out, the metal seems like it is gets "dinged" and marked from the vise. Comptech says, "hey, it's normal, it is a racing part".
Monday, Feb 16 - I call the dealer at 3:00 p.m. Tranny is put back together, and he is getting ready to put it in the car. I started to jump up and down in my office, as now I can pick the car up tomorrow and get the rest of the stuff done, like get tires changed out, get wheel balance, get someone to fabricate some customer seat brackets for my new OMP seats. (I got some discontinued fiberglass Grand Prix OMP seats. I like them!)
4:00 p.m. - Mechanic calls me, leaves message. Says that Comptech called, and told him THEY SHIPPED THE WRONG R&P, and to take it out. I call Comptech, and they said that they shipped the R&P for the Realtime car instead of the one I was supposed to get. I tell them, "so what, I gotta get my car outta the shop, I got to get wheels aligned, tires put on, new racing seats put in, get brackets for the racing seats made, etc. Comptech insists that the R&P I have won't be warranteed, as it is from a different manufacturer than the new manufacturer that has the part they will warranty. He also said that the R&P I have will be noiser, as it isn't "polished". I basically told him so what, I gotta get my damn car ready for my once in a lifetime trip to Sears Point with all my buddies, and so far Comptech has wasted 7 of my 10 days to get the car ready. I don't give a shit if it is noisy. Comptech INSISTS that we gotta put the other R&P in it, as they will feel the newer R&P will be more dependable, and since I had problems with the other R&P, he wants to make sure I have the parts that should last. I talked to my mechanic, and we debate whether or not to blow Comptech off and go with what we got, but my mechanic convinces me that we should go with the right part they want to ship us, even if it means losing another day.
Tuesday, Feb 17 - 7:30 p.m. My mechanic just finishes up the re-re-re-re-install. (since when the first one exploded, he put the stock one in, then he put the "new wrong one" in, and now he put the "new right one" in) . Comptech pays for installation of the re-install(just the last one). We go for a test drive, and it feels fucking fabulous when shifting. Real light, fast, buttery shifts, both up and down. I leave the car with the mechanic, as I needed him to bleed the brakes, as they felt soft. I have no time to do anything with the car, as I have to work about 65 hours at work from Monday thru Thursday. Car seems like it is ready for Sears Point!!
My commentary on the Comptech R&P with the short gears:
I really like it. I mean **REALLY LIKE IT** Since I have driven the car with:
1. Stock R&P and Stock Gears (original)
2. Comptech R&P and Short Gears (original mods)
3. Stock R&P and Short Gears (when the R&P blew up, I drove it like this for three months)
4. Comptech R&P and Short Gears(just re-re-re-re-reinstalled last week)
I feel like I can't live without the Comptech R&P. Here's why:
1. Stock R&P and stock gears - 2nd redlines at 85 mph or so, 3rd redlines around 118 or so
2. Stock R&P and Short Gears - 2nd redlines at 72 mph or so, 3rd redlines around 105 or so
3. Comptech R&P and Short Gears 2nd relines at 62 mph or so, 3rd redlines at 90 mph or so.
With option 3, virtually everywhere you go you can buzz to 8000 RPMS in 2nd gear, whether you are on the freeway or just your local city streets(if it is safe, of course), and on the freeway you can always buzz to redline in 3rd. I like hearing and feeling the car accelerating to the redline. Every single time I shift, I am conscious of the fact that the car is rapidly accelerating to 8000 RPMs, and I have to go "ah, that feels so good" feeling every time I shift. And I have the R&P + Short Gears to thank for it.
My opinion on the Comptech R&P + Short Gears:
Is the R&P faster on the track? Yes, it feels faster, but not by a huge margin. Let's say it is worth maybe one second a lap for the sake of argument.
Is it worth the money?? Well.......combined with the short gears, if you:
1. Beat the shit out of your car and run it hard
2. Like to redline it every shift you get, and have those shifts come up very quickly
3. Need to cut maybe a second in your lap times to remain competitive with your buddies
Then I would say you should consider the Comptech and short gear setup. If you think about it, if you DO NOT have the short gears and R&P, how often do you get to take it to the redline in 2nd or 3rd and hear the VTEC engine/exhaust roar? Once every couple of weeks? Hey, I get to do it about 25+ times a day just driving to work!
:-)