Dromo 1 Christmas Invitational Championship & NASA at AZMP
"Winding Down Another Year"
December 2003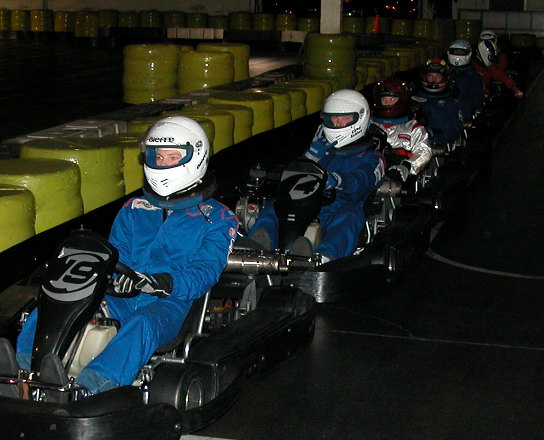 The Pulp Racing Christmas party was at Dromo One
Yeah, I know, I am a little late with this story. Christmas was real busy, New Years even more so. And I have writer's block again. Plus with the baby, I find it real hard to concentrate, as it is hard to get a big block of "quiet time" to crank out a story. Perhaps all new parents go brain dead for a while taking care of newborns? Anyways, here goes a quick update to start the New Year, only about 3 weeks late. Thanks to you readers who have been emailing me the past month with "Hey, when is the next update!". Al Miller said it was gonna be -50 degrees in Cornish, Maine, and he needed a new NSX-Files story to survive the winter!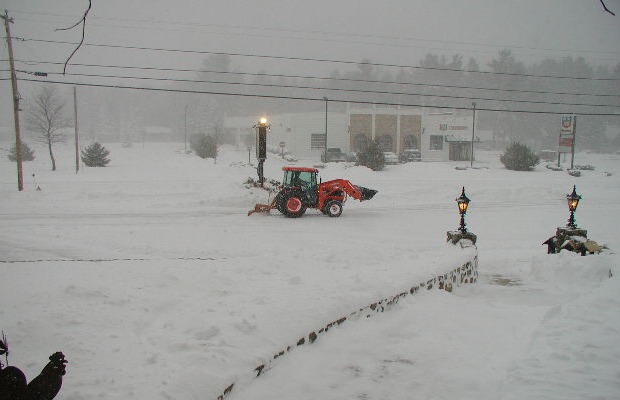 January 15. Cornish, Maine: -50 degrees. That's 120 degrees colder than Huntington Beach!
(photo by Al Miller)
The 2004 Open Track Challenge announced that track #5 will be Arizona Motorsports Park. Wayne and I haven't been there. His 944 Turbo still wasn't ready, my NSX still wasn't ready, so I figured we would just drive up to AZMP and attend the NASA event there. We can drive up on Friday, attend the track event Saturday, and drive back Saturday night. I signed us up for 3 run groups, so we each can run about 6 session each. That should give us enough time to get familiar with the track prior to the OTC. I suppose that I could have gathered up a whole contingent of OTC people to head down to Arizona, but then again we would lose our strategic cheating advantage, so screw that!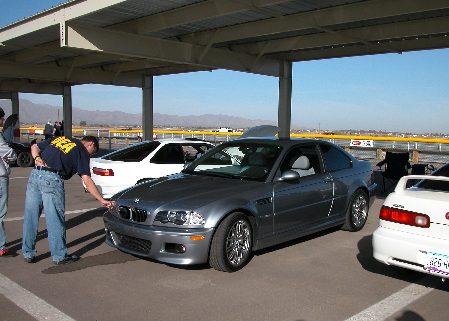 AZMP has covered parking in the cold pit area
Friday, December 5th
We pack up the S2000 with our helmets, driving suits, hot lap timing equipment, and a couple of tools. Since the last leg of the OTC is from California Speedway to AZMP, we decide to clock ourselves and see how long it takes to get from Fontana to AZMP. We leave Newport Beach around 11:00 a.m., get to Fontana by noon, and blast towards AZMP at a high rate of speed. We get there from Fontana in 4 hours, including a gas stop and a Taco Bell stop, avoiding the local state troopers. (For those of you making the trek from Fontana to AZMP, don't forget that there is a time change between Southern Cal and Arizona). We cruise over to Brett and Stacey's house for a steak dinner, do a quick eat and run, and off to the casino, where I proceed to lose 200 bucks, and Wayne wins 200 bucks. Damn.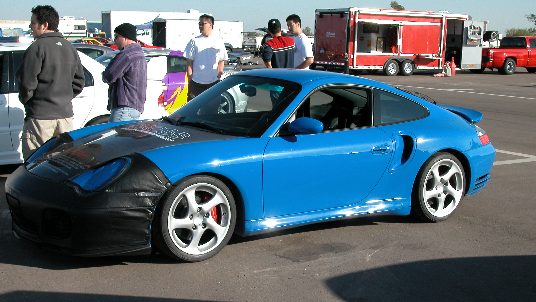 Lots of P-guys at the event
Saturday, December 6th
We go from the hotel to AZMP, and signup with the local NASA folks. Curiously, a lot of the HPDE drivers here do not use transponders or Hot Lap Timers, so they don't know what lap times they are running. We want to compare our times with other people, but can only really do it with people in the race group, who are using the AMB system. We are signed up for two beginners groups, and one advanced HPDE group. That's really all that was available to us. But we figure we are just there to learn the track, so going in the beginner group will be fine for us, and we can do some hot laps in the advanced group.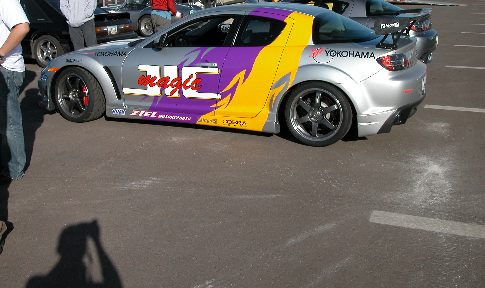 Mazda RX8 at the event
Wayne has this mental problem (among others) where he can't sleep the night before a track event. I tell him it is all in his mind, but he just can't overcome it. So he usually gets about 3 hours of sleep, and thus the next day he looks like a crack addict because he didn't get enough sleep. Last night was no different, so after we sign up at the track, unload the car, Wayne decides to take a nap. So he looks like this: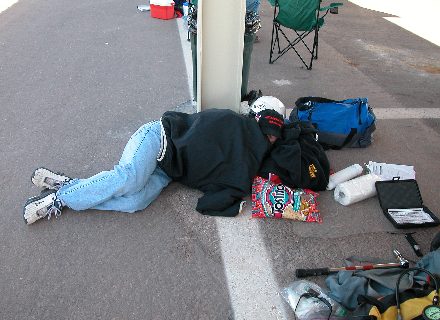 Wayne always makes a good first impression at new track events
So we try to grid behind people that we think know what they are doing. A guy in a Spec RX-7, a guy in a Miata, and a guy in an older brown 911 are driving some excellent lines, so we are following them around whenever possible. After a day of thrashing the S2000 on the fully treaded street tires that we drove up on, I run a 1:57.4, and Wayne running a 1:58.1. Considering it is our first time there on street tires and without a big ass ugly wing, we are pretty happy with our laptimes. We did see a white EVO there with lots of mods on it that blew our doors off. A guy in a Lotus Elise Motorsports race car also blew our doors off. We pack up the S2000, blast back home into the sunset with the top down, T-shirts (weather was awesome), stopping at a casino, with Wayne kicking butt and me getting my ass kicked again. Damn! But at least I beat his laptime!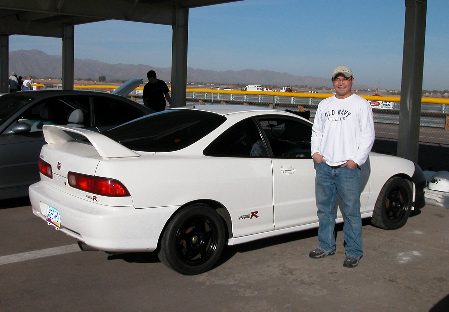 Mervin's Type R
The Dromo Christmas Invitational
Back in November or so, Wayne was saying we should have a Christmas party, perhaps at the Dromo indoor karting place. I said that would be a good idea, and maybe we would get just a small group of racers together to duke it out for bragging rights. I decide to have the First Annual Pulp Racing Dromo One Invitational Championship. So we were going to get about 12 people or so, and rent out the place and have a ladder-style tournament type of competition. We started asking around as to who wanted to go, and we got more and more people that wanted to go, until we decided to cap it off at 32 people.
Dromo usually allows about 8 people on track at a time, so I was trying to see if they would put 12 people on the track at the same time since we are "experienced" racers. Dromo said this is the worse type of event to have, as the last time they had some SCCA "experienced racers" at their event, they wrecked four karts because they were a little too "aggressive". It was probably the Spec RX-7 guys. Dromo said that no more than about 8 people on the track at one time, especially for us "contact challenged" drivers.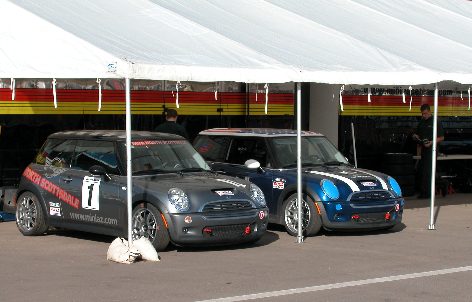 The local Mini dealer was there supporting their customers for an arrive and drive
Dromo said that their format for individual championship racing goes like this:
1. Everyone gets 4 races.
2. The races are 6 laps each, no qualifying.
3. The gridding is random. (You will be up front for some races, in back for others)
4. Points are scored by how you finish in each race
5. After the races are finished, points are totalled up.
6. Then, everyone is gridded for one more race, according to points scored, kinda like NCAA tournament seedings. Meaning top 4 with points are seeded on pole for their "semi final" race, next four seeded 2nd, etc.
7. Then, after the semis, the top 9 drivers in terms of overall points run in the final race for championship honors.
At first, I protested to Dromo that the six lap heat races would be too short, and I wanted to make them 10 laps. They said, "We've done this many times, and customers have said they had a great time using the 6 lap race format."
I start to make out the list, and it gets bigger and bigger, until we get the 32 fastest (or so called fastest in their own minds) racer types in Southern California. We even had people flying in from Texas, and people driving in from Arizona for this race. I had to unfortunately turn down people that wanted to get into the event, as I figure I'll try to make it work with 32 people this time, and maybe go for 40 people for the next event. The invitation and the invite list very quickly looks like this:
The Pulp Racing Christmas Invitational
Dromo One Championship
December 10th, 7:00 p.m.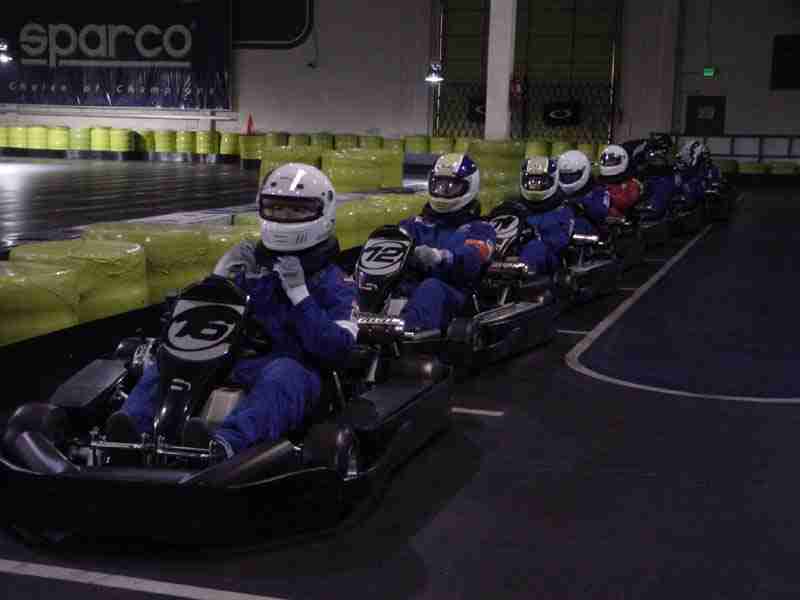 Do you have enough skill, desire, and ability to be the King of Dromo One?

Prizes Courtesy of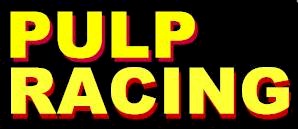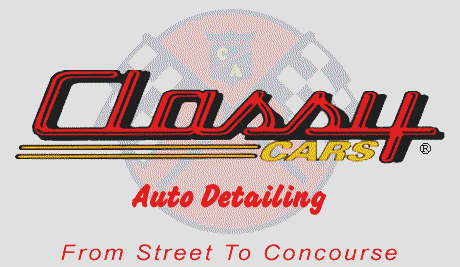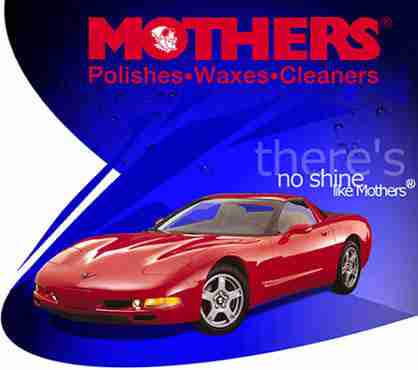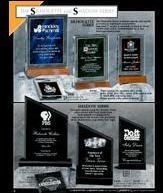 Richardson Trophies

Format: Everyone gets at least 4 wheel-to-wheel races for points. 8-9 karts on the track at a time. After everyone gets their races in, the 9 drivers with highest scoring point totals grid for final race for podium honors.
When: December 10th, Wednesday, 7:00 p.m. doors open Get there early, say 6:45 p.m. If you are late, you may miss out on your first heat race, and thus you will not have enough points to qualify for the final trophy race. NOTE: There is another private event before us, so we cannot enter the building until 7:00 p.m. They have it reserved from 4:30 to 7:00 p.m. SO, if you want to beat traffic and get there early, go to Danny K's Pool Hall, 1096 North Main Street, Orange, CA. It is 1/2 mile south of Dromo on Main. A bunch of us should be there at 4:30 p.m. so shooting pool.
Where:
Dromo 1
1431 North Main Street
Orange, CA 92867
714.744.4779
1st Place in Final Race: $200 cash, $150 Classy Cars Gift Certificate, Richardson Trophies Engraved Plaque "What Racing is All About", $100 off of the 2004 Open Track Challenge Entry fee (note: Non-transferable)
2nd Place in Final Race: $75 cash, Richardson Trophies Engraved Plaque "What Racing is All About", and a bucket of Mother's Polishes/Waxes; $50 off on the 2004 Open Track Challenge Entry Fee (Non-Transferable)
3rd Place in Final Race: $50 cash, Richardson Trophies Engraved Plaque "What Racing is All About", and a bucket of Mother's Polishes/Waxes
Hard Charger Award: Person in final race who makes up most positions and does not podium finish will get a bucket of Mother's Polishes/Waxes
RSVP and pay the $75 ASAP to hold your entry!
How much: $75, payable to me, either via Pay Pal, check or cash ASAP. This will reserve your spot. Otherwise, your spot gets replaced by some other person who wants to get in on the biggest Xmas party east of Heffner's mansion. Refunds available if you pay me now, and later on cannot make it, but you give me enough time to find a person to take your place. So reserve your spot now.
Food: Wayne and I are buying some type of foodstuff at the event (pizza? Sandwiches? something like that), along with the prize money. Since we think the prize money will be going back into our own pockets, we aren't too worried about offering cash prizes. <grin>
Optional stuff you could bring:
1. Your own helmet (if you don't like using the loaner helmets)
2. Your own suit (you will look cooler in your podium pictures, standing below me on the podium, instead of the loaner suits they have) <grin>
3. Your own gloves (they have gardening type of gloves as loaners)
For those who have not been to Dromo 1 before, try to get there at 6:45 or so, as you have to fill in waivers, take your picture, take the instructional class which deals with penalties for bumping, etc
The List of World Famous Drivers attending this event
| | | | | |
| --- | --- | --- | --- | --- |
| RSVP? | Paid? | Driver | Claim to Fame | More info at: |
| YES | YES | Doug Hayashi | Pulp Racing, Flamemobile driver | www.nsxfiles.com |
| YES | YES | Wayne Mello | Pulp Racing, 944 Turbo driver | www.pulpracing.com |
| YES | YES | Erik Messley | EMI Racing, Suspension guru, Grand Am/Daytona driver | |
| YES | YES | Jason Rhoades | 1st Place OTC 2003 T3 class, holder of many Honda S2000 track records | |
| YES | YES | Terry Chen | Spec Miata, Spec RX7, and Lotus Elise Driver | |
| YES | YES | Jason Trumpio | Founder of the car web cam, Mustang and Audi driver | |
| YES | YES | Alan Chavis | Z06 driver, OTC Founder | |
| YES | YES | Brian Provost | M3 Driver, Godfather of OTC, Co-Driver OTC T1 Champ, flying in from Texas | www.brianprovost.com/ |
| YES | YES | Craig Oka | Viper, Porsche, and S2000 Driver | |
| YES | YES | Brett Mayes | Viper/Import racer, PMUM Understudy, flying in from AZ | |
| YES | YES | James Sofronas | World Challenge BMW Touring Driver, Global Motorsports Group | www.globalmotorsportsgroup.com |
| YES | YES | Brad Sofronas | World Challenge BMW Touring Driver | |
| YES | YES | Paul Garguilo | 1998 SCCA T2 Champ, World Challenge and Grand Am Driver | |
| YES | YES | Alex Vizcarra | Gruppe M Motorsports | |
| YES | YES | Jeff Littrell | Sports 2000 champ, Karter | |
| YES | YES | Rick Bailey | Vette driver, owner opentracking.com | www.opentracking.com |
| YES | YES | John Dearing | Viper League Driver, OTC T1 2nd place | |
| YES | YES | Jonathan Dearing | Up and Coming Driver | www.speedventures.net |
| YES | YES | Aaron Bitterman | Speedventures co-founder, Spec Miata and S2000 driver | www.speedventures.net |
| YES | YES | Jeff at Classy Cars | Owner, Classy Cars Auto Detailing, Kart Driver, with killer cheater motor | www.classycars.com |
| YES | YES | Jim Halloway | Owner, Mother's car care products, crasher/thrasher of karts | www.mothers.com |
| YES | YES | John Coffey | Beta Motorsports, Winner of OTC U3 class | www.betamotorsports.com |
| YES | YES | Bryan Lampe | Cal Club ITS Double Regional Winner, Winner of OTC U3 class | |
| YES | YES | John Wurth | Wurth Motorsports and Speedventures co-founder, T1 Vette driver | www.speedventures.net |
| YES | YES | Paul Taylor | San Diego Autocross Champ | |
| YES | YES | Heidi Taylor | San Diego Autocross Champ (Fastest female I know. In a car.) | |
| YES | YES | Doug Ota | Sports 2000 Podium finisher | |
| YES | YES | Aaron Schley | Has NA Honda that runs 10.x in the 1/4 mile | www.sptools.com |
| YES | YES | Chad Schley | Spec RSR Driver extraordinare | www.sptools.com |
| YES | YES | Ryan Flaherty | Founder, NASA-LA and OTC, Honda Challenge driver | www.nasaproracing.com/socal/ |
| YES | YES | John Lindsey | Founder, NASA-LA and OTC, American Iron Driver | www.nasaproracing.com/socal/ |
| YES | YES | Will Rauch | S2000 Driver, rumored to have most highly modded S2000 in country | |
Any event this big requires lots of Cheating Bastard Practice. Wayne, Terry, and I start going once a week or so to Dromo for about 5 weeks in a row. We get Terry to ditch work, as we think going to 1:30 and 2:00 p.m. races on the weekdays are best, as we beat the traffic both going up and back. We have some pretty good battles between the three of us, with the person who gets the best kart usually winning. We estimate that the karts differ in lap times by up to a 1.5 second a lap. But we figure that even in a crappy kart, we can still beat 98% of the people there.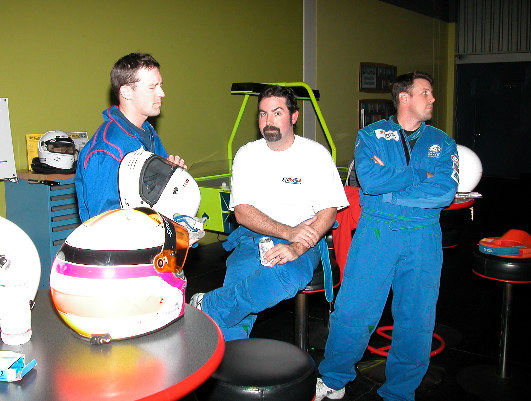 Half of the Zen Five waiting for their turn on the track. BP sleepwalking.
About a month before the event, John Dearing asks if he can bring an "employee" to race. Since I am always worried about potential ringers coming into the event, I ask him if the guy races a lot, or if the guy has a lot of experience at Dromo. He says, "No". I say sure, no problem. At one of our weekend cheater practice sessions, I see Chad Schley getting some practice with friends. We sneak into their run group, and Chad is fast, but we end up being a little faster. We figure we don't have to worry about him for the podium. Later, on we hear that Dearing's son Jonathan did real well at the Viper Dromo event, beating just about everyone except for Chad Schley. Later, I find out that Jonathan Dearing is John's "employee" that he would like to bring. BP hears that I let Jonathan in, and says that letting a 15 year old, 95 lbs future racer in the event is asking for trouble, as his power-to-weight ratio will be very high. I tell BP no problem, as we figure if Chad beat Jonathan, and we can beat Chad, that's just another body for us to beat up on. Terry, Wayne and I figure that one of us three should win the event, with the other longshot contenders being:
1. Erik Messley - fast with anything with wheels
2. Jeff Littrell - no experience at Dromo, but catches on quickly and doesn't make a lot of mistakes
3. BP - has been there before and did well when he got a good kart
The rest of the group we just consider cannon fodder. <grin>
A week or so before the event, John Dearing calls me and says that his son ran something like 25.8 at the Viper event. Uh oh......me, Wayne, Terry, and Messley are running around 26.40, and I tell Dearing that his son could be a winner at the event, as we are running mid 26's. Dearing can't keep straight face over the phone, and confesses that his son is running high 26's. He just said that he was running 25.8 so I would confess as to what laptimes we are running, otherwise, he knew I wouldn't tell him our lap times. Nice Cheating Bastard move by Dearing!
BP and Brett are screaming that they want some practice, especially since they are going to be coming in from Texas and Arizona for this event. They keep waffling as to whether they are coming on the day of the event or the day before. After they finally decide when they are coming down, I get ready to make reservations for a few races right before the Main Event at 7:00 p.m. But then Coffey calls and says, "HEY! Did you Cheating Bastards rent out Dromo for two full hours before the event to get practice?" My mind starts spinning. "Uh oh....did someone beat me to it? Did the Viper guys drop a $1000 bucks or so to get practice among themselves before the event, those Cheating Bastards?". Turns out a false alarm, just some other company wanted to have their Christmas party there.
Anyways, Jeff, BP, Brett, Terry, Wayne, Jason Rhoades, Coffey, and myself decide to run a couple races at 3:00 p.m. before the other private event starts. Jeff figured that if I said to show up at 3:00 p.m. for practice, that really means I'll be there at 2:15 getting Cheating Bastard practice, so he gets there before us and signs up for a race! I get a good kart for one of our practice races, and I run a 26.065, which is 8/100ths off the track record (stated on the time sheet) I feel like I am ready to win my own event. Heh heh. The second race, I get gridded with kart #13, which is dog slow, and I get my ass kicked in this race. After our practice races, we go grab some food, and head over to the local pool hall to kill some time. At 6:30, we head over to Dromo to sign in and duke it out to see who the fastest driver in Southern California really is.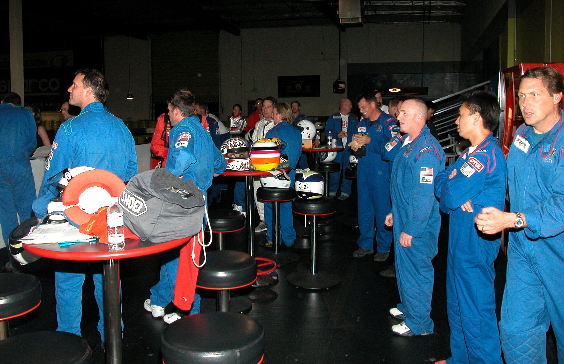 The crowd at the event
During the driver's meeting, it is emphasized by the track officials that ramming/bumping into other karts is not acceptable behavior, and they will penalize you. From the control tower, they can remotely shut down the throttle to any kart on the track. So if you ram someone, or if you push someone into the wall, they will shut down the power to your kart and allow people to pass you before restoring power back to your kart. They also emphasize that anyone caught "powerbraking", will also have the power shut down to their kart, as they can tell from the control tower if someone is applying the throttle and brake at the same time.
So, the random grid for 16 heat races is printed out, with 8 drivers in each race, and the games begin! We have a moment of silence in rememberance of PMUM, and then they play the national anthem. I print out an elaborate scoresheet for people attending the event, thinking that it might be good to tally up points for each heat race, so you can figure out where you stand. The goal right now is to be in the top 9 people for points, in order to make the big final race. I was figuring that if Wayne or I were on the "bubble", meaning say we figured we were 10th or 11th in points, we might be able to bribe a backmarker to uh....slow down someone with more points in their race. Coffey said he was a "For Hire" driver at this event. Unfortunately, the heat races are intense, and you don't get to sit around for more than about 8 minutes before you are gridded into the next race, so no one has time to fill out the scoring sheets.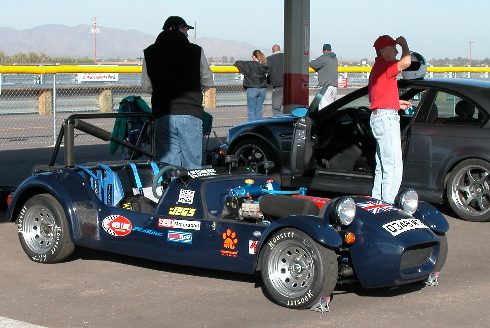 Cool car. Caterham?
In my first three races, I come in 1st, 2nd, and a 3rd. I figured if you can average a 2nd place finish for all five races, you should be guaranteed a spot in the final race. In my 4th race, I get gridded last, but I get lucky and get assigned kart #18, the one that almost got me in to the 25.xx lap time earlier in the day. (note: It is impossible to try to place yourself in a particular kart, as they are always rotating karts in and out, so it really is the luck of the draw as to which kart you get). I figure if I can go from last place to about 3 or so, I am sitting pretty good going into the semi final race, where I figure I will be gridded 2nd or so based on my previous results.
The race begins, and it is still tough to pass people, even with a fast kart, as most of the people in the event have wheel-to-wheel experience, and they are thus blocking the inside passing lane on the turns. I got JWL in front of me for a couple of laps, and he seems to miss the braking zone in the hair pin area. I figure I go in real hot, out brake him, and squeeze on the inside. I go in hot, but JWL doesn't really miss the braking zone, but gets his kart a little sideways, and I am blasting in trying to power slide on the inside, but I end up ramming JWL's kart pretty hard. I mean real hard. I suck. The corner worker sees it, radios to the tower to shut down the power to my kart, and also gives me the dreaded black flag. So a bunch of people pass me, I report to the black flag "corner" of the track for about 20 seconds, and now I am in last place by about a full lap. And since everyone is an experienced driver, there is no way in hell I can make up any ground. I end up taking last place, despite having been gridded with the fastest kart. DAMN! Jeff comes by, and says I'm a moron, as I had the fastest kart and I crashed it. And perhaps crashed myself out of the final race at my own event!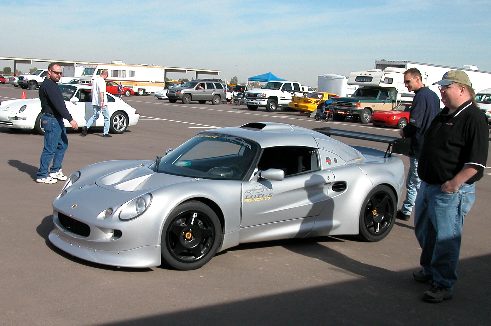 A lucky driver took delivery of an Elise Motorsport race car
The track officials tally up the four heat races, and then they grid everyone for one last semi-final race. I am gridded 4th or so, based on my moronic crash. I do well in his race, and end up taking 1st. So now I think I have a 1st, 1st, 2nd, 3rd, and an 8th place. Damn. Looking crappy.
They announce the grid for the final race, and Jeff is on pole, with Wayne right behind him. Terry is gridded 8th, and I end up taking the 9th spot, barely beating out Craig Oka. Jonathan "The Kid" Dearing is in there, along with Brian Lampe, Aaron Schley, James Sofronas, and a couple of other guys that I can't remember a month later, as I can't find the time sheet. Terry and I confer, with Terry saying that he knows I'm gonna dive bomb on him, but we agree that doing that will prevent both of us from moving to the podium, so I agree that he has two laps to make up ground before I go into kamikaze mode. Since I organized the event, and since I am gridded, last, I tell the track organizers that as a surprise to everyone, we are going to run the final race counter-clockwise, which no one has ever done before, including me and Wayne. The track organizers at first didn't understand what I was saying, and thought that I requested a reverse grid, meaning the 9th place person is gridded 1st, the 8th place gridded 2nd, and 1st place person actually gridded last. "HUUUMMMMMM....", I thought to myself.....that would be the ultimate Cheating Bastard trick to get me on pole, but I think every racer in Dromo would walk out of the event if they announced that. So I tell the track official to stay with the original grid, but let's go backwards. That way if people make a mistake, Terry and I would have a better chance of making it to the podium.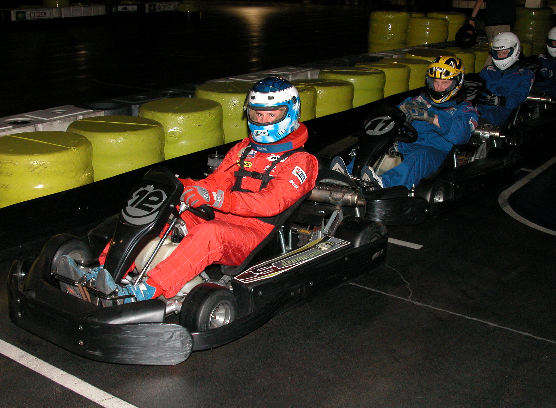 Jeff on pole, with Wayne right behind him for the final race
The final race is gridded, and this time we are going 15 laps. I'm telling Wayne that he HAS to run down Jeff and beat him, otherwise, Jeff will remind us that after all our Cheating Bastard practice, he still whupped us. I walk over to my kart, and I recoil in horror. I got kart #13, the kart that I got killed in earlier in the day. DAMN!
The green flag is dropped, and all hell breaks loose as everyone goes full bore into the new "Turn 1" in the reverse direction. Everyone is right on everyone else's ass, trying to squeeze through. Wayne's duking it out with Jeff and Jonathan, but part of the way through the race, Wayne is accused of power braking, so they reduce power to his kart, and the ENTIRE field passes him. Wayne is screaming and shaking his fist at the control tower, as he was thinking he was gonna be the King of Dromo, and they are cheating him out of his title. Terry is trying hard to squeeze by people, and I am doing the same with my slow ass kart. Jeff and Jonathan are now duking it out for 1st place.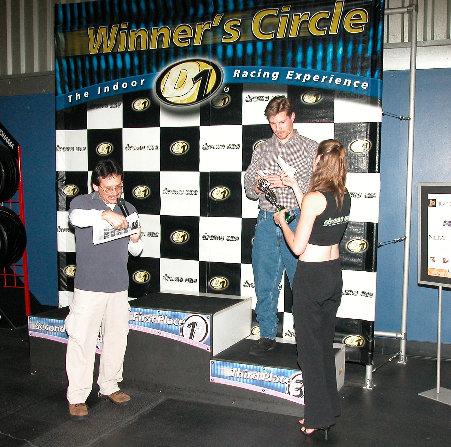 Brian Lampe takes 3rd place
After a good battle for all places, it ends up with Jeff in 1st place, Jonathan 2nd, and Brian Lampe 3rd. Aaron Schley gets the Hard Charger award, for passing the most people. I end up about 7th, Terry 6th, and I think Wayne takes last after his penalty. Wayne says he never power braked. No one believes him....cause he cheats almost as much as I do!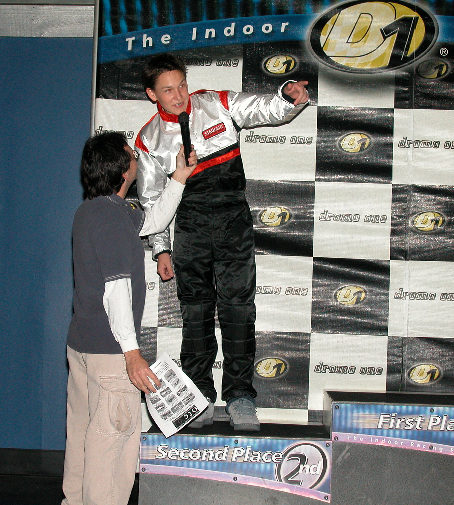 Jonathan Dearing talking about how he passed Wayne
After the race Brett is trying to take off his race suit, but heís too lazy to take off his shoes. So while heís trying to peel the pants over the heel while watching the final race he feels something in his finger go "zing" and it will no longer straighten. Apparently he detached a tendon in his finger taking off his suit. What a homo! Especially since BP and I drove up with him in his H2 to the event. So off to the local emergency room, we dropped him off and went to In-N-Out Burger. This only after a short debate on whether we eat first or drop off Brett.
After our meal we walk in to the ER, and I immediately see a little kid's table, with three itty bitty chairs. I whip out the cards, and we start playing Crazy 8's for 3-5 bucks a game. We play for about an hour and Brett finally leaves to see a doctor. We switched to blackjack for two more hours. Two thousand hands of blackjack later, BP walks out victorious with 4 bucks.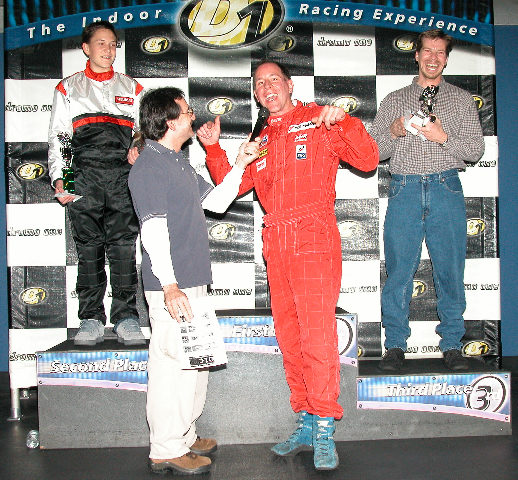 Jeff emphasizing that he kicked everyone's ass and today was his first day at Dromo
Brett said that while he was waiting for an X-ray on his finger, there was some cute little 25 year old Asian gal in the emergency room across from him. Apparently she was having unusual stomach pains. She was told that she would need to have an enema so they could shoot some dye in her, and she then needed to be X-rayed. As she is getting wheeled out, the technician asks Brett to come along for his x-ray. Brett makes an award winning comment to the doctor, "Hey, Iíve been here for a long time and Iíve got a card game waiting for me, can we save some time here and kill two birds with one stone?" The doctor looks at Brett quizzically. Brett says, "How about I stick my finger up her ass, and you X-ray us both at the same time". The Asian woman is stunned by the comment, and the technician wheeling her out of the room is doing all he can to keep from laughing his ass off. I hang out with some wacky people.....

The podium winners with their plaques, trophies, and Pulp Racing prize money checks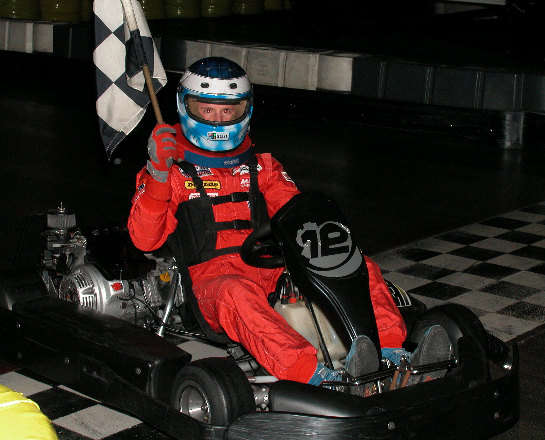 We hate Jeff! (in a nice sort of way)
Other miscellaneous stuff.
Thursday, December 18th.
Wayne heads off to Hawaii with Amy for 10 days. That way, he doesn't have to buy Xmas presents for anyone, using his George-like excuse: "Hey, I wanted to get you a present, but I was in Hawaii".
Saturday, December 20th.
I make it my goal to try to get all the cars working by January 1st, to start off the New Year with a bang. I drop the F355 off at the dealer to fix the following things:
1. F1 Tranny leaking a 12 inch wide puddle of red fluid every morning.
2. Two of the four motor mounts are broken
3. F1 gear indicator light has 5 of 10 LEDs that are burnt out
4. Reverse lever loose, apparently a pin/metal piece broke off
5. Hand brake warning light comes on under hard braking or hard cornering
6. "Check Engine" light comes on all the time, won't turn off, seems emissions related
7. Clutch slips under hard acceleration under the 3-4, and 4-5 shift
The Ferrari dealer will charge me more than an independent Ferrari mechanic, but I figure that if the dealer does a major servicing on the car, it would help with resale value. Yes, I am thinking maybe I'll sell the F-car. Dealer gives me the estimate, and it is ugly. I tell them not to fix the gear indicator light ($500+labor) or the loose reverse gear lever ($2500, I guess it is made out of ahhh...titanium plated gold), but fix the rest. Wayne says some guy on the Ferrari chat list will fix the shifter gear light for $100 bucks if you send him the gauge, so I do that. A couple of days later, the dealer says that the pressure plate is cracked, so I need a new one of them, and the whole unit has to replaced. The dealer calls me and says it is "twenty nine ninety nine". Cost is $29.99? Too good to be true? Yes. It is $2999.00 Damn Italians.
So I switch to working on the NSX, which has been out of commission for many months. Erik said that the limited slip wasn't working right, so that had to be tightened up, which meant that the tranny had to be dropped. The NSX has also been running lean since its last event at Buttonwillow. Autowave decide to drop the fuel cell, clean it out, and replace it with new foam inside, thinking that crap in the fuel cell was clogging up the injectors. Another set of injectors were put on, but car was still running dangerously lean on the dyno. It was looking like maybe the wiring harness was bad, or perhaps the motor itself was suspect. Shit, yet another motor "rebuild/freshen up"? After many hours of troubleshooting, it turns out the new injectors didn't have new screens on them, so these were clogged as well. After putting on known good injectors with good screens, car was running great again, dyno charts look the best that they ever have. OTC here we come!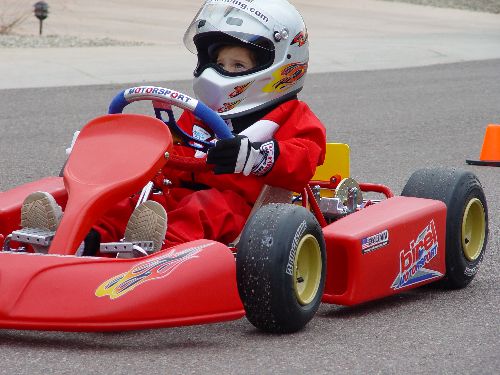 4 year old twin girls Dylinn and Hallie gets karts for Xmas!
Thursday, December 25th, 3:00 a.m.
The wife finishes decorating the tree. Christmas dinner is at our house later that day. I decided to barbeque 15 lbs of steak, and 15 lbs of ribs. Probably too much food, but at least there will be lots of leftovers. My sister says there is rain in the forecast, but I shrug it off. What's a little rain? Brett's twin girls each get a Birel kart for Christmas!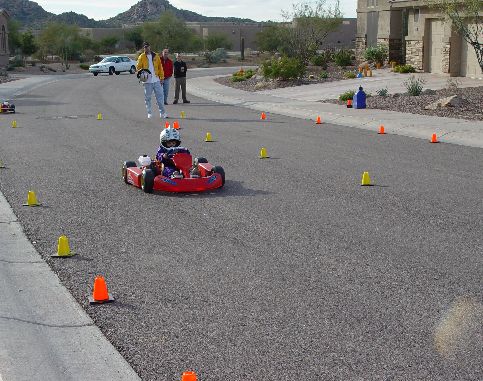 Hallie blasting down the street while Brett watches!
Check out the 1.3 meg video
December 25th, 4:00 p.m.
We got what seems to be an inch of rain coming down every hour, and the wind is blowing into the barbeque at 35 mph. Which means the flame won't stay lit on the barbeque. Uh Oh. No one said it would be an ffing hurricane coming into town. Hummmm....some quick thinking, and it is off to the shop to pick up the EZ-UP, the side panels, two S2000 tires, and 10 bungy cords. I proceed to build a shelter around the barbeque that looks like this: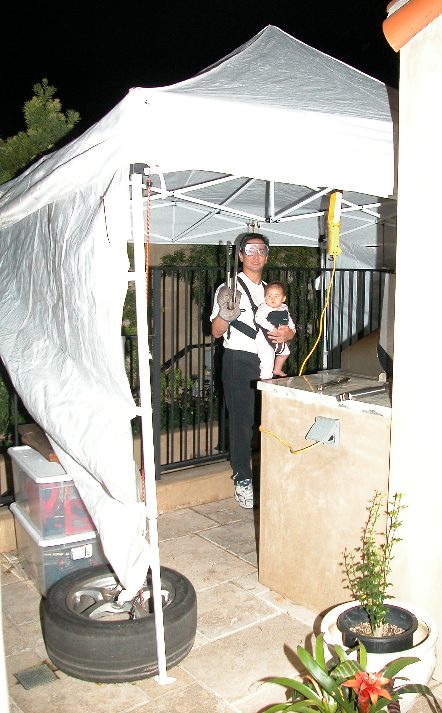 After it dried up the next day. It was too wet and windy to take pictures on Christmas night
Googles, a rain coat, a hat, an EZ-Up, and in an hour I get 30 lbs of meat cooked. Whew, that was a close one.
Friday, December 26th
I get the NSX back from Autowave!
Saturday, December 27th
I have Dana help me clean up the shop and organize the trailer. I buzz the NSX up and down the street by the shop, and at the end of the block, the car dies. Fuel pump isn't firing up. Damn! So we tow the car back to the shop.
Sunday, December 28th
So I was looking to put the car on the track January 2nd at the Willow Springs test day, and had Erik re-align the car after I got it back from Autowave. There are too many cars at Erik's shop, so he brings all his alignment laser gizmos/gauges to my shop. It takes him an hour to uh....clean the underside of the car to do a nut and bolt check, clean off alignment points, etc, before he even starts the alignment. Two more hours later, we are done! Except that Erik says that left rear wheel bearing is bad, and should be replaced. Damn, I just replaced that two years ago at the first OTC. So I have to take the car back to Autowave, so they can order wheel bearing and install that. I start calling the Ferrari dealer a few days before January 1st, but they are waiting for parts, mechanics are on vacation, etc. Shit. No F-car for the New Year.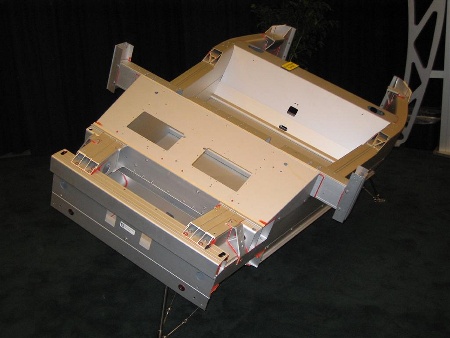 Now this is some cool stuff! (bigger)
Tuesday, December 30th
NSX is at Autowave. Autowave concurs that the wheel bearing is bad.....but they also believe the rear ball joint is bad, which is causing some play in the rear wheel. Erik checks it out, and concurs. So now I have to order 2 rear A-arm thingys, as you can't just replace the ball joints on these expensive aluminum suspension parts. DAMN, I just replaced these a-arm thingys at the first OTC. Erik says, "Well.....you are going prettty damn fast around the turns, which stresses out parts and causes them to wear a lot faster than normal". Okay, that makes sense....but wears it out in 700 miles as opposed to 100,000 miles? Autowave orders a new fuel pump to replace the one that died. A-arm thingys won't be in until next week. January 2nd test day for the NSX ain't gonna happen.
Xmas cards were sent out today. Yeah, I know, a little late. The wife and my sister wanted to send this picture out: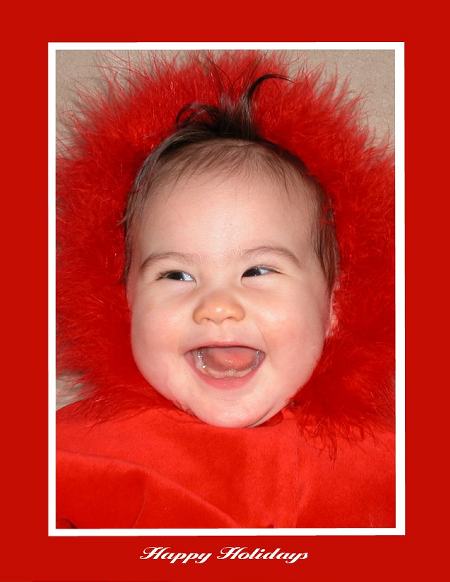 Xmas card draft 1 - REJECTED
But I looked at the card and said that it looks like Jack Nicholson in The Shining, and I picture her saying, "Heeeeeeere's Kayla". Let's just say I now ruined that cute picture for my wife and sister, as they can't look at the picture anymore without thinking of Jack, so they had to dig another picture up for the Xmas card.
Thursday, January 1st
Happy New Year to you! But not me. NSX ain't ready, F355 ain't ready, S2000 has broken exhaust mount, probably could also use a quick weld on the left front A-arm. January 2nd test day ain't gonna happen. Redline is having a track event next Saturday at Willow, I figure I can buzz over to that with the NSX and test. We have all relatives come over for New Year's dinner. Luckily, no rain this time!
Thursday, January 8th
Autowave says it has all the new suspension parts installed on the car, but the replacement fuel pump died also, or it could be the relay switch that powers the fuel pump. Now I am screwed, as even if they can get the fuel pump working, Erik still has to touch the suspension and re-align the rear after Autowave puts on all the new suspension pieces. Shit, January 10th is a no-go for the NSX, and the F355 is still at the dealer.
I get Erik to fix the broken aluminum hanger for the exhaust fixed on the S2000, so I can at least take that out on Saturday to buzz around. Erik had the exhaust built out of super light stainless, and the hanger for it isn't a solid piece of metal, is it is made of a super thin hollow tube (he probably saved 2 ounces of weight on the hanger design), and he is afraid that whoever welds it might burn through the hanger tube, or the exhaust tube. Andy Bondio, Erik's main welder, is out racing his sprint car at some 18th Annual Chili Bowl event back east, so Erik scrambles to find a local guy that won't burn through the metal. Bondio is a welding legend, and apparently he and his team fabbed up a super lightweight midget entry to duke it out with the best in the nation. The exhaust that Erik had Bondio fabricate a really nice straight pipe, but saving that 1-2 lbs of weight by using lightweight stainless steel for my straight pipe and the hanger is getting to be a pain in the ass! I realize I haven't been to Willow since the 2003 OTC. That's damn near 8 months.
Friday, January 9th
Wayne keeps talking about selling his 360 Modena. But then something always happens that makes him want to keep it. Latest thing is that he goes into the bank on a Friday afternoon to deposit the rent check. There are 50 people in line for the bank tellers. He rolls his eyes. He sees one of the bank guys behind a desk, and they all worship Wayne because he drives a 360. He looks at the bank guy, and then looks at the line, and looks back at the bank guy. The bank guy gets out from behind his desk, personally takes Wayne's deposit and walks it behind the teller counter, processes it, and gives the receipt to Wayne, and then goes back behind his desk. Wayne says he can't sell the car, because then he would become Joe Schmoe who no one ever lifts a finger to help him!
Ferrari dealer calls, and say the F355 is working good, and has been washed and detailed. I was worried that the bill would be five figures, but it is only 70% of that! I start thinking about how much I can get for a 5 year old F355 with 35,000 miles on it. New clutch, new tranny seals, new motor mounts, two new catalytic converters, etc. I check the Ferrari Market Letter for F355 GTS F1, but the ones that are for sale have between 3,300 and 7,700 miles on them. Hummmm. I guess they don't drive their cars much. Wayne has 29,000 miles on his 360, which is more than any other 360 in the FML. I figure if I sell the F355, that will pay for the repair bills on the F355, NSX, and S2000, and possibly use the remainder to get a more practical car.
I pick the F355 up. The F1 tranny is back to making your neck snap under acceleration. Motor no longer feels like it is wiggling around! Exhaust is still screamingly loud, despite the fact that they are new catalytic converters on it! The LEDs work, so I can see what gear I am in! I am still running the old NSX Hoosiers, and it sticks pretty damn good! It doesn't leak! Every 5 minutes on the way home someone tells me, "DAMN, that is a nice looking car". Women in other cars are screaming "Yeooowww" when I pull up at a stop light. Life is good again!
Racing is all about technique, driver talent, and defying the law of physics using superior handling, horsepower, and ultra light weight fabrication techniques so you don't have to drag around as much mass as other people. Proof that it works? Andy Bondio's car, with Kruseman driving, wins the Chili Bowl for the 3rd time on this day! His other entry takes 3rd place. I need to go throw more weight out of my cars! Andy isn't a welder, looks like he is the Colin Chapman of midget racing!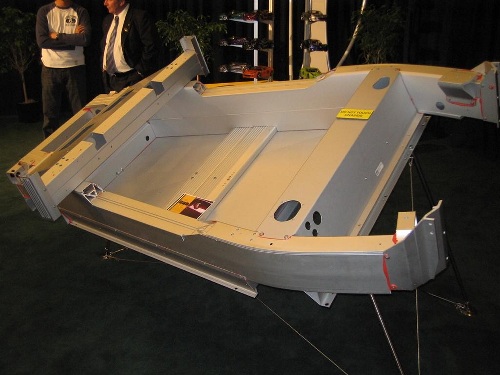 The lightweight, aluminum tub of the Lotus Elise (bigger)
Saturday, January 10th
I buzz up to the LA Auto Show with Terry, his brother, and his brother-in-law, with me taking the F355. Screaming throught the freeway underpasses at 8000 RPMs, I come to the conclusion I can't sell the car. It's awesome! It is fantastico! The car and I re-bond. Damn, I can't sell it. Terry and I are at the Auto Show for only one reason: To schmooze with the reps who have one of the most exciting cars around. After all, there is uhhhh.....an important track event starting April 19th.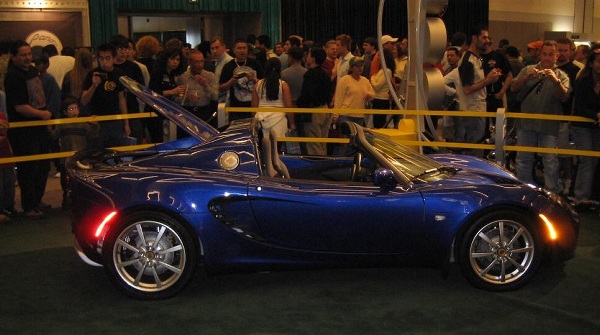 Picture from behind the ropes
I see on a lot of BBS boards people saying that they gonna get one of the first Elises in the US. But ah.....I think Terry is higher on the priority list, as he and his friend each bought a Lotus Elise Motorsport racecar a couple years back. So who do you think has a higher priority, a guy who puts down a $1000 deposit, or a guy that bought two factory Lotus race cars? Heh heh heh....Terry works his way to the lusting mass of people surrounding Lotus booth, makes a phone call, and we are waved past the ropes and get to actually touch the Elise, and sit in it if we want! The Lotus employees respect the racer crowd, it is who they cater to! Terry is schmoozing the Lotus reps, trying to get tips on setting up his still broken Motorsport race car that suffered engine problems back at OTC 2002. Unfortunately, they aren't going into official production of the USA-certified Elise until April as they are still changing things on the car, so first cars won't show up in the US until late May. Damn. Which means they won't even have a USA press car until May. Damn. The Elises at the show don't have VIN numbers, and Lotus Corp wants those cars back untouched. So much for Cheating Bastard OTC strategy #1. Now off to figure out plan #2, sans Elise.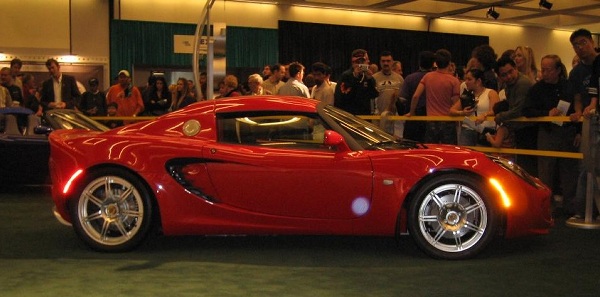 Red. Gotta be Red. Click here for bigger picture
Sunday, January 11th
Terry decides to buzz up with me to Willow in his S2000 for the Redline Track event. He hasn't tracked the S2000 yet, but figures he hasn't been to the track in ages either, so time to get some practice. We throw on our funky Rocky and Bullwinkle hats, and blast up to Willow with the tops down on our S2000s, encountering tough winter weather conditions. (meaning about high 30's through the mountains, which is tough on us Southern Californians) We get to Willow, and the sun is shining, and quickly warms up to a nice 70 degrees or so. Not bad for January at Willow. My Hot Lap timer is working wacky, but I think I am running about 1:38 on fully treaded street tires, no big ass wing. The S2000 is a lot of fun at the track, and it was doing 91 mph all the way through the last half of turn 2 on street tires. EMI suspension!
I drive Rylan's stripped down S2000 for a session. Feels real fast, brakes are fantastic. I guess that is what happens when you take a chain saw to your S2000 and throw out 450 lbs of weight! I only run about a 1:34.x in his car, as I never feel comfortable at speed in another person's car, especially when my armpits are stuck above the wrap around side seat supports. There is another S2000 out there, and the owner lets a buddy drive it on the track. Buddy promptly backs it into a wall in Turn 3. That's why I never feel comfortable thrashing someone else's car at the track.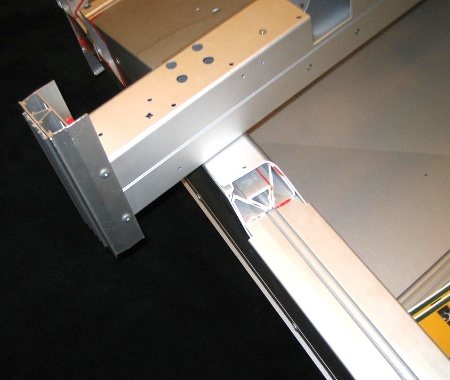 Lightweight frame. Very lightweight! (bigger)
Monday, January 12th
I get the NSX back from Autowave! Now all it theoretically needs is Messley to align the rear again, and it is off to a test day!
Rumor has it the 4 year old twin girls with karts are destroying the 7 year old boys on the kart tracks of Arizona!
Tuesday, January 13th
Wayne calls me as I am eating dinner at my parents. I owe him some money, and he needs some of it ASAP to buy a new car! Guess what car he buys? Wayne goes for a bright red Mitsuibishi EVO VIII, the same car I have been lusting for. I head over to the Mitsubishi dealer, where Wayne is locked in battle with the owner trying to get the price down. The sales guy offers to let me drive the car. I drive it over to our shop, which ends in a cul-de-sac. I buzz into the cul-de-sac, do a quick 3-2-1 downshift, pitch the car into a U turn. Nice handling car. I only did it at 70%, but still freaked out the sales guy. There is a turn on Gothard right before Warner, and it has a dip as you turn in, and then goes uphill a bit, so I zip into there, throw the car into the turn to see how it handles the bump, and the sales guy's glasses and pen go flying out of his shirt pocket and slams against the driver's door. Ooops. Hey, ya said take it for a test drive......
Wayne is in love with the EVO. He decides that after Rick White finishes fixing the 944 Turbo, he will sell the P-car. Says he thinks the EVO could be faster than the 360 on windy mountain roads. A week later, he hasn't pulled the 360 out of the garage, as he is having too much fun with the EVO. He calls it a little rocket ship. Looks like he has a brand new OTC car. Damn.....that's a T3/U3 car. If he runs T3, he is in the same class as the my class winning S2000.....and that is bad news for me. Looks like he beats me to OTC Cheating Bastard Plan #2 by purchasing the EVO before I did, so now I have to go figure out a Plan #3, sans Elise, sans EVO, sans S2000. I'm driving the NSX in the race group, and would like to run a 2nd car in the OTC with Messley as the co-driver, but time is starting to run out for a prepping another car.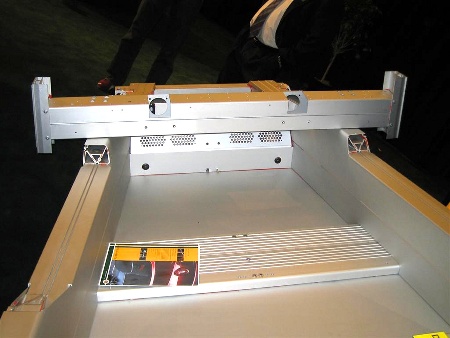 Your feets go here. You gotta admit, this is some cool stuff! (bigger)
Friday, January 16th
Wayne drives up to Ventura to look at his old 944 Turbo. Rick White does an amazing job with the paint, fiberglass, cleaning up the gauges and interior, fixing the oil leak, etc. Wayne says the car looks totally new. They take the car to get it dynoed, and a guy at the dyno shop offers Wayne $17,000 for it, payable Feb 1st. Wayne takes the offer! So Wayne drove the 944 for a few years, and only lost $500 on the resale value. Not bad. I drop the S2000 off at the Honda dealer to have them do a yearly servicing to check general condition of the car, fix the wind noise in the roof seal, change all fluids, etc. The S2000 has 33,000 thrashing miles on it, and it is running pretty strong still.
Monday, January 20th
The Flamemobile is aligned, ready to go. Brent, Wayne, Dana and I spend about 3 hours trying to fix the damn electrical problem with the trailer running lights. The trailer guy thought he fixed it yesterday, but we plugged it in today and it still isn't working. Turns out to be a bad ground wire on the truck.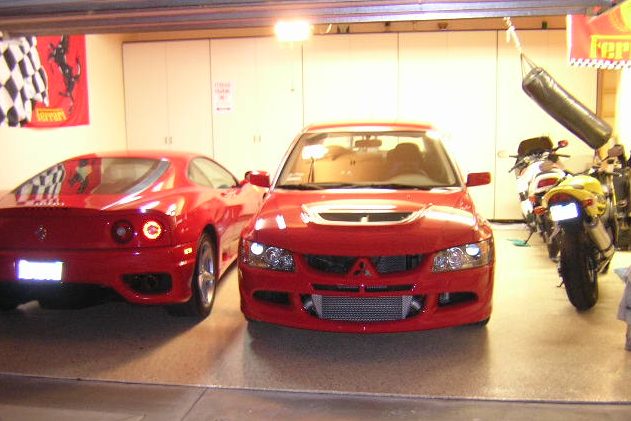 Wayne's garage full of Go-Fast Crack vehicles. Amy's Mercedes now sits outside
Tuesday, January 21th, about 7:00 p.m.
The phone rings, and it is a relatively quick conversation. The red Go-Fast Crack Idea Light Bulb suddenly pops on in my brain at about 700,000 watts, illuminated by a black light. Hummmm...maybe I do have a Plan #3 for another vehicle for the OTC 2004. The wife ain't gonna like this idea one bit, so you know it is gonna be a good one. If I can pull this one off, it could be legendary, better than my S2000 last minute sneak attack in T3 last year. Must do more research ASAP, and then draw up battle plan. I need all the planets in the universe to line up perfectly in order for Plan #3 to succeed. I'll give it a 20% chance at the moment of actually happening, and strive to get it to 70% in the next month.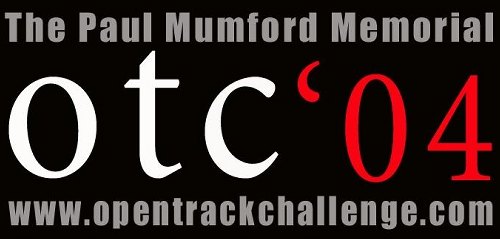 Can You Conquer These Tracks?
| | | | | |
| --- | --- | --- | --- | --- |
| Willow Springs | Thunder Hill | Infineon (Sears) | California Speedway | AZ Motorsports Park |
Five World Class Tracks in Five Days - April 19 through April 23
Wednesday, January 22th
Looks like Viper Alley is offering $1000 prize money for Vipers entered in the OTC. Hummm...maybe if my test day goes well, I can come up with some type of NSX/Viper Challenge, with some prize money offered for the fastest NSX or Viper at the OTC. Might as well throw in some other cars, like the NSX/Viper/Vette Challenge, as I no longer see any fast Vettes at the track. Humm.....let's see how the test day goes. I don't plan on losing like I did at Dromo One!
AZMP has been shut down due to "noise" problems. What the hell, they built the track next to an Air Force base, and the neighbors complain about NOISE? What's the world coming to? Don't worry, we got a 5th track to replace AZMP.
In any event, all the cars are fixed. Truck and trailer are working again. Today is our first softball game. My New Year starts today! OTC, here we come!