SpeedVentures November 14 and TrackNutz November 23, 2002
Lost in the Fog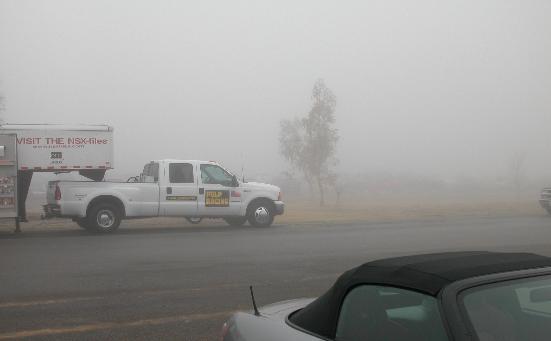 There is a racetrack somewhere out there in the fog.
Next up was the SpeedVentures event at Buttonwillow, running Clockwise #1 using the Bus Stop and Star Mazda hairpin. Comptech said that they were almost done with fixing my NSX Motor, and they were ready for the car. I had shipped the motor to them about a month ago.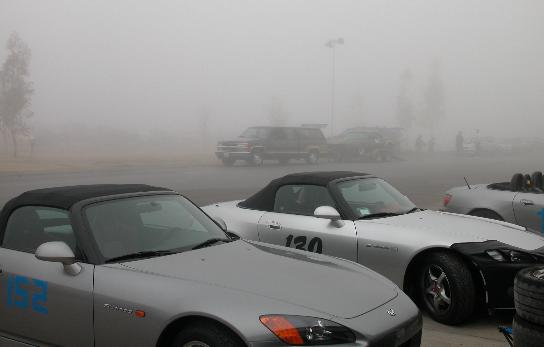 Fog sucks. At least if it rains, you can run on the track. Fog shuts down the event
So I decided that my itinerary for the next week or so would be:
Leave Huntington Beach Wednesday night after our final softball game of the year at 11:00 p.m.

Drive 185 miles to Buttonwillow. Sleep there overnight at the Motel 6.

Drive 288 miles to Comptech on Thursday morning. Drop off NSX.

Drive 288 miles back to Buttonwillow Thursday afternoon. Sleep at Motel 6.

Wake up early Friday morning, go to Speedventures event. Leave trailer at Buttonwillow, drive 185 miles back home.

In seven days, drive 185 miles back to Buttonwillow. Re-hookup trailer. Drive 288 miles to Comptech, pick up NSX.

Drive 100 miles to Thunderhill, take S2000 and NSX to Tracknutz event.

Drive back home 525 miles.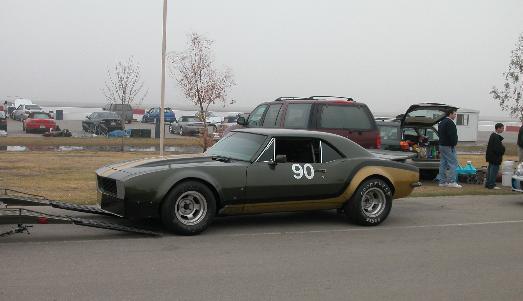 Nice Firebird. (Camaro?)
Wayne hasn't been to the track in a while with his 944 Turbo, as he still has to fix his shocks and front end. He says he has no motivation until I get the NSX fixed, as his sole goal in life is to beat me at the track in a wheel-to-wheel race. And you know what my goal is....crush him at the track. But his Go-Fast Crack Pipe tolerances are at such a high level that doing time trial events doesn't give him the buzz he needs. It has to be a wheel-to-wheel event for him. As a result, Wayne doesn't come out to the SpeedVentures events.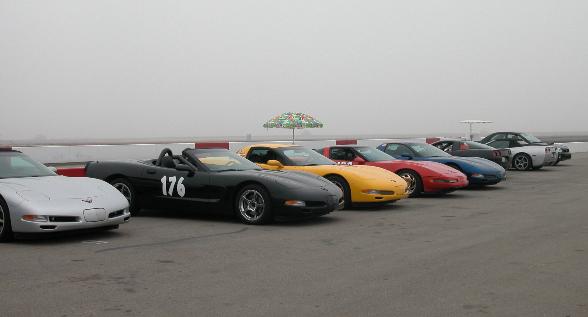 Vettes all lined up. They got crushed by the S2000 Drivers. <grin>
Wednesday, November 12
I drove up to Buttonwillow, just as the fog started to roll in. We lost our last softball game of the year, going 4-6 for the season. By the time I woke up at 6:30 a.m the next morning, I couldn't see my trailer parked across the street from the crappy Motel 6. No use getting trying to leave early and crawling through the fog, so I slept in until 8:30 a.m. I told Comptech I would be there at 2:00 p.m. I get there late, by 60 seconds. I have mastered Time. I drop the NSX off, and head back to Buttonwillow, blasting down the 5 Freeway with the 48 foot trailer. The Motel 6 there sucks.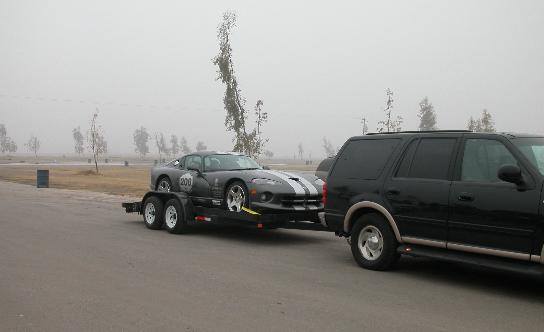 Dearing breaks his car on warmup lap, borrows a truck and trailer to get home
Friday morning, November 14th
The fog is really bad. By the time I got to the track at 7:00 a.m., it was totally socked in. It was the worse fog I had ever seen. They didn't let us on the track until 11:00 a.m., and that was just so we could do a 55 mph lead-follow around the track, with no passing. We were running clockwise, and on my first lap in the in fog I actually had to completely stop the S2000 going into the Bus Stop turn, as I was lost, and thought I was going to end up on the straightaway going the wrong way and crash into someone head on. We didn't get to do any hot laps until after lunch, when it finally cleared up.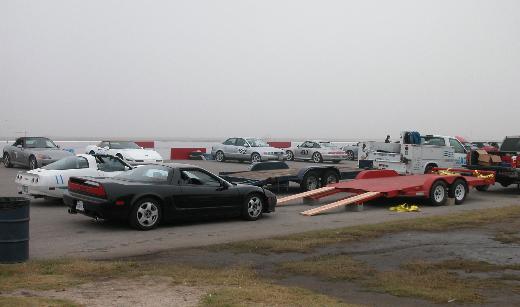 Paul's NSX and trailer
These Speedventures events are proof that people are totally hooked on the Go-Fast Crack Pipe. They held this event on a Friday, and it sold out. Which means about 70-80 people are ditching work to go to the track.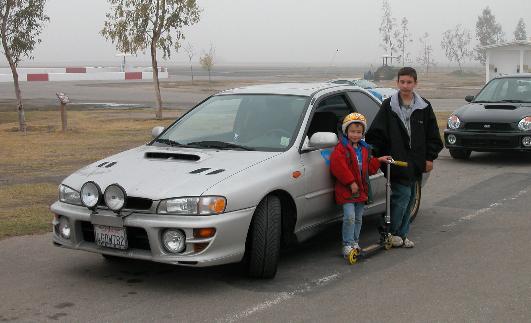 Some kids wanted to be famous on the Internet, posing by their Dad's car
Everyone there was doing their usual smack talking prior to the event. I bet Bitterman (S2000), Wurth(3rd gen RX-7), and Wasserman(Viper) that I would kick their asses on this track like I did the last time I was there in January. After the first hot lap on the track we discovered that Buttonwillow flattened out the Esses section of the track, and made it wider. So before, you had to manuever the car through the Esses, now it is pretty much flat out through there. Meaning less skill and less balls to hammer through there. Which means that Wasserman and Dearing are going to point their Vipers straight and barrel through there with there 454 foot lbs of torque and 450 HP. Damn. Kennedy is also going to blast through here with his supercharged S2000. This is gonna be ugly.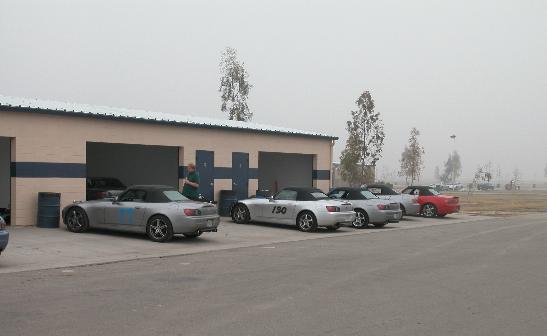 S2000 drivers ready to whup ass on each other
So instead of getting five sessions to throw down some fast laps, we have to do it in less than 3 sessions. Unfortunately, I sucked today, and I needed a full five sessions to run my best laps. David Kennedy in his Supercharged S2000 takes fastest lap of the day with a blazing fast 2:08.107. Wasserman takes 2nd with a 2:09.891. Bitterman 3rd with a 2:11.084, and then me with a 2:12.003. Damn, I needed to beat Bitterman to get ahead of him in points for the S2000 MOD-R class championship. Results are here.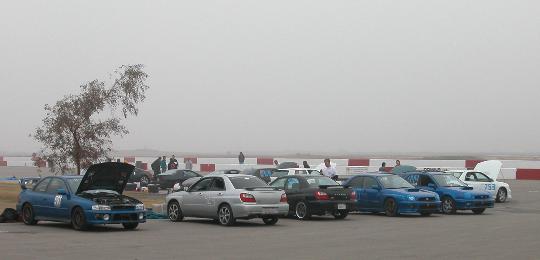 Subaru drivers at the track
One of my basic theories of track events is that one person will crash and damage their car. It is just one of those facts of life. Someone will drive over their head, get out of control, and will need a tow truck to get home. Last session of the day, a guy in a Ford Focus verifies that the theory is correct, and rolls his car out by the Lost Hills/Magic Mountain turn. Oh well...what can you say. I dump the trailer off in the far bit area of Buttonwillow, and head back home with the truck.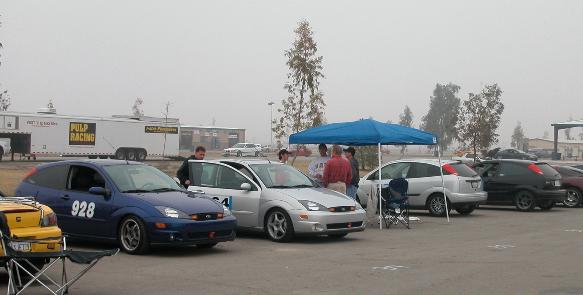 Focus dudes hanging out
Next up was the TrackNutz event. This was their first ever track event. They decide to have it at Thunderhill, mainly because most of the Tracknutz guys are from Northern California. They were talking smack about whupping on the Southern California drivers at their home track. Most of the SoCal folks couldn't make it, but I decided to drive the 525 miles to whup some ass. Every time I have been to Thunderhill, something broke on my car. When I was there with the NSX at the OTC, we were having engine problems, and car was sputtering. last time I was at Thunderhill with the S2000, the sway bar was broken, and I was crushed by five other S2000 drivers. This time, I will be ready to set fastest time for a Naturally Aspirated S2000. David Kennedy is getting to be too damn fast in his Supercharged S2000, so I have given up trying to catch him on long courses.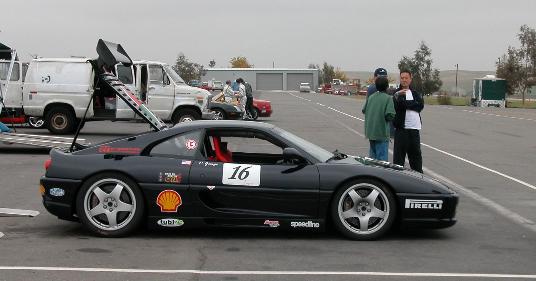 Nice Ferrari F355 Challenge car
So their event is on Sunday, November 24th. Since I want to be the fastest SoCal guy there that is on the Tracknutz smack talking email list, I have a couple of Cheating Bastard tricks up my sleeve. I am pushing Comptech to hurry up with getting my new engine back in the NSX, along with goodies like and accusump (to hopefully get some reliability out of the motor), along with a couple of other cheating bastard parts. Andrie, one of the organizers for the TrackNutz event, says he is going to run his older M3, but rumor has it that he is trying to get new go-fast parts put on his NSX in time for the event. I figure that driving for 525 miles for a one day track event is ricockulous, so I start checking out the Thunderhill calendar.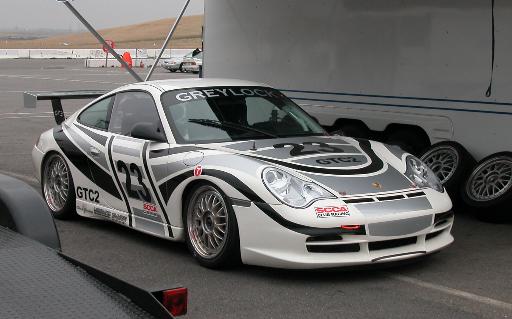 This must have been fun to drive at Thunderhill
Humm...seems like there is a Thunderhill Driving School there on the Saturday before the TrackNutz event. It sounds like it is mainly geared towards beginners, but any track time is better than no track time. I need to get faster in turns 1 and 8 at Thunderhill, so I figure I will take the beginner class, practice these turns, and then I will be ready to duke it out on Sunday. And, being a Cheating Bastard, I won't tell anyone else that is going there on Sunday that I am taking the school until I after crush them on Sunday. Heh heh heh.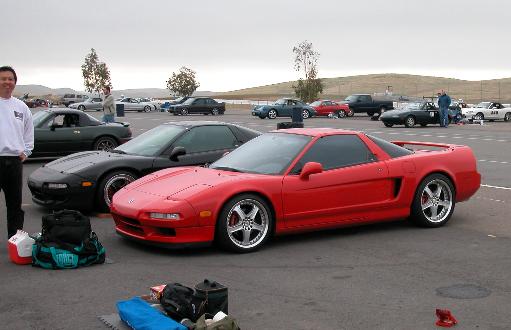 A couple of NSXs that showed up at the event
I call Comptech. Unfortunately, they said no way they can get the NSX done in time. Damn. Looks like I will have to defend the honor of us Southern California drivers using the S2000.
Friday, November 22.
I drive to Buttonwillow, pick up the trailer, and then head off to Thunderhill.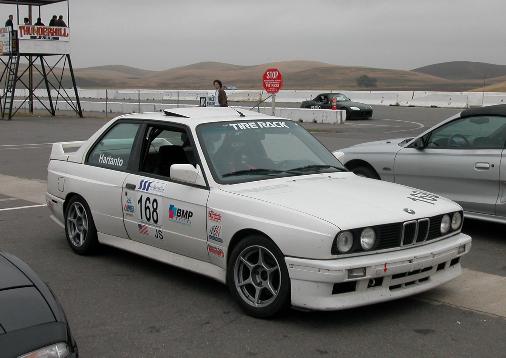 Andrie's M3
Saturday, November 23rd.
I get to Thunderhill early. I unpack the trailer, and go to the driver's meeting for the school. I then find out that the Thunderhill School is very concerned about people crashing at their events. Apparently they did a lot of schools where no one crashed, and then all of a sudden, they started getting one crash at each school. Their solution? They decided to use cones and put a chicane right before turns 1 and 8, to slow people down so they wouldn't crash at these turns. DAMN! Those where the two turns I wanted to practice. In an S2000, you are going about 120-125 mph down the straight before you have to brake and pitch the car into turn 1, which means you are probably trying to go through there at 90-100 mph. The cone chicane they put in slows you down to about 15 miles per hour right after the start/finish line, which really trashes your brakes. Turn 8, supposedly you can go through there flat out, but I have never done it. Which means supposedly you can go through there at 100+ mph. But it looks like no practice on these turns today. Damn!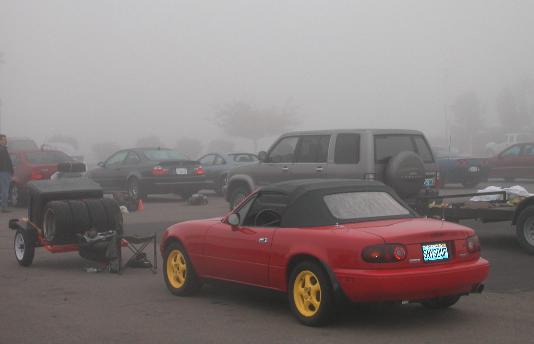 Fog sucks
So I guess I will focus on the other turns. While unpacking the big trailer, Jim Shen, a TrackNutz guy, sees me, looks at me, and says, "What are you doing here?" I look at him, and say, "Uh, what you are doing here?" Apparently both of us are trying to get some Cheating Bastard practice in before Sunday's shootout. Jim calls Andrie, and tells him that "Hayashi's here, getting practice in". Andrie is still trying to get his NSX done in time for Sunday's event, but it doesn't look like that it is gonna happen.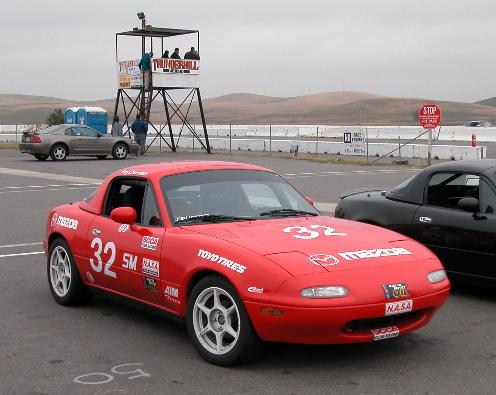 I followed this guy around to show my student the proper line around the track
Near the end of the Thunderhill School, a guy goes too fast coming into the straightaway out of turn 15, and puts it into the wall. My theory is correct. At least one person will crash at each track event. It doesn't matter if you eliminate timing, it doesn't matter if you slow the track down with cones...someone will crash. Just face it, it is a fact of life. An immovable law of Nature.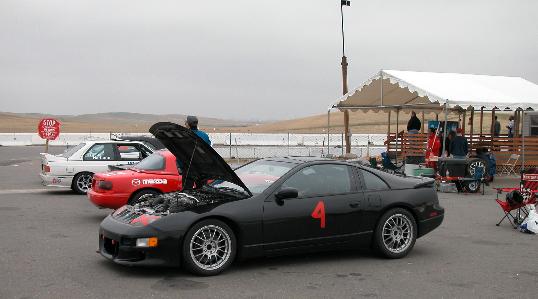 George's Nissan 300ZX. He whupped on me in the formal time trial competition
Sunday, November 24th.
The big shootout. We have fog in the morning, so for those of us on Hoosiers, the first couple of sessions sucked. After lunch, we have the big time trial event. The format for today is that whoever has the fastest time on their hot lap timer after the 30 minute session is king for various bragging rights. There are a bunch of other S2000s at this event, and I am looking for revenge to put myself back up at the top of the Honda Hall of Fame for normally aspirated S2000's.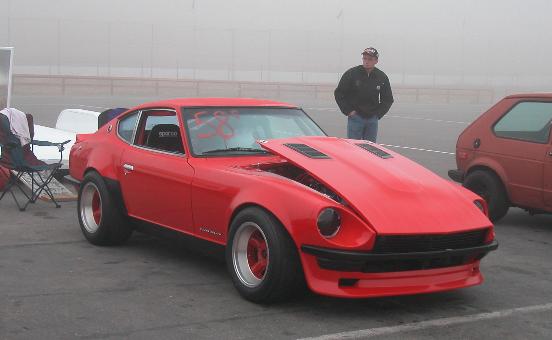 Datsun 240Z with a big ass V8 under the hood
In the time trial, I am running 2:10.x or so. After about 15 minutes, I am on my flying lap, and I am sure it is going to be a 2:09.x lap. Unfortunately, the black flag comes out, as a supercharged NSX dumps oil down the front straight, thus canceling the rest of the time trial portion of the event. Damn! I check with the other guys on TrackNutz list, and I handily crush them. But Josh Goldberg, running an S2000, crushes me with a lower 2:10x in the formal time trial portion of the event. Damn! But good driving by Josh.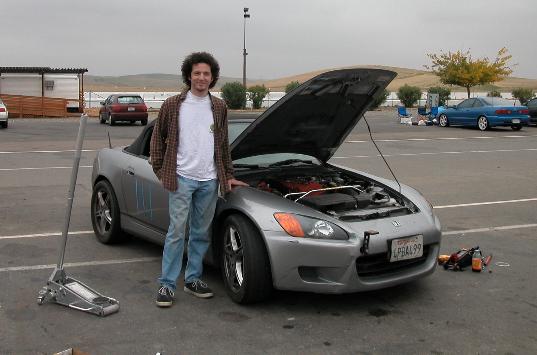 Josh whupped on the other S2000s in the formal time trial competition
The rest of the afternoon, we try to lower our laptimes among ourselves. By the end of the day, I got it down to 2:08.17, thus beating the laptimes of other normally aspirated S2000's for the entire day, as well as recorded history in the Honda Hall of Fame. <grin> I thought I had it in me to do a 2:07.x, but all I end up doing is a big spin right in front of David Kennedy in turn 2. Oh well. Amazingly, no one crashed at this event, despite the fact that there is passing anywhere without a point by in the Red/Advanced group. The newbies also did great, with no incidents among them.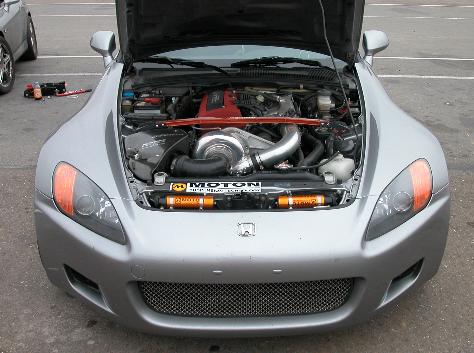 Dave's Comptech Supercharged, Moton riding, Cheating Bastard S2000
Dave Kennedy takes Top Time of the Day for the second weekend in a row, with a 2:05.x. Damn...he is uncatchable, unless I buy a supercharger for the S2000. And that ain't happening anytime soon.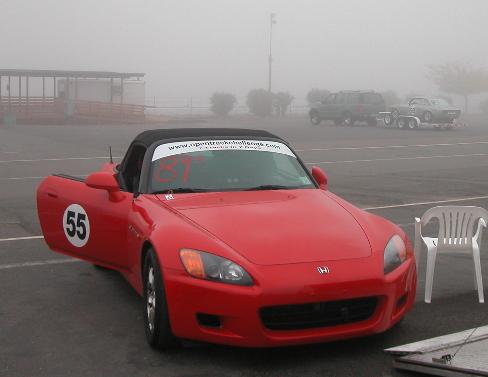 The New Normally Aspirated S2000 King of Thunderhill
I pack the trailer up, and blast through 525 mile of driving in about 8.5 hours, making it back home with the 48 footer by 2:30 a.m. It was a long trip, but it was a lot of fun!
After Thanksgiving, BP cruises into town. 10 of us go to Dromo One, and Wayne wins the first race, with me second, and Messley third. Prior to the second race, I told Messley about the Cheating Bastard approach to using brakes at Dromo One, which was a big mistake, as he easily cruised to 1st place, with BP second, and me third. I'll kick everyone's ass next time!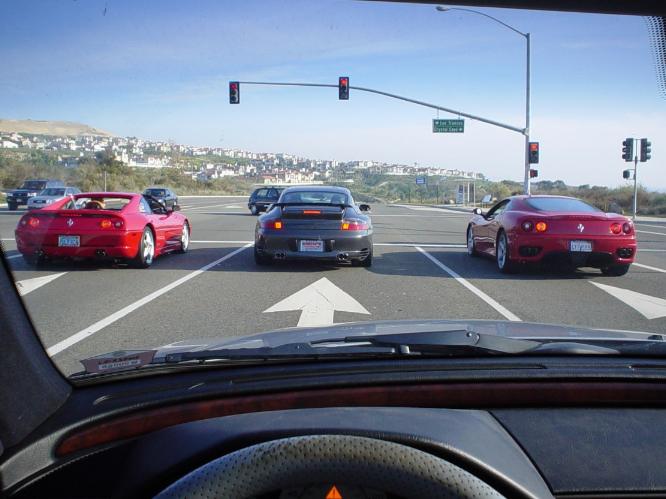 BP's welcoming committee - Photo by Saunder
Click here for bigger