Wurth Motorsports/Bitterman Time Trials
Streets of Willow, March 8, 2002
"The Go-Fast Crack Pipe Heals All"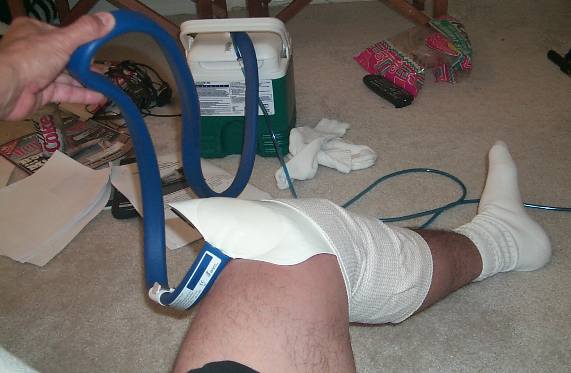 Hurry up and heal. I gotta get to the track!
Tuesday, February 19th.
I can't bear it any more. I have this tremendous pain in my right arm, right below the elbow. A couple of people tell me it is "tennis elbow", except I don't play tennis. I am not sure how it came about. It hurts when driving, so I was thinking maybe it was because I have a death grip on the steering wheel when I race. It is a bad habit that I cannot seem to break. I see a physical therapist, and she gives me the ultrasound/electrical stimulation/deep muscle massage to loosen up the tendons/muscles in the arm. I guess the goal is to get more blood back in the tendon, or something like that. It's not like I am a hypochondriac, as I never get hurt. I have only been to hospital twice in my life, once for food poisoning and once for knee surgery due to a skiing incident. I call in sick one day each decade. Only wimp-ass workers call in sick.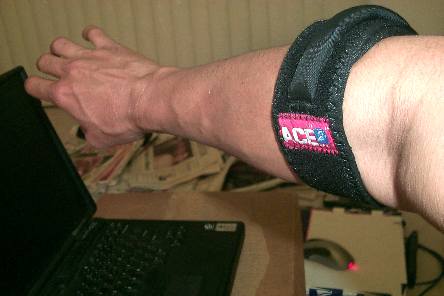 How the hell could I get "tennis elbow?
Monday, February 25th.
The day after the last KRC kart race. My elbow doesn't hurt as much despite running probably 75 laps around the karting track. Maybe it isn't the death grip? Curious.....

Tuesday, February 26th.
The arm is hurting again. And it seems like it happens mostly when I use the damn mouse on my computer. I guess my posture is bad when working on my trusty Dell Inspiron 7500 Mega Laptop. I sort of have an office at the house, but instead I spend most of my time in the living room by the television and the kitchen, so my "desk" for my laptop is an empty box that I use while sitting on the floor.

My office is a little too messy to use on a regular basis
I have been using this desk for more than a year. Bad posture + mouse at wrong angle = repetitive muscle strain. I feel like a secretary or administrator who complains of carpal tunnel. I used to think that people claimed disability due to carpal tunnel were wimps who simply did not want to work. Now, I feel I should sue/file for sick leave, but you cannot sue yourself for sick leave. It also hurts when shifting the S2000, as the stick shift knob seems to be at an abnormally high angle relative to the angle of the rest of your arm and body, kinda like the picture below. So I decide to order one of Rick's VooDoo knobs, which will lower the shifter ball another inch or so. As for working on my "desk", it seems if I use a mouse pad on the floor instead of using the box as a mouse pad, the angle of pain is reduced significantly.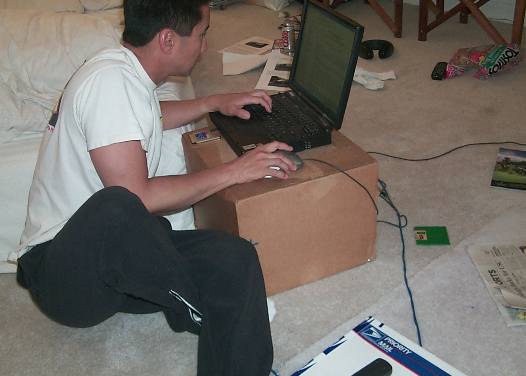 Instead, this is where I do 99% of my computer work with bad ergonomics
Wednesday, February 27th, 2002.
Donald and I spent most of the day getting everything need for the Wurth event next Friday. We got the Porterfield R4 pads on the car, threw new rear rotors on the car, bled the brakes with ATE Superblue, got the Hoosiers mounted on a second set of rims, put batteries in the Hot Lap timing systems, put all the tools/stuff that we have to throw in the truck in a big pile, so the day before the event we should be ready in 30 minutes. I did the brake work instead of Larry at NSX Modified, as he has a ton of NSXes over there in various states of major repair. Like two cars getting rebuilt motors in them. Along with about six other NSXs over there.

Our softball team is sucking. We have too many people missing games due to personal reasons, work reasons, cars breaking down, traffic accidents, etc. We are 0-3 going into tonight's game. We need to have at least four guys and four girls on the field at game time, and we are short one girl who shows up late. So we forfeit. Which sucks, as this means that 18+ people have wasted their Wednesday night coming to the game. But we agree to at least play a "practice game". I end up pitching instead of playing shortstop. One of the guys at bat hits a dribbler that goes about 10 feet in front of the plate. I run forward, grab the ball, spin and throw to first. After this play, my left knee feels funny. Strange. At my next at bat, I am limping around the bases. Maybe it is just a strain.
I get home, and if I turn my leg/knee the wrong way, I scream out in pain. The wife says that the last time I screamed like that was when I blew out my knee skiing back in 1994. I was moving about 1 mph on the skis, and I fell the wrong way, and permanently severed the PCL and tore the meniscus. Anyways, the wife says that I better go to the knee doctor and get that checked, because it doesn't seem to be a minor sprain or muscle pull. I disagree, I think it will get better.
Thursday, February 28th, 2002.
I still have to scream out in pain when I turn my knee a certain way. I finally concede with my wife, and I make an appointment with the knee doctor for tomorrow.
Friday, March 1.
I see the knee doctor. He takes some X-rays, looks at it, moves the knee around, and says, "Yup, you need arthroscopic surgery". I tell him that can't be, all I did was pick up the damn ball and throw it. It's not like I was sliding wrong into a base or making a diving catch. He says that when you get old, the cartilage gets brittle instead of staying moist and flexible, and tears. Damn. He says I need to have surgery on the knee, and he suggests Tuesday. I tell him that I have an important auto racing event on Friday March 8th, and I really don't want to miss it. Especially with all the smack talking in the last S2000 story and the S2000 BBS. Dr. Marans says that he could do it the next week, but then I say that I have a shifter kart race the next weekend. The doctor says that I should not postpone the operation two weeks, because I might make the knee injury even worse. I ask him if I have the surgery Tuesday, would it be possible to drive a manual tranny car on Friday. He says maybe, but no guarantee. But he can guarantee that if I postpone it one week, that there will be very little chance of driving a shifter kart immediately after the knee operation. So I elect to do the surgery next Tuesday, and see if I can still make the Wurth event and the karting event.
Monday, March 4th.
My wife goes out and gets a couple of the best Pizzas in the world for me to feast on after the surgery. New York Uppercrust Pizza is the place, their Eggplant Parmesan pizza is fantastic. And I usually only like cheese pizza. They are located at 28051-B Greenfield Drive, Laguna Niguel, CA, 92677. 949-831-4300. http://www.bestnypizza.com/ They have three locations, but it the Greenfield one that is by far the best. I drive 25 minutes to buy this pizza. I stopped eating pizza at other places because of these guys. If you put the leftovers in the refrigerator, to reheat put them in the oven on the open rack for 8 minutes at 400 degrees.
Tuesday, March 5th.
I go under the knife. Anesthesia is required. I get out of the hospital by 4:00 p.m. They give me this wacky cooling pad that is connected to a mini ice chest filled with water and ice, and it has a little electrical pump on it to circulate ice cold water around the knee. Supposedly this will keep the knee at 40 degrees for 24 hours a day, which is supposed to help with the swelling and speed up the recovery. It is supposed to be better than ice packs, as the temperature remains steady, and you don't get water all over the damn place.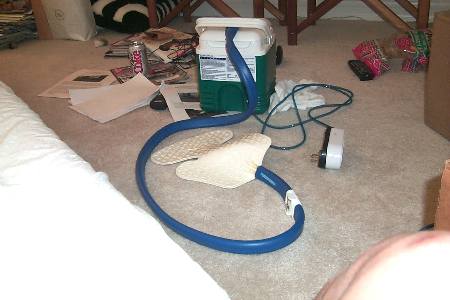 The gizmo that will supposedly reduce the swelling, and speed up the healing
Wednesday, March 6th.
I can barely walk with crutches. Ain't looking too good for Friday. I had a couple of $10 side bets with Aaron Bitterman and John Wurth, saying I would spot Aaron 2.1 seconds for this event. I beat him by 8 seconds at Buttonwillow, so I figure 2.1 seconds might be a good handicap. I also spotted Keith, running a Mustang, 11 seconds for a chance to get his $10 back from the Buttonwillow event. My wife bakes me some chocolate chip cookies to help with the recovery. She also cooked me some home made Shabu-Shabu for dinner, with some sushi. I am being pampered like a king.
Thursday, March 7th.
At 3:00 p.m., I call Donald and tell him I ain't gonna make it for Friday. I can't stand up without crutches. Damn.....I was really psyched up for the Streets of Willow event, as the Streets is a really fun track. I tell Larry I ain't gonna make. I send an email to the organizers telling them I ain't gonna be there, and they need to give my assigned students to someone else. The wife is taking great care of me. Breakfast, lunch, and dinner served to me in bed. Morning newspaper delivered to my bed. The three pounds of mail we get each day is dropped next to my bed.
Friday, 6:00 a.m.
Humm....maybe I can still make it. Ouch....no, still can't walk without crutches.
Friday, 7:00 a.m.
This really sucks. I was planning on whupping some ass at this event. The only mods to my car are rollbar, Hoosiers on stock rims, Comptech front adjustable sway bar, brake ducts, Porterfield R4 pads, with ATE Superblue fluid. It will help keep the cost down significantly if I don't have to buy go-fast shocks, springs, air box, wings, splitters, bigger wheels, superchargers, headers, exhausts, etc. My overly optimistic goal (it is good to set impossibly high goals) was to post the fastest S2000 lap time at all of the S2000 Challenge events, including the super-charged S2000s and the drivers with a gizzillion other mods on their S2000. I had the fastest S2000 lap at Buttonwillow for the previous event.
Yeah yeah yeah, I know, Aaron "Rain Man" Bitterman had a faster time in the "rain" on Sunday at Buttonwillow (but doesn't it have to actually be "wet" on the ground to be called a "Rain Main"?) but for the entire weekend, I had the fastest lap time for the S2000 drivers. I left early on Sunday, as I figured no one would beat my Saturday lap time. True, if I would have been a cone dodger, I would have taken the time to read all the rules about the S2000 Challenge, which apparently state that Saturday and Sunday are separate "Challenges". Points are award based on a Formula One style scoring system for fastest lap:

1st place - 10 pts
2nd place - 6 pts
3rd place - 4 pts
4th place - 3 pts
5th place - 2 pts
6th place - 1 pt

So people who run on Saturday gets points for the day, AND people running Sunday also get points based on the above scoring system. I incorrectly assumed points were awarded for the "race weekend", so I thought the fastest lap of the entire weekend is the winner. Unlike Formula One, I guess The S2000 Challenge has two potentials winners per race weekend. Whatever. I'll read the fine print next time.
I heard 18 other S2000's are going to be at the Streets of Willow. Keeney's gonna be there also, and ya gotta watch out for those autocross wizards on a tight track like the Streets of Willow.
Friday, 8:00 a.m.
Damn. The Red advanced group is probably on the track now, as the Wurth events get people on the track by 8:00 a.m., instead of 9:00 a.m. like other groups. I take a long, hot shower. I get out, and suddenly the knee doesn't feel all that bad. I can sorta hobble without crutches. Humm......I wonder.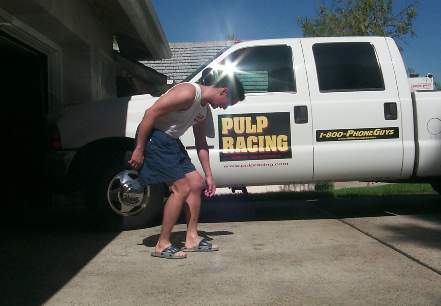 |
Hummm....I can now sorta hobble without the crutches

The Go-Fast Crack Pipe takes over. I have that glazed look in my eye, thinking about the possibilities. The wife looks at me and says, "I already know what you are thinking." I claim I am not thinking about anything. She then says, "You are thinking that if you can make it to the event, you can't lose, since if anyone beats your lap time, you will claim that you are crippled and have a bad leg. But if you win, then you can really rag on everyone that you kicked their ass with one leg, and only a half day worth of practice." She knows me way too well.
I left the S2000 at the shop, and I have the truck in the driveway. I "shuffle" out to the truck, sit in it, and discover that I can put pressure with my left leg on the brake pedal, which could mean that I might be able to use the clutch. Humm.....if I leave the shop by 10:00 a.m., I could get to Willow by 12:00 p.m., take another 30 minutes to register, swap tires, put timing devices on, and then I could get a couple of sessions on the track in an attempt to keep my name at the top of the S2000 Challenge series. Hummmm.....I do need to keep Bitterman and Keeney below me in the points standings.....
I can't hide anything from the wife, as she has the uncanny ability to read my mind before I can think of what I want to do. She says, "I won't stop you from going to the track. But, if you can go the the track, ya gotta throw out the trash in the kitchen, and put the trash cans out on the curb". I take another long hit on the Go-Fast Crack Pipe, and I psyche myself up to throw the trash out. My problem is that my left knee is injured, but my right knee is really my "weak knee" from the skiing accident many years ago. So now I have to shuffle, bent over, sliding on the balls of my feet to throw the damn trash out. Some of my neighbors probably see me shuffling, in pain, moving at about 5 yards a minute like a four foot tall, 90 year old man with his knees shot out. If they say anything to me, I will say I just had a knee operation, and my wife is a husband abuser, torturing me by forcing me to throw out the trash.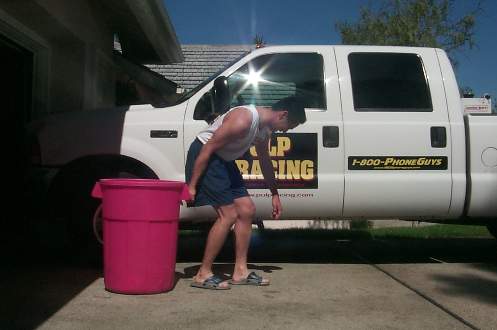 Wife says, "If you can throw out the trash, and I won't stop you from going"

Friday, 8:30 a.m.
I call Donald, and I ask if he can meet me at the shop at 9:30 a.m., as I am ready to race. The plan is to have him drive the S2000 to the track, and I will drive the truck up. That way I can save my left knee for pushing the clutch in at the track.
Friday, 9:50 a.m.
We are all packed up, ready to go. I call Aaron to verify that I can still run in the event if I show up around noon. He says no problem, but John is having a problem with the timing system, as the Streets of Willow has a connector for a RJ45 connection, but their timing equipment plugs into their AMB laptop with a BNC connector. He says that someone is going to Radio Shack as soon as they open to see if they can find a BNC-to-RJ45 adapter. From experience, I know that this adapter is very hard to find, and is probably a mail order item. I tell him I will check locally at Radio Shack. No luck. I drive to CompUSA. Last resort, I go to Fry's, and they don't have the right connector, but they have a mishmash of stuff we could cobble together. Meaning I could get a BNC-to-Thick-Ethernet connector, connect it to a thick-Ethernet-cable, connect it to a cross-over-adapter, connect it to a female-female-thick-Ethernet adapter, and connect that to a Thick-Ethernet-to-RJ45 connector. The end result I think would be a BNC-to-RJ45 connector, and it should work. I call Aaron and John, but John says not to purchase the hodge-podge of adapters, as he isn't sure if it is a true Ethernet type of connection, as it could just be a proprietary interface and all those cables and adapters could be in vain. Instead, they bought a bunch of connectors and wires, and they will try to splice wires until they get it to work.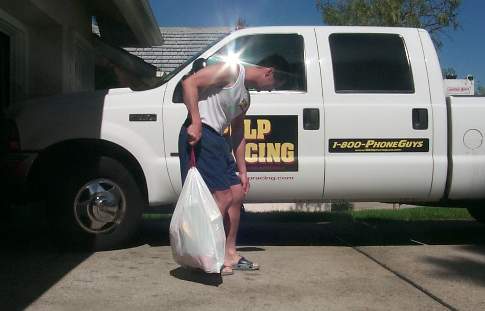 Damn we have a lot of trash
Friday, 11:00 a.m.
Dilemma: Hummm. I don't want to drive all the way to Willow Springs if the timing system isn't going to work. That would be a waste of time, so to speak. Driving around a track without accurate timing means we can't crown a king/queen for the S2000 Challenge. Worse, everyone and their mother could put a claim in for being the fastest, saying that they timed themselves on their stopwatch/wrist watch/sun dial. Since racing events are pretty much determined by 100ths or 1000ths of a second, a manually controlled devices ain't gonna cut it for true bragging rights. But if they happen to get the system working, it would suck if we didn't show up. Aaron and John seem pretty resourceful......so I place my bet on them splicing and dicing to get the system working.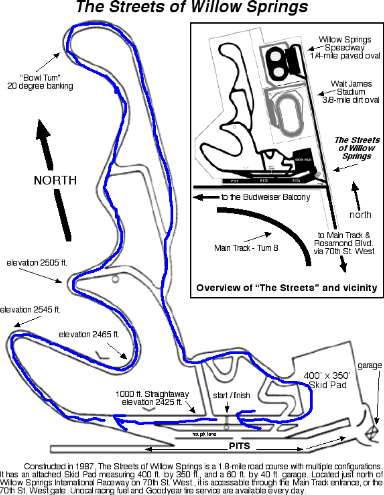 The configuration we used. Note: The blue line does not indicate driving line
Friday, 1:30 p.m.
We finally get to the track. Traffic through LA really sucked. LA in general, sucks. I was anticipating we would be here a lot earlier. Uh oh.....I remembered all the stuff we need for the track, except I ah....forgot my damn crutches. What a moron. So now I have to I hobble over to the registration area, and get my transponder/papers signed off. The timing and scoring people look at me like I am a idiot, as I can barely walk, yet I am trying to hurry up and register so I can get on the track. John gets the timing system figure out just as I am putting the transponder on my car. Let's duke it out! I set the front tires to 32 PSI, and the rears to 29 PSI.
Friday, 2:00 p.m.
Looks like Wurth is running three run groups, advanced, intermediate, and beginner. My first time out, I run a 1:36.3. I am three seconds off the pace of Bitterman., Keeney, and Dave with his supercharged S2000, who are closely grouped around 1:33.2, with Bitterman leading the pack. I think I can get to 1:33.1 with some more practice.
I go out in the intermediate group, (hey, I missed the first three advanced group in the earlier part of the day), and get some more practice. Coming out of one of the tight turns, my knee hits the alarm on the key chain, which then hits the key, and accidentally shuts off the ignition coming out of a turn. I pull over on the side of the track and wait for traffic to zoom by me. Humm...should probably do something about that next time.
Friday, 3:20 p.m.
Last run group for the advanced guys, and it is going to be a 40 minute session. I do about 10 laps, and then come in and have Donald drop the tire pressures 3lbs in the rear, as the rear is getting really loose. Damn, my Hot Lap timer isn't working this session, maybe I have it plugged in wrong? I go back out for about four laps, and then realize maybe I should have dropped the fronts 3 lbs also. I pit again, and have Donald drop the front 3 lbs. I end up running a 1:33.5x. Damn.....that's 4th place for the S2000 group.
I stop by to congratulate the three guys that kicked my ass, but I of course have my knee "excuse" and my "only three sessions" excuse ready. Bitterman says, "Hey, there aren't too many people out in the intermediate group, just go out again." Humm....I will take ya up on that offer.
Since there are slower cars on the track, the proper way to get a clean lap is what they probably do in Formula One. In order to get space in front of you, go sorta slow until you see a slower car coming up in your rear view mirror, and then start hauling ass. This way you get a clean lap, as as long as you are faster than the driver behind you, they also can get a clean lap. (Note: Don't do this if the car behind you is a red NSX will flames on it, as he will quickly be on your bumper, thus screwing up both your laps) I get about three clean laps like this. On my Hot Lap Timer, I glance at it and see a 1:33.84 on it. Damn. Too slow. I go into the pits, and I look at the time again, and I realize that it says, "1:32.84". Yeah baby. I cruise by timing and scoring, and they said, yes, we have you down for a 1:32.824.
I look for Bitterman, and I tell him I got him by half a second. He can't believe it. I tell him there is still time, as the beginner group has the last session. He says he is low on gas, but to be sporting, I tell him I got a couple of gas jugs by the truck and to stop on by. Donald and I fill him up with 5 gallons, and send him on his way to try to do a "Hail Mary" lap. I tell Donald there is no way he can beat my time, as the beginner group will have too many slower cars on the track, and he can only pass them on the two straightaways in this group. We proceed to take the Hoosiers off the car, and throw on the A032R street tires on the car. We are going home victorious. I mentally start thinking about the next chapter in The NSX-Files, talking about how I kicked everyone's ass with one leg, stock shocks and springs, and missed the first six hours of the event. These guys are easy. I need some competition, bring on those World Challenge guys. The ego and smack talking will be at a new high......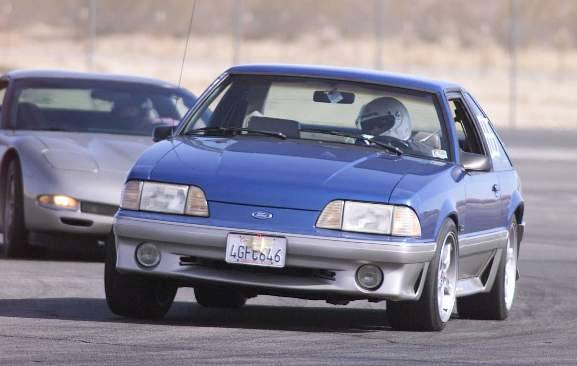 Keith's Mustang. He made me spot him 11 seconds. I lost by 2 seconds.
Friday, 4:40 p.m.
I forgot to take pictures with the digital camera at this event. Wouldn't do me much good anyways, as I cannot walk around to take the pictures. Looks like I owe Keith 10 bucks and Pulp Racing Mug, as he is running 1:41 in his Mustang, so I didn't cover the 11 second spread. Someone from timing and scoring comes by, and says you better throw the race tires back on, as Bitterman ran a 132.7, beating me by about 6/100ths of a seconds. WHAT? HOW COULD THAT BE? Shit. We quickly throw the race tires back on, and I have time for a few last "Hail Mary" laps of my own before the event is over. Unfortunately, the best I can muster is a 1:33.2, so Aaron Bitterman is the undisputed S2000 King of the Streets of Willow by .068 seconds. Damn. Fastest lap of the day is by Bill Schepergerdes in his Corvette with a 1:30.278, then Aaron, then me. By looking at the results, it looks in a hypothetical match between S2000 drivers and Vette drivers at this event, the fastest 8 cars would be Vette, S2000, S2000, S2000, S2000, S2000, S2000, Vette. So out of 9 Corvettes at the event, the S2000 drivers took down all but Bill's Vette using our itty bitty 120 cubic inch motors!! We badass. Call us CorVetTe KiLLaS. <grin> You can look at the results of the Wurth event here, make sure you click on "Streets of Willow Springs". Also check out this trash talking about the event at the Wurth website. Those guys must think they can replace Seinfeld!
March 9th, Saturday morning.
Strangely, my knee isn't hurting too much. However, since I forget the crutches yesterday at the track, and was shuffling around all day on the balls of both my feet due to the knee surgery, both my calves are so sore I can't walk without crutches. It feels like I did three hours of aerobic step exercises the night before. I explain to the wife that I am in pain, and can she get me a bowl of cereal for breakfast and the morning paper, as I can't walk. She says, "Excuse me? Didn't you race all day yesterday with a bad leg? Get yer own damn cereal and newspaper I have no sympathy for you now!" Later in the day, I ask her to to get the mail, and she gives me the look like, "Uh...get your own mail. You went racing yesterday." It's gonna be a rough weekend.......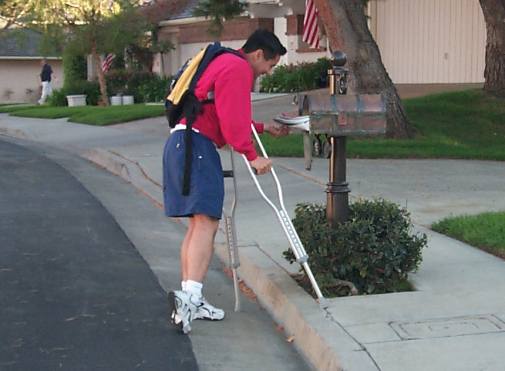 Use crutches. Get mail. Put mail in back pack. Hobble back to bed
But, now I know that I can drive a stick shift even with bad knees, I think I can continuing driving track events until I am about 90 years old. So I have 47 more years of track events left in me, providing I don't run out of money and become destitute because of this hobby. So if I can do 20 new "Chapters" a year for the next 47 years, somewhere around the year 2050, I could be publishing Chapter 1000 of the NSX-Files, detailing how I kicked Wayne's ass (or kicked your ass. Or you kicked your son's ass. Or kicked your grandson's ass) in our latest racing adventure.....<grin>
It looks like Wurth Motorsports snagged Sears Point at the last minute for March 30/31st. They are running the new configuration that Sears has been working on for months. Three groups, 2.5 hours of track time per day. Make sure you have lots of brake pad left, and your tires are good. Cause I don't want to hear any excuses when a one-legged driver kicks your ass up there at Sears in the S2000 Challenge! Bitterman, Keeney, the rest of you cone-dodgers, and all you Norcal S2000 guys look out, cause I am registering for Sears Point so we can continue the trash talking about who is the King of the S2000 Series! I also figure that since we are one of the first groups to be running at Sears in the "new configuration", whoever is the fastest S2000 at the Wurth event, then technically becomes the "World Record Holder" at Sears for the S2000 class until the next S2000 electronically beats your time.
The Streets of Willow is an itty-bitty "beginner track", let's see whatcha got when we take on one of the best road racing tracks in the country at Sears Point at the end of the month. Register here. I don't want to hear any excuses.....<grin>
March 10th
BP says that for the Open Track Challenge, there are approximately 55 teams that have turned in their entry fees. There are still two months left until the event, so we anticipate that the event will sell out. In addition to Grassroots Motorsports Magazine, Maxim Magazine will be covering the event, ESPN Magazine will be doing a one pager about the the OTC, and also Razor Magazine. BP is also working on more goodies for the event in terms of media coverage and notoriety, so hopefully a couple more of these things will pop up. And of course, you will get lots of "unbiased" reporting from The NSX-Files website.

If all goes well, the Flamemobile might come out of hiding at the end of this month for some secret testing. The custom suspension pieces and other Viper/Vette killing goodies should be finished by then....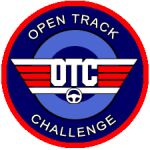 7 Tracks in 7 Days! Do you have what it takes to be the OTC King?