October 16-18, 2004
ALMS at Laguna Seca
And Wayne Gets Married!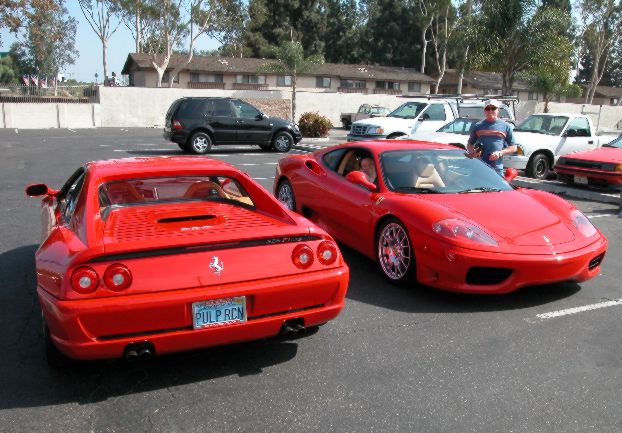 Getting ready to blast off to Laguna Seca
Wayne and Amy have been engaged for about two years. They keep putting it off, and putting it off. Here's the story:
Sunday, October 10, 2004
Wayne calls me, and says, "Hey, I'm gonna get married on Saturday in Carmel, ya wanna come up and be the Best Man? It will be a small, intimate gathering for the wedding." I sit stunned, but happy. "Yeah, let's do it!". Amy's a great person, with the maturity of a 30 year old despite being only 23. Wayne is 45, with the maturity of a 17 year old, partially because he hangs out with me, and we are both wannabe Ferris Buellers.
All the flights are booked up going into Monterey Airport, as it is ALMS weekend at Laguna Seca. Which is a pain in the ass, because then you have to fly into San Jose or Oakland, rent a car, then drive back down. That sucks. Looks like we are driving down. Dagmar says it might be too much of a handful to take the baby on a long car ride, so she backs out from going. I start thinking....hummm.....if we have to drive up, we might as well buzz up in the F355 and the 360, and make it a Ferrari road trip. Wayne talks to Amy, and they said that sounds like fun, and they send Amy's wedding dress up with Jackie and Mike so it doesn't get wrinkled. We decide to pack light, and blast up to Laguna Seca on Friday, have the wedding on Saturday, and then go root for James Sofronas in Speedvision World Challenge Touring race, John Dearing in the World Challenge GT race, and cheer for the incredible local legend, Erik Messley, who secured a ride in the 250cc Superkart race for that weekend. Amy likes motorsports, so going to the races and seeing our friends duke it out with America's best Touring and GT racers will be fun for her also, even on a honeymoon weekend.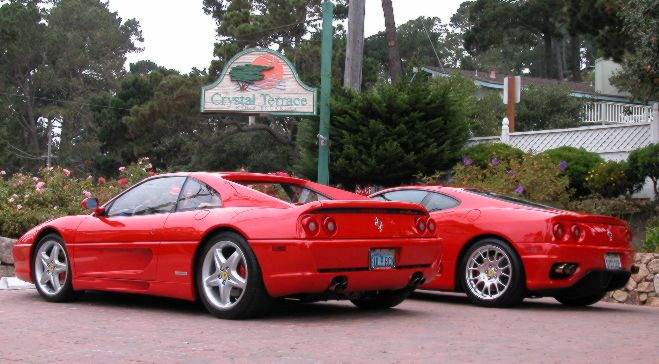 We stayed at the Crystal Terrace Inn Bed and Breakfast in Carmel
(click here for bigger)
Dearing secures a last minute ride in a Viper. Sofronas is driving his Techmark GMG BMW. Messley was working on Gary Petersen's Viper, and Gary mentioned that he has two 250cc Superkarts that are racing at Laguna Seca with the ALMS guys. Gary offers Messley a ride in his "spare kart", which means the slower of the two karts. They are running as a two kart team for Encore Cases. Erik agrees to run, and starts doing some work on the kart. Superkarts are unique vehicles. They have wings on them, good aero....and they'll do about 140 mph down the straight at Laguna. They will run about 13 seconds faster a lap around Laguna Seca than the Speed Vision Touring cars, and about 8 seconds faster than the Speedvision GT Vipers/Porsches. We were speculating that the only cars faster this weekend at Laguna might be the million dollar ALMS prototype cars. If you want a suicide machine, this is the vehicle to have! No roll cage, no seat belt, 2 inches off the ground, and doing 140 mph into a hairpin turn before you slam on the brakes.
Tuesday, October 12th
Erik was supposed to be at Streets of Willow testing out the kart, but the motor isn't ready yet. Looks like he is going up to Laguna with no seat time, and relying on the practice sessions on Thursday to get acclimated to the kart. Bummer. This event is labeled the "World Superkart Challenge", and is the big event for the 250cc Superkarts. There will be people flying in from all over (Australia, etc) to compete in this event, as this is The Event for the Superkart geeks. Could be a rough weekend for Messley
Wednesday, October 13th
Damn, we lose in our coed softball game. We were 5-1, one game ahead of 2nd place with only four games left, and we end up losing by a couple of runs. Crap.
Thursday, October 14th
The F-cars are ready to make the bombing run to Monterey. Messley said that he had a bit of a rough day in his first practice day at Laguna, and went off track. He had to get side pods fixed, needed jetting adjustments, etc. Normal sorting out problems that you would like to have about a few weeks of testing, instead of just getting adjusted to the kart at the event.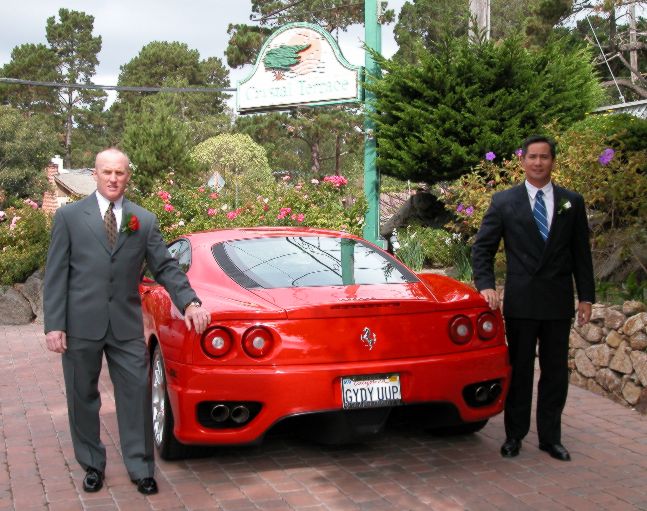 I haven't worn a suit since August 1998
Friday, October 15th
Wayne and Amy get the marriage license stuff, and are a little late. We leave H.B. around 2:00 p.m. Bad news. Friday, 2:00 p.m. = Rush Hour. I tell Wayne and Amy that we will arrive at 8:24 p.m. to Carmel. It takes us about 90 minutes to get through Los Angeles (that's only about 40 miles). Sucks. After that, traffic opens up, and we spool up the Italian Sound Machines and make up ground down the 5 to the 46 to the 101 freeway. (Be careful on the 101 by K*i*n*g City. We saw about 7 CHP units pulling cars over to generate revenue for that entire city of redneck, inbred, sheep lovers)
I now think that Wayne's 360 is the best sounding street exhaust around. It was great hearing that exhaust note for six hours. It is starting to sound like a full race exhaust (Ferrari race exhaust!) We arrive at our hotel, check in, get our hotel keys, and I'll be damned. It's 8:24 p.m. Sometimes I scare myself with how accurate my timing is. And that's with Wayne leading the way up to Carmel, not me trying to adjust speed to meet the self imposed deadline. Messley says he qualified 15th or so out of 33 people in his class, and 55 people total in the field. He said he's only had about 9 hot laps in the kart.
We stop at Nico, and gorge ourselves on Italian food.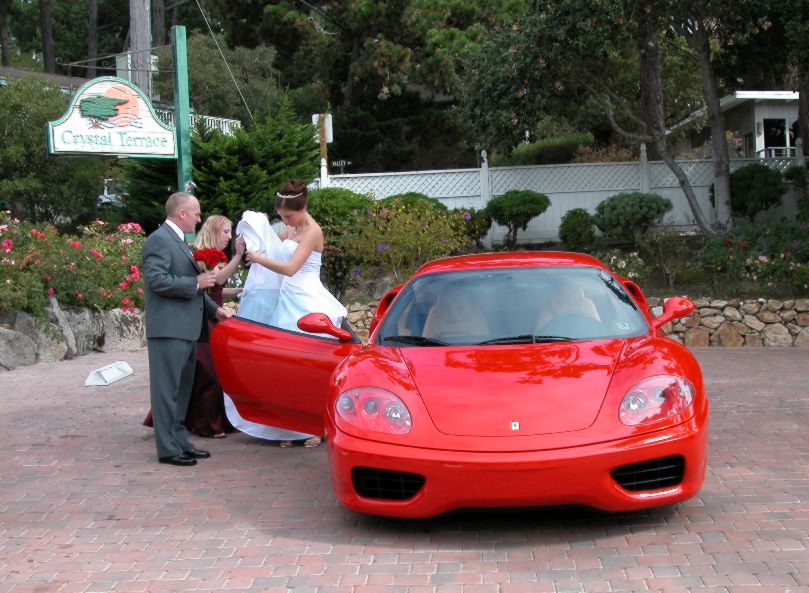 Limos suck for weddings. Do it in a Ferrari!
(Click here for bigger)
Saturday, October 16th
The wedding is at 12:30 p.m. It is cloudy in the morning. Amy gets her hair done in the morning, and then she and Jackie head back to the hotel. At 10:30 a.m., the makeup lady is supposed to show up to get her ready for pictures. At 11:10 a.m., still no make up lady, and pictures are in 20 minutes. Amy and Jackie improvise, and do the makeup themselves, with Jackie screaming on the phone at the people who recommended the make up lady who acts like she is chemically unbalanced.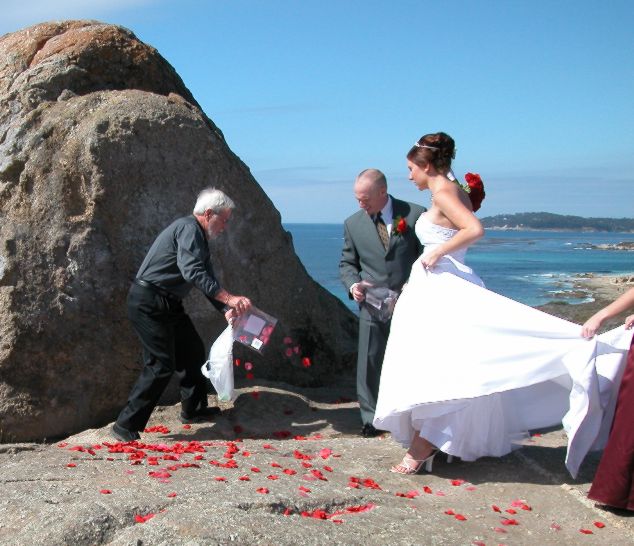 Getting the grid ready for the start of the wedding
We take the pictures, and then stuff Amy into the 360. We are heading out towards something called Ribero street, which ends in a cliff overlooking the ocean. Sun comes out! It's gonna be a perfect day.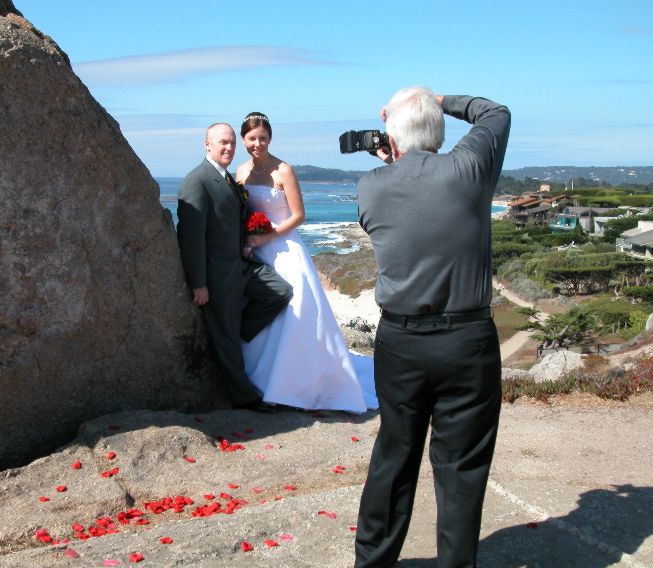 Dane was the photographer. I'm the photographer of the photographer
12:30 p.m.
The minister isn't there.

12:45 p.m.
Still no minister. The photographer says he knows the minister, and he's dependable. 12:50, still no minister. Wayne and Amy don't have his phone number. Looks like I'm gonna have to marry them since I am an ordained minister from the Universal Life Church. I start practicing. "Dearly Beloved, we are gathered here today...".
I ask Amy how she found the minister. She said on the Internet. Hey, I got my Sprint PCS Wireless Modem card with my Dell 8500 laptop in the car. We pull the laptop out, fire up the wireless modem, and do a search for Bryan Lyke. She gets the number, and calls him.

"Hello, is Bryan there"
"Yes, this is him"
"This is Amy Wisenor"
"Yes...."
"You were supposed to marry us 25 minutes ago"
Silence...........
"Uhh....I'll be right there"
Turns out he marked it down for next weekend.....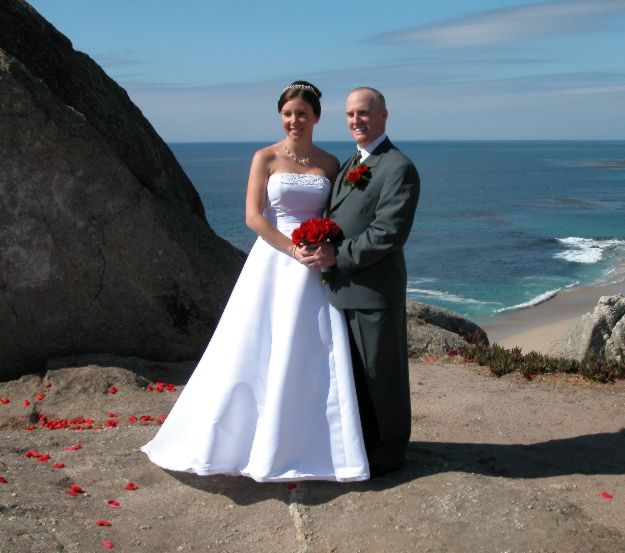 There's the happy couple
1:10 p.m.
Okay, we got all the players. Minister does a great ceremony, sun is shining, birds are singing, a slight breeze to blow the rose pedals around the bride, etc. The day couldn't be more perfect! Afterwards we gorge ourselves on Italian food at Nico for the second day in a row, and then back to hotel for a nap. Messley said that he spun out in the qual race, and he couldn't get the clutch in time, so he stalled. He's starting from 33rd position on the grid tomorrow, last in his class. Bummer.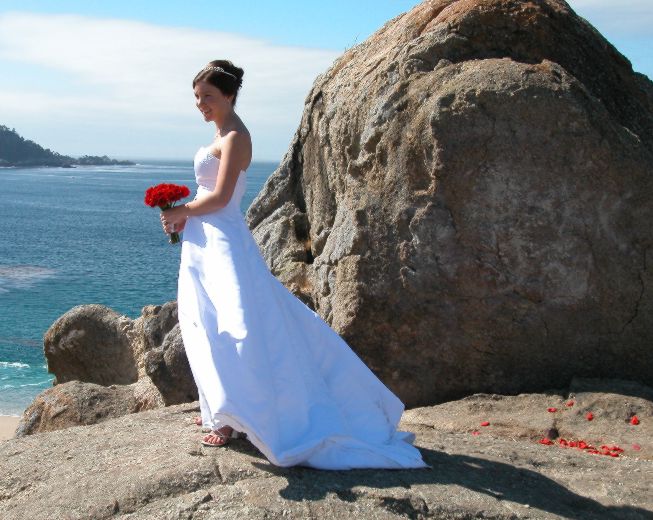 Amy doing her model pose
Sunday morning
It rained all night. We blow off going to the races early. Around 9:45, we have breakfast, and then decide to check out part of the races. We get there just in time to see the restart of the World Challenge Touring race. We are about 70 feet from turn 2, and we see the touring guys banging and swapping paint with each other. James is in there driving great, and moving up in the pack. He has Dobson and Aubuerlin right on his ass, but he is successful in holding them off. He finishes around 6th or so, great race to watch.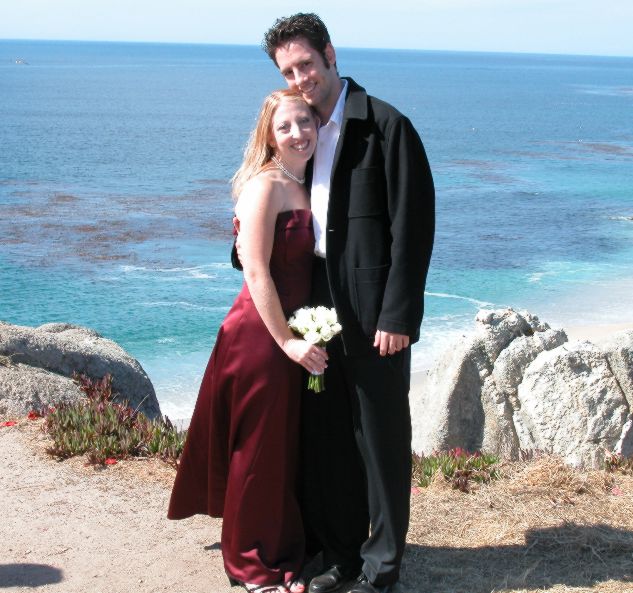 Jackie and Mike help make the wedding a success
Dearing has been having mechanic problems all weekend, and doesn't get more than 3 laps in a row in any session without having something break on him. He breaks down on the first lap, as the oil catch can was leaking. He pulls over off the track, otherwise he would dump oil all over the track and screw up the race for the remaining cars. Damn, that sucks, we wanted to see him whup on some of those GT guys. Dearing is planning an assault on World Challenge next year, so be looking out for him!
2:40 p.m.
I start setting up the Helmet camera on Messley's kart, but I'm worried that we haven't' tested it, and I don't want to screw up Erik's race by having something fall off, get loose, get tangled up, etc. Erik says go for it. Wayne and I start trying to figure out how to make it work and then an official comes by and says, "5 minutes to grid", so Erik waves us off and starts getting the tires and fairings on the car. Erik runs into the RV, and debuts his new racing suit. Erik's theory is the uglier and more flashy the suit, the more people will look at your and remember you, and hopefully it will be a sponsor that remembers the ugly suit. And his suit is definitely ffing ugly!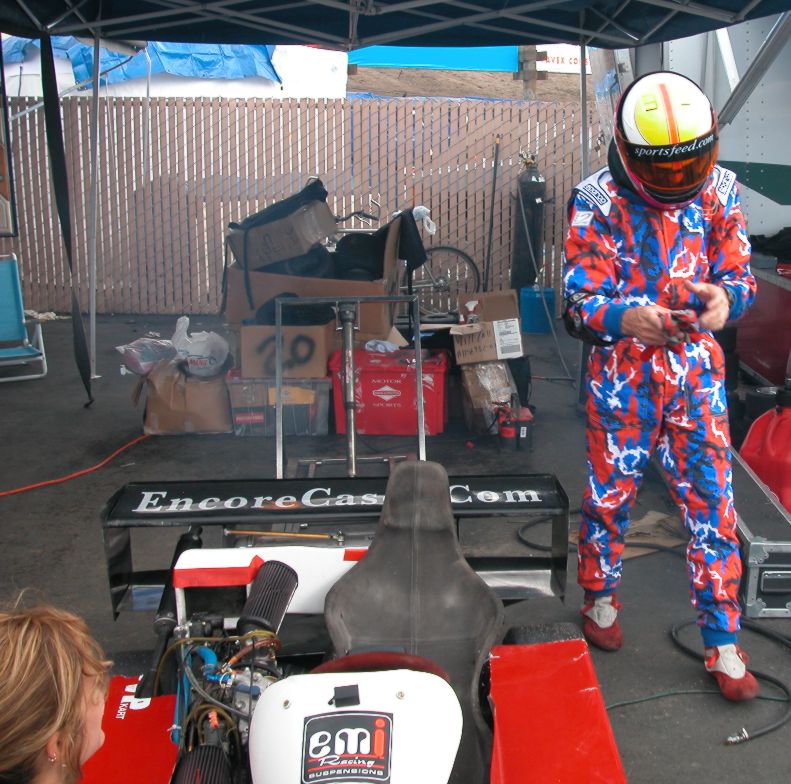 Erik said he wanted to attract attention. Uhh...I guess he did that!
3:00 p.m.
Wayne, Amy, David Kennedy, Tana, and I are up in the stands by turn 4. Tana said Erik mentioned that he is gonna make up a lot of ground on the start, despite the fact that he is in 33rd out of 55 karts in a rolling start.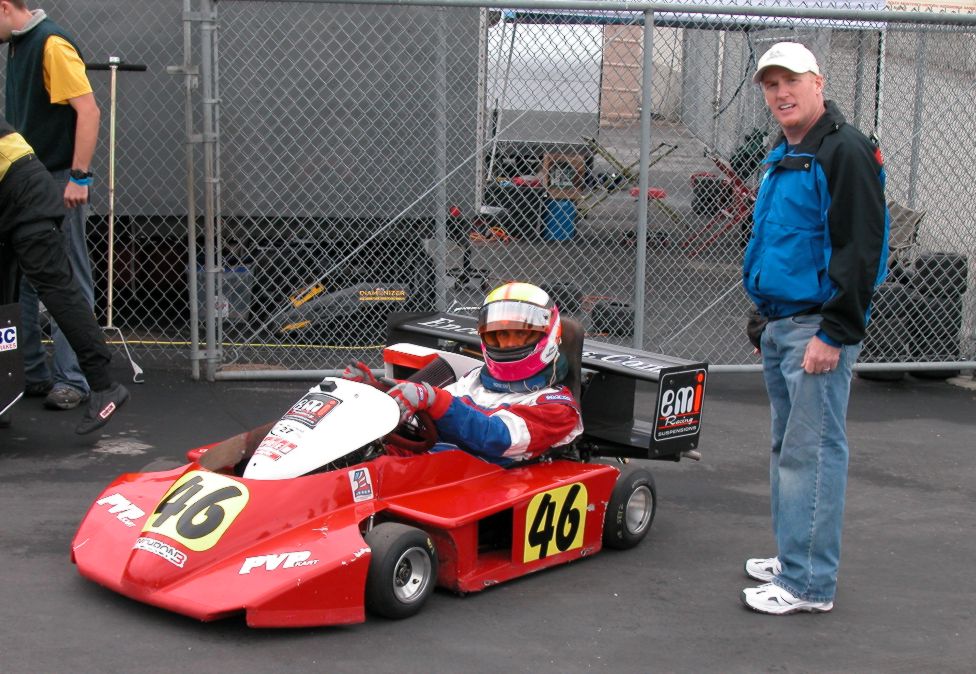 140 mph, and 1:25 laptimes at Laguna
Green flag drops, and 55 karts diving into turn 2. From the grandstands, we see everyone slow down except for a guy with a ugly painted helmet who seems to be accelerating as others are breaking. Sure enough, Erik saw an opening on the OUTSIDE, and while everyone was braking and checking up, Erik bombed in on the outside and took down about 14-15 karts. Holy shit! He buzzes by us in turn 4, and he's about 15th place now!
As the laps go by, Erik is picking a lot of people off. We see him dive in on turn 5, and passing a lot of people there. He said he had to pass one guy on the OUTSIDE of turn 9, dropping a wheel in the dirt, as the other guy's motor was too damn fast to pass anywhere else. The timing and scoring board was working for the first 7 laps, but then suddenly stopped working. We know Erik is moving up rapidly, but we can't figure out what position he is in. The announcer isn't mentioning his name, so now we are worried that maybe he forgot to charge up his transponder, or it isn't working. And if your transponder ain't working, that means you are essentially DQ'ed.
Eddie Lawson pits due to a kart problem. A couple of guys spin off due to light sprinkles. Erik is still there charging away.
The announcer says last lap, and then talks about the winner of the race. On the cool down lap, Erik is still going at race speed around the track. We try to find him in the pit area by what we think are the scales, but he isn't there. Now we are worried that he crashed on the cool down lap, or his kart broke in the pit area, as he has not returned to the R.V.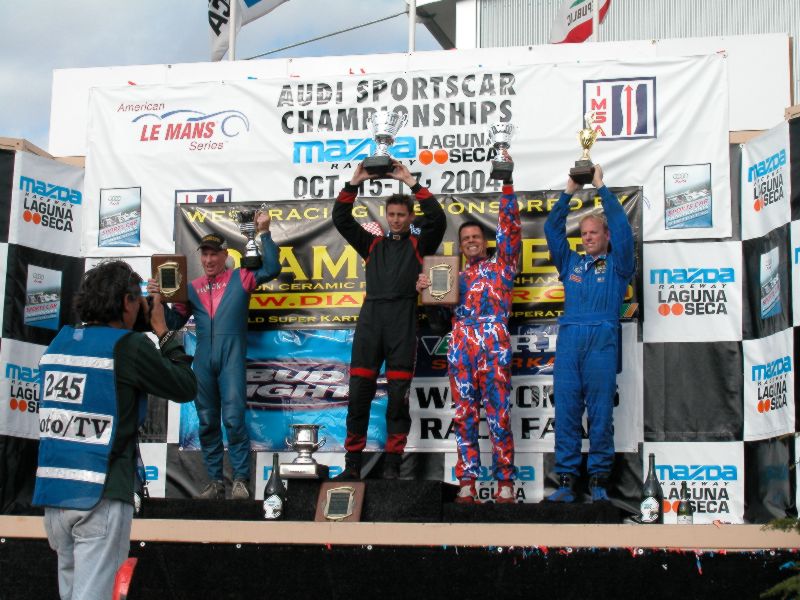 Erik takes the podium
We split up, trying to find him in the pit area, figuring the kart must have died, and he is so exhausted, that he needs a push into our pit area. After about five minutes of searching around for him, we hear the over the PA system the announcer interviewing the 3rd place driver, and it is Erik's voice. Huh? Turns out Erik is on the podium, getting interviewed, as he took 3rd place at this World Superkart Race, after only having about 20 laps total experience in a superkart, and starting from the back of the pack! What woulda happened if he was gridded around 5th instead of 33rd? What woulda happened if his kart was in tip top shape with new frame, motor, brakes, etc? Shit, he coulda been the 250cc Superkart King of the event. Makes you go hummm.....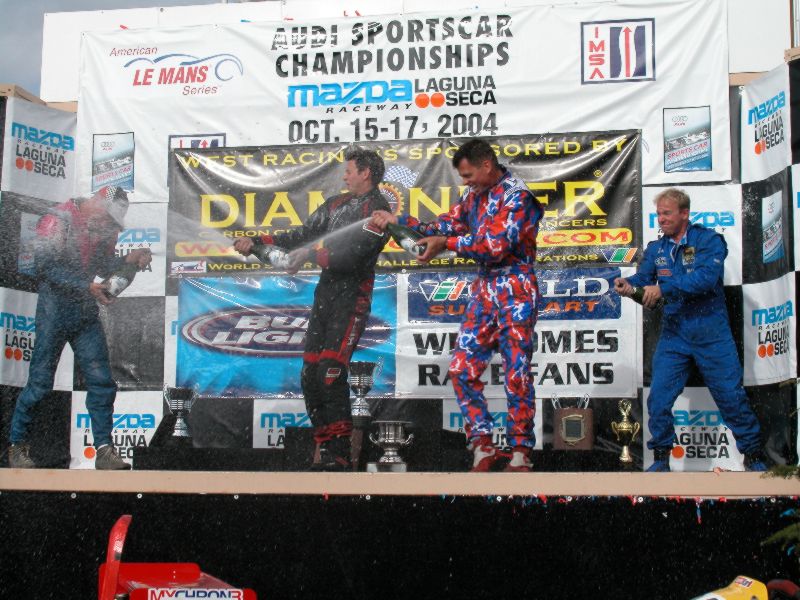 The suit does stand out
To put it in perspective, this is like having a guy walking off the streets, puts on a baseball uniform, and pitches 9 innings in a major league playoff game against the Yankees. Or having a clerk from the local supermarket walking onto a pro football team as their quarterback for the afternoon and wins the game. I mean, stuff like this just doesn't happen in real life.
You would think that someone would give Erik a sponsored ride, or at least sponsor him for one pro race so they can find out more about why Messley is legendary among the local club racers. "emiracing *at* mindspring.com" is his email address if you want to see your vehicle with your company logos on the podium. Karts, sedans, sports cars, two seater spec racers, IRL/CART/F1....anything with four wheels. Just make sure you give him a little bit of extra time to sort out the vehicle prior to an event, so he can add the "Messley touch" to the vehicle to make sure it is ready to go fast. And then sit back and watch in glee as he picks people off one by one, and listen to the people around you saying, "Who the hell is that guy kicking ass? I've never see him or that ugly suit before".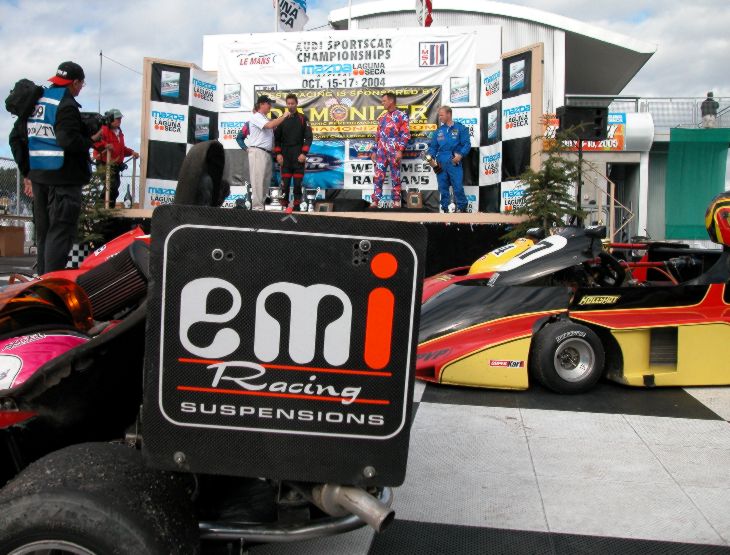 Blatant plug for EMI
So it was great weekend. Right after the race, I hopped into the F355 for the ride home. But it uh.....wouldn't shift into reverse, so we had to put in neutral and push the car out of the parking spot. The Army guys by their big recruiting tent were looking at us like we were morons, with their hands up in the air. I just yelled, "It's Italian", and then they nodded their heads to show that they understand...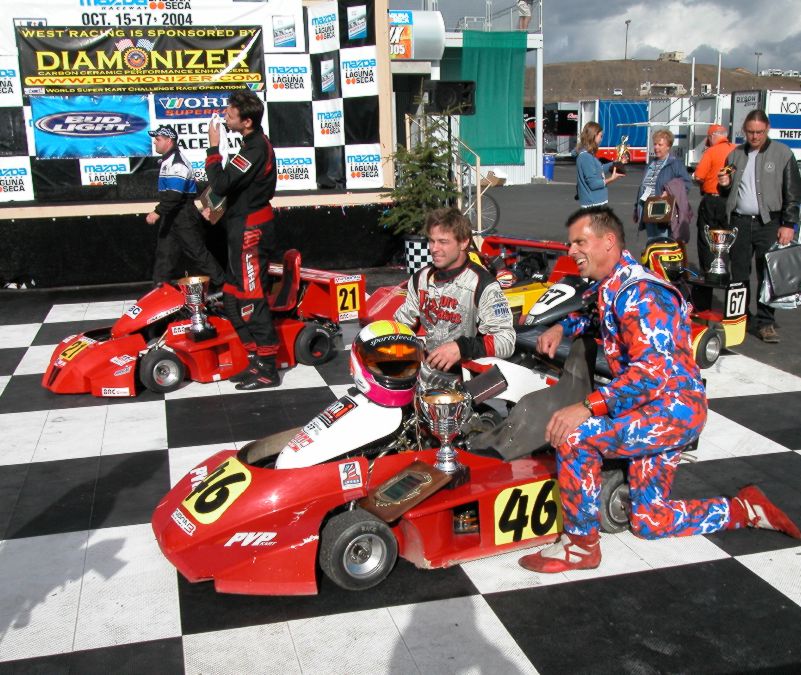 Erik with Gary of Encore Cases