Streets of Willow, December 23, 2001
The Big Boys Come Out and Play
"Keep em Separated"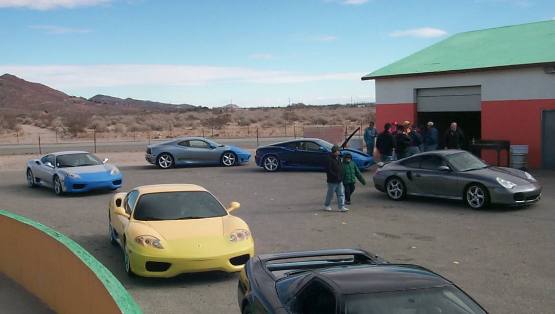 Four 360 Modenas and a Porsche Turbo hanging out at the Streets of Willow
click here for bigger
I am always behind during Christmas time. I never get my Christmas cards out on time. I try to buy gifts that I can wrap up for people, but I get frustrated after shopping for about 15 minutes, and I end up getting gift certificates. This year was the same. I was going to free up some time to do a better job, and then.....a friend invited me to go out to the Streets of Willow, as a friend of his rented out the track. He asked if I was going to take the F355 out to the track. I told him the F355 is still leaking tranny fluid, and might not make the drive out there, much less rip around the track at the redline, and the handling seems a little mushy on it.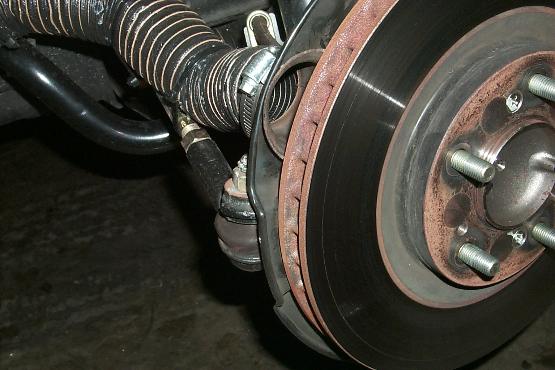 Brake ducting from NSX Modified
The NSX is still taken apart, waiting for some shocks/springs to arrive, but I figure I could take the S2000 out, and really push it to its limits. If I really want to push it to its limits, then I gotta throw some sticky tires on, and decided to get a new set of Yokohama A032 tires for this event. And if I take the S2000 to the track, then I have to get some brake pads and brake ducts. And if I do take the S2000 to the track, I would like to have a little more head protection in case something goes wrong and I roll the car, so that means I have to get a roll bar. Oh no, it is starting again......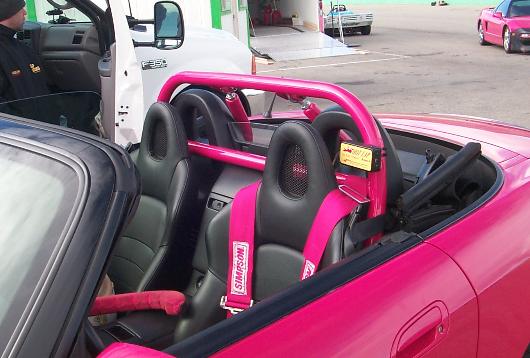 New roll bar in the S2000
So Larry sets up some brake ducts on the S2000 for me, along with some new test pads given to me by Porterfield to try on the S2000. Larry says that there is guy he calls "Baldy", who does beautiful work with roll bars for show cars and say that he can work on my S2000. The result is this: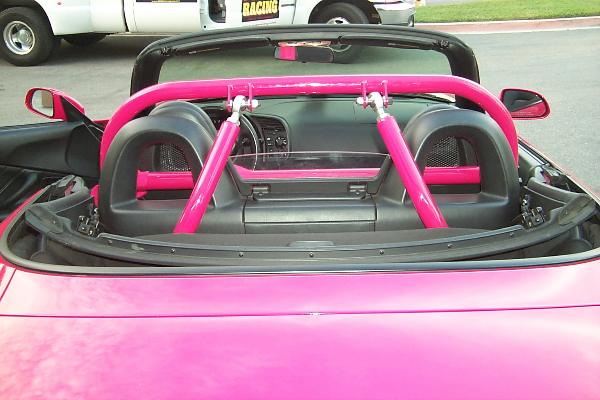 Rear view of the heim jointed supporting bars
Yeah, I know. The heim joints don't seem like they are sturdy enough to pass SCCA certification.....but who races with those guys anyways? It should at least be enough bar to get me on the big track at Willow, and other time trial events that do not allow "convertible" cars on their track. It most certainly isn't sturdy enough for wheel-to-wheel racing, but that is not the intent......at least yet. Remember, I want this to be my daily driver.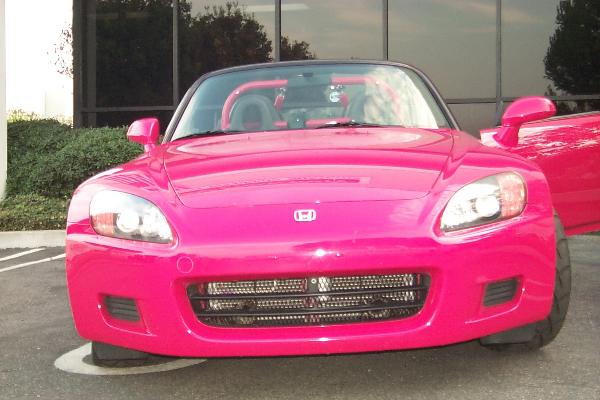 If you see this in your rear view mirror.....pull your ass over to the right
Anyways, so off to Willow Springs with Tony, my brother-in-law who is down from Australia. Larry, Butch, and Sinbad want to go check it out also, as they hear that there will be a bunch of 360's at the event. We get there, and we are not disappointed. There are four Ferrari 360 Modenas there. Also a nice Porsche Turbo, a couple of NSXs, etc.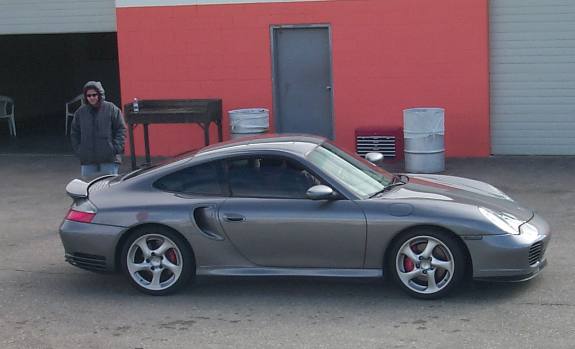 Beautiful Porsche Turbo
Only 13 cars were allowed at this event. The organizers figure that with so few cars on the track, people can stay more separated and there is a less chance that someone will crash or throw rocks on their immaculate cars. The Ferrari guys here tape up their 360's with some tape to give them more protection from rock dings. They create two run groups, one that wants people to spread out, and another that will let people chase each other around the track. I don't blame them....if I had a brand new 360, I would be taping up the car to keep those rock chips off my car.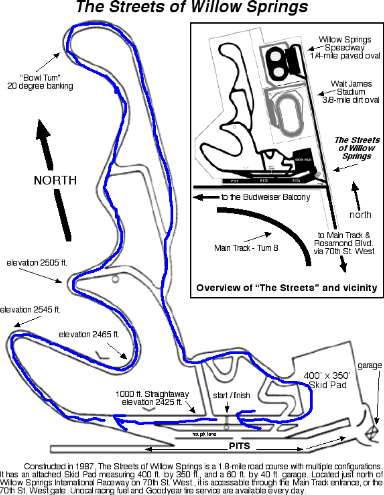 The configuration that we used on this day
We used the full Streets of Willow Configuration, meaning the bowl and the skid pad. I was running 1:37.2 with a passenger in the car as my fastest time. It was pretty fun chasing everyone. I was dogging the Porsche Turbo in the turns and the braking zone, but as soon as he got a straight section of track, that car jumped six car lengths in front of me in about one second. I was chasing John in his NSX, and we took turns chasing each other. The S2000 could keep up with him, but it would be tough to pass him and keep the lead. John came to the conclusion that the Streets of Willow in his configuration produces lap times about the same as the big track.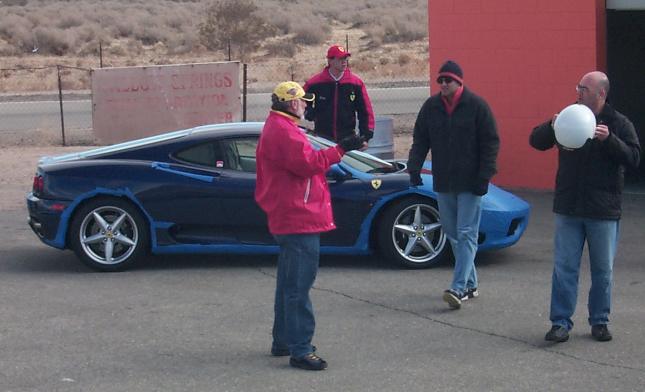 The Ferrari guys Come Out and Play
Bryant (KRC karter and sales guy at Ferrari of Beverly Hills) showed up for a quick session in his new BMW M Roadster, and I was able to hold him off, and vice versa. Bryant was at the track for karting practice, but then he saw all of us on the track, and stopped by to say hi. But he had street tires and I had the semi-race tires, which probably equalized the cars despite his 315 HP and 0-60 mph in 4.8 seconds. A lot of people on various BBSs have said that the S2000 has a tendency for the back end suddenly snap out from under them under high load conditions, causing spins, but at least with the A032R tires, I felt it was controllable. Or maybe I am just a "professional". <grin> The brake pads and ducts worked perfectly, no problem at all with brake fade.
I asked Tino to drive Tony, my brother-in-law, around the track in his 360, and Tino just gave me the keys to his Ferrari and said, "You take him. You let me drive your F355 F1 and convinced me to get the F1 tranny". I tried to protest, as driving around someone's Ferrari on the track is a bad thing. Kinda like giving you the ultimate hit off the go-fast crack pipe. Plus when the Ferrari blows up, you don't want to be in the driver's seat. But I had to give in. We buzzed the silver Ferrari 360 around for about six laps. Very nice. Car feels extremely light and agile on its feets, almost as if it only weighs 2500 lbs. F1 tranny shifts much faster than the F355 F1 tranny. Power is much better. It is a pretty amazing ride. I had to hurry up and give the car back to him, as I didn't want to get hooked on it. I didn't take any lap times, as I didn't want to take the chance at taking the car off road. But we did gun the as we got on the straightaways, and Tony and I both said, "Oh MAN that is nice....".
Over on the big track, Frank (who helps KRC at their races), was there giving some driving lessons to some guy and his son who rented out the the big track. These guys obviously wanted to keep em separated. This guy brought a couple of cars to the track, to put it mildly. He brought: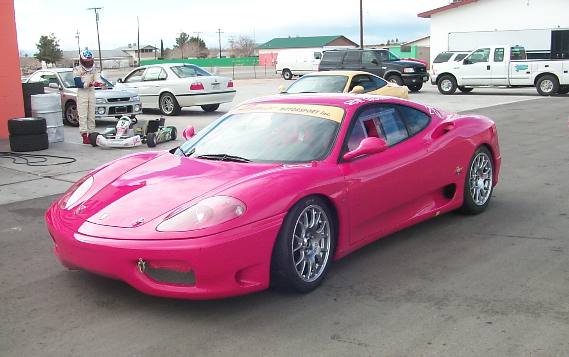 A Ferrari 360 Challenge car, with slicks....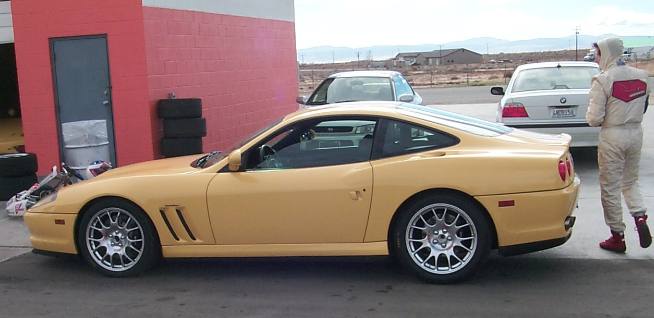 A beautiful Ferrari 550 Maranello with slicks......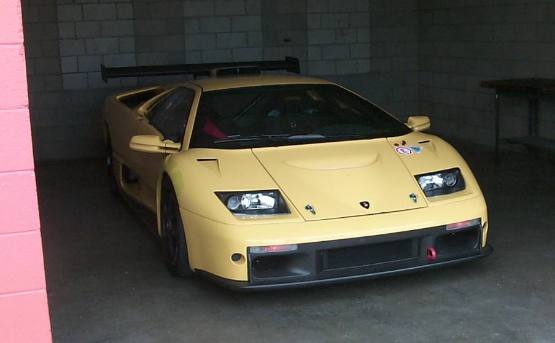 A Diablo GTR, with slicks.....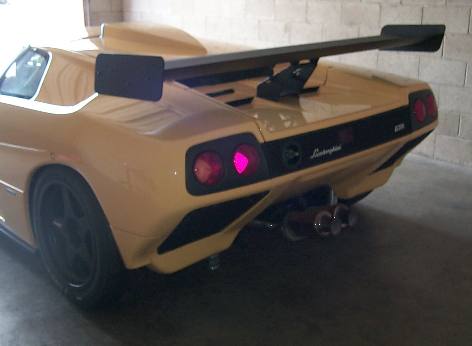 Big ass wing on the Diablo
He also had a Porsche Cup car there at the track. Now that is a pretty good track day when you can alternate between those four cars, going all out on the big track at Willow.
Also at the track was some dude doing a shakedown of the K&N Ultima car. The driver was booking around the track. Bryant randomly clocked him doing a 1:21, and he could have been going faster than that on other laps.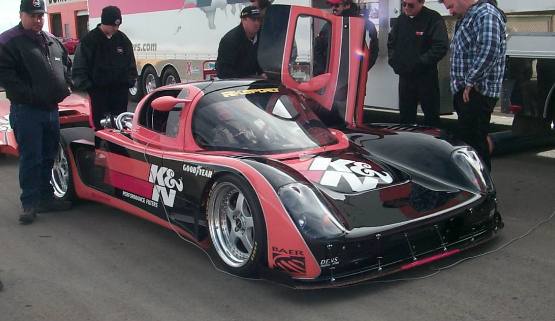 Ultima with full race support (click here for bigger)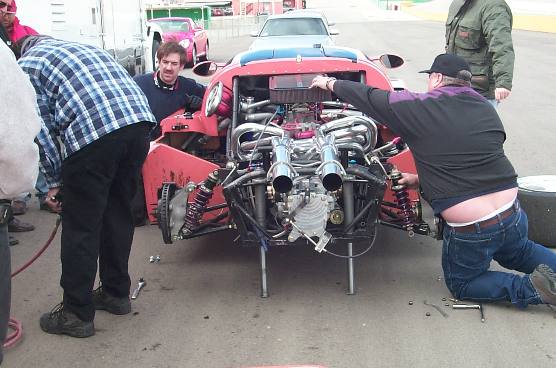 Detachable front clip, air jacks, etc
After seeing all the big boys out on the track, I decided that I should get off my ass and fix the tranny leak in the F355 and do the 30,000 mile checkup. The stupid digital readout for the F1 tranny has an LED that doesn't light up, so the tip of the "2" on the digital readout doesn't show. Only the Italians can make an LED that fails in less than 3 years. I checked with the local Ferrari dealer and they said that the price for them to do the 30k service was $6,000. They have to pull the motor and replace the belts. Ouch. I also figured they have to fix the leaky tranny, and there are sure to be other things wrong with it. That probably puts it to $7000+. What if the clutch need replacing? Or if the shocks are leaking? This could quickly escalate to a five figure repair bill......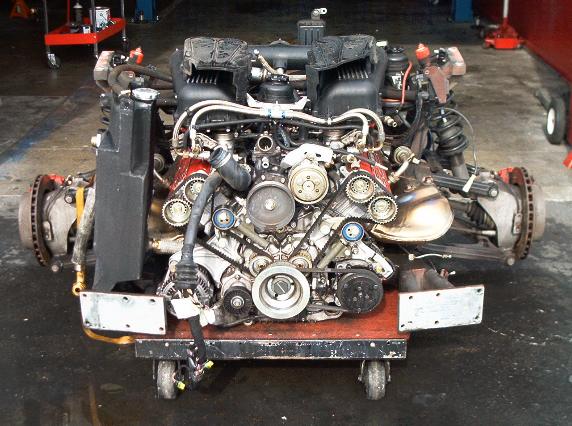 My F355 engine
So I stopped by Martin's place. Martin used to work at a Ferrari dealership, and now has his own shop, kinda like how Larry used to work at an Acura dealership. I stopped by there, and he showed me this wrecked Ferrari 360 Spider. Apparently the story behind it is that some guy put down a deposit, waited a couple years, and then his Ferrari finally came in. He then picked it up at the dealer, and he had to be one hell of a happy person. Drove it home.....and promptly crashed it. Wiped out the entire passenger side, front and rear fenders, door, rim, etc.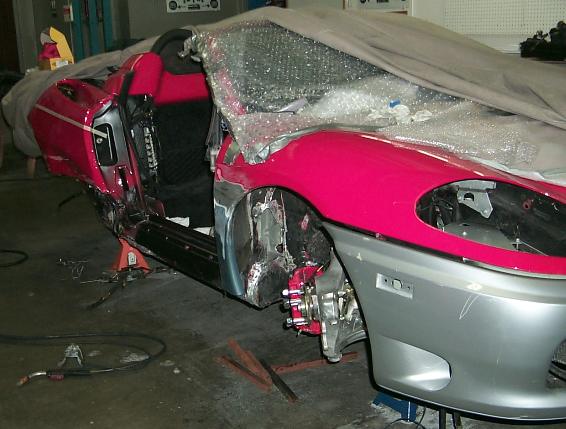 Ferrari 360 Spider.....only 125 miles on it......real cheap!
Martin bought the car, he has pieces, he does body work, he does paint, and he can find 360 parts (I guess from other 360 wrecks?).....so he is rebuilding it. He figures that buying a wrecked 360 Spider and rebuilding it to sell, is better than putting the money in T-Bills.....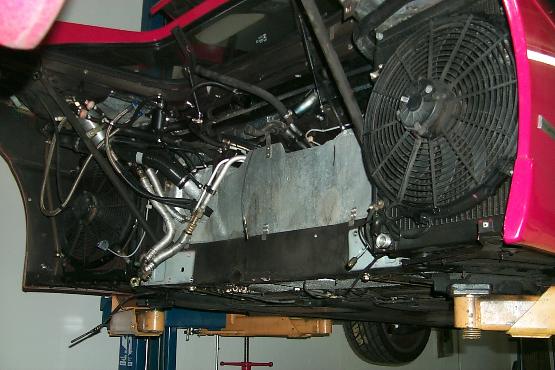 F355 engine compartment, two radiator fans behind the seats
Martin says that he can do my 30,000 mile checkup for about $3500, and he has done many of them before. After dropping the motor, I asked him how the shocks look, and he says that the rears are leaking and have to be serviced. He's got a guy than can service the LED light on the dashboard for the tranny, so I don't have to spend $700 for new display unit. He said he would turn the rotors, bleed the brakes, resurface the pads, shine and polish up the outside of the motor, fix the shock leaks, fix the tranny leak, change the belts, check the clutch and clutch plate, and make it better feel like it was brand new, and I would feel the difference first time I drive away from his shop.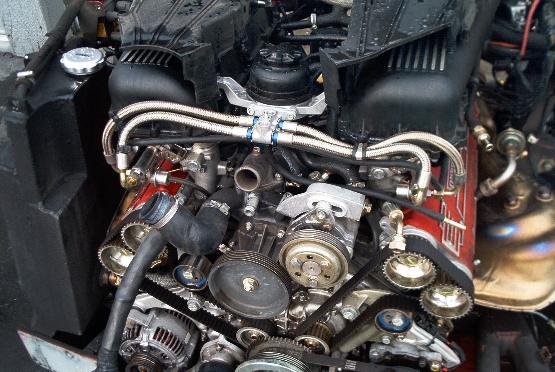 Top view of F355 Motor
After dropping the motor, he said that there is a ton of tranny fluid all over the clutch, and he recommends that the clutch plate be replaced. Also said that my tranny seal is leaking (this is the third time), but it just needs a five dollar seal, and luckily, the motor is already out of the car. So my estimate is now up to around $4400-$4700, but that is much better than what it could have been.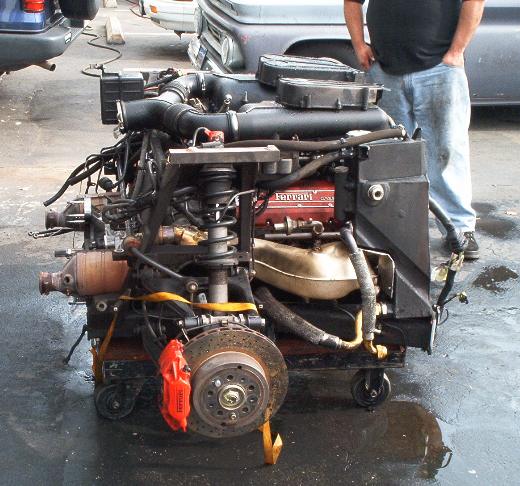 Side view of F355 Motor, and the bottom half of Larry
Well, that's about it for the 2001 racing season. Wayne told me earlier in December that he wanted to race less next year so he could make those big mortgage payments on his house. But then a week later he convinces me that our first event should be January 5th with the Touring Car Racing Association at Willow. So the go-fast crack pipe overcomes all reason. I will probably take the S2000 out there on the 5th, and see what type of laptimes it can turn on the big track.....stayed turned for more stories in 2002! We hope you had a great holiday, and best wishes for a great New Year! Peace On Earth, but Death to You-Know-Who-And-His-Maggot-Followers.