The 1997 Virginia City Hill Climb June 21/22
"The Day The Big Iron Came Into Town"
"I walked into the Saloon with my shiny, 38 Caliber Revolver. Unfortunately, everyone else had Bazookas"
- A quote from a guy who got 'smoked'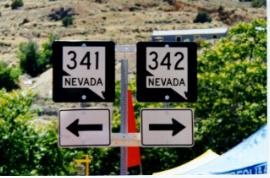 The Hill Climb starts at the intersection of the 341/342 Highways
The following info is from my perspective, some of which may be exaggerated, or just plan wrong. But this is how I remember the weekend...
June 21/22 was the 26th running of the Virginia City Hill Climb in Nevada. The VCHC is run twice a year. The Ferrari Club of America/Shelby Club runs in September, and they only allow Ferraris and Shelbys to enter. In June, the weekend after Father's day, the Quattro Club, along with the Ferrari Owner's Club(and you thought only the NSXers had two clubs) run, and they allow anyone with cash to participate. This year, Ferrari Owner's Club was not the sponsor, instead it was the Quattro Club and the Virginia City Hill Climb Association that ran it. (but it was essentially the same people organizing the event, Bill Pound and Frank Beddor, so I think there maybe have been another political falling out somewhere along the line with the Ferrari Owner's Club. Car Clubs seem to argue as much as the Democrats and Republicans, if not more.) It is one of the few remaining Hill Climbs in the U.S., from what I am told.
Anyways, they block off, with assistance from the local Sheriffs, the Intersection to the 341/342 highway, and run time trials up the 5.2 mile paved mountain road with 21 turns, only about 3 of which have guard rails. Most of the turns are marked at 35 mph turns. You get between 10-18 runs up the Hill over the course of the weekend. This is actually a "truck road" into town, meaning the big trucks and tour buses come up this road, as the other road into town is too tight for these vehicles to negotiate some of the turns. Prize money is non-existant, it is only for bragging rights and hanging out with interesting car geek people. The local people sell food/drinks at the event to help with the local preschool, and the corner workers are hired from local population. About 150-200 people or so come into town for the event, eat in the restaurants, sleep in the "bare necessities" hotels, etc., so it helps the local economy.
This year, Wayne and went up with the goal of being in the top 10 out of about 55 drivers. Wayne finished 9th last year(3:47), and I finished 11th. (3:52). Wayne added racing cam, and I added short gears, and changed to the A032R tires.
Saturday:
Wayne and I survey the cars, and suddenly we realize that the competition is much stiffer than last year. Steve and David Beddor, after not appearing last year, return with two new, identical, yellow RUF 911 CTR2 Twin Turbo machines. There are probably $200,000+ cars. Their father, Frank Beddor, also brings a black CTR2.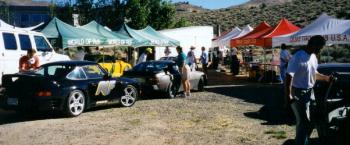 Base camp for RUF/Ferrari/Quattro Club members. Me and Wayne sat in the dirt with no tent
The RennTech Mercedes, the winner last year by 1/10 of a second, is back. Rumor has it that this is a $500,000 vehicle, 600+ horsepower, tube frame, and extremely light. Amir is back this year, after coming in 2nd with his 512 TR. This year, it seems he is out for blood, as he brings an Ferrari F40. Amir is really nice, explains that he is here to have fun and hangout, and is not worried about getting the fastest time. Yeah right......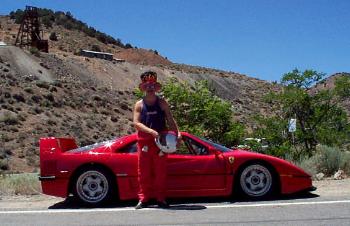 Amir with his Mad Hatter Hat with flames on it.
Carl is back. Last year he beat me out of 10th place in his 993 C4. This year, he also has upgraded, to what looks like a 911 with a 959 body, completely stripped down, and he has this big thing hanging out the back, looks like a super charger. It is so big, that he has to cut part of the 959 rear wing out to accomodate the pulley that is driving the belt.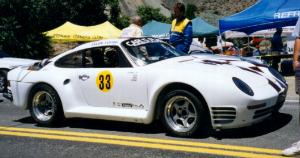 Carl's 911. Looking pretty mean....
Tim Landis, Viper guy, doesn't bring his red roadster, he brings a Blue GTS coupe. Steve is back with his beautiful F355, David LeSage with his Purple 911 with huge flares, no side windows, and stripped down to zero weight is also back. Randy Harris, always fast in his Vette is back. Rick Doria, who runs in all the Silver State/Pony Express runs is also here. After looking at all this Big Iron, me and Wayne are no longer thinking Top 10 finish.......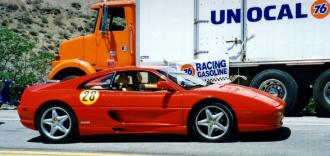 Steve's F355. Possible replacement for my NSX?
No more than about 30 minutes into the event, a guy in a nice early 1970's Ferrari 365 GTC/4 crashes his car into the mountain, bounces off the mountain, and tumbles about 50-100 feet down the 'Hill. The driver is safe, but his car has to be winched up the 'Hill by a tow truck. The event is delayed about an hour as they get his car of the mountain. We couldn't just leave it there, as the fire department didn't want to take a chance at it catching fire and burning up the brush. Needless to say, he is going to have an interesting conversation with his insurance agent. This immediately puts a damper on the event, and people seem to take more caution and drive a little slower.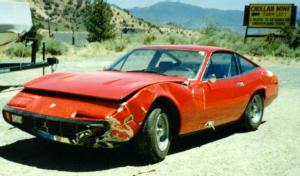 This 365 GTC/4 crashed into the mountain, and went over the edge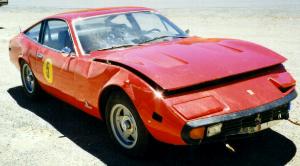 Driver is safe. Car is pretty sturdy for over the edge of the 'Hill!
Tim "the Viper Guy" Landis, was supposedly bragging about his 7 year, 70,000 mile warranty from Dodge. Unfortunately, 7 minutes into the event, he blows his engine....so at least he gets to take advantage of his warranty....
Later in the afternoon, Rick Doria, Vette Driver, puts a white 1987 Vette into the 'Hill. The car is pretty trashed, probably totaled. We wait as his car also gets put on a flatbed to be taken off the 'Hill. This is surprising, as Rick is a regular at events like this, and he is always pretty fast here at the 'Hill and at other track events that I go to. Someone posted in an earlier email that Rick blew a tire out at 210 mph at the Silver State earlier this month and crashed his really fast Blue Vette, so it looks like Rick is having a rough month......and lives a charmed life.
Part of the "coolness" of the Hill Climb, unlike most other events, that everyone here gets a chance to cheat death. Kinda like it is a life affirming act to race at the Hill Climb. If you can cheat death, you feel much more exhilarated, like you accomplished something, that life really is worth living for, and you are damn happy you are alive, and you should celebrate every moment you are alive, cause you could easily be dead soon. It is a really weird feeling, but as I look around, I notice that most of the people here have been here the past 4 years I have been at this event. I recognize just about everyone (or at least their car) that finishes in the top 20. One guy there says he has been here every year since 1971, and had memories of a person who had Niki Lauda's F1 car and raced it up the Hill, as well as some of the older McLaren machines of the 1970's.
With the short gears, I am having trouble. Previously, with the regular gears, I would rip up the Hill in turns 2, 4, 6, and 10 in 2nd gear, and would apex and accelerate through the turn. Now, with the short gears, 2nd runs out of RPMs about 4/5ths up the hill, so I shift into 3rd, but then I get at the top of the turn, and 3rd is bogging down. I experiment various ways, and can't seem to figure out the right shift pattern. My fastest time is 3:54, and I am worried as I always run my fastest times on Saturday, as the road starts deteriorating with rubber marbles/sand/dirt by Sunday. I also find that with the short gears, if I add a passenger, I am about six full seconds slower than by myself, which I think indicates that I am not handling the minimal torque in my NSX(are you listening, Acura?) properly with the short gearset. Meanwhile, the Waynester is doing 3:44 up the 'Hill in his 944 Turbo, a full 3 seconds faster than last year, and 10 seconds faster than me. What really pisses me off is that I can beat Wayne by tenths of a second at Willow or Laguna Seca, but since the 'Hill rewards power, he is destroying me going up the Hill. The NSX definitely needs more power....
The Beddors are having problems with their CTR2 turbos. I notice a preliminary time written on one of their cars to be a 3:59, which is five seconds slower than me! Apparently they are experiencing fuel starvation problems with BOTH of the recently delivered yellow CTRs. The RennTech Mercedes only gets a couple of runs, and they too are experiencing some mechanical difficulties. Amir is trying to get use to handling the turbo lag on the F40. He takes Dagmar for a ride up the 'Hill, and she comes back throughly impressed by the frightening power of the F40, and the fact that Amir can drive fast with empty water bottles richocheting around the inside of the car. Amir is running low 3:40's, using R1 tires, as he couldn't get rims/slicks for the F40 yet.
Before the barbeque on Saturday night, Wayne and I convince his date Loreen and my wife Dagmar to take a quick run to the casinos in Carson City. We proceed to lose some money, and start back to the Comstock Lodge back on the 'Hill. Wayne gets a clicking noise from his rear driver side wheel that proceeds to get worse and worse. He mentions that his mechanic said that his CV Boot was looking a little ragged, but he didn't have the mechanic replace it. It is 7:00 p.m. on Saturday night, in a little podunk Carson City. There are no auto shops open. We find a Shell Station, where a couple of guys agree to put his 944 Turbo on the rack. A visual inspection reveals that his CV Boot is shot, there is no grease in the joint, and all the Porsche places are closed. I ask Wayne, "but you KNEW the CV boot was bad, and you KNEW you were going to drive 1200 miles this weekend, and 15+ laps at death defying speeds on a narrow mountain road with no guardrails, and you didn't get it fixed?"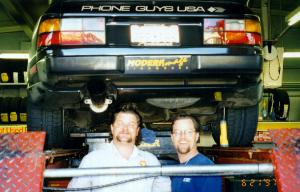 Tom and Pat. Two hotshot Shell Mechanics who fixed Wayne's 944 on a Saturday Nite
Dagmar find the Porsche North America in Reno in the phone book, and says to call them. Everyone in the gas station looks at her like she is crazy. Who the heck is going to answer a phone at 7:00 p.m. on a Saturday night? Wayne calls, and a Porsche Mechanic guy answers the phone! He is apparently taking inventory on a Saturday night. He explains to Wayne to have the service guys buy a universal boot across the street at an auto parts store, pack the entire joint/boot with grease, use electrical tape, duct tape, and tie wraps to hold the universal boot in, and give it a shot. I don't want Wayne's date(Actually, this is kinda like their first date) to be bored watching the mechanics work on Wayne's car for a couple of hours, so I give the keys to my NSX to Loreen, who proceeds to cruise around town with Dagmar, as if they were trying to pick up guys. I am sure they got lots of attention....probably more than I want to know.
90 minutes later, we test drive Wayne's car, and no more clicking sound. Wayne pronounces the car fixed, and I ask him if he is going to run the car on the 'Hill on Sunday, and he says, "your damn right I am running my car". Even if it is held together with tape and tie wraps.......
Sunday:
I do one warmup run, and then I decided to go for my fastest time while the air is still cool and the road isn't littered with debris. On my second run, I lose power, and realize that my muffler sounds like a Winston Cup Car. I pull over, and find out that one of the welds on my Comptech header broke, and I have a severe exhaust leak. I drive back 25 minutes into Carson City(there ain't nothing in Virginia City, no gas station, no 7-11, etc.) and find a gas station that can weld it back, but I gotta wait until he is done with a smog check on an econobox. He fixes it, and it costs me $232 for the weld job. (uhh..well....the gas station was next to the Nugget Casino, and I lose $200 playing blackjack while waiting for a $32 weld job on my car.....)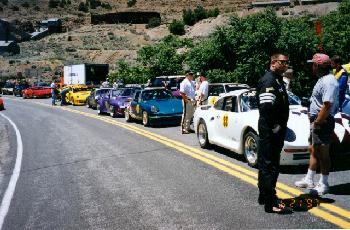 Five Fast Porsches lined up all in a row
I get back to the 'Hill around 1:30 p.m., and find out that Amir is out of tread on his R1 tires, so he is no longer running the F40. The Beddors at first were taking parts off the black CTR2 and putting them on the Yellow CTR2s, trying to get the Yellow ones to buzz up the 'Hill, but they still can't figure out what is wrong. So they took the parts off the Yellow CTR2s, and put them back on the Black CTR2, and Steve and David proceed to go for fast time up the 'Hill, taking turns in their Dad's car. Another 944 Turbo blows his engine. The RennTech Mercedes is toast, they aren't running any more. I run a 3:57 with a passenger in the car, and figure I might have a chance at a 3:51, so I can at least beat my last year's time. I psyche myself up, get rid of my passenger, and put in the Pulp Fiction CD, and proceed to blast up the 'Hill. Coming out of turn 1, the car goes sideways a little bit and I have to catch it. There are rubber marbles everywhere, and the rubber that was scraped into the road is now getting slippery from the heat of the sun. I decide it ain't worth crashing, and make this my last lap with a leisurely 4:09. With about 2 minutes left in the event, another 944 crashes into the 'Hill, and loses the nose/front bumper. Perhaps he should have noticed the surface conditions were getting really bad.....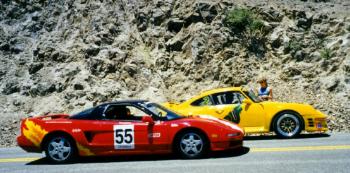 My car next to Steve Beddor's RUF CTR2 911
The final results of the event were:
1. Steve Beddor, Black 911 CTR2 Twin Turbo, slicks - 3:33.198, averaging 87.805 mph
2. Amir Rosenbaum - Red F40, R1 - 3:33.781, averaging 87.566 mph
3. David Beddor, Black 911 CTR2 Twin Turbo, slicks - 3:34.358, averaging 87.330 mph
4. Carl Young- White 911 with 959 body and turbo/supercharger?, Slicks, 3:36.901, averaging 86.599 mph
5. Kim Crumb, hired gun, RennTech Mercedes, slicks - 3:36.901, averaging 86.305 mph
6. David LeSage - Purple 911, slicks, 3:38.500, averaging 85.675 mph
7. Tim Landis - Viper GTS, 3:39.865, averaging 85.143 mph
8. Harmut Feynl, RennTech Mercedes(owner), slicks, 3:41.222, averaging 84.621 mph
9. Wayne Mello, 944 Turbo, old R1 tires, 3:43.938, averaging 83.594 mph
10. Randy Harris, ZR-1 Vette, 3:45.285. averaging 83.094 mph
(FYI - the record is held by one of the Beddors, at an amazing 3:21, also in a RUF prepared 911).
then down to around a horribly slow 19th:
19th. Doug Hayashi, NSX, A032R, 3:54.502, averaging 79.828 mph
Some of the cars that beat me were embarrassing, like a couple of vintage Mustangs. (but, they were probably putting out 400+ Horsepower. Like I said, the 'Hill rewards big horse power cars. If those vintage Mustangs were at Willow Springs or Laguna, I would toast them.
If you look at the analysis, every car in the top 10 had at least 400 HP, with the exception of Wayne, who is probably putting out 350+ HP. (He Dynoed at 321 lbs of Torque at the S.D. Dyno day, and I think 290 hp rear wheel). That, and he is a psycho driver behind the wheel. I ask him, "What line are you taking through turn 7 and how fast are you going", and he looks at me like I am crazy and says, "I can't remember which turn is which, I just point the car and step on the gas and let the Turbo fly". At least 5 of the drivers in the top 10 had well over 500 HP. I never thought I would consider buying the Comptech Supercharger, but if I don't, everyone will upgrade again this year, and I will be in 25th place at next year's Hill Climb. If I do upgrade, and get 380 Horsepower, I should definitely make it into the top 10 at 3:43.9(and beat Wayne) and maybe get eighth spot......
Trivia Facts:
1. Amir set a record for top speed recorded via radar gun at end of the straight between turn 7(where the Ultima went off in 1995) and turn 8, at 130+ mph. Turn 8 has a 35 mph speed limit sign posted at it, so most people brush the brakes before apexing late into this turn. If you apex early and go in too fast, you get a picture of your car(or what's left) on my web site. :-)
2. The Beddors were using the Virginia City Hill Climb to sort out their Yellow CTR2s for Pike's Peak. Looks like they got a lot of work to do on these new cars. The Beddors had a bunch of mechanics/helpers there to help prep the car, a bunch of rims/tires, full big transport, etc. They are also really, really nice people. I got to chat with Steve and Frank for a bit.
3. Amir mentioned that the F40 is built like an anvil. It doesn't over heat or complain, despite hammering it at the Hill. He had many problems with his 512 TR the past couple of years at the 'Hill. Since a lot of pro racers race the F40 in events, supposedly it is pretty easy to get used racing parts like gears/wings/etc. for relatively cheap prices.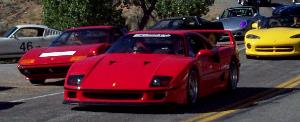 Amir's F40 in front of his brother's Viper
4. It is 540 miles from Newport Beach to Virginia City. It took us 9 hours up, and 9 hours back. Wayne has to go to the bathroom every 45 minutes, and eat every 2 hours. So we go 100 miles per hour for 45 minutes, pass 300 cars, then we take a bathroom/food break, and those 300 cars pass us, and then we get on the road at 100 miles per hour and pass them again. Repeat Process again and again.
5. Sunday night was the awards/roasting ceremony, and Amir did a great job as MC, roasting everyone, especially the guys who crashed or broke.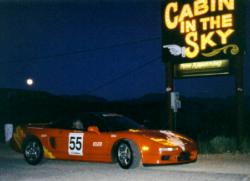 A full moon shines upon the NSX at the meeting place on the 'Hill
6. Bill Pound said same time next year. This is a really cool event, if you are a car geek, you should be here, before this event gets closed down due to all the cars crashing into the 'Hill.
7. I got a year to figure out what hardware to procure in order to finish in the top 10 for the 1998 Virginia City Hill Climb.........if there are any go-fast car parts manufacturers out there, you know where to get a hold of me........