Vintage Auto Racing Association and the Touring Car Racing Association
August 1, 2, & 3, 2003 - California Speedway
Back to the Top of the Pyramid of Speed
"Don't Lift, the Car Will Stick"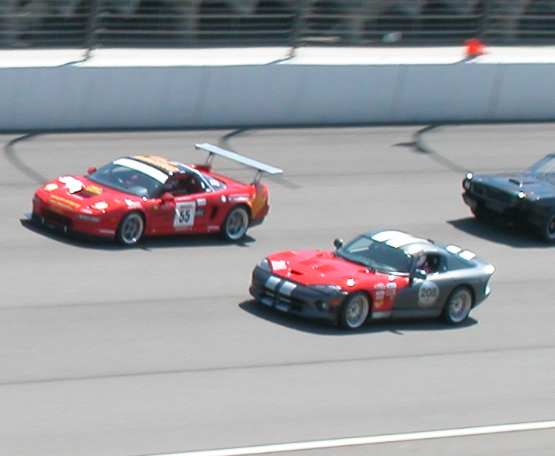 Going onto the bank at California Speedway at full throttle - photo by Amy
(Disclaimer: This page is big. You will need a high speed Internet connection to view it. Or just click on the page, wait about 15 minutes, and then the story should be downloaded by then. It down loads in about 24 seconds over my cable modem. Best viewed at 1024x768 resolution. I also apologize to all the Mac users out there about my rant in the last story. A lot of you (well...4 of you or so, there aren't many of you left...) said that the Oddcast applet using Jenna works fine on the Mac. I guess most stuff really does work on the Macintosh.)
So I stayed off the Go-Fast Crack Pipe for quite some time. My last time at the track was April 12th at the OTC, which seemed like forever. Almost 3.5 months of doing nothing but being Mr. Mom, changing diapers, cooking, keeping the house clean, etc. I tell the wife (who spends 10 hours a day with the baby attached to her breast) that I am now a house bitch. I figured that after about 3 months, hopefully the baby will be sleeping through the night, thus making it easier for me to sneak out to the track. Otherwise, having the baby wake you up every two hours throughout the night is really tough on your sanity, even more so when the other person is spending all their waking hours at the racetrack, or prepping stuff for a track weekend.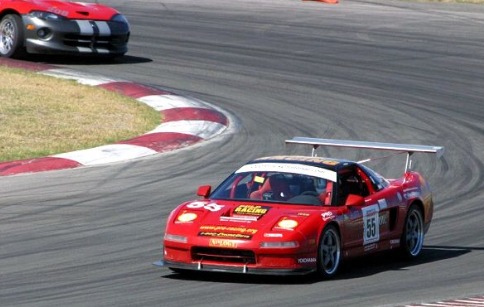 Out of the hair pin - photo by Lance
The last time I raced the NSX in a wheel-to-wheel race was....uh.....about one year ago. I was running 3rd or so in the race at California Speedway when the oil pressure went from 70 psi to 10 psi while on the banked curve at 140 mph. The oil starvation cause yet another dead NSX motor. It took about 5 months to come up with the cash and the time to get the car fixed. In December, I had Comptech rebuild the motor (they didn't rebuild the last one, someone else did), and they also put in an accusump and an oil cooler to make the engine more reliable. I got the car back in January, and by that time I didn't want to run the car until the Open Track Challenge, for fear of uh...blowing up something else. For you NSX guys that are tracking your car a lot, I would highly recommend installing an accusump and oil cooler like the Comptech "kit".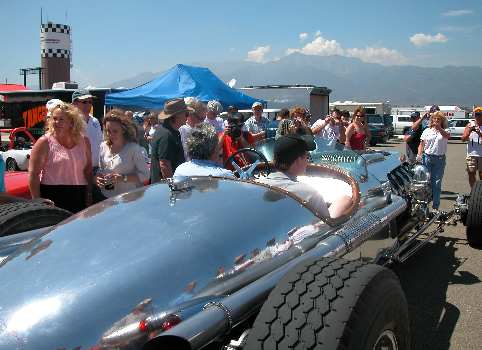 Jay Leno was there in this 1000 HP car
I was feeling pretty confident about this next event with TCRA and VARA at California Speedway. My car is handling real good, and the brakes feel like the hand of God is coming down to make the car stop. I am now ready to fight my way back to the top rung of the Pyramid of Speed. I figure I have a good shot at winning my race group, or at least making it to the podium. I also bought a HANS device, figuring that with these big concrete walls, it would make it so I would feel I have an "Aura of Invincibility" around me. That would help me keep my foot on the throttle longer when entering and exising the chicane at the end of the front straight.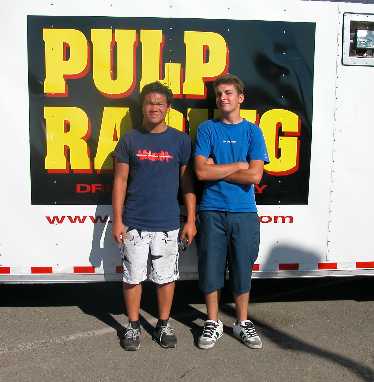 Dana and Michael are part of the pit crew for the weekend
I'm on a budget. Trying hard to keep the costs down. Times are a lot tougher now, it isn't like the go-go years of 1998-2000 where you could make some quick cash in the stock market and then run off and buy some Go-Fast parts without feeling guilty. But I figure my car is ready to race. I have a couple of sets of slicks left over from the OTC, so it is not like I have to go out and spend cash on tires. I should just be able to throw the car into the trailer, and go racing, right? Yeah right......it never works out like that. Wayne's trying to save some money also, so he declines to run his 944 Turbo at this event, as he would need to buy:
1. Two sets of 18 inch slicks (He can't find anymore cheap 17x10 used slicks on Ebay any more)
2. Two sets of 18 inch rims to fit the 18 inch slicks (Easiest size to find slicks)
3. Swap out tranny (He doesn't have a limited slip tranny)
4. Entry fees, gas, etc.

So he figures he saves.....about $5500 by not running this race. Instead, he'll ride up on his motorcycle to help out at the track, and at the during the lunch time 55 mph drive around, he'll buzz his Honda CBR around the California Speedway track.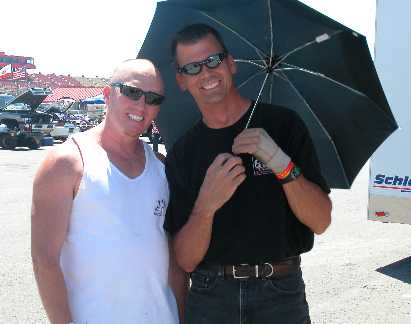 Wayne and Erik looking too sexy for the camera
Erik keeps saying he is going to lower the front splitter on my car, and flat bottom it like Schley's Viper. A few weeks before the event, I drive the NSX over to his shop, and suddenly I can't make the 4-3 downshift. Something is barfing in the tranny. Damn, not good. I take my spare tranny over to Autowave, and have them see if that will work. They proclaim the tranny to be toast, and it would not be worth installing into the car, and not worth rebuilding. Plus, they said it was not a short gear tranny like I was told it was. Damn. We discuss whether they should rebuild the tranny that is currently in my car, or if I should just buy a rebuilt one that is ready to go. They said that Comptech can probably sell me a rebuilt 5 speed tranny, with short gears and the 4.55 ring and pinion. Hummm. Erik keeps pushing for the six speed, but I had this horrible streak of luck with the six speed tranny a few years back, where I was blowing up clutches every other weekend. And I also made a 5-2 downshift instead of 5-4 downshift at 120 mph, and revved the engine to probably 15,000 RPMs. The engine only only lasted about one second at that RPM range. I was warned by people that the six speed tranny is a little tighter, which can cause you to possibly grab the wrong gear on the downshift. I decide to just go with the dependable five speed, short gear tranny with the ring and pinion from Comptech. I have them ship it to Autowave ASAP.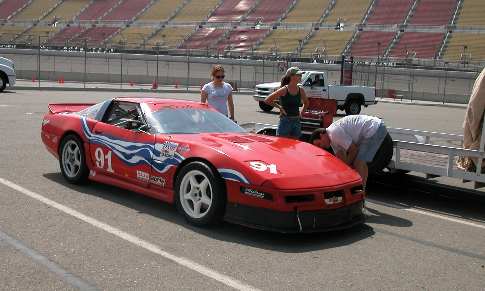 Richard has babes for his pit crew. Damn. I'll trade his crew for mine.
Since it is gonna be hot at Fontana for this next event, and my existing radiator fins were all beat up, I figure I might as well get a new radiator for this event to ensure I don't have any overheating problems. Getting gas at California Speedway last time was a pain in ass, as they only open the pumps at certain hours during the day. I hate waiting in line. So I have Autowave buy ten 5 gallon cans of 100 octane unleaded racing gas for me. All that, including the entry fee, and suddenly I am into this event for uh.....$5500, and I haven't even loaded the ffing trailer up yet. Shit. That was gonna be the racing budget for the rest of the year. Looks like you guys need to help me out and buy Volume IV! Someone mentions that I could been halfway there to buying a fully prepared Spec Miata for that kinda cash. When you blow up those Miata trannys, you are only out $200-$500 bucks. Or, I could have raced almost 4 Spec Miata races (50+ car fields as the warmup for the ALMS or CART races) using an Arrive and Drive program for $1500 bucks per race weekend. Kinda makes you think...hummm....maybe there is a better way to get the racing buzz for a much cheaper price.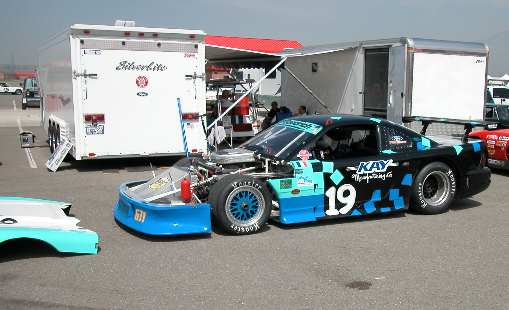 Luc's Roush Trans Am Mustang
Friday, July 18th
Nika from www.racerchicks.com is doing a story on the NSX for the Toronto Star, and had some questions and wanted a few quotes from me for her article. The article appears here.
Saturday, July 19th
There is an informal NSX beach party, and a bunch of us NSX geeks get together and hangout. We have some surprise guests from Japan at this event, including the creator of the NSX. Apparently Honda had an R&D team down from Japan, and they wanted to ask people for some feedback on the NSX so they can think about the next generation NSX. Only problem is that we have been hearing about the mythical next gen NSX for about 8 years, and NSX owners have been giving the same feedback to Honda for the past 8 years. Not a lot of improvement has been done to the NSX compared to the competition. Can you say Viper GTS, Viper Comp Coupe, Porsche GT2, Porsche GT3, Porsche Turbo, Ferrari 360 Modena, 360 Challenge, and 360 GT? You get the picture.
Anyways, I go on my usual rant about why the NSX needs a radical powerplant to keep up with the competition. To emphasize my point, I tell the translator that Wayne is their demographic. (Wouldn't that be a cool T-shirt? "I'm Your Demographic!") I mean, Wayne went from Porsche 911 to Porsche 944 Turbo to 1992 NSX to 1999 Ferrari F355 back to a 2001 NSX and then to Ferrari 360 Modena. The key point being that Wayne had an NSX, got rid of it for an F355, but the Ferrari broke down so much that he dumped it as soon as the two year warranty ran out, and went out and bought a new 2001 NSX. But then, after 6 months, he ditched the NSX because he was bored. BORED! The NSX didn't have the excitement of the Ferrari F355. So despite the fact that Wayne had such a bad experience with reliability with the F355, he sold the NSX, and went out and picked up a used Ferrari 360 coupe. But now Wayne is scared to death that since the 360 Modena is out of warranty, he can't afford to get it fixed if something major breaks. The sad part about this is that Wayne could sell the 360, buy a new NSX and an Evo VIII with the cash, but he won't. The Ferrari gives him such a rush, he can't sell it. That my friends, is EXCITEMENT. This is what the Go-Fast Crack Pipe is all about, dammit.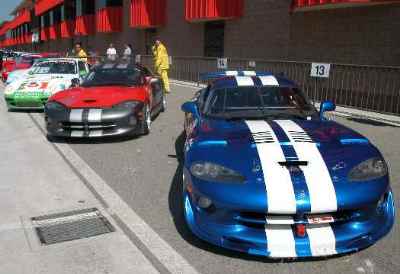 Schley and Dearing's Vipers
So the Honda guys kinda were not getting our emphasis on performance and excitement for the next gen NSX. The folks from Japan had to leave Tuesday morning, so I came up with the idea that Wayne and I would stop by the Honda Torrance plant with the F355 and the 360, and we would buzz the Honda R&D guys around in the Ferraris so they would understand why Honda only sold 223 NSXs in America in 2002, and 182 in 2001. Over by the LA Airport on Sepulveda Boulevard is a mile long tunnel that goes under the runway. I pictured us blasting through there at 8500 RPMS with the engineers from Japan so they could experience what Schumacher feels when he goes into the tunnel at Monaco.
They agreed to meet with us on Monday. Wayne and I waxed and polished up the F-cars, checked tire pressures, and were all ready to go for a lunch time drive around....but the Honda guys had to cancel out due to time constraints with their existing meetings. I understand, as they were only in America for a short time, and they probably had 100 things to discuss before they left for Japan. So I wrote up this document to get them to understand the mentality of all of us who are hooked on fast cars, and why they need to radically upgrade the NSX. I sent it to them, and hopefully it will get distributed to all the folks who make "go/no-go" decisions on what to put in the next generation of fast cars from Honda. For those that do not want to read the whole document, I basically said give it the power and performance of a Porsche GT3, make it sound like a Ferrari F355, and give it Honda reliability. Seems simple, doesn't it?

Meanwhile, Erik is wrenching on my car, his hand slips trying to loosen a bolt, and he wipes out his hand. He goes to the doctor and gets an MRI, and is told that his tendon in his hand is barely hanging on. If he works it too hard, the tendon will snap, and it will go zinging towards his elbow like a rubber band, and then they will have to cut open his arm so they can pull the tendon back and re-attach it to his hand. He's given some drugs for the pain. He tells them that he can't handle any codeine. He gets a prescription, that is apparently codeine based, but he doesn't realize it, and takes one before he goes to bed. 48 hours later he wakes up in a pool of vomit. There go another two days that my car is just sitting on a lift. I was hoping to get the car in my hands three days before the event, so I can setup the cameras, the radios, the Datacam, the HANS device, get some stickers replaced, wash and wax the car. Yeah right....like that will ever happen in my lifetime.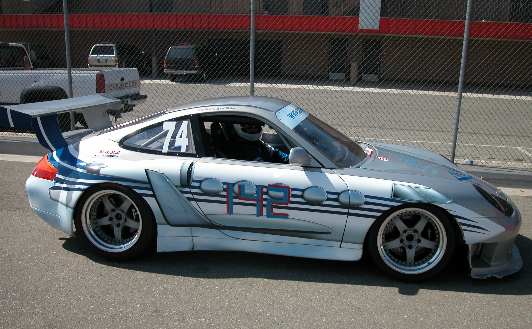 911 RSR ready to duke it out with us
Friday, July 25th
Autowave has radiator, tranny from Comptech, etc, all ready to go. But Erik still has the car.
Tuesday, July 29th
I get the car to them from Erik on Tuesday before the event. I am scheduled to leave for Fontana on Thursday at 12:00 p.m. There are going to be 300+ cars at this event, and I wanted to make sure that Schley and I can grid our trailers in a good spot before the mass chaos sets in on Friday's practice session. Erik was almost ready to drop the car two more inches, but was worried that the transition from the infield to the bank curve would be too much, and it might crack the super duper splitter that he made. So I didn't get the extra aero mods, but Erik did install the Comptech negative camber kit for the front end of the car, so now we can get more aggressive alignment.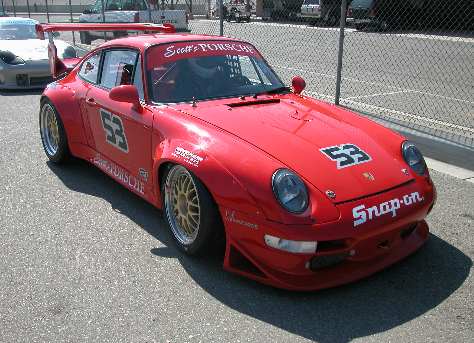 This Porsche RSR had fastest lap time of the weekend for our run group

Thursday, August 31st.
Paul Schley and I get to California Speedway around 3:30 p.m. to park the trailers and his RV. We also unload the cars, register for the event, get our arm bands, and get the cars teched for safety. Things are looking good....a full 15 hours before the event, and we are at the track, waiting for the green flag to drop.
Friday morning:
We only get three practice sessions today. I am NEVER ready for the first run group of the weekend. I scramble to setup the cameras for the Datacam, but uh.....all I get is a blank picture. Damn. I don't have time to setup the two-way radios. After the first practice session, I am running about 1:52. Not bad for my warm-up session. But my HANS device isn't working right. The harness belts keep sliding off of it, thus making me more likely to hit my head on the windshield in case of a crash. Erik looks at it, and says, "Uh...yer seat holes for the harness are too low, it ain't gonna work. You need a proper seat". Damn. So much for my "Aura of Invincibility". My neck now feels like a wet noodle without the HANS device.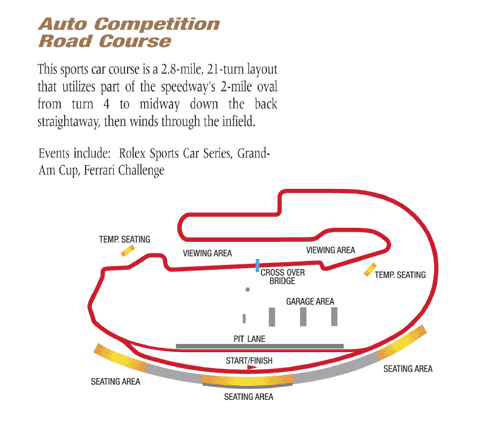 There is usually a chicane around the end of pit lane area
Looking at our group, there are 3 Vipers, a bunch of Porsche 911/993/Cup cars, and a bunch of older V8 cars like Mustangs, Corvettes, etc. There is also a Ferrari 360 GT, for a total of 39 cars entered. After the first session, it appears that the Ferrari and a red Porsche 911 RSR will be the guys to beat for first place. I figure once I get a few sessions in, I can try to give them a run for their money. And yes, the best sounding car is the Ferrari 360 GT. Because Ferrari understands the word EXCITEMENT. It was very cool of the owner to bring this car out to this event. The Ferrari 360 GT is the lightweight race version of the 360 Modena, and it is faster than the 360 Challenge car. It is fairly rare, and it is double the cost of a 360 Challenge car!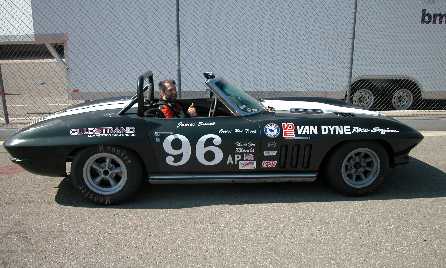 Nice looking Corvette
Friday noon:
Impromptu drivers meeting is called. Apparently a Formula Ford type car went into the chicane of cones at the end of the front straight, hit the cones, and blew up body work on the track. A decision is made by the organizers to get rid of the chicane and the cones, and just run straight into NASCAR Turn One at full throttle. 3/4ths of the crowd claps in approval. I bury my head in my hands, screaming "NO NO NO", as now the Viper dudes with 450-550 HP, the cars with 600-700 HP NASCAR and Trans Am engines, and the lightweight Ferrari 360 GT with 430 HP are gonna kick ass down the straightaway. I will not be able to use my brakes and handling in that chicane anymore. Sucks to have an measly 360-375 RWHP rice mobile in this case.........Honda, help me out, will ya. If it wasn't for the Comptech supercharger, I would be plugging along with 260 RWHP, and I would be in the bottom half of the grid.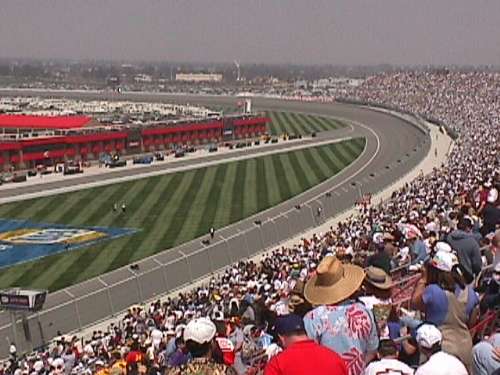 Got balls? Take this ENTIRE turn ALL the way around at FULL throttle at 155+ mph
(photo from a NASCAR event)
Anyways, in the 2nd practice session, I go out and try to learn what the NASCAR Turn 1 is all about. I have never been on a track where you use a NASCAR turn like this one at full speed.. It is uhh...scary to say the least, as here you are, hauling ass at 140 mph and then there is banked turn with a big ass concrete wall at the top. My laptimes are actually a second SLOWER, at 1:53 without the chicane, as I can't quite figure out how to drive the car through the NASCAR turn. Erik says that the car should stick fine. I ask him to drive my car for 5 laps in the next session to see what he thinks about the turn.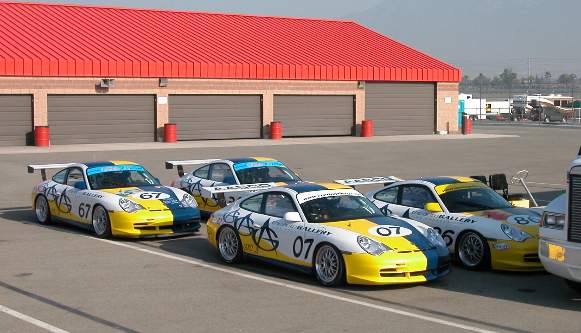 A pack of GT3 Cup cars that ran in the Porsche run group. Too scared to run against the Flamemobile? <grin>
So in the 3rd practice session, Wayne is watching Erik from the top of the grandstands, and I am in the hot pit with the tire pyrometer, pressure gauge, etc, waiting for Erik to pit. Wayne said that within four laps, Erik had the car down to a 1:48, and was destroying everyone in the run group. Erik comes into the hot pit, and says to go flat out on the throttle through NASCAR Turn 1, as the car will stick. He said worse case you might half to lift a bit for just an instant, and then get right back on the gas. I go out for a few more laps, but I still don't get the balls to go full throttle into the turn. Unfortunately for me today, the Datacam setup isn't working due to the wiring problems, so I don't have footage of Erik going into the turn. DAMN!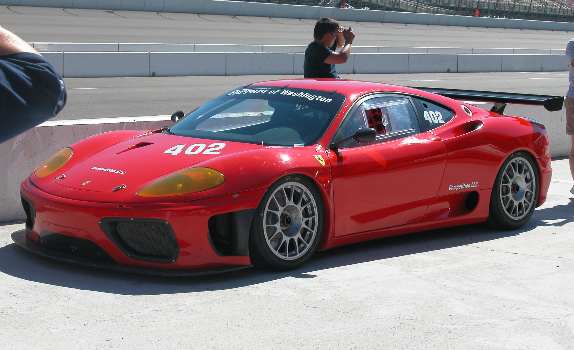 Ferrari 360 GT
We hear Mumford is running his Viper Comp Coupe at Road America in the World Challenge race. And, in the first practice session, he was seventh quickest in his first pro race with the big boys!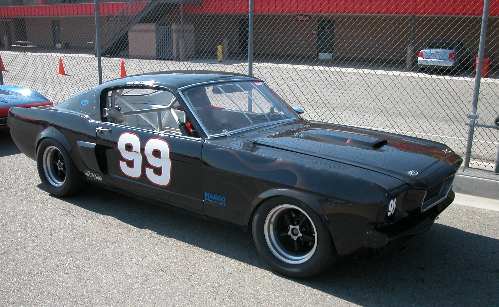 Mustang with a rumored 700 HP NASCAR motor. It kicked ass on the straights!
Saturday, August 2nd
I figure out why the Datacam isn't working. It helps when you have all the wires connected, especially the power and the ground wires. We only get one practice session for qualifying times, and then one qual race. In the qualifying session, I try to concentrate on keeping my foot on the throttle all the way through the turn. I can't do it. My brain says, "THE CAR AIN'T GONNA MAKE IT THROUGH THE TURN". Erik is on the radio saying, "Don't lift, the car will stick". My brain refuses to take the advice. I ended up gridded 4th out of 35 cars or so.
1. Ken Rumbaugh Porsche 993 RSR 1:45.903
2. Steve Goldman Ferrari 360 GT 1:46.607
3. John Dearing Viper GTS 1:48.333
4. Doug Hayashi 1:48.916
5. Paul Schley 1:49.297
6. Luc Noel Rousch Mustang GTS 1:52.155
Erik, Schley and I review my Datacam tape, and Erik is showing us various errors that I am making. The biggest error is how much I am lifting into the NASCAR turn. Erik insists that my car will go through there flat out, and I am losing 1-2 seconds easily there. I tell him that I won't lift in the race.......especially since I hear that the Red 993 RSR doesn't have to lift at all.
There is a lot of buzz on the phones, with people trying to find out how Mumford does in the 2nd practice session at Road America. He runs 3rd quickest, beating all four of the BMW Factory Team PTG race cars, and the two factory Audi RS6 race cars. Very cool. All you east coast drivers (World Challenge tracks are mostly east coast) and foreign drivers with funny accents better look out, Mumford is entering your series to kick yer ass and take your women!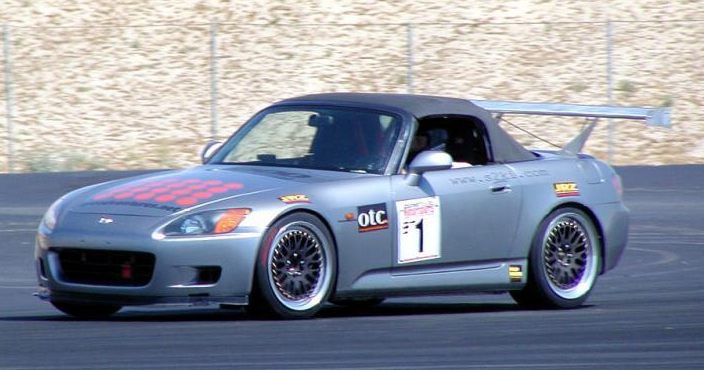 Rylan's new wing for his S2000
Rylan calls me up. He's at the Streets of Willow with Speedventures this weekend, and he just corded his rear tire. He wanted to know if Yokohama was selling slicks at our event. I told him I didn't know, but I have a couple of used Yoko 18 inchers that would fit his s2000 if he wanted to buy them from me. He says he will be down in 90 minutes to pick them up, as he can use them on Sunday. He just installed another Big Ass Wing on his S2000, and he wanted to dole out an ass whupping on Sunday's event.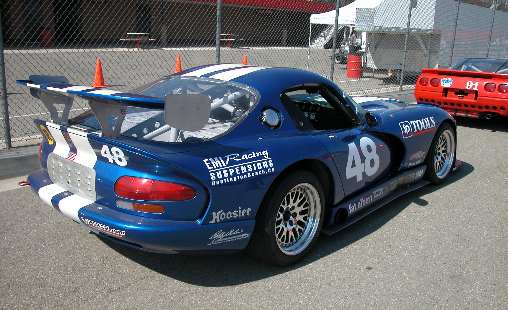 Schley's Lightweight, super-duper suspensioned Viper
The Qual Race:
Green flag drops, and we are off! Into the NASCAR bowl, we pretty much keep the first four positions. The Ferrari and the Porsche are duking it out, and Dearing and I are duking it out. Dearing and I have one of the best battles that I ever had in a single race. Dearing is faster down the front straight and into the NASCAR turn. I have much better brakes and handling than he does. He pulls ahead down the straight, I close the gap under braking. We swap positions a total of seven times in the race, me bombing on the inside under braking, and him blowing by me in NASCAR Turn 1. I get about a 5 second lead on him, but then I come up to lapped traffic, which slows me down a bit while I work my way around the slower cars.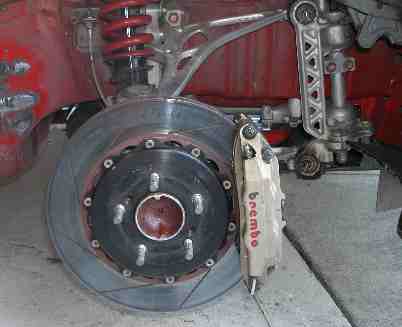 Comptech Big Ass Brembo Brakes on all four corners allow for passing manuevers!
On the last lap, Dearing blows by me on the straight as I get held up behind a slower car, but I got one trick up my sleeve. Dearing has to brake at the 3 marker down the short back straight into turn 17(?), and I don't have to brake until the 2 marker. Maybe even the 1.5 marker. Heh heh heh.....I got him a couple times there already, I'll do it one more time. I setup behind Dearing, and he tries to brake a little deeper than before, and I swerve to the inside.....but the turn comes up too fast, I brain fart, and I don't have time to grab a downshift going into the turn....thus I overshoot the turn and go into the runoff area. DAMN.
Dearing makes the turn, and I hop in behind him from the runoff area. He comes up to slower traffic on the final two turns, which will slow his launch down the front straight, and I setup for the big blast out of the last turn. Dearing gets right on the bumper of the car in front of him, and swerves right to get around him, but knocks out a bunch of cones that were setup there to indicate our path unto the front straight. Cheating Bastard! Cones are flying everywhere. I get a good launch out of the turn, but I end up about two car lengths too short, and I take 3rd place. The Ferrari apparently had contact with someone, and the Porsche was black flagged. Hey, looks like I got 2nd, and Dearing 1st! Race results here. In the driver's meeting earlier that morning, they said that if you hit the cones, you are black flagged and given a 10 second penalty for each cone. I feel like taking my video tape over to race control and asking them to penalize Dearing for failing to obey cone-dodging rules, and to put me in 1st place. But I let it slide this time. A lot of people come up to Dearing and I, and say that we had the best race out of all 300 cars and 8 races for the day!
For those of you that have a high speed Internet connection, you can download the qualifying race with the following disclaimers:
It's big. 100 meg or so. It takes me six minutes to download it off my cable modem.


No Datacam info. The cord fell out. Damn.


Encoded at 1 Mpbs VBR, 640x480, via Windows Media Encoder


You probably need Windows Media Player 9 to view it properly


Give me a few days, I am trying to get permission to use Dearing's video from this event. I'll post it here when I get it edited, encoded, and copied up to the server. That way you can see my excellent driving line! <grin>


It might put you over the edge, and you will end up doing your first wheel-to-wheel race.


Sorry. It doesn't work on a Mac. HUMMMM.....I guess there are some things that still don't work on a Macintosh. I guess I could try to figure out how to re-encode, test, re-copy yet another 100 meg up to the server for the Macintosh users, but then I would have to get a Mac to test and spend another 5 hours of labor. That would almost be the equivalent of me re-writing this page in Spanish for the 2.5% of the people out there that can't read the english language. It would also slow down progress on this story and stories to follow. So I think best suggestions is to try to borrow a friend's PC with Windows Media Player 9 on it if you want to view the video clip. I'm not an anti-Mac person. I just can't do double the amount of work for the same project, it is a pain in the ass!


Download it here, probably best to do a right-click-save-as to get it to your PC.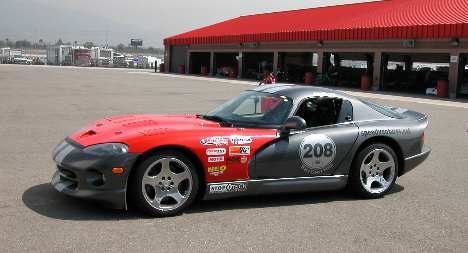 Dearing put on a lightweight hood with more cooling vents on his car
Later that day, we hear that in World Challenge qualifying session, Mumford gets sent out with just a few gallons of gas to minimize weight.....and Raceaflais strikes. He only gets one lap before the car starts sputtering due to not enough gas. He comes into the pits to get more gas, but uh.... you can't refuel during qualifying. Mumford gets gridded 22nd out of 27 cars. Bummer. We thought he was gonna make it to the podium in his first ever Pro race. Now he has to get by 19 cars to get to the podium. Oh well, maybe next time.
======== California Governor Recall Commentary ========
Looks like a new Guvnor will be coming to California. I wanted to throw my hat in the ring, but like I said, I'm on a budget. Plus, I am sure the Republicans and Democrats would be searching in my closets for all the skeletons. Plus, instead of doing interviews, I need to change Kayla's diapers. Some people on cc.com said it should be a Hayashi/Mumford ticket. I said my intro speech would be the following:

Party Platform: Pulptarian Atheist
Never heard of a Pulptarian Atheist? I just ffing made it up. I'll tell ya what it is NOT:

Pulptarian Atheist is not a Democrat who is trying to sabotage the budget making process.
Pulptarian Atheist is not a Republican who is trying to control your "lifestyle"
Pulptarian Atheist is not a religious person who is perversely looking at your preteen children
Pulptarian Atheist is not a Hollywood person who speaks out of their ass

Pulptarian Atheist Positions on Issues:
Use a gun in crime, we cut off your fore finger and your middle finger. Use a gun in a crime a second time, we cut off your hand.

Taxes?
I'm raising them, because the Democrats and Republicans fucked things up so bad we have to pay the price now. That's why are you voting Pulptarian Atheist so we can stabilize this mess.

Also churches no longer tax exempt. They all sucking up all the prosecution/investigation resources for all their pedophile cases. (Dammit, they gotta pay for that, plus more to bring down the deficit) A pet peeve of mine is the local big church here has about 300,000 Xmas lights on their huge trees at Christmas time. Shouldn't they be spending that cash on the homeless instead of Southern California Edison Electric Co? Instead of building elaborate temples, shouldn't they be spending that cash on people that can't afford to feed themselves? Instead they have this grandiose vision that they are the chose people. Which is ridiculous. All you readers out there know that the Chosen People are the wheel-to-wheel racers.....

My position on Iraq?
Every soldier in the state with a valid ID card drinks for free in state sponsored bars with attractive waitresses. After we stabilize the budget, they get a pay raise. But beer is all we can do for now.

Schools?
Dodge ball is reinstituted in grades 4-7, and is graded as a separate class. We need some healthy competition in our school system.

Drug use?
Marijuana is legalized for "medicinal purposes" in your own home. Drive under the influence, we cut off your middle toe. Do it twice, we cut off your foot. And yes, we tax the crap out of the dope to bring down the deficit, as well as having the State of California harvest the weed to sell. Marijuana is here to stay, so we might as well tax it, regulate it, and sell it.

Highways?
Unlimited speeds for those cars with Fast Track-like transponder indicating person has taken driving lessons+mechanical safety check in last four months+$2000 yearly speeding tax. (Hey, gotta pare that deficit down)

Salary?
I'll do for 30% of what Davis makes. But.....I want a Ferrari Enzo as my "Guvnor" car. After all, I gotta get to those meetings fast...

And of course, corner-carvers.com will operate in the background like the secret Star Chamber, with me their as their puppet for fixing what's wrong with the politics in this state....

But on second thought, I probably got too many skeletons in my closet.....
============================
So who do I think will win? I think Arnold has a very good chance, especially since he sandbagged his announcement until the last minute, thus catching a bunch of Republicans and Democrats off guard. Nice move. I bet Awenold would be a good Cheating Bastard as a race car driver. Now the Republicans and Democrats have to go awkwardly on the offensive against Awenold. Personally, I think the best qualified person would be Peter Ueberroth, since he has successfully helped the Olympics, Major League Baseball, and the headed up rebuilding Los Angeles after the 1992 riots. If this was back in the go-go years of 1999/early 2000, I would find a way to come up with $3500 to get my name on the ballot. That woulda been cool. But now, $3500 could buy three sets of slicks.....so let's see.....Slicks or Name on Ballot. Which would be more cool? Yeah.....the slicks would be cooler to have.
JWL said that Jerry Kunzman from NASA Norcal is running for Governor, so if you want to vote for a car guy, give him your vote!
======== End of California Governor Recall Commentary ========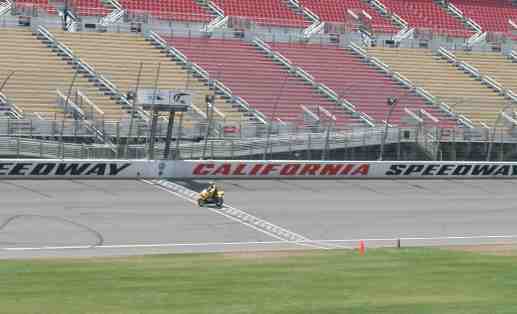 Wayne down the front straight at California Speedway
Sunday morning.
I was talking some smack about how I was gonna kick EVERYONE's ass in the final race to Dearing on the opentrackracing.com BBS early in the morning. Luc was staying at Dearing's house, and I guess I got Luc all riled up. He tells Dearing that he's coming to race on Sunday, and he isn't lifting like he did on Saturday. I ain't scared.....I beat Luc's best lap times by 4 seconds a lap in Saturday's qualifying session, and by 2 seconds a lap in the qual race.
After reviewing the video tape, I suck. I lifted too much again. If I wouldn't have lifted, I could of taken 1st place. But then we have some controversy....apparently the Porsche was mistakenly black flagged, so technically he is the first place winner. But then, apparently the Ferrari had contact with another car, but it wasn't his fault, so somehow he gets to hop back into 2nd place? WTF? He finished the race way behind me. So then I guess I am 4th for the race yesterday? It's all too confusing for me. As far as I can tell from my perspective, the Ferrari 360 GT had contact with another car, and was stopped on the side of the track. I didn't see what happened to the Porsche, but he was black flagged. Dearing almost took out a whole row of cones, so he's DQ'ed in my book.....so I proclaim myself to be the winner of Saturday's race.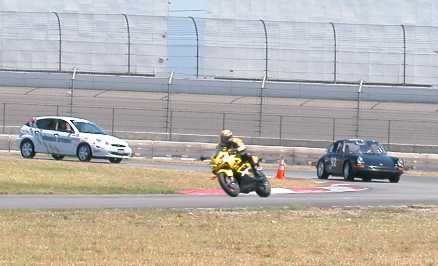 Wayne takes his bike around the track on the lunch time drive around - photo by Amy
Before the first practice session, Erik and I change the front brake pads on the NSX. The remarkable thing about this is that this is the first time I have changed the front brake pads in about 19 track days. I have ran two OTCs (total of 14 track days) two test days, and three days at California Speedway on these PFC 90 01 pads and the same set of rotors! Even more remarkable, the front pads are only worn about 50%. But we decide to be on the safe side, we'll change the pads. The rears probably still have 65% on them. This is using the big Indy-style Brembo kit that Comptech sells for the NSX.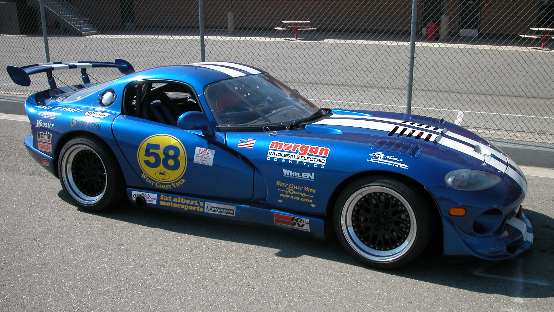 Roger's Viper
I go out for the practice session, and I have to go easy on the brakes the first couple of laps. They came "pre-burnished" so I don't have to fully bed them, but I can't stomp on them either. I don't try to set any records, figuring I will save my tires for the final race.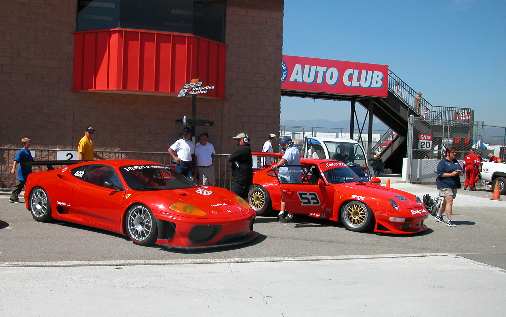 Porsche and Ferrari are gridded 1st and 2nd
Sunday Afternoon. The Final Race.
About an hour before our race, some moron gets heat stroke, and thus the ambulance has to take him to the hospital. They can't race without an ambulance at the track, so we have to wait about 45 minutes before resuming the racing. Which means they will have to cut down how long our races will be. Dearing is the phone, listening to someone who has an internet connection to view the text coverage of Mumford's race.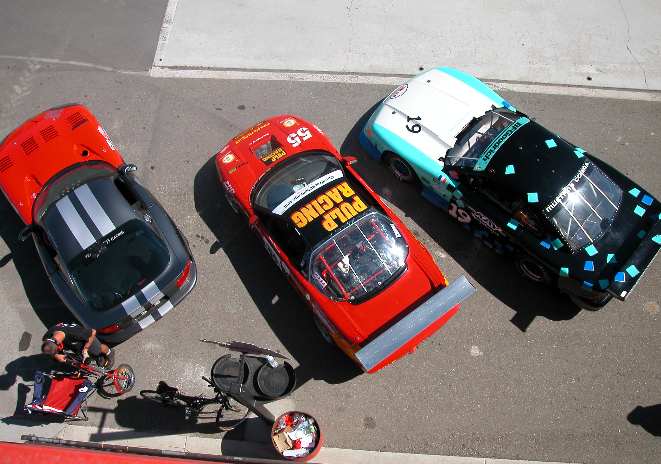 Dearing, me, and Luc are gridded for the final race
Dearing comes by our trailer, hangs out, shows us his video tape from yesterday's race. He says that he has to get some gas...but we tell him they announced all morning long that the pumps are closed at 1:00 p.m. for the rest of the weekend. He goes into a mild panic, as his Viper is gonna need 10 gallons of 100 octane fuel in order to duke it out with me. I offer to sell him some of my secret stash of fuel, just so I can have yet another car to beat on the track.....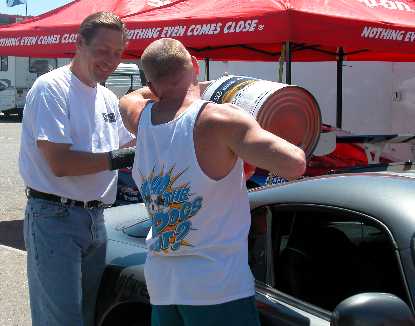 Wayne helping John with a quick fuel pit stop
So we got the Porsche RSR first, the Ferrari 360 GT second, Dearing 3rd, me 4th, Paul Schley 5th, and Luc 6th.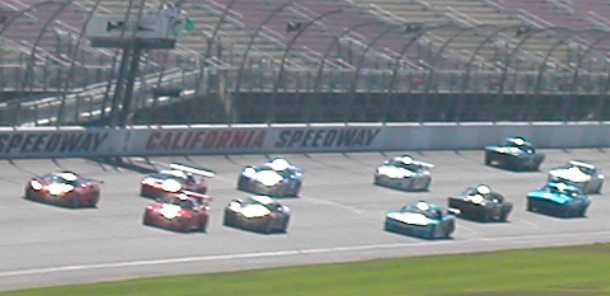 The front runners for the final race - photo by Amy
Green flag drops, and we are off! Apparently the Porsche breaks right on the start, and Dearing has to swerve around him. It's the Ferrari, the Viper, and then me into the first turn out of the bowl. I hang behind Dearing for the first lap, getting the tires and brakes hot and ready to do battle.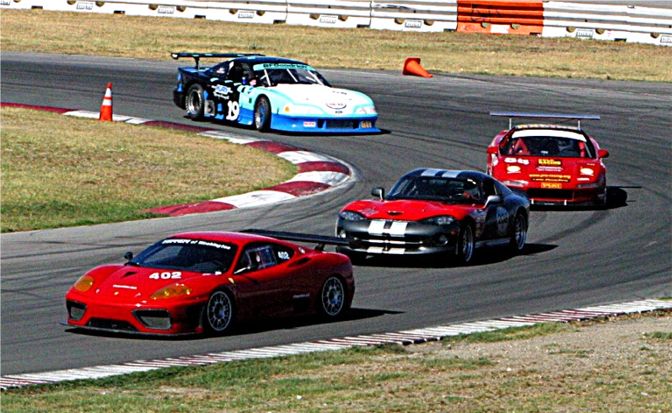 Ferrari 360 GT, Dearing, Me, and Luc in the first lap - Photo by Lance
Coming down the front straight full bore behind Dearing at 149 mph, I hear something on my left hand side. It is Luc, and he is hauling ass down the inside line, side by side with Dearing! Where the hell did he come from? He was running 4 seconds slower than us yesterday. Looks like he brought his racing shoes today. Damn. I curse myself for talking smack to on the BBS to Dearing and Luc. I shoulda kept my mouth shut, and sandbagged for today.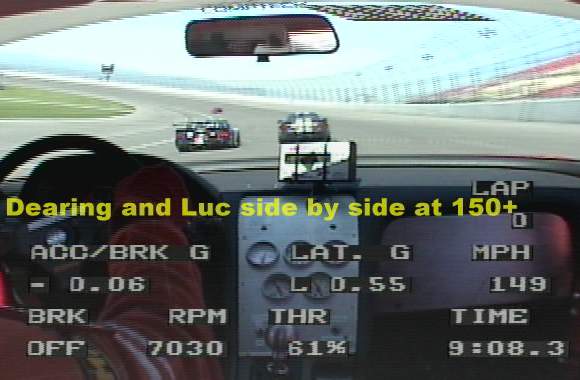 Luc taking inside line on Dearing. Note: MPH is low by 3%-4% due to bigger tires
Coming out of the first set of infield turns, Luc leaps ahead of Dearing, so it is me and Dearing battling it out again, this time for 3rd place. Luc is chasing down the Ferrari, and is a couple of seconds ahead of me and Dearing. Coming down the back straight, Dearing blocks the inside, so I can't make a run at him there.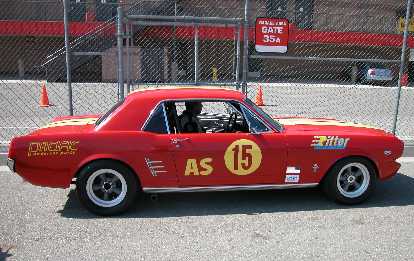 Going down the front straight, I get a good run on him, and outbrake him going into the infield for 3rd. Luc is still a couple of seconds ahead of me, but he is slowing pulling away. Damn. Coming down the front straight, Erik's on the radio going, "Keep your foot on the throttle".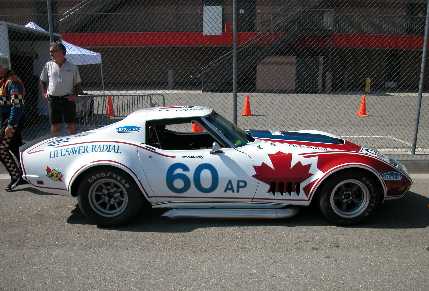 Apparently Dearing's tires are starting to go away, as I don't seem him mounting a charge into the NASCAR turn. Maybe he's also overheating. I keep trying to turn down some fast laps to keep the Ferrari and Luc from getting too far away. I turn a 1:46.005 in an attempt to catch them. Not quite all the way on the throttle, but getting closer to doing it. We start getting into slower lapped traffic, and I am hoping it will give me a shot at the 1st or 2nd place.
They throw the white flag signaling one lap left. Damn, that was only about 7 laps of racing. Anyways, Luc and the Ferrari are in traffic big time, thus slowing them down. Coming into the chicane on the back straight, I am on the bumper of the Ferrari, and Luc is about two seconds in front of him. Heh heh heh....you know what this means. There is another Viper and a Porsche in front of the Ferrari. The Ferrari jerks to the right, passes the Porsche, but then moves over to the left behind the Viper into the braking zone. Leaving that inside right lane wide open for me........I go blasting into the turn like a SWAT team entering a crack house, slam on the brakes, grab two quick downshifts, pass the Porsche, the Ferrari, AND the Viper, and go into the 2nd gear turn. Heh heh heh.....yeah baby.....I go through the next set of turns unto the front straight, and I take 2nd place!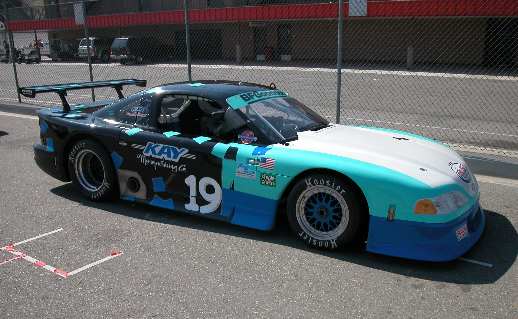 The winner of the final race in our run group
Luc takes 1st, me second, Ferrari 360 GT 3rd, Dearing 4th, Schley 5th. Results are here. Results of the Porsche only run group are here. I run faster than all of the GT3 Cup cars except for Joe Kunz's Cup car. Heh heh heh....I wish they were in my run group so they could see the back of my Big Ass Rear Wing.
Yes, I have video with the Datacam info of the final race on Sunday. Same disclaimers as the above qualifying race video clip. It is about 68 megabytes, and can be downloaded here. The mph readings are probably 3%-4% too low, as I am running bigger tires than a stock NSX.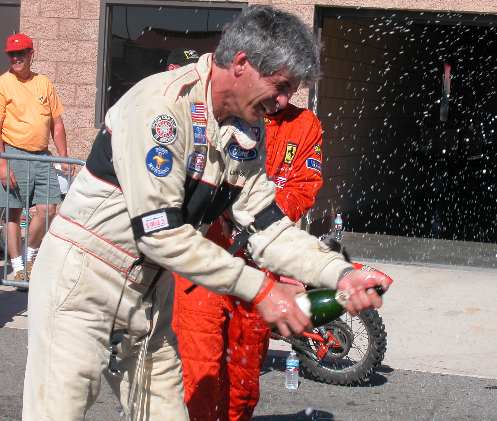 Luc spraying victory champagne
Over at the Streets of Willow, Rylan's S2000 with Big Ass Rear Wing and used Yoko slicks runs a blistering 1:28.132, for fastest time of the the day at the Speedventures event.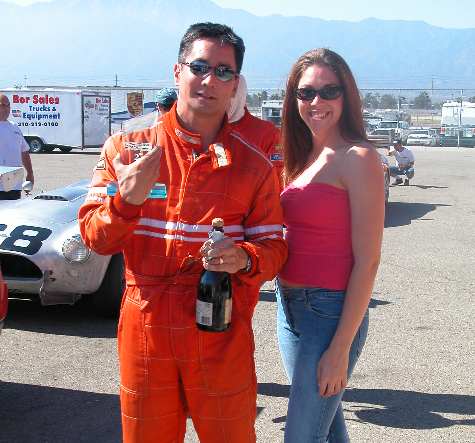 |
Posing with the trophy girl
We hear that Mumford goes from 22nd or so all the way to 3rd place in the World Challenge race! Holy shits, he should be Barrichello's replacement! Kimi, get yet ass out of that car. There's a new kid in town. Now you know a bunch of club racers are going hummmm....if he can do World Challenge.....I can do it also!
It was a pretty good weekend for the Open Track Challenge veterans. All that intense driving on 7 Tracks in 7 Days helped make us faster. Rylan, Mumford, Dearing, and I all got on the podium at our respective events. Seems like the next event might be August 23rd with Speedventures. Rumor has it that they are going to break out this weekend with their first ever race group! I plan on becoming the winner of the First Ever Inaugural Speedventures Wheel-to-Wheel Race. Rylan and Kennedy are moving their Honda S2000's over to the top of the Pyramid of Speed and are gonna do it door-to-door. A couple of Viper Competition Coupes are rumored to be showing up. I'll probably just be there on Saturday, doling out a whupping on everyone. <grin> That is, unless Mumford shows up to tune his Comp Coupe for the September Laguna Seca World Challenge.
Another rumor is that the 2004 Open Track Challenge will be adding a race group. Yes, a full on, wheel-to-wheel, door-to-door, no contact race group. Format is changing slightly, so for those of you who think you can hang with those racers at the top of the Pyramid of Speed, we got 5 Races in 5 Days waiting for you. No other racing organization in the WORLD has an event like this. For those of you who do not want to put in roll cages in your car, you can still do the Time Trial portion of the OTC as we did in previous years. So grab yer racing buddy, start scheming to build a Cheating Bastard car that you think can win your class, and sharpen up your driving skills. Rules, classes, tracks, dates, etc, will be posted by the end of September. Start planning now, because in the spring time, we are gonna see who will be King of the Racers at the Open Track Challenge 2004!
Coinciding with this sudden focus on Wheel-to-Wheel racing, I received this email from Tom, a guy who races with NASA in Texas.
Doug,
Wanted to share this with you since it's all your fault......

About 4 years ago my best friend and I were online looking for cool pictures of NSX's. We stumbled upon this site that had all kinds of cool stories on it about this guy that was fixing up his NSX... Well there was a video of this guy jam'n in his NSX..... We ordered the video and called the guy to see if he would be kind enough to hurry in ship the video out that way we could both watch it before I had to take off out of town. He was nice enough to do so and we got the video very quickly...

It changed our lives forever.... Nothing will ever be the same again... We both drove trucks and enjoyed watching racing of all types on TV... Well this wasn't going to cut it now.... Both of us sold our trucks and went and purchased Hondas.. I purchased a Civic Si and Trev waited out the next couple of months till the next Integra type R came out. Instantly started AutoX'n the weekend I got my car. We did autox's every freak'n weekend till we got good at it.... Then it was off to Texas World Speedway.... That was bad. NEVER attended another autox.... We were hooked, 2 years later it happened we took our first green flag in a door to door race at Motor Sports Ranch. All because we decided to look for some cool pictures on the internet....

Well Doug all I have to say is THANKS!!!!! You and Wayne did this.... We look forward to making our way out to your end of the world soon. Laguna is a must do... Attached is a little something I think will give you a giggle.. :)
Have a good one,
Tom Taylor