Tijuana Grand Prix
March 13/14, 1999
Vamos a la Mexico!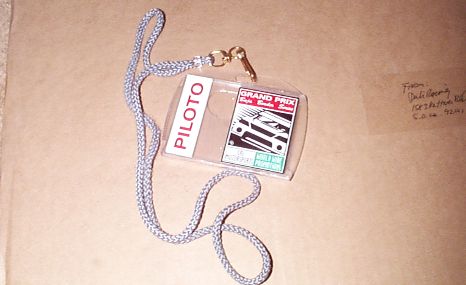 Very cool hard plastic badge that the organizers gave to all the Pilotos
The PRO Racing folks helped organize a race in the Streets of Tijuana, affectionately called the Tijuana Grand Prix. Some local BMW guys said that this event is too dangerous and they were not going to attend, as they have people and dogs running across the street while racing is going on, as well as people in the stands throwing stuff onto the track. Wayne and I said, "So what, it's a racing event, and our calendar is free that weekend, let's do it!"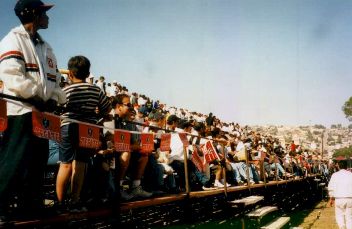 People in the grand stands to watch the Pilotos
This time we were a little more organized, as I got most of my stuff on my list done a couple of days in advance. The NSX is running pretty good, feels real strong. I threw on the noisy Comptech exhaust(that's a complement) the night before the event, packed up Wayne's truck, and off we go to Mexico. We also convinced James Sofronas to go up with the BMW M3 lightweight that he drives. So it is a battle between me, Wayne, and James to see who is the King of Mexico.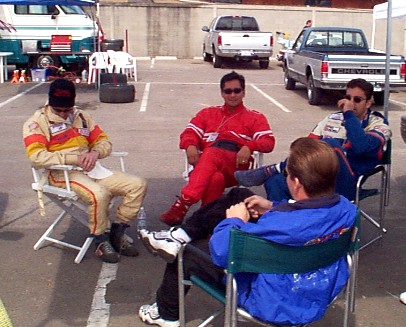 Wayne looking like sleeping homeless person. James picking his nose. Me looking cool.
Fabryce is thinking, "Look at the three stooges. I can outdrive all of them!"
Wayne decides to tow up his 944 Turbo, and I will follow him with the NSX. We get to the Mexico border pretty quickly, less than two hours. The racetrack and the Pueblo Amigo Hotel are about ½ mile from the border. Unfortunately, we make a couple of wrong turns, and it takes us about 45 minutes to make it to the racetrack. We somehow got on a freeway type road that didn't have an exit for about 3 miles, and then ended up in the not-so-good part of town.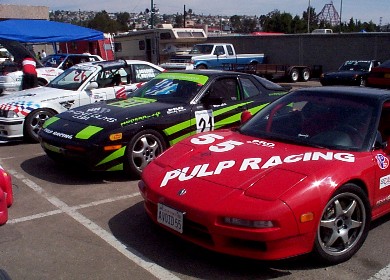 My car with new decals, + Wayne's and James' car
We figured out how to finally get off the road and make a U-Turn, and then we got stuck in the Mexico traffic. We could see where the hotel was, but we just couldn't figure out how to get on the right overpass to make it to that side of town. After a lot of U-turns and going through these "traffic circle" type of intersections, we finally make it to the hotel. When I say traffic circle, apparently whoever designed the streets of Mexico believes that instead of a four way intersection as we have in America, these intersections have to end with a "roundabout" where you go in a big circle with an island in the middle(and usually a big statue or something), and then you shoot off to whichever of the streets you want. There is a big red sign that says "ALTO", which we assume means stop, but no one in Mexico stops at these signs. Maybe it means "GO"? Now try doing going into this circle thingy with a big trailer.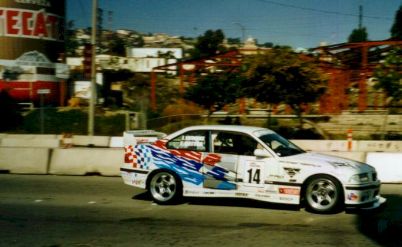 The BMW M3 Lightweight that James is driving. Maintained by Fabryce
We finally get to the hotel, and then ask for directions to the track. A local Mexican Police Officer hops on his trailer, and motions us to follow him. So he officially escorts us to the track which is about a mile away or so, and the officer is stopping traffic at all these circular intersections so we can cruise right threw. Hey, the LAPD doesn't do that for us at the LA Street Race! So we are thinking that Mexico is pretty cool…..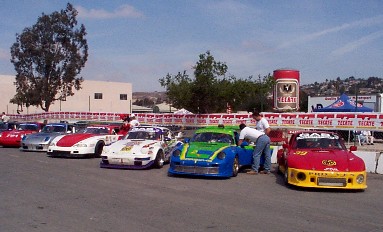 Cars in my run group getting ready for a practice session
We unhitch the trailer, drop off both the cars in the paddock, and then cruise back to the hotel. We get back to the hotel, and after going through a reservation nightmare, we get our rooms. The hotel is pretty nice. We have a big dinner with two other guys, and after munching down steaks and beers and bread and salad, our dinner is $40. Total. For all four of us. Me and Wayne start thinking…..hey, we can live like Kings down here in Mexico.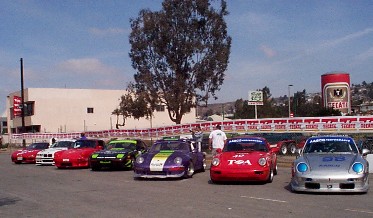 More cars in my run group
Next morning, we start checking out the course. It is 1.5 miles long. Completely surrounded by concrete barriers on both sides, with some very tight sections, much tighter than the LA Street Race. I have about half a tank of gas, and Wayne and I get 20 gallons of VP Racing Fuel for our cars. They guy asks us do we want leaded or unleaded, and Wayne said that since we don't have our cats on for this race, to go with the leaded gas. We proceed to fill out tanks up to the brim.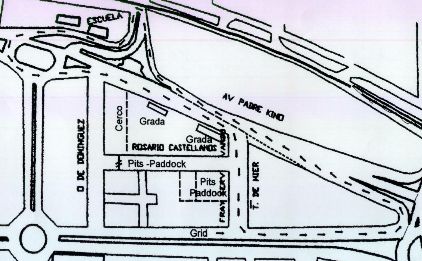 Entire course was blocked off with cement barriers like the Long Beach Grand Prix
We have a 10 minute warm-up session, and the track feels real slippery. Everyone seems a little uneasy, like they are going to crash. In our run group, we have about 19 cars. A guy in a white 911 hits the wall going up towards the hairpin. Bummer, that is one car down out of our run group. Around the braking zone going up towards this hill is a section of cobblestone in the turn, so you either gotta brake before that or immediately after that, as you don't want to get slippery and hit the wall.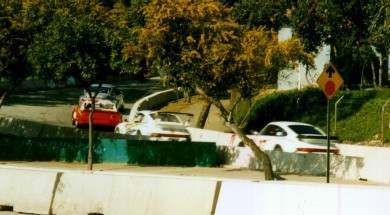 Going up the hill towards the hairpin turn
The second session is for fastest lap time, to determine how we grid for the qualifying race later on Saturday. The final results for Saturday's qualifying race determine how we grid for the trophy race. The car feels a little better in this session, and I feel like I am getting used to the track and the new slotted rotors for the Brembos. (The other set of drilled front rotors were starting to crack, I got about 16,000 miles on those rotors, and probably about 20 hours of really hard track time on them). I feel like I am running some decent lap times, so at least I won't be at the back of the pack.
There are four different run groups. First run group consists mainly of the Mechanica Nationale cars. These are the local Mexican racer dudes, and they have a wide variety of cars ranging from Ford Pintos to Chevy Vegas to VW Bugs, all with roll cages, exhaust, etc. Then there is a NASA run group, a combined NASA/PRO/Mechanica Nationale run group, and then the PRO 1-3 + Winston Cup/West cars.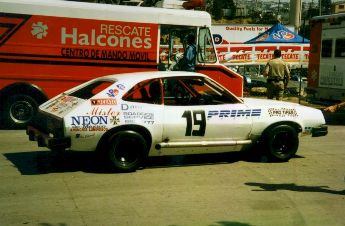 Mechanica Nationale car with Viper style exhaust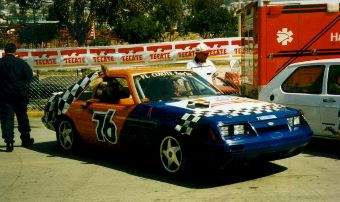 This guy races with Wily E. Coyote in his passenger seat. (Yes, it is legal)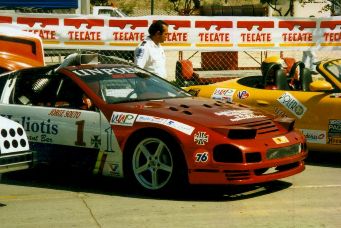 Interesting aerodynamic modifications to a Mechanica Nationale 300ZX
Wayne pulls in during this period, and it seems like he broke a collector plate pipe on his 944 Turbo. We jack the car up, and pull the part off. Apparently the flange broke off, but it looks like a good weld job will fix it. Wayne drives off to get the part fixed, and asks the local policeman for directions. The policeman then gets on his motorcycle, and gives Wayne a full police escort down to a welding shop, stopping traffic at the intersections so they can quickly get through! Talk about courtesy by the Mexican people! I don't see the Monterey cops doing that for me when I needed my suspension fixed in Monterey! Wayne gets back in about an hour, and throws the part on with about 10 minutes to spare for the qualifying race. Wayne also mentions that in Mexico, they do welding with no masks or glasses over their eyes! Unfortunately, he is at the back of the pack, as his car didn't have full power due to the broken pipe.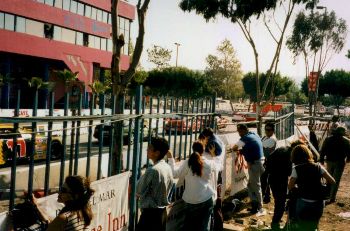 Crowd hanging around hot pit area
James finds out that his gridded 8th, and he is disappointed about that. I still can't find where I am gridded. As we are getting ready to grid, the woman organizes the grid motions to me that I am gridded fifth! I slow cruise by James' 8th place grid, and wave as I move up three spots from him. He has a look on his face like, "How did he do that?". I felt like telling him, "Superior Driving Skills". Heh heh heh. It looks like between the three of us, I can be the King of Mexico.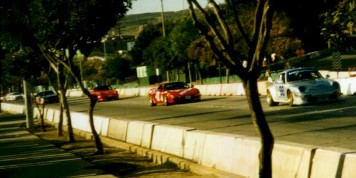 Zipping down one of the straightaways
We are gridded single file, minus the 911 that hit the wall. The green flag drops and everyone is barreling up the hill towards the hairpin. I see in my rear view mirror the 911 that won the LA Street Race barreling up along side me, and elect to give him room to get by. He pulls up side by side at the top of the hairpin, we go through it side by side, he gets in front, and then guns the gas pedal. Except he guns it too much, and does a 180 spin, narrowly missing the wall, since the road track is only two car lengths wide here. I slam on the brakes, as I don't want to hit him as he is spinning. James in the BMW was right on my ass, and taps my back bumper due to the 911 spinning. As soon as the 911 stops spinning and is facing me, I hit the gas and get out of there. Since the road is only two cars wide here, he has to let all the cars behind him go by before he can turn around. We all get to look at his face as we blast by him going the correct way. Heh heh heh…..but unfortunately I didn't have the video camera running. At the very last minute, the camera was acting wacky, and then I couldn't secure the camera back in the mount with my helmet/neckbrace/earplugs/wires/harness on. They started waving cars out to the grid, so I tossed the camera to my wife, who shot the qual race from the sidelines. James mention that it is a big bonus having a wife who not only will tolerate racing, but also knows how to work the video camera properly.....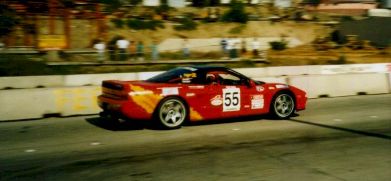 At speed down the track
I know James is going to be on my butt with his aggressive driving. James has won his last four BMW club races, as well as the Touring Car Club Race. But my car is working good, Supercharger is kicking ass and the Brembos are stopping the car. I start to pull away from him a little more each lap, which makes me feel good because I was worried he was going to screw up my videotape by dive bombing in front of me. James apparently did a little spin and lost a couple of spots. On the second to the last lap, Dan's gray 911 is quickly gaining on me, and since this is just the qualifying race, I wave him by, as I don't want to incur any damage with us going into a wall. I also wasn't sure if I accidentally hit the 911 that spun at the top of the hairpin, so I was kinda gun shy. (turns out I didn't hit the guy, and looking at his video tape, he just gunned the gas and got the back end too loose so he spun around). Afterwards, Dan mentions that his throttle linkage wasn't working right, so he was running on five cylinders....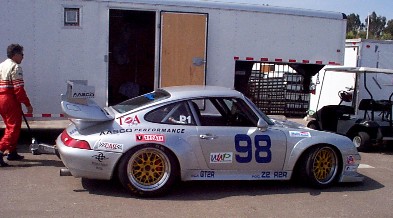 Dan's mean looking 911
Wayne said that he was duking it out with a Mustang and Tammy in her red 911. I end up in sixth place out of about 17 cars or so, and this is how I will be gridded tomorrow for the big race. James is gridded around 10th, and he said that he couldn't catch me in the qualifying race. Wayne is gridded behind James. So it looks like all I have to do is run a clean race and not spin, and I will be the King of Mexico between the three of us.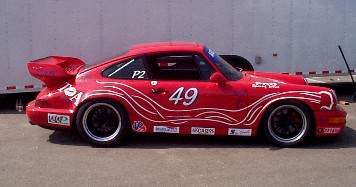 Tammy's stylish looking 911
Next day, Wayne decides to go get all four of his tires changed. He had 245/45/17 Hoosiers all the way around to start with, and wants to put on the 275/35/17 on the rears. He packs up his 944 Turbo with tires, and starts looking for a tire shop. This time, a local Mexican dude hops in the car with Wayne, and takes him directly to a place to get the tires changed. Mexico is starting to look REAL GOOD to us for a racing venue, maybe we can come race here all the time?? Wayne said that they didn't have any high-speed balancers, and they had a hard time getting the new 245/45/17 tire on. They basically had four big Mexican guys jumping on the tire mounter and tire to get the tire on. He decides not to go for putting the 275/45/17 tire on, as it will probably be even harder to get on. Also, he had his suspension lowered the day before we came to Mexico, and he forgot to tell the guy that in the future he will have 275/45/17 tires on, which means that we aren't even sure that they will fit under his wheel well.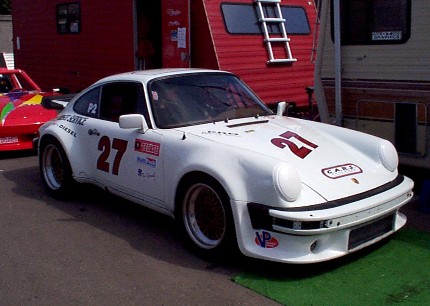 Marty's 930 that was really fast
In the warm-up session, my car is idling horribly. It won't keep an idle, it dies. If I keep pressing on the gas and revving it, it is fine, but as soon as I take my foot off the pedal, the RPMs go down to 0 and the car shuts off. Brad and Fabryce take a look at it, and they don't detect any vacuum leaks anywhere. Brad asks me about he gas, and I told him I put 110 leaded in. He looks at me like I am an idiot. "Why did you do that?". I told him I just did what Wayne said to do. He said that I probably blew out the O2 sensor, and to just keep the revs up in this warm-up session and the race and I should be fine. Bonehead Racing pops its ugly head up again….Wayne and I will be starring in sequel to Dumb and Dumber. We have a pretty long warm-up session, and about 20 minutes into the session, I decide to pit and save the car and tires for the final race of the day. I feel like I am ready to defend my sixth place spot, and I don't think that anyone behind me is fast enough to really contest it.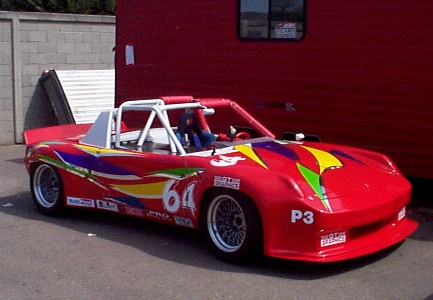 John's cool looking 914
For the final race, I am gridded 6th, James is gridded 10th, and Wayne is gridded 13th or so. I am feeling pretty good about my chances of finishing in the top 5, as I know that James will be barreling down the track picking people off, and then hopefully keeping any faster cars from catching me. And since I was faster than James in the qualifying race, I am feeling really good about my chances. On the Pole is a guy in a beautiful 911 Twin Turbo, who is rumored to have 681 HP. Ouch! Also in front of me is a 930 Turbo, two Winston Cup/West type cars, and a naturally aspirated 911 that passed me in the qualifying race. I probably can't catch them on raw speed, but if they spin, I can overtake them and possibly keep them from passing me. There are about 2000 people in the main grandstands, and another couple of thousand people lined up all around the track behind the barriers and fences watching the race.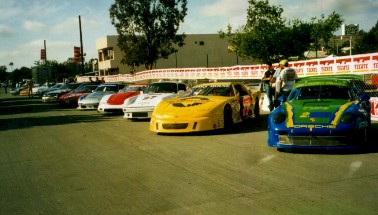 The starting grid for the final race
The race was going to be side by side start going down the back straight, but after the driver's meeting, some of us protested, saying that the problem is halfway down the "straightaway" is a chicane, and the chicane barrier is a solid concrete block. So if you get bumped trying to go side by side through the straight, you will hit head a on at 80 mph a concrete block that probably weighs 3000 lbs. There are none of those trashcans filled with water or sand in front of the concrete barriers, as we are racing in Macho Mexico! PRO agrees to change it to a single file start. When James hears about them changing to a single file start, he is unhappy as that puts him farther back in the pack, and asks who the heck wanted it changed to single file start. I told him that some of us wanted to err on the side of safety.....….and it just so happens that a lot of those guys were in front of James, including me, and we also protect our position from kamikaze drivers like James. We are told that the race will be a single file start, and only a 20-minute race instead of the schedule 30-minute race, with two warm-up laps, and then the flag will be thrown. We do one warm-up lap, and then on the second warm-up lap, suddenly the green flag is thrown one lap too early. All hell breaks loose, as some people were expecting another warm-up lap and didn't see the green flag and were still swerving back and forth to warmup the tires, and other people saw the green flag and just gunned it towards an opening in the grid. In the middle of the pack, the 911 that spun in front of me in the qualifying race collides with another 911, which puts one of the Porsches up on the concrete barrier. The other 911 spins and hits the concrete embankment a couple of times. Drivers are fine. Cars are in pain. So out of our run group of 19 or so cars, three have crashed and are out. One of the Winston Cup/West cars also hit the wall, but was able to still run in the race.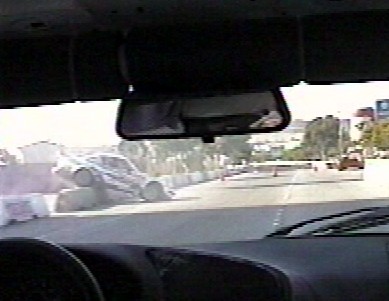 911 up on the wall after confusion on the start of the race
(Picture from James' videotape)
All this happened with a single file start, can you imagine what the carnage could have been with a side by side start? The damage to the cars looks pretty bad, but the drivers are okay. So now, due to the cleanup, instead of a 30-minute race that became a 20-minute, race, now we are scheduled for a 10 minute race, which equates to about 9 laps.
Going back to our single file start, the flag drops, and we start hauling ass. Within one lap, James in the BMW has picked off four guys, and is right on my butt. How he picked them off on a track with limited passing zones is beyond me. I can't lose him like I did before in the qualifying race. Could it be that James is a clutch driver, and when the going gets tough, he rises to the top? Or could it be the utter stupidity of putting leaded gas in the car is making it so that the NSX can't pull on him any more………perhaps the O2 sensor or plugs are screwed up??? Anyways, James passes me, and another Winston Cup/West car passes me in the sweeper. Coming up the hill to the hairpin, I make up some ground using the Brembos. In the next big sweeper turn, I am gaining ground on the Winston Cup/West dude, then he suddenly loses it and spins in front of me. See Ya! Now back to chasing James. They throw the yellow flag, as the Winston Cup/West guy is still stuck on the track after his spin.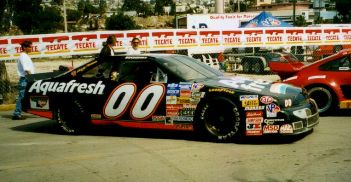 The guy who passed me, but then spun out
500 Horsepower Winston Cup/Winston West machine
We have a restart, and go one lap when I smell something that I hate to smell. Steaming coolant. When I was in my teens/early 20's, I drove around my Dad's 1965 Mustang, and it seemed like it was always leaking coolant. I remember one time I was going to a Halloween party with my friend Phil, and I remember sniffing around and asking him, "Do you smell coolant?". He said he didn't think so, and then he started screaming, "My feet are on fire!", because the heater hose right above the passenger footwell was leaking boiling hot coolant on his feet. I look at the cars in front of me, and they look okay.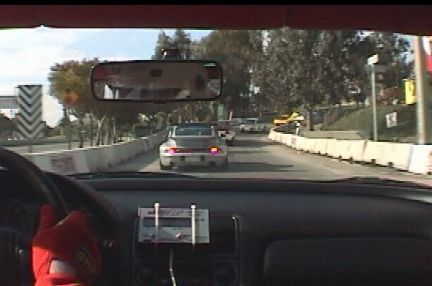 Line up cars going up the hill towards the hairpin turn
Going up the hill, I look in back of me, and all I see is smoke/steam in my engine compartment. Oh shit, I blew a hose! So here I am, going up to the hairpin, and I am dripping coolant. I try to get to the far left, and stay out of the line. Except there is so much smoke/steam coming from the back of my car, I can't see a damn thing. All the air-cooled 911 guys/gals are probably cursing at the stupid water-cooled Japanese car dripping coolant and screwing up the rest of the already aborted race. I pull back into the pits.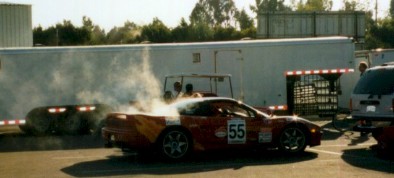 My car looks like it is one fire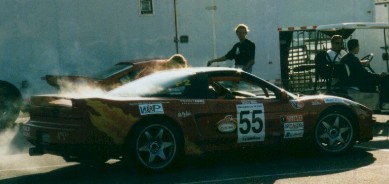 Turns out to be an oil cooler hose connected to the radiator bursted
So now what was a 10 minute race has been interrupted by a spin and now me dropping coolant. Wayne is screaming on the radio that he is sliding everywhere because of me, and the lead he was building up on the cars behind him is now gone, as they are right on his butt. Afterwards, the NASA officials come by and scold me for not having straight water with Water Wetter in my radiator, so if a hose blows, it is not slippery for the rest of the guys on the track. Guess what Wayne is running in his car? Yes, he has coolant also…….bonehead racing strikes again…..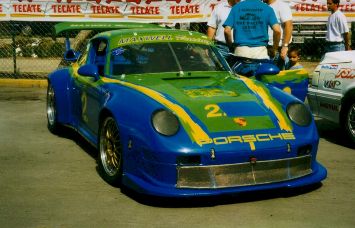 The winner of the big race. Rumor has it that this 911 has 681 horsepower
That is 300+ more than I do. OUCH!
So I end up with a big DNF, first one in a long time. We pack up, and put my car on the trailer. Wayne drives his 944 Turbo home, with no driver or passenger side window in the freezing night. (Freezing meaning about 50 degrees for us Southern California dudes)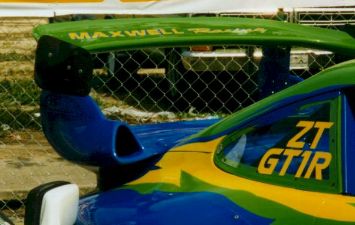 Nice wing!
All in all, it was great time. The next Tijuana race, we are going to be there! It seems pretty safe, it's cheap, and the cops give ya police escorts to get parts for your car, the main hotel is resort quality for $100 bucks a night, the crowd cheers for you, you get to sign autographs, and the track is challenging. What more could ya want in a race weekend??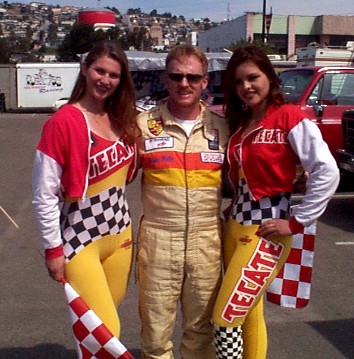 Wayne "I can't speak Spanish, but the language of love is universal" Mello
(Pilar, if you see this, Dagmar was making sure Wayne behaved himself!)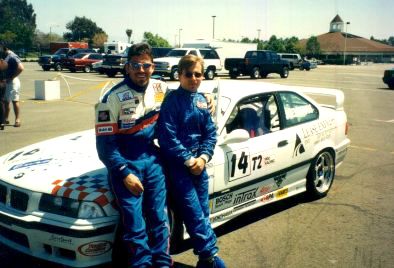 The winner of our King of Mexico Contest, James, with mechanic Fabryce
Special thanks to Fabryce Kutyba of Eurosport Engineering for coming down to Tijuana and helping James, as well as Wayne and I, in making sure our cars are running good. Fabryce is the guy who maintains the M3 Lightweight. He works on BMW/Porsches/MB/Audi, and can help make your car go fast also. His phone number is 714-966-1851. Also thanks to Brad, (James' brother) for helping out also, and Mike Duncan for coming down and supporting us(and driving my wife down to Mexico). And thanks again to my wife for putting up with all this nonsense for yet another weekend.......
Tijuana Grand Prix Final Results
for the Professional Racers Organization
| | | | | | |
| --- | --- | --- | --- | --- | --- |
| O/A Position | Name | Class | Position | Laps | Fastest Lap in Race |
| Group 1 | | | | | |
| 1 - 911TT | Rady, Harry | P1T | 1 | 9 | 59.329 |
| 2 - 930 | Mehterian, Marty | P2 | 1 | 9 | 1:02.990 |
| 3 - 911 | Agajanian, Dan | P1 | 1 | 9 | 1:02.790 |
| 4 - BMW M3 | Sofronas, Jim | P3 | 1 | 9 | 1:04.008 |
| 5 - 914-6 | Flynn, John | P3 | 2 | 9 | 1:04.496 |
| 6 - 911 | Bruno, Dino | P3 | 3 | 9 | 1:03.325 |
| 7 - 944T | Mello, Wayne | P3 | 4 | 9 | 1:04.349 |
| 8 - 911 | Comeau, Tim | P3 | 5 | 9 | 1:04.500 |
| 9 - Mustang | Inclan, Edward | P3 | 6 | 9 | UNK |
| 10 - NSX | Hayashi, Doug | P2 | 2 | 5 | 1:05.667** |
| 11 - 911 | Agajanian, Tammy | P2 | 3 | 5 | 1:05.084 |
| 12 -911 | Sweeney, John | P1 | DNF | 3 | 1:06.261 |
| 13 - 911 | Colby, Trevor | P1 | DNF | 0 | |
| 14 - 911 | LeSage, Dave | P1 | DNF | 0 | |
| 15 - 911 | Peterson, Tom | P1 | DNS | 0 | |
| ** I ran low 1:04's in qual race | | | | | |
| GROUP 2 | | | | | |
| 1 - Eclipse | Tallini, Robert | P4 | 1 | 18 | 1:05.796 |
| 2 - Civic | Tipton, Ty | P4 | 2 | 18 | 1:05.838 |
| 3 - | Reed, John | P4 | 3 | 18 | 1:06.623 |
| 4 - Triumph | Siam, Joseph | P5 | 1 | 17 | 1:12.077 |
| 5 - Triumph | Colosia, Bob | P5 | 2 | 17 | 1:09.088 |
| 6 - | Sechrest, Jim | P5 | DNF | 3 | 1:12.622 |
| 7 - | Harrison, Bill | P4 | DNS | 0 | |
| 8 - | Shirey, Jim | P5 | DNS | 0 | |
| | | | | | |
| Winston West | Jeff Perkins | GTA | | | 1:01.959 |
| Winston West | Mike Kasser | GTA | | | 1:02.958 |
| Winston Cup | Dan Luckow | GTA | | | 1:04.609 |
| | Gabriel Igartua | M/N | | | 1:07.459 |
| | Hector Huerta | M/N | | | 1:08.548 |