VARA/Touring Car Club - July 30, 31, August 1, 2004
Big Boys Show Up At California Speedway
The Flamemobile vs. Porsche/Ferrari/Viper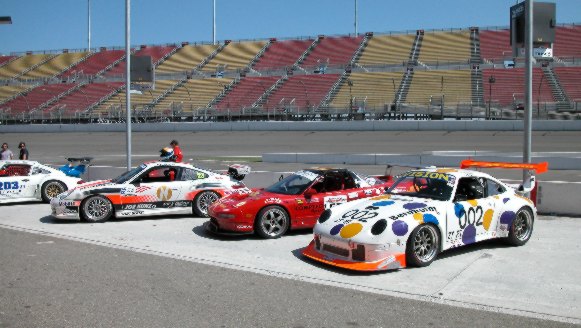 Positions 3, 4, 5, and 6th on the grid
Click here for big ass picture
Two new chapters in one week! Starting where I left off in Chapter 108....
So I decide to get the car ready for the VARA/TCRA event at California Speedway. At first I was going to pass on this event, as I didn't want to buy tires, and I didn't want to spend three days in Fontana, but the Go-Fast Crack Pipe got the better of me. I also needed another front sway bar, as the front bar was getting notched, and there was a weld under the front hood that I needed to fix. Erik said that by fixing those things, the front should grip real good and help the car turn in. Erik had me measure the thickness of the sway bar with a micrometer, and told me to find one the exact same size. If I didn't get one the same size, then we might have to retune the suspension again, and then we would be dicking around with springs/Penske 3x settings, etc, and we would need a test day to set it up properly. After searching around, I am able to procure a one inch front sway bar from Dali Racing, who I think I got the bars from in the first place. Or it could have been RM Racing, I can't remember.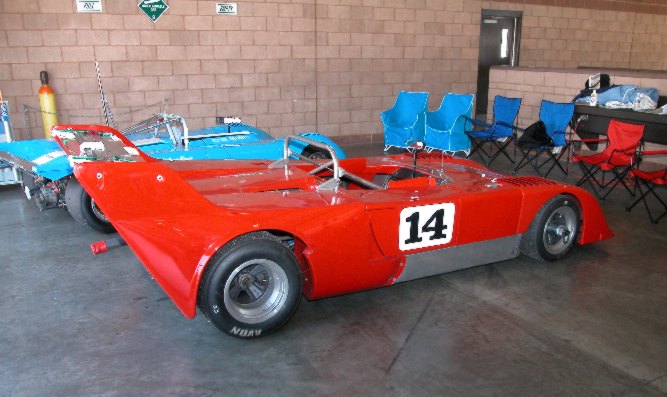 The Vintage Auto Racing Association put on the event this weekend
Click here for big ass picture
Friday, July 23rd
I order a set of Yokohama slicks. I should get them in time for the race next weekend.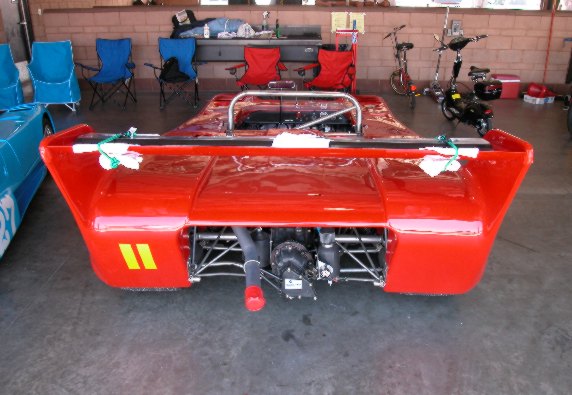 Nice rear end
Click here for big ass picture
Tuesday July 27th
Messley has the car. He has one of his welders fix the broken part of the frame, installs the new sway bar, and does a quickie alignment. Autowave already did the oil change and a quick once over of the supercharger belt, and other maintenance issues.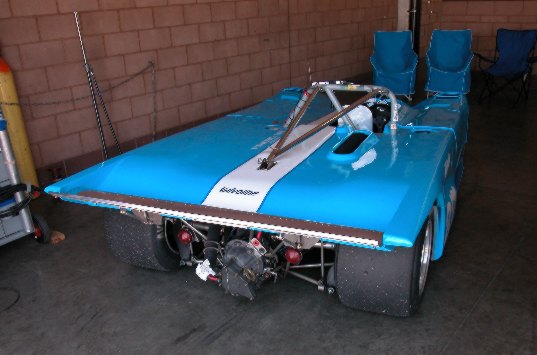 Another cool vintage car
Click here for big ass picture
Wednesday, July 28th
I have the NSX parked in my trailer, ready to go racing, TWO NIGHTS before the event! Raceaflais is defeated! Now I just need those tires to get here.....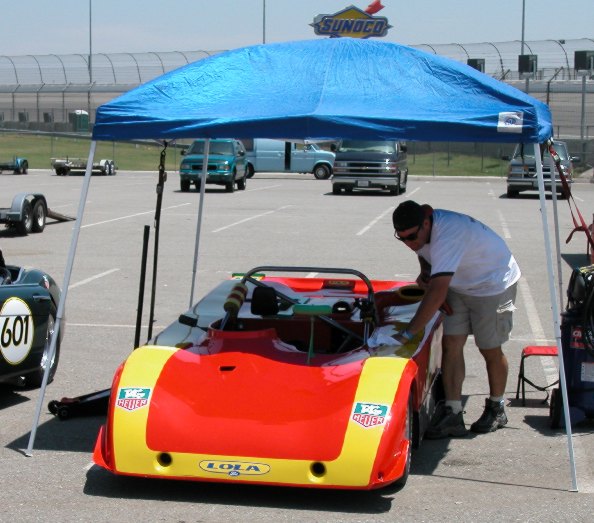 I need one of these!
Click here for big ass picture
Thursday, July 29th
Tires still not here. Damn. I call up Sofronas (who is currently 5th in World Challenge Touring point standings!) and ask him if I can pick them up directly from Trackside PRSG in Rancho Santa Margarita. He said sure, the tires should be delivered to them by noon today. The track opens at 2:00 p.m. today to allow people to drop off trailers/RVs. This is going to be a big weekend for VARA, probably 400+ cars entering the event. Everyone wants to get there early and claim a good spot for their trailer and their buddies. Over email, I confer with with the Open Track Racing guys like Dearing, Joe B, Lance, Haney, Martinez, Luc, etc. I tell them I'll get there at 2:00 p.m. and reserve about 15 spaces to cover us. Erik has customers like Paul Schley showing up, who will be in his first race in 9 months since his big motorcycle accident.
I stop by Trackside PRSG at 1:00 p.m. Except they don't have the tires. Damn! They are somewhere in Fullerton traffic. I arrange to have Wayne's nephew pick them up tomorrow, and drop them off at my house. I head to the track.
Thursday, 2:10 p.m.
Looks like VARA must have opened the track about 9:00 a.m., as there are about 50 VARA trailers already there taking up spots. Cheating Bastards! Luckily, no one takes the spots we talked about over email by the gas pumps, so I snag about an acre of parking for the Open Track Racing guys and EMI customers. I block off the area with that yellow police tape, and using jack stands and cones.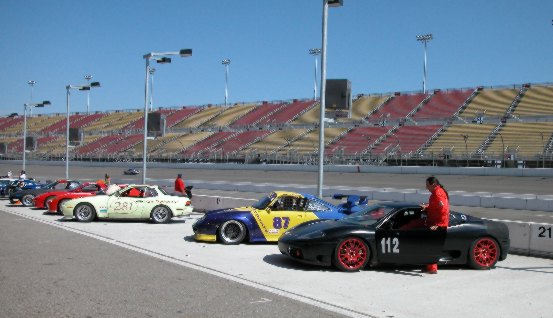 More grid pics
Click here for big ass picture
I get home by 5:30 p.m. Just in time to take the wife and baby Kayla to the Orange County Fair. I have never been to the fair at night, (I usually go in the afternoon) and it is surreal, like a Stanley Kubrick movie. The night time sky is dark blue, with carnival lights everywhere, big ferris wheels, etc. We walk around the fair for about 90 minutes checking out all the animals, munching on food, etc. About a million people a year come to the fair, which runs for two weeks.
Just before we leave, I can't resist taking at shot at the basket hoops. The carnys have a gizzillion games to play and they are all barking at you to "Step right up, and win a big doll". The basketball game has two shots for 5 bucks. If you sink one in their itty bitty hoop that looks half the size of an NBA hoop, using their basketball that is pumped up to about 100 lbs of pressure, you win a big stuffed animal. I have Kayla in one of those baby Bjorn things strapped to my chest, with her facing forward, and I don't want to unbuckle and take her out. So, I shoot the ball with her strapped to my chest, and I bank it in for a Winner! I start to shoot the second ball, and the carny says, "Oh no....only one winna per person". The carny turns around and says to the crowd, "Lookee here, he can win a doll and he's carrying a baby! Step right up and win a doll just like him!" We pick the bear rug as our prize, and head home. Those carnys were lucky that I was carrying Kayla around, or I'd really clean them out using my cheating bastard techniques.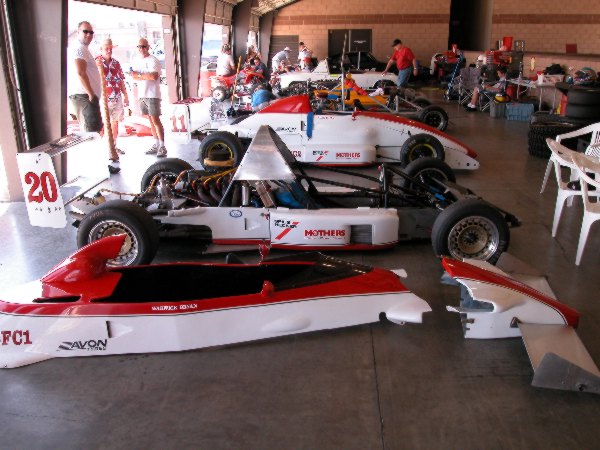 More cool cars
Click here for big ass picture
Friday, July 30th
Things going smooth so far. I cruise into California Speedway at 6:30 a.m., way before everyone else starts showing up. We only get two practice sessions today, at 11 a.m. and 4 p.m. I discover that my front fixed rim with no spacer is a little bigger than the rim with spacer, so I have mismatched heat cycled tires on my two sets of front rims that aren't exactly the same. Damn. We spend all this time aligning the car perfectly, and then one wheel is 2mm off. I have four front rims, two with spacers, and two without. All four front rims used to have spacers, but when I had to get the outer piece repaired, I got it back with a new inner that required no spacer. When the second one got bent, the same thing happened. Messley is a fanatic about not mixing heat cycled tires, as he claims you could never diagnosis if the suspension is working properly, or if it is just the tires not working properly, unless you have a set of good tires with the same number of heat cycles on them. And of course, he prefers them with no heat cycles whatsoever......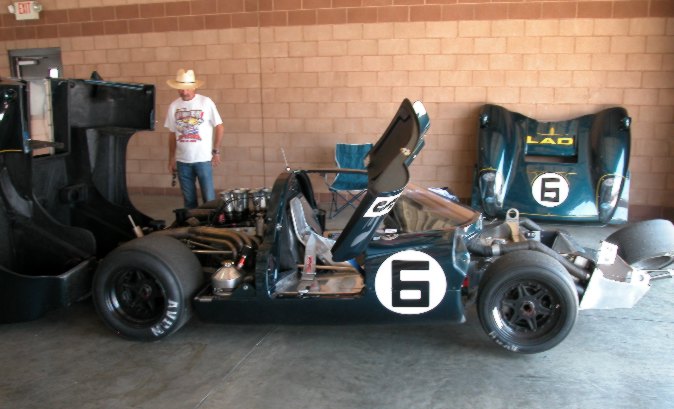 Cool car
Click here for big ass picture
I drop off the rims/tires at the tire changing tent, but there is only one guy sweating his ass with a line of about 30 tires and rims. I doubt that he is going to be able to put the same heat cycled tires on the same size rims. You figure 400+ race cars, there is gonna be a good majority of them who will be swapping tires this weekend. I guess I'll just go out on the same heat cycled tires, but different rims, and try to fix it later.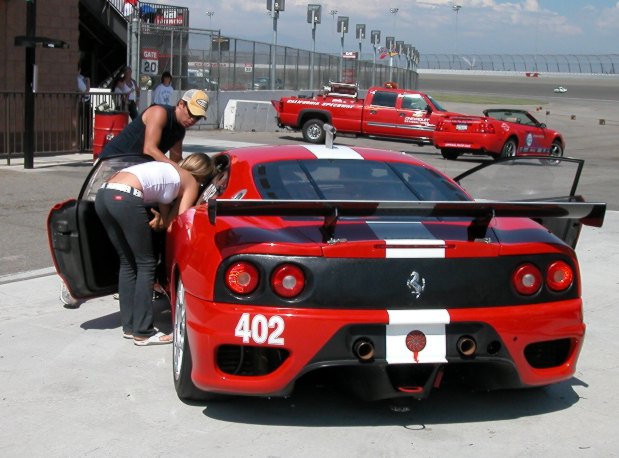 Words cannot explain how good the rear looks
Click here for big ass picture
Rumor has it there are some ALMS Porsches here, that will be running sub 1:40 laptimes. Damn! I'm a 1:46 guy.....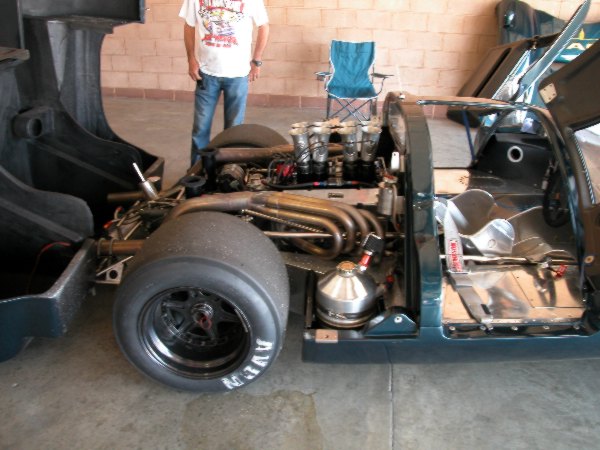 Nice motor
Click here for big ass picture

All the luxury box suites are sold out. VARA is doing their big press day this weekend, TV crews, etc. Big rigs and trailers are all lined up everywhere. I stop by the tire guy, and he isn't even close to having my tires done. I take the rims/tires back, and throw them on the NSX, opting to go with different rims and same heat cycled tires.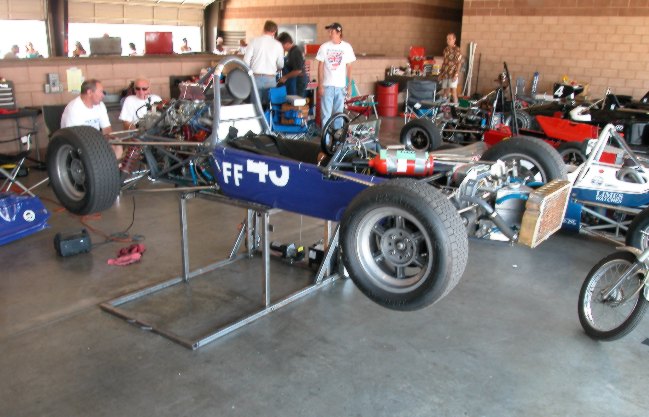 This guy's racecar fits on a little stand!
Click here for big ass picture
Friday morning, 11:00 a.m.
In my first run group, I get clocked at a 1:47.x, which isn't bad at all, on used tires. After the 1:47.x lap, the NSX felt squirrelly, figured I overheated the tires, so I came in. Car is running good, so no need to test more.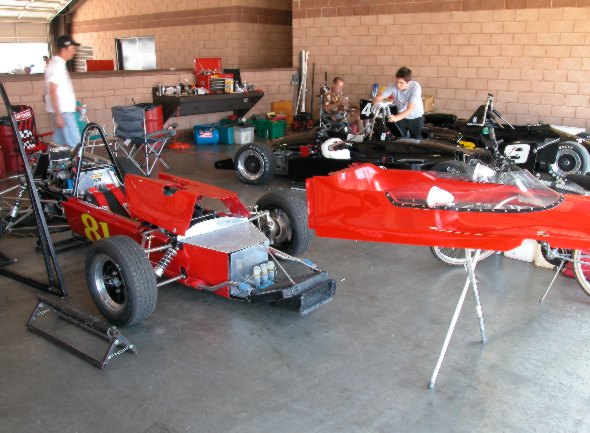 More vintage racers
Click here for big ass picture

I check tire pressures. 27.....29....31......0. Fuck me. I have a flat tire. And, when it went flat, it damaged the sidewall. Damn, that was a good used tire, I could have used it in the qual race tomorrow. I'm glad I pitted early, or I could have shredded the tire completely on the banked oval at 150+ miles per hour.

I have one new set of tires waiting at the house. Hummmmm.......I have a qual session, two races, and a practice session this weekend, along with a practice session later today. I could just leave now, pick up the new set that is at my house, and get them mounted on my rims. This way, I will be ready for qualifying in the morning.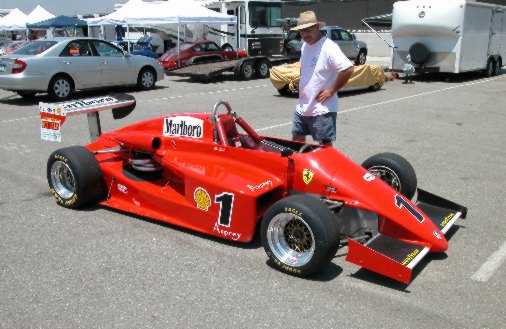 For sale by owner!
Click here for big ass picture
Or, I could just say ff-it, and pickup yet another set of new slicks, so I will have two new sets, that I could use this weekend, and another weekend in the future. But then, I'm buying two ffing sets of slicks for this weekend, which is ricockulous.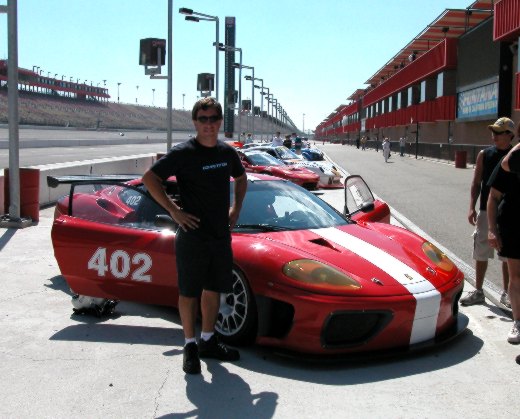 Bob, Ex-KRC Karting Champ is now Crew Chief/Technical Director of this 360 GTC
Click here for big ass picture

But, if I have good tires, I probably won't crash. And, if I get another flat on a single set of good tires, I'm screwed, as I won't be able to match heat cycled tires.

I decide to skip the Friday afternoon practice session and head home to get the tires mounted. That will give me some time to decide if I should get another set of tires. If I have to wait for the guy at the track to mount the tires, I might not have them ready for qualifying. Figure it probably takes him an hour to mount and balance 6 tires, he's got about 40 tires sitting there there.....not looking good.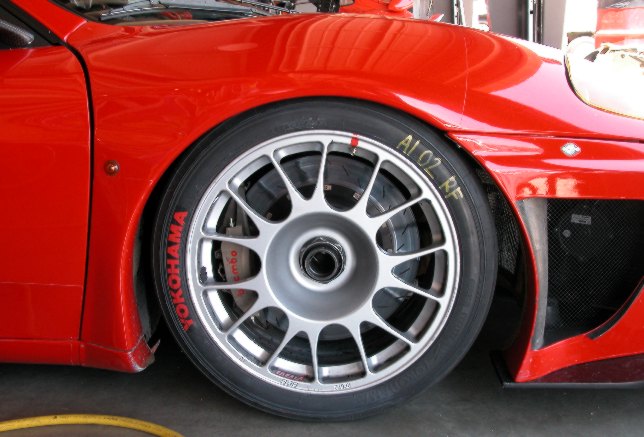 Viagra style brakes
Click here for big ass picture
Hopefully the video camera worked last session. I passed 3 Porsches on the straightaway, with us going four wide. Heh! I wish I could have stayed for the afternoon practice session. Later that evening, Dr. Hubbard, the guy who invented the HANS device, is giving a talk on safety which should be interesting.

I decide on the way home to get new tires. I call Yokohama, and uh..they say they do not have them in stock, they have to special order them. Oh well, looks like I get to save some money.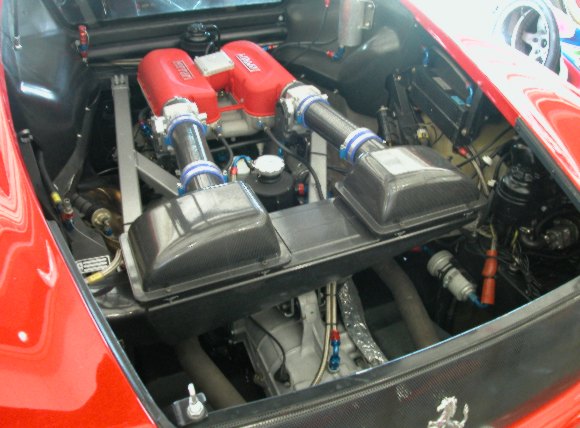 360 GTC engine compartment
Click here for big ass picture
I drive to my house (only 60 minutes away from Cal Speedway as I beat the traffic), pick up the new tires, then go to Huntington Beach to have tires mounted. Now this is confusing, as I have to get the new tires mounted on the two rims that have similar spacing, and mount the 3 heat cycled tires on the other set of rims, with the labels the right way, getting rid of the bad tire, and adding another worse heat cycled tire. It takes me about 20 minutes to figure out how to label the tires and and rims.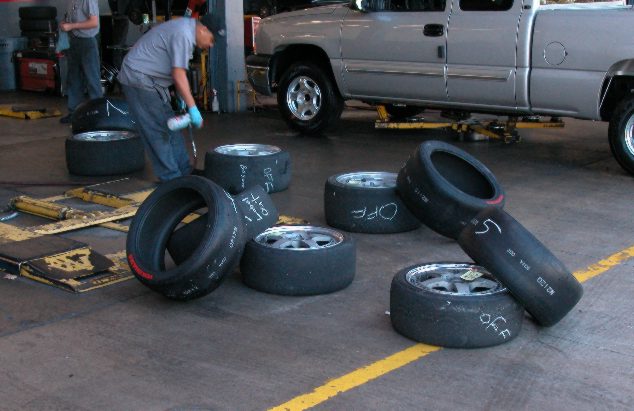 All the tires at Allen Tire, getting switched around
Click here for big ass picture
Example:

Dismount tire 1 off of Rim 1.
Dismount tire 2 off of Rim 2.
Put tire 2 on Rim 1, label in.
Put new tire on Rim 2, with label out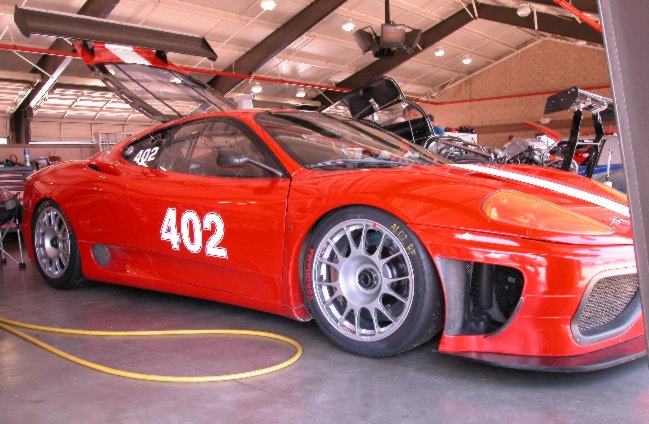 Winged Terror
Click here for big ass picture
And we cycle through this about three times. Try explaining that to a tire jockey! I figure I wait here, plug in the wireless card, and watch them do it, because I screwed up labeling the tires twice before I got it right. Anyways, I get my tires all setup, and I'm back home for dinner at 6:00 p.m.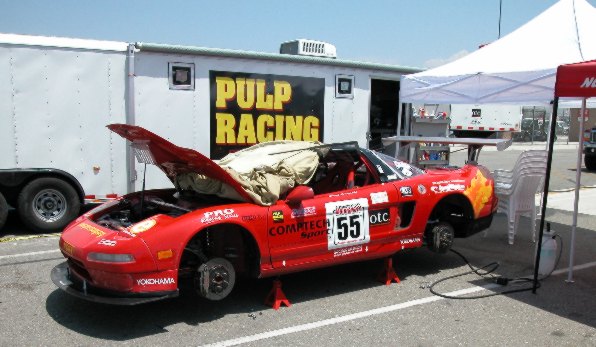 Ready for a quick brake bleed, and then off to battle against the P-cars
Click here for big ass picture
July 31, Saturday morning.
46 cars will be a great field for the race. Unfortunately, it makes for a really crappy qualifying session. The VARA guys kinda yelled at the TCRA organizers on Saturday morning for having too much contact in the Friday sessions. I guess a couple of P-guys (on the same team) had an incident on Friday morning (test and tune day!), and in the 2.0 liter and below TCRA group, a Spec Miata rear ended Andy's Spec Racer. After the Saturday morning drivers meeting, the TCRA drivers were asked to hang around for a quick meeting, and we got yelled by TCRA management for being morons and having contact on a test day. VARA is real strict about contact (but in turn, some people will accuse them of not being aggressive enough for wheel-to-wheel racing). So the TCRA management basically says that, "Hey, we are VARA's guest for our two run groups, let's not give them the impression that we are a demolition derby."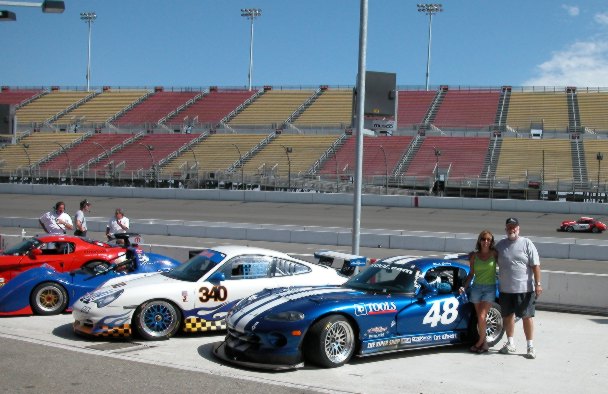 Mark Schley and babette next to Paul's Viper
Click here for bigger
I figured I would be about 7th fastest, so I gridded early for qualifying behind 5 Porsches and Goldman's 360 GT, figuring I won't be able to pass them, and I'll be out of their way, and keep the slower traffic behind us. The guys in front of me were figuring the same thing, assuming we will only get a couple of fast laps. Well...we were sorta correct, we all caught up with slower traffic before we got a hot lap in. Damn.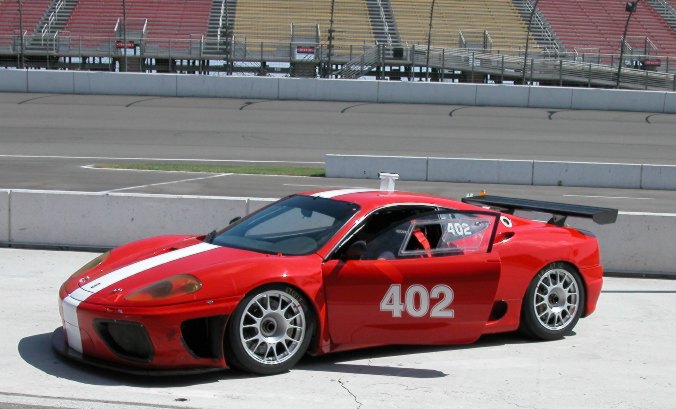 Words cannot explain how good this car sounds on the track
Click here for big ass picture
Messley told me to run only two warmup laps, and then two hot laps, and then park the car and save the tires. That would also correctly heat cycle the tires. I told him I would throw down a 1:46 and then come in. But, with all the traffic, I uh....stayed out there the whole session. My first two laps I run 1:50/1:51, and I don't want to be mid pack for the start of the qual race, as there could be some uh.. confusion and contact going into turn 1 with the mid packers. Better to be up front with all the nice cars, as they will probably be clean going into turn 1. After all, no one wants to hit Goldman's 360 GT. They will go down in infamy the rest of their track life if they do that.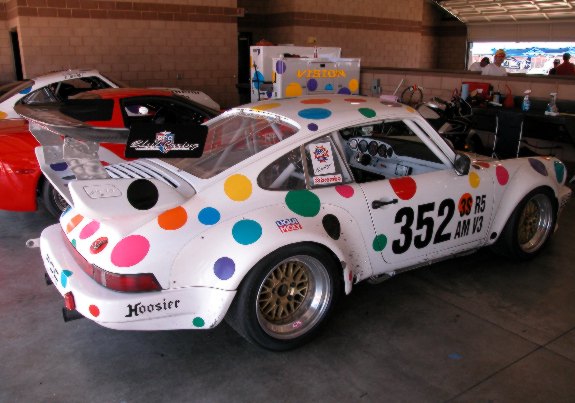 1976 911. Looks newer than that to me! Paint job by 8 year old kid
Click here for big ass picture
Anyways, I run a 1:48, dodging traffic like a mad man. None of the laps were close to clean. Damn. I run 8 laps, which isn't good for the first heat cycle. I'm sure Messley was in the stands rolling his eyes about the excessive number of laps.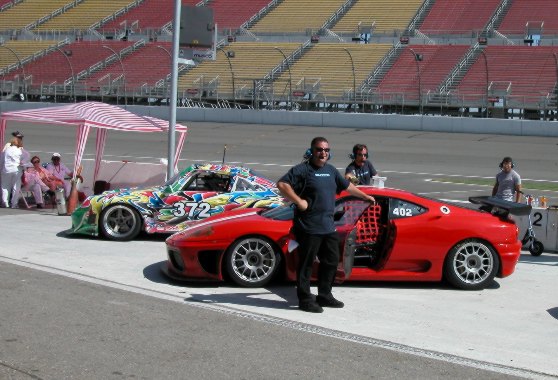 Henry, ex-KRC tech, is now helping out with Goldman's team
Click here for big ass picture
I end up 8th, gridded behind 6 Porsches and Goldman's 360 GT. Neil Alexander runs a 1:42.723 in a 3.6 GT3R. Goldman is in at 1:43.536. Here's the qualifying results.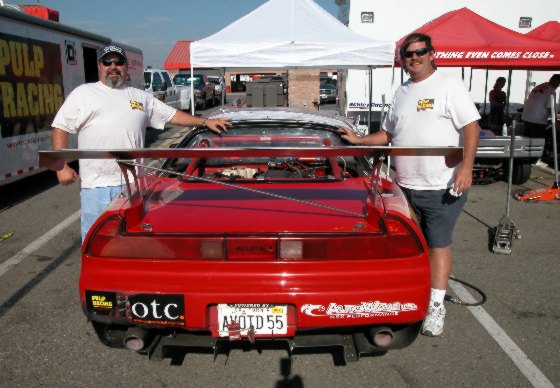 Muscle for the Flamemobile engine is provided by Shane and Mark from Autowave
Click here for big ass picture
I figure I could be good for maybe 5th today. We will see in about 3 hours. Mark and Shane from Autowave show up to watch the race. The motor on the NSX is running so perfect that we only had to lift the engine hatch once during the entire weekend to check the oil level, which was fine! I finally have a motor that is maintenance free!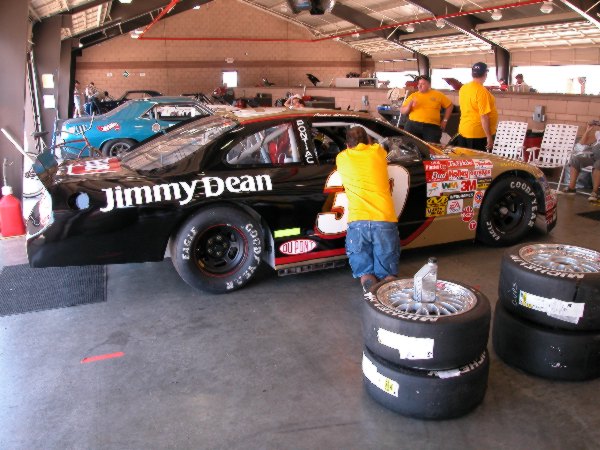 Even had a NASCAR guy there
Click here for big ass picture
Qual Race
So I'm gridded 8th. I am behind Joe Kunz on the grid, who used to run a massively fast Ferrari 308 at the LA Street Race a few years back, as well as other club events. He's now a dedicated P-car guy. The P-cars guys in front of me are crawling along at about 25 mph on the grid, very tightly packed. I back off about 1.5 car lengths behind Kunz, and right before I think the flag is going to go down, I start accelerating.....flag drops and I blow by Kunz on the outside as I uh...cheated a bit. Heh. Hopefully the starter didn't catch me. Joe B blows by me on the outside with his Comp Coupe, but graciously gives me some room going into the first infield turn.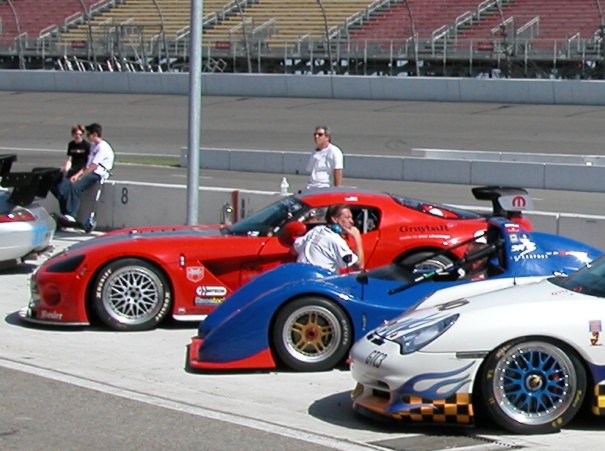 Dearing helping out Joe B in the Comp Coupe
Click here for big ass picture
Going through the infield, I think I am uh...4th or 5th. After a couple of laps, some guy in what must be a Turbo Porsche blows by me on the oval, but then I think he ended up spinning later in the infield. Anyways, a really fun race, lots of passing/lapping of slower cars, close racing, etc. I end up 5th, only six seconds out of 2nd place! Unfortunately for me, the ffing video camera in my car didn't work! I had duct tape all over the camera to make sure all the wires and switches would stay where they are supposed to, but something came loose.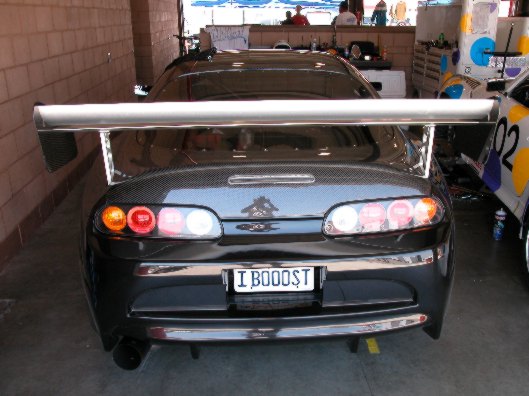 Finally! A Supra in a wheel-to-wheel race!
Click here for big ass picture
August 1st, Sunday morning
No drivers meeting today, so I get to sleep in. I get to the track around 8:30 a.m. At 9:45, we have our morning practice session. One of the Porsche guys in a beautiful Porsche 908 crashes into the tires in the chicane (after the hairpin). On the warmup lap! We get only get 3 laps of practice and then we are checkered, as they have to tow/move the P-car. Luckily for me, I didn't need any more practice, so I just saved rubber. I'm sure the VARA guys were not happy about the crash.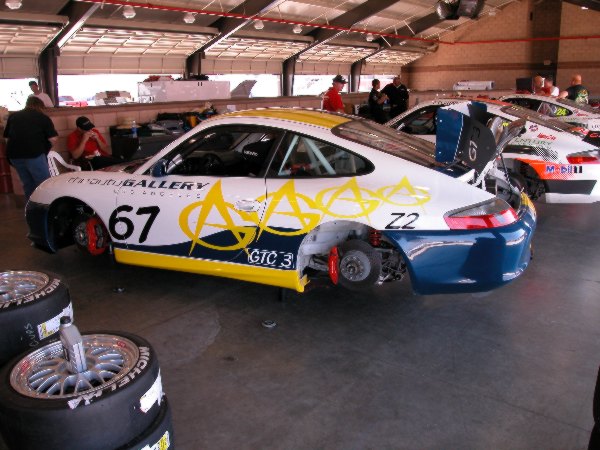 Nice looking Porsche
Click here for big ass picture
But there were bigger morons this weekend. For example:
1. On Saturday morning qualifying session, some homo put on an illegal TCRA tech sticker on their 360 Spider, and tried to go out in our practice session (race group) with no roll cage, no roll bar, no suit, no gloves, no harness, and wearing shorts and a T-Shirt. Luckily one of the TCRA guys caught him as he was pulling up onto the hot pit lane. I'm sure the VARA guys would have shot him on sight had he gone on the track.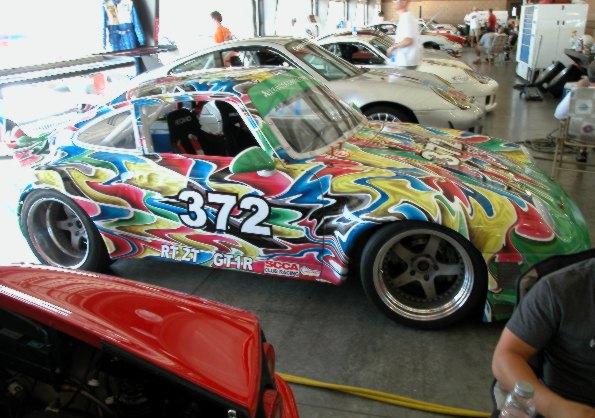 Baron ran this GT3R in final race. Paint by Mexican gang members in East Los Angeles
Click here for big ass picture
2. On the Saturday lunch drive around, they allowed people to drive at 55 mph around the track, with NO PASSING allowed for any reason. Some yahoo in a P-Car starts passing people like he is at the 24 Hours of Daytona, and actually lapped Wayne (who was driving his 360) twice around the track. Unbelievably stupid. I'm sure the VARA guys are pulling their hair out over that one.
TCRA organizers used to be mainly Asian guys, and a good portion of their members were Asian. But on this weekend, it was only the white guy drivers that were getting dinged for being "overzealous". No crazy Asian drivers this weekend...at least not on the track!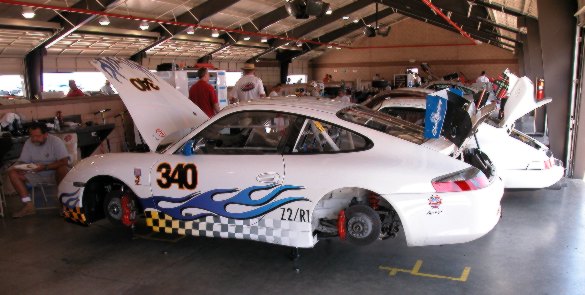 Richard Price's GT3 Cup car
Click here for big ass picture
Now we wait 5 hours until the 3:20 p.m. race...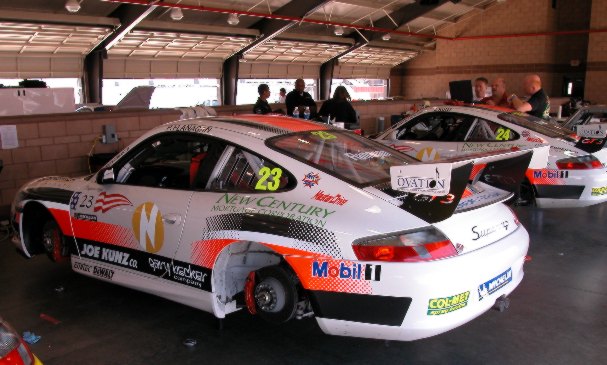 Flannigan's GT3 Super Cup car
Click here for big ass picture
4:00 p.m. Start of the race
I'm gridded 5th, and Dearing and Messley advise me not to blatantly jump the start like yesterday, as the P-guys might have mentioned to the Starter that I'm a Cheating Bastard, and I don't want to get black flagged. I'm on the inside, I figure I'll just bomb in on the inside, as the rest of these guys can't out brake me (well...maybe the 360 GT can). Green flag drops, we are off, and I slot behind the 360 GT on the inside. Unfortunately, it seems like he gives the P-guys a lot of room on the outside to avoid contact, so a couple guys get by. I take the inside on the first hairpin, but Kunz takes the outside, and I end up 7th behind him.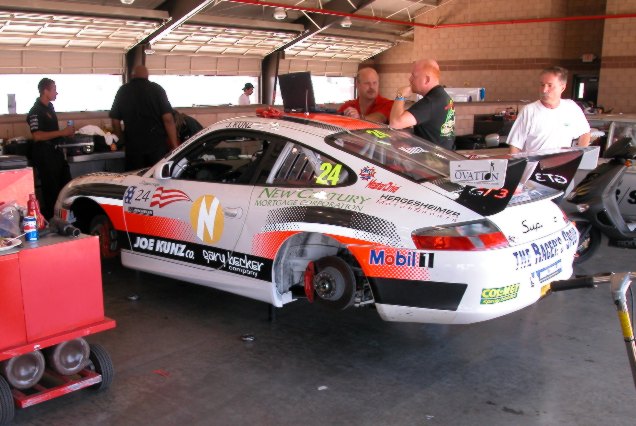 Joe Kunz's matching sister car to Flannigan's GT3
Click here for big ass picture
We stay like this for two laps, we me catching him on parts of the infield, and Kunz gaining on the oval. In yesterday's race, I lost the side scoop for the NSX that sucks air into the intake, so I may have lost a little horsepower, as Kunz was pulling from me on the oval. But, he overshoots the braking zone twice down the back straight, so I figure in the next braking zone he's toast. Kinda like two fighter jets shooting at each other, and then one of them realizes that the other guy is out of ammo. He's going down big time in the next 60 seconds. Unfortunately for me, coming onto the bank turn at the beginning of the straight away, I'm going about 95 mph when I hear a big BANG! Oh no! Not my engine! I do a tire smoking 360 degree spin, and I end up pointing at the hot pit. I check my gauges....I got oil pressure! Hurray, it's not the engine! I limp the car into the the hot pit, I get out...and the rear passenger tire exploded. Damn!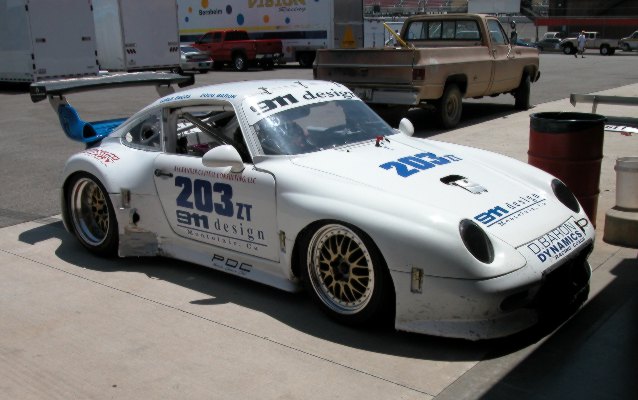 Loren Beggs' 930 Turbo
Click here for big ass picture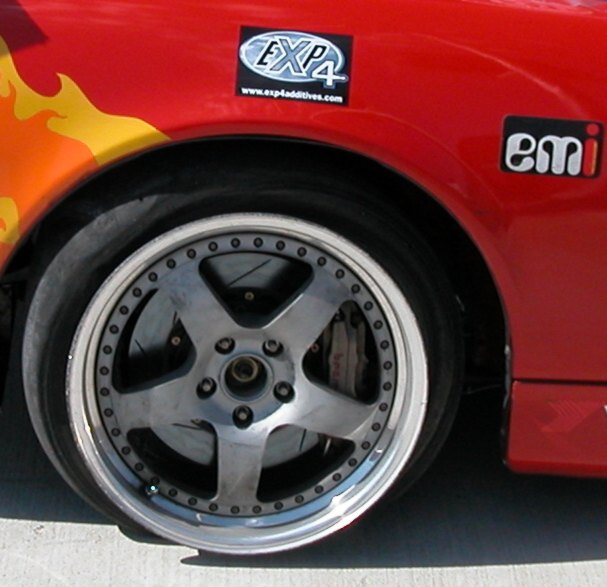 Blown tire
I didn't setup the two-way radios. Dean comes by and gives me a ride from the beginning of the straight to my pit area on a golf cart. I hop on the motor scooter, and I ride to the far side of the track by the hairpin, looking for Wayne. He isn't there. I head over to the end of the grandstands by pit out, and he isn't there. So I head back to the trailer, and I start gathering a wheel, socket, breaker bar, etc, to swap out the tire and move the car back to the hot pit. Wayne shows up on his motorcycle, saying he already took pictures of my car with a shot out leg. We can't get our hands on a golf kart, so we have to walk about a half mile pushing a tire, jack, and carrying tools. Damn!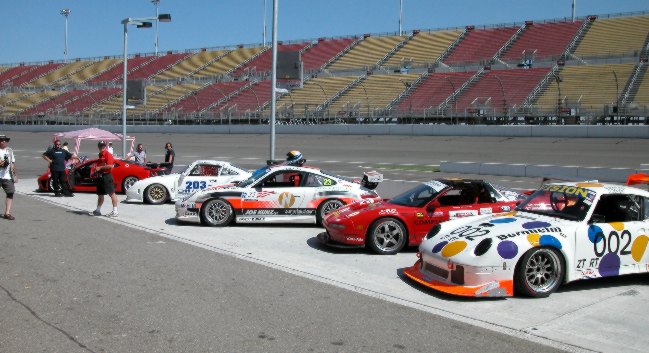 Another view of grid
Click here for big ass picture
Apparently someone crashed into the tire wall during the race, so they pulled out the safety car, and they are going single file around the track. Damn.....I could been around 6th in the restart, with a chance to re-dive bomb on everyone for a shot at the podium (3rd place. No way was I catching the 1st and 2nd place guys). It would have been great to race against Flannigan and Goldman those last few laps, and be right on their tail, looking for a chance to sneak the NSX by them in the braking zone. Instead, I take 35th out of 36 places in the final race. Call me Loser!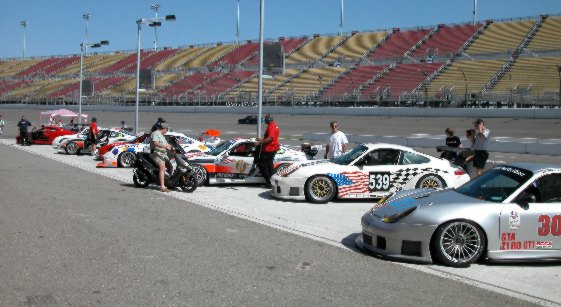 More grid
Click here for big ass picture

It was the same corner (passenger rear) that went flat on Friday, and blew up today. I am pretty sure that it was a different rim, so it is not the rim that is the problem. Erik said he will do some investigation this week on it, sending the tire to Yokohama and asking them what they think caused the blow out.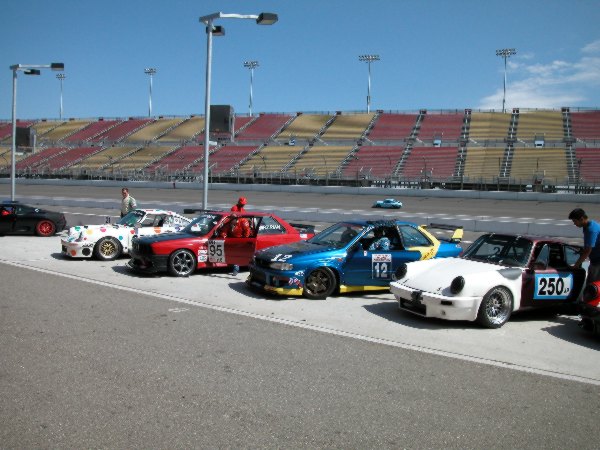 More grid pics
Click here for big ass picture
Some speculation by people in the paddock were:

1. I ran pressures too low. (Yoko slicks like to be hot at 29-30 psi) I was having to drop the pressures to about 21 cold in order to keep them at 29 hot) On the first couple of laps before tire pressure went up, the rim may have cut into the tire.

2. Perhaps I should be putting nitrogen in the tires, to keep the pressure variance lower.

3. I'm just ffing fast and the tires can't take it.


4. EMI trick suspension setup is sticking good, and whupping ass on the tires so much, they explode in agony.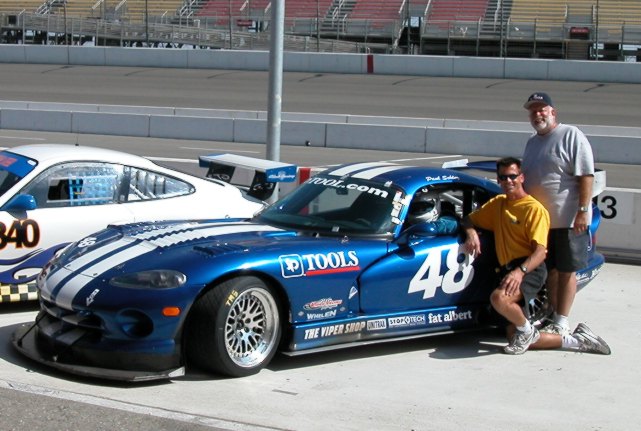 Messley and Mark with Paul in the car
Click here for big ass picture
On the Datacam, it showed I was hitting 153 mph in the bowl section, and figuring about a 4% error on the speedo since I have bigger tires, I was probably doing 160! Previously at Cal Speedway, I was hitting 149 mph on the Datacam, so I upped my speed a bit this time. I still did a minor lift in the bowl area.
On another note, in the TCRA 2.0 liter and below race, Jeff Owen went from last to first in the final Sunday race!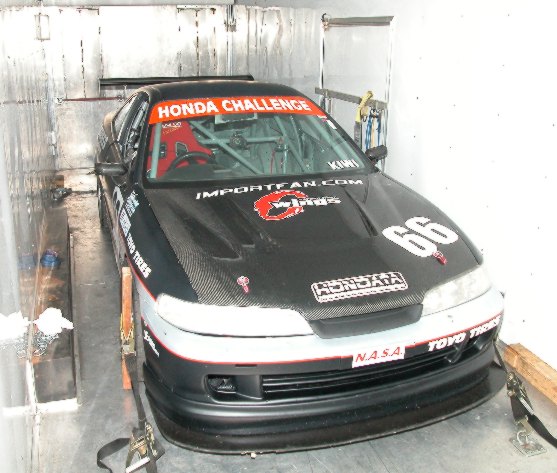 In the TCRA 2.0 liter and below race, Jeff Owen went from last to 1st!
Click here for big ass picture
Some other observations about the weekend:
Figuring Messley is always 1-2 seconds faster a lap than me in my car, he could got down to 1:43's maybe. Thus putting the car on the podium for sure.


It looks like the Flamemobile can out run the Porsche GT3 Super Cup race cars. Some people categorize the GT3 Cup cars as the "Spec Racer Porsche". I call them the "Porsche Factory GT3 Racecars straight from Germany". I beat all but one of them on Saturday. I woulda/coulda beat all of them on Sunday if I didn't blow a tire....yeah...that's my interpretation of what woulda happened. <grin>


The Flamemobile can run with Goldman's 360 GT. Probably can't beat him, but I can at least hang with him.


The Porsche GT3R/RSR are kinda tough to beat. I think the cars that came in 1st and 2nd in the race were the GT3R/RSR cars. These cars are significantly faster than your regular GT3 Super Cup Factory race cars, and their drivers seem to be exceptionally quick. If Messley's could do say a 1:43 in my car, these GT3R/RSR drivers were in the 1:41's this past weekend. So that is two very big seconds that we would need to pull out of our ass. In order to run with those guys, I would really need to upgrade from my 3.0 supercharged motor to a 3.2 supercharged motor, throw another 50-75 lbs out of the car, and probably figure out how to get bigger rubber using fender flares/bigger rims in order to get down to a 1:41. But then again the GT3/RSRs are $250,000 factory ALMS race cars. (Don't ask me how much I got "invested" in the NSX.....)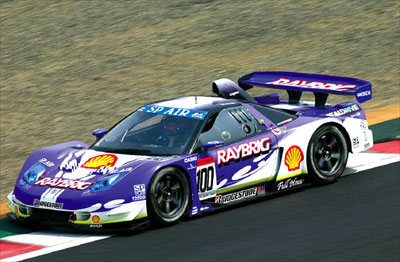 The big boys from Japan will be in town on December 18/19

I think without the 3.2 motor, bigger wheels/tires, throwing out 100 lbs, etc. we don't stand chance at those JGTC cars that are coming to California Speedway in December. Anyways, they don't have sprint races, they run two hour long races. We are not setup with single lug nut wheels and it also it takes about 5 minutes to fill up my gas tank without burping up any fuel, instead of say 15 seconds. We would get creamed in an endurance race. I would say we would have to be as fast, if not faster than a Porsche GT3/RSR in order to duke it out with the big boys from Japan, even on our "home track" at California Speedway.


If I could somehow get an entry/invitation to compete in one of those Sport Compact Car "Time Attack" events, I think the Flamemobile would do pretty well against all those tuner cars.


And, don't forget, the Flamemobile is still "street legal". It is registered, insured, and I drive it between Autowave/EMI/my house/the shop to get it ready for the next event. How many of those guys this past weekend at Cal Speedway can say that!


I got lucky that the tire blew while coming onto the banked curve at the beginning of the straightaway. It is probably the only place you can get away with a blown tire and not hit something.


Next time at Cal Speedway, I plan on being in the 1:44 range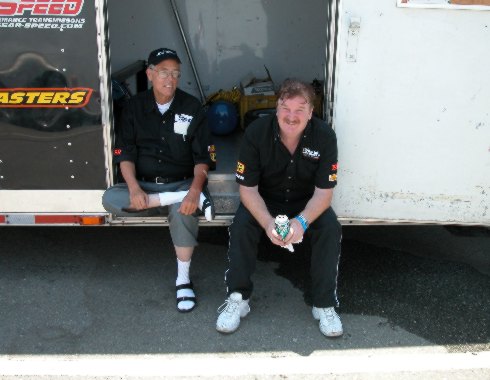 Jeff Owen on the right
Click here for big ass picture
Next event?
I'll probably put the NSX away for a couple of months. We hear about a local karting race on Sunday, August 8th, at Irwindale, which is about 45 minutes from my house. No national guys are supposed to be there, and maybe we can be in the upper half of the pack for our first karting race in a couple of years. I got my kart on the scales, adding weight to get to the 385 lbs minimum. I think we are a go for this weekend. I'm planning on kicking Wayne's ass, despite the fact he is about 5-1 against me at Moran. But he has an illegal head on his motor, and his alignment setup was better....yeah...that's my excuses!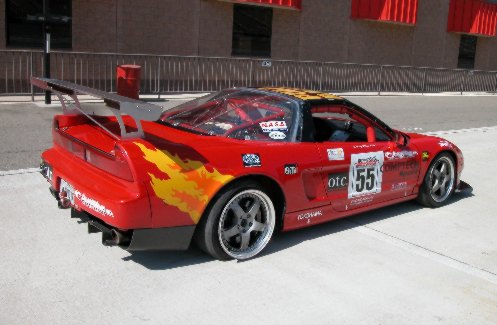 Shot in the leg. No....call it shot in the heart.
Click here for big ass picture