Speedventures and NSX Cal Coastal Shootout
July 30 - October 4, 2003
Viper Chasing and Cone Dodging
The Sand Baggers Among Us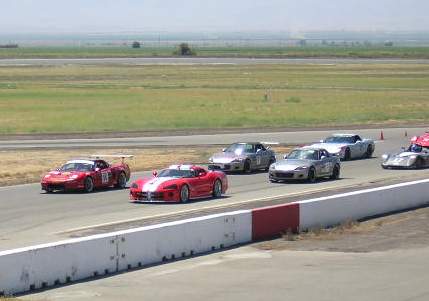 The First Inaugural Speedventures Wheel-to-Wheel Race
Just a quick update. I've been slacking off, but things have been busy around the house with the baby. Plus, our house is up for sale, so I spend way too much time trying to clean up the house to show to any prospective buyers. I figure it takes about 6 hours to clean up and make the house presentable, and when you show it 2-3 times a week, that is 12-18 hours a week right there. Factor in what seems to be about 100 diaper changes a week, another 30 hours a week trying to keep the baby entertained, and there doesn't seem to be much time left in the day.
Yeah, I know, I need a maid/nanny. But the wife doesn't necessarily like having other people touching her belongings. And we are about getting ripped off, finding out your credit card numbers are now posted on the Internet, or creating other problems in the household.
I am behind on getting the Honda Hall of Fame updated, hopefully in another couple of days or so. Thanks for sending in those lap times.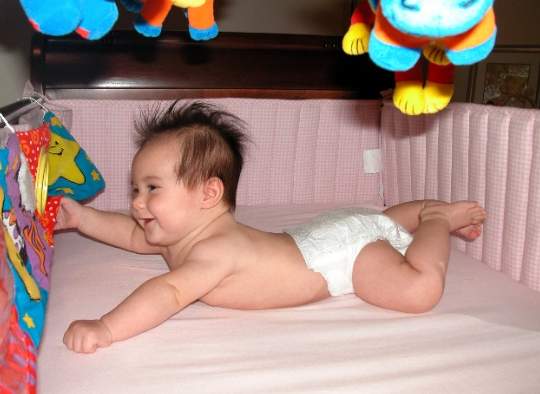 Kayla hanging out, with her usual happy smile
July 30, 2003
Today was our final game of summer softball league. Our coed Pulp Racing softball team did real well this season. We won our first 8 games and clinched the championship, and then we slacked off the next two games. So we went 8-2, and won the World Championship of Coed Softball C-5 for the Huntington Beach league. We did not want to go 10-0, as then we might be bumped up two leagues to C-3, which would be tougher to win. As it is now, we will be bumped up one league to C-4, since we won the C-5 title. To understand the "gridding process", C-10 means you are softball newbies and can barely catch a ball. C-1 means you have five girls on your team that have recently played college softball, and they can hit a soda can sitting on your head from 150 feet with a softball, can dive and make circus catches, and can hit a line drive to any field they choose. The guys are usually pretty good in all the leagues. It is the quality of the girls on your team that really determines what league you end up playing in. Right now, we got the best looking softball babes in town on our team, so Wayne and I are happy being a C5/C4 team. The girls that play on C-1 teams, in general, tend to be uh.....not very girly......if you know what I mean...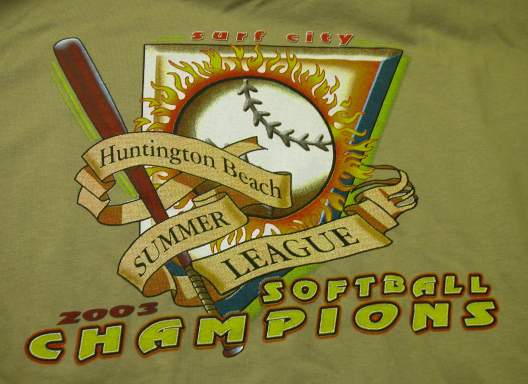 Back of the Championship T-shirts that we each get for taking 1st place
A big reason for our first championship in about ten seasons is that we picked up Keith, who hits a softball farther than any human being I have seen in 18 years of playing softball. He can probably hit a softball into the bleachers at Dodger Stadium. At first I thought he must be a Cheating Bastard, using a loaded bat. Turns out that he doesn't even bring a bat to the game, he uses MY bat, and just hits it twice as far. There are some 280 teams that play in about 50 different classes in Huntington Beach, and we play three, 10 game seasons a year. Hey, it is Southern California, so you play softball all year round. And we can now strut around H.B. in our championship T-shirts like we are the only 12 players in town that can pimp down Main Street. Only the true softball geeks know that there are 50 winning teams in H.B. that each get T-shirts, so there are really 600 people pimping around like they own the town.
So the next event was with Speedventures, who decided that they would starting building up their own race group. Speedventures runs a time trial format that usually consists of three run groups, each getting about 2.5 hours of track time. You get about five sessions per group. They started out as one of the first racing clubs to use transponders, posting the results on the web, and now post every lap that you run at their events on the web for the world to see how you did at the track. As a result, many of the Speedventures drivers have become blazingly fast, as they are constantly monitoring their lap times, modifying their cars, and improving their driving skills to shave off those precious tenths of a second.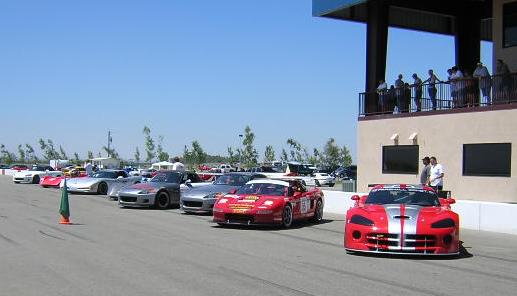 Lined up in the hot pit for the race
I tried to get Speedventures to go Big with their first race group, meaning that they should price their event real low, like $50 bucks, and get 30+ wheel-to-wheel drivers to show up. Speedventures had more sense than me, and decided to go Small, and just personally invite people that they know are good drivers and would not cause any incidents in their first race. I prefer not to race in small race groups, because it is kinda boring. Better to have 30+ cars duking it out on the track at the same time, as you have more people to pass, more people racing in little packs trying to make it to the apex before the other drivers, etc. But I figure I'll help out the Speedventures guys, and also try to become the winner of the First Inaugural Speedventures Wheel-to-Wheel race. I don't have any new slicks left, so I figure I'll just go out on Saturday, kick everyone's ass, and then head home and help the wife with baby Kayla.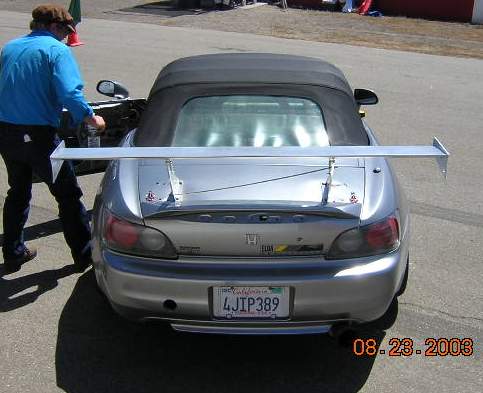 Rylan's new wing
In terms of competition, there is rumored to be two Viper Competition Coupes that may or may not show up. Joe B in his Comp Coupe is supposed to be there. Joe doesn't have a lot of experience with wheel-to-wheel races, and is supposedly running Hoosiers. I figure I can beat him with my used slicks. Mumford was rumored to be showing up, but not with his Comp Coupe. Otherwise, me and Joe would be fighting for second place.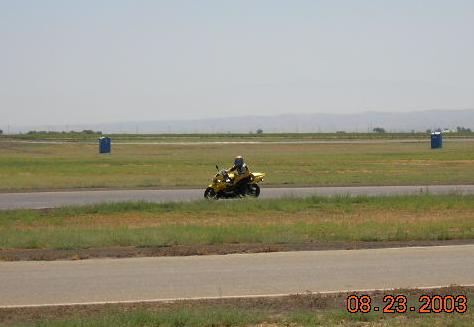 Wayne buzzing around at Buttonwillow during the lunch time drive around
Wayne still hasn't taken the time to get his Porsche 944 Turbo fixed. He might have it up and running in another month, as Rick White was gonna help out on fixing it. Wayne decides that he will drive up to the track in his pickup truck, and strap his motorcycle in the bed of the truck. He figures that he can drive his motorcycle around the track during the lunchtime drive around at the Speedventures event. He is trying to be safe with the bike, but the Go-Fast Crack Pipe is leading him down the two-wheel racing rat hole at the moment. He hasn't taken the bike to any bike track events yet, instead just slowing building up to it doing the lunch time drive-arounds at the car events we attend.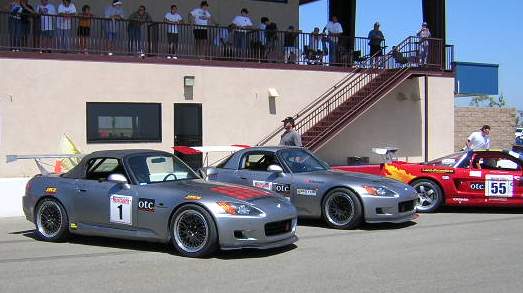 Three Honda OTC cars ready to duke it out
I also figure that since I am running the NSX for just a couple of sessions and I will only be there for one day, I might as well take the S2000 in the trailer and buzz around the track with some used Hoosiers. Erik says he wants to go and test the S2000 out, as he changed the springs rates on the S2000 to compensate for the lack of a Big Ass Rear Wing. Wayne thinks that we should throw a couple of the shifter karts in the trailer also, and buzz those around. So we spent about 3 days trying to get everything ready for the event. Autowave did maintenance on the NSX and tuned it, so it should be ready to kick ass. I drop the NSX off at Erik's, as the alignment was setup for mainly left hand turns from the last event at California Speedway. He proceeds to set it more for a more symmetrical track.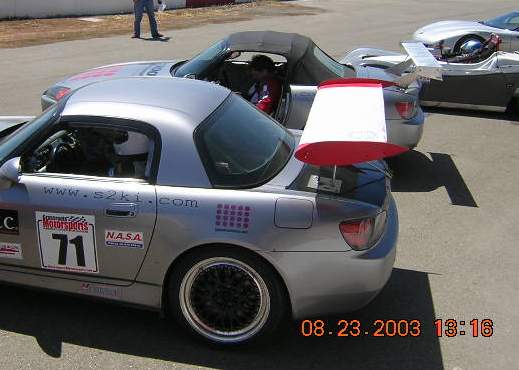 Dave is still using the AABAUW(Active Aero Big Ass Ugly Wing)
Saturday, August 24, 2003
So Erik and I buzz up to the track. Joe's Comp Coupe is looking mean.......and he has big ass Hoosier slicks on his car. Uh oh.....I thought he was going to run the Hoosier RS03 DOT(barely DOT) tires. And, he is running pretty fast.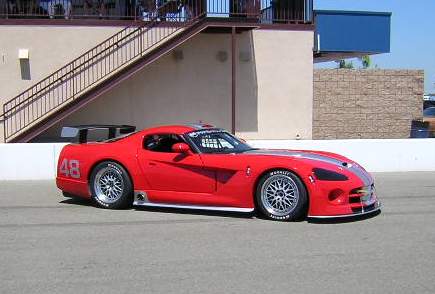 Joe's Viper Comp Coupe
During qualifying, I was a moron, and I didn't have the Hot Lap timer working properly, so I actually thought I was running pretty fast, and would be on pole. But Joe out qualifies me by half a second. Looks like Joe wins the first Pole Position ever for a Speedventures race.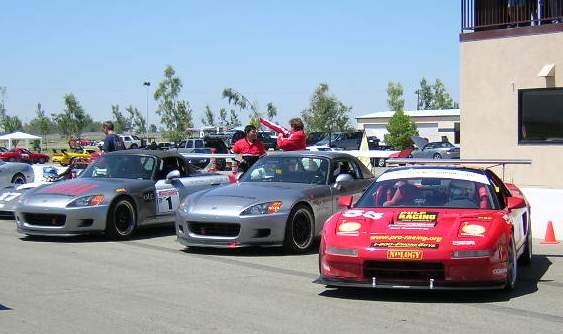 Honda cars looking mean!
In the meantime, we pull out the S2000, and Erik puts on the rims with the Hoosiers on them. We plan on buzzing around in the time trial group. Erik jacks the car up....and says that there is damage on the underside of the car! It looks like a curb was hit, and the lower radiator bracket is bent, and is kinking up the radiator hose. Which could be bad, as the car may overheat and the engine could blow up, especially since we are going to be driving it at the 9000 RPM redline. I had a friend's nephew fill the car up with gas a few weeks ago, and he said he hit something, but I didn't realize that it was hit this bad. I thought only the front bottom plastic piece was hit. Oh well, so much for that.......we park the S2000 back into the trailer.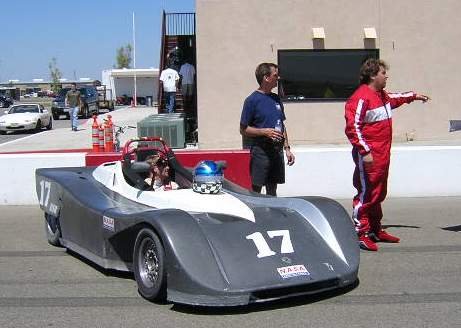 I out qualify Mumford for the first time ever! But he was driving this, not the Viper
The race goes off right after lunch. Behind me are Dave and Rylan in their S2000's that they have been using to inflict pain and humility on other S2000 drivers. I out qualify Mumford for the first time ever....but ah.....he is running his Spec Racer, not the Viper. Bridget, who is Mumford's girlfriend, is also running the Spec Racer in the time trial group.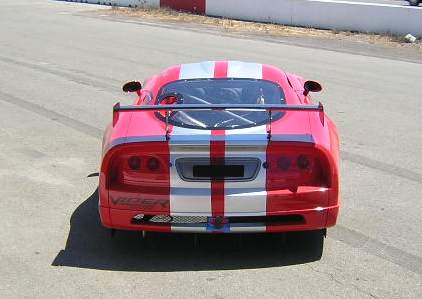 Rear view of the Comp Coupe
The race is off......I leap forward....but Joe's Viper has a lot of grunt to it, and he beats me to the first turn. I stay behind him for a couple of laps, plotting as to when I can dive bomb on him. I get a bit of a run on him into the turn on the front straight......and he ends up braking a little too late, and gets four wheels off into the dirt. See ya Joe! With about six laps left in the race, I plan on cruising to victory in the First Annual Speedventures event. Except Joe is getting closer and closer. Damn...I had 20+ car lengths on him, and now he is on my ass. My car isn't sticking as good as it normally does. I knew I should bought some new slicks just in case. I block Joe for about a lap or so, but he is clearly faster than me, and I can't really block him for four more laps. He passes me in the same turn that I passed him, and I figure I will try to get another run on him with one or two laps left, but I can't make up the ground. Joe's pulling away. Damn. I take 2nd, and Joe gets his first win in a wheel-to-wheel race! Congrats Joe, nice driving!

Rear view of the NSX
Wayne and I hop over to the shifter karts. We fire them up, head over to the Buttonwillow kart track....but the brakes aren't working properly on the spare kart that I am using. Damn. This sucks. Looks like we need to spend a day or two on maintenance with the karts. At least the NSX was working today.
Meanwhile, Erik hops into the NSX, and takes it for a spin. He agrees that the car isn't sticking as good as it should, and we chalk it up to old tires. He only runs about half a second faster than me. Of course he was out there with a lot of slower traffic.....but hey.....I'll claim he is only half a second faster than me today. I need some kind of victory for today.
Friday, August 15, 2003
www.nsxfiles.com has moved from the 1-800-Phoneguys building and is now hosted by the good folks at S2ki.com. Bandwidth should be faster now!
Wednesday, August 20, 2003
We play our "qualification game" for the new softball season. They take into account how our team plays in this game, our past history in the league, what place we came in last season, etc, and then assign us to a league. We win the game, despite us sand bagging a bit (meaning Keith isn't there for this game). And we put people in positions that they don't normally play. We want to be seeded for C-4.
Wednesday, August 27, 2003
Our first game of the fall season. They seed us in C-3. Crap. They bumped us up two leagues after winning C-5, despite the fact that we threw the last two games away. Maybe the Commissioner of Softball figured out that we we sand bagging the last two games and the qualifying game. There are about eight coed leagues (50 teams) that play on Wednesday nights, and another three leagues on Sunday night. We played in C-3 once before, and I think we went 0-10. We started some 54 seasons ago in C-10, and have worked our way up to C-3.
Before the game I buzz by Messley's, and he has Mumford's car on the rack. Mumford's Comp Coupe is over at Messley's shop for another couple of weeks worth of work. Apparently Mumford decided to have Messley setup the suspension and be the crew chief for the Laguna Seca World Challenge Race. Mumford wasn't too happy about running out of gas in qualifying at Road America with his previous pit crew, thus making him grid 23rd. Messley tries to get more suspension setup information out of the Dodge factory guys, but isn't too successful in getting help or feedback from Dodge. There has been a lot of speculation on various BBS boards about how committed Dodge is to the Viper this year. The gist of the rumors on the Internet go something like this:
"BMW and Audi are the only 'factory sponsored' teams, meaning they get direct support, parts, cash, trailering of the cars to the events, drivers, etc, from BMW and Audi. In return, BMW and Audi want their cars to win, so they can use them in marketing advertisements for people to buy their street cars. We all applaud BMW and Audi for funneling big bucks into racing events. The World Challenge organizers want to keep the racing close, so if you make it to the podium, you get penalized by being forced to add extra "rewards" weight to your car, say another 60 lbs for first, 40 lbs for second place, etc. Weight is the enemy of all racers, and thus helps equalize the cars. Right now BMW and Audi are fighting for points to see which manufacturer wins the series for this year, and have both pumped a ton of cash into this series. The proper race strategy could be in fact to win the race, but just barely win by a car length or two, so you don't get any additional weight thrown on your car in addition to your "rewards" weight. If you win the race by 6 seconds, you could be screwed for your next race, as they might add another 100 lbs to help slow you down and let the other guys catch up. There is a lot more strategy and sandbagging that you can ever imagine going on in the various professional racing series. There is probably also a lot of Cheating Bastard tricks going on in the pro ranks.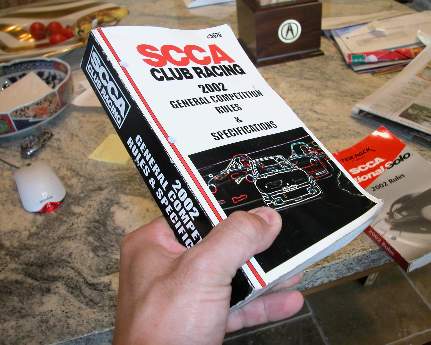 Rule book for SCCA Club Racing - probably 600+ pages
Mumford didn't enter the series until late this year, so there is no chance that Dodge can win the series this year. And, Mumford is paying for these races out of his own pocket, with no factory support or sponsors. However, Dodge could decide to run and support a couple of Vipers for the 2004 season, run the whole series, and try to take down BMW and Audi for the championship, and crow about it in their marketing adds. BUT, if Mumford kicks ass this year, the Viper will get penalized for weight, and it will be tougher for Dodge to win next year. If Mumford sucks this year, additional weight probably won't be added, so Dodge can sandbag this year, and then come out in 2004 looking like they are 'racing wizards'. Plus, if Mumford kicks everyone's ass, you can be sure the BMW/Audi guys are gonna be screaming that it is unfair that Mumford's Viper is so powerful (when it in fact probably has less HP than the Audi), and they will demand that even more weight (say 100+ lbs) be put into the Vipers."
So Messley and Mumford figure, "The hell with politics, we are gonna focus on winning this race". Messley will setup alignment, spring rates, sway bar settings, ride height, etc, according to feedback from Mumford as to how the car handled at Road America. So Messley takes apart the suspension, checks fittings for tolerances, finds some things are looser than they should be, re-machines some parts, etc. And then re-corner weights the car. Labor time? Probably a week or so.
How much does it cost to run World Challenge? Estimates vary quite a bit. The more successful teams probably budget $15,000-$20,000 per race weekend per car. You need mechanics, tires, parts, hotel expenses for the teams, RVs, trucks, trailers, food, water, gas. Professional racing poses big time logistical problems that each team has to solve before they even put the car on the grid. You might get into a wreck and need body parts, or a motor or clutch could break, etc. So figure if you want to race the entire season, it would be good to have a quarter million bucks in your budget. Not counting the cost of your car.....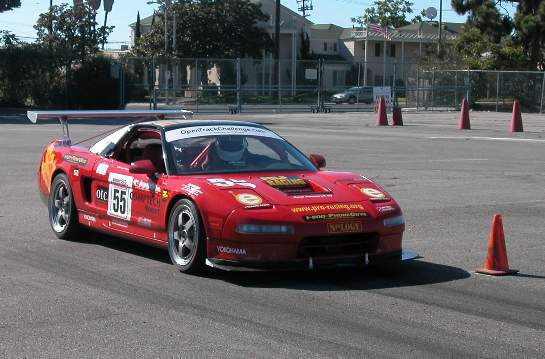 What's that? Cones????
Saturday, September 6, 2003
Wayne and I actually did an autocross. I haven't autocrossed in about 10 years. Last time I did it, it was at the Lion Country Safari parking lot. It kinda sucked, as I only got about 5 runs, and I spent a good 6 hours sitting or standing on hot black top, and also spent an hour or two chasing cones that morons knocked over. Since I have Attention Deficit Disorder, let's just say that was my first and last ever autocross. I ain't spending the better part of a weekend standing around like a zombie in order to get 5 minutes of driving time. It is like going out with a girl to dinner 10 times before you have sex. I mean, what's the point of this? There are easier ways to get your ah.....kicks.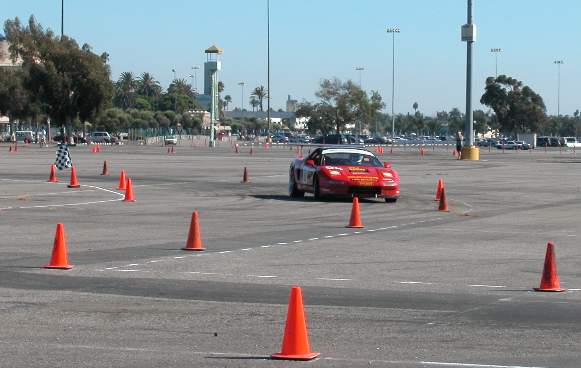 Yes, cone dodging!
Anyways, the NSX Cal Coastal group planned to run an NSX-only autocross at Hollywood park, which is about 45 miles from my house. They said they were going to use electronic timing, so we could see who really is the fastest. Also, they said they were going to have a catered lunch, a tent to keep us out of the sun, and we probably would only have to work the cones for two 25 minute sessions, and we we get 12-15 runs for the entire day. That sounds like it could be fun. It is close by, I got some used tires lying around, there is a casino nearby, etc. Wayne agrees to go, and we figure we share my NSX.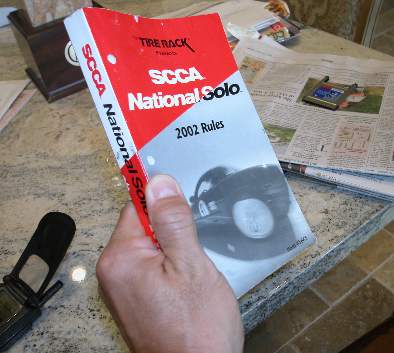 SCCA Autocross rule book - 300+ pages
Paul and Heidi will be there, and they are frequent autocrossers in the San Diego area. They are both pretty good, and Heidi has been known to spank quite a few men (in autocross) and reminds them years later that she kicked their ass. We figure we bring the big 48 foot trailer and hangout for the day.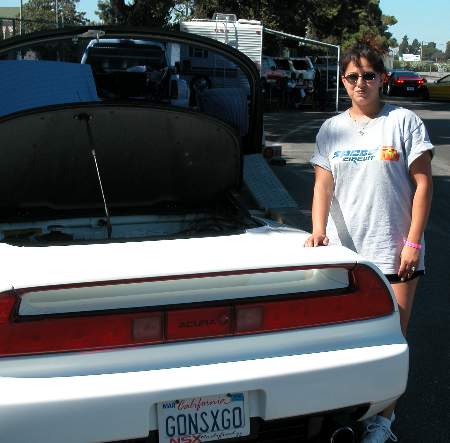 Heidi, slayer of many men at local autocross events
We get there early in the morning, and I throw on the Hoosiers. Wayne and I size up the competition. About 40+ NSXs showed up, and all but two of them were driven there. The autocross is setup to be a fairly fast course. There are quite a few hot shot autocrosser guys there, and they could probably kick my ass and Wayne's ass in similarly prepared cars. But hey......Pulp Racing would probably never show up unless we thought our hardware would give us superior firepower. They don't call use Cheating Bastards for nothing.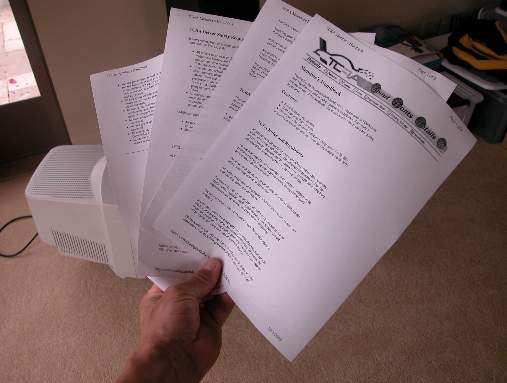 Rule book for the events that we usually race in - 4 pages total!
First run group out there, Wayne kicks everyone's ass with a 43.x. Until I go out in my run group with a faster 43.x. Or so I thought. Apparently Marc W. run a 42.x in a supercharged street NSX with R compound tires. Damn. His car is probably 350 lbs heavier than mine. Since we all agreed that there would be three run groups, and we would take the fastest time from each run group and total them up, I am down 1 second already. Hummm.......I suck at autocross.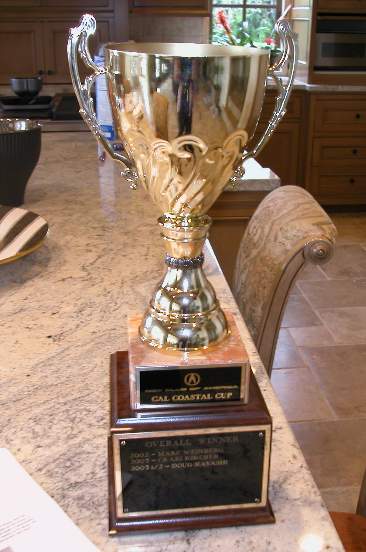 We are all battling for The Cal Coastal NSX Cup
The NSX feels pretty good, but people said that the car seems to be bouncing around more than it should. I also ran with too much tire pressure, as I figured that the tires would not heat up, so I pumped them up to 35 lbs cold. But since we are doing about 4-5 runs per session, and they are only about 12-13 cars in each run group, the tires over heat, and my last runs are way too squirrelly. We drop the tire pressure 6 lbs, and Wayne goes out for his 2nd run group. He gets close to Marc's first run, but doesn't beat him. Humm....time to strategize.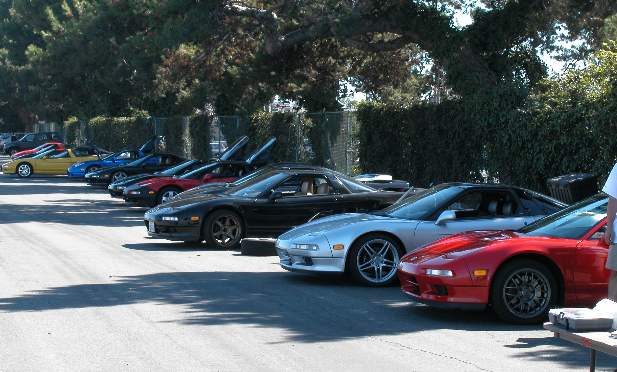 Whole slew of NSXs at this event
It seems that we are getting enough runs to get heat into the tires. Erik mentioned the other day that slicks usually don't heat up enough for autocrossing, since there is a long wait between runs. But at this event, it only takes about 3-4 minutes for the next run. I figure, what the heck, I'll try the slicks, as I need to gain another second on Marc, meaning I have to run a low 41.x, and I don't think I can do it with the Hoosiers.
I bolt on the second set of rims with the slicks on them. After all, I got nothing to lose, as I ain't gonna beat Mark with the Hoosiers. I got out, and Holy Shit! I guess since the suspension of the car is dialed in for the slicks, as it makes a huge difference. I blast a 39.8 or so, beating the entire field by more than two seconds. Heh heh heh.
I fire up the laptop inside the trailer, and use the Sprint PCS wireless card to connect to the Internet, and see how Mumford is doing at Laguna Seca. He's kicking ass and taking names! Looks like he qualified 3rd against the big boys for the race tomorrow!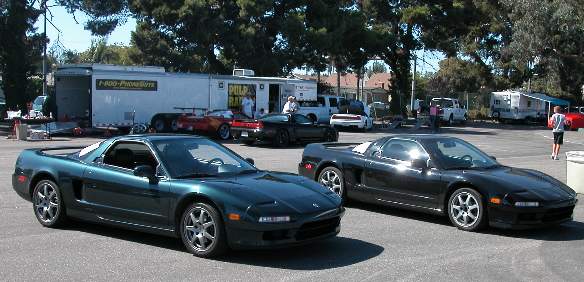 Hanging out at Hollywood Park
Wayne gets in for his 3rd session using the slicks, and runs a 39.4. Of course, now he is saying that he is kicking my ass in my own car. I of course say that now there is more rubber on the course, which is why he is faster.
So I go out there for my 3rd and last session. I think by virtue of me using slicks for two sessions, as opposed to Wayne's one session, I have the overall championship locked up. But, Wayne is laying bragging rights for fastest run of the day. So I go out there and try to beat his 39.4. I run about five 39.5/39.6's in a row, trying to get through a little faster. Damn. I can't beat it. The organizers of the event are checking their watches, and are getting ready to shut the event down. But they also want to see if I can beat Wayne, and are letting the event run a little over the time limit. Wayne is screaming that they need to shut down the event, or else I will stay out there until midnight trying to beat his time. On my next run, I decide to take an entirely different line on the last three turns, and go inside instead of taking a wider road racing line. Bingo! 39.2! Hey, maybe if I tried a different line about 8 runs ago, perhaps that would have worked better? I never said I was a good autocrosser....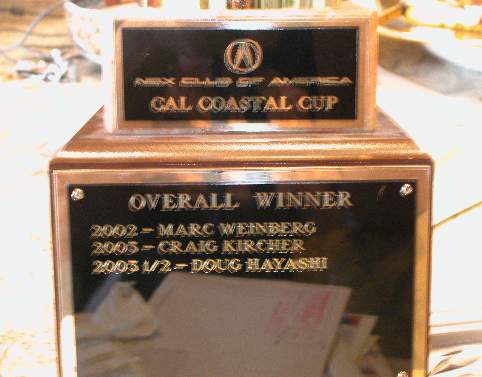 Victory is mine! I get my name engraved on the perpetual trophy
Sunday, September 7, 2003
All of use club racer guys that could not make it to Laguna Seca are watching the live feed of Mumford on the Internet from the Speed website. Messley is there as crew chief, suspension guy, spotter, tire swapper, and truck driver. There are five factory BMW PTG cars entered with factory drivers, and two Audi RS6 factory race cars.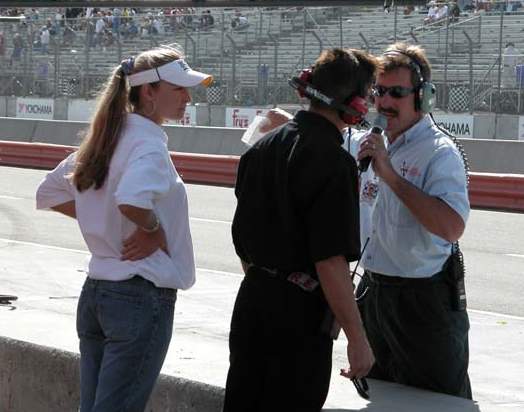 Mumford's girl friend Bridget, and Messley doing interview on television
Going into the hot pits before the race, the factory teams are towing mini trailers of spare rims/tires/tool boxes/computers/etc behind their golf carts. Messley is there towing a kid's wagon with a tire gauge, a couple of sockets and tools, and some water bottles. People are laughing at his low budget setup, and he just says, "When you are prepared, you don't have to bring a lot of shit to the hot pit".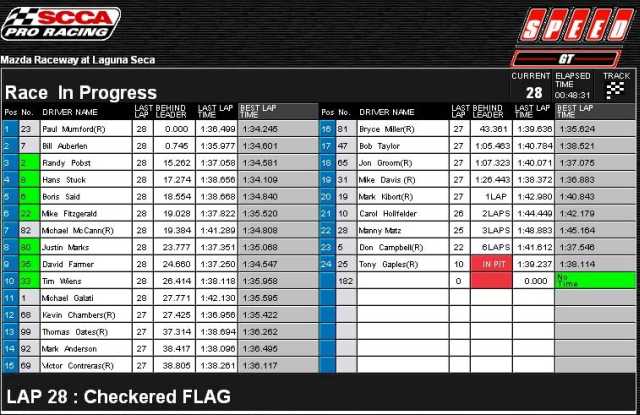 The live feed of the World Challenge GT Race that you can access on the Internet
Wayne is at home, watching the feed. He calls me on the Nextel two-way radio. "Holy Shit, Mumford is leading the race with two laps to go!" I tell him I am watching the feed, rooting for him to take down the factory drivers. He ends up winning the race! The next four people behind him are the BMW and Audi PTG teams! All the club BBSs are buzzing about how Paul "One of us club racer guys" Mumford is "Laying the Wood" against 23 professional drivers.
Wednesday, September 17, 2003
Wayne is supposedly on a budget, but buys another motorcycle. His rationale? "Well....sometimes I don't have anyone to ride with, as they don't have a bike. So I figured I would buy a spare motorcycle, incase Erik or Brent or anyone else wanted to go for a ride". I can see it now. Wayne is gonna end up with about five bikes, and his own mini motorcyle gang.
Meanwhile, Messley's going to town on Mumford's Viper. No one else can get their car into his shop, as he is spending the next few weeks working on making sure Mumford's car is capable of winning the race. Custom aero parts, custom machined parts, etc. He's probably got another 70 hours into the car.
Saturday, September 20th
Erik, Brian Lampe, and I go over to Wayne's house to watch the replay of the World Challenge GT race from earlier today. Speed TV takes about 3 weeks to edit the in car footage of the race, then they broadcast it on The Speed Channel, so this is the first time on TV that anyone can see the race. We are screaming at the TV, rooting for Mumford, even though we already know the final results. With a couple of laps left, there is a waving yellow, and Mumford is in the lead. On the restart, he and Randy Pobst, who is second in points in the series, go wheel-to-wheel down the straightaway, blasting into Turn 2. Mumford protects the inside line, and decides to wait until Pobst slams on the brakes first, and then Mumford will slam on his brakes, thus staying in first place. Pobst and Mumford dive into turn 2 at 140+, neither of them blinking, playing chicken as to who will hit the brakes first to make the 45 mph turn. Pobst blinks first, slams on the brakes, but overshoots the braking zone and goes off into the dirt! Mumford slams on his brakes, somehow keeps the car on the track, and holds first place! We all cheer! But now Bill Auberlen, the points leader for the series, is on Mumford's butt with the BMW PTG factory car. Mumford holds him off for a couple more laps, and takes the checkered flag. MUMFORD WINS THE RACE! THE CROWD GOES CRAZY! Well, at least the crowd in Wayne's living room.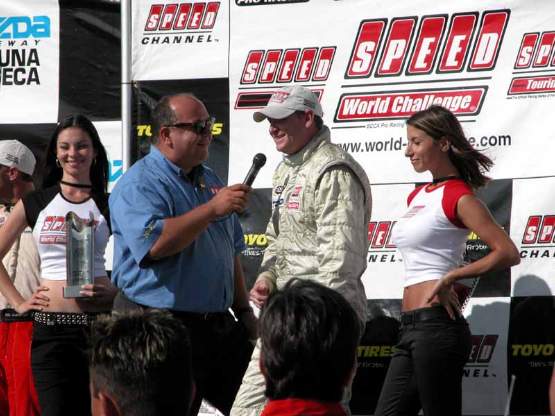 Mumford being interviewed on television after his first place win
The next race is at Road Atlanta. Messley gets more feedback from Paul on how the car is handling, and now he knows the killer setup for Road Atlanta. Wayne says that Road Atlanta is kinda close to Graceland, and he always said that wanted to see where Elvis lived. He says he is flying up to Atlanta to help out Mumford and Messley at the next race. Other Viper guys like Wasserman and Dearing are flying up also. I am thinking I wish I had more time, I would like to do a mini-documentary on the preparation for this next race, and put it on a DVD. I tell Wayne if I can get my house sold, I'll go up and be camera/video man for the team. Messley said that Paul was asking if he could use my truck and trailer to take his Viper up there, as it is a long tow, and he was looking around for possible options on how to get his car up there, and my trailer was one of the options. I tell Messley that normally I don't let anyone use the trailer....but if Messley is gonna drive the truck, no problem. Wayne might even drive up with him. The Pulp Racing trailer could be hauling around the winning car at Road Atlanta. Heh heh heh....my trailer would look cool in the pit area next to the BMW PTG/Audi big rigs. I can see people cocking their heads, squinting, saying "Pulp Racing? WTF? Those yahoos Doug and Wayne got the winning car in their trailer?"
BP and Messley are using their contacts, pimping Mumford around, trying to get sponsorship for the next couple of races, and perhaps a full ride for next year. Mumford's on the phone with BP screaming, "SHOW ME THE MONEY!"
September 21, 2003
We hear the Mumford and his girlfriend Bridget enter the Silver State Classic. People are there with their elaborate GPS/mapping guides. Mumford, with Bridget as the navigator, enter in the 125 mph class using just a stopwatch. They average 125.0029, taking first place in their class in Mumford's Porsche GT2 street car. They were only .06 seconds (yes, that is 6/100ths of a second) from nailing their target time perfectly. Mumford is "in the zone", he is winning every event he enters! He is unstoppable!
September 30, 2003
It is time to fix all the vehicles again. The F-car is bleeding tranny fluid like it took a bullet. The S2000 is over at Mitch Lanzini's paint and body shop, getting the radiator bracket re-bent. The NSX is at Autowave, and they are tightening up the limit slip diff, and cleaning out the fuel cell. The truck needs an oil change, and it is spitting out a little bit of oil out of the exhaust pipe. The Tony Karts need oil changes, brake bleeding, etc.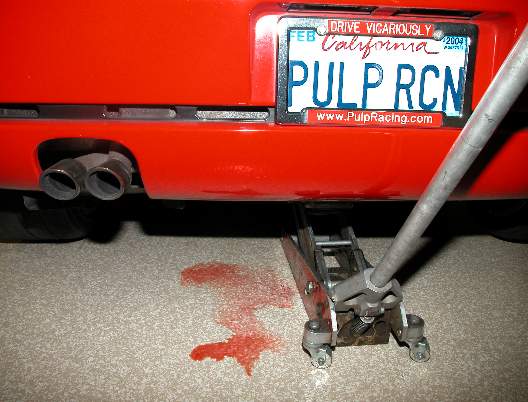 Bleeding tranny oil again. For the sixth time in 5 years
October 1, 2003
Game 6 of the softball season. We crush the opposing team something like 18-6. We are now 4-2, and fighting for the C-3 Championship. We are tied with four other teams for 1st place. Click here for the latest standings for our Coed C-3 league.
On the way home from the softball field around 10:15 p.m., I get a call from the wife. Her voice is shakey, and she says to call BP immediately. I call BP, and he says that he heard a rumor that Mumford's plane crashed around 4:00 p.m. that day. He says it is not looking good. He can't get a hold of Mumford on the phone, and he also can't get a hold of his friend Chris, who was supposed to be in the plane with Mumford. They were flying to Oakland to watch the Red Sox play the A's in the first game of the playoffs. Calls are flying around between Mumford's close friends, hoping to see if he answers the phone or if anyone has seen or talked to him recently. I call Wayne. Wayne says it can't be true. Mumford is our hero, and something like that can't happen to him.
Later that night, it is confirmed that Mumford and his friend Chris were in the plane when it caught fire in the air. He and Chris didn't survive the crash.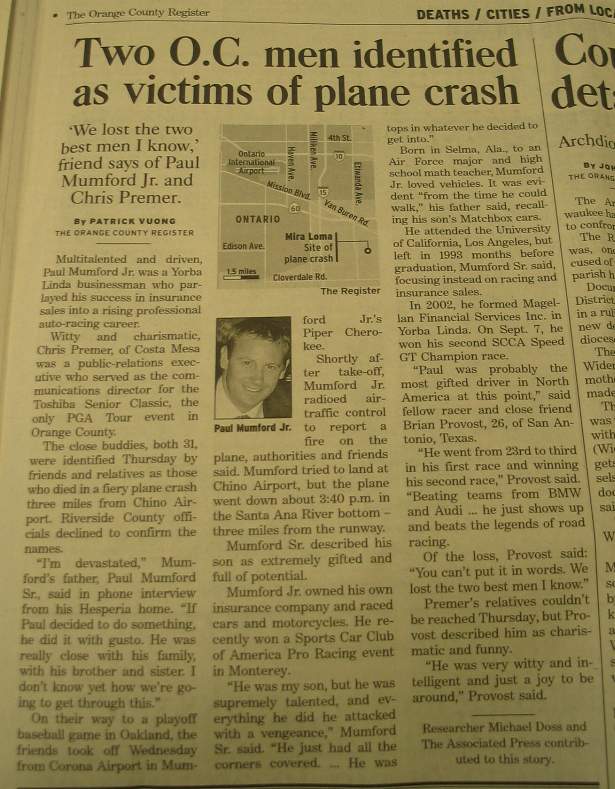 The paper a few days after the crash
The entire club racing world is tears. Our racing hopes and dreams were all centered on Mumford and his next couple of races, because he was going to be "our guy" that would soon be one of the best professional road racers. 99.9999% of us that are track enthusiasts will never make it to the professional ranks and race on TV, but Mumford showed us that it could be done. Mumford was a great person, and we also hear that his buddy Chris was another great individual, and also very talented. Our condolences to both of their families, and to his girl friend Bridget. The next chapter, Chapter 100, will be devoted to Mr. Paul Mumford.
Update, Saturday October 4th.
Initial eyewitness reports concerning how the plane crashed appear to be wrong. The FAA report will be out later, and it appears that the plane descended at a high rate of speed almost straight down. No one could have survived the initial impact.