The Speed Ventures Radical Challenge
To be held November 1, 2004 - Spring Mountain Raceway - Pahrump, Nevada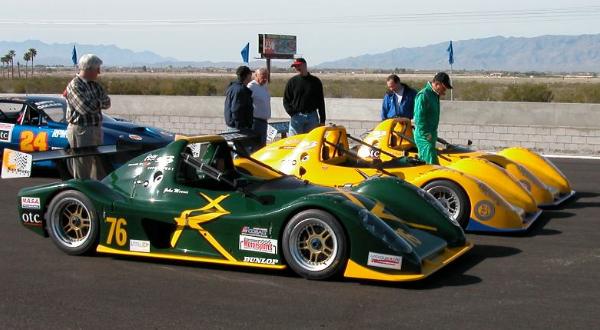 Who's the fastest Speed Ventures guy in a Radical? On November 1st, we will find out




So I get this email from Bitterman, saying that he has an opportunity to rent 6 Radicals for a day for $10,000 bucks at Spring Mountain Raceway in Pahrump. He got the deal from John Morris at www.radicalwest.com, who is one of the guys who bought the Spring Mountain track from Rupert. He figures if he can get 12 drivers, we can get about 2 hours of seat time each. And if we equalize the weights of the car with drivers in them, put on transponders, we can see who REALLY is the fastest driver in a race car, given the rest of the parameters are equal (which they never are, but this is close). Bitterman figures he gets some of the Speed Ventures old timers, see if they are interested, and then have a shootout. So that comes out to about $450 hour to thrash on someone else's race car. Not too bad a price.....I haven't driven a Radical yet.....yeah......this could be fun. And then we can crown a winner as to who is on top of the Speed Ventures Driving Ladder in terms of who is the fastest.

So of course Bitterman has his seeding of the people that are entered, and it looks like this:

The Bitterman Handicapping Predictor for Fast Lap

1 James Gunn-Wilkinson, esq. (6'1" 210lbs)

2. M. Willard Rauch, M.D. (6'1" 227lbs)

3. Aaron Bitterman, B.A. (6'2" 211lbs)

4. Rylan Hazelton, GED candidate (5'10" 207lbs)

5. Doug Hayashi, B.A. (5'9" 164lbs)

6. Jason Rhoades, B.A. (5'7" 165lbs)

7. John Wurth, MA (5'11" 213lbs)

8. Richard Laifatt, Phd. (5'7" 163lbs)

9. Terry Chen, B.A. (6'1" 180lbs)

10. John McCanless, M.S.E.E., AbD (6'2" 215lbs)

11. Wayne Mello, J.H.S. (5'7" 175lbs)

12. JP Kleinhaus, GED (5'7" 152lbs)

13. Craig Oka, AIA (6'0" 210lbs)

Given that Bitterman has questionable experience in handicapping drivers, and given that I have been pretty close in my predictions about what was gonna happen in OTC 2002, 2003, and 2004, I have my own seeding and justifications. (With a rebuttal from each contestant, should they wish to respond about how they are going to kick everyone else's ass with some friendly smack talking).

Forget about Bitterman's predictions, instead I "humbly" present:


The Pulp Racing Predicted Results
for the Speed Ventures Radical Challenge Shootout

1. Doug "Bet on Anything, Anywhere" Hayashi is seeded #1
(of course, duh, it's my webpage!)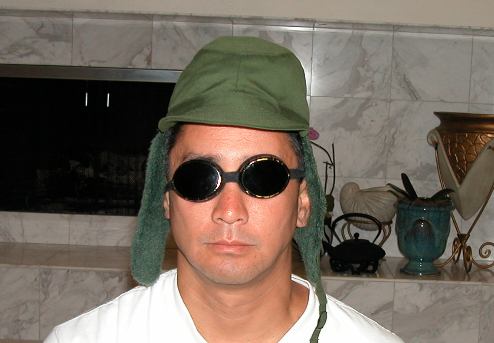 After evaluating the competition, I proclaim myself on top of the Speed Ventures Driving Ladder!
Pulp Racing Analysis:
Has probably the fastest laps of any driver on this list at most of the road racing tracks. True, I have a faster car than most of the people on this list, but my point is that I am used to going at high speeds, whereas most of the rest of the clowns on this list are used to puttering around in 4 cylinder cars that do 0-60 in 5.5 seconds, which is dog slow. I mean, c'mon, I don't think there is a guy on this list other than me who has run 1:26 at Willow. Which means when I get in a Radical, it will probably be as fast as I am used to going. Or, if Morris puts on the throttle stops, the NSX will be faster than the Radicals. Maybe I should just bring the NSX to the event and whup on all the Radicals. (Just kidding, John! I'm just trying to get the throttle stops removed! <grin>) The guys stepping up from S2000's will be going, "holy-shit-this-car-goes-fast-my-mind-can't-tell-my-feet-and-hands-what-to-do-fast-enough." One of my theories about why Messley is so damn fast (besides just being talented) is that he is used to driving a car that can go 10 seconds a lap faster than the Flamemobile, so when he steps into my car, he feels like he is driving an......S2000. Or a Miata. Or a lawnmower. Disadvantage for me is that I ain't fast in Other People's Race Cars, and that I need time to "adjust". Plus I don't want to feel like an idiot if I crash someone else's car.
2. Wayne "I Exist to Crush Hayashi" Mello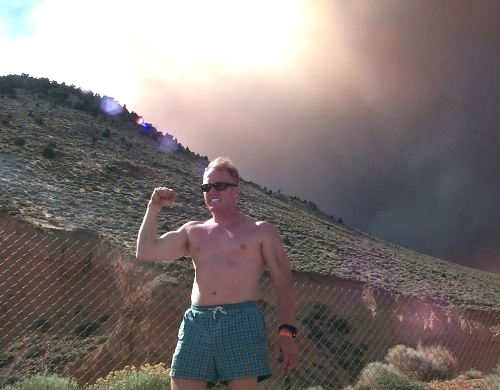 Wayne says, "If I can't win, I'll burn Pahrump down to the ffing dirt"

Pulp Racing Analysis:
Well, if I'm fast, then Mr. Mello is usually a few tenths behind me when racing cars and karts. Bitterman seeds Wayne at 12th, which I think is too low, based on the fact that in our current shifter karts, Wayne is about .3 seconds faster at Moran than I am (with his Cheater Head on his Vortex motor). And I figure I would spank everyone on this list including Wayne in a shifter kart at Moran if I also had a Cheater Head on my Vortex motor. Also drives a Honda CBR 650 motorcycle regularly, so he is used to driving cars powered by motors only really designed for two wheels, like the Radical powerplants. (Is it really a race car if it has a motorcycle engine in it? Humm...)
Wayne Mello's response:
Well I'm shocked that Aaron put me 12th...obviously he's never seen me in a real race especially in the day I was kicking Hayashi's ass before he hired a team of mechanics and a full-time trackside suspension guy....but I understand...I haven't done much with Speed Ventures....but he'll be a "Wayne Mello groupie" after Pahrump. And hey, if you want to buy or sell Norstar/Panasonic business phone systems, call 714-843-9999 for the best deals in town at http://www.phoneguys.com
3. James "Cone Dodging King" Gunn-Wilkinson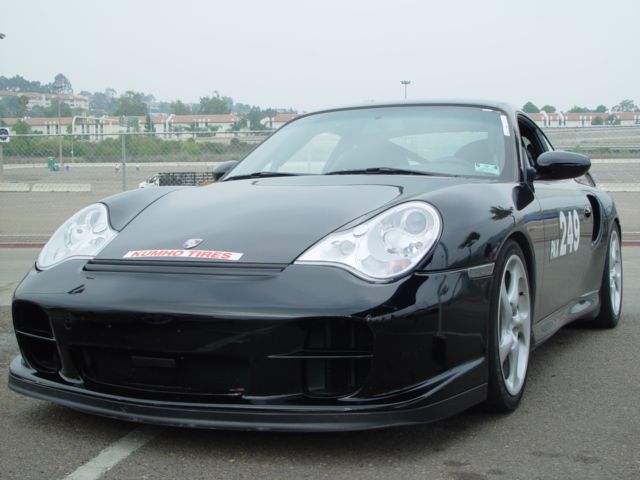 Cone Dodging in a GT2? That's like shooting geese with sidewinder missiles
Pulp Racing Analysis:
Was fast in his Vette at Buttonwillow many years ago at one of the first Speed Ventures event. Sneaky fast autocrosser. But not sure how much experience he has at Pahrump, and not sure how much experience he has in a shifter kart/racecar. Primarily a cone-dodger, but always a threat in anything with four wheels. He's only running two sessions (splitting it with Rhoades), but that should be enough to take down the rest of the hacks seeded 4th-13th on this page! (Are there any fast guys with a hypenated name? I think not!)
James Gunn-Wilkinson response:
Anyway, I have never seen Pahrump, never driven a Radical, and I only get 2 sessions (although I would be happy to purchase an extra 2 sessions if anyone wants to sell me one or two) so you should all kick my butt!!
4. Aaron "Racing is like Tennis. We Need a Ladder" Bitterman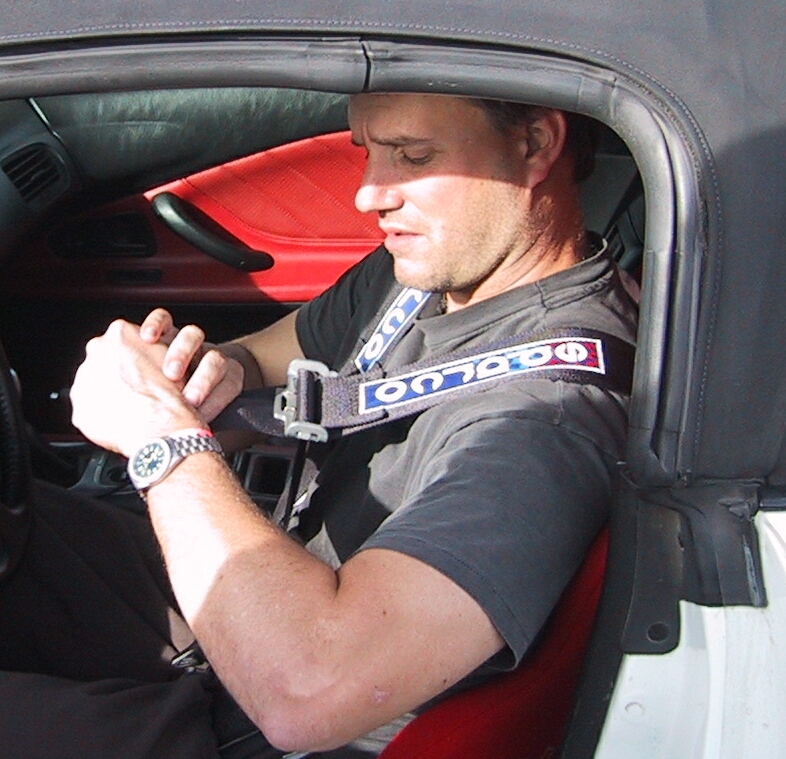 Befuddled by the complexities of his new harness, Aaron gives up and practices some Acupressure..

Pulp Racing Analysis:
Pretty fast in OPRC. (Other People's Race Cars). Curiously, is usually slow as crap in his own cars. No shifter kart experience. Rumor has it that he has two sessions in a Radical at Pahrump, otherwise he would be seeded lower. Co-owner of www.speedventures.net, and the organizer of the first ever Speed Ventures Radical Challenge.
Aaron Bitterman's response:
Hayashi doesn't seem to know how racquetball, tennis, or driving ladders work. You can't actually "proclaim" yourself at the top, you actually have to beat someone. This is a problem Doug has faced for many years, perhaps, I suspect, since he was a child. It is a neurosis which continues to this day in all the manifestations of the NSX Files, where he has created his own universe, with himself at the top, no matter how many times he loses. You see Mr. Hayashi, at present, nobody is on top of the Speed Ventures Driving Ladder because it's brand new and the first of its kind in the world. After November 1st, we'll see who's at the top. Soon enough, Michael Schumacher will be flying in from Switzerland to challenge one of us. But, I can assure you of one thing, that he will not be flying in to challenge Hayashi.
You see, Bitterman Seeding Systems Honda, Inc. & Timing (BSSHIT) operates state of the art algorithms to provide very systematic and fair seeding and ranking services for the motorsports industry. As President and Founder of BSSHIT, I can assure you that Doug is where he is because he's been systematically stomped by all those above him, directly (in my case) or indirectly (in the case of James Gunn-Wilkinson). Though, to tell the truth, I am a little afraid of him because he does know how to put on a harness better than me.
5. Will "There is a Reason I'm Dr. Sphinkter" Rauch
Pulp Racing Analysis:
Definitely getting faster, races in Honda Challenge and does quite well. Rumor also has it that he has six sessions of practice in a Radical at Pahrump. Cheating Bastard! But crashed his car into the tire wall recently. (I guess I should say he crashed ON TOP of the tire wall. He's so fast he can get his car airborne!). This may make him gun shy at Pahrump, as if you go off at Pahrump in a Radical, you'll be forking out quite a few hundred dollar bills for even minor offenses.

Will Rauch response:
TBA
6. Rylan "The Godfather of S2000 Dieting" Hazelton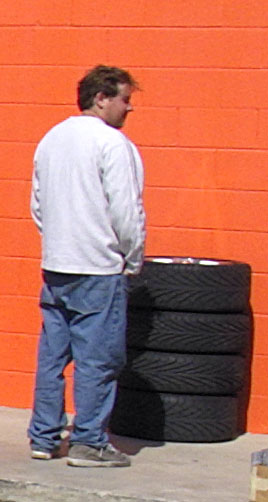 Don't fuck with me, I'll piss on your tires
Pulp Racing Analysis:
Very fast in his NA S2000, but he won't get a chance to fiddle with suspension changes on the Radical, throw weight out of the car, or take off body panels with reckless abandonment (meaning a sawsall, a hacksaw, and a torch) like he does on his ex-daily driver. The vibration caused by his S2000 with no interior will be similar to the vibrations in the cockpit of the Radical. Not a shifter kart guy. Creator of www.gofastlab.com. I think Bitterman claims he is faster in Rylan's car than Rylan is.
Rylan Hazelton's response:
Worry not, I'll figure a way to get the interior out of the radical too. LOL Bitterman has lost every time I've let him drive my car against me for the last 1.5 years. He's getting older is clearly getting slower. (The boy ain't bright). But at least his ladder is closer to the truth. As for Will I've handily spanked the crazy doctor every time we've gone heads up. Sure he's got practice, but that doesn't change that he sucks. :) Shameless Plugs: I'm also a co-owner of www.s2ki.com, the creator of www.gofastvideo.com and I host this site for Doug (as much as it pains him to have his shit on Linux). All I gotta say is Fuck w/ me and you'll have wet tires.
7. Richard "Fastest Jamaican-Chinese Driver in SV" Laifatt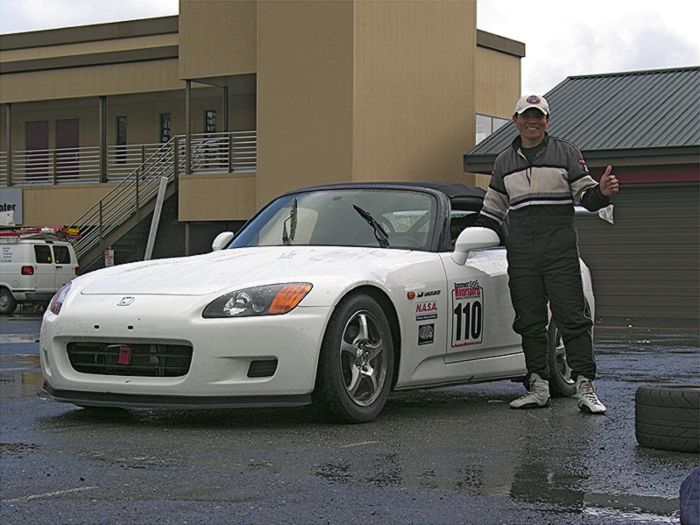 Ever seen a fast Jamaican, or a fast Chinese guy? Me neither! <grin>
Pulp Racing Analysis:
Was slow two years ago. Now is pretty damn fast. S2000 Mod Class winner. Arguably the most improved driver on this list over the past two years. We'll see how much he improved on November 1st! Doesn't know what below 1:34 at Willow looks like. French sounding last name gives him no respect on the track!
Richard Laifatt's response:
"Though amongst this august group of drivers I may seem like the Jamaican Bobsled Team in the 1988 Winter Olympics, I get inspiration to win this inaugural SVRC from the petite champion Sonya Thomas (http://www.sonyatheblackwidow.com/index.html), my idol. She is a giant killer, so you famous drivers better watch out! Sonya and I also happen to share similar eating habits (though I wonder if she ate the bones too in winning the chicken wings contest). Following her philosophy which she explains on her home page, I am in an intensive training program at K1 Speed karting, working out daily, and studying repeatedly all my Speed Secrets books in preparing for the SVRC. Yes Aaron, I'm sorry, but I'll have to beat you also this time since we are not in an S2000, though you will always be my S2000 champ and mentor."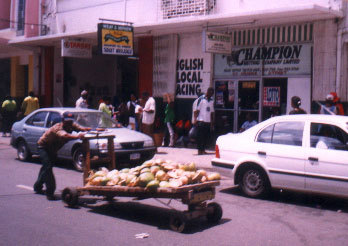 Like the bobsled team, I also began as a kid on a Jamaican pushcart. It was all about wheels and suspension then too.
8. Jason "Chief Big Wind Catcher" Rhoades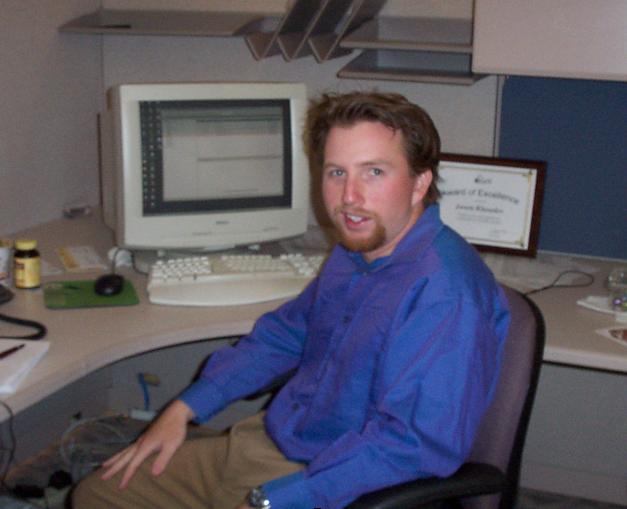 Jason next to his PhD certificate in Wingocology
Pulp Racing Analysis:
Developer of the BAUW, AABAUW, the BAURW. (Big Ass Ugly Wing, Active Aero Big Ass Ugly Wing, and Big Ass Ugly Roof Wing). Is very fast in other people's car, but is splitting a run group here, and thus only getting one hour of seat time vs two hours for everyone else. His ranking after everyone does their first hour of seat time will undoubtedly be higher than this, but I think people will kick his ass by session 4. Also unfortunately for him, he will not be able to build a BAUW, AABAUW, or BAURW for this event, as it is a spec series.
Jason Rhoades' response:
Heh, good thing for me the Radicals already come with wings! The only one here who has beaten me in equal cars is James Gunn, and he's never driven Pahrump before. Sure, maybe some of the others can be just as fast, but not without $pinning off track...
There once were some racers online
Who thought they could lay down a time
Their driving was slow
Outclassed by J-Rho
Top spot on the ladder be mine!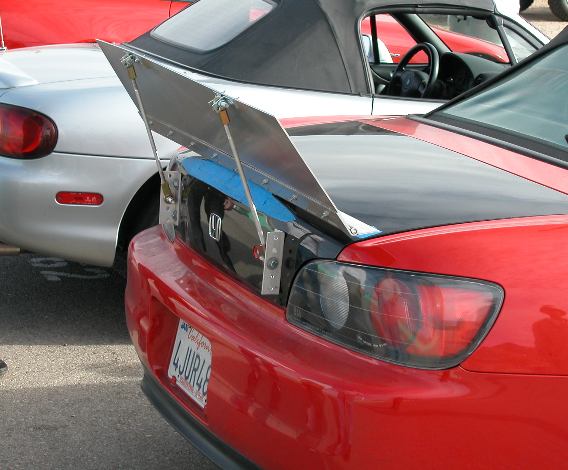 Big Ass Ugly Wing. Car wins S2000 Challenge event.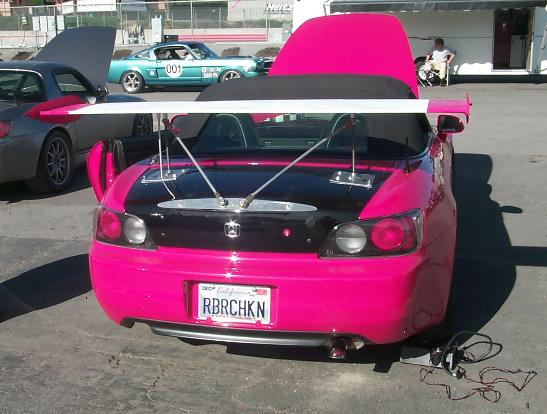 Active Aero Big Ass Ugly Wing. Wing wins OTC 2003 T3 class with Pulp S2000.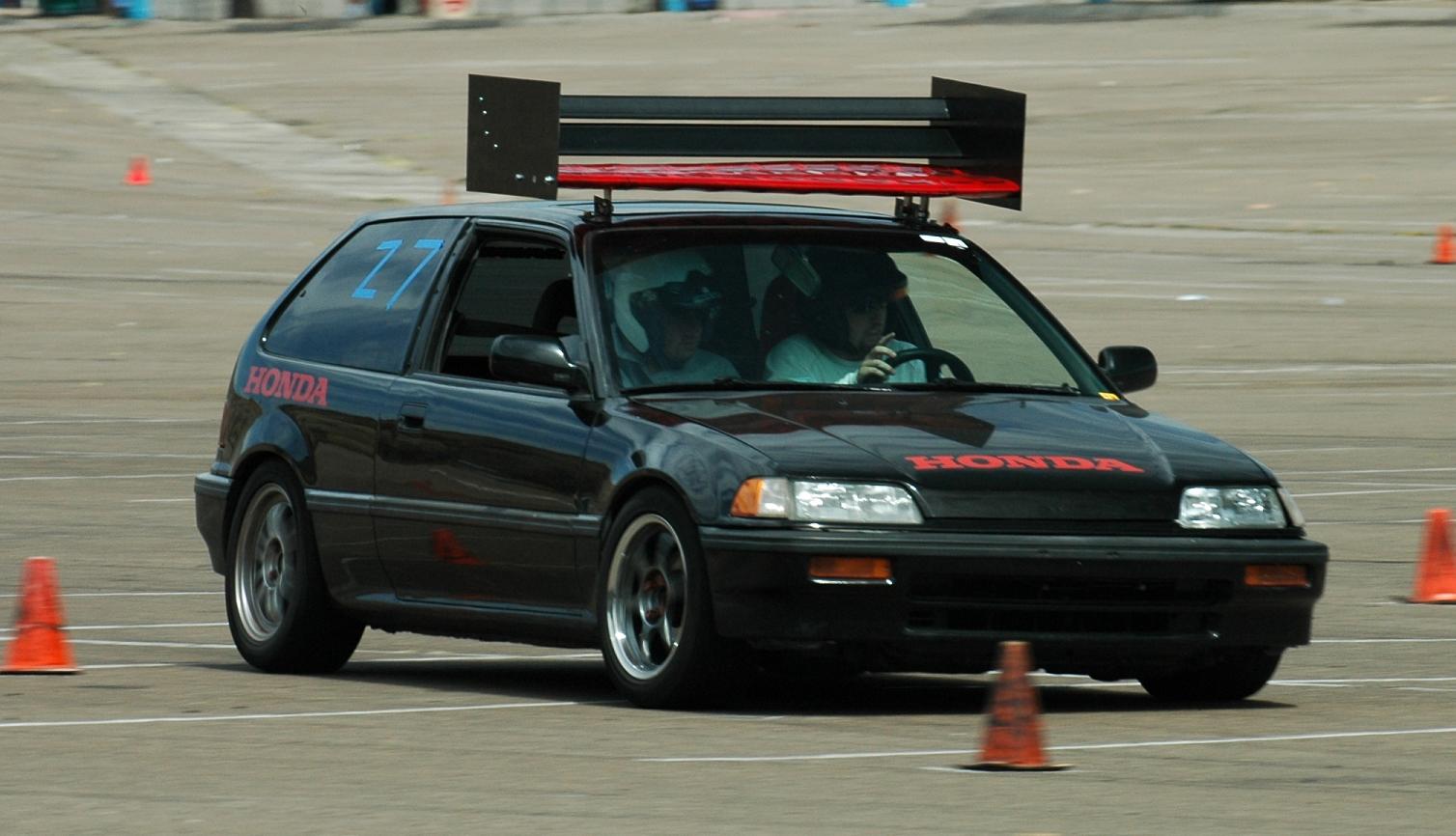 Big Ass Ugly Roof Wing at Nationals. Uh...well....2 wins out of 3 wings ain't bad.
9. John "The Hulk" Wurth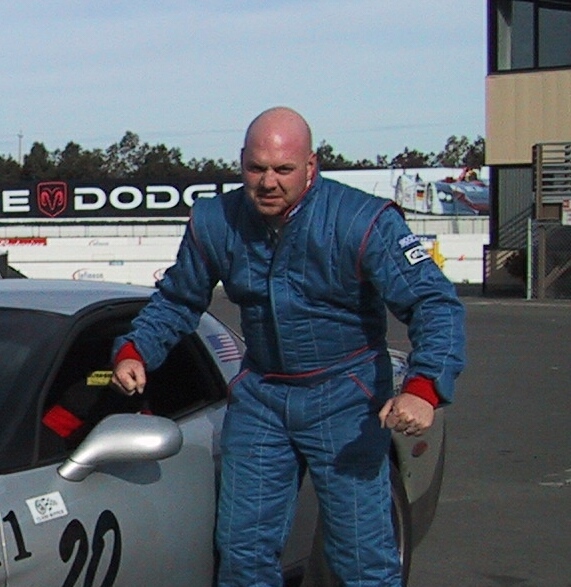 John is known as the incredible Hulk of Speed Ventures Racing. Can anyone spare some Citrucel?
Pulp Racing Analysis:
Getting faster at each event, but still needs more seat time in the Ultima before he becomes the Ultima(te) Driver. Has gone through a lot of cars (S2000, RX7, T1 Vette, Porsche Spyder, Ultima, etc) in trying to find something that he could be considered "fast" in. I don't think John has taken a FTD yet. Co-owner and promoter of www.speedventures.net.
John Wurth's response:
Actually, I have the fastest time ever at a SV event at SOWS CCW ( http://www.speedventures.net/track_records_db.asp ), which was the only event the Ultima hasn't had major issues at. I also am about 1.5 seconds off the SCCA T1 record at Sears Point on year-old tires. Hayashi is going to find out what fast is, and rue the day he agreed to a "spec" race!
Recognizing the pattern of Hayashi's outrageous statements, as a public service for the tracking community, I've created HayashiFish(tm). HayashiFish(tm) is a Bablefish-like translation tool which decodes Hayashi's brand of hyper-optimistic smack into his true, innermost thoughts on a subject. Simply enter the text Hayashi has written about a driver below, and HayashiFish(tm) will translate it for you. HayashiFish: because friends don't let friends fall victim to Hayashiesque smack. http://www.speedventures.net/hayashifish.asp
10. Terry "The AIM Data King" Chen
Pulp Racing Analysis:
Has Radical-like car (Lotus Elise Motorsports Race Car), but it has been broken since OTC 2002. Has Spec Miata, but hasn't raced this year. Has Rotax Max centrifugal kart, but hasn't been able to get a lot of driving time in it. Spends too much time working at www.gofuse.com. Fast driver, but lack of seat time this year is hurting him. Could be a contender if we had data logging units connected to the Radicals, as he's the only one who can interpret those ffing charts/graphs.
Terry Chen's Response:
I am all for the fun of driving these things as fast as I can go…oh and beat Hayashi of course…BTW, in Dromo, I've only been out qualified by Hayashi once I think out of at least a dozen races…and I have 15 lbs on him, as I found out from this ladder thing…
11. John "I Could Have You All Killed by a Misguided Missile" McCanless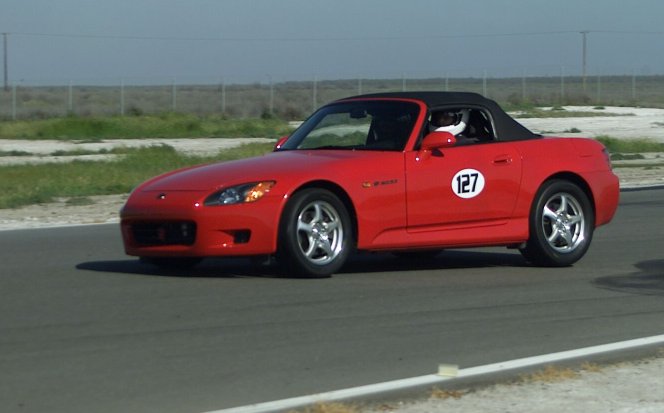 McCanless plans on spanking the field like the Pahrump BDSM Brothels work over their customers
Pulp Racing Analysis:
Almost won the Speed Ventures S2000 Mod class last year. Got whupped by Laifatt this year. Potential dark horse. (Or a dark horse with 3 legs waiting for the rest of the horses to lose their front two legs)

John McCanless response:
OK, so everyone thinks JP, Craig and I are just the "field fillers" among this group of true racers. That's fine by me; I'm always fastest when no one's expecting it. When my car's running right, I'm within 1-2 seconds of Richard, whose car weighs 150 lbs less, has 2 inches more tire *per side*, and sports a BAHFW (Big Ass Highly Functional Wing). I'm also the only SV driver to go through the banking at Cal Speedway flat-out in a non-aero S2000, and I've got the telemetry to prove it.
12. J. P. "Should Stick to the Lab and Lay off the Crack" Kleinhaus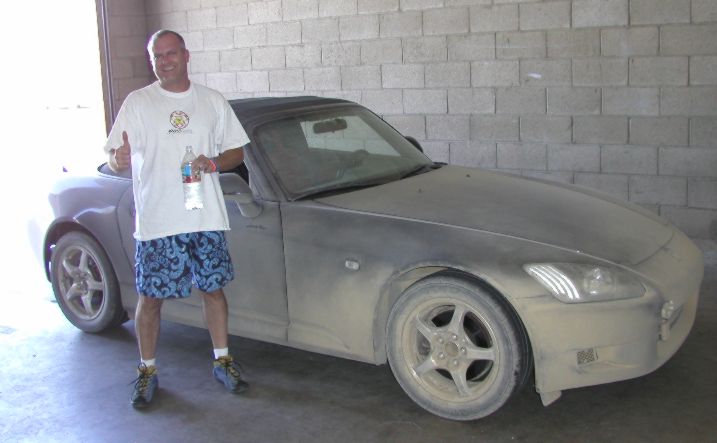 Hopefully the dusty S2000 won't make the Radical West guys panic about him driving their cars!
Pulp Racing Analysis:
Has tremendous weight advantage if we can't get ballast for the cars. (That's nice way of saying he's the Pee Wee Herman of Speed Ventures Racing) Works at the Go-Fast Lab, so some of that speed might be rubbing off on him. But then again, maybe not, as those that can't go fast, usually sell go-fast parts!
J.P. Kleinhaus response:
Takuma who? Hayashi what? I never heard of an Asian driver who drove anything without blowing crap up...small high-revving motors in particular. Morris should fear this guy. All hype, no action I say. As far as Bitterman goes, we all know he's certifiable. Let's see if he can hold a car together for longer than a session without getting intimate with the desert wildlife. I'm not betting on that...
Regarding my placement, you're all in for a big surprise. I've been sandbagging on the SV MOD ladder all year in order to get the odds up on me in the local sports books. It's finally time for my strategy to pay big!
13. Craig "Bottom of Two Ladders Today, Kicking Yer Ass Tomorrow" Oka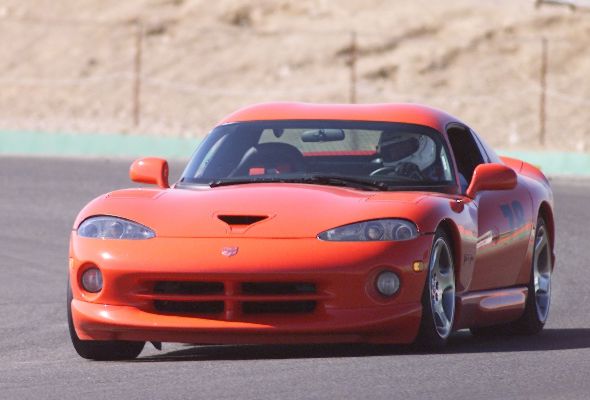 Craig is ready to run our ass over with 2 tons of Made in USA steel
Pulp Racing Analysis:
Is within two seconds of Bitterman at Pahrump in the same car. Only problem is that Bitterman only ran one lap, and Craig ran all weekend! Also has Viper, so could have sleeper potential coming from the back. (If he runs over your Radical with his 10 cylinder Dodge!)
Craig Oka Response:
Doug, let's not forget that we were tied after qualifying at your own Pulp Racing Christmas Invitational Dromo One Championship. But somehow the event coordinator found the tie breaker in your favor... hmmm. Also, I believe I was faster than Bitterman, Wurth, Rhodes and Dearing Sr. at this event. And finally, let's not forget those little bitty (5 hp?) Dromo motors had to lug my fat ass around with no ballast added to the lightweights like you. You're finally gonna feel what it's like to carry around a few extra pounds.
Okay, so Bitterman was faster than me in my own car. He's always fast in other people's cars because he doesn't care if it breaks. However, the fact that this is his event, and that he's already had some cheating bastard practice in Radicals, gives him a slight edge. But remember, the track owner is a Viper guy (he really hates all those Chevys that Rupert left around). There's always a fast car at these kind of events, and I plan on getting it. I know I ain't the fastest driver, but I can cheat nearly as good as you.
Being at the bottom of the ladder doesn't bother me. It'll just put pressure on everyone else if they get beat, kinda like loosing to the Clippers. Plus if I don't win, I'm gonna take the 3400 pound Big Red Monster and run over all the Radicals.
==================
So we will see on November 1st, who will be the newly crowned Champion of the Speed Ventures Radical Challenge, and thus take the top position on the Speed Ventures Driving Ladder.
And yes, there will be an OTC 2005. Details to follow soon.