SKUSA Supernationals, November 20-23, 2008
"Redemption in Las Vegas?"
Pulp Racing Tries To Change Their Luck in Sin City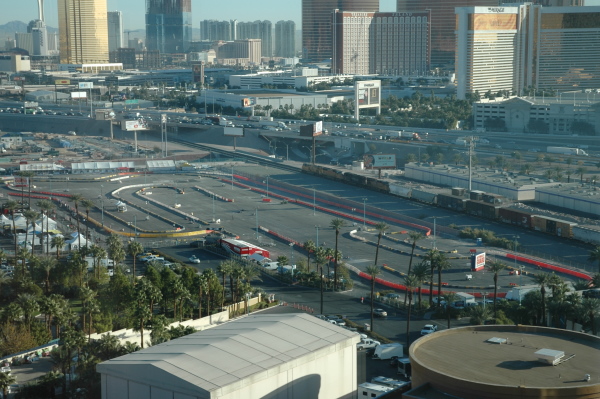 This year's Supernats race was held at the parking lot of the Rio Hotel
Las Vegas. A place where everyone comes to redeem themselves, re-invent themselves, or dig themselves out of a hole with a lucky streak. Unfortunately for us, we need all three of those things to happen. After the disastrous PKC season, Jeff and I decided to see if we can end the 2008 season on a positive note. We entered the 12th annual running of the Supernationals at the Rio in Las Vegas. Tom Kutcher and SKUSA worked out a deal to bring The Supernats back to the Rio Hotel parking lot, instead of having it 20 minutes away at Sam Boyd Stadium. This is awesome, as now we are back in the heart of Vegas, instead of out in the boonies. Wayne hems and haws about doing the Supernats event, and decides that he's going to buy the car that he always wanted as a teenager, and picks up a 1966 Chevelle SS396 in great condition. He also figures that if he blows money on a car, in another year, the car will probably only depreciate 10%, whereas all the money I blew on the Supernats will be essentially gone.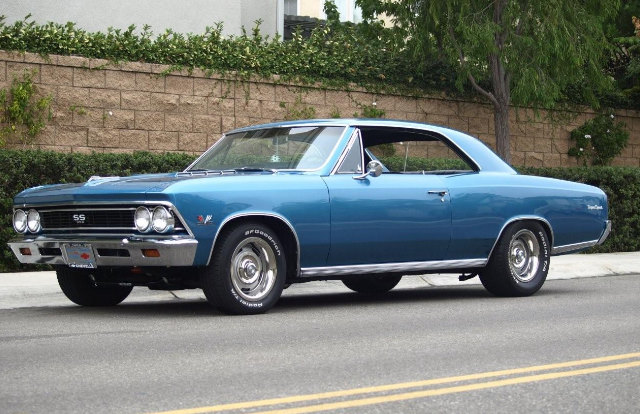 Wayne picks up a great looking Chevelle, and promptly goes into the rathole with it
We decided that we hate our Tony Krypton KRV karts, as it seemed the 32mm chassis were giving us too much grip here in sunny California. (Or it could be that we just can't drive and tune correctly) 2Wildkarting talked us into purchasing the 30mm Tony EVxx chassis, as they they were having good success with that chassis in the TAG class. We decided we would buy two slightly used EVxx chassis from Tony Kart Florida. We took delivery of them, and one of them seemed really good, but the other was just so-so. I decided that I would sell my old KRV and my old 1999 Swedetech stock motor, buy a new EVxx, and put my Darcy Stock Honda on it.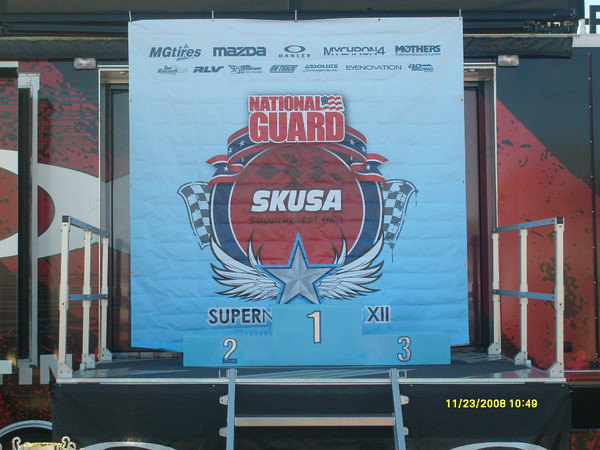 The National Guard was the title sponsor for the Supernats
That's when the rathole started. When we got the layout of the track map for the Supernats, the track looked kinda small compared to previous Supernats tracks. Damn....maybe I shouldn't have sold that Swedetech motor, as the general consensus is that a Swedetech (or any 1999 Stock Honda Motor), might have a slight advantage over a 2001 motor on a tight track. Well.......then I'll go to Plan B, which is that Jeff and I had a spare 1999 Superdyne motor (formerly owned by Nick Halen), that we were using as a practice motor. And it pulled pretty damn strong at the Perris track that we designated as our test track to prepare for the Supernats. So I sent the Halen motor out to get "refreshed", meaning a new top end and bottom end, and figured I would run that motor at the Supernats. I would run the Darcy motor as my practice motor, and then a couple of weeks before the Supernats, I would put the newly refreshed 1999 motor on my kart. Sounds, reasonable, right?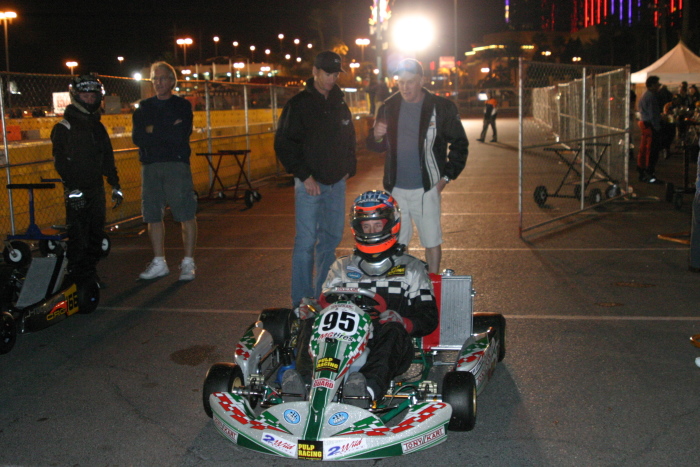 Alex Barron and Wayne getting Jeff's kart ready for some night racing in Vegas
So about two weeks before the race, I swap the newly refreshed 1999 motor on the kart.....but for some reason, the motor just didn't seem fast. Uh oh....panic sets in. It is too late to try to get my 2001 motor refreshed, as I'm sure Darcy Decoste has a ton of motors he's getting ready for the Superpro/G1 classes. I then put my 2001 cylinder on the 1999 bottom end, and test that out. Nope....still didn't feel as peppy as I thought it should. Crap! I'm committed now, I spend all this money for the Supernats entry, travel expenses, new frame, but I don't have a high degree of confidence in my motor. I call Jason, who won a GP kart at the PKC banquet a year ago. He also bought my old Darcy motor that had been refreshed, but hasn't run it yet because he's working 80 hours a week at his new job. I put his motor on my kart, and that feels okay, but not great. This is starting to suck. So then I put my 2001 cylinder on his bottom end (yeah, I know, sounds homo), and then I feel like I have a combo I can live with.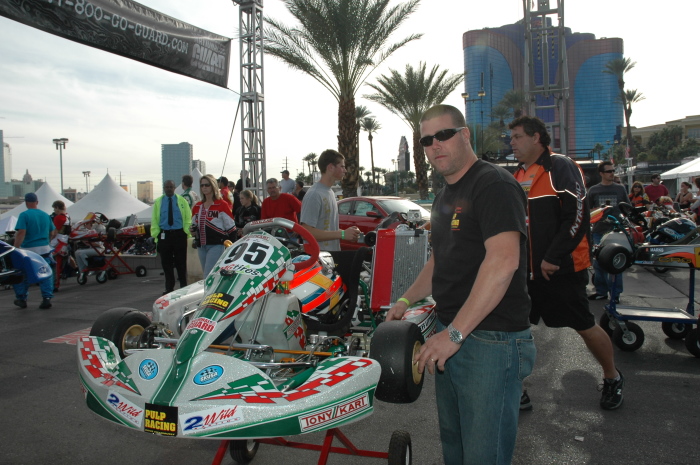 Jason Steaman prepping Jeff's kart for battle
Jeff and I decided we would get some driver coaching from Alex Barron. Alex won the main event at the first Supernationals in 1998, and from there went on to run in the Formula Atlantic and Indy Racing League, and came in 4th at the Indianapolis 500 in 2002. We ran a few sessions with Alex at the Perris (Apex) track, learning a lot of stuff. Also humbled because he can hop into our karts and after about 3 laps, and run about a full second faster than us.
Jeff decides to run in the G1 (built motor, over 35 year old class) this year at the Supernats. There is a $3000 prize for first place in that class. He borrows a practice ICC motor from 2Wildkarting, and also leases a "suit case" motor from Darcy Decoste Racing to be his main motor for the race weekend. Apparently the ICC motors are so finicky, that the engine builders don't recommend that you run your race motor during the six practice sessions during the Supernats race weekend. So you run your backup motor for most of the practice sessions, then swap in your race motor to get ready for qualifying. I decide to run S4 again (Stock Honda, over 35 year old class). I thought briefly about running the S3 class also, but I was getting my ass kicked so bad in the local S3 class, that I didn't think I could qualify top 20 in S3 at the Supernats.
We decide to use the same plan we had for the past five years or so: We pack up the trailer, hand it over to 2Wildkarting, they fill the 48 footer up with their stuff, and they drive it up, and we fly up.
eKartingnews.com had the following preview of the S4 Stock Honda Class:
S4
The S4 division, the stock moto heavy division at the SuperNationals, is entering its third year offered at the event and like S3, continues to grow. Two-time defending class winner Jeff Littrell will move up to the G1 category this season, allowing a hungry group of returnees the chance to earn SuperNats glory.

Littrell's teammate Doug Hayashi will be among the favorites that will be returning in S4. A front runner both years, Hayashi (Tony Kart) was third on the podium in '07 and would like to keep the title 'in the family'. Paul Russell (Tony Kart) was fourth last year however ran a partial 2008 schedule, so that could become a factor come SuperSunday. Utah is again well represented with Ryan Pool along with Todd and RJ Edgington all returning aboard Arrows. They ran sixth, eighth, and tenth respectively.

Representing SoCal will be PKC champions Phil Conte (Trackmagic) and Ken Schilling (GP). Both are looking to turn in their championship seasons for a SuperNats victory. From the Northern Pacific area are a good number of drivers, led by Craig Sender (Intrepid) and Scott Officer (Tony Kart). S4 will also have some international flavor with New Zealander Bradley Alexander (GP) and Oscar Casillas (Italkart).
The Supernats team that Jeff and I have this year we is comprised of Alex Barron, Jason Steaman, Scott Shimane, Wayne Mello, and of course the guys from 2Wildkarting.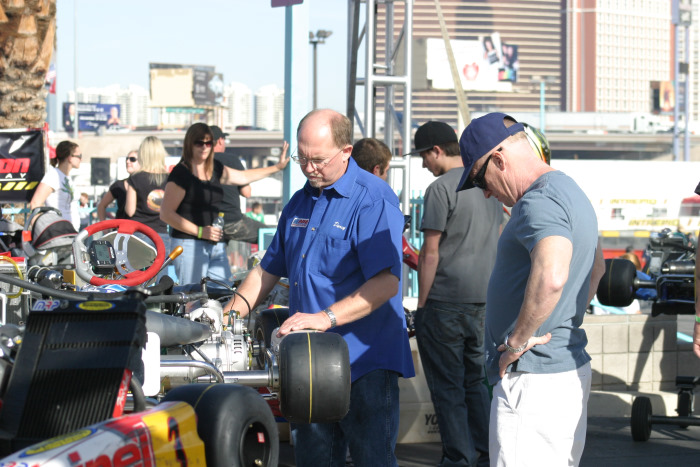 Darcy Decoste and Wayne checking out Jeff's ICC motor
The track is fast and a lot of fun. From the map, it looks rinky-dink. But it person, it's pretty cool. Practice 4 is the first published practice session. I'm duking it out with the Intrepid guys from great Northwest (Weiss/Sender/Perdue) and Jennings and Jones from Texas.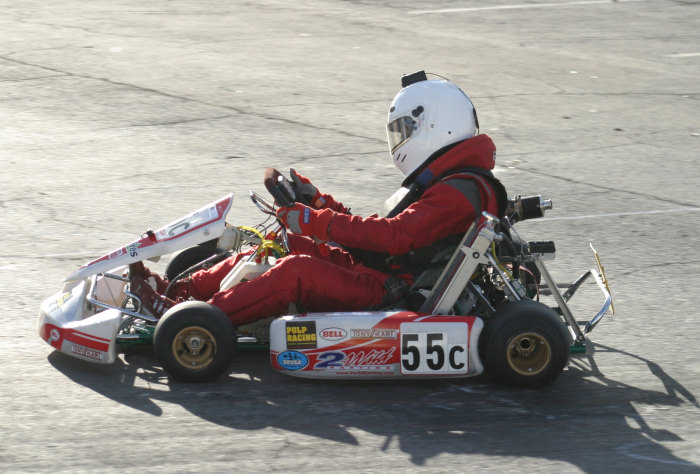 I feel pretty confident about a podium finish in S4
In practice session 5, everyone gets a little faster. Ryan Pool drops into the top 5. Jennings and Jones don't have their transponder on, and are doing a good job of sandbagging for this session. I'm surrounded by Intrepid drivers.
Practice 5 of 6
Final Practice
I'm second fastest, and I think I can go faster. Things are looking good for a spot in row 1 or 2. With a little luck, maybe I can snag pole. I'm thinking if I can win the main, I'll print up some new Pulp T-shirts saying, "Supernats S4 Champs - 2007, 2008, 2009". Yeah....that would be cool.
Qualifying
Disaster. Lots of traffic on the track, and I only get one clean lap, and I blow the one chance I had. I'm slower in qualifying on new tires than I was in practice on old tires. Shoot me in the head. Luckily, I scrounge 8th place, I was worried I was going to 15th or so. Two months earlier, Paul Russell bought my old kart and motor, and immediately crashed the kart in an LAKC race. So then he turned around and bought Jeff's old kart. Using my old motor and Jeff's old kart, he qualifies 3rd. It's like one of my worse nightmares to be beat by my old motor and Jeff's old chassis. So now I have to start all three heat races in 8th position, hoping that I can move up so I can be gridded high up for the main race.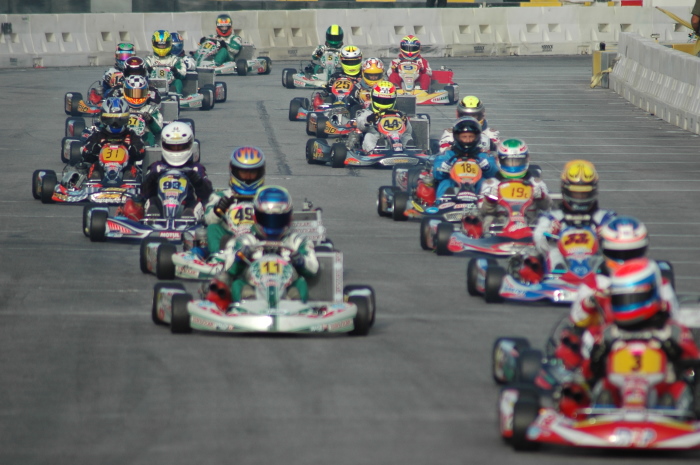 In Jeff's G1 class, he has a decent qualifying session considering his tough competition, somewhere around 8th. But on the scales, he is one pound light of the 405 lb minimum.......so he is disqualified, and has to start all three heat races from 44th position...now that kinda sums up the year we are having.
Qualifying Results
Heat Race 1
I stay clean, and take 6th. New strategy for the weekend is to hopefully roll 6-6-6 in the heat races, which will probably put me in row 2.
Heat Race 2
I roll another 6th.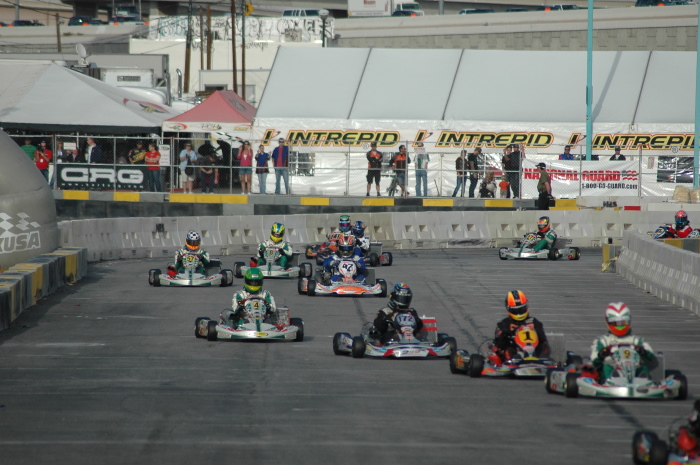 Heat Race 3.
I almost run up the back of Phil Conte on the start and have to hit the brakes, then slot back in after a couple of people jumped by me. I finish 8th, choosing to not be aggressive, as it won't really change where I am gridded for the main.
Main Race
I'm gridded 6th for the main, not too bad. I would prefer to be in row 1 or 2, but row 3 should work. I should be away from any carnage that happens at the start of a race with 36 karts gunning for turns 1 and 2. We are ready for the main. We do two warmup laps, and then they start to grid us. I don't recognize the person lining up the karts on the grid, it looks like somone different. Anyways, Mike Jones is in front of me, and it appears that he wasn't lined up on the red mark for his left tire. He's about 18 inches too far to the right. Crap. That means if he has a bad start, or if I get a real good start, it will be hard to juke to the right. I could turn to the left, but then there is a wall on that side.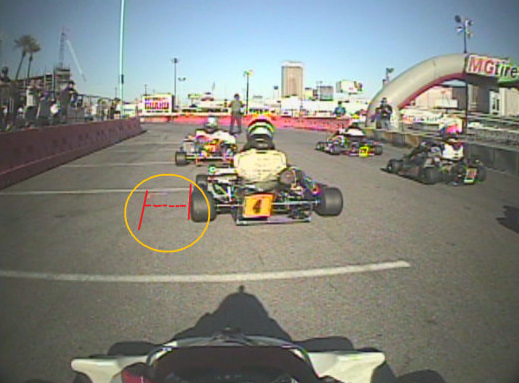 Mike is gridded too far to the right from the designated marker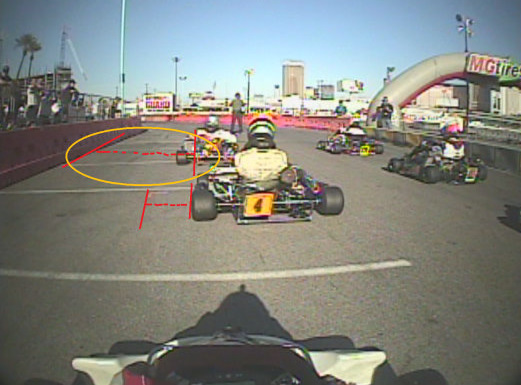 I have been getting good starts. Can I pass on left?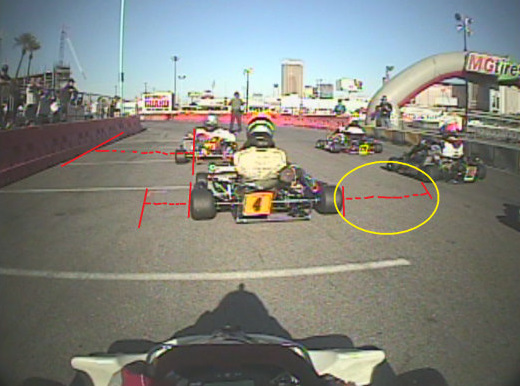 Not much room the right. Left is looking more attractive than right
All lights go out! I get a great launch! We fly into turns 1 and 2, and the demolition derby begins. Karts are bumping into each other, trying to jockey for position out of turn 2.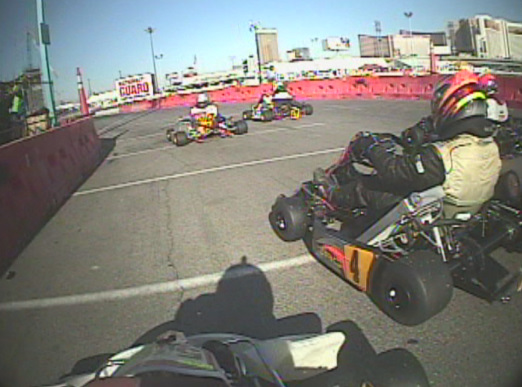 I get on run on Mike Jones, but not enough to pass cleanly. I have to brake.
Calamity then ensues....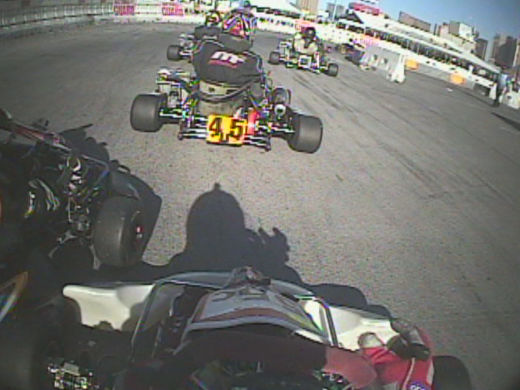 My wheels get tangled up with Ryan Pool, I'm jerking the wheel to get loose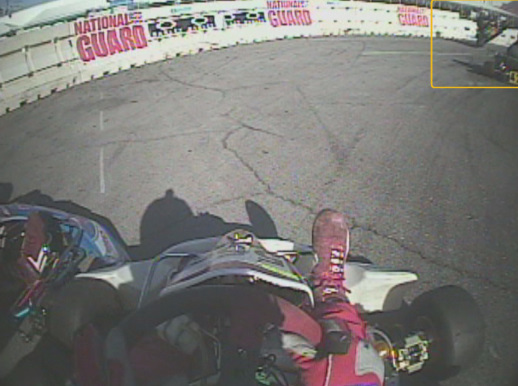 Then Bradley Alexander and I get tangled up. Todd Edgington flies into wall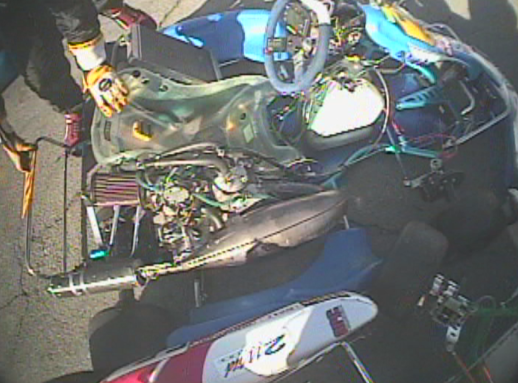 My kart is on top of Bradley's kart. We get out and push start karts. Entire field passed us.
After my kart gets pulled off of Bradley Alexander's kart, I get restarted, but now I'm way behind the field. I have some minor damage, but the kart is drivable. My apologies to Bradley (who flew down from New Zealand) for the incident, as I can't tell if I crashed into him, or if he crashed into me, or if someone crashed into us from behind causing us to collide. I make it halfway through the race but then get blackflagged as the leaders are coming up behind me. At the Supernats, backmarkers are pulled off the track so the frontrunners have a chance to duke it out cleanly for the win. Jennings and Jones from Texas go 1-2 in the main, Conte takes 3rd, Intrepid guys Sender and Perdue fill out the podium. Jennings did what Jeff and I did last year, and ran both S3 and S4. Here's the video of the start of the S3 main: http://www.nsxfiles.com/snats12_main_short_r1_med.wmv

Jeff has better luck in his main, and finishes around 12th or so. My helmet camera failed a bunch of times, and the rearward facing Loser Cam failed everytime, so my footage is minimal from this event.
In the S3 Stock Honda class, 14 year old Brendan Phinny takes 1st place, beating a stellar S3 field that included all the fast PKC guys, NASCAR and Champcar drivers, a couple of ex-super pros.
Full Ekartingnews.com coverage at: http://www.ekartingnews.com/news_info.php?n=11263.
So the year ended as it started, with another disappointing kart racing result. We'll be better prepared next year, and not botch our qualifying session! Paul Russell said it best before the main, "The Road to Supernats Glory is a trail of tears." At least I won a few hundred bucks playing blackjack. We gambled mainly at Planet Hollywood (they have go-go dancers on poles at their blackjack tables) and the Rio. There were complaints from last year's Supernats that the event was too long (5 days), so they cut it down to 4 days this year. Unfortunately, this meant we were at the track from 6:30 a.m. to 9 p.m. every night, so I think enough people bitched that we return it back to a five day event. If five days is too long to be away from the family, or you don't want you kids to be ditching that much school, don't come to the Supernats, as these long days are cutting into my gambling and drinking time at night. You're screwing up my annual Vegas vacation!
Back on the home front, Wayne goes into the rathole with the Chevelle.
1. He decides that the car doesn't stop, so he puts a four wheel disc brake kit on it to replace the drum brakes. We bled the brake system about 30 times trying to get pedal pressure. Turns out you have to remove master cylinder and brake booster out of car, put it on a bench, bleed it manually, then put it into the car, then bleed the rest of the system. Bleeder screws on rear calipers are not on top of the caliper, so you have to remove calipers to bleed the rears. We still can't get good brake pressure. Wayne gives up and pays a guy to bleed it. Still doesn't work good. Then puts on bigger brake booster. After 50 hours of working on the brakes, he can stop now!
2. New seat cushions and springs
3. New shocks and coils
4. Then he dynos car at Autowave, car only puts out 260 hp. Wayne is disgusted. So he buys a $5000 crate motor with a claimed 500+ HP.
5. We finally wedge motor in the car, big ass valve covers make it hard to fit in car. On New Year's Eve, we are successful in firing up the car! We know how to party.
6. Dynos car again. Better, more like 368 hp, but is told that he has wrong carb and header and exhaust setup.
7. Buys new carb setup, now at 405 hp. I'm guessing this rathole will continue until he gets to 500 hp.

Summary:
So Jeff and I end the year with another failure, completing our 2008 Death Spiral. Hopefully Wayne won't get caught up in the same scenario with his Chevelle. He said that it seems that the tranny or clutch makes an intermittent noise, and you know he wants to get to 500 HP so he could ah....drive it back and forth to his Saturday morning get-together with the rest of the old guys who have hot rods at the local doughnut shop.
I plan to get my act together and start publishing regularly, let's see if I can follow through on that!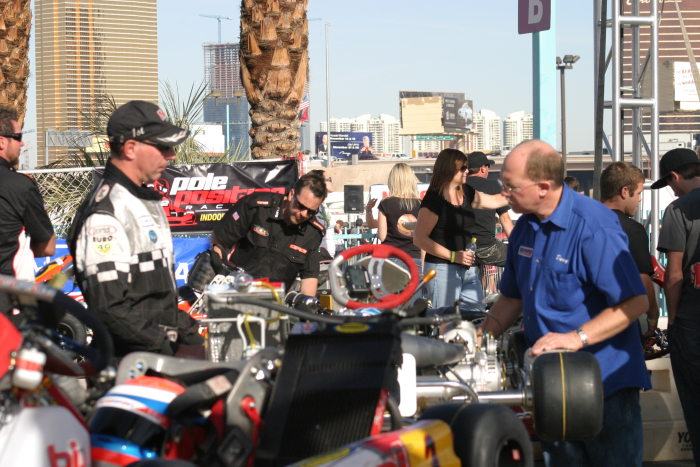 Jeff talking to Darcy Decoste, the brains behind DDR powered karts