Gatorz Cup Race at The Streets of Willows Springs, August 2, 2009
Chariots of Fire
Who Be the New King of The Streets of Willow Springs?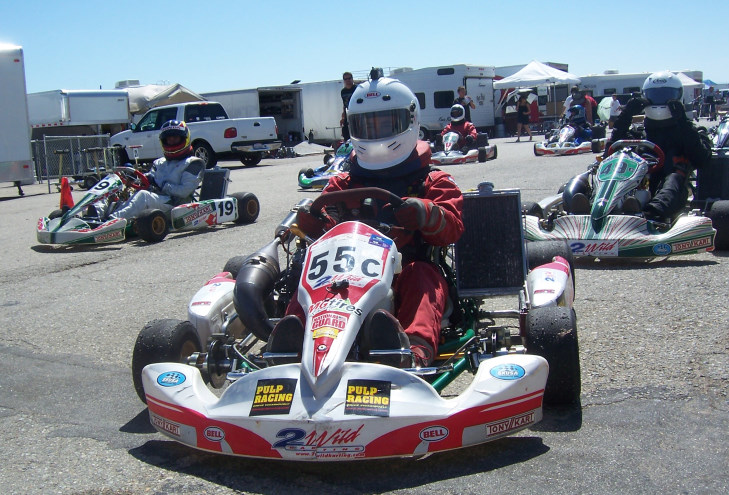 We put on our armor, mount our horses, and get ready to battle at the Streets of Willow Springs
Two updates in a month after 6 months of inactivity? A flurry of activity at the Pulp shop? Yeah....after not doing much due to the economy, kid activities, etc, we have come out of hiding for a couple of special events. The racing switch has been thrown to the ON position, at least temporarily for a few months.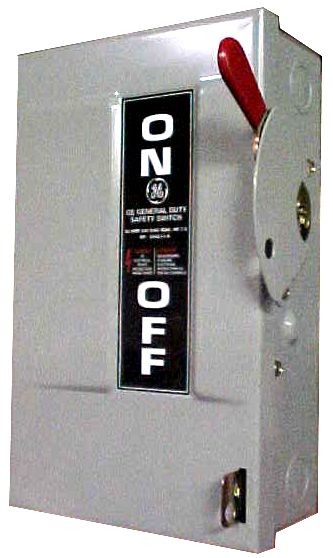 The Streets of Willow Springs motivated us to throw the Racing Switch to the ON position
The Gatorz Cup Race at The Streets of Willow Springs is becoming one of our favorite events. It doesn't have the glamour of the Supernationals, but it does have thrills of its own that make for a great time in a shifter kart. Picture going about 100 mph inches off the bumper of the kart in front of you into a mini-NASCAR bowl turn, and then you drop to the inside, your competitor stays in the middle, and you see who is going to wimp out and lift off the gas first, and thus come out of the turn last. It kinda reminds you of that Al Pacino speech in Any Sunday.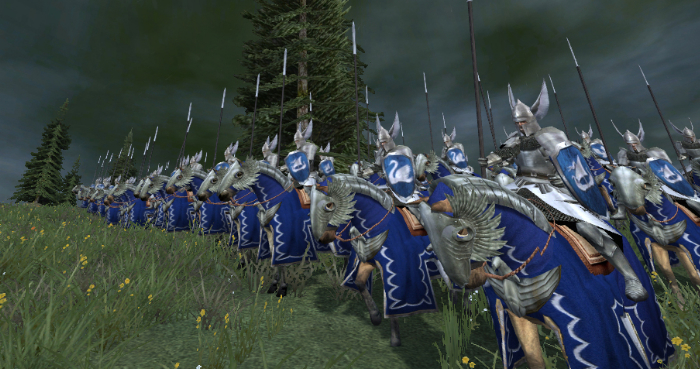 In the old days, they only had one horsepower when they went to battle
Anyways, here's the story......
Last year at the Streets of Willow race, we had about 9 shifter karts entered. I currently hold the title of "The King of the Streets of Willow" since I won the Gatorz shifter class last year at this track. Since I've been bragging about it for 12 months, there are now 20 other drivers eager to take my title this year and shut me up. The field last year was "weak" in that the fast guys from the ProKart Challenge didn't show up. This year is different. Mike Robbins from Select Shifter brings his two fast guys, Patrick Cushenberry and Clinton Schoombee, who are currently 2nd and 3rd in points in the intensively competitive ProKart Challenge S3 Stock Honda class. Rumor has it that Patrick Cushenberry is now living at Mike Robbins's kart shop for the summer, eating/drinking/breathing/sleeping with karts 24/7. If you are 20 years old, that is a great job to have. No wonder he's getting faster.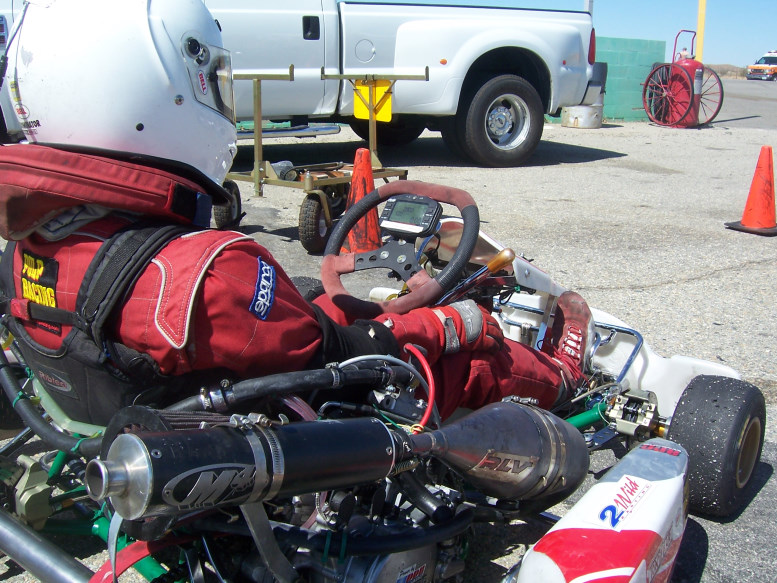 38 thundering horses next to my elbow, waiting for my beck and call
Bobby Legate is entered also, and is rumored to have a leased, built Honda motor that engine builder Darcy Decoste wanted to test out. Always fast Jimmy McNeil is there also, sporting a cheating bastard programmable ignition on his Honda motor. A bunch of other people are there, Randy McKee, who ran fast last year, and PKC S4 podium contenders Rob Whitley and Ken Schilling.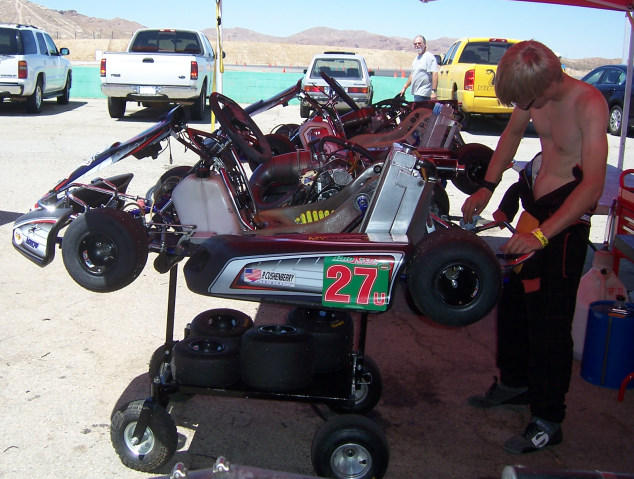 Cushenberry, currently 2nd in PKC S3 Stock Honda overall points, thinking he can become the King
I decide to put a little more effort into this event than the last Buttonwillow event where Wayne and Jeff whupped on me. I own 2.5 motors (Jeff and I share a motor), and I went through the task of trying to figure out which motor parts were best. This is a pain in the ass.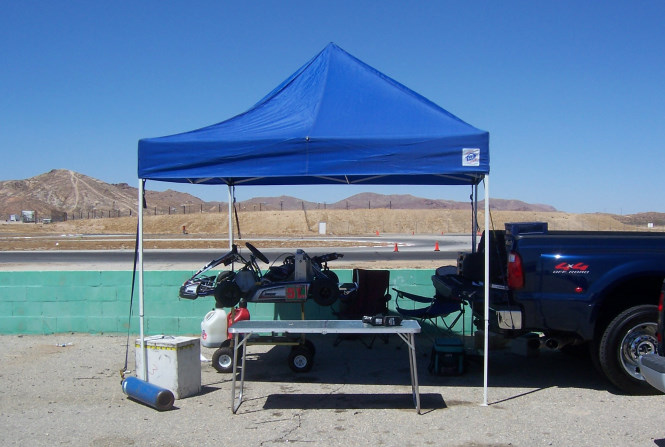 Legate's #51 kart, with a fresh, leased, modified Honda 125 ready to unleash havoc on us Stock Honda guys
I put all the motors on a bench, took off the cylinders/heads/pipes/silencers/reed cages/intakes/air filters/etc, and came up with what I think would be a good race motor. I used bottom end of motor #1, cylinder of motor #2, and head of motor #3, pipe from motor #2, silencer from motor #1, air filter motor #3, reed cage and intake of motor #2. I think these are the pieces I need to make a Streets of Willow Stock Honda killer motor.


Motors on the table. Not sure how I got this semi-time lapse panorama picture from my phone, but it looks cool.
Andy Seesemann organized the event so we have a Saturday practice, and race on Sunday. NCK Roadracing guys are at Willow on the big track, and have offered to allow anyone entered in the Gatorz practice on the Streets to drive on the Big Willow track from 4:30 p.m. to 5:00 p.m. on Saturday, free of charge. Awesome! So instead of being on the regular 6/10ths of a mile Willow Kart track, we get to race on the 1.8 mile Streets of Willow, and also do a "test run" on the 2.5 mile long Big Willow track. As a comparison, for those of you have only been on an indoor kart track like Dromo or K1, those tracks about 2/10ths of a mile long.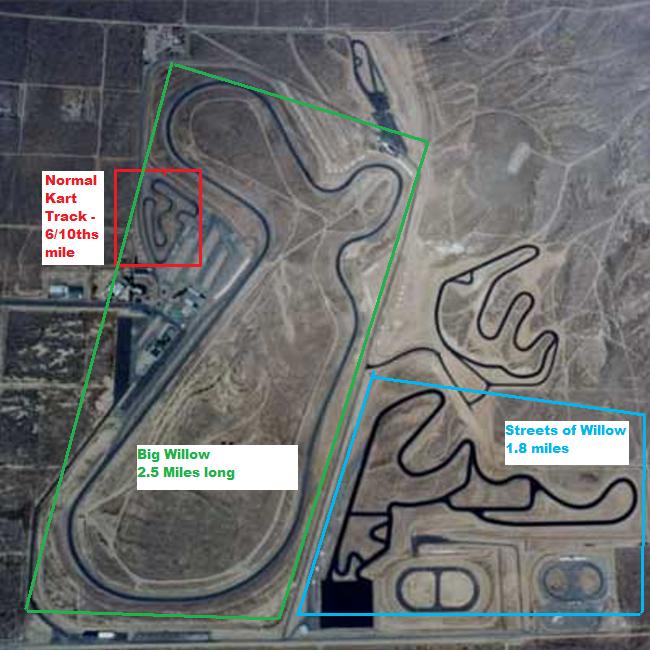 Satellite view of Willow Springs. Regular kart track vs. Streets of Willow vs. "Big Willow Main Track"
I decide that I don't want to be tired for this event, so I drive up on Friday at 10:00 a.m and will stay over night, instead of driving up at 5:00 a.m. Saturday morning. My plan is to pull into Diamond Jim's Casino at 1:00 p.m., test my skills at live poker at until 4:30 p.m, and then go drop the trailer off at the Streets of Willow. After an hour long delay at the shop because it appears that the battery powering the trailer lift died (it didn't die, it just needed to be "reset" by disconnecting the battery), I get to Diamond Jim's at 2:00 p.m. I play their Hold Em No Limit, $100 buy in game with $3/$5 blinds. After 2.5 slow hours, I leave up $150 bucks.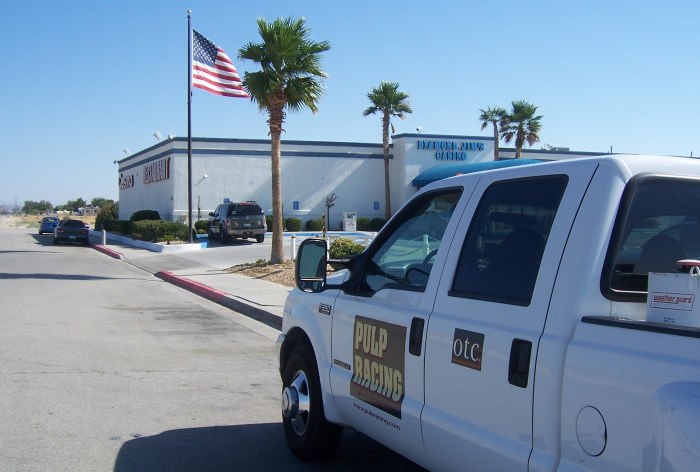 Diamond Jim's Casino, off 14 Freeway, exit at Avenue A in Lancaster/Rosamond
I get to the track drop all the stuff off, and then proceed over to the Holiday Inn, get checked in, showered, and then I'm ready for some more poker. Back to Diamond Jim's, and I am hoping to get into their $200 buy in game, but there is a line of people for those tables and the $100 NL table. I opt to go for the $40 No Limit, and wait until a seat comes up for the other tables. The $40 NL blinds are $1/$2, and the people are playing crazy in this game. People are going all in with hands like Q7 suited, A7 offsuit, and getting caught.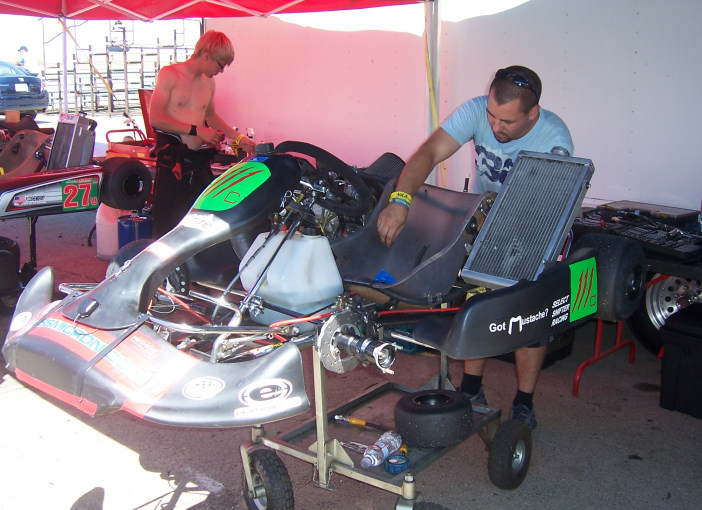 Clinton, 3rd in PKC points race, thinking he's going to become the new King of the Streets of Willow
After 3 hours of playing, I cash out, and am up $150 bucks. Hummm.......people in Lancaster seemed to have failed their statistics class when they were younger. I wish this card club was closer to my house....it could fund my racing!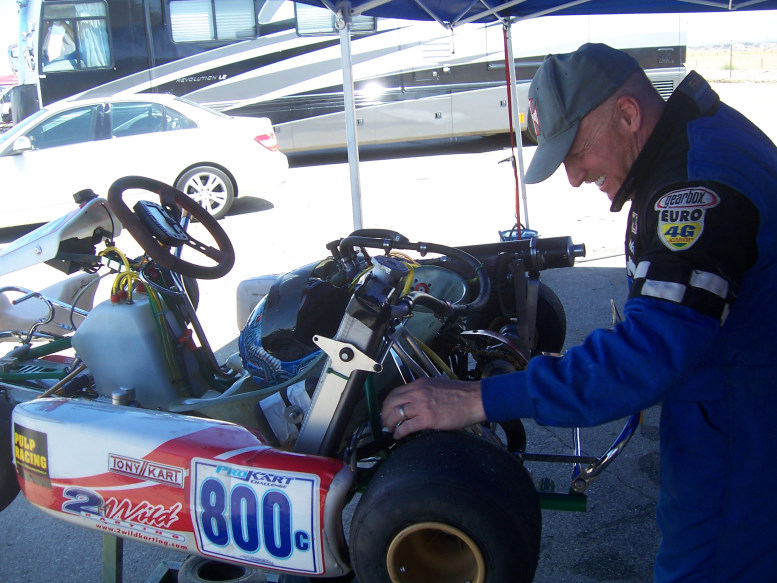 Wayne checking his kart. Nothing has fallen off his kart in race in quite a while. He is quite proud of that!
Practice Day
I get there around 10:00 a.m. or so. No rush to get on the track, as I figure I'll let the early birds get all the dust off the track. My first session out, the kart feels real good. The next couple of sessions out I try different gears, 18/23, 18/22, 16/20. The 18/22 is a bullet down the straights, but it is between shifts in a lot of the corners. 18/23 feels good in corners, but over revs down the straights. 16/20 seems about the best, right inbetween the others. I run in the 1:20's on old tires. I think I could be the fastest or 2nd fastest guy on this practice day.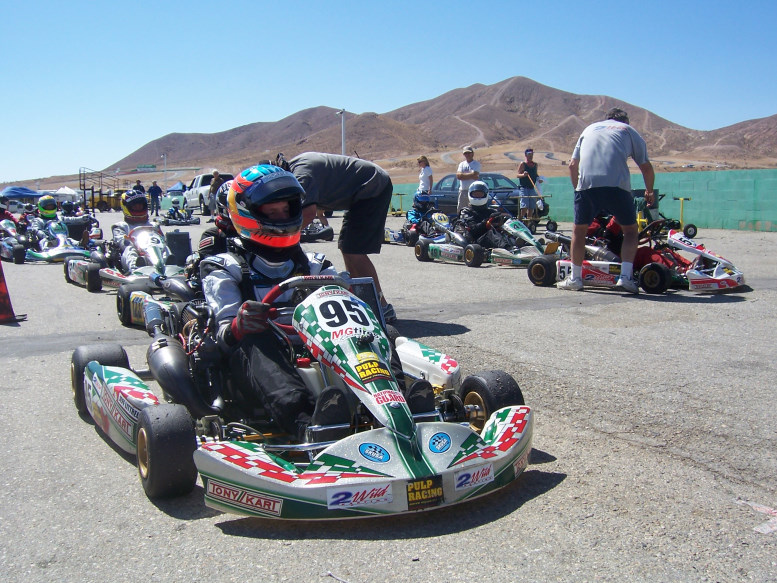 Jeff astounded that Wayne and I beat him in qualifying for the first time in a long time
Last year, I set the "track record for Stock Honda shifters verified by a transponder" with a 1:18.9, and I think for qualifying tomorrow with new tires, I can beat that. Wayne's in the 1:20's also, and Jeff seems to be a second off, as if his motor isn't quite up to par. As a comparison, I think my Honda S2000 on race tires will do about a 1:31 on this track, and the NSX on slicks would probably do about a 1:26 or so. They announce that Wayne has the fastest straightaway top speed of all the karts there in the practice today, at 102 mph, clocked using a radar gun. I maintain that they didn't have the gun pointed at me when I was doing my blazingly fast runs down the straightaway. McNeil tries Cheating Bastard trick of using programmable ignition, but instead programs engine to explode. Ooops.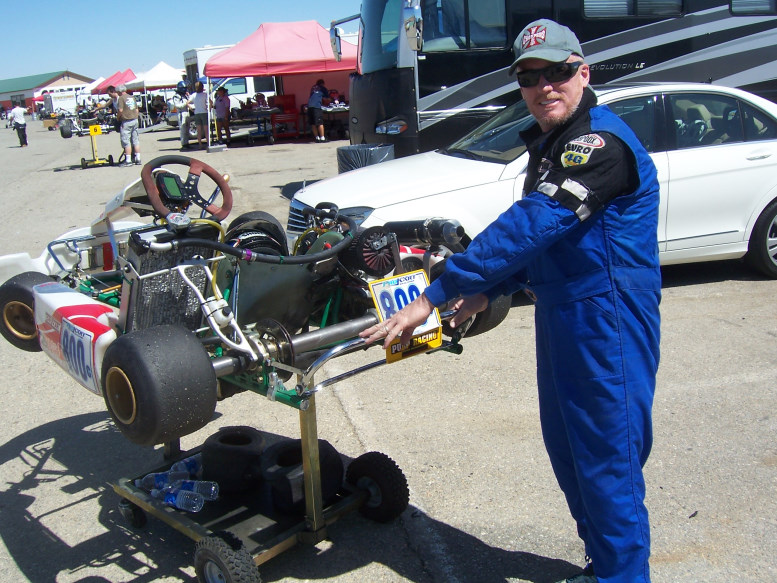 Wayne, happy that he had top speed of 102 mph on the radar gun down straightaway on Saturday practice day
Around 4:00 p.m. we prep our karts with a big ass gear for the 30 minute practice at Big Willow. I suggest an 18/19 gear, as the main straightaway at Willow is really long. I mean, look at the comparisons of the track sizes above, and you can see why I thought we were going to hit 120 mph down the main straight or the back straight on Big Willow. We get there, and the wind is blowing hard against as we go down the straight. How fast do you think we get for top speed? Take a guess.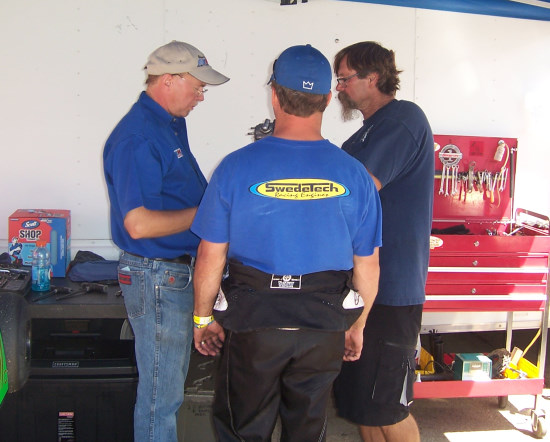 Darcy Decoste and Mike Robbins see if they can fix McNeil's blown up cylinder
The answer is.....only 105 mph. You don't have to brake for turns 6, 7, 8, 9, or 1 in a shifter kart on the big track. I thought we would run about a 1:30 laptime on big Willow, but we were only running 1:37's. It could have been the wind blowing against us down the front straight. Jeff wins the $5 bet between Wayne, him and I for fastest lap. As a comparison, the S2000 would do about a 1:36 on race tires, and the NSX about a 1:24 on this track.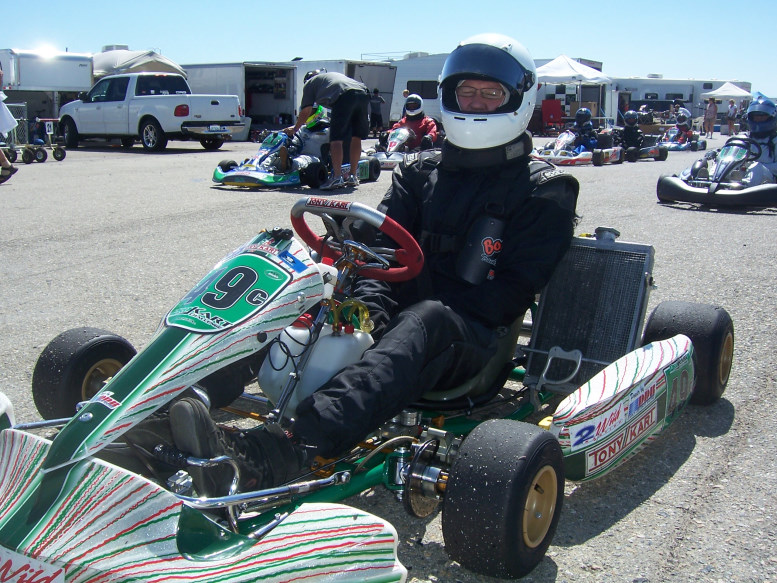 Rob Whitley, currently second in PKC S4(Stock Honda Old Guys) points, snoozing before the main race
So it seems like the shifter kart is aerodynamically challenged on such a fast car race track with minimal turns, whereas on a track with lots of turns like the Streets of Willow, the shifter kart will be a lot faster. There is some discussion in the pits that since the race tomorrow will group all of the shifter classes together (S3, S4, S1, G1, DD2), is there going to be a minimum weight? Patrick Cushenberry and Randy McKee will benefit the most if there is no weight, as they will probably weight in 40 lbs below the standard minimum weight of 385.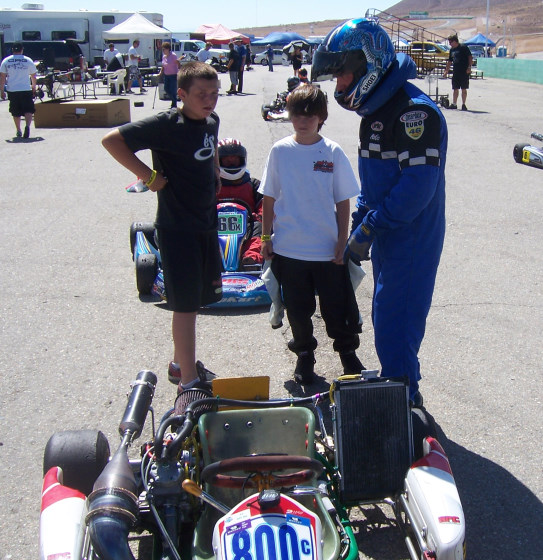 Wayne explaining the importance of racing a mechanically sound shifter kart
Sunday, August 2nd, 2009, Race Day!
We have one practice, one qualifying, one heat race, and one main race. Mike Robbins comes by and says that Cushenberry will run add weight to run at 385 lbs, so we all agree in the pits to add lead to the karts to get them to at least 385 lbs. In practice, I run a 1:19.9. I figure once I put on my old tires, I can throw down a 1:18.x. I check my reeds, discover that one of them looks a little frayed, so I replace that. I also notice that the gas tank is leaking where it bolts into the frame. I'm a genius, that could have caused a DNF or I could have run out of gas. I swap out a tank from my old kart. In qualifying, the best I can get is to a 1:19.6. Ack! What happened. I thought with new tires I would be a second quicker. Legate takes pole with his built motor, Clinton beats me again by his usual half a second. Wayne says he doesn't like my 16/20 gear, and is going to change back to 18/23, and starts changing his gears and his chain.
Heat Race
I'm gridded 3rd for the ten lap heat race. As we are sitting in pre-grid, the race official gives us a 3 minute warning signal, so we all fire up the karts. The shifter karts have to be "push started" to fire up the motor. Ryon gets behind Wayne and push starts him, but nothing happens. He pushes again, nothing happens. Mike Robbins sees that Wayne is in trouble, takes a look. There is no chain on Wayne's kart! Apparently when he changed gears, he put the chain on, but didn't put the master link clip in, so the chain fell out when he was pushing the kart to pre-grid. Nice...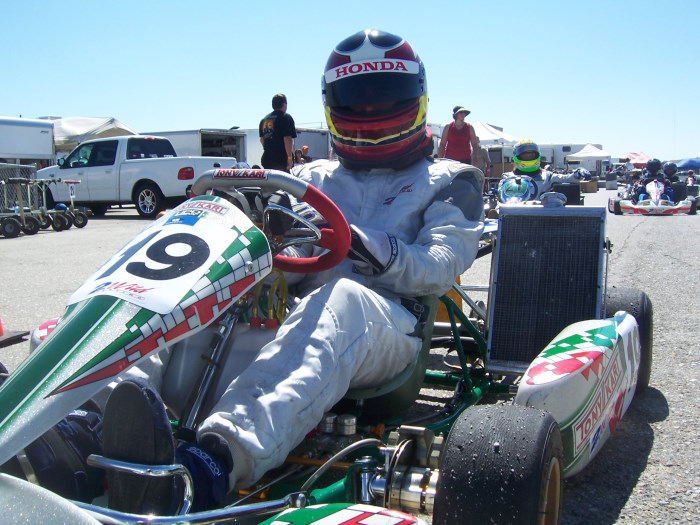 Ken Schilling makes an appearance at the Streets of Willow. He's currently 3rd in PKC S4 points race
He's scrambling with some help from Mike Robbins and Ryon Beachner to get the chain on in time for our run group, but he's too late. He gets on the track, and halfway to the grid area, they throw the green flag and the race is off, with Wayne spotting us half a lap behind us. Bummer. He never makes up the ground. I finish 3rd in the heat race, and I slow down the last few laps as I have a big lead over Jeff, and Cushenberry has a huge lead over me.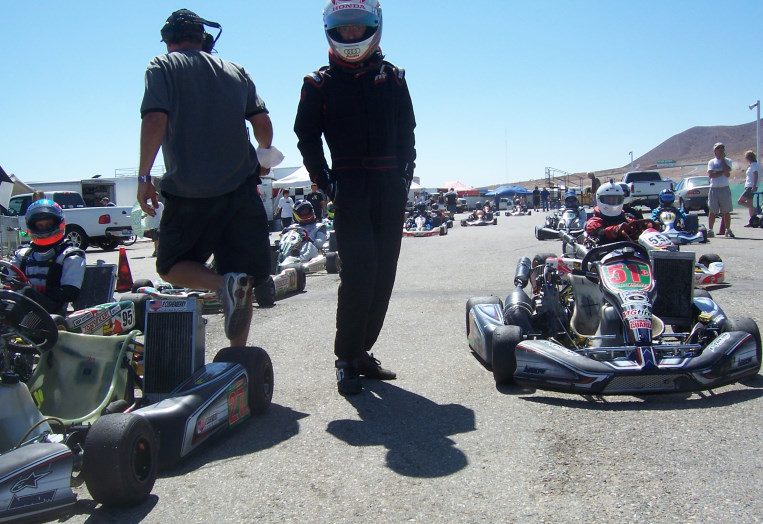 Cushenberry liking his spot in P2 on the front row. Jeff and gridded behind him. Legate's 51 kart in P1
The Main Race
Okay, it looks like we are ready to race for all the marbles, and crown a new "King of the Streets of Willow Springs". Green flag drops, and I get a rare bad start, probably because it is touchy to launch with the big gears without stalling the kart.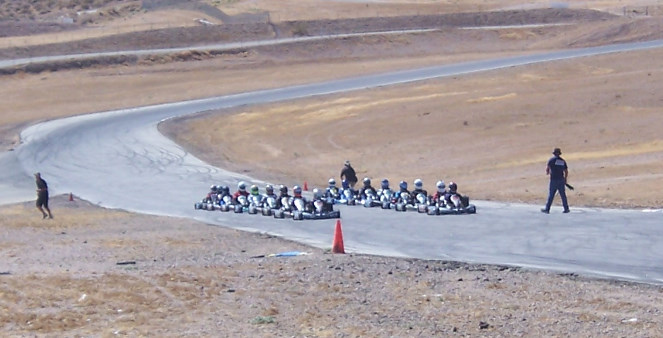 Legate, Cushenberry, Hayashi, and Littrell at the front of the pack for the main race
Jeff and Rob get by me going into turn one, but in a couple of laps I get back by them in the NASCAR bowl area. My kart is feeling good. I think I can hold onto third place, as Legate and Cushenberry are pulling away into the distance. On lap 7, disaster strikes. Apparently I didn't tighten down the bolt that holds the gas tank onto the kart. The gas tank is between my knees, and now going into the high G turns I have to hold the gas tank that has about 12 lbs of gasoline in it. I need to make sure it doesn't fall out or pull the gas lines out of the tank.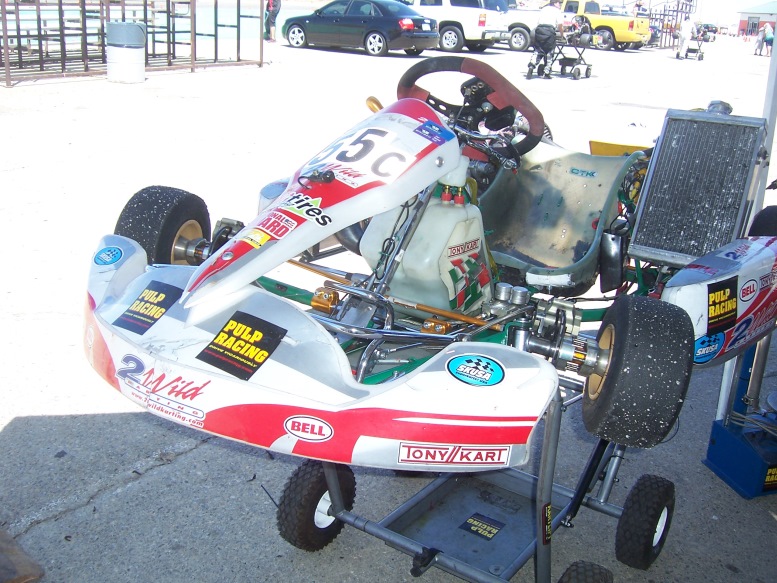 Stupid ass me had the bolt holding the gas tank fall off in the main race. 2.5 gallon tank is moving around between my knees
The kart seems unstable as I throw it into a turn and the gas tank is thrown from one side to the other. My lap time drops from 1:21's to a 1:23 on lap 8, as I try to figure out if I can hold on for 8 more laps. McNeil smells blood, and gets by me in lap 9. Arrgh! Didn't he start in 20th position? This could have been the first time I've beaten McNeil in about 7 races. The next lap, McKee gets by me, and now I have Jeff, Wayne, and Rob all swapping positions right behind me to see who is going to shut me up about being the King of the Streets. Rob said he had more gear so he can go a little faster into the NASCAR bowl, but then either Wayne or Jeff would get by him on the corner at the end of the main straight. Me, I'm now trying block and weave, as I can hear the roar of motors right on my bumper, as I try to hold my position and my gas tank. Jeff makes a move on me into the straight going towards the NASCAR bowl, but he tries it on the OUTSIDE. I'm watching for a guy trying to make a suicide pass on the INSIDE, and I didn't see him there on the right. I almost run him off the road into the dirt going 95 mph. Ooops, sorry about that, I was letting my kart drift to the outside to setup for the next turn, and Jeff had a run on me to the outside, and he didn't want to turn the wheel to the left (which would scrub off some speed), so he tried to get by on my right. Jeff gets out of the throttle momentarily, which is enough for me to hold 5th place. Unfortunately, I forgot to plug the battery into the microphone of the helmet camera, so I have picture but no sound, which makes it boring. To make matters worse, the Loser Camera didn't work either, apparently the camera device is broken.
At the scales, it appears that Legate beat everyone with his built motor. And then Cushenberry whupped on the rest of us by 16 seconds to take 2nd place, but then is disqualified because he weighed in at 383 lbs, which is 2 lbs below the minimum. So it then appears to me that the legitimate new Stock Honda King off the Streets of Willow appears to be Randy McKee. McNeil (who ditched his programmable ignition after it blew up the motor) is right behind him, and ha also dodged a bullet as his radiator bracket broke, and was dragging on his rear tire. It was just a matter of time before he had a blowout going 100 mph. I think I could have held both of them off if I woulda screwed my gas tank in, and then I would be the Stock Honda King at the Streets for two years in a row. Woulda coulda shoulda....
Anyways, all the shifters guys agreed that the Streets of Willow is one of the most fun tracks in a shifter kart around. It has high speed straights and turns, big hills, NASCAR bowl, a chance to see how deep you can brake and how long you can keep your foot on the throttle before a turn, drafting, and the chance to make a lot of passes (compared to a short kart track). Wayne said he would race there every month, as it would be like going on a crack cocaine binge every four weeks. We had 20 shifters in this race, and I think for next year Mike Robbins from Select Shifter and Pulp Racing will put up some prize money and maybe a Pulp wallet to see who will become the 2010 Streets of Willow Stock Honda King. Maybe we can get 30-40 shifter karts next year.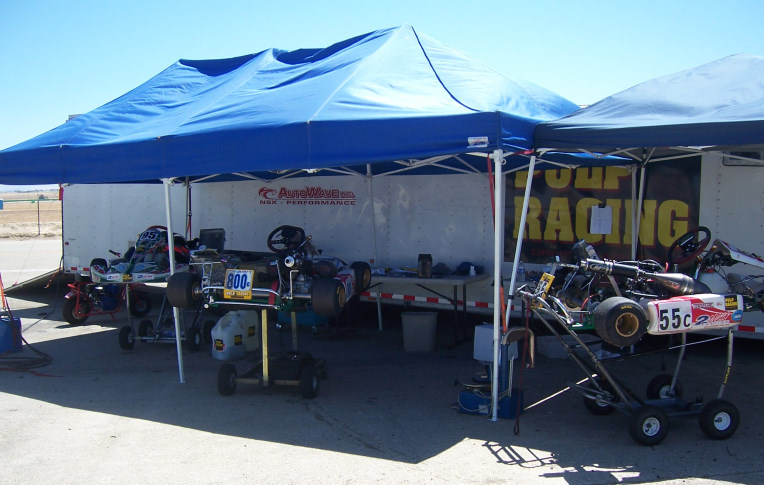 Our home base at the race track
I bitch to 2Wildkarting about Tony Kart making gas tanks that leak, which inadvertently caused my problems in the main. 2Wild asks me, "Did you put a washer between the frame and the gas tank. If you don't have the washer there, it will strip out where it screws into the tank". My response, "Uh no I uh...didn't do that. But then again, why don't the DAMN ITALIANS build the washer into the fitting of the gas tank? Or better yet, build it into the fitting of the frame. But NOOOOOO......they make us dumbass end user types like me have to remember to put an extra thick brass washer between the frame and the gas tank. Here's a link to the Gatorz writeup of the event.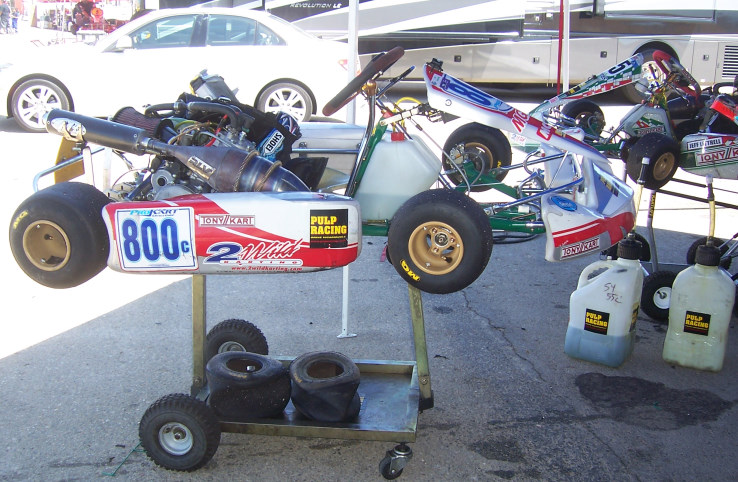 Wayne's kart is pretty fast....when he remembers to put a chain on it
Manny Ramirez Bobblehead Night, July 22, 2009
The night before the Dodgers gave away 50,000 Manny Bobbleheads, Homer Bailey hits Manny with a pitch right on the left hand. As a result, Ramirez's hand is bandaged up, and he is out of the lineup for his own Bobble Head night.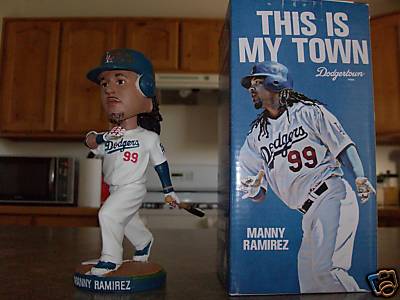 d
I wish I went to Manny Bobblehead Night
Bummer to all those fans who paid for a ticket to get a bobblehead doll and to see Manny hit. Ramirez doesn't even try to take batting practice on Wednesday. Then, in the sixth inning, tie game with bases loaded, Manager Joe Torre calls on Manny to pinch hit. Manny comes out to bat, the crowd goes crazy, chanting MANNY! MANNY! On the first pitch, hits a rocket line drive home run right into the left field stands designated as "Mannywood". The crowd GOES CRAZY!
You Tube videos: This is what it means to be fan:
http://www.youtube.com/watch?v=hgfvbg1XHig
http://www.youtube.com/watch?v=gs7LYEuvACU&NR=1

August 17, 2009. The Los Angeles Dodger have been playing sub .500 ball since the All Star break. My parents and sister go to a Dodger game, and I tell them to buy me two Manny Ramirez wigs. Cooper and I are going to get our mojo going on Manny when he gets up to bat on TV. Manny needs to get out of his slump, or else the Dodgers ain't going to the World Series.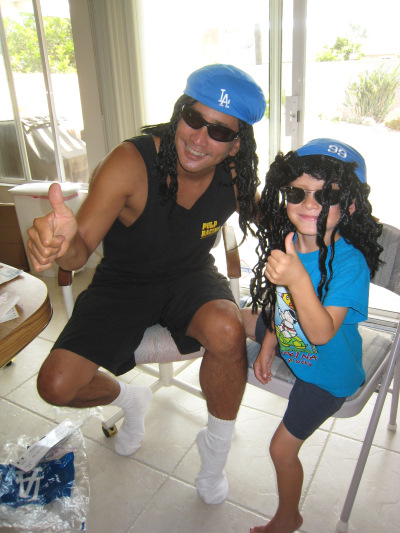 When Manny comes up to bat on TV, Cooper and I will put our Manny wigs on
Cholesterol Check
So Wayne gets his cholesterol checked, and he's around 239. He says I should get mine checked, as I eat worse than he does. I tell him that I don't eat breakfast at Woody's Restaurant seven days a week like he does, so I think I should be okay in terms of diet. I go to get checked, and it comes up 204. Which is borderline bad, meaning they prefer it is under 200. My doctor says that I could take a statin drug, which would drop it to 160 or so. Or I could change my diet. I explain to the doctor that I eat three cheese pizzas and three steaks each week, and he says that it wouldn't hurt to cut down on that. So I could either:
1. Change diet
2. Don't change diet, take statin pills
3. Change diet and take statin pills
4. Do nothing, carry on as usual
Messley reads me the riot act, since with his tree bark/leaves/insect diet, he hovers between 95-105 with his cholesterol. He says that the danger is not that you'll die of a heart attack, but that you'll get a stroke and be confined to a wheel chair for the next 40 years. I decide to cut out the pizza and steak cold turkey. After the first week of the "no pizza, no steak" diet, I drop 5 lbs immediately, and I get back to my fighting weight of 165. Earlier, I was hovering at 170 lbs, which is the most that I have ever weighed. I now feel that I have a little more pep, but I don't feel as strong when lifting weights. MY trainer recommended that I start using Monster Milk powdered supplement to replenish my body. Wayne opted for the statin pill method (of course), so we'll compare notes in a couple of weeks to see who's doing better in terms of cholesterol. He's kicking my ass in bench pressing, as he's benching upwards of 250 lbs despite only weighing 170 lbs. He thinks he's going to get to 275 lbs with his bench pressing, I think he's going to crush his larynx. I'm struggling at benching 195 lbs with my non-creatine diet. Uh oh....4 weeks later, body weight is at 163 lbs on August 22nd. I'm withering away without my 3 servings of pizza and steak each week. Maybe I will have to take creatine to keep up muscle mass? Hummm......
Law and Order
What the heck happened to the TV show "Law and Order: Criminal Intent". It used to be the best of the Law and Order shows, and this season it seems like they have 19 year old college interns writing the scripts. Did they fire all the good writers, or did they cut their pay so much that the good writers quit? Anyways, the show kinda sucks now. The wife is disgusted by how bad the plots are.
Continuing my rant on Real Estate and the economy
Call me skeptical, call me a guy who needs a tin foil hat, but it seems to me that the economy and housing is in the crapper. Some more data points:
1. http://globaleconomicanalysis.blogspot.com/2009/08/brace-for-wave-of-foreclosures-dam-is.html?ref=patrick.net - A wave of foreclosures is coming.
2. http://huntingtonhomes.freedomblogging.com/2009/08/06/surf-city-home-offered-for-23-million-reverts-to-the-bank/52049/ - one of the biggest new houses in Huntington Beach goes back to the bank
3. http://www.minyanville.com/articles/housing-recovery/index/a/24076?ref=patrick.net Scratch your head about the "recovery" that people are talking about.
4. http://www.latimes.com/business/la-fi-mortgage-defaults21-2009aug21,0,4202530.story?ref=patrick.net Mortage defaults soar to 13%
5. I told the landlord's management company that they need to lower the rent of the house we are living in. They dropped it $300. When was the last time you ever had an existing landlord lower your rent $300?
Softball
Picking up from the last chapter. We won the first game, then lost the next six games. But then a bright light shines. We beat the first place team! Then the next week, we beat the other team that was in first place by a score of 4-1, which is unheard of in coed softball. Usually the scores are like 15-11. We did everything right, we made the diving plays, running catches, big throws deep in the hole, etc. And we won the last game. So we finished 4-6 for the season. Next season starts last week of August, so we could be primed for a championship season.
Cell Phone
My trusty Verizon 6800 is on its last leg. The external buttons are starting to not work, occasionally it locks up and requires me to remove the battery 5-10 times until it reboots. Verizon is supposed to launch the HTC Touch Pro 2 any day now. Rumor has it that it will ship to customers on August 27. The Touch Pro 2 has an 800x480 screen. By comparison, Apple's wimpy iPhone is 480x320 screen resolution. I think bigger is better when it comes to screens on phones and laptops. The iPhone screen vs. the Touch Pro 2 comparison will be like a 17 inch laptop vs. my Dell M2010
Poker
I entered into a Full Tilt FTOPS Hold Em Tournament. 5600 people coughed $300 each to enter. First place paid $290,000. Unfortunately for me, I got crappy cards and finished a miserable 4600th or so. Bummer. I was down to my last $33, and then I was going to quit online poker for the rest of the summer in disgust. I said screw it, and entered a $33 nine person tournament and took 1st and $148. I then figured I was on a hot streak, so I entered a $100 nine person tournament, and I won that! I proceed to win a few more. Update: August 19, 2009. I am still maintaining a four figure balance in my FT account. And still trying to battle my way back to even!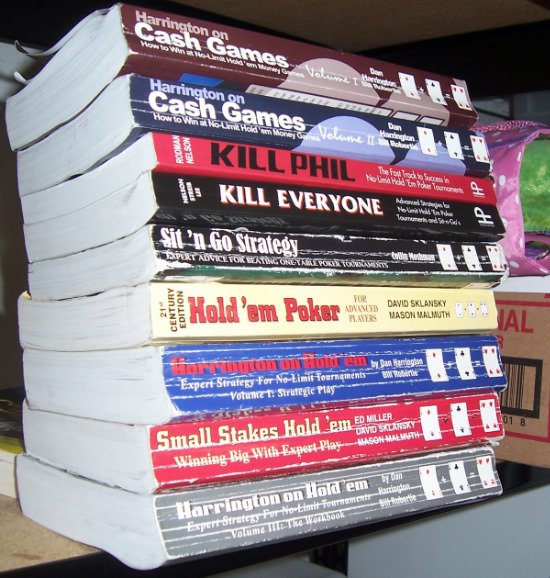 A subset of my daily reading material
Streets of Lancaster Grand Prix
So it looks like the City of Lancaster is getting ready to have their first Streets of Lancaster Grand Prix in October. Team Pulp will be there in full force. Tri-C Karters are putting on the karting event, and they don't have a shifter class. Select Shifter head honcho Mike Robbins is helping the City of Lancaster out with this event, and was able to convince them to add a shifter class. We'll be the main show at this event, since the shifter karts will be faster than the other karts that will be there. We do it because like Al Pacino said earlier on this page, "That's What Living Is!" Normally we only have about 20-30 spectators watching our regional races. We'll be going wheel-to-wheel at 80 mph hour on Lancaster Boulevard, between barriers, with hundreds or maybe even thousands of people watching us and cheering us on. It might just be like a mini Long Beach Grand Prix for us. There is bunch of trash talking about this event on the ARG Blog, where it appears that the two titans of Internet "bench racing" (Team ARG vs. Pulp Racing) will meet for the first time IN THE SAME CLASS AND THE SAME RUN GROUP. We finally go mano-a-mano. This is the article that re-ignited the war of words between Team ARG and Pulp Racing. Watch the ARG blog for press releases that are published almost every day.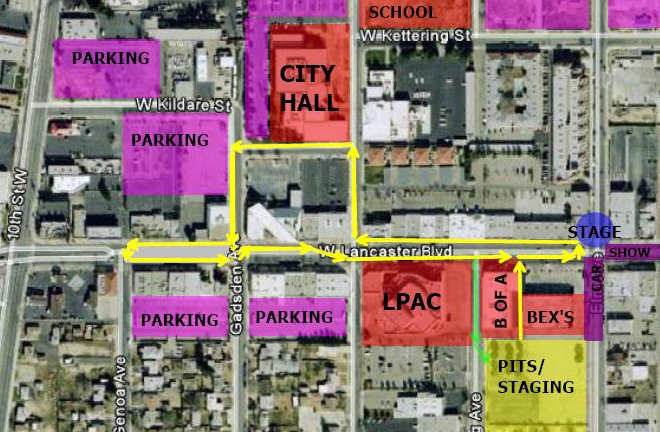 The street course we will be racing at on October 10/11 in Lancaster
Cheating Bastard Practice for Upcoming Races
After Patrick Cushenberry's impressive performance at the Streets of Willow (and at the PKC S3 races this year), I decided that I give up. If you can't beat them......then hire them. Cushenberrry has been whupping on the Pulp drivers for the past year. I decide to have Patrick Cushenberry and his tuner Mike Robbins to help me out at Calspeedway for a practice day on Friday, August 21, with the goal of them giving me some driving tips and tips on how to tune the suspension of the kart better for the various track conditions we encounter. If they whupped on us by 16 seconds in the main race at Streets of Willow, it is obvious that they know something that we don't know. Robbins' claim to fame is that a few years ago, he was the tuner that traveled around with Phil Carlson. In 2002, they won the "Moto World Championship". It appears that he knows what he's doing, as two years ago we whupped on Cushenberry at the 2007 Supernationals. Since Mike started tuning for Cushenberry and Clinton Schoombee, they have been crushing our ass into oblivion. The only person beating Cushenberry in the SoCal PKC S3 points race is Jacob Neal, who is racing with the big boys.
Robbins does a bunch of different stuff to my kart setup, and we get faster as the day progresses. The practice day goes exceptionally well.......with the exception that I forgot to tighten the sprocket bolt and I had the drive gear fall off on the track. Which means I was driving around without a chain attached....shades of Wayne at the last event. Wayne shows up late on this day for a couple of hours of practice......and he ALSO forgets to tighten his sprocket bolt. He isn't as lucky.....his drive shaft spline is stripped off and now it is smooth, so he's going to have to send in his motor to Darcy to have that fixed. Moron Racing rears its ugly head again.....will we ever learn? I'm sure Mike must think we are idiots.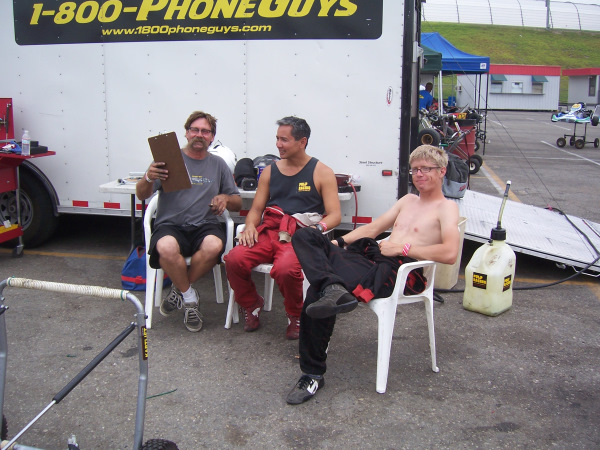 Mike explaining to me that Wayne and I race like a bunch of Chuckleheads. Cushenberry amused.
Perhaps Mike and Patrick's tuning/coaching will help keep me out of last place at the PKC race next week at Calspeedway Kart Track. I'll run in the S3 Stock Honda class with the 16-25 year old young guns of karting, and see if this old dog can be taught some new tricks. They are putting all the S3 and S4(old guy) drivers together in the same run group for the Streets of Lancaster Race next month, so we need to see how we stack up now against the S3 hot shoes. Once we throw the "ON SWITCH", we are coming to the track fully loaded, with everything we got!