SuperKartsUSA SuperNationals XIII
Can We Become Undestructable?
The Rio Hotel, Las Vegas, November 18-22, 2009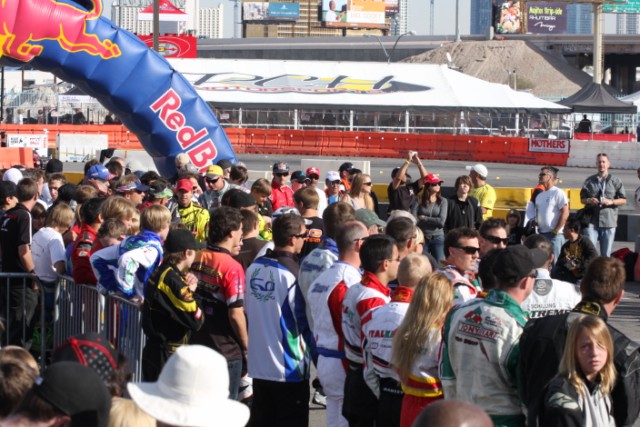 It's that time of the year again for America's best kart race!
Editors Note August 23, 2010: Yeah, I know it has been a long time (10 months!) since I had an update. There was no real good news on the racing front, Raceaflais was kicking my ass so I had no motivation to write a story. That, and the fact that I played about 250,000 hands of online poker in an effort to fund my racing addiction. Which, uh...hasn't exactly worked. There was lots of kid stuff going on (T-ball, soccer, karate, swimming, ballet, gymnastics, etc) which made it even harder to some free time to work on a story. So here's what I got in an effort to get back on some sort of "normal" publishing schedule. Most of the photos below where shot by Mike Goebel of Team ARG.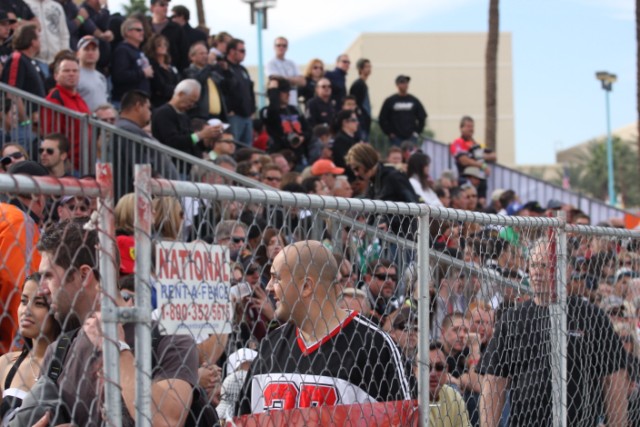 The fans are out to see America's greatest karting event, The SuperKartsUSA SuperNationals
Monday, November 16, 2009
I barely make it out of the house for the flight to Vegas. Cooper's arm is in a cast from a fall in his gymnastic class last week. After he fractured it, we took him to CHOC Hospital, who then refers all emergencies cases to next door St. Joseph's hospital. Over at St. Joseph's, there are about 50 people inside the emergency waiting room, and about 50 people standing outside the emergency room. 49 of those people appear to be there for H1N1/Swine flu problems. Many of the patients are wearing masks. St. Joseph's only allowed one person per child in the emergency waiting room, to cut down the chance that two adults in the same family will catch H1N1. As I was waiting outside, Dagmar said that people were barfing on the floor. Nice. Which of course means that a few days later, Cooper temp goes up to 105, and last night, Dagmar is feeling like she can't move. Luckily for me, on Monday, Dagmar said she will survive and with some help from the neighbors, she'll be able to get Kayla to school. I blast out out to Vegas, carrying a backpack full of Tamiflu, Sineaid, Tylenol Sinus, Advil, bottle of honey, bottle of salt, and about 10 other drugs. I'm now starting to cough and have problems breathing. Great. I've been working out for months, I get in good shape, and now the week of the SuperNats I get sick.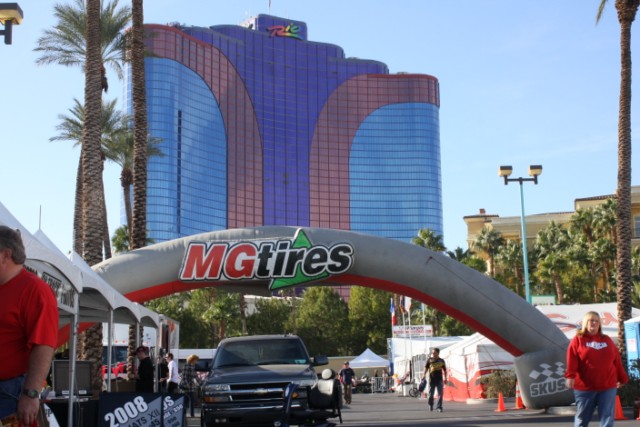 The parking lot of the Rio Hotel is the site of SuperNationals XIII
I help out with getting our tent organized, and then head back to the room. As soon as I walk into the casino, I realize that I can't breath from the air conditioning and cigarette smoke in the air. I immediately stop coughing. Crap. I'm in Vegas for seven days, and it looks like I can't even gamble or drink a beer due to the cough. I retreat to my hotel room, where the coughing subsides a little bit.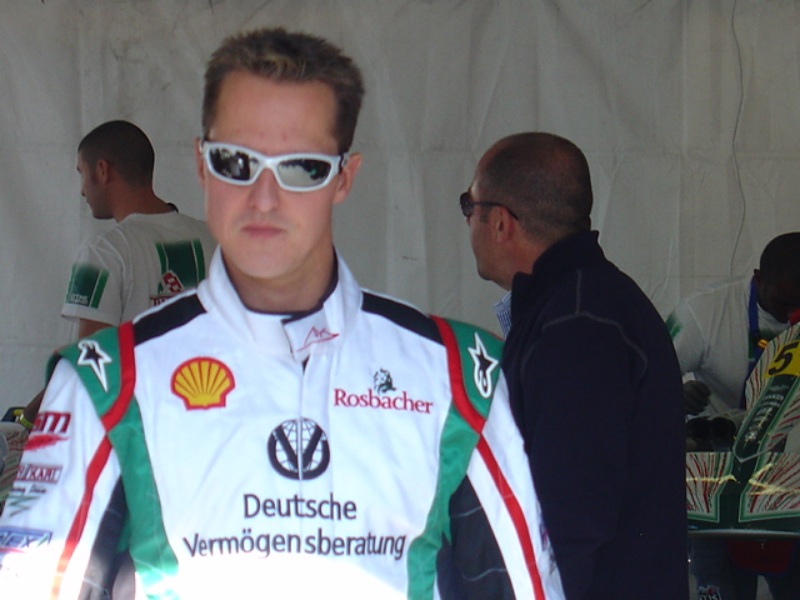 Michael means business. He ain't here to play around - Photo by Richard Graham
Tuesday, November 17, 2009
Registration day. Time to get our wristbands, registration packets, pick up our two sets of race tires and any practice tires, get those mounted, put the sponsor decals on the kart, last minute stuff for the kart, etc. Also unpack the trailer, get our pit area setup, etc. Take the bicycle out and walk the track. Unfortunately for me, it appears that they changed the layout of the track.

Sebastian Buemi all decked out
I was expecting the same layout as last year, and had been practicing throwing my kart into the quick left-right-left bus stop turn by going to the Perris kart track and taking their inside chicane at almost full throttle without crashing. Now the track looks more like a wimpy TAG-ish track. I need a track that requires big balls and stupidity to haul ass without crashing.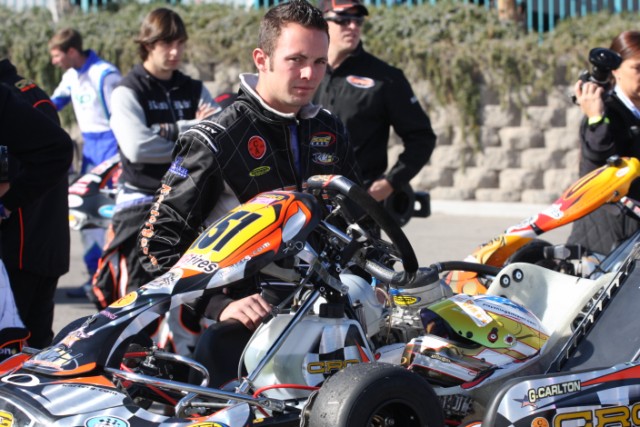 Gary Carlton, America's best hope to defeat the European factory drivers in the Super Pro class
In our tent this weekend, we have Jimmy McNeil, Robert Marks, and Darryl Tunnel joining the rest of the 2WildKarting regulars. We have one of the bigger tents with room for about 8-9 karts, electrical power, lights, microwave, etc.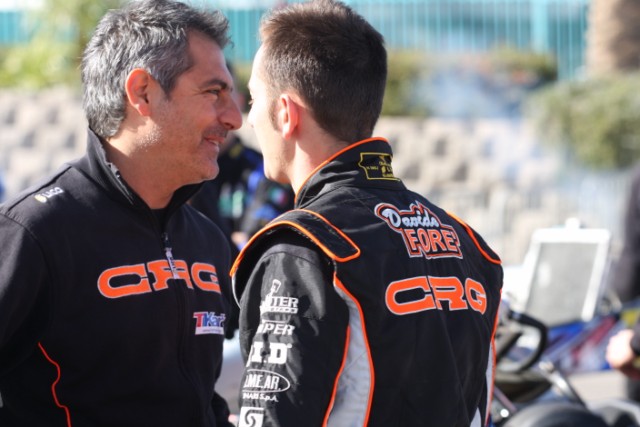 Dave Fore, ex-Tony Kart factory driver now drives for CRG
Wednesday, November 18, 2009
The first practice day. Drinking lots of water and swallowing honey so I can breathe. We get five short practice sessions today. Everyone is scrambling, trying to figure out a gear that works both in the straights, the medium speed turns, and the ultra slow hairpin. I feel like I am slow trying to learn the new track. Later that night, Sunni and Jeff pick up a humidifier for me to use in the hotel room. The humidifier is a fantastic gizmo. I can actually breathe now, and my eyes aren't red/dried out from the air conditioner. I'm bringing the humidifier every time I book a hotel room from now on. Jeez.....I must be getting old. As soon as I walk into the casino to play some blackjack, I start hacking from the smoke and air conditioning. Unbelievable, I'm in Vegas for the first time in a year, and I can't even play any blackjack without hacking like crazy.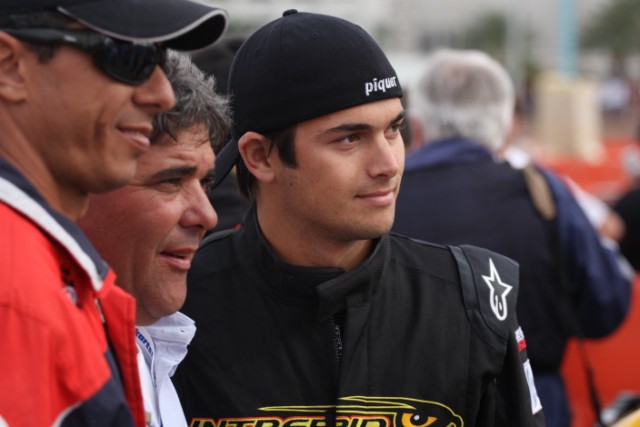 Nelson Piquet Jr. joins the big boys in Super Pro class
Thursday, November 19, 2009
At the driver's meeting, Tom Kutscher mentions that there are a bunch of big stars racing with us, meaning Formula One drivers, Indy Car drivers, etc. Tom said to treat them just like any other competitor, meaning you don't go up to people that you are racing with and ask for them an autograph or to take a picture with you. Tom says that people are here to race, not to be chased around by fans.
Last year, Jeff and I both botched qualifying. We have about 15 minutes or so to qualify, and we decided to let everyone else go out, wait five minutes, and then try to run a good lap. After five minutes, we go out, and on our first flying lap, there is an incident on the track. I narrowly miss crashing into one of the karts involved coming around a blind turn. The track is red flagged. Uh oh. Now is is about 2:30 p.m., and the shadows from the Rio casino are starting move quickly across the track, cooling the track. This is bad.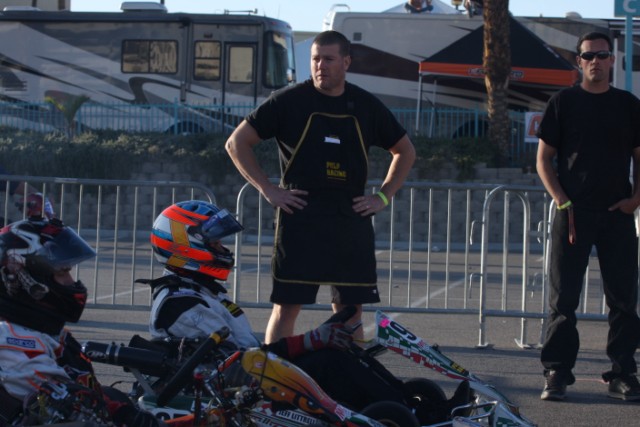 Jason is our crew chief for the weekend
After a few minutes, the qualifying session is restarted, but the track seems a lot colder now, and our karts aren't hooking up. Jeff goes to 8th, I struggle to 14th. Ack! That wasn't the plan. When Jeff restarts his kart, he notices that his clutch cable is real loose, so he'll have to fix that or else he'll have problems with the start. That's two years in a row I screwed up in qualifying. So now I have to start all three heat races in P14.

Heat Race 1:
I've been getting fantastic starts in all our practice sessions at the Perris track the past month. I expect to blow by some people here. We are getting gridded for the start of the race, everyone getting ready for the countdown of the red lights. Except there is a problem somewhere on the grid with someone stalling, and we are instructed to do one more warm up lap. Such amateurs.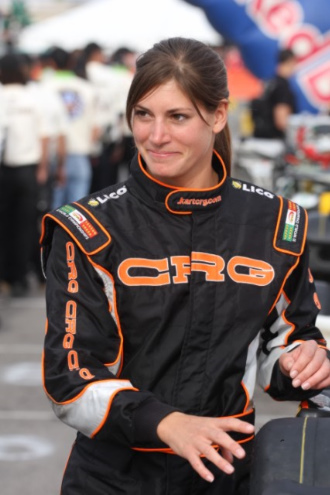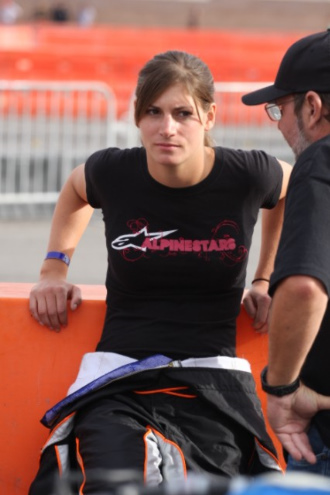 Yes, there are hot chicks that can compete in the Super Pro class
I roll to my place on the grid, and I notice that my clutch feels a little funny, and the motor doesn't sound right. Uh oh. I grab the clutch lever, but the clutch will not disengage. Apparently after around 50 fantastic practice starts, now the clutch cable is a hair too loose to grab the clutch. I stall on the grid. SKUSA officials try to push start me, motor fires up, but I can't disengage clutch, so it stalls again. ARRRGH! My kart gets pulled to the side by a track worker, and I watch 40 karts blow by me, and then another official push starts me to get going again. It's gonna be a long week.....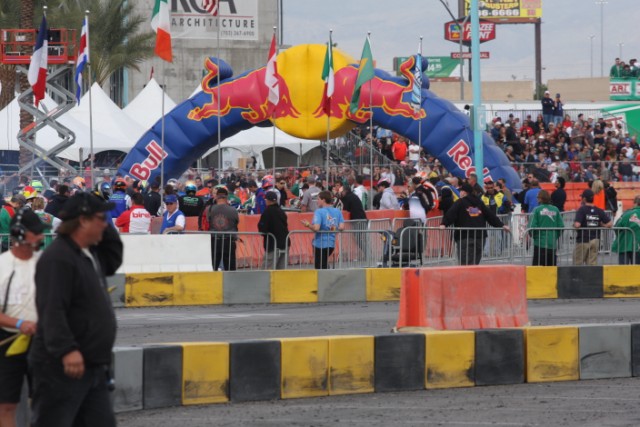 Finally, we have a kart race that more than 50 spectators!
Once I get a head of steam going, I pass about 11 people. Raceaflais is in full force today, as front runners Jason Campbell, Paul Russell, and Mike Jones all DNF. Hathcox takes the win, and Todd Edgington take second. Jeff fights his way to 3rd.


Saturday, November 20, 2009
Mike Goebel cruises into town. I give him one of my hot pit passes, since he plans on snapping a zillion pictures at the event. I give him a Pulp Racing shirt so he looks like he belongs in the pits. He didn't get the message from the driver's meeting that we aren't supposed to run around getting pictures with all the famous drivers that are racing with us. Goebel starts speaking German to Michael, and gets this photo: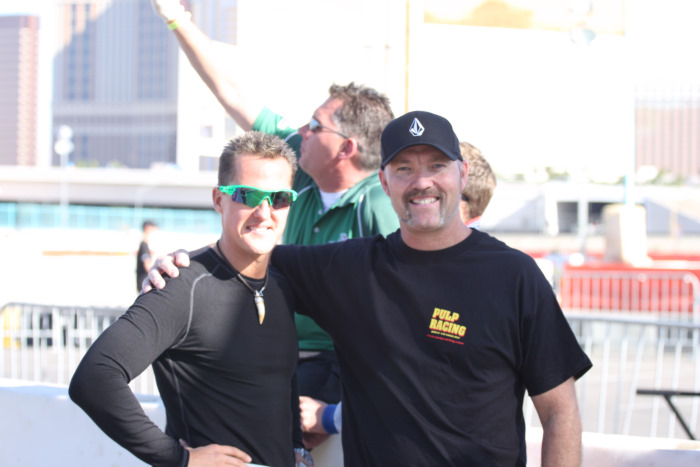 Goebel gets a picture with Schuey
Heat Race 2
A better start this time. I can't risk another bad finish. I get a good start, and then slot in behind Ryan Pool and Schilling for most of the race. Jeff gets a little too racy duking it out in the hairpin, has an incident in one of the hair pins, and he DNFs. Jones takes the top slot, Edgington and Hathcox behind him.
Heat Race 3
Again, just need to finish without a DNF, and then see where I end up on the grid. I hoping to be gridded on row 5, and then I have a shot at the podium. I slot in behind a couple of guys, and cruise it home.

Main Race, Supernats XIII
I'm gridded about 17th, back in row 9. Ack! Jeff's in P11. Hathcox and Edgington race fast and clean through the three heat races, and are rewarded with being P1 and P2 on the front row for the main race. I have been talking a lot to Mike Robbins of Select Shifter, who has coached S3 hot shoes Clinton Schoombee and Patrick Cushenberry. Prior to the ProKart Challenge having a "pit reservation system" at the local PKC races, Mike and I were always the first guys at the track, fighting for the best spot in the pit area for our big ass trailers.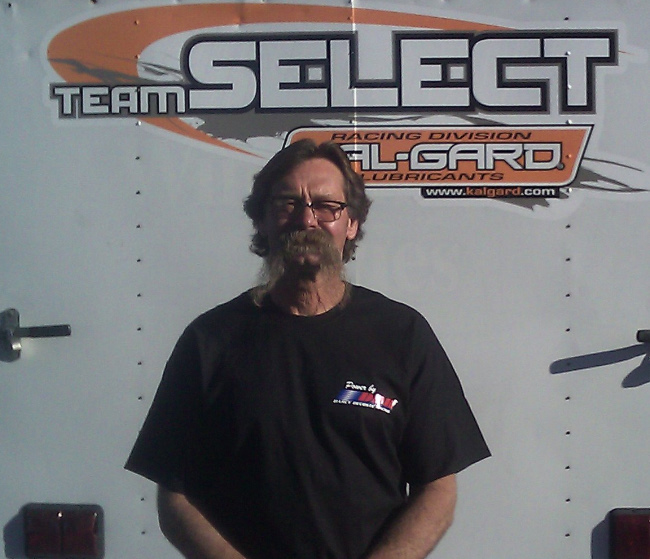 Mike Robbins moustache is heading towards the Guinness Book of World Records
He's been kind enough to offer an old fart like me some tips, and I have been talking to him quite a bit the past few months. His claim to fame is he tuned for Phil Carlson back in the day of the SKUSA Pro Moto days. I have talked to Mike on numerous times about setup.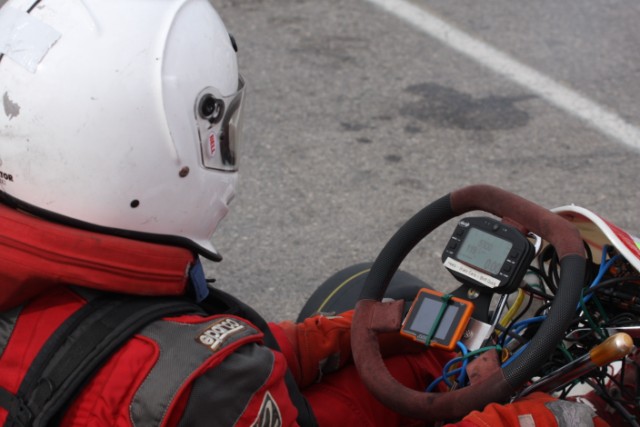 The orange display shows realtime display of AMB data like fast lap in your run group, your position, etc
My kart has been pretty loose the entire week here in Vegas, as I had problems getting the power down in a lot of turns. For the main race, most of us will be running new tires. We get two sets of tires to last us through the weekend, and most people use one set for qualifying and all three heats, and leave one set for the main. After talking with Mike about a setup where I can throw the dice on the setup that will either be great or it will really suck, since I am so far back. A conservative setup isn't going to let me move up to the podium from 17th spot. We agree that will throw more grip than average into the kart, and go from there. A lot of other people are thinking the other way, that the track will be be extra grippy from all the rubber over the weekend, and we are all on new tires for the main. As we are sitting on the pre-grid 10 minutes before the start of the race, a bunch of cloud cover suddenly comes over the track, thus cooling the track surface considerably. Mike smiles at me and says, "You just might get lucky......".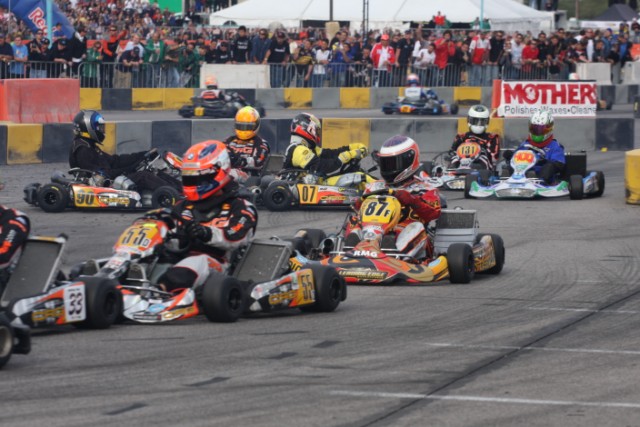 It's never good when drivers are going in four different directions on the track
Green flag drops, and I get a good start. I avoid calamity going into and out of the first turn, as immediately there are a couple of karts that are banging and spinning out. After a lap or two and my tires get some heat in them, I suddenly realize that I have a PERFECT kart. It's been a long time since I had the this remarkable feeling where you become AT ONE WITH the kart. It is a Zen-like experience, where you feel like you have ultimate clarity, like you can suddenly see everything clearly that is happening all around you. The kart is just loose enough that it doesn't hop in a turn, yet enough grip that it lifts the rear inside wheel and I can get the power down early through a turn without lighting up the tires like I normally do. I feel like I can out-brake anyone at the end of the long straights, as the brakes are stopping great. I must have picked the perfect pilot jet and main jet for the carb, as the motor feels strong and will rev to the moon. This is why we have a racing addiction: when everything is perfect, it is worth all the other 10 times you went racing and it wasn't perfect, or you DNFed, or you crashed. It's like you are on the basketball court and just hit 15 jump shots in a row, or playing quarterback and throwing 15 completions in a row, or playing baseball and you just hit four home runs in a game.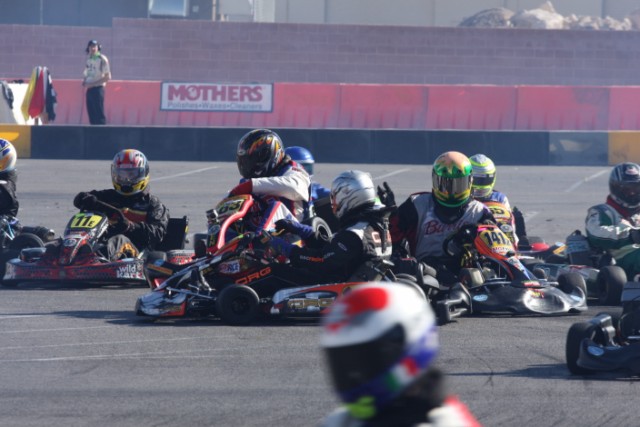 When your kart chassis setup and motor are working perfectly, it makes up for 10 days like this

From P17, I go to 16th, then 15th, then 14th. I keep moving up on the field. My kart is handling great, and I get a fantastic launch out of the turn onto the straight, which in turn sets me up so I can slam on the brakes at the end of the straight and move up a position. I do this about four more times, and I get down to 7th place, right behind Sender and Purdue.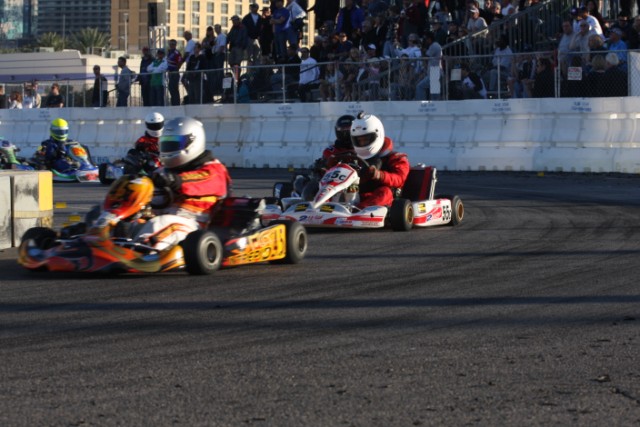 I hear the gypsy punk music in the my head....
Sender and I get by Purdue in the same braking zone, so now I am in 6th, and gaining ground on Sender. I feel like I am Undestructable! I follow Sender for a couple of more laps, and then I get ready to make my move for 5th place, which will put me on the podium for the second time at the almighty Supernats. On the lap where that I decide to get ready to make a pass on Sender, suddenly the engine stumbles, then a low burble, and I can feel the power being sucked out of the motor. OH NO! seems like a fuel problem, either fuel pump or fuel line. I have to pull of the track, as the motor seems like it is going to die, and I don't want to cause a major collision because my kart stalls on the track in the middle of the front straightaway. SHIT!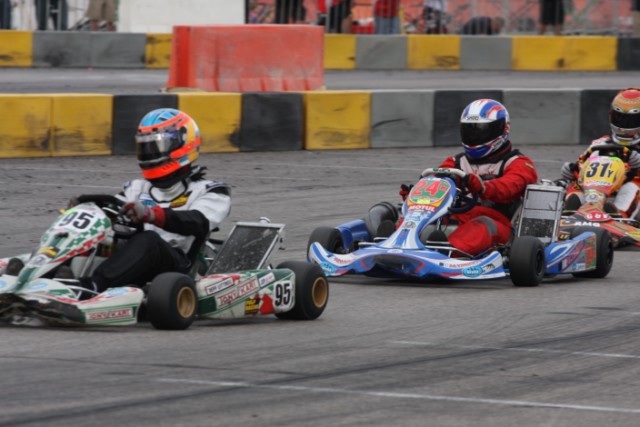 Jeff with Hathcox and Wolff on his bumper
I grab the camcorder in my chest back, unhook the helmet camera, and film the last couple of laps as Jeff is leading the race. He has Hathcox and Woolf right on his butt, but he is holding them off, and Jeff take the checkered flag for his 3rd Supernats crown in 4 years in the S4 class.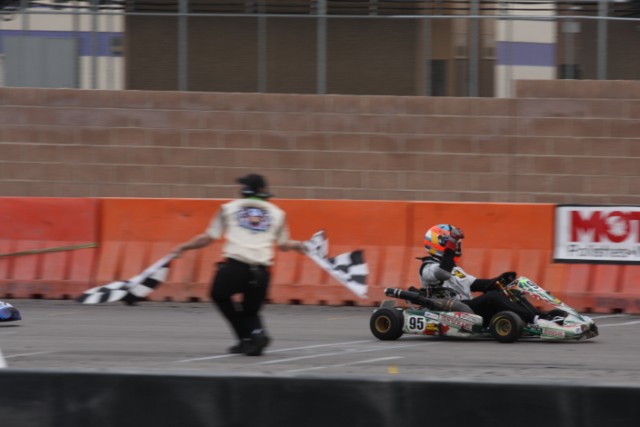 Jeff wins his 3rd Supernats title
I go back to the pits totally disgusted. But at least I know that with a little luck, I can make it to the podium in my class at the best kart race in North America. I still have a little bit of a racing buzz from the 17 great laps that I had before I had the fuel problem. I was only about a tenth of a second off of Jeff's fastest lap of the race. That buzz will give me enough adrenaline and determination to last me through a bunch of DNFs in a search to experience that same feeling where you and the kart are At One with each other.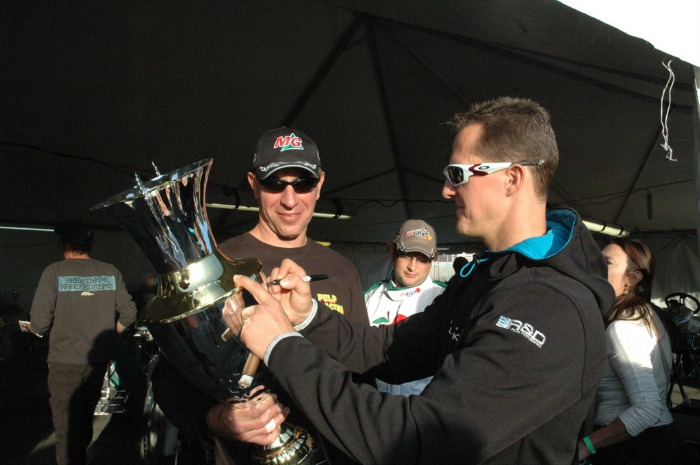 Schumacher signing the S4 Championship trophy
After the race, Rhod from 2Wild (our local Tony Kart dealer) takes Jeff over to the Tony Kart factory tent where Schumacher is pitting, and Jeff has Schumacher to sign his trophy. So another disappointing results at the Supernats, but I know I'm real close to another podium finish. Here's the link to a helmet cam video of the main event. Maybe in November 2010 my luck will be better.....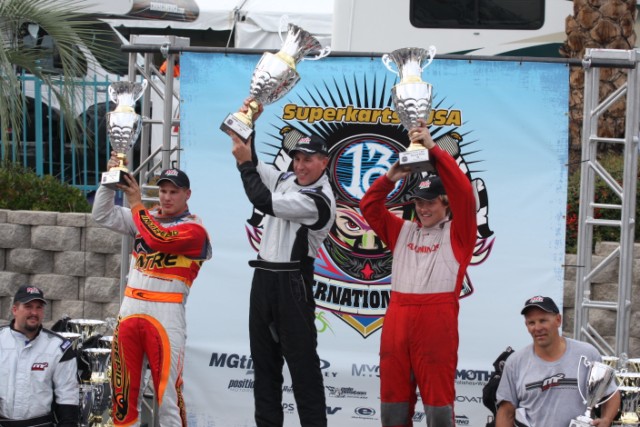 The S4 podium
Stock Honda S4 Main Final Results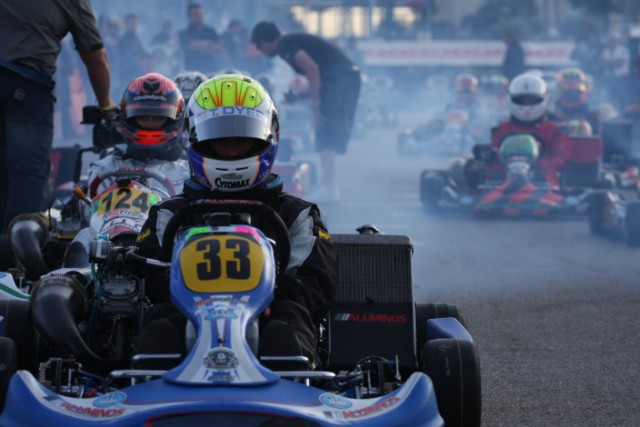 In the uber competitive Stock Honda S3 class, veteran Tom Dyer takes the win over the young guns.
Other miscellaneous photos from the Supernats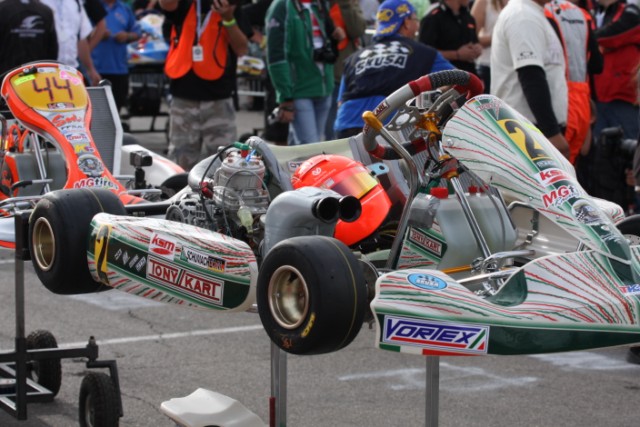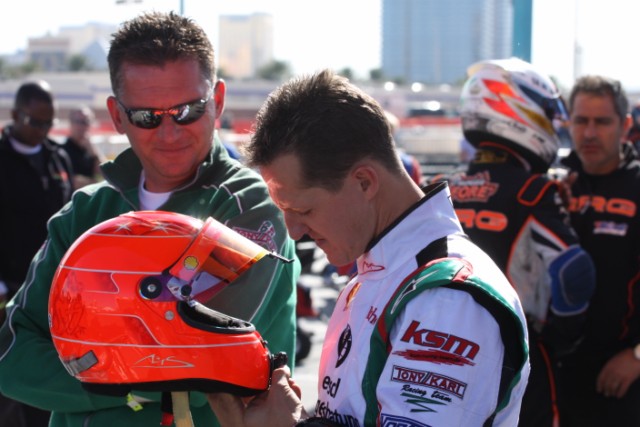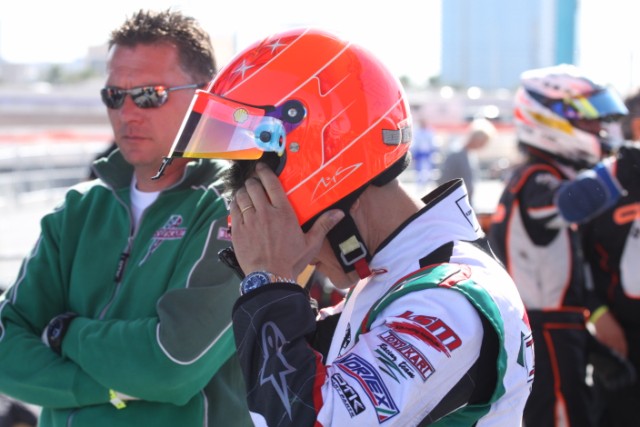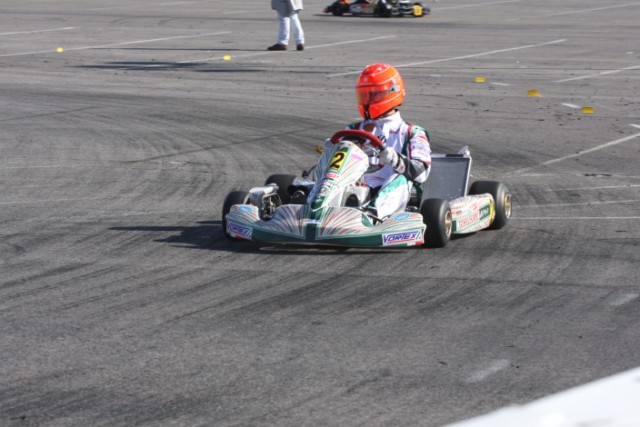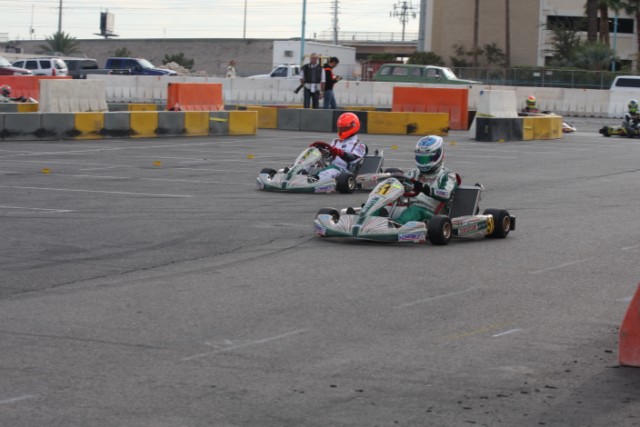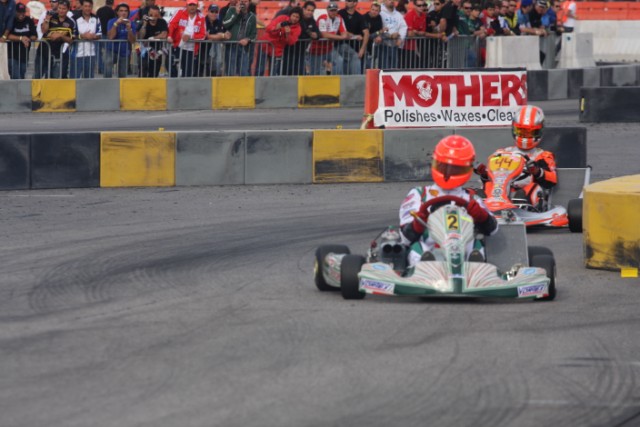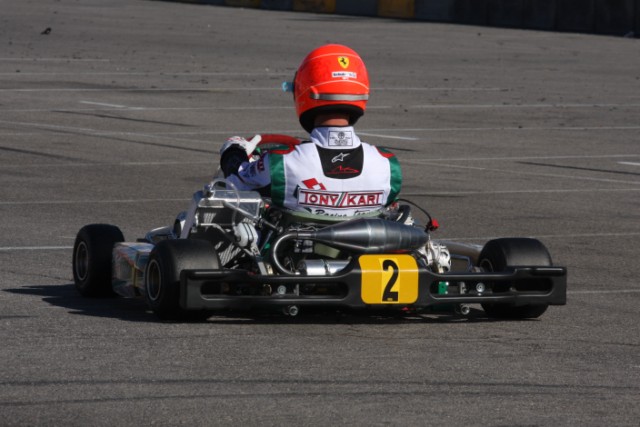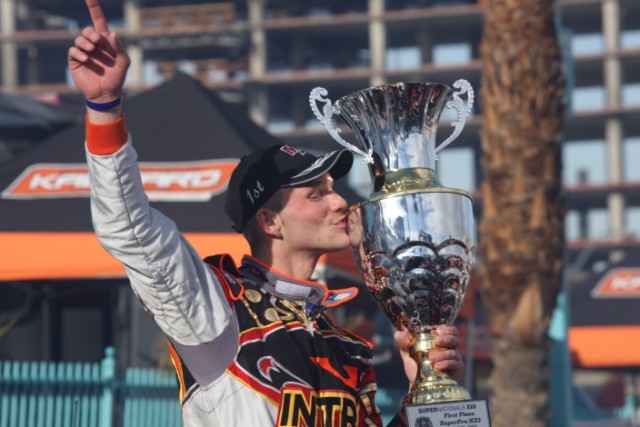 Bas Lammers wins Superpro division, beating all the factory and Formula 1 drivers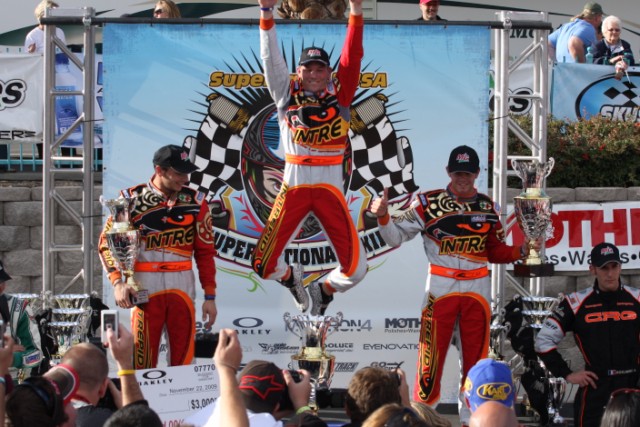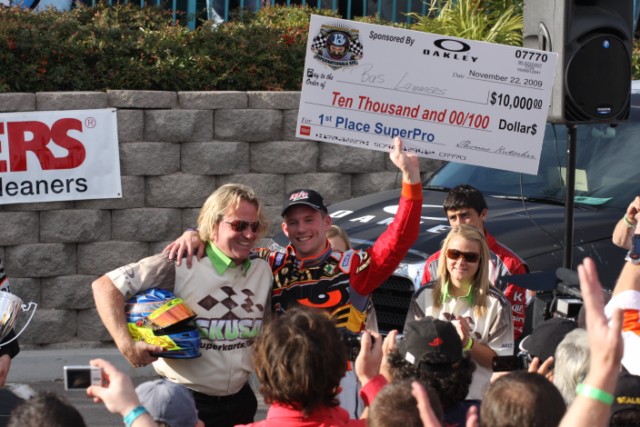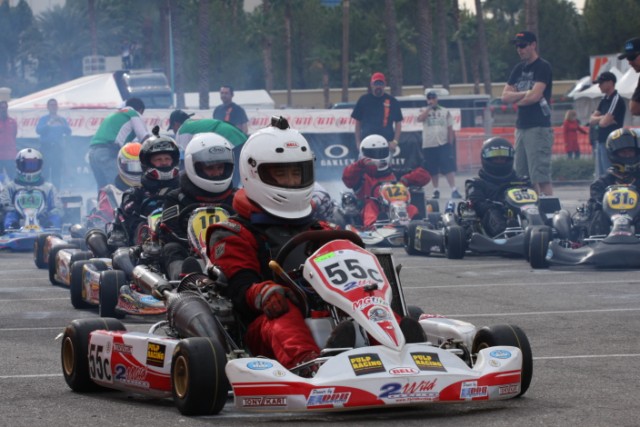 This could be you, sitting in a grid of 40 shifter karts in the 2010 Supernats S4 class
Back to main NSX-Files/Pulp Racing Stories page