November 17-21, 2010 at the Rio Hotel, Las Vegas
What Will the Racing Gods Bestow Upon Us?
SKUSA SuperNationals XIV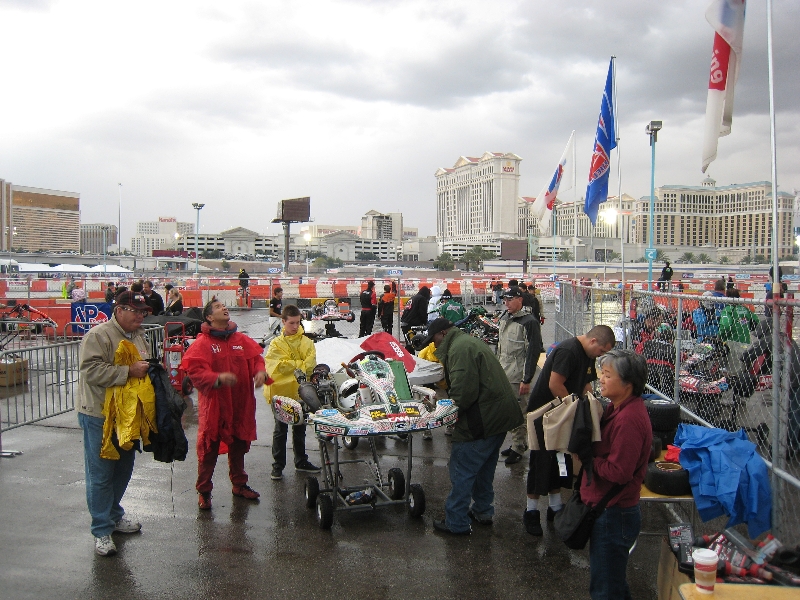 We trained hard. We prepped hard. Now will the Racing Gods be kind to us in Las Vegas?
(click here for high-res picture)
(Note: Most of pictures in this story are from the MFG Technology Center, which is run by the German anti-Rotaxian crusader Mike Goebel, who decided to "switch gears" and join the Stock Honda class that is sweeping across the nation.)
Next up was the Supernats. Promoter Tom Kutscher has somehow figured out how to market the SKUSA SuperNationals in Las Vegas to be the "MUST ATTEND" event of the year for kart drivers. It doesn't matter if the economy is in the crapper. People come from all over the US, Europe, Mexico, etc in order to compete at this race. So you have the best of the USA drivers in their respective classes, the best of all the overseas drivers, all competing to be crowned the winner of the SuperNationals. All normal reasoning is thrown out the door, along with all the cash in your wallet to compete at this event. People spend hundreds of hours training and preparing for this event, and the cost is astronomical for a karting event. I think if you attend the SuperNats on a budget, meaning you don't buy a lot of practice tires, you stay at the cheapest motel in Vegas, you don't have a tuner helping you......it will still probably cost you $2500 to attend. Remember, you are in Vegas for a minimum of 5 days, more like 7 days if you get there early to prep your pit area and relax a bit before the event starts.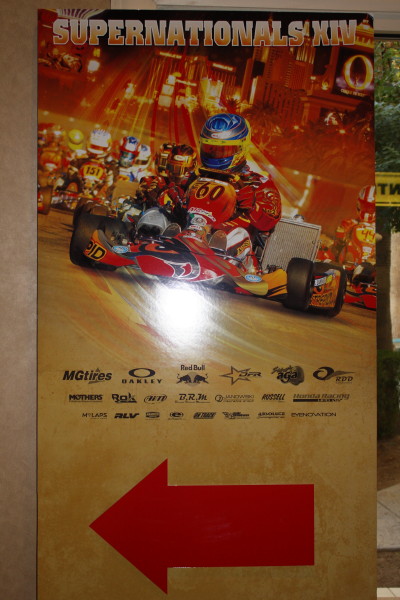 This way to the SuperNats. Bring your checkbook, your credit cards, and your home equity loan
If you want to win in a Stock Honda class with your own kart and motor, and you get in a team tent with a tuner/mechanic working with you, and you stay at a nice hotel like the Rio Hotel, you could be in for $4000-$7000. Or if you buy a new kart and motor, add $10,000+ to that bill.
If you want to compete at the very top level against the European factory drivers in the SuperPro KZ2 class, you'll probably need a chassis tuner/mechanic/engine guy, and you can go with their "Arrive and Drive Lease Package". The Arrive and Drive means that you can get one of the big teams like Tony Kart to provide you with a mechanic, support personnel, and a brand new kart chassis and motor that you "rent" for the week. So you can fly in from overseas with just your suitcase of clothes, and show up in Vegas with a brand new kart all assembled and motor ready to go, your own personal mechanic standing by along with a "team engine guy", and all the spare parts that you can crash or break for the week. Very convenient, but it'll cost you between $9000-10,000 for the arrive and drive program plus your T & E expenses, and when you leave, you take your suitcase of clothes back home. You don't get to keep the kart.
And year after year, the SuperNationals gets bigger and bigger, because everyone thinks that this could be their year to win what we Americans consider to be the "Championship of the World", because uh....most of us never travel anywhere else. And because we consider all other nations to be third world countries. One thing that I have learned about racing is that the best guy doesn't always win. The best guy might win 50% to 60% of the time, but there are so many other factors that can change the outcome of a race. You have to be fast, you have to have endurance, you machinery has to last through the entire week, you have to be lucky enough not to get crashed out by someone else, you have to make sure your wheel gets close enough to almost nick the apex of the barrier/walls but not hit it so hard that it throws you off line and bends your kart/axle. You have to beat Raceaflais (Race - A - Flay- Us), the Greek God of Racing Chaos, to win and have good racing luck. Which means that virtually every driver that enters the Supernats feels they have a chance to win the whole damn thing (meaning winning your class) if everything goes right. Kinda like an amateur poker play could win the World Series of Poker against the professionals if everything goes their way and they are running hot. It is not likely that an amateur can win the World Series of Poker, but it has happened before. And that's what a lot of us need, is that small glimmer of hope that dammit, this is MY year, and I will go down in history and become a winner of a SuperNats title. And until the day I die, people will refer to me (and I will refer to myself), as "Winner of the SuperNats XIV". I'll put it on my gravestone.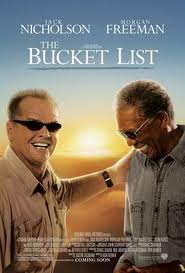 Winning the SuperNats is at the top of the Bucket List for many SuperNats drivers
SuperNationals IV Classes
Shifter Classes

S1 - Pro Stock Moto

Engine:
Spec Honda
Age:
15+
Weight:
385lbs
Tires:
MG-FZ spec tires from SKUSA
Fuel/Oil:
VP MS98 + Motul Grand Prix 2T




S2 - Semi-Pro Stock Moto

Engine:
Spec Honda
Age:
15+
Weight:
395lbs
Tires:
MG-FZ spec tires from SKUSA
Fuel/Oil:
VP MS98 + Motul Grand Prix 2T




S4 - Master Stock Moto

Engine:
Spec Honda
Age:
30+
Weight:
405lbs
Tires:
MG-FZ spec tires from SKUSA
Fuel/Oil:
VP MS98 + Motul Grand Prix 2T




S5 - Junior Stock Moto

Engine:
Spec Honda w/ SKUSA Restrictor Plate
Age:
12-15
Weight:
340lbs
Tires:
MG-FZ spec tires from SKUSA
Fuel/Oil:
VP MS98 + Motul Grand Prix 2T
Additional Equipment:
SFI-approved chest protectors recommended




KZ2


Engine:
ICC
Age:
15+
Weight:
385lbs
Tires:
MG-FZ spec tires from SKUSA
Fuel/Oil:
VP MS98 + Motul Grand Prix 2T




G1 - Master ICC

Engine:
ICC or built Moto
Age:
30+
Weight:
405lbs
Tires:
MG-FZ spec tires from SKUSA
Fuel/Oil:
ICC -- MS98 + Motul Grand Prix 2T
Moto -- C12 + Motul Grand Prix 2T

TaG Classes

TaG Cadet

Engine:
Vortex Mini Rok 60
Age:
9-12
Weight:
242lbs
Tires:
MG-HZ spec tires from SKUSA
Fuel/Oil:
VP MS98 + Motul Grand Prix 2T
Additional Equipment:

SFI-approved chest protectors recommended




TaG Junior

Engine:
IAME Leopard w/ 25mm factory header
Age:
12-15
Weight:
320lbs
Tires:
MG-FZ spec tires from SKUSA
Fuel/Oil:
VP MS98 + Motul Grand Prix 2T
Additional Equipment:

SFI-approved chest protectors recommended




TaG Senior

Eng/Weight:

See below
Age:
15+
Tires:
MG-FZ spec tires from SKUSA
Fuel/Oil:
VP MS98 + Motul Grand Prix 2T




TaG Master

Eng/Weight:

See below
Age:
30+
Tires:
MG-FZ spec tires from SKUSA
Fuel/Oil:
VP MS98 + Motul Grand Prix 2T


TaG Engines
Class A (Sr 375 lbs, Master 405) Rok TT
Class B* (Sr 370 lbs, Master 400) Motori 7
Class C (Sr 355 lbs, Master 385) Leopard (original & MY09) & Rotax
Class D (Sr 345 lbs, Master 375) PRD Fireball 2008



KF2

Engine:
All CIK Homologated KF2 engines currently approved are legal for Supernats competition, pending final SKUSA management approval. Competitor must have printed Homologation Documents available. NOTE: All current CIK engine rules for KF2 engines apply. Exception: US spec cc tool will be used. Rear CIK bumper also required.
Age:
15+
Weight:
355lbs
Tires:
MG-FZ spec tires from SKUSA
Fuel/Oil:
VP MS98 + Motul Grand Prix 2T
Ekartingnews.com asked me to do a diary of the event, chronicling what goes through the minds of a SuperNationals competitor. So for this story, I basically took most of that diary that is located at: http://www.ekartingnews.com/viewtopic.php?t=100560&highlight=diary , made some modifications, added pictures, and finished this story. So it could be a repeat for those of you that followed the event on Ekartingnews.com. I did add some other material in here to hopefully make it worth reading for those of you who followed the diary. Anyways, here's the story,
=======Start of EKN Diary=====
Pulp Racing will be sending all three of their drivers to compete in the highly contested S4 Stock Honda Class at SuperNationals XIV. Leading the charge will be Jeff Littrell, three time winner of the S4 class at this most prestigious kart race in North America. Hoping to continue his hot streak, recent Lancaster Grand Prix winner and ProKart Challenge North/South Shootout pole sitter, Doug Hayashi will try to break his SuperNationals curse. 2010 ProKart Challenge Southern California S4 Champion Wayne Mello has been driving extremely well all year long and hopes to parlay his recent successes to the SuperNats as well.

"We've been in hiding the past couple of months, prepping our karts, our motors, our bodies, and our minds to compete against the best S4 Stock Honda Masters drivers in the world. Our wives are starting to get pissed that we haven't been around recently. We look forward to our yearly battle against the highly acclaimed drivers from around the world, especially the great competitors from the Great Northwest, Utah, Texas, Northern California, and, of course, Southern California (Where ProKart initially launched their Stock Honda class back in 2005) . With the S4 class size doubling from last year, we expect to see the level of competition increase as everyone fights for the highly coveted S4 Crown (and that $5,000 BRM watch + $1,100 AIM SmartyCam). So that is $6100 in prizes to win the race. (or maybe about $4200 if you sell everything on Ebay)

Stories lines out of the Pulp Racing Camp are:

1. Can Jeff Littrell "Break the Spell" of bad luck that he has recently?
Took pole at PKC Buttonwillow race a few months ago, but crashed due to spinning on dirt thrown on the track caused by teammates Mello and Hayashi banging into each other

Flew off the track at PKC race at Santa Maria due to a competitor forgetting to tighten drain plug on motor, costing him the PKC South championship


Took pole at Lancaster Grand Prix in the S4 class, but was taken out by a competitor whose brakes failed in the heat race, and then DNF'ing due to front bumper coming off in the main.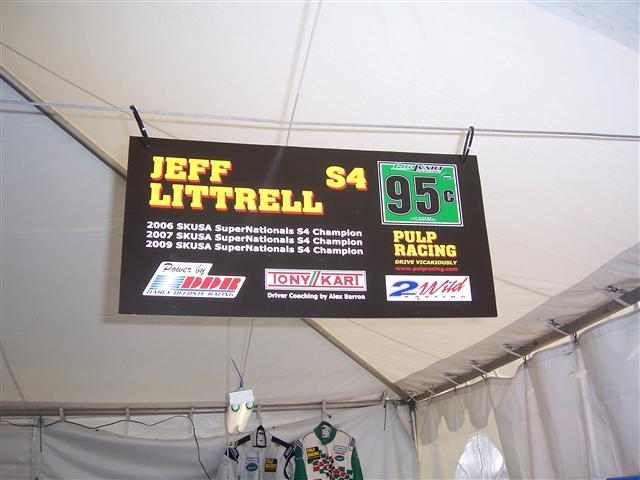 2. Can Doug Hayashi defeat Raceaflais (Race-a-flay-is), the Greek God of Racing Chaos, thus becoming Undestructable?
Needle clip broke in main at SuperNats X in 2006 while running 5th. DNF.

6th on the main grid at SuperNats XII in 2008, but crashed at the start in turn 1.

While making move for podium position at SuperNats XIII in 2009, fueling problem caused DNF.

Has finished as high as 3rd at SuperNats XI in 2007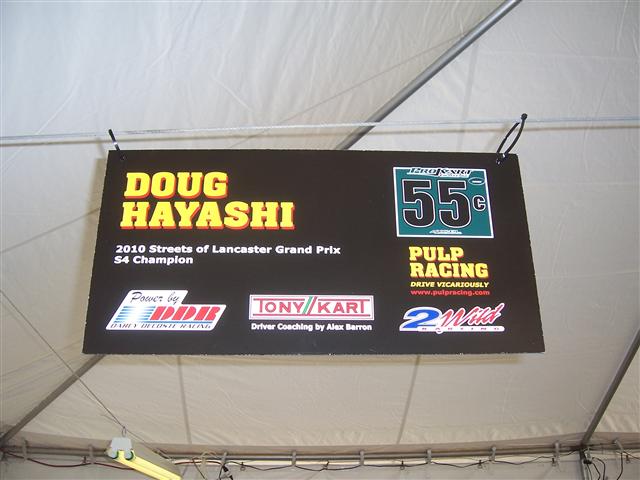 3. Can Wayne "We Coming Rougher" Mello avoid catastrophe at the Supernats?
Has finished as high as 5th at the SuperNats in 2006

Suffered from spectacular crashes at the SuperNats in 2005 and 2007, thus ending his podium runs


Has been known to have frequent contact with his Pulp teammates on the track.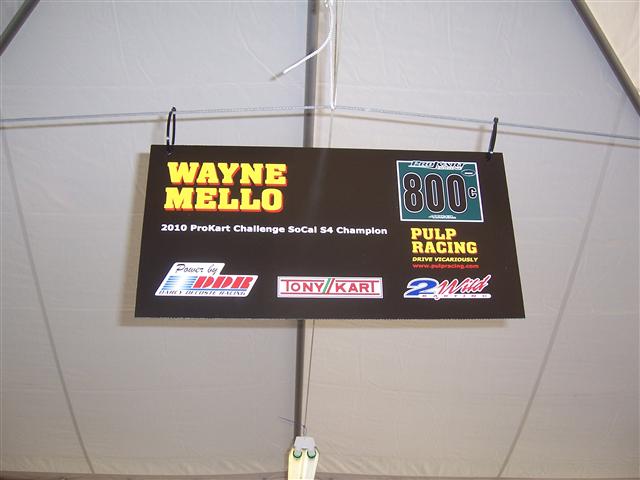 Pulp Racing would like to thank 2Wild Karting for their trackside support, Darcy Decoste for engine tuning, Alex Barron for driver coaching, and Mike Robbins of Select Shifter for his tidbits of racing wisdom that have helped Hayashi the past year. For Supernats XIV, our technical director in our tent will Elbert "The Black Bullet" Thompson, who was hired because of his mechanical acuity, good looks, and uh...because we are broke and Mr Thompson agreed to help us in return for unlimited food and alcohol. Also assisting the Pulp Team will be the infamous Mike Goebel, who agreed to help out on a limited basis in return for unlimited alcohol.

Winning the SuperNats requires a lot of skill, hard work, and determination, but you also need a little bit of luck to thread your way through a field of 67 drivers to get to the podium. Pulp Racing wishes all our competitors reasonably good luck at SuperNats XIV, and we look forward to some great racing in the S4 class. Stop by and say a quick hello to us in the 2WildKarting tent. Viva Las Vegas!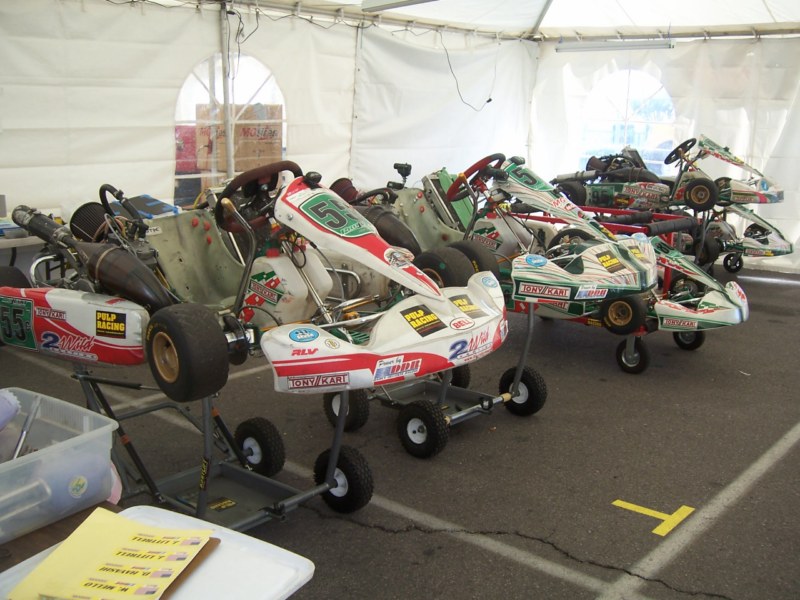 We prepped five karts for the Supernats, using two as spares and as "T-Karts" incase of catastrophe
Another side note is the the Supernats is the 3rd leg of the SKUSA Pro Tour. There are two other big regional races that count towards points along with the Supernats to crown a "National Points Champ". We chose not to compete in the Pro Tour because we are going broke quick enough doing the Supernats, and couldn't afford to do two more "mini Supernats".
Here how the prep story went:

I'm losing weight. I am always around 166 lbs, plus or minus a pound. In the frantic, manic world of getting ready for the SuperNats, suddenly my weight is hovering around 160 lbs. My wife has some weird virus bug that has been slowing her down for the past couple of weeks. Which means now my routine is wake up 6:00 a.m., get kids ready for school, take them to school, get a quick workout in, run to shop and work on karts, pick kids up from school, take kids to karate/gymnastics/whatever, get home, put kids to bed, then back to shop until midnight, back home, sleep 5 hours, repeat routine. To counteract the weight loss, I went off my low cholesterol diet of "No Steak, No Pizza", and changed it into "Eat Steak, Pizza, Pasta, Muscle Milk". It still ain't working...I'll be at Ryon Beachner's weight if this keep up. (just kidding Ryon)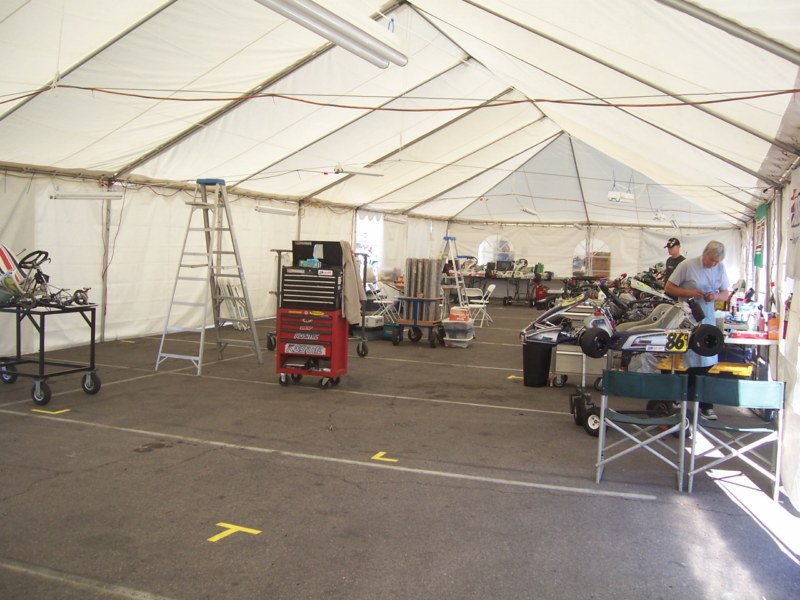 The 2WildKarting tent. Our home for the next seven days
After Wayne, Jeff and I hit the GO Switch for the Supernats, life suddenly became crazy. A few months ago we were able to get a screaming deal on some new Tony Karts (last year's model) that was too good to pass up. We figure we don't need the absolute newest in technology, especially if we can get it at a good price. Hey, there is a big recession/depression going on despite the happy face that the mainstream media keeps trying to paint on. Despite all of us trying to be on somewhat of a budget, we spring for the new karts. Since I am always a little over prepared for events, I try to get the karts relatively quick, as nothing ever goes smoothly when we get a new kart. Meaning it takes weeks and weeks for us to be comfortable driving in the new karts, since we are so used to driving our old karts. The kart I am currently driving is 2 years old, the same as Jeff's. Wayne's kart is 3 years old. For some weird logistics reason, we had problem getting all the damn parts for the new karts. Meaning we would have the chassis, but not the bodywork, then we wouldn't have the decals, get the decals, but not have the special screws for the bodywork, blah blah blah. Apparently the supply chain is all screwed up, but I guess we shouldn't bitch too much because we did get a screaming deal. So now we were about a month behind in terms of schedule, or in terms of my overly prepared schedule. I don't know how those factory guys show up with a box of parts at a race, build the kart, and then race it the same weekend. If we did that, we would be racing half a kart on 3 wheels.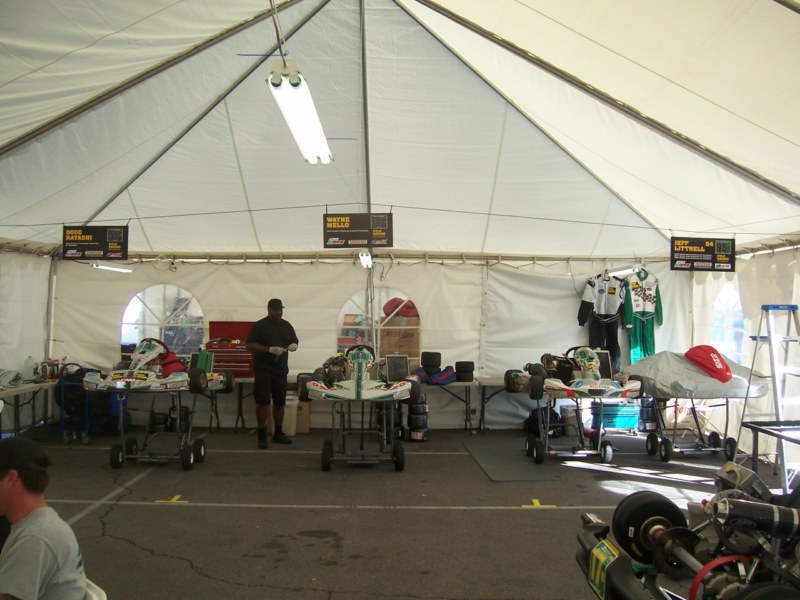 In this corner, all three contenders weighing in at 405 lbs, Pulp Raaaaaaacinnnnnng....
When the chassis initially came in, there was confusion about the bodywork, Jeff wanted an extra set of old body work, then Wayne wanted extra set of old body work for his old kart, but then no new body work came in for the new karts, etc. When unpacking the new Tony Karts at the shop, I discovered we had two 30mm EVXX and one 32mm KRV. I called 2Wild and yelled at them for botching the order. 2Wild calls me and says Mr. Mello specifically ordered a 32mm kart. I look at Wayne, and said, "You ordered at 32mm?". He says, "Uhh..I guess". I was hoping we would all have the same 30mm kart so the setup advice/tuning/testing would have some commonality between the three of us. We could each try a different gear/setup in the first practice session, see what works, what doesn't work, etc. Throw that idea out the window. We have this big ass 48 foot trailer that makes it look like we know what we are doing, but uh......we really don't most of the time.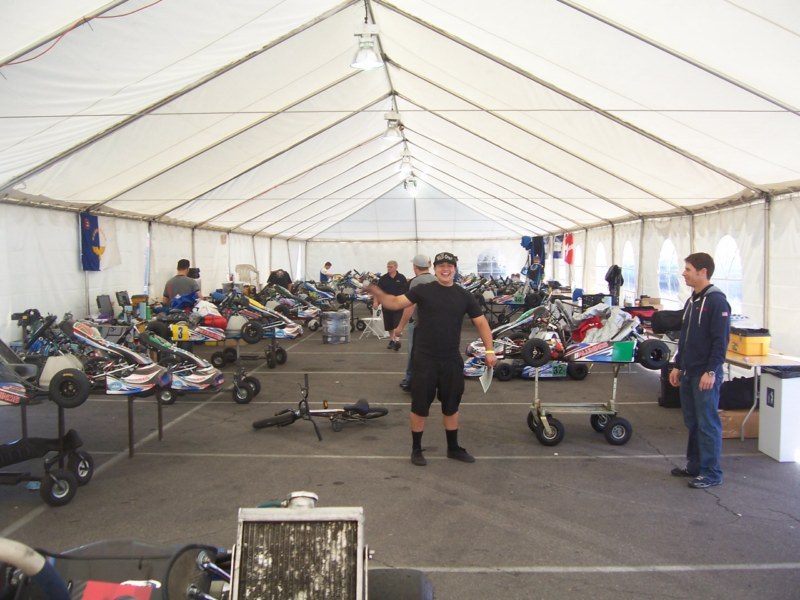 The Aluminos tent. Cool team, but they are arch rivals on the track!
I decided to have Alex Barron help me build my kart, as I always learn something new when Alex is around. Jeff and Wayne opt to do it themselves. Wayne thinks a little harder, and decides that he is NOT going to run his new kart at the SuperNats, he's going to wait until the new ProKart SoCal series starts up in 2011. He's still shell shocked from the 2007 SuperNationals where his brand new kart got bent up in the heat race. We got it bent back together right, after all he did win the 2010 PKC SoCal Championship with that same kart, but he has nightmares about having another brand new kart destroyed in the first heat race that he runs it at. I sorta figure the opposite, meaning if I am going to spend a bunch of cash on a new chassis, I want to use all that new go-fast stuff on the kart to try to win the SuperNats.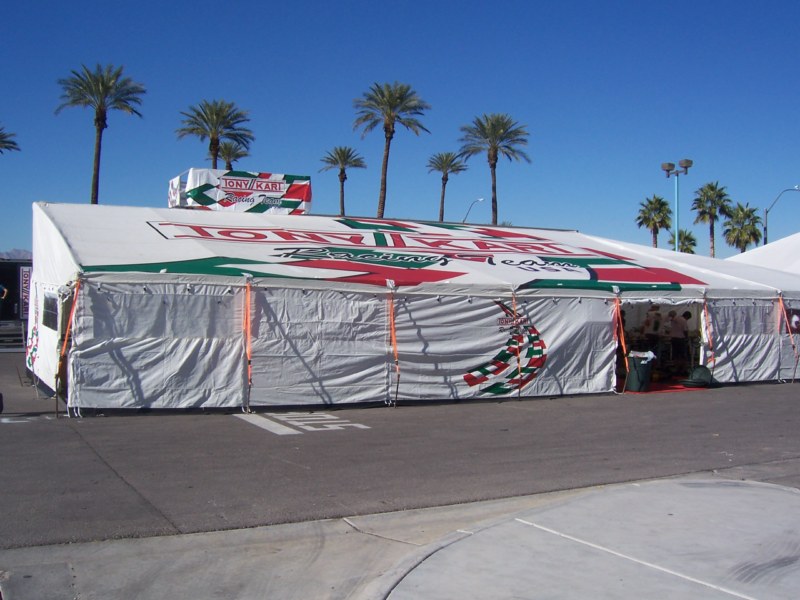 The Tony Kart tent. You'll pay big bucks to run out of this tent. Rumor has it $300 for a 10x8 spot in the tent. Per day!
I figure that if I assemble the kart myself, I would screw something up and probably crash on the first test day because I didn't tighten something correctly, the decals would be crooked and bubbly, holes drilled improperly in the seat, etc. Plus my kart build is a little more difficult than most karts, as I have to take all the old sensors for steering/braking/throttle and move all those over to the new kart, yet keep the old kart in good working condition after replacing those sensors with just the basic speed/temp sensors. So it is kinda like building two karts. Everything in karting takes 3 times as long as you would think. So I call Alex to come over to the shop and give me a hand. I had to postpone a couple of the sessions as I didn't have ALL THE DAMN PARTS. Finally we get the karts done after two days of labor. Between Alex and me, figure about 40 hours to get the karts ready to go. No wonder kart shop owners don't drive Italian cars.......it takes too damn long to prep a kart and they can't get proper value for their time. They can't tell a customer, "Hey, it took 40 hours to get your new kart and your old kart ready to race", the customer would never believe them that it takes that much time.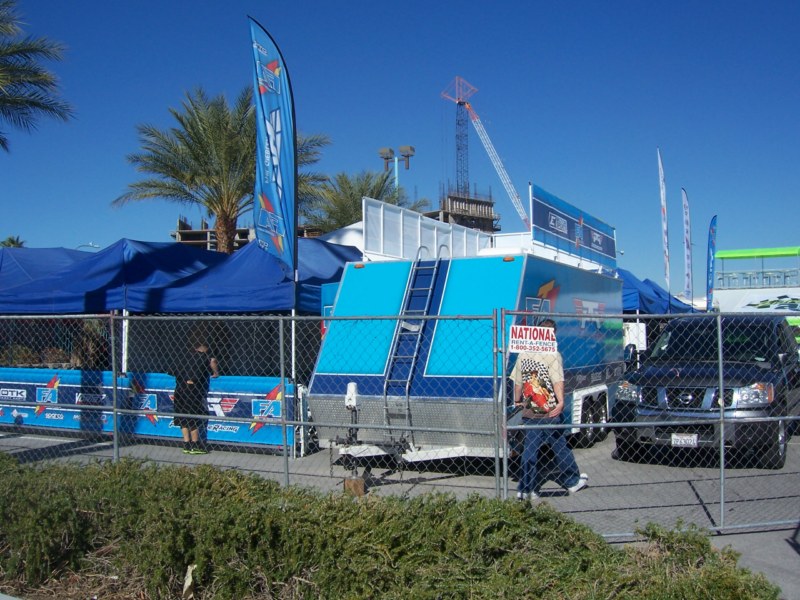 Geibler's FA Alonso tent

Some of the conversations were rather comical at the shop. Wayne was all proud about some precision squaring device he got cheap on Ebay to help insure that the new karts were put together properly and the tie rods were adjusted properly. He was explaining to Alex how the device would help us square the karts. Alex looks at us kinda skeptical, and says something like, "On a Tony Kart, if you adjust the tie rods so side one is 3 threads longer than the other side, and it will be square". Wayne and I look at each other like Beavis and Butthead being told the answer to 2 + 2 is really 4, "Uuuuuuuhh....." Or we would say something like, "We set the toe to be one degree out, because we have done elaborate setup with our Sniper lasers to prove that when we sit in the kart, the weight causes the kart to go to zero toe, and we would be fast down the straight with that zero toe." Alex looks at us and says something like, "You realize when you are going down the straight, there is less weight on the front end because you are accelerating with rear wheels". Again we go, "Uuuuuuhhhh....". We proceed to shut up and let Alex work on the kart. We obviously ain't gonna one up him with our technical knowledge.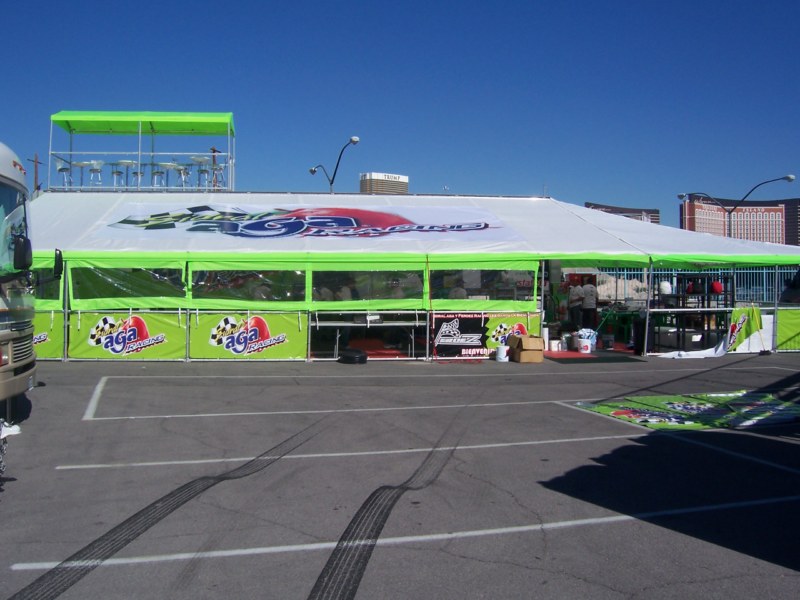 Aga Racing had about 15 drivers from Mexico running out of this tent
Anyways, I get my kart almost finished before the Streets of Lancaster Grand Prix (SLGP) Race except for the stupid decals. Perris has become our official test track for Lancaster and the Supernats. I blast about 10 laps in the new kart. It drives much smoother than new kart. I'm not running the new kart at the Lancaster Grand Prix, as there is a high probability of crashing. I should say ther is an extremely high probability of crashing, but the thrill of the potentially evading all the crashing and making it to the podium overcomes your fear of total destruction. But I'm still taking my old kart to the SLGP. I continue to dial in the old kart for the SLGP race on this test day, and I put the new kart aside for now.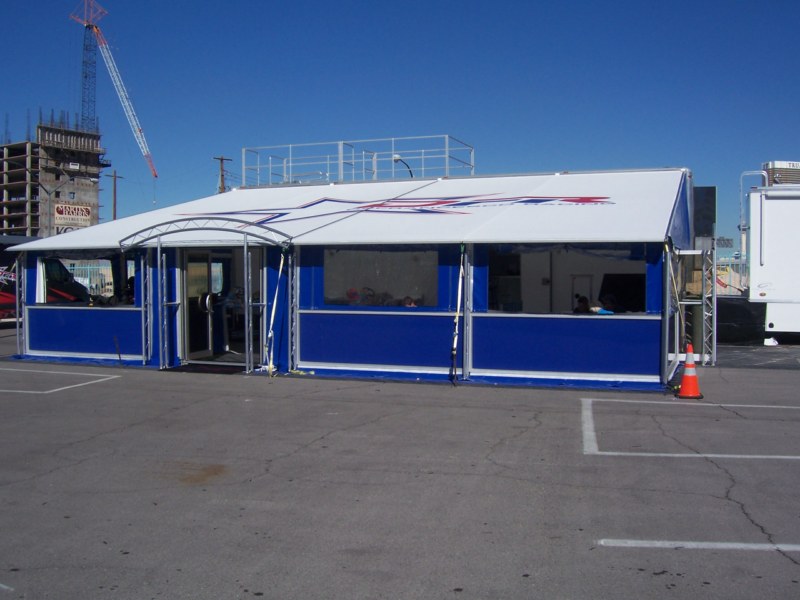 This wasn't even a tent. They had actual hard walls. Nice setup!
After the SLGP (SLGP story coming, remember, I've been thrashing to get ready for the Supernats), I start to focus on the new kart. Only problem is that my last three events, I have done really well driving my old kart. I took 2nd at Buttonwillow, pole at Santa Maria, and 1st at the SLGP. I'm kinda torn about running the new kart for the Supernats, even though the new kart will have better bearings, more responsive, etc. After talking to some people, I decide to run a full back to back test of the new kart vs old kart at Perris.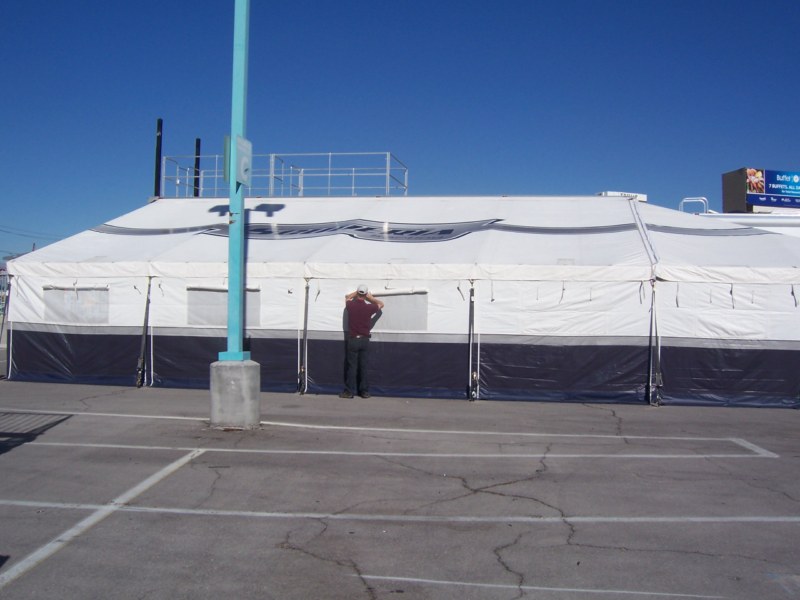 Another big ass custom tent
Friday, October 29, 2010. On the test day, I start out being about a second faster in my old kart than my new kart. Same for Jeff. Damn! Did I spend that money on a new kart for nothing? I have Barron there helping me with adjustments, etc. He gets in both of my karts, and runs the identical time in both karts, about a half second faster than I am. Barron's the only guy I know that can get in someone else's kart who has been driving that kart for years, and in four laps lay down a faster lap time than the owner can. I'm still half a second or so slower in my new kart than my old kart. This is damn frustrating. I was hoping to be faster in the new kart, which also puts me in a position to sell my old kart chassis. (or, as some people say, maybe I should save that old kart for the 2011 SLGP)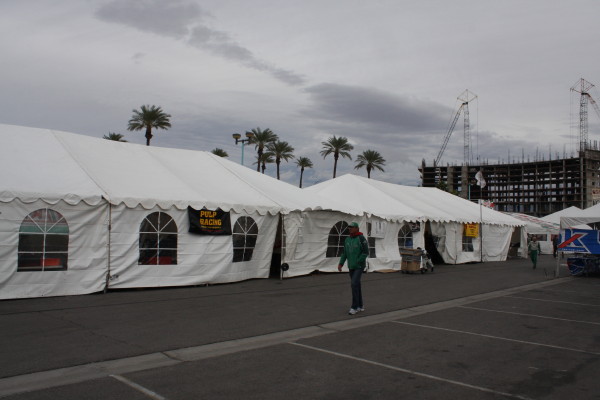 Our tent setup (half of this is ours). Rental tent that 2WildKarting procures and rents to us at a reasonable price
Alex said that the new kart will be better to run, as there is less of a chance that something will go wrong with it. It's got new bearings, new cables, new calipers, etc, etc. We experiment with some different settings. I seem to do a little better with full caster on the kart as opposed to neutral.

Thursday, November 4th. I get Mike to help me clean out the trailer. Mike's a guy who always looking for work, and every year I call him at SuperNats time to help me take everything out of the trailer for the once a year mopping/washing. It takes the entire day. Then I take the kids to karate class. Take them home. Then go to my karate class. Then back to the shop at 10 p.m. for more work on the karts/trailer. Stay there until 1 a.m.

Saturday, November 6th, 2010 Test day #2 begins. Okay, today I show up at Perris with changes to the front end (going more towards half as much caster as before). Kart is feeling better. Barron and Rob Whitley are helping me make a bunch of changes, no caster, full caster, half caster, etc, and decide on that my driving style is more suited to half caster setup. Wayne and Jeff look at me like, "What, you got an F1-like team of mechanics working on your kart?" At half caster, it makes me look like less of a hack on the track. Barron says I late brake really well, but I suck on getting off the corner. He says it is better if I give up some on braking and come off the corner better.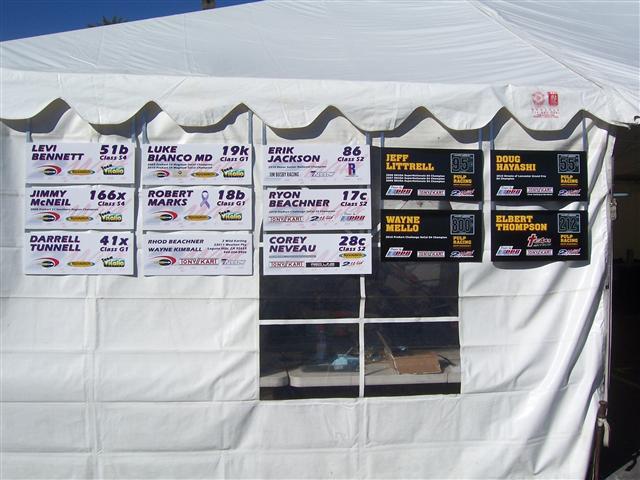 Hero boards on the outside of our tent
On some of the other settings I almost put the kart into a barrier at 60 mph. At the end of the day, I uhh..realize that I didn't tighten the bolt that pushes the motor mount forward. The motor mount slides backward, the chain hits the inner case, cracks the engine case, and now I'm leaking tranny oil all over the pit area. ARRRGH! I was so close to putting the kart in the trailer and being ready for the Supernats. The trailer leaves in 7 days for Vegas, as 2Wildkarting will be driving the Pulp Truck and Trailer up to the SuperNats. Rob and Alex help me get the motor off the kart, and they swap in a soft axle to test with after I get the kart back together in a few days. I won't get instant turn around even if I could get the motor to Darcy Decoste, and I'm sure he's prepping a gizzillion motors already for the Supernats. So I call Wayne up, who happily left the track about 20 minutes ago after running a sub 39 second lap time at the S4 weight. Our benchmark for the Supernats is if you can run a 39.0 at Perris at 405 lbs, your kart is ready for the SuperNats. Before Moran Raceway was shutdown, if we could get around Moran at in the 1:03's we figured we had a SuperNats kart. Wayne says he'll swap out the case for me.

Later than night. I drop the motor off at Wayne's house at 8 p.m. By 1:30 a.m. Sunday morning, he has the cracked inner case swapped out for the inner case on his spare motor. Whew! Now I got a motor......but this is the Supernats, and you can't just drive up to the Vegas with a rebuilt motor without testing it. That's like taking $7500 to Vegas and putting it all on red at the roulette table. Gotta go for yet another test day.

Sunday afternoon, November 7th I put the motor back on my kart. Run some tests at the shop and in the parking lot. Seems good. Need to get a test day at Perris to definitively shake it down.

Tuesday morning, November 9th. Perris is closed, but Alex Barron got permission from Dave DiMond so we can do a last minute practice and shakedown. Perris is a great track for testing, as it seems like it stays somewhat consistent. Calspeedway is notoriously slippery in the morning, and then grips up dramatically as the day goes on. Perris seems like it is never too slippery or too grippy. It has a really tight hairpin turn, a couple of medium speed turns, an 86 mph straight away, a sweeper turn, and a tough chicane. I do a few sessions to shake the kart down and make sure the motor is working properly, and that nothing falls off the kart due to my mechanical prowess.

Alex start giving me more driving tips to help "clean up" how erratically I drive at times, and to help get me off the corner better. After I feel comfortable, we throw on some good tires, and I run a lap .25 seconds faster than I have ever gone at the S4 weight of 405 lbs, and also gain a full 1 mph down the main straight. Ahhh....nirvana! Funny how going .25 seconds faster and a chance at SuperNats glory makes the 300+ hours of labor and all that cash seemingly worth it. To normal people, that is ludicrous. To those of us hooked on the Go-Fast Crack Pipe, you understand.....it was worth it. If I woulda went .25 seconds slower than my fastest time after all that time/labor/dollars, I'd have to commit suicide.

The very next lap I try to beat that time, but I get back to my erratic style and I lose .3 seconds. So I park the kart, thinking the kart is FINALLY ready for the Supernats. And I beat the deadline to be in the trailer by a couple of days. And more important, I've run a faster lap than Jeff or Wayne has ever run at the S4 weight at Perris. They will of course say, "Your tires were better, or the track was better, etc". Same things I would say to them. Things are finally looking up. I pulled into Perris at 9:00 a.m., and I'm pulling out of there 2.5 hours later with a blazing fast kart. I never have a 2.5 hour practice day, they always turn into 7 hour fiascos. What could possibly go wrong?

Wednesday morning, November 10th. EKN post S4 entry list. Interesting. Notable stuff:
Jimmy McNeil enters S4. Nice Cheating Bastard move. ("Cheating Bastard" in Pulp terminology means, "Yeah, I would have done the same thing to get an edge." So we view it as a complement, it's not really cheating as it is within the rules, but there are some would argue that it is pushing the boundaries) Jimmy ran fast in S1 ProKart Stock Honda class this year. S1 is consider to be the top class of the Stock Honda series, and these are the guys that still might have an outside chance (a very slim one) at getting paid to drive cars (or karts) for a living. McNeil wasn't whupping on the Clinton Schoombee/Jacob Neil/Patrick Cushenberry crowd (but he was giving them a good fight for the podium spots), so he drops a league and goes into the S4 Stock Honda "Over 30 Year old" driver class. If this was baseball, McNeil would be going from pitching in the Major Leagues, then dropping down to Triple A ball. He's going from the NBA to the CBA, from the NFL to Arena Football. He's like Conan going from NBC to the TNT network. You get the picture. <grin>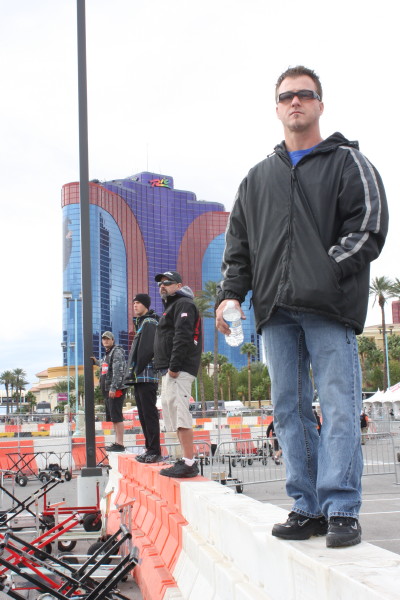 McNeil surveys the crowd. All I have do to is beat these old farts to win a $5000 watch?
Jason Campbell enters S4 and G1 (built moto/ICC class). Another nice Cheating Bastard move. (remember, it's a complement, nothing derogatory). Jeff and I did the same thing back in 2007, ran S4 and S3 (back then S3 was Stock Honda Light). I thought about entering S4 and S2 this year to get double the track time and double the fun, but I decided against it due to cost, and I'd have to get another mechanic to help with the S2 kart. I mean, think about it.......on the first two practice days at the SuperNats, you would have a total of eight sessions instead of four sessions, 7 minutes long, for a total of 56 minutes a day. Heck, we'll put in 56 minutes of driving in the first two hours of our typical practice days. You would run four heat races in a day (but they are only 12 laps long). That ain't too hard. I think the hardest part would be getting up at 6:30 in the morning to make it for that first S2 session.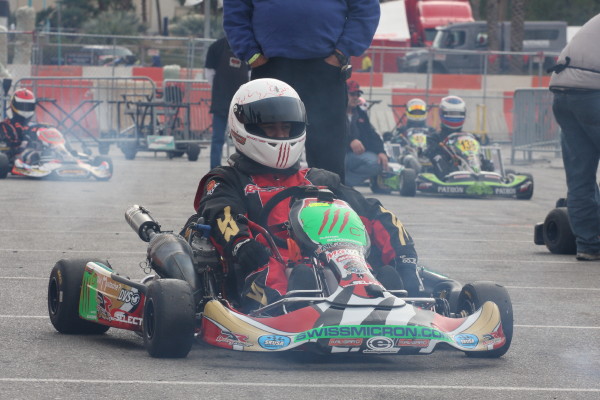 Clinton Schoombee. He is responsible for pushing Hayashi, Littrell, Mello, and now McNeil into S4 old fart class
The rest of the SoCal G1 guys decide to hold off and not enter S4 this year at Supernats. I thought they would all be Cheating Bastards and sneak into S4 at the Supernats. Back at the PKC Race # 6 at Santa Maria, the G1 guys were implying they were going to move into S4 in 2011, and they didn't want to hear any crying from the "lowly" S4 guys because the "highly esteemed" G1 drivers were moving into S4. On the contrary, we welcome them to S4 class. Wait a sec, let me check qualifying results for the Streets of Lancaster Grand Prix.....oh yeah...Littrell out qualified all but one of the the G1 guys (Montgomery) with their monster ICC/KZ/whatever motors, and Littrell was just using his itty bitty backup Stock Honda motor that had a lot of time on it. http://www.mylaps.com/results/showrun.jsp?id=1723331 Jeff didn't even use his good DDR motor that Darcy was freshening up. And then of course the way my mind works, I see it as Wayne and I beat Littrell in the main at two of the last three events, so if Littrell can beat the G1 guys....haha.. You know where I'm going with that one.


They don't mention Wayne Mello's name in the S4 preview, despite the fact that he's the Prokart Southern California S4 Champ. I kiddingly tell Wayne he gets no respect wherever he goes or whatever he does. He could discover the cure for cancer and they would grudgingly put his name in the footnote of the index in 5 point font, and spell it wrong.
Wednesday night, November 10th.
6:30 softball game. Hey, at five lbs lighter, I can dive for dinkers down the third base line and also make the diving plays for ground balls behind second base from my shortstop position. Maybe 161 lbs should be my new "fighting weight". Unfortunately I kick a couple of easy balls late in the game, we lose by one run. We are 1-6-1 now. After the game, food and beer. And then you know what's next.....Wayne and I head back to the shop to work on his kart for a couple of hours. Back home at midnight.

Thursday night, November 11th. No school today for the kids. Up at 6 a.m. Off to shop, start trying to squeeze stuff in front half of trailer, as 2Wild is going to throw in three karts + their stuff for the Supernats in the other half. Drop truck off to get yearly wash/wax/interior detail. Take mother-in-law and kids to buy shoes, feathers for school art project, go to storage facility to get roller-blades for mother-in-law, get frozen yogurt for kids, back to house for dinner. Get wife (who is still not feeling well) to take me to detail place which is now closed. Still in manic mode, but at least stuff is getting done, and done quickly. I feel like Ray Liotta (playing Henry Hill in GoodFellas), where he is running around at 90 mph with no sleep.

Then disaster strikes. No one is at the car wash, and it is dark now at 6:30 pm. I hop into truck. Truck is blasting some gypsy punk music at about 85 db. But they parked the truck next to a big ass pole that holds up their "detail area". And when I say next to the pole, I mean inches away, as they had to get as many vehicles as possible under the tent. I back out, but I don't back out completely straight, and I don't see the pole as it is out of view when you get in on the driver's side door, and I rip the big passenger side towing mirror right off the door. %$#@&! Since the music is playing loud (and the diesel motor is loud also) I don't hear the pole scraping against the front fender either. Nice. Let's see.....truck has to to leave in 40 hours for Vegas, and it doesn't have a side view mirror. That'll make it hard for 2Wild to tow a 48 foot trailer. Fender looks like a motorcycle hit it going 40 mph. I decide not to go to shop tonight. Must get out of Ray Liotta mode for one night, and regroup. I call around to find mirror on craigslist or ebay, no luck for a Friday or Saturday delivery. I gotta get a mirror.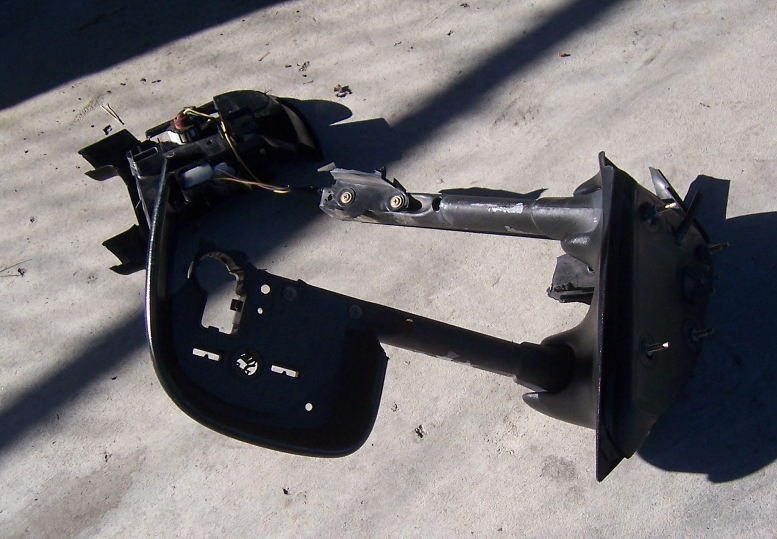 What is left of the side view mirror from the Pulp Truck


Friday Morning, November 12. New plan. Call Ford dealer 7 a.m. Unbelievable, they have side power mirror in stock. Probably because they paid to have that big ass pole installed at the carwash, and told the Mexican guys to park all trucks next to the pole so the driver can't see it when they back up. Back to Ray Liotta mode. Stop by body shop, get a quote for $1100 to fix the ffing fender. Get instructions from them on how to replace side power mirror, and they bang out the dent in the fender a bit. Back to shop, install mirror. Wayne comes by shop, we put a couple karts on double stand. Off to cleaners, drug store, get some food, go to bank, stop at Home Depot, back home. Take kids to karate. Back home. 9 p.m., back to shop, Jeff meets me there with his luggage and some nice looking "hero boards" that we can post at the tent. Finish up stuff on karts, put all stuff in the trailer. Get home by midnight. Eat more food, finish up this diary thing for EKN. Tomorrow afternoon (Saturday), drop truck and trailer off to 2Wild, and then we are finally ready for the SuperNats. Now I can relax a bit, and just visualize driving smooth and fast around the Rio track. And also visualize winning big bucks at the blackjack table to offset the cost of this event!
========Infomercial time! Our latest scheme to pay for kart tires:=======
"Need more money to race, need to buy that new kart?" Give fellow racers Doug or Wayne at Pulp Racing a shout, we are now buying your old and used Rolex watches for Cash!! CashRolexBuyer@gmail.com 24hrs/7days a week tell your friends.

Instant Cash for your Rolex Watches

Call Wayne Mello at 714-240-2243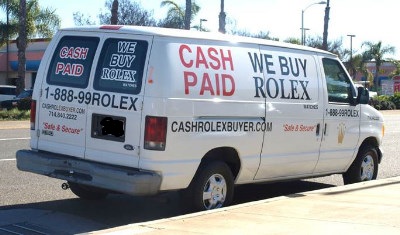 Wayne's Mobile Office
Would you rather trust a pawnshop, or trust the guys that ran the SuperNationals the past six years? C'mon, you know you need to sell that Rolex to pay your credit card bills from SuperNats XIV! A look back at Pulp Racing's history at the SuperNats:
======== End of Infomercial =======
Saturday, November 13
Truck and trailer are dropped off at 2Wild. Wayne, Jeff and I are taking up 5 karts. I'm taking up my old kart to be used for spare parts or in case of major crash. Jeff said he's taking his old kart up as he still isn't sure which kart he is going to use. He might practice with both karts, and then decide if he is going to use his old kart with Swedetech motor, or his new kart with DDR motor on it. 2Wild throws another 4 karts into the trailer plus all their support equipment. The big trailer is packed to the gills with kart stuff.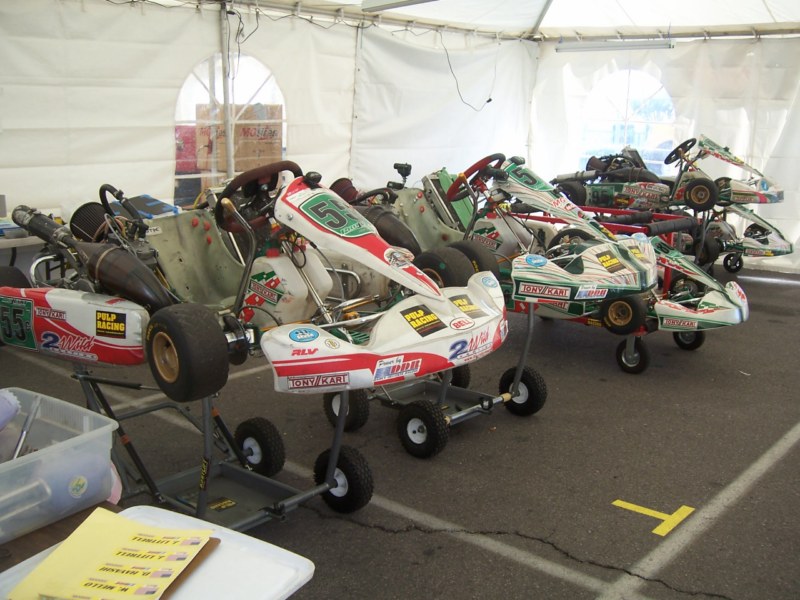 The five karts we brought to Vegas
Monday, November 15
I fly into Vegas. For the first time in six SuperNats, there is no line at all for a taxi cab at the airport. I remember a few years back there were 200+ people waiting in line for a cab. The Southwest flight out of Orange County was also only half full, which I have never seen before on a flight to Vegas.

I have the cab driver drop me off at the trailer, where I pick up most of my luggage, which includes 3 suit cases (7 days in Vegas with 5 days on the track, you'll need lots of clothes), 3 laptops (one for video editing and email, one for trackside downloading of data, one backup), a printer, ice chest, humidifier for the hotel room.

View of track in the back parking lot from my hotel room: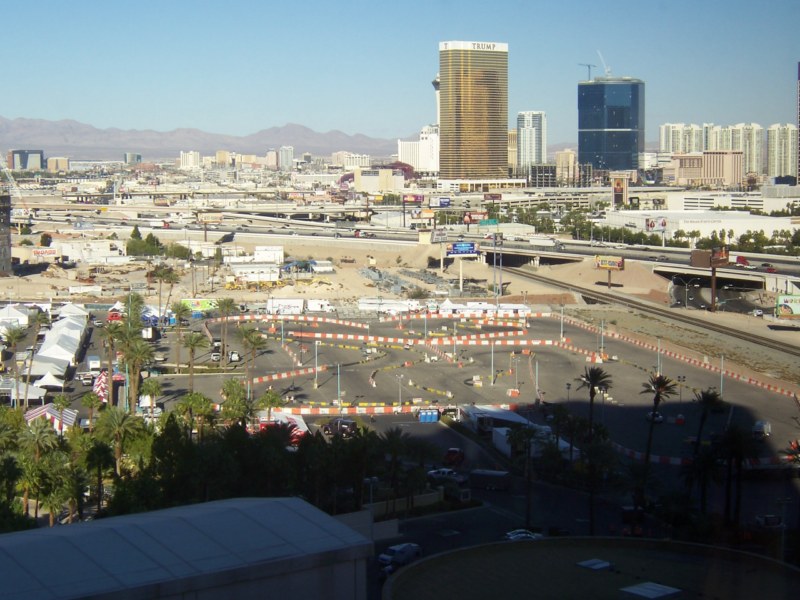 View of the track from the Rio Hotel

I head over to the tent, and Wayne Kimball is trying to get the tent people to re-configure our 90 by 30 tent that will be the 2WildKarting/Pulp Racing race headquarters for the next 7 days. Apparently the tent people didn't stake it down properly, and they also didn't have the substructure inside the tent setup so we can string lights all over the tent.

The track configuration looks similar to last year's track, which is good for me, as I hate trying to learn new tracks with limited practice time.

Plans for the rest of the day are:
1. Eat big lunch

2. Walk the track

3. Find grocery store

4. Get some stuff at Home Depot

5. Win big bucks at either blackjack or poker.

We (2Wildkarting and Pulp Racing) have a 90 x 30 tent. You rent the tents, some dudes come by and put stakes in the ground and build it. 2Wild put rope across the top and strung lights, so each driver has a light right over their kart. We have 11 drivers in our tent looking for SuperNats glory. Each driver has about a 10x15 space to use as their pit area. The tents are crazy expensive to rent. Let's just say my 10x15 pit space cost more than my room at the Rio hotel for the week. And I think 2Wild is on the low side in terms of what other tents/teams are charging. But we have electrical power and lights, nitrogen for tires, tire machine to change tires, other drivers to share info about the track/setup so we can battle against the drivers in the other tents, and we have Jeff's wife Sunni as our chef for the week. The tent is fairly secure, so we don't have to move all out stuff in/out of the trailer each day, which is a huge pain in the ass to do. Our tent assembled, waiting for the rest of the gang to get here.

Here are pics of some of of the trailers: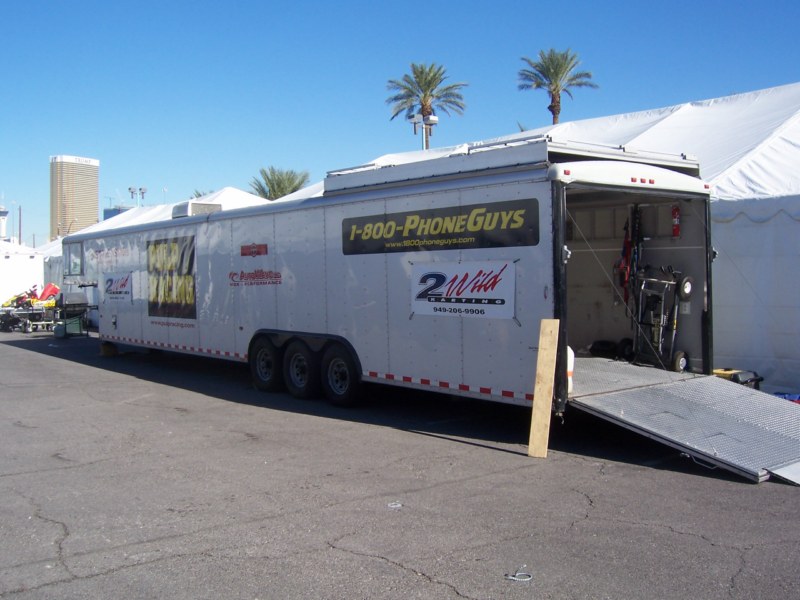 The Pulp Trailer, which some people think is big at 48 feet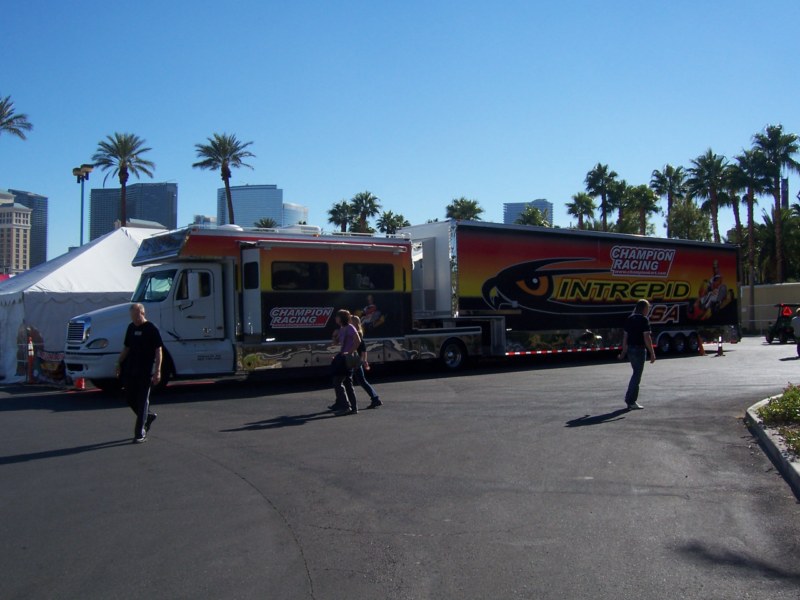 But then there are the REALLY BIG rigs.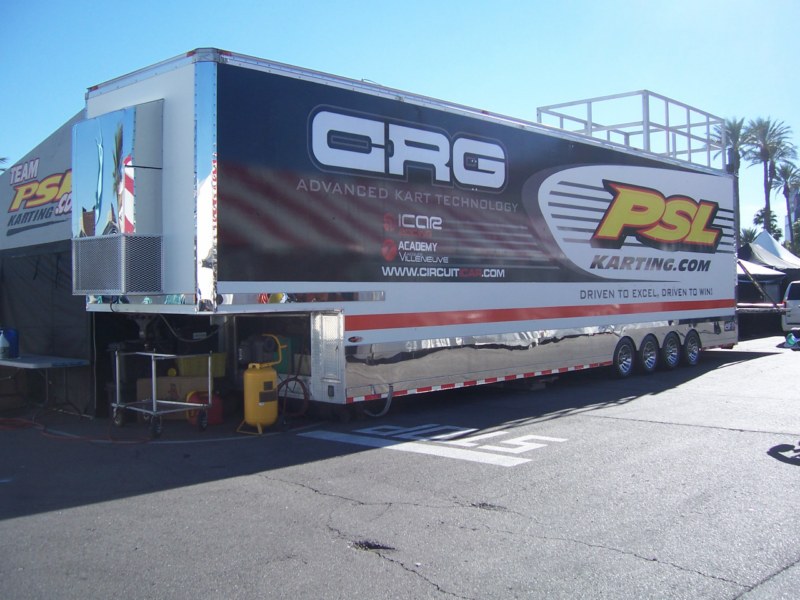 CRG Double decker, quadruple axle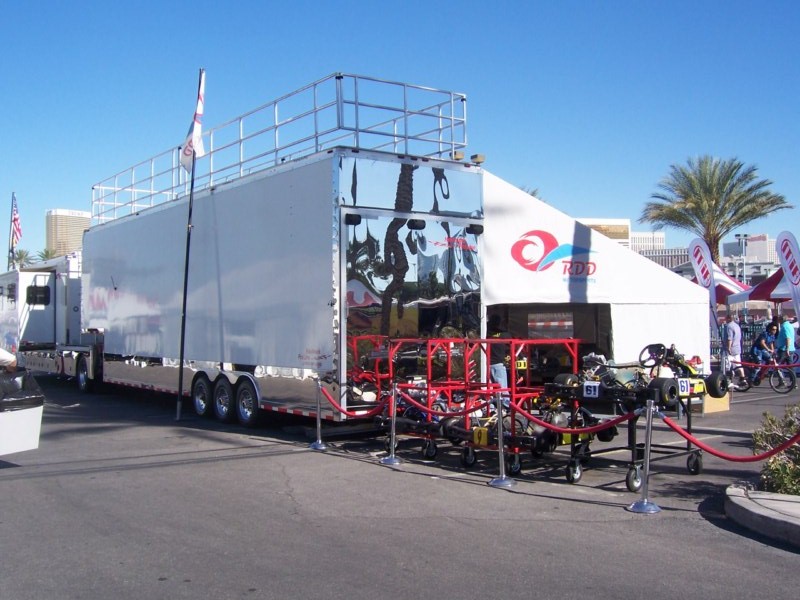 Another huge truck/trailer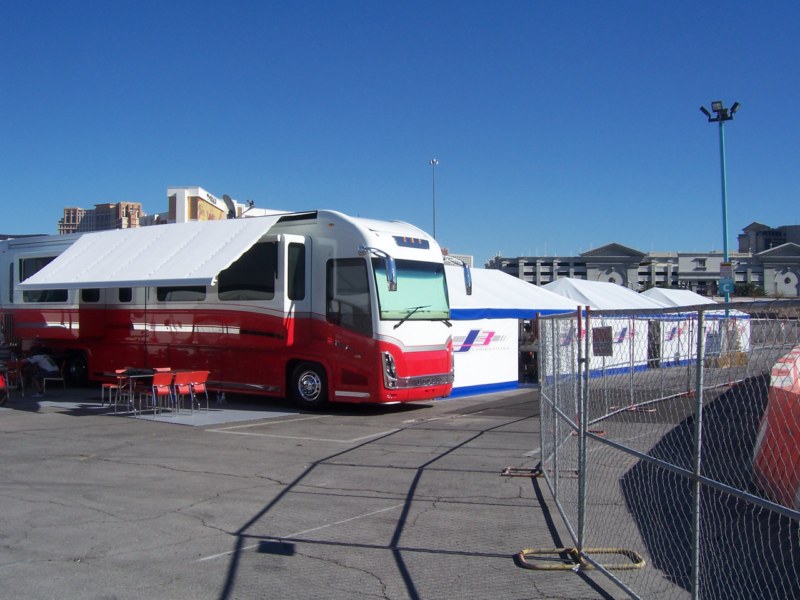 Nice RV setup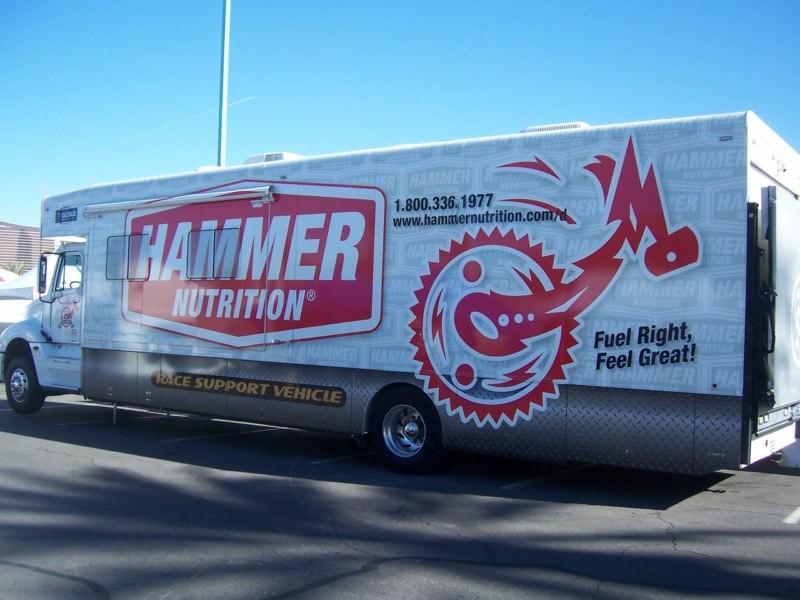 The Hammer Nutrition truck supporting the drivers from the Northwest

Each of the mega-sized rigs is probably supporting anywhere from 10 to 25 drivers.

I already picked up my fuel and oil, mixed them, and got my race tires, mounted them, so I'm ready for tomorrow morning.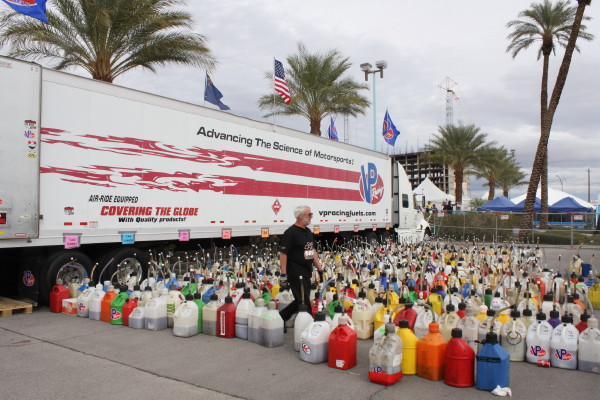 Everyone has their own fuel jug that is stored and maintained in one area
Today I was in the tent pretty much from 8 a.m to 7:30 p.m, doing minor to my kart, working on unpacking the trailer, getting our pit area set up, etc.

Here's the kart I'm driving for the week: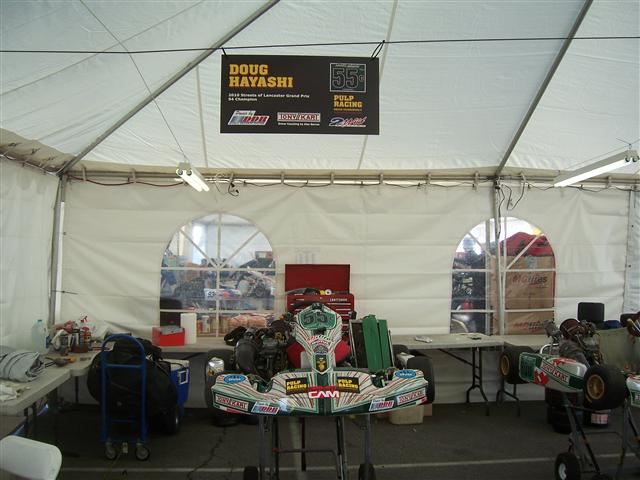 My ride for the week
It is a Tony Kart EVXX 30mm shifter kart with a Darcy Decoste Stock Honda motor, using an RLV pipe and M4 silencer. AIM is doing a promotional deal where if you run their Smarty Cam stickers on your kart, you will be eligible to win a $1,100 Smarty Cam if you win your class. The Smarty Cam will record the fun you are having on the track and will also superimpose data like speed/rpm/G's/gear/etc automatically on your video. Since I also have brake pressure sensor, throttle position sensor, and steering sensors on the kart, I can superimpose that data also on the video.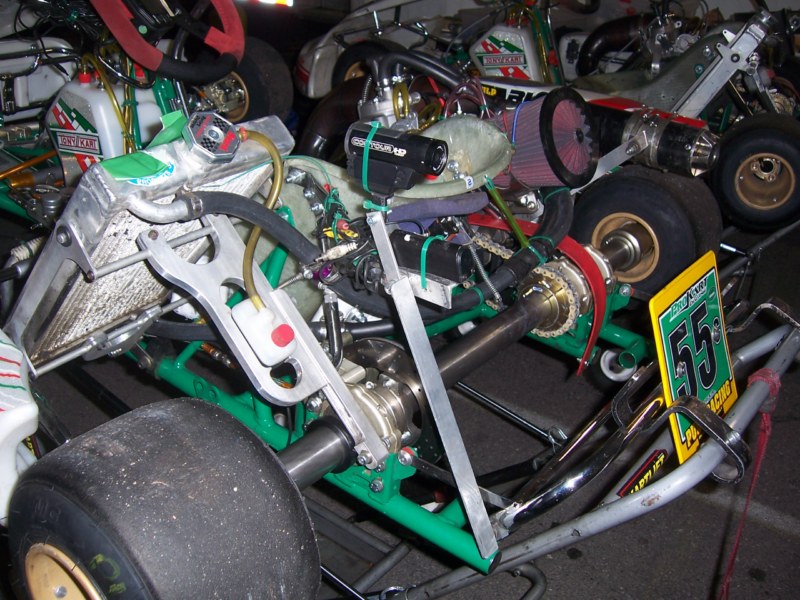 Contour HD rearward facing camera

Right now I don't have a Smarty Cam (but hopefully in five days I will. haha). I do have a Vholdr Contour HD camera up by my steering wheel.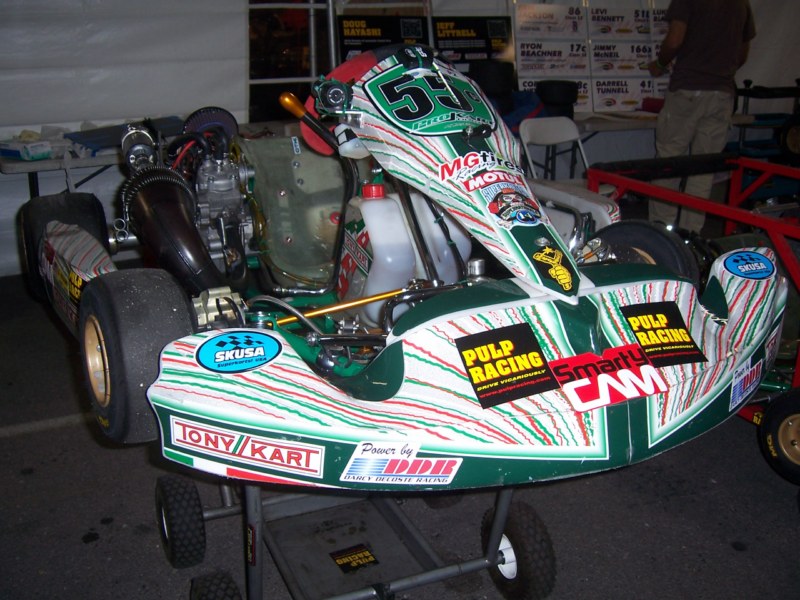 Forward facing HD camera at top of the fairing
On the rear of my kart, I also have a Contour HD camera facing backwards as a "Loser Cam". I haven't had much success with an HD backwards facing camera, but I thought I would give it a shot at the Supernats. As a backup camera, I have a low resolution 360x240 bullet camera from helmetcamera.com also pointing backwards. Sometimes the footage from the rearward facing camera is better than the forward facing camera (hummm....I wonder if that is because I am holding people up on the track....)

Side view of kart: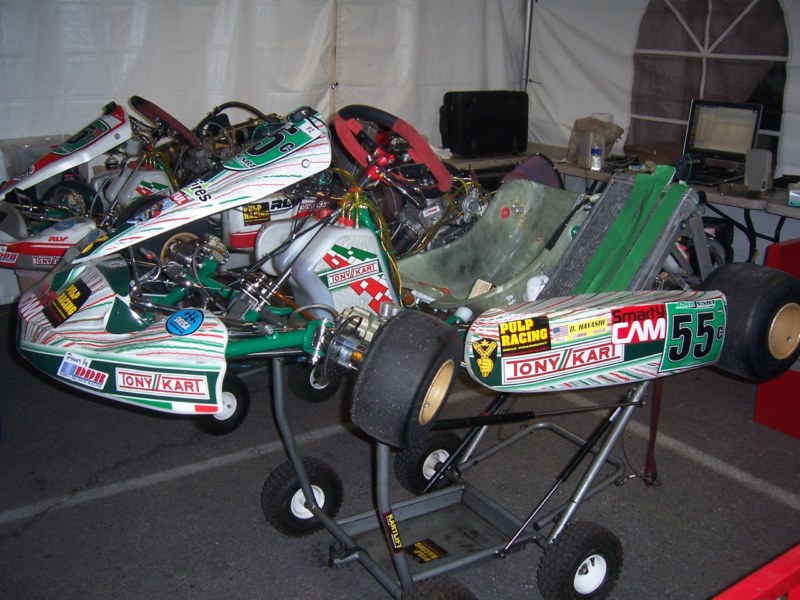 Is this kart fast enough to be on pole?
Previously when I bought my Tony Karts, I would immediately have someone strip off the paint and I would have it powdercoated red. I hate green, because it is the color of the Celtics. The last Tony Kart that I got I gave up getting it powder coated because it is a pain in the ass to remove everything off the kart, and then get everything back on the kart because the powercoating makes the tolerances of some of the parts hard to put back on, and also because we didn't have enough time prior to the previous Supernats to get the kart ready in time. So last time I chucked the green decals, and put my own red decals on it, so at the the kart was sorta red. (see kart behind my kart) This year, time was running out, the bodywork is different so the old red decals won't work (you have to buy sets of 10), so I gave up, and went with stock green chassis and stock green decals. I threw in the towel, bought 2000 green tie wraps and three rolls of green duct tape. Sucks. The slingshot sticker is the logo from the gypsy punk band Gogol Bordello. The full sticker also has words "Familia Undestructable" below it, but there wasn't enough room for the full sticker. Hopefully it will be the good luck charm I need to make the kart Undestructable for five days of racing.

Anyways, the kart looks pretty good even if it is green, let's see how it holds up in practice tomorrow. SKUSA broke up the day into half the classes race in the morning, and half the classes race in afternoon/night. Luckily for us, we can sleep in and aren't on the track until 2:30 p.m., so we can sleep in. Bad thing is we will be doing practice session 3 and 4 under the lights, as our last practice is at 6:30 p.m. Which means the track could be cold and slippery.

Ekartingnews.com did their S4 preview a couple of days ago: http://www.ekartingnews.com/news_info.php?n=16770
I wanted to add that there is another horse in the race that they didn't mention (besides Wayne). Randy McKee was running really fast at Perris when we were there last week, and he was well into the 38's on I think older tires. Randy used to run in a pack with all of us, but hasn't been racing as much lately. He won the Gatorz's Street of Willow shifter race in 2009. We'll be keeping an eye on him, as well as the other competitors in the Ekartingnews preview.

Oh man, it's 10:33 p.m. already. You know what that means when we have to race tomorrow.....I gotta go find a blackjack table.
Crap. Found a $25 minimum double deck blackjack table at the Rio that pays 3-2 on blackjack. Unfortunately, got blown out. The night before, lost about $150 playing $1-$3 no limit poker at the same table as Jordan Musser. I walked into two guys that had full houses (one of them on the river), and another guy that hit a straight on the river. Lucky bastards. But I won a $150 playing online poker in my room, so I figure I'm down about 3 kart tires at the moment.
Wednesday morning, November 17, 2010
I wake up at 8 a.m. with my alarm clock, and a couple of minutes later I hear the roar of karts from the kart track outside my window. Nice!

9:30 a.m. Wayne calls me. Raceaflais strikes him. His Southwest flight out of Orange County is on a plane that is uh....broken. They have to get off plane and find another. I tell Wayne he should head home, go wheels up on the Ferrari 360 and blast here in 2.8 hours (280 miles, you do the math). Wayne couldn't fly up yesterday, as his wife is working, and he has a 6 year old, a 4 year old, and a 1 year old to take care of.

On my home front, it never fails. As soon as I leave the house to go racing, someone gets sick. My son was sick yesterday, and today he has a 103 temp, so my wife has to take him to the doctor today.

I head down to the track, and I see Jeff Jeppesen. He's got a Piloti distributorship. Nice! I was looking at buying some Puma racing shoes at the local race shop in H.B., but they wanted $250. Ouch. Jeff said he has special this week at Supernats, and he has 300 shoes in stock, all sizes/colors/models, for $100. I convince him to sponsor me in return for commercial time on this diary. (Hey, Rupert Murdock probably gets free products sent to him all the time. Control the media, control the world.) Anyways, all you racers at the Supernats, stop by Jeff's booth and get fitted for some new shoes!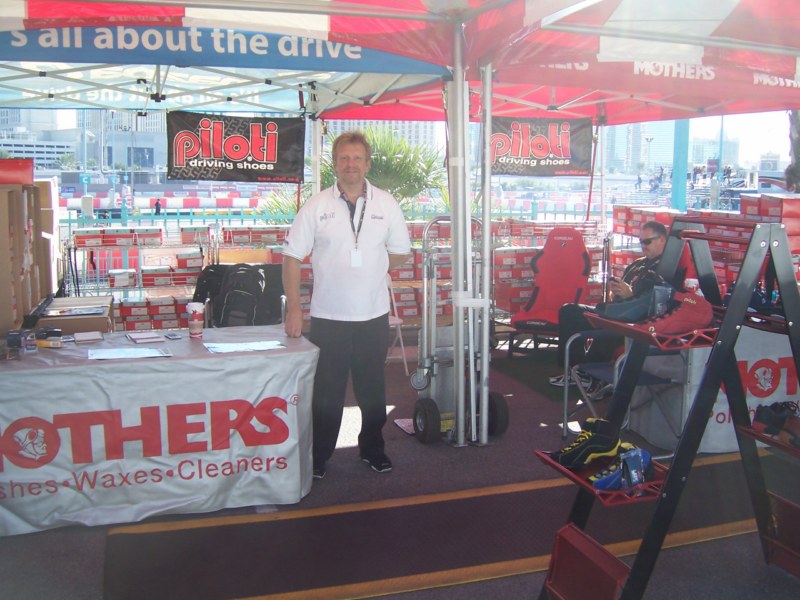 Jeff's Piloti booth at the SuperNats
Call Jeff at 714-847-7704 if you want racer discount of $100 for Piloti shoes. There are also "group discounts" available, talk to Jeff about that. Website in development at http://www.classycarsdetailing.com Jeff is the guy that details all the high end cars, stuff like Chip Foose vehicles, etc.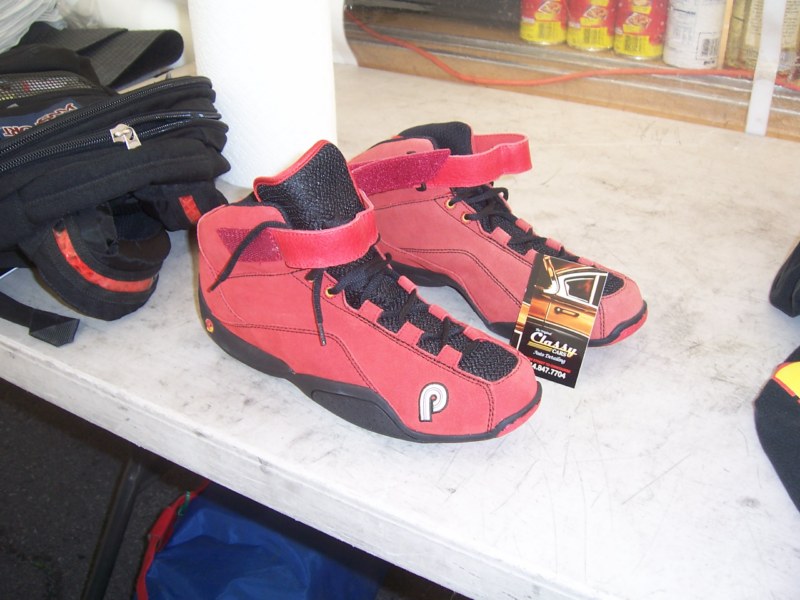 I picked up a pair of these shoes. Ultra comfortable!

Next step is off to the Spa/Gym at the Rio for a quick workout to get pumped up. I tell them I need a 15 minute workout. They tell me they need about 22 bucks. Damn. A 1.50 a minute. I do my workout. I am pumped up and ready to drive.

That's all until late tonight. We are on the track in 2.5 hours, so things will start to get crazy busy.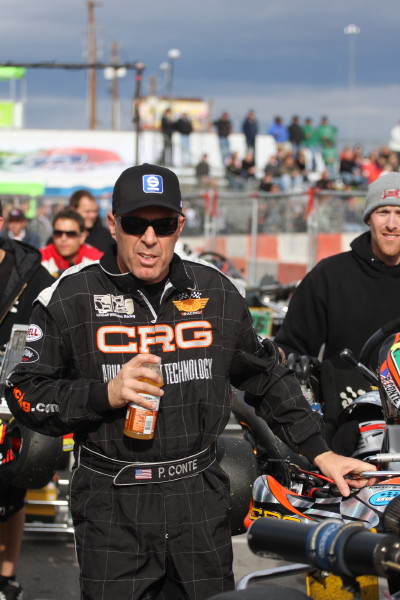 Phil Conte needs enough points at this race to be declared the Pro Tour Winner in the S4 class

Wednesday, November 17, 2010

1. Wayne makes it into town in time. Apparently they were able to fix the plane.

2. 2Wildkarting also hires Jason Hettervick to help out the tent. Jason and I have worked together in the past.

3. Session 1 goes okay, I don't crash or hit anything. Track is close to same configuration as last year.

4. Session 2 better, getting acclimated to the track.

5. Session 3, Hettervick suggests some changes to kart. I sorta disagree, but I roll with it. Success! I drop half a second to 42.6.

6. Session 4, Hettervick suggest another change, I sorta disagree with it, but I roll with it. I tell him I want to put on new tires and do a flyer lap, but he says then we won't know if the changes were good or bad, as we aren't on the same tires. I reluctantly agree. I see Jeff and other fast guys rolling with new tires for P4.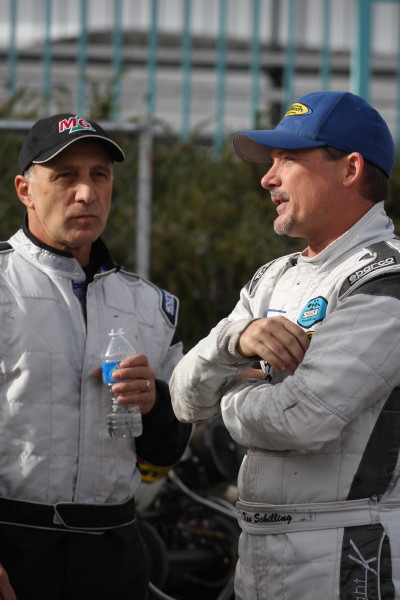 Donia and Schilling comparing notes
So I roll with used tires. Success, I run 2nd fastest time in our session at 42.32, with McNeil in front of me by .04, and Jeff in back of me at by .04. Hummm......maybe I should listen more to Hettervick and keep my mouth shut. I still have Ace in the Hole, as I didn't put new rubber on....muuwhaahaha. Wayne is .2 behind, not bad, considering he didn't run SuperNats last year so this is his first time on the track in this configuration.

We ran under the lights for sessions 3 and 4. I thought track would get real slippery due to the cold, but surprisingly the track was very good. SKUSA was off schedule today by my watch....by about 15 seconds or so. Virtually every session for all 475+ drivers (musta been about 50-60 run groups) ran RIGHT ON SCHEDULE. Have you ever been to a club race where they get off schedule 30, 45, or even 90 minutes off of schedule? That drives me insane. SKUSA somehow figured out to make the practice session go like clockwork. That is amazing considering the amount of drivers on the track.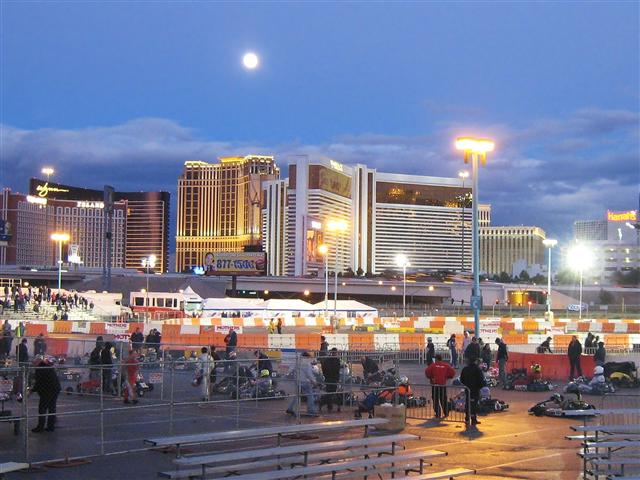 Racing under a full moon
Other notes: Stupid Contour HD camera that faces rearward didn't work at all today. I can't even get the damn thing to power up.

Elbert and I had a few beers, then had burgers/steak sandwich around 1:00 a.m. I hit a good streak on blackjack, ran it up to $500 profit, but then some Asian lady sat at the table bitching about the music and the dancing girls in the Rio lounge. I should known that would have killed the rally. I cash out up $300, so now I'm in the positive column from gambling for the week so far.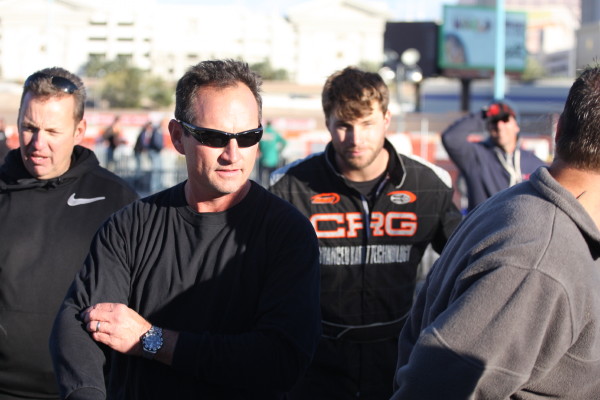 Mike Jones rolling us his sleeves, getting ready to do battle
Elbert and I look around the bar at 2:00 a.m. for other people to drink with, but apparently everyone else is wimping out on us. We head back to the rooms for some sleep.

Plan for tomorrow's four practice sessions:
1. See if good tires makes us faster
2. Maybe try a gear change
3. Don't hit or crash into anything.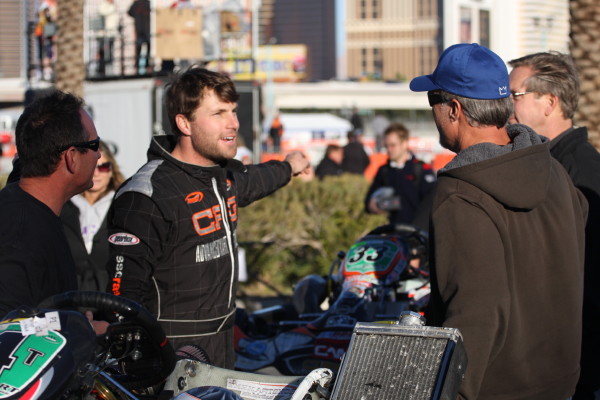 Rob Logan, ex-TAG driver, talking about how these old fart shifter drivers are sitting ducks
I forgot to say that the driver's meeting on Wednesday morning was awesome. SKUSA had a driver's meeting in the morning for the people that run in the morning, and had a separate drivers meeting for the people that run in the afternoon. So you don't have to get up early for a driver's meeting if you are running later in the day.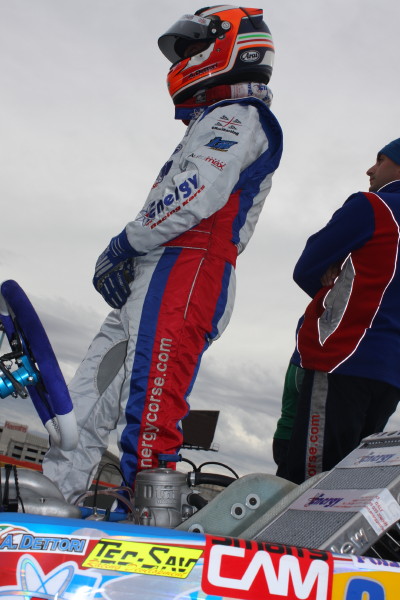 Nice......a Tec-Sav motor in this SuperPro kart
AND, the driver's meeting lasted about 5 minutes. Tom said hello, thanks, etc, some quick info about tech, and then told everyone to READ THE INFO PACKET EVERYTHING IS IN THERE. And then off it was to practice. I hate those driver's meeting that take 20-25 minutes. PROMOTERS, take note: If Tom can do a driver's meeting at the biggest event in North America in five minutes, you local/regional guys should be able to do the same damn thing! Don't make me sit through a long driver's meeting when I gotta make changes to my kart. Print the damn information out, hand it out to the drivers, and be done with the driver's meeting. Some of you guys turn the driver's meeting into a DMV Traffic School, where you get idiots asking questions like, "The last time I got teched, they didn't do it right, I got DQ'ed and I was on pole, blah blah blah". I don't want to hear it. All I want to know is: What is the flagging/starting light procedure for the start of the shifter kart races?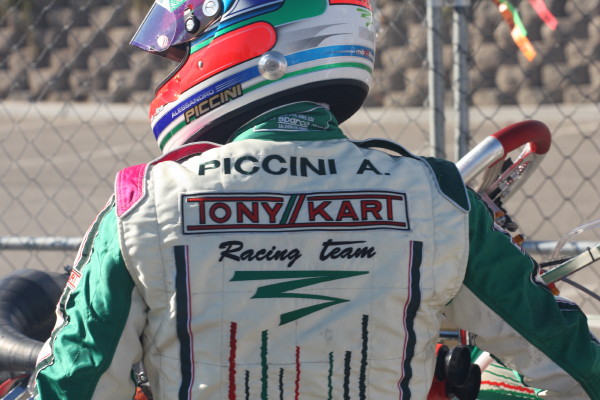 SuperPro driver
And my stupid Contour HD1080p rearward facing camera won't fire up. I read all the support info on their webpage, and I think it is dead. I'll try using lo-camera facing backwards. Unless of course, some Pulp Racing fans in Vegas will loan me their ContourHD camera for the rest of the weekend. I'm sure we can work out some sort of deal....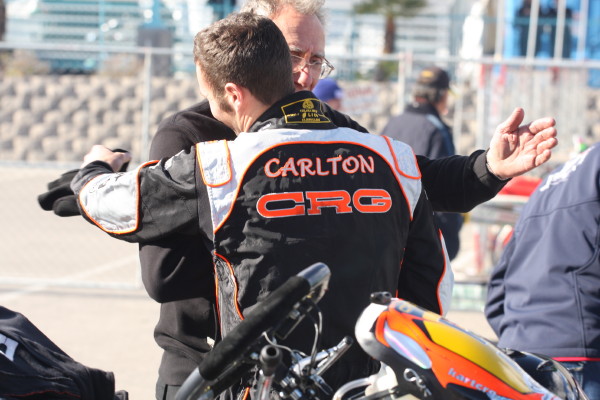 Gary Carlton, America's best hope against the European drivers in the SuperPro class
Thursday, November 18th, 2010
Another fun day of practice.

Session 1 today, we ran on tires that had 5 or 6 heat cycles on it, and were rewarded with a 23rd fastest out of 34. Ooops. Our thinking was to see if the changes we made to the chassis last night worked today in practice 1 on the same tires. Maybe we should have started with new tires.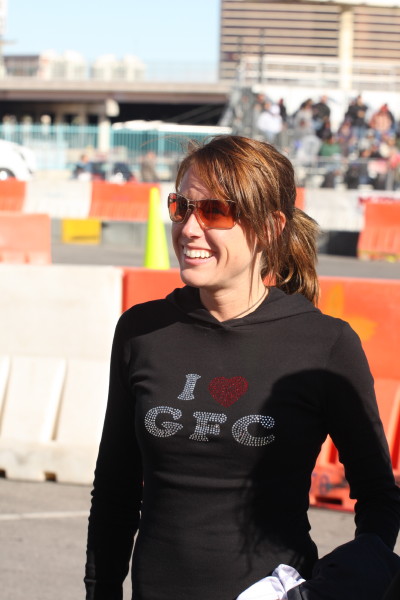 Carlton fan
Session 2: we switched to new tires, and I threw down a flyer of 42.04, fastest on the track by a .15 of a second and fastest time so far in all the S4 practice sessions. I had a little traffic, or else I think I could have put it into the 41's. Right behind me is Mr. Mello at 42.20. I'm sure people were scratching there heads saying, "Those two clowns were fastest guys on the track? How can that be?" Part of the reason is that Jason Hettervick has us really dialed in on our karts, he's getting the chassis tuned really well for the SuperNats track. The more I think about it, Jason was also helping out Connor De Phillippi when Connor was whupping our ass at the kart track in 2007. Makes you go hummmm.....perhaps we should have been using him the past couple of years.


Jeff is struggling bit, we aren't sure why. He also can't believe he's chasing my kart setup for a change. Usually Jeff is about .3 to .5 seconds faster than me....at every damn race and practice this year.

The SuperNats track suits my driving style, which is uhhh...sorta wreckless, not too technical, but requires a lot of balls with full throttle sweepers, high speed straights, and crazy late braking, and getting really close to the barriers for apexes. The Lancaster Grand Prix was a good warmup for the SuperNats, as you need to avoid barriers and hay bales at high rates of speed. The plastic barriers are unforgiving, if you hit them, you'll probably bend something and screw up your session. On the other hand, you want to get as close as possible to them on some of the turns in order to get maximum speed around the apex. Just watch the Superpro drivers if you want to see precision around barriers.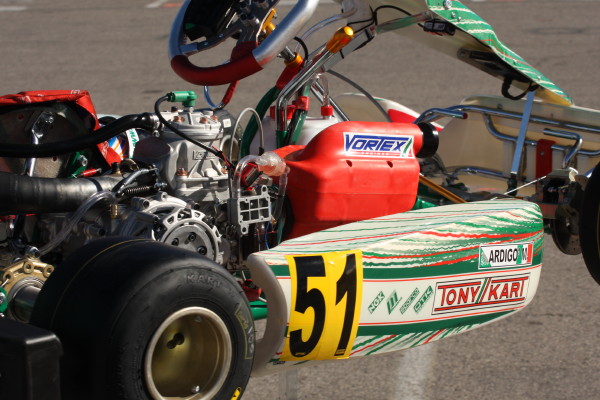 Factory Tony Kart driver Ardigo's kart
Session 3: I make my first gear change of the week, hoping to gain a little more speed using a taller gear. Oooopsie, back to 42.4, that didn't work out. But I had to at least try a gear change. Two of the drivers from Mexico thrown down their fastest laps at 42.06 and 42.07. I'm fairly certain they had new tires on. A driver bangs into Wayne, bending his axle.
Session 4: I switch back to other gear. I notice a lot of people throwing on new tires for this last session. I run a 42.2, which is only good for 9th, but I think a least 5 of the drivers in front of me put on new sticker tires for this last session, where I'm on heat cycle 3 on these tires. Rob Logan, who one can argue is running the best out of all of us, is the only guy that breaks into the 41's with a 41.93. Wayne tries to point Jeff by, Jeff makes a move to get by, but somehow they still touch wheels, Jeff's kart gets up in the air and bends his steering column. Jeff still limps the kart to a 42.18 with a bent steering column and new tires. Let's hope that will be the last time two Pulp karts crash into each other. Actually, change that to we don't want any contact with anybody, we don't want to be fixing crashed karts this week.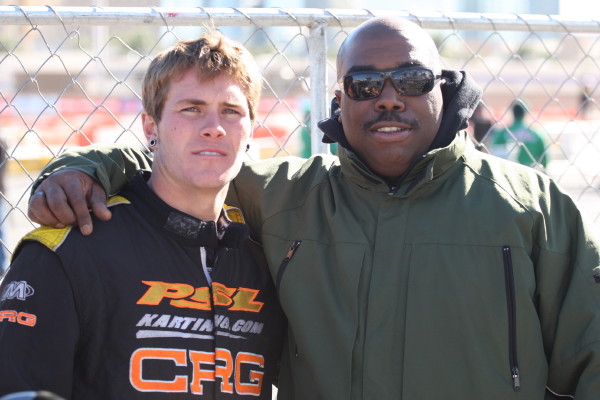 Elbert Thompson, aka "The Black Bullet", hanging out with Fritz Leesman
So the conclusion to all this? Looking at the practice times is meaningless unless you know who ran on new tires that session. At previous Supernats, you could almost pick who the top 4 drivers would be for qualifying in the S4 class. This year, I don't think you can really pick who is going to take the important pole position tomorrow, as there are literally about 12-14 drivers who can throw down a 41.77(my pole prediction) on new tires tomorrow. It will come down to who will be able to get a clean lap with no mistakes, which can be tough with 34+ drivers on the track. I think there are 3 drivers from Mexico that running really fast, Anguiano, Fernandez, and Pena, who are trying to position themselves for the podium.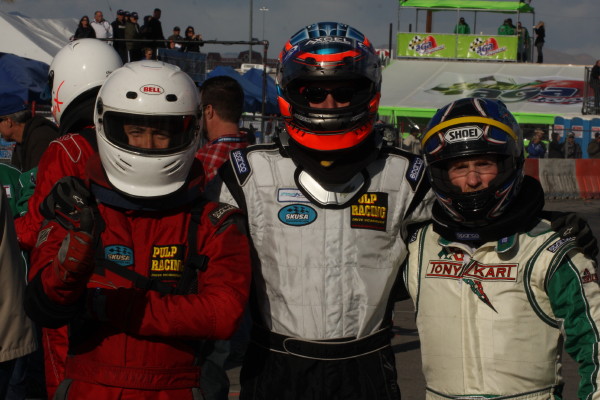 Team Pulp plans on being on the podium
My Darcy Decoste stock Honda motor is running great. I think I have made only one jet change the entire time we have been here. The Honda CR125 motor is like the Southern California Edison: You turn on the switch, and it's ready to go. It sorta becomes invisible, and you can just worry about your chassis and what gear you want to run. You don't have to dick around with it a lot. Playing around with a motor all day trying to make it fast, or having to put on your "race motor" after doing practice sessions isn't racing. That's an exercise in mechanical frustration. Kart racing (in my opinion, of course), is about racing on the track and being able to make the subtle changes to the chassis to make it go faster. With the Stock Honda, we can pretty much assume everyone is putting out about the same reliable power, so the motor is sorta taken out of the equation.
Some people have commented that my motor seems "exceptionally fast" down the straightaways when compared to others, implying that they think I have done something illegal to my motor. I haven't done anything illegal, but I do take the time to make sure my DDR motor is in tip top shape........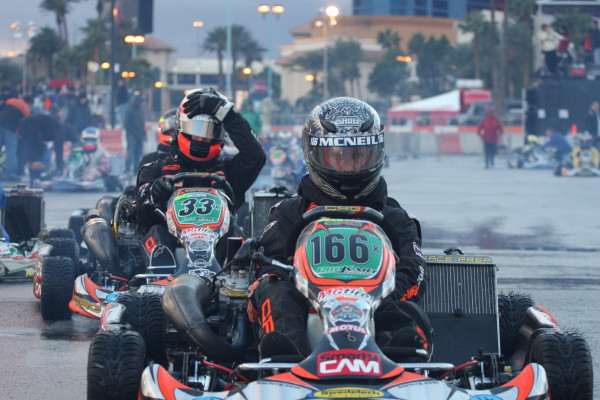 McNeil and Logan lined up, ready to roll

Now that the majority of practice is over and we have a good chassis setup, I might have to try to take a chance and lean it out in tomorrow's practice and see if that can get me the extra tenth of a second that will be important in qualifying. We didn't make a lot of jet changes in practice, as Hettervick is meticulous about changing one thing at a time to see if we are going the right way or not with the chassis. And since the motor is running fine, why even screw with it in practice.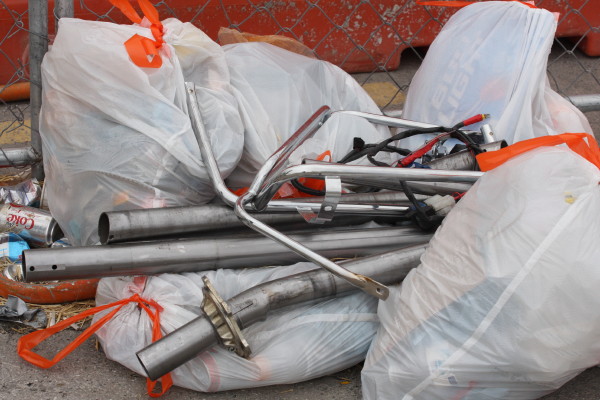 There will be a lot of bent parts at the end of this weekend....
As I have a feeling that .20 seconds will cover the first 12-15 drivers tomorrow. My goal for qualifying tomorrow is top 6, so I can start the heat races from the first three rows. People in the front three rows probably won't go crazy trying to move up a spot or two, so there should be no crashing between the first three rows. From row 4 on backwards, people might get a little itchy to move up a few spots in the heat, so they have a shot at getting into the first three rows for the main on Sunday. Which means the farther you go back, the more risks that a driver has to take in order to position themselves for the main. The more risks you take, the more chance of you DNFing, which could potentially make it so you don't run in the main event on Sunday, as only 40 out of 67 or so drivers will get to race for the podium.

So tomorrow we have practice, qualifying, and Heat Race 1. I've avoided contact and haven't lost any parts on the track....yet.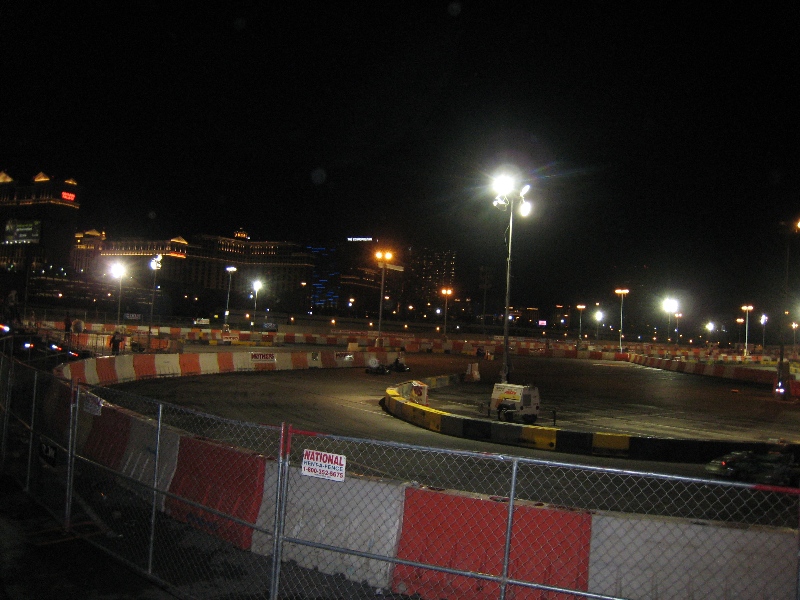 Racing under the lights in Las Vegas
Qualifying:
Instead of lining up at the back of the grid like we always do, Jeff and I move to the front of pack on the grid. We agree that I'll go in front of him as I've been about .40 faster than him so far.

As I go onto the track, I see my wife walking to the grandstands and wave to her. Heh, good luck charm! Or kiss of death?

Anyways, I run into a little bit of traffic that screws up my good laps, when I have no traffic I bonehead and overdrive the kart. This ain't gonna be good. I run a 42.48, which is one of the worse sessions I've had all week, puts me 20th on the grid. Jeff, taking the settings from my front end setup for qualifying, has one good lap putting him 6th. Wayne runs a 42.23, good for 11th. Call me a chocker.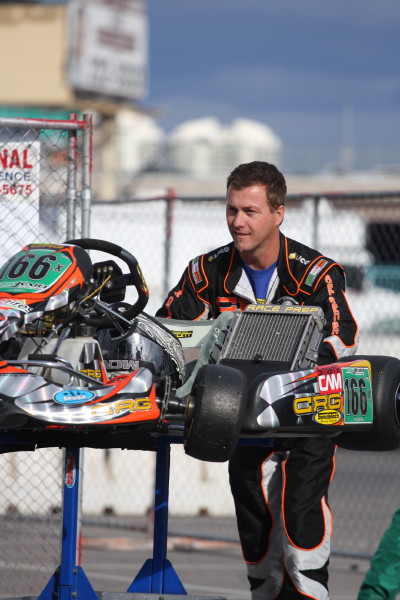 McNeil throws it on pole. Damn, I knew he was gonna be a problem for us in this race!
We are now split up into 4 groups, I'll be gridded on the 6th row (P12 for this race) for all heat races. First heat, I get a good start into turn one, and I think I made up about 6 spots due to traffic and confusion in turn one. But in turn 2, due to traffic and confusion, I lose a couple of them. I settle into I think 9th spot, behind Paul Russell and Jereme Abshire. We get a rhythm going, and its obvious I'm not going to pass them unless I banzai into a turn with them, which I am not going to risk a DNF.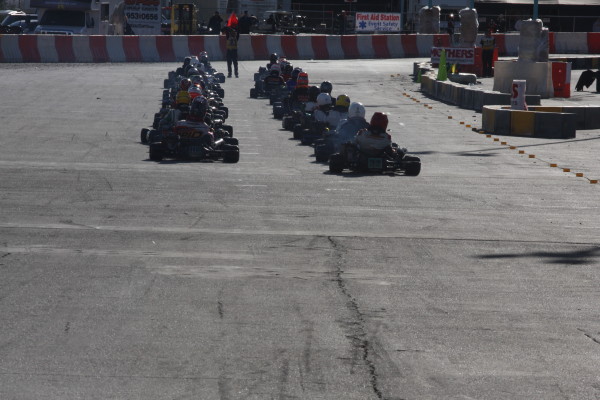 Everything is orderly right before our Formula One style standing start
Coming through front sweeper, I get water on my helmet and my kart gets loose. Uh oh...it is me? Looking ahead, Paul Russell is dropping I think water on the track, cause me and Abshire to get all squirelly. Not good, this is a possible spin and DNF. Soon after that, a big burst of water comes out of Russell's kart, and I get way outta shape but keep it on the track. A little later, Russell pulls off. But I know he's left water someone on the track, and I don't want to be surprised by it. Meanwhile, the guys behind me gain a lot of ground, probably not knowing that there is going to be some slippery spots somewhere on the track. I end up leading a train of karts to the finish line, and I finish 8th. I'm extremely happy with 8th.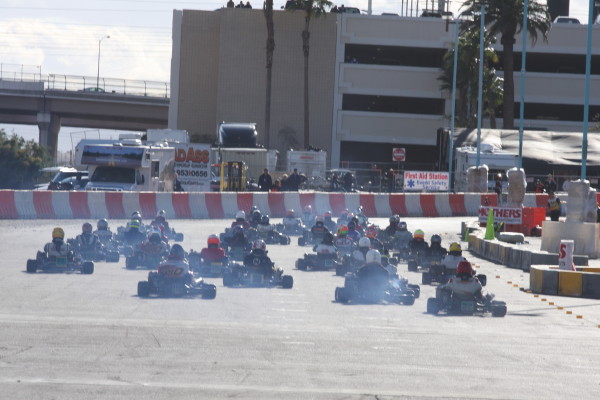 As soon as the lights go out, all hell breaks loose as people in the back scramble to make up some positions
Jeff ends up 3rd, Wayne about 9th in his heat race. Yesterday, in the last practice session, Wayne and I had identical times on our Mychron for our fast laps. Tonight in the heat race, our Mychron both say 42.58. We had this weird thing all year long where will run within .01 of each other in practice sessions.

SuperNats 14 S4 Stock Honda Heat Race 1 from Doug Hayashi on Vimeo.


So it wasn't a great day in qualifying, and since I'm in the kill zone, I'll have to try to make up a couple of more spots so I can get to row 3 or 4 for the main.

On the gambling front, I lost $300 at the blackjack table yesterday, won $250 today, so overall down about $50 so far.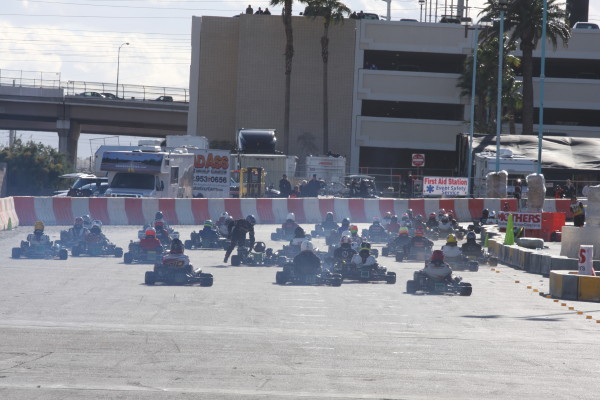 Out of 40 drivers, at least one will stall their kart, probably, 5 will crash out, and 20 will have contact in turn 1
Saturday, November 20, 2010
This was easily the most crazy day I have had in karting in quite a while. The rain came in for our first heat race. We had a dry setup, and when the rain came in, Jason Hettervick, the 2Wildguys, Rob Whitley, etc, all helped us to scramble to swap tires, change camber/caster/front width/rear width.

Rain race was pretty crazy. My goal was to get to 8th or so, and do it without taking a chance at spinning or DNFing. If I DNF, there is a chance I'd have to race in the Last Chance Qualifer for spots 34-40 on the main grid. I had a good start, and being real cautious, there were people spinning all over the place. I was running 15 seconds slower in the wet than the dry. I think after three laps or so I was running about 6th! A couple of guys passed me, then immediately spun out. I kept my pace. Near the end of the race, a bunch of other people passed me (Craig Sender blew by me like I was standing still. He said this was his third rain race.....this month. He's from the Northwest)

SuperNats XIV S4 Stock Honda Heat 2 Rain Race from Doug Hayashi on Vimeo.


I ended up 11th, (strange, because I would have bet money I finished 8th or 9th)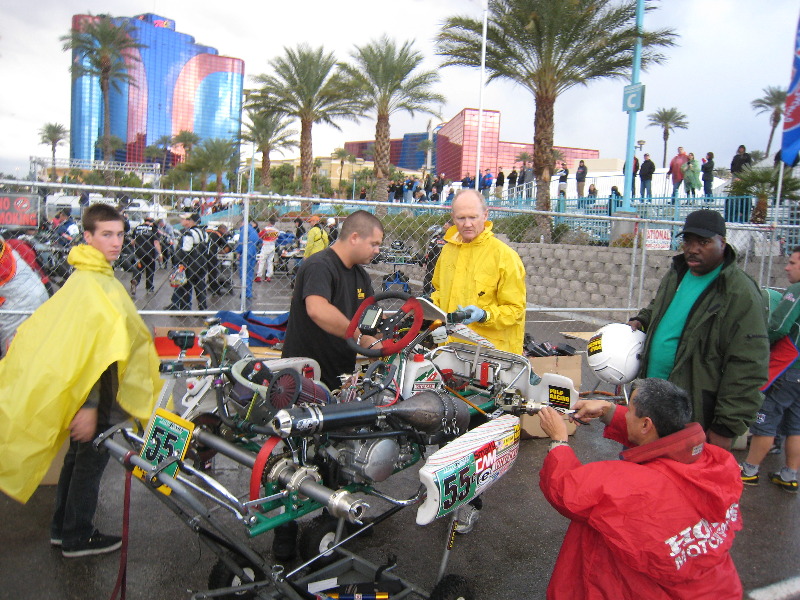 Scrambling between wet setup and dry setup
And then it dried up a bit for the next race. So we scrambled back to a dry setup. And then it started sprinkling again, so then we were ready to panic and go back to a wet setup, but then the rain left. Jason Hettervick said that the S4 group before us was running at a dry pace, so to let it hang out. I attempted to do that, got a good start, but got banged up more in this race in turns 1 and 2 than the previous two races. I guess people are getting desperate to stay out of the LCQ. I end up finishing a miserable 13th place, but at least no DNF.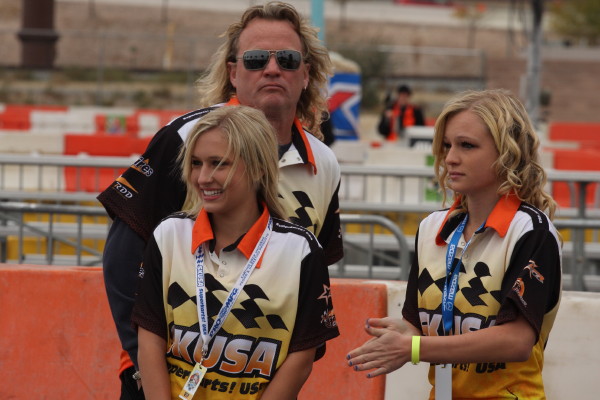 Look at my daughters the wrong way, you'll be racing with the CIK's "Stars of Yesterday"

Jeff and Wayne do well in this race, Jeff winning this heat, and Wayne coming in 4th.

====
So the results were calculated, and it looks like I am gridded 16th for the main. And just like every other race the past few years, Mr. Mello is gridding real close to me (14th). Jeff is on the front row with Eddie Olpin. The S4 main race tomorrow is going to a fantastic race to see. Top 8 drivers are Olpin, Littrell, Fernandez, McNeil, Logan, Pool, Pena, Jones. Everyone else back from there will be in "Death or Glory" mode, trying to make up a lot of positions to get to one of the five podium spots).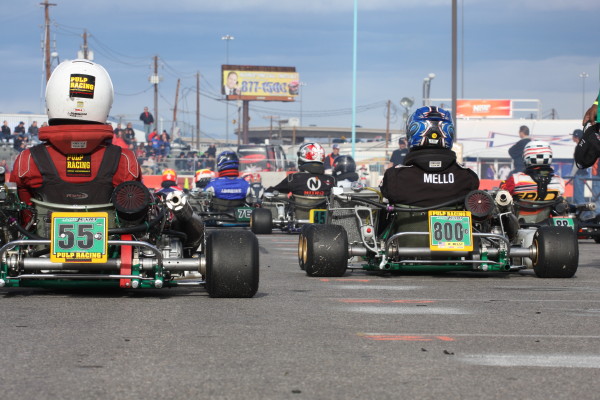 If Wayne crashes into me on the track, I'll have to kill him
It's definitely going to be a thriller tomorrow. Even cooler, we are the warump for the Main Event (S1 Pro Stock Honda), so there will be thousands of people watching our race to see if Littrell can pull off his 4th SuperNats title against the toughest drivers in the world.
Super Sunday, November 21, 2010.
Rough day today. High winds blowing pretty hard. Luckily the big tent didn't fly away, as it was staked to the ground. Practice went good, I ran a 42.0x. I feel like I have some decent speed.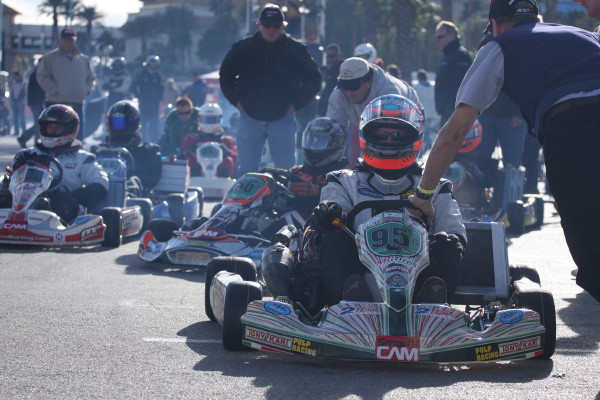 Jeff and Olpin on the front row, with McNeil, Jones, Logan chasing them down
The main was just crazy. On the start I jumped about 3 rows of people going into turn 1, lost a couple coming out of turn one, and got held up in the hairpin. Buzzing around to the sweeper, there is a yellow flag waving. On the narrow inside line, Paul Russell is parked there, as Wayne and someone else are tangled up. I think someone up front from team Mexico spun, recovered, but everyone else came around, it became a 10 kart pileup. I narrowly stopped before hitting Russell, but then I got pegged from behind. Someone's front wheel was up on my side pod. I grabbed the clutch, so I didn't lose the motor. Other people were parked and dead in the water. I kept revving my engine to remind the corner workers by me that I need to get that kart off of me. The guy behind me is wiggling like a fish out of water. (see video below) Someone removed the kart off my rear axle and I peeled outta there. I went from 16 to about 25th on that incident. Talk about disappointing....I'm ready to jump off the top of the Rio Hotel.

SuperNats XIV - Start of S4 Main from Doug Hayashi on Vimeo.
A few laps into the race, I come ripping around the sweeper turn.....and there is no track. The high winds blew the right side of the plastic barriers across the track, so there was no access down the track. I quickly moved to the runoff area for broken karts, and tip toed the kart through there, and then was ready to get back on track and take off, but then they threw the red flag.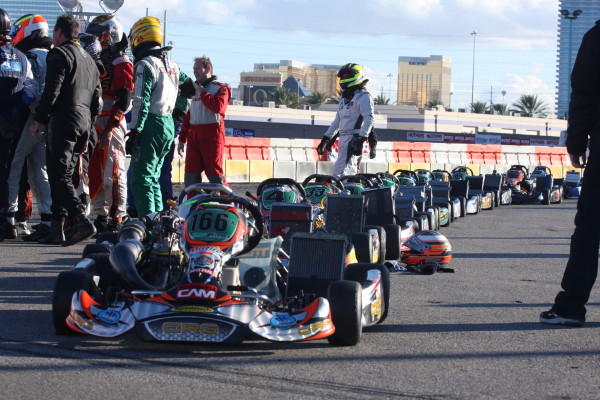 Lined up for the restart of the S4 main, with McNeil leading the way
They grid us up single file for a restart. On lap 3, Jeff Littrell went into the lead....but then his motor had problems so he had to pull off, DNF. Wayne Mello got restarted from the big crash earlier. He had a bent tie rod, but started driving anyways....until the tie rod broke and he went to a wall. Two other karters were involved in an incident, sending a kart flying into the air, which means another red flag. I had moved up from 25th to 15. On the restart, more craziness. We were told 3 laps left due to the two red flags in our group, so people drove like madmen.

People over shot the hair pin, I thought I could make up four spaces in one turn, setting me up for a possible top 10 finish, but then a kart goes flying off from the side of me across the bow, slowing me down and bending my steering shaft. ugh!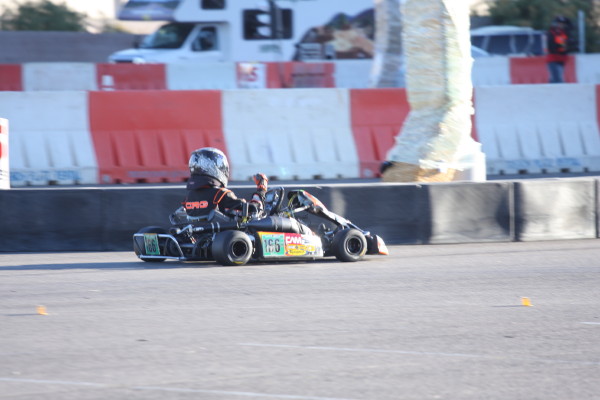 Jimmy McNeil, defeats 67 S4 drivers and Raceaflais to become the 2010 S4 SuperNationals Champ!

Jimmy McNeil, who was also in our tent, won the race.. Congrats Jimmy! (and the other podium finishers Olpin, Logan, Jones, Pena) McNeil was fast all weekend, drove clean and aggressive. He's a true sportsman!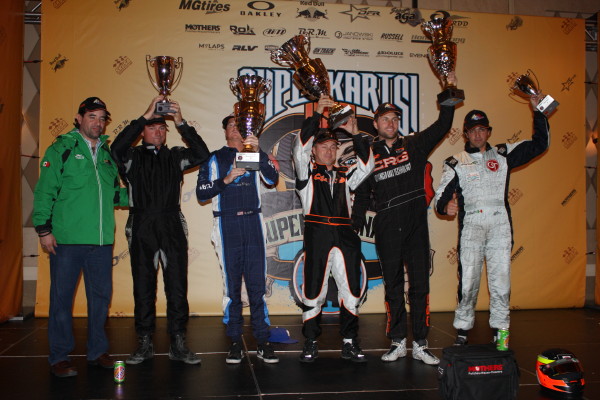 McNeil wins the race, the $5000 BRM watch, the $1100 Smarty Cam, etc.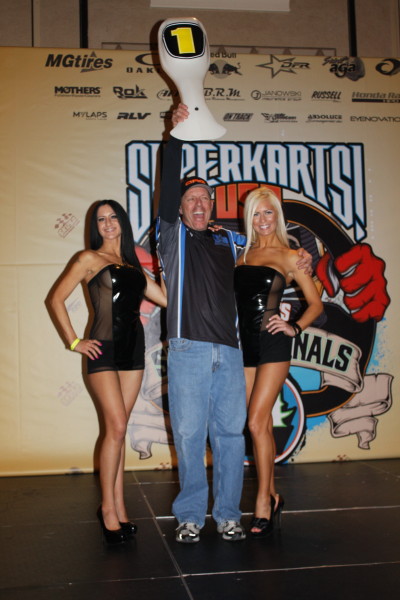 Conte gets enough points to win the Pro Tour, and get the #1 number plate

So I ended up 15th, which really sucked after having such high expectations, and running so fast in practice. But there is always next year.......I have 300+ more days to prepare and train for SuperNationals XV in 2011! Thanks to Elbert Thompson for helping us in the pits, Mike Goebel for most of the pictures, 2WildKarting for logistics/parts/support/tent/transportation/etc, and to Jason Hettervick, whose tuning got us to the top of the practice charts, poised for the podium, until all hell broke loose and Raceaflais whupped our ass again.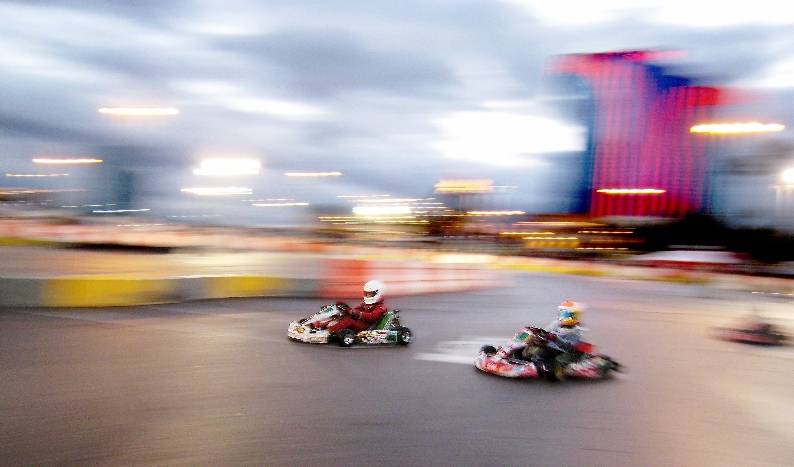 What could be better than 5 days of racing in Las Vegas?
Ekartingnews summary of Super Sunday.