Wurth Motorsports/Bitterman Time Trials/Speed Ventures/etc.
Sears Point, March 30/31, 2002
"The Toughest Track on the West Coast"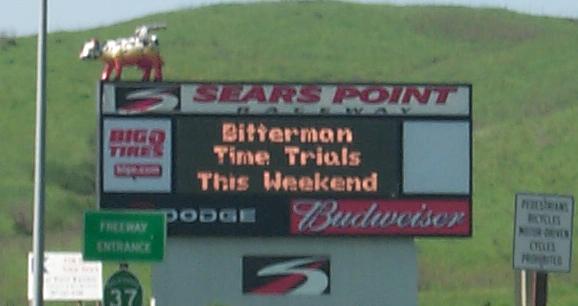 I almost paid Sears to change this to "Hayashi vs. Bitterman This Weekend"
So we left Thunderhill (last chapter), and headed up to Sears Point for the Wurth/Bitterman/Speedventures event. At the last S2000 Challenge event, you might recall that Bitterman pulled a last minute, "Hail Mary, Lord don't let me spin out again" lap to beat me by .067 seconds for fastest lap by an S2000 driver at the Streets of Willow. Bitterman throws 10 bucks down, and says that Bob will be at there with his S2000, and he will spot me 2.1 seconds against Bob's fastest lap. I hear Bob is pretty fast, and that Sears might be one of his "local tracks". Bob is a wheel to wheel racer who has raced various cars such as Spec RX7, Porsche 944, etc. Being a betting man, I think I can take Bob down.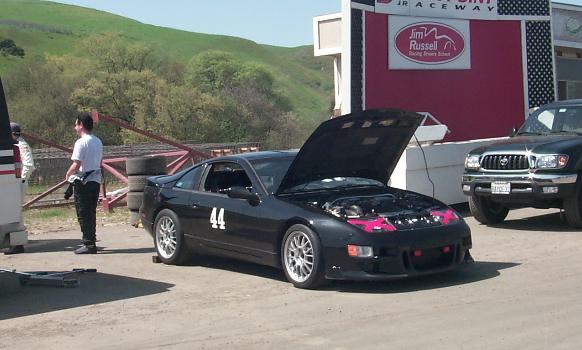 George was running 1:56 in his Z
March 21st, Thursday
The S2000 is in the shop, waiting for parts that are on back order. Josh tells Aaron that I can borrow his S2000, and run it at Sears if my car isn't finished in time. Now this is a very generous offer on Josh's part......but everything breaks at the track, and I am real good at creating mechanical havoc, as you can see from the previous 81 Chapters. I decide not to take him up on the offer.....just in case I crash and burn his car at Sears Point.
=== Insomnia Link #1 ===
A guy over at www.corner-carvers.com spotted someone spouting off dubious information about cross drilled rotors on the Altima BBS. Then the rest of the cc.com tech guys headed over there trying get people to understand the physics behind advanced braking theory in their own humorous way. This thread went to 30+ pages, and is pretty damn amusing, as well as very informative! The cc.com thread about the Altima BBS is here. Unfortunately, I do have ah...drilled rotors on the F355. It came with them from the factory. And yes...they are cracking after only three track events running the car at 8/10th....
=== End Insomnia Link #1 ===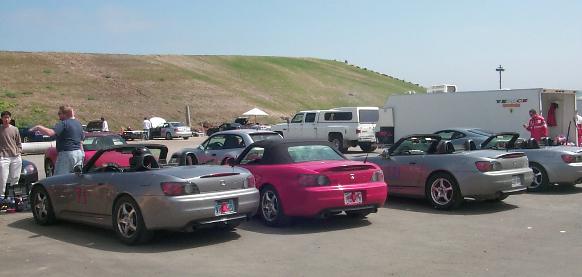 The S2000 drivers ready to throw down some fast laps
March 28th, Thursday
I am at the Stan Brown Thunderhill event, and later that afternoon Costa Mesa Honda finishes my car. They were able to get the necessary parts to get my car back together in time for the Sears event. I call Donald, and see if he can drive my car up to Sears tomorrow. He agrees. This is going to work out perfect. Otherwise, I will have be forced to drive the F355 at Sears (hey, I gotta drive something), and that would be like playing hot potato with a loaded grenade with the pin pulled. Meaning that sooner or later, catastrophe is around the corner. Around 8:30 p.m., we pull into the Novato Marriot Courtyard hotel.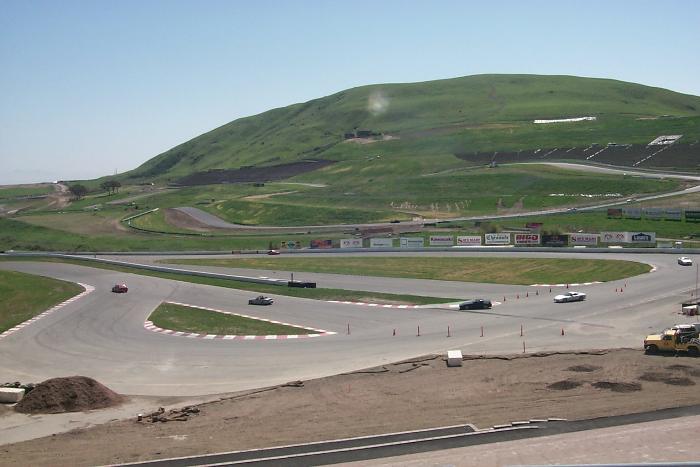 Notice the two sets of grandstands being built into the side of the hill
March 29th, Friday
We decide to drop the trailer off at Sears Point around noon. Sears Point is doing a little bit of construction, say perhaps 50 million dollars worth! You go to other tracks, and they have a pickup truck or two with shovels in it to do their maintenance. Sears has about 40+ big earth moving vehicles hard at work. They are building grandstands into the hill, tunnels, etc. Looks like it will be a spectacular place to view motorsports. It doesn't seem like they changed the track configuration too much. The carousel is supposedly smoother and stickier. Parts of turns 9/10 have a new surface. Turn 1 seems narrower, with a concrete wall that is much closer on the right hand side than before.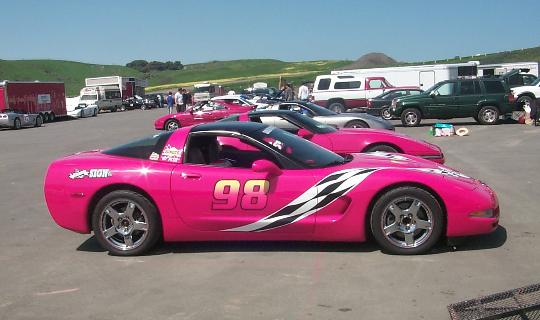 A bunch of Corvettes made it to this event
Since they are doing lots of construction, they make us pit over by Turn 7. Only problem is that I have to lug the big ass 48 foot trailer up a dirt hill overlooking turns 2-6 at what seems like a 40% grade. I have visions of everything in the trailer sliding back and crashing into Wayne's car, which then crashes into the F355. Luckily, we make up the hill, and back down the other side.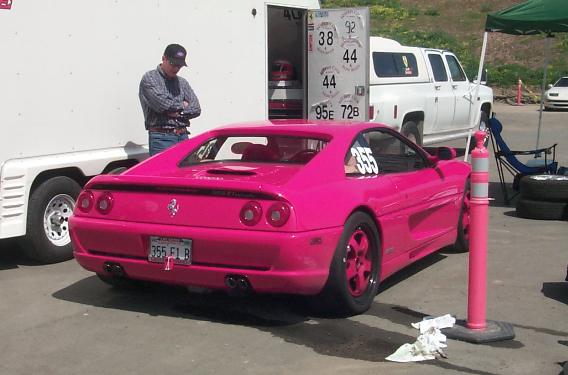 Nice looking F355
It turns out that today is an "Open Test Day", and they have the Russell cars, some Porsche drivers, and some older race cars out there. Hummm....seems like the perfect opportunity for some cheating bastard practice. I try to see if I can get the F355 on the track for a couple of hours of practice, but they insist that the car must have a full roll cage for this open test day. So much for that. A couple of hours later, Donald rolls into town with my S2000. This is gonna be a fun weekend!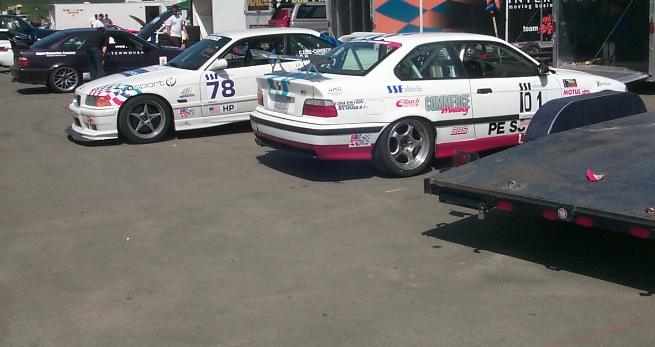 The BMW racer dudes were out in full force for the event
March 30th, Saturday.
Sears is a great track. But in terms of crash factor, I would say that it is easily the scariest track in California due to all the concrete walls around the track. There isn't much room for error. If you spin or go off the track here, their is a good possibility that you will do some damage to your car. The red group is the first session of the day, but it is delayed about an hour due to fog and visibility. The first session I just take my time, as the surface is a tiny bit damp. And like I said, you don't want to go off at Sears. I run a 2:23 or so as my best lap, but I view it as a reconnaissance to get used to the track. I was here once before about a year and half ago with the NSX. At that time, the NSX was overheating and sputtering, and I ended up only running 1:54 or so.
=== Insomnia link #2 ===
The arstechnica website has some pretty intelligent life on it when it comes to debating the operating system "religious wars". Those government morons that are prosecuting Microsoft should hire some of these guys so they can get educated on "facts and reality" when it comes to all the lawsuits that Microsoft is dealing with. Here is an excellent discussion on the stupidity of Sun latest lawsuit against Microsoft regarding the Java programming language. "Uncle Badass" sums up Sun's schizophrenia in their numerous lawsuits against Microsoft over Java in four simple verses:
"Put it in
Take it out
Put it in
Rawhide"
Those of you in the know will know what he means.....unfortunately, none of you work for the nine state attorney generals who are trying to further their political career by prosecuting Microsoft. Hopefully the voters in those states will get a clue about what is going on. I mean, why are 41 other states not participating in the lawsuit.....could it be that they are not getting political contributions from Microsoft competitors like the other 9 Attorney Generals are, as evidenced here and here? The AGs want want to become governor, and what better way to do it then by trying to portray Bill Gates as a Villain. The AG's think they are super heroes, saving people's computers from the tyranny of Microsoft. If the AG's want to be true heroes, they should spend time getting rid of real crime in their states, prosecuting the Catholic Church for moving around priests that are closet NAMBLA members, and getting rid of all this damn SPAM mail in my inbox, instead of mugging for TV cameras and pretending to understand how the high tech industry works. What a bunch of poseurs.
=== End Insomnia Link #2 ===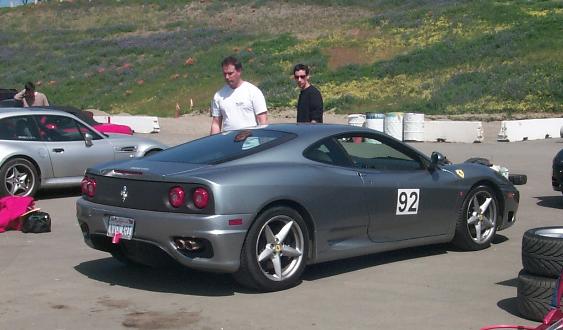 Ferrari 360 ready to duke it out
There are some cool cars here. A bunch of raced out BMWs showed up. The BMW guys run pretty fast at this track, from what I recall from the last time I was here. Some Ferrari guys showed up with a 360 Modena, a 550 Maranello, and an F355. Later in the day, one of them goes off, and does damage to his car. Bummer. But the guy was a trooper, and he just threw some duct tape over the body damage, and got right back out on the track! And I mean a trooper....go to www.speedventures.net to check out his video of the incident!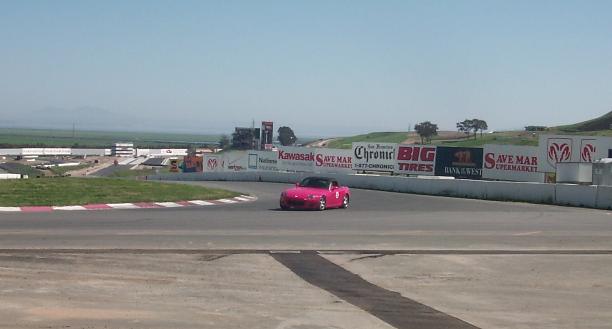 Coming into Turn 7
In the 2nd session, I think I am down to around 2:05 or so. At lunch time, I hear that Bob is running an incredible 1:56 in his relatively stock S2000 with Kuhmo tires. Now that is pretty damn fast. I get stuck in a rut, and in the next three sessions, as I can't get it below 2:02. Bitterman spins off the track, and does some damage to his S2000. Looks like the steering wheel is off center, and his front alignment is way off. Luckily for him, there are a couple of fast drivers that are also good mechanics, and they work on getting his car realigned. One of the BMW guys says there is a part on the suspension that needs a spot weld. I just happen to have one of those Craftsman 80 wire feed welders in the trailer, so we pull that out and the BMW guy throws a little spot weld on the car, and it is as good as new!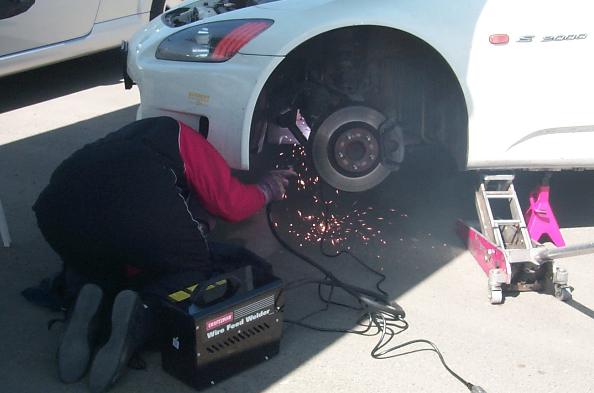 Bitterman goes off again....but a BMW guy gets his car ready to duke it out some more!
I was beating Bitterman, but then he did the smart thing and got Bob to be his instructor, and by the end of the day he is running 1:58.x or so. Last session of the day, I get it to 2:01.x, but that's all I got for today. Dave Kennedy in his supercharged S2000 runs a 2:00.x, so it looks like I have 4th fastest time of the day for S2000. Unfortunately for Bob, he says his car is making funny noises, so it looks like he might be out for tomorrow. Later that night, I have a hard time getting to sleep, as I keep mentally replaying laps of Sears Point in my head, trying to figure out how to get a little quicker.....
=== Rant #2 ===
Isn't depressing seeing all the TV commercials using songs from The Who, Led Zeppelin, Iggy Pop, Rolling Stones, etc? Don't you ever wonder why that happened? Did they just sell out, or did their record company sell the rights to their song? I think it is because the original artist doesn't control the usage of their material. Either that, or they choose to be carnival barkers. Do you know why you will never hear "Born to Run" as a tire commercial? It's because back in 1976 or so, Springsteen sued his manager to make sure he retained full control of the songs he wrote, and he refused to finish another record until all this shit was cleared up. Therefore, he doesn't have to ever watch a commercial using his songs to sell products like some buck toothed carny.
=== End of Rant #2 ===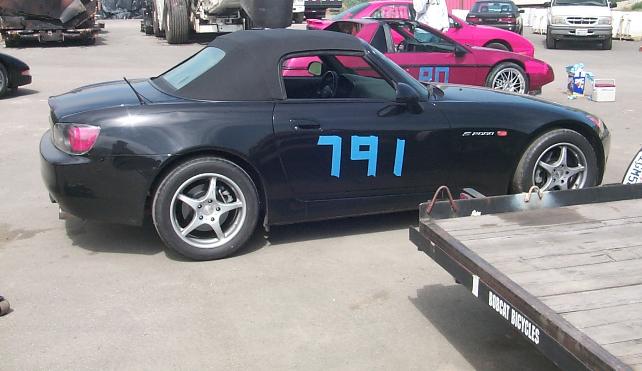 Bob whupped ass on all the S2000 drivers
March 31st, Sunday.
It's Easter. Using the power given to me by my minister credentials, I start out the day with a little prayer, asking for a little guidance from above to get below 1:56. (Note: Ministers can have sex, it is Catholic Priests that are supposed to remain celibate, especially when it comes to young boys.) It looks like a great day at the track. Warm, sunny, a little bit of a breeze.....almost like a nice summer day. Within a session or two, I cut 3 seconds off, and I make it to 1:58.9. Look out everyone, I am getting dialed in. Unfortunately for me, I keep trying during the day to make it below 1:58 so I can beat Bitterman, but that ain't happening. I start checking lap times, and it looks like Bob, Aaron, and myself beat all the Vette guys that showed up this weekend with our S2000s. Eric runs a 2:01 in his S2000 with street tires! Results are at http://www.speedventures.net/event_results.asp, there are two entries for Sears, one for the 30th, and one for the 31st. Bummer about one of the BMW racer dudes, who put his beautiful BMW into a wall over by Turn 9. Rumor has it the new pavement there was a little slippery. I couldn't bear to take any pictures of the wreck. (Translation: I couldn't find my camera in time)
Some other dudes showed up in a Porsche 944, with a boom box blasting out very loud rap/hip hop music(definition: people who can't play any ffing instruments) in the paddock area, along with members of the crew drinking what appeared to be beer. After the 944 when off the track and hit either cement or a tire wall, the music suddenly got a lot quieter out of that boom box....
So there were at least three cars that had some "interaction" with the track. Be careful if you ever make it to Sears Point, it is a lot of fun, but it can bite you in the ass.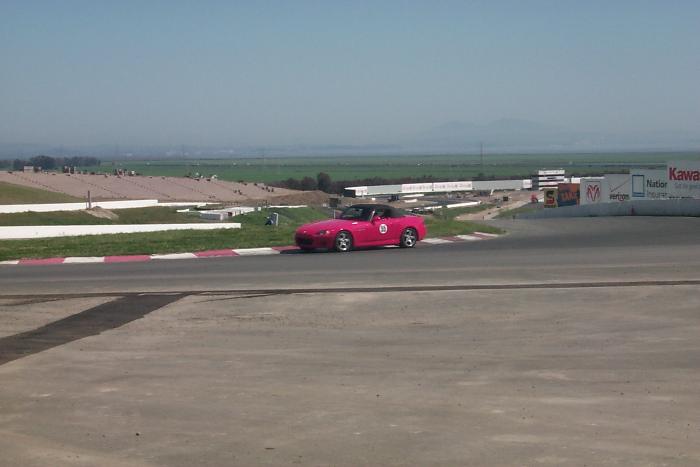 Going into Turn 7. Notice the grand stands in the back ground
April 3rd
Jeff has this theory that it is wimpy to take streets cars to the track, or modified streets cars turned into race cars to the track. Instead, he thinks the only real way to go to the track is to buy a race car (Like his Sports 2000) and race them in a spec series, as this is the only way to "really race". He has a point....but I just had both the F355 and the Honda S2000 on the track, and I feel like I really understand their full capabilities as a "track car", and even more so as a street car. Which makes it even more enjoyable to drive them on the street, as you appreciate more of what the car could do if the city streets and off ramps were empty.....especially since my street setup for the F355 is now Hoosiers and R4 pads, and the S2000 street setup is Yoko A032Rs with R4 pads. Those combos put a big smile on my face, and ensures that I get to hit the Go-Fast Crack Pipe every time I pull them out of the garage!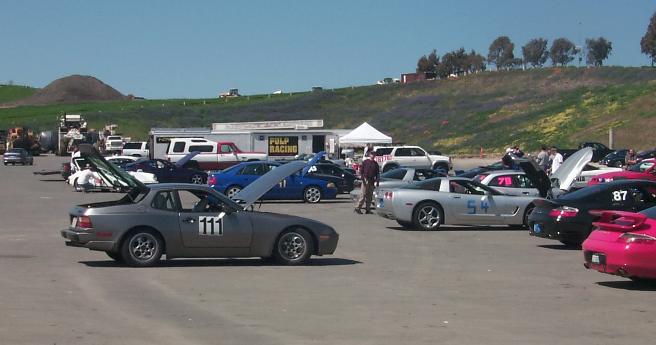 The paddock area at Turn 7
Other Miscellaneous Stuff
James Sofronas has been having quite a bit of fun on the track lately. I haven't had to chance to hang with him at the track, it seems that we attend parallel events and never meet up at the same track. Anyways, I guess he sold his BMW that has won about 20+ BMW Club races in a row as well at the USTCC Championship last year prior to the NASA/Open Track Fontana event at the California Speedway back in early March. Perhaps a lot of the BMW guys felt like they now had a chance to win the next BMW race. But then James told me a week before the race that he has a secret weapon, and not to tell anyone about it. He bought Jeff McMillen's World Challenge BMW less the drivetrain and installed GMG's own motor and tranny....this saved about $40k over the PTG setup that Jeff was running.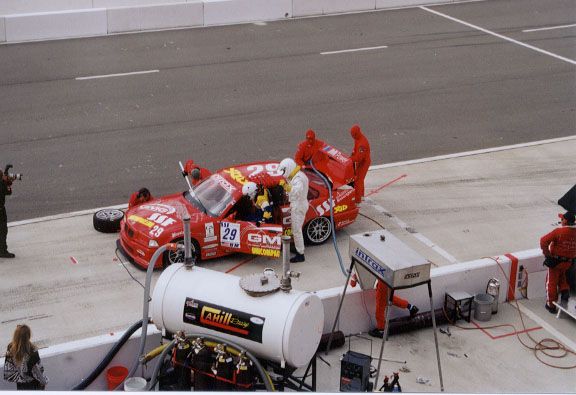 Sofronas's car stopping in the pits at the Grand Am Race at Fontana.
He then takes this new car to the NASA Fontana event, and spanks everyone in the BMW race after getting the pole by over 2.5 seconds. I have to applaud this slick "Cheating Bastard" move. His Go-Fast company for BMWs, www.globalmotorsportsgroup.com is doing well, and he can make your BMW Go-Fast! He also ran his car with Belinda Endress as his co-driver at the Grand Am Cup race that was held before the CART race at Fontana, and was leading the race for a couple of laps near the end of the race but lost fuel pressure with only a few laps to go and had to settle for 7th out of 21 in the GSI class which includes the 996 Cup Cars and 450hp Vettes! Look for him in your town at some of the Grand Am Cup and World Challenge races across the country!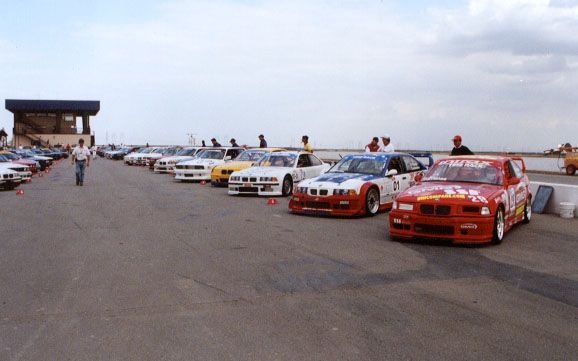 On pole at the Buttonwillow NASA/BMW race


Pyramid of Speed stuff.
Thanks for all the mail on the Pyramid of Speed from Chapter 78. I had a lot of interesting suggestions. Stuff like:
1. Put Canyon Ballers at the bottom. Checkout the discussion at cc.com.
2. Put Motorcycle wheel-to-wheel racers at the top.
3. Put Open Wheel Racers at the top.
4. Put Rally drivers at the top.
All good suggestions.....but since I can't ride a motorcycle, I don't have an open wheel race car, and the weather is always good here in Southern California, I think I will keep myself at the top of the pyramid. Hey, its my damn website! <grin>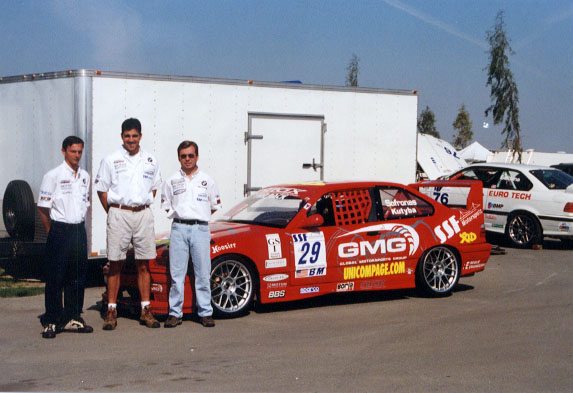 Sofronas (middle) and team
NSX Thunderhill Event on April 23rd
Wayne and I were going to be instructors at the NSX event at Thunderhill on April 23, which is being produced in conjunction with the BMWCCA. Wayne was going to take his 944 Turbo, and I was going to take the S2000. But the organizers decided to ban Wayne from this event because they feel he is "too aggressive, and won't be able to tone it down". They also said that they did not want any Hot Lap Timing Devices on the track for both students and instructors. Now I can sorta see their point about timing systems when it comes to students who have little or no experience, but I maintain that for advanced students or instructors, the Hot Lap Timing Device is one of the best instructional aids around. (Providing your goal is go drive faster laps, and you want to buy Go-Fast parts that actually help achieve this goal).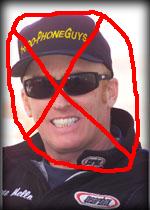 +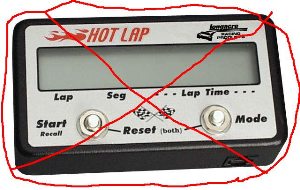 =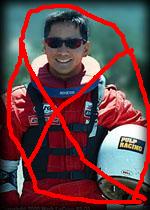 Banned from Thunderhill NSXCA event
In my opinion, as I have stated before somewhere else on this website, everything in life should be measured, or else you won't ever get better at whatever it is you want to be better at. If you only got "pass" or "fail" instead of "A-B-C-D-F" grades measured against your peers all throughout high school, would you be motivated to learn as much as you could? If you are sales person, you are constantly measuring how much you sell compared to others, otherwise, there would be no motivation for working hard to close deals and learning better selling techniques. If you play Doom or Gran Turismo, don't you watch your score/lap time to see if you are doing better than the previous time? When you are on a diet and want to lose weight, don't you step on the scale frequently to see how you are doing? If you work out at the gym, are you not conscious of how much weight you lift, and each time trying to lift a little more?
M-E-A-S-U-R-E-M-E-N-T. The key to success.
What would happen if your kids played in a high school basketball/softball/football league that refused to keep score during the game. Would they ever improve as fast as kids who played in a league with scoring and statistics per player? Hell no. The players who keep score, keep statistics, and constantly measure themselves against others, get better and better each time. I believe this is why the S2000 drivers participating in the S2000 Challenge are getting to be such fast drivers. Three drivers were below 2:00 at Sears in stock S2000's with Hoosiers, and another 3 or so were hovering around 2:01 or better. Crossdressers, I mean autocrossers get to be really good with suspension theory as they tinker with their suspension settings, do a run, immediately get their laptime, re-tinker with settings, get back in the car and do a run, immediately check laptime, tinker, do a run, etc. Which is why you won't see me on an autocross track, as they would probably kick my ass and gloat about it on their webpage. And we can't have that now, can we...<grin>

Another S2000 having fun at Sears
The organizers for this particular NSXCA track event are concerned that timing devices violate their insurance for the event. Despite the fact that the following clubs do not seem to mind if their instructors/advanced students use a Hot Lap Timer:

1. Open Track Challenge
2. NASA
3. Wurth/Bitterman/Speedventures
4. Touring Car Racing Association
5. Ferrari Owners Club
6. Ferrari Club of America
7. Porsche Owners Club
8. Porsche Club of America
9. Alfa Romeo Club of SoCal
10. Green Flag
11. TracQuest
12. Unlimited Laps
13. The Pantera Club
14. Viper Club
15. Shelby Club
16. SpeedTrial USA
17. SCCA
18. Donutz Racing
19. DaliRacing
20. Alfa Romeo Club of Puget Sound NW Region
21. Checkered Flag
22. Sacramento Miata Owners Club
Etc.....
Another NSX owner emails me the following:

"Since the rent-a-cop BMWCCA Nazis took over the NSX events, we are having to put up with bullshit like this and not being able to enjoy our cars that were meant to be driving fast and competitively. No wonder the # of registrants is dropping like dead flies out of the sky".
(Now don't take the word Nazi as derogatory in a racist sort of way. It is used in the context of "controlling". Besides, Seinfeld uses it all the time.)
I am not saying that first timers at the track or novices should be allowed timing equipment. I am just saying that instructors and the experienced drivers should be allowed to do it. All I want to do is create an army of Extraordinary NSX Drivers. Before people start viewing NSX drivers like uh.....some of those guys that drive exotic cars, but get passed by Miatas on the track. Which is not a slam on the Miata drivers (aka girly car drivers), as those spec Miatas in the hands of a good driver go pretty damn fast. In fact, some of us are starting to come to the conclusion that an inexpensive way to do wheel-to-wheel racing is to do it in a Miata, as there are lots of similar cars to compete against, the car brakes well and handles well, and are faster than a Spec RX7. But I digress...
Maybe the Wurth/Bitterman/Speedventures guys will create an NSX Challenge class like their S2000/Vette/Boxster Challenge classes. Oh...but wait....first I would have to round up a bunch of NSX owners that don't mind strapping on a transponder, and showing the world what type of lap times they can produce. But that could be hard.....since they haven't been using timers, they might be shocked at what their lap times are compared to the S2000/Miata guys that have been using Hot Lap Timers the past year or so....<grin>
So it looks like we won't be making it to the NSX Thunderhill event. Oh well....it would have been fun to see everyone up there.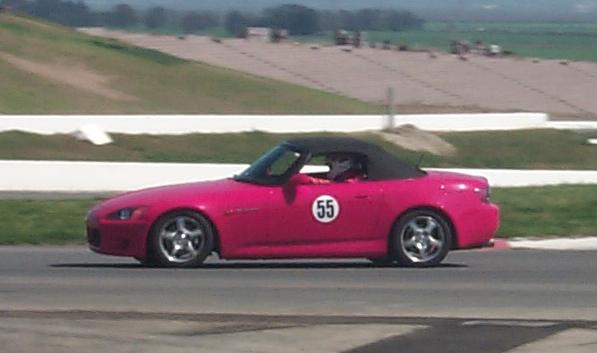 Looks like the S2000 ain't gonna make it to Thunderhill
Bitterman 5, Hayashi 1?
I notice at www.speedventures.net they are advertising "Bitterman 5, Hayashi 1". Just a little clarification needs to be added here....
1. Pahrump - Bitterman runs a 1:58.x to my 2:02. My first time at the track, on street tires. Bitterman has experience on the track, and was running race tires.
2. Buttonwillow, Day 1 - I crush Bitterman by 8 seconds with a 2:12 in the dry, running Clockwise #1.
3. Buttonwillow, Day 2 - I didn't realize that the "S2000 Challenge" was for each day of the weekend. I thought it was for fastest time of the weekend. Does Formula One have two winners each weekend? It rained all morning, so I left, as I had the fastest time in the rain up till then, and no one was going to beat my previous time from yesterday in the rain. So in the afternoon, it dries up, and Aaron of course runs faster. He counts this as a victory?
4. Streets of Willow - I get there at 1:30 p.m., with one leg, hobbling two days after a knee operation, and with a couple of hours practice, kick all the S2000's there by a half second. Bitterman pulls off a last minute, "Lord don't let me spin" lap, and beats me by .067 seconds".
5. Sears Point Day 1 - I was taking Bitterman down. Until he got a lesson from Fast Bob. Then he spun out and wiped out his alignment. So then I let him borrow my welder to put his car back together. But then he did kick my ass.
6. Sears Point - Day 2 - He ended up beating me by half a second. But I didn't get a cheating bastard lesson from Bob. It was just my own natural talent that I got to 1:58.x. <grin>
Anyways, I count the score as "Bitterman 3, Hayashi 3 - to be continued".
Thunderhill Rumor from April 10
George reports that there was a big crash at Thunderhill. A small plane dived bombed into Turn 7, two passengers in the plane died. No damage to cars or drivers or track.
Davepk Buttonwillow Rumor from April 16
Rumor has it that Davepk in his supercharged S2000 ran a 2:11 at Buttonwillow in Clockwise #1 configuration, which is faster than I ran in that config a couple of months earlier. I hope Dave doesn't cause all the S2000 guys to go Thermonuclear on each other, with each person stocking up on more Go-Fast parts for their cars! (see how fun timing is? You can really see who is driving well, and who is currently "The Record Holder" at various tracks!).
Upcoming Events:
We have some big events coming up, so we are going into hiding for the next month. The Open Track Challenge is May 11-18, and I am still scrambling trying to get the NSX ready for that event. We hope to unveil a surprise or two at this event. Maybe Keyser Soze will appear. The guys at www.granturismo.com are speculating that Mumford/Provost are the guys to beat at the OTC. I would post some smack talking and take some bets, but I ah.....gotta get my car out of the shop and see if it still runs before I do that.

The Ferrari Club of America is having their annual meet at the California Speedway on May 25/26. Wayne is taking his 360 Modena to the event, and I am taking the F355. A bunch of activities are planned for that week.
The Virginia City Hill Climb is in the middle of June, and we will be making our annual assault on the Hill for about the 9th year in a row.
Until then, happy driving, and be safe!