Michael Mihld


Another driver coming out of retirement and finding the competition has stepped up a notch. With a little more seat time, he will move forward substantially.

Marty Henderson
Had mechanical problems, and didn't get a qualifying lap. Took 2nd in last PKC race in Stock Heavy, so he'll be moving up as the day goes on.
Heat Race 1
I'm not feeling too bad about being in the 4th row, considering there are some really fast guys in rows 1 through 3. For some reason, I had to have Jeff Jeppeson push start me about 6 times before the motor would fire up. Hummm. The starting procedure is that the starter flag person will signal everyone to get ready. Red light comes on the starting light, and within 3 to 5 seconds, the light will go off, and then we haul ass into turn 1. This time, the "ready" signal is given, we are all staring at the lights, and the red light never goes off due to some technical/human error. However, everyone around me jumps the gun and takes off, but then stops as they realize they jumped the start. Seems like everyone but me has a "false start". WTF? All these guys should be penalized for jumping the start, and I should be moved up to row one. No wonder I get my ass kicked on starts, everyone around me is jumping the gun by a couple of milliseconds before the red light goes off. Those Cheating Rat Bastards!
Red light goes off, and I get by Bonnier going into turn 1. I am able to hold him off for a couple of laps, and then he dives under me going into the hairpin, and gets past. McKee almost makes a run on me, but I'm able to hold him off. I finish where I started, in 7th spot. McKee said my kart was spraying something at him, and it turns out to be gas. I was thinking it was the stupid carb overflow lines. I put a new carb in because the housing on the other carb was all chewed up, so I figured I replace it to prevent a DNF. 2Wild looks at the leak, and Rhod notices my fuel line has a cut in it. Doh! That's probably where the gas was coming from.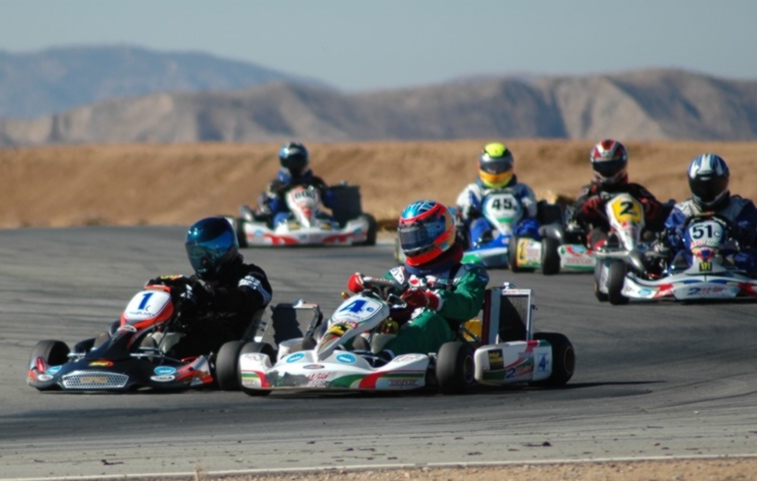 Halen and Jeff duking it out for the racing line
Heat Race 2
Going around the track on the warmup lap, there is a slight hesitation/sputter in the motor. Uh oh. I take my place on the starting grid, and the motor sounds a little better. Red light turns off, I floor it, and kart dies. Nice. Something is wrong. I'm a DNF, and now have to start at the back of the grid from the main. ARRRGH! turns out the fuel pump died. Probably from pumping too hard in the last race when there was a cut in the fuel line. I curse you, Raceaflais.
With a couple of laps to go, Wayne's radiator bracket bolt snaps off. He gets black flagged before he loses his radiator going around a high speed turn, which would be really ugly. He ain't gonna be happy about that. He DNFs, so he'll be joining me at the back of the grid for the main. Unbelievable. We are gridded together for yet another main race. Unfortunately, this time we are at the back of the pack. Jeff is holding down 5th spot on the grid, so at least one of the Pulp drivers has a shot at the podium.
Main Race
Okay, here we go for all the marbles. Red light comes off, and I get a good start, getting by maybe five or six guys into turn 1. Wayne has a tremendous start, and blows by eight or nine guys in to turn 1. I think that Cheating Bastard Wayne jumped the start though. Bonnier Moulton was in the back of the pack with us, and my plan was to just follow him to the front part of the pack, but he's moving pretty quick. Halfway through the 20 lap race, my kart doesn't feel like it is handling right, which is unfortunate, as it was handling great during all the practice sessions. Perhaps I should have anticipated track conditions/tire wear better? I drop off the pace, and finish around 10th or so. Damn! Even if the kart was handling good, I don't think I could have gotten higher than 8th. Jeff was running 4th, but he started getting tired due to a cold he can't seem to shake, so he fell back to 6th. Not bad, but he ain't happy about falling back two spots.
| | | | |
| --- | --- | --- | --- |
| Best Lap Tm | 1:03.270 | In Lap | 18 |
| Best Speed | 58.037 | by | Nick Halen |
Helmet Camera Video Footage:
Announcing is much tougher than it seems like it should be. We suck as announcers. Mike G, thanks for announcing the PKC races, as the Pulp TV announcers would really suck if they did the PKC events. You readers will also suck also if you videotape yourself reading a script. I think Brent Musburger was one of the worst announcers for NBA games (compared to say Chick Hearn), but the hired announcers in the video are worse than Musburger, which is hard to believe. Options are below, best to do a "right-click-save-target-as".
1. Best Quality - 220 meg Windows Media file. Takes about 2 minutes to download on my 15 mbps Verizon FIOS connection
2. Okay Quality - 100 Meg Windows Media File. Half the size, doesn't look as good. But for you folks with a slow internet connection will download in half the time as the Best Qualify video.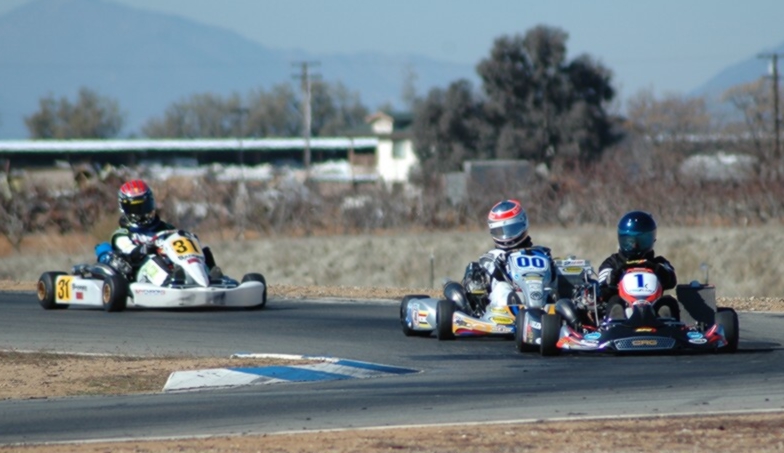 Nick Halen, Connor DePhillippi, and Alex Barron dominated the day
Two days later, while cleaning my kart, I notice that the bolts that hold the rims onto the rear hubs were a little loose, and had some play in them. Doh! Probably explains why my kart was feeling a little loose and wiggly on some of the turns.
===== Start of Real Estate Editorial Rant ========
Putting my Tin Foil Hat on.
On another note, it looks like the real estate market is cooling off (crashing violently?). Check out these links for some interesting reading. I have to check them a couple of times a day to get the latest gossip. I'm betting we are only seeing the tip of the iceberg, and once the big investment firms fess up to what type of loans/collateral they are actually holding, things should get worse. Follow the housing implosion at the grassroots blogger-type sites:
www.mortgageimplode.com where the larger subprime lenders go belly up every 3 days or so. 10 of them went out of business in February. They track it daily, and post with glee everytime another goes bankrupt or gets "acquired" like a ten dollar whore.
http://bubbletracking.blogspot.com/2006/12/tracking-foreclosures-and-pre.html Watch the rate of foreclosure/preforeclosure properties rapidly increase. Figuring that the houses that are being foreclosed on now won't hit the markets for another 5-7 months, things should cycle downward rapidly. I'm betting that the banks/realtors selling these foreclosed houses are trying to figure out how to keep the low sales prices out of the MLS/sales data, so it won't appear that the housing market is crashing violently.
http://www.ocfliptrack.blogspot.com/ - Orange County flippers losing cash rapidly.
www.housebubble.com late breaking news on housing bubble.
http://sandiegomarketmonitor.blogspot.com/ San Diego is crashing also.
NY Times Article Finally, the mainstream press is starting to do some investigation. My theory is that the mainstream press has a lot of editors/writers that own houses, so they don't want to signal panic on the housing market, or they will lose their equity in their house. They have a huge vested interest in making sure the housing market doesn't crash. Bloggers, on the other hand, seem to be ruthless renter-types searching for facts supporting their arguments not to buy, and to me, it seems like they have way more facts than the pro-housing dorks.
Finally, read the 2nd paragraph of this excerpt. Here is the whole technical paper. There is no one watching what is in those big ass portfolios in terms of collateral/financial instruments. Kinda reminds me of that asshole Jack Grubman, with all these "real estate analysts" and "real estate economists" employed by the National Association of Realtors saying that the "housing market is fine", "we are the bottom", "now is a good time to buy", etc. Ha ha. Someone is holding some really bad paper loans, and my tinfoil hat says that they are trying to cover their tracks before the shit hits the fan.
Who knows, maybe I'll be able to stop renting and purchase a house at 35% off in the next year or two. The money I save will go towards a new Tony Kart Chassis! I'm now officially a bottom feeder. Kinda sucks to be a bottom feeder and preying on other people's misfortune, but if it will save me money so I can race, I'll do it! Try this: pick a house out of your local real estate section, write down the location and price. I'm betting that by the end of September, sales of similar houses will be 15% lower. Remember, you heard it first here on The NSX-Files! Stop buying those houses today! Send me 1% of the cash that you saved in a year from not buying a house today so I can fire up the Flamemobile again!
====End of Rant on Real Estate ===========
Epilogue:
I realize that I haven't had a race day where I qualified, ran the two heats, and ran the main without a DNFing since May of last year when I made it to the podium at Grange. I might have use my minister credentials and exorcise Raceaflais like I did many years ago with the NSX.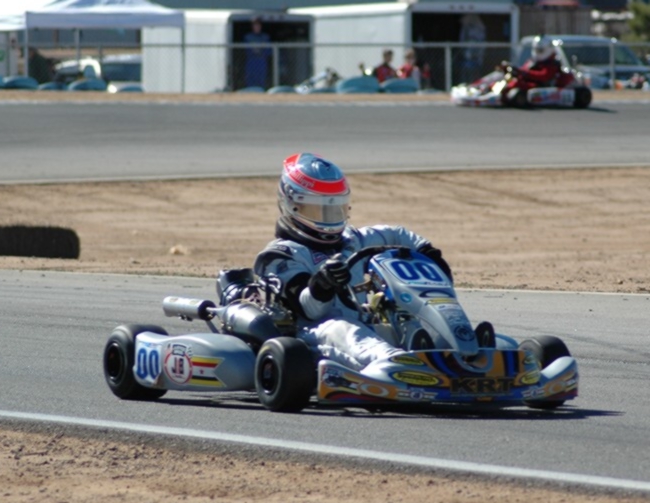 Connor DePhillippi picks up his first win in the main in 5 tries in the PKC S3 class
Our next race is at the Buttonwillow karting track on March 3rd. This looks like a real tough track to pass on, with a 90 mph long straight and a bunch of slow, technical, 2nd gear-type of turns that I suck at. I like tracks where I can floor it and close my eyes and scream my way into a turn.
We keep trying to pull cards out of our sleeves to get a Cheating Bastard Advantage, but the other drivers in our class are damn good. Gotta figure out how to fight our way into Row 3 for qualifying, and then try to make it to the podium. It is like cage fighting against Ali, Tyson, and Hagler in their prime all at the same time to get to the podium in this class. We'll just try harder, and hope we can somehow land a rainbow punch. Hell, if Buster Douglas can knockout Mike Tyson, maybe we can get on the PKC podium. But we might need a miracle punch to do it!