Pro Kart Challenge April 1, 2006
Here Comes the Rain Again
"Another Chance at Becoming The Rain Master"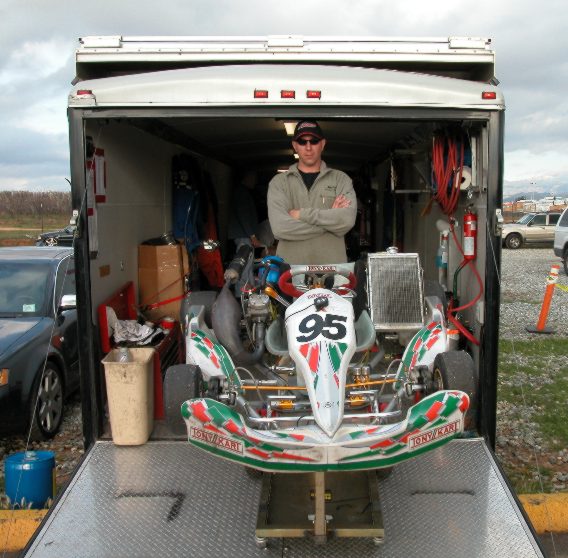 Jeff has a shot at leading the points race to determine the Stock Honda King
The next race was at Moran Raceway, running backwards. Again, we had the threat of rain. This sucks! Especially since Jeff is kicking our ass in the rain.
Wednesday, March 28, 2006
Last softball game of the season. We end up losing, and we go 3-4-3 for the season. How can we tie 3 games? A couple more runs we would be 6-4, and have a shot at the Coed C-2 title. But then again a couple less runs we would be 3-7, and sucking in last place. Let's see what happens next season.
Friday, March 30, 2006
We show for practice, in the dry. But it is looking like rain again tomorrow. We have a nice easy practice session. Everyone drives home for the evening, except for me. I am determined to take down the Indians at Cabazon, which is only about 15 minutes away from Moran. My excuse is that if I drive 73 miles back home, I could hit traffic, the kids could wake up screaming in the middle of the night, and then I'll have to wake up at 4:00 a.m. to head back to the track on just two hours sleep, race all day, and then drive the big truck and trailer home that evening. Instead, I'll stay at the local casino, get a decent night's sleep, and be rested for the morning.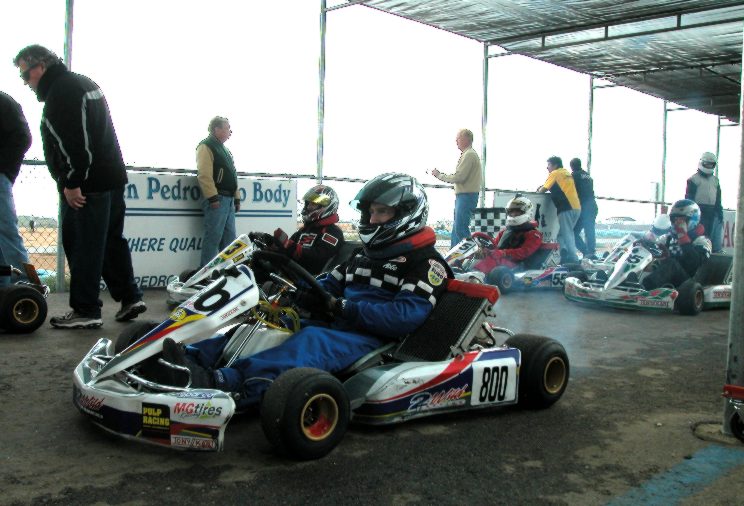 Wayne ready to burn out of the pit area
I hate playing blackjack against these stupid eight deck shoes, but like they say, it's the only game in town. I get hot on a couple of ten-rich shoes (or at least a portion of the shoe, if that is even possible with eight decks), and I run it up to $500 profit. I make a stab at getting to $1000, but get smacked back down. I walk away with $300. Which barely covers the price of my four star hotel room. You would think they would have some cheap ass rooms here at Cabazon. Anyways, I call it a wash, I end up paying nothing for the food/room for the even due to my blackjack skills. (Luck? Nah. Skill)
We scramble around in the morning switching from dry to wet, wondering what will be the right setup for that particular time of day. In qualifying, we all switch to wet tires, as the rain is coming down a little harder now. I grid close to the front for qualifying, as I want to try to get some decent clean laps. However, I end up doing about 3 spins in qualifying, as Moran seems extra slippery in the rain. My fastest lap in qualifying is my last one, and I run a low 1:17 as I take the checkered flag. Jeff runs a 1:17 also, so I figure we must be up in the top three rows, since Jeff ran pretty fast in the rain at the last race.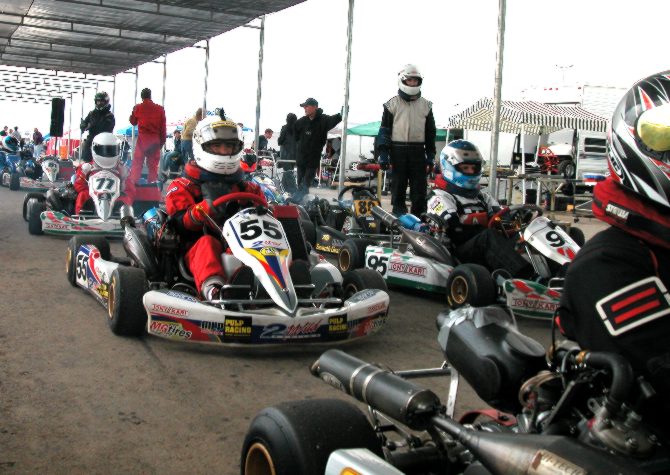 Side by side with Jeff
I look at the qualifying results, and they have me down for a 1:20.9. I recheck my Mychron lap timer, and it clearly says 1:17. I march over to the timing and scoring booth and ask them if their system is screwed up, as I ran a 1:17. Greg looks at me and says, "Yeah, you probably did run a 1:17, but remember this is qualifying, so as soon as the checker flag comes out, the session is OVER. You don't get credit for a flying lap when you pass the checkered flag, you have to do it BEFORE the checker comes out. Doh! I'm an idiot. If I woulda had one or two less spins in qualifying, I could have threw down the 1:17 and be in row 3 on the grid. Instead, I slink back to 12th on the grid. All race results are from mylaps.com.
Today in the Spec 1 class, we have Alex Barron, the Indy/IRL/Atlantic driver in our race, along with Curtis Cooksey, another karting hotshoe. Right now Randy McKee is leading in the points race, with Jeff Littrell following closely behind. It is misleading, since Halen and Diaz have already dropped a race, and McKee and Littrell haven't dropped a race yet. But hey, if I was McKee, I would be strutting around saying, "See if you dorks can catch me, cause right now I'm leading in points to become the Stock Honda Shifter Kart King."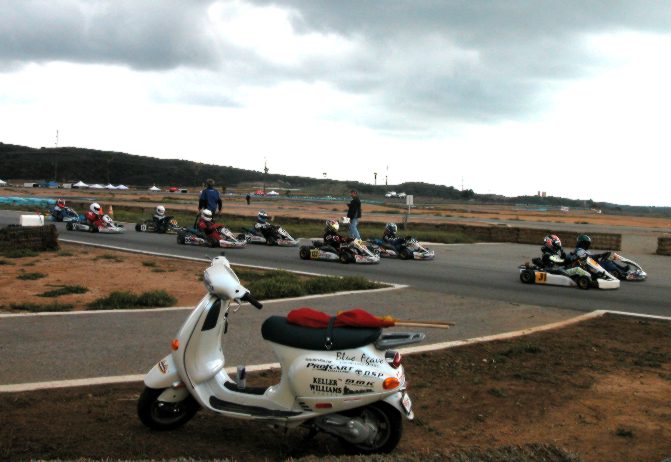 Jeff says that if he can finish in front of McKee by two spots, he thinks he can become the points leader. So he's implying that Wayne and I need to finish inbetween him and McKee to make this happen. Which is a lot easier said than done, since McKee is pretty damn fast, and unlike Wayne and myself, he doesn't make very many mistakes in the races. You never see him crash/spin in the races, like uh....some other people we know.......
In the heat race, we go out on rain tires. After more bobbles and spins, I pick up two place, and move from 12th to 10th. Racing in the rain is pretty damn fun, even if it is a bit frustrating at times.
Next race we are back on dry tires. Alex Barron starts from the rear of the pack, and blasts his way up to 4th. I'm thinking he was running on slick tires in the previous heat instead of rains, as he had a poor qualifying time.
Fernando Diaz is on pole for the final race. But he's go some really fast people behind him. Cooksey, Halen, and Barron are in spots 2, 3, 4. Bringing up the mid pack on this day are Wayne, Randy, Jeff, and myself.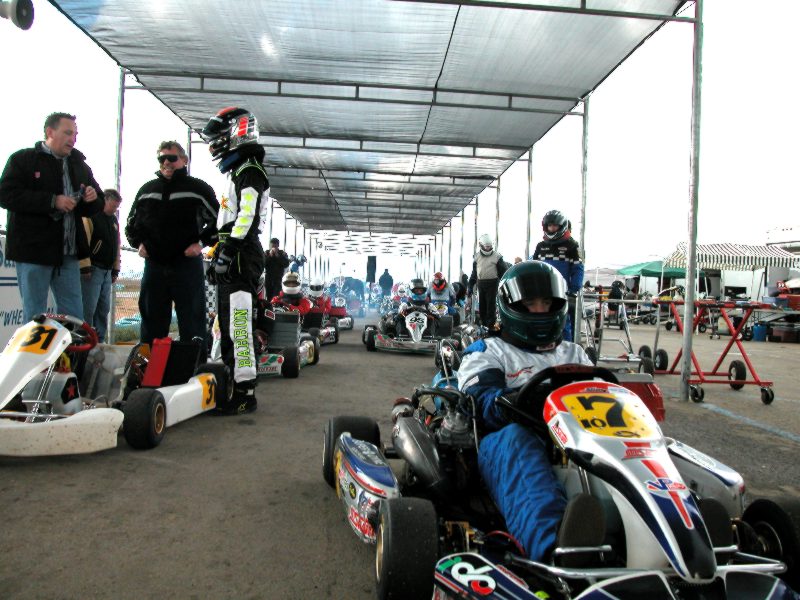 Row 2 for the main race Halen in #107. Alex Barron standing next to his #31 Kart.
Into the first turn, Jeff gets by Randy. Wayne, Jeff, Randy and I run as a train for about 8 laps. I screw up a couple of gear shifts, and I drop back. Wayne makes a couple of mistakes, and Jeff and Randy get by him. Meanwhile, at the front of the pack, Nick Halen and Alex Barron are duking it out like true warriors. They are both making exciting last second passes on each other at the end of the straights. I'm following the Jeff/Randy/Wayne train, and with one lap left to go, Travis Whitehead surprises the heck out of me and makes a pass on me at the back hairpin. I didn't realize he was so close, he kinda startled me. I accidentally put two wheels into the dirt, and proceed to spin! AARRGH! I'm an idiot. Russell and Axel pass me, probably wondering what the hell I was doing on the side of the track with half a lap to go. I end up 11th instead of 8th place. I suck! Randy plays it safe, and doesn't force an unsafe pass on Jeff, probably figuring that both of them can collect 150% of their point totals to help them towards the overall series championship. No use forcing a pass, causing a crash, and letting yahoos like me and Wayne pick up the points and make up ground on them.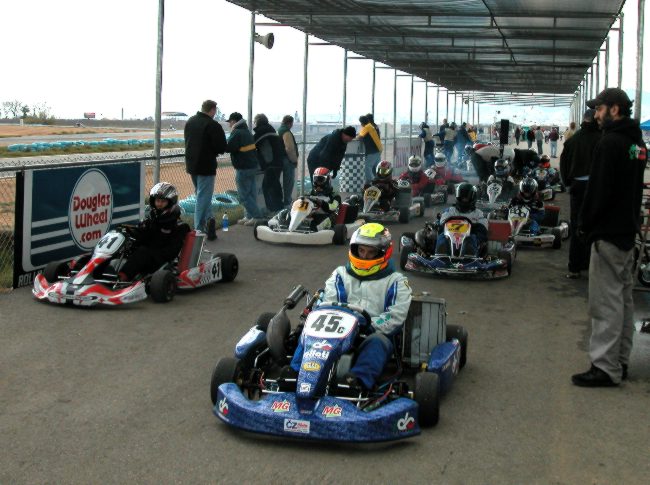 Diaz on pole for the main race, with Cooksey next to him
At the end of this race, points total for the series were McKee with 875, and Jeff in second place with 859. Bummer, if Wayne or me could have got infront of McKee, I think Jeff would be leading the ProKart Challenge Spec 1 Stock Honda class, at least for this day. Halen and Diaz have already dropped a race since they didn't enter one race, and McKee and Jeff haven't dropped a race. Once the drops are equalized, Halen will be in front by 100 points over everyone, and McKee/Jeff/Diaz will have a dogfight on their hands for 2nd. Wayne and I are way down on points due to a couple of bad races, so we will need the leaders to crash a couple of times (highly unlikely) in order to become a contender for the Stock Honda King.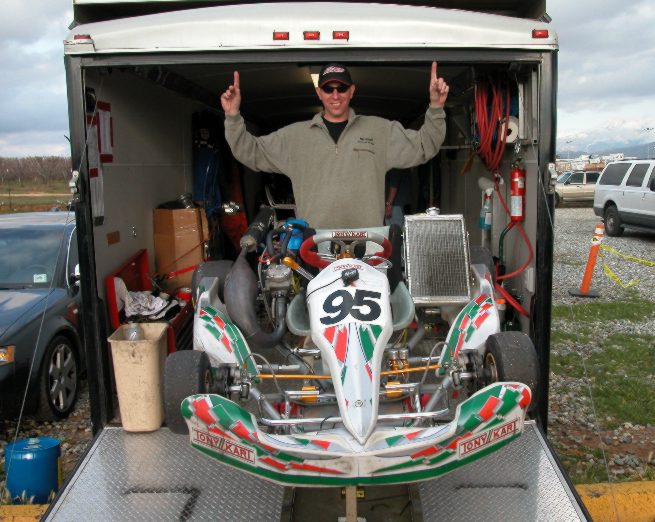 Jeff could have been celebrating if Wayne and I got between him and McKee in the main
Helmet Camera Video
Of the Spec 1 Stock Honda race today (Windows Media file, "right mouse click" "Save target as":
1. 320x240 - 16 meg file
2. 640x480 - 104 meg file (better resolution)