Pro Kart Challenge May 13, 2006
Time For a New Strategy
"All We Need is a Couple of Tenths to Get to the Podium"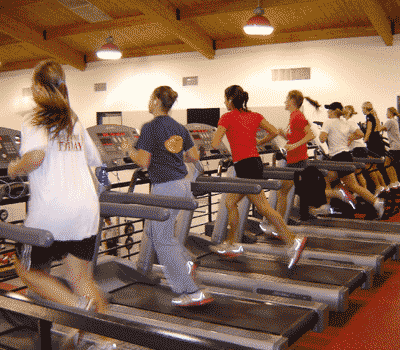 Can girly exercises help get us to the podium?
Wayne and I are gaining ground on the front runners. Last race, we were at least able to run with Jeff and McKee. We couldn't pass them, but they didn't blow us away. Jeff ran faster laps than McKee (although it could be because Jeff was slowing McKee down, as McKee never tried a "forced pass" on him).
Race number 5 was at Grange Raceway. It had a lower turnout than usual (100+ shifter and TaG drivers), probably because the next day was Mother's Day. Grange can be described as:
1. Hardest track to get to for us local SoCal karters - you have to go past Victorville on the 15 freeway, take the second Stoddard Wells exit, and then go about five miles on a dirt road to get to the track.
2. Most physical track around - it is really hard on your body. It is very bumpy in places, you pull a lot of g's in the turns, and you get tired fast. There isn't much time to relax your hands or body on this track.
3. Tough to pass on - only a couple of places to put a move on someone in an equal kart.
4. Lots of fun - there is a lot of action happening on the track. Esses, round house turns, hair pin turns, long straight with tough hair pin, off camber turn going into an uphill section, etc.
We rarely go to Grange, even though it is open 7 days a week for practice if there is no race scheduled. It is about 104 miles away from the shop. Cal Speedway is only 54 miles away, but it is only open for practice on Wednesdays and Saturdays (if there is no club race scheduled). Moran is only 75 miles away, and is open seven days a week for practice if there is no race scheduled. Moran is our favorite track to practice on, but it looks like we will be going to Grange more often, as Moran Raceway has been sold to a developer. It sounds like Rocky Moran Jr. and Sr. built this great race track in an undeveloped area, that someone wants to now develop for industrial purposes, and made them an offer they can't refuse. Good for them, at least there is someone making some money by racing! Hopefully they will built another world class kart track somewhere in Southern California.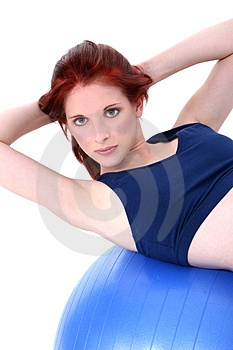 Girly situps and crunches while on big rubber ball
So we have been doing lots of stuff trying to get faster and close the gap between us and the front runners. We have been practicing a lot. We can fix just about anything that we break at the track with our spare parts inventory. Wayne and I analyze data from the Mychrons after every practice day, and sometimes between sessions, trying to figure out what the other person is doing to be quicker on various sections of the track. We are getting better at kart setup, basic motor jetting, etc. Over the past year or so, Wayne and I have made some big improvements, but we can't quite make it to the podium. But it is within reach....we can the light at the end of the tunnel.
A couple of months ago, Wayne decided that he was tiring in the later half of the main heat race. ProKart Challenge runs two short practice sessions, a qualifying session, two 10 lap heat race, and then usually a 20-25 lap main race. Wayne decides to go the personal training route, and hires a personal trainer. He's thinking that if is not exhausted halfway through the main race, he won't make as many mistakes and will finish better. I don't feel like I have a problem getting tired. I think getting tired is more psychological for me, so if I don't worry about getting tired, I'll be fine. But I was maybe a little tired at the end of the last race at Moran, where I spun on the last lap. Curiously, Wayne doesn't pick a hot blonde chick trainer, he picks a big black guy to do the training with. Brokeback Trainer, sequel to Brokeback Mountain, is coming your way. So they are doing weights/cardio, etc, a couple of times a week to prepare for the next race. I laugh at him, and I just do my normal half-ass workout at the gym, comprising of hitting the bench press, bicep curls, tricep curls, and maybe some shoulder presses. I figure if I can still bench press 185 lbs three or four times, I'm in good shape.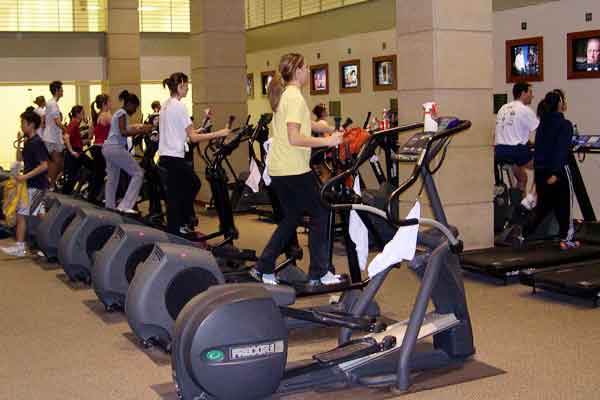 Girly stair steppers
As with anything we do, things get ridiculously out of control, especially if one of us thinks they have found a way to get faster and it will give them an extra 1/10th of a second advantage. I think Barry Bonds was wrong to use steroids, but if someone came up to me and Wayne and said, "Inject this, it will cut a half second off your lap time", we'd probably reply, "Give us all you got, so our competitors in Spec 1 can't buy any from you." Wayne's sister, niece, and niece's friend came down for spring vacation and stayed at his house for a week. One day his niece and friend walks into one of the upstairs bedrooms where Wayne was doing one of his workouts. The looked at him, then cocked their heads to the side as if to say, "WTF is he doing?" They see this: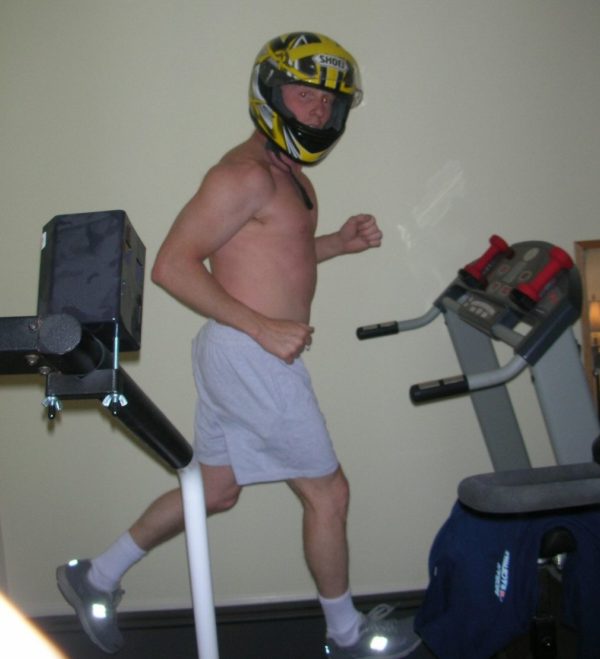 Wayne trains for kart racing by running on treadmill with his helmet on
Wayne figures that running on a treadmill with his helmet on will simulate what it feels like late in the race.
At one of our practice days, I'm trying to figure out what gear to run at Grange. Wayne starts out with a 16/25, because he only had to change the back gear from our last race, that lazy bastard. I'm trying 16/24, 17/26, 16/26, 16/27. It's a pain in the ass to change the front and rear gears. Figure 20 minutes if you don't screw up, and 40 minutes if you need to put a new chain also. He's kicking my ass on the track. He figures he'll just keep running that gear until I find something that will beat him. I don't succeed.
Next time we practice, I try the 17/27. Humm....that produces my best laptimes so far. It's not beating Wayne's laptimes, but I think that is because he's got 100 laps of practice running the 16/25, so he's dialed in with his muscle memory on that gearset. We look at the data, and it appears that he's going into 1st gear for the two hairpin turns. If it wasn't for the data, Wayne couldn't tell me what gear he is using in what turn. He has problems counting up and down from 1 to 6. Now people have told me that if you ever have to go into first gear in a turn, you have geared the kart wrong. Well, Wayne's doing the wrong thing twice, and he's still kicking my ass.
I take a weekend off to do some family stuff, and Wayne decides to continue his practicing/training by going to Grange with just his truck and kart, and minimal support equipment. He said the place was kind of a zoo there with three different run groups, only one group for shifters with about 30 guys in it, but he said he was kicking everyone's ass with his 16/25 and running mid 54's, so he's not going to change. Interesting. He stays for about 3 sessions, and is satisfied that his kart is working good. He's ready for the race.
At our next Moran practice day, Wayne is out there buzzing around on the track. At the end of the day, he did about three 20 lap practice sessions. Jeff and I look at each other with a worried look on our face, as we are having problems doing one 10 lap sessions, as we are getting tired. Remember I said that Moran is a brutal track on the body and on the kart due to the bumps and lots of action on the track. I now realize that I ain't gonna last 20 laps in a main heat race. I am forced to go to plan B. Damn. Now I have to hire a personal trainer, to offset the strategic advantage that Wayne now has. It's like the nuclear escalation problem that American and Russia had going on. If one country has developed Nuclear Weapon X, we must counter that with the next generation Nuclear Weapon Y to gain an advantage. I stop at the gym, and ask one of the trainers who always seems to have a client, and I interrupt a training session to see if she could take on another client. She said yes she is, so I hand her this note, and tell her to call me to figure out a plan and an appointment. The note says this:
==================================
Looking for a 7-day cardio training plan
I have a 125cc shifter kart race on May 13th at Grange kart track. The track is pretty brutal on the body, meaning you are pulling a lot of g's, you run out of breath after six laps, your hands get cramped, etc. I might have to do two 10 lap heat races and a 20-25 lap final race. I'm worried that I won't be able to finish the race at peak performance without getting tired and making mistakes. Normally I don't get tired racing, but practicing at this track the past few weeks has been tough on the body.
So I need to build up my stamina in 7 days. The caveats are:
I have a bad right knee. I do not have a posterior cruciate tendon. It was severed in a skiing accident about 12 years ago. I can run very short distances, like around the softball bases, but I can't do the following without some pain and soreness. (no swelling)

Run up stairs
Running
Jumping
Movement sideways (since there is sharp pain in the leg)
So since there are limited cardio things that I can actually do, I am not sure how to proceed. Stationary bike? If so, I need to learn how to measure improvement on the bike from workout to workout
There are limited times that I can workout, due to kids, but I could in theory do 2 workouts a day if I space them out.

So I think I need someone to draw me up a cardio training plan, and some beginner instruction on how to measure results. I can do the workouts myself, but I need someone to point me in the right direction

If there are any other ideas of how to strengthen the leg that has doesn't have the posterior cruciate so I can get more side to side movement, I would be open to that.
Can you help me with this?
-Doug
===========================
Monday, May 8, 2006
Before the Grange race, I get in two training sessions with Erin. I was thinking I needed upper body strength (arms/chest) and cardio endurance to not get tired during the race. She's thinking that I'm screwed up by having a weak "core", meaning legs/stomach/cardio. Instead of doing my usual workout with heavy weights, now I'm doing a more girly type of workout. I used to do chest presses with two 75 lbs dumbbells on a stationary bench. Now she has me doing a chest press with two 20 lb dumbbells while my back is on a big ass beach ball, with theory being that since I'm on a beach ball, I have to use stomach/leg muscles to balance myself so I don't fall over. Sit ups, crunches, and those dorky "step ups" where you have 15 lb dumbbells in your hands as you step up and down onto a bench. Geeky push ups, medicine ball crunches, etc. Anyways, I have to do SOMETHING to finish this next race at peak performance, so I figure I might as well try the personal trainer route.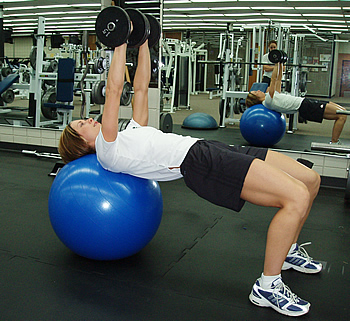 Lightweight girly chest presses while shoulders/neck are on big exercise ball
Friday, May 12, 2006
On the practice day before the race, we start to dial in our karts with about 50 other people. Track is getting sticky from all the rubber being laid down, so we can sort of simulate what it will be like in the race tomorrow. Wayne is kicking my ass and Jeff's ass by half a second. He's running 54.4x. We can't seem to find any more speed on the practice day. Damn! That's depressing.
We go out for a big dinner with some fellow PKC drivers. Later that night, Wayne starts throwing up in his hotel room. No one else got sick, so it can't be the food. He said he had a bit of a virus/bug earlier in the week that was upsetting his stomach. Jeff speculates that Wayne's having a case of his nerves acting up the night before the big race. I call Wayne in the morning, and he says he's going to skip the two practice sessions and try to sleep in, as he was barfing all night. He's pretty confident that he's gonna run fast today IF he can get some sleep.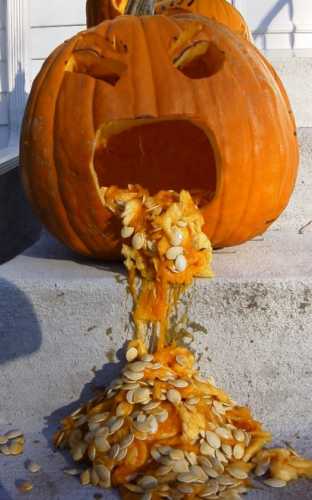 Wayne gets stomach virus night before race. Spends night barfing in hotel room
We get to the track, unload all our stuff out of the trailer, and we go for a 7:00 a.m. track walk with Jerry Henderson as the instructor. He points out some tips and tricks about the turns on the track to about 30 of us drivers looking for an edge. The track walk seems to help, as in the first morning practice session on relatively new practice tires, I run a 54.3x, beating Wayne's fast time from yesterday. Ha, I'm re-dialed in again. I'm kicking his ass today.
Wayne shows up about 20 minutes before qualifying, looking like he was hit by a truck full of baking powder. He puts on his suit, and we go off to qualifying. I line up behind McKee, Kernohan, and Jeff on the grid. We run the MG Yellow tires. I didn't scrub them in, which would have supposedly helped their longevity. Instead, I'm of the opinion that sticker tires are always faster, and since there are only two real passing zones at Grange, you want to out qualify as many people as possible so you don't spend a lot of time wacking your way through the pack. When you throw the new sticker tires on, the warmup lap is very slippery, but on your first flying lap it sticks great, and laps 2-4 are racing heaven. The kart sticks incredibly well, you put the kart anywhere you want on the track, and you can really push the limit. On lap 5-7, they start losing a little grip, so it is important to run a fast lap in those first four laps and then park the kart to save the tires. In my first four laps, I run a 54.26, 54.15, 54.17, 54.60. 54.15? I laugh in glee, as that should put me on row 1 or 2 for qualifying.
We get back to the pits, and I can't believe I'm gridded BEHIND Wayne and Jeff. Wayne ran a 54.05, Jeff runs a 54.09. Damn! But Wayne gets popped for being 3 lbs under weight at 382 lbs, so he is disqualified and has to start from the back of the pack. He barfed up about 3 lbs of food/liquid last night, and got to the track too late to weigh himself this morning. The scales also seemed a little light this morning for some reason.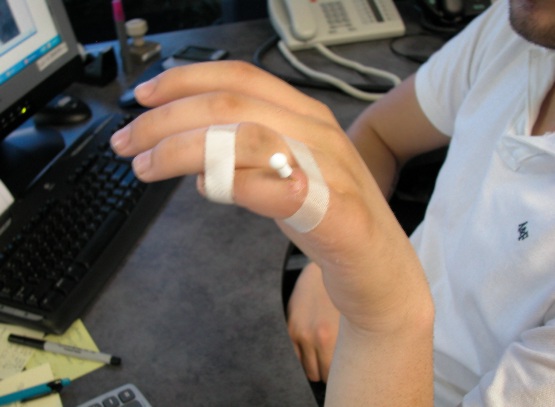 Dana breaks a finger "defending a girl's honor." He must slap like a chick.
So I'm stuck on row 3 again for this race. Good news is that we are cutting down the difference between us and Nick Halen down to 3/10ths-4/10ths. He was kicking our ass by .7-1.0 seconds earlier in the year, so all our hard work is showing some progress. McKee is only 1/10th in front of all three of us today, and have we cut that gap down also. For the first time, all three of us have beaten Fernando Diaz in qualifying. He's been whupping on us the first four races.
Incredibly, eight drivers today in our class beat last year's pole time of 54.4, set by Matt Kimble. So the Spec 1 Honda Class competition is heating up! There were also about 23 drivers in the Spec 2 Honda class, which is a group that usually runs about 7/10ths - 1.0 seconds off the Spec 1 class. All race results are from mylaps.com.
Qualifying Results
First Heat Race
As we are gridding for the race, the PKC grid organizer puts Wayne in P4. About five people (including me) remind her that he was DQ'ed for weight, thus putting him at the back of the grid. What a bunch of rats! On the start, Diaz and Barcimo get by me after turns 1 and 2. Damn! I eventually get by Barcimo, but I don't get past Diaz. I end up 6th for the heat race. Wayne has a good drive from the back of the pack, and is gridded right behind me for Heat Race #2.
Heat Race #1 Results:
Second Heat Race:
Jeff is in front of me in row 2. Green flag drops, and Jeff immediately jukes way out to the left. I get a good start also. But wait! Whoa! Kernohan was gridded in front of him, and she stalls her kart. Jeff is pretty tall, so I can't see over him that she stalls. Due to my uh.....cat like reactions, I juke way to the right at the last second and miss her kart by about 2 inches. Diaz is on my right, and he's wondering why I'm running him off the road on the start. Unfortunately for Wayne, Jeff and I block his view of Kernohan, so he ends up crashing into her stalled kart, bending his rear axle, steering column, etc. Ouch, that was a $250 repair job with about 2 man hours of labor to get Wayne's car running again.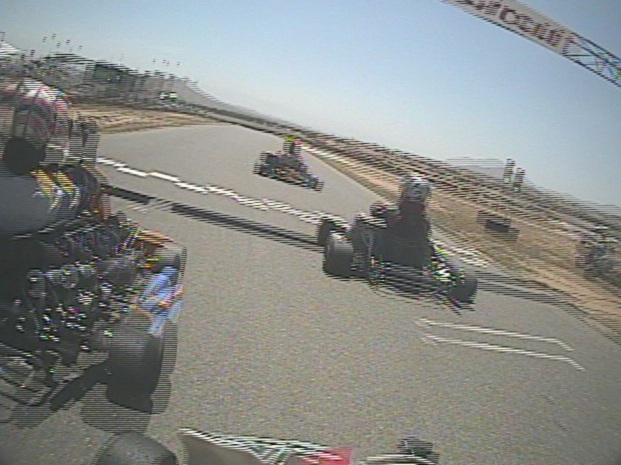 Lindsay in row 1, stalls. I narrowly miss ramming into her. Wayne doesn't miss.

I'm third going into turn 1, and Diaz decides to take the deadly inside line on turn 1 which has a big ass bump. He jumps through the bump without losing control, and gets by me. Damn! I can't pass him, so I just hang back a few kart lengths, until I see Jeff trying to get by me. I let Jeff get by me so he can take a wack at trying to catch Fernando, but he is unable to pass him also. Looks like I'm gridded 5th for the final race. Wayne has to start from the back. McKee is in 2nd, and Jeff needs to get in front of McKee and also needs a person between him and McKee to become the points leader.
Heat Race #2 Results
| | | | |
| --- | --- | --- | --- |
| Best Lap Tm | 54.594 | In Lap | 6 |
| Best Speed | 52.753 | by | Nick Halen |
Main Heat Race
My kart is hooking up good. Researching kart setup for a race is like researching stock picks or sports betting picks. Meaning you can do a ton of research, make a bunch of assumptions, and then when you see the results, you know if you were right or wrong. You feel like a genius because you figured it all out. BUT, were your research and assumptions correct to begin with, or was it dumb ass luck just helped you get the desired result? Could you have achieved the same results by flipping a coin on your decisions to buy/sell, bet/no bet decsions.
Example:
I'll buy company XYZ stock because I think their product is better than company ABC's product, their management team has some really smart people on it, and XYZ has tremendous marketing of their product, so their sales will go through the roof soon. Their stock goes up. You declare yourself a frigging genius because YOU figured it out. When in reality the stock only went up because they were cooking the books. Think Enron. Did your stock pick go up? Yes it did. Did it go up because of your analysis. Uh...no. It went up on fraudulent dealings inside the company. Your analysis had nothing to do with it. Of course, after you laugh in glee, another week later, the stock price drops 30% based on some political scandal inside the company, or is reduced to nothing by corrupt executives. Yeah, you sure did analyze the situation real good there....
Another example: You bet on Cleveland vs. the Pistons in game 4 of the NBA playoffs based on LeBron's previous performance in Game 3, seeing that he's figured out how to beat the Pistons based on his talent and his teammates. Cleveland wins, you proclaim yourself a sports betting genius. And you press your luck by saying that Cleveland will win the series, and betting double your money on that. And then the Pistons end up winning the series, you lose your money, and thus your analysis was wrong. But for a while, you thought you had it all figured out, and you were Kreskin.
The thing that is the same about both scenarios above? They are both basically flips of a coin. 50-50 that the stock will go up, 50-50 that the Cavaliers will beat the point spread/win the series. You can interject any type of analysis that you want, but in the end, it was a coin flip, and you got maybe got lucky the first couple of times, and then the law of averages on a 50/50 bet caught up with you.
Okay, so back to my kart. I'm thinking that from the practice sessions that I have been doing at Grange, and looking at my tire wear, using pyrometer, visual inspection of tires, how they are gripping, etc, I believe the optimum tire pressure is going lower than normal, meaning 9.5 lbs in all the tires except for the right rear, which only gets 9 lbs. This is because it is hot, the track is tough, and the kart will be sliding around a lot, and the right rear tire is heating up a lot more than the other three tires. This is after, of course, I have determined:

1. How wide my front track should be. Wider or shorter?
2. How wide my rear track should be. Wider or shorter?
3. Rear bar in or out?
4. How much toe out on the front end alignment, etc, to get a kart that will turn in quickly but not get too loose on corner exit, etc.
5. Should I use long front hubs or short front hubs?
6. Front bar in or out?
7. Increase castor or reduce caster?
8. Raise height of kart or lower height of kart?
9. Keep seat struts tight or loosen them?
10. Loosen middle bearing on rear axle or tighten it?
11. Raise main jet or lower main jet?
12. Which gear to use? 17/27? 16/26?
Just right there is 213, or 8192 different permutations to get the optimal setup, and we didn't even touch on stuff like bigger/smaller pilot jet, high/lower needle clip position, hard or soft axle, higher/lower camber settings, etc. So very quickly you can see how you can get to 100,000 different permutations as to how to make your kart faster.
Now of course every other person is Spec 1 is doing the same thing in their brain, as to what they can do to make this kart go faster in the turns and faster down the straight . And my point is, if you get to the point where the kart feels perfect, is it really perfect? Was it really the correct amounts of changes that you did. Or was it just dumb ffing luck that the kart was working good on this day?
Anyways, my brain tells me to go with abnormally low tire pressures, at 9.0 for the right rear, and 9.5 for the other 3. Wayne and Jeff go out with anywhere from 10-11 PSI in all their tires for the final race.
Green flag drops, and Barcimo, who was gridded next to me, shoots out like he was fired by an ffing cannon. Carlquist gets by me also. Damn! At least I got by Jeff on the start, so I'm holding 6th after the first two turns. I was running faster laps than Barcimo and Carlquist, so I decide to just take my time in passing them. I do not want to crash or spin trying to pass them, as I'm sick and tired of screwing up in the races. I'm feeling pretty strong due to the two personal training sessions that I have been to, so I'm regulating my breathing and trying to relax as I scream around these turns where the centrifugal forces want to throw my head off my neck. I figure I can eventually catch them and pass them.
I take the hairpin at the base of the hill very wide to try to get a run on them. The yellow flag is waving, and Jeff drops down on the inside and passes me. WTF? Didn't he see that yellow flag? Bastard. Ain't they aren't going to pop him for it. I'll report his ass to timing and scoring like I reported Wayne with his DQ in qualifying!
A few laps later, Barcimo and Carlquist go wheel-to-wheel in turn 1. Jeff is right behind them. Jeff ends up bumping Carlquist from behind, and Jeff loses his front bumper, but keeps going. Ha Ha! I try to pass Carlquist, but he has the inside line for the left hander. Jeff pulls up along side me going into the next right hander, and now I have to make a decision: Jeff is 2nd in points, and he needs to chase down McKee to have a chance at becoming the points leader. Jeff did qualify 6/100ths faster than me, and has been a 1/10th of a second or so faster than me in the heat races. I could let him by me, in the interest of having someone on the Pulp Racing Team to have a shot at leading the Spec 1 class(albeit only until the points total reflects that everyone drops one race) and proclaiming themselves the current "Stock Honda King". So I guess I should let him by.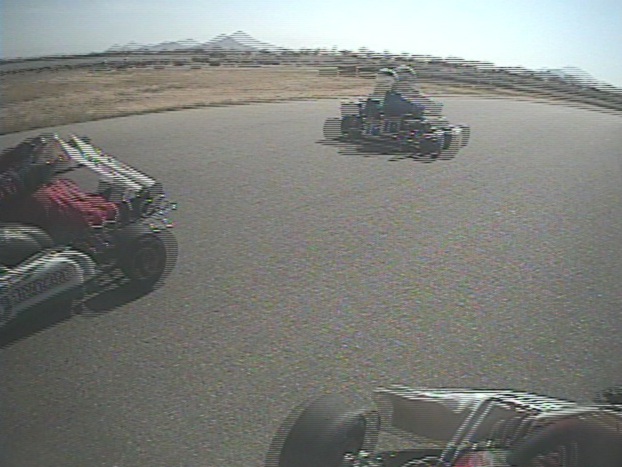 Jeff, 2nd in points, on my left going into right hand turn. Should I let him by?
AHHHH...screw Jeff, and screw his points. I ain't letting off the throttle so he can get by. He's gonna have to work for this one. I'm on the inside for the next two turns, so I'll give him a little racing room if he wants to try to go all the way around outside of me through the "table top" section of the track, which would be crazy do to in my opinion. Jeff sees that I'm not backing off the throttle, so he backs off a bit so we don't crash and he loses a ton of points. Unfortunately for Jeff, someone rams into him from behind, causing him to spin and lose some positions. Oh well. At least I'm in front of Jeff. Ha ha!
About 5 laps later, I run Barcimo and Carlquist down, and make my passes on them. About six laps left, and Diaz is far in the distance in front of me. I hunker down and start doing my breathing that I learned in the personal training sessions. Deep breaths through the nose, exhaling through the mouth. Concentrate. Not too fast, not too slow on the breathing. Get oxygen to the body, let the body breath and perform. Repeat, "I am not tired." In fact, I feel like I'm getting stronger, as it seems that every lap I gain some ground on Fernando. Our pit crew said the announcer over the PA system is saying, "Hayashi's gaining about 3/10ths of a second each lap on Fernando." My theory on how to setup my kart for this race seems to be perfect. My kart is working great on the track.
Last lap, I'm still gaining on Fernando. Hummm.....I think I can make a run at him for 3rd place! On the next to the last turn, I get close to his bumper as we go up the hill and juke to the inside I got a run on him!! He sees me, gives me a little room on the inside (probably because he knows that my co-horts on the Pulp Racing team are notorious for crashing a lot, so he lumps me in with my ah...teammates. Ha!) We go side by side on the turn, and exit onto the front straight towards the checker flag. The crowd is going wild. (Well, all twenty or so people that are watching our race). Fernando ends up beating me by two feet. Damn! But it was close. After I get scaled, the tech inspector says that I moved up to 3rd place, as Fernando was penalized one position for rolling on the start. Hey, I make it to my first podium in the Spec 1 Stock Honda series!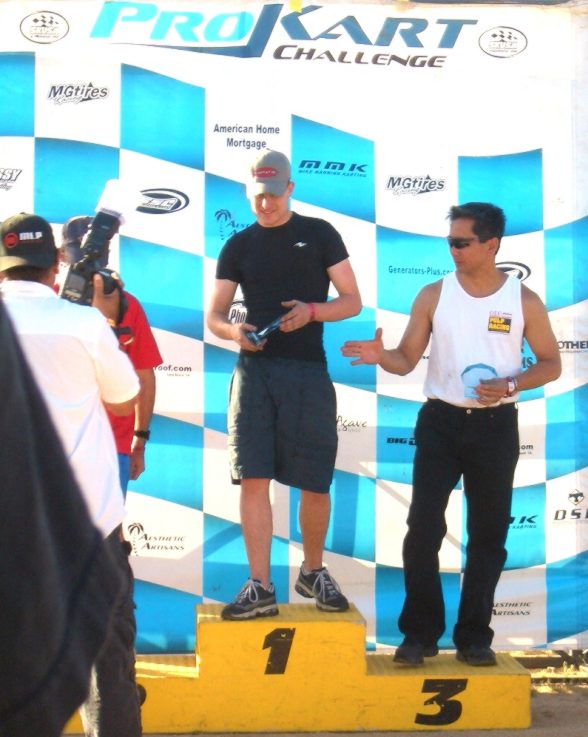 3rd place in Spec 1!
It took me 7 months, 8 races, hundreds of hours of kart practice/kart prep/packing the trailer/etc, and untold piles of cash for tires, gas, broken parts, blown tranny, etc. But I have finally taken the first step to get to the top of the podium. Now I think I'm a frigging karting genius because of my decisions on:
1. Extra low tire pressure
2. Dropping the main jet to a 162 right before the main
3. Running 17/27 gears
4. Long front hubs
5. Getting a personal trainer to increase stamina/core muscles
I look at the laptimes, and I ran the third fastest time in the race, behind Halen and McKee. I'm still 4/10th behind Halen, and 2/10ths behind McKee (and they had no one on their bumper in the race, so they could have been taking it easy), but at least it gives me something to chase, since the rest of my cohorts in Spec 1 are seeing my rear bumper. Ha! Positions 3rd through 7th were only separated by 2.2 seconds after 18 minutes of racing, so you can see how tough the competition is to get to that 3rd spot in the Spec 1 class.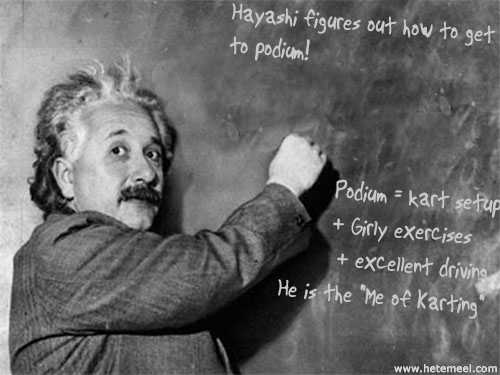 I am the Einstein of karting on this day
Main Heat Race Results
Wayne did a good job coming from the back of the pack again to get 7th. Jeff takes 8th. Wayne had a rough weekend, as he was kicking our ass in practice the past month at Grange, and he had to start from the back of the grid TWICE due to his weight penalty and his crash in the 2nd heat race. Jeff is now 66 points behind points leader McKee. Since Halen is winning every race he enters and also gets the extra 10 points per race for fast lap and pole in qualifying, it is looking like after everyone drops a race, he's going to be way ahead in points towards becoming the Stock Honda King unless he has a mechanical problem in the main heat. The big fight will be for 2nd and 3rd place overall for the series, because after everyone drops a race, it is a 3 way shootout between Jeff/McKee/Fernando for 2nd place overall. Wayne and I had too many bad races/mechanical problems to have a shot at 3rd overall, but we can definitely be the spoilers and aim for a podium position in the next three races.
Epilogue:
I'm continuing the personal training, and I also did a couple of yoga sessions to help build up my core/zen/breathing for the next race at Cal Speedway. We did a couple of practice sessions at Cal Speedway, and Wayne and I got our laptimes down to within a 1/10th of Halen's qualifying time at the last Cal Speedway race. (But the track might be faster now with more rubber on the track, which could explain why we are faster). After we put on new tires, we think we can beat Halen's qualifying time from the last race, but I'm sure Halen's gonna be faster at this next race. But hopefully we can reduce the gap between us and him by another 1/10th of a second, as we keep marching on with our obsessive quest to one day make it to the top of the podium.....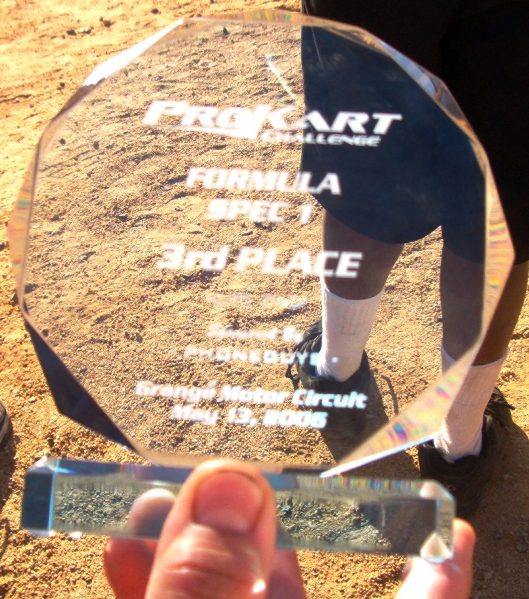 No prize money. But a trophy and bragging rights until the next race
Race number 6 is coming up. Let's see if I can be Einstein again or if it was just a fluke that I made it to the podium!
Helmet Camera Footage:
Of the Spec 1 Stock Honda race (Windows Media file, "right mouse click" "save target as"):
1. 320x240 - 20 meg file
2. 640x480 - 130 meg file (better resolution)