Pro Kart Challenge March 11, 2006
The Race Against Mother Nature
"Neither Rain, Nor Snow, Nor Sleet, Nor Hail, Nor Blizzard..."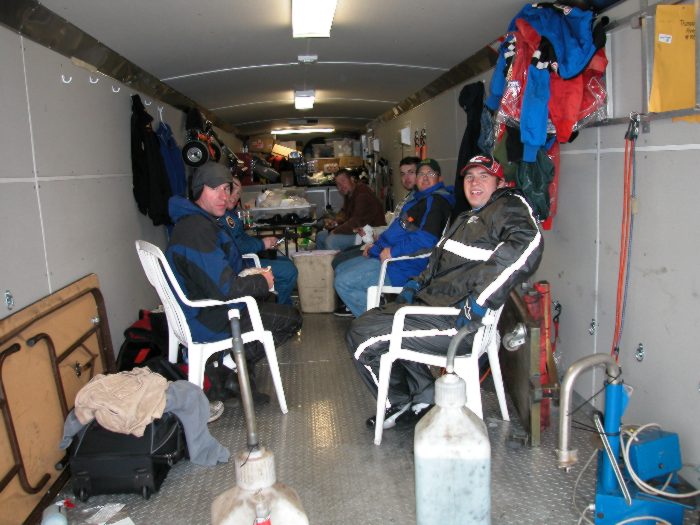 Seeking shelter from the storm
I'm behind on the updates. Getting income tax stuff ready and chasing down the kids is wearing me out. Ever wonder why stay-at-hom moms with little kids act totally brain dead at times? I can sympathize. Luckily for me, the wife's parents decide to come down and visit us from May 9 to June 9, so I have babysitters 24/7. Which means I can get rid of some of this annoying paperwork, and more importantly, work on editing the helmet camera videos and doing some new chapters in The NSX-Files.
I hate the Willow kart track. Wayne hates it also. I spoke to another karter whose home track is Willow, and he hates it also. I think it is because the track is a medium speed technical track with lots of throttle modulation. You really can't go balls out like some turns at Moran, Vegas Kart track, Cal Speedway kart track, etc. For a shifter kart, there doesn't seem to be any gear setting that is really good for this track, as the gears either feels too high in some turns or too low in other turns. It also eats tires up, the surface of the track seems pretty rough. We have probably raced karts on this track 10 times, and practiced on this track 20 times back in 1999-2001. Now we are back. And the track still sucks in our mind!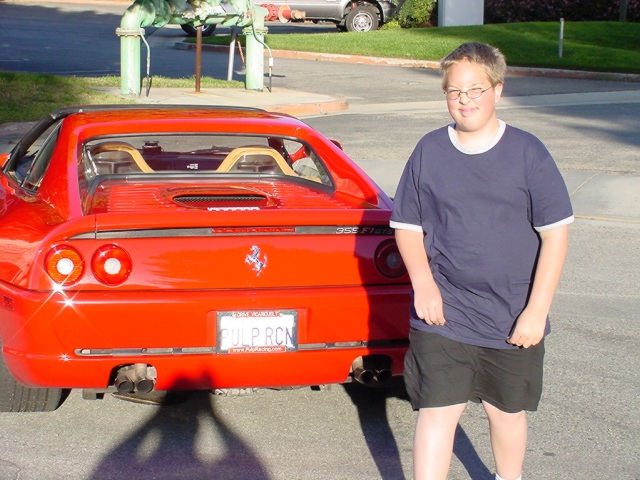 Scotty's dad donated some Cheetah SCSI drives so I can make more helmet cam videos!
We planned on getting a lot of practice, but rain kept interfering with our practice schedule. We planned to go on Monday, January 27th, but that got cancelled due to rain.
Our first practice was Saturday/Sunday, March 3 and 4th. We usually practice on weekdays to ensure very few people will be at the track, but going to Willow is a pain in the ass on a weekday. You need to be out of Los Angeles by 6:00 a.m. or else you'll hit the traffic window, which can easily add another hour to the commute. Which means we have to leave the shop at 5:00 a.m. Which means I have to wake up at 3:45 a.m., take a shower, go to the shop, hook up the truck and trailer, do odds and ends like get the ice chest/drinks/food ready, etc. So we figure if we go on a Saturday, at least we won't hit early morning traffic, and coming back on Sunday, we won't hit the late evening work commuter traffic like we would on a weekday. Might as well do two days of practice to re-learn the track with the Stock Honda karts and figure out how which gears to use. Weather is supposed to be freezing cold through the mountains, so I decide to go up Friday night at 10:00 p.m. after I put my daughter to bed. Better than hitting the icy morning roads at 6:00 a.m.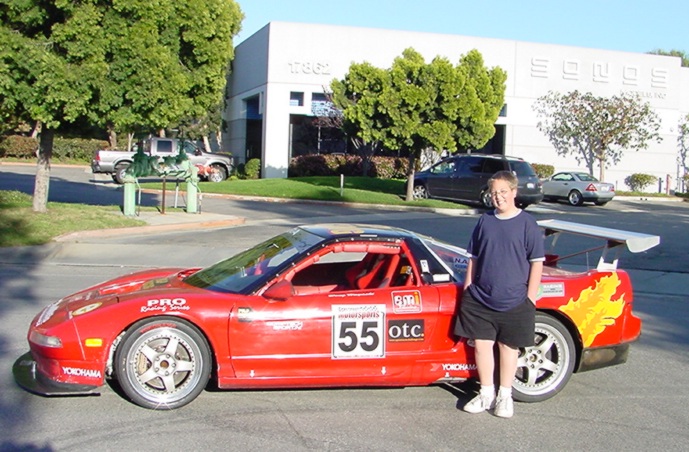 All they wanted in return was pictures of Scotty next to the Flamemobile
Wednesday Night, March 1, 2006
We win our softball game. Over beer and pizza, our pitcher Al (short for Aileen) asks Wayne and I if we share a room when we stay over night for a racing event. Wayne says, "Hell no, Doug destroys the room. In the first five minutes of entering a new hotel room, he'll have two laptop computers, wires, entire suitcase emptied out on the floor, newspapers, Snapple bottles, and food all over the damn room." I tell Al, "Hell no, Wayne complains constantly about the softness/hardness of the bed, the uncomfortable pillows. And he sleeps with the TV on, and for some reason he needs a stupid fan by his head when he sleeps. It's unbearable".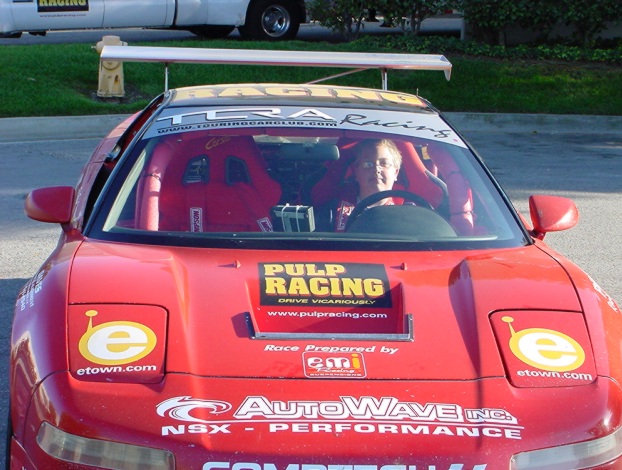 So we can thank them for the helmet cam videos for Cal Speedway, Willow, Moran, Grange, etc
March 3rd, Friday night
The drive though the mountains at night is real easy. I usually stay at the Essex House in Lancaster, but on expedia.com, they have the rooms at $139 a night. That's ridiculous. I call John Wurth at SpeedVentures, and ask him where they stay, as the Essex House was never this expensive before. John said that just call them and ask for the Willow Springs racer rate. I make the phone call to the Essex House, and they give me a room for $78 bucks with the racer discount. So much for cheap hotel rooms via the Internet. I squeeze the trailer into the parking lot there, and they even have a security guard walking around in 35 degree weather.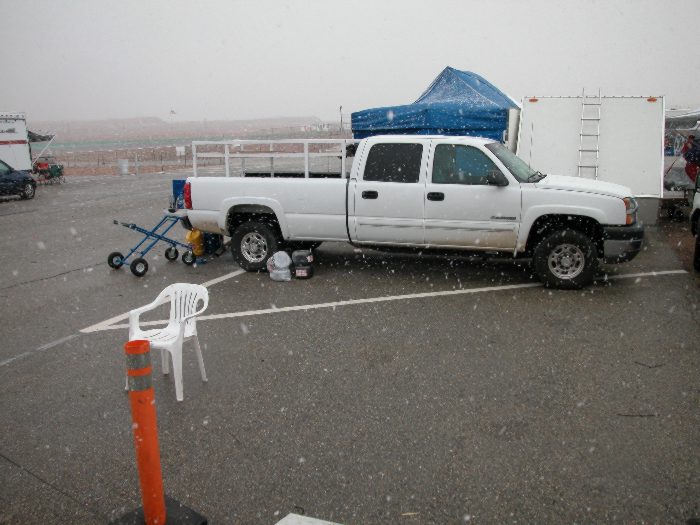 Snow in March at Willow?
March 4th, Saturday morning
Weather in the morning is cold, but clear. Most of us are wearing long underwear and our Nomex car racing suits to stay warm. I'm screwing around with gearing trying to find a decent gear that will work at Willow. I try 16/25, 16/26, 16/27, 17/28. None of the damn gear sets seem to be comfortable with the combination of turns on this kart track. Changing gears is a pain in the ass, you have to loosen the motor mounts, move motor back, take gear off, put new gear on, spend 5 minutes aligning the damn gear/chain, tighten motor mount, re-adjust chain/shifter position, tighten mount again and re-adjust stuff, blah blah blah blah. Wayne seems to like the 16/25, which means we don't use 6th gear much at all on the track, and you shift less for the other turns. It ain't perfect, but after making six gear changes, I give up and just go with the 16/25. Which is what I started with 6 hours ago. Jeff, Jason Steaman and Jason Trumpio meet us at the track for practice.
Saturday night, Wayne and I go to a local Mexican restaurant for dinner. After dinner, it is 30 ffing degrees outside, and he says let's walk across the parking lot to Target. I say let's drive there, and besides, what does he need to get at Target at 8:45 p.m. at night? He replies, "I forgot my portable fan, so I have to go buy one or else I won't sleep tonight". I freeze my ass off walking across the parking lot. I curse his existence.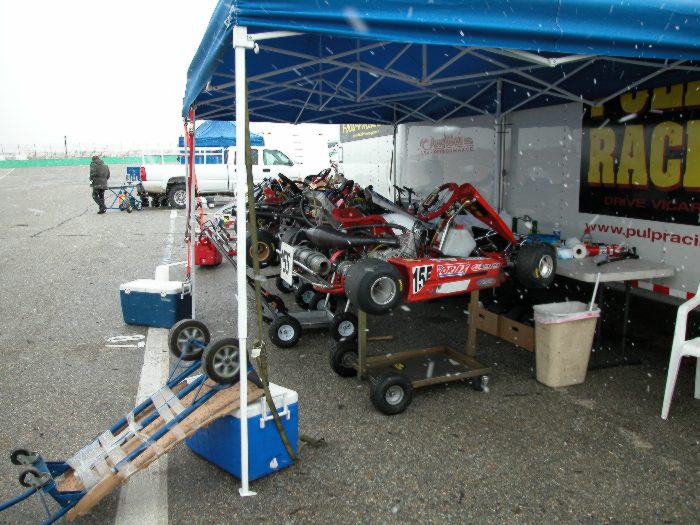 Humm...is that snow?
March 4th, Sunday morning
We have totally destroyed our practice tires from the day before. This is ridiculous, we usually get a couple of days of practice out of our old race tires, but Willow kart track has shredded the tires down to the cords. We mount up some new tires, and Jeff is running 43.3, Wayne 43.4, me 43.5 on new tires. I blame my slowness on the fact that I keep changing gears instead of optimizing my driving with the same set of gears.
The race is on Saturday, March 11th, and the forecast is for rain. PKC says that if it rains, don't forget that "rain race" is worth 150% of points earned for that day, to reward people for coming out to a rain event. Later in the week, the forecast says it might snow in Palmdale/Lancaster. Could be an interesting race. We get our rain tires ready for this weekend. We have been dragging around a big ass propane grill with us to the track, and cooking steaks and burgers. It's been great. We tie the grill securely in the trailer with straps. When we get back home, the weight shifted on the grill, and the flimsy metal frame of the barbeque is destroyed. Damn! A $300 barbeque reduced to scrap metal. No more burgers and steaks. Back to cold chicken for track food.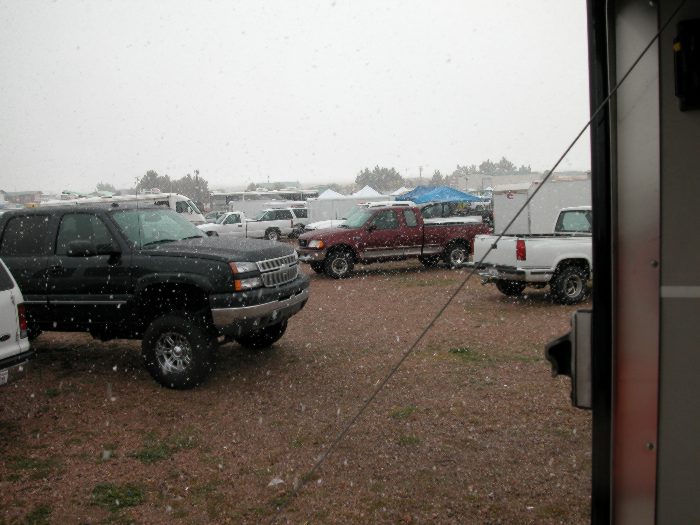 Friday, March 10, 2006
Today is the official PKC practice day. Not as many people here as I thought there would be. I'm praying for rain today, as it would be great to get some rain practice in. The last time I raced in the rain I did really well, and that was because I was one of the morons that was practicing in the rain the day before. It rains all around the track, but never directly on the track. Damn. So much for rain practice. The weather report says there is a 90% chance of rain tomorrow.
Saturday, March 11, 2006
Our pit crew for the day, Jason Steaman, Tony Loughery, and Dana Mello drive up in the morning. The snow and ice was real bad in the mountain passes, and they said they were crashed cars on the side of the roads.
I parked the trailer in what I thought was a good spot the day before. It was close to track entry/exit, had a lot of frontage room to work on the karts, and was in a "triangular position" compared to all the other trailers that were lined up. What I didn't realize was that it was directly in the "wind zone", where the icy cold wind came ripping into us. Damn.
We are working on our karts, getting ready for the first practice, and for some reason, Jeff's kart won't fire up. WTF? He's struggling to get it to fire up, and misses the first 10 minute practice. The next practice is in 30 minutes. 2Wild says it is a gas problem. I tell Jeff it ain't a gas problem. Some people think that it is so ffing cold at the track that the 2 stroke gas/oil isn't mixing properly. I tell Jeff that I slept with the bottle of 2 stroke oil next to my bed (not that kind of 2 stroke oil, you dorks) to make sure that the oil didn't freeze overnight. See, I'm a thinking kind of guy. So I insist that it ain't the gas/oil. Jeff misses the 2nd practice session. We have spares of everything except for a carburetor, so Jeff puts my carb on his kart, and his kart fires up immediately. He puts his carb back on his kart, and it fires up. Hummm...whatever. He put my carb back on my kart, and now mine won't fire up at all. Damn. Qualifying is in 10 minutes, and we can't get my kart to fire up. Darcy Decoste, the stock Honda motor builder, comes by, looks at the carb, looks at the float bowl, and says that the oil/gas isn't mixing as it is too cold. No one else has that problem, but then again they don't have the wind hitting them head on at 25 mph with a wind chill factor or probably 25 degrees. I tell Darcy that I slept with the bottle of oil next to me, and someone says, "Did you sleep with the gas can next to you?". I said "Uhhh...no", as I'm not going to sleep with a 5 gallon bomb next to me. But I guess the gas got real cold sitting on the metal floor of the trailer, the wind is hitting it head it on, and makes it so it doesn't mix with the oil. We now fire up the propane jet engine heater that we have in the trailer and point it in the direction of the gas jugs (probably not the smartest thing to do), but we have to keep the gas relatively warm or we can't race. No one else seems to have a problem but us. Hummm...
Our 12 minute qualifying session has started, and Jeff and I are still trying to get my kart fired up. I'm getting all stressed out thinking I've wasted three days of practice due to cold gas, and am going to be gridded last. The kart finally fires up, and we get out late in the qualifying session. I suck, and I blame it on not being ready in advance for the qualifying session. All race results are from mylaps.com
| | | | |
| --- | --- | --- | --- |
| Best Lap Tm | 43.123 | In Lap | 6 |
| Best Speed | 52.176 | by | Steffan Maus |
Heat Race 1
I severely bog on the start, people are blowing by me going into turn 1. Damn! I struggle the rest of the race trying to move up.
| | | | |
| --- | --- | --- | --- |
| Best Lap Tm | 43.274 | In Lap | 5 |
| Best Speed | 51.994 | by | Lindsay Kernohan |
Heat Race 2
Everyone is looking at the sky. Looks like rain. No, maybe not. At the last minute, everyone makes the decision to go with dry tires, and we scramble to get to the grid on time. And then it starts to drizzle. And then it starts to sprinkle. Green light comes on, and we are off. I get a good start, and I'm in 7th or so. Now it is hailing pretty hard. People are spinning off everywhere. Ha ha! I think I work my way to around 5th, but then they red flag the race, as it is deemed to be too dangerous to run on slicks with hail coming down. Wimps! I am the Rain Master, let us race on slicks in the rain. Damn!
Now it is snowing pretty hard. Everyone retreats to their trailer to wait out the snow. A meeting is called about 30 minutes later by the PKC race officials, and a vote is taken weather or not to race in the snow. 98% of the people say yes, so we now have a chance to pick up 150% in terms of points for this race. Everyone scrambles back to the pits, putting rain tires on, widening the front end, shortening the rear end, loosing seat struts and bars, etc, prepping for a wet race.
Green light comes on, and I get another good start. I make my way to 5th spot by turn 8 since people are bumping and crashing and spinning in the wet conditions. Unfortunately for me, I get it loose on one of the hair pin turns, spin off the track, and I get high-sided on the berm and the dirt, so my rear wheels have no traction as they are up in the air. I'm stuck. Damn! Everyone passes me. I use my hand on the throttle cable to keep the motor running, I get out of the kart, move it off the berm, hop in, and back in the race. I spin a couple more times in the rain. I suck in the rain today. Jeff crushes everyone in the rain, and takes 1st place in this heat race by 13 seconds, with his fastest lap more than a second faster than everyone else. Looks like he is the Rain Master.
| | | | |
| --- | --- | --- | --- |
| Best Lap Tm | 54.241 | In Lap | 8 |
| Best Speed | 41.482 | by | Jeff Littrell |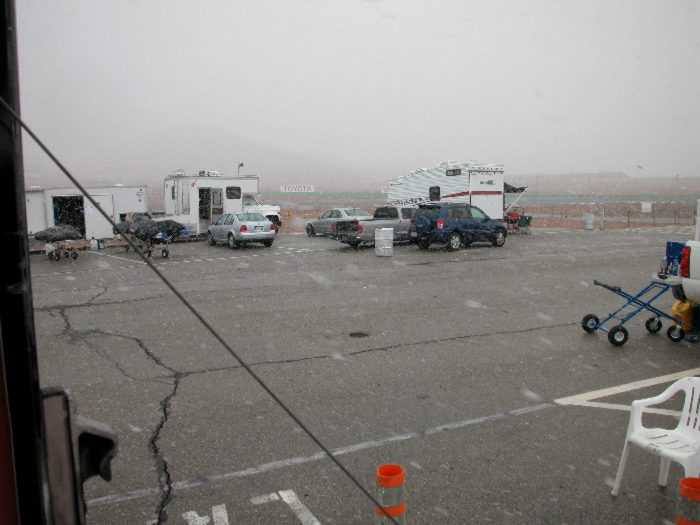 Final race. I'm gridded near the back. I need a great launch. We are still on rain tires. I try to anticipate the green, but I start to move too early before the green, so I hit the brakes, and then I stall the ffing kart. Everyone flys by me. Damn! I push start the kart, and work my way back through the field to finish 8th. Jeff makes it to the podium in 2nd place. Travis Irving (2000 Superkarts! USA WorldFinals ProMoto Champ) takes first place. Wayne, experimenting to try to get a good wet setup, goes out with just 9 psi in his tires, which is contrary to popular opinion of how to setup your kart for the rain. I had 18 psi. Wayne ends up with a flat on lap 2, possibly due to not enough air in the tires so they didn't seal, and DNFs. All that practice that Wayne and I did for this race didn't pay off. We are idiots! Damn!
| | | | |
| --- | --- | --- | --- |
| Best Lap Tm | 49.391 | In Lap | 10 |
| Best Speed | 45.555 | by | Travis Irving |
We packed up the trailer while Jeff was sitting in on the awards ceremony to get his trophy. Halen didn't race today, as he had a Stars Race back east. Since rain races are worth 150% of points, and since Fernando missed the last Cal Speedway race, it looks like Jeff could be #2 in total points in his quest to become the Stock Honda King. Now you could argue that it is irrelevant, since Jeff hasn't dropped a race yet (you are allowed one drop for the season), but hey, the current score is what the current score is now. McKee leads in points as he hasn't dropped a race either. Wayne and I are stuck in mid pack obscurity due to our DNFs at Cal Speedway, Wayne's DNF here at Willow, and my poor finish here at Willow. Damn! I hate it when Jeff is beating us.
The snow turned into a blizzard by now, and as soon as Jeff got back to the trailer with his trophy, we hit the road to get out of town. There was snow everywhere. Luckily, once we hit the mountains in Palmdale, the rain and snow stopped, and were able to make it home safely.
Helmet Camera Footage
From the Spec 1 Stock Honda races on this day is at: (Windows Media file, do a "right click", "save target as")
1. Small version 320x240 - 16 meg file
2. Big Version 640x480 - 106 meg file
Footage from previous month's Cal Speedway race
Of the Spec 1 Stock Honda Race (Windows Media File, "right click" "save as")
1. 320x240 version, 18 meg Windows Media File
2. 640x480 version, 118 meg, better resolution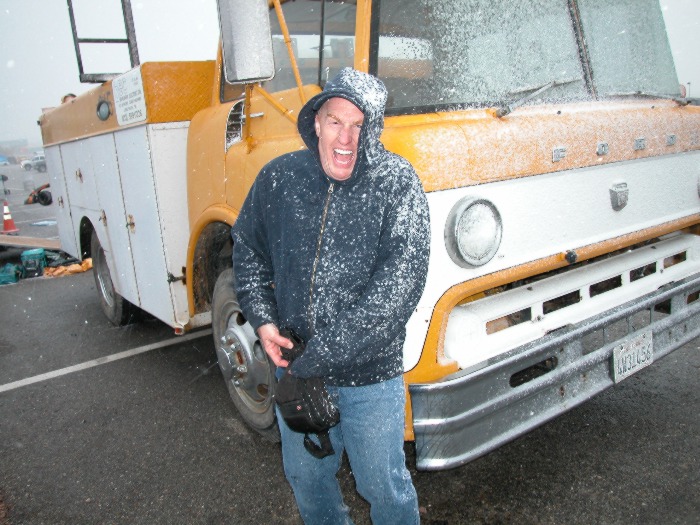 Snow is coming down on Wayne