Big Miscellaneous Update for January 2009 to July 2009
Cheating Bastard Plans for the New Season
ProKart Challenge Season Opener and Other Stuff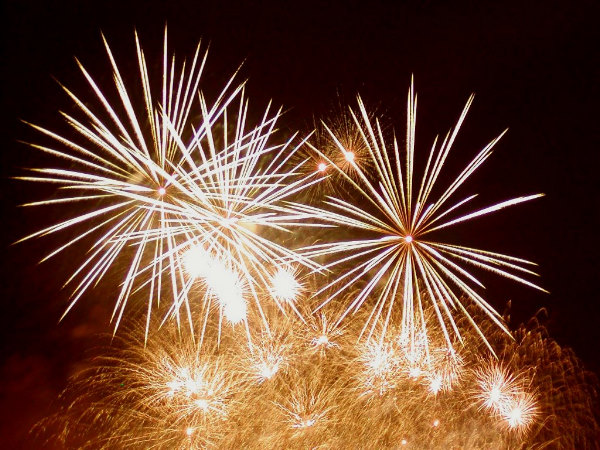 The New Year begins! Must re-group and stop the Death Spiral of 2008
I know, it's been 5 months since the last update. Hopefully I can get off my ass and get another update out before Christmas. This is getting ridiculous. Everyone else is moving to Twitter or Facebook where they update every 10 minutes about mundane stuff such as, "I'm eating a burger", "I'm taking a dump", "I'm in line at the supermarket", etc. I mean, c'mon TwitFaces, who really cares? Instead, I'm doing the opposite, moving towards a big yearly update.....hummm....maybe I should go against the tide and write a book?

I just turned 50 years old. Soon I'll look like this guy.
Time's running out. I turned 50 years old in mid-January. It sucks turning 50, because the first piece of mail you get on your birthday is a letter from the AARP (Association for Advancement for Retired People), and the second piece of mail you get is from your health insurance company saying that since you are 50 years old, your monthly premium just went up 20% to use their crappy HMO providers. They should just send you a cake labeled, "Dude, you're alive, but your almost dead!".
Okay, so what's going on for the new season? Well, it looks like Wayne is uncertain about karting this year, saying he spent all his cash on his 1966 Chevy Malibu SS396, along with about $10,000 in mods to that. I told him it was ridiculous to spend that much money on a muscle car, but then he said that a year from now, his $50,000 car will still be worth about $40,000, and any money I spend on karts/racing will depreciate at 80-90%, leaving me with enough money for sushi and a beer at Hamamori. (Highly recommended: sit at Hamamori sushi bar, order tempura halibut hand roll, and anything else that chef James recommends).
Jeff said he's gonna start out the 2009 season and see how it progresses. I'm thinking I'd like to run the entire ProKart Challenge series, but not if I'm getting stomped by more than one second a lap by the front runners. If I'm going to spend money in getting my ass kicked, I think I would rather have it done by a young blonde female with a whip instead of a bunch of teenagers/twenty-something males in shifter karts.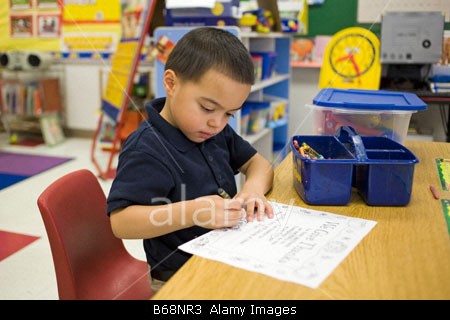 If a kindergarten kid can suddenly learn to write, I can learn to modulate the throttle
Perhaps there is hope. Here's my story. A friend of mine occasionally helps out at a local public school for an hour or so each week, with kindergarten kids. They do a thing called "Kid Writing", where the kids are encourage to use their knowledge of phonics (which is in the beginning stages), to write out sentences. So you get stuff such as, "i Lic 2 ri mi bik", and you help them progress to the level where after a few months they can write the sentence, "I like to ride my bike" themselves. After many months, there was one child that just could not write anything. Not more than maybe one word. And then one day the light clicked on, and the child wrote, "i lik to wach teevee wit mi dad". Holy smokes, he got it! That's inspiring, because that's where I feel like I'm with my kart driving. I can't quite make it to the next level.......but I think if I keep trying, one day, the light will come on, and I'll get that magical half second that I need to run with the front runners in PKC S3 Stock Honda. Until then, I'm like the kid in school who can only write one word.....but I'm real close to getting that first sentence out!
So I keep thinking of all these schemes to get back in the contention for a podium finish in the PKC S3 class. My latest plan is the plan that I wanted to use for the 2008 Supernats, but I didn't get a chance to implement it in time. The plan it took about 6 weeks to figure out how to install the hardware, get the right adapters and fittings, etc. So I figure I'll test out the Cheating Bastard plan this year. The plan goes like this:
1. Install Mychron brake pressure sensor
2. Install Mychron throttle pressure sensor
3. Install Mychron steering position sensor
4. Put helmet camera on me. Drive as fast I can.
5. Get a hotshoe driver who is the same size as me, put him in the driver's seat of my kart.
6. Put helmet camera on hotshoe driver. Make him drive and throw down fast lap time that will be 7/10ths faster than me.
8. Install the new TrackVision software on my laptop, superimpose brake/throttle/steering/g force/rpm/speed sensor data over the helmet cam video. So it will be like watching the Formula One race on TV when they superimpose the data on the screen. I can also view sensor data/charts in AIM's Race Studio software. Figure out exactly what I am doing wrong. Why is hotshoe 7/10ths to a full second faster than me?
9. Correct my driving via all this feedback. Now contend for podium spot.
Sounds simple? Right......
So I go to Cal Speedway kart track for practice. I drive laps, and then I put Alex Barron in my kart, and have him drive laps. I compare the telemetry data in Race Studio, and it says.....Barron's faster than me. (I knew that). And he modulates the throttle around turns better than me. I'm like an on/off switch, which generates wheel spin out of a corner, and every little bit of wheel spin means you ain't going forward. Do that just a little bit around each turn, and you'll find yourself a half second a lap behind guys who can drive properly. Watch a Formula One race. Those guys could light up and spin the tires at any time in a turn, but instead the drivers carefully modulate the throttle to avoid doing that. It may sound easy, but Michael Schumacher didn't make $80 million dollars a year driving for Ferrari because it was easy.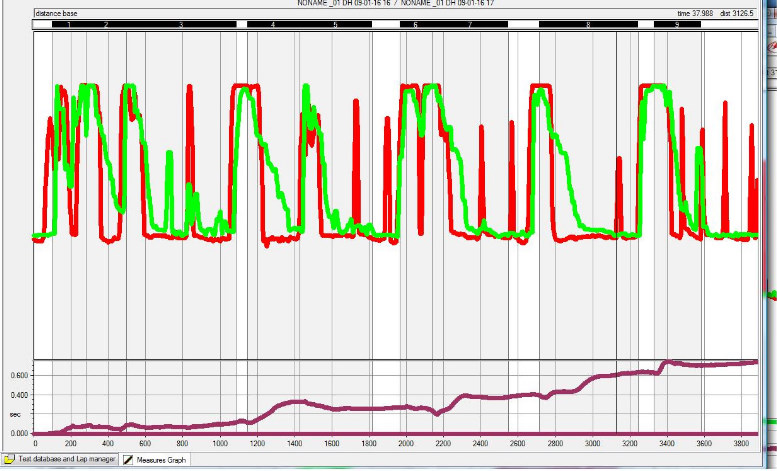 Throttle position chart. Barron green, me red. Notice the lack of modulation on the red.
Okay, so armed with that data, with that knowledge, I should be able to correct this problem, right? WRONG. I got 20,000 laps of driving improperly, and getting your brain and your body to feel when wheelspin is coming on and correct it while diving 65 mph into a turn with people inches from you on your left/right/front/back of your kart, and then correctly applying the throttle after braking, are two totally different things. I'm used to hammering the throttle in every turn. It's the difference between shooting target practice and shooting while other people are shooting at you. It's like shooting 9 out of 10 free throws in practice, but then in a championship game you miss five in a row (think Dwight Howard). Anyways, now I have to think of yet another plan to get that half second. I was thinking that perhaps I should build a kart simulator and run that iRacing software, but it is not in the budget to spend that much money. I would need an old kart, lots of fabrication to get kart pedals and steering wheel to work with PC game console pedals/steering wheel, maybe three 42 inch LCD screens, etc.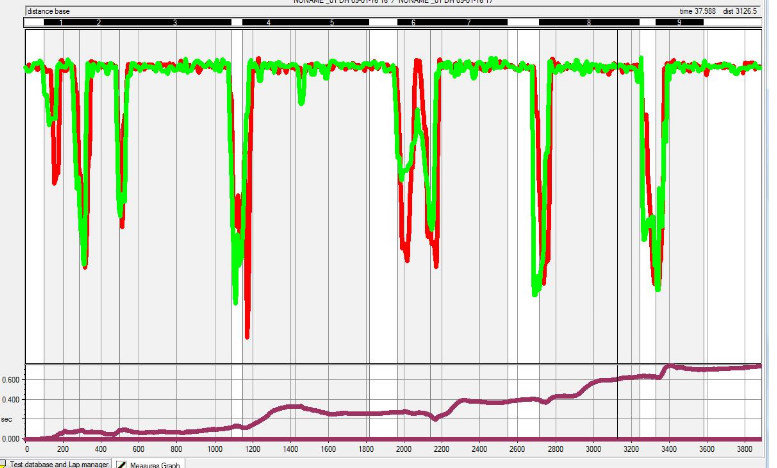 Brake position chart. Barron green, me red. I'm braking too much.
Calspeed Race #1, ProKart Challenge
So we go to the first race of the season. Wayne decides to sit this one out. Jeff agrees to give it a try. Jeff and I decide to be Cheating Bastards, and we prep two karts each, so we can run both S3 (hotshoe class) and S4(old guy class, 35 years and older) so we can see how we match up against the young guns and the old farts. Except a few days before the race, the race promoter calls us and says that we can't run the S4 old guy class, as we are too fast for that class. He wants us to run in S3 only, and I assume that is because if we run S4 and kick everyone's ass, less people will run in S4. If we don't run S4, then perhaps more people will enter, as there are lot of potential drivers that could make the podium with us not running in S4. The unofficial word is that "S4 Local PKC class does not equal S4 Supernats class". Hummmm.....too fast for our local age class, potentially too slow to run with the young guns. Let's roll the dice and see what happens.
Undeterred, I make the bold statement that the winner of the first PKC S3 Stock Honda race will a driver running out of our trailer. I have Alex post it on his ARG blog. Of course no one believes me. I debate whether I should go around the paddock and start placing bets.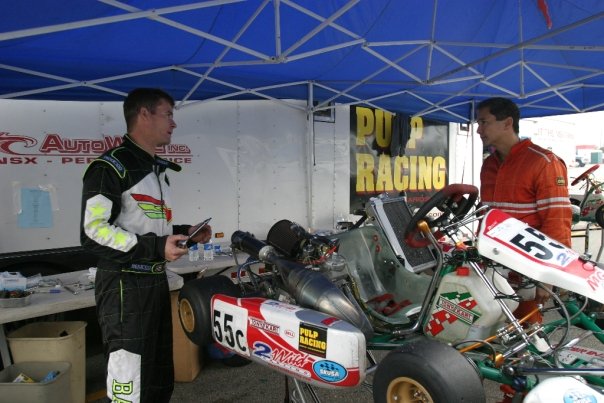 Our ringer for the day: Alex Barron runs his kart out of the Pulp trailer for PKC Race #1
(photo by Scott Shimane)
Race Day
We show up, and we have our coach and friend Alex Barron running out of our trailer today. Alex is there with his dad, running the S3 class. Alex won the first Supernats back in 1998, and used that to leapfrog to Formula Atlantic and Indy Cars. He can hop into our kart and within five laps, run faster on the track than we can. Just try to hop into someone else's kart and adapt in five laps to be faster than the owner of the kart, it is pretty damn hard. We figure if he runs out of our trailer, we can learn about his race day setup and how he adapts to the changing conditions of the race track. The first PKC S3 race of the year is stacked with talent like a 20 year old dancer with a $15,000 Hollywood boob job. We have our usual ultra fast guys like Legate/Schoombee/Cushenberry. But then add super pro quality drivers like Mandarino, Barron, and Neal. Then add the fast guys from up North that dropped in for this race, add in the Aluminos drivers that have been kicking my ass, and add in the Musgraves who are moving up from crushing S4 last year, and add ICC hot shoes Jimmy McNeil/Vivek Tandon, and now you got the killer class. It's playing in an All Star game.
Jeff and I get crushed in qualifying, Jeff finishing 9th, me 12th. Crap. I thought the new kart would be less grippy at CalSpeedway, as the grip level comes up huge on race day. Barron gets within .08 of taking pole.
Heat Race 1
In this race, it appeared that the first four guys were really fast, and the rest of us were racing in a big pack for 5th place. When I say big pack, think of 8 guys probing to figure out how to go three wide into a turn that only fits two karts. Later in the race, McNeil crashes into me, we both spin, and fall back. I was holding him up as he's definitely faster than me. I thought I gave him enough room, but I think he overshot the braking zone. Normal racing incident.
Heat Race 2
More real close racing, everyone jockeying for position. After the first lap, Clinton gets banged around in the grandstand turn and spins. I'm right on the butt of everyone else in the second pack, everyone swerves at the very last moment to avoid Clinton, but I don't see Clinton in the middle of the track until after the guy in front of me swerves. I smack Clinton at almost full speed in his sidepod. Crap. I bend a spindle, tie rods, steering column, etc. Luckily, Clinton is okay.
We put the kart back together. Alignment is off, so kart is slightly bent, but we'll fix that later. I can at least make it in time for the main. Barron insists on switching his rear axle to a stiff axle as the track is going to grip up. I have a soft axle in, as I felt I didn't have enough grip in Heat 1 and at the start of Heat 2. I decide to not listen to Barron, and run the soft axle.
Main race starts, and after four laps, my kart is hopping like a bunny rabbit. Crap. Shoulda listened to Alex and went with stiff axle. And also probably need to learn to drive better with throttle modulation on a sticky track. I'm toast, and the kart is turning right better than it is turning left, so something has to be fixed. I finish a miserable 14th. Jeff's neck starts hurting, he's a miserable DNF. Oh well. There goes an entire lost weekend of futile racing.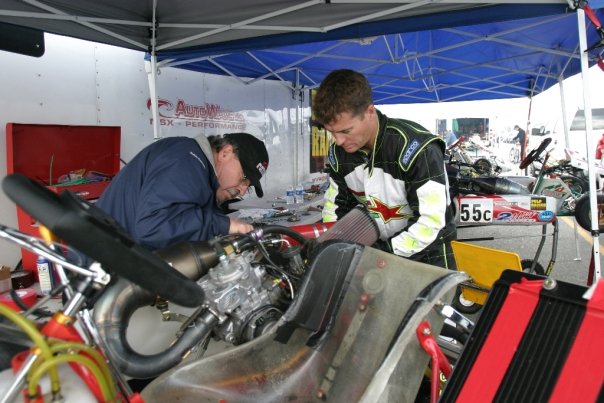 Alex and his dad get their kart ready for the PKC main race
(photo by Scott Shimane)
Alex Barron wins the main race, so my prediction was true, the winner of the S3 race will be from our trailer. Barron beats Legate by only only 2/100ths of a second. Which explains why we can't beat Legate. If an ex-Indy Car driver and Super Pro kart driver like Barron can only beat Legate by .02 seconds in 20 lap race, at least we know we are getting our ass kicked by really fast guys. We suck in our class, but at least we know we aren't getting beaten by amateurs.
PKC Willow Race
The weather was bad in the weeks prior to the Willow Springs race, so it was real hard to schedule extra practice days for this race. The Willow Springs kart track is my worst track, as it is a technical, medium speed, smooth throttle application kind of track. I figure without lots of Cheating Bastard practice, I'm toast in the S3 race. I decide to skip the race, and save some cash.
PKC Grange Race Practice
Wayne agrees to race the PKC Grange race. The Grange track is pretty fun, hard on the body, but also fast in spots and kinda "flows good" if you can catch the rhythm of the track. Wayne, Jeff and I meet Alex Barron for a practice day a couple of weeks before the event. It is our first practice day since I raced at Calspeedway. Unfortunately for me, it appears that my kart has a slight bend in it from my crash with Clinton the previous month, so I really can't test out my kart properly. Kart drifts to the right. Crap. A full day in Apple Valley, 97 miles from home, and my kart isn't really drivable. I forgot to check the chassis to see if anything was bent prior to coming to Grange. I'm an idiot.
We started our with our usual thrashing with gears, with Wayne at a 1.60 gear ratio (he was too lazy to change gears), me at 1.56, Jeff at 1.58. Changing gears is a bit of a pain in the ass, figure it takes 10-20 minutes, and we are lazy. On this day, Wayne runs fastest of us all, running a 54.5. Jeff almost breaks into the 54's, and I run 55.9 with my bent up spindle. I'm thinking....hummm.....a 1.60 gear can't possibly be the right gear, but Wayne is running really fast. Even Alex is amazed at how fast he is running. Maybe I should switch to the 1.60, but my mind keeps telling me that can't be right. But the clock doesn't lie.
So I get the kart straightened out, spindle fixed, etc, and feel that I am ready to race at Grange. I go to the PKC Friday practice day, which is the day before the PKC Saturday race day. Wayne decides he's just going to show up tomorrow and race, and Jeff is going to sit this one out because his neck still hurts. The practice day goes pretty good, but I'm still not getting on the gas enough coming out of the turns.
I decide to go with a 1.56 gear on race day.
Two weeks later, PKC Grange Race, Qualifying
I sucked at qualifying. Wayne ends up beating me. As the track grips up, I wonder if I have the right gear. Wayne says his 1.60 is working great on the infield section, and that's where I'm having problems. He's whupping on me in the infield chicane. Hummmm....we'll see how Heat Race 1 goes.
Heat Race 1:
My starts have been awesome for the past year. I get another great start, and I hop in front of Wayne and Vivek. Vivek gets by me later in the race, but I have enough speed to keep Wayne behind me. Ha ha. At least I can beat him. Wayne says he's killing me in the infield section. I'm a full second off of Neal's fast lap, but only about a half second off of Legate's and Schoombee's time. I suck, but at least I'm not a full second behind them.
Heat Race 2
I get another good start. Wayne is duking it out with Harley, and they crash into each other in another racing incident. Legate and Schoombee still only half a second faster than me. I decide to switch to Wayne's 1.60 gear for the main race, and try to make up some ground in the infield. I think it could help me cut the gap to front of the of mid pack guys. Maybe this gear change will work.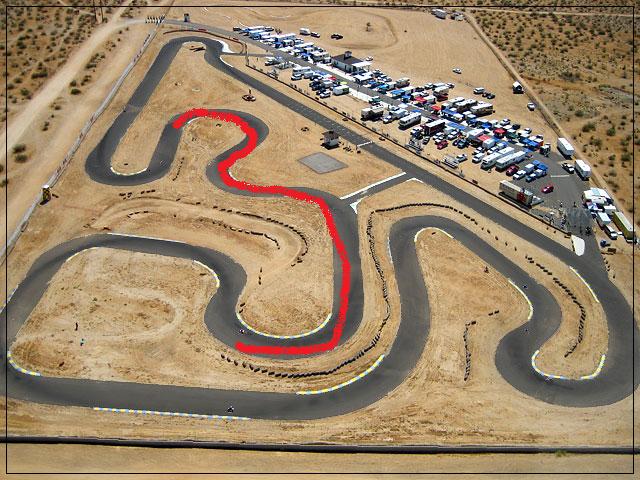 Red part is the chicane area that I think Wayne had the right gearing on his kart
Grange Main Race
I put the same gear ratio on my kart that Wayne has on his kart. I'll crush Wayne in the the main, and hopefully take down a couple of more people while I am at it.
The green flag drops, and we are off for 20 laps to glory. Uh oh. Holy crap, this gear sucks. I can't get used to it. Wayne said he didn't have to shift in the infield section, but I find that I'm having to shift multiple times mid-corner with this gear. Wayne and Harley get by me. Dammit! This sucks. I finish 10th out of 12. I am miserable.
PKC Grange Epilogue - Two weeks later
Back at the shop, we are prepping the karts to go to Thunderhill. I tell Wayne we should probably run an 18 tooth front gear, so he should switch his 15 tooth front to the 18 tooth front gear, and we'll figure out what rear gear to run. He says, "You mean switch the 16 tooth gear?" I say, "No you moron, you have a 15 tooth gear on the front. You ran a 15/24 at Grange, which is the 1.60 ratio, like I ran in the main. He looks again, and say, "Uhh...no. it is a 16 tooth gear. I look at his gear.....and it is a 16 tooth gear. The light in my head goes on. You asshole, you ran a 1.50 ratio gear at Grange, NOT a 1.60. No wonder I was all screwed up in the main race at Grange, you made me put the wrong damn gear on my kart. With the right gear I coulda finished another 4 or 5 spots ahead of where I was. I bury my head in my hands like Charlie Brown. AAUGH! There goes another lost weekend of racing......we are indeed the Moron Racing Team.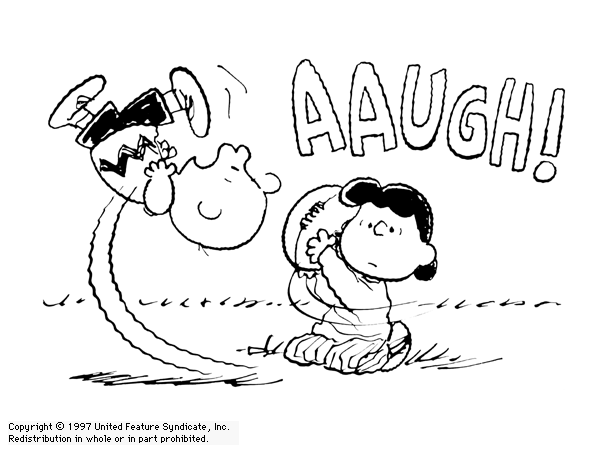 This is what happens when I listen to Wayne
Thunderhill
Wayne has been dreaming about racing karts at Thunderhill car track for a the past couple of months. NCK has an event scheduled at Thunderhill, and Wayne is trying to talk me and Jeff into going. Jeff and I aren't all that keen on going, and keep raising objections about the event, but Wayne goes into sales person mode and convinces us to go. Most kart tracks are about 7/10ths of a mile long. Thunderhill is about 3 miles long, and we figure that a shifter kart could hit 120 mph at the end of their very long straightaway.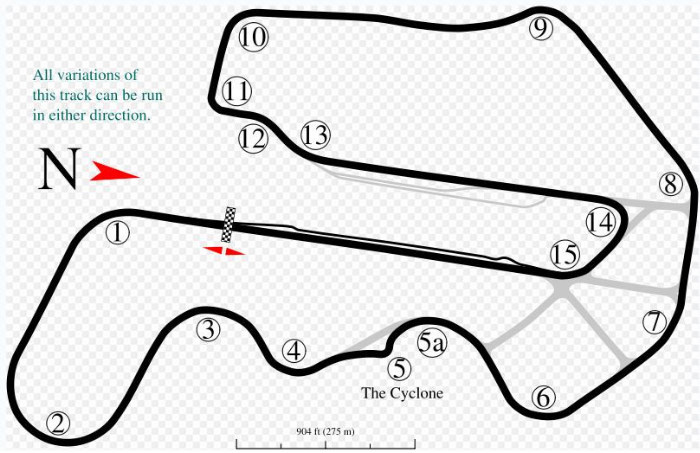 Thunderhill main straight is about 2200 feet long. Maybe 120 mph in a shifter kart?
I raise some objections about going:
1. It's too damn far. I ain't driving the trailer 500 miles each way for a one day event. Wayne convinces a buddy of ours to drive the truck and trailer there, so we can buzz up to Norcal in a car or airplane.
2. Its too expensive to fly up there. We'd have to get a flight into Sacramento, then rent a car, drive 90 minutes to Thunderhill, then meet the truck and trailer at the track, unhook, etc. Wayne arranges for Doug Ota to fly us up there in a private plane that he can borrow, so we would land 6 miles from the Thunderhill track. So we can do an arrive-and-drive one day event.
Jeff and I reluctantly say, Okay, we'll go. So then we spend a day prepping the karts for going 125 mph in the draft down the main straight. We change the rake of the seats, change the brackets and mounting points for the radiators to tilt them down more, and other Cheating Bastard things that we think might help us.
Two days before the race, weather looks like rain. Ota can't fly us in the rain. I don't want to drive 500 miles to race in the rain. We decide we have to pull the plug on this race, and decide not to go. We'll save our cash for a race when we can have dry weather.
PKC Qualcomm Race
We decide to sit this one out, despite it being a pretty fun track. Too much throttle modulation is required at Qualcomm as the parking lot surface there can be pretty rough in spots., The last time there I didn't have enough tire left for the main race, as I burned up all the rubber in heat race 1 and 2. I had to pull off halfway during the main race as the kart was skidding all over the place due to the tires having no grip left. Fernando Diaz reported back from Qualcomm, and he apparently had the same problem in his main race. He pulled off due to having zero tire left. I must figure out how to properly modulate the throttle, as the fast guys here are still fast, and they still have tire left after the main.
PKC Buttonwillow Race, at the Kart Track.
Jeff and Wayne aren't enthused about racing and getting our ass kicked again, so we don't go. Plus I don't want to spend any cash on this race. Jacob Neal is showing dominance in Stock Honda,and is currently the points leaders for the S3 class. He's won the last five main PKC S3 Races (SoCal), and is whupping ass in PKC S3 Norcal series also, where he has won 3 of 4 main races. Neal is 18 years old, and it appears that no one in the PKC Stock Honda class can stop him. He's having a great racing season, similar to the one that Nick Halen had a few years ago.
NorCal Karters Road Race at Buttonwillow CAR Track
Wayne is still on a road racing kick. He convinces Jeff and I to run at Buttonwillow with NCK, who is running the 3.0 mile car track. We go up there, and there are about 150 people entered in the event. In their "pure stock Honda class with R2 pipe and 1999 motors", there are about 15 people entered. In their Formula 125 class (stock Honda any pipe other than R2 or any Honda motor other than 1999), there are 6 of us. We get two hours of free practice (well, about 90 minutes due to late start), and three heat races. In our run group, they grid the 250 Superkarts first, Stock Honda 2nd, Formula 125 third, and some other classes behind us. In our first road racing event, the Pulp guys take the first three positions in the F125 class in the order of Jeff, Wayne, Doug. Maybe kart road racing is where sprint kart drivers go when they get old and washed up?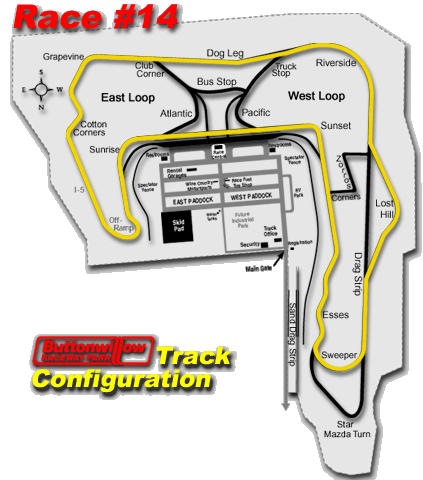 We hit 111 mph going into the Grapevine corner
The NCK "overall winner" is determined by best positions in races 2 and 3 (technically called 1 and 2 by them), but I'll call them 2 and 3, since we ran three damn races, so the last two races should be called 2 and 3, not 1 and 2, right?
In Race 2, Wayne takes 1st, I take 3rd, Jeff has mechanical problem, finishes 6th.
Race 3, Jeff takes 1st, Wayne 4th, me 5th. Dave Futz takes 2nd, and he took 2nd in the previous race. Futz has a total of 4 points, takes overall win, Wayne has 5 points for 2nd, Jeff 7 points for 3rd, me 8 points for 4th. I'm not to disappointed with my results, despite Wayne and Jeff beating me, since I had my backup Honda motor on the kart, which hasn't been freshened up in a while. I figure this was just a practice/test race for us to see if we like road racing at car tracks, so I didn't want to use my good motor on the kart. I'll be fully armed for the next race.
In the regular stock Honda race, Jimmy McNeil, who is kicking our ass in PKC S3, spanks the field in Heat 1 and Heat 3 by taking 1st place in his first ever road race, but took 14th in Heat 2, thus knocking him out of the points for being the overall winner of the class. He almost pulled off the hat trick!
We hit a top speed of about 111 mph down the back straight. Buttonwillow car track is pretty fun in kart, I might have to do this one again. The karts handle well on a big track like this. Write up of the race at: http://www.nckroadracing.com/results/2009_buttonwillow_recap.pdf
Wayne is still known as Mr. Excitement
Yeah, we are getting older. But some things never change. Here's a typical week in the life of Wayne.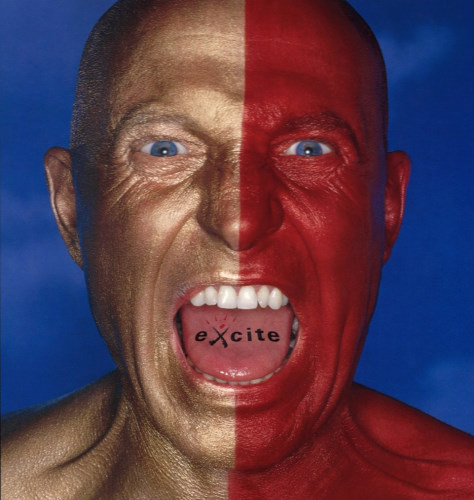 Some people call Wayne "Mr. Excitement"
Monday
A used one year old, white Mercedes 320 arrives at Wayne's house. Wayne was leasing this car for his mom who lives back east, but she is unable to drive anymore. He's been making the lease payments on it the past year, so he decided to just take over the car. Wayne is cussing because the car has some dents and scratches in it, ding in the rim, road salt all over the bottom of the car, etc. He spends a day detailing it and cleaning it up. So now his driveway/garage has the Chevelle SS396, the Ferrari 360, a mini-van, and a Mercedes parked in it. Neighbors are wondering what illegal substances Wayne is selling.
Tuesday
Wayne calls me, says he found a mini bike on sale at Kragen for $169. It used to be $269. I ask him, "Why would I want that?". He says for a pit bike at the track. I tell him, "But you can't ride motor powered vehicles in the pit area on PKC practice/race days?" He says, "Well, then we can ride it in the dirt parking lot area." I tell him I'll pass on buying half a mini bike.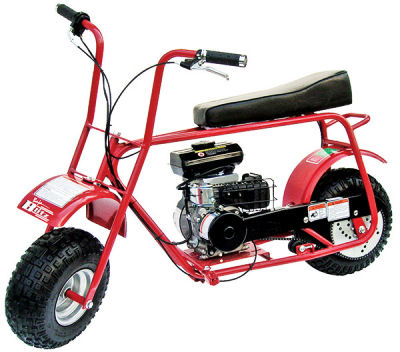 Wayne decides we (he) needs mini bike
Wednesday
Wayne calls me, says he found an engine upgrade at Harbor Freight. My head tilts at a 45 degree angle, and I ask, "An upgrade for what?". He says excitedly, "For the mini-bike, you idiot". My head tilts at a 45 degree angle the other way. "What, have you lost your mind". He says the new motor will give the mini bike a lot more torque. I ask him haven't we learned anything about modifying motors after blowing up countless NSX/Porsche/EVO motors? I tell him to cancel me out of the putting in 50% towards a motor upgrade.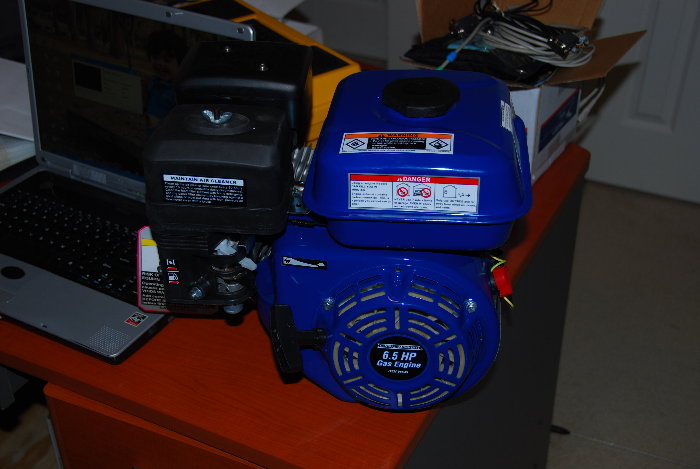 Of course Wayne needs to swap the motor for 6.5 HP of Harbor Freight power
Wednesday night
We are playing softball at the Huntington Beach Sports Center. Wayne gets a call from Amy. "There are policemen at our door, parked outside our house looking for you. Something about a gun". Uh oh. Wayne gets on the phone, and tells the officer he is playing softball, and he can't leave right now. The policemen say they'll stop by the field. Being policemen, they of course can't park in the parking lot and walk 400 feet to our dugout on the far side of the sports park. They drive their car ACROSS the fields, and park right next to our dugout. So now it looks like the Pulp Racing Softball team is under investigation for something illegal. They pull Wayne out of the game to talk to them. They ask him about an old .25 caliber handgun with an ivory handle on it that is registered to him. Wayne thinks about it for a minute, and says, "Yeah, I used to have a gun like that a while back. It was a cheapie gun, and when I took it to the Huntington Beach Firing Range, it kept getting hot and it jammed up a lot, so I stuck it back in a box and kept it at the shop. I sold the business about 14 months ago, and I don't know what happened to it." Evidently it was used in a shooting in Los Angeles, so the police are trying to trace who the shooter was. Who knows who took the gun, as Wayne said he hasn't seen that gun in about 7 or 8 years. A lot of people have been in and out of the Phoneguys the last few years. We guess it was used by gang bangers, as they didn't take Wayne in for further questioning, and that was the end of the inquiry. Wayne's comment at the end of this, "I am usually really careful with my guns".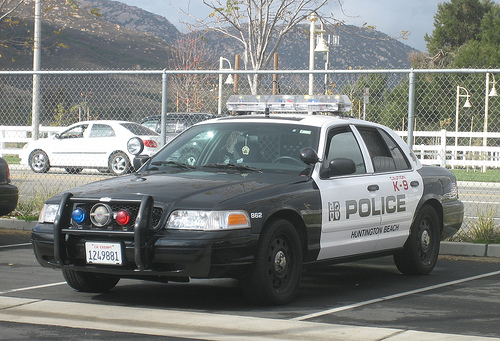 The cops came looking for Wayne
Wednesday night, after the game
We are eating pizza, and Wayne tells Al (Alene, our female pitcher, the best pitcher in all of HB), that his kids love the mini-bike. Both Al and I cock our heads at 45 degree angles, as his kids are 4, 2, and 3 months old. He said, "Yeah, I put them in my lap, they hold onto the handle bars, and I buzz the 4 year old or the 2 year old down the street. The kids love it! They tell me to go faster." Al asks, "Are they wearing helmets?" He says, no, we are only going about 25 mph down the street. He also says that he's taken other neighborhood kids for rides also. He pulls the mini-bike out of the garage, and all the kids in the neighborhood start chanting, "Mini-bike! Mini-bike!" Al and I look at each other, with that "Is he for real" look no our faces.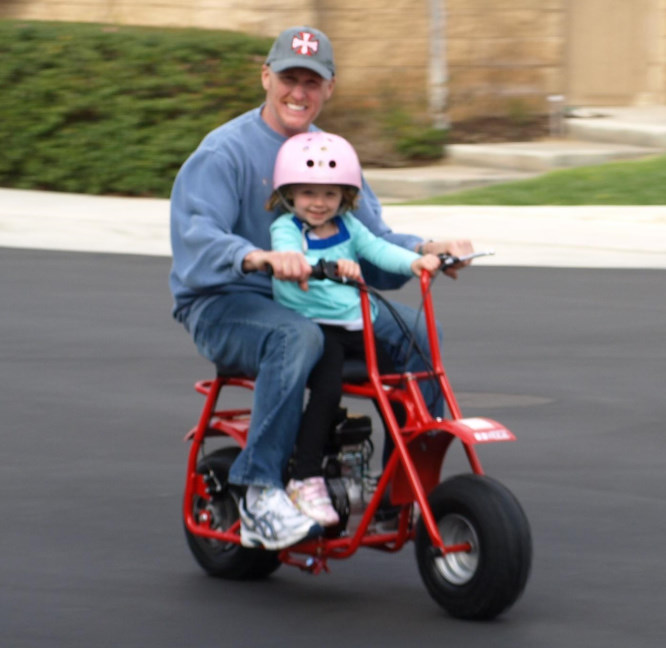 Wayne and Carter terrorizing the neighborhood
Wayne then tells us to make sure we dress the kids up western style for his daughter's birthday party on Saturday. I ask what for, and Wayne says that he rented two ponies to come to his house on Friday, so the kids can get horsey rides up and down the street. Al and I both cock our heads 45 degrees the other way simultaneously. Horses? Wayne is out of his mind. I tell Wayne that he needs to go home tonight, put up a hitching post, and a big ass tub of water on his front lawn just so the neighbors could speculate for a couple of days as to what the hell is going to happen next at Wayne's house. When they see the horses on Saturday, the neighbors will think that Wayne is going to permanently keep horses in his front yard. That'll piss off the neighbors even more!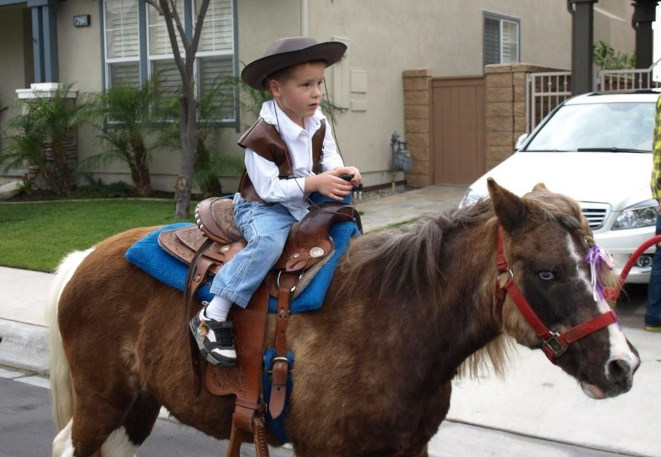 Coop in front of Wayne's house at Carter's birthday
The Van Story
So my brother-in-law and his family of four came down for Christmas vacation. They were going to stay for a week with us, and then everyone was going down to the grand parent's house in Mexico for two weeks, except for me, as I was going to fly up and join them for the five days surrounding Christmas. Anyways, to get them to LA Airport(LAX), I needed a really big van to fit 8 people and about 17 suitcases, as they were taking a lot of presents/supplies down to San Miguel De Allende. Having the Super Shuttle taxi wouldn't work, as we need to put 4 kids seats in the vehicles. I didn't want to have my mom or sister deal with leaving at 5:30 a.m. for the airport, so the rental van seemed to be the cheapest and most optimal use of time. Especially since we could get to the airport, and the flight to Mexico could be cancelled at anytime, which means everyone would need a ride back to the house.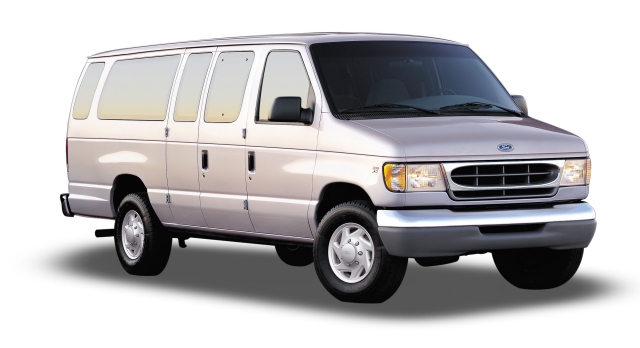 I need to rent one of these to schlep the family back and forth from the airport
So I started calling all the big local car rental agencies in the area trying to find one of those big 15 passenger vans, but no one carried them any more. WTF? Renting an SUV won't be big enough, as I need to put 4 kid seats in the vehicle. So I keep searching around, using Expedia, car rental sites, etc, and I come up with this:
http://www.executive-van-rentals-anaheim.com/anaheim-van-rental.htm
Interesting, so I call them up, and Harry says they have the 15 passenger vans available on that day, so I reserve one. When it comes time to pick up the van, I get directions, and I call them, and Harry answers and says, "Go to the Super 8 Motel Lobby on Crescent Ave." Hummm...strange. So I get there, and it is kinda like a low rent hotel, maybe one setup above a crack hotel, close to Knott's Berry farm. Suspicious looking. I go in to the lobby, and the desk clerks in there are cooking some nasty smelling Asian dish in the microwave. They tell me to go to the room under the stairs across the parking lot. So I park my car, walk 200 feet among a bunch of big black guys screaming at each other. On the other side, there are bunch of Mexican kids running around and jumping on the bench seats of a couple of vans that were pulled out of the vehicle and sitting outside a couple of the hotel rooms. I get to the stairs, and there is a door to what looks like a small room, but no room number on it. More strange. I walk back to lobby, and ask them do they mean room 209 or 210, and the clerk says, "The room in in-between them". I go back, knock on the door, and turn the knob, and no one is in there. It looks like an 8x10 storage room, with a computer in it. I call the phone number again, and Harry answers, and says, "I'm just leaving LAX with a nice new van, I'll be there in 15 minutes". Alright, whatever, I grew on the Westside of Long Beach, so I'm used to being in a parking lot full of shady looking characters.
Harry shows up, and says here's your van, let's do your paperwork, which consists of actual paper, no computer stuff. I ask him why is he the only guy that rents the big 15 passenger vans, and he tells me an interesting story. Apparently what has happened in California is that the Highway Patrol was ticketing a lot of the big rental vans because they are considered commercial vehicles, so if you were transporting say a church group or a baseball team, and you didn't have commercial insurance, they would confiscate the van and leave you on the side of the road. Which means the rental companies like Hertz/Avis would have a van in the impound for a few weeks, so they would lose money on the vans. The bigger companies bailed out. Harry said he has 100 big ass 15 passenger vans in the Southern California area, between his LA office and his OC office. I asked him where his OC office is, and he said you are standing in it, in the 8x10 storage room. He said he runs a low budget rental agency, but he has 100 vans and 300 cars that he can comfortably make a profit on. He said that the economy is hurting him a bit, but he said he'll survive, as he made it through Sept 11, 2001 and other economic downturns, so he thinks he'll make it through this one also. He said when he rents the vans out, he has to make sure that the person renting only uses it only for family members, because they can't use it to transport a church group or baseball team. Everything will be cool with the cops that way. So now you know where to go when you come down to Socal with a big group of friends and need transportation. Ask for Harry.

Crappy Albums by Springsteen and U2
U2 was on Letterman for an entire week, playing one song from their new album each night. The songs sounded crappy, and the performance crappy. U2 screwed up by playing for the week. They should have had just one good performance on Letterman instead of 5 mediocre ones. And then Springsteen comes out with his "Working on a Dream" album, which sounded crappy to me the first time I listened to it. After listening to the album for the 20th time, it sounded as crappy as the new U2 album. What the heck happened?
So Springsteen goes one tour, and I'm worried that this one is going to bomb for the first time in 34 years. But apparently Bruce realizes that the songs on this album in a live concert sorta sucks (actually, 90% of the album sucks), so instead of playing 6-8 tracks off a new album like he usually does, he drops it down to about 3 new songs, and reaches back into his 36 years of recording history to come up with a good show. Springsteen cruises into the Los Angeles Sports Arena. The LA Sports Arena is like a broken down, ghetto neighborhood bar. Paint chipping, it seems dirty and dingy inside. There are no luxury boxes, the seats are much closer and packed together, which makes the concert seems more intimate. And this is why Springsteen usually plays there instead of the Pond or Staples Center, despite the fact that he could sell a bunch more seats at these other two "luxury box" venues. Anyways, he cruised into town, and blew the doors down. Mike Ness from Social Distortion came on stage to co-sing Bad Luck. Awesome show. Review here: http://www.ocregister.com/articles/bruce-springsteen-los-2365901-angeles-sports
Bonnaroo 2009
The biggest music festival in the US. Springsteen's playing to a large crowd, many who are non-believers. He crushes it: http://music-mix.ew.com/2009/06/bonnaroo-09-saturday.html and http://www.spinner.com/2009/06/14/springsteen-bonnaroo/. Next up is the European leg of the tour, and the shows appear to be getting better. The band is on fire. They'll be last band to play Giants stadium later in the year before it is torn down, closing out that venue with five concerts.
Gogol Bordello at the Fox Theater in Pomona
The gypsy punks cruise into town. I've been converted! My new favorite "indie band". C'mon, who can resist the catchy "Wanderlust King".
Gaslight Anthem Currently Touring
Hummm.....might have to check them out and see if they can deliver live. http://www.youtube.com/watch?v=ya8eaXohmKU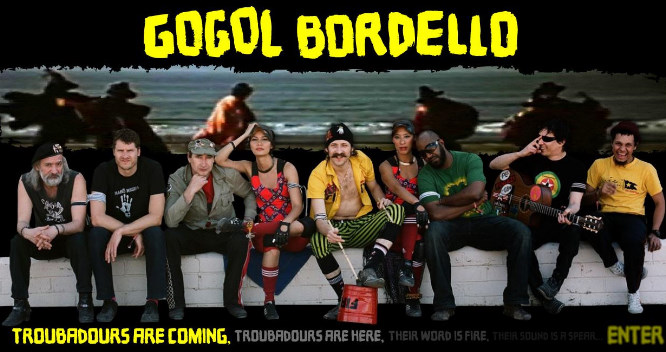 Michael Jackson (The Pulp Commentary in one sentence)
There are no Michael Jackson albums, CDs, or MP3s in our household. <End of Message>
Magazines
Anyone else notice that the magazines are getting thinner? I subscribe to about 30 magazines, such as Time, Newsweek, Vanity Fair, Rolling Stone, Fortune, Forbes, Wired, ESPN, The Sporting News, Sports Illustrated, Business Week, etc. A few months ago, Newsweek was down to about 58 pages, about half its normal size. And probably half the articles were available on the web for free. I figured that soon the magazine would get below 50 pages, at which time I would demand my money back. But then Newsweek rolls the dice and completely changes it format from light news magazine, to something that's gonna take me longer than 8 minutes to read. http://www.newsweek.com/id/197888
Poker and NBA Playoffs
In past years, I made some kart tire money betting on the NBA playoffs. This year, Lady Luck has turned her back on me, and I'm 0-4 in betting on the the Super Bowl, NCAA Basketball, and NBA playoffs . Unbelievable. My online Poker is going badly, my AA loses to flushes and straights, my AK loses to AJ, my full houses lose to bigger full houses. First losing year in gambling is probably 5 years. Must get out of this slump somehow. Tim B recommends I do what the baseball players do, and try to find a "slump buster".
I've been saying for the past four years that the Lakers will never win a championship with Kobe. Kobe article by Bill Simmons at: http://sports.espn.go.com/espnmag/story?id=3896242 Okay, I admit, I was wrong. For the first time in a long time.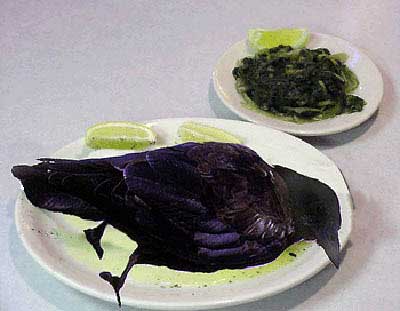 Lakers win 2009 NBA title. Okay, okay, so I was wrong, I'll eat my dinner now.
Softball - Last Season, Jan-April 2009
The winter season we went 8-4, and took 2nd place. The first place team had players that probably averaged about 25 years younger than us, and they went 12-0. The first place team will get bumped up a league to the highest division, and I figure we have a great shot at winning our league for the springs/summer season. Wayne starts running fairly seriously, running about 12-14 miles a week. He starts running to the softball games from his house. Unfortunately for him, he tries to cross Golden West Blvd by the HB Sports Center, and doesn't use the crosswalk. Goldenwest is 3 lanes each way, speed limit 50 mph, but everyone does 60-65 mph. Wayne trips, falls on his hands and knees, and traffic is incoming. He doesn't have enough time to get up out of the way, so he crawls on his hands and knees the last 25 feet to avoid getting hit by a car. He shows up at the field, shaken up, bleeding, and scrapes all over his hands/elbows/knees. It would almost figure that after all the crazy things that Wayne has done in his life that almost killed him, he would die just trying to crossing the street.
Batting Cage - Hitting Coach
Wayne was in a batting slump, so he decides to get some coaching from Lifetics in Huntington Beach. They have an industrial building that they turned into a batting cage/teaching facility. Wayne is the oldest guy in there receiving instruction by about 35 years. Wayne is suggesting that everyone on the team should go and take a hitting lesson. After his constant badgering, I decide to take a lesson, as I could use a little more power in my swing. My onbase percentage dropped last season to just below .800 for the first time in a long time. I tell the batting instructor to not screw up my swing, as my onbase percentage hovers between .800 and .900. I tell him that I hit to the right side of the field where there is usually a female second basewoman, first basewoman, and female right fielder. He asks me why I always hit to right, as I would have more power rotating my hips and going to left. I explain to him that I hit line drives/hard ground balls in between the weakest players on the field, which explains my high onbase percentage. I tell him not to mess with my swing too much, because I feel I can hit a trashcan anywhere in the field with my swing. He says I should try to hit to left with more power, but I tell him my onbase percentage would drop .300 points if I did that, as then I would have to get it by the shortstop and third baseperson, who are usually the best fielders on the team. In my opinion, onbase percentage is what makes winning softball teams. He shows me how to get a little more oomph with my hips, and tries to get my to change my inside out slicing swing to right. I think that perhaps he should start reading The NSX-Files/Pulp Racing, and maybe one day he would learn how to go 46-for-46.
At the softball game later that night, I use his suggestions, and promptly go 1 for 5, which is my worse single game batting performance in this decade. Unbelievable, the batting coach screwed up the swing of the Tiger Woods of HB softball. Making 4 outs in one game means for me to get my on base percentage back to .800, I'll have to get on base 15 times in a row, and to get back to .900, I need to get on base 35 times in a row. I'm screwed for this season. I go the batting cages three times in the next week to fix my swing, and in the last four games of the season I go 13 for 17, struggling to get my onbase percentage to .727. I lose the onbase percentage title on our team to Ted, who goes 27 for 32 for the season, ending at .818.
Softball - This Season May-July 2009
After looking at the teams in our league, we think we are a lock to win the Championship of Our World this season. Bits is back to anchor 3rd base as the best female third basewoman in our division, and we got Alene as the best pitcher in the league. It's gonna be a good season. We win the first game by mercy rule, 21-5. Ha ha! We'll win the championship shirt this season, and we'll strut down Main Street Pier area like we own the town. Except we lose the next game by one run. We lose game 3 by two runs. We lose game 4 by one run. We lose game 5 by two runs. We get blown out of game 6 and 7. So we are floundering in last place, 1-6. We can't catch, hit, or field a ball. We may suffer the indignity of being dropped to a lower division next season. I now know how Lewis Hamilton and Felipe Massa must feel, as I'm sure they both thought they would win the Formula One championship this season. Instead, Jenson Button (Button!) is whupping on everyone. The bookies had Button at 80-1 to win the championship before this season. Meaning if you bet $100 on Button to win the title before the season started, you could be raking in $8,000 in a few months.
Manny Ramirez Commentary
May 6th, 2009
I search on the internet and Ebay, trying to find matching father-and-son Manny Ramirez wigs. I figure whenever Manny comes up to bat on TV, Coop and I can put on wigs and root for him. It seems like you can only buy the wigs at Dodger stadium. Great article on Manny at: http://sports.espn.go.com/mlb/news/story?id=4018367 Another good article at: http://sports.espn.go.com/espn/eticket/story?page=manny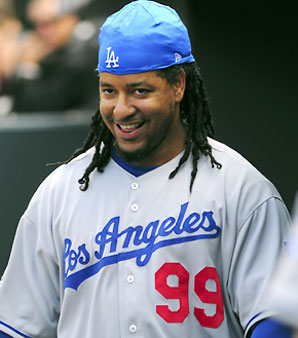 Manny did a bad thing but.......
May 7th, 2009
The very next day, Ramirez is suspended for suspected steroid use. Yikes, I must be a jinx. Just when I started rooting for the Dodgers after not caring for the last decade or so, disaster strikes. Yeah, it is disappointing, but like Wayne has said, if we could take an illegal pill or get an injection and become a half second faster at the kart track so we can make it to the podium, Team Pulp Racing would be cycling on steroids and female fertility drugs immediately. Major League Baseball and the Player's Union is to blame for this for their ineffective random drug testing policy. Yeah, Ramirez is to blame also, but he only did what Wayne and I would do in order to win. It's brutal out there, and Manny is probably fighting Father Time like Wayne and I are trying to do. We need an extra push to get our bodies to recover and get stronger.
Doing random testing, and virtually no testing in the off season, just encourages people to cheat. If MLB want to be drug free, put me in charge of MLB drug testing. I would do the following:
1. Test every player every two weeks, 26 times a year.
2. Only test for steroids/steroid maskers/other Performance Enhancing Drugs
3. Tell the players/union, "Hey, we are paying you guys an average of 3 million a year to play baseball. If you want to earn the cash, pee in the bottle every two weeks, or go back to the minor leagues and play for $1000 a month. We are paying you to hit/throw/pitch/catch/field WITHOUT STEROIDS, because otherwise it will unfairly screw up our rotisserie baseball stats. We don't want people picking players based on who they think might be using steroids to increase their statistics. Pee into cup, pre-label it with code name. MLB Legal Office is the only person who has list of which code name corresponds to which player. Change code name for each test. If test comes up positive, the testing lab tells MLB Legal Office that person X5763A tested positive for steroids, match it to player list, penalize player.
4. If the test comes up positive for cocaine/marijuana/ectasy/LSD/heroin but no steroids, throw out the test, and it remains anonymous. You're not going to stop millionaire kid players from playing around with strippers and recreational drugs. We ain't testing for party drugs, we are testing for steroids and PERFORMANCE enhancing drugs. If evidence leaks to the press that Joe Blow All Star Shortstop tested positive for marijuana but not steroids, consider it an invasion of privacy, MLB Legal gets fined $1,000,000 which is paid to the player whose testing info somehow became public. After all, MLB Legal would be the ONLY people who know if a player failed a party drug test. Now before all you self righteous anti-drug people saying that cocaine usage and marijuana usage should not get a free pass, then you better be prepared to have everyone at your place at work piss in a bottle every two weeks, along with your children. You'll have so many lawsuits and people screaming at you that you'll back down. I'm sure MLB would backdown if it was required to have everyone on staff (managers/ball boys/clerical staff/marketing department) piss in a bottle every two weeks to test for party drugs. Note: I do no approve of party drugs, but I also do not demand prosecution for people that do so in a safe manner. Spend the law enforcement money in more important areas other than popping people for small amounts of personal usage of drugs.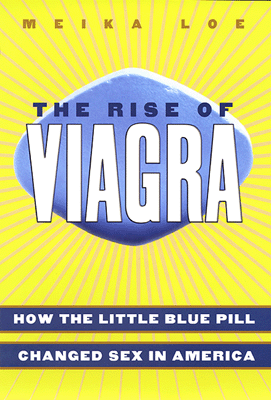 Half of SoCal general population is probably doing their own Performance Enhancing Drugs
I think Manny will be forgiven quickly among sports fans in LaLa land. After all, Los Angeles/Southern California/Orange County is the land of millions of people who feel they are in a war with the cousin of the Greek God of Racing Chaos (Raceaflais), and the cousin's name is Ageaflais. (Age-A-Flais) In other words, the enemy of pro athletes and the rest of us is Father Time. In this town, people who aren't pro athletes are taking botox/steroids/ in an effort to look better, feel better, and fight the aging process.
Wayne and I have been going to the gym, and suddenly Wayne's bench pressing 225 lbs, and I'm stuck at 200 lbs. I ask him how is this possible since we are about the same weight, and he says he's loading up on Creatine, a "legal" substance. I knew he was cheating with something. One side effect is that you gain weight, and I tell him I'm the heaviest I've ever been (169 lbs.) since we aren't karting every week. I need to get back to my fighting weight of 166 lbs, so no Creatine for me. But I don't know if I'll be able to get my benching back to 225 lbs without resorting to some sort of Cheating Bastard chemical additive. Wayne will hit 50 years old in a couple of months, but it is good to know that we around the same strength as we were back at the start of the decade.
The general southern California population is probably leading the way in trying to enhance/medicate/rejuvenate the human body. People are taking Viagram/Ecstasy/dope/cocaine to make their sex lives better. There are medical marijuana dispensaries popping up all over southern California to help with cancer and pain treatments. Take this pill, inject this drug, smoke this joint, and feel better and stronger. I bet that 40% the people over the age of 25 in Hollywood/LA are doing something unnatural to make their body "better" via "supplements".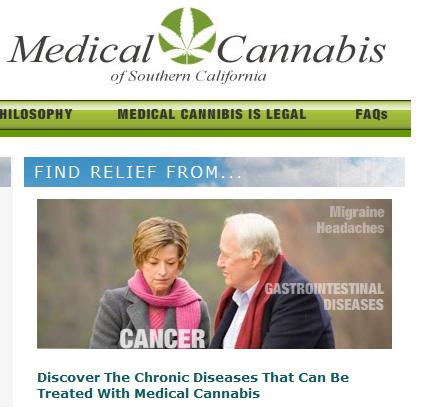 You can even buy dope at your local Medical Marijuana dispensary in SoCal
Southern California is the plastic surgery capital of the world in terms of people getting fake boobs/butt lifts/pecs/liposuction/tummy tucks/eye lifts/nose reconstruction in an effort to look younger, stronger, more fit.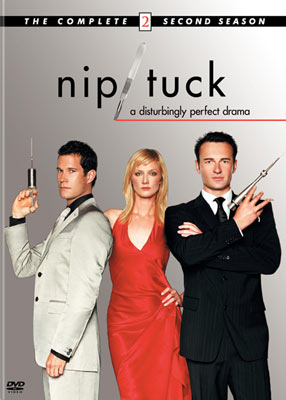 Half of SoCal is probably doing botox/fake boobs/liposuction/butt lifts. We worship the boobies.
I guess what I'm saying is that the majority of Southern Californians probably will welcome Manny back with cheers and a pat on the back, as seeing a 37 year old pro athlete trying to keep the magic going for a couple of more years via drugs that everyone else in baseball seems to have taken doesn't seem that bad in relative terms. I think there are a lot of people that can relate to it. There is evidence that stars like A-Rod, Canseco, McGuire, Gagne, Clemens, Sosa, Bonds, Giambi, Matthews Jr., Palmeiro, Pettitte, Sheffield, Tejada, Vaughn, etc, have been caught/accused of using steroids, doing basically the same thing Manny did.
Yeah, he cheated. But so did a ton of other players over years for things like corked bats, pitching with spitballs/Vaseline/scuffed balls, stealing signs, using amphetamines, cocaine, over the counter and under the counter supplements, etc. No outrage there on those charges. But a lot of people think that Manny shot the pope because he took steroid related drugs in the off season.
Manny will be forgiven and welcomed back with open arms. Just make sure you hit .340 and lead us to the World Series!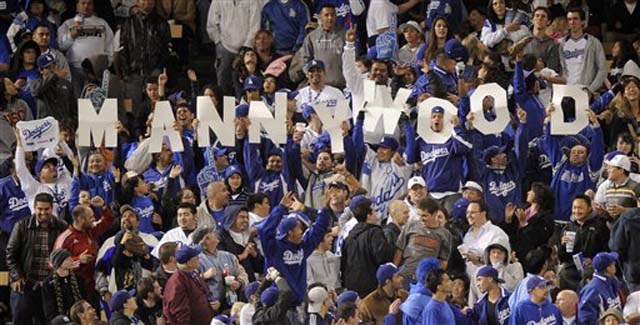 I think he's forgiven already. Now just hit .340 & OBP of .490 and get us to the World Series
Summer Vacation
We survived the first week of summer vacation. The kids are at the age where they aren't in the same classes (Kayla in 6-8 year old classes, Cooper in 3-5 year old classes). Signed them up for swim class at the City Gym every day, karate two nights a week, T-ball/Baseball two days a week, basketball one day a week, one ballet class. Also did an late signup for a second swim class at the Cabana club, because they had two openings for the summer, and it had to be the first two weeks of vacation. Of course the different age classes run right after each other. So then the total for week becomes:
1. Seventeen swim classes
2. Four T-ball/Baseball classes
3. Two basketball classes
4. Four karate classes
5. One ballet class
Week 2 was a little easier, only 12 swim classes, 4 Tball/baseball/, 4 Karate, one ballet recital. Week 3 - no swim classes, but all the rest continue. If I can get the kids trained to swim in a pool with no chance of drowning, then I can take them to the pool and be a drunken, derelict father and take a nap for two hours while they play in the pool. As it is now, I have to be in the pool with them, freezing my butt off.
Next Event
We are signed up for the Gatorz Streets of Willow event in August. What could be more fun that going 100 mph in a shifter in 110 degree heat? I have to defend my title as "Fastest Stock Honda in the World at Streets of Willow". Hopefully I'll have an update a couple of weeks after the race, but you know how that's been going.....
The Economy
Well.....I'm still convinced housing is going to crash more after the banks get rid of all their REOs, so until then, we're still renting a house. In talking with lots of people in the area, I don't see any bright spots anywhere, and neither does anyone else. Everyone in the media/financial world seems to be trying to keep the bubble going, and trying to spin any bad news into good news. It ain't getting better. People are saying, "Only 345,000 jobs lost in May". ONLY? Hello? Unemployment at 9.4%, highest in 26 years. There was an average of 700,000 jobs lost in each of the first three months. I'm skeptical that things are getting better. My favorite sushi restaurant Izakaya Zero went broke earlier in the year, my favorite Italian restaurant Mazzoti's just went broke. Lots of commercial real estate buildings are now for sale/lease in the Huntington Beach industrial area.
Everyone seems to be trying to figure out how to cut 30% out of their budget, including myself. At least the main stream media is trying to get out in front of the story for a change. Check Patrick's website everyday to see the latest doom and gloom news: http://www.patrick.net/housing/crash.html.
Meanwhile, Wayne and I are still scratching our heads, looking for a new business idea....there's gotta be something out there!
July 8-9, 2009
An incredible sequence of events happens in 12 hours.
1. With only 9 players instead of 10 (our regular Brooks Robinson-like 3rdbase woman couldn't make it last minute), our 1-6 softball team defeats the tied for 1st place 6-1 team by two runs. We beat them without having a rover in the outfield.
2. The NSX-Files is updated!
3. I get an email, with the rumor being that some people are interested in reviving the June Virginia City Hill Climb. Wow!
4. I wake up in the middle of night, startled, remembering that I left 12 plastic chairs chained to the guard rail on Pacific Coast Highway and 11th street. I chained them there 6 days ago so we could have chairs to watch the fireworks on the 4th of July. Normally I pick them up on July 5th, but I uh...forgot. I get there in the morning to pick them up, and there is a Huntington Beach maintenance truck next to the chairs, and the guy is on his cellphone, talking to his supervisor about cutting the chain and removing the chairs. He sees, me and I tell him, "Sorry, I forgot to pick up my chairs", and he tells his supervisor, "No problem, the guy is here to pick them up." He tells me, "No worries, have a good day".
After this I immediately go to the liquor store, and buy 20 lotto tickets. I think "The Slump" has been broken!