ProKart Challenge at Moran January 7, 2006
The New Season Begins!
Who Will be the Stock Honda King?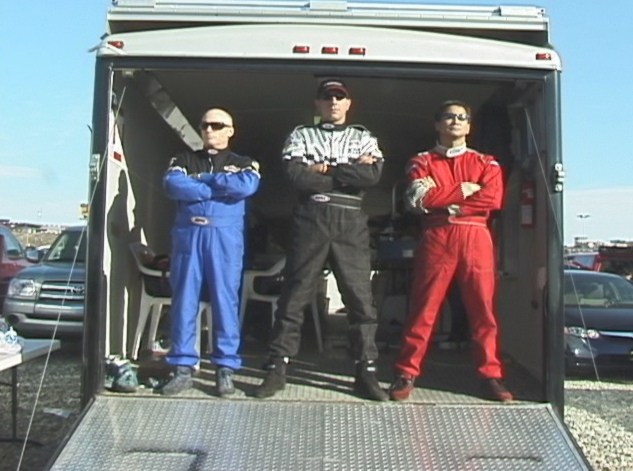 The three Pulp Racing guys think they can be the Stock Honda King
The first race of the season for ProKart Challenge was at Moran Raceway. Here's the story:
Jeff was really sick a couple of days before the race, and he was thinking of not showing up. He didn't want to get beat due to his cold and then have me rag on him in The NSX-Files. I tell him that he should show up, as I got some wacky ideas to try out for the first race of the season, and I need him to be in the "video shoot", as well as the photo shoots for the first race. Wayne and I convince him to show up, and at least get some points towards becoming the Stock Honda King for the season.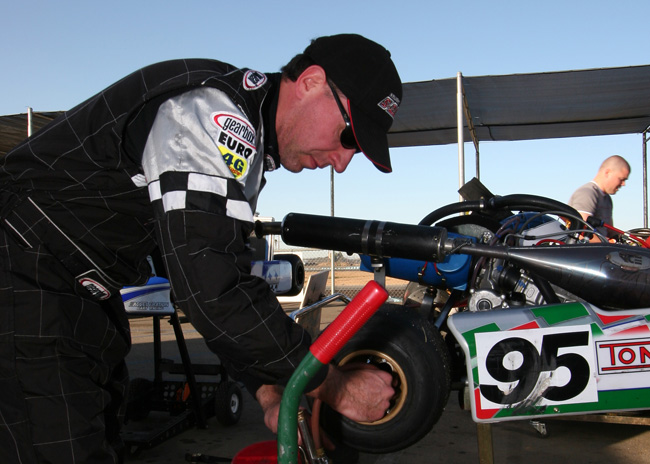 Jeff getting his number 95 ready for the race, despite a bad head cold
photo by Steve Bullard
I'm thinking I have a good plot for a mini-reality series. The wife agrees, and says that if I could only capture more of Wayne on the video camera, because he comes up with some really amusing commentary as well as bizarre facial expressions that would work well on television.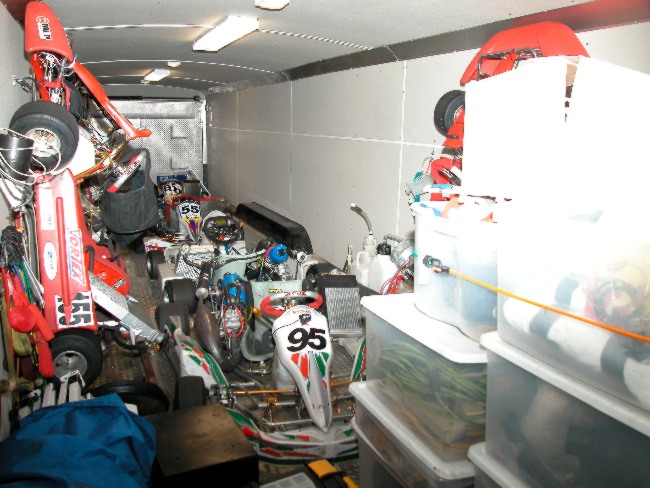 Outta control. Were carrying around 7 karts with us in the trailer.
I'm thinking a TV-type of series is not possible, but doing chapters for an on-going online magazine or print magazine could work out. Kinda like a Seinfeld at the race track, and Wayne is George.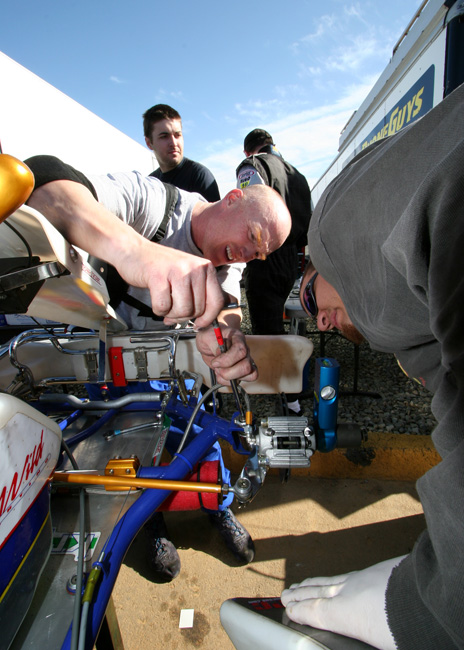 Wayne making changes to his front end via laser alignment tool
photo by Steve Bullard
I tried to pitch the idea to a friend at Yahoo!, but they really don't have a "Karting" focus anywhere on their site. So then I pitched it to Kart Sport Magazine, because their writing style is NSX-Files like, with sarcastic commentary and humorous writing. So the idea pitched went like this:
===========
Hey, you guys have a nice magazine. I like the writing style and the commentary points. I got a wacky proposal for you.
I am the "author" of The NSX-Files, also known as Pulp Racing. I bill the site as "The Best Website in the World for Real Racing Stories". If anyone wants to argue with me on this point, I can point to 121 Chapters of real racing stories over the past 1

2

years, encompassing both cars and karts. There are probably 3500+ pages of stories and pictures on the website. In 2006, two of my friends and myself are going to focus on winning the Pro Kart Challenge Stock Honda Series. We run identical Tony Krypton karts with the stock Darcy Decoste Honda motors.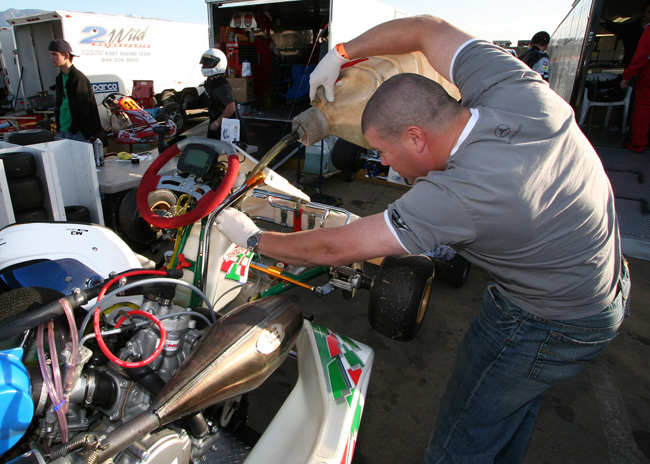 Jason helping out with fueling
photo by Steve Bullard
So I figure since I update my website after each race, maybe I could submit my story to your magazine and maybe you could use the story and pictures to fill up some space? The storyline could be something like this:
1. Three highly competitive friends using identical stock Honda Tony Karts decided to see if they have what it takes to be the PKC Stock Honda Champ. There are nine races in 2006.
2. These are not "pro racers". These are hobbyist racers, but that is also what your magazine is targeted at.
3. After every race, I'll have a write up talking about the preparation for the race and the race itself. From my own biased point of view, of course. Doug will be wearing a helmet cam for all the races.

There is potential to put commercials for your magazine or other products at the end of the helmet camera videos.
4. Think of it as episodes of a karting reality series complete with pictures, text, and video of the race.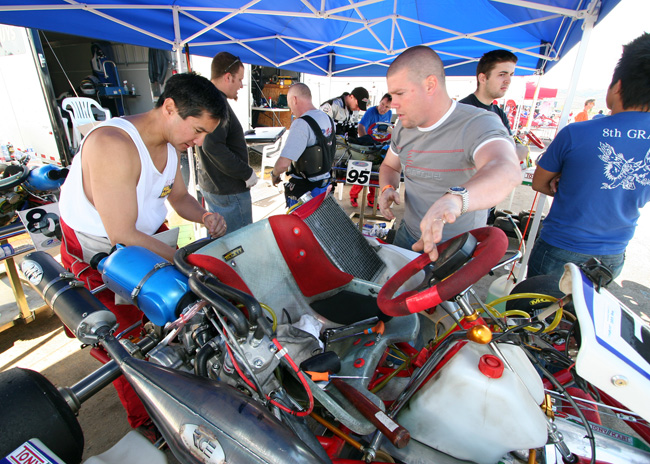 Getting ready for the race
photo by Steve Bullard
Profile of the racers are:
1. All three used to race a Tony Kart with ICC motor back in 1999-2001, but dropped out due to frustration with tuning

and maintenance of

ICC motor

s

and lack of organized racing venues in our local area.
2. All three attended a couple of Pro Kart Challenge races back in 2005, and were highly impressed with the organization of the races and the customer service that PKC was providing.
3. All three decided to buy into the Stock Honda concept and race together in the PKC series.
4. All three decided to do less auto racing/track events and focus on karting for 2006.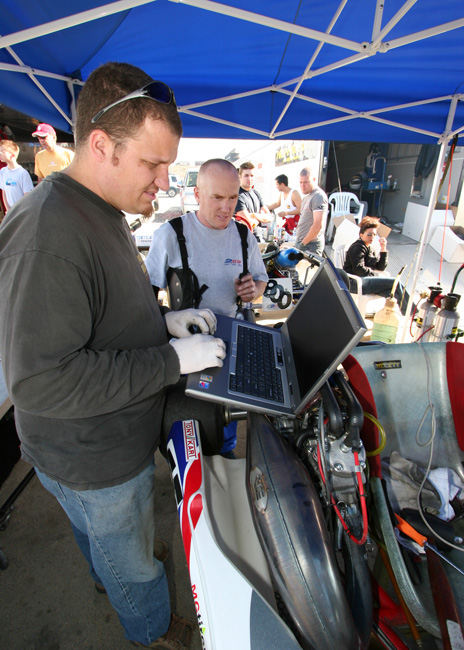 Brent downloading data off the Mychron
photo by Steve Bullard

Doug Hayashi - Owner of Pulp Racing, also known as The NSX-Files. Highly competitive to the point of trying to find some type of Cheating Bastard advantage to beat Wayne and Jeff. Known to have more excuses for losing than any other human being.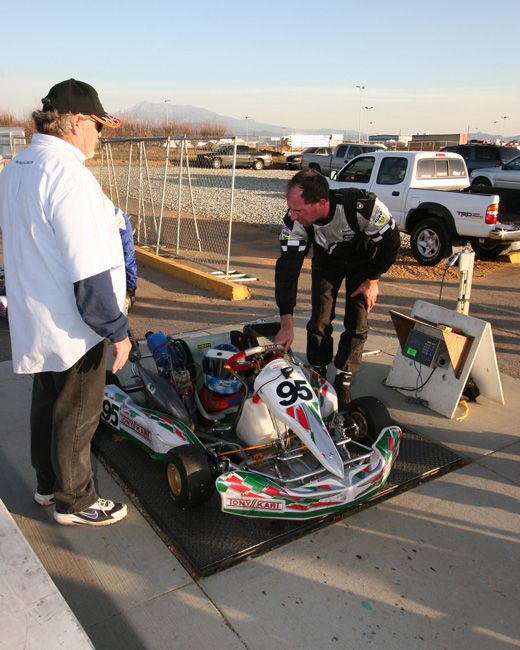 Jeff doing his weigh in
photo by Steve Bullard
Wayne Mello - Sidekick and best friend of Doug's for the past 14 years. Ruthless competitor, will do anything to make sure he finishes in front of Doug no matter what the event is. (cars, karts, tennis, pool, cards, etc). As long as he beats Doug, the day is victorious, even if other people have beaten him.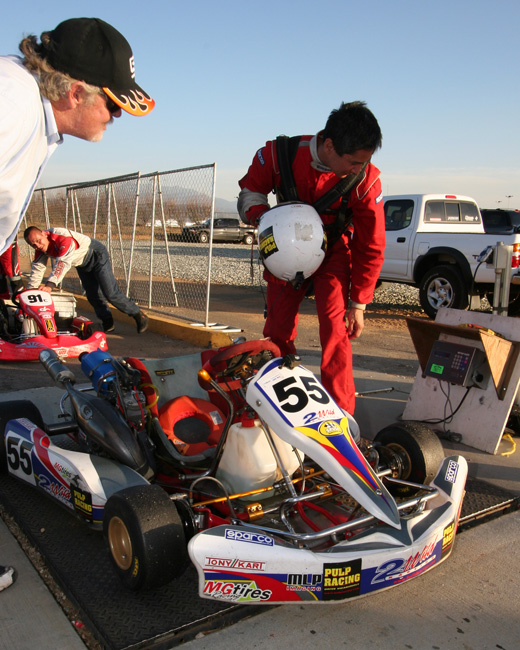 387 lbs of lean mean racing machine and driver
photo by Steve Bullard
Jeff Littrell - Friend of both Doug and Wayne. Was Sports 2000 Champ for

SCCA

Cal Club, setting track records at various race tracks. http://www.s2cup.com/ Is giving up the Sports 2000 racing to see if he can become the Stock Honda champ. Looks at Doug and Wayne with contempt as they have never really competed in a "Spec SCCA race car". Instead they throw money into modifying street cars to become race cars.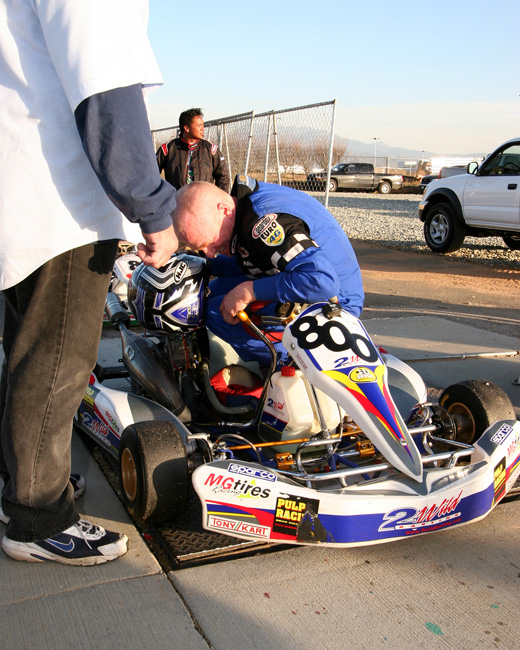 Wayne taking a dump on his weigh in
photo by Steve Bullard
Doug and Wayne at practice last Monday at Moran ran faster lap times than the pole sitter at the 9/11/2005 Moran race, and we were on old tires. (of course, different weather conditions, track conditions, etc, but my point is that we are definitely podium contenders

. There are maybe one or two guys that we have no chance of beating yet...but we are persistent)
Steve Bullard from www.imagejunky.com took the good pictures in Chapters 122 and 121. (I took the crappy pictures) He's willing to team up and be the pro photographer to get images for the stories that we submit to your magazine.
=======================
Anyways, Kart Sport Magazine seemed interested in doing an ongoing magazine article, so we will see what happens with that.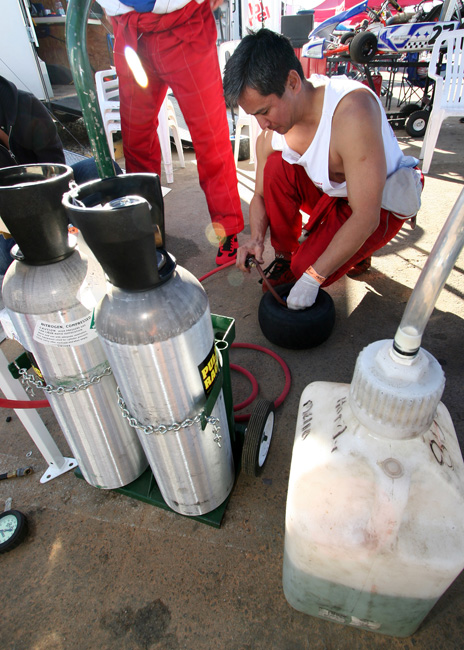 Mounting a tire using the nitrogen bottles
photo by Steve Bullard
Friday, January 6, 2006, 1:30 p.m.
Wayne, Michael, and I drive up to Moran to save some pit spots for the five drivers that will be working out of the Pulp Racing trailer, and about ten drivers who are 2WildKarting customers. So I'm thinking we will save about 15 spots in the pit area. We take three vehicles up, Michael driving the S2000 up, Wayne in his truck, and me in the F350 pulling the big trailer. I hear there are 130+ people that are signed up for tomorrow's event, and I figure half of those will ditch work and reserve a pit spot. Shifter kart racing/TaG racing is re-emerging big time in Southern California. All trends start in California, such as non-smoking restaurants, health food, yoga, dot.com boom, etc. Sooner or later, the rest of the country will be assimilated.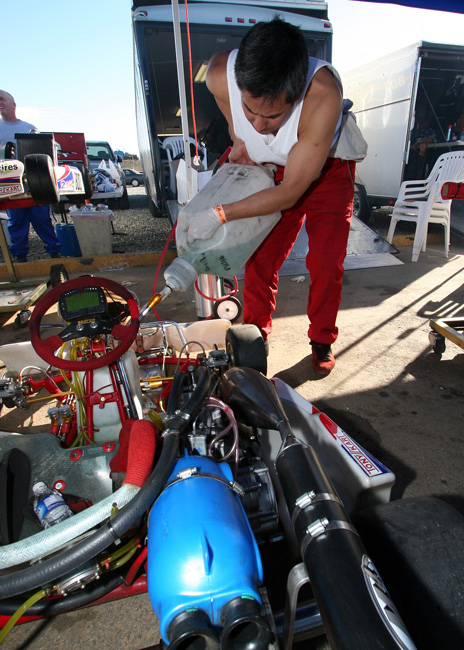 Pouring more precious fossil fuel into #55
photo by Steve Bullard
Wayne pulls up into the pit area, calls me on the phone, and says we got a problem, there are only TWO spots left in the pit area. There are probably 110+ pit spots at Moran. I can't believe how many Cheating Bastards are here getting extra practice. It looks like everyone decided to blow off work and get some practice in today. Oh well.....I guess we can run five karts out of only two pit spots. 2Wild is still at their shop, thrashing to get some karts ready for the race. I guess we should have showed up at 8:00 a.m. before the gates opened.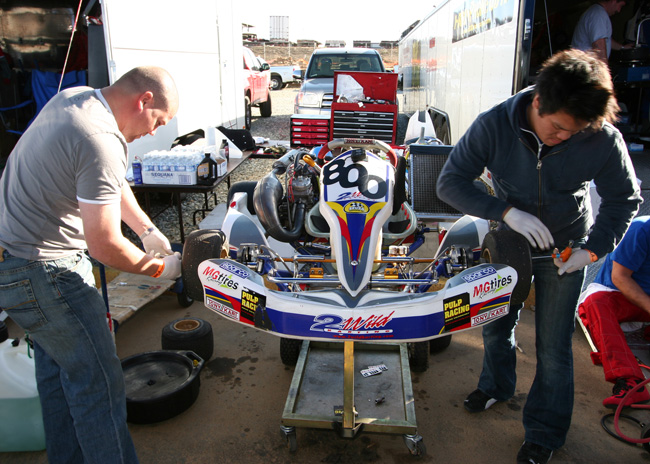 Jason and Michael prepping Wayne's kart for the race
photo by Steve Bullard
Our plan today is to park the truck and trailer, get a little practice in, and then Wayne and Michael are heading back home in Wayne's car. I'm planning on staying the night so I can get a decent night's sleep instead of taking the chance that the kids are going to wake me up in the middle of the night like they did at the last race. I'll drive the S2000 to the hotel, and then leave the truck and trailer at the track to reserve our meager two spots. We practice for a couple of hours, trying to dial in the karts. At the last practice day, my kart was stumbling in the low speed hairpin turn, so I changed the pilot jet from a 50 to a 52. That seemed to help it. Curiously, Wayne's kart and Jeff's kart didn't seem to have the same problem. Hummm......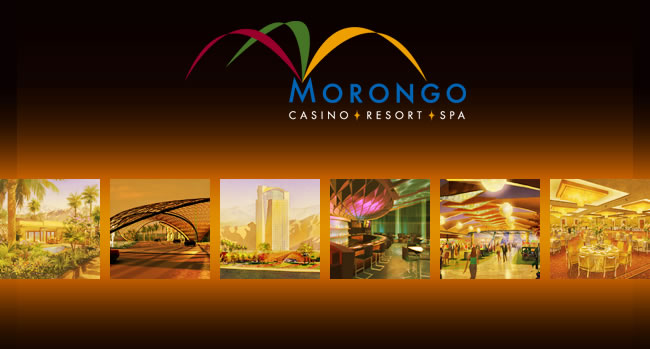 The Indians are making a big push into the luxury casino market
I get a room at Morongo Casino. Heh. Figure I'll take money from the Indians to pay for my entry fee. The new hotel is beautiful, great looking rooms, etc. Their blackjack tables SUCK. No single or double deck games at all. All their blackjack tables use eight decks of cards. Even Las Vegas only uses six decks when they deal out of the shoe. No ffing way you can do a halfway decent card count. It's like betting on red and black at the roulette table, or betting whether a coin flip will come up heads or tails. The Indians are definitely stealing from the White Man, and us Asians also. How can I possibly increase my bet unless I know it is a ten-rich deck? After playing for about an hour or so, I go to sleep, down about a hundred bucks, bored out of my mind trying to beat the shoe. Unfortunately, I got noisy neighbors in the rooms on both sides of me. Probably a bunch of low life losers that sleep in casinos and think they can beat an eight deck shoe. They keep slamming the doors closed to their room from 2:00 a.m. to 4:00 a.m. So much for sleep tonight.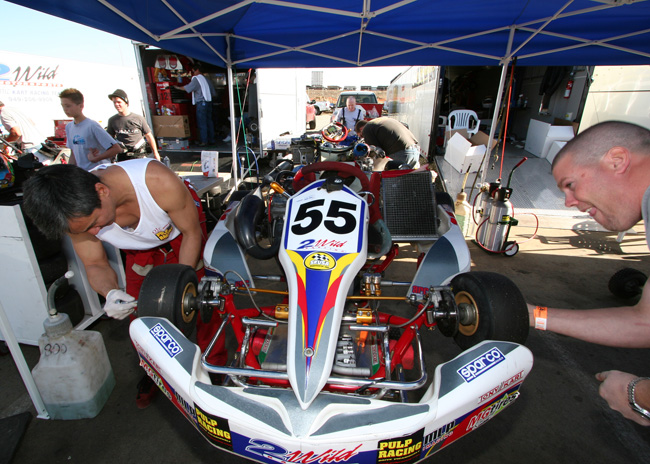 55 is getting ready to do battle
photo by Steve Bullard
My extremely loud alarm goes off at 4:45 a.m. Time to get even. I let it ring again five minutes later. The 4:50 a.m. wake up call with the loud ass phone ringer goes off, and I let it ring 20 times before I pick it up. I flush the toilet multiple times. I slam the shower door multiple times. I turn the TV on the news real loud. And when I leave the room at 5:30 a.m., I make sure I slam the door. Heh.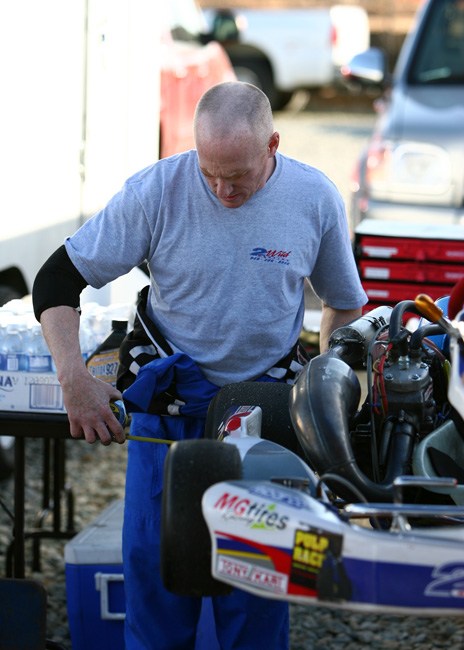 Wayne measuring and re-adjusting his hubs again
photo by Steve Bullard
We get to the track in the morning, and find out there are 145 people entered for the race. Originally they were going to run 3 run groups, but now they are running six groups. Stock Honda (aka Formula Spec) has 47 entries, so they are broken up into Spec 1 and Spec 2, with the more experienced drivers in Spec 1. Paul Taylor and Jason Trumpio are running their first race ever. Paul bought a used Tony Kart with Stock Honda motor, and Jason is running our old ICC Vortex Tony Kart. Jason is forced to run in the Premier 2 class, which is the ICC/Built motor class, minimum weight 385. He's weighing in at around 410, so he's at a weight disadvantage as well as an experience disadvantage. Wayne and I tell Jason and Paul not to worry, just try to finish the race without crashing or spinning. We also tell them that in our first kart race back in 1999, we thought we were going to kick ass on all these kart dorks. Instead, we finished something like 22nd and 23rd out of 24 people. It's a humbling experience. But hey, you practice more and build up from there.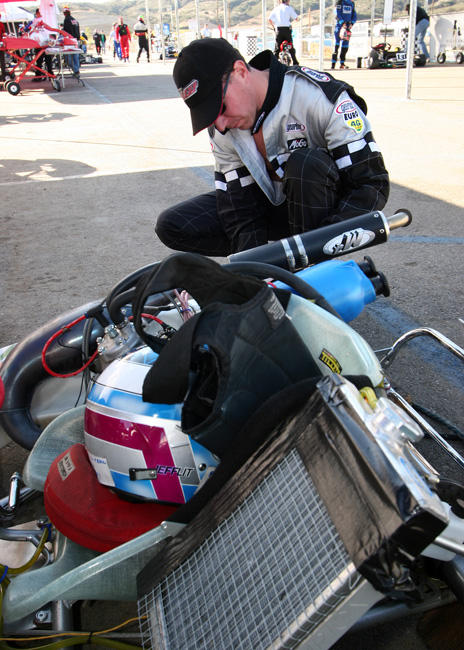 Jeff doing final inspection
photo by Steve Bullard
Practice:
We get a couple of 10 minute sessions. Jeff blazes a 1:04.44 on old tires. Damn. Wayne's fastest lap ever at Moran is 1:04.39, and my fastest ever is 1:04.49. Crap, now I'm the slowest among the three of us. How is that possible?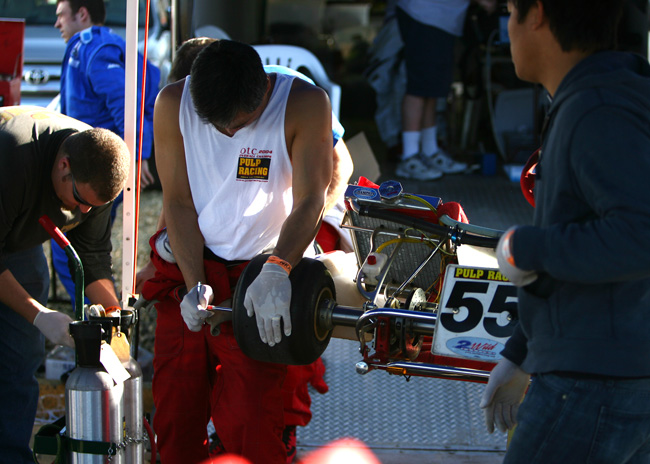 Putting the new slicks on
photo by Steve Bullard
Qualifying:
We park our karts near the front of the grid, figuring we will be in the first couple of rows and we don't want to get stuck in slower traffic. Normally, it seems like you throw down your fastest lap in the first 4-5 laps. I'm thinking that I want to be in the first two rows, and I need to run a mid to high 1:04 to make that happen. I run a 1:04.79, and try to beat that with a couple more laps, but I make a couple of mistakes.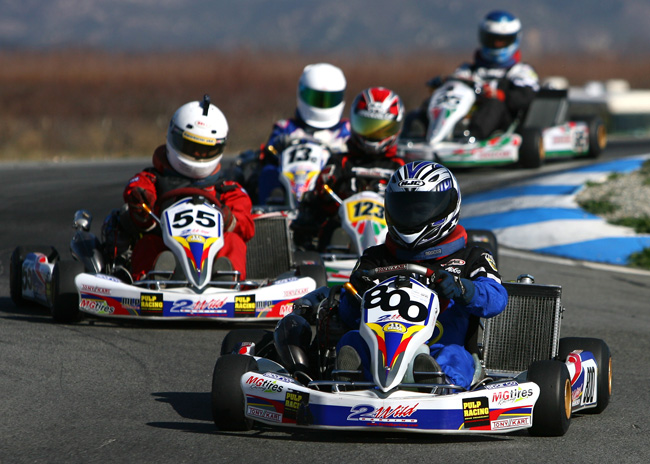 Wayne leading us into qualifying
photo by Steve Bullard
I'm relatively happy with that laptime, as Wayne was in front of me, but he wasn't pulling away. I pull in, and Wayne says he ran a 1:04.43. That bastard! He's gridded 3rd behind Mr. Halen and Fernando. McKee is 4th. I'm gridded 5th, sitting in row 3, and Jeff next to me in 6th. Behind us are about 15 other drivers. We are relatively happy that we took three of the top six spots on the grid. Mr. Halen smokes everyone, running a 1:03.720, which I believe is a new world record for a Stock Honda at Moran. He crushes the rest of the field by a half second. We are but mere mortals, trying to chase down Halen at each of the ProKart Challenge events. Some people dislike racing with a pro-level driver in their class. I like it, as it gives us a measurement of what is possible, and how much faster we need to be in order to be the Stock Honda King. It may take us a couple of months, or a couple of years, or probably a couple of decades to catch up to Halen, but we will continue to try until we run out of cash and are homeless on the streets....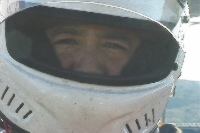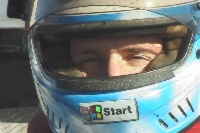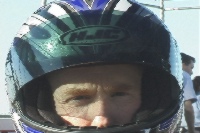 Before the race, we have our "staredown" at each other, a la Sergio Leone
Heat Race 1 - 10 laps
We are gridded, and Fernando, who is gridded in the #2 position, doesn't take his spot. Instead, he pulls over to the side of the track. Bummer for him. Green flag drops, and I get a crappy start. Arrgh! Going into turn 1, I lose about four positions. Wayne slots into 2nd place in turn 1, since Fernando didn't start on the grid. Wayne said he had a chance to overtake Halen into the first turn, but what would be the point of that? Halen would blow by him in the next turn or so. The guys in front of me jockey for position, being careful not to take anyone out. I can't get around these guys, and I see Wayne and Jeff moving further away from us each lap. In lap 4, a kart gets on top of Merve's radiator, ripping the cap off. Water is spraying out of his radiator. Ha! I'll be able to get by him now. I drop back just a little bit as I don't want to get water on my tires, and if his motor locks up from overheating, I don't want to be right on his bumper and crash into him.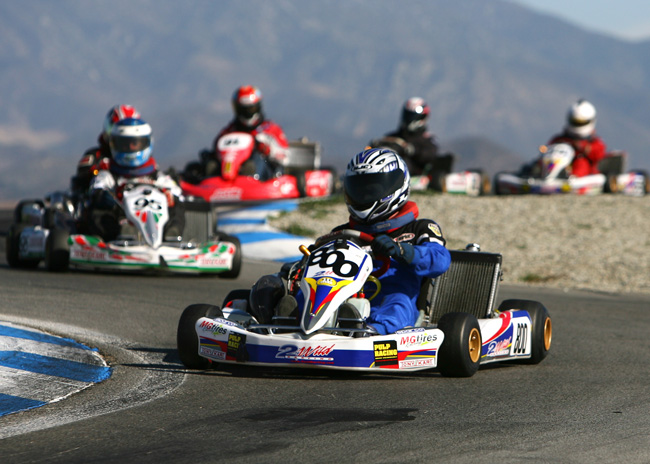 Wayne qualifies 3rd. Can he hold down that position until the end of the main race?
photo by Steve Bullard
As soon as I slow down just a teeny bit, someone zips by me on the next turn into the Bus Stop. Now this guy is on Merve's bumper, and he probably doesn't know that Merve has no coolant. This should be interesting. I remember when I lost my radiator cap at a KRC race a few years ago, I wasn't watching the temp gauge, and the water temp got up to 350 degrees, and eventually locked up the motor. Merve is still driving good, and six laps later, he finishes the race. His stock Honda motor appears to be indestructible. I end up finishing 8th. Wayne and Jeff avoid the traffic, and finish 3rd and 4th.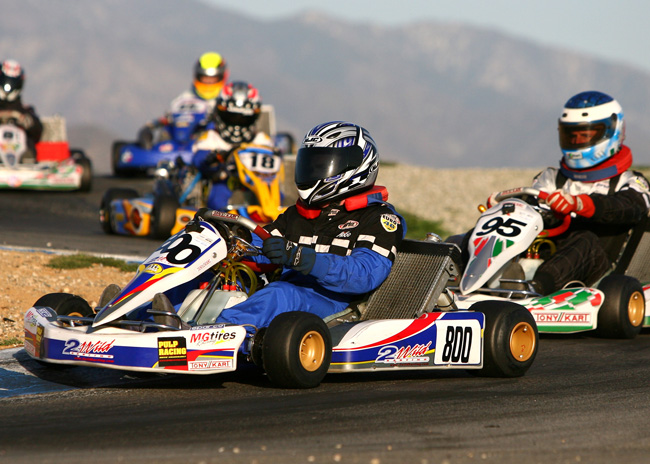 Wayne holds off Jeff in Heat Race #1
photo by Steve Bullard
Fernando said later on that his motor was running crappy so he pulled himself off the grid, but then it turns out he just didn't turn off the choke on his motor after he started it. Doh! He started from the back of the grid, but still took 11th place. I run the 3rd fastest lap in the heat race with a 1:04.950, but who cares, I finish 9th for the entire race. Wayne holds onto 3rd place, Jeff is in 4th, and Randy McKee gets by both them and takes 2nd place.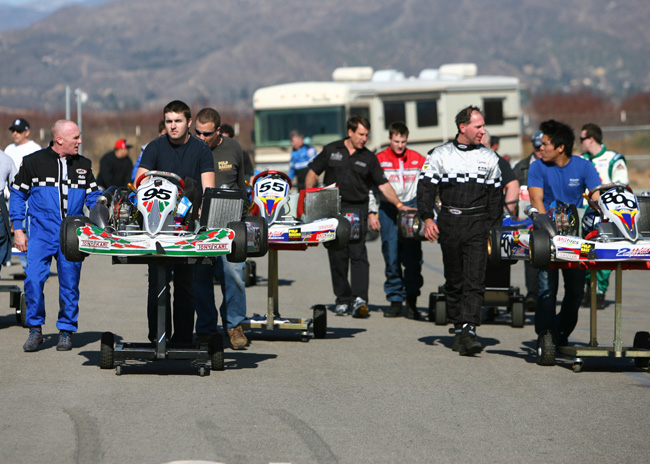 The team walking down from the weigh in after the race
photo by Steve Bullard
Heat Race 2 - 10 Laps
Green flag drops, I get another crappy start, worse than before. This must be a psychological problem. Like premature ejaculation. (uh..which, by the way, I do NOT have). No, maybe it is a mechanical problem. Last event, I had three good starts. Anyways, four guys get by my going into turn 1. I take a wide outside line into turn 1, and I get pushed so all four wheels get into the dirt. Three more guys get by me. Arrgh!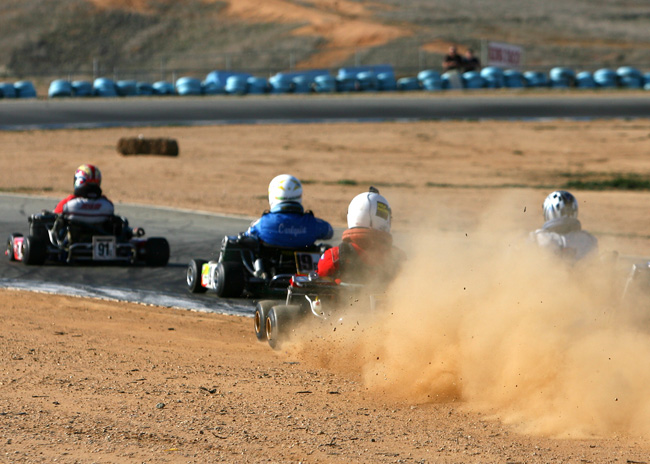 Who pushed me off the track in turn 1?
photo by Steve Bullard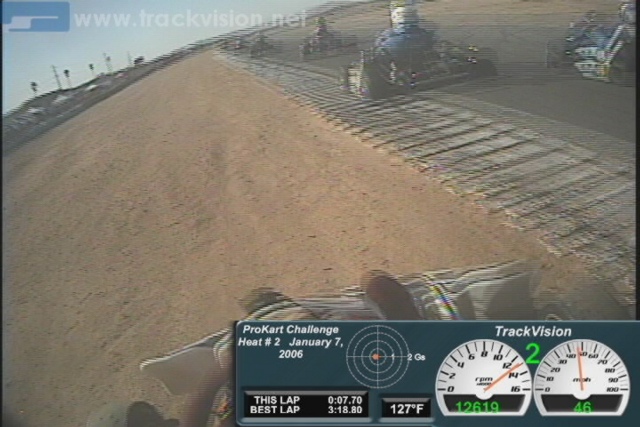 All four wheels off. Note the Trackvision Dashboard
I get the kart back on the track, and slot back into the pack. It takes me a good 7 laps to get by some of the traffic, and I end up a miserable 9th. I'm going backwards each race.

Wayne trying to hold off Jeff
photo by Steve Bullard
Final Race - 20 Laps
Wayne's walking around, worried that he can't last 20 laps at a good race pace, and he has McKee, Jeff, and myself behind him. Jeff's feeling pretty confident that he can get by Wayne, since Wayne is psyching himself. Green flag drops. I finally get a good launch. Unfortunately, the guy in front slows down way before 1 turn, and I give him a friendly bump. Sorry, it was an accident. Two guys get on the side of us and squeak by. Damn, outfoxed again on the start.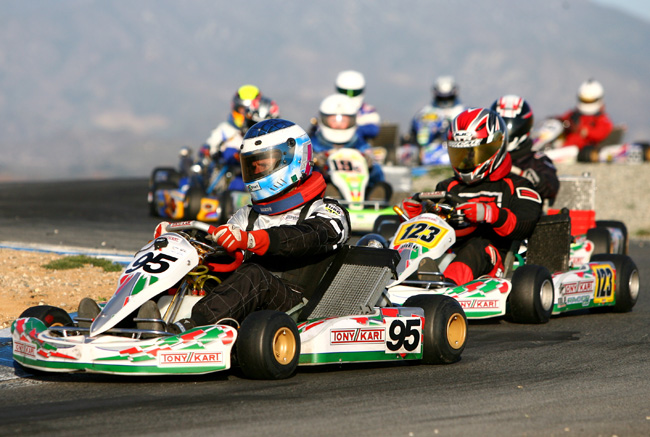 Jeff wears Wayne down in the final race, moves into 5th place
photo by Steve Bullard
The rest of the race is relatively uneventful. I catch a couple of the guys that passed me, but ultimately end up 9th. Wayne gets real tired, and Jeff passes him, and three other guys also pass Wayne, so he finishes 7th. Jeff finishes 5th, so none of us make the podium today. We suck! Jeff kicks our ass despite having a severe head cold. Wayne and I really suck!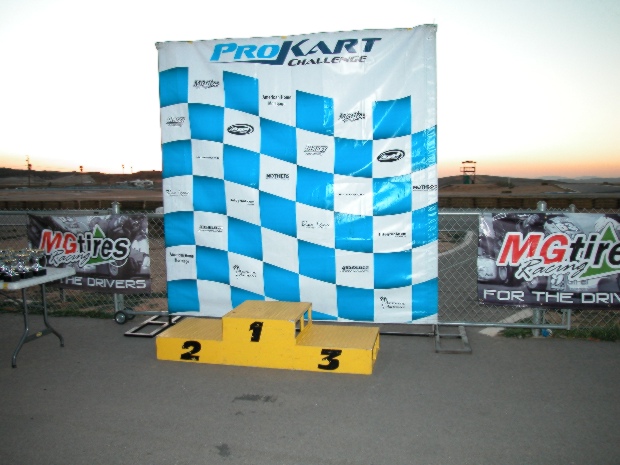 In our first race, Jeff, Wayne, and myself do not make it to the podium. Damn!

Mr Halen, Fernando Diaz, and Randy McKee take the podium for the our class
photo by Steve Bullard
Meanwhile, Jason is running in Premier 2, the built motor/ICC class. In his main heat race, they have combined Premier 1(10 drivers) and Premier 2 (five drivers) together. Premier 1 is the fastest class in PKC, so he's out there with the big boys. In his main race, there is lots of carnage, a lot of DNFs, and Jason ends up taking 3rd in Premier 2! He's on the podium, and he's ends up 6th overall if you count the Premier 1 guys!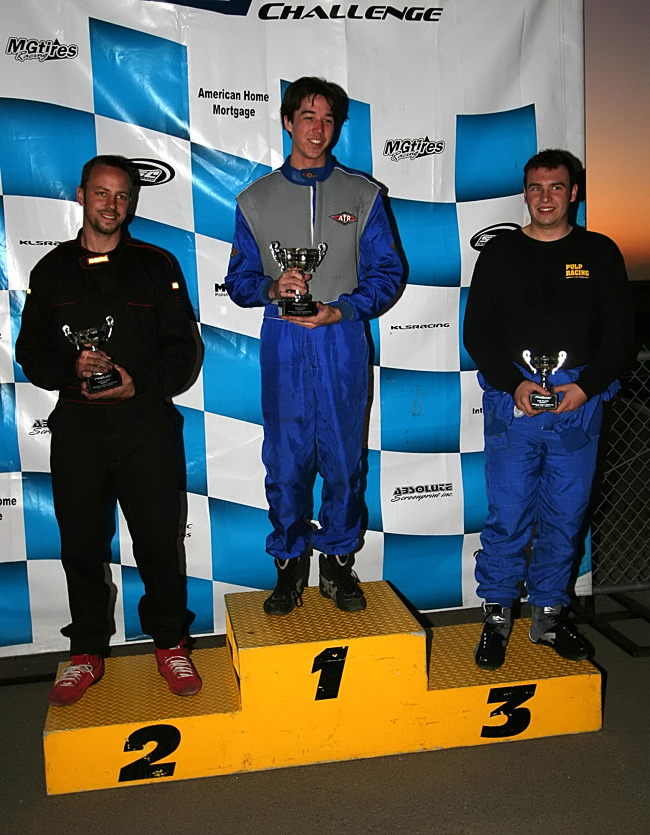 Jason takes 3rd in Premier 2! Parsons takes 1st, Chott takes 2nd.
photo by Steve Bullard
Paul Taylor finishes the first two heat races without crashing or spinning. In the main heat, he has a mechanical problem with the spark plug wire and is a DNF. Bummer!
In the TaG Senior Main Race, Ryon Beachner (Rhod's son at 2WildKarting), drops to 16th at the start of the race, recovers, and battles his way back to 9th, and runs the 6th fastest lap out of 25 people that were in the main. Ryon's only running a second slower than we are in our shifters!
In the TaG Master/Jr main, Matt Kimball takes 2nd! He's duking it out in the TaG class, instead of running the Spec Honda class like he did last year. Which is good for us, as it frees up another potential podium position in our spec shifter class. It sucks getting beat by a 15 year old!
The Monday after the race, Wayne hires a personal trainer to help him "get in shape" for karting. Wayne said that he was in 3rd at the start of the final race, but he got too tired and couldn't hold on, started making mistakes, and four people passed him, including Jeff. I asked him if he just wanted an excuse to hire a cute female trainer, but he said he hired a big black guy. Hummm......not the route I would have gone.
I call 2Wild and ask them how would I know if I have to replace the reeds in the motor. Wayne Kimball says, "Well, if you have a problem with low end torque and the motor feels like it is down on power, you could check them to see if they have any small chips in them." I start thinking......"Problem with low end power?.......ah shit." I take reed cage out and take out one of the reeds, and it looks like this: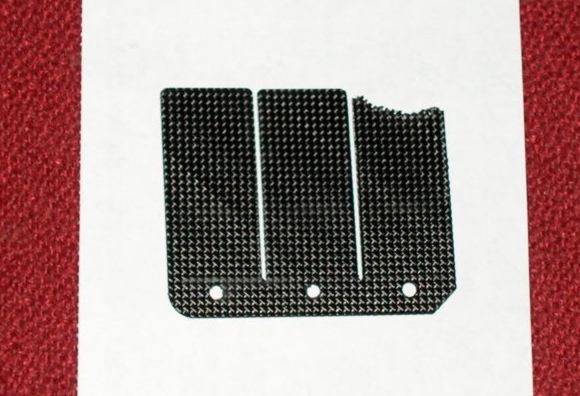 Doh. No WONDER my starts were crappy.
I'm an idiot, I should have checked that before the race. No wonder people were kicking my ass on the starts. Just wait until next race, I'll be fully prepared and ready to make it to the podium!
Helmet Camera Video Clips
Here's a six minute clip with a two minute intro, four minutes of helmetcam footage of the starts of the heat races and the main race. Windows Media Player required, it is about 95 meg, so it will take about 10 minutes to download. Do a "right mouse click" "save target as" on http://www.nsxfiles.com/pkcjan06_finalr1.wmv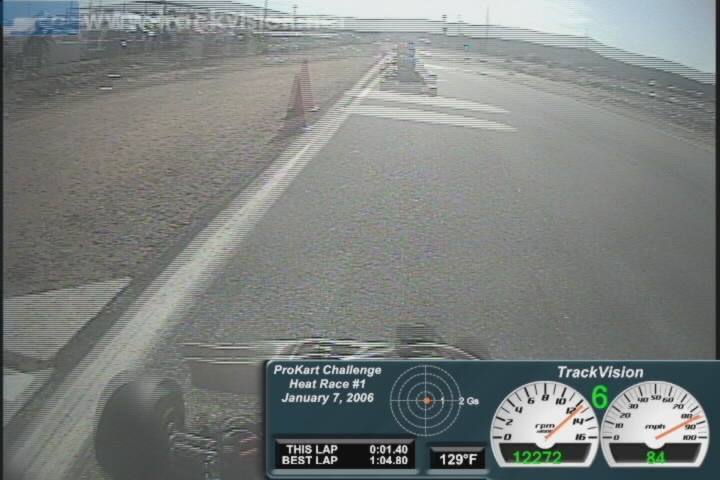 Trackvision software allows you to merge video and Mychron data
The AV wires on my old helmet camera were all messed up from the g-loads, so the camera only works intermittently. I pick up a new one from www.helmetcamera.com, a Sony with 520 lines of resolution. It is powered by 8 AA batteries, and comes with a clip on microphone. I'm still plugging that into an old Sony DV camcorder. Jack Olsen over at www.corner-carvers.com was talking about some cool software that he is testing out from Trackvision. They take the data from the Mychron Gold datalogger (as well as many other dataloggers), and create some custom controls for RPM, speed, g-load, temp, etc, and superimpose it on top of your video tape. I decide to go this route. Video that it creates is pretty damn cool!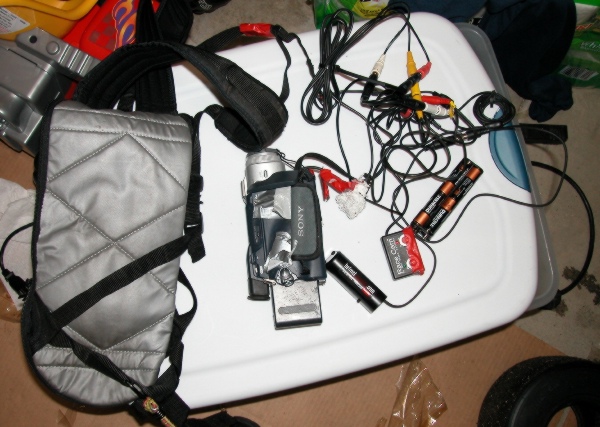 Camera setup consists of camcorder, lipstick camera, batteries, wires, "water pack"
(click here for bigger)
You convert your Mychron data into an Excel spreadsheet, and import it into Trackvision. Trackvision also takes your video file that you download to your computer, and then all you have to do is "synchronize" where the video file and the data file match up. example: On mine, I synchronized from the standing start, so as soon as the kart started moving on the video tape I knew that it should synchronize from where the speed indicator started moving. Trackvision has a bunch of different dashboards for autoracing, and I had them make the above dashboard for us karters with a 15,000 rpm tach and a 100 mph speedometer. It is nice to see RPM/Gear/Speed for various parts of the track. Tony at Trackvision was real helpful in creating the customer dashboard. Email him at tony.kelly@mgroupus.com if you have any questions about his software.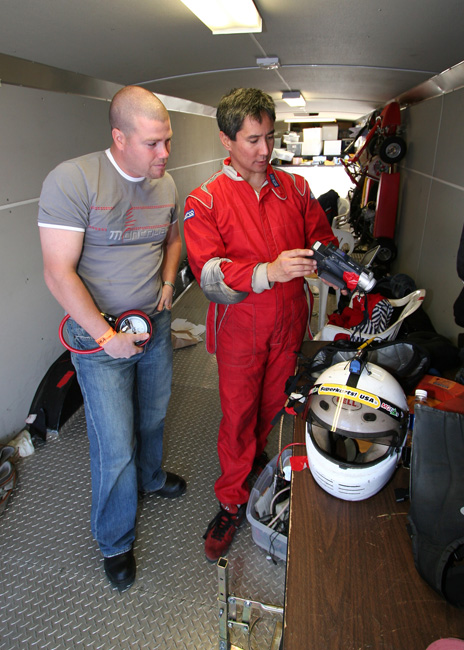 Checking helmet camera footage. It worked for qualifying and all 3 races|
photo by Steve Bullard
So here's the setup for those people that are interested in getting a helmet camera for their kart racing.
1. Helmet camera from www.helmetcamera.com. It comes with a microphone and battery pack for eight AA batteries
2. Sony camcorder to be used as recording device. (you could use any camcorder that allows for analog/RCA inputs from an external camera)
3. Allegro water backpack with the inner bladder removed to serve as a "chest pack" to hold all the stuff
4. Racecam LANC "start/stop" remote button. (optional, it just makes starting up the camcorder easier)
5. "Y" audio connector, as the microphone on the helmetcamera is mono, so this way you get a stereo input (which I haven't done on previous karting tapes).
6. Some type of software to download and edit the video on your computer. I use Canopus DVREX, which is overkill for most people.
7. Trackvision software - to take your downloaded video file and match it up with your Mychron file. Only costs $125 bucks for the software.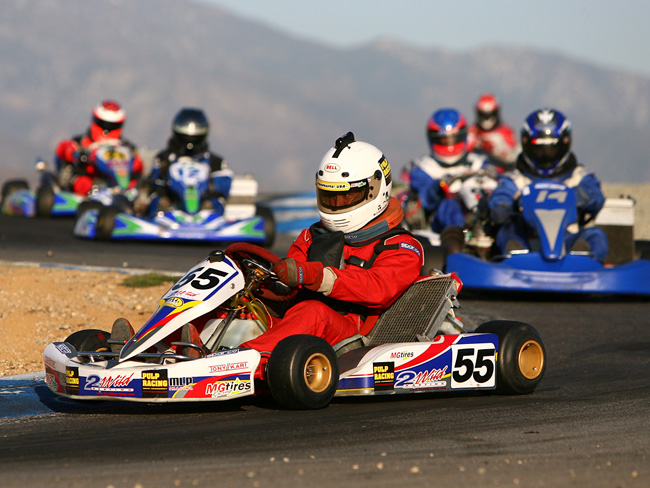 Chest pack and helmetcam ready to go
Helmet Camera Tips
Use duct tape to hold your cable plugs into place on camcorder, and if there is a mechanical switch to turn on recorder, secure it with duct tape. If you don't, the violent jarring from being in the kart will unplug the plugs or turn the camera off. Racecam start/stop remote buttons are too easy to accidentally turn off from violent turns, so I put a washer around the buttons so I have to "forcefully" push the on/off button inside the washer to turn it on or off. If you don't use these tips, your failure rate for recording will be 50%, as something will go wrong during your race and you won't get it on tape.
When you use a helmet camera, you will discover that what you THINK happen, isn't what really happened. Incidents happen so fast when you are wheel-to-wheel at 60-85 mph, that reality gets distorted until you look at the footage as to what really happened or what caused the wreck/incident. I can see why people point fingers at each other when there is a crash, because unless you have it on camera, you can't take another person's word as to what actually happened.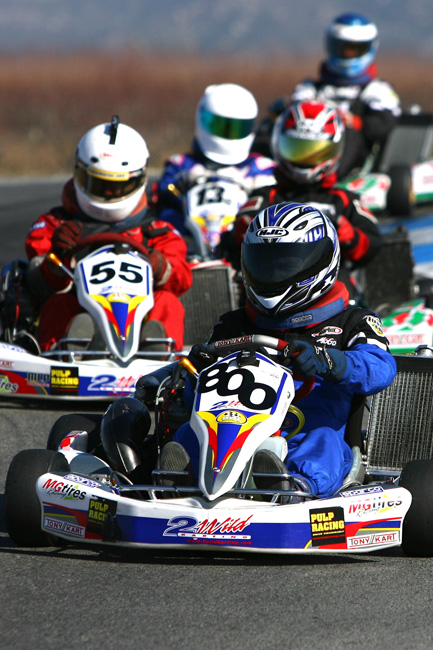 I hate it when Wayne is in front of me in a picture
photo by Steve Bullard
Tuesday night, January 17th, 2006
2WildKarting takes delivery of 24 brand new Tony Karts. I know you NSX-Files readers cannot resist the Go-Fast Crack Pipe. Pick up a kart and a stock Honda motor and get out here on the grid with us in the fastest growing kart class in the USA. At the rate we are going, PKC will have 52+ Stock Honda Shifters at the next race, and maybe 65+ by the end of the year. You should be in one of them!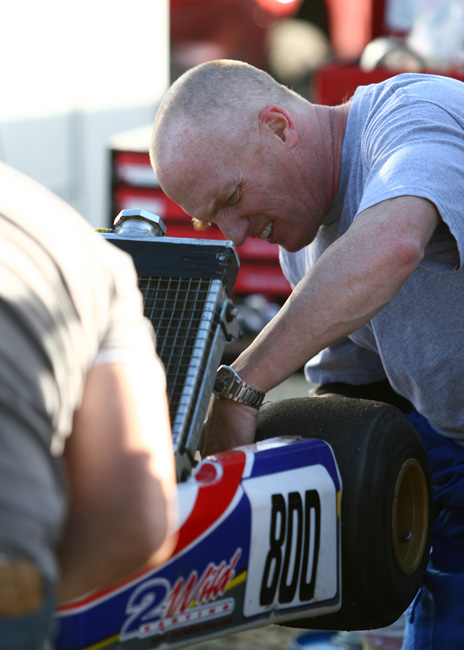 Wayne trying to figure out what to change on his kart to get more grip
photo by Steve Bullard
January 20-22, 2006. Media Whore Weekend
On Friday through Saturday, I was on TV three times. I was trying to find a TV news crew on Sunday to complete the weekend, but was unsuccessful. Eye on LA is finally playing the TV clip that they shot back at Cal Speedway last June with SpeedVentures. And my sister got me front row tickets to the Clipper game for my birthday. I had a couple of 20 ounce beers, and decided I should show how coordinated I am on Fox Sports West. Except it didn't work out like that. The wife is hiding behind the camera, embarrassed by my uh...performance. Checkout the video from the Clipper game and Channel 7's "Eye on LA". Right mouse click, "save target as", 57 meg clip at: www.nsxfiles.com/eyeonla_with_clippergame.wmv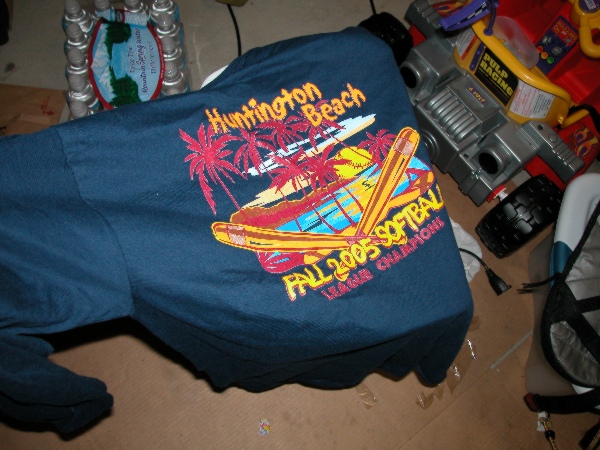 We now strut around town in our new championship T-shirts
Wednesday night, January 25, 2006
After winning the Championship of the World (or at least our own little World) last season, they moved us up from Coed C-3 to Coed C-2 in our softball league. We were dreading this, as the level of playing between the two leagues is pretty big. There are nine divisions, ranging from C-9 (short bus people) to C-1 (ex-college players). In our first game, the other team has several guys hitting 330 foot bombs, and all their girls are hitting good line drives. We are quickly down 14-2. Mercy rule is they call the game after you are losing by 15 runs and have played 5 innings. The other team starts screwing around, hitting home runs and just walking to second base so they don't mercy us. They could have easily scored another 15 runs on us. In the last inning, we are the home team and down 11 runs. The other team starts to collapse. The ball starts bouncing our way. They start dropping balls, kicking balls, throwing balls in the dirt. We score nine runs, and suddenly it is 17-15, and they are sweating bullets and regretting that they took us lightly. Never say die, sometimes you can come back and kill a heavily favored opponent! Unfortunately, we can't get two more runs, and end up losing by two. Damn. I have a feeling next time we play them, they won't screw around and they'll beat us 20-0 and get it over with.
Mark O'Dell's Grand Am Adventure
Mark O'Dell, a participant in the first Open Track Challenge, is documenting his Grand Am Cup Adventure. Check out their team preparation and his story at: http://www.grandamadventure.com/GA_main.html. He has good pictures and a great story!
Next Race:
Our mini F1 traveling circus now moves to the parking lot at California Speedway on February 11th. They have recently re-designed the track, adding another 10 seconds of pavement, increased the passing zones, and removing some of the bumps. We'll start focusing on how to be in the first couple of rows on the grid, and see if we can duke it out better this time against our worthy competitors! More jackassery next month, and perhaps a podium from one of us......