ProKart Challenge - Cal Speedway - June 3, 2006
"Hot Time, Summer in the City"
Perhaps A Little Too Overconfident?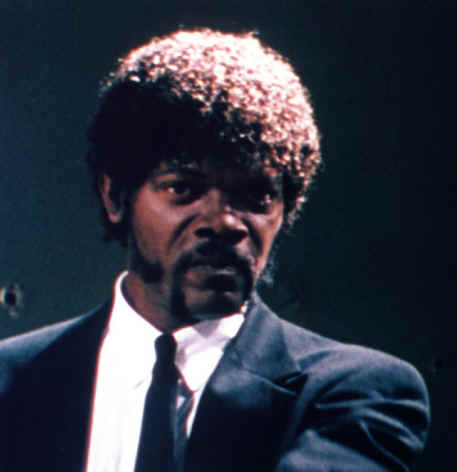 Checkout the big brain on Doug
I spent the next three weeks thinking I'm a genius since I finished on the podium at the last race. The next race was at Cal Speedway, in the permanent parking lot course that is setup there. The week or so after the Grange race, Wayne and I went there for a quick Saturday practice. We didn't take the trailer, we decided to put our karts in the back of our trucks, take one tank of gas each, and do a short practice to make sure the karts are working properly. Since I made the podium at our last race, my engine head, cylinder, exhaust, etc, had to be taken off and inspected to make sure I wasn't a Cheating Bastard.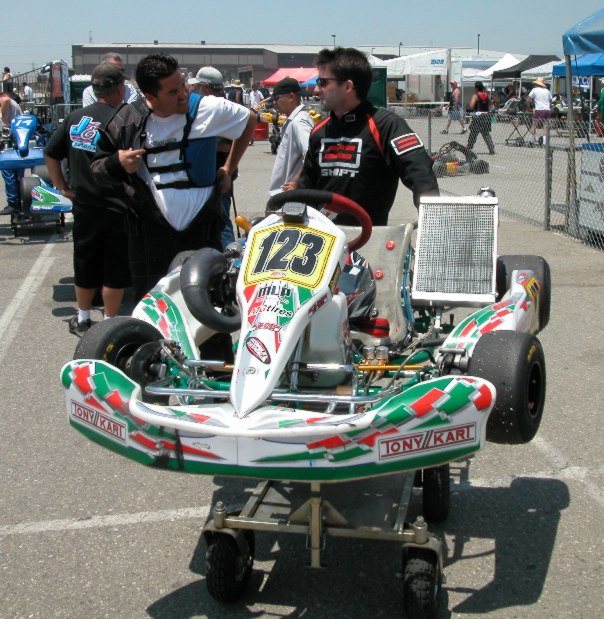 Randy McKee, currently leading in points (before dropping one race)
I wanted to run my kart at a short practice to make sure we put everything back together properly and it wouldn't overheat on me due to a head gasket/cylinder gasket problem. Wayne had to make a bunch of adjustments to his kart from his crash at Grange, and he wanted to make sure the kart was straight and aligned correctly. We got there, ran 3 sessions, and the karts seemed fine. Except in his last session, Wayne hits one of the barriers and re-bends his steering column again. Aaaargh! At least we know karts are working fine, so now we can schedule a full day practice next Saturday, and bring out big trailer. I'm faster than Wayne by a few 1/100ths of of a second, so I crown myself King again.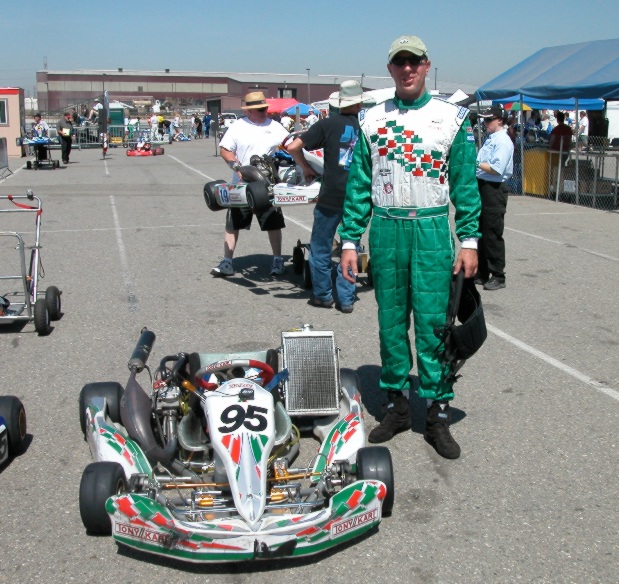 Jeff, 2nd in points, (before dropping one race), wearing new Tony Suit he bought from Conte
Wednesday, May 24, 2006
Our first softball game of the season. I ended last season in a minor slump, so I think I my onbase percentage was below .900. Damn. But at the last practice game I was 4 for 4, and I was 2 for 2 in this game going into the fifth inning. With bases loaded, two out, down by two runs, I'm at bat and the catcher screams, "Let's get this guy out". I look at her, and I tell her I make about one out a season. The next pitch, I promptly hit a dribbler to the pitcher, ending our rally. Damn! I shoulda kept my mouth shut.

Fernando Diaz, battling for 2nd or 3rd overall in points. Has already dropped a race
Next practice, Wayne is struggling with his kart setup. He's about a half second off the pace for some reason. I dip into the 47's with a 47.84. Heh. Checkout the big brain on me! I'm blasting down the back straight, and all of a sudden my engine is barfing. Oh no, not another blown motor. This can't be. I limp the kart back into the pit area, and we inspect it. It's missing two cylinder head nuts. Either we didn't tighten it up enough, or we tightened it too much and the studs snapped. We don't have any cylinder head studs, but Jason Trumpio makes a couple using some old bolts, a hacksaw, and the grinding wheel we carry around. Twenty minutes later, my motor is as good as new. Whew! On Wayne's last session of the day, he run a 47.78. That puts him within 8/100ths of Halen's qualifying lap at the last Cal Speedway race. We feel pretty confident about our podium chances. The "preview" for the June 3rd race is on ekartingnews.com and Jeff and I get our names mentioned.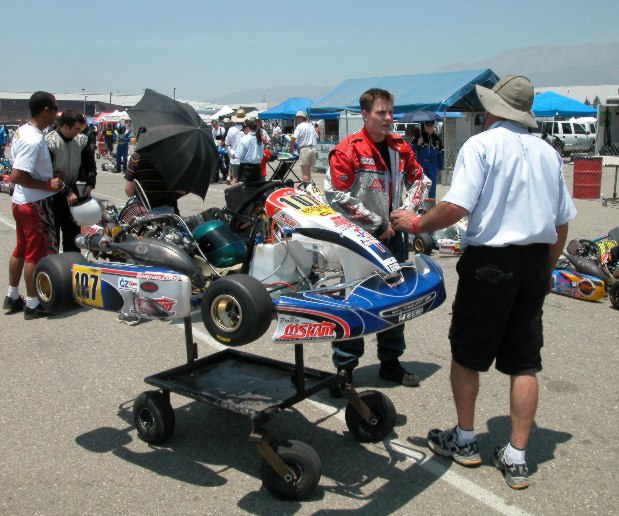 Nick Halen. Wins every race, takes every pole, has fastest race lap. Already has dropped a race
Friday, June 2, 2006
Today is the "official PKC practice day" for the race tomorrow. Wayne's running pretty fast today, doing mid 47's. I'm stuck at high 47's, and Jeff can't get out of the 48's. Jeff doesn't seem to be too worried, as he is on old tires, and he figures he can chase us down in the race. He seems pretty confident that Wayne and I aren't going to beat him again like we did in the last race. We check in with Fernando and McKee, and Fernando is in mid 47's, and McKee is running around 48.0.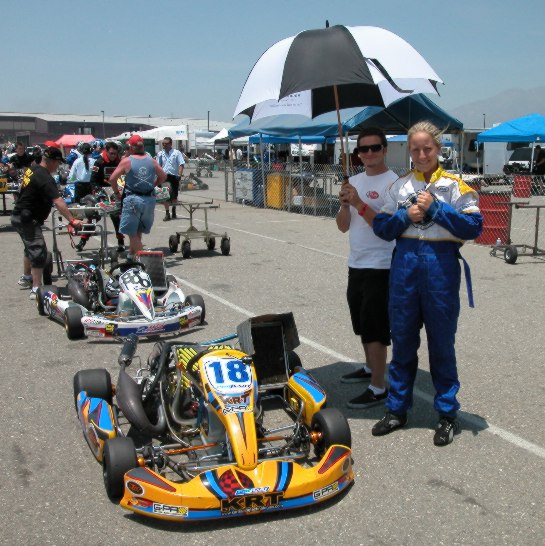 Lindsay Kernohan. Throws down some fast qualifying laps, has bad racing luck in heats
I spend the night at a hotel in Ontario so I can get some sleep. The in-laws are still in town, helping with baby-sitting duties, so I can spend more time updating the stories. I take a bunch of stuff with me to the hotel room. My personal laptop, the laptop we use for racing, an ice chest with water and Snapple, my luggage, a laser printer so I can printout and proofread some stories, backpack with camera/Sirius S50/phone charger/etc.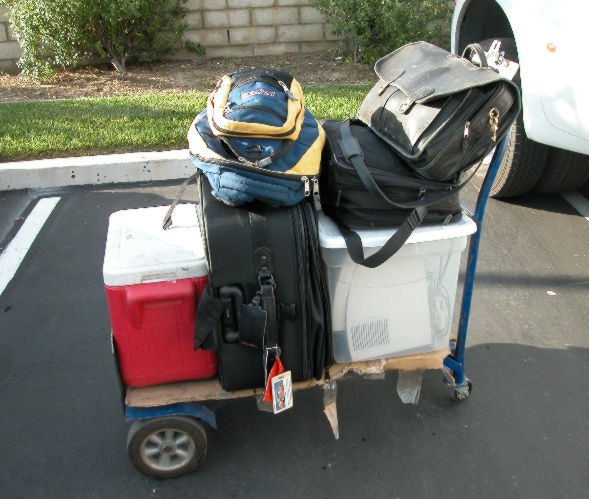 My luggage kart isn't pretty, but it is effective. Kinda like the fanny pack.

Saturday, June 3, 2006.
In the second practice session, I run a 47.4x. Ha! I figure once I put on my new tires, I'll be a very low 47, or who knows, maybe even a 46. I run the 2nd fastest Spec Honda lap of the session, (Although Halen didn't run this session). Joey Collins (new guy to Spec 1 class, but has been winning in Gatorz Rotax series) takes fastest lap in the practice session. I'm eyeing myself in row 1 or two. Heh. Checkout the big brain on me!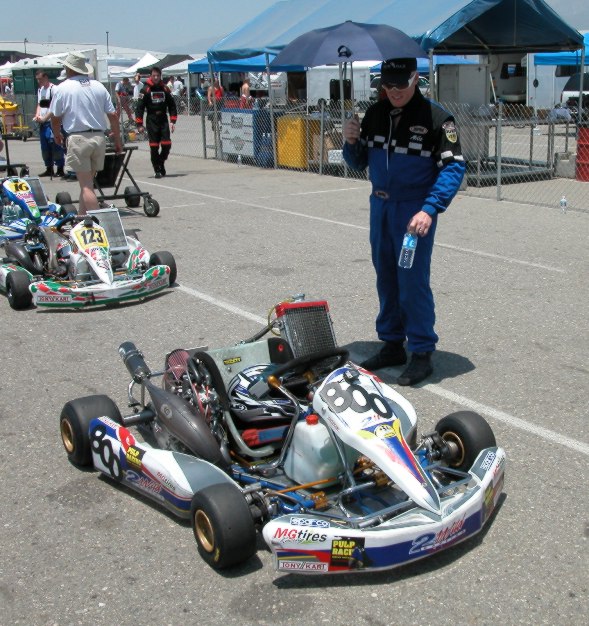 Wayne, with his own umbrella. (Don't ask me why, I have no clue)
Qualifying
It is getting hot, probably about 102 degrees at 11:00 a.m. I grid myself at the front in qualifying. Wayne thinks it is a bad move, and that he would rather be at the back of the pack. I'm thinking that he's gonna get caught up with slower traffic in front of him. As we are doing our warmup lap, Lindsay and McKee blow by me. Wasn't that a yellow flagged lap? Anyways, no use following them, as I think I'm gonna run faster than them, and I don't want them screwing up my hot lap. I was looking at the rate that people were coming out of the pits, and I'm thinking they are going to catch the guys in the back. Ha ha! Jeff is behind me and then pulls up along side me, so I let him go by also, and I slow a bit to get some clear space so I can do my hot laps on lap 3 and 4, when the tires are optimal. Coming into the hairpin before the straight at the end of lap 3, Jeff spins, screwing up my lap 3, and thus screwing up the beginning of lap 4. Doh! And my kart isn't liking the new tires with the high temperature on the track. My lap 5 sucks, as now tires are overheated, and my kart setup/driving isn't right. My big brain is scrambled. How did I screw that up so badly?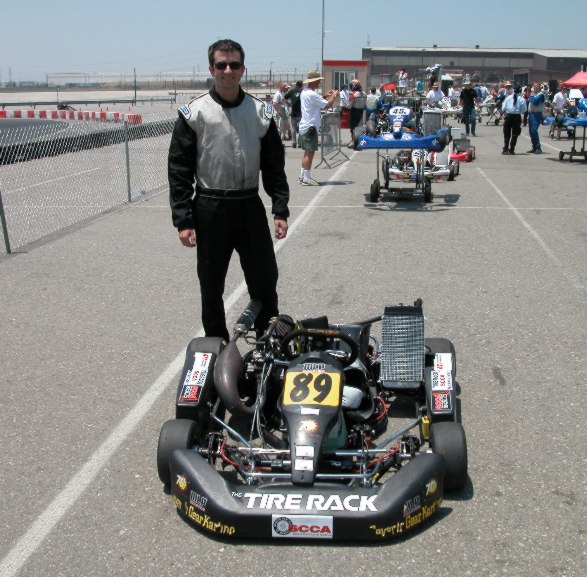 Paul Russell. Throws down fast qualifying laps, also has bad racing luck
I get to the pits. Wayne looks at me, with a "Well?" type of look. I told him I sucked with a 47.8. Wayne runs a 47.1. He ran a 47.4, but was worried I would beat that, so he ran another lap and threw down the 47.1. Obviously Wayne is the guy with the big brain today with kart setup and qualifying strategy. McKee and Lindsay run a 47.2 and a 47.1. I shoulda just followed them and taken advantage of their draft and follow them around to get me to a 47.1. How could I have been so clueless? I slink back to row 5....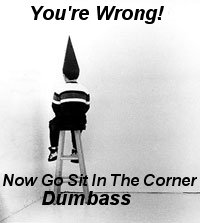 Wayne has the big brain today. I was Einstein last race, this race I am a dumbass
Jeff completely blisters two brand new rear tires in qualifying. We were having this big debate about tire pressures. I was thinking go real low, he was thinking go much higher. I think where he went wrong is he went 12 psi cold, in the shade of the EZ-Up, and then on the grid where it was 102 degrees, the tires heated up, and then he goes out on the track, and his tires probably get to 20 PSI. MG Tires recommend somewhere around 14-15 PSI hot. I put my kart in the sun 20 minutes before going out on the grid to get the tire pressures to "equalize" to the sun, and then reduce to about 9-10 PSI right before going out to the grid. Anyways, PKC agrees that his tires are blistered beyond "Usable", and lets him put on new tires. Cheating bastard, I woulda made him run his blister tires just based on stupidity! Ha!
Rylan Hazelton and Aaron Bitterman stop by. They were running their cars on the big Cal Speedway track the same day with the SCCA. Except they only get a qualifying session and a race today, separated by about six hours. We get two 10 minute practice sessions, a 15 minute qualifying session, two 10 lap heat races, and a 20 lap main all in 8 hours. Not as much glory in kart racing as racing cars, but you do get a lot of seat time! Doug Ota was going to run his Sports 2000 that he bought a year ago for the first time at this SCCA race. He was doing to run his car AND his Spec 2 Honda kart. He and C.B. have been working on the car to get it ready. They spent a year prepping, and it was ready to make its debut. But then they load it in the trailer, discover a leak, C.B. insists on putting it on the lift and checking it out, and it turns out the bellhousing was leaking. So they have to pull it out, and send it out to get fixed. Maybe by the end of summer it will be on the track.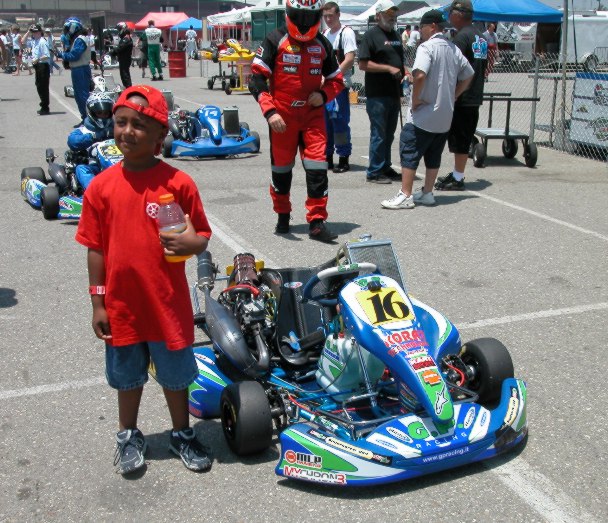 Axel walking towards his kart
Halen takes pole as expected. Good news is that Wayne is only 3/10ths behind, so we continue to cut the gap between us and Halen. I can't believe that Wayne is gridded 4th with a 47.17, I thought that would put him in P2. Eight people beat Halen's qual time from last race. Even more amazing is that Halen's time is only 4/10ths slower than his other kart he is running in the Premier(ICC/Built motor) class. And he is only 6/10ths off of pole in that class using his Stock Honda motor.
Qualifying Results (from mylaps.com)
Heat 1
I was taking these pictures that you see in this story of everyone and their kart on the grid right before the race. I didn't hear a "3 minute heads up", so as I am taking these pictures, they send out Halen for the warmup lap. Oh shit. I still have to put on my helmetcam chest pack on, my helmet, my gloves, my neckbrace, etc. Damn. PKC waits for no one, if you are dilly-dallying on the grid at the exact time your group is supposed to go out, you snooze, you lose. That why their events run on time, unlike most amateur racing events that get way off schedule. I scramble to get my stuff on, along with other losers that weren't ready (uhh..like Wayne), and get started and get on the track to take my spot on the grid. Halfway through the warmup lap, I have a bottle of water between my feet. Damn. I pick it up, throw it to the side of the track, put my gloves on, with about 5 seconds to go before the green light goes on. Unfortunately for me, this is the first race THIS SEASON that I forgot to turn the helmet camera on. I have all the other heats/mains on tape. If I recall, it was chaos into turn 1, most of us got through, I was running good but then botched a turn and three guys got by me, and we had a nice battle between the four of us the rest of the race. Unfortunately, I don't have it on tape. Fernando makes a mistake and spins trying to get by Wayne.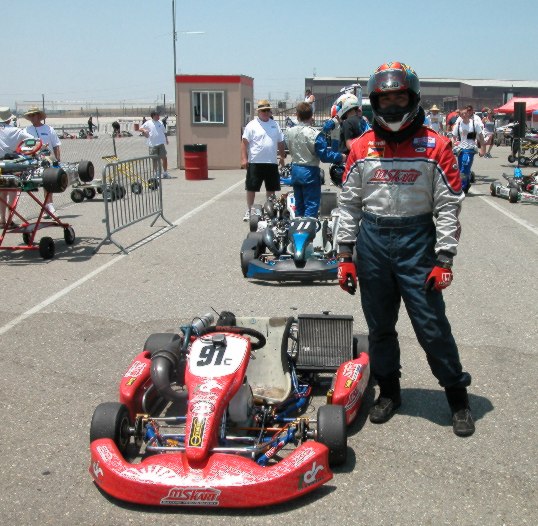 Ron Barcimo. Usually blows by me on the starts
After the first heat, we are sequestered in the trailer, with air conditioning and a fan blowing air to cool us off. I make the comment, "Hey, one practice day, two practice sessions, a qualifying session, and a heat race and we haven't broken anything yet! It's a good day." Jeff says, "Ah man, now you jinxed us."

Heat Race 1 Results (from mylaps.com)
Heat Race 2
Jason Trumpio took 3rd in his first heat race in the Premier class, but in Heat Race 2, he crashes and bends steering column and tie rod. Doh! Did I summon Raceflais by talking about not crashing minutes earlier in the trailer? I should keep my mouth shut at times.
In our heat race, I'm trying to get by Barcimo. I've passed probably 8 people in Turn 4 in the past few races here at Cal Speedway. I own this turn. I get a good run on whoever is in front of me out of Turn 3, take the inside line, surprise them by late braking, and make my pass. I try to make the same move on Barcimo, and we get tangled up. He apexes on my right front tire.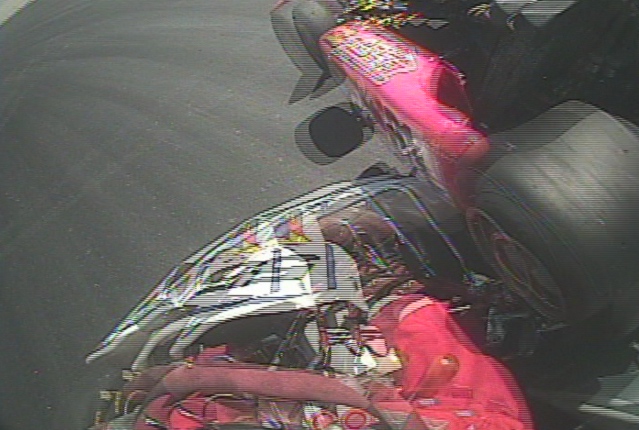 Barcimo apexes on my front wheel as we both fight for the apex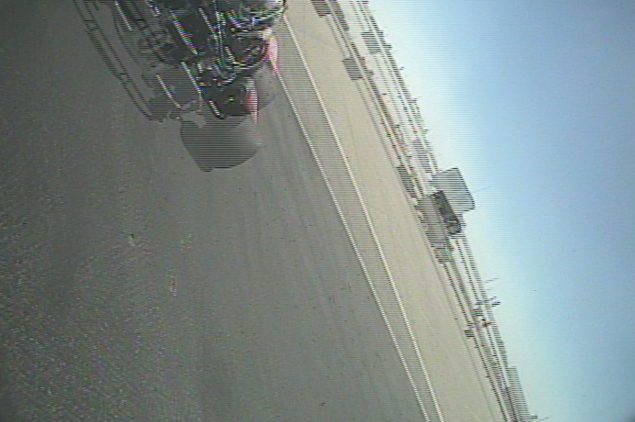 Uh oh. Why am I at a 90 degree angle to the ground? This can't be good.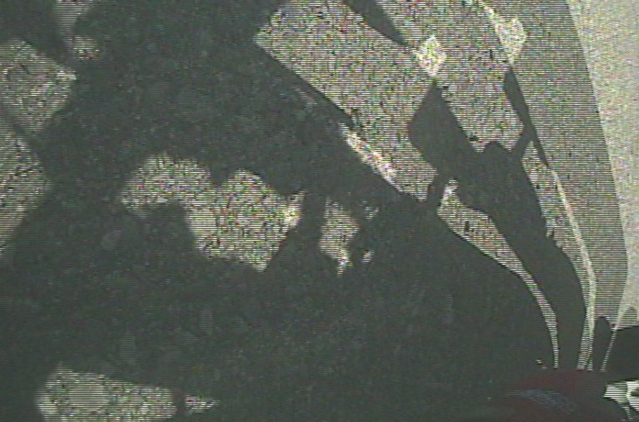 Uh oh. Am I looking at the shadow of my kart above me?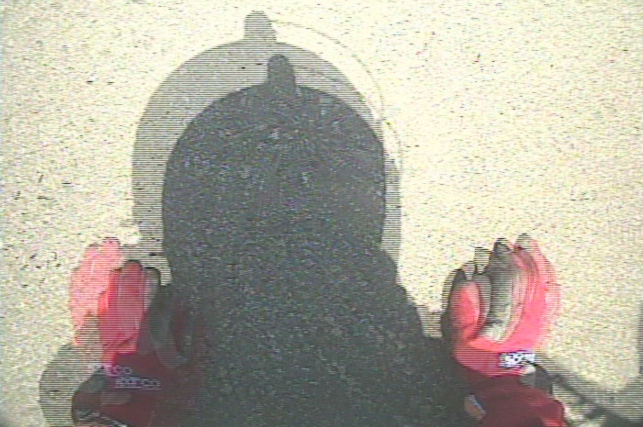 Hey. Check it out. I'm doing handstand. Kart is in the air somewhere.
My kart does a flip. I sorta get ejected from the kart during the flip. Kart slams back on the ground right side up. I check my hands and legs. I move my neck. Humm. Nothing seems hurt. I figure I'll push start the kart and try to at least finish the race so I don't DNF. I start pushing the kart, but it is having problems rolling. Flat tire. Damn. After the race, they take me to the ambulance to get checked out. Nothing broken, only a small cut on my ankle. Remind me not to tempt Raceaflais by saying something stupid like, "Damn we are good. We haven't crashed in 1.5 days". Checkout the slow motion video here:

1. Big - 60 meg file, 720x480, Windows Media
2. Smaller version - 10 meg file, 320x240, Windows Media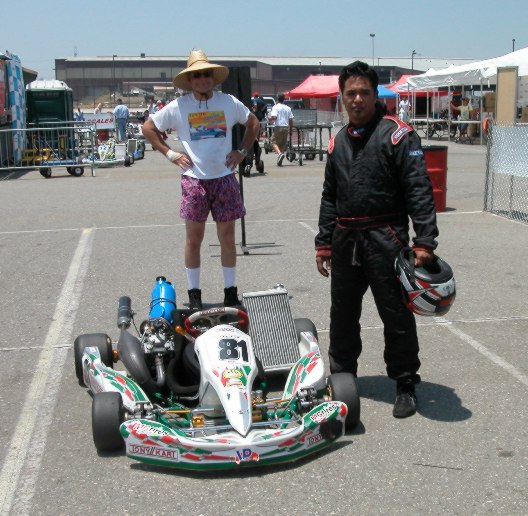 Merve Vidad striking a pose
Wayne races smart, stays clean, and ends up 3rd in the 2nd heat. Back in the pit area, we have to change my bent rear axle, bent steering column, bent rims, bent tie rod, bent rims, etc. After doing all that, kart seems like it can at least run in the main heat. Halen and Russell DNF in the second heat.

Heat Race 2 Results (from mylaps.com)
Main Heat Race
We go to the final race. It's smoking hot right now, probably 107 air temp, probably more like 120 when sitting in the hot pit with your suit and helmet on. And when you are racing and you are damn tired from holding onto the steering wheel, it is more like 140 degrees...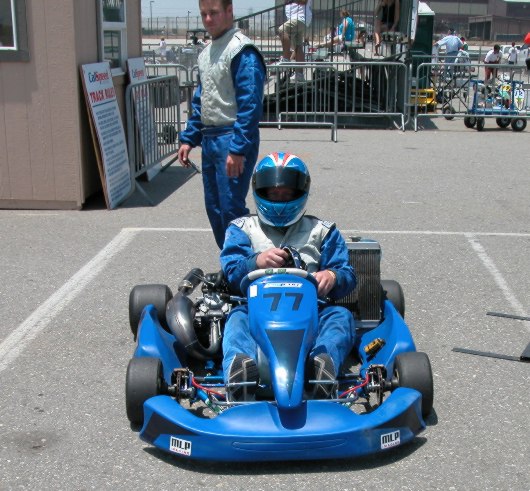 One of the two Krueger and Krueger father & son entries
I'm starting from the back of the pack. My kart has a bit of a vibration in front, and doesn't quite feel right. I get stuck battling with Russell, Carlquist, Nicholas Krueger for quite a few laps, and then one by one they start pulling off the track into the hot pit. Did their motor start overheating? Did the heat get to them and they just got tired and gave up? Who knows? Anyways, with them dropping out, the train of Diaz-Littrell-Korn-Barcimo is now a good 10-15 seconds in front of me. I'm hot, but not too tired due to the physical conditioning I've been doing. There is no one behind me, so now I'm just sorta running a time trial by myself, and it's damn hot out here. I figure I'll finish the race, but I have virtually no chance of catching up to the pack in front of me. I cruise home to a 10th place finish. Wayne has a great race, was right behind McKee. He said he had a couple of shots at making a pass on him, but then he would have risked taking both of them out or spinning, so he was relatively happy finishing 4th. If Collins didn't enter the race, Wayne woulda been on the podium this race for the first time in a PKC points race. (He took 3rd last year in a non-points race) Jeff was having problems with his kart this weekend, so he's back to the drawing board for the next race.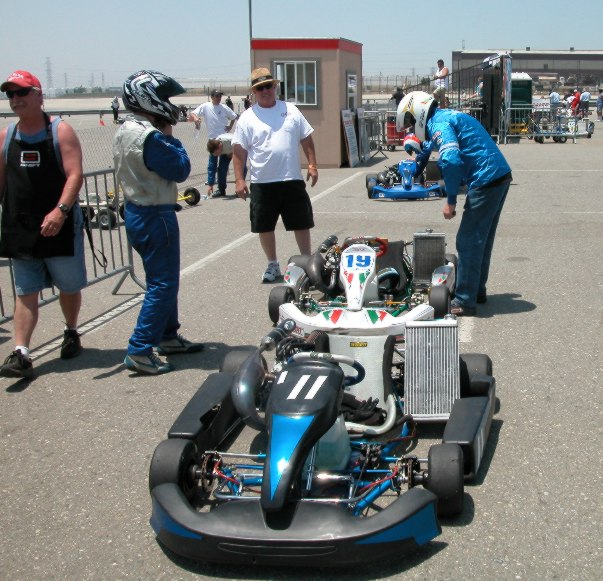 Nick Krueger's racing machine
Halen started from the back of the pack, and DESTROYED the field by working his way up to first place in about five laps. He just walked through the pack. His fast lap is a half second faster than everyone else. Halen runs mid-pack in some of the Snap-On Stars of Karting pro races, so we can measure and see how far we are behind the big boys. Needless to say, we ain't gonna be entering any Super Pro races with our talents. In order for us to run in a Super Pro race like the Stars of Karting, I think we would need trackside support and 10,000 laps of practice monitored by a driver coach, a motor tuner, a data analysis/chassis person, and another 30 years of our youth returned back to us in order to duke it out with the Super Pros. Doing all that might get us the extra 5/10ths of a second per lap that we need in order to enter a Super Pro race and not finish in last place. Until then, we will be "weekend warriors".
Main Heat Race Results (from mylaps.com)
| | | | |
| --- | --- | --- | --- |
| Best Speed | 57.531 | by | Nick Halen |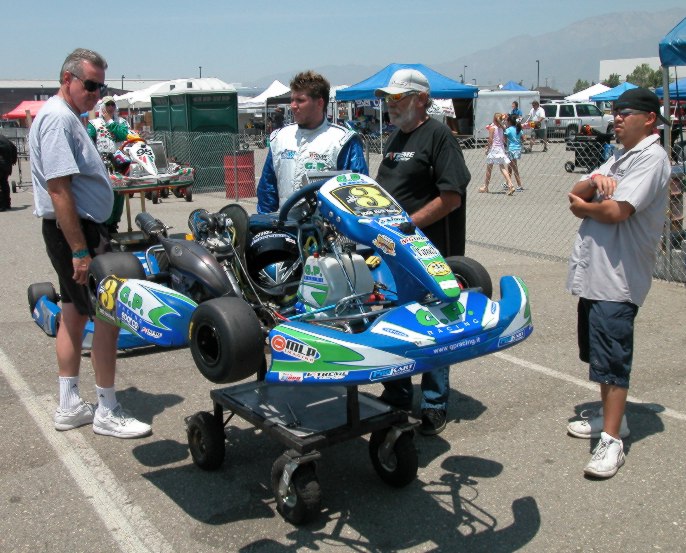 Marty Henderson's kart
Epilogue
A couple of days later I start discovering the bruises on my body. Right calf has huge bruise on. Another big bruise on my ass. Another on left ankle. But I consider myself lucky getting away from that crash with only a couple of bruises.
Under closer inspection at the shop, the kart steering wheel fork that comes out from the main frame is bent. The front bar was loose, as well as the front fairing from the crash, which could be why the kart wasn't handling properly and I was a second off my normal pace. I get the steering fork re-bent and re-welded. I re-align the kart, replace loose screws on the floorpan, clean it up. I send my Mychron unit to Aim Sports, as it keeps giving me error messages like "Memory Full" when the memory is cleared and empty, and thus I can't superimpose the data on the helmet cam videos, nor can I compare the race results to Wayne's data. I sent it to them on Wednesday, and miraculously, I get it back on Friday, with them saying that the wiring to the head unit was a loose. Now that's customer service! I'm ready to take another wack at the podium at the July 8th race in Santa Maria. We begin our plotting and big brain thinking to figure out our strategy for the next race. It's not rocket science to get to the podium, but it is damn close in terms of preparation, planning, and battling the laws of physics to beat the stiff competition we have in the PKC Spec 1 Stock Honda class.
ProKart Challenge Takes over SuperKarts USA
PKC events might be in your area in the near future. Get your Stock Honda/TaG/Rotax kart ready for next year! http://www.prokartchallenge.com/forum/showthread.php?t=742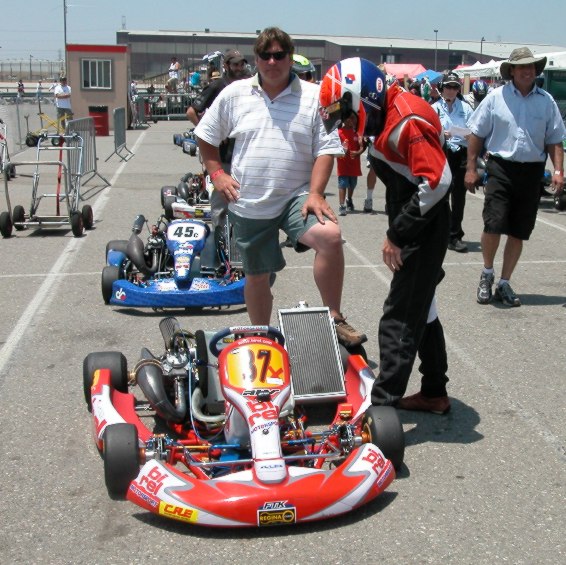 Joey Collins. Wins races in Rotax Gatorz series, first race in Spec 1 shifter class.
Helmet Camera Video of Flip
(Same as link earlier in the page, but some of you just scan the bottom of the page for the video link)
1. Big - 60 meg file, 720x480, Windows Media
2. Smaller version - 10 meg file, 320x240, Windows Media