ProKart Challenge Race 3 - Buttonwillow Raceway- March 3, 2007
A Generation Apart
Can the Old Fart Pulp Drivers Compete with the Young Guns?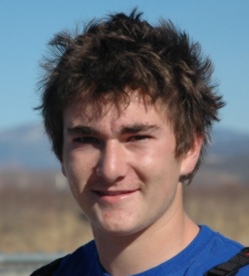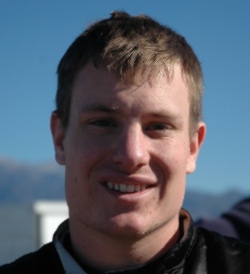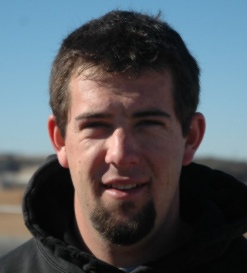 Connor De Phillippi, 14 years old. Nick Halen, 20 Years old. Bobby Legate, 22 years old
So far this season, the "kids" are whupping ass on everyone else in the Stock Honda S3 Light class. Jeff is sorta hanging with them and is 4th in points so far this season.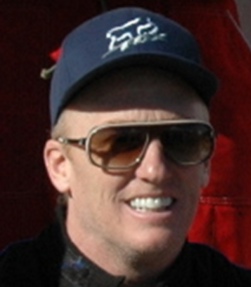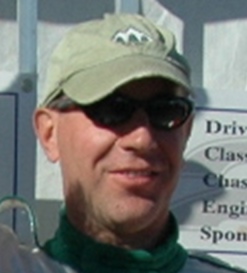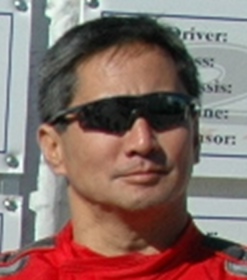 Mello, 47 years old. Littrell, 43 years old. Hayashi, 48 years old
I think in some places like Mississippi, I could be old enough to be Connor's grandfather. Let's see what happens at Race #3. Will the kids whup on everyone again, or do any of us old farts have a chance?
Wayne buys new GPS gizmo.
Wayne buys one of those Garmin GPS/Watch/Heart monitors to put on this wrist. It is kinda cool. You strap a thingy around your chest to monitor your heartbeat. After your workout, you plug it into your computer via USB cable, download the data, it downloads satellite maps off the Internet, and shows your route, average heart beat, max heart beat, etc. He's running 3 miles just about every day to get into better shape, as he feels that is the key to trying to chase down the young guys! Jeff's doing his yoga and bicycle riding to stay in shape. I'm still doing my once a week personal training session at the gym, and am starting to use a jump rope. I even got one yoga session in with the wife. Wayne thinks I have to do more to get in shape, but I tell him that tiredness is a "state of mind", and if I don't think about getting tired, I won't be tired.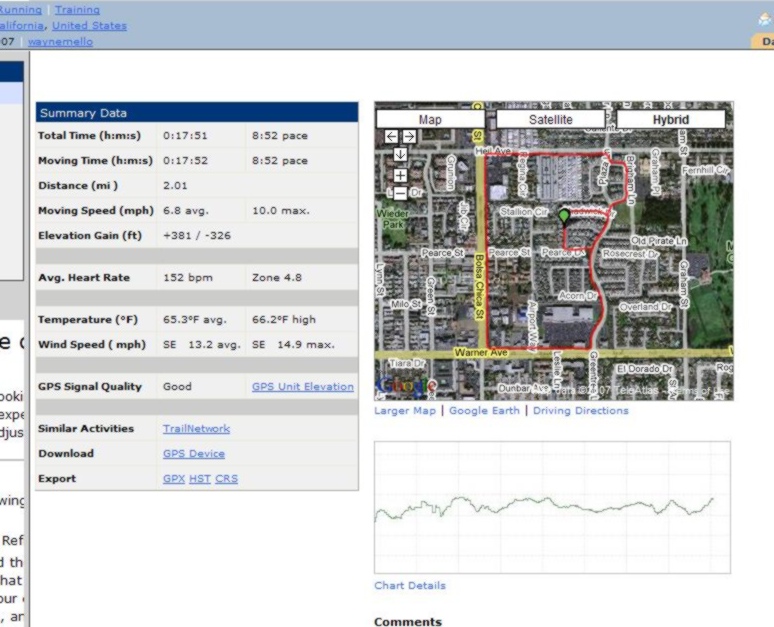 Screen shot of some of the data you can download from the GPS watch
If you think that is cool, check this out: http://trail.motionbased.com/trail/player/2187308 and click on the "satellite" button, and then click play. That's Wayne's playback of his heart rate on the Buttonwillow kart track, along with GPS positioning using satellite map.
Thursday night, February 15, 2007
I drive out to Buttonwillow for practice with the truck and trailer around 8:30 p.m. I stay at the Best Western off of the Stockdale Highway exit, which is about four miles before the town of Buttonwillow. I've stayed there before, and it seemed to be an okay hotel. I requested a room on the first floor, as I have to put all the electronics in the hotel room, such as the two laptops, camcorders, digital cameras, radar detectors, satellite radio units, etc. Since I don't pull into Buttonwillow until around 11:30 p.m., I get the last room on the ground floor. Unfortunately, it is at the end of the complex, and there is a brick wall at at 90 degree angle to the room. My room shakes everytime a semi truck blows by at 75 mph on the 5 freeway, which is about every 15 seconds. It's cold outside, probably 30 degrees, so when the heater kicks on in the room via the thermostat, it sounds like an air compressor firing up. I get about 2.5 hours sleep.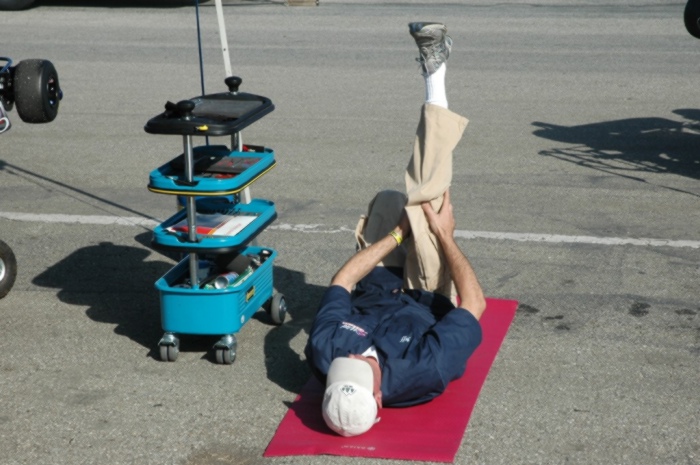 Jeff doing his Yoga to prepare for the heat races
Friday, February 16, 2007
We got a bunch of PKC guys at the track today. The track has a long straightaway that you can hit 90 mph on, and then has a series of lower speed second gear turns, off camber turns, etc. Our altitude checker gizmo says we are 1000 feet below sea level, so the air today is really good. We proceed to try a bunch of different gearsets and jets, trying to get something close to optimal. I wish we were better at this. I pull out my spare kart to get some practice laps on that, and I can't get it to go more than half a lap without dying. I give up on this kart, I'm going to have to get some professional help with this stupid ass Vortex motor. I have the fastest practice lap between Jeff, Wayne, and I by 2/100ths of a second. But they are running more consistent than me, it appears that I have just one fast fluke lap.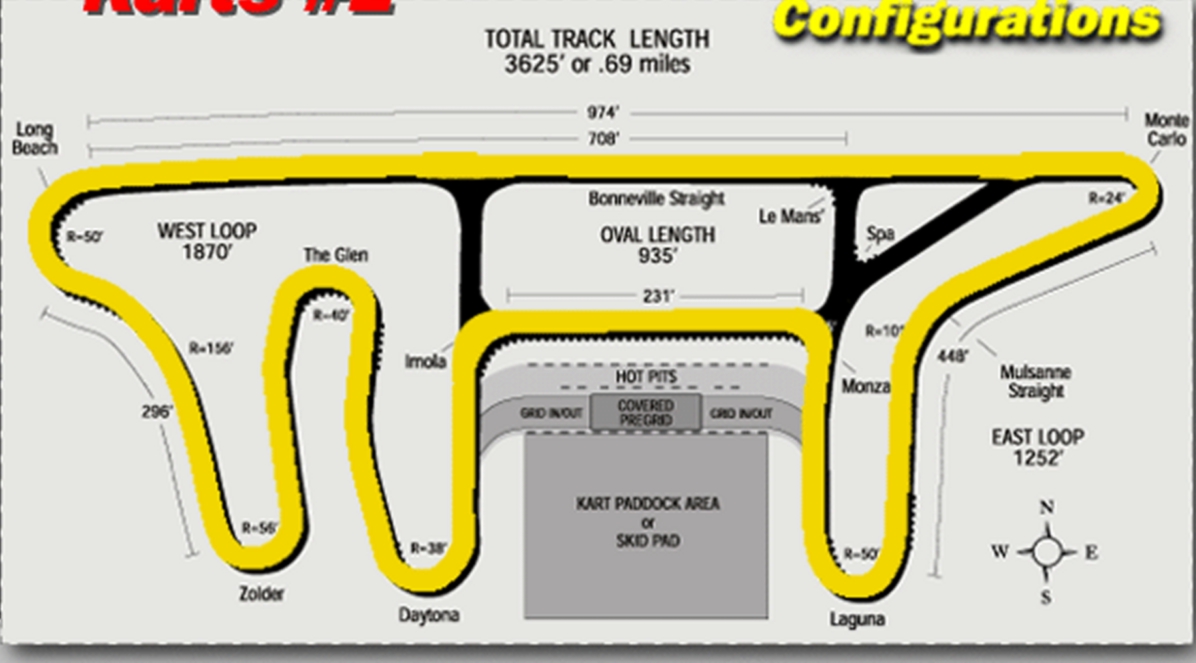 Buttonwillow kart track
I've pretty much given up hope on getting a Loser Cam on the kart, which would point backwards. I had one of those Oregon Scientific el cheapo action cameras, but it can't handle the vibration. I tried using double helmet cameras, but the flash recorder I used for the second camera only runs at 15 frames per second and fails a lot. Plus being backwards on a helmet has too much movement for looking backwards, so you get a lot of sky in the picture. It seems that a backward facing camera has to be on a stationary mount, and it needs its own power supply so it isn't hooked up to my body in case of a crash or if I have to jumpstart my kart in the middle of a race.
I did find one solution that I think would work great. My wife has a Canon SD800 digital camera that takes great 30 frames per second video that looks almost like a Sony camcorder when you play it back on your computer. Unfortunately, she won't let me mount the camera on the back of my shifter kart radiator for fear of me trashing her camera. It has image stabilization, 30 fps, records to flash card, has its own power supply, etc. That would make for some great picture-in-picture footage. I know there are some "underwater" camera cases for the Canon cameras that would protect the camera, but I don't think those cases have a "mounting point" to mount to something like a Clamperpod. Plus then the underwater case is kinda big, adding weight to the mount, which in turns makes it more likely it will fall off the kart, damaging the camera, and knowing our luck, hitting Wayne in the helmet.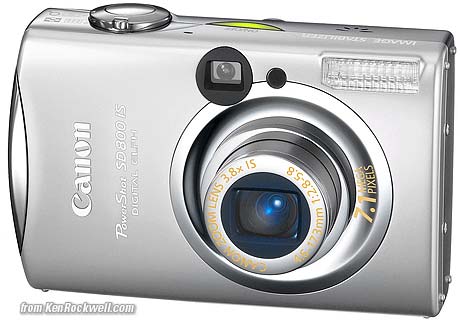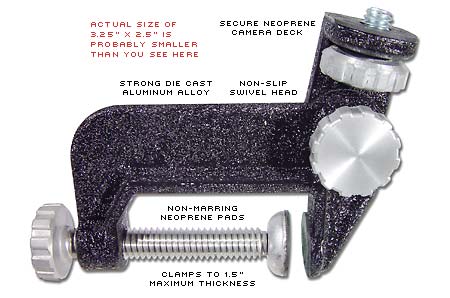 I think this combo would make the ultimate Loser Cam. Cannon SD800 + Clamperpod.
Driving home sucks on a Friday night. It is 175 miles from Buttonwillow to Huntington Beach, and it takes about 4 hours for me to get home through the LA Traffic.
Unfortunately for us, Buttonwillow is so damn far away, we didn't get any additional practice sessions besides the normal day-before-the-race PKC session. We didn't want to deal with the traffic. We could have really used that extra day of practice.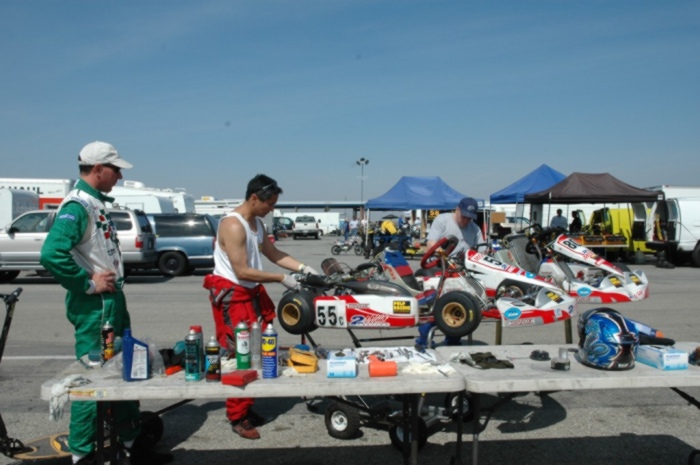 Jeff thinking, "These two clowns can't beat me!"
Wednesday, February 21, 2007
The new winter softball season started a few weeks ago. We are sucking, we are 0-1-2 after three games. No other softball team in the world ties as many games as we do. I think out of our last 30 games, we have tied about 8 games. We definitely don't have a killer instinct. The H.B. Commissioner of softball dumped us down another league to Coed C4 due to our mediocrity. We haven't been this far down in about six years (3 seasons a year = 18 seasons). My fielding and throwing is at about 98% with the plate in my hand, batting is still only at about 85% due to my pinky finger not able to grab onto the bat. Maybe by summertime I can be back to 100%.
Thursday, March 1, 2007
I drive the trailer out to lovely Buttonwillow again at 8:30 p.m. This time I stay at the Willows Inn in Buttonwillow, which seems to be a much nice hotel than the Best Western I stayed at last time. I get a decent nights sleep for a change.
Friday Morning, March 2, 2007
Official ProKart Challenge practice day. Everyone is here ditching work, and trying to get their karts dialed in.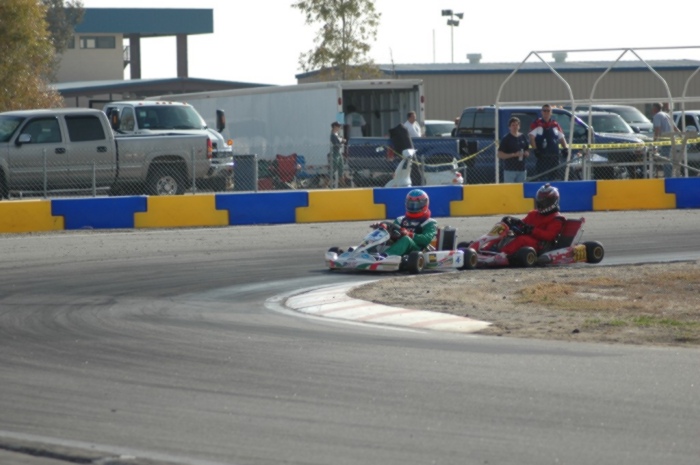 Clinton on Jeff's bumper
Qualifying
Today my qualifying strategy is that since Jeff is gridded at the front for the qualifying session, I'll follow him around the track. This works for the warmup lap, and going into hot lap number 1, homo Wayne is on his warmup lap as he gridded later, and drops down on the racing line between Jeff and I as I'm on my best hotlap. Costs me 3/10ths of a second, which is the difference between qualifying 7th and 11th. Arrgh! Jeff is 5th, Wayne 10th. Halen scorches the earth and runs about 4/10ths faster than Connor and Legate. The kids are kicking our ass.
| | | | |
| --- | --- | --- | --- |
| Best Speed | 55.829 | by | Nick Halen |
Heat Race #1
Red lights go out, and I get a decent start. McKee in front of me has to swerve a bit to avoid the guy in front of him, so I sweve a bit to the left. Wayne had a slight bog on the start, so I was in front of him, and I bang wheels with him and send him 2 wheels off into the dirt. Hee hee! Got even for him screwing up my qualifying lap. We all get jammed up going into turn 1 and 2, but I think I come out of it about where I expected to be. A few laps later, Wayne bombs in on one of the slow speed turns, and snakes by me. Damn, he's out trail braking me! A couple of laps later, Wayne tries to do that again, but spins and causes confusion with Barcimo, and also taps McKee. Maybe he needs to perfect that dive bomb trail braking technique a little better. Ha ha! Wayne spins out, Barcimo into the dirt, and now I'm behind McKee. Ha ha! It's a pain in the ass being in the mid pack, as there is a lot of traffic and it is real hard to pass people without crashing or uh...spinning. I end up 10th for the race behind Jim Lewis. The kids hold down spots 1, 2 and 3 again! Jeff makes a valiant charge, and takes 4th.
Heat Race 2
Another crazy start. Wayne gets by me on the start. I have to fight my way in the midpack for most of the race. Wayne spins out again in a low speed turn. See ya Wayne! I end up 9th. Not great, but at least I have a chance to maybe make it to 6th in the main race if I can get a decent start. The kids take spots 1, 2, and 3 again! Damn! Jeff drops back to 5th on this one.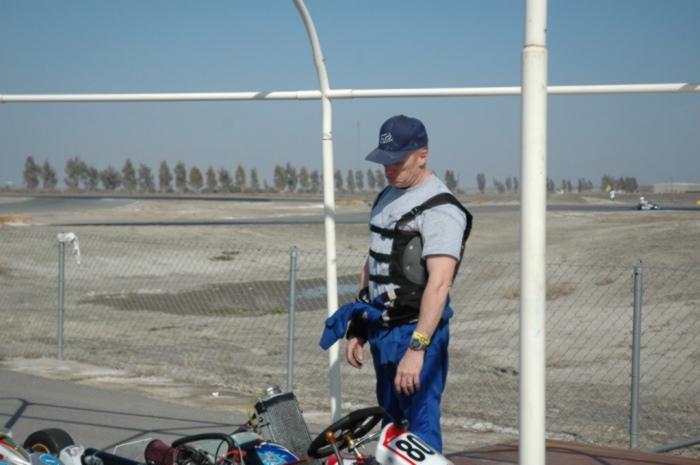 Wayne thinking that it wasn't him that caused his spins, something is wrong with this kart
Main Race
There has been some confusion with the scales for this race, with them reading 5-6 lbs light at times. I decide to fill my gas tank to the top for the main race, to make sure I can make the 385 lbs weight minimum. At the end of the warm up lap for the main race, my crotch is starting to tingle. Then it starts to get hot. Hummm. I realize that my overflow/breather hose for the gas tank is too low, and since the tank is filled to the top, the sloshing of the gas is starting to siphon out of the breather hose into my seat, and right on my crotch. Nice. I remember Jeff saying on his Sports 2000 that a crew member forgot to put the lid on the gas tank, so his seat was soaked in gas, and he had to come in and pit before it started burning his skin. Damn! I don't want to DNF AGAIN. I decide that while taking my spot on the grid, I'll try to tie the breath hose around the other gas hoses to keep it up high, so gas doesn't come pouring out. I succeed in doing this with a few seconds to spare before the red lights go out. Ha ha! I'm McGuyver!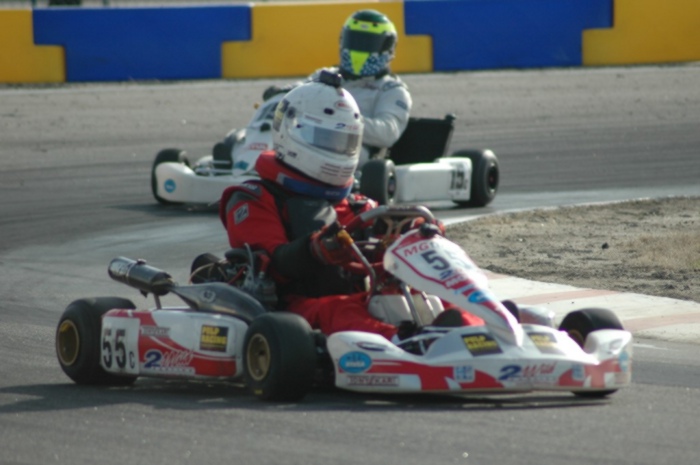 Struggling along.....trying to defeat Raceaflais
Red lights go out, and we all zoom into turn 1. I'm doing okay so far, but after a lap or two, my kart starts to sputter in the low speed turns. Ah shit. A couple people blow by me. Then the motor really falls flat on its face, and the entire field passes me by. I then realize that I tied the breather hose up too tight, and now I have to untangle it and take a chance at getting gas all over my crotch again. Hummmm...burnt balls or a DNF? I'll take the burnt balls....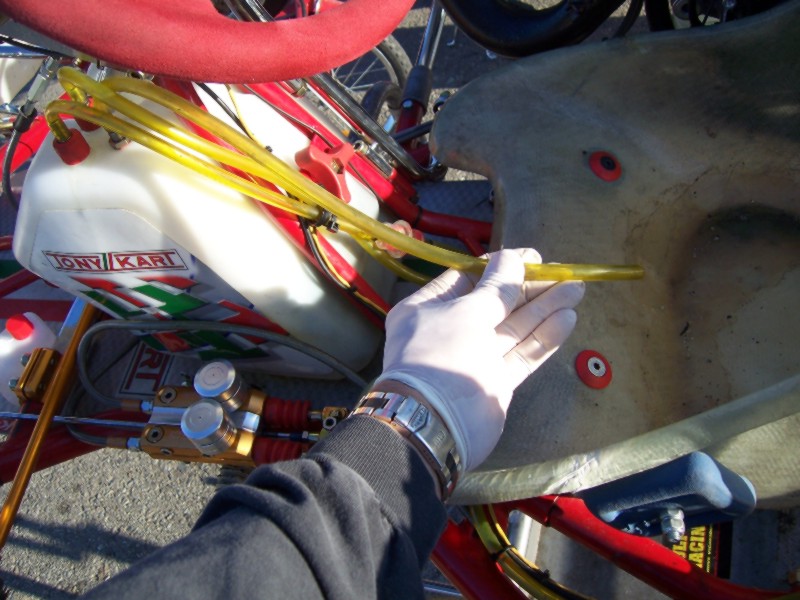 Note to self: Keep overflow/breather hose for fuel up higher than fuel level
After I untangle the stupid hose, the motor fires right back up, and now I have to try to chase people down from the back of the pack. Including the S3 Heavy guys, there are now about 18 or 19 people in front of me. Arrgh! At least it is not a DNF. I end up 11th. Wayne takes 8th, Jeff falls back to 6th. The kids kick ass on everyone again, taking 1st, 2nd, and 3rd, with Halen winning by 3 seconds. Halen appears to be back on his "A" game, taking pole, winning both heats and the main.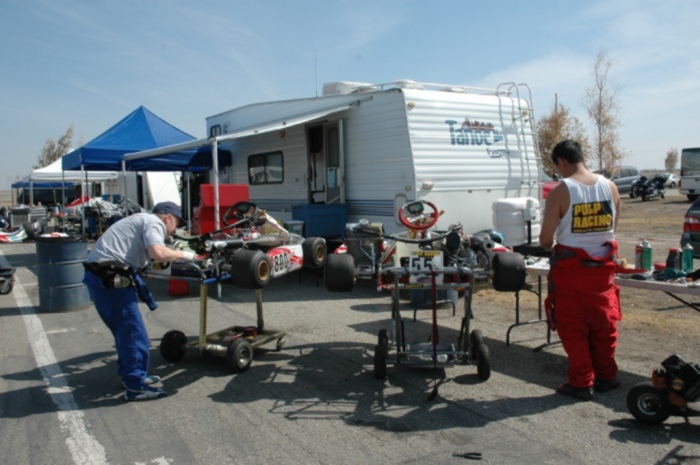 Working on the karts with the Legate headquarters in the background
After I get scaled, I zip over to the truck, pull out some clothes, and luckily for me, Buttonwillow has some showers so I can get the gas off of my. Luckily, my Sparco suit was able to keep most of the gas off of my skin, so I didn't have any inflamed skin or rash on my wanger.
| | | | |
| --- | --- | --- | --- |
| Best Speed | 55.437 | by | Nick Halen |
My fastest lap was in lap 19 out of 20, after I got through some traffic. So at least I know I'm not getting tired. In the S3 Heavy class, Grant Westmorland takes advantage of Fernando's DNF, and takes his first PKC win! In the S1 ICC/Built moto class, Mandarino(He won Superpro class at Supernats in 2005) takes 1st, and only 1.5 seconds behind him in the main is Halen. The S1 class also has heavy hitters like Fritz Leesman, Jon Allen, and Slava Pridhodko competing for podium positions. Looks like Halen might be looking for bigger fish to conquer than us S3 Light drivers as the year unfolds....
Helmet Camera Video from Buttonwillow:
134 meg Windows Media Video. Best to do a right click save target as:
www.nsxfiles.com/pkcmar07_final_rev1.wmv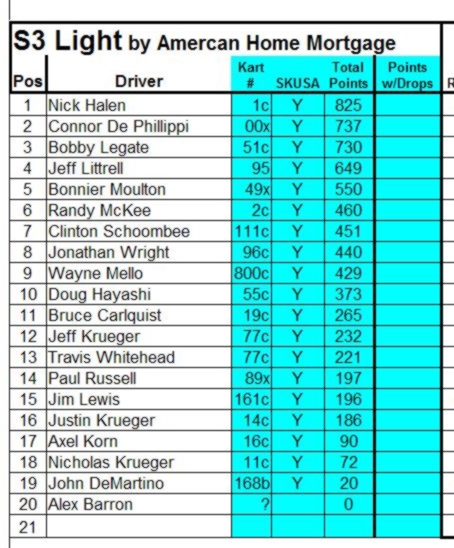 Points standings after 3 races. Wayne and I suck!
==== More random thoughts on the big shakeup in the mortgage industry ====
More housing gloom and doom:
About 15 more large subprime mortgage companies bit the dust in March according to the Implode-O-Meter.
Rampant inaccurate reporting by the LA Times on real estate stories
The LA Times prints this sob story.
Blogger dorks find this out about the supposed sob story. Hey, she's a flipper.
Blogger dork pile on more then finds out more about this supposed sob story. Not only is she a flipper, she's flipping the property back and forth with her husband, taking out HELOCs, and she's a realtor, which means she's committing fraud.
Angry blogger dorks pile on LA Times and want them to print the real story behind what is going on. LA Times brushes them off, and won't write a correction to their initial fluff piece. Nice. I'll have to start reading more blogs to get the real damn story as to what is going on.
Is it because:

1. The LA Times is incompetent?
2. The LA Times doesn't want to post any bad news in their newspaper for fear of killing off more real estate ads?
3. The LA Times is afraid of libel suits if they investigate the stories?
Whose holding all the bad paper for these mortgages that are imploding?
All the Pig Men(Investment Bankers) are supposedly propping up each other's stock to minimize the problem according to this article. Is the author a wacko, or is the author insightful beyond to what the mainstream media (LA Times, CNN, etc) can provide? We'll know in a couple of months. Especially since there is a boatload of ARM resets hitting the market. It seems to infer that if things are bad now, think double or triple bad in the upcoming months. C'mon. Looks at all those resets that have to happen. Someone is holding some bad paper, and no one wants to admit it is them. Kinda funny.....cause those bad debts just don't disappear into thin air. I guess we'll find out in a few months who is holding the hot potato.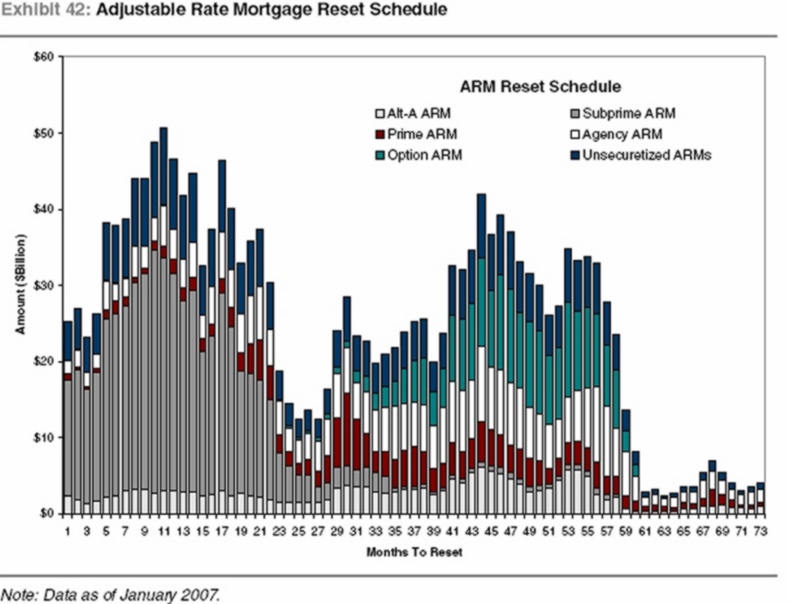 Mortgage resets that will happen. Month 1 is January 2007. There is more pain on the way.

==== End of random thoughts on the big shakeup in the mortgage industry ====
March 17, 2007
I start hitting some racquetballs, thinking that will help the pinky finger along with holding a baseball bat, and maybe even give me a better grip on the steering wheel. I pull out my 20 year old Ektelon Toron racquet and start wacking away at some balls, trying to get that pinky to grab the handle. Hummm...probably time to get a new racquet, so off to the Best Sporting Goods Store In the Entire Free World, Chick's Sporting Goods in Tustin. I drool at the quality and selection of sporting good equipment they have in there. Professional level baseball/softball gloves, all the Ektelon products in all sizes, softball bats made out of unobtainium, a staff that can actually answer any question about the products. They make Sportmart, Sport Chalet, Sport Authority, Big 5 Sporting Goods, etc, look like second hand stores. I end up buying a new O3 Red Racquet.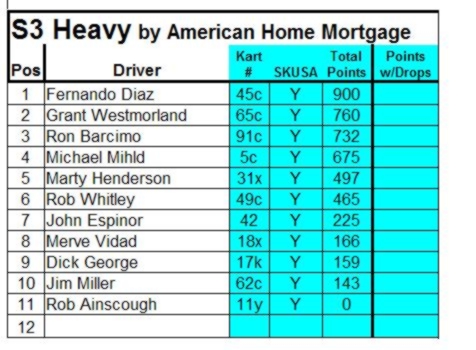 S3 Stock Heavy Point Standings
The F355 was almost fixed. It went two blocks before it didn't downshift into 2nd or 1st. It's back at the repair shop. I wonder if Karma has the F355 and my shifter kart Raceflais woes linked together. Maybe if the F355 gets fixed, the black cloud over my shifter kart will go away? Hummm.....
Who knows....maybe Lady Luck will shine on us at the next race, which is at California Speedway on March 31st. Wayne and I have to get get out of our midpack morass, but we got about 8 other guys between our two classes that are trying to do the same thing, and make it to those first three rows on the grid to get a chance at podium glory....