The Phoenix NSXer's Desert Storm II


"The Bonehead Racing Team"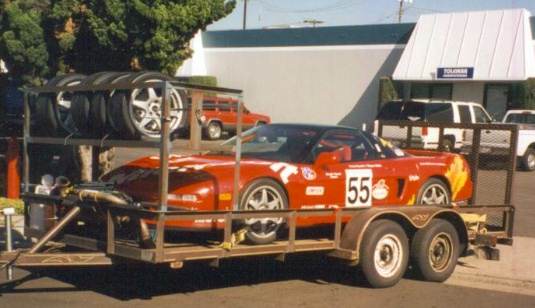 My car on the newly modified racing trailer

Leaving off from last update where my car was at Comptech getting the upgrade kit for the Supercharger and the Internal Engine Modification(IEM).

So, after putting the upgraded supercharger kit(consisting of fuel regulator+chip) boosted power from 300 HP to 325 rear wheel HP. Comptech estimated that the IEM(cams, heads, manifold) wouldn't add a lot of HP to the supercharger, but as long as we were taking the whole damn engine apart to put in the oil pump gears, new water pump, new timing belt, etc, might as well throw in the whole kitchen sink. After putting in the IEM, car was dynoing at 300 HP(I lost 25 hp), but Shad at Comptech diagnosed it primarily to be that the stock fuel pump wasn't able to put out enough PSI for the supercharger + IEM, which was unusual in their experience. After putting in another inline auxiliary fuel pump to test, car was putting out 335 rear wheel HP. So, Shad took off the gas tank, replaced the stock fuel pump with another stock fuel pump, and looks like we are ready for the next season. I do need to get it dynoed locally in Huntington Beach against Wayne's car, just in case the dyno at the place that Comptech uses is off.

I was going to fly directly to Sacramento to pickup the car, but Wayne then said that he wanted to go also, and let's fly via Las Vegas. Meaning, fly into Vegas, gamble, stay overnight, gamble, then fly to Sacramento to pickup the car.
November 11th, 1998.
So we have a softball game that goes from 6:30 p.m. to 7:45 p.m., and the next flight out of Orange County is at 8:25 p.m. If we miss this flight, then we have to drive 45 minutes to LA, and rush and catch the 10:00 p.m. flight. Of course our game runs late, so us Boneheads have 25 minutes to leave the softball field, go to Wayne's house, change, zip to the airport, park the car, and check in. I squeal all four tires on my dad's 1988 Toyota Station wagon around all turns in trying to get to the airport as fast as possible. We do the O.J. Simpson routine running through the airport, and we make it on time for our flight by a couple of minutes. We are on Reno Air, and there are only about 20 passengers for a 100 passenger plane, so everyone gets to sit first class!

We cruise into Vegas, and after gambling for about four hours, we are both miserable losers. We started out winning big bucks, but then get killed.......so much for money management. Bonehead gambling.

The next morning, Wayne makes a big rally, and comes home a winner, up about $700. I end up losing a set of Hoosiers.....We leave the Golden Nugget at 10:30 a.m. Unfortunately for us, our flight is at 11:00 a.m., and we have have to check in at the airport. As we are checking out, Wayne calls home to Ginger, his new Doberman Pincher puppy. Well, if you consider a 45 lbs. of wild dog a puppy. She is teething, so she is eating the walls of his condo, the furniture, the doors, etc. Since his answering machine is on for screening calls, Ginger can hear his voice. He is on his cell phone screaming, "Ginger, bad dog, bad dog. Stop eating the couch! Bad Dog! Don't eat the couch!" He then pauses about 5 seconds, hoping that Ginger has stopped destroying the house. He then says in a calm voice, "Good Ginger, that's a good puppy. Be good, don't eat the couch. I will be home later tonight." Meanwhile, the behind us in the checkout line are looking at Wayne like he is really strange.......
We tell the cab driver to floor it and get us there as soon as possible, as if we miss this flight, we have to flight BACK to LA, get a connection, THEN fly into Sacramento. Cab driver hauls ass, get us there, we do the O.J. Simpson routine through the airport again. Except this time the plane is an hour late, so we could of gambled for another hour.....

We take a taxi to Ground Control, located by Comptech. Jay at Ground Control stopped by Comptech to checkout my car, as both Larry and Shad said something is wrong with the shocks, as they are wearing away at the stems. Jay said that it didn't look like they were installed correctly, so he picked up the car earlier in the day and fixed it. Jay also mentioned that he would create better instructions to make sure they get installed correctly. Ground Control is also moving to a bigger building, so business must be going good for them. Thanks to Jay for fixing the installation for free.

We drive over to Comptech, were they are testing out a new dyno they are thinking of buying. They have a formal engine dyno there (that they use for the professional race cars, which require that the engine is out of the car, but not a rear wheel dyno. Comptech put 150 street miles on my car before we got there, so they broke in the car for us. (Meaning, they sure didn't trust me and Wayne with the car and taking it easy for 150 miles before getting on the gas.)

Car is feeling pretty fast. We made it from Comptech to Huntington Beach in 5.5 hours, cutting 15 minutes off my previous fastest time. Driving at night on the 5 freeway on the divided road was, shall we say, efficient.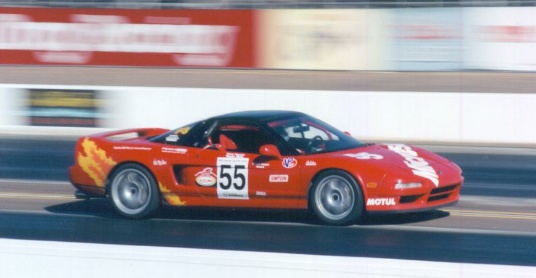 Great photo from Photography by Aaron 602-430-7576

======
Now that the car is ready, Wayne and I decide to go to the Phoenix NSXer's "Desert Storm II" track event on Saturday, November 21st. We took the Bondurant class there a couple of months ago, so we were feeling pretty cocky about our chances at this event, since we had professional instructors showing us the line and passing tips on the track.
Friday, November 20th
We decide to tow my car up, and pack up Wayne's new Ford Explorer with all support equipment, and Dagmar and Pilar. We take off for Phoenix, with our newly modified open trailer that can now store 10 tires + gas cans in addition to a car. The new tire rack makes the trailer horribly un-aerodynamic. After driving 140 miles in the middle of the desert, we have a quarter tank left, and 28 miles until the next gas stop. I ask Wayne if we can make it, and he says yes. Unfortunately for us, at 8:30 p.m. and 2 more miles to go to the next gas station, the truck stumbles and we run out of gas. Doug and Wayne, the Bonehead Racing Team. And of course for safety reasons, our gas cans are empty. We don't want to pull the NSX out of the trailer in the middle of the night on the highway, as we don't want to get killed. Luckily for us, we seem to be on a very slight down hill. I turn on the emergency blinkers, and move as far over on the shoulder so we don't get run over by a semi truck going 80 mph. The truck starts rolling a little faster, and a little faster, and five minutes later we roll and make it to the offramp. I am praying we don't get stuck on the offramp, as a car ripping through the offramp will probably hit us, as there is no shoulder. Truck has enough momentum to make it through the offramp, and we blow right through the stop sign, make a right hand turn, and coast ALL THE WAY INTO THE GAS STATION. Awesome. We crack up laughing at our good fortune. Now we also know that the truck + trailer has a minimum of 166 miles on a full tank of gas…..
We make it to the track the next morning. The Phoenix NSXers have about 18 NSXes showup and participating at this track event at Firebird Raceway. I have to say that this is the biggest regional group of NSXs that I know of participating in a track event. Randy did a great job of organizing all of us so the registration and tech inspection went quickly. Unfortunately for Wayne and I, we discover that there is a second track at Firebird, and it is not the one that we had the Bondurant class on. Oh well, so much for an unfair advantage at this event…….Bonehead Racing strikes again.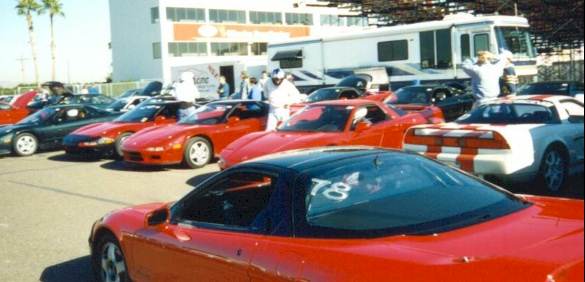 Bunch of NSXs for all ready to play at the track - photo from Brady D.
We signup for all four run groups, meaning the Race Group, Run Group A, Run Group B, and the NSX only run group. We only have from 8:30 a.m. to 12:30 for both of us to learn the track, as the 100 minute enduro was scheduled to start around 1:30 or so.
Dagmar and Pilar take off with the Explorer to go shopping. Unfortunately, they also took the 35mm camera and the digital camera, so we can't take any pictures for the web page. Damn. Bonehead Racing strikes again.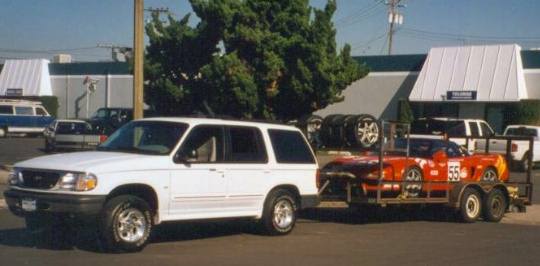 Wayne's new tow vehicle - Ford Explorer
The big competition in the enduro seems to be a group of Vipers, and a group of 3 spec race trucks, a guy in a 944 Turbo, a racing Firebird/Camaro type of car, a guy driving really well in a BMW, and Mike Duncan's NSX. Clearly the fastest car on the track is one of the Vipers. I feel like I am blowing by the slower cars on the half mile long straightaway, but one of the Vipers is zipping by me like I am standing still. During the practice sessions, my driving seems really sloppy. Wayne was able to get behind the fast guy in the 944 Turbo, and proceeds to learn his line, so he starts feeling comfortable with the track.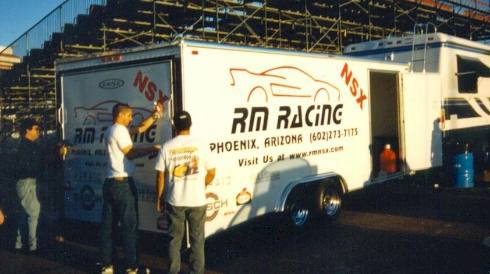 The RM Racing Trailer. A little more classy than ours...... - photo from Brady D.
Since we are running in one run group right after the other in the same trying to learn the track, Wayne and I are horribly unorganized. As soon as one session is over, we are rushing to get the other driver back out on the track, and we are forgetting basic things like checking the camcorder tape, tire pressures, radio checks, etc. They are only allowing passing on the front straightaway for all the run groups except for the race group, so it is hard to get into a good rhythm on the track, since you get bunched up on the other 2/3rds of the track. I am running a second or so slower than Wayne, so we decided to have Wayne qualify the car as he is driving a better line and is a second faster or so. Wayne qualifies us 9th out of 25 cars, which we figure is pretty good, being that we really aren't familiar with the track. In front of us are the racing trucks, the Vipers, the 944 Turbo, and a couple of other cars.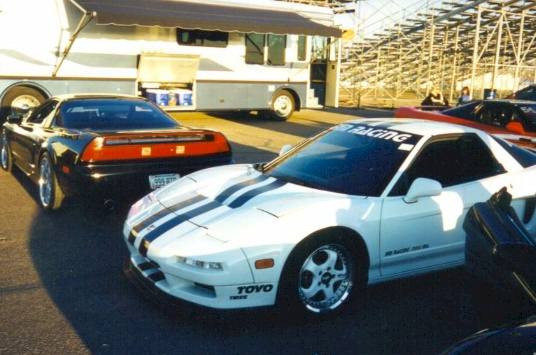 Randy's white NSX. In the background is the Mike Duncan support vehicle - photo from Brady D.
The start is F1 style, meaning we are gridded two abreast by qualifying time. Green flag drops, and I am dogging the BMW in front of me. A blue Viper blows by me. Mike Duncan comes blaring into the first turn very aggressively, and passes at least four cars, including me AND the Blue Viper. Nice driving Mike! Going into turn 1 on the next lap, I pass the Blue Viper just like Mike did on the previous lap.
Best part of the Race for me:
About 13 laps or so later, the Racing Trucks are getting ready to lap me. (the faster Vipers already blew by). A yellow truck launches much better out of the turn before the straight and gets in front of me. I almost run him down the straightaway with the Supercharger and braking later with the Comptech Brembos, but opt to follow his line for a lap to see if I can learn anything. That little bastard truck is kicking ass through the turns, and I can't keep up with him. The truck has slicks, lowered, and stripped down for minimum weight. Going into the straightaway the next time, his buddy in a white racing truck launches past me at the start of the straight. The hell with that, I blow by the white truck a little after the half way point of the straight, and could probably take the yellow truck as well, except he is so much faster in the twisties, I opt again to follow. At the start of the straight on the next lap, the white truck passes me again, but again I blow by him down the straight. Now I am following the yellow truck again, I am getting right on his butt and following his line, and pressuring him a little. I almost get side by side on the twisties, but not quite enough room to pass. I stay right on his butt until the front part of the straight, and again he launches better than me. As I am trying to chase him down, two highly modified Vipers go ripping by us like we are standing still. Next lap, the 944 Turbo(supposedly 400 rear wheel HP) passes me AND the yellow truck. Next lap, a red race truck passes both me and the yellow truck, and the white truck finally gets by me. Some traffic comes up, I lose concentration, and the trucks are now nowhere to be seen. A couple of stripped down BMWs pass me, and now I have to dodge around slower traffic.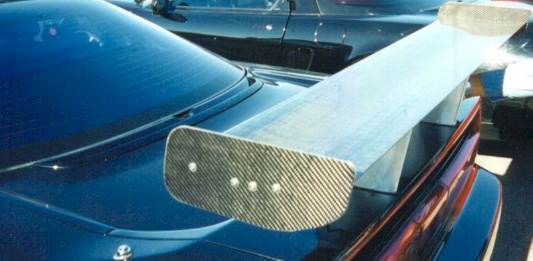 Dale's monster rear wing - photo from Brady D.
After about 45 minutes of mediocre driving on my part, we get ready for a driver change. I bought these new gas cans that have a long tube. We have five minutes to pit. I start to fill up the gas. But the stupid tube is taking way too long. I shoulda took Mark Johnson's lead and use one of the funnels we have, and just take the entire top off the gas can and pour directly into the funnel. In any event, it takes us 6 minutes to fill up with 5 gallons, which is about 3 minutes too long for that quantity of gas. Bonehead Pit Crew. Wayne says we are taking way too long, and he thinks we can just make it on 5 gallons, so we forget the other five gallons we were going to put in. Wayne goes out and does a good job of driving straight over the damn curbing in the twisty sections, no wonder he was faster than me, he was beating the shit out of my car's suspension. This is the line he used from following the guy in the 944 Turbo. With 25 minutes left, Wayne radios me and says, "uh oh…..we only have a quarter tank of gas left. I KNEW we shoulda put five more gallons in. So it looks like for the second time in two days, we are going to run out of gas. We are TOTAL Boneheads. We should drop down a class and race those Big Wheel cars that 3 year old kid down the street drives. Wayne asks me how much time is left in the enduro. I tell him that HE was supposed to keep track of that, because I was driving at the beginning of the race, so I don't know what time they threw the flag. He says that it is on the second stopwatch on the clipboard. Unfortunately….I reset that stopwatch to time some other cars.....Bonehead Support Team strikes again.
So I ask around, and no one in the pits really knows for sure how much time is left. So obviously all the people on the "support teams" in the pits are also Boneheads. Wayne keeps asking me EVERYTIME he passes the pit how much time is left. With about 10 minutes left, we are on "E" on the gas gauge, and are debating if we can squeeze out about 7 more laps or so. If we run out of gas, we finish last. If we pit, we lose another 2-3 minutes, which means we come in close to last. We opt to gamble and try to make it to the end of the race. Wayne tries not to pound on the gas pedal, to ensure he can finish the race. The checker finally comes, and we finish the race without running out of gas or refueling!


Latest set of decals on the car - photo from Brady D.
We stick around for about 3 hours, waiting to find out the results. They did manual scoring again, so it takes a while for them to figure out everything. After waiting three hours, we give up and bail. Coming back to the hotel, I notice an ugly noise coming from the engine compartment. My oil pressure looks good. Noise sounds like metal on metal. I start to sweat…….worrying that we blew up the supercharger, or worse, blew up the recently re-built engine. I ask Wayne if he checked the oil in the car and the supercharger, and he says he thought I did it…..we are like 4 year old kids with Uzi Machine guns. Bonehead Mechanics. We put the car on the trailer, and head out to a nice dinner with the Phoenix folks. I check the video tape of the race, and notice that I didn't have the camcorder on for autoexposure, so the picture is all washed out, as the background is way too bright, and pretty much unusable. Bonehead Photography.
On the way home from Phoenix, we stop at the Indian reservation Cabazon, which has a huge outlet mall. And a big casino. We drop the girls off at the mall, and Wayne and I head over to the casino. We score big time here, Wayne leaving up $250, and me leaving up $950. Hopefully that will pay for the repairs.
We drop the NSX off at Riverside Acura, which is on the way home from the casino.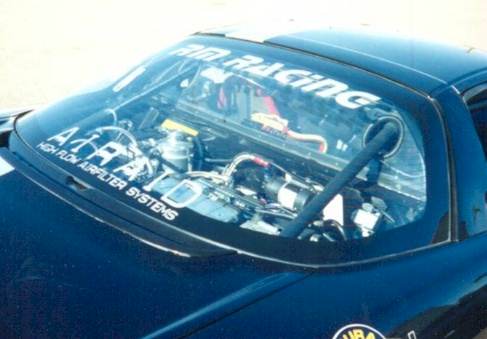 Rear view of Mike Duncan's RM prepared NSX - Photo from Brady D.
The next day, Larry the Mechanic calls back with the diagnosis. He says that there is good news, and bad news. The bad news is that Wayne is my friend. (Larry is always trying to be a comedian). Good news is that the sound is coming from the air conditioner pulley, which is a minor part to replace. (compared to the Supercharger or Engine). Whew….dodged another bullet…..The Bonehead Racing Team makes it through the weekend.
Special thanks to Randy M. and Ken M. for organizing a great event with lots of NSX participation. The Phoenix folks were great hosts, I just wished we had more time to talk to them at the track, but instead we were all wrapped up in getting the car ready for the event.
The new Comptech muffler held up fine, no problems. Supercharger ran great. RM Clutch and light flywheel worked really well also.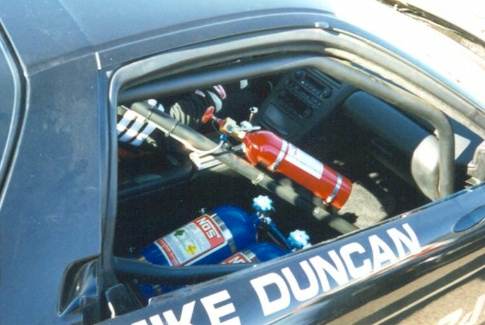 Mike Duncan's NSX gets a little boost from the bottle - Photo from Brady D.
December 3
Official results are in! The Hayashi/Mello team finishes 7th! Mike Duncan in the RM prepared NSX comes in 3rd!
What we learned this time:
GET ORGANIZED. We were a disaster logistically at this event.
Get cameras setup properly. Take pictures of all cars in the event prior to start of event.
Question the other person to make sure we are monitoring oil levels religiously
Question other person to make sure we are checking tire temps
Practice doing a fuel stop and time it
Be scientific, and start calculating our mileage on the track
Make sure we write down the start time of the enduro
Buy a little cart/two wheel thingy to help move gas cans and tires around.
Make sure in advance we know what track we are running on.
EPILOGUE:
I got car dynoed in Huntington Beach. Prior to going to Comptech, it dynoed at 284 rear wheel. After getting the supercharger upgrade(Fuel regulator, chip), Internal Engine Modification (heads, cams, manifold), it is putting out 325 on the same dyno. (Caveat: different days, different temps, also mistakenly had lots of race gas in the car, and dyno guy didn't know how to do the RPM pickup for the dyno sheet. Dynos can also vary a lot…....this was also done with the left over racing gas from the Phoenix event in the tank, I should have used regular pump gas for the dyno, but I Boneheaded again.....)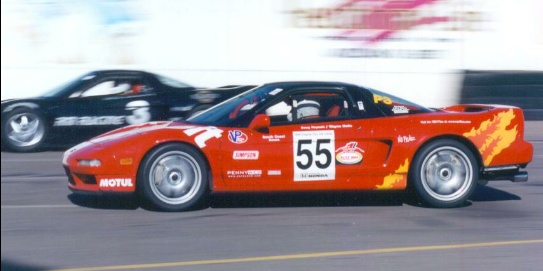 Another great photo from Photography by Aaron 602-430-7576
Final Results
Phoenix ASRA Enduro
| | | | | |
| --- | --- | --- | --- | --- |
| | | Final | Laps | Average |
| Name | | Results | Finished | Speed |
| Darren | Young | 1 | 80 | 76.9855 |
| Bill | Bentzen | 2 | 79 | 75.2643 |
| Mike | Duncan | 3 | 78 | 74.9494 |
| Frank | Parise | 4 | 77 | 74.1123 |
| Emory | Holley | 5 | 77 | 73.431 |
| Andrew | Sanchez | 6 | 76 | 72.8353 |
| Hayashi/Mello | | 7 | 74 | 71.2601 |
| Ritch | Marziale | 8 | 74 | 71.159 |
| Phil | Deangelis | 9 | 74 | 70.4485 |
| Bruce | Kaplan | 10 | 73 | 69.4184 |
| Walter | Harrington | 11 | 72 | 69.3072 |
| Chris | Cervelli | 12 | 72 | 68.9484 |
| Kim | Stewart | 13 | 72 | 68.7648 |
| Bob | Korte | 14 | 70 | 76.1264 |
| Ty | Yap | 15 | 70 | 70.8524 |
| Kent | Hageman | 16 | 68 | 64.8788 |
| Phil | Eglin | 17 | 66 | 63.415 |
| George | Lugo | 18 | 65 | 61.9079 |
| Robert | Hillis | 19 | 56 | 53.5307 |
| John | Barron | 20 | 48 | 67.0347 |
| Scott | Zeller | 21 | 36 | 40.6201 |
| Tony | Estes | 22 | 33 | 77.3659 |
| Mike | Clements | 23 | 33 | 67.192 |
| Rex | Liu | 24 | 29 | 74.6417 |
| Dave | Schotz | 25 | 25 | 83.0841 |
| Kevin | Mcleod | 26 | 21 | 74.496 |
| Eli/Standen | | 27 | 6 | 70.4494 |