Alfa Romeo Time Trials - Las Vegas Motor Speedway, January 25/26, 1997
"Fear and Loathing in Las Vegas"
"If I can win three big hands, I can get back to even" - common quote from every blackjack player.

Monday Night
I try to figure out my tire rotation. Since Wayne seems to be getting faster and faster at each event(I beat him in about 13 events in a row. He has beaten me the last three events.) Jeff is taking his RX-7 for the first time in years, usually he drives his Sports 2000 at SCCA events. Jeff was faster than me by tenths of a second when he was taking his RX-7 to the track, but now I am running much faster than he ever did at Willow Springs. Doug Ota in his pesky M3 is right on my tail. I spotted him 2 seconds the previous two events, and he won both of those. So how should I do my tires? I have only one set of rims. I could drive up on my street tires(A008RS), ship up some of my partially used R1s, switch them in Vegas when I get there. Or, I can order new shaved R1s, shipped them to Vegas, and switch there. Or, I can order new, unshaved R1s, deliver them locally, and drive up, race, and drive back on the same set........Humm.....I have a lot of partially used R1s in my garage that the wife has been extremely patient about: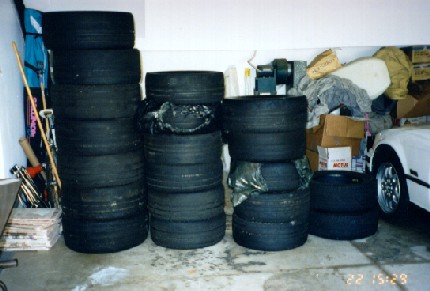 I end up deciding that I will go with new R1 tires shipped locally, and I will drive up, race, and drive back on them. I call 1-800-RACEBFG, and get the tires ordered. Wayne also orders R1 tires. He picks his car up on Wednesday, after getting a new head gasket(he blew it at the last event) and a new racing cam installed.
Thursday night -
Wayne and I blast out to Las Vegas at around 7:00 p.m. from Huntington Beach on Thursday night. We figure we get to Vegas a day early, win tons of money to buy more go-fast car parts, and get a good night's sleep before we get on the track. Wayne again wimps out and takes his 944 Turbo instead of his NSX. There is a little rain the first 30 miles or so, and then it clears up and we are jamming away at triple digit speed through the desert night. We arriving in Las Vegas in about 3 1/2 hours, and park at the Luxor. Last time we were together in Vegas, we stayed at the Luxor, and played a bunch of blackjack, lost, and the Luxor gave us player cards. We used these player cards to get the rooms for $55 night, regularly around $150. We tip the valet $10 to park our cars right in front of the hotel, so we don't have to wait in line we we get ready to take off, and so the valet will keep an eye on our cars so they don't get ripped off. This is Vegas; you can buy anything or do anything in this town provided you have enough cash. And there are lots of people that steal stuff to make sure they have enough cash. We are also on a mission to win big bucks, and we don't want to wait in no stinking valet line for our cars, that would detract from our time at the blackjack tables. We proceed to play black jack, and proceed to get killed at the table to the tune of about two sets of BFG R1 tires. Looks like it is going to be a long weekend.....
Friday Morning -
We wake up, eat breakfast, and promptly win back about 1.75 sets of R1 Tires. We figure that it would be awesome to take a peek at the track, and see what is looks like before anyone else does. We proceed to drive down to the new Las Vegas Speedway. It is next to the older Las Vegas Speedway track, which is 9 turns and pretty flat. The new Speedway looks like fricking Indy from the outside. It is huge, and from the outside the high-banked curves look about 8 stories high. Unfortunately, the security guards won't let us in, so we can only salivate as to what is in store for us tomorrow. The guards tell us that 3 other cars showed up trying to get a sneak peek, but they had to wait until tomorrow also.
We then find another way to experience some speed and high G forces. Take a look at what your body looks like when accelerating to 4gs in 30 feet going straight up.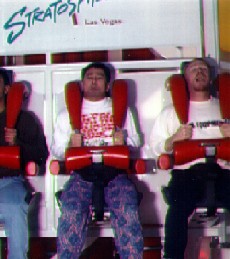 And a peek at what 4gs feels like when going straight down: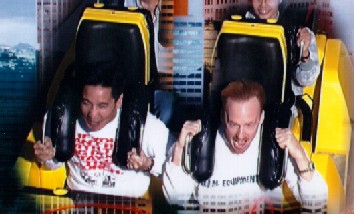 Yeah, I know….we look like Beavis and Butthead….
Friday Night -
The rest of the gang cruises in. Doug O. in his M3, Jeff in his RX-7, and Eugene (Wayne's brother) in his Fiero. Eugene stripped down the Fiero to minimize weight. Unfortunately, it is pretty cold outside, and Eugene also ripped out his passenger windows, so he and Mark froze on the way up to Vegas. Wayne and I proceed to lose another set of R-1s playing blackjack. Talk about crummy luck. We are betting between $10 and $200 a hand. ($10 if we are losing, $200 if we are on a good winning streak) In the meantime, Doug O. is killing the dealer at Sam's Town, winning 1.3 Sets of R1 Tires betting a consistent $25 hand. Me and Wayne are telling him if he increases his bets, he could be up $10,000 with the streak he is on. In two hours, we figure he has won 32+ hands more than the dealers, which is incredible. We urge him to start betting hundreds of dollars at a time to take advantage of this streak. Doug O. looks at us, and says, "yeah, you losers are giving me advice?". I guess he had a point........he goes home with tire money, we go home with no tire money...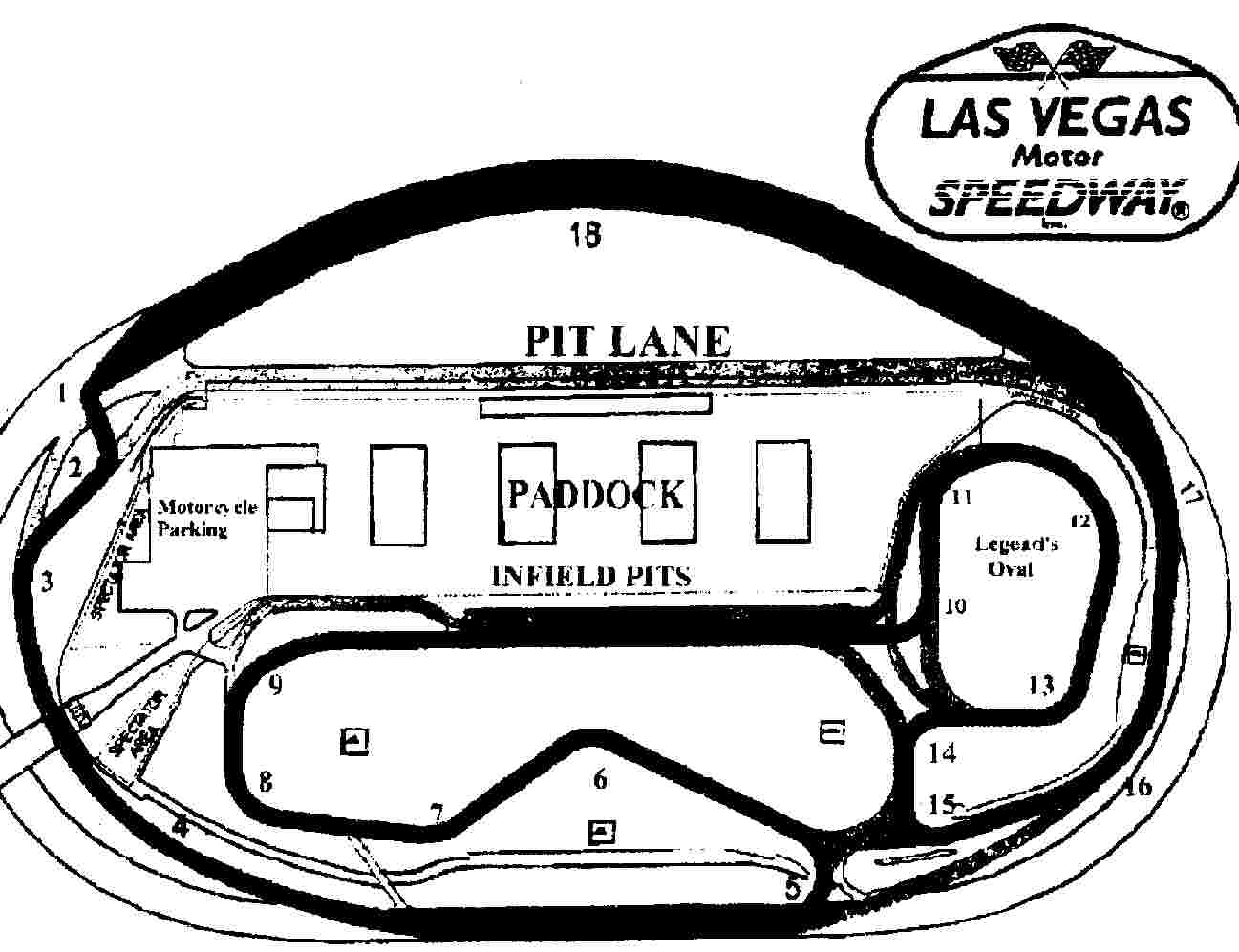 Saturday -
We arrive at the track and are amazed. It is huge, with seats for about 100,000 fans.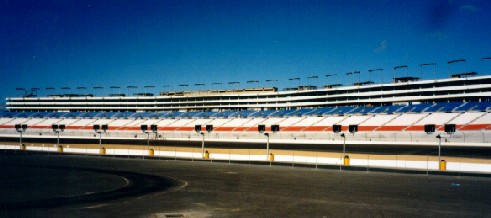 There are a bunch of garages, (none we can use). Everybody is getting psyched up to get on the track, and then disaster strikes right before we go on the track for a lead-follow run to examine the track. It starts to RAIN. Unbelievable. This is like going to play little league baseball at Dodger Stadium, and then it gets rained out. Since there are high banked curves here, and on the road course they have 17 turns, many with concrete embankments, everyone is taking it slow. We are turning times around 2:25 or so. Wayne, Doug O., and myself have these Hot Lap Timer gizmos that display our lap times in our cars everytime we pass the Hot Lap transmitter that is at the start finish line, so we are competing every session to see who gets the fastest time recorded on our Hot Lap Timers.
Then suddenly the rain stops, the wind starts to blow, and the track dries. Now the fun begins. Everyone picks up the pace, and is running around 2:01 around the track, and hitting about 130 at the end of the high bank curve. There are a total of 17 turns on the road course, and we use about 2/3rds of the high bank oval. Wayne in his 944 Turbo seems to be running pretty fast on the track. There are three raced out 911s that are faster, but those cars were trailered in and are not street legal. Brad in his green NSX with Dunlop slicks, and he is running right with us in the pack. People did comment that with the stock springs and shocks on Brad's NSX, his car has LOTS of body roll when going though the tight turns. I get frustrated as everyone seems to pull away from me on the high banked oval, as if they have a lot more power than me. Everyone meaning an RX-7, 944 Turbo, and Brad's NSX.
The surprise in the race group for the day is that Paul's "Dunestang" came in second. There were three Porsche 911 in the race group, all of which were probably more than $100,000. One broke, and Paul made an awesome pass on one of the Porsches and took second place. Can you imagine the feeling of that Porsche driver getting passed by a car that looks like Herman Munster would be driving? Paul built most of this car himself, it looks like a bucket of bolts, but the guy is fast in the race group. Just goes to show you that maybe it ain't true that all you need to go fast is your Gold Card…..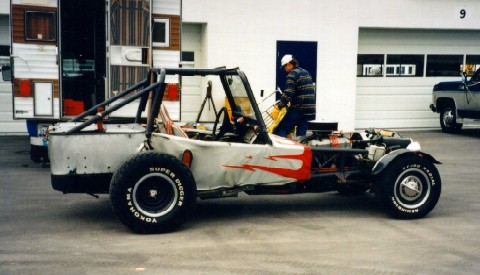 Saturday Night - Wayne and I proceed to lose another 1.5 sets of R1 tires at the blackjack table. Man, talk about getting some bad cards....
Sunday Morning - The sun is shining, the track is fast. I realize that the reason everyone was pulling from me in the straights was due to the fact that I had a passenger in my car each time the previous day, and the other cars were solo. With the NSX brakes working awesome(stock rotors, stock pads), I find out that I can brake much deeper than the RX-7/944/M3s on the track. I watch were they braked, get to that point, count two seconds, and then slam on my brakes. Now, things seem a bit more even. My lines still need to be a little better, but at least now everyone is catchable. By lunch time, I finally get my tire temperatures dialed in for this track (29/32 cold, much higher than my usual 26/28) and my lap times drop to low 1:58. Wayne is ripping off 1:56, and everyone is pissed that he seems to be the fastest out of our group. I figure I still have a good chance of beating Wayne....especially since the pressure will be on him to maintain his fast times. There is a two hour break between the last practice session and the five lap Time Trials, so Wayne and I proceed to go to the Golden Nugget where we agree to play for 30 minutes before heading back to the track. We end up winning 1.5 sets of tires back. What a score!
Sunday Afternoon - Time Trials begin. The 911 racer is pitted 1st, Jeff's RX-7 2nd, Wayne's 944 3rd, me 4th, Brad's NSX 5th, and Doug's M3 6th. The first lap of the time trials I realize my brakes are toast, and I can't stop properly. I botch the three big braking turns by going straight through the cones that indicated the turning area from the Oval down to the road course, and suddenly realize that I can't even pump the brakes to get them back to normal. I promptly get off the course, as I don't want to take a chance in running into a wall or another car due to no brakes. Wayne runs a 1:56.573, and we figure that he is the fastest of our group(with the exception of the raced out 911). Jeff and Doug O. hang around until after race for the results, and it turns out that Jeff in his RX-7 has the second fastest time of the day at 1:55.507, beating out Wayne. Jeff races in the SCCA Sports 2000 class, and was the points leader for last year for this region. We were all dying to kick his ass on the track, but he came through with some good driving when it counted. Wayne is bummed, he thought he was going to be the fastest in our group. Jeff is elated, and rubs it in every time I talked to him this week. I run a 1:59.858, Doug's M3 runs a 1:59.216. Brad runs a 2:00.586, due to having severe braking problems. The raced out 911 ran 1:46 or so. But remember, the 911 was a car with slicks, trailered in, stripped of all weight, huge tires, etc.
| | | | | | | |
| --- | --- | --- | --- | --- | --- | --- |
| Class M Finish | Driver | Car | Lap 1 | Lap 2 | Lap 3 | Lap 4 |
| 1 | Wayne Mello | 944 Turbo | 1:56.573 | 2:06.437 | 2:01.157 | 2:12:829 |
| 2 | Matt Mullen | Corvette | 2:03.931 | 1:57.024 | | |
| 3 | Rick Doria | Corvette | 2:01.091 | 1:59.798 | 1:58.165 | |
| 4 | Gary Stern | Camaro Z28 | 1:59.157 | 1:58.389 | 1:59.123 | 2:10.586 |
| 5 | Doug Hayashi | NSX | 1:59.858 | 2:00.794 | | |
| etc | | | | | | |
| | | | | | | |
| --- | --- | --- | --- | --- | --- | --- |
| Class N Finish | Driver | Car | Lap 1 | Lap 2 | Lap 3 | Lap 4 |
| 1 | Jeff Littrell | RX-7 | 1:56.144 | 1:55.951 | 1:55.507 | 1:55.616 |
| 2 | John Hammack | BMW M3 | 1:59.225 | 1:58.487 | 2:16.636 | 1:59.066 |
| 3 | Joe DeAnelis | 280Z | 2:01.682 | 1:59.687 | 1:58.745 | 1:59.508 |
| 4 | Doug Ota | BMW M3 | 2:00.084 | 1:59.687 | 1:59.216 | 1:59.503 |
| 5 | Brad Smith | NSX | 2:02.834 | 2:02.676 | 2:01.834 | 2:00.586 |
| etc | | | | | | |
Below are the top 3 finishers, and my car which was way behind them this weekend. I find out that my rear brake pad is down to the metal, and looks like I will have to replace a rotor, or at least get it turned. But I have some tricks up my sleeve for the next event March 1st and 2nd at ButtonWillow Raceway......and Brad Smith and I plan on kicking some butt on those RX-7/Porsche/M3 drivers!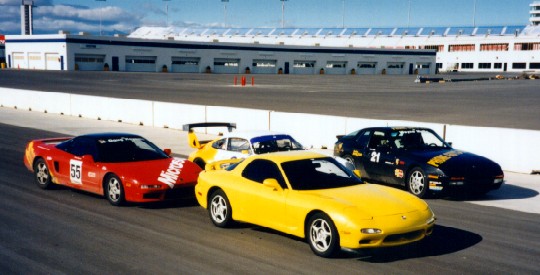 The Casualty Report:
Ferrari Testarossa - gets two wheels off on the grass, spins, and hits the front and the rear of his car against a concrete embankment. Probably totaled, since the frame seemed so bent that his rear window also shattered from the twisting impact. Bummer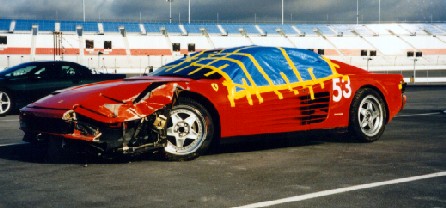 Corvette ZR-1 - apparently gets two wheels off on the grass on the part of the track leading from the road course to the high bank oval, and spins up the track into the high banked wall. Probably totaled, as this frame also looked bent.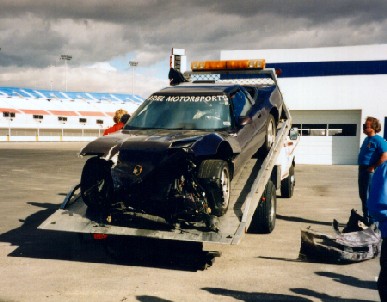 My NSX - burned out rear brake pads, so I had metal rubbing on my rear passenger rotor. So I will have to get that rotor turned or replace.
Brad's NSX - probably boiled the fluid, he also lost braking power.
Toyota Supra Turbo - cracked one of his new slotted rotors. Looks like he will be going back to stock rotors.
Corvette ZR-1 - manifold leak, appears to be losing lots of coolant that just disappears without any visible leaks.
Camero Z28 - This car was green. With flames. Only problem was that the flames on this car were real. Apparently the driver had his fuel injectors serviced earlier in the week. And then on the straightaway there must have been a leak. Eugene was driving next to him in his Fiero, trying to wave to him to say that his car is on fire. Bummer, got no pictures of this, that would have been cool.
Sunday night -
We stop at Whiskey Pete's (at the stateline border), and make an attempt to win big bucks in 30 minutes before we rush home. I win 3 R1 Tires, Wayne loses 2 R1 tires. We both go home losers to the tune of about 8 Tires between us. We figure if we could have each won 3 more big hands, we could have gone home winners at the table instead of losers. ONLY THREE MORE HANDS........
Going home Sunday night it starts to rain about 60 miles from home. Unfortunately, I shredded my new R1 tires down to full slicks, so I am driving home in the rain going 35 mph on the freeway with my emergency blinkers on. Wayne and Eugene are covering my front and back, as the car feels like it is going to spinout on the freeway. One mini van loses it in front of us and spins off the road, causing about 6 other cars to swerve and barely miss the van. I give up, and take side streets home the rest the last 30 miles, as I don't want to be the cause of an 18 car wreck on the freeway.
My Evaluation of the Track -
Very challenging. High bank oval is neat, however, don't hit that wall. Very hard on brakes, there are three places where you are going between 100-135 mph, and have to slow down very quickly to make the next turn. Overall, I would say my second favorite track next to Laguna Seca.

What I would do differently:
Replace all brake pads with complete new pads before the next event. Use different mechanic next time.
Perhaps have the R1 tires shipped to Vegas, and put them on there, instead of driving up with them. That way I wouldn't endanger myself and other people incase it rains on the way home.
Review my video tape on Saturday night of the day's laps, instead of playing blackjack at the tables until midnight. Looking back at the video tape when I got home, I could have definitely improved my lap times. I KNOW I coulda beat Jeff and Wayne......I haven't won a fricking event since last February!!