And Now Let Us Praise A Great Man
Paul Mumford 1971-2003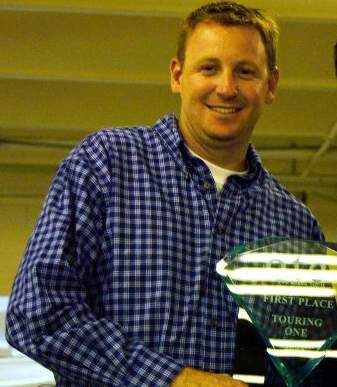 Fast. Friendly. Helpful. Humble. Funny. Best of the Best.
I was hoping to make Chapter 100 of the NSX-Files to be one of the best stories to celebrate making it to 100 chapters of racing stories. Instead, it will be one of the most tragic stories you will ever read. The purpose of this chapter is tip our hats to Paul Mumford, arguably the fastest amateur club road racer/hobbyist in a closed wheel sedan car, and all around good guy, who died in a plane crash with a friend after his Piper Saratoga plane caught fire. He recently made his professional racing debut.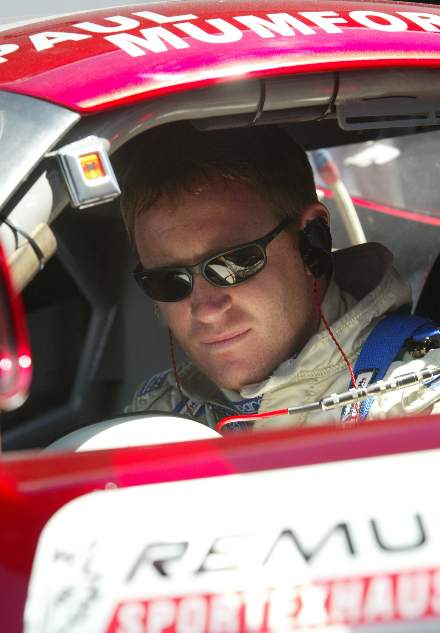 Mumford ready to duke it out - Photo by Peter Brock
I am not lucky enough to say I was a close friend of Mumford's, meaning we didn't socialize much outside of the the racing events. But when Wayne and I did see him at the track, competing directly against him at the Open Track Challenge or other track events, he was always an extremely friendly, helpful, humorous person to be with. A true embodiment of the Gentleman Racer. People like Paul are reasons why we like to go to the race track, just so we can compete against him and fun with people like him.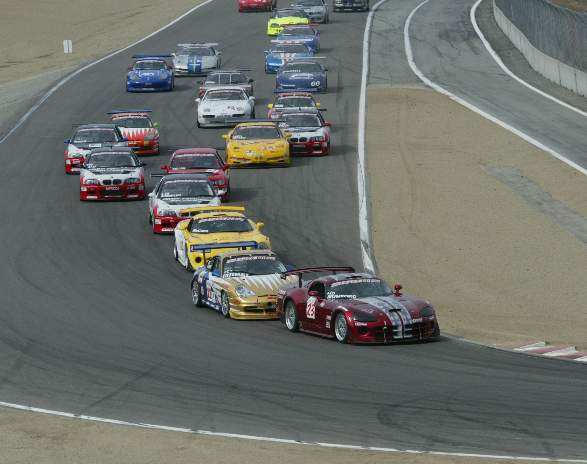 Going into Turn 2 at the start at Laguna - Photo by Peter Brock
I am sure there is much more to know about Mumford that what I have here in this chapter, and many more good things about what a great person he is. The following is what Wayne and I know about him from our limited experience of hanging out at the track with him: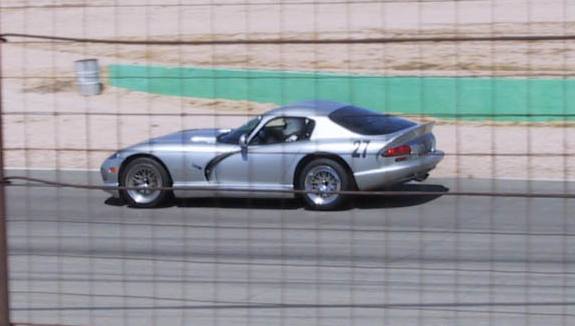 Mumford's debut in the NSX-Files
Mumford's first appearance on this webpage was back around Sept 2000, Chapter 55, at a Touring Car Racing Association event. Wayne and I didn't know his name at the time, but he took first place, destroying about 28 cars in the race group with his street Viper. We suddenly realized that we had to up our game by 3 seconds a lap to come even close to him.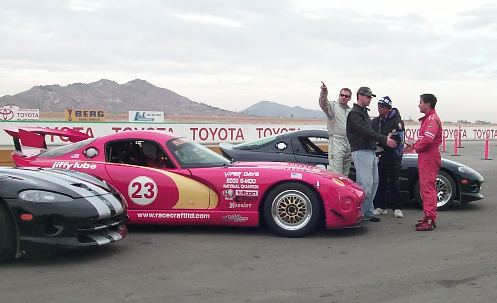 Mumford on pole, pointing us to grid behind his Viper ACR
He makes another appearance in Chapter 74, crushing us all into the ground again. We decide that it must not be us, it must be that our suspensions sucks. Especially after I saw how nicely Mumford's car stuck to the ground in Turn 2 at Willow. Wayne and I find out that some guy named Erik Messley is setting up Paul's suspension, so we hire Erik to help us out and make us fast. Erik helps us out tremendously.....we learn that racing isn't just about horsepower and big balls, but it requires talent and suspension as the main two pieces, then add horsepower and balls. Despite learning what it really requires to be fast, Mumford is still kicking our ass left and right.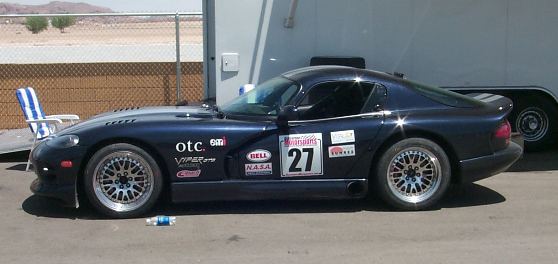 Mumford's Viper ACR from OTC 2002
At the Open Track Challenge (7 Tracks in 7 Days) in 2002, the Mumford/BP team takes 1st in Touring Class, and takes 2nd place overall, using STREET TIRES against all of us Unlimited class drivers using race tires! Mumford wins the Top Gun Award for the person who embodies the spirit of the event.
Mumford makes another impromptu appearance in Chapter 88, spanking people with his S2000.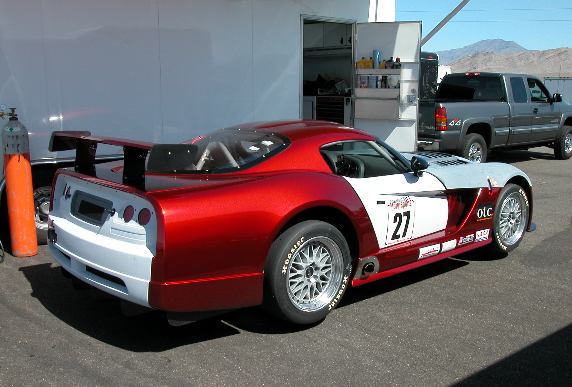 Mumford's Comp Coupe, right from the factory, with primer still on the panels
At the Open Track Challenge in 2003(7 Tracks in 7 days), the Mumford/BP team take 2nd place overall again, barely losing only to a Radical CSR coupe, which arguably is in a totally different class compared to his Viper. Paul also wins the Top Gun Award for a second consecutive year.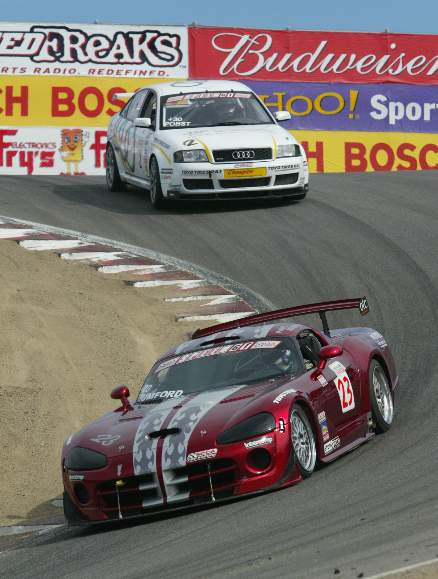 Mumford in front of Pobst - Photo by Peter Brock
At this point, Wayne and I figure we are now about 0-17 against Mumford in track events. Wayne and I are so competitive we don't EVER go O-Fer Anything if at all possible. Worse yet for us, now Mumford is getting even faster each event, upping the bar for all of us club racers another three notches. We have never seen him spin out on the track or put a wheel into the dirt in 17 events. Despite his very laid back demeanor, he was a fiercely competitive individual, and enjoyed nothing more than to make a victory appear effortless to those less familiar with him.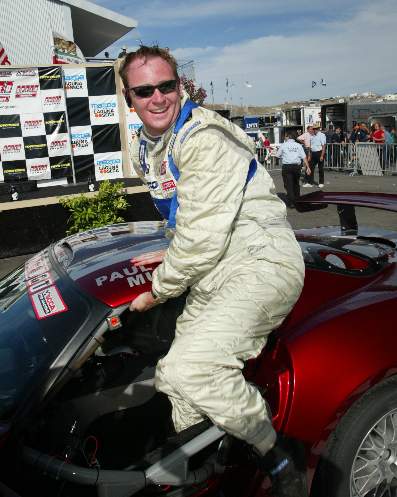 Mumford right after winning the Laguna Race
I never saw him race in the Viper Racing league, but rumor has it he was spanking people left and right, even trailering his Viper to the mid west and east coast to whup on people on their home tracks. Everyone else was pretty much fighting for 2nd place whenever Mumford was entered in the race.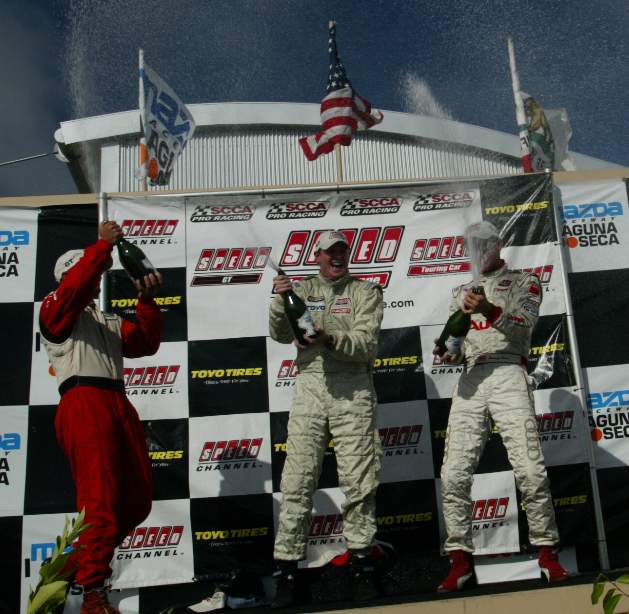 Champagne Celebration on the podium with Pobst and Auberlen - Photo by Peter Brock

He went to Road America for his first professional race with the World Challenge guys, and during practice, was running in the top 5. Unfortunately, during qualifying, he ran out of gas and qualified 23rd. Despite that, he ended up 3rd in the final race, passing 20+ pro drivers!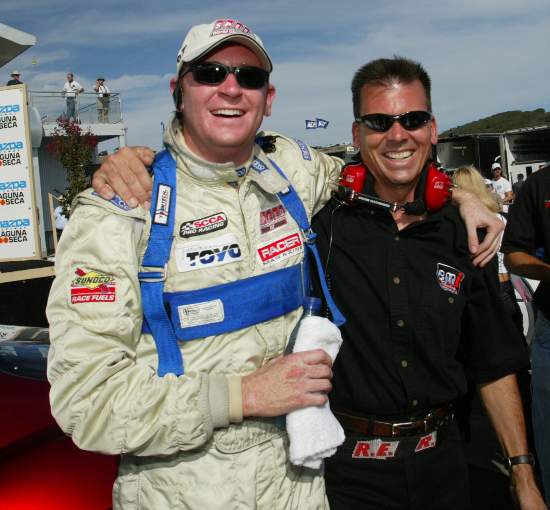 Mumford with his one man pit crew - Photo by Peter Brock
Next up, was the Laguna Seca World Challenge race. Messley is now put in charge of car setup and race strategy. Mumford qualifies 3rd against a field that includes five (5!) BMW PTG factory race cars, and two Audi factory race cars, and another 16 or so pro teams. BMW probably has 30+ guys in uniforms helping their factory cars and drivers. Audi has a ton of people. Mumford.......he has only Messley doing car setup, suspension tuning, truck driver, tire changer, race strategist, spotter, etc. Going into the hot pit while the cars are gridding, the factory teams are towing in mini-trailers of tire racks, big tools chests, laptop computers, etc. Erik has a little kid's wagon, and brings only a tire gauge, a rachet and some sockets, duct tape, some water, and a two-way radio. People are laughing at Erik, and Erik just says, "When you are prepared for the race, you don't need to bring a lot of shit to the hot pit". In the race, Mumford dukes it out wheel-to-wheel with professionals like Auberlen, Pobst, Galati, etc., and ends up taking 1st place against the big boys! He wins the race, despite it being only his second pro race ever!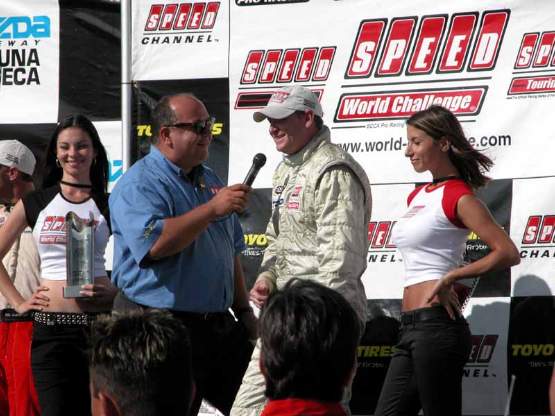 TV Interview after taking first place at Laguna - (photo by Davepk)
Next up was gonna be Road Atlanta. Now the club racer scene is buzzing about how Mumford is gonna kick ass in his next pro race. Mumford becomes "our guy", meaning "our hero". After all, Mumford is one of us, meaning a track guy that does this for fun, and has a real job on the side. He races with us, hangs out with us at the track, does friendly smack talking on the bbs boards with us.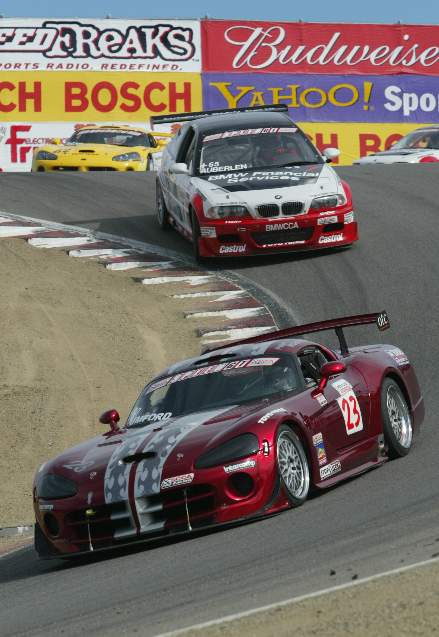 Mumford in front of Auberlen - Photo by Peter Brock
Messley is doing car setup again for this race. Wayne was going to fly up and help out, and stop by Graceland on the way home. I tell the wife that if I had the time, I should do a documentary video of this next race, showing how Erik is prepping the car at his shop, the one man pit crew at the track against the well funded teams, and show Mumford winning the race. It could be a best seller! A bunch of local Viper guys (Dearing, Wasserman, etc) were flying out to also help out our hero. BP/Messley are acting like Jerry McGuire, talking to sponsors on Paul's behalf. And then the plane catches fire and crashes, he and his friend Chris do not survive the crash.

[Update: October 4th: The initial eyewitness reports concerning the crash appear to be wrong. The FAA report will be out later, but it seems like the plane was descending at a high rate of speed, almost straight down. They would not have survived the initial impact.]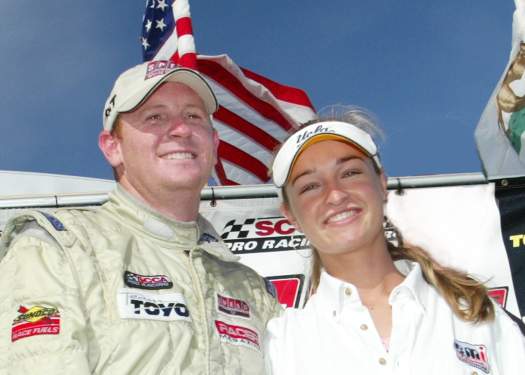 Mumford and Bridget - Photo by Peter Brock
Paul will be missed, both on and off the race track. Wayne tried to work out at the gym this morning, but couldn't do it due to mourning over Paul. A guy at the gym advised Wayne, "Think of it as Paul is on vacation somewhere, and eventually you will meet him again". If that is the case, next time we meet, be ready for us, keep your foot flat out on the floor, as me and Wayne are intent on breaking our 0-17 streak against you!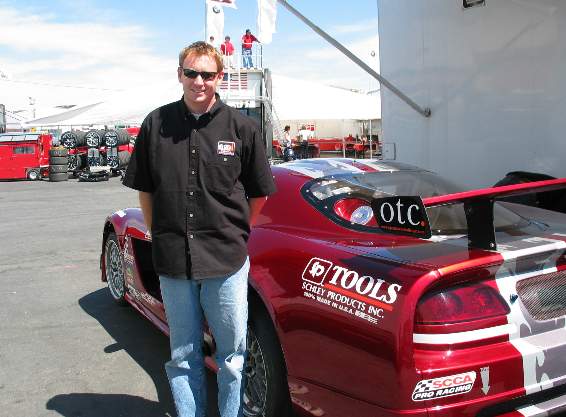 Paul Mumford 1971-2003. He will be missed by all. - (photo by Davepk)
Our condolences to his close friends, his family, his girl friend Bridget, and Chris's close friends and family.