ProKart Challenge Season Opener at Moran - January 6, 2007
The Making of a Champion
The Toughest Stock Honda Grid in the World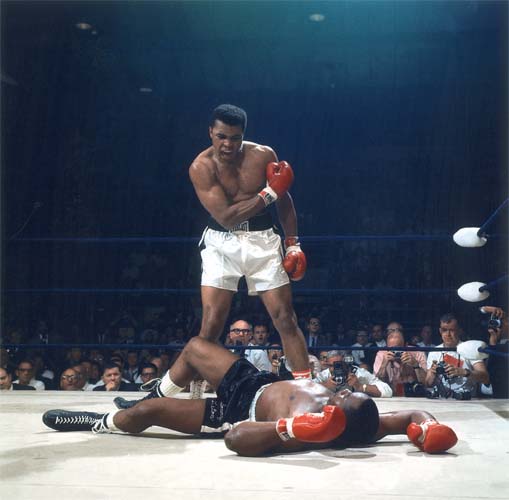 Ali puts Sonny Liston on the mat, securing the World Heavyweight Title
Yeah, I know I was going to have an end of year update. But Wayne got me Guitar Hero for a Christmas gift, and I got hooked on it. Whoever designed that game should get Time Magazine's Person(s) of the Year. I haven't really played any computer games since I mastered the Defender/StarGate arcade games 26 years ago, but this Guitar Hero gizmo got the wife and I hooked. I did not own a Playstation or Xbox prior to this. Wayne had to buy me a PS2 so I could play the game. The wife never plays any computer games until she touched Guitar Hero. Now I have to yank the guitar out of her hand so I can play. We ended up picking up another wireless guitar so we can play against each other, or play lead and rhythm guitar at the same time.
Anyways, this is what has happened over the past couple of months since the SuperNationals, as well as an update from Race #1 of the ProKart Challenge. We were scrambling at the first PKC race, so I didn't get a lot of pictures at the event. But I did take pictures at the big Global Motorsports Group grand opening, so I'll use those as my filler pictures for this chapter.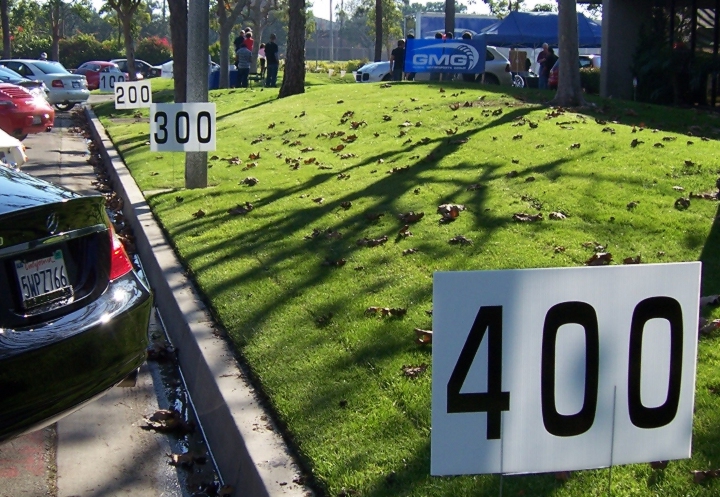 Brake markers delineate how far to the entrance of the GMG grand opening
Late November, 2006
I sold my old 2005 Tony Kart chassis to Messley, who plans on running some of the PKC events. He's probably figuring if those Pulp Racing clowns can do that well at the Supernats, he should be able to dominate. He orders a Darcy stock Honda motor, and he hopes to be out there on the track by February. Messley is moving his shop to a new location in January, so he'll be pretty busy until he gets the new shop setup.
Saturday, November 25, 2006
Okay, it's time to start gearing up for the 2007 ProKart Challenge Series. The season opener is at Moran Raceway. Moran is only open for a half day open practice session this Saturday, from 1 p.m. to 5 p.m. We decide to get a half day practice in. It's a disaster. Doing any type of testing with just a half day practice can't be done. Jeff takes his older Tony/Vortex ICC kart to the track, and spends most of the time wrenching on it. His Honda motor is still at Darcy's, getting checked/refreshed as he ingested a needle clip like I did on the first day of practice in Vegas. During tech at the SuperNats, they tore his motor apart to see if he was doing any cheating, so Jeff just figured have Darcy check it out and put the whole thing back together. Jeff passed tech without any problems, but now has to piece his motor back together.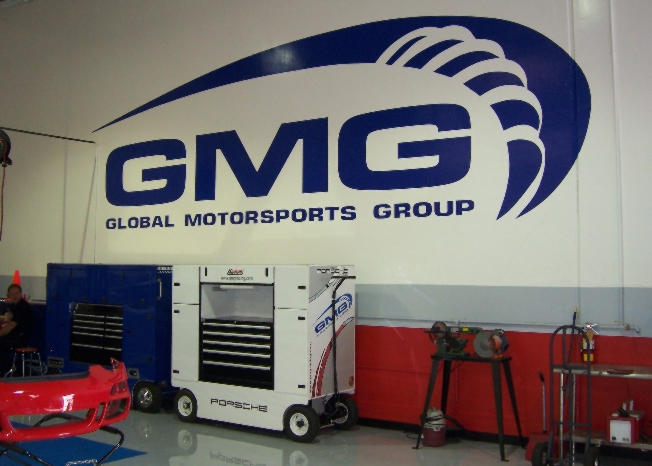 GMG goes big. Really big in their new 15,000 square foot building
December 1, 2006
Baby Reid is born! Wayne and Amy are proud parents for a second time. They say they want to have more kids.....yeah right....wait till they start chasing two kids around!
Jeff and I decide that for the 2007 PKC season, our Cheating Bastard strategy will be to run two classes. We'll run S3 Light (Stock Honda), and G1(Over 35 years old, ICC/Built moto) with our old karts. We'll be like the rest of the Cheating Bastards that run two classes at the PKC/SuperNationals events. We'll get double the track time, without having to be away from the family for another day. It will also help build up our conditioning. Damn, I'm a moron for selling my old chassis to Messley, I could have used it for this plan. I still have that old 2001 Tony Mitox chassis lying around with an old 2001 Vortex motor. This is the kart that Trumpio ran a few times last year at the PKC events. I could fix/clean up the kart, and possibly run that in the G1 class. Wayne's complaining that he has a tighter budget this year, and is worried about his karting expenses. But on the other hand, Wayne is probably the only person in the USA who has two Tony Kryptons with stock Honda motors on both of them. I told him he was crazy for building up his old kart, as that quickly doubles the expenses for stuff like an extra motor, motor mount, pipe, silencer, clutch cable, radiator, hoses, etc. He's convinced that we need a full backup kart (call it the T-Kart) just incase of catastrophic failure on a race day.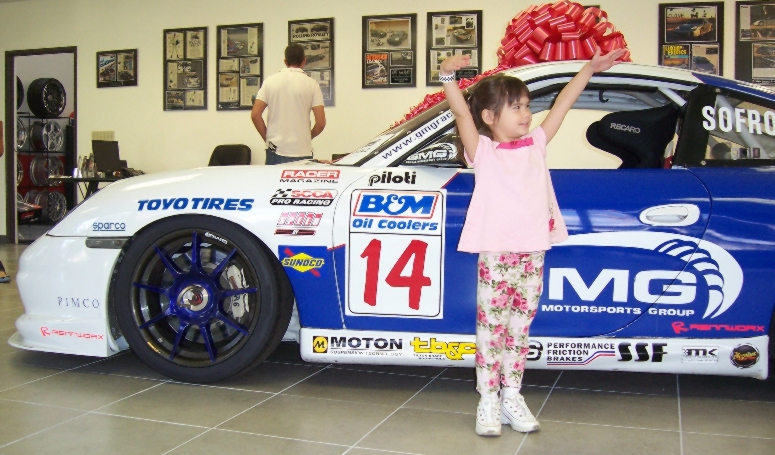 Kayla wants the Sofronas World Challenge GT racecar for her Xmas present
Friday, December 8, 2006
We go for a full day practice session at Moran. There are about 20 people here today. Sunny, but cool conditions, and the track seems fast. I take the old Vortex kart out and run 1:07's-1:08's in it. The old kart needs some work. Make that a lot of work. I bleed the brakes, but then I forget to put the locking clip back on the brake pedal bolt. Sailing through the Bus Stop at about 45 mph, the brake pedal bolt comes off, and I go sailing off into the dirt with no brakes, bouncing up and down like I'm doing the Darkar Rally. Doh! Kart looks like it fell into a vat of powdered dirt. I guess I'll have to clean that up later. Bobby Legate runs a high 1:04.64 in his new CRG/Stock Honda. I switch over to the Honda and run a 1:04.61. Nice! I'm The King at the moment. However, Legate throws down a 1.04:4x in response. Damn! Jeff re-counters with 1:04.1x. Damn again! Screw this. I put on a set of new practice MG Yellow MZ tires, as I want to see if my kart is going to hop from too much grip on the spec PKC tires. We've been running the SuperNat spec FZ compound the past couple of months. On my last session of the day, I run a 1:03.84. Yeah baby! I break into the 1:03's!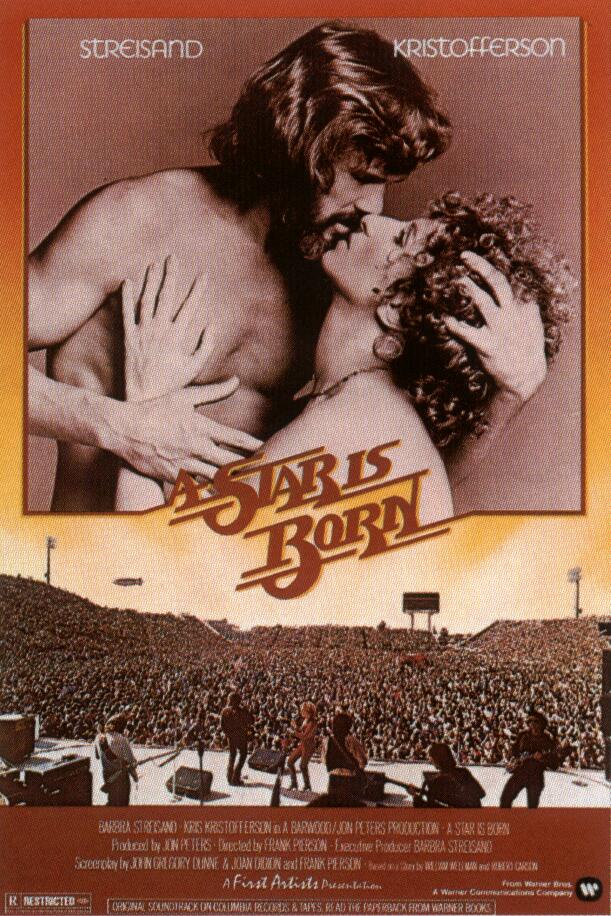 1:03.84? Could it possibly mean......hummm.....
I check all the laptimes from the PKC races at Moran over the past couple of years, and only Halen has run a faster "published" time, with a 1:03.72 at last year's Moran race. I'm only .12 seconds off the "track record" for a stock Honda. It's a beautiful day! I strut around the rest of December knowing that I made it into the 1:03's. The only other Stock Honda driver that I know of that got into the 1:03's is Greg Smith, who did it in two practice sessions in 2003 (1:03.9x) and 2005 (1:03.8x) with his GP/Stock Honda. He was 60 years old and a grandfather at the time, and was arguably the fastest Stock Honda guy at Moran until Halen threw down his 1:03.7x last year. We need to get Greg out of the PKC timing and scoring tower, and back on the track. He's the only guy that I know who could take pole in qualifying, and then proclaim that he is older than the combined age of the three fastest young guys in Stock Honda Light. (Connor, Halen, and Bobby Legate). Wayne, Jeff, and I are older than any two of those young guys put together.
I have a revelation that in addition to the helmet camera, I need a rearward facing camera that I'll call the Loser Cam, so I can videotape all the people behind me trying to catch me and my 1:03's. Ha ha. I'll use my Canopus DVRex editing software to create picture-in-picture videos, with the rear facing view in the bottom left corner.
Jeff and I both spent a lot of time wrenching on the old karts and the new karts, and we come to the realization that we don't have enough resources to run two classes at a race. We would each need a full time kart mechanic to keep both karts running in tip top shape. So now our new plan is run the old Tony/Vortex kart 60% of the time in practice, and run the new Tony/Honda 40% of the time in practice. That way, we keep miles/wear and tear off the newer Tony Kart Krypton/Honda chassis, and we can save the kart for the PKC race day.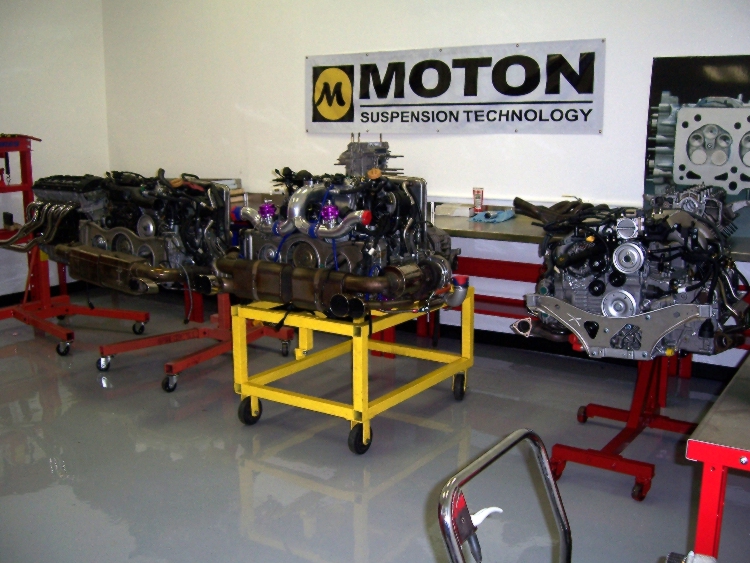 They have a separate room for building engines and transmissions
Back at the house, I start going down the rathole of starting to clean off the dirt and grease off the Mitox/Vortex chassis. I then decide to take off the brake calipers and clean them off. Wayne convinces me to just say, "Screw it", and take ALL the components off, put them in a parts washer, and get the frame re-powdercoated. Wayne says he'll trade some phones to a local powdercoater, and it will be relatively cheap. I put a new piston in the motor, new fuel lines, blah blah blah, and I go into the same rathole that Wayne did with his dual kart setup. I realize I should put a new seat in, so I put the same seat in that I have in my stock Honda kart. I'll consider it my winter project. Screw buying Xmas gifts and sending out Xmas cards. I got a kart to rebuild.
Saturday, December 9, 2006
James Sofronas and Fabryce Kutyba has a new grand opening for Global Motorsports Group. James, Fabryce, and company moved to a beautiful new location with 15,000 square feet to work on go-fast cars. It's a great looking place. They have about 12 guys working there now, and will be using state of the art equipment like Porsche Laser Alignment machines that scan, scale, align, and corner balance at the same time. James asked if Wayne and I could bring the F-cars over as "show cars" for their grand opening. They had about 80 "show cars" there, but my F355 was elevated to the highest level among these exotic cars. Meaning it looked like this: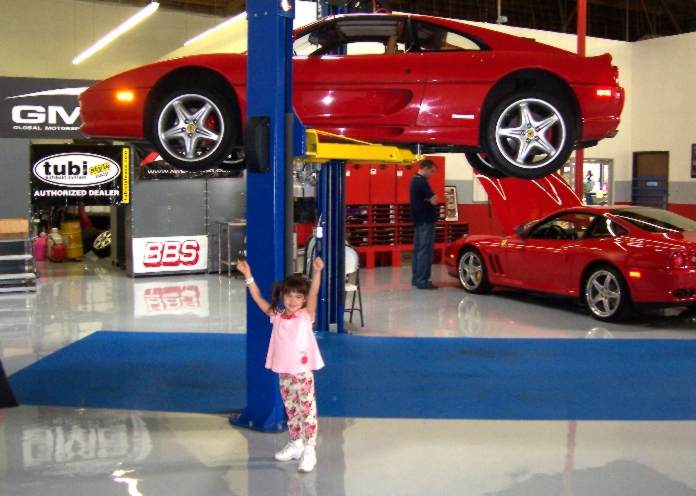 The 355 GTS ends the year as it began.....on a lift
While it was there, I told them when things slow down to give me an estimate on fixing the tranny leak and the oil leak that I have going on. The car is running strong, but when I park it in the garage, it is making the usual small puddles of fluid on the ground.
The GMG Transporter rig is about four times the size of the Pulp Racing trailer. You'll probably see Sofronas on TV in the Speed World Challenge GT races and/or some other big boy racing series. Root for him and his crew!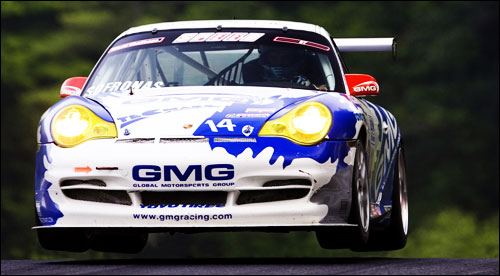 Kart racing expensive? Try building and racing this Porsche in Speed GT
December 11, 2006
SuperKartsUSA puts out the Pulp Racing press release that was drafted by Jeff. It states:

===========
December 11th, 2006 - Pulp Racing Drivers Dominate SuperNats X S4 Class
LAS VEGAS, NV, NOVEMBER 13, 2006: Pulp Racing drivers, Doug Hayashi, Jeff Littrell, and Wayne Mello put on a strong showing throughout the Superkarts USA (SKUSA) SuperNationals X, with Littrell crowned as the Spec Honda Heavy (S4) class National Champion at Sam Boyd Stadium in Las Vegas on Sunday, November 13th after his dominating win in the Main Event.
The Pulp Racing team contested the highly popular and growing Spec Honda Heavy class, filled with 35 entrants from around the country. To quote Jeff Franz of KartSport Magazine:
"The SKUSA SuperNationals is quite simply the biggest and most prestigious event in North American karting. Since its inception in 1997, this race has always drawn the absolute finest talent from across the continent. It has become an end-of-season Las Vegas tradition, as 300 drivers make the pilgrimage to Sin City to close out a year of racing. […]the SuperNationals is the Indianapolis 500 of karting. There is no other North American event that even comes close."
With Tony Kart Krypton/KR chassis from 2Wild Karting and engines from Darcy DeCoste Racing, the three drivers from Pulp Racing were fast right out of the trailer. Littrell and Hayashi topped the time sheets in Thursday practice and Friday warm-up. In Friday's qualifying session, Littrell qualified on pole, Hayashi 6th, and Mello 10th
Littrell dominated the Heat Races from pole, winning two of the three, setting fast lap in every race, and earning pole position for the Main Event. Hayashi's solid 5th, 9th, and 7th place finishes in the heats put him 6th on the grid for the Main Event, with Mello behind him in 8th
The Main Event was textbook perfect for Littrell, leading from green to checkered and setting fast lap in the process. Hayashi had a shot at the podium but suffered a heartbreaking carburetor failure. Mello fought hard for a 5th place finish, and the last podium position. Full results are available at MyLaps.Com. On the podium after his win, Littrell was quoted as saying "I want to thank 2Wild, DDR, and my wife Sunni for their support but I really want to acknowledge the Pulp Racing crew for providing friendship and logistical support all year around. Pulp Racing makes karting fun."
Pulp Racing is now looking forward to another year of hardcore karting in the 2007 SKUSA ProKart Challenge Series, kicking off at Moran Raceway on January 6th.
Thursday, December 21, 2006
I pick up three seats (Tony Kart size 2) from 2WildKarting. Those guys are probably wondering what the hell we are doing with all these seats. Wayne switches from Tillet to a Tony seat, on the theory that the Tillet seat was too stiff. With him using the Tony seat, we should be able to set our karts up identical, as he is about a half second off pace of me and Jeff, which is unusual. I need to put a new seat on my old kart, as the seat was destroyed from wear and tear. I also have to replace the seat on my new kart, as it is scraping a lot and was cracking due to all the weight put on it for the SuperNats.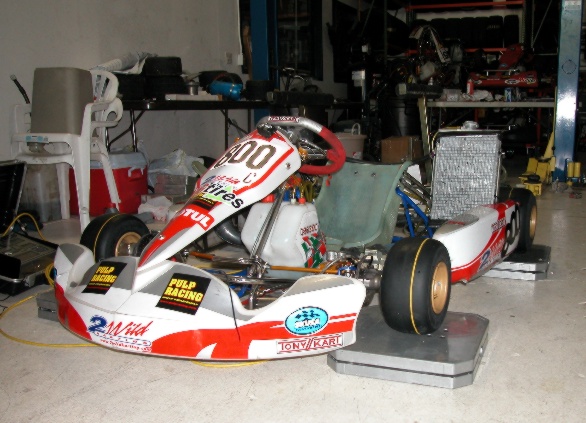 New seat, rescaling Wayne's kart for the new season
Friday, December 22, 2006
We go out for another practice day. Unfortunately, too damn windy today, lots of dust on the track. We won't be beating Halen's track record today. I take the newly rebuilt Tony Mitox/Vortex kart out on the track six times, but I can't complete one lap under full power. Kart motor is sputtering, won't rev above 11,500. It should rev to about 14,000. I change jets from 155-160-162-165-168-170-175-180-185 while it is on the kart stand, and try to rev it on the stand. No luck. I take out the sponge air filter out of the airbox, and it seems to run a little better. So I change jets again trying to find that magic ffing jet that will make an Italian purpose built karting motor work. 155-160-162-165-168-170-175-180-185. No luck. I now remember why I hate Italian motors with Dellorto carbs. The Honda/Keihin is so much easier to tune, as you can be off quite a few jet sizes and the motor will still run okay. Jeff says put the old fuel pump back on, as I put a new, smaller, "Dellorto specific" fuel pump on. Some mentioned that you rebuild or replace your fuel pump every six month or so, this kart had the same fuel pump for six year. I put the old pump on, and suddenly the motor comes to life, revs to 14,000. DAMN! It was the stupid new fuel pump. By now, it's 5:00 p.m., too late to take it out on the track. Oh well, next time. Jeff is the King today, running a 1:04.9x. I'm at 1:05.1x.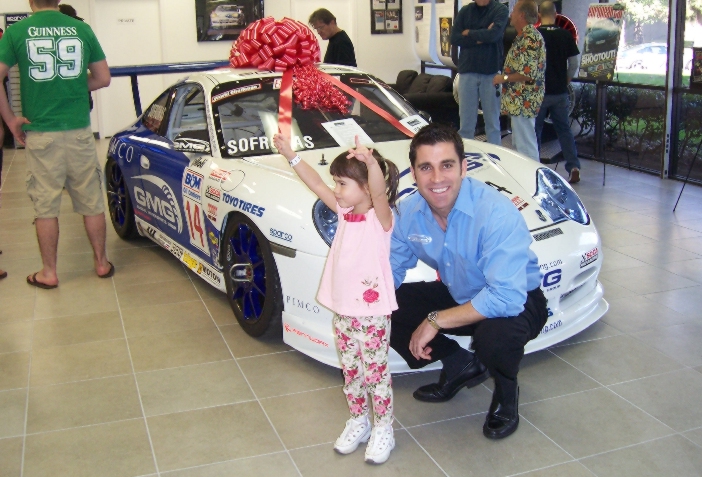 James Sofronas, World Challenge GT Driver
Friday December 29, 2006
We were hoping for maybe about 14 people at the track today. If you have less than 10 people, you can't get all the dust off the track and lay some rubber down. Too many people, they have to break it out into run groups, and there is too much traffic to get a decent lap. Everybody is out practicing today. About 105 karts are here for open practice! It looks like a damn race day there are so many people. They break it up into four run groups. I take the Mitox/Vortex kart out, and it is running halfway decent. Still off on the jet or emulsion tube or needle, but I can run high 1:07's with it, which is good for some conditioning. Second time out with it, I lose a chain on the track, and have to be put on the ATV trailer and towed in by Rocky Moran Jr. I put another chain on. Jeff got me this cool pliers designed to easily pop on the master link thingy on the chain. One side of the pliers is a little longer than the other, to make it easy to slide the master link clip on. I go out, run about four laps, and the ffing chain comes off again. Rocky Moran Jr. tows me in again. I stop by 2Wild trailer, and they said that it looks like the plastic chain protector is too close to the chain, possibly hitting the master link under load and popping it off. Jeff put that plastic piece on for me. It's his damn fault, I'll blame him. In disgust at my mechanical ineptitude, I put the Vortex kart away and I take the Honda kart out in the next session, AND I LOSE ANOTHER FFING CHAIN. Rocky tows me in for a third time, and I have to explain to him, "Uhh....I lost another chain." Rhod from 2Wild calls his partner Wayne Kimball at the track, saying that "Hayashi picked up 3 chains the other day, but I need one for a customer tomorrow, can you grab a chain back from him". Kimball says, "Uhhhh....not a good time to ask Doug about chains".
This is stupid. So the only thing in common with all three of these chains, is that I used Jeff's new chain link pliers to put the master link on. As I start to put another chain on the Honda, I realize that with the new chain link pliers, I have to rotate my head the opposite way to get my hands on the master link. When I'm using a screwdriver to put the link on the chain, I have to rotate my head the other way to get my hand on it to pop it on with a screw driver, so I uh....was putting the master link clip on backwards. Doh! Hey, I'm a 1:03 driver, not a mechanic...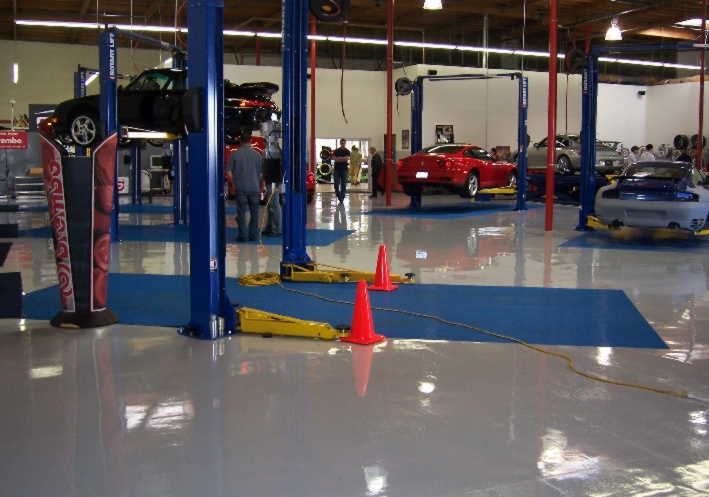 Nice high gloss paint job on the floor
Jeff's Honda kart is sputtering after it heats up, so he's got some problems with that. 2Wild is going to checkout the motor. Fernando runs a 1:04.9x before he goes home early. My last lap of the entire day, I break into the 1:04's with a 1:04.81, so I think I am Stock Honda King of the day. Let's hope I can keep up the pace in qualifying next Saturday.
Monday, January 1, 2007
Rumor has it that 14 year old Connor De Phillippi was practicing at Moran, running consecutive 1:03.5's, under less than ideal track conditions. Ouch! That's gonna cause some pain for the rest of the grid come qualifying on Saturday. He now holds the fastest known lap for a Stock Honda at Moran.


Brett gets a "real job" as President of Vivid Racing
Tuesday, January 2, 2007
Brett Mayes actually gets a real job. Brett is a friend of the late great PMUM. After PMUM passed on, he bought the PMUM S2000, Tony shifter kart, Ben Bostrom Ducati, and took on a couple of his german shepards. Brett is now the president of www.Vividracing.com. One of the cool things that he did for Vivid is to offer financing for go-fast parts. So you now can dig yourself into a deeper hole than you ever thought possible! Can't get credit to buy your $3000 worth of high performance headers+exhaust? Finance it through Brett. Who cares about the interest rate, it's about the Go-Fast Crack Pipe. It's like offering a line of credit to a heroin junkie.
Wednesday, January 3, 2007
Rumor has it that the first race of the season will have the most drivers of any PKC event. 2WildKarting says the plan is to drop off the trailers on Thursday, so we can save our spot for Friday's practice. Otherwise, we might be pitting in the dirt.
Thursday, January 4, 2007
Looks like we have Wayne, Jeff, Paul Taylor, and myself running out of the Pulp Trailer. 2Wild is repairing Jeff's kart (misfire at high RPMs), and Paul Taylor's kart(small oil leak). I'm only taking up 3 karts in the big trailer, so I decide to also put the Honda S2000 in the trailer. That way I can drop off the truck and trailer, save us 3 pits spots for our four karts, and buzz back home in the S2000.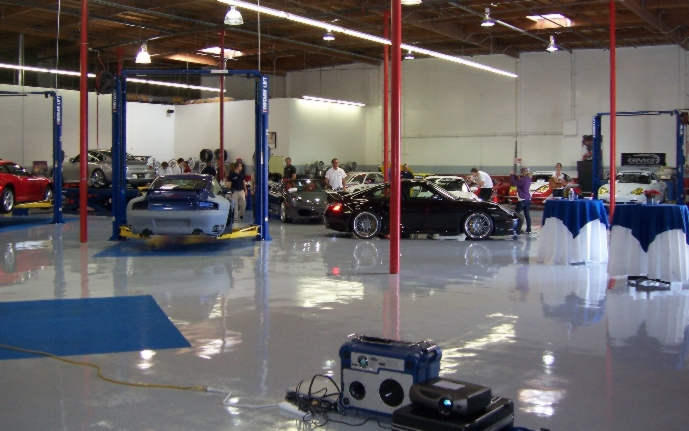 GMG has about 8 lifts
Fabryce from GMG gives me a call, and say it will cost $4100 to fix the leaks/parking brake/rear hatch struts on the F355. OUCH! I ask him if that includes labor, and he says, "No, that is parts only". They have to drop the motor, replace the F1 tranny seals and seals on the motor. Since they are dropping the motor, he suggests that they also do the timing belt, blah blah blah. ARRRGH! Labor will be another $4500 or so. I might have to get financing from Brett to get my damn car outta the shop! Dammit, it is going to cost the equivalent of two new Tony Krypton chassis to fix it properly. Or another way to look at it, about 50 sets of shifter kart slicks. I can't take it anymore. I tell them to do the service, fix it real good, and then that car is outta my life. I'm finally going to sell it. I don't car if it is a cool looking car, and that the exhaust note is even cooler, this is ridiculous. Messley sent me an article, "Can You Afford to Drive a Ferrari?". The answer for me is no. After this major service, it is costing me at least $7 a mile in maintenance costs to drive the car for the past year. So a round trip drive from my house to Moran costs about $1050 in maintenance. I could probably fly back and forth in a helicopter cheaper, or maybe even a Lear Jet.
So my current plan is to sell the car, as cool as it is, for say $80,000, and buy something British. Whoever buys the F355 will probably get lucky with the maintenance cost for a year or two, since I've put $12,000 in repairs over the past year or so. They can probably get by with $1 a mile for maintenance costs. Buy my car, drive it for a year, and then sell it before another major servicing is done! Experience the Ferrari Dream before the Ferrari Servicing Nightmare catches up to you.
With the left over change from buying the Supercharged Exige, I'm going to make an assault on the single deck blackjack table at the Hooters Hotel, as I think I can take those bastards down, and make up the cash I have to fork over to GMG for repairs. Then I'll be back to even, and have a new car with a warranty that will drive like my shifter kart. Yeah, that's my plan. Nice if it works, I'll look like a real dumbass if it doesn't.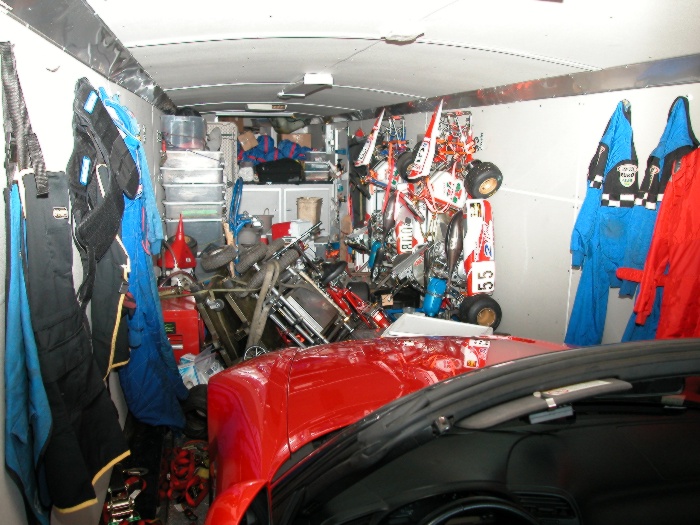 Stuffing the trailer with karts, kart stand, tires, tools, and the Honda S2000
Hopefully I won't get into the F355 after GMG fixes it, and experience another perfect day like I did back in January 20, 2001, and wimp out and not sell the car. When a 355 GTS F1 is working good, and not leaking or breaking down on you, it is automobile nirvana. Top down, wind rushing through your hair, sun shining on you, car shrieking to its 8500 RPM redline as you bang the gears with the paddle shifter, causing your neck to snap back with every shift. Now that's living! It's kinda like you have this really hot girl friend that you want to break up with. You go over to her house to break up with her, but then she starts seductively stripping her clothes off, saying "Are you sure you want to break up with me?", and before you know it you are having multiple acts of hot sex. So then you postpone the breakup for another day, but then the same scene is played over and over again each day as for the next 10 days as you try to break up with her, similar in concept to the movie Ground Hog Day. A few weeks later, the hot girlfriend goes totally psycho and starts throwing your clothes out the second story window onto Pacific Coast Highway so all your neighbors can see what an idiot you are for dating her. You run upstairs to kill her, and as you are strangling her to death you scream, "I'm breaking up with you forever", but she she somehow manages to unzip her mini-skirt. You momentarily get distracted, and then you end up having hot sex again and not breaking up. All is temporarily forgiven again. That's been my life with the F355 the past 8 years. Maybe I shouldn't even drive it off the GMG lift, I should sell it there directly from the lift to some person so I don't wimp out and sample the forbidden fruit. You don't believe me? Get a ride in an F355 GTS with an F1 paddle shifters, rip it through a couple of tunnels and you'll understand. You'll be ruined.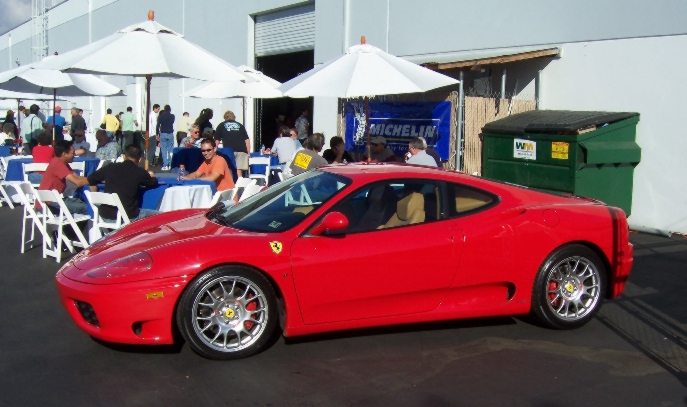 Wayne's 360 at the GMG Open House
Friday, January 5, 2007. PKC Practice Day.
PKC has rented the track for our practice day. Holy crap. Looks like 180+ drivers have signed up for the event, and most of them are ditching work/school to practice today. Productivity in SoCal hits a new low, but at least we have a high fun factor today. I'm trying to get the Loser Cam working, but I'm having some technical difficulties. Camera seems to shut off intermittently, problems downloading the video footage off the USB cable, etc. Crap. "USB Hub is experiencing power surge". I'll have to try to work out the bugs on it for next month's race. If it works, it should be nice, as it is self powered by two AA batteries and will store 60 minutes of 640x480 video at 30 frames a second.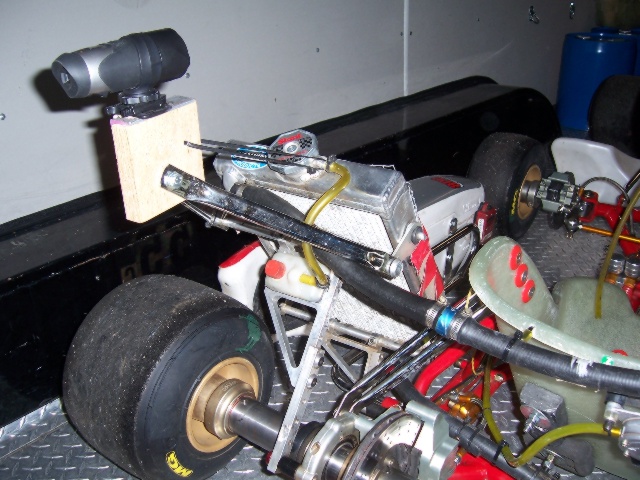 New rear facing Loser Cam, so I'll have front and rear video footage of the races
Later in the day, I run a couple of fast laps, a 1:03.84 and a blazing 1:03.36! Holy crap, I think I got a shot at pole in tomorrow's qualifying, which might even drop into the 1:02.9x range for a Stock Honda. Not sure if the track is getting faster, or if the new chassis/engines are faster, or if we are just becoming better drivers. Jeff gets into the 1:03.4x range also. Previously, the PKC record for a stock Honda was held by Halen in last year's race at a 1:03.7x. On my last lap of the day, I run 4 of my 7 fastest split times according to the AIM Race Studio analysis, but coming onto the straight for the last split of the lap my damn carb comes loose and motor dies, and instead of my last split time being about 3.6 seconds, it is 13.38 seconds. Arrrrgh! That was my bid for a possible 1:02.9x. Oh well, Raceaflais gets me again with some mechanical stupidity. Race Studio says my fastest rolling lap is a 1:03.03! Yeah baby, I'll qualify in row 1 or row 2 tomorrow! Connor is in the pit area next to us, and I have a feeling he is reeling off low 1:03 laptimes in today's practice without breaking a sweat.
Here's a 40 meg Windows Media Video of what a 1:03.x lap looks like: (probably best to do a right-click-save-target-as)
http://www.nsxfiles.com/pkc_jan_07_prac_103_3_raw_6min_tv_edit-1.wmv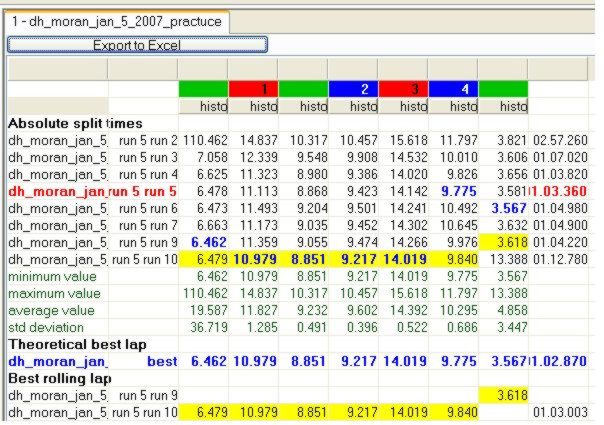 1:03.360 in red. Yellow highlight shows rolling lap of 1:03.003. Then carb fell off!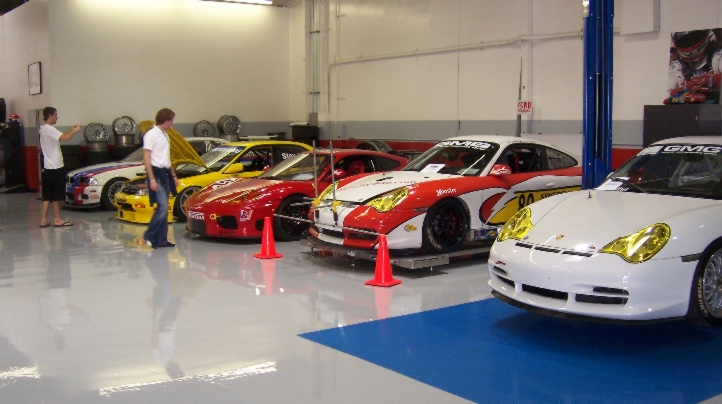 Not your average service area
Nick Halen and his dad Steve are out here today. Apparently Nick's deal with a potential sponsor fell out, so he isn't running the Stars/IKF series. He sold most of his stuff after his sponsor promised him the world, and then the sponsor bailed out. That's a nightmare. So he has one kart left with a stock Honda motor, and decide to run the first race with the PKC folks, and then figure out what they are going to do next.
Jeff and I spend the night at the Morongo Casino, about 15 minutes from the track. If you sign up for a Winner's Card there, when you check in you can get a room at their four star hotel on a Friday for about $135. Otherwise, it is $189. (Note: Sign up for the Winner's Card BEFORE you check in) Waynes goes home to help Amy out with the two kids, as she's losing her mind at the moment with a one month old and a 19 month old. Jeff convinces me to try playing at the $2/$4 Limit Hold 'Em poker table. His table has a lot of people with some decent conversation. My table is a bunch of silent types that act like they are playing for a million dollars. I drift between being either up or down $30 after playing for about an hour, so out of boredom I bail. I head over to the blackjack tables, which is a dumb move since they are eight deck shoes, so you can can't count cards. I lose $100. I give up, and go back to the hotel room to get some sleep. If they had a single deck or double deck table, I'd take these Indians down for $500. Jeff wins $60 playing poker for the first time.
Saturday Morning, January 6, 2007
We kick off the race day with 187 of our fellow drivers. The shifter kart class designations have changed from last year's PKC categories. They now match the SuperKartsUSA (SKUSA) classes. Wayne, Jeff, and I are running in S3 Light class. Paul Taylor is running in S4 Light.

S1(expert)/S2(intermediate-novice)
Age: 15+
Shifters with built motors and Italian ICC kart motors
Weight: 385lbs
Fuel/Oil: Motul Kart Grand Prix oil - Moto: VP C12, ICC: MS98

G1(expert)/G2(intermediate-novice)
Age: 35+ or driver weight greater than 200lbs
Shifters, with built motors and Italian ICC kart motors
Weight: 405lbs
Fuel/Oil: Motul Kart Grand Prix oil - Moto: VP C12, ICC: MS98

S3(expert)/S4 (intermediate-novice)
Age: 14+ (under 15 must have 2 years prior race experience and approval of Race Director)
Stock Honda Shifter class
Weight: 385lbs Light, 415lbs Heavy
Fuel/Oil: Motul Kart Grand Prix oil - VP MS98

TaG Senior
Age: 15+
Single speed, electric start
Weight: Engine dependent - See Below
Fuel: Motul Kart Grand Prix - VP MS98
Optional tire spec: MG Yellow, Bridgestone YGK, Bridgestone YHC, MoJo D1

TaG Master
Age: 35+ or driver weight greater than 200lbs
Single speed, electric start
Weight: Engine dependent - See Below
Fuel: Motul Kart Grand Prix - VP MS98
Optional tire spec: MG Yellow, Bridgestone YGK, Bridgestone YHC, MoJo D1
More info on what class you would fit in is here.
First practice session.
I go out, and the kart is flying. I pass a bunch of people in practice. I get behind a train of people, so I take the "shortcut" at the bottom of the corkscrew to circumvent 2/3rds of the track and I veer to the right to get some space. Oooops! PKC put a bunch of hay bales there to close off the short cut. I almost crash into the hay bales. That would have been a dumbass move. A few laps later, Merve is going slow in the corkscrew, so I pull to the right of him to pass him. Unfortunately, he did the same thing I did, he wanted to take the shortcut off the track, but the haybales blocked him. We collide. Luckily, damage is minor, with most of it just bending up my sidepod.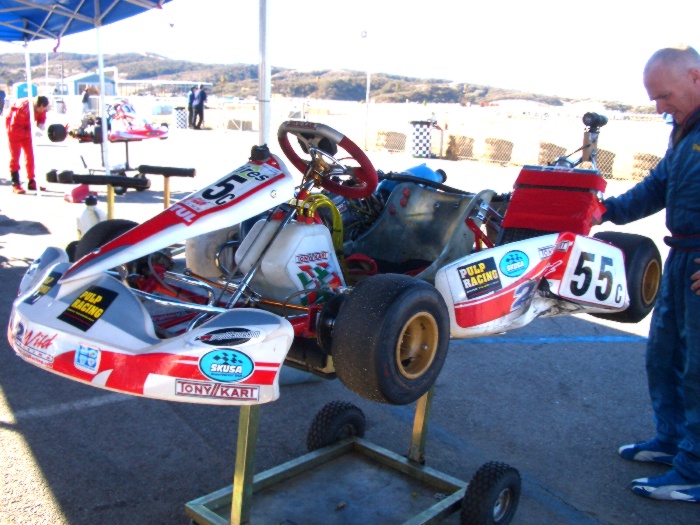 Minor damage to the sidepod from collision in practice
Second practice session
After a few laps, my kart is sputtering, so I pull off the track. Jeff looks at the motor, and says the coil wire broke off at the connector. Jason re-soldiers it, and we both agree that the connection looks good and snug. Kart seems to rev okay again. The actual wire is a little tight, but we'll fix that later. Fernando looks at it, and he says he thinks the wire is too tight. Humm....we'll fix it after qualifying, which is coming up in 30 minutes.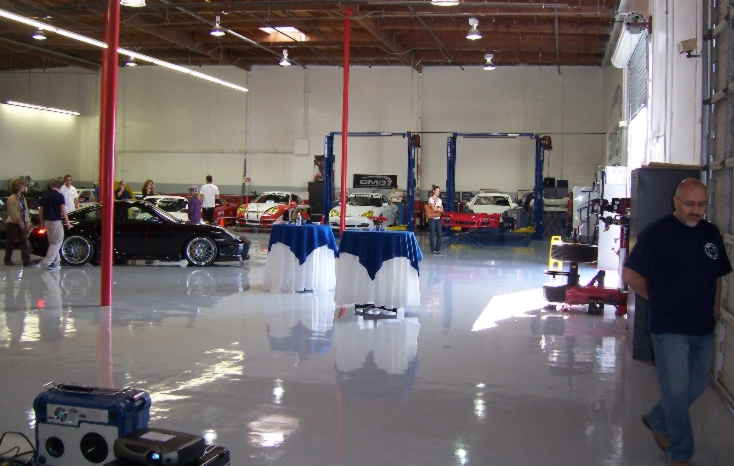 We would have room for 200+ shifter karts in the GMG service area
Qualifying
Here we go! Can I throw down another low 1:03.x like I did in practice yesterday? We have what is arguably the fastest, most competitive Stock Honda shifter grid that the world has ever seen. We have the following people in the PKC S3 Light class who hold Supernationals Championship Titles:
Connor De Phillippi
Winner of two SuperNationals titles in 2005 in the Junior ICA class and the 80cc shifter class. At the 2006 SuperNationals, he whipped on everyone in the Spec Honda Light class for this third Supernationals title. He's the reason we decided to run Spec Heavy instead of Spec Light at the SuperNationals.
Nick Halen
Won the 2005 Spec Honda class at the SuperNationals, and won 7 out of 8 races he entered in the 2006 PKC Stock Honda Series. The race he lost was due to a disqualification. He wanted to run in the Stock Honda light at the SuperNationals, but wasn't allowed to as he was also running in the SuperPro class, and no SuperPros were allowed to run in any other class.
Alex Barron
Winner of the 1997 SuperNationals main event in the 125cc Moto class. Winner of the 1997 Toyota Atlantic Series. Has two Indy Racing League wins, and ten top 5 finishes in 59 IRL starts. Has come in 4th and 6th place at the Indianapolis 500.
Bonnier Moulton
Winner of the 2004 G1 SuperNationals class
Jeff Littrell
Winner of the 2006 SuperNationals Spec Honda Heavy class. Don't remind me.
We line up on the grid for qualifying. My strategy today is to grid up front, and throw down a mid to low 1:03.x in the first four laps. I psyche myself up mentally to make this happen while I am sitting on the grid. I'm figuring I could be on row 1 or 2 with some luck. They release us from the hot pit, and I bolt out onto the track. Unfortunately, I think we made the coil wire a little too short, as the wire broke the time before, so we just cut the wire and put a connector on it. We should have extended the wire another couple of inches to give it some "play" to move around. Apparently the vibration from the motor loosened the damn coil wire slip-fit connector, and the motor is sputtering. I get half a lap in. I put the connector back on while pulled off to the side of the track in a desperate attempt to get one fast lap in, but it only lasts about 200 feet and then the connector comes off again because of lack of play in the wire. AAAARGGHH! Raceaflais is smiling down from heaven, knowing he sabotaged my chance at qualifying stardom. Looks like I'll be gridded at the back of the pack for Heat Race 1, and will have to work my way through a tough field to even get back to the midpack. I look for loaded gun or a full jar of sleeping pills to put myself out of misery. I'm like the high school football player that can kick 55 yard field goals in practice, but can't hit a 15 yarder in the real game when people are watching.
Connor spanks everyone with a smoking 1:03.087, which is the new Stock Honda track record at Moran. Me, I'll be at the back of the grid for heat race 1. In our run group, we have both the S3 Light and S3 Heavy Stock Honda drivers.
| | | | |
| --- | --- | --- | --- |
| Best Lap Tm | 1:03.087 | In Lap | 2 |
| Best Speed | 58.205 | by | Connor DePhillippi |
We have 27 people in S3 Light/Heavy, and there are another 30 people in S4 Light/Heavy. So we have a total of 57 Stock Honda shifter drivers at our first race of the year.
Heat Race 1:
I'm starting near the back, somewhere around row 14. So much for being in the first two rows. Green light on, and I get a good start, and pass two guys going into Turn 1, another guy in turn 2, another guy going into the corkscrew, and another guy going down the main straight. Five spots made up the first lap! It takes me another 9 laps to get by the next four drivers. So I move up to about row 10, in 19th place for the next heat race. Connor wins the race. Wayne was holding onto 5th place, right behind Jeff, but then he boneheaded and spun in the corkscrew with a couple of laps left, dropping him back a few positions. Halen had a mechanical problem and DNF'ed.

The timing loop broke underneath the track, so there are no electronic results from this race. It took about an hour for them to fix it, thus making it necessary to shorten the main race, as it will be dark by 4:50 p.m. or so.
Helmet Camera Video of S3 Stock Honda Heat Race 1 (Windows Media, 154 meg. Yeah, the file is big, but resolution is good. Encoded at 2mbps with Windows Media Encoder, overlayed with http://www.trackvision.net/ dashboard that uses Mychron data)
Heat Race 2:
I'm gridded in the deadly mid pack. Lots of action in this area of the grid, as everyone is trying to claw their way to the top 10, and they all have decent speed. I get another good start, gaining maybe one position. Halen, starting from the very back of the pack, blows by me by turn 3. Damn, he passed about 10 people before turn 3. How does he do that? Over the next 9 laps I claw my way past 6 more guys, and I make it to 12th place. So I'll be on row 6 for the main race. Still too far back for a potential podium, considering the world class drivers at the front of the pack, and the very fast guys in the upper mid pack that are all fighting to move up. Still, not bad that I got to row 6 considering I started two races ago around row 14 or so. Connor wins heat race 2, holding off Alex Barron. Jeff holds down 4th.
Helmet Camera Video of S3 Stock Honda Heat Race 2 (Windows Media, 186 meg)
| | | | |
| --- | --- | --- | --- |
| Best Lap Tm | 1:03.324 | In Lap | 7 |
| Best Speed | 57.987 | by | Connor DePhillippi |
Final Race:
Okay, here we go for all the marbles. After duking it out with 27 drivers in two heat races, I'm gridded right behind Mr. Mello for the main race. He's 10th, and I'm 12th in the money race. Weird how that always happens. We could have 50 karts on the grid and Wayne and I would still end up gridded next to each other for the main race. Fernando is sitting in 11th on the grid, which is pretty good as he is running Stock Heavy this year, so he is carrying 30 more lbs that us Light guys. I think I got the speed to make it up to 5th or 6th place, but then it is announced that our race will be shorted to about 8 laps or less, as it is getting dark. Damn! I need at least 20 laps to have a chance to 5th or 6th place, I don't think I can do it in 8 laps.
Green light drops, and I get another decent start. No one gets the drop on me going into turn 1, and going into turn 2, I go real wide on the outside and I am able to snake by Fernando. Heehee! Wayne had an explosive start and went from 10th to about 6th or 7th. So we have a mini train going in the upper midpack with Wayne leading, McKee behind him, Clinton Schoombee, then me, and Fernando, all waiting for someone to make a mistake. McKee is weaving back and forth behind Wayne, looking for a spot where he can dive in on him. Clinton is right behind McKee, and I'm watching them all do their dance, trying to figure out how I'm going to get by these guys. After only about 3 laps, they throw the white flag, signaling only one lap left. Damn! Only a four lap race. Going through the Bus Stop one last time, Clinton and McKee go wheel to wheel, do a small bump, and Clinton gets by McKee, and and McKee is slowed down just a bit by the bump so I can get by. I end up in 8th place, and Wayne takes 6th. Jeff holds off Alex Barron, and takes 3rd. Halen gets by everyone, and wins the main race, so he has won 8 of the last 9 PKC Stock Honda main events. I think Connor had an incident with someone on the track, as he was a DNF, which is a shame, as he whupped on everyone in qualifying and the two heat races.
Helmet camera Video of Main Heat, S3 Stock Honda (Windows Media, 84 meg)
| | | | |
| --- | --- | --- | --- |
| Best Lap Tm | 1:03.783 | In Lap | 4 |
| Best Speed | 57.570 | by | Alex Barron |
PKC is doing the points system a little differently this year. You get points for both the heat races and the main this year, as opposed to just getting points for the main like it was last year. So after totaling up the points for today, we have Bobby Legate, the Spec 2 Champ from last year (the old Stock Honda beginner class) leading in points due to his finishes of 2nd, 3rd, and 2nd in the races today. Jeff is holding down 2nd overall in points. Due to my crappy finishes in the heat races, I'm in 10th place. Looks like I'm going to have to use the first race of the season as my "drop race", and do well in the next eight races. Not a good way to start the season. But at least Jeff, Wayne, and I didn't DNF or bend/crash in the heat races and the main race, so overall it was a fairly good day.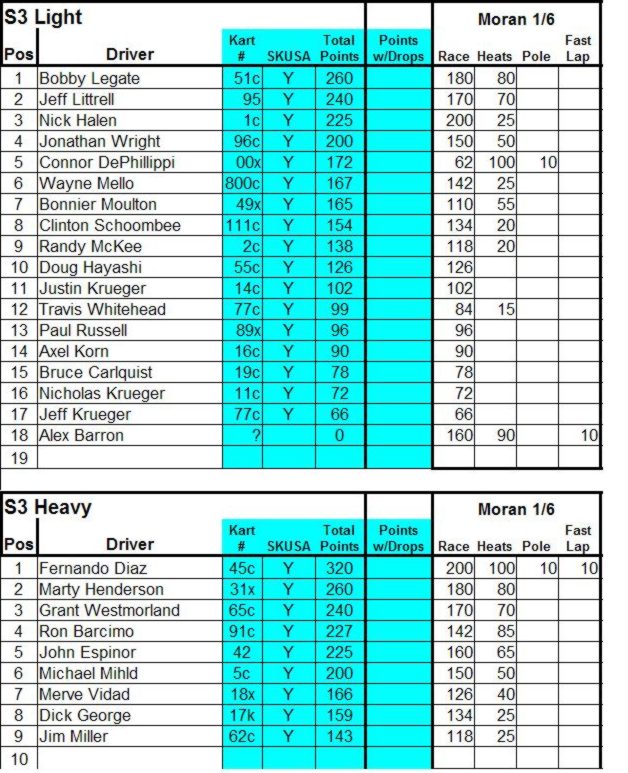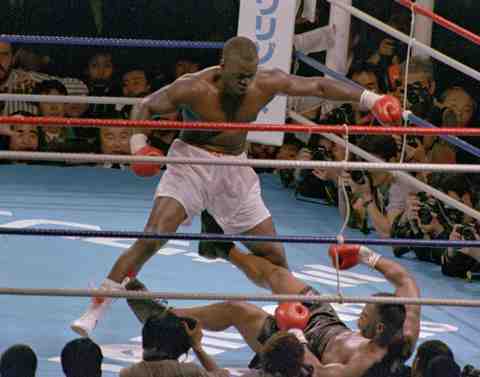 Bobby Legate throws knockout punch in Race #1 and leads the series
January 11, 2007
In an effort to never DNF/DNS again this season due to mechanical problems, I decide that I will go through the kart and replace ANYTHING that has a possible 1% failure rate. My wife says that I am the 80% guy in that I'll get anything done 80% right, and it will be done faster than any other human being could it, and it will be done on time, but it won't be "perfect". In looking back, yeah that damn throttle cable shoulda been adjusted perfectly so my carb needle clip would not have broken off at the SuperNats. I also shoulda spliced and lengthened that wire on my coil two months ago instead of constantly stripping off a new piece each time it broke off.
Fernando is thinking about switching from the Heavy Class to the Light Class, so he can be more motivated to duke it out with us. Right now, he's spanking everyone in Stock Heavy, and doesn't feel challenged, despite the fact that he is running in our same run group. He might have to go on the Jenny Craig program to get back down to 385, as he can't be giving up weight to the front runners in this class.
Alright, so a new mindset to make everything perfect. The bottom of my carb is chewed up from rubbing against the motor due to vibration. I replace the entire damn carb! My seat was really beat up from scraping on the bottom, and from carrying the 45 lbs of weight at the SuperNationals. I had re-fiberglassed it six times. I replace the whole damn seat, so my ass doesn't end up on the pavement at 80 mph! Exhaust springs were rubbing on the pipe, starting small indentions on the pipe. Replaced with smaller springs to avoid a potential hole in the pipe! Clutch cable had a couple of frayed wires by the clutch lever that could screw up the releasing of the clutch on standing starts. Replaced the whole damn cable and sheathing. Dammit, I'm ready for Race #2. No DNF/DNS the rest of the season. I spit into the face of Raceaflais. And of course Wayne and I are cooking up some Cheating Bastard schemes to get to the podium.....we must beat Jeff!
The next race is February 3 at Moran, in the backwards direction. Can anyone hold off Connor from setting the Stock Honda track record going backwards? Can anyone stop Halen from winning the Stock Honda main event again? Can Jeff pick up his 4th win in a row against Wayne and I? Can Wayne and I make it to the podium against the toughest Stock Honda Grid in the World? Stay tuned for the next chapter.....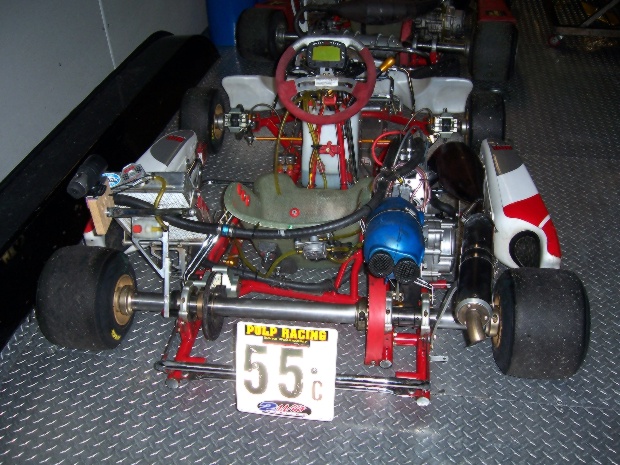 My kart is cleaned and prepped, waiting to duke it out at PKC Race #2 at Moran