October 21-23, 1999
PRO Racing/TCC Las Vegas Night Enduro
"Chasing the PRO Racing Series World Championship"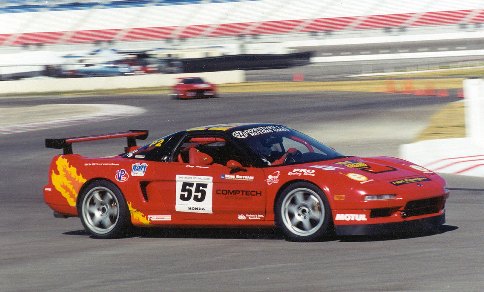 Awesome action picture by Mark Weber (314-961-4571).
click here for bigger picture
(note: if your browser shows broken links, hit the "refresh" button on your browser. And get a faster network connection. Via 28.8 modem it will take you 264 seconds to download this page, and via cable modem about 6 seconds.)
So the next big event for us was the PRO Racing Series two-hour night enduro at the big Las Vegas Speedway track. This will be the final race of the season for the PRO Racing Series. This will be held at the big track that also hosts the NASCAR events. We are signed up to use about half of the big NASCAR oval, and then drop down into the infield for a total of 2.2 miles. This is probably the most modern racetrack that us car club drivers will ever get to race at in the United States. Where else is there seating for about 100,000+ spectators that the car club guys get to run on? There ain't too many places. Also running this weekend is the Touring Car Club, NASCAR Featherlites, Spec Trucks, and American City Racing League.
Rumor also has it that this will be one of the final races that the Speedway will allow for car clubs to run on the track.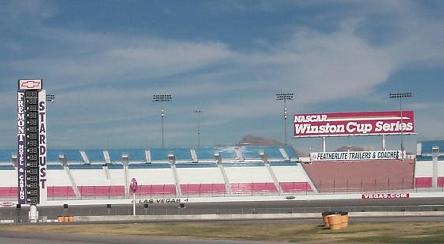 Las Vegas Motor Speedway is a world class racing facility

These new super speedways generate so much money for the few, big NASCAR/CART/IRL events, it is not worth their time to open up the doors to us car club geeks. Take Fontana, for example, where they had the final CART race. None of the local car clubs can get a date scheduled there, even though it remains unused many weekends. They also have an infield course that could drop down off the big oval. Now that would be cool to race there...and it is only an hour or so from my house.



Irvine and Hakkinen battle for the Formula 1 Championship in the final race of the year
So it is getting close to the end of the year. Hakkinen and Irvine are fighting it out for points for the World Championship in Formula 1 with one race left in Suzuka. Montoya and Franchetti are fighting it out for the World Championship in CART with one race left in Fontana. (The IRL probably also has a championship, but the who hell watches those races?) An entire year's worth of time, training, practice, tires, and piles of cash, etc., coming down to one last final race for the various championships in the motorsports world.


Montoya and Franchitti battle for the CART Championship title in the final race at Fontana
I am in the same situation. For the PRO Racing Series, I am sitting in 2nd place in the P2 class. In my class, there are the normally aspirated, stripped down 911's, Vettes, 348's, Mustangs, and a couple of 914's. In the P1 class, we have the faster, normally aspirated, stripped down 911 RSRs and the faster 914's. In P1T, we have the big boys, with their stripped down Twin Turbos, monster Vipers, killer 914's, and a Ferrari 308 with a 10,500 RPM engine in it. There are also P3, P4, and P5 classes for the cars with small displacements. (which is a nice way of saying, "The slower cars").



Hayashi and Mehterian battle it out for overall points Championship in the PRO Racing Series final race at Las Vegas
I have a total of 645 points in the series. Marty Mehterian is also in P2, with 780 points. The standings prior to this race are available at http://www.pro-racing.org/standings.htm. First place in each class at the Vegas Night Enduro race will be worth about 200 points, and 2nd place is worth 150. There will also probably be points in the sprint race, so first in the sprint race will probably be worth about 100 points, and 2nd place is worth 75. So, mathematically, I still have a shot at first place in P2. As a matter of fact, I have a shot at ending up with more points than ANYONE else in the PRO Racing Series, as Marty is first overall, and I am second overall by a 120 points. Now this doesn't necessarily mean that I am the fastest, and it doesn't even mean that I am fastest in my class. What it does mean is that I got my butt out to most of the events, and finished most of the events decently without breaking (well, usually). But then again, if I can score 135 more points than Marty at Las Vegas, I could theoretically crown myself, "The King of PRO Racing", as I have a total of more points than even the 911 Twin Turbo drivers…even if I actually never took a 1st in class this year. Not sure if PRO Racing even has a so called award for most points, but I will fabricate my own award for purposes of this website, especially if I end up with more points than anyone else.
But hey, all that counts, as Ferrari and McLaren know, is how many points ya got at the end of the season, everything else is irrelevant when chasing the points crown. After all, racing is about bragging to your friends (Wayne, Jeff, Ota, James) about how you have crushed each other for anything (passing them on the track, race finish, laptimes, overall points, or whatever category you are ahead of the other person ). When the record book is looked years from now, people will point to the picture and say, "This guy won the PRO Racing Championship to end the Millennium". Especially since I do most of the updates to the PRO Website, you can be guaranteed that me and the NSX will be christened, "The World Champion and his Car".....heh heh heh....
Jeff and Doug Ota also decide to run their Sports 2000 cars in the American City Racing League that is running at the track on the same weekend as the PRO/TCC cars. Ota recently put a supercharger in his black BMW M3, but he hasn't had a chance to sort it out at the racetrack yet. He decided that he didn't want to tow it all the way out to Vegas and have it break on him, instead he will try to test it locally before hauling it to a big race in a faraway town. Once he gets it sorted out, it could be bad news for me and Wayne, as Ota was pretty damn fast with his M3 when it was normally aspirated.....but at least we won't have to worry about looking in our mirrors for him at this event.
So here's the story of the Final PRO Racing Series event of the year.
Sometime in early September, right after the LA Street Race...
I decided that it was real frustrating not having the right tools to work on Wayne's car at the LA Street Race. We were borrowing and begging for tools from about 10 different people. Cisco stock did pretty well over the past 10 months, so I decided that now is the time to spring for some tools. We cruise into Sears one night, and decide to buy one of EVERYTHING, along with a big 9 drawer rollaway tool box to throw in the trailer. We get one of the big packaged Craftsman tool set with about 700 pieces in it, and also get a welder, a grinder, portable vacuum, torches, electrical connectors, outdoor halogen lights, fans for working when it is really hot, levels, tap and die set, bolt cutters, 100 feet of extension cords, compression tester, drill bits, tape measures, brake hones, portable air compressor, etc. Sears doesn't have shopping carts or flatbeds carts for buying large quantities of stuff, so we just pick a spot on the floor in the corner, and start stacking up our stuff. It takes the clerk about 30 minutes to ring up our order. We walk out of Sears confident that we have one of everything.......and we are now prepared to do battle with Raceaflais.
It is getting more and more important that if you are doing a lot of track events, you need to have a really good mechanic up your sleeve that is willing to work late at night in order to beat Raceaflais. Without a hotshot mechanic, your racing hobby can really suck when your car breaks down and you can't run your car at an event. There are too many mechanics that are out there that suck, and are rip offs. I think we all have had quite a few experiences with mechanics that we feel ripped us off, even mechanics that work at the bigger, "certified" dealerships.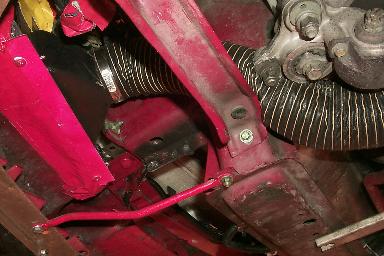 No air conditioning allows you to put Porterfield air ducts to assist with cooling brakes
Around the beginning of September, Larry the NSX Mechanic said that he was ready to leave Riverside Acura and go out on his own. Larry has been doing most of the work on my NSX (with Shad at Comptech doing some work about once a year on it). He is easily one of the best NSX mechanics in Southern California, if not the best. It is a PAIN IN THE ASS that Larry lives in Riverside. It is about 50 minutes away if no traffic, and two hours away if you hit the morning or evening rush hour. Either I have to drive my NSX down to Riverside, or Larry and his wife Lina have to drive down to Orange County and pick up my car. The problem that I have with this is that when Larry drives down to pickup my car, it means he is spending at least 3 hours shuttling my car back and forth instead of doing real work on my car or someone else's NSX. Apparently there are a lot of NSX owners in Orange County that are having Larry drive down and pickup their car for servicing. So if Larry is spending 15 hours a week shuttling cars around, that is two days work of work that he could be doing on my car, and getting it ready earlier for a track event. Needless to say, I hate driving my car to Riverside in traffic, and it is even worse if I have to trailer the car to Riverside. It seems like it kills the whole day.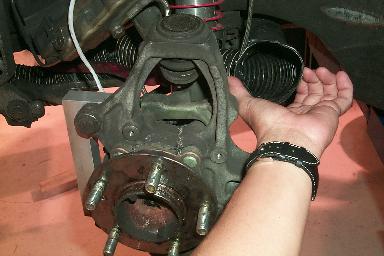 Three inch ducting can then be hosed clamped to get air to the brakes
So now I start thinking, "hummmm…..if Larry opens up a shop nearby in Huntington Beach, that would solve a lot of problems. His wife wants to move back to Orange County, but Larry is a little reluctant. His wife and I agree to spend a lot of time driving around Huntington Beach/Newport Beach in an attempt to find a shop, and then we will conspire to get Larry to move outta Riverside. Riverside is burning hot in the summer(105+), and very cold in the winter(25+). Down here by the beach in Orange County, you can wear a tank top and short pants just about every day of the year, as the temperature seems to vary only between 70-80 degrees all year round. Riverside just plain sucks compared to the beach areas. Lina and I spend days driving around trying to find a medium size shop that is zoned for automotive in the Huntington Beach/Newport/Costa Mesa area.
In the meantime, Larry doesn't have a car lift to work on cars. So then I start thinking…..hummm…..there is some room at the 1-800-Phoneguys/Pulp Racing building…..we could install a lift temporarily…..and Larry can work there until we find a shop for him. Larry is kinda like a full on NSX geek, kinda analogous to a computer geek. Meaning that his life is focused on the NSX, and he ain't good at stuff like negotiating deals, getting business licenses, receipts, time management, etc. You know how some software developers totally dedicate their life to writing great code, but are useless at other stuff? Larry is like that, except his life is devoted to maintaining and modifying the NSX. Sometimes he works on cars until 2:00 a.m. in the morning, much like a software developer spends lots of time fixing bugs until the wee hours of the morning. And he LIKES doing this at 2:00 a.m. in the morning. Just give him a case of Coca Cola, and he can work all night.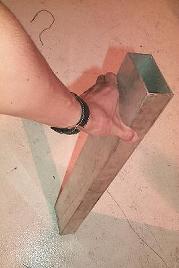 Lightweight, hollow, aluminum 2x4......hummmm......
I also start thinking…if I have him working out of my shop temporarily…this also means I can monitor the work on my car…..and make sure that my car has priority as to getting done first before anyone else's car….heh heh heh. Especially when we are trying to beat Raceaflais. So I tell Larry, "Yeah, let's install a lift in my part of the building, and then you can start working on my car and other customer cars until you get a shop. After you finalize on a shop, we can then get this lift re-installed at your new place."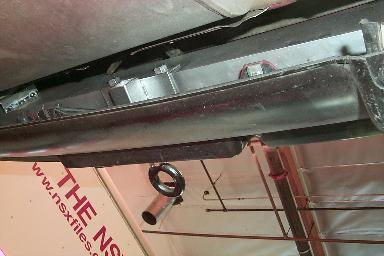 Bottom view of rear bumper.......with aluminum 2x4 replacing heavy steel bumper

After I tell a bunch of NSX owners that Larry is working out of my shop, suddenly the line grows pretty long. Alex comes in, and Larry diagnoses what is wrong with a minor glitch on his Gruppe M supercharger that is installed on his NSX, and fixes it. Mark comes in with an irritating whine that he thought was coming from his clutch….and Larry takes his tranny apart and finds out it is a bad bearing in the tranny that was dying. And also finds out that the "aftermarket clutch" that was sold to Mark and installed by Brand X performance dealer, is really just a stock Acura NSX Clutch. Sounds like he got ripped off. Terry comes in with his short gears that he wants installed. He was holding onto the gears for a year, as right when he got the gears, Larry moved from Orange County to Riverside, and Terry said, "Screw that, I ain't going to Riverside, and I don't trust anyone else with taking the tranny apart and throwing the new short gears in."

In the meantime, with all the exotic vehicles and race trailer moving in and out of the building, our neighbors at the shop are wondering if the building is really for the 1-800-PhoneGuys, or if it is one of the following:

1. A front for money laundering


2. North American Distribution Center for 100% pure Columbian cocaine
3. A chop shop for exotic automobiles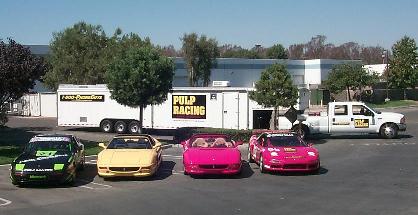 Take your pick: all these vehicles OR trade it all in for a 2500 square foot house 3 blocks from the beach. The price is about the same...
Click here for bigger picture

A couple of the shops nearby us were getting upset as Wayne was ripping up and down the street in his yellow F355 at what seemed to be a high rate of speed. (Me, no, I never speed......) In reality, I think it is the SOUND of the Ferrari that was scaring people, as it does sound like an F1 car is doing testing on the street, as the sound echoes off of all the buildings. And we always take our cars to the redline before shifting. Anyways, a guy in old souped up roadster comes by at night, and says that some of the people are complaining that Wayne is going to kill someone driving up and down the street that fast during the day, and someone clocked him at 105 MPH down the street. Which is a ridiculous exaggeration by someone, but you know how rumors get perpetuated. So now all the neighbors are talking about the "asshole drug dealers" who are ripping up and down the street. So after the guy tells us to slow it down a bit, he in turns around and peels out and leaves 40 feet of tires marks from his massive rear tires on the street, as if to say, "Hey, my car is pretty fast also". But Wayne and I know better, the first time that he has to stop that roadster quickly or turn the roadster in a panic turn using those skinny front bicycle tires, I can put what is left of the roadster on The next NSX-Files video tape......and it will probably look similar to the Ultima at the 1995 Virginia City Hill Climb.

In the meantime, I have Doyle, who is Wayne's warehouse guy, working with Larry on some stuff for my car. I decide that my car is going on a diet, as we need to go faster and faster at the track. First up is getting rid of the big steel beam in the rear bumper and front bumper of my car. In the rear, Doyle replaces the big steel beam with a hollow aluminum beam. Taking out the steel beams saves about 40 lbs or so. Doyle also has a plasma cutter, and a heliarc torch/welding setup, so he can fabricate and weld just about anything, including aluminum. We put the NSX on the scales to counter balance the car, and it weighs 2720 lbs with a half tank of gas and no passenger, which is somewhere around 300 lbs less than a stock NSX. We proceed to screw around with the ride height and the settings on the car. With me sitting in the car, the corner balance weights come out to be:

LF-589 RF-556


LR-886 RR-853



Leftside Weight 1475(51.1%)


Rear Weight 1739 (60.3%)

Cross Weight 1442 (50.0%)



Total weight with 1/2 tank of gas and me as passenger 2884

Since the car is suppose to be 40/60 (I think?) front/rear, and 50/50 cross weight, and 50/50 right side to left side, we figure we are close enough for now. I could drop more weight by getting rid of the interior, the dashboard, airbag, ABS, and the stereo, but I still want to keep the car semi-streetable. Okay, so now time to test the car at the track....

In the meantime, James Sofronas enters his M3 lightweight to run against the big boys in the Speedvision World Challenge Touring racing at Laguna Seca. At one time he was thinking of getting a supercharger for his car and running it in the Speedvision GT class, but he decided to back the car down and run in the Touring group instead. In order to run in the touring group, he had to get rid of his big ass wing and the big Porsche Turbo brakes that were on his M3. James qualifies the car eighth place out of a packed field, and is ecstatic! However, after qualifying, during the tech inspection, the inspectors find out that James has the ABS still activated on the car, which disqualifies him, so he is forced to start 26th, at the back of the pack. Bummer. But, for the main race, James drives like a maniac, and goes from 26th place and ends up finishing 6th against the hot shoe Speedvision drivers!!! Holy shits, James is running against the Realtime Acuras and Michael Galati! James says I should build my NSX to run in the Speedvision GT Series for next year, especially since the last race will be in Aruba, and rumor has it that the owner of the new track is paying to ship everyone's equipment from Miami to Aruba so they can race at his place. Hummm........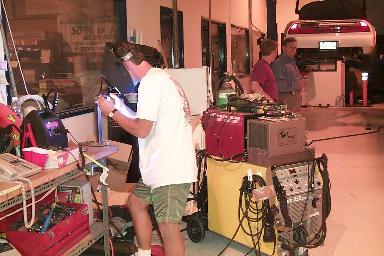 Doyle using welder and plasma cutter to build us some custom parts
Todd Serota scheduled a track event for October 11th. He had about 60 people and 18 instructors show up. Quite a few people were there with Porsche Boxsters, but the track said that this will be the last time a Boxster runs on the track unless they have a rollbar installed. Todd asked that Wayne, Jeff, and I help out as instructors. I figured this would be a good test day. Wayne, Larry, and Reuben (Larry's assistant and future NSX Mechanic), and myself get in the trailer and drive up the night before. As usual, Wayne is scrambling to get his 944 Turbo back in time for the test day, and he is stressing everyone out with last minute preparation and delivery of the car. A new rule is now invoked. "All race cars must be ready to be back in the trailer three days before the event". Hopefully this will make it less stressful, so we aren't running around with our heads cut off right before a race.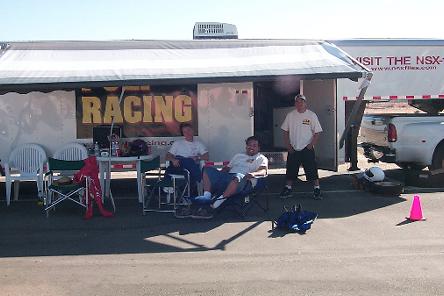 Wayne, Larry, and Reuben hanging out at Todd Serota's TrackQuest open track event
On the way there, Larry and Wayne are screaming that I am driving the 48 foot trailer and truck too fast down the hills. I calmly explain to them that I am a "Professional", and I know what the hell I am doing. So that is our new buzzword for the weekend, "Professional". Whenever someone does something good or their integrity is in question, the correct response is "I am a Professional". Reuben, who works with Larry, doesn't flinch, as he seems to trust my driving. I am getting pretty used to driving the trailer around, but we still need to have three two-way radios handy incase we have to maneuver the trailer around a crowded parking lot. So far, we haven't had an accident with the trailer since the first day when I blew out the rear window of the truck during a tight left hand turn where the gooseneck of the trailer hit the auxiliary gas pump we installed for the 88 gallon external diesel tank, and sent the gas pump into the rear window.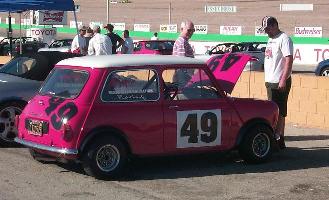 Cool Mini Cooper that was in a front wheel drift all through turns 8 and 9. Impressive driving!
We make it to Willow Springs without any problems. We feel like a professional team now, as we have our ace mechanics with us at the track, which makes life A LOT easier. I asked Larry if he would like to go for a ride on the track with me as a passenger, since Todd's event will allow instructors to drive "students" around the track. Larry says, "Hell No!". Larry doesn't trust my driving, as he feels that I drive a little too fast for him. He totally refuses to go on the track with me. Wayne agrees with him, and Wayne says it is because in his opinion, my driving sucks. Reuben, on the other hands, says he wants a ride, and he is a "Professional" Passenger. After all, Reuben has spent a lot of time working on my car with Larry, and he wants to experience the potential of the NSX on the track.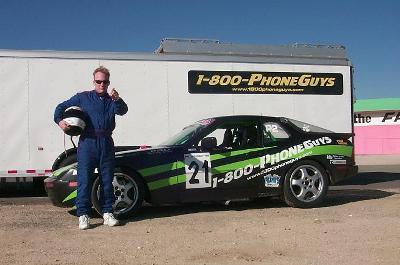 STOP! I can save you big dollars on your business phone systems.
Click here for bigger picture
The second session out, I strap Reuben into the passenger seat, and we go out for some hot laps. We take about six laps at speed, running about 1:34 laptimes, which is about 5 seconds slower than I could go in the car by myself. But I didn't want to take a chance at rolling the car with Reuben in it, so I was only going about 8/10ths. Reuben seems to be a good passenger, he isn't screaming or anything. We get behind a new Porsche 996 in turn 9, and the driver momentarily loses control and starts wagging the tail of the 996 back in forth going about 100 mph in turn 9, and almost spins our right infront of us. The driver does a great job of recovering, but it was kinda unnerving seeing that happen. Back around turn 5, Reuben grabs my arm and starts pointing to the pits frantically. He looks kinda green. He starts struggling to get his helmet off. I slow down dramatically. Uh oh….coming around turn 7, he gets his helmet off, and tries to stick his head out the window. He barfs out the window, with about half of it flying back into the car right back at him. We get out of the car, and Reuben runs towards the bathroom. When he gets back, we rag on him about his "Professional" passenger skills. Needless to say, I don't think Reuben will be getting in my car again as a passenger on the track anytime soon……..and Larry keeps telling him, "I told you so, I told you not to drive with him". I wanted to see if I could run below my fastest laptime, which was 1:29.58. I was having problems getting below 1:32 at this event. Conditions were not perfect, but I still felt slow. Right at the last session, I remember that I forgot to set the suspension to be stiffer, and it was at full soft. After fixing this just like I had to fix at the Hill Climb), I run a couple of laps in the high 1:30's. Bonehead racing strikes again…..but I was still faster than Wayne in his 944 Turbo, who was faster than Jeff with his RX-7.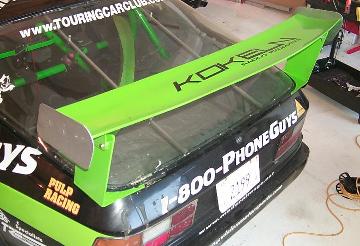 Wayne is the original copycat. He decides to get a big ass wing, since mine worked so well.
Click here for bigger picture

After the event, Wayne decides that his suspension isn't quite right. He sends the car out to Vision. He ends up getting a new suspension, bigger injectors for his turbo, and he decides to copy me, and he unveils his own Lime Green Big Ass Wing.

Sunday, October 17.
Opening night for Springsteen at the Staples Center. Luckily for me, my sister "won the lotto" at the Ticketmaster last month, and ended up being first in line in the random number assignment. She scored four tickets, one row off the floor, 15 rows from the stage. And she takes her boyfriend, me, and Dagmar to the concert. Good show, but not an awesome show. The Staples Center has THREE ROWS of luxury skyboxes stacked on top of each other all the way around the arena at slightly above mid-level. The skyboxes go for $300,000 to use for a year, it is yours for every event at the arena, and you can seat about 10 friends in there with waitress service. Now that would be cool. Midway through his set, Springsteen makes a comment about that the reason they are called SKYBOXES, is that they should be at the TOP of the arena, out of the way, and that concerts are not meant to be experienced in a room, that you should out in the crowd with everyone else. He also mentions that there are lot of people right outside this arena who are starving and have no food to eat, and encourages everyone to contribute to the local foodbank, "especially all you in those skyboxes". Okay, so maybe it would not be cool to have a skybox....and I make a note to send a check to the Los Angeles Regional Food Bank. After all, how much money to we spend on our stupid cars to go fast, and there are people around that have no food? It does seem kinda ludicrous......so send a check to your local food bank.

Monday, October 18.
2nd Night for Springsteen in Los Angeles. A friend scored some tickets, so a bunch of us go. Seats are okay, but Springsteen changes out about 10 songs in his 25 song set from his set last night. Awesome, awesome, powerhouse show. If Bruce is 50 years old and he and the E Street Band can still play this intensity, then shit, I can still be doing driving updates to The NSX-Files when I am 50. I wish I had the tickets LAST NIGHT for tonight's concert, that would have been cool.

Thursday, October 21st.
Springsteen is playing his third night at he Staples Center tonight. Damn, a friend has tickets I can snag. But we got some championship points that we need to score in Vegas. We plan to leave for Vegas at noon to beat the traffic. Wayne doesn't get his car back from the mechanic until late Wednesday afternoon, and there is a crack in the windshield. Wayne violated rule #1, of getting your car ready three days before the event, so now we are scrambling again. Everyone is pointing fingers as to who broke it, as it wasn't there when we sent the car over on a trailer. So now we have to wait on Thursday for the stupid windshield guy to show up (late, of course) and replace the windshield. We leave three hours late…..and hit the dreaded traffic going towards Riverside….Riverside sucks....Doug Ota follows us in his Explorer, and he is tortured as he has to follow our slow ass truck and trailer to Vegas.....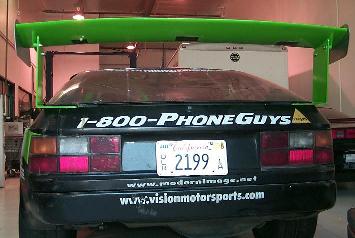 Wayne will try to do anything to beat me at the track. (note the word "try")
Click here for bigger picture
The Trip to Vegas
We arrive in Las Vegas after a 6.5 hour tow. Normally this is a four hour drive, or 3:15 minutes if you are hauling ass at 100+ mph. The truck pulls the trailer at about 40 mph up the big hills, and could easily go 90 mph downhill if you wanted to pretend like you are a runaway freight train. We are staying at the Plaza Hotel in downtown Vegas, mainly because they have a huge parking lot that we can park the trailer in. The Tyson fight is this weekend, and rooms are tough to find, but we were able to get five rooms for the weekend. Which tells you the quality of the hotel we are staying at…….Wayne, Larry, Ota, and Reuben are screaming in protest that I picked a hotel that is headlining "Boylesque", a cross-dressing show. Some of the most beautiful showgirls in the world are in Vegas, but not at our hotel. So now all guys are suspicious of what kinda of "girls" are hanging out in the hotel….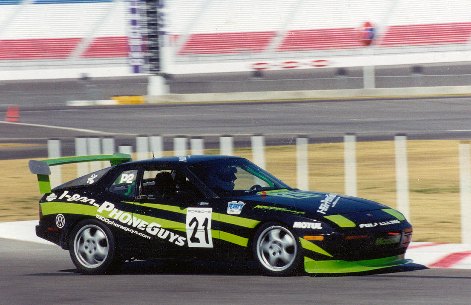 Another great action picture by Mark Weber
(click here for bigger picture)

I start playing blackjack at the Plaza hotel. They have one $25 minimum table, with the dealer using a single deck of cards. I have having a good run of luck, and am up about $600 after an hour of playing. I lose a couple of big hands, and now decide to aim for bigger game, the $100 minimum tables at the Golden Nugget. I cruise into the Nugget, and since the place is fairly quiet on a Thursday night, the roped off tables have a $25 minimum bet instead of a $100 minimum. I play for about 20 minutes, and am about even or so, and decided to head elsewhere, as luck and karma aren't working at this casino. Off to the Fremont, I lose $150 bucks to a babette dealer. Using good discipline for a change, as soon as I lose $100-$150 dollars in one sitting, I switch casinos, which is really easy in downtown Vegas, as there are 20 casinos in a three block radius. At the Four Queens, I get my $150 back, and now back to the Plaza. I win another 300 bucks at the Plaza. I am unstoppable at the Plaza. I go to sleep about $700 ahead for the night. Awesome, as I now have some cash to pay Larry and Reuben for there time in coming out to Vegas.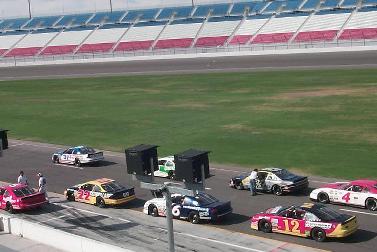 The NASCAR drivers getting on the grid between our run groups
Click here for bigger picture
Early the next morning, we plan to leave the hotel at 6:30 a.m. Larry is late (as usual, he is like Dagmar, he has no concept of time), so we don't get into the truck until 7:00 a.m. It takes us 20 minutes to locate a security guard to open up one of the back gates in the parking lot, as I can't maneuver the 48 foot trailer through the normal parking lot exit. Larry complains about the room at the hotel. I ask him is it too smoky? Too dirty? Too noisy? No, it turns out he is on the 22nd floor, and it is "too high" for him. He says he gets dizzy when going to the bathroom. When taking a shower, he knows that the shower is on the outermost part of the building, and he said he feels like he is going to fall out of the shower unto the pavement.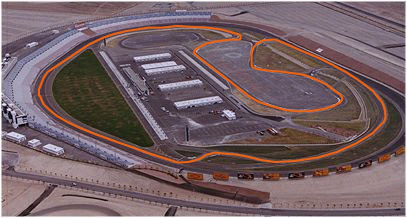 The highlighted orange line is the parts of the track that we used for this event
After making a couple of wrong turns, we make it to the track, and unpack the trailer. The track is awesome. I notice that Marty doesn't have his car there, but he is co-driving with Jeff Sadinsky in Jeff's 911. So it looks like Marty won't be picking up points for the sprint race, only the enduro. Marty and Jeff destroyed me and Wayne in the night enduro at Willow Springs, as they both drive pretty fast at night. In our practice sessions, I notice something disturbing……..I am no longer pulling away from Wayne. The bigger turbo, bigger injectors, big ass wing, and new suspension seems to be working for him. I am faster than him on the electronic timing system that PRO is using this weekend, but only by hundredths of a second. Last time at Willow I was kicking his ass by a couple of seconds. During the day, I feel like I can be as fast or possibly faster than Marty or Jeff's 911. But the big points will be scored in the night enduro, and driving in pitch black darkness is VERY different from driving in the day. I am turning laptimes around 1:32 or so.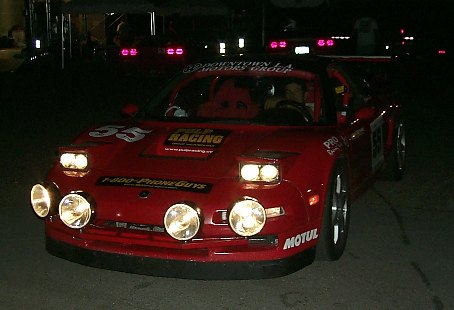 Four big ass driving lights to help with our night vision
For our last night race at Willow Springs, I put the two big ass headlights on the car to help with our night vision. Which worked out good when you are going straight, but when you have to turn into an apex, you can't see the damn apex, as there aren't any lights pointing to the side. So the solution? Well, Doyle has this super duper welder and plasma cutter, so let's get him to build a removable bracket with four big ass spot lights on it, two going forward, and two going towards the right and left side apexes. That should solve the problem, and help us in the night race. Now we feel like we are ready to do battle for the P2 championship.
There is a short 30 minute practice and then qualifying on Friday night, in preparation for the main night enduro on Saturday night. Wayne drives the first 15 minutes on Friday night, so he can get used to driving my car. We agree to split the enduro driving duties in half for Saturday night. I run the car the last 15 minutes of the practice session, and feel pretty good about driving, except that we need to adjust a couple of the spotlights that point at the apex. We pit the car, and adjust the headlights. There is a 5 minute call to qualifying for fast lap, and I get ready to drive the car to the grid. I turn the key….and nothing happens. Uh oh….looks like battery is dead. No problem….I bought one of those portable jump start battery thingys. We jump the battery…..but no luck. The battery is DEAD. Zilcho. Nothing. Now qualifying is starting. Oh great….we got 30 minutes left. Luckily, I brought a spare battery just in case. (we are doing a good job of bringing two of everything to the track). The car is burning hot, and the mini battery with the Dali Battery mount is hard to get to. Larry and Reuben jump into action, trying to get the battery out, and put the new one in. Larry proceeds to burn his stomach on the radiator, and he says that I will have to explain the burn marks on his stomach to his wife. 20 minutes go by, and some of the cars are starting to come in after running what they feel are their fastest qualifying laps. With minutes left in qualifying, we get the car ready to go, and I go out there and try to get a decent qualifying time. It does make me wonder if we are pulling more juice from the battery for the four big ass lights than the alternator can charge.....but we will worry about that later...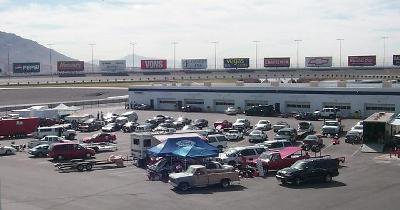 The Touring Car Club Pit Area
I realize that we need to get at least one halfway decent lap in before they end the session, so we are not gridded at the back of the pack, which really sucks. I forget about slowly getting used to the track at night, and just decide to floor it and try to run the first lap as if I they will end the session, because they will be throwing the checkered flag soon. Coming down off the high speed oval, I am going 125+ before braking into the quick chicane at the end…..and I miss the apex. By 20 feet to the right of the apex. Oooops. I come off the high speed bank, and miss the apex, shoot across the grass, and get back on the track. Whew! No problem, I am a professional. Next time around, I slow down considerably, and make sure I make the turn. Remarkably, I get about five laps out of it, with the fastest being a 1:36.6, a good four seconds slower than my laptimes during the day. If I had the full session, I am sure I could have dropped that by a couple of seconds.
Friday night. I stay about even, not winning or losing much money. Wayne, however, is having some problems at the blackjack table…...
Saturday morning, I find out the Jeff/Marty team ran a 1:33.1 in qualifying. So they are almost as fast at night as they are during the day. Damn. But luckily, no one else is in-between us, so I was at least able to keep infront of the other cars beside the other six Porsche 911 drivers (and the Ferrari 308). I am gridded 8th out of the 12 cars that ran qualifying that night. I am sure more people will enter their cars for Saturday's race, except they were not able to make it to Vegas in time for qualifying. Fastest qualifier, Simon Sobrero, runs a 1:24.25. Ouch! We know who will be lapping us in the night enduro.
The next day, I ask Joe in the Ferrari 308 (1:28 laptime at night) how he runs so fast at night, and he says something like, "You drive it during the day, so you know what the track feels like. So at night, just floor it, and you can kinda feel where the turn SHOULD be, and once you start turning in, sooner or later you will see the apex in your lights. Now you won't be lined up perfectly because it is dark and you won't see it until the last second, but then just adjust your line, throttle, and braking accordingly to get to the apex." I think to myself, "No wonder these guys are faster at night. They don't worry about actually seeing where you have to go like Wayne and I have been doing, they instead are 'feeling', where they think they should be, in anticipation the sooner or later they should be able to see the apex with their lights and make it through the turn".
Saturday morning. The NSX is running pretty good. Springsteen is playing his closing night at the Staples Center. Damn, tonight's show will probably be the best show of the four in LA. Wayne blows a coolant hose, but we got some parts to fix it. Remember, we got everything in the trailer. I drop down to the 1:31's. Mike in his Vette that he is preparing for World Challenge is faster than me. I am still only fractionally quicker than Wayne. There is an afternoon sprint race for points. I figure with my 1:31, I am gridded fairly good, and I will sit out the next practice session, and run the last practice session before the sprint race. Larry needs some brake cleaner, hoses, etc, so I offer to go make a parts run while he and Reuben bleed the brakes on my car and checkout fluid levels, etc.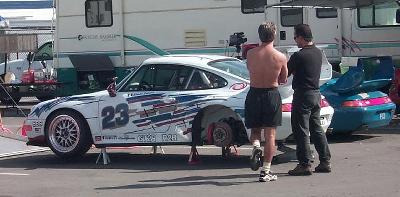 The White 911 Turbo that was blowing by everyone
Click here for bigger picture
I get back, and then I find out that the practice session that I skipped was the ONLY qualifying session for the afternoon sprint race. DAMN. Since I sat it out, I am gridded last. What an idiot! This is also for points. DAMN. There is one more practice session before the race. I take the car out for that, and now the car seems like it is having problems shifting all of a sudden. I start chasing down some of the slower cars, but then sooner or later I can't get the car into some of the 2nd gear turns without struggling, and the slower cars pass me up. I pit the car, and explain the problem to Larry. Larry says, "Uh oh…this doesn't sound good bro". He and Reuben bleed the clutch master cylinder, and say that this is the best that they can do, and to give it a shot. I am gridded last for the sprint race, but this is good as it takes time to check the clutch and bleed it. This is one of the bigger fields, with about 30+ cars in the race, so it will be a really fun race. Wayne is gloating that he is gridded way up in the field, and he is going to beat me in this sprint race. I tell him to just look for the red NSX coming up the field at him.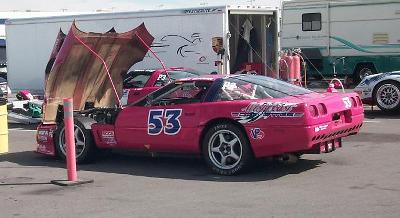 Mike goes to DEFCON 2 with World Challenge Vette, and also picks up an enclosed trailer.
We do a warm-up lap, and coming down the front straight of the big oval, the green flag drops, and we are off! Coming into the congested first turn, I see Wayne spun out in turn 1, facing the wrong direction. See ya Wayne! No way is he going to beat me. He hasn't beat me in a race in ages. As a matter of fact, he hasn't finished a car race or kart race in what seems like ages. I start passing some of the slower cars, and get to around 16th place or so, still working my way up. I pass John's red 914(which by the way blew by us at the Willow night enduro), and am feeling okay. But then the clutch starts to go. I miss a couple of shift, struggling to get the shifter into 2nd and 3rd gear. The 914 and one of the Mustangs blows by me in retaliation. Coming into one of the slower turns before you get back up on the high speed oval, the car won't go into ANY gear. Uh oh….I glide as far as I can get off the track. I see Wayne pass me, pumping his arm up in the air, as he knows he will beat me this time as I am going to DNF in the sprint race. I have to wait until the sprint race is over, and then I am able to start the car in 3rd gear and limp it in to the pits. But it won't go into any other gear...
I get the car to the pit, and Larry checks it out and says, "Bro, you are done." We only have 3 hours to the main event, the night enduro. We did bring my spare twin disc clutch (I am getting better at this, remember, we got spare parts galore of just about everything!). But Larry says that if he had a portable lift, he MIGHT be able to change it in three hours, but with just jackstands, he can't get it done in time. Bummer. (note to self: order portable lift, and get one that will fit underneath one of the cars in the trailer. That way, at the track, we can just wheel it out into the pit area and work on the cars). We find out later that the twin disc extra clutch that I brought would not have worked with the six speed tranny in my car. Okay, so now we have to make a decision. My car is dead. But we could race Wayne's 944 Turbo in the two hour enduro. But Wayne can't keep his car running reliably for a 30 minute spring race (with recent DNFs at LA, Willow, Buttonwillow, etc). Wayne also has crummy headlights on his car, so we would be driving totally blind, and we won't have time to retrofit and run my light bar on his car. We might be able to get points, and I could still have a chance at becoming the self-proclaimed overall points winner of the PRO series, but probably only if Jeff and Marty DNF. So we if we race at night using Wayne's car:
If Marty and Jeff DNF and we don't, I might be able to get enough points to be self proclaimed king (a big reason to run Wayne's car)

If Marty and Jeff complete the race, there is no way I can get enough points to beat Marty's point total.

They also run as fast as night as they do during the day, which really sucks for me and Wayne.

(a big reason NOT to run Wayne's car)

Wayne's headlights suck (a big reason NOT to run Wayne's car)

Wayne's car is somewhat unreliable (a big reason NOT to run Wayne's car)

Wayne's car has never run a two hour enduro before (a big reason NOT to run Wayne's car)

If Wayne's car breaks down on the middle of the track at night, and we have the 911 TT guys coming in at 150 mph, driving "by feel", and they don't see us….that would really suck.

One of us could be dead. (HUGE reason NOT to run)

If we throw in the towel now, we can start gambling earlier.

(Okay, screw it, let's go win some money!)

If we get our butts in gear, we might also be able to catch part of the Tyson fight. (Case closed, we are outta here)
So we pack it up early, and head for the casinos. Someone asks us if we are going to stick around and watch the night race. Screw that, we hate watching other people race.
Earlier in the day is the final race for Jeff and Ota in their Sports 2000 racecars. Jeff ends up on the podium (3rd out of six cars in class), and picks up some cash. Ota was running good until he spun the car. He grabbed the clutch in time and kept it running, but then stalled it when he was getting back onto the track, so he DNFed.
Back to the Plaza Hotel, at the only $25 minimum, single deck table they have. I am totally dialed into the cards. Varying my bet between $25 and $125 depending on the ratio of 10's to non 10's in the deck (more 10's being better), I am kicking their ass. I am up about $600 bucks in this one sitting, and am making all the right calls and right moves, just as if I was kicking ass in the night race, driving by "feel". I am invincible at this table. Pretty soon, at this rate, I am going to own the Plaza Hotel, and remodel it and rename it the Pulp Racing Hotel and Casino.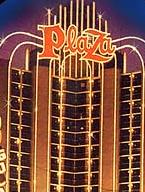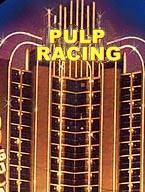 How I will remodel the Plaza after I am done with my winning streak at their blackjack table

The pit boss there NEVER smiled the entire time we were in Vegas. She was pissed that I was winning, which is unusual in Vegas. And then she does something that really pisses me off. With just two other players at the table, the dealer deals out the hand. No 10s or Aces are dealt out of this hand. Next hand, I bet $150, knowing full well that the deck is full of 10s and Aces, and if the dealer has 12-16, she has to take a card, but I don't have to take a card in the same situation, which means there is a higher percentage that the dealer will bust than me. Also, since there are a lot of aces to go with the 10s, if I get blackjack, I get paid 150% of my bet, whereas the dealer only gets paid 100% of my bet, which is another huge advantage for me. Moving in for the kill….and then the pit boss comes by, taps the dealer on the shoulder, and tells her to shuffle. SHUFFLE? Normally you can deal out three hands if three players are sitting at a single deck table. The pit boss was watching and she knew that I knew there was a huge advantage in my favor on this next hand. So the dealer re-shuffled after only dealing out about 9 cards in the deck. BITCH! Now I am pissed. The pit boss wants me to bet my $150 on a new deck where I haven't seen any of the cards, and my advantage would be lost. But hey, I am a Professional, screw that. I bet the minimum $25 bet, and after I win this hand, I decide to cash it in, and go cruise somewhere else and find the rest of the crew. I have never had this happen so blatantly to me in any casino in Vegas. Normally in Vegas, most pit bosses will notice my betting habits and will shrug their shoulders, "So he thinks he's a professional card counter. That don't impress me much", as most pit bosses know in the long run they have a high chance of getting all their money back. Why do you think Steve Wynn builds billion dollar casinos that cater to people who think they are "professionals", betting $100,000 a hand in and counting cards in an effort to win some easy cash. You don't see Steve having any fire sales on his art collection or selling any white tigers to pay the bills. Gambling is probably as big a sinkhole for cash as car racing……if not bigger….
So I take the cash, and I try to find the rest of the crew. I end up finding Larry and Reuben, and we cruise off towards the Strip, as Larry wants to show Reuben some of the newer casinos like the Monte Carlo. We get there, and it is like babette city there, compared to the old transvestites that are hanging around the Boylesque show at the Plaza. We crusing around Vegas for a while, and then decide to call it a night and sleep in on Sunday morning.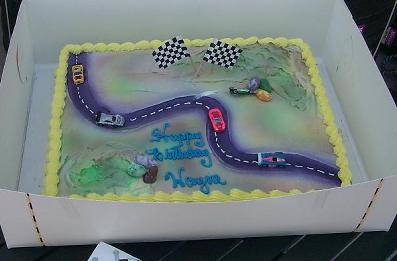 Wayne's b-day cake. Car is crashed into rocks on side of the mountain, just like he did at the Hill Climb.
Sunday morning, we figure Wayne would get to the track early and get some practice in before the sprint race, but Wayne sleeps through his alarm and misses BOTH practice and qualifying. To top it off, he had a bad weekend at the blackjack tables.....let's just say he coulda bought about 10 Hoosier Racing tires if he decided not to gamble. So we could all wait about three hours for Wayne to run in the 20 minute Sprint Race, but Wayne says screw it, let's just pack up the trailer and head home early, as it will be a long drive home. As long as he knows that he beat me in the sprint race (as I am a DNF), he has no motivation to get out and race from the back of the pack.
On drive home through the desert at night, Larry keeps trying to stay awake in the front passenger seat, as he feels there is a chance he will see an alien spaceship flying around in the desert. He keeps jabbering about that he knows aliens exist, and he knows that sooner or later he will see a flying saucer, but tonight is not his lucky night…….
So in the end, I didn't get the "overall" championship title for the PRO Racing Series, nor did I even get the championship for P2. But I did get more points in the PRO series than Wayne, or Jeff, or Ota, or James. Yeah, sure, Jeff, Ota, and James didn't attend all the events, but than spells out DNS to me, and I hereby declare myself the winner among my friends in this series. If they didn't take the time to make it out to most of the PRO Series races, that is no excuse to me....
For the start of next year's PRO Racing Series, we will begin the season with the trailer, the tools, the mechanics, and hopefully more fully developed driving skills to maybe take the overall points title. Unless of course, I can figure out a way to financially make it feasible to race in the Speedvision GT Series.........and they let my rookie ass run in the series.
The next event looks like the Alfa Romeo Club Race and Time Trial at Willow Springs this weekend, November 13/14. Wayne will be there with his new big ass wing, Ota will be there with his newly supercharged M3, and I will be there ready to crush them with my newly installed clutch. The final event after that for us will probably be the Touring Car Club event held the weekend of December 18/19 at Laguna Seca.