October 8-10, 2010
Suicide Machines on Main Street, USA
Streets of Lancaster Grand Prix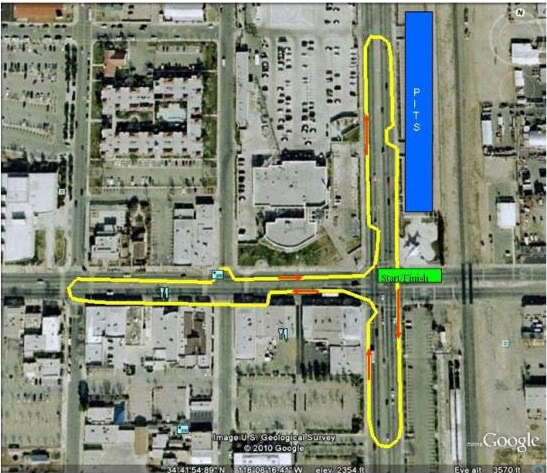 Streets of Lancaster Grand Prix Track Map - Racing down Lancaster Blvd at 90+ mph
Yeah yeah yeah.....it's been almost another 8 months since I had an update. Way too much stuff going on, I can't get organzed, etc etc etc.
I've been trying to do the following the past 8 months:
1. Help out with the kids' school work
2. Helping out at the school a few hours a week assisting some of the teachers with IT stuff
3. Helping to coach my son's T-ball team and my daughter's fastpitch softball team
4. Helping out Wayne with some side business ideas
5. Trying to learn a little more about Windows Application Virtualization to see if I can do some work at NathCorp
6. Playing some (well, a lot of online poker), and not doing very well at it
7. Keeping the shifter kart running good and fast
8. Miscellaneous BS paperwork that is dragging me down.
But now (July 2011), school is out, baseball and softball season are over for the kids, the Feds in their infinite wisdom killed off online poker (the Feds could have spent time and money chasing down perhaps mortgage and loan fraud, or maybe illegal weapons shipment to Mexico, or maybe keep track of the funds being shipped to Iraq, but NOOOOO.....they are going to target online poker corporations....just as I was getting better at poker and preparing to get my money back that I lost learning to play online poker), the next PKC kart race is 50+ days away (they don't run in July), and I have to sit at home and get prepped for a colonoscopy. So I figure now is as good a time as ever to pump out a quick update.
I'm doing a lot of this from memory, as I am realizing I have no notes, so we'll see how this goes. So this is what I can recall happened over the past eight months, starting with the SLGP, and then I'll do a SuperNats 2010 story, and then catch up with the PKC 2011 season.
LANCASTER GRAND PRIX
(Note: most of pictures in this story are from Mike Goebel, owner of MFG Technology Center located in Germany, and honorary outspoken opponent of the Rotaxian movement. Herr Goebel has been known to schmooze at very high levels in the racing industry)
It was another crazy, exciting, chaotic event. Tri-C Karters and the City of Lancaster setup a really fast course for this year's street race. It consisted of a 90 mph main straight, coupled with some 75-80 mph straights, with some crazy tight chicanes. It is one of the most thrilling races you can be in. It doesn't have the prestige of the Supernats, but there are few karting events where your heart will pulsate at 200 beats a minute trying to avoid catastrophes that are happening all around you. Wayne, Jeff and I decide to NOT run our new karts that we purchased to run at the Supernats, for fear that we would crash and bend up the new karts at this race. I get my old kart prepped, making sure the braking system is rock solid as the SLGP is always a very hard braking track with all the high speed straights and hairpins.
During practice, Wayne has an altercation and has to get his kart welded. Luckily Atwood and Son Automotive is right around the corner, and Jason Atwood is racing a shifter kart in the SLGP, so he helps us out to get the frame fixed. We owe them big time, as this is the second year we had to get welded up at the SLGP.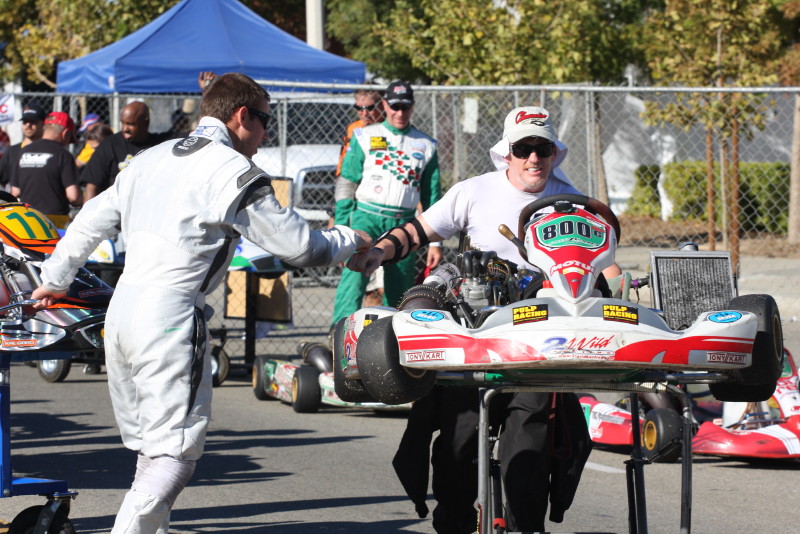 Qualifying
They basically had an "open shifter class", with S3 Stock Honda Light (now called S1), S4 Stock Honda Heavy, and the ICC/Built Moto karts all thrown in together. The organizers were nice enough to give out great prizes for ALL THREE of these class within our run group, in addition to another 7 classes. Prizes included stuff like an official SLGP Trophy Helmet, a new Cool max radiator, new gloves, etc. How often do you get to run in a one off race where you can actually win stuff? I mean, that is like $600+ worth of prizes for first place for each class, figure 10+ classes.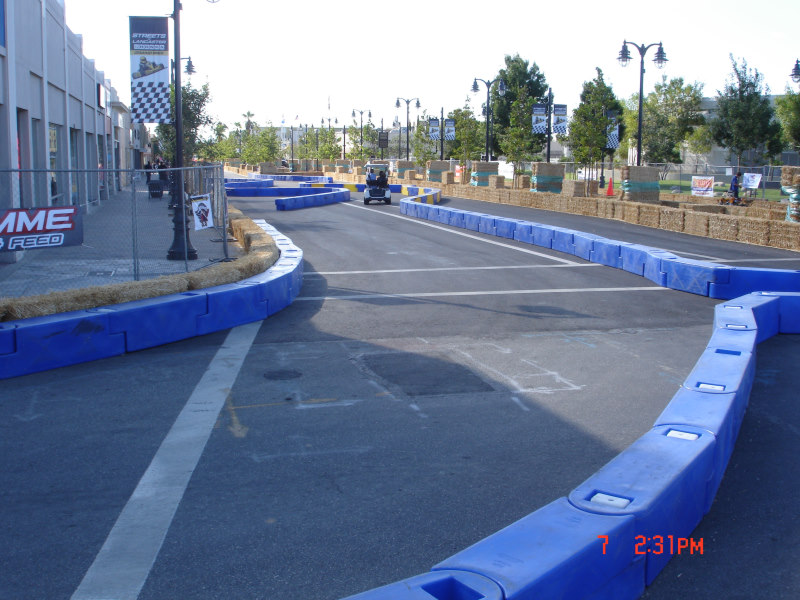 High speed chicane is being setup. If your rear tire hits the plastic barrier too hard, you just bent a $350 axle
In qualifying, Clinton, the #1 Driver for Mike Robbin's Select Shifter Team throws it on pole. No real surprise there, Clinton has been driving really well the past couple of years, and the mustache man does a good job of setting up Clinton's kart. There are only about seven of us S4 Stock Honda Heavy guys in this group of 34 shifter drivers, but Jeff surprises quite a few of them by qualifying 6th, thus blowing by a lot of the built Moto/ICC/G1 guys with our Darcy Decoste Stock Honda motors. Our motors are slower than the Built Moto/ICC/G1 motors, and we are running more weight than the Stock Honda Light drivers, so technically we are the slowest karts in our run group today. I ended up qualifying 14th, which I considered respectable, as only the S3 guys at a lighter weight and the ICC/Built moto guys are in front of me (along with Jeff).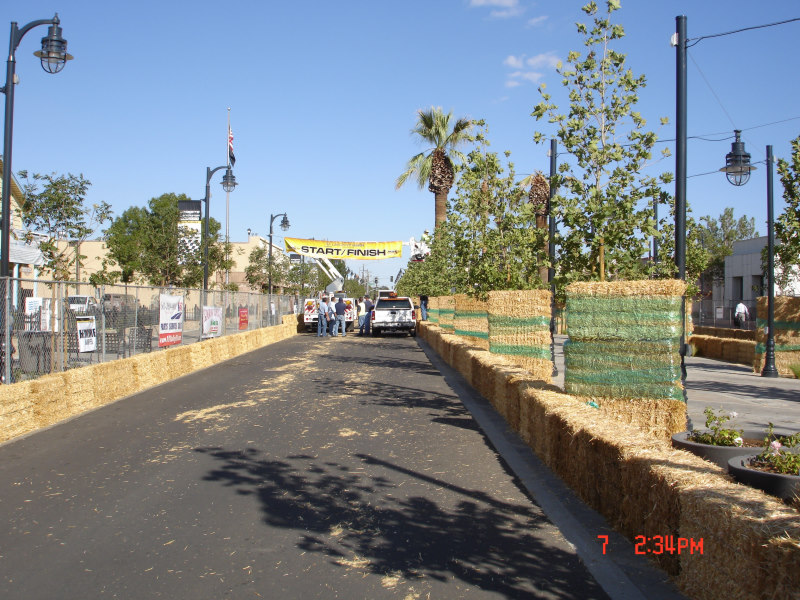 We blast right down Main Street where the shops/restaurants are located.
Qualifying results:
Heat Race 1
We got people crashing in this race. Jeff is among the casualties. He was was running good with the front runners, but then someone behind him has a rear brake rotor explode going into one of the hairpins. The guy misses his braking zone (and we have some crazy tight braking zones, essentially a 1st gear turn after bombing in at 80 mph on this crash), shoots forward four karts under braking and slams into Jeff as Jeff is rounding the turn. So Jeff is a DNF. Jeff ain't happy, as he knew he was leading the S4 class, and just had to keep his nose clean through all the chaos of this race.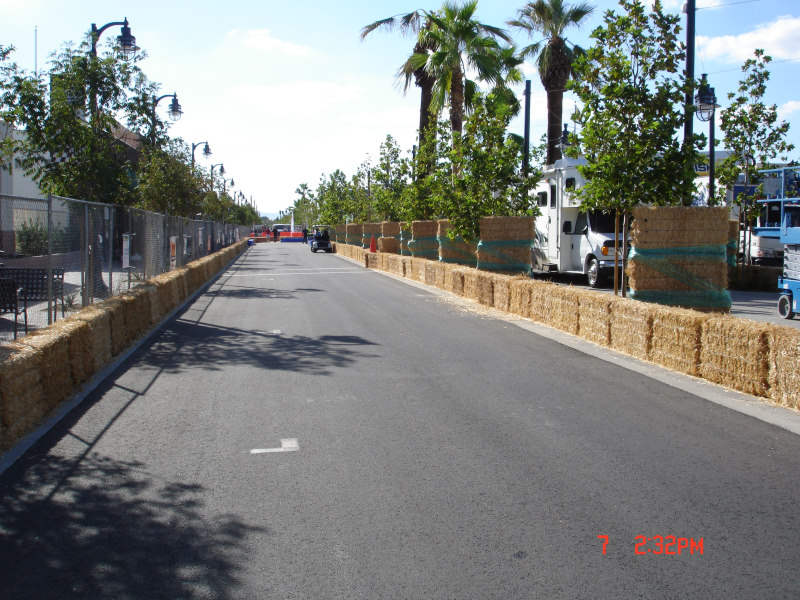 Jeff got crashed out at the end of the straight going into the 1st gear hairpin.
Jeff has had a lot of bad racing luck ever since Wayne spun at Buttonwillow, threw dirt on the track, and the next lap Jeff came around as the leader of the race, he hits the dirt that Wayne threw on the track, spins, and gets crashed out. The race after that at Santa Maria, someone forgot to tighten their tranny fluid plug, dropped fluid all over the track, Jeff hits the fluid and flies off the track, thus ending his chance of being the PKC South Champ. Then this happens at this race. So he has to get welded up, so back to Atwood and Son for another weld job.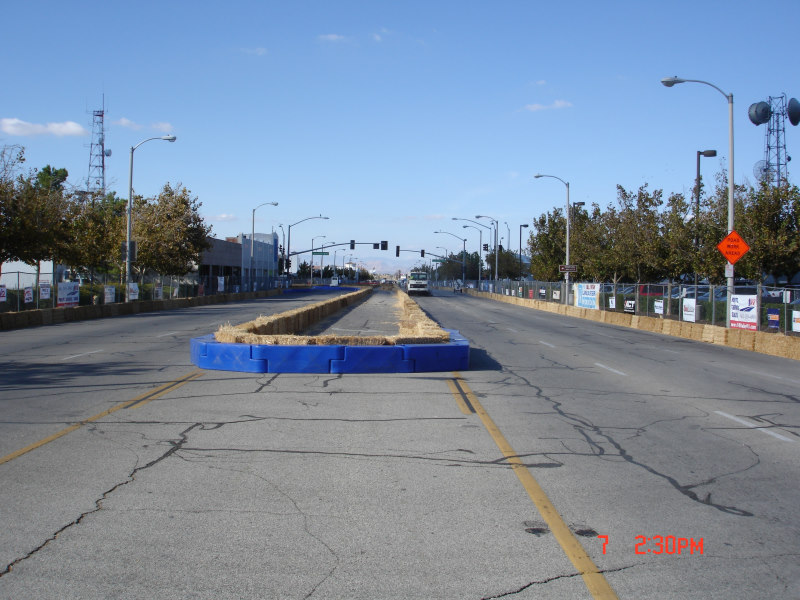 End of the 90+ mph straight
Wayne and I keep it together in this race, finishing 14th and 15th, so we'll be battling for that helmet, radiator, gloves, etc in the main for the S4 title.
Heat Race 1 Results
The Main Race
The only thing bad about the LCGP is that you don't get a lot of track time because there are a lot of classes, and there are some "recreational classes". Meaning that it seems that in order to make this race happen, the organizers work with the city to have a bunch of "VIP Races" for people like the mayor of Lancaster, the other big wigs in the local political scene, their buddies, etc. How else can you get a city to shut down Main Street, use city workers to help setup the track, tear down the track, etc? You get them hooked on the "Go Fast Crack Pipe", and they'll do some crazy stuff to help put on a race.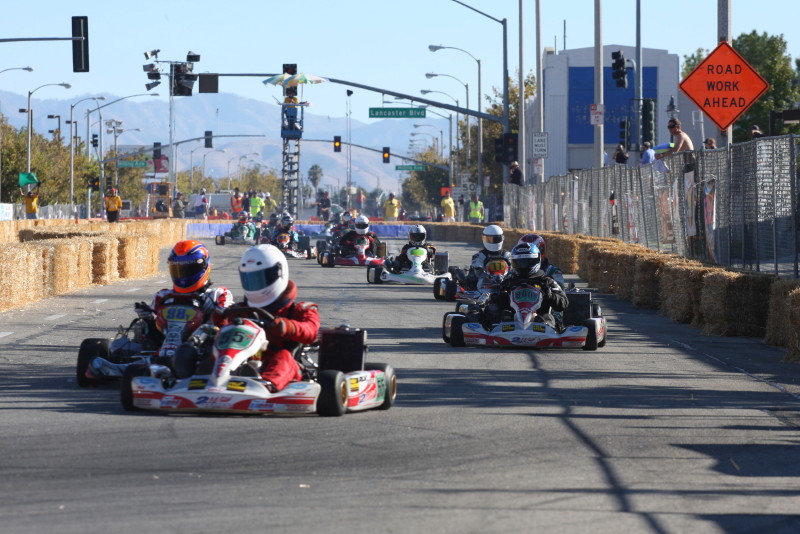 Notice platform in the middle of the "T" intersection so officials could monitor all three straightaways.
The VIP racers putt around in a bunch of rental karts so they get a feel of what it is like to kart race. There is a lot of down time because of all the classes and the VIP race. But hey, this event is exciting enough that you can sorta overlook the fact that you are sitting around a lot, waiting for your turn on the track. But when it is your turn, when you are on the track revving your motor for that standing start with thousands of people lining the track, when you are ripping through a tight chicane at 55 mph, with your rear tires gently kissing the plastic barriers at the apex, it all makes it worthwhile.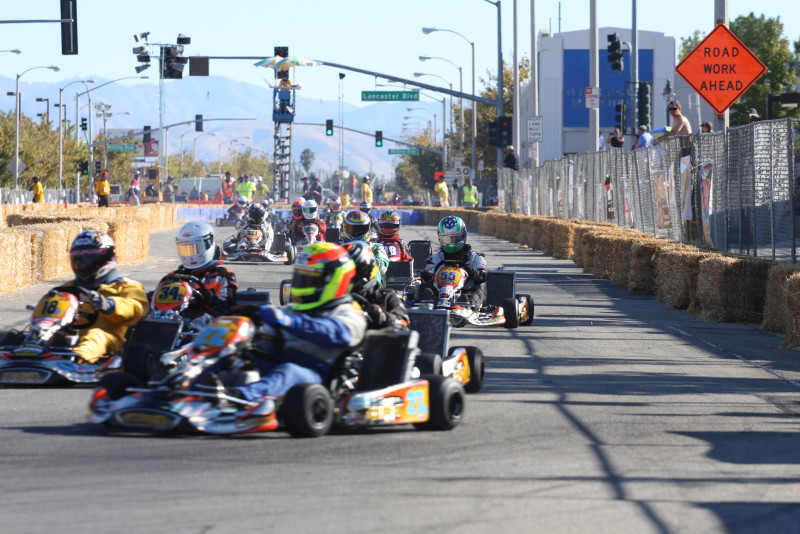 Bend a rear axle in this turn, you'll have to fork over $350 bucks. Axle prices suck!
The main race was pure insanity. People are hauling ass everywhere, trying to make their machine the fastest. People are crashing everywhere. Clinton somehow goes into a barrier early in the race. Troy Butts has a brake rotor blow up (I think there were three expensive ceramic rear brake rotors that failed in the shifter class this weekend. Strange, don't you think?) before he gets to the end of the main straight, thus turning at 90 degrees into the hay bales and exploding the hay bale into bits everywhere. So now there is hay on the track that the corner workers are trying to clean up.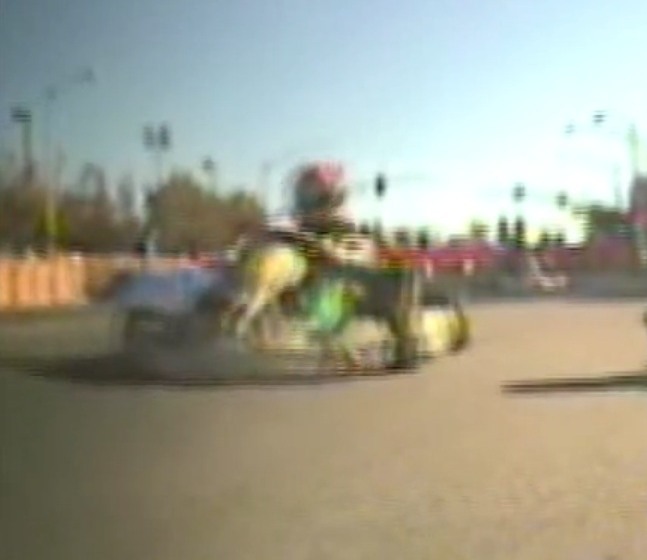 Notice hay bay on left hand side of picture Everything okay.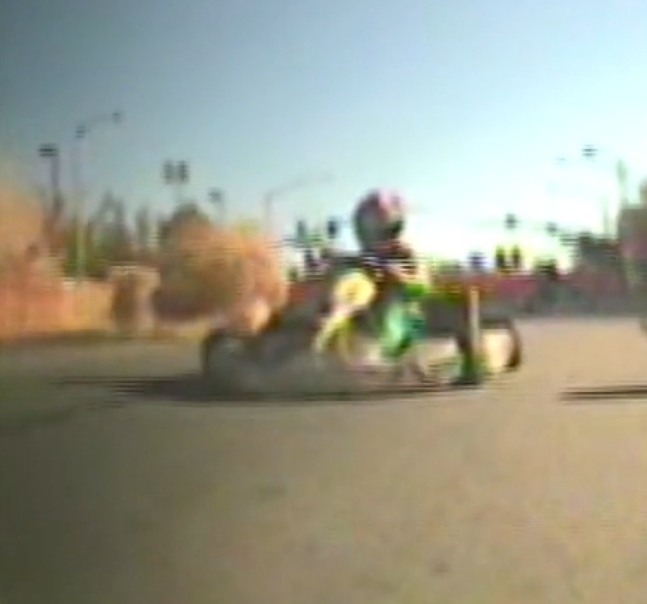 Notice hay bale exploding from impact on other side of track

Lancaster Grand Prix - Hay bale exploding - Revision 2 from Doug Hayashi on Vimeo.
But now the Lancaster wind kicks up. Hay is now flying around the track, and when you are going 80-90 mph. the hay flying around is like machine gun tracer bullets that are being shot at you as you rip down the streets of Lancaster. Now that is some cool stuff.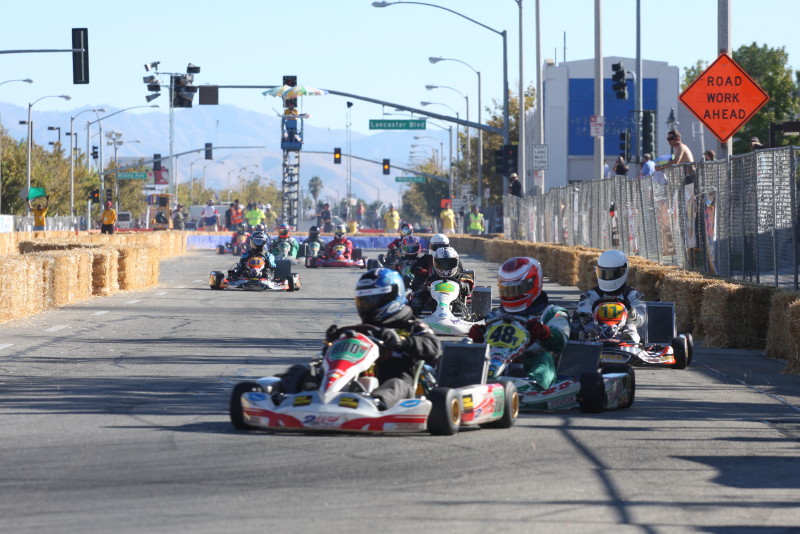 Wayne is right behind me after about 5 laps. Suddenly, his throttle cable sticks, thus slowing him down coming out of a fast chicane. Jim Lewis is charging behind him, and doesn't realize Wayne's kart is wounded. Jim hits Wayne's rear tire, and then Jim's kart gets airborne, spinning like a helicopter, and Jim is ejected from the kart, also spinning like a helicopter. Wayne saw it happen, and he thought Jim was dead. Luckily, Jim is a studly guy and he walks away from the accident.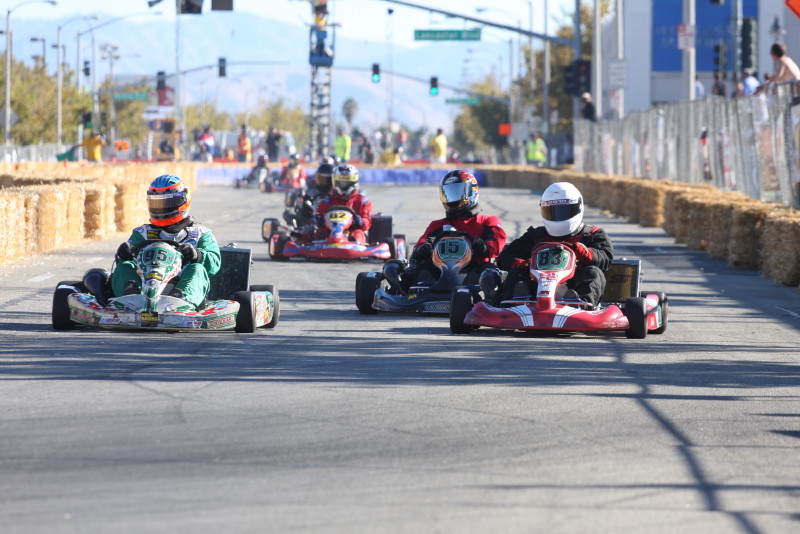 Over half the field crashes out spectacularly in the main race. I am able to hang on and I take first place in the S4 class, which is my first win in the main in years. Jim Kidd wins overall in the open shifter class. Jeff has more bad luck, his bumper coming off in the main race so he was black flagged as he was making his charge to the front of the pack.
For you masochists that want to watch the entire race, here it is in two parts:
Streets of Lancaster Grand Prix 2010, Part 1 from Doug Hayashi on Vimeo.
Lancaster Grand Prix October 8-10, 2010 Part 2 from Doug Hayashi on Vimeo.
There aren't many races like the LCGP in terms of raw excitement, craziness, prizes for winners, spectators, etc. I was going to sell my old kart to help fund my Supernats effort, but then I realized that I need to keep my old frame around so I'll have an old beater chassis that I can use for the 2011 SLGP. I got through this year without crashing, next year I may not be as lucky.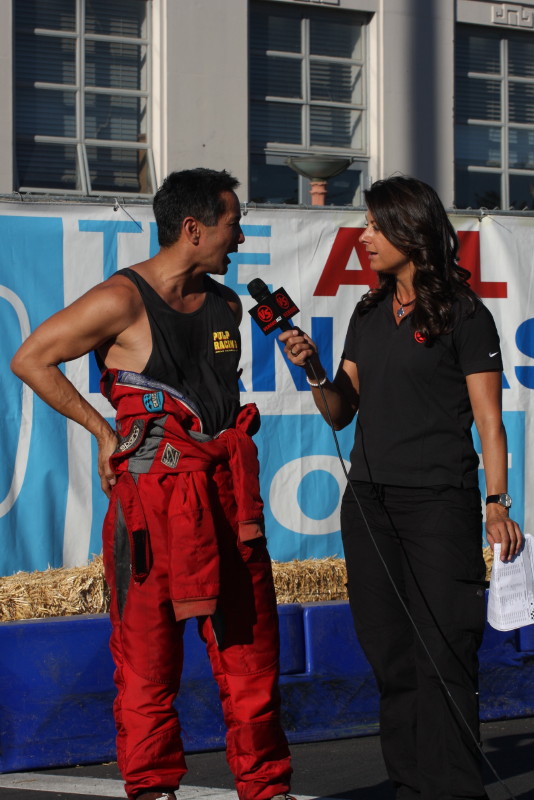 Explaining to the Versus TV reporter about how I kicked ass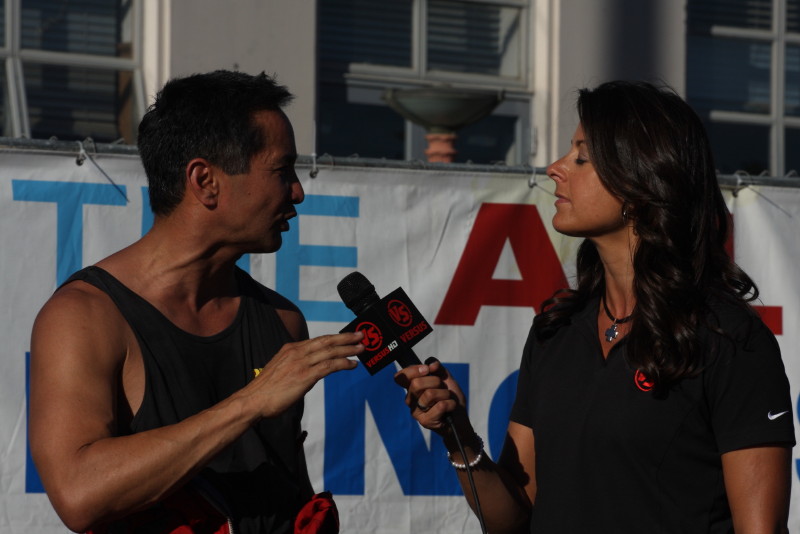 Telling her about how I am now Undestructable. She shuts her eyes in boredom. "I've hear this spiel before...."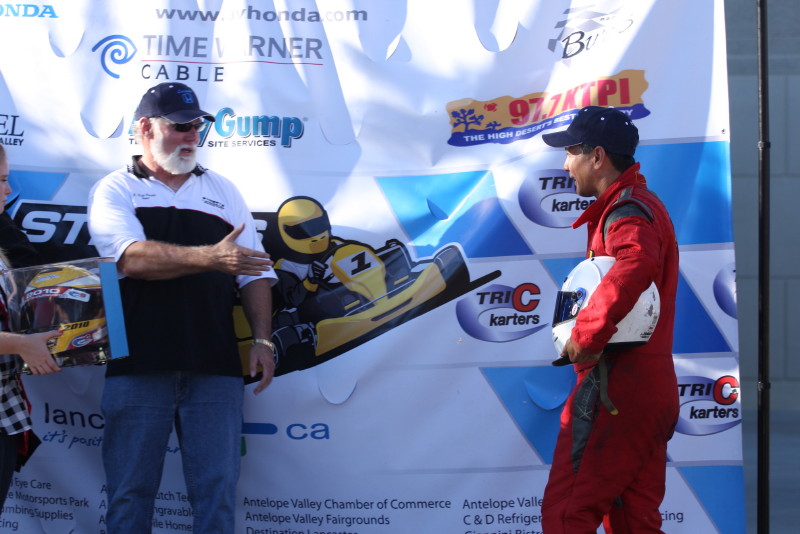 Getting ready to shake the Mayor of Lancaster's hand. He's hooked on the Go Fast Crack Pipe.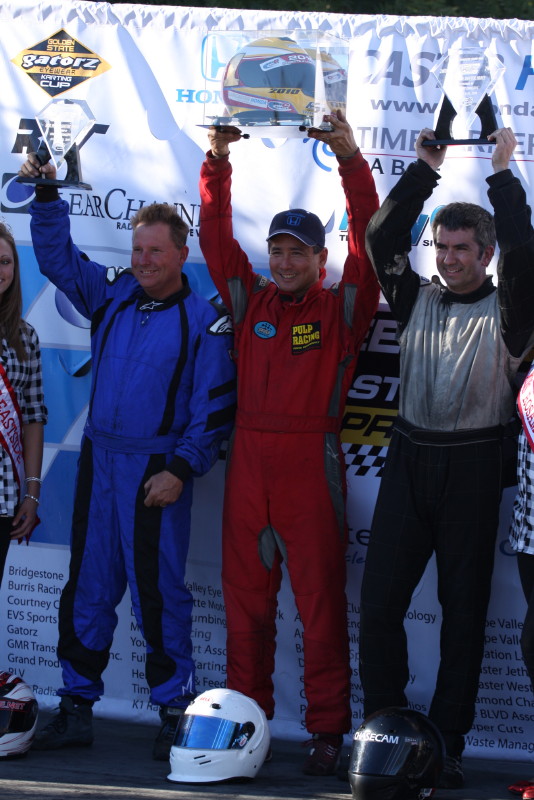 Me, Paul Russell, Todd Scholta on podium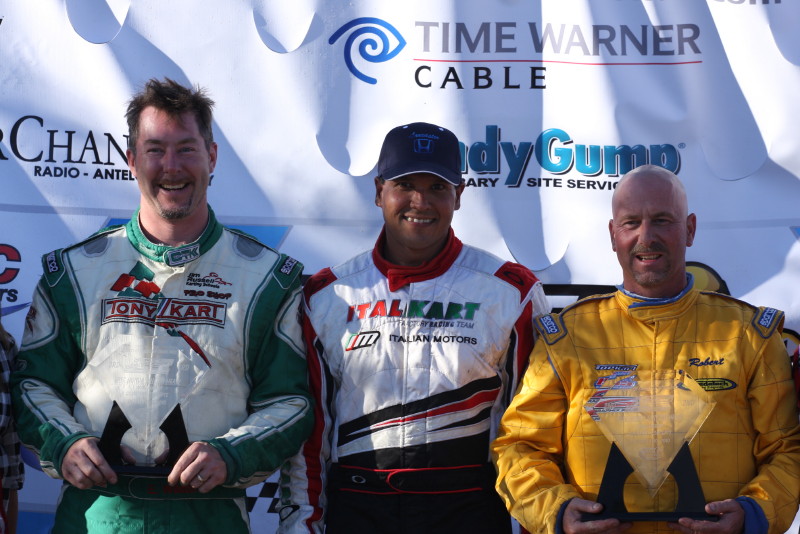 Overall Open Shifter winners, Wilson (3rd place) Kidd (1st place) Marks (2nd Place)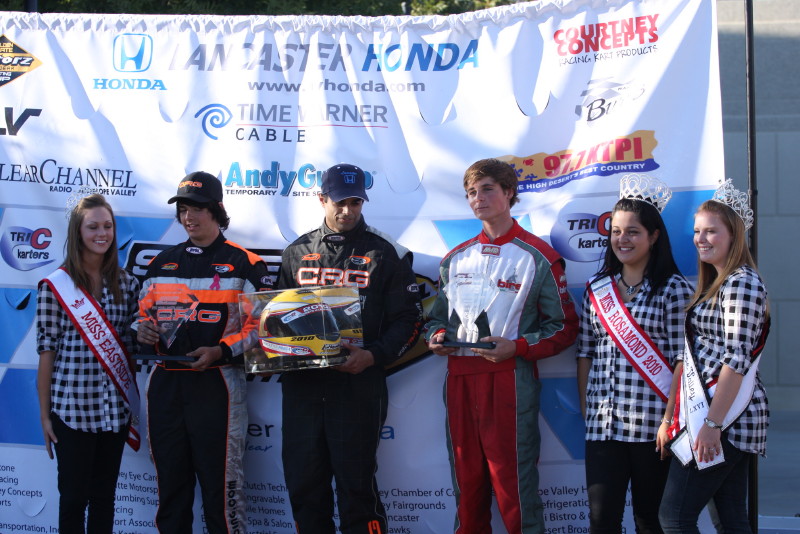 Stock Honda S3 Light winners Liberante (2nd) Tandon (1st) Wilson (3rd)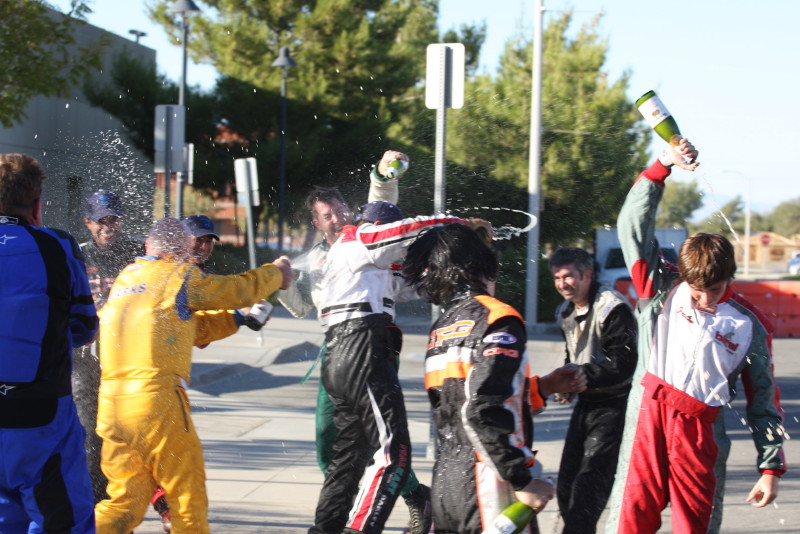 Celebration!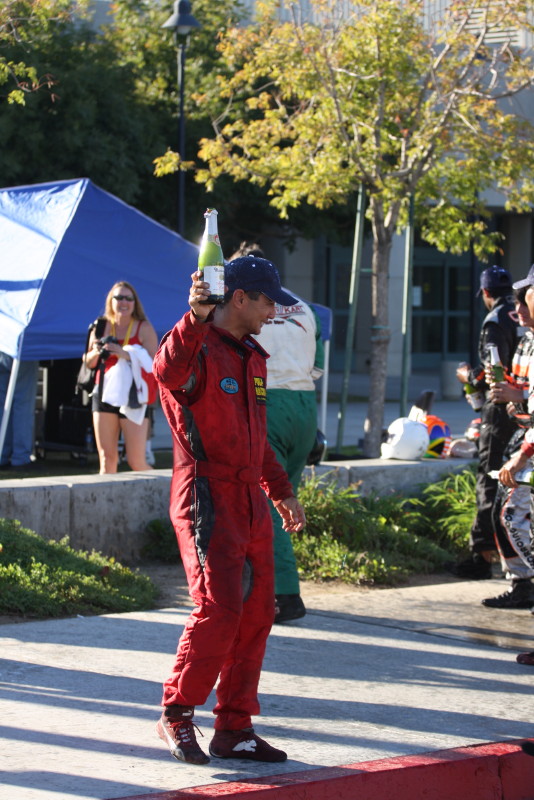 I'll be back next to defend my S4 title. Who's gonna try and take it from me!
It is coming up again. SuperkartsUSA somehow fanagled the rights to the 2011 Streets of Lancaster Grand Prix, so they'll probably try to switch it to the "Fastest Shifter Kart Street Race in North America", or something like that. Hopefully they will figure out how to get the drivers a little more track time, specifically a qualify/heat/race on both Saturday and Sunday would be awfully cool. Perhaps with SKUSA's involvement, we can get 30+ S4 shifter drivers in our own class along with another 70 shifter drivers in other classes.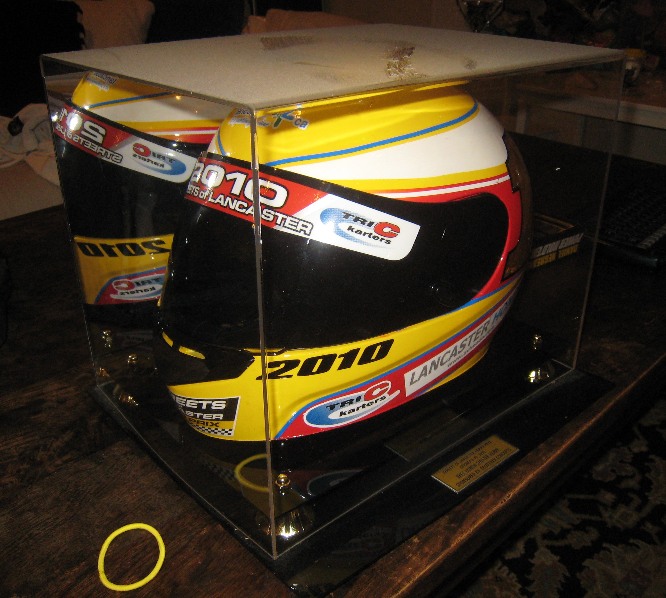 Trophy helmet for winning the S4 class