Speed Ventures at Laguna Seca, January 21, 2005
Back on Track for 2005
Round 1: Pulp Racing vs. Raceaflais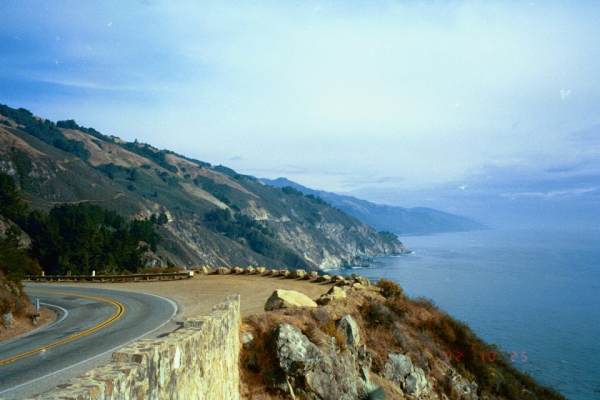 Off to Laguna Seca via Highway 1, arguably one of America's best roads
(picture ripped off from somewhere on the Internet)
This winter, we had a little problem with rain in southern California. It seemed like it rained for 40 days and 40 nights. Normally, we only get about 7-8 days of rain a year, and this winter we probably had rain in 15 of 19 days. It was out of control. Houses, cars, people, and hillsides floating away. We had the shifter karts prepped and ready to go for almost a month, but could not get any dry pavement.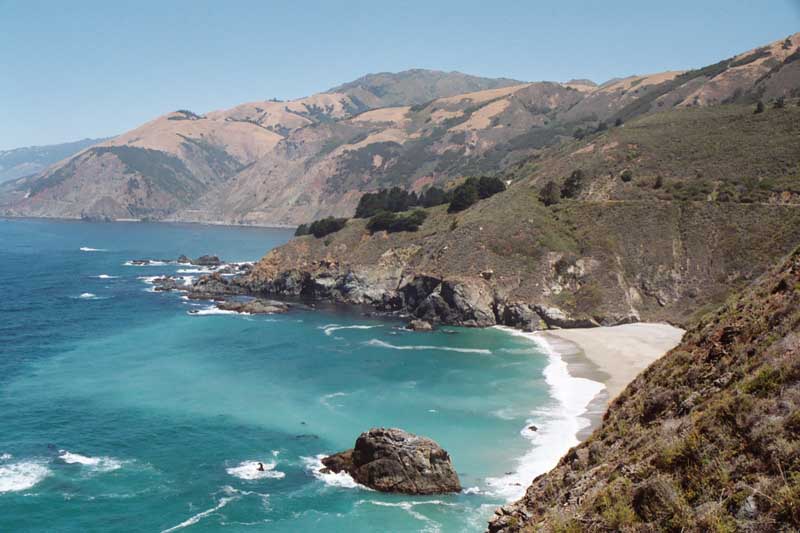 Highway 1 goes along the coastline of California
(picture ripped off from somewhere on the Internet)
Wayne was desperate to get the Evo on the track at Laguna Seca. He hasn't been there in probably 4 years, back when he was running the yellow 944 Turbo. Speed Ventures scheduled a one day event at Laguna Seca. It is a long way to go for one day, but we will probably get about 2.5 hours of track time on that day, so it almost makes it worth the drive. I told Wayne that I didn't want to tow the 48 foot trailer for a one day track event. Instead, I felt that it would be best to drive the Evo and the S2000 up there. And since we have both cars working, I was thinking we would take a little trip up Highway 1, which is one of the best driving roads in the country.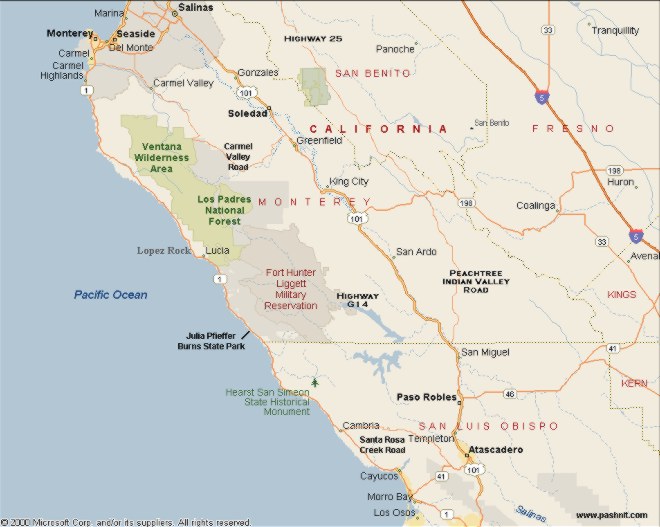 We cut over from the 101 over to Highway 1
At first, we were thinking we would just drive up on street tires and run those on the track, like we did in the good old days. But then we starting thinking about having someone trailer up our extra rims with used Hoosiers. And then we realized that we really needed to take 2 sets of rims and used Hoosiers for each car, just in case we corded a tire. Now we are up to 4 sets of rims. Damn. I don't know of anyone that has room for 16 spare rims.
So then we think that maybe if we can get someone to drive the Ford F350 truck up to Laguna, we can put the tires in the back of the truck and we are set. But then we realize we need the tools, the jacks, jack stands, the scooters, etc. Wayne has to run race gas at the track, and we aren't sure about the gas pumps being open at Laguna. We need to take about six 5 gallon cans of race gas up with us. We have now exceeded the capacity of the truck, and are now filling up the 16 foot karting trailer. We figure we can have Dana and Michael, the "Bad Haircut Boys", drive the trailer up the 101, and we will take Highway 1 and meet them there.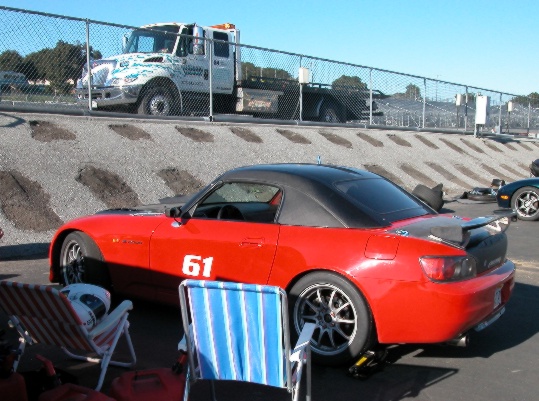 Nice S2000 with carbon fiber hood/top/trunk/wing
January 9, 2005
Speed Ventures was able to get the Laguna Seca track on a 92 db sound limit day, which is a lot better than the normal 90 db day that is run for the club guys. But if you get black flagged 3 times for breaking the sound barrier, the track officials kick you out of the event. I don't want to drive 800 miles round trip and end up sitting on the sidelines while everyone else is having fun on the track. I knew my straight pipe would not pass sound, so I started thinking about putting a turn down extension on the straight pipe. I went to the Huntington Beach Muffler shop down the street, and explained to Steve that I needed a 75 degree bend that would fit over the straight pipe. He looked at me quizzically. I then explained that if I had this turn down pipe, I would then cut some slots in it to fit over the rounded/flared lip of the straight pipe, and then secure it with clamps. He looked at me quizzically again. He said he'd do it, but he didn't think it would work. He said, "You're the engineer on this one. I'll make it, but I won't install it." I said that would be fine. After all, I'm a professional.......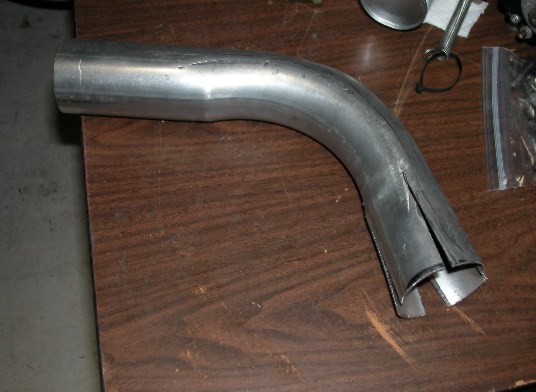 I thought if I cut slots, I could get it over the flared end of the straight pipe
The next day, I went and picked up the extension, took it back to the shop, cut the slots in it, put it over the tail pipe....and it leaked miserably. Instead of being about 102 db, it is now about 101 db. Not good. This would be a good way to burn off the rear bumper of yet another car. You would think I could just simply bolt on the stock muffler, but the way that Messley installed the straight pipe, there is no longer a flange to swap out the pipe for the stock muffler. Messley comes by, looks at my fabrication skills, then looks at me like, "What the hell were you thinking?". We decide that the best thing to do is do put the stock muffler back on the car, as that way it is sure to pass sound, despite the fact that it adds about 45 lbs to the rear of the car. And that is 45 more lbs of weight swinging around at the end of a pendulum. Not good, but at least I won't waste any track time trying to reduce the sound of my car. I'll be relaxed at the track, instead of running around trying to figure out how to reduce the exhaust note.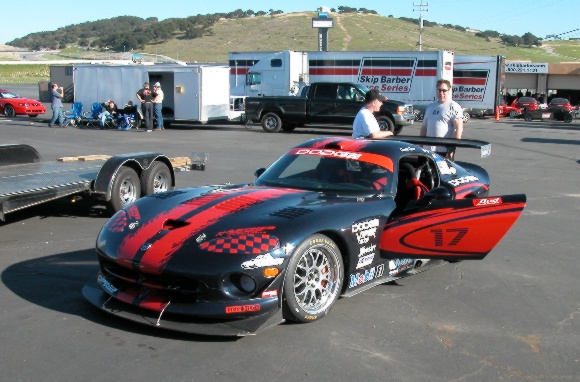 Nice Viper
January 12, 2005
We go back over to the muffler shop, and Erik knows Steve, and apparently Steve is some guru exhaust/header guy that has worked with people to build custom headers to get the max horsepower out of drag boats. No wonder Steve was looking at me quizzically when I told him I was just trying to clamp on a 75 degree turn down pipe over the flanged straight pipe using slots in the turndown pipe. Erik tells Steve the best solution is to cut the straight pipe down by the flange, flare it, and make it so we can swap either the pipe or the stock muffler back on the unit. Steve agrees with him. I slink back to my shop.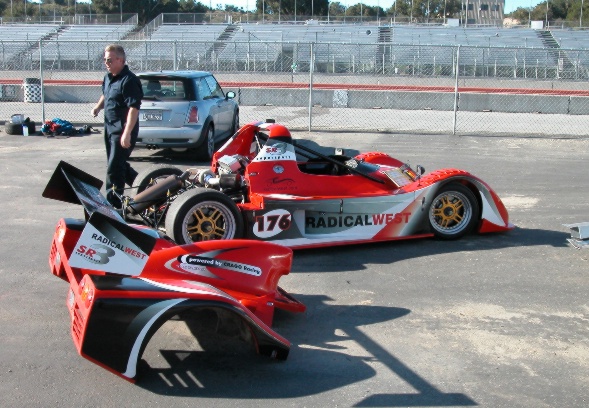 This Turbo Radical was the best sounding car. New V8 Radical will be here soon!
January 15, 2005
Stock muffler back on the S2000. Sounds like a Lexus now, compared to the straight pipe. It seems like 70 db.
January 17, 2005
I get the S2000 back from Messley. He had to replace a leaking canister on one of the Penske shocks, which happened in the last chapter.
Wayne and Jason put in the new injectors and boost controller in the EVO, and get the car re-dynoed at XS Engineering. He's now putting out 335 RWHP. (or is AWHP? FWHP?). He also finds a used transfer case to fix his front diff problem. The transfer case has been making a whining noise the past two months, but Mitsubishi won't fix it.
We also find out that the PMUM Viper Competition Coupe will be in the upcoming Xbox game Forza Motorsport. It will be one of the cars that you can choose from and drive around the track. That's some cool stuff! Links here.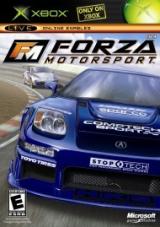 Buy this game in April for your Xbox!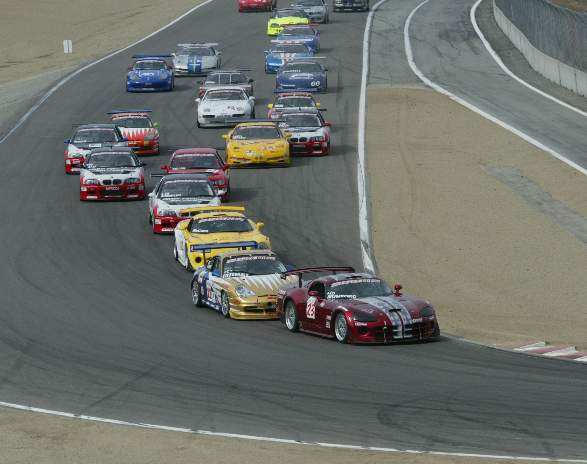 And then drive the PMUM Magellan Financial Viper to the front of the pack!
(photo by Peter Brock)
January 19, 2005
The F355 was at James Sofronas's shop for a few weeks. He calls me up, and asks me to pick the car up, as they are finished with the exception of a couple of hoses that will be backordered for weeks. I tell him I'll pick it up after this weekend, as we are thrashing to get ready for Laguna. Cool. I almost have all the vehicles working and in my possession. Ha ha, Raceaflais is almost defeated.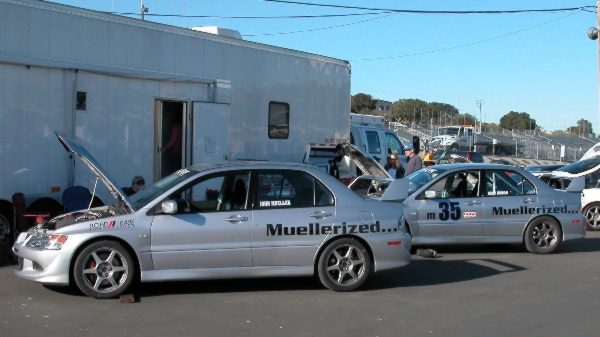 The Muellerized Evos from Road Race Engineering
There was some minor last minute thrashing. Wayne ordered a carbon fiber front splitter that looks pretty nice, and we started to install it the night before we left for Laguna. Of course it is a raw piece, no holes drilled in it, hard to get to the bolts, etc. Here I am, 10:30 p.m the night before we leave, starting to bolt on go-fast parts onto his car. Some things never change.
For our pit crew this weekend, we have Dana, Michael, and Jason Trumpio coming up in the truck.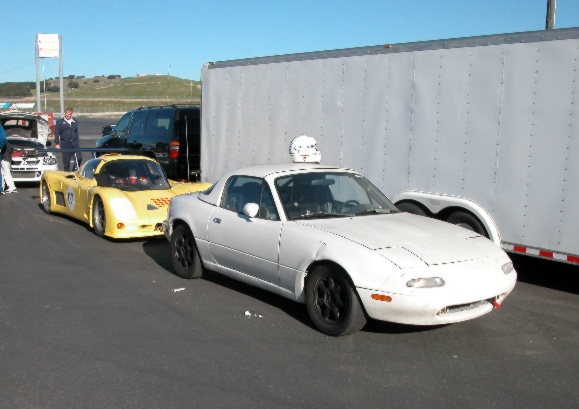 The Bitterman/Wurth Miata/Ultima race team
January 20, 2005
Wayne and I leave Huntington Beach on Thursday around 11:45 a.m. We get stuck in some traffic in LA, as we probably should have left at 10:00 a.m. We are taking the 405 to the 101, then cutting over from the 101 towards Hearst Castle so we can take Highway 1. In between, we pass the San Jacinto mudslide area. I can see why people live there. They have an ocean view, they are about 1/4 mile from the beach, and the houses are about 500k. Those same houses in Newport Beach would be 3 million bucks. So what if you have to run for your life from a mud slide now and then. We also take a slight detour to an Indian casino by Solvang. I lose about 200 bucks, Wayne wins about 200 bucks. Damn. I suck.
1:00 p.m. Dana, Michael, and Jason are supposed to leave. But Michael is still getting his hair cut. Those guys are screwed, they are going to hit LA traffic. They leave H.B. around 2:00 p.m., with Michael sporting a new mohawk. Ever see an Asian with a mohawk? Dana's haircut looks like it was cut with a dull razor blade at neck level. He goes for the unemployed rock star look that needs a beanie to keep the hair from flailing around. I ask Michael did he get the inspiration for the mohawk from: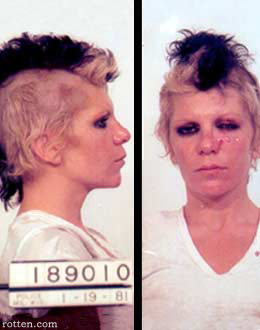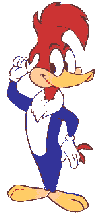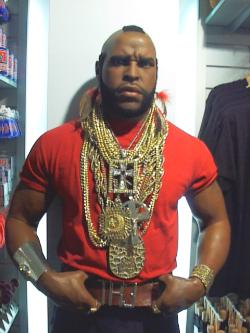 Wendy O Williams? Woody Woodpecker? Mr. T?
I guess I shouldn't rag on those guys so much about their hair. When I was in my teens, my dad and I fought about my haircuts (or lack of haircuts) more than any other topic. My dad a crewcut, and I was trying to wear my hair down to cover up my ears. He thought I was looking too much like a "hippy".
They finally get the truck moving, and they said that the automatic transmission in the truck isn't shifting. WHAT? It happened to Wayne and I coming back from the karting track a month ago, but it only did it for about 4 miles, and then it was back to normal. Dana said that all shifts have to be done manually, as 2nd gear doesn't kick in when accelerating. Crap. Almost had all the vehicles working.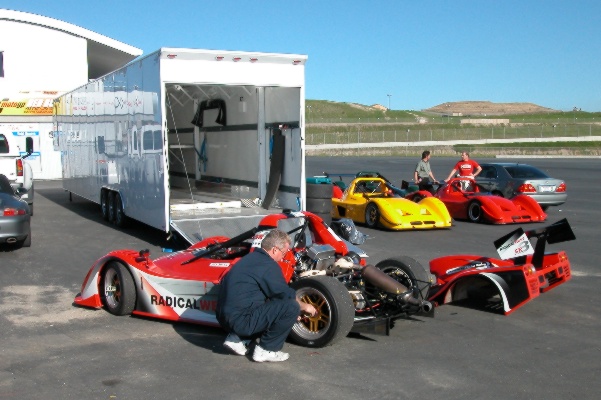 They have the truck packed with electronics. Three laptops, five cell phones, two GPS units, digital cameras, an AutoPC, a Verizon PCMCIA Wireless card, and a Sirius Satellite Radio. Jason brought a 12 volt-to-110 volt converter box. Dana went out and bought one before he knew that Jason was bringing one. I uh....keep one under the front seat of the truck, so now they have 3 converter boxes, of which they really only needed mine....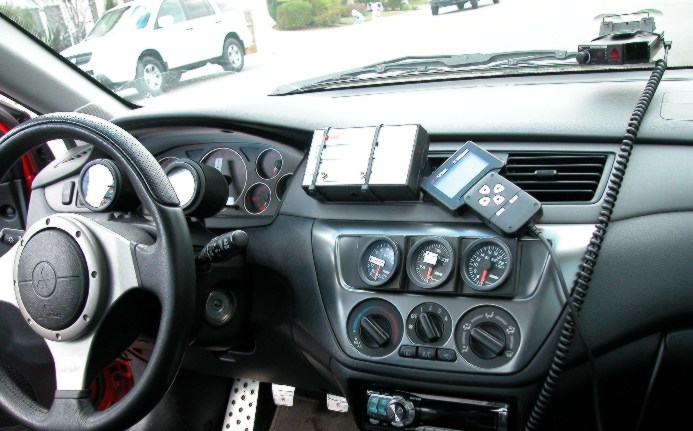 Wayne put in gauges to monitor the car. Now he has too many. I see at least 11+
Since Wayne and I left later than usual, and we took a 2 hour detour to the casino, we eventually get to Highway 1 around 5:30 p.m, so now it is dark. Highway 1 has no lights, is a two lane road that winds up the coast line without a lot of guardrails, and has 20 mph first gear turns, a couple of small landslides with cones to warn drivers. And it is now dark, foggy, and damp, with visibility about 150-200 feet. You encounter another car every 5-10 minutes, so it is pretty much just the two of us doing a poor imitation of the Virginia City Hill Climb with limited vision and traction. It was a great drive..........it kept us on our toes.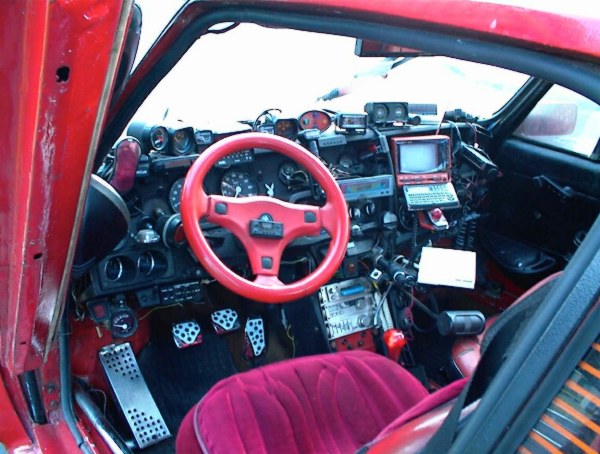 Pretty soon his Evo will look like this car
(picture ripped off from the Internet. Not sure where it came from)
We cruise in the Bay Park Hotel, right off Highway 1 and the 399b exit. Nice hotel, lots of room for trailers, and about $75 a night.
A couple of hours later, Dana, Michael, and Jason cruise into the hotel. We head down to Cannery Row at 10:30 p.m. to grab a bite to eat, but everything is closed. Someone recommends a British pub a few blocks away on the main street, so we head up there for a sandwich.

Jason Rhoades breaks out a new track vehicle: Datsun 510!
Jason Rhoades dares Raceflais to beat him. He buys his mom's old Datsun 510, and orders parts for it. Of course the parts come in late. He decides to drive up to Rylan's on Thursday, get there in the evening, and then work all night to replace the stock suspension with new go-fast parts. Since there are people hanging out at Rylan's the night before the event, he probably figures he can get a gang of S2000 guys to help with the installation of the new parts. Jason finishes the car, and makes it to the track! But now he is going on about 30 hours with no sleep....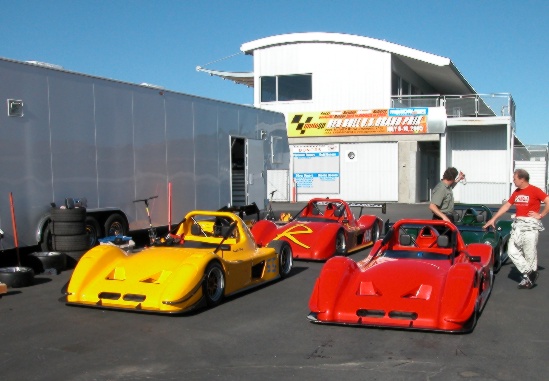 Those Radical drivers are getting a lot of seat time
The next morning, it looks like a great day at the track, especially for January in northern California. The sun is out, it is clear, and about 49 degrees. We swap out the street tires for the used Hoosiers, and we are ready to do some driving. I'm in the first run group. I go on the track with Michael as a passenger. On our warmup lap the car gets really loose coming out of 6. I have to put a tire onto the outside berm, which makes it even looser. Apparently there is a drainage problem up by turn 6, due to the elevation, and there is water that sorta blends into the track so you really can't see it. On the next lap through, a guy in a Radical has spun out there and needs a tow, so the session is black flagged to remove the car. After about a 10 minute wait, we go out again, and on the first lap into turn 5, a 944 apparently has caught fire in the engine compartment area, and is smoking heavily. The session is black flagged again for 10 minutes as we wait for a tow truck. Finally, we get out on the track again, and I get one lap before they throw the checker flag. As the flag is thrown, my car suddenly sounds like a box of rocks, and is slowing down quickly. I pull off line and park it on the inside apex of turn 2 in the dirt, and we wait for a tow truck. At first I thought I blew up the engine, and I started cursing Autowave. But then I re-started the engine, and it seems fine. I apologize under my breath for doubting Autowave's expertise. Apparently the differential/ring and pinion blew up. This sucks. Damn...that's two vehicles that are now dead. Arrgh! Between the Evo, the Truck, and the S2000 that is 3 diffs/trannys that are having/had problems. We have mastered the "Art of Not Blowing Up the Motor", but now stuff that is connected to the motor is breaking.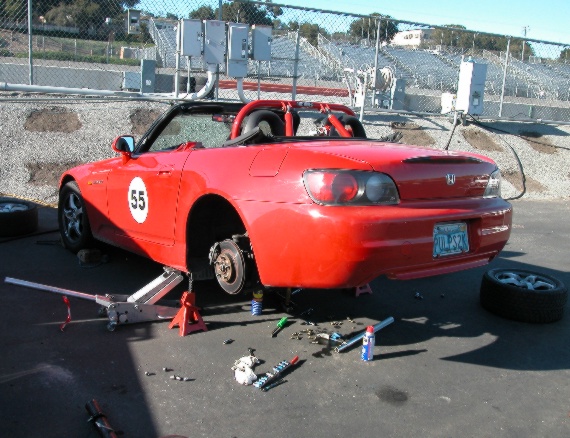 The trusty S2000 is dead again
Meanwhile, Wayne gets blackflagged for sound. DOH! And he forgot to bring his catalytic converter. DOH again! Didn't he realize we were going to Laguna Seca? He has this 8 inch wide exhaust, and it comes with an insert to stick in it to quiet it down and make it into a 2.5 inch exhaust pipe, but it is still too loud. He and Jason run off to the auto parts store to get some piping for a turn down pipe. They come back with a bag of parts and piping to quiet the exhaust down.....but Wayne forgets the insert for the pipe on the counter of the auto parts store. Without that insert, he can't put the turn down pipe on. DOH!! He asks the guard gate attendant at the track for the fastest way back to the auto parts store, and gets the "shortcut" back to the store. But the "short cut" route is under construction, so now he is stuck in construction traffic. DOH! 90 minutes later, he gets back to the track. He and Jason get the turn down put on the car, and he's good for the rest of the afternoon to run full bore past the sound booth. Moral of the story? Be ready to slap your stock exhaust on your car so you don't have to deal with the Laguna Seca sound cops. It'll save you a lot of time at the track. Like half a day.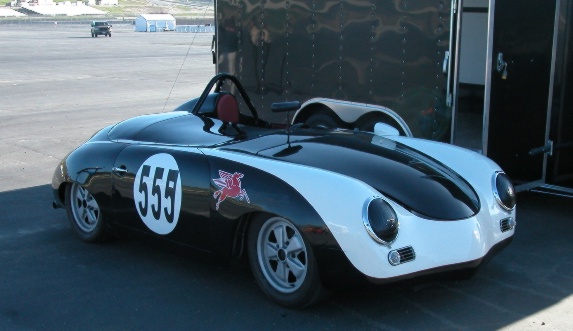 Now that is a cool looking car
Throughout the day, another Porsche caught fire, an Evo crashed, an S2000 had engine problems, and numerous other cars had to be towed off the track with mechanical problems. I think the attrition rate was about 30% of the cars entered. Rhoades, now driving with 40 hours of no sleep, taps the tire wall in turn 4 with the Datsun. He gets away with some minor cosmetic damage, which is lucky compared to what Raceaflais could have done to him for throwing that suspension on at the last minute. There are so few cars left running, that you could pretty much drive the entire afternoon in different run groups without any problems (as long as you obeyed the passing rules for those run groups)
Kent is the fastest guy in an Evo, running 1:46.4x. In Wayne's hot lap session, he gets it down to the 1:47.1, gets ready for his flyer lap.....but then the car sputters, as he is out of gas. DOH! Too many gauges to look at on his dashboard. But at least he is getting his Evo dialed in. The motor that Jason built has lasted longer that the other two motors put together. Just a little more boost and maybe Wayne could be the Evo King at the next event. John Morris in a Radical has FTD with a 1:32.6, and the Radical guys have the four fastest laptimes of the day. Results here.

Wayne has gauges on top of gauges. He can't see how much fuel is in the car!
Back to my car.....
So my diff is dead. The kart trailer is too small to put the S2000 in. It is 400 miles back home, of which I get 200 miles free towing on my Triple AAA Premier Autoclub card. The other 200 miles could cost as high as 4-5 bucks a mile, which sucks. I could drive back home, get the 48 footer, drive all the way back, pick it up, and drive back home, but that would take about 16 hours of non stop driving and $300 in diesel. That sucks. Rylan offers to swap out the good diff on his car, put it in my car, and then I could drive home and then ship his diff back to him. We think about that for a little bit, even to the point of starting to unbolt my diff. But then that could take us 2-3 hours to do the swap, and then we wouldn't be guaranteed everything would work, and we would probably have to do part of the swap in the dark, which would really suck, and it would start getting cold (40 degrees is cold to us).
Plan C is to tow it to TC Design, and have Tony swap in a new diff over the next week or so, and then fly back to pick up the car. Tony has done work on Rylan's and Dave Kennedy's S2000, so he is familiar with the car. This seems to be the best plan, so I call a tow truck to pick up the S2000 and drop it off in Santa Cruz at Tony's shop. If Triple AAA is tracking my using of towing, it would show something like:
1. September - NSX towed from 405 freeway. (fuel pump problem) It was 100 ffing degrees, the hottest day of the year, and here I am looking cool driving the NSX from the old house to the new rental house, and then it dies in rush hour so thousands of people can point at my car and say, "What's up with that moron with the stickers and big wing?".
2. December - F355 towed from the house due to motor sounding like it is dying
3. December - S2000 towed from side of the road, as a towel got wrapped up in the diff/rear axle, pulling out the axle
4. January - S2000 towed from race track to TC Designs
We get the car on the tow truck around 5:30 p.m., and then head off in the truck and Evo for home.
January 27, 2005
The trusty F350 dually needs a transmission rebuild at the cost of $2000. OUCH! Wayne said he is amazed that it lasted this long towing 15 tons of equipment with the 48 footer, and towing the karting trailer around.
February 2, 2005
Messley says he has a potential sponsor that is going to help put the PMUM Comp Coupe in a World Challenge race later in the year. Messley is going to be driving it!

John Dearing is running his OTC Viper GTS at the first Sebring World Challenge Race on March 18. Dearing says he's doing this race in memory of Paul Mumford, who would be stoked to know that his buddy Dearing is running with the big boys!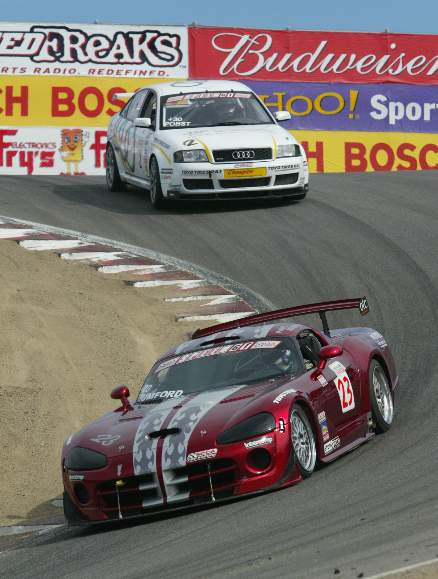 The PMUM Viper might rise again in the near future
(photo by Peter Brock)
Dearing's car is being sponsored by the following companies:
Special Dispatch of California, Inc.
The "FAST" Dependable on time Delivery Service
EMI racing, Built the competition suspension system
www.speedfilm.com They will be covering the front of the car with the clear 3m clear bra.
www.stoptech.com Stoptech gave me a small discount on all parts for the year. And contingency money if in the top ten.
Neo Fluids , Is supplying us with all fluids for the year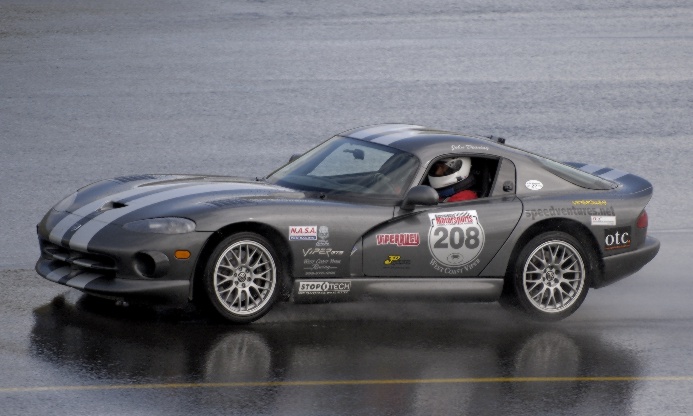 Local hero John Dearing is building up his 2004 OTC car to run at Sebring!
February 6, 2005, Super Bowl Sunday
I fly up The Bad Haircut Boys to Santa Cruz to pickup the S2000. Either that, or I have to fly up there and spend a day away from the house to do that. I'm trying to save my "Honey I won't be around today" days for when there is some real action at the track. They leave the local airport at 8:15 a.m., and have the car back to my house by halftime.
OTC 2005 - August 10-14, 2005
The dates are locked in. We are doing Reno-Thunderhill-Big Willow-Buttonwillow-Buttonwillow CCW on August 10-14. Cost is only $1400 for entry fees this year, and there will be prize money for podium finishers in marque specific classes that can get six cars entered. Rumor has it there is very strong interest in a Radical Class, a Corvette, and an EVO class to go along with the normal Touring 1, Unlimited 1, etc, classes. www.opentrackchallenge.com for more info.