Laguna Seca - Alfa Romeo Time Trials April 26/27, 1997
"Birds of a Feather Flock Together"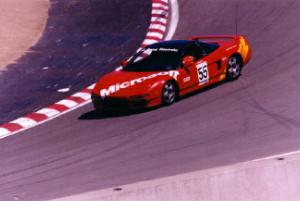 Blasting Through the Corkscrew (photo by Vytas)
NSX List members Wayne Mello, Mark Schulten, and I went to Laguna Seca over the weekend for the Alfa Romeo Time Trials. It was a huge turnout, with about 108 cars entered in the time trial event, and another 20 or so in the race group. Laguna is my favorite track in terms of track layout, atmosphere, and the ability to allow passengers to ride with you if you have a Time Trial license with the club you are running with. As a result, Wayne and I got to run in other groups and take intro passengers around for a cruise, so we got a lot of track time(maybe 100+ laps) in this weekend.
Anyways, back to the "theme" of this page. Have you ever noticed that birds of a similar type always hangout together? Seagulls with seagulls, sparrows with sparrows, pelicans with pelicans. My observation is that car people are very similar. The proof is below: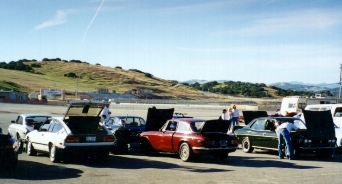 The Alfa Romeo Cars Hanging Out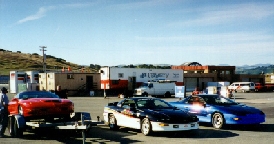 The Camaro/Firebird Cars Hanging Out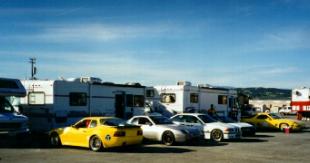 The German Cars Hanging out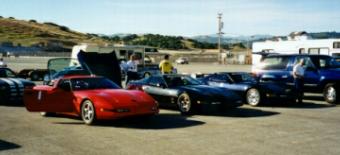 The Vette Cars Hanging Out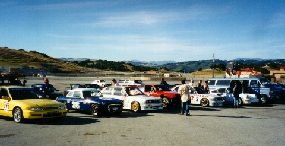 The Touring Car Club Cars Hanging Out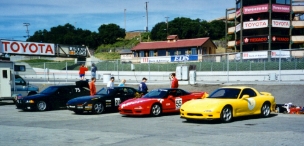 And finally, the Fast Guys Hanging Out!
We took 2nd, 5th, 6th, 7th fastest times in the time trial event
I lost a couple of pictures, but somewhere I got the Ferrari guys hanging out, the RX7 guys hanging out, etc.
Anyways, back to the Laguna Seca story. I recently had the front brake calipers rebuilt with new seals/pistons, as the car wasn't stopping as well as it should be. Perhaps this is why my brakes were not stopping as well the last couple of events, and also the cause of why the ABS wasn't always kicking in the past month. I dropped the car off at the Acura dealer last week, along with a bunch of Motul 600. I had bought a set of Porterfield pads as backup pads to the new stock pads I wanted to put on, but something got lost in the translation and the dealer put on theR4S pads instead of the stock pads.
One bummer for Laguna Seca is that they have a 92db sound limit for their car club events. Two black flags, and you can be kicked out of the event for sound. I decided to throw on the stock exhaust for the trip instead of the Supertrapp, so I wouldn't have to worry about the noise violations. The stock exhaust is so quiet compared to the Supertrapp I feel like I was driving an Acura Legend all weekend long. Numerous people got busted for sound, so you saw many people with coffee cans or Hi-C cans clamped to the end of their exhaust with little holes in it to try to drop the sound down. Wayne had lots of problems with his exhaust on his 944 Turbo, including losing a couple of cans on the track when accelerating.....kinda like shooting a depth charge on the track.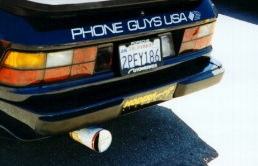 Wayne's car with a pineapple juice can clamped on
Anyways, back to braking. With the rebuilt calipers and the Porterfield pads, the car is stopping awesome again. This combo is working great. I had virtually no brake fade the entire weekend, unlike many other people at the track. The short gears were working great. I came prepared this time, with extra pads, rotors, etc, to make sure I would not DNF. As a result of the good brakes and short gears, I almost had Top Time of the Day in an Alfa Time Trial event(not counting the race group cars, that have slicks and are generally not streetable) for the first time in 14 months! (also true that not everyone stayed until the final competition, but if you ain't there, you DNF in my opinion!) I ran a 1:48.056 in the Time Trial. First place went to Danny Krueger in an RX7, who ran a 148.039. So I lost by .017 seconds. 3rd place was a ZR-1 with about a 1:48.46. Wayne ran a 1:48.882 in his 944 Turbo, for 5th fastest time of the day. Wayne and I spotted our friend Doug Ota in an M3 1.5 seconds for a $50 pooled bet, and Ota ran a 1:49.35 for 7th fastest time, so I didn't quite cover the spread, thus Ota is up $100 for the weekend. Our other friend Jeff in his RX-7(he kicked everyone's ass at Las Vegas Speedway in January) was having boost problems but still ran a 1:48.91 for sixth fastest time, but Wayne and I rejoiced in beating him. Especially since he just installed a bigger intercooler last week just so he could try to crush us at this event and rub it in our face. I feel that my NSX is definitely capable of running getting into the 1:46's, as I made some minor mistakes on my fastest lap that could be improved upon. On my final timed lap in the time trial, I did the first 8 turns perfectly, great full throttle exits, and then I botched turn 9 by getting two wheels off the track and almost spinning the car. That lap maybe coulda shoulda been a 1:46... :-) Throw the Supertrapp exhaust back on, and maybe a 1:45 is reachable. (yeah yeah, I know, now I am really bench racing) Mark Shulton was right in there, running 1:52 in his White 92 NSX, and it won't be long before he is breathing down me and Wayne's back at these events. Mark also burned through a rear passenger side set of brake pads in three weeks, and he thinks he has it diagnosed as hand brake adjustment. The hand brake should click 14 times on the way up, or else it is too tight and the rear pads rub too much. At least that's the theory. I have been having similar problems with my right rear pad, and mine was only clicking about 9 times before it engaged.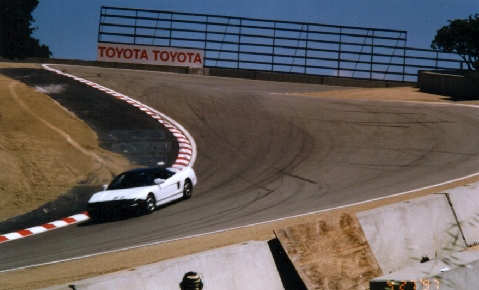 Mark Schulton blasting through the Corkscrew. From the Toyota sign, it is a blind drop down.
In the Race Group(meaning you need full roll cage, halon, nomex, etc.) the fastest guy there was Tilo Steurer, in a nice yellow 928, who supposedly put a supercharger on the car so he is putting out 500+ horsepower. His fastest lap was a 1:40.465, which means he was REALLY fast.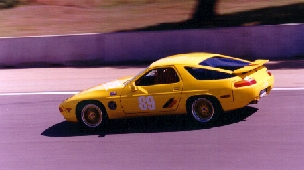 Winner of the Race Group (photo by Vytas)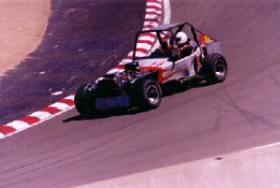 The Dunstang takes 2nd Place in the Race Group, with fastest lap of 1:47.151 (photo by Vytas)
On the way home, Wayne and I got pulled over by a particularly testy CHP officer by King City off the 101. We were going about 85+ mph, just getting ready to go into triple digits again, when a CHP car on the other side got a quick glimpse of us through the bushes in the center divider. I spotted the CHP car in my rear view mirror about a mile back as he started weaving inbetween cars, so we slowed to 65. About 2 minutes later he caught up to us, pulled us over, and then said he was writing us up for going 80+. Humor wasn't working with this guy("Officer, are you sure it wasn't the decals/numbers/flames on our cars that made it just LOOK like we were going over 65?"). He replied that any more comments like that and he would give us a ticket for racing. Obviously flexing his redneck personality. We showed him all our documentation, etc., and he wrote us up for going over 65 mph on the freeway. I KNEW if wrote us up for 80, my lawyer could have beat that in court, as there was NO WAY he could have clocked us going 80. Anyways, a call to the Traffic Ticket Attorneys is in order. I bet it is hard to beat a "going over 65 mph" speed limit ticket.
Some other interesting tidbits:
1. A Turbo Supra cracked his stock rotor using Porterfield pads.
2. Out of the top 7 fastest cars, I think all but one was using BFG R1 tires.
3. My tire pressure used was 26 front, 29 rear cold, on R-1s.
4. I don't think anyone wrecked, although a guy in a new 911 Turbo somehow lost it at the cresting the start/finish line, spun, and almost hit the wall. Not sure how that happened.
5. I got good video of Wayne spinning out in the corkscrew! See it on The NSX-Files Volume 3!
6. I didn't spin, although I did get two wheels off three times trying to push it to the limit.
7. The candy striping at the track is nice at the apexes, and also having them extend the track at the exit of the each turn with the white cement runoff so you can go wide on the exit like they do on the F-1 tracks is bitching.
8. Vytas was there from the NSX listserver, and he tooks a bunch of pictures at the corkscrew. Jacqueline also stopped by to say hi after the Hearst castle run.
9. I think I get around 8 miles to the gallon doing hot laps. I used half a tank for about 55 miles of track time. -
Laguna Seca is an awesome track. If you only take your car out on the track once in its lifetime, do it at Laguna Seca.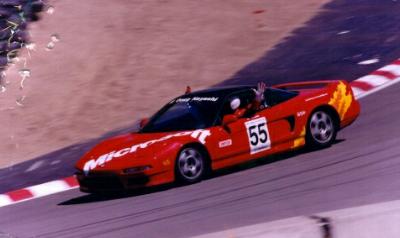 See ya at the next event! (Cleo the Cat got a hold of this picture. Notice the bite marks)