Ford LA Street Race, September 4-6, 1999
Sponsored by Downtown L.A. Motors Group and PRO Racing Series
"Who Will Be The King of Los Angeles?"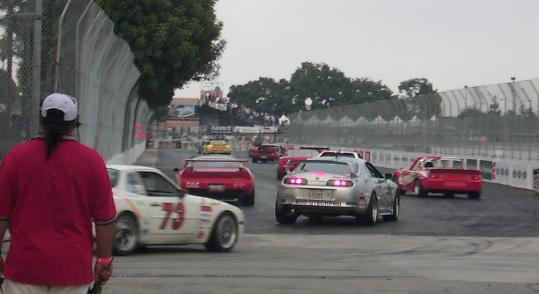 Racing in the streets of Los Angeles. Going into a first gear turn in the chicane.
(NOTE: If your browser shows broken links for the pictures, hit the "refresh" button. And get rid of that 28.8 modem.....)
Did you watch the Speedvision World Challenge race on the streets of Michigan this past weekend? They were racing on the streets of Michigan, with concrete barriers, tight turns, and good competition. This is very similar to the LA Street Race that Wayne and I raced at over Labor Day weekend. It had the same type of feeling as the Speedvision race, except we were in the cockpit driving, narrowly missing concrete barriers, screeching tires, duking it out wheel-to-wheel with a bunch of other wanna-be-Speedvision-drivers to see who would be crowned The King of Los Angeles.
Dave Bouzaglou from the PRO Racing Series was able to secure a spot in the FORD LA Street Race for the second year in a row. NASCAR Featherlites is the main event, and the supporting events are the Spec Trucks, American Indy Car Series, and the PRO Racing Series. Last year Wayne and I came in eighth place driving my car in the "one hour" enduro that was cut short because the NASCAR folks ran over their time limit. This year, Wayne and I decided to race against each other, and Wayne entered his 944 Turbo. This race is one of the highlights of the year, as we get to race on the streets of Los Angeles around the Los Angeles Sports Arena (used to be the home court of the clueless Clippers) and the Coliseum (which used to be the home of the Rams and the Raiders Football team). It is pretty cool racing around a street course with thousands of fans cheering you on. It is also a little more risky and unforgiving than your normal track event, as there are concrete barriers and tire walls everywhere. So if you spin, it usually means damage to your car. If you watched the Speedvision race in Michigan, it seemed liked 40% of the cars either banged fenders or wrecked when they got too aggressive. This may seem excessive....until you actually try racing on a street course. It is a LOT harder than it looks, due to pavement changes, slippery parking lot blacktops, and tight passing areas.
After we got back from Europe, the plan was everything would be ready for me to drop off my car to get the new Big Ass Wing from Dali Racing. I figure, since I was gone for two weeks, everything would fall into place. I dropped the car off with Larry the week before we go on our European Vacation. Dave, the promoter for the Downtown LA Motors Group PRO Street Race calls and asks if I can bring my car to the Century Plaza Hotel, wearing my drivers suit, as they are having a Miss LA Street Race contest, and they want some race cars there. Unfortunately, my car is at Larry's….and I am headed for Europe that weekend. Oh well…..that would have been some good footage for NSX-Files Volume IV.
Upon coming back, nothing was done. Okay…..we got three weeks now to flail and make it happen…..here's the story…..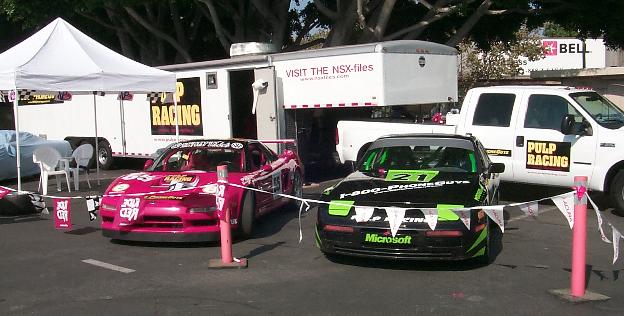 Our paddock area is actually starting to look professional!
After seeing the Porsche drivers whip by me through turns 2 and 8 at the Willow Springs PRO/Touring Car Club night enduro on July 4th weekend, I figured that I would get a big ass wing like them to give me some down force so I could attempt to blast through these sweeper turns like they did.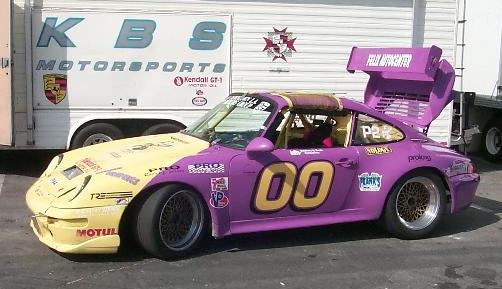 Jeff Sadinsky's Porsche that blew by me and Wayne at the Night Enduro at Willow Springs
Also, I decided that it is time to go on a diet, and have Larry throw out the air conditioner and the heater. I ordered wing from Dali, after talking to Dali's fabricator, who also builds Formula Atlantic wings. They said that they can build a wing, but they also suggested getting a hood with a big duct in it, which means I have to ditch the stock radiator fan, and go with two smaller fans along with some type of splitter, to keep the car from taking off like an airplane(like the Mercedes car at Le Mans). This is typical…..start with one mod, and then you need three more to balance out the first mod. Wayne decides to trade a high end phone system for wider, lightweight fenders, a new yellow paint job, and get the dents out of his car from his crash at the Virginia City Hill Climb. He of course doesn't call it a crash....but if you blow out the two passenger side tires by hitting a boulder that weighs about 500 lbs, what would you call it? An Incident? A Mishap? Sounds like the definition of a crash to me.......

Who said Ferrari drivers won't track their car?? There were three Ferraris in the race!
I ordered a fuel cell from Comptech. I figured that since I have been doing so many track events, we might as well put as much safety equipment in as possible. I didn't want to install a generic fuel cell, as I needed one that was the same size as the existing tank, and would fit in the same area as the existing tank. If I got a generic one, it wouldn't hold 18.5 gallons, and since many of the enduro events that I do are either one hour or two hours, I need to make sure the car can run for an hour without refueling. Which of course means a custom fuel cell. I also need to be able to gauge how much gas is left when I am driving, which means custom fuel cell also has to have a custom fuel gauge installed. Comptech also said that you might as well replace the stock fuel pump, and go with dual fuel pumps. Again, start with one mod (fuel cell), and then you need a bunch of other stuff to make it functional…..So now I am up to four times the cost of a generic fuel cell…….but at least now I won't go up in flames if I crash or someone crashes into me. Comptech had some problems getting some of the parts of the fuel cell/fuel pumps, so Larry could not install it when I was gone.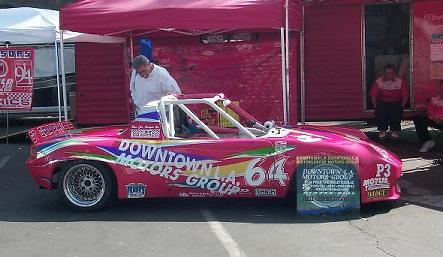 John Flynn's 914. He won a $500 check for doing the most to promote the Downtown LA Motors Group!
I wanted to replace the rear drilled Brembo rotors on the car with slotted rotors, as there were some hairline cracks that were starting to get bigger. So I ordered a set from Comptech. I figured I would get two more extra rotors (a total of four), so if anything went wrong or a rotor was going bad at a track event, I would have spares. Larry finally gets the rotors in, and starts to put them in, AFTER I get back from Europe. At the last minute, Larry starts installing them, but the old hats from the old rotors don't fit the new rotors that Comptech got from Brembo. Which means new hats are needed. Oh great……I can see where this one is going. I order some hats to be Fed Ex to my house. I get the hats, give them to Larry, and tell him that time is running out, and I need to get the car to San Diego to get the wing put on, as I need to test, get the car decaled, etc. etc.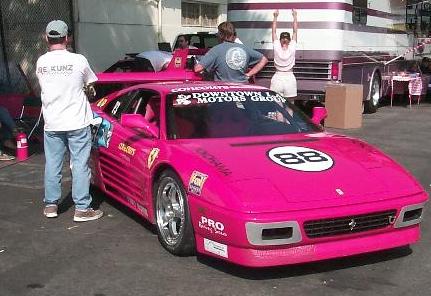 Gary's 348. He also went with a big ass wing this year
Larry says that since I am getting four new rotors delivered, and they are supposed to be a better design than the existing front slotted rotors that I have, we should put all four new slotted rotors on, and keep the old two slotted rotors as spares. Makes sense to me. Since my car has no rotors on it, I can't transport the car to San Diego to get fitted for the wing/splitter/hood. The hats come in, and I give them to Larry. Now I should get the car back tonight. But Larry calls back……..says that the hats came without the allen screws, and the old allen screws are fused to the old rotors/hats due to the extreme heat, and they are snapping off. Great…..now I need screws for the hats for the rotors. Luckily, there is a Brembo warehouse 15 minutes from my house, so Comptech gets the screws will called for me for the next day. I get the screws to Larry, now I should get the car back tonight. Larry calls me back around 10 p.m., and says, "uhhh…..the new front rotors seem to be slightly bigger than the old front rotors, and they don't fit on the caliper. WHAT? He says that they are slightly scraping the caliper, and smoke comes up from the calipers. We decide to call Comptech in the morning, so no car again tonight. Dave calls me again, can I do a KTLA Good Day LA interview with my car tomorrow….but my car is up on blocks, so I decline. Bummer, that would have been cool, to be on a morning TV show to millions of viewers in Southern California. I could have called my mom and said, "Hey mom, I am gonna be on TV tomorrow".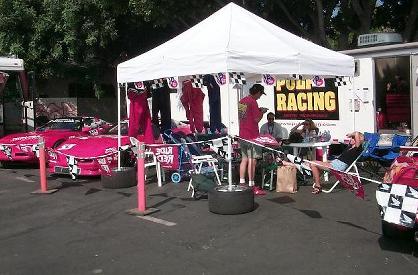 The Vette guys, Mike and Sean, hung out with us in the paddock area.
In the morning, Comptech says to send the two front rotors back, as these rotors should have been the exact same size as the other ones, and they will return them to Brembo. Larry says he will put the old slotted rotors back on the front, so I can get the car to San Diego. So now it is Friday, August 20th, and the car is now movable. So after a month, instead of having the fuel cell, wing, splitter, hood, and four new rotors on the car ready to go……all I got is two rear rotors……and only 13 days until the big LA Street Race. Raceaflais strikes again. But at least Larry got the air conditioning and the heater removed out of the car to save weight. I kept the dash, and the car stereo in it, as I need some tunes when I am driving on the racetrack. The stereo doesn't sound all that great, as it just has two tweeters mounted on either side of the dash, and their is a midrange speaker coming out of the air vents in the center of the dash. (Remember, I have carbon fiber doors, so there is no way to support door mounted speakers) But hey, at least I got some tunes....
Saturday, August 22nd. I take the small trailer, and pickup the car in Riverside. I then take the trailer to San Diego, and dump that off with Mark and the Wing Maker. Prior to getting there, I of course ask if they can put the new wing/splitter/hood on while I am there, and they say, "uh….no..it will take some time". So I haul the trailer back to the shop, minus the NSX.
Monday August 23rd. The car isn't done. Hummmm……didn't I order the wing/splitter/hood four weeks ago? Note to self: From now on, I will agree with the go-fast vendor on a price and a date to deliver whatever I order. If the thingy I ordered is delivered on time or early, there will be some type of bonus, whether it is $50 bucks or up to $200 bucks. If the thingy I ordered is late, then there is a penalty, and the cost of my thingy is then reduced appropriately. Maybe this way, I can get my car modified on time, so I don't stress out and start pulling my hair in frustration.
Tuesday, August 24th. Car isn't done. Wayne checks on his car. Nothing has been done to his car at all. Raceaflais is screwing with our lives again.....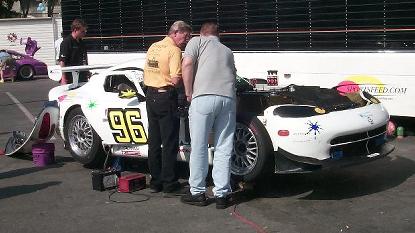 This Viper that was one of the fastest cars in our race group
Wednesday, August 25th. The car isn't done. Let's see, I still have to test the car to make sure everything still works after having the heater/air ripped out. I gotta test to make sure wing works okay. I gotta get new stickers and decals for the race. I gotta test out camera stuff, make sure Datacam still works, setup radio stuff and check, etc. Dave calls again, says he needs some cars and drivers to do a one-hour TV interview for a cable station. I tell him I still don't have my stupid car yet. I am pretty frustrated about the whole car deal now….and start thinking about other sports I could compete in that don't require much hardware. Hummm….I guess soccer only requires a ball for hardware, and a place to kick the ball. But then again, I don't understand a sport that requires kicking a ball into a net, or hitting a puck into the net while punching someone in the face and kicking them in the groin at the same time. I guess I am old-fashioned……but I will stick to motorsports…..and watching a little NBA basketball now and then.
Thursday, August 26th. The car is just about done. They are supposed to paint the wing at 10:00 a.m., so I could potentially pick the car up at 4:00 p.m. Traffic sucks, and I hate pulling a trailer, even the little one car trailer, since the speed limit is 55 when pulling a trailer. But since I did have pretty good experiences with trains over in Europe and Japan on my last two vacations, I come up with a brilliant plan. I will take the 1:30 p.m. Amtrak train from Irvine to San Diego, and arrive at 3:30. Mark Johnson lives about 500 feet from the San Diego Amtrak station. He can then pick me up, we beat the San Diego rush hour traffic, and drop me off at the Wing Maker, and then I can drive the NSX home. AND, as a bonus, while I am on the train, I can start writing up some more stuff for the NSX-Files website that I have been meaning to do. I take a cab to the train station, and buy a first class ticket. I am thinking about a nice air-conditioned cabin, ice cold Snapple, and maybe a sandwich while I am working on the website. At 1:15 p.m., there is an announcement that the Amtrak train is running about 90 minutes late. 90 MINUTES LATE? There are only about six stops from LA to Irvine, how can it be that late? I call Mark and tell him I will be in at 5:00 p.m., right in the middle of traffic. I am pissed…..how does Amtrak expect business people to use their stupid train if they can't get you to a destination on time? At 3:00 p.m., about 15 minutes before the late train is supposed to arrive, there is another announcement. "This train is stopping at Solana Beach, and will not be going all the way to San Diego today". WHAT? Not only is it late, they are changing the final destination? I now realize my error in thinking……I thought Europe was a collection of third world countries…..now I know that the United States of America is a third world country when it comes to transportation…..we have no autobahns, and we can't get a damn train from point A to B on time, or even to go from point A to B…..I call Mark and tell him I give up, I can't get to San Diego today. He says, that's okay, the painter guy was late, and I would probably be getting dead bugs stuck in the wet paint on the wing if I drove it home today. He then says, pick it up tomorrow….but on Friday and Saturday, Wayne, Jeff and I are in the Momo Grand Prix of karting at the Irvine Spectrum. So it will have to be Sunday. I wonder if Raceaflais is manipulating my life again, or if it just the fact that the U.S. has the worse public transportation of any industrialized country in the world.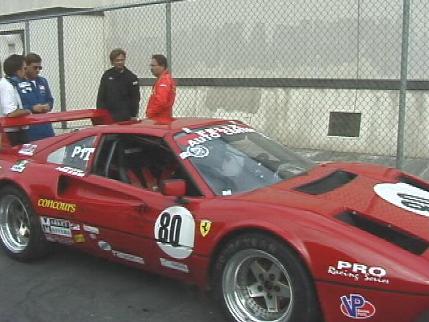 Joe's Ferrari 308 with new engine that redlines at 10,500 RPMs. Definitely one of the faster cars.
Sunday, August 29th. I have the wife drive me down to San Diego, and we finally take delivery of the car. The wing looks great, and it is real sturdy. There are some mounting bars that go from the wing into the trunk that mount to the frame, so the wing can support a lot of down force. The hood looks good also, kinda like an F50 type of hood that allows air through the front radiator to flow over the hood, to help with downforce. There is a NASCAR style air damn make out of plastic, to keep the air from getting under the car. Mark also had two other air dams made, a shorter one for street driving, and another long one for the track, incase I break the first one. It also comes with different whickers for the rear wing, so I can also set how much downforce I want. I drive the car home. Not that I could figure out what wicker and wing angle is optimal, but at least I have some stuff to play with.
Monday, August 30th. I get throw on a set of used Hoosier race tires, the cameras, the radio, and pack up the NSX on the small trailer. I put a bunch of timing equipment and tools into the truck, and get ready for an early morning on Tuesday. Wayne's car is still not ready. The fenders are not even at the shop yet. Things are looking ugly for the new yellow Phoneguys car.
Tuesday, August 31st. My car has to be on a trailer for the LA Street Race on Thursday night, so we are cutting it close. I cruise up to Willow Springs with my friend Donald, to do a couple of hours of testing. I do a couple of practice laps, and then I start pushing the car. I immediately start doing 1:32/1:33 lap times pretty easily. Nothing is leaking, which is good, as I wanted to make sure that taking out the air conditioning and heater didn't screw anything up. The wing seems to be holding the car good, and nothing is falling off, and the car is stable. I then crank the car up, and now I am doing low 1:30/1:31's, which is faster than I have ever gone at Willow. I pit, check the car one more time, and then go out again. I now click off a best time of 1:29.58, which is easily the best lap time I have had by a good 1.4 seconds. Better yet, in turn 2, which is like a big U-turn, I am able to hold about 100 mph through the turn, which is about 7 mph faster than I have been able to go through there before. Through the turn 8 sweeper turn, I was just a hair off from being flat out through the entire turn. If there was an ambulance on site, I would have went for it, but Donald and I were the only ones at the track on this day. I figure I am at least 133+ through turn 8, but I was going too fast to look at the speedometer. Going down the front straight, I was hitting about 134 mph, which is a little slower than I normally do down the straight, as the wing is dragging me down a bit here. (Note: there could be speedo error, as my tires are bigger than stock).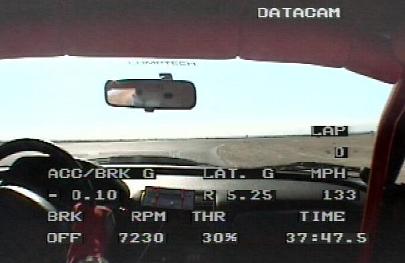 Willow Springs, doing 133 mph in turn 8. (note: I didn't setup lap time or G meter properly)
But the main thing is that the wing works, it gives me faster lap times, so I am happy. From testing we also find out that my helmet radio is working only intermittently. I practice a couple of Le Mans style starts, which means the car is turned off. When the green flag drops, you have to start the car and then haul ass. I practice this, and the NSX is sputtering whenever I try this. I do this about 20 times, and 19 times or so it sputters, as if it is getting too much fuel. This explains why I had such a poor start last year in one of the LA Street Race sprint races. I thought I started the car in 3rd gear. But what happened is that the car bogged down for some other reason. I try to call Larry to diagnose it, but can't find him. I don't want to have a bad start, as there is total chaos at the start, and I don't want someone rear ending me when they find out I am crawling down the straightaway. I call Shad at Comptech, and he thinks about it, and asks me if my TCS is disabled. I tell him yes, and he says to completely disconnect the three blocks going into the TCS controller behind the driver seats. I do that, and sure enough, car now kicks ass from a standing start. Cool…..now I am finally ready for the race, at least mechanically. Wayne still doesn't have his car yet. He is forced to tell the guy that he has to pick it up first thing on Wednesday, as we want to pack everything into the trailer on Thursday morning.
Wednesday, September 1st. Car is at the decal shop. I get a big Pulp Racing sticker for the top of the car, and a smaller one for the hood. I also put a couple of Etown.com decals, and Moss Software decals on the car. Neither of these companies sponsors me. Actually, it is a reverse sponsorship………I invested money in these companies….not them investing money in my car or my racing abilities. Hopefully these companies will go public sometime in the future….so I can keep spending money on this racing habit. Yes, I also paid for their decals.....but if they make it and have a successful IPO, then I can escalate this habit one step further, and go to DEFCON 4, which is up a level from the existing DEFCON 3. Heh heh heh.....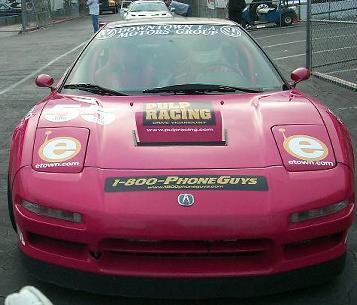 Front view of car with big scoop on the hood, and NASCAR style air dam
Thursday, September 2nd. Race tires are mounted on the street rims. I receive via Fedex extra helmet cable for radio. Thursday at 1:00 p.m., I head down with Andy, a seventeen year old high school student who is doing some work at Wayne's shop, to the LA Street Race to try to park the monster trailer. We get there, and are informed that the Fire Department doesn't want any trailers setting up the night before, but we can park in a nearby lot over night. We drop the trailer and truck off there, and go home in Andy's truck. Thursday night, Dave the PRO Racing promoter, asks me if I can be back at the track by 5:00 a.m., to help out with PR and interviews. I tell him yes. I am not a really extroverted person (extroverted people don't work on updating webpages, they are too busy needlessly flapping their lips to anyone who will listen to them), but I do think it is kinda fun and goofy to get the car and myself on TV. I sorta feel like Captain Janks, the frequent guest on the Howard Stern show, who always seems to get interviewed on those live call-in talk shows. Except Captain Janks' interviews are a little more fun.
Friday morning September 3rd, 3:30 a.m. I call Wayne, and tell him to get his ass out of bed, as we can be on live TV for some of the morning shows. I tell him millions of people can see the 1-800-Phoneguys car. Wayne is barely coherent, he didn't go to sleep until 1:00 a.m., and can't make it out of bed.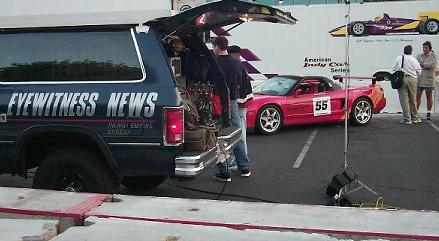 The Channel 7 news truck shows up for the photo shoot
I get to the track, and Channel 7 Eyewitness news is there with a crew of camera folks, but no reporter. They tell me and the black NASCAR driver Timothy Woods to act like we are polishing our cars, and they will use that as a weather background shot for the morning news. Tara Beatty, the female NASCAR driver, comes over, and the camera crew hooks her up so the Channel 7 news folks can ask her questions about being a female race car driver. Tara is a babette and is very articulate, you can tell that the media just loves her. I call Wayne and Dagmar and my parents, and tell him all to start taping Channel 7, as I need footage for the NSX-Files Volume IV. None of them were very happy to have me call them at 5:00 a.m. in the morning…..
Channel 5 KTLA news team gets there with Gayle Richardson. Gayle is part improvisation master, part army general, part time keeper, and is a flurry of action. She is very, very good at her job. She sizes up the situation, and she realizes that she has a female NASCAR driver, a black NASCAR driver, a 14 year old kid that races Spec Trucks against his Dad, and me. Obviously, if you are a news reporter, I easily come in last place in terms of who would be the best interview.
Now it is about 6:00 a.m., and I call everyone again, waking them up, and telling them to now tape Channel 5. She interviews live the other three drivers, barking out orders to the camera crews, etc. After the interview is done, she then says she wants a ride around the track, and she wants it done ASAP, so we can get ready for the next time they cut live from the studio back out to the track, which will be about 10-15 minutes. She of course would like Tara to do the drive around, but Tara and Timothy tell her that NASCAR rules prohibit them from getting extra practice, as it will be an unfair advantage. The 14-year-old in the Spec truck only has one seat. She looks at me, sees that I have a passenger seat, and asks if she can go for a ride. I tell her sure, and she starts getting her camera crew to hook us up for remote audio, and also sticks a remote video broadcasting attennae to the new Dali Racing Wing, and hooks the remote video gear up to my DV camera that is in the car.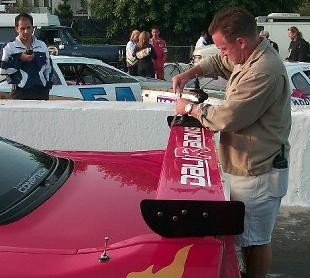 Hooking up remote transmitter to send in car video image live to millions of viewers
Gayle and camera folks are talking to the studio, and the say that they will take a shot of the car from the KTLA helicopter to start with, then they will switch the video feed to us in the car. Now this is cool, as on the roof of the NSX, I have this huge PULP RACING sticker on it, and the helicopter is following us around the track. Dagmar is at home watching this, and is cracking up.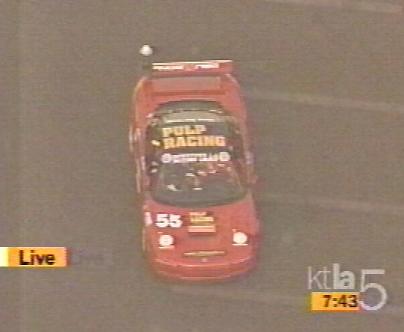 Live shot from the Channel 5 news helicopter. Note the big remote video antennae on the rear wing of the car

My parents think it is hilarious. Dagmar's boss can't believe I am on the news again. Wayne is watching at home with with mouth wide open, as all the exposure that the car is getting on the news. People at my old work are scratching their heads, "How did he get on TV again?". Wayne is thinking, "Damn, the 944 Turbo with the big 1-800-Phoneguys logo on the top of the car could have been displayed to millions of people".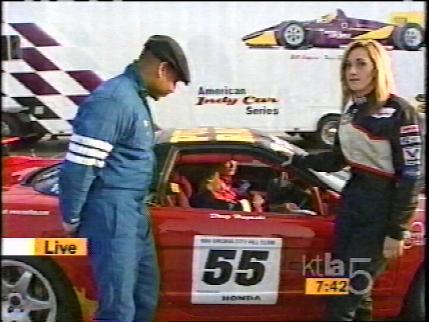 Timothy Woods, Tara Beatty, and myself are interviewed live by Gayle Anderson(in passenger seat)
After the drive around, we pull up in the hot pit area, and Gayle starts interviewing Timothy and Tara about getting sponsors. They answer very articulately. Unexpectedly, Gayle points the microphone at me and say, "What about you Doug", and I wasn't prepared for her to ask me any questions. Especially since I don't have any sponsors (although Dagmar says I should have said, "My Working Wife is my sponsor"). Instead, I sound like Stuttering John, and said something that was off the sponsorship topic. Hey, I told you, I am not an extrovert......
Later on Friday, the cars and trailers start entering the paddock area. Mike and Sean are hanging out with us at the Pulp Racing trailer. Mike recently sold his white Corvette, which was pretty fast. He recently bought a World Challenge stripped down Corvette, bought a new engine for it, has some head work done on it, and he is stepping up to run with the big dogs in the Speedvision GT series. Mike's entire car + engine + head work costs about the same as a used 1992 NSX in excellent condition. What a bargain! This will be his first race in the new Vette. Sean feels that he finally got his overheating problems figured out with his ZR-1.
James Sofronas decided to sit out the LA Street Race, and instead make sure his M3 Lightweight is ready to run in the Speedvision Touring series later this month or next month. Doug Ota recently got his M3 back with new engine and differential, but driving the car home from the race shop last week, the differential locked up on him and he did two 360's on the freeway offramp. Luckily he didn't hit anything. So Ota will be taking out his Sports 2000, along with Jeff, to the SCCA regional races at Buttonwillow.
Saturday Morning, September 4th. We have a twenty minute warm-up session. The course is REAL tight, and real slippery. It is 1.1 miles, about 9 turns or so. Going down the front straight is tricky. The front straight is a slippery blacktop parking lot, which then dips into concrete gutter before intersecting onto Figueroa Street. Have you ever tried braking on a blacktop parking lot at 90+ mph? Brakes lock, and tires squeal as you try to throttle steer back unto Figueroa Blvd without hitting the tire wall or concrete barrier. It is pretty hairy, but since it is so scary, you feel like you accomplished something when you don't crash.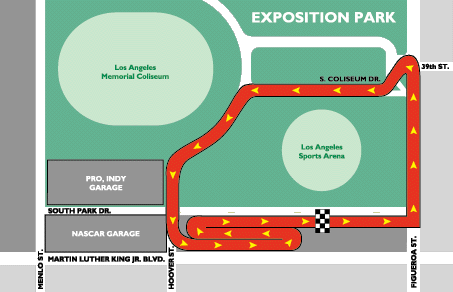 Map is not exactly correct, as the chicane entrance should be on South Park Drive
In the afternoon, we have a qualifying session to see how we are gridded for the Sunday sprint race/qualifying session. Wayne and I setup the hot lap timers by our trailer, which is at the end of the back sweeper. Our times suck. We suck. I am running 1:01.6, and Wayne is running 1:02.3. I complain to the NASA electronic scoring folks, and tell them that my Hot Lap timer has me at 1:00.9, which would grid me right with the Corvette guys. I ask them if they have my transponder confused with someone else. Mike, the NASA timing guy, says he will check, and comes back and tells me that both my timer AND their timer is correct. The difference is that my timer is at the end of the sweeper turn, and their timer is at the start finish line. So my timer clocked two good half laps, but the two half laps that they clocked using the start/finish reference point were not has good as the half laps that I have at the end of the sweeper. Doh!….I feel like an idiot making a false accusation……
They split the group into two groups. Wayne also gets the back end of his 944 Turbo loose in the turn after the sweeper, and wipes out the rear passenger quarter panel against the tire wall. He brings the car into the pits, and since the tires on the tire wall are painted red, his rear quarter panel is all dented up with red scrape marks all over it. Doyle takes a look at it, and grabs a two by four, a hammer, a rag, and some gasoline. He bangs out the dent, gets rid of the red paint, and now instead of looking like he was in a major wreck, now it looks like a minor scrape. Doyle's new name is MacGuyver. I also have Larry down with us. He recently left Riverside Acura, and is now getting ready to open up his own shop. He is checking the car, checking the brakes, etc, to make sure car is ready for the race.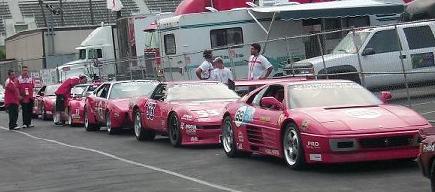 Ferrari vs. World Challenge Vette vs. Ferrari vs. Porsche vs. NSX.
They split the PRO Racing cars into two different random groups, and I am gridded 12th in my group, and Wayne is gridded about 13th in his group. Which means we are around 24th and 25th out of 35 cars or so. A lot of the front wheel drive cars like the Tipton Civic, four wheel drive Subaru WRX, etc., are turning better times than us by a good half a second. The Viper and the Porsches are battling it out for pole position, with times around 56 seconds. The course has the characteristics of a tight autocross with many short straights. Which ain't the best type of track for an NSX. For the first time ever, I experience some brake fade with the Brembos after 15 hot laps. This track is REALLY hard on brakes, since the course is so short, and they never get a chance to cool down. I throw on a new set of Porterfield R4 pads, and bleed the brakes. The old pads were only about 1/2 worn, but I figure maybe the new pads and the a quick bleed will make sure I don't experience any fade the rest of the weekend. I cross my fingers. Many other people are complaining about brake fade. Sean in the Corvette is smiling. Despite his car being so heavy, he is not experiencing any fade with his brakes. He hooked up his windshield washers to shoot a mist of water into the front rotors, so when he goes down the front straight, he turns on the windshield washers, and cools down the brakes. Pretty slick setup there.....
Sunday, September 5th. We have another practice session in the morning, and then we sit around until our "qual race" at 3:15. Except that there are lots of crashes during the day in the other race groups, so we end up running at about 5:30. Now this is not really a race, we are out there to get fast lap time to figure out how we grid for the big race on Monday. On the radio, I asked Wayne if he wants to bet 50 bucks as to who gets the best qualifying time, and I will spot him 3/10ths of a second. He agrees. On Wayne's first lap of qualifying, he starts blowing out a ton of smoke. Smoke is getting into his passenger compartment. He is screaming into the radio, "Oh no, I think I blew up my motor". He looks like a moving disco fog machine on the track. He comes into the pits, smoking heavily. Bummer. But hey, I win $50 bucks! In my qualifying session, on the first lap, I got a guy diving down on me at the end of the sweeper turn on the first qual lap. Then, the three cars in front of me are switching positions back and forth, like they are racing. Boneheads! This ain't a race, this is for fast qual lap. I slow down, and let them get about 14 seconds ahead of me. The crowd probably thinks these three cars are kicking my ass, but the crowd, like the three cars in front of me, doesn't realize that the goal is to get one fast qual lap, and mixing it up with other cars will own hinder everyone's lap times. After the cars get in front of me a bit, I proceed to take a time trial line, and get about four fast laps before I catch up to them again. I try to get some space, and do a couple more fast laps. At the end of the session, I turn a 1:00.3, which cuts about 1.3 seconds off my previous times the day before, and gets me gridded 14th overall, which makes me feel a lot better. I also am gridded in front of the three cars that were trading positions, which makes me feel really good! The Viper is kicking some butt, and is making good use of its enormous torque coming out of all the low speed turns. The Porsche drivers are in hot pursuit of the Viper. The Porsche 914's are scooting around the track as a high rate of speed, with four of them qualifying in the top 9. The 914's low center of gravity has them shooting around all the tight turns like a go-kart.
Qualifying Times for the Starting Grid for the Final Race
| | | | | | | |
| --- | --- | --- | --- | --- | --- | --- |
| Qual | Lap | | | | | |
| Position | Time | Driver/Co-Driver | Car | Color | Car # | Class |
| 1 | 00:54.413 | Messley, Eric | Dodge Viper | Blue | 96 | P1T |
| 2 | 00:56.817 | Beck, Randy | Porsche 914 3.2 | Blue | 8 | P2 |
| 3 | 00:57.610 | Jump, Brian | Porsche 930 T | White | 34 | P1T |
| 4 | 00:57.703 | Rumbaugh, Ken | Porsche 914 3.6 | Silver | 10 | P1 |
| 5 | 00:58.466 | Poe, Rudy | Porsche 911 3.2 | White/Blk | 15 | P2 |
| 6 | 00:58.590 | Cross, Steve/Hainer, Anders | Porsche 911 3.6 | Yellow | 40 | P1 |
| 7 | 00:58.973 | Van de Venter, Mark | Porsche 911 2.7 | Red/Blk | 11 | P3 |
| 8 | 00:59.002 | Hays, Jeff | Porsche 914 2.5 | Copper | 59 | P3 |
| 9 | 00:59.477 | Flynn, John | Porsche 914 2.7 | Red | 64 | P3 |
| 10 | 00:59.751 | Eckhaus, Mike | Chevy Corvette | Red | 53 | P2 |
| 11 | 00:59.861 | Irby, Sean | Chevy Corvette | Red | 16 | P2 |
| 12 | 01:00.073 | Becker, Gary/Bill Follmer | Ferrari 348 C | Red | 88 | P3 |
| 13 | 01:00.266 | Zamboni, Lyn | Porsche 911 3.6 | White | 91 | P2 |
| 14 | 01:00.372 | Hayashi, Doug | Acura NSX | Red | 55 | P2 |
| 15 | 01:00.700 | Tipton, Ty | Honda Civic | Black | 5 | P3 |
| 16 | 01:01.367 | Majstorovic, Jovo | Toyota Supra | Silver | 24 | P3 |
| 17 | 01:01.509 | Hibshman, Eric | Ferrari 308 C | Red | 18 | P3 |
| 18 | 01:01.642 | Lo, Wingco | Subaru WRX | White | 25 | P4 |
| 19 | 01:01.845 | Inclan, Ed | Ford Mustang | White | 26 | P3 |
| 20 | 01:02.709 | Guilbault, Buzz | Ford Mustang | White | 3 | P3 |
| 21 | 01:02.925 | Forcellini, Lloyd | Porsche 944 T | White | 73 | P3 |
| 22 | 01:03.176 | Miller, Peter | Honda Accord | Green | 12 | P4 |
| 23 | 01:03.405 | Kunz, Joe | Ferrari 308 C | Red | 80 | P1T |
| 24 | 01:04.082 | Escobar, Miguel | VW Golf | White | 42 | P4 |
| 25 | 01:06.624 | Calderas, Martin | Honda CRX S | | 77 | P4 |
| 26 | 01:07.128 | Noval, Michael/ Siam Joseph | Ford Mustang | Red | 20 | P2 |
| 27 | 01:07.170 | Becker, Ernie | Isuzu Stylus | Wht/Red | 63 | P4 |
| 28 | 01:07.336 | Huang, David | Porsche 944 | Red/Purp | 23 | P4 |
| 29 | NA | Sadinsky, Jeff | Porsche 911 3.2 | Yel/Purp | 0 | P2 |
Sunday night, September 5th. Wayne, Dagmar, and I are eating dinner at the Sizzler across from USC. A USC student comes up to us and says, 'Hey, aren't you Doug and Wayne? I follow the NSX-Files website". He noticed us from the Pulp Racing shirts we were wearing. Hey, I tell ya....the Internet can make you famous.
Monday Morning, September 6th. We have a 10 minute practice session at 9:00 a.m. in the morning. In this 10 minute session, the Viper that is on pole for the final race later today crashes into the wall pretty bad. The Bondurant instructor in the Honda wagon behind him saw him crash, weaved to avoid, spun the wagon, but did not hit any of the concrete barriers in this tight turn. Jovo in the Supra is ripping down the back sweeper, trying different lines, but ends up crashing his Supra pretty bad. So for our 10 minute practice session, we get about one hot lap of practice, the rest is under full course yellow.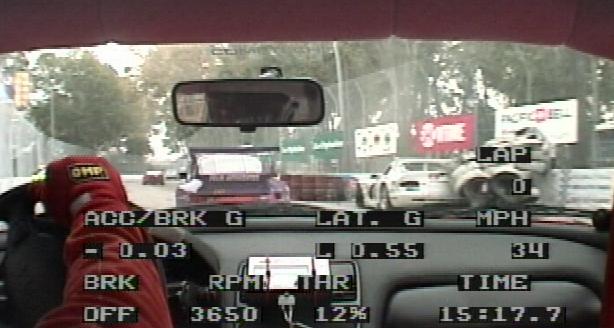 Footage of the Viper 10 seconds after he went into the tire wall in turn X.
I filled up my gas tank to the brim for this practice session, and wanted to get in about 9 hot laps, and then figure out my gas mileage so I can see if I need to refuel during the one hour race. So now I can't calculate gas mileage. I started thinking that there should be no problem to finishing the race, as the one hour race is only about 55 miles or so. At Willow Springs I was getting about 5 miles to the gallon, so I will need 11 gallons of gas for this race. Since I have an 18 gallon tank, at first I thought no problem. But in the practice session on Sunday, I think I blew through 3/8 of a tank on only 15 miles. The more I thought about it, I started to realize that what is similar between this street course and Willow Springs is that I will be running the car full bore for an hour. But, the difference is that here at the Street Race, I will be full bore in 1st, 2nd, and 3rd gear, which means I should get worse mileage than at Willow Springs, because I am hitting the redline much quicker. So, I think I will have to refuel. Which is a pain in the ass as we have a 3 minute mandatory pit stop, and to refuel, I have to get completely out of the car, get the car fueled, and then get back into the car, strap in, get the window net in, plug into the radios, etc.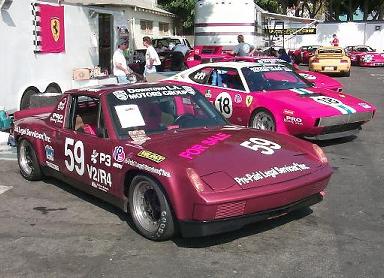 This 914 kicked some ass in my qualifying group. It's for sale.....
A couple of the PRO officials come by, look at Wayne's car, and they tell me that they don't think the engine blew, as Wayne was able to drive it off the track. Instead, they think the turbo blew up. I call Wayne, and tell him to see if he can find a turbo replacement. On Labor Day. He calls around, without any luck. He comes back to the track, and talks to Dave, who organized the PRO event. Dave says he has a spare 944 Racing turbo at his shop, and they go to pick it up. It is now 12:00 p.m. We have four hours and fifteen minutes until the race, but we figure it will run late. A Porsche guy says it takes 8-10 hours to replace a turbo in a 944. Raceaflais is looking down from the heavens, rubbing his hands, saying, "Boy, this is gonna be funny." Two of the guys from the Touring Car Club come by and offer to help rip out the old turbo, and put in the new turbo. These two guys were awesome, working on an unfamilar car, trying to get Wayne back on the grid for the big race.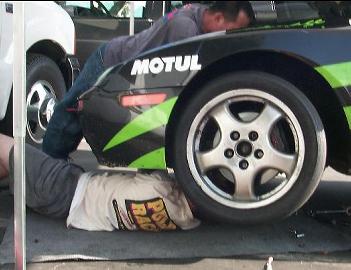 Help from Touring Car Club members Mark and Jackie to swap out Wayne's Turbo
Only problem is that to get the old turbo out, you have to take off the intake manifold, jack up the car, disconnect a bunch of other stuff, etc. It is not an easy thing to do.....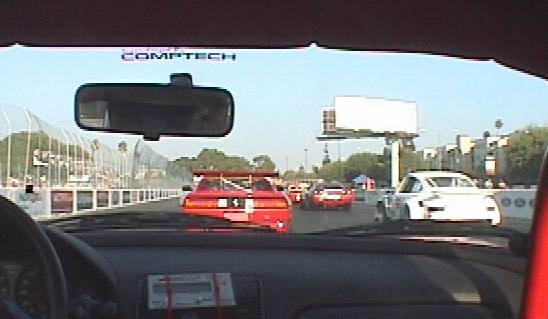 Gridded right behind the Ferrari 348 and Porsche 911 right before the flag drops
Now we play the waiting game, as we are the last race of the day, scheduled for 4:15 p.m. We start late again, and at 5:15, we are gridded, and ready to go. Unfortunately, Wayne's car still needs at least another hour of work, so he is a DNS for the final race. The organizers decide to skip the Le Mans style start, which is a bummer for me, as I was practicing the start at Willow Springs. We go for a traditional, side by side, rolling start. I am gridded about 13th out of 29 cars that are left in the field and I am behind a Ferrari 348 and a Porsche 911. In front of them is Mike Eckhaus in his World Challenge Corvette, who is next to Sean in his ZR-1. Next to me is the Ty Tipton in a pesky racing Civic. The green flag drops, and it is chaos as everyone is trying to squeeze into the narrow first turn.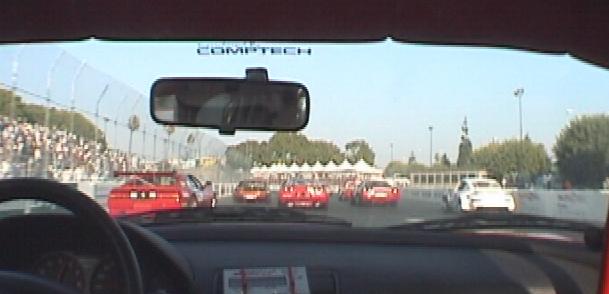 Green flag drops, all hell breaks loose as everyone scrambles for position into the narrow first turn
The Civic tries the outside line, everyone else is grabbing the inside line, and the Civic pulls a great move and gets in front of me and the Ferrari in the first turn, and in the second turn, pulls another great move in the confusion in this turn, and gets in front of the Corvette. Nice driving by Ty! Dammit it all…….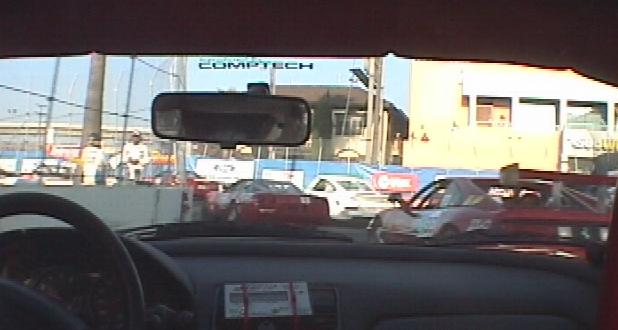 Every one is bumper to bumper and door to door through the first turn
Next lap, in the small kink down the front straight, I try to get by the Ferrari but we almost touch as I am trying to squeeze in, and the Ferrari is trying to maximize his line through the kink. Into turn 1, he is in front of me, but I out Brembo him into turn two. I get back on the butt of the Civic, then he flies into the pits. There is a 911 that has crashed at the end of the first chicane, so we go to full course yellow. Mike Eckhaus is black flagged for "passing under yellow", which he later protests he didn't do, bummer for him. Oh, he is in my class, good for me! After a couple of laps, we get a restart, and I pass a Mustang and a Porsche 944, but the blue OI Racing 914 blows by me like I was standing still. Then we have another full course yellow, as a red 914 is stuck on the course by the front straight. Another restart, and I am following two 914's that are pretty fast. Then another full course yellow, as another car is stuck at the end of the second chicane. But, this could be somewhat good for me, as I don't have to refuel, since we are crusing around doing full course yellow laps. I pit, tell Larry and Doyle, and Doug Ota, that no gas is needed, just toss me a bottle of water as I am dying of thirst. I exit out the pits, and make it exactly at 3 minutes.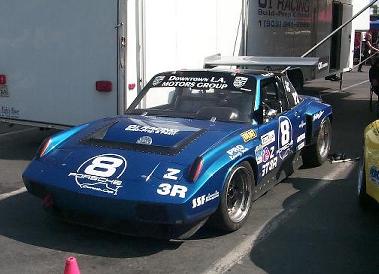 This 914 qualified 2nd behind the Viper
A couple of hot laps, and then a 911 is broken down on the course, not sure what happened. So we go to another full course yellow. With about 3 minutes left in the race, the course is real slippery. I see Mike coming up on me into the turn before the front straight, and I botch a shift. Mike passes me, but I figured that since he was black flagged earlier and had to pit, it isn't a problem for me. One more lap, and they throw the checker. I finish the race without crashing!!! Later, I find out that Mike beat me out of 7th place by that pass he made on the last lap, and also beat me out of a third place trophy in the P2 class. Stupid mental error on my part......so I go home with no trophy. I check the video cameras, and I realize the the camera with the Datacam data on it didn't record. But at least I have the raw footage from the main camera. Sean in his ZR-1 does a great job of driving(and was lucky enought to pit right before a full course yellow), and comes in 2nd overall! So three of the top eight finishers were hanging out at the Pulp Racing Trailer.
The Cross/Hainer team comes in first place with their yellow 911 3.6. Last year, they came in third place. Other repeat top 10 finishers from last year are Rudy Poe in his 911 3.2 comes in fourth place, last year, he was fifth. Ken Rumbaugh came in 6th this year, and last year was 7th. I was eighth place last year, and eighth place again this year. After the race, I come up with my strategy plan for a top five finish for the year 2000 LA Street Race, but I ain't revealing what it is until after the race next year.
Wednesday, September 8th. Back at the shop. I have Andy help me throw on the stock exhaust, catalytic converters, and street tires. I know I am going to get pulled over by the cops, especially with the big ass wing and big hood scoop on the car. The stock exhaust and catalytic converter will make it quiet enough that maybe the local law enforcement officers won't hassle me. Thursday night, I drive the NSX into the sunset, down to the monthly NSX Club of America dinner in Palos Verdes. I like being able to use the Brembos, Supercharger, six speed gear box, big ass wing and hood scoop, and suspension on the streets. James keeps bugging me to enter my car in a Speed Vision World Challenge race. I am sure I would get my ass kicked, and I also would have to completely gut the car and make it illegal for street use……not sure if I want to give that up yet…
Anyways, looks like the next major event for the NSX is at Las Vegas on the weekend of October 22nd, on the big track, for the PRO Racing two hour night enduro. I need to throw out another 70 lbs out of the car, install four big round night driving lights, get the fuel cell in, and some other minor stuff done to the car. Wayne's car is at Dwayne's shop, getting the new racing turbo installed.
Wednesday, September 8th to present. Wayne and I are listless. We can't wake up early. We aren't motivated to do anything. I think it is post race depression......we have six long weeks until our next car race....and then the adrenaline rush will start up again......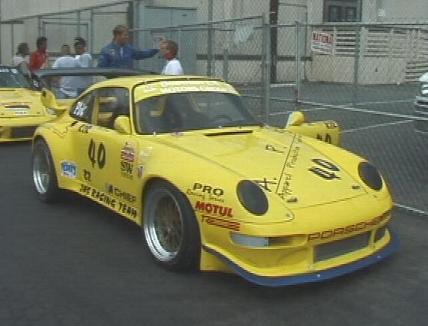 The Cross/Hainer team, the new Kings of Los Angeles
Overall winner of the 1999 PRO Racing Series LA Street Race

Final Results of the
1999 Downtown LA Motors
PRO Series LA Street Race
| | | | | | |
| --- | --- | --- | --- | --- | --- |
| | Driver/Co-Driver | Car | Color | Car # | Class |
| 1 | Cross, Steve/Hainer, Anders | Porsche 911 3.6 | Yellow | 40 | P1 |
| 2 | Irby, Sean | Chevy Corvette | Red | 16 | P3 |
| 3 | Zamboni, Lyn | Porsche 911 3.6 | White | 91 | P2 |
| 4 | Poe, Rudy | Porsche 911 3.2 | White/Blk | 15 | P2 |
| 5 | Miller, Peter | Honda Accord | Green | 12 | P4 |
| 6 | Rumbaugh, Ken | Porsche 914 3.6 | Silver | 10 | P1 |
| 7 | Eckhaus, Mike | Chevy Corvette | Red | 53 | P2 |
| 8 | Hayashi, Doug | Acura NSX | Red | 55 | P2 |
| 9 | Becker, Gary/Bill Follmer | Ferrari 348 C | Red | 88 | P3 |
| 10 | Sadinsky, Jeff | Porsche 911 3.2 | Yel/Purp | 0 | P2 |
| 11 | Escobar, Miguel | VW Golf | White | 42 | P4 |
| 12 | Guilbault, Buzz | Ford Mustang | White | 3 | P3 |
| 13 | Hays, Jeff | Porsche 914 2.5 | Copper | 59 | P3 |
| 14 | Hibshman, Eric | Ferrari 308 C | Red | 18 | P3 |
| 15 | Lo, Wingco | Subaru WRX | White | 25 | P4 |
| 16 | Huang, David | Porsche 944 | Red/Purp | 23 | P4 |
| 17 | Inclan, Ed | Ford Mustang | White | 26 | P3 |
| 18 | Noval, Michael/ Siam Joseph | Ford Mustang | Red | 20 | P2 |
| 19 | Beck, Randy | Porsche 914 3.2 | Blue | 8 | P2 |
| 20 | Jump, Brian | Porsche 930 T | White | 34 | P1T |
| 21 | Forcellini, Lloyd | Porsche 944 T | White | 73 | P3 |
| 22 | Messeley, Eric | Dodge Viper | Blue | 96 | P1T |
| 23 | Tipton, Ty | Honda Civic | Black | 5 | P3 |
| 24 | Flynn, John | Porsche 914 2.7 | Red | 64 | P3 |
| 25 | Becker, Ernie | Isuzu Stylus | Wht/Red | 63 | P4 |
| 26 | Van de Venter, Mark | Porsche 911 2.7 | Red/Blk | 11 | P3 |