Kart Racing Company Super Cup Series, Races #6 & #7
September and October, 2001
I Can't Believe the News Today*
*Quote from U2, "Sunday, Bloody Sunday"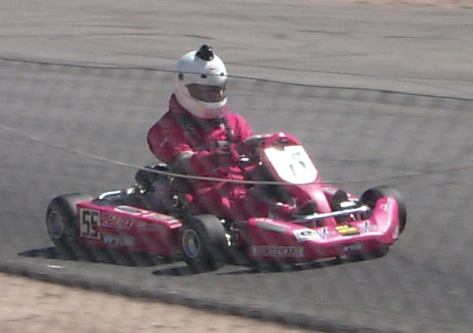 The Helmet Camera, which works 20% of the time......
It's been a long time since the last update. I had a acute case of writer's block, caused by the September 11th tragedy. I got stuck in a rut, constantly watching the news and surfing Internet websites with the latest info. The media sucks, they fan the flames and make things worse. And the media elite wonders why so many people hate the big media companies…..
A moment of silence for the victims of the tragedy in New York, and for the heroes that helped their fellow Americans on that terrible day.
It is amazing how patriotic everyone has become. I ordered a flag off the Internet for the house, but it still is on back order. I have a mini flag on my mailbox, and I have one of those window flags that I put on the car when the windows are up, but they usually break off at high speed. I was never a flag waver before, but I sure am now. If I see anyone burning a flag, I am running your ass over.

Fly The Flag. America Rules!
Right after the attack, I was pretty worried about what Bush was gonna do. I had zero confidence. But so far, he has done an excellent job in this time of crisis, and I feel he has some really good people giving him advice. I am more scared of what might have happened if Gore would have won, and how he would have lead us through these uncertain times.
Best place for news: Go to www.drudgereport.com, Matt Drudge updates his website more frequently than any of the other standard news sites. It may involve some speculation and rumor, but the site does have good links to any late breaking stories. www.salonmagazine.com has good stuff, examples are here and here (but they suck with technology opinions). The Iranian website had another good take on Afganistan, prior to September 11, 2001.
Back in my early 20's, I came up with one of my basic philosophies of life. It is probably overly idealistic, but here it is:
"Religion, race, and politics are basically three ideologies that separate mankind into different groups that basically just fight, kill, and hate each other. Think about it: basically all conflicts, wars, and killing revolve around religion, race, and politics. Therefore, we need another ideology to focus us, and unite the world together as mankind, and can focus people back on values such as hard work, respect for one another, charity, etc. There is only one ideology that I believe can do this, and it can be found here."
One last rant about the war. If you are a computer geek/engineer type, you can probably make $50,000-$100,000 a year. I have a feeling those soldiers fighting in Afganistan and military personnel supporting them ain't making anything close to that kind of dough. And they are out there slugging away against the terrorists, just to make the world safe so Americans can have freedom of life style, religion, and more importantly, the ability to race. Well dammit, I say raise taxes and DOUBLE everyone's salary in the military, cause if it ain't for them, we might have some religious zealots trying to tell us how to live our lives, and would ban music, TV, strip bars, and most importantly, they would ban racing. As for those special ops guys that are on the ground in Afganistan, those dudes need to be making $200,000 a year. I can't imagine slugging it out with a 100 lbs of equipment on my back, little food or water, in the snowy country side, avoiding land mines and enemy gun fire. I bitch and complain when I have to walk and carry the wife's shopping bags in the mall.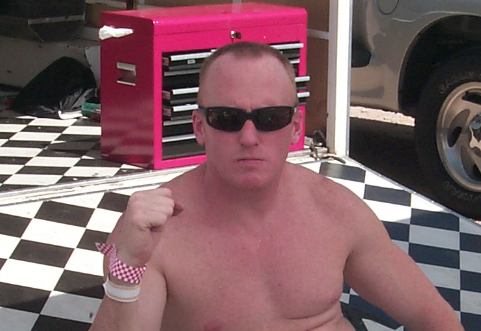 Wayne shaved his head, and is ready to rumble in Afganistan. Look out Osama!
Okay, back to racing. Because it is what we do. You can't let the damn terrorist change the way you live your life. But I am sure the USA will change the way they live THEIR lives, if you know what I mean…..
So we took off the months of July, August, and most of September from car racing. Wayne's final bill on his 944 Turbo was a LOT more than he thought it would be. He was trading a phone system for it, plus cash. This includes the engine rebuild he had had prior to the Hill Climb, as well as a recently installed new wastegate, big Red Lobster brakes installed on the front, etc, etc. He just didn't realize that his repair bill would be $14,000, and when the NASDAQ was at 1430 last month, we were both ready to start singing our new theme song(100k wma).
The Open Track Challenge is progressing along pretty well. We signed up Grassroots Motorsports to be our media sponsor, and they will be advertising the event in their issue that hits the magazine rack in late December. They also promised a cover article talking about their experiences in the event, which will hit the racks in the summer time. Carbotech Engineering signed up as the Official Brake Pad Sponsor, and is offering $40 gift certificates for any of its products for first place, in each class, at each track, and $25 for second place. So if you win all your time trials events in your class, you can pick up $280 in merchandise from them. More than 13,000 hits to the site, virtually every car BBS on the Internet has heard about the event. We have people from serious racers types that want to set lap records in the event, to hobbyist types that just want to check out the seven different tracks in seven days.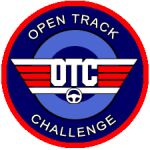 Calling all go-fast crack pipe addicts! Sign up for the Open Track Challenge!
Looks like we got the NSX running again. We are pretty close to going out and testing again, but with the stock market crash, we have to be real picky about which events we go to.
On September 23, we have a karting race schedule at the Willow Springs Kart track. We suck at this track. I don't know what it is, but we have a lot of problems here. I think it might be due to the track is medium fast track. Meaning it is slower than the Las Vegas track or the Streets of Willow Springs. Those other two track require big balls and the ability to keep your foot on the gas and not lift in super fast, scary sweeper turns. The Amago track is a much shorter and tighter track, but we seem to do okay there, meaning we can qualify mid pack or better. The Willow Springs Kart Track, on the other hand, seems to get you going just fast enough so there is a good potential that you will botch the next turn. So we figure that we will need a lot of practice on this track.
Quick F355/S2000 Update.
Since the F355 is out of warranty, I only pull it out of the garage once a week. I go ripping up and own Pacific Coast Highway, with the engine wailing at the redline. I have been doing this since February, and nothing has broken on the car! But then again, I have only put on about 1200 miles since then. The S2000 recently hit 10,000 miles, which is 10,000 more miles that could have been on the F355, and would have spelled certain disaster in terms of Ferrari maintenance costs. The rear tires on the S2000 were worn out by 6000 miles, so I decided to upgrade the tires to the Yokohama A032 tires. The A032 tires were cheaper than the S02 tires, stick better, but are a little noisier. But when you shift at 9000 RPMs you can't hear the tire noise. The A032 rear tires lasted about 3000 miles before they had to be replaced, so I guess I didn't really save any money by going to a cheaper tire. But this car will stick like glue around turns! I pound the S2000 into the ground, shifting at the redline, going back down through all the gears before each stop light, braking at the last possible second, etc. Nothing has broken yet, pretty amazing. Now if Honda could only put a V8 or V12 in the next generation NSX....
Thursday, September 6th
We decide we need a practice day. We meet at the shop at 5:00 a.m. in the morning. If we leave this early, we can trailer all our karting stuff to Willow, stop at McDonalds, sign in at the track, unload the trailer, and be on the track by 7:45 a.m. We then practice until 11:30 or so, pack everything back up, and get back to the shop by 2:00 p.m. Wayne feels like he has get back to the shop at a decent time or else his 13 employees will mutiny and quit. I look at the qualifying times from last time the F1 guys ran counter-clockwise, and it looks like the qual times were:
F1 Qualifying Times

1

Tommy Contino

42.25

2

Bob Barker

42.48

3

Jeff Littrell

42.56

4

Oscar Benedetti

42.73

5

Bob Faieta

42.86

6

Greg Smith

42.99

7

Jeff Barker

43.05

8

Vince Castell

43.09

9

Steve Bennett

43.19

10

Dave DeGraw

43.72
Unfortunately, on this day, Wayne is running 44.2, and I am running 43.9. So basically, we suck. The BGF YGC tires that we use are very sticky, but we blow through the rears in a day's practice. The tires are very fast for the first five laps, and then dramatically drop off after that, possibly up to a second or so slower after 25 laps. We are thoroughly disgusted with our driving. Wayne says that he would rather quit kart racing if he is going to be that slow, as your ego is totally destroyed if you qualify in last place.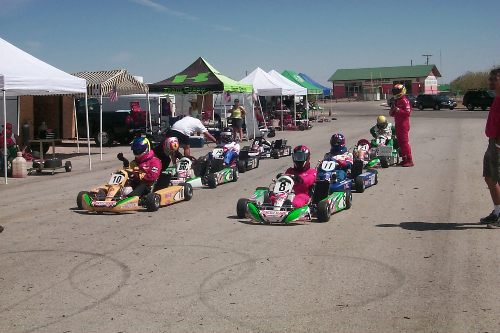 The F2 class gridding up for the race
Tuesday, September 11th.
Wayne called me up at 6:45 a.m. on September 11, screaming at me to turn on the TV, and that someone crashed a plane into the World Trade Center. I can't believe the news today....

Thursday, September 13th.
This week's practice day is a little better. I am running 43.5, so I am picking up a little bit of speed, and Wayne makes it into the high 43's. Unfortunately, after a couple of sessions, my kart dies. And I mean dies. Looks like my Italian Vortex motor seized up. Which means I blew my motor. Again. Makes me wish our spec motor was a Honda motor. JM Racing looks at it, and their conclusion is that the Italians are shipping us motors and rods that have a thrust washer that doesn't have enough clearance, so it heats up, fails, and the engine blows up. Shit, there is another $1000 out the window…..
September 19th.
The new coed softball season started in Huntington Beach a couple of weeks ago. We won our first two games, but then on this night, our first base woman didn't show up, so we only had 9 players on defense, instead of 10 players. We got killed. Unfortunately, we "Jumped the Shark" on this night. The phrase comes from the episode of "Happy Days", when Fonzie jumped over a shark, and the show went down hill from there. From this night on, we would lose a total of six games in a row, thus destroying our season. A couple of seasons ago, we were unstoppable, and went 10-0. We looked like the Yankees with last inning heroics. But then they bumped us up two more leagues, and we have been getting crushed against tougher competition.
Thursday, September 20th.
Practice again at Willow. We got the karts back the day before. We also had JM Racing dyno the motors, and both my motor and Wayne's motor are dynoing at 39.8 HP, so the motors should be good to go now. Our practice is much better. I am running 43.09, so I almost make it to the 42's. Wayne is running 43.30. We figure that if there was more rubber on the ground, a little race day adrenaline, then we can qualify mid-pack, instead of dead last. Doug Ota goes to the track with us, and is using our spare kart. We do about 20 one lap races, utilizing a standing start, and each of us takes a turn at being the starter. Jeff is there in his kart, and he is whomping on my ass, and also kicking ass on Wayne and Ota. We start handicapping the start, especially since Ota is a beginner, and my starts are especially miserable today. It is to the point where Ota is gridded first, I am 15 feet behind Ota, Wayne is 20 feet behind Ota, and Jeff is 30 feet behind Ota. We all go blazing into Turn One, and fight for position for one lap, and then we start it over again. I do about 10 miserable starts in a row. Jeff is still kicking our ass, despite the handicap. Ryan F. shows up with his kart, and he has a newly rebuilt Yamaha motor on it. After about 10 laps, his motor seizes also. I know exactly how he feels....
Friday, September 21st.
The NASDAQ dips below 1400, and the Dow dips below 8000. Ouch! The F355 is about ready to be advertised in the Ferrari Market Letter. Who would have ever thought a month ago that the stock market could crash so much? Terrorist bastards, short sellers, all you wimps that sold off stock.....you all suck.
Saturday, September 22nd.
Today is the formal KRC practice day, but Wayne and I skip it, as we feel we are better off if we rest the day before a race.

Sunday, September 23rd.
Race Day. It's been months since we have been in a wheel to wheel race, and today is the day. Our schedule is that we practice from 9 a.m. to 11 a.m., then we have qualifying, lunch, qual race, and final race. My strategy for the day is kinda wacky. Everyone else is using their old tires for practice. Instead, I do 10 laps on old tires, then I put on a new set of tires for the remainder of practice, and then I will put on another new set for qualifying. Wayne says that this is a waste of rubber, but I figure that I can simulate what qualifying will be like if I use new tires in practice, and I concentrate on practice as if it is a five lap qualifying session. The kart handles dramatically different on new tires, so I want to be ready for the qual session. Qualifying is crucial, as if you get stuck behind someone, it is real hard to get by them in the race.
So I throw my new rubber on, and on lap 3 I rip around and run a 42.72! Yeah baby, I am ready for qualifying. All I have to do is run a similar time on new tires in qualifying, and I could be in the top six qualifers. I park the kart and relax, thinking I don't need any more practice. With about 10 minutes left in practice, I hop back into the kart, seeing if I can beat a 42.72. I run about four laps, and my times drop into the low 43's, I guess because I blew off the best part of the rubber earlier in the practice session. I now throw on a fresh set of tires for the qualifying session.
Qualifying.
We get five hot laps to determine how we grid for the qual race. I feel pretty confident. I get out on the track, and on lap 1 the damn throttle starts to stick. Meaning that when let off the throttle, it stays on full throttle, and I have to power brake around every turn. This is ricockulous. I try to unstick the throttle for lap 2 and 3, but it is no use. I pull in off the track, and the KRC support guys start to work on my kart. They throw on a new throttle cable, and KRC lets me go out in the last qualifying group to get a decent time. Except I already burned off the good part of the tire. I qualify 8th out of 16 with a 43.22, but I thought I was going to run in the 42's. Oh well….mid pack isn't too bad. Wayne said he screwed up every lap, and he runs a 43.7 or so, and is gridded 14 out of 16.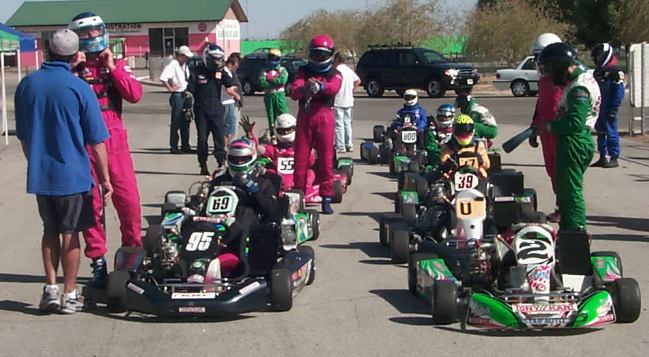 The F1 grid getting ready for the race. Notice I (55) am in front of Wayne (#800)
Qual Race.
Wayne threatens that he is going to have a tremendous start, blowing by a bunch of people, and will chase me down by the first turn since my starts suck so bad. So we have 16 karts, all revving to 14,000 RPMs. Green flag drops. We all barrel into turn one. Wayne bogs on the start, and doesn't coming flying out of the gates like he thought he would. I get a decent start, and I hold my position going in to turn 1. In front of me are Imron and Vince. Wayne is caught in a big train of six karts, that are fighting it out. Wayne bumps into Steve, and knocks Steve out of the race. Meanwhile, Vince, Imron, and I are fighting it out, about a foot off of each other's bumper. I make a pass on Imron, so now I am behind Vince, fighting for sixth place. With about 3 laps to go, I make a mistake by braking a little too late, and Imron squeezes by me. Damn. I also notice that my temp gauge on the kart is at 152 degrees, and normally it is around 133 or so. It is a hot day today, but the temp gauge has never been this high before. I ask the KRC guys about the temperature, and they say as long as it is below 160, you should be okay. I end up sixth. Not too shabby….
Final Race.
Before I line up on the grid, I check the radiator to make sure it has enough water in it, as I don't want to blow my motor up due to overheating problems. We grid for the final race. All karts at 14,000 RPMs, green flag drops, and we are off! Right in front of me, two guys crash, sending one car almost spinning in mid air like a Frisbee. Two guys on my right get in front of me due to the crash in front of me. I expertly dodge the crash, and shoot right through, as I am a professional. I fight into turn 1, and I come out fifth out of the turn. Looking good so far. Gene Sigal, who is leading in points in F1, gets right on my ass and gets by me. Damn. So I am sixth now, and I got Imron right behind me. I am doing a fairly good job of holding Imron off, and the rest of the pack seems pretty far behind me. All that practice is paying off.
Around lap 4, I notice that my temperature is getting hot. It is already at 160 degrees, and it looks like it is starting to climb. Damn. Let's continue racing, and see what happens. Next lap, I am at 170 degrees. Ryan, one of the KRC owners, is holding something in his hand and pointing at me. What the hell is wrong with him? I am blasting by him at 70 mph or so, and I have no idea what is motioning. Next lap, I am at 180. Uh-oh……this is getting to be really bad. However, my engine is still running real strong, and normally when the engine overheats, you lose power. But my power is still strong, no one is catching up to me. Maybe the temperature gauge is broken, and my engine isn't overheating? Next lap or so, I see Jeff standing outside of his kart, so it looks like he is a DNF! Which now means I am 5th place in the race, and still holding off Imron. This could be one of my highest finishes ever in the F1 class on a dry track. I pass Henry, one of the KRC support guys who is standing on the side of the traffic, and he is pointing to his eyes and then points down to the ground. I check my temp gauge again, and it is at 190 degrees. SHIT.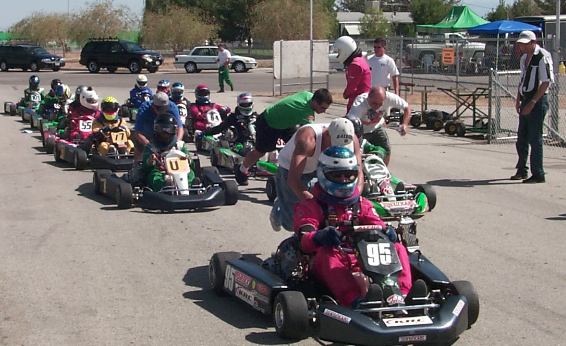 Unfortunately, Jeff (#95) is in front of both of us.
Imron is still behind me. On about lap 15 or so, I see Wayne pulled off to the side, so Wayne is out of the race. Awesome, looks like I could gain about 10 points on Jeff this race, and another 9 points or so on Wayne if I can hold on to 5th place. I start to think…..which is dangerous during a race. "Let's see….my temperature seems to be way too high, and I could blow up my motor. But there may only be a couple of laps left in the race. I might be able to finish in 5th place, and perhaps not blow up my motor, because maybe the temp gauge is just wrong. Since Jeff and Wayne are out, maybe it would be a good bet to continue to see if I can finish the race. Who cares if my motor blows up or melts to a molten blob, I think I can finish this race". And kick Jeff's ass and Wayne's ass.
Around lap 18 or so, Henry is jumping up and down, pointing at me, then pointing to his eyes. Hummmm…..I guess he is trying to tell me something is wrong? But how the hell could he know I am overheating? He can't see my temp gauge…..he can see that I have still am getting good power from the engine. I look down at my radiator, and then I realize that MY RADIATOR CAP IS MISSING. Ah shit…..I guess maybe I didn't screw it on tight enough when I checked the water in the pit area? What a bonehead. I guess when Ryan was pointing at me, he was holding my damn radiator cap. Henry probably heard on the radio that my moron ass is trying to run a 25 lap race in 100 degree heat with no radiator cap, so that is why Henry is waving his arms at me like I am an idiot. Now the power is starting to go down, my temp gauge is at 195 degrees…..I I realize that I have to concede, and pull over and be a DNF for the race. DAMN.
Turns out that Jeff's brake calipers locked up, so he was a DNF. Wayne blew up his motor, so he DNFed. So much for glory on this day….looks like we have to aim for the next race in Vegas.
Friday, October 5, 2001
The Vegas Karting track is one of our favorite tracks. As you know from previous stories, it is high speed, balls out, pedal to the metal and pray you don't wipe out on the fast sweeper turns. It is also probably the most physically demanding track on our schedule, as there are many turns where your body is taking in 2.5 g's in the turns for long periods of time. Your forearms hurt, your neck hurts from trying to keep your head up straight, and your back hurts from straining to stay in the seat.
So we decide we need cheating bastard practice, so we head out a couple weeks prior to the race. Dagmar and Amy decide to go with us, as the outlet shops in Primm have excellent shops with very low prices on clothes. We get there on Friday, do a quick session to get reacquainted with the track, and get some muscle memory working on how we need to be throwing the kart into various turns. We decide that we will put on new tires tomorrow and see who can run fastest laps. We head into Vegas.
Saturday, October 6, 2001
At the kart track, after practicing for a couple of hours, I am running 45.82, which is slightly faster than the pole for qualifying last time we were here. Unfortunately, we are running on faster tires, so it makes it hard to figure out what pole could be this time. Bob Barker and Jeff Barker are practicing here also, and Bob runs a 45.80, and he is always pretty fast. Wayne pulls a 45.67 out of his butt, and thus is the fastest guy of the day. Back to the casinos.
We have been on a tremendous losing streak in blackjack. An epic losing streak, you might say. For years, we did really well at the table. For about three years, Wayne was god-like, winning probably 85% of the time we went gambling. For the past year, the tables have turned. We have been getting ass-whupped at the tables, and the start of this weekend is the same. We decide that we need to spend money elsewhere, on something to keep us away from the blackjack tables. We decide to go to see Siegfried and Roy, and their White Tiger show at the Mirage. We have mediocre seats, but as we start walking into the theatre, and the usher asks us if we want to seat in the pit area. We say sure, and she puts us about 3 feet from the stage. Pretty cool. Since we watch that "Masked Magician" show on cable, we can figure out most of the tricks, but there are still a couple that we couldn't figure out, even though we were right in front of the stage.
Sunday, October 7th, 2001
We head back to the track for one last practice before heading home. I am dialed in. I run a 45.47, thus crushing Wayne's time by 2/10th of a second. I pack my kart in the trailer, confident that I am the King of the Weekend. I sit back, relax, knowing that I will be going home the fastest guy around, even though I am missing a stack of Ben Franklins from my wallet. I have all my stuff packed up, I have changed into my street clothes, as Wayne tries one session on the kart track. On fairly new tires, he turns an incredible 45.27. SHIT! I think about unpacking the damn trailer, changing back into my racing suit, but then I would have to mount some new tires in order to beat his 45.27. Wayne said he experienced the perfect lap, every turn was perfect, he got on the gas early on every turn, and he trailed braked perfectly into each turn. I concede, and I go home a loser, both at the tables and on the track. Wayne goes home a winner at the track, loser on the tables.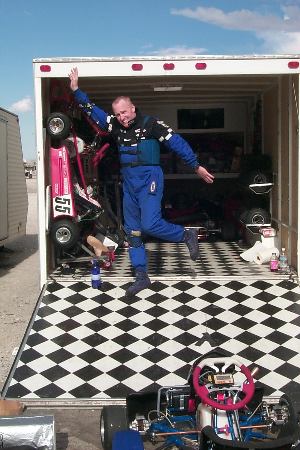 Wayne gets fastest time of the practice weekend out of four KRC guys
Monday, October 15th, 2001
Wayne, Larry, Butch, Sinbad, and I go to the Tracquest event at Willow. It is primarily an open lapping day, and Wayne and are helping out as instructors at the event. Todd runs a great event, lots of track time, very well organized, and everyone has a lot of fun. Wayne bought these new slicks for his car off the Internet, but the width was 305, and we didn't think they would fit. But since they were only $40 each, he bought a set anyways, as Wayne can't turn down "a good deal". Dale at Dave's Frame and Alignment worked on the ride height of the 944 to make them fit. At the track, the first couple of laps the tires were rubbing and making some smoke come up from the car. Some banging on the fenders, and everything looks good. I haven't run the NSX in ages, so this was kinda of a tune up event to see if everything is working good. Last session of the day, Wayne and I are playing tag with another stripped down 944 Turbo with a big ass wing for about 9 laps. Sinbad does some production work for music videos, so supposedly he has some really hot footage of us duking it out. We are turning lap times in the 1:30/1:31's, which isn't spectacular, but the track conditions didn't seem to be that good. And I was using old Hoosiers. I start to think about the tires that Wayne bought. Hum.....that is $160 a set of tires, compared to $900 for a set of Hoosiers....ten sets of tires I would save $7400, but I would have to widen the fenders of my NSX, get new rims all the way around.....hummm......I wonder where the break even point would be......
Friday, October 19th, 2001
The Wife and I drive up to Vegas, with Amy and Wayne planning on flying up that night. We stop at the karting track, and I do a session on old tires at the track. There are about 10 other KRC guys at the track, trying to get in practice. They heard about Wayne turning a 45.27, and they are struggling to beat that time. I whip out my kart, thinking I am going to kick some ass, but with the old tires, I am sliding around everywhere. I am running slow, around 46.xx. This is disappointing.
Saturday, October 20th, 2001
I do a practice session or so on the old tires to warm up, and then throw on new tires. The fast guys are running around 45.20 to 45.40. Jeff can't get below 45.5x, and he heard that Wayne ran the 45.27 a couple of weeks ago. The F1 series is so competitive, that it is common to see some of the drivers with stopwatches sitting on the sidelines, watching other drivers out on the track, to see what other people are running. I go out on the track with new tires, and Jeff puts a stopwatch on my practice session. With new tires, the kart is hooking up awesome, and I am full bore on the sweeper turns, pedal to the metal. With new tires, I am convinced that if I just step on the gas pedal like I am doing a 100 lbs. leg press, I won't be able to lift off, and I will then throttle steer through the high speed sweepers without wimping out. It works, and I run a 44.92, 45.10, 45.15. Jeff verifies the time with his stopwatch, and for the first time in probably 24 races, Jeff looks a little worried. Yeah baby, guess who is the fastest guy out on the track now? I relax the rest of the practice session, kinda like Schumacher does when he is running fastest laps and is dialed in. Wayne is struggling for some reason, and is running 45.70 or so, and he is not sure how he lost 4/10ths of a second since the last time we were here.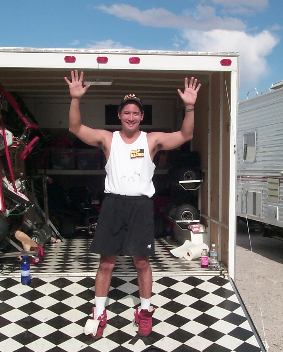 The new king. Fastest time out of 20+ guys in practice. Temporarily.
We got back to the hotel to rest. Later on, Fast Bob runs a 44.90, beating me by a measly 2/100ths of a second for fast time of the practice day, but I don't mind, as usually Bob kicks my ass by 40/100ths of a second. So I am the second fastest guy for the weekend, so far.
One of my more recent basic philosophies of life consists of the following:
"In the Middle East, there seems to be no sports heroes, no hobbies, nothing to look forward to. The best thing the USA could do is take five C-17 cargo planes, and drop three thousand Italian Tony Karts with spare parts via parachutes. That would give those wackos that spend all their time fighting each other an alternative, creative outlet for duking it out. Meaning that they could fight it out on the track, and they too could then become obsessed with getting just a little bit faster on the karting track. And perhaps they could come up with a website with racing stories that we could enjoy, and see how they measure up to us USA Racers. And when their Italian Vortex karting motors blow up, they can cuss and swear at the Italians like Wayne and I do, instead of shooting each other."
Saturday night.
The NSX Club of America is having their yearly meeting at Road America this weekend. Unfortunately for us, if we have to chose between a lapping day at Road America, and a wheel-to-wheel kart race in Las Vegas, we have to go with the Vegas event, as the adrenaline will pump harder with the karts. Road America would be cool....but there is no race there, no formal timing, and Wayne and I want to be measured, and see who is King of the Track....at least between ourselves in our own little duel.
Wayne, Amy, Jeff, Dagmar, and I go to see Tom Jones at the MGM Grand. The theatre there only seats about 800 people, so it is a pretty intimate setting. We tried to get tickets to Danny Gans about 10 days in advance, but it was sold out. Vegas is amazing....all this talk of recession, fear of traveling, etc.....and the town is completely sold out for the weekend, with no rooms available. So as I goof, I started thinking about seeing Tom Jones, who is in town for a two week engagement. Wayne said, "Yeah yeah, I would like to see that." It turns out that Mr. Jones has a fantastic voice, and a great backup band. But he is still classic Las Vegas, meaning that he is a little overweight, he can't really dance good, and he is slightly off beat from the drummer on some of this "dance moves". But it was a pretty good show, I would see him again.
Sunday, October 21, 2001. Race Day.
I do a couple of practice sessions, and feel pretty good. KRC says that unfortunately, Bridgestone no longer had any YGC tires in stock so the stock tire is YHC, which is a slightly harder compound. Damn…..I had spent an hour or so balancing a bunch of tires and rims by adding tiny wheel weights to the rims. This would make it so that my kart would vibrate a lot less on this high speed track. But now, I have to dismount these tires, and put on these other tires, which then means my wheels are no longer balanced. I didn't bring my wheel balancer to the track, nor did I bring the wheel weights. I thought I was getting a little "cheating bastard" tactics, but now I get equalized to everyone else. Jeff still isn't running as fast as I am, and neither is Wayne. I feel confident that I will run a 44.8x in qualifying, and perhaps be on the front row of F1 qualifying for the first time.
Jeff still can't figure out how I could be so much faster than him. We come to the conclusion that this track is much more suited to my driving style, meaning that throwing the kart and muscling the kart works here much more than smoothness and finesse.
All up and down pit row, people are talking about laptimes, and the fact that Bob and I dipped into the 44's. I strut through pit lane like I own the joint.
Qualifying.
Okay, so I am thinking that I will run 44.80, and be on the front row, showing these amateurs how it is done on this track. I got out for my five qualifying laps, and there is something horribly wrong. My first lap is 46.8, which is uh…two seconds too damn slow. Next lap is 46.5, still slow. I am sliding my kart all over the track like a wreckless jackass, and losing time in many of the turns. Next lap is 46.21, which is 1.4 seconds slower than I thought I should be. I try too hard on my next two laps, and I totally botch those laps. SHIT! A 46.21 in Qualifying? What the hell happened? Wayne comes in after his session, saying that he must be last in qualifying, and is going to shoot himself. He ran a 46.5. We look at each other and can't figure out what happened. We were gods on this track, and now we suck. Five extra days of practice, and we are now SLOWER than before we started practicing.
KRC posts the results of qualifying, and I am 8th of 18 or so, and Wayne is 14th or so out of 18. Everyone sucked in qualifying compared to their practice times. The guys who are normally in the first two rows, are again on the first two rows, but their times were much slower than practice, with pole being around a 45.30. And then we figure out what happened. KRC changed the damn tire compound, and it is harder (so lasts longer), but doesn't have nearly as much grip as before. Bonehead me was thinking the tires would be the same, and I could not go through the high speed sweepers full throttle without the kart getting all out of shape. The fast guys were smart enough to realize that the grip is no longer there, and they compensated by going back to being smooth and under control, instead of buzzing around like a kamikaze pilot on crystal meth. Which is probably why they always finish in the top four or five spots......
Qual Race.
Green flag is getting ready to drop….and a bunch of people stall their karts. Amateurs. Three of them are moved to the back of the pack for being dumbasses and stalling their kart, which means I am now gridded around 6th. Green flag drops, and we are off! The tires take some used to getting to, but now I am sort of compensating. I get a good start, and hold my position. I end up taking 6th in the race, so I am gridded pretty good for the final race.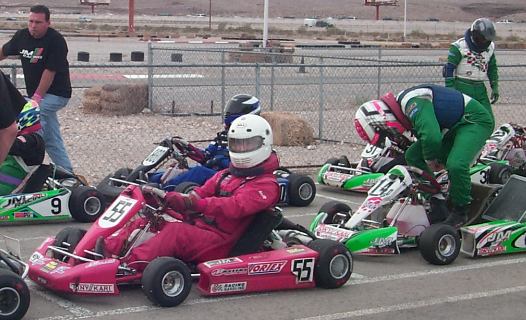 Gridded next to Wayne for the final race.
Final Race.
Okay, here we go for points. Green flag drops, I get a decent start, and everyone is hauling ass into turn 1. The guys in front of me brake violently to avoid crashing into each other into the turn. I brake violently to avoid hitting them. Behind me, Vic doesn't brake violently, so his left front tire hits my right rear tire, and the front of his kart goes up in the air, and his left front tire rolls up my kart and hits me in the shoulder. Ouch, dammit! Screw it, this is the final race, I have practiced for five damn days for this race, I ain't stopping for nothing. I end up in 6th place or so, behind Bob Barker and Jeff Barker. For six laps, I stay right on Jeff's rear bumper, and then he makes a mistake on one of the turns, and I jump in and pass him. Now I am in 5th, but
Bob is pulling away. After lap 12 of 25, I have about a 15 kart lead on everyone behind me, and looking good. Lap 18 of 25, I am getting tired, and Jeff Barket is right on my butt, and Vic is battling with Jeff. Lap 21, I feel like I am going to barf in my helmet, and I am getting real tired trying to hold those guys off. I keep telling myself, "Breathe. Slow deep breaths. Just like the yoga teacher says to breathe". Lap 22. Barfing has been avoided, and now I just have to keep Jeff Barker and Vic from blowing by me. Lap 23. Time to block all passing lanes. I am faster than them through the sweeper turns, but they catch up to me right after one of the medium speed turns that I keep blowing. Lap 24, white flag out, Jeff is one foot off my bumper, and Vic is trying to stick the nose of his kart on the inside of Jeff. Going into the last turn, the medium speed turn that I have been sucking out, I take the entire inside line, blocking out Jeff and Vic, accelerate out, and I end up taking the checker flag for 5th place! All that time, tires, money, lost money at the tables….it is all irrelevant now!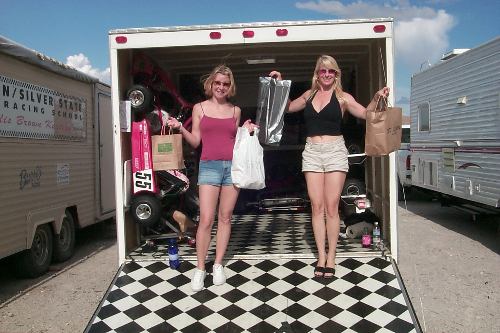 The girls won both weekends......by conquering the outlet malls
Late October:
I get my Ferrari Market Letter in the mail, and the editor says that new listings of used Ferraris that are for sale jumped up 33% the past month. Prices are crashing......disaster everywhere. I think about listing my car in the next issue, but if the market should recover, it would be hard to find another red F355 GTS with F1 tranny, carbon fiber racing seats, red brake calipers, etc.
October 24th:
Damn, we lost AGAIN in softball, making it six in a row. Humm....most of these losses coincided with me getting rid of my lucky softball pants (six inch diameter holes in the knees, hole on butt cheek, ripped down by the ankles, etc), due to the zipper breaking on me. I have worn these pants probably the last 240 games (figuring 10 games a season, three seasons a year, 8 years with these pants). Humm....I think I will take these to the cleaners, and get them to sew on a new zipper. Maybe that will change our luck....
October 31st:
The Dow is struggling to stay over 9000. The NASDAQ is trying to clear 1700.
November 1st:
The Dow and NASDAQ start to rally back......hey, maybe the Ferrari can stay in the garage a little longer. Only 27 more payments to go! I get my NSX Driver magazine in the mail, and guess who is interviewed? Here is page 1 and 2 of the interview.
November 7th:
Bonehead Kurt doesn't show up at the softball game. Crap. Now we only have 9 players for this game, instead of a full 10 people. So we have to play with five girls, and only four guys. My lucky softball pants aren't ready yet either, but at least I made the attempt to get them fixed, perhaps the softball gods will smile upon us. Later that night, at 10:30 p.m. we do a Reverse "Jump the Shark", and we snap our six game losing streak. The monkey is off our back!
November 13th:
The wife and I go to a sermon at the Staples Center. We come out rejuvenated, pumped up, and ready to take on whatever the world can throw at us! Robert Hilburn of the LA Times reviews the sermon.
November 14th:
Final game of the softball season. We are up one run, two out, bottom of the last inning, and our opponents have the winning run on second base. The female batter hits a shot to Bonnie, our second basewoman, and she fields it cleanly, and throws her out! We finish the season with two wins in a row, and a 4-6 record.
November 15th:
The Dow makes it to 9872, and NASDAQ to 1900! They are also doing a "reverse Jump the Shark". The Wall Street Journal says that for the month of October, sales of Sebring convertibles are up 287%, Corvettes 67%, Mustangs 92%, Mercedes CLK 76%, Cadillac Escalade 169%. Part of the reason they figure is that financing is real cheap now, with some of the manufacturers offering 0% financing. But more importantly, even though people lost money in the stock market, people are figuring, "Life is too short to be holding off on buying the car of my dreams". YES! Let's get this economy roaring again. Get off your ass, and go buy some stuff before you die in some random, useless act of violence!! BUY BUY BUY! Let's get this economy roaring again!
Larry, Alex, and Sinbad take Sinbad's turbo NSX down to the NSX meeting in Calabasas. Sinbad has Larry's new single turbo kit and Larry's clutch installed on it, and they wowed the crowd up there with some drive arounds. I got a ride in it earlier in the day, and Sinbad was chirping the tires in 2nd and 3rd gear, which is pretty hard to do in an NSX. I had to check his rear tires to make sure they had tread on it, as it felt like he had old tires on the rear. But nope, fully treaded rear tires were mounted.

We are winding down the racing season. We are doing a four hour karting enduro with single speed karts on November 17 at Lake Perris, which should be interesting, as we have never driven single speed karts before. We plan on kicking some butt. December 1 and 2 we plan on being at the Touring Car Racing Association event at Willow Springs. December 9 we have our final karting race at the Streets of Willow.
On December 3rd, the Flamemobile goes into hiding, as we start prepping the car for the Open Track Challenge (OTC), which promises to be one of the most talked about events of 2002. Will a Viper be King of the OTC? The World Challenge Corvettes? The World Challenge Mustangs? The Flamemobile? Wayne in the infamous 944 Turbo? Or will some "sleeper team" come in and kick everyone's ass?


Comptech USA signs on as a sponsor for the Open Track Challenge

Oh, and for you Honda/Acura drivers that are thinking of entering the Open Track Challenge, there is some good news. Comptech USA is offering $1000 in merchandise to the highest scoring Acura/Honda, $500 in merchandise to the 2nd highest scoring Acura/Honda, and $250 in product merchandise to the 3rd highest scoring Acura/Honda in the event. Better yet, I am taking myself out of the running for these prizes, so you don't have to beat the Flamemobile in order to recoup some of your cost for this event. Put your money where your mouth is, and get your NSX/Integra/Civic/etc entered in the OTC!