October 20, 1998 - Eldorado Hills, California
"The Final Exit"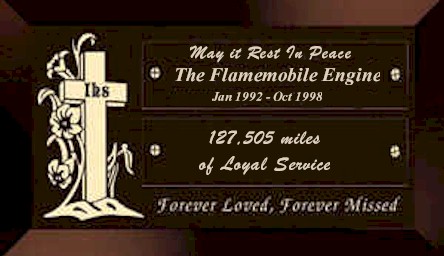 After 70+ track events, 5 hill climbs, 3 autocrosses, 3 enduros, the plug is pulled
I beg you all for a moment of silence: I had the Dr. Kevorkian treatment applied to my engine the other day. Meaning that I voluntarily put it to sleep.
Background:
Well, it all started with trying to figure out why the Comptech Supercharger wasn't putting out 300-310 rear wheel horsepower on various dynos. I was getting about 284 rear wheel HP using the modified RM exhaust. (Previously, with the Supertrapp exhaust it was putting out 273, albeit on a different dyno on a different day). So the HP was down on the dyno. But make no mistake, the car is running GREAT. It feels real fast. I got 12,000+ miles on the supercharger, most of it at the redline, with no problems other than it dynos low on the dynometer. Since putting the Supercharger on, I have taken it to:
1. Mid Ohio - Ran about 400 miles over the weekend on the track with Harry, Wayne, and myself beating on the car.
2. Virginia City Hill Climb - took 15.7 seconds off my previous best time! I did about 20 runs up the hill, minutes or so a run, so about 70+ minutes at the redline(note: also had wheels+tires+ Ground Control suspension mods added for this) 8th place out of 50 cars
3. Buttonwillow Pro Racing Enduro - 3 hour race in 105+ degree heat. 3+ hours in qualifying and practice runs. Took 4th place overall out of 20
4. Buttonwillow TCC race - another 2 hours of track time, same weekend as Pro Racing Enduro - took 3rd out of 20
5. LA Street Race - about 3 total hours of track time - took 8th out of 36th.
Comptech offered to take a look at it, and since I was going to Japan for two weeks for the NSX Fiesta, I decided that right before going on the trip I would drop the car off at Comptech and have them take their time to check it out. The day before I was to drive it to Comptech(October 7th), the Supercharger belt broke. Not a biggie, as it is like a fan belt. I had Larry Garcia throw another one on, and he also discovered that the bracket holding the alternator was loose, thus the fan belt tension was not as tight as it should be. Damn, I didn't know if that was the cause for the lowered horsepower, cause maybe the belt was slipping? Adding yet another variable, I also had Larry put in the RM lightweight flywheel, etc. So, I really should of gotten the car re-dynoed before going up to Comptech, but I had no time, as I was leaving for Japan that Saturday. So I said, "screw it, I will just drop it off at Comptech, and have Shad take a look at it."
I drove it up there on Thursday, October 8th, leaving Newport Beach at 5:30 a.m. It took about 6 hours to get to Comptech in Sacramento, cruising at decent speeds......if you know what I mean. I get there, and I talk to Kurt and Shad and Chris and Bob. The plan is that they are going to dyno my car on a dyno that they have access to right down the street. After dynoing, they then want to install an update kit($650) for the Supercharger, which consists of a new chip and a new fuel regulator. Comptech said that this upgrade kit will improve drivability and response. Hopefully, I might get a little more HP out of it also..but no guarantees about the HP increase. (can you blame them, with everyone getting different dyno results on different machines on different days?)
Date: October 15th or so, in Japan. After hearing about Bob H.'s engine failure, I start thinking about the upcoming year. I think I am going to run my car in a lot of the PRO Racing Series Enduro events, who are the same guys that ran the LA Street Race and the Buttonwillow Enduro. Tentatively they are planning on doing the LA Street Race again, Tijuana Grand Prix, Laguna Seca, some race by Treasure Island in San Francisco Bay, Las Vegas, Willow Springs, Tustin Thunder VARA race, etc. The races are from 1-3 hours long. I decided that since my car is already at Comptech, maybe I should have them install that oil pump gear thingy as a "just in case measure". After all, I got 127,000+ miles on the car. I call Comptech, talk to Shad, and he says he can do that, and if I want, he can also throw in a new timing belt with minimal effort, since he is going to be working on the engine. And, he also said that my car dynoed at 300 HP on their dyno when it first got there. After installing their update kit, I am at 324 on their dyno, and at 328 or so with a new exhaust they are trying out. I feel pretty good about these numbers, even if the Comptech dyno is 16 HP on the optimistic side, worse case, (figuring 300 - 284 on dyno in H.B. = 16), it still gained 24 HP on their dyno, so extrapolating from that I should be at least 309 on the dyno in Huntington Beach, and perhaps as high as 324 or so.
WARNING:
Using a Dyno is as close to having an IMPERFECT measuring device as you can get.
1. My car was dynoed on three different dynos
2. On three different days
3. With three different temperatures on those days
4. Fan Belt may not have been tight for two of the three dyno runs
5. Light flywheel/different clutches on two of the dyno runs
6. I get the feeling that you can dyno the car and get a number, and then dyno it three hours later on the same dyno and get a different number...
7. Comptech makes no guarantee of a HP increase with this kit.
I had the timing belt replaced at 88,000 miles or so. Replacing it now would only mean about 1.5 hours of labor, instead of 8+ hours of labor later in next year or so. Okay.....I can myself falling into yet another infamous rathole now.... Shad also asks me if I want to get my water pump replaced, as we are going to have the engine apart, since I have 127,000 on the water pump. I say okay to this. I then say "So Shad, if we are going to do all this, what would it cost labor wise to throw in the Comptech manifold. And Cylinder heads. Screw it, what about the whole internal engine modification package? "

Grow old gracefully? Or kill it off and be reborn?
Shad said that we can do that, but since my engine has 127,000 HARD miles on it, he would suggest that if I wanted to put on the cams/cylinder heads etc., they would want to extensively check the bottom half of the engine, meaning the rings and pistons and rods, etc. If the pistons are bad, then I would have a choice of putting in:
1. Comptech Modified JE Racing Pistons, using old connecting rods. Something like $1100-$1500 for pistons, plus labor charges to mate them to the connecting rods, etc.
2. Honda Pistons - but they don't sell pistons only, you have to buy matching connecting rods with pistons - $4800. There is no way for them to check the rings/pistons/connecting rods without pulling the engine....
So after talking to Shad for 40 minutes or so, I decided that since the car is at Comptech, and I want to make sure it runs real good and FAST for the next 127,000 miles, I decided to go for the full Comptech treatment on the engine.

"Kill it off"
I heard that Mike is building his Vette engine, I suspect that Doug Ota is building his M3 engine, perhaps adding a supercharger in the near future, and no telling what Wayne is thinking about in his mind....he keeps talking about buying a beater NSX and stripping it down to nothing and turning it into a race car.....using all my spare parts....so I guess it is good that we are getting my car ready now for the next season of club racing…
So, I guess I have to hand the torch for most miles on an engine over to someone like Bill M.......as my first engine is now dead after 127,000+ miles of loyal service.
I talked to Jonesy at Comptech later in the week. He said that Pistons and connecting rods and engine block look REAL good, especially for a car that had the shit beat out of it during the past 6.5 years. We can use the same pistons and rods! They are replacing the rings on the existing pistons. However, good thing we went for what is essentially an engine rebuild, as one of the mainshaft bearings was severely scored. It was burnt brown, and Comptech thinks it maybe coulda been due to some oil starvation when flinging the car around turns at the race track. But there is no telling for sure.
Also, Chris Nelson of Comptech said they would like to at some time to throwin their new single disk clutch into my car for free to prove that their new single disk clutch is reliable and can handle the extra power of the IEM engine package + supercharger. They feel it is extremely reliable, and it will work under race conditions, and it weighs in a 7lbs.
My plan was to fly back up to Comptech on Friday, October 30th, pick up the car, and drive it to Willow Springs for the Alfa Club event. Shad and Jonesy at Comptech said the car probably COULD NOT be ready in time, but they would give it a shot. Late Thursday night, October 29th, they start the car, and it fires up fine. They want to tweak it on a nearby dyno before releasing the car to me, and drive it around on Friday, but they said still no guarantee that everyone was perfect yet. I decide to gamble and take a chance and just fly up on Friday before they give it a clean bill of health, betting that everything will work out fine with their tweaking.
So I had an 7:00 a.m. flight out, which I changed to 12:15 p.m., so they could have more time to work on the car. My flight is delayed two hours on America West due to bad weather in Phoenix, which is holding up the planes. I get into Sacramento around 4:30 p.m., and hit all the traffic going to Comptech. I get to Comptech, and Shad is trying to debug what seems to be a insufficient fuel pressure, which is causing the dyno output to be lower than it should be at high RPMs. After working on the car for a while, Don and Shad said that they don't want to release the car yet, as it could be that my stock Honda fuel pump can't keep up with the internal engine modification + Supercharger, perhaps because the fuel pump is old? They haven't had this problem before, usually the stock fuel pump has plenty of pressure. Oh well, I was taking a chance anyway by flying up to pick up the car before I knew it was perfectly done, but I figure it was a good bet, especially since the plane ticket was a frequent flyer freebie.
So Shad gives me a ride back to the airport, and by now it is 8:00 p.m. I figure worse case, if I can't get a flight back to OC or LA, I can use that as an excuse to tell the wife, "but honey, the only flight back this was one that stopped in Vegas overnight…..". Luckily, (or unluckily) I get a flight in LA and make it home around 1:00 a.m. in the morning, since this flight was also delayed by two hours…..
Meantime, Doug Ota and Wayne take their M3 and 944 Turbo to the track. Unfortunately, after the first session or so, Doug Ota's M3 has a problem with a loud clicking in the rear end. So Doug has his 3rd DNF in a row, including the LA Street Race and Buttonwillow Enduro. Doug said his car was sticking great, and he was running flat out through turn 8 with his new Hoosiers tires after just a few warmup laps. Wayne said he car was running great also, except he spun out and severely bent a rim, which means he had to drive 2 hours back to LA to pick up another rim. In loading Doug's M3 onto the trailer(which is being pulled by Wayne's new Ford Explorer that I just got the trailer lights/brakes wired into the day before at the trailer shop), the trailer jumps off the ball joint, pops up, rips out the wiring from the truck. Trailer moves forward and also dents the new Explorer. So here it is only lunchtime on Saturday, and we got 3 cars that are down for the count. Wayne drives back later Saturday night with a new rim, but wakes up late Sunday morning and misses the morning practice sessions. Also, he realizes that he has no trailer lights, and since I am not there to follow him home in my car, he can't stay for the final race session, as it will be dark by the time he hits the road. Wayne also said it felt like there was 90 mph winds at the track, so everyone was running about 2 seconds slower than usual………
Oh well, there is always next time…..
EPILOGUE:
November 30th, 6:00 p.m. I dyno the car at the same dyno in Huntington Beach where the car dynoed at 284 prior to going to Comptech. Car now dynos at 325, for a total gain of 41 horsepower! Hopefully it will go another 127,000 miles. NOTE: Your horsepower will vary depending on day, temperature, dyno, location, etc. Also, the dyno guy couldn't figure out where to get the RPM pickup for the dyno.
EPILOGUE TO THE EPILOGUE:
December 2. Mike D. asked the question, "Was this on pump gas or race fuel?". I just realized that I totally screwed up, and that I still had a tankful of race gas in from the Phoenix Desert Storm II track event put on by the NSXers in Phoenix the previous weekend. To be fair, everyone should post their dyno numbers with pump gas.....so I guess I gotta go back to the damn dyno again....on pump gas...