Cal Speedway Dec 17-19, 2004 with Speed Ventures, TCRA, NASA and GT Live
The Big Boys From Japan Swagger into Town
"Struggling to Beat Raceaflais"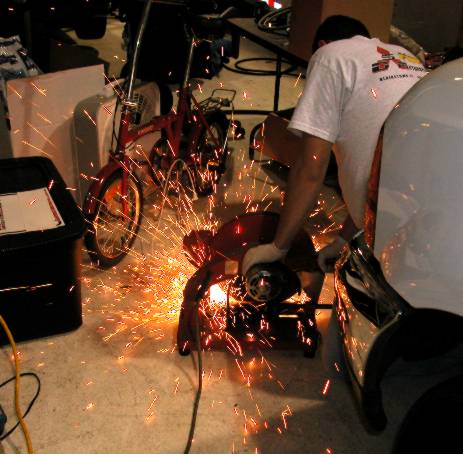 Jason starts fabricating parts to keep Wayne's motor running strong
Note: Huge correction on January 7th, a day after I posted this chapter. The JGTC cars used a different track configuration than what I posted earlier. Sorry for the inaccuracies. I was sitting mostly on the front straight watching the cars, I didn't realize that they shortened the back section and were using the motorcycle course. Thanks to Dennis K for pointing this out. I uh...don't like walking around much, so I didn't walk to the far side to watch the JGTC cars.
2nd Note, January 9: Wayne is looking for Jim, Ex-warehouse guy for the Phoneguys. We uh...lost his phone number. Jim, call Wayne at 714-843-9999. Andy, if you ready this, pass the word on to Jim. Wayne needs a warehouse guy.
The next event on the agenda was with Speed Ventures at California Speedway. They secured the track on Friday, December 17th, which is the day before the GT Live JGTC event. The JGTC cars are the Japanese race cars that race in a series in Japan, where they are fully sponsored and developed by Honda, Toyota, and Nissan. They are rumored to be among the fastest closed wheel "sports cars" in the world based on a "production car". Each of the manufacturers wants to be "King of Japan" in terms of having the fastest race car. These cars rarely race outside of Japan. The JGTC folks decided to come to the America, and do a "demo race" to gauge how much interest there is among race fans. I'm guessing that if it is a success, they might try to add it to their schedule next year.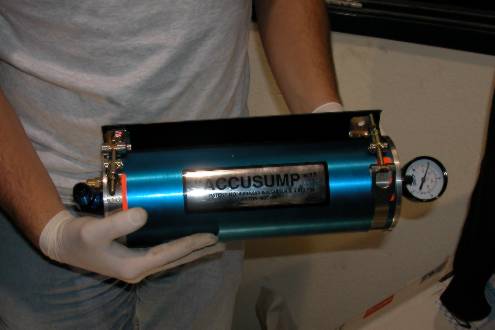 Jason and Wayne figure an accusump will stop Wayne's bad luck streak with Evo motors
The Touring Car Racing Association folks called me up and asked if I wanted to help drive fans/VIPs around the California Speedway roval track during the GT Live event. I've run more wheel to wheel races with TCRA than any other car club. I haven't run with them much lately, due to finances and not having the NSX ready. Track time would be free for the drive around, so I of course said yes. Apparently at the races in Japan, they pick out random fans via a raffle and put them as a passenger in race cars between the races.

The Road Racing course at California Speedway
This gives fans a full hit of the "Go-Fast Crack Pipe" as opposed to just watching cars go around the track. They can experience the acceleration, feel the G's in the turn, have their eyeballs almost pop out when the brakes are slammed on, smell the race gas, and hear the wail of race engines. What could be better advertising? The JGTC organizers are also planning drifting events, a Time Attack event, autocross events, etc, so it will be a full on car geek weekend. No drag racing is planned, as they are too far down on the Pyramid of Speed. (for you quarter milers, that is supposed to be humor. Don't take it so seriously)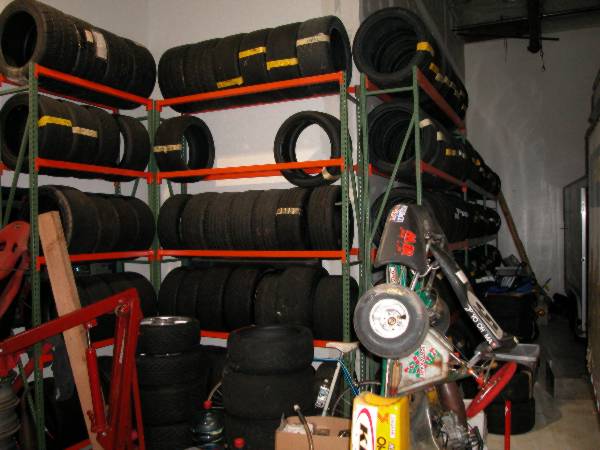 We have been saving up used tires for the past five years
Click here for bigger
A couple of weeks later, Diego calls me and says that unfortunately, we won't be using the full road racing course, but we would just be doing the inside "short course" without us going down the straightaway and the banked oval. Oh well.....still it could be fun to be be associated with the event. I tell Diego that I will still do Saturday, but probably will decline to do Sunday. I sign up, and Wayne signs up.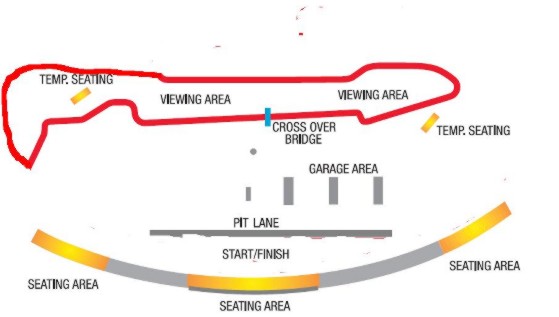 The short course is in red
Later in the week, Wayne decides to back out, as he isn't sure his transfer case can make it through the Friday event and the Saturday event. A customer of Messley's wants him to drive their car, which is the Mopar Viper, for the demo rides. Only problem is that this car was originally setup for road racing (Messley won two Viper league races in it), but then the owner decided to set the car up for drifting. Now the owner wants to re-set it up for road racing. At the least minute, Raceaflais defeats the Mopar Viper, and it won't be finished in time. For those of you who do not know who Raceaflais (Race-a-flay-us) is, click here, as someone was able to finally get a picture of the Greek God of Racing Chaos.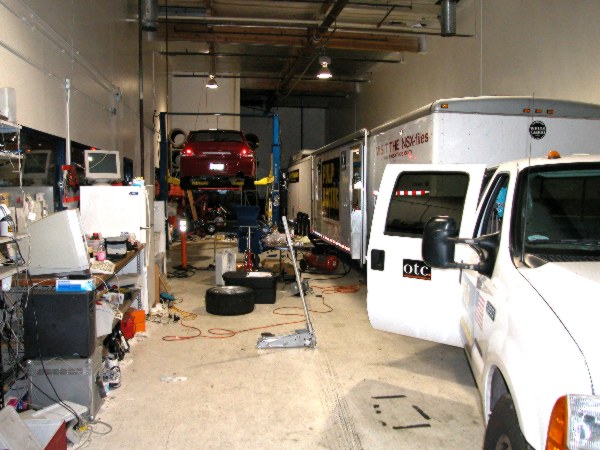 The shop is a mess. We are flailing around
Click here for bigger
Meanwhile, we are fighting Raceaflais ourselves. Wayne was going to run the stock Advan street tires, but then checks our Wall Of 200 Used Tires. He sees that my old Hoosiers that I used to run on the front of the NSX also fit all four wheels of the Evo. The tires range in age from one to five years old, but it is essentially free rubber. Wayne decides to put in an accusump into the Evo, just in case he blows up the motor from oil starvation in turn 1 at California Speedway from the increased cornering forces of the Hoosiers. He also buys a set of used gauges from Robi to to monitor oil temperature, boost, and oil pressure. Buying this stuff is relatively inexpensive and easy, the problem is the installation. He and Jason spend a night (6+ hours) installing the gauges. Then Wayne has to get all the special connectors for the sensor for the gauges. Then figure out how to tap those special connectors into all the right places. Gauge installation sucks!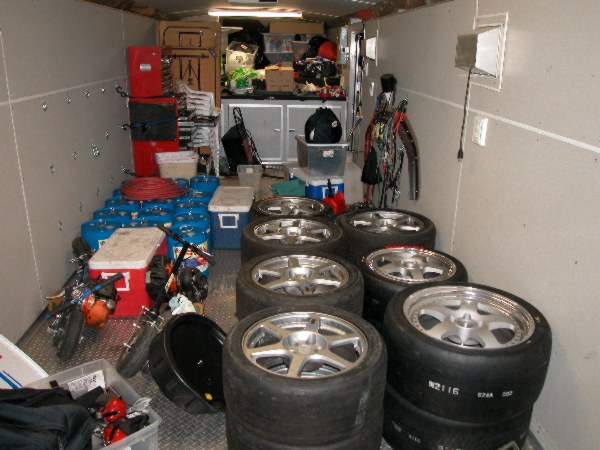 Fuel-check. Tires-check. Scooters-check. But the cars aren't ready yet! Shit!
The accusump is a whole other issue. They decide to put the accusump up close to the motor, but there really isn't any place to put it. Hummmm....if we take out the windshield wiper reservoir, it would fit perfectly there.....hummmm. Wayne gets one of the machine guys next store to fabricate a bracket for the accusump. Wednesday night, Jason and Wayne are ready to put it in....but it doesn't quite fit. So out come the sawzall, air saw, air grinders, air cutters, drills, etc, as they hack away at the body of the Evo. About six hours later.....the accusump is in the car!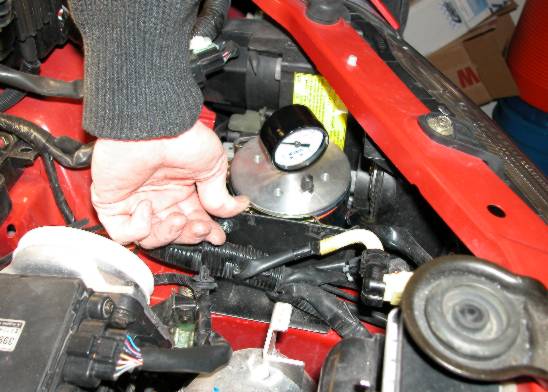 What's more important? Instant clean windows, or instant oil pressure!
(ooooops......uh...was that the intercooler sprayer we removed?)
Meanwhile, back on the NSX front, Messley and Autowave worked for a few days on getting that AP Racing Clutch with custom fittings and custom lighten flywheel to fit in the car. I thought it would be done last Friday, and here we are on Wednesday, and it is finally in. We didn't get a chance to really test it, so hopefully it will hold up this weekend. I still need the passenger seat installed in the NSX for the drive around. Installing an aftermarket seat in a car is one of life's biggest nightmares. Wayne did it to his Evo, and that took up probably most of a day, even with the "seat rail kit". Mine is even worse, as the rollcage is in the way of the "seat rail kit", so that means Messley has to fabricate his own seat rails, along with spacers, mounting points, etc.
One of my NSX rims is leaking about 10 lbs of air overnight. Erik says bring it to his shop and he will fix it, but he still has to align the car, and put the seat in the car. Giving him more stuff to do might be trouble. So Wayne said, "Hey, do it yourself, I did mine that way. Take it apart, clean it, get some silicone sealer at Home Depot, and put it back together". So I take out the 60 nuts and bolts that hold the rim together. I use brake cleaner and a wire brush to get most of the old silicone off the wheel, along with sand paper. I pick up a tube of silicon, and head back to the shop. Wayne asks me if I bought a gun to use with the silicone. "Uhh...no, you didn't tell me that you moron". So I cut the tube with a razor blade and apply it to the wheel haphazardly with my fingers. I'll have to let it cure for a day, and mount the tire on Thursday. Hopefully it will leak less than 10 lbs a day. Messley cringes when he hears how I put the rim back together...
===============FIVE HUNDRED DOLLAR REWARD===============
For information leading to the arrest of the person who is trying to sell my F355 on the Internet via an Internet scam. The catch is uh...you have to have him arrested. I don't have time, to do this stuff. But if you want to, just find out who did it, and then figure out a way to make his life miserable, and people who have spent time trying to buy this car that he doesn't have will thank you profusely, since he is wasting their time. Or make the guy miserable, and then report back here as to what you did so I can post it in the next story. So anyways, listen to the rant:
Back when I had the F355 up for sale, I had my "agent", a person known as "Mr. Mello", attempting to sell the car for me on Ebay, since he's an Ebay genius. The Ebay ad generated this email:
Hi Wayne,
I went to Credit Union and they told me that they need a copy of the title's car to approve the loan. They left me this fax number where you can send it : +1 (206) 299-9309 . I would be grateful if you can send them this info ASAP so I can get the funds.
I'm looking forward to start this transaction with you,
So stupid ass me, I listen to Wayne, and fax him a copy of the title to prove that I wasn't a scammer, and I wrote "COPY" across the face of the document. Now the guy is using my text/pictures from my internet ad, modifying it slightly, and is trying to say the car is somewhere in Italy or something like that, and he is going to sell it cheap, and just needs a deposit for $1000-$5000 to guarantee the low price. And now, he apparently doctored up the fax copy, so it looks like HE is the real owner, and he has repeatedly try to sell it on Ebay, in the LA Times, on cars.com, etc. Of course this guy will probably say, "I had nothing to do with it". Except he's the only guy that I ever sent a fax of the title to. That make him guilty in my eyes, and me stupid for listening to "my selling agent".
===================END OF FIVE HUNDRED DOLLAR REWARD==================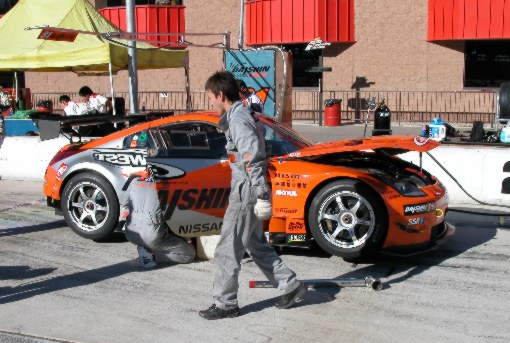 C-West Daishin Advan Z - GT300
Click here for bigger
Wednesday, December 15, 2004
I'm driving back to the house in the F355 with a big smile on my face. I'm only about 12 hours away from having all the vehicles running in perfect condition. I just need the NSX aligned and the seat installed and then I can declare victory over Raceaflais. And then coming home in the F355, the oil pressure light comes on for a second under extremely hard braking at the last stop light before my house. I park the car in the garage, check the oil level (which is fine), and then start it up again. It sounds terrible. Shit, I'm gonna have to tow it later next week after the JGTC event.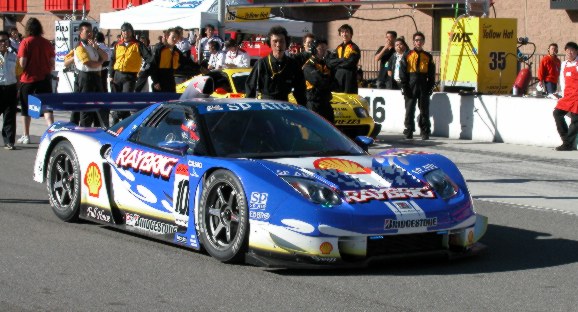 Raybring NSX - GT500
Click here for bigger
Thursday, December 16th, 2004
I still need the ffing seat put in the car. Messley has a scheduled date at the courthouse, something about some traffic tickets that he hasn't paid. He thinks he's gonna be gone for an hour, but is gone for about the whole afternoon. Meanwhile, I'm at his shop, waiting the the windshield guy who is going to put a new windshield in the NSX. The existing windshield is pitted so badly that you cannot see out of the damn thing. Messley shows up about 2 hours late, but at least the windshield guy is there to do his thing. Messley can't finish up the alignment while the guy is putting in the windshield, so that has to wait, along with the seat, for a couple more hours. So much for heading down to Cal Speedway and reserving a garage.
I stop at Albertson's Supermarket to pick up their fried chicken special. You can get 25 drumsticks and 25 thighs for $23 bucks, but you have to order in advance a few hours. I always believe in having plenty of food for the myself and the pit crew at the track. Nothing worse than having to wait 30 minutes in line for lunch at a crappy snack bar. This way you can eat lunch at 10:30 a.m. if you want, have another lunch at 1:00 p.m., and have a few pieces of chicken before you head home. So if you have chicken, some bread, some tortilla chips, a couple of cases of water and raspberry Snapple, all one blocks of ice in four different ice chest, you are self sufficient for a few days.
I head back to the shop, and I have Dana helping me to pack the trailer. We grab some more last minute Autowave decals and head over to Messley's to put those on the car and trailer.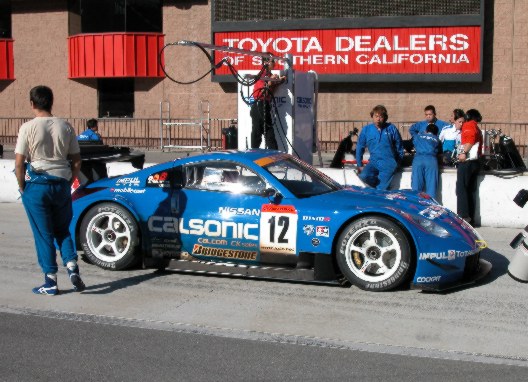 Impul Z - GT500
Click here for bigger
At 7:00 p.m., Erik thinks it is gonna take a hour more. This is bad news. I have heard that before. At 8:00 p.m., he says about an hour more. I send Dana home, as I can see what is gonna happen. At 9:00 p.m., he says an hour more. By now, I'm so damn tired after getting 4 hours of the sleep the past two nights, I'm ready to shutdown The NSX-Files permanently, as this is way too much work. My wife has observed that it takes me 40+ hours to get everything ready for a track event, costs mucho bucks, and I get no sleep for 3 days. All this trouble for perhaps 40 laps that take all of 90 seconds or so each. If you look from outside the driver's seat, she has a point......
I tell Erik to wake me up when he is done, as I am taking a nap in the truck. I toss and turn a bit, but at least I achieve a dream state, and my brain goes through a sequence of dreams that I can't remember. I wake up about 1:15 a.m, feeling refreshed! Messley has finished with the alignment and seat install, and has cleaned up the car, washed the windows, and it is ready to go into the trailer. The Go-Fast crack buzz comes back into my head, and all that hard work and waiting now seems like it is definitely worth it!
I head back to the shop, and park the trailer inside the shop. I head home at 3:00 a.m., take a long shower, check my email, tell the wife not to worry as I got four good hours of sleep in the truck. I head over to the shop at 4:30 a.m., and meet Michael, and we blast out there at 5:00 a.m.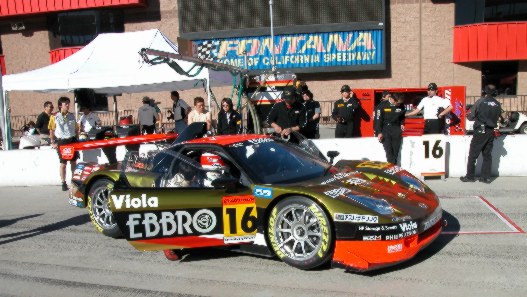 M-TEC NSX - GT300
Click here for bigger
I had Michael drive the S2000 to California Speedway, so I can keep the trailer and truck at the track overnight. I tell Michael to get to Cal Speedway ASAP, and get in line to reserve a garage. Speed Ventures was supposed to get a bunch of garages for Friday, but the JGTC guys and the drifters were there the day before, and they started grabbing garages, as they figure they are the main show on Saturday and Sunday. So it was first come, first served, for the 10 garages that were left.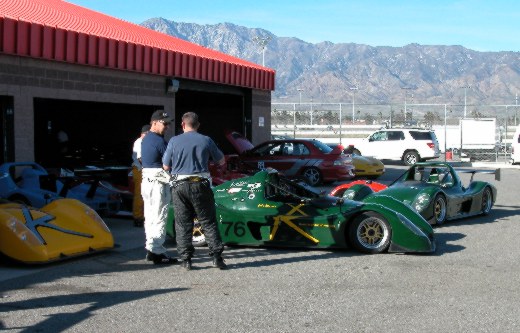 John Morris and the Radical West team brought in about 11 Radicals
Click here for bigger
Supposedly the gates open at 7:00 a.m., but from experience we can probably sneak in earlier. Michael gets there around 6:00 a.m., and is 2nd in line as the gates open, and successfully grabs the last garage. Which is good, as the wind is starting to kick up a bit. We pull the NSX out of trailer, check the air in the tires, and we are ready to go!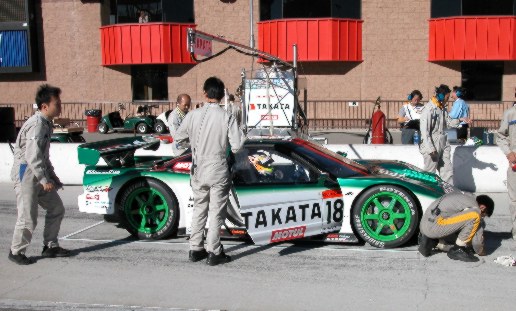 Takata NSX - GT500
Click here for bigger
The day was a little chaotic. If you think about it, at every major weekend racing event, the organizers of the event usually have the track reserved for Thursday and Friday, to help facilitate setup, testing of the race cars, parking the big rigs, setting up tents, etc. But on this Friday, somehow Speed Ventures was able to snag the Friday right before the big weekend. The JGTC guys want more practice, and Speed Ventures is sorta "persuaded" to give an afternoon session over to the JGTC drivers so they can do some practice and testing.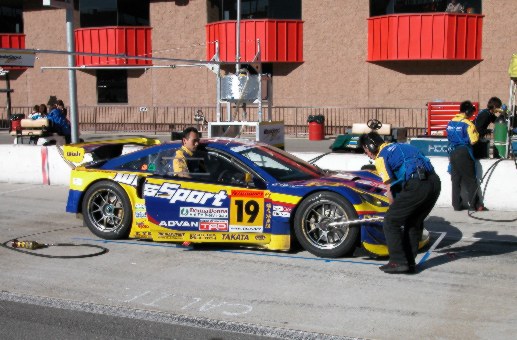 Racing Project Bandoh - GT300
Click here for bigger
This takes a good chunk of time out of the day, as the track management has to put up a chicane of cones at the end of the straightaway. Apparently the tire manufacturers for the JGTC cars were worried that the tires would not be able to handle the high speed bank, as the JGTC cars will be probably hitting 190 going into the turn. They didn't want any tires exploding and taking out the car and driver.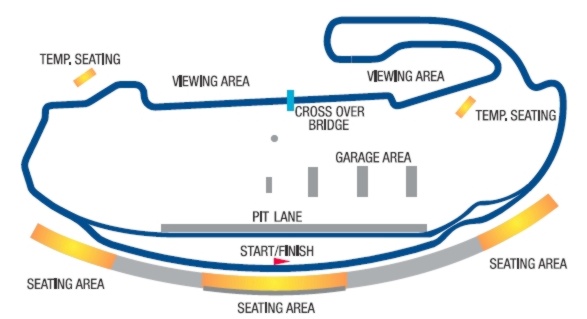 Update Jan 6: JGTC used the "motorcycle course" with a chicane at the end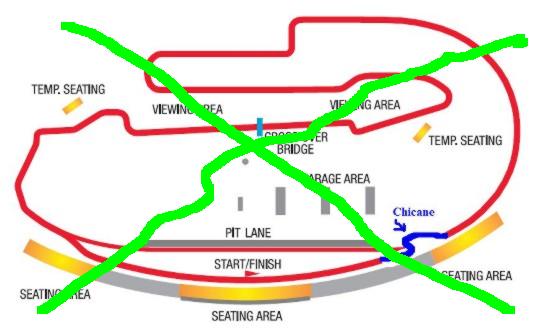 Ooops. I earlier thought they were using this course. This course is a 1/2 mile longer
Thus laptimes are tough to extrapolate
So we got less track time than we normally get at a Speed Ventures event. But on the good side, we are sharing garages and pit areas with the Big Boys from Japan, which is very cool. Right before the JGTC guys went out for their afternoon practice session, I put on my driver's suit, and acted like I knew what I was doing, and strolled into the hot pit area where the JGTC cars were gridding. Hey, all us Asians look the same, right? That's how I got most of the pictures of the cars in the hot pit.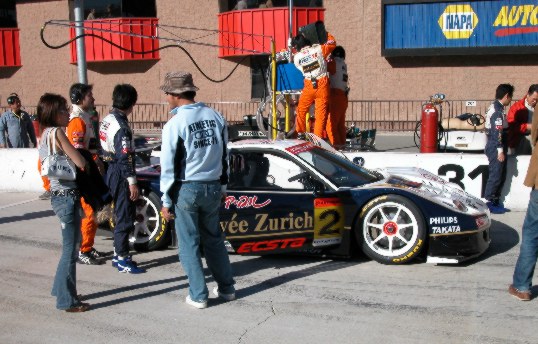 Privee Zurich Kuhmo NSX-GT300
Click here for bigger
In the first run group, I take Michael with me out on the track, as I just want to do a warmup session. I need to make sure the clutch is working fine, alignment feels good, brakes are working good, etc. I start the car up, and push in the new clutch for the first time......and it hits the floor immediately. The clutch almost has no pressure on it. Shit. But, it engages and releases just fine. Hummmm......I guess I can live with it. I do the warmup session, and I proclaim the car to be good. Next session out, I will ramp up the speed a bit.

Nismo Motul Pitwork Z
Click here for bigger
In the third run group, I throw on a set of new slicks, and I plan to go out and run a record breaking, personal best laptime in the 1:44.x range. Unfortunately, I end up running a sluggish 1:49.x, a full 4 seconds off my personal best. Not sure why I was so slow, I was thinking maybe it was due to the 35 mph headwind. I check tire pressures, and the right front tire is only at 16 lbs of air. DAMN! I lost 12 lbs of pressure in about 8 laps. Five more laps, the rim probably would have cut the tire, exploded, and I'd crash into the wall and killed myself. I check the rim, and it is not the rim that I fixed, it is yet another rim that is leaking. Whew! For a minute, I thought I was a moron....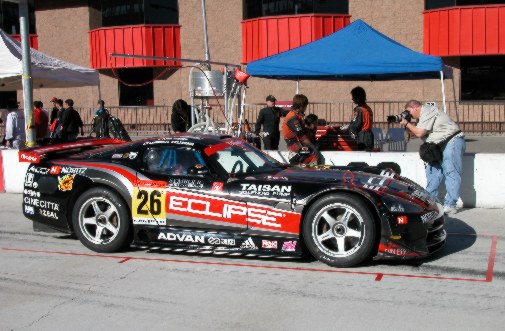 Click here for bigger
In the fourth run group, I don't get any faster. So much for setting any personal records today. The Radical guys took 6 of the top 10 fastest laps, with Marc Futterman the fastest Radical at 1:45. Steve Goldman in a Porsche RSR took fast time of the day with a 1:44.x Bernheim was right behind him in a Vision prepared Porsche. Wayne runs a 1:58 on the old Hoosiers. Jason is at the track helping him out, making sure he doesn't blow up the motor. We figure that once he gets his car dialed in with the new cams/injectors, he'll be a 1:55 street car, which is pretty fast.
The food lines are a nightmare. Luckily I have cold friend chicken. Ha!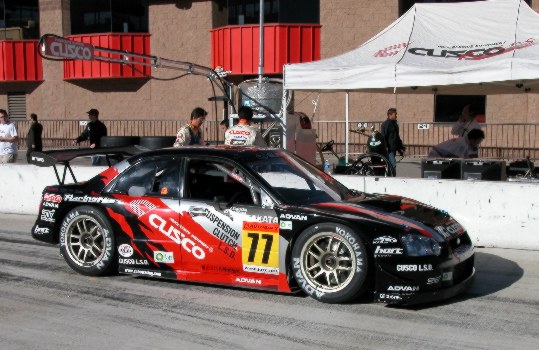 Cusco Subaru Advan Impreza - GT300
Click here for bigger
I first heard about the JGTC event about six months ago. I did a little research, seeing if I could enter the Flamemobile in the race, but it seemed like the GT 500 cars had about 100+ more horsepower, and weighed about 200 lbs less than me. Their front tires are bigger than my rear tires. Apparently the Japanese manufacturers like Honda, Toyota, and Nissan are battling it out in the JGTC series for bragging rights in Japan. As a result, this is like their own mini Formula One battle, and they are building cars that are arguably the fastest cars that "reasonably look like their street car counterparts". I mean, a JGTC NSX looks like an NSX, a JGTC 350Z does look like a 350Z, etc. Anyway, since it was a two hour race, I was missing a lot of stuff, like a quick fill fuel cell (my cell takes about two gallons a minute instead of 20 gallons a minute), center lock wheel hubs, a fueling rig, etc. It was not feasible unless I threw another $10,000 into the car. And even it it was possible, it seems like the JGTC cars are the Ultimate Cheating Bastard race cars, who have many tricks up their sleeve to unveil to the round-eyes devils. <grin>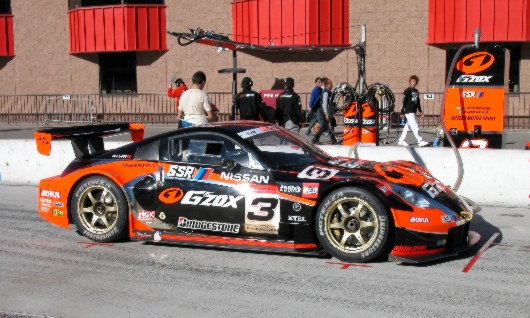 G'Zox SSR Hasemi Z - GT500
Click here for bigger
A couple of weeks before the event, the JGTC organizers were giving FREE ENTRIES to any American teams that wanted to enter a car. It was as if they were baiting the World Challenge GT cars, or the ALMS GT/GTS teams to enter and play in their "exhibition race". Free entry does sound kinda good. I talked to Messley again, just doing a "what if" about entering the Flamemobile in either the enduro or the sprint races that they were having on Sunday. Erik said it would be a bad idea, as the word on the street is that the JGTC cars would annihilate any of their American counter parts. One American pro team was rumored to be thinking about entering an 800 HP+ car to compete, but they fell victim to Raceaflais.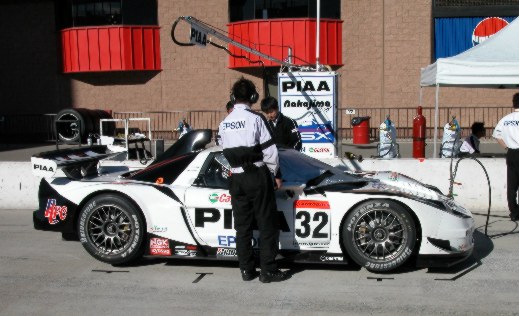 Epson Nakajima Racing NSX - GT500
Click here for bigger
I timed a couple of the cars, especially the #43 Arta car, and they were doing a 1:30 around the track, using the chicane, and a slightly shorter track. Earlier in the day, I was doing a 1:49, with NO chicane. So the #43 car was 19 seconds a lap faster, and he had the handicap of having a 40 mph chicane at the end of the straight, whereas I was probably doing 140 mph through that turn. But I find out three weeks after the event (and a day after I posted this story on January 5th) that they were running the motorcycle course, which is a half mile shorter, so now it is hard to figure out what equivalent laptimes they are running. Later on in the evening of the event, I find out the #43 Arta car is a GT300 car, which is the slower of the two JGTC classes. The big boy GT500 cars are running 1:23, so they are probably 31-33 seconds a lap faster than the Flamemobile in this shorter config track. Ouch! Supposedly the GT500 cars are limited to 500 hp. Yeah right.....those things are moving like they have 650-700 HP. So I will revise my original estimate that they would lap me every 3 laps. Probably more like every five laps......but that's just bench racing....who know for sure?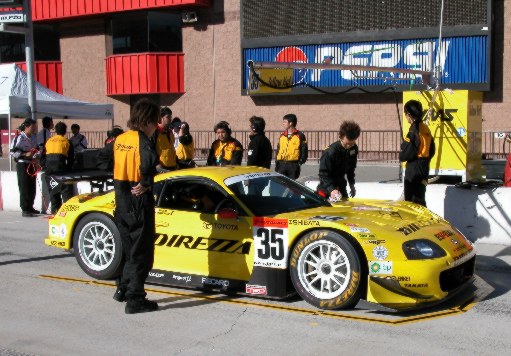 Kraft Yellow Hat YMS Supra
Click here for bigger
Friday night, I watch the JGTC cars practice after the sun goes down. Holy shit. These guys are jamming down the straightaway, jamming on their brakes, rotors glowing, slamming 4 quick downshifts that go BAM BAM BAM BAM, zipping through the chicane, and then firing up the motor again to go around the turn. I'm totally mesmerized, and I watch the cars from the pit wall for about an hour. Talk about a Go-Fast Crack Pipe experience......man that was a good hit!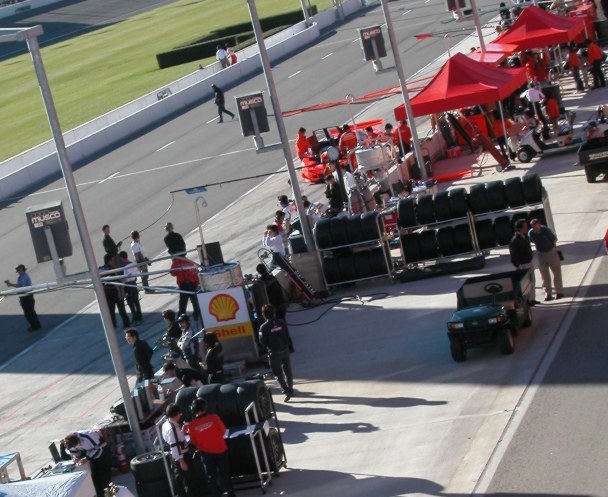 I think these guys are little more prepared than we are
Click here for bigger
There were four American cars there on Friday night doing testing: a 360 Challenge car, Bernheim's Porsche, the Escalette/Rosser Porsche, and Mark Anderson's 928. They were a little off the pace. But at least they were playing with the big boys. I was sitting in the stands as a spectator. What a wuss!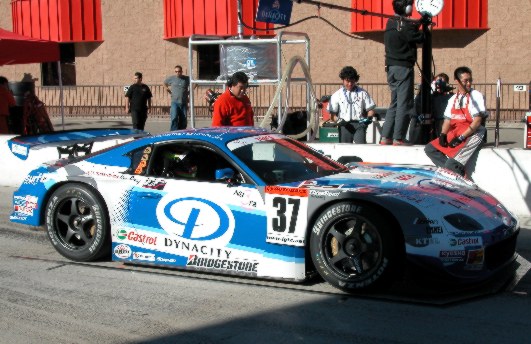 Dynacity Tom's Supra
Click here for bigger
Saturday Morning
I have to be at a 9:00 a.m. driver's meeting for the drive around. I find out that NASA is the main organizer of the drive around. There are about seven TCRA drivers that are participating, along with about 13 NASA drivers. I'm always early for track events, because you NEVER have enough time prepare the car at the event. I get there about 7:00 a.m., and holy shit, there are cars lined up for about a mile trying to get into the Speedway. Apparently they haven't opened the gates yet. It looks like about 30 minute wait to get into the event, with cars trying to make left hand turns, right hand turns, and coming straight into the the only open gate at the speedway. Crap. I remember seeing another gate on the far north side of the track, and I head over there. There is one rent-a-cop there, asking me what I am doing. I tell him that I am "driving" in the event today, and I need to get to my car and get it ready. I tell him that the line at the main gate is at gridlock. After talking to him for about two minutes, he finally lets me by. Whew. Got through that like a charm.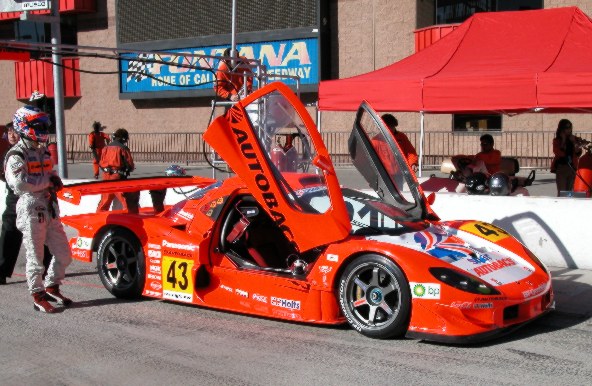 Autobacs Racing Team Aguri Arta Garaiya - The coolest looking car on the track
Click here for bigger
I get into the pit area where my trailer is, and immediately a California Speedway official asks me if if the big Pulp trailer is mine. I say yes, and he says I gotta move it immediately way outta the way, as this entire area here is reserved for DriveTech. DriveTech are the NASCAR geeks that you can rent a car from and go around in a circle on the track.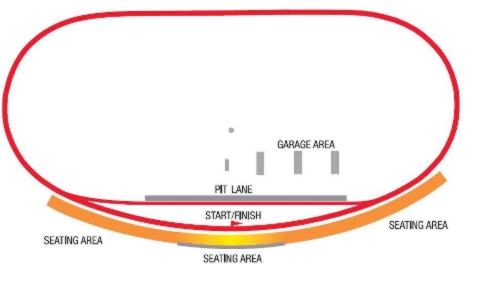 The DriveTech folks only go in a circle. Kinda boring if you ask me
I tell him that I have a car in there that is running in the event. He says it doesn't matter, I have to go move my car about a half mile down the road. Which is ugly for me, as I won't have all my tools and food close to the TCRA tent, which is where my car will be on display for today. I tell him that I'm very sorry my trailer is there, but it was there for 24+ hours, and no one had a problem with it yesterday, and that I am willing to move it if he wants to direct me with the two-way radios. Today, since everyone has their trailers/rigs parked everywhere, it is next to impossible to move. He thinks about it, and asks how long do I need to be there. I tell him that I am leaving tonight. He says if I can move it over 20 feet, I can keep it there. Cool! I got a primo spot for the trailer!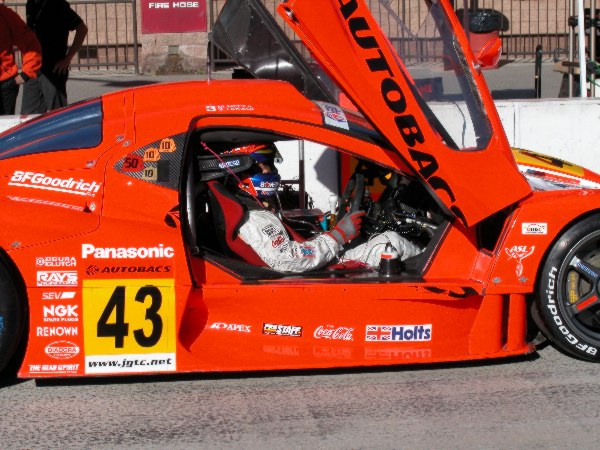 This guy went through the chicane faster than anyone else. Then someone took him out in the enduro
Click here for bigger
So by now, I've wasted 90 minutes or so, and I buzz down to the driver's meeting. The NASA official is explaining to everyone that we are to be driving at 6/10ths, maybe even 5/10ths, as the goal of fan drive-around is have people experience what it is like to be on a road course with an experienced driver. He is explicit in saying:
1. Do not scare the passenger
2. Do not make the passenger barf. We want them to have a good experience
3. Do not spin in this session, or you will be blackflagged and yelled at.
4. Of course, DO NOT have any contact
5. This is not a race, do not do any dive bomb passing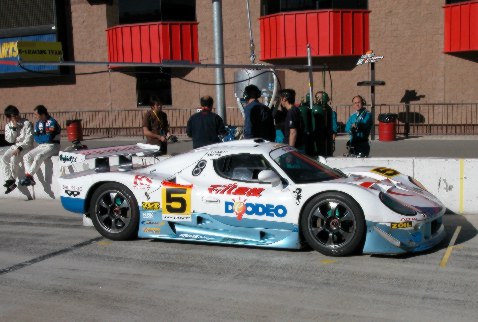 Project u B-1 Mach-Go GT 320R - GT300
Click here for bigger
Originally people were going to be picked from a random drawing to get a ride in one of the cars, but it was changed to be anyone who lined up in one of the 8 lines could get a ride. I had the Pulp Racing Test Drivers helping me out with my passengers, as it is tough to put the harness on, and if anyone leaned on the carbon fiber door, it would break off at the hinges. I proceed to take about 15 passengers around track for two laps each. I was sorta worried that the car would overheat, as you would do two hot laps, come in, park the car, wait about 4 minutes to strap another passenger in, and then take off and do two hot laps. This is very hard on the car, the brakes don't get a cool down lap, the cooling system only has air going through it for two laps at a time, etc. The Flamemobile takes it all with aplomb, and has no overheating or mechanical issues at all! Raceaflais has been defeated! Autowave and EMI Racing have made the Flamemobile bulletproof! During the drive around, one guy in a Ferrari 360 locks up the brakes, and another guy runs into him. Ouch! Luckily, it was relatively low speed, and no one is hurt.
The food lines are a nightmare. You would think they would have food stands setup all over the pit area for the 10-20,000 people that are here. Screw them, I have cold fried chicken!
There seems to be, in general, a big generation gap at this event. All but one of my fifteen passengers came to California Speedway to watch the drifting event, and just about all of the passenger were under 26 or so. For those of you who are at the top of the Pyramid of Speed, I know you got to be shaking your head. Drifting = Figure Skating in my book, and I probably would never pay to watch either of them. (I'll do a full discourse on drifting in maybe the next chapter, as their one is getting kinda long already.) Even the Pulp Racing Test Drivers seem to be more interested in the drifting event, and their combined age is less than 40.
In the early afternoon, the big boys go out on the track for qualifying. Two American teams are still left, taking the last two spots.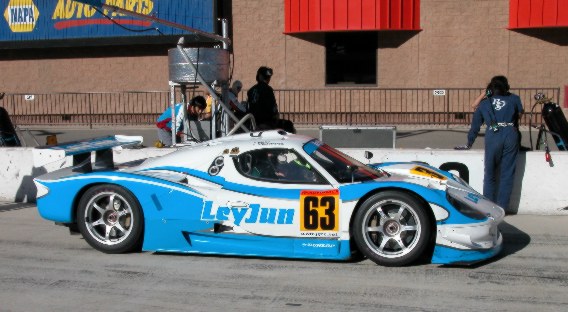 Leyjun Dunlop 320R - GT300
Click here for bigger
Later in the day, a bunch of us hang out in the grandstands, and watch most of the enduro race. Unfortunately, due to some weird mixup/disagreement, the Bernheim/Vision Porsche isn't allowed in the final enduro. Bummer, as they were ready to run the event.
The JGTC guys are putting on a show, doing passing in the very narrow chicane on the front straight. The PIAA NSX driver went door to door with a guy, and banged up the NSX on the tirewall in the chicane, but then took it in stride and hauled ass out of there. It appeared to us that he was the winner of the event, but he was assessed a 60 second penalty for pitting too early in the race, and was dropped to 2nd place.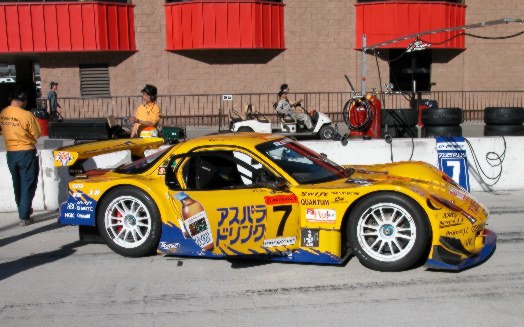 Amemiya Asparadrink RX7 - GT300
Click here for bigger
After the enduro, most of the fans went to the other side of the speedway to watch the drifting "competition". Meanwhile, the JGTC cars appeared to be going through a technical inspection about 100 feet from where the Pulp trailer was parked. This would be a good photo. I parked the trailer right behind the JGTC cars, and got a couple of good pictures. I didn't have my tripod handy, so the pictures are a little blurred, but still look pretty cool! Hopefully the JGTC guys will come back next year. In Autoweek magazine, the organizer sorta implied that he would like to have them back next year, and maybe the year after that run a course on the streets of Los Angeles. Can the L.A. Street Race be revived? Now that would be the coolest thing ever....but I think it is a long shot. I snap some more pictures, and with two pieces of cold fried chicken in my right hand, I drive the trailer back home.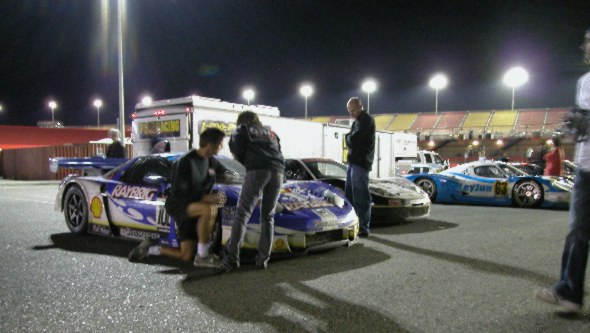 Erik and Tanna checking out the Raybrig NSX aero secrets
Click here for bigger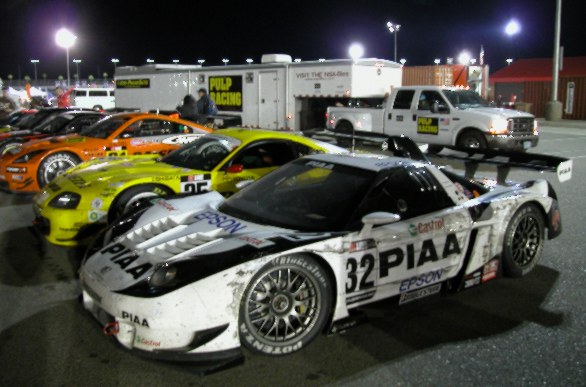 Notice the tires marks on the side of the car. This guy was a kamikaze driver!
Click here for bigger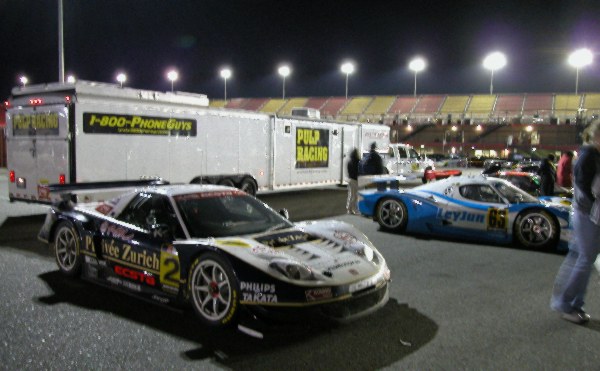 Click here for bigger
Tuesday, December 21, 2004
I'm driving on the 405 freeway with the S2000, doing about 85 mph in heavy traffic (hey, that's how it is in Southern California) and I run over what looks like a tie down strap. I start to smell something burning underneath my car. Crap. The smell goes away, and I exit the freeway. About a mile from the shop, the car suddenly drops out of gear, and I'm in neutral, and the car won't shift into gear. I glide into a side street, and look under my car. Turns out that I ran over a damn beach towel, and it wrapped around the left rear axle/half shaft, and apparently pulled something out of wack. I have the car towed to Autowave.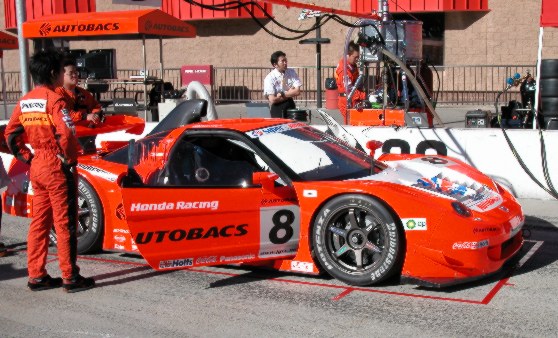 Autobacs Racing Team Aguri Arta NSX - GT500
Click here for bigger\
Wednesday, December 22, 2004
I have the F355 towed to Global Motorsports Group (GMG
www.gmgracing.com
), which is James Sofronas's new High Performance Tuning Shop for Ferrari, Porsche, Audi and BMW in Santa Ana, CA. James bought a nice white Porsche GT2 and designed a chip/shock/suspension package for it that is one of the best upgrades on the market, which they sell to GMG customers with Twin Turbo 911's. His GT2 is putting out around 600+ HP with custom software and exhaust.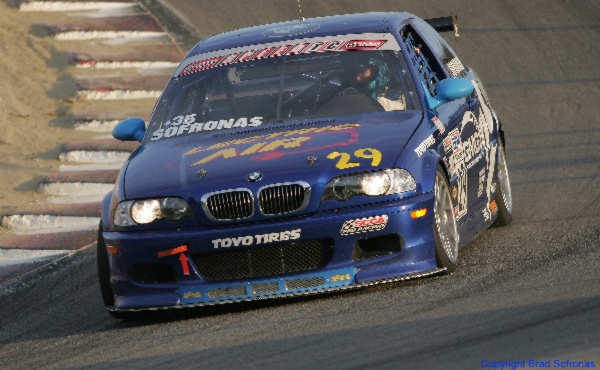 Sofronas took 4th overall in Speed World Challenging Touring points for 2004
Click here for bigger

GMG's lead mechanic, Dave Peters, is a Factory Certified Ferrari Technician (as well as a factory trained Porsche and Audi Tech) who used to work at Ferrari of Beverly Hills and specializes in all modern Ferrari cars including the 348/355/360/550/575/F40/F50/Challenge cars.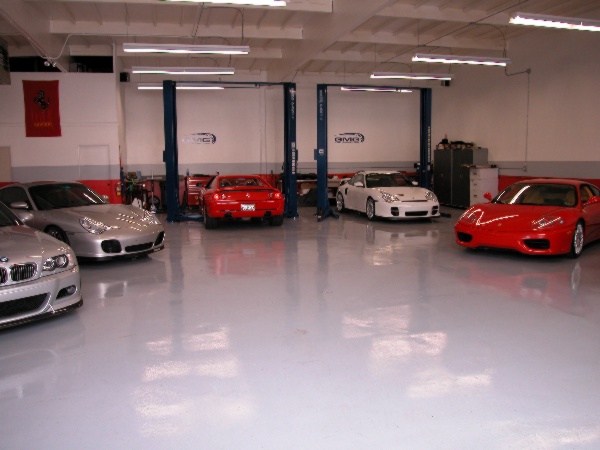 The new GMG shop at 1625 E St Gertrude Pl, Santa Ana, CA 92705
Click here for bigger
His GT2 is putting out around 600+ HP. He also has an ex-Ferrari of Beverly Hills mechanic who specializes in all modern Ferrari cars including the 348/355/360/550/575/F40/F50/Challenge cars.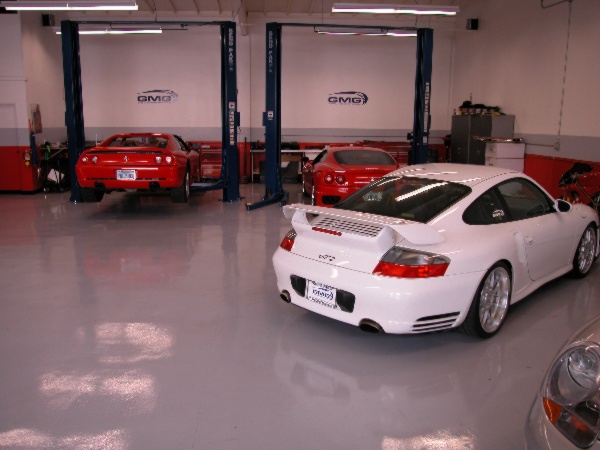 We need to paint the walls and floors like this at the Pulp Racing shop
(Click here for bigger)
Dave the Ferrari mechanic at GMG listens to my F355 motor, and says that it almost sounds like it jumped one tooth on the timing belt. Which means he will have to drop the motor to fix it. Aaargh!

GMG services and sells Go-Fast parts for Porsche, Ferrari, and Audi
(Click here for bigger)
You can call GMG at (714)432-1582 for your Ferrari/Porsche/Audi/BMW go-fast parts. James took 4th overall in points for the 2004 Speed World Challenge Touring Car series, (beating people like Cunningham/Kleinubing/Altenburg). Ya gotta figure he knows how to setup a car. Here are copies of their Mission Statement, Porsche brochure and their new ad for Porsche magazines.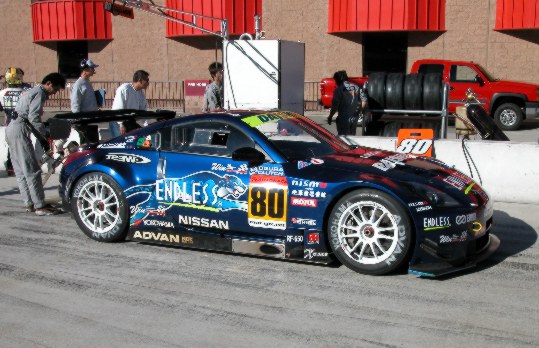 Endless Daishin Advan Z
Click here for bigger
Friday, December 24th, Christmas Eve
Dave calls from Global Motorsports Group, and says it appears to just be a bad intake hose/clamp that was screwing up the A/F ratio, and making the motor sound bad. Whew! Merry Xmas to me! He said that there were a few more minor things he would like to fix, and I give him the okay to do that.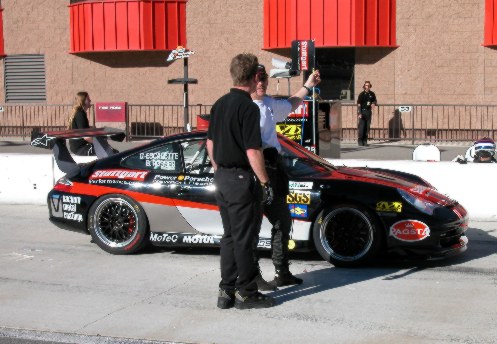 The Escalette/Rosser was the lone American entry in the enduro
Click here for bigger
Saturday, December 25, 2004
Merry Xmas! It is 75 degrees and sunny at the pier today.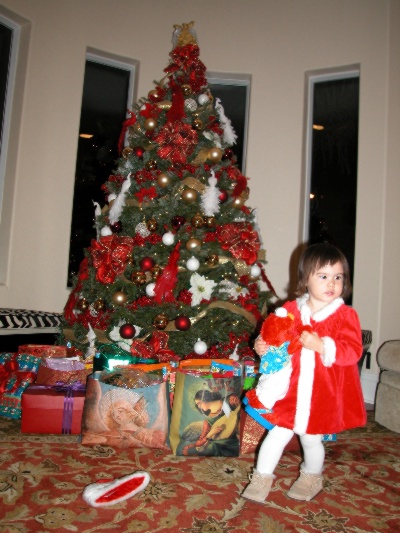 Merry Xmas to all!
Tuesday/Wednesday, December 28-29, 2004
Wayne gets a hair up his butt, and wants to replace the two small, noisy portable air compressors we have at the shop (one for cleaning used Norstar phones, and one for air tools on the Pulp Racing side of the building) with a 60 gallon, belt driven, upright standing air compressor. We spend half the day chasing down a compressor at Home Depot and a couple of Lowe's until we find one.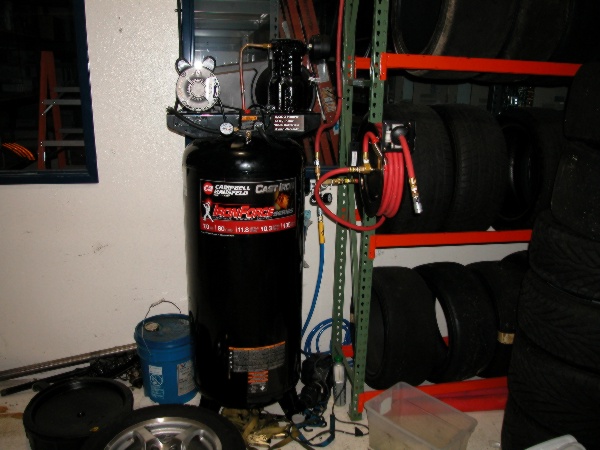 Wayne bought a 60 gallon, belt-driven, compressor for the shop
We make the mistake of walking into Harbor Freight, and Wayne says he wants a drill press, a belt sander, another vise, etc. We end up buying a boat load of stuff. Back to the shop. Now we realize we need cement anchors, 220 wiring, more air compressor hose, fittings, fitting reducers, cement drill bits, retractable air hoses, bolts/nuts/washers, another table, power strips, different size cement drill bits, more bolts/nuts/washers, T-fittings, gang box fittings, etc. Of course it takes 10 separate ffing trips to Home Depot and Harbor Freight to get all this crap. The rain has moved in, so we will have rain the rest of the week.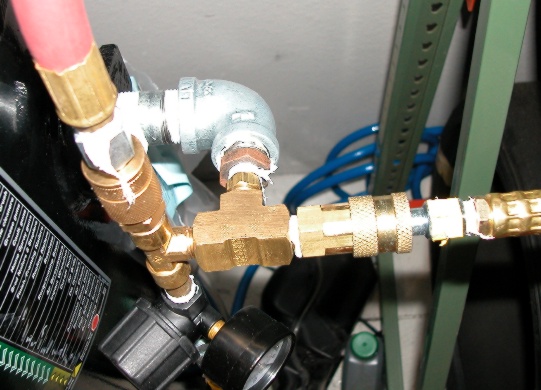 We got T-connectors, so we can send air to three different hoses in the shop
Thursday, December 30, 2004
I get the S2000 back! But the Audi wagon has to go to the dealer for a recall on some part, along with checking to see if there is a fluid leak in the front diff/power steering unit. On my Tony Kart, I finish installing a new floor pan, gas tank, steering wheel, front hub, chain, sprocket, EGT sensor, and speed sensor, so it is ready for the New Year. Later in the evening, the Audi is fixed. Only one vehicle left to fix.....


Buy (and sell) your used Norstar systems from Wayne at The Phone Guys
Friday, December 31, 2004
I miss my goal of having all vehicles working by January 1, but the F355 should be done on January 5th with hopefully minimal expense. I also do some end of the year cleaning, and I throw out a dumpster worth of crap that was sitting around the shop. But now the shop is looking a lot better, and we are more organized to defeat Raceaflais and keep The NSX-Files running for the year 2005!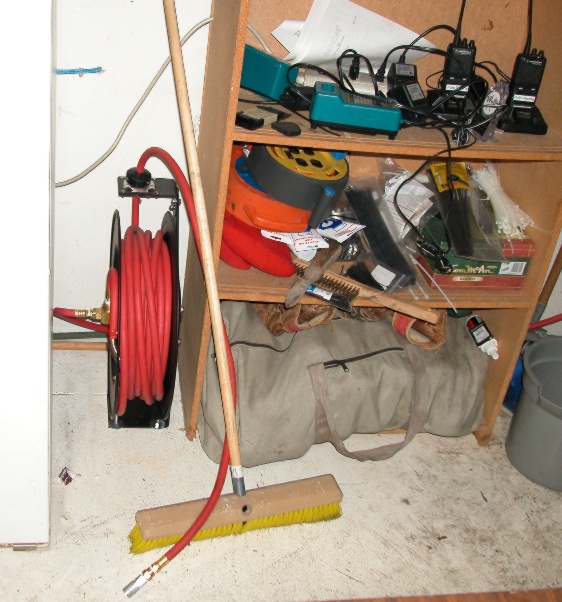 Bolted a 50 foot hose reel to the concrete floor
Next event for us will be Speed Ventures at Laguna Seca. We plan on going without the trailer, with the Evo and S2000, to see which of us will be the King of Corkscrew! I beat him at the Streets of Willow, he beat me at Big Willow.....now it is time for the tie breaker!


The Flamemobile is now unbreakable due to Autowave!
January 1, 2005
Happy New Year! Wayne and I are looking for investment opportunities so we can make some cash so we can buy go-fast parts, tires, and race fuel for our cars. If ya got any investment suggestions, let us know. As long as it doesn't involve drugs, smuggling, or kidnapping, we are open to your ideas!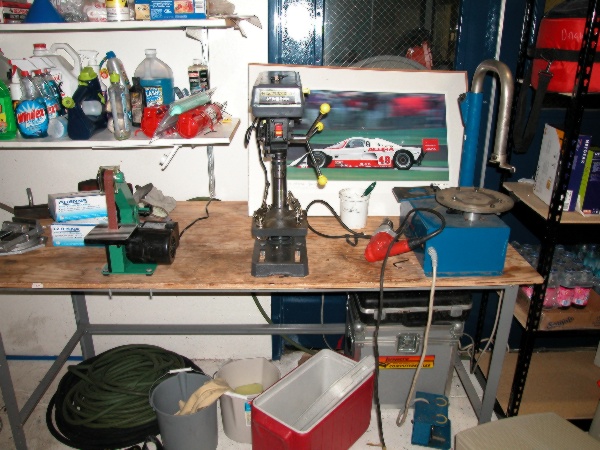 The new work bench with vise, belt sander, drill press, go-kart tire changer