Japan 1998 NSX Fiesta at the Motegi Twin Ring Race Track
Honda and the NSX Club of Japan
Rollout the Red Carpet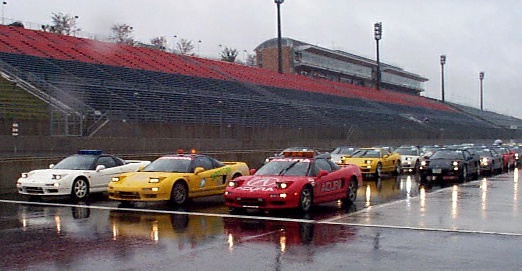 200+ NSXes ready for parade lap at Motegi Twin Ring Racetrack

Background
Kendall organized a group of U.S. NSX Owners on the Internet to go to the NSX Fiesta in Japan. The NSX Fiesta is the big meeting of the Japanese NSX owners. Originally we were trying to figure out a way to get our cars to Japan, so we could drive on the Twin Ring track, but it proved to be too tough logistically. Maybe next year we can work it out.......

Highlights of the Japan Trip(from my perspective)

1. The Motegi Twin Ring racetrack is spectacular. Honda claims it spent $400 million to build it. Rumor has it that it went way over budget, and it cost more than 1 billion dollars. It makes Laguna Seca look like a dirt track. You get the impression that once Honda makes a decision, they don't screw around at all, they give 110% to make things the best they could be. There is a big oval NASCAR-type track, and a separate 4.8 km road racing course.




View of the track from the luxury boxes. Twin Ring Hotel is in upper left.
(See Bigger Picture)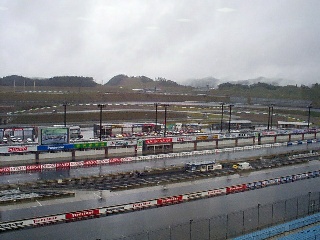 View of the other side of track from the luxury boxes
(See Bigger Picture)

They also have skid pad, rental go carts, and rental race cars that look like Formula Fords with motorycle engines (but with perfect Honda paint and finish) that you can rent. Museums, exhibits, food, luxury boxes, big screen TV for the fans, and a luxury hotel all built in an area that looks like a mountain range. Imagine going to Big Bear(or pick your favorite ski resort), and about halfway up the mountain someone says, "Ya know what, I think we can level part of this mountain range, and build a world class race track for Oval and Road Racing, and build a resort hotel on the side of a mountain overlooking the track, and make it so that the track and hotel look natural and there is no damage to the environment." Very impressive.....especially when you see 200+ NSXs doing a parade lap around the oval, filling up the entire track..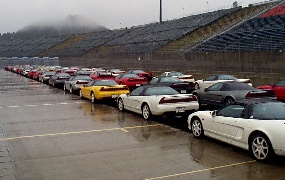 NSXes ready for the parade lap
(See Bigger Picture)
2. Honda Museum. We went to the Honda museum at the Motegi track, and it was pretty awesome. A guy(Tino) that also has seen the Ferrari Museum and the Porsche Museum said Honda's blows it away. They have three floors of vehicles from their history, ranging from little generators to scooters to motorcycles to Civics to F1 and Indy cars.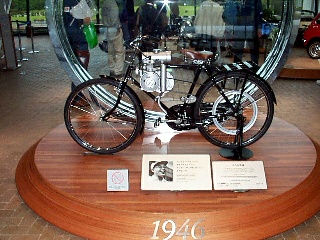 Honda's first production vehicle
(See Bigger Picture)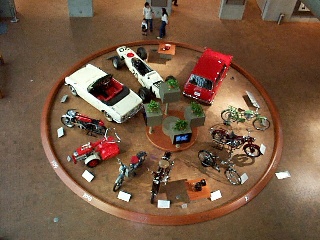 What you see at the entrance to the Museum
(See Bigger Picture)
An entire floor dedicated to their Motorsports efforts throughout the years, and they have a bunch of F1, F2000, Rally, LeMans, etc type of cars there and motorcycles, with little signs saying what race(s) that vehicle has won, what the new technology on it was, etc. F1 cars that Senna drove to victory, Nelson Piquet, etc. are all there. It was nice to drool over Senna's F1 cars......that has gotta be a rush to drive one of those...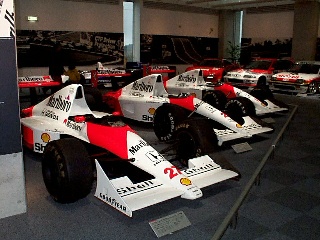 Honda's Championship F1 Cars
(See Bigger Picture)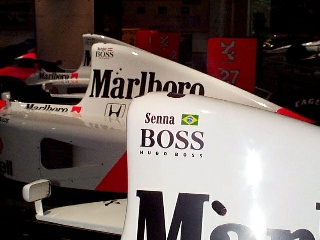 Senna's Championship Car
(See Bigger Picture)
3. We went to the NSX plant in Tochigi, where they build the NSXs. We were only there for about 30 minutes before they kicked us out, because they were building the S2000 cars there at the same time, and they didn't want anyone watching the production of that car, since I guess no one outside of Honda has seen the car. Of course all of us boneheads in our group spent more time looking at the S2000 production then the NSX production, which got us kicked out quicker. :-) Anyways, there were craftsman actually filing down by hand bare aluminum NSX bodies, making sure the curves were perfect, etc.
4. We got to meet with the head designer and creator of the NSX. I got my picture taken with him. I asked him through a translator if a V8 or V10 would fit in the existing engine bay, and he was kinda evasive on it. He did kinda of stress that Honda builds car that are enviromentally aware, fun to drive, and very reliable. Also got picture taken with the Japanese Formula 1 driver, can't remember his name. Also got a picture with the Japanese "Jackie Stewart" of racing, can't remember his name either...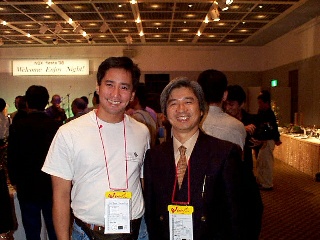 The head designer in charge of creating the NSX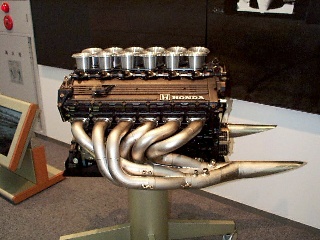 I am SURE it will fit in the existing NSX engine compartment
(See Bigger Picture)

5. Got a ride in and NSX-R around the oval track a Motegi. There were about 3 NSXs on the track at one time, and we each got about three laps as a passenger with professional race car driver driving. The guy that drove me around was staying about 3 feet off the bumper of the car in front of us, dogging the other driver, and he laughing slowing, "heh heh heh heh", like he knew he was faster than the other guy. Kinda like how Wayne or I laugh when we are dogging the other person's car on the track.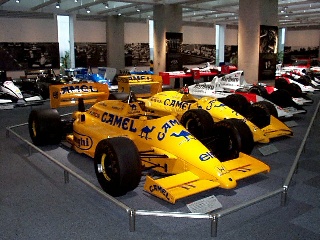 More championship cars from the museum
(See Bigger Picture)
6. The Hospitality of Mr. Nakamura and Mr. Nakanishi(sp?) of Honda was fantastic. Mr. Tomiyoshi of the NSX Club of Japan also stayed with us the entire time, and was very helpful and gracious. Mr. Kase of the NSX Club of Japan was another great host. Can you imagine babying sitting 16 or so Americans that in general can't speak the language, can't read the signs, and don't know the customs of the country, and in charge of shuttling them around from three different hotels, a bunch of buses, trains, shuttle cars, bicycles, etc, AND having an agenda for dinners, lunches, breakfast, museums, exhibits, tours, drive arounds, and letting them drive 14 limited production Formula Ford-like cars worth $40,000 each on a little autocross-type course in the pouring rain, with people doing big time spins(hey, I didn't spin...can't say the same for many others!)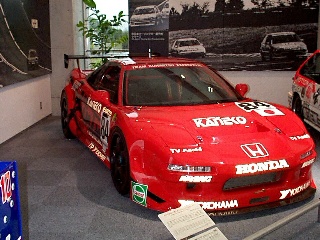 Racing NSX
(See Bigger Picture)
7. I got a ride(along with Alex and Skip) with a guy who had a supercharged NSX that he claimed put out 370 HP. He had a big supercharger that filled up quite a bit of the engine compartment between the engine cover and the top of the glass. He gave me a 5 minute "Rendevous" type of drive, going 85 mph through the crowded streets of Tokyo. I thought for sure we would hit a person/car/tree, and then I would be in jail with him as an accessory.....
8. Hotel Room at the New Otani is pretty awesome. If you ever go to Japan and spent at least one night in a great hotel, sign up for the New Otani Club on the Internet about a month prior to going there(the wife had foresight to do this). The rooms are expensive, like most of the major hotels in Tokyo, but the Club Membership got us about 9,000($75?) yen off the nightly rate, so it reduced the room rate to about 31,000($275?) yen a night, with free coupons for breakfast. I am writing this sitting in a room with two 27 inch televisions with inputs for video cameras, another 9 inch TV in the bathroom, two regular phones and one cordless phone, a fax machine, window shades with wireless remote control, and the hotel has their own ISP facilities, so for 10 cents a minute you can dial into their PBX and get a connection out to the Internet.
9. I had the best restaurant dinner I ever had at the teppan yaki dinner at the New Otani. We ended up there by mistake, and the steak was the best steak I ever had, the fish, the salad, the cucumbers, etc, the best I ever had. Only problem is that it cost more than a night in the hotel room...but ya got to splurge now and then. You can get great sushi and noodles in the mall/alley ways at good prices, two pieces of tuna sushi can cost as little as one dollar at many of the places, good bowl of noodles for 6 bucks. So I guess the moral of the story is that you can eat cheaply in Japan as long as you don't eat in the hotel restaurants...
10. And of course another highlight was enjoying the company of all the NSX people that came over from America. And special thanks to Kendall for organizing the trip from our side over here.
Interesting stuff about Japan.....(well at least I thought it was interesting)
1. No one tips. Most people here don't accept tips. It drives me crazy not to tip.
2. Very little crime. No one worries about their luggage, brief cases, laptop computers, etc, out here. I am used to being paranoid with my luggage.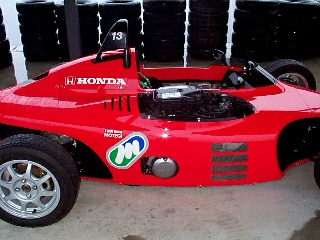 Notice the engine is right next to you. (Duh, that is why is called "side-by-side")
(See Bigger Picture)
3. Everyone is very polite and helpful.
4. Food is really good. Udon, sushi, beef yakitori, bread, etc.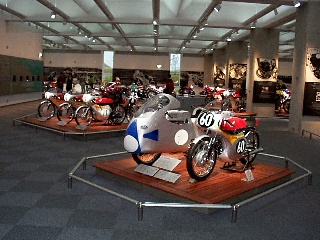 Just a small portion of the motorcyle section of the Honda Museum
(See Bigger Picture)
5. Subway system is awesome, runs exactly on time, and a train pulls up about every three minutes. If I had to build a city/country from scratch, I would start with a good subway system. (and I would mandate no speed limits on the streets/highways for cars). Being from Southern California, I think I have been on a subway maybe once.
6. Bullet train is nice, cruises at 120+ mph. At first I was scared, because there are no seat belts, and I don't drive at 120 mph unless I have a five point harness. Supposedly there has never been an accident on the bullet train. It rides like a Lexus. People walk around the train when it is cruising at top speed.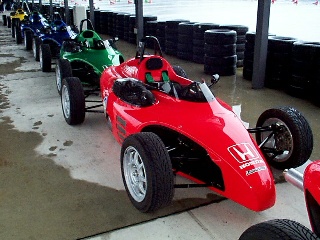 The Honda Side-by-Side cars
(See Bigger Picture)
7. Hotel TV sucks(except for the New Otani Hotel). Even the major hotels have only about 12 stations, of which MAYBE one will have english speaking CNN. I thought everyone would have their own satellite dish for each room, and I would have 500 channels to watch while the wife goes shopping.
8. Japan economy can't be bad, simply because everyone in Japan seems to be out shopping. There are shops everywhere, the whole country is made up of little shops.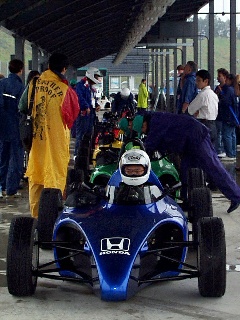 Francis getting strapped in and ready to go for some hot laps in the cold rain
(See Bigger Picture)
9. In one of the subway stations, all the Japanese women had their expensive purses sitting on their laps, and everyone was checking out each other purse to see who had the best designer purse. I teased Dagmar and said that all the of the women were "revving" their purses on her, since she did not have her good purse with her. She always gets on my case when I rev my car at the stoplight when another "modified car" starts revving their engine at me. There are enough purse shops here in Japan to supply every woman on earth with 190 purses each. At the sacred temple sites, people are even selling purses there.
10. All temples look the same to me. So far, it seems we have seen 100 temples. All of them had shops selling the same purses, clothes, dishes, senbei, food. Of course, each temple and shop looks different to Dagmar, so we have to inspect each one.......I guess it is payback for the last 15 times I took her on a weekend "vacation" to a racetrack......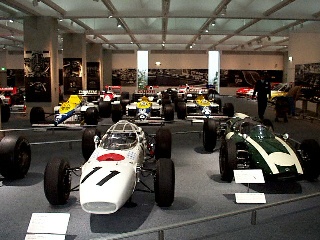 Older Honda Formula Cars
(See Bigger Picture)
11. It isn't as crowded as I thought it would be.
12. To rent a track like Suzuka(the F1 Track) is expensive. The Honda NSX Clubs pay 700,000 yen per hour, or about $6000 PER HOUR to rent it. Many times they just rent it for two hours, and everyone gets about 15-20 minutes on the track.
13. We took about 20+ cab rides, and not a single cab driver cheated on the fare, meaning that they always turned the meter on and printed out a formal receipt from the meter. When I take cabs on business trips in the U.S., it seems that 20% don't turn on the meter and they keep the entire "estimated" fee to themselves, instead of reporting it back to their cab company. The cabs are clean, drivers wear white gloves, nice white covers on the seats and backrests, etc,
14. Most Japanese natives look at me strangely when they find out that Dagmar speaks more Japanese than I do.....and when she is the person attempting to translate what we are saying....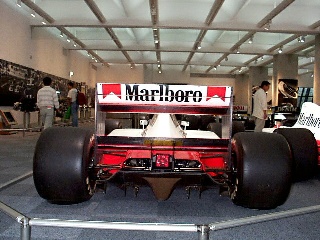 The End
(See Bigger Picture)