What Usually Happens the Day before a Track Event
"So You Think Racing is Easy"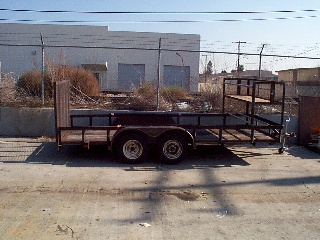 The Race Trailer. Wayne bought it for bargain price of $600.
Getting ready for a track event really can wipe out your day off. If you have to work, you probably have to ditch work for part of the day to make sure you are ready for the weekend. If you don't plan carefully, this is what typically happens on the day before the track event........
1. Drive Truck to trailer repair shop in Costa Mesa. (Trailer has no electrical brakes wired into truck, running lights don't work, etc, could be a bummer if we jackknife the trailer with a car on it). Dropped trailer off the day before, now they need truck to check wiring from truck to trailer.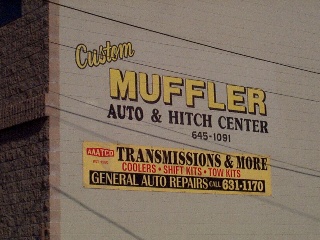 I pulled these guys out of the phone book. (949-645-1091)

2. Have Taxi pick me up at trailer place, taxi drives me to Wayne's house in Huntington Beach. Pick up my Toyota MR2 that is at Wayne's house that I dropped off the day before.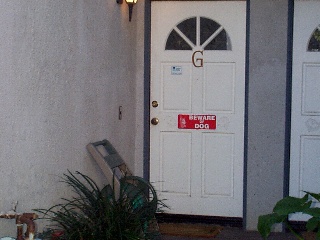 Beware of Ginger the Guard Dog when entering Wayne's house
3. Drive to Santa Ana Court House, get reseller's tax license stuff for "Pulp Racing, Inc." at the State Board of Equalization. Stuck in line there for 60 minutes
4. Drive to Irvine, get 11:00 a.m. haircut
5. Drive to Riverside Acura(50 minutes away) off of the 91 and Van Buren, exchange MR2 for my NSX, which has been getting oil change, compression check, etc.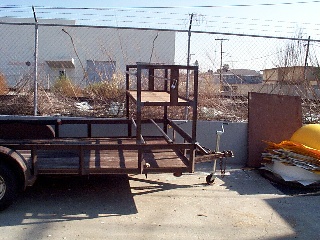 Custom Muffler modified trailer and built the tire rack.
6. Drive NSX back to Fountain Valley from Riverside. (Used the Fastrack lane, buzzed back home at 110 mph.)
7. Stop at Bear Communication, pick up two way radios that had to get re-programmed for different frequencies for Monday track event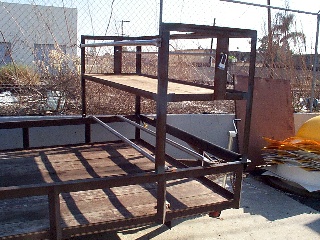 Tires can fit on top and bottom of the trailer. Gas cans, etcl can also fit on the bottom part.
8. Drive NSX to Trailer place. Pick up truck and trailer(brakes and lights now work), leave NSX at trailer place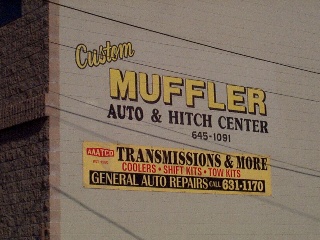 Ken at Custom Muffler did most of the work. Prices were cheap!
9. Drive Truck and Trailer to Allen Tire in Newport Beach, as we have a flat tire on the trailer. Get new tires for trailer.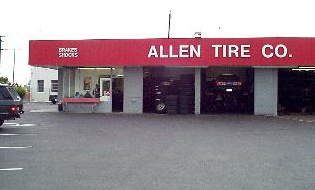 Allen Tire in Costa Mesa is my exclusive tire mounter
10. Leave truck and trailer at Allen tire to get tire fixed, pull 10 speed bike out of truck, and....
11. Ride bike two miles to truck and trailer place. Leave bike there, and drive off in NSX. (Ken at trailer shop thinks I am wacked)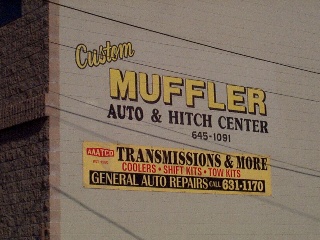 Trailer has been here at least 12 different times for various mods/repairs
12. Drive NSX Home, feed the Cleo the Cat, stock quotes, check phone messages, throw out garbage, water the plants, etc.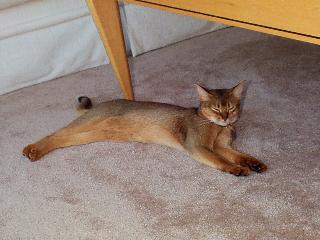 Cleo the Cat sleeping innocently. She doesn't suspect anything unusual yet...
13. Drive NSX back to Allen Tire. Leave NSX at Allen Tire, and drive off in Truck and Trailer with new tires on it.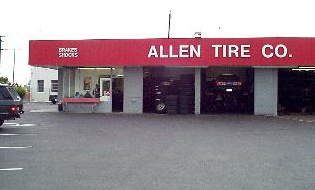 949-646-5236, Located on 17th and Superior in Newport Beach
14. Go back to Trailer repair place, pickup 10 speed bike, throw it in truck.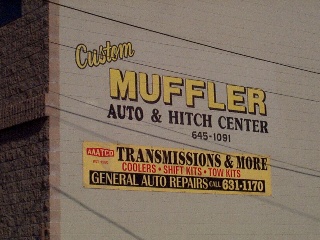 So far we put $1200 into brakes+wiring(twice)+mods+airshocks+swaybars+tire rack+load levelers

15. Go back to my house, drop off 10 speed bike, and put in four rims+tires+jack+tools in Wayne's truck. Last minute decision by me to change one of the race tires on the rims from used tire to new tire.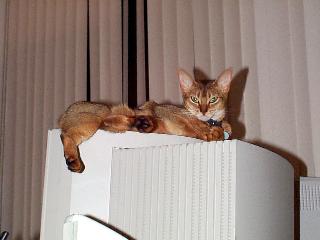 Cleo the Cat lounging. Still doesn't know what is in store for her today.
16. Go back to Allen Tire, have them remount a tire. As they do that, I run across the street for lunch. (it is now 4:00, I almost missed my damn lunch today!)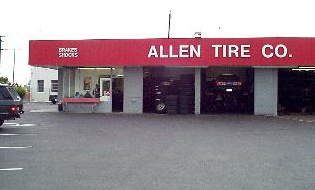 They mount at least 16 tires a month for me. (going from street tires to race tires back to street tires)
17. Drive Truck and Trailer back to Wayne's work(PhoneGuys USA), and drop off trailer+tires+jack+tools. Also take off shell for back of truck. Wayne apparently got in a fight with his brother, and fired his brother from PhoneGuys USA. The truck is his brother's, so now his brother wants his truck back. Except I paid for truck shell so we can cart around all our racing shit, so now I gotta sell shell, and Wayne has to rent another truck to attach to this trailer to trailer his unregistered race car to Willow Springs on Monday.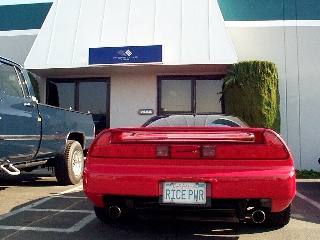 Wayne's garage queen in front of his business
18. Drive Truck(without trailer) back to Allen Tire. Leave truck at Allen Tire, and drive off in NSX.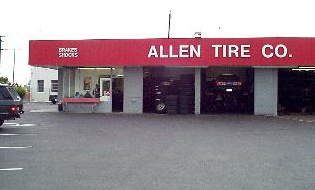 Ask for Denny, he runs the store
19. Drive NSX to car wash 1/2 mile from my house. Have guy give the car a hand wash, it will take an hour before they get to it.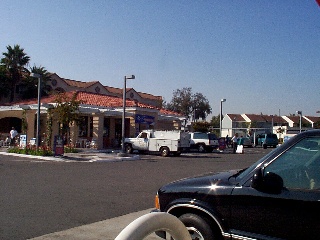 Union 76 Station with carwash
20. Walk home, (yes, believe it or not, I actually walked home 1/2 mile. Walking sucks.), and pickup 10 speed.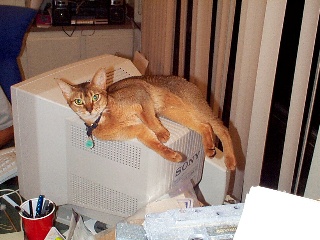 Cleo is starting to figure out this is NOT a normal day for her...
21. Ride 10 speed two miles to Allen Tire. Throw 10 speed in the truck, drive off in truck.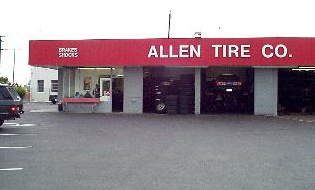 It's good to have a tire shop close to your house
22. Drive truck home, drop off 10 speed.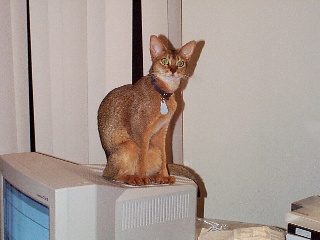 A look of urgent concern on Cleo the Cat's face. She's figured it out!

22. Drive truck to car wash. Drop off truck, and drive off in NSX.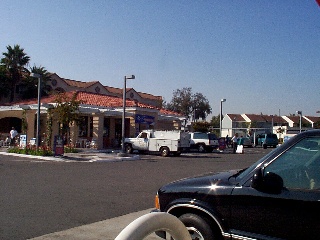 Eddie is the guy who runs the carwash
23. Drive NSX home, park it in garage. Hop on 10 speed and now.....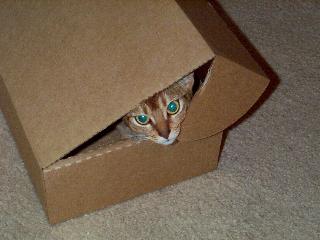 Time to hide and avoid ruining her reputation
24. Ride 10 speed to car wash. Throw 10 speed in truck, and ....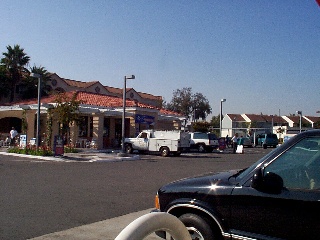 It's good to have a carwash close to your house
25. Drive truck home. 6:30 p.m., mission accomplished, truck and trailer are fixed, trailer and tires and tools at Waynes, NSX is in garage clean and ready to race, MR2 is at mechanic in Riverside, hair is cut, radios are programmed, reseller license paperwork bs is filled out, etc.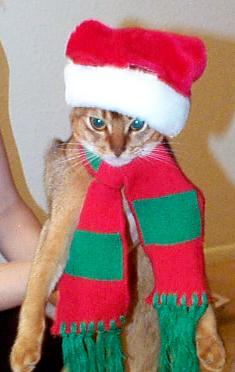 The wife dressing up Cleo for Xmas.
Obviously Cleo is not happy about this...she looks like the Grinch
7:30 p.m. The Wife comes home, looks around at the "slightly messy" house, and then proclaims, "What the hell did you do all day, sit around and watch Oprah while eating Bon Bons??